Best things to do in Nagoya, Takayama, Osaka and beyond with the Japan Rail Takayama-Hokuriku Area Tourist Pass
Are you looking for a quick escape from the hustle and bustle of city life? Then the Hokuriku area of Japan is just the place for you. From taking a zen stroll through a UNESCO World Heritage Site to savouring the perfectly-marbled Hida beef, here's where you can go in just five days!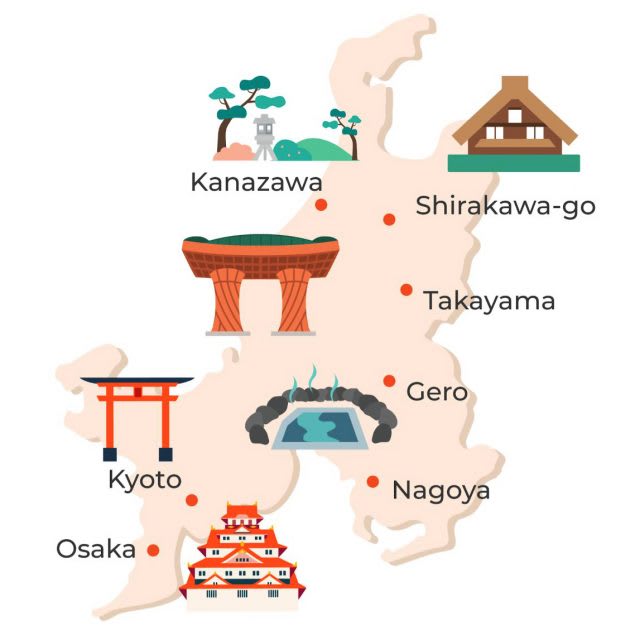 Pre-book your JR Takayama-Hokuriku Area Tourist Pass with Klook and have the exchange order delivered right to your doorstep. This JR Pass gives you 5 days of unlimited travel on trains and buses in Nagoya, Takayama, Kanazawa, Osaka, and more! Simply redeem your exchange order for your JR Pass at the JR Offices conveniently located at Nagoya and Osaka Stations.
HERE'S ALL YOU NEED TO KNOW ABOUT BUYING AND USING A JR PASS WITH KLOOK!
Grab Your Essentials Before You Go
1. Stay connected with a 4G SIM Card or Portable WiFi that you can simply pick up at Nagoya's Chubu Centrair International Airport or Osaka's Kansai International Airport. You'll definitely need it to share your cool photos with your family and friends!
2. Get from the airport right into town in the fastest and most comfy manner! The μ-SKY Limited Express Train will get you from the Chubu Centrair International Airport to downtown Nagoya in under 30 minutes. Flying into Osaka instead? Enjoy a 34-minute journey on the Nankai Line Airport Express right into the city.
#1 Nagoya
Nagoya is the fourth-largest city in Japan, but it feels nowhere as packed and busy as Tokyo and Osaka. From Nagoya Castle to one of the largest science museums in the world, and even Legoland, there are more than enough activities for a weekend trip with your family.
Don't miss this Nagoya City Walking Tour as an English-speaking guide shares all the stories about the city's rich history and attractions, before concluding the day at the Osu Shopping District for you to shop till you drop. 
1. Nagoya Castle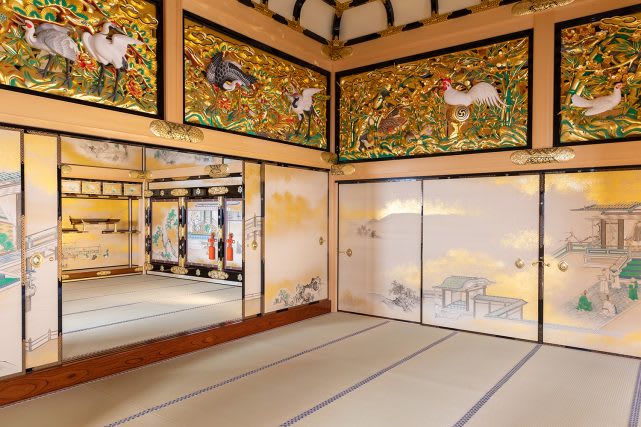 No trip to Nagoya is complete without a visit to Nagoya Castle that dates back to 1610.  Besides being able to walk through the castle's Honmaru Palace that has been recently rebuilt using traditional construction materials and techniques, you can also climb up the authentic watchtower that is more than 300 years old. 
Oh did we mention that this is one of the top spots in Japan to catch Sakuras each year? Check out the latest Sakura forecast here. 
📍Nagoya Castle
Address: 1-1 Honmaru, Naka-ku, Nagoya
Admission: ¥500 (~S$6.30)
Opening Hours: Daily 9am to 4:30pm (Last admission at 4pm, Closed 29 Dec to 1 Jan)
2. Port of Nagoya Public Aquarium
Looking for some family fun? Plan a day out to the world-class Port of Nagoya Public Aquarium that boasts one of the largest outdoor tanks in the world. You can also get up close with marine life from across the globe, including beluga whales, penguins, and even giant whale sharks! 
📍Port of Nagoya Public Aquarium
Address: 1-3 Minato-Machi, Minato-ku, Nagoya
Admission: S$26.35 on Klook
Opening Hours: Tuesday to Sunday 9:30am to 5:30pm (Last admission 4:30pm, Closed on Mondays and Public Holidays)
3. Legoland Japan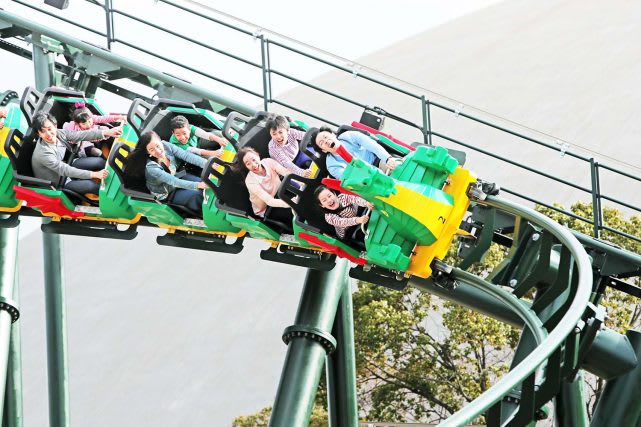 Those looking for some adrenaline fun should also head over to Legoland Japan and enjoy the 40 attractions including plenty of rides, shows, and interactive experiences! The park's construction includes over 17 million authentic Lego pieces and 10,000 Lego model sets. The kids will love exploring the 7 themed areas including Bricktopia, LegoCity, Pirate Shores, Miniland, and more! 
📍Legoland Japan
Address: 2-1 Chrome 2, Kinjofuto, Minato Ward, Nagoya
Admission: S$64.59 on Klook
Opening Hours: Daily 10am to 5pm (Operation hours are subject to change, do check out the latest days & hours of operation here)
4. Nabana no Sato Winter Illumination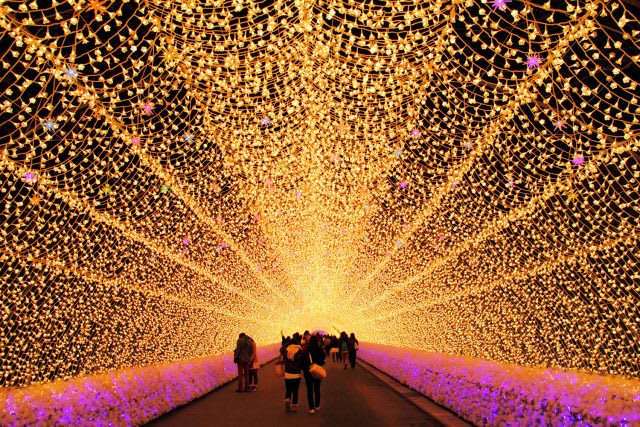 Be surrounded by dazzling lights and colours during an evening out to Nabana no Sato Park, a botanical garden 35 minutes out of Nagoya. Watch as the park transforms into Japan's biggest illumination show as millions of LED lights light up its many ponds, trees, and tunnels. If shopping is your thing, couple a visit to Nabana no Sato Winter Illuminations with a Nagashima Outlet shopping tour!
📍Nabana no Sato
Address: 270 Komae, Nagashima-cho, Kuwana City
Admission: ¥2,300 (~S$29)
Opening Hours: Monday to Friday 9am to 9pm, Saturday and Sunday 9am to 10pm
5. Start Your JR Journey at the Nagoya Station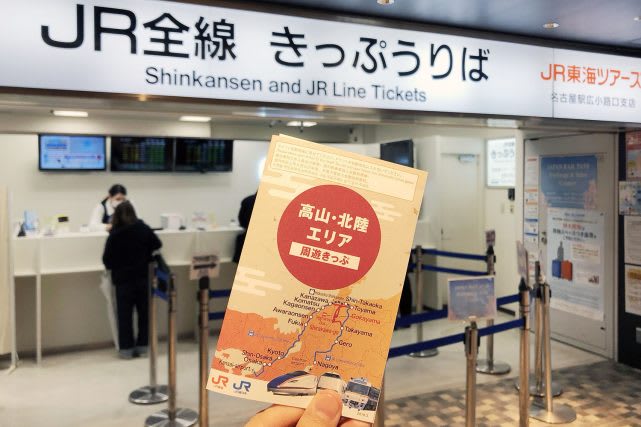 Ready to embark on an absolutely relaxing trip? Head over to the Nagoya Station and locate the nearest JR Office with your Exchange Order and passport to redeem your actual JR Pass! Within minutes, you'll be on your way. 
📍Nagoya Station
Address: 1 Chome-1-4 Meieki, Nakamura Ward, Nagoya
Opening Hours: Daily 6am to 11pm
#KlookTip: Never miss a train or bus by using the Japan Travel by NAVTIME app to plan your journey from place to place. You can also indicate which JR Pass you have when searching for routes to your destination, and it will show the trips that are covered by your pass!
#2 Gero Onsen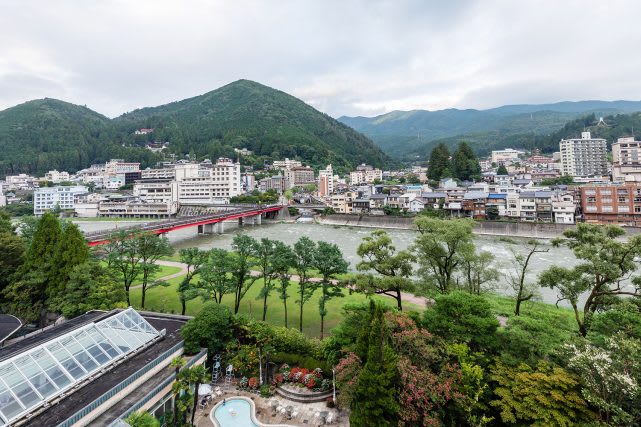 Gero Onsen is one of the most famous hot spring towns in Japan simply because of the high-quality hot spring waters that flow through. The spring water here is alkaline-based and will rejuvenate you by improving blood circulation and relieving fatigue.
Getting to Gero from Nagoya is an easy 2-hour ride from Nagoya on board the JR Limited Express Wide View Hida train, which is covered by the JR Takayama-Hokuriku Area Pass. Check out the timetable for the timings of the 10 trains daily.
1. Suimeikan Inn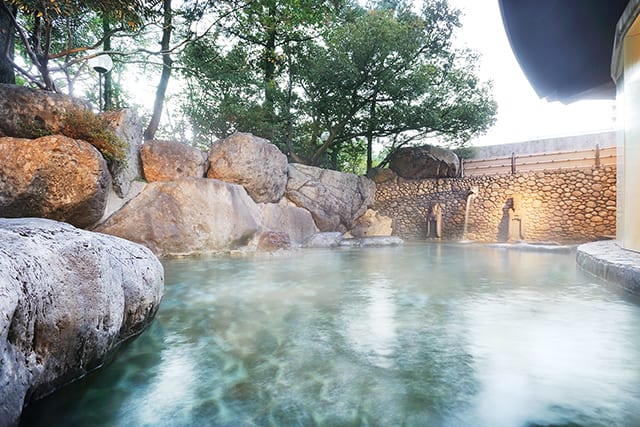 A trip here is never complete without an actual soak in the soothing waters of Gero Onsen at the famous Suimeikan Inn. Complete this rejuvenating onsen experience with a scrumptious French-inspired Hida Beef lunch. What's Hida Beef? Think wagyu, but better!
📍Suimeikan Inn
Address: 1268 Koden, Gero, Gifu
Operating Hours: Hot Spring is from 10am to 3pm. Lunch is served between 11:30am to 2:00pm.
2. Enjoy a Festival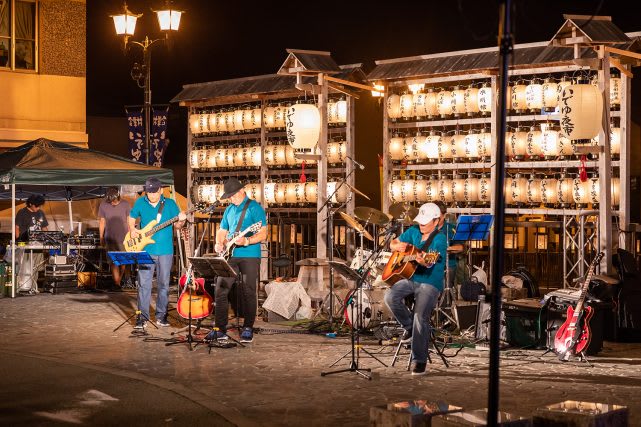 There are three main festivals here at Gero spread throughout the year. Fans of fireworks, this is for you. The Gero Onsen Fireworks Show runs from January to March every Saturday at 8:30pm. No two shows are the same as the fireworks displays represent different themes each month.
The Gero Onsen Festival is held every year from 1 to 3 August, when the whole town gathers for a series of celebrations involving fire, floats, folk dancing, and fireworks! Each 14 February, the town also celebrates the abundant rice harvest with the Hanagasa or Rice Field God Festival, where dancers wearing hats with flowers folk dance while carrying rice cakes on their shoulders.
#3 Takayama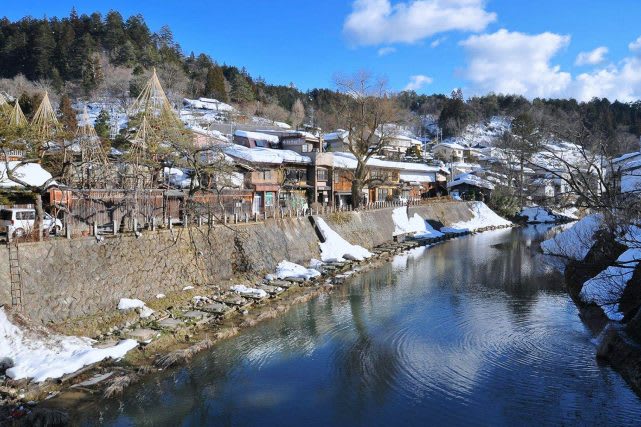 Takayama is a charming town in the mountainous Hida region and a popular tourist stop due to its old-world charms. It is also the gateway to the stunning Japan Alps, relaxing onsen towns, and world-renowned Shirakawa-go. If you're looking to better know this historic town, take a 2-hour Walking Tour around Takayama. 
Getting to Takayama is simply continuing the journey on board the JR Limited Express Wide View Hida train. It is only a short 50-minute ride from Gero.
1. Sanmachi Suji District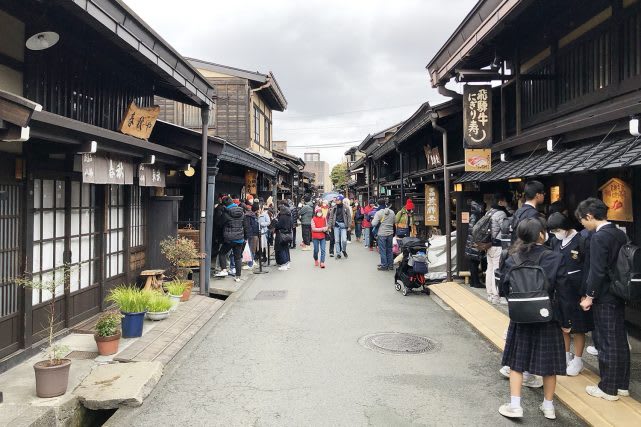 Stepping foot into Takayama Old Town will surely bring you back in time, with traditional houses dating back hundreds of years. This quaint historic district consists of three streets filled with restaurants, shops, and even sake breweries. Some of the yummiest food Takayama offers can also be found here.
📍Sanmachi Suji District
Address: 20 Kamisannomachi, Takayama
Operating Hours: While the area is accessible any time of the day, most shops open from 10am to 5pm.
2. Hida Kotte Ushi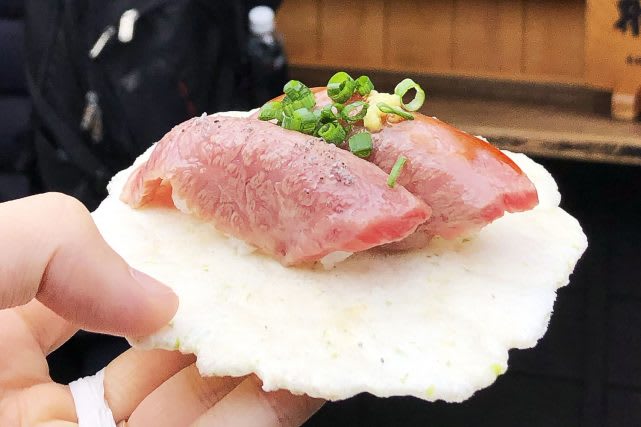 Attention Wagyu Fans! This Hida beef sushi will melt in your mouth and leave you craving for more. There are a total of four combinations to choose from, with the most popular being the set of two pieces of medium-rare Hida beef sushi served simply with salt and soy sauce, plated on a savoury rice cracker.
📍Hida Kotte Ushi
Address: 34 Kamisannomachi, Takayama
Price: ¥600 (~S$7.60) for 2 pieces of Hida Beef Nigiri Sushi
Operating Hours: Daily 10am to 5pm
#KlookTip: Two pieces of Hida beef will never be enough. There are plenty of restaurants in Takayama that offer Hida beef in various styles, so take your pick from yakiniku, sukiyaki, and even grilled with the region's famous miso on top a hoba leaf! A word of caution though, some famous BBQ restaurants like Ajikura and Maruaki can get really crowded during dinner with queues up to two hours. So do head over before dinner, or you could always afford an indulgent lunch! 
3. Miyagawa Morning Market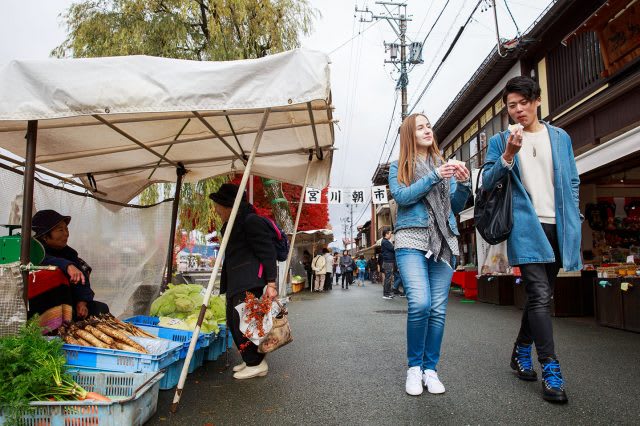 Those looking to try some local fruits, sweets, and snacks shouldn't miss the open-air morning market that runs along the Miyagawa River all year round. You can also head down to the river bank to soak in the view, especially during sakura season!
📍Miyagawa Morning Market
Address: Shimosannomachi, Takayama
Operating Hours: April to November Daily 7am to 12nn, December to March Daily 8am to 12nn 
#KlookTip: Go with an empty stomach as you'll be tempted by all the freshly made snacks. One of our top picks will be the stall that sells piping hot takoyaki crisped to perfection, yet gooey inside with a generous piece of octopus. Those wanting something sweet can also try a tamaten – an eggy marshmallow-like sweet made with honey, sugar, and sake.
4. BONUS: Day Trip to Shinhotaka Ropeway & Hirayu Onsen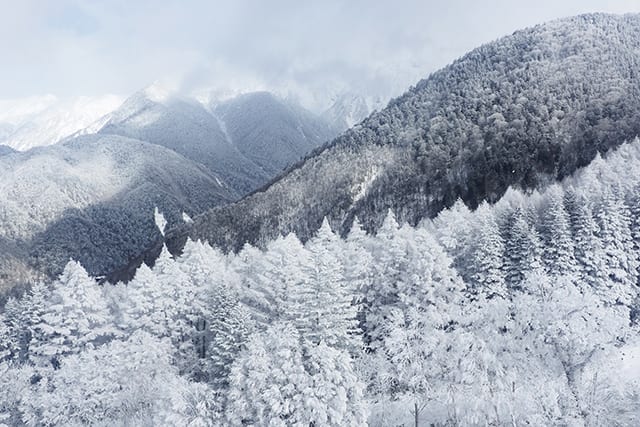 Ride on Japan's only double-decker cable cars up to jaw-dropping scenery of the Japan Alps. It is a winter wonderland as you soak in 360° views at the Nishihotakaguchi Station Observation Deck, some 2,000m above sea level. You can also spend hours making snow angels and playing in tons of untouched snow if you're willing to brave the cold.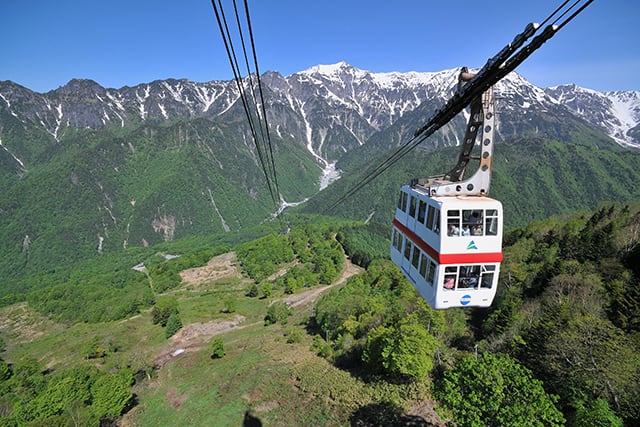 Not travelling in winter? Take a hike up the Nishiho Mountain trail to soak in the picturesque scenery and fill your lungs with the clean and crisp air. Save on your Shinhotaka Ropeway tickets by getting it on Klook. 
Getting to Shinhotaka Ropeway from Takayama takes less than 2 hours on board Nohi Bus' Shinhotaka Line from the Takayama Nohi Bus Terminal. The fare is ¥2,200 (~S$27.80) per way and is not covered by the JR Takayama-Hokuriku Area Pass. Save at least S$15 when you purchase the Shinhotaka Ropeway and Bus Tickets combo on Klook.
📍Shinhotaka Ropeway
Address: 710-58 Okuhida Onsengo Kansaka, Takayama
Admission: S$33.35 on Klook or S$74.79 with a 2-day bus pass from Takayama on Klook
Opening Hours: Daily 9am to 4:15pm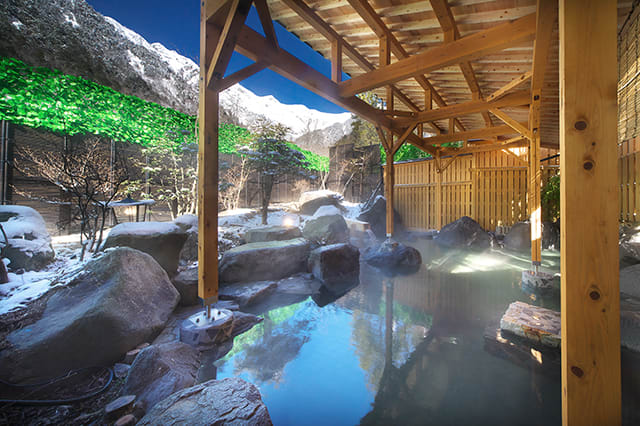 If onsens are your thing, then you should definitely make a pit stop at Hirayu Onsen while on the way back from Shinhotaka Ropeway to Takayama. Imagine soaking in warm therapeutic spring water while snow falls gently all around you. Hirayu no Mori offers just that experience with 16 open-air and indoor onsen baths that are available for a small charge. 
Getting to Hirayu Onsen takes about 1 hour from either Takayama or Shinhotaka Ropeway on board the Nohi Bus' Shinhotaka Line. You won't miss it as it is the only major stop between Takayama and Shinhotaka Ropeway. 
📍Hirayu no Mori
Address: 763-1 Okuhidaonsengo, Hirayu, Takayama
Admission: ¥600 (~S$7.60)
Opening Hours: Daily 10am to 9pm
#KlookTip: Those who are looking to spoil yourselves a little should stay a night in one of the local ryokans for an authentic onsen experience. Did we also mention that there's a ski resort within walking distance of the Hirayu Onsen Bus Terminal?
#4 Shirakawa-go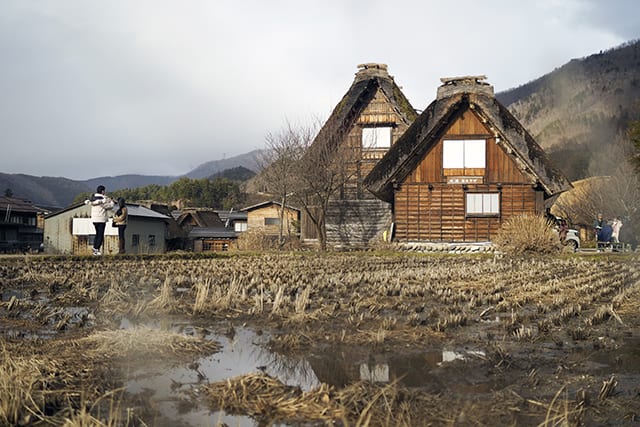 Turn back time and discover traditional Japanese life as it would have been 300 years ago at Shirakawa-go. Explore the charming streets and the beauty of their traditional gassho-style farmhouses with their distinctive thatched roof. You'll immediately understand why this small village was declared a UNESCO World Heritage Site.
Getting to Shirakawa-go requires you to take a bus from either Takayama or Kanazawa. Both bus routes are covered by the JR Takayama-Hokuriku Area Pass. There are two types of buses to and from Takayama – Reserved and non-Reserved, while buses to and from Kanazawa are all Reserved only. JR Pass holders are highly recommended to make a reservation for the buses as they run out quickly during peak season. You can do so by calling the Nohi Bus Reservation Center at 0577-32-1688 (Daily 9am to 6pm).
#KlookTip: You can make Shirakawa-go a pit stop between Takayama and Kanazawa, as most visitors require only 2-3 hours to comfortably explore this quaint village. There are coined lockers and a paid luggage storage area at the Shirakwa-go Bus Terminal to store your bags.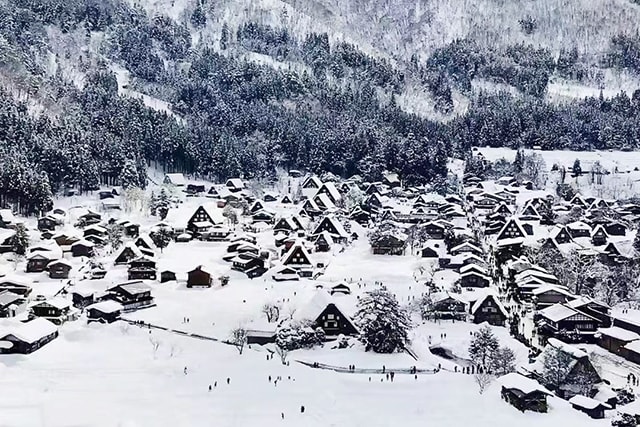 Take a slow walk to the Ogimachi Castle Observation Deck that is up a hill and offers the iconic view of Shirakawa-go and its farmhouses. It is especially charming in winter when the entire village is blanketed in heavy snow.
📍Ogimachi Castle Observation Deck
Address: Ogimachi, Shirakawa, Ono District
Opening Hours: Always open, but maybe closed after heavy snowfall
FIND OUT ALL YOU NEED TO KNOW ABOUT SHIRAKAWA-GO IN OUR TRAVEL GUIDE
#5 Kanazawa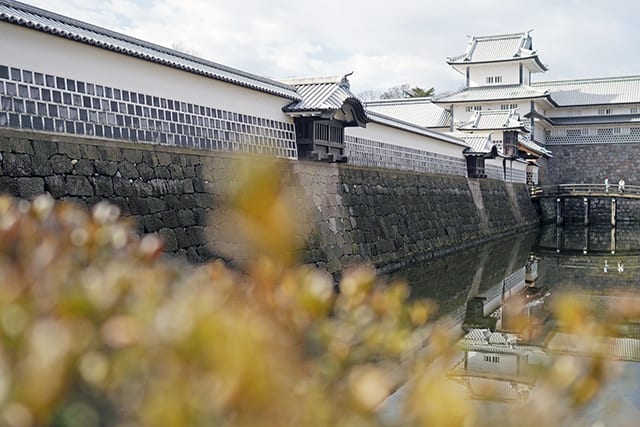 Kanazawa is one of Japan's hidden gems, quite literally. The name Kanazawa actually means "marsh of gold" and it is no wonder why the city offers numerous souvenirs and snacks with gold leaf incorporated into them. Besides being a capital of culture, it also has a lasting samurai legacy. 
With many sights to offer, why not take a half-day bus tour to learn all about Kanazawa from an English-speaking guide? You can also explore Kanazawa in style by renting a kimono and a professional stylist will transform you!
Getting to Kanazawa is convenient due to its high accessibility from Tokyo, Osaka, Kyoto, and Nagoya via train. With the JR Takayama-Hokuriku Area Pass, you can catch a direct bus from Takayama and Shirakawa-go, or the Limited Express Thunderbird train from Osaka and Kyoto. The Hokuriku Shinkansen between Kanazawa and Toyama, and the Limited Express Wide View Hida train between Toyama and Nagoya are also covered by this JR Pass. Check out the timetable to plan your journey.
1. Kanazawa Castle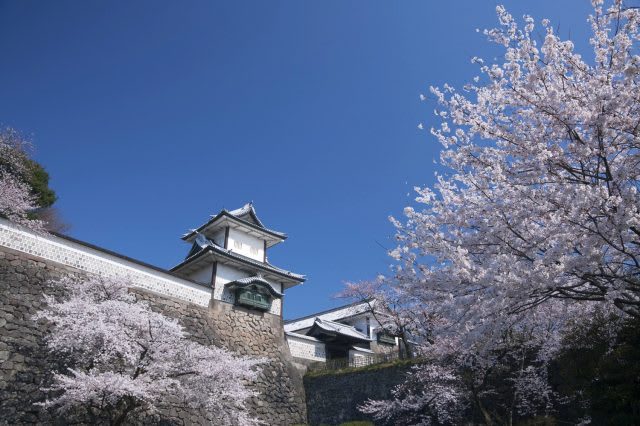 The Kanazawa Castle dates back to the 1500s. Despite going through numerous calamities, the castle has been carefully reconstructed over the years. If you're here during sakura season, prepare to witness Kanazawa's abundance of cherry blossoms from the top of Kanazawa Castle.
📍Kanazawa Castle
Address: 50 Kamiomi-cho, Kanazawa-shi, Ishikawa
Admission: Free
Opening Hours: Daily 8am to 5pm
2. Kenrokuen Garden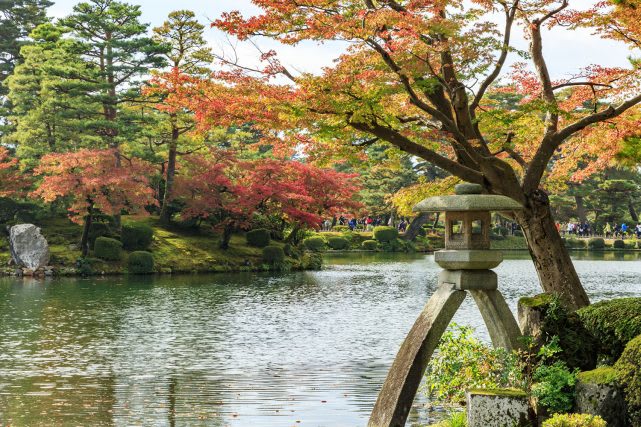 Kenrokuen Garden is one of Japan's most celebrated landscape gardens. This spacious grounds used to be the outer garden of Kanazawa Castle and offer something different through the seasons. Take a zen stroll through Kenrokuen Garden and see if you can spot the six factors that an excellent landscape garden must possess: spaciousness, seclusion, artifice, antiquity, watercourses, and panoramic views. 
📍Kenrokuen Garden
Address: 1 Kenrokumachi, Kanazawa, Ishikawa
Admission: ¥320 (~S$4.10)
Opening Hours: Daily 8am to 5pm
3. Omicho Seafood Market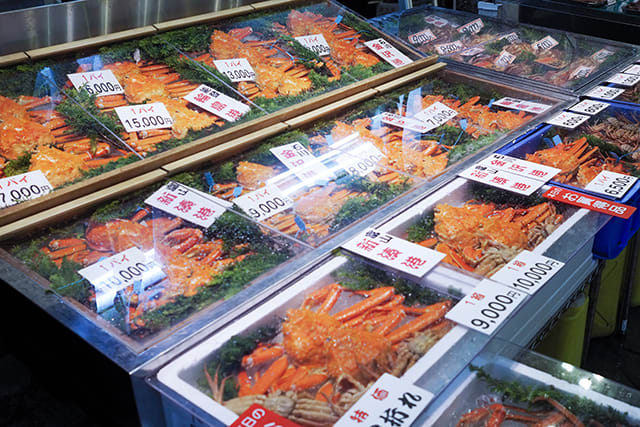 Due to the close proximity to the Sea of Japan, Kanazawa offers some of the freshest seafood in Japan. And there's no better place than Omicho Seafood Market to satisfy an empty stomach. With over 180 shops and restaurants, the food options are endless. You can stop and buy fresh seafood prepared right in front of you, or head into a restaurant and have some impeccably fresh seafood at affordable prices! You can also learn how to shop for the freshest produce and seafood on a private tour and cooking class with a Japanese chef. 
📍Omicho Seafood Market
Address: 50 Kamiomi-cho, Kanazawa-shi, Ishikawa
Opening Hours: Daily 8am to 5pm
4. Higashi Chaya District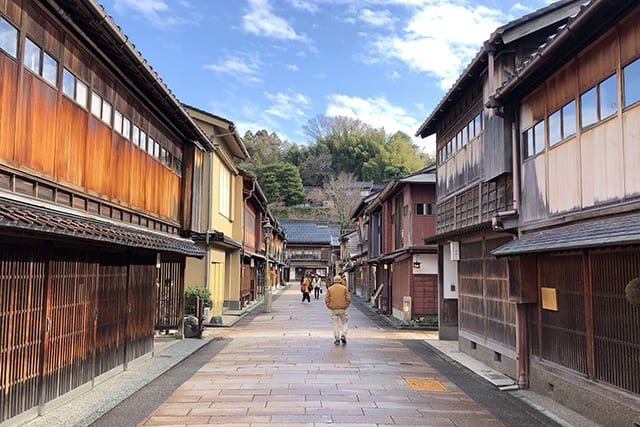 The Higashi Chaya District used to be a traditional place of feasts and entertainment by geishas. Today, these historic buildings have mostly been transformed into restaurants, souvenir shops, and even sake breweries. But the area remains classified as one of Japan's cultural assets. The Kanazawa City Tourism Association holds a geisha performance show here every Saturday.
📍Higashi Chaya District
Address: 1 Chome-13 Higashiyama, Kanazawa
Opening Hours: Always Open
#6 Kyoto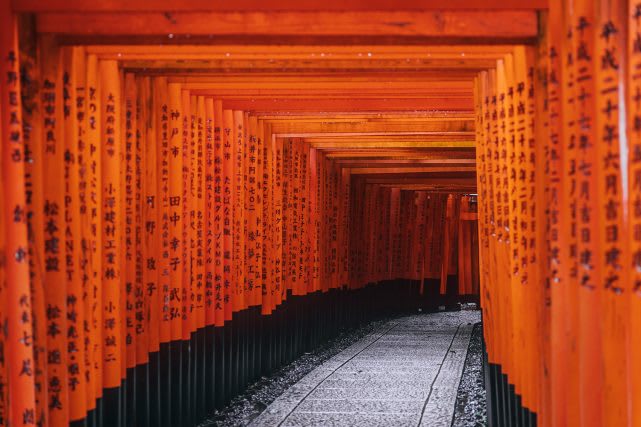 Kyoto needs no special mention. Famous for its many picture-perfect attractions – strolling through the endless row of torii gates of Fushimi Inari Shrine and taking a rickshaw ride among towering bamboo groves of Arashiyama – Kyoto needs to be on your bucket list. Think your photos won't do justice to the beauty of it all? We got the perfect solution in the form of a photoshoot with a professional photographer!
Getting to Kyoto is quick with the JR Takayama-Hokuriku Area Pass, which includes the Limited Express Thunderbird train from Osaka and Takayama. Check out the timetable to plan your journey.
1. Fushimi Inari Shrine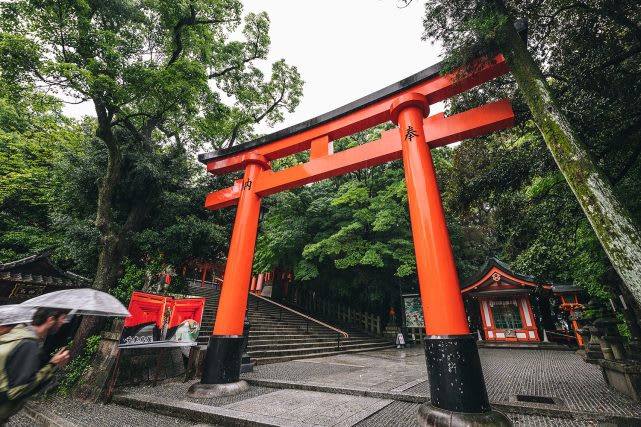 The endless walk through the thousands of torii gates is an Instagram must-have for any visitor to Kyoto. This trail that winds up the hills behind Fushimi Inari Shrine leads you to a beautiful lookout of Kyoto. 
📍Fushimi Inari Shrine
Address: 68 Fukakusa Yabunouchicho, Fushimi Ward, Kyoto
Admission: Free
Opening Hours: Always Open
2. Hanami-Koji Geisha District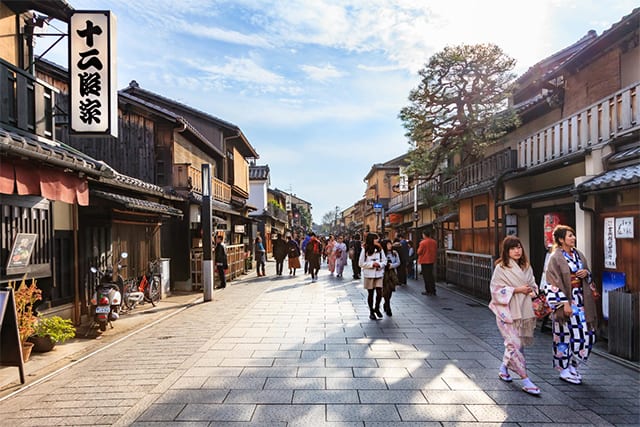 At Hanami-Koji Geisha District, 17th-century tea houses line the streets as tourists roam around in exquisite looking kimonos and yukatas. Located at the heart of Gion, you can catch a glimpse of a Geisha (not just people in costume, but a legit Geisha!) making her way to restaurants or tea houses in the evenings and on weekends. 
Want to stand out from the crowd and up your Instagram game? Get the whole gang dressed for the occasion by renting a Kimono or Yukata!
📍Hanami-Koji Geisha District
Address: Gionmachi Minamigawa, Kyoto
Admission: Free
Opening Hours: Always Open
3. Kiyomizudera Temple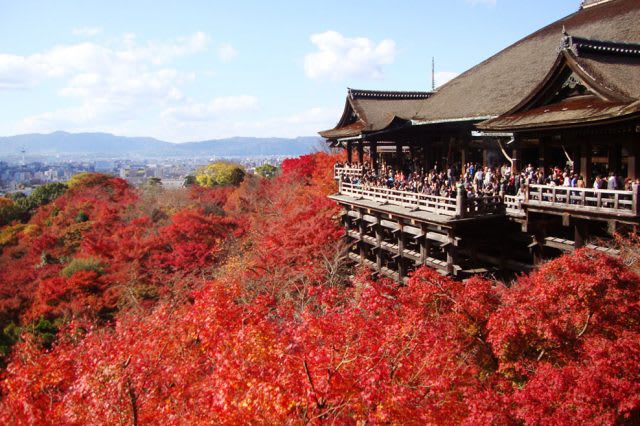 Kiyomizudera, which translates to "pure water", is one of Japan's largest and most beautiful water temples. This UNESCO World Heritage Site is perched on a hill 13m above ground and is best recognised for its wooden stage and stunning panoramic views. Make sure to snap a few shots at sunset for a beautiful gradient backdrop.
📍Kiyomizudera Temple
Address: 1-294, Kiyomizu, Higashiyama-ku, Kyoto-shi, Kyoto
Admission: ¥300 (~S$3.80)
Opening Hours: Daily 6am to 6pm (Check here for special night viewing times during the year)
4. Kyoto Railway Museum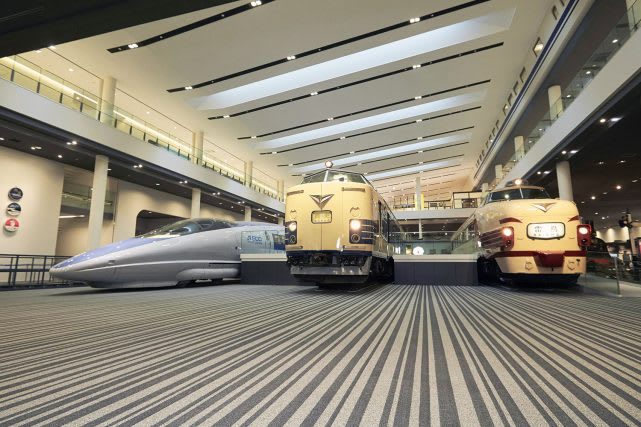 Discover the history of Japan's impressive train and railway system at the Kyoto Railway Museum. The train otaku in you will get excited by the opportunity to get up close and personal with an impressive collection of 53 trains. Keep your kids entertained as they get to be a train conductor during a fun training simulator.
📍Kyoto Railway Museum
Address: Kankijicho, Shimogyo Ward, Kyoto
Admission: S$15.19 on Klook
Opening Hours: Monday, Tuesday, Thursday to Sunday 10am to 5:30pm
TOP 10 THINGS TO DO IN KYOTO TO FIND YOUR ZEN
EXPLORE MORE OF KYOTO AND OSAKA TOP ATTRACTIONS IN OUR TRAVEL GUIDE
#7 Osaka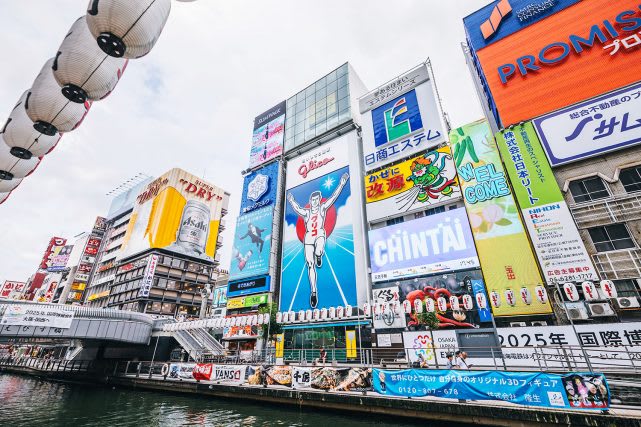 From the familiar Glico Man neon board to the sizzling sounds of takoyaki, taste the Japanese way of life as you head right into Osaka's lively street chaos and its magnificent heritage. Headed during the sakura season? Here are the most beautiful cherry blossom spots worth an #OOTD.
Getting to Osaka from Kansai International Airport takes about an hour on board the JR Kansai-Airport Line train, which is included in the JR Takayama-Hokuriku Area Pass. You can also hop on the Limited Express Thunderbird train from Kyoto and Takayama.
#KlookTip: Make the best of your time and money with the Osaka Amazing Pass that covers unlimited subway and bus rides, as well as free entry to almost 40 iconic Osaka tourist sites ranging from Osaka Water Bus to the Umeda Sky Building! Tired from all the exploring? Stop by these stunning Osaka cafes for a quick dessert break!
1. Universal Studios Japan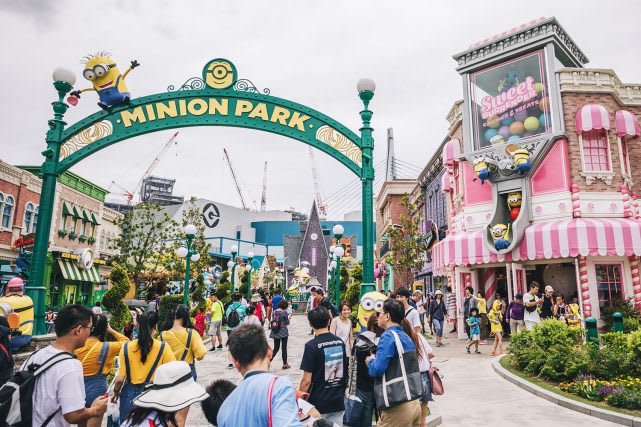 Attention Harry Potter Fans, Minion Fans, Theme Park Fans!! You cannot visit Osaka and not make a trip to Universal Studios Japan! We've been there numerous times and here is a complete USJ insider's guide to make your visit an unforgettable one! Call us crazy because we even compiled a list of USJ souvenirs you definitely need to bring home with you!
📍Universal Studios Japan
Address: 2 Chome-1-33 Sakurajima, Konohana Ward, Osaka
Admission: Starting from S$99 from Klook
Opening Hours: Daily 9am to 7pm (Hours may differ daily, refer to their website for the latest)
2. Kuromon Market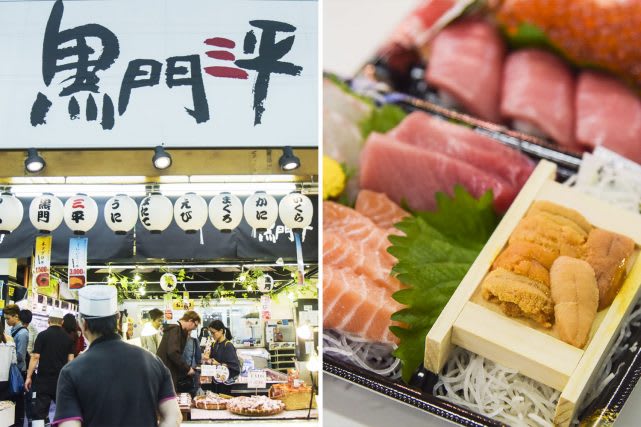 Kuromon Market is a covered street of shops that stretches some 600m. Lined with restaurants and shops selling all sorts of fresh produce, meat and seafood, this market is popular among both locals and visitors. Check out our food picks for Osaka: The Kitchen of Japan.
📍Kuromon Market
Address: 2-4-1, Nipponbashi, Chuo-ku, Osaka
Opening Hours: Daily 9am to 6pm (Hours may differ from shop to shop)
3. Osaka Castle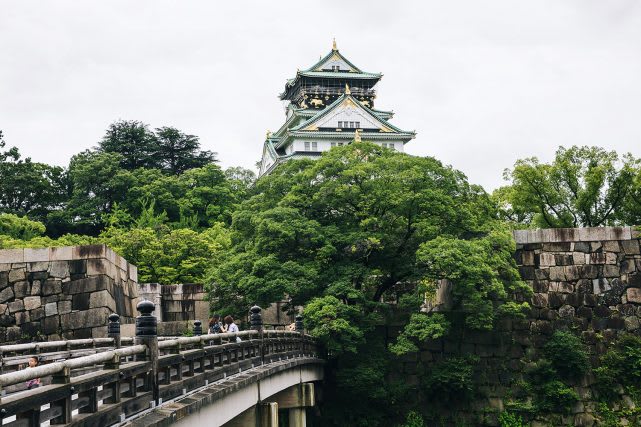 The Osaka Castle is one of the city's most iconic landmarks. Besides being a museum that houses a great collection of historical material and artifacts, its top floor is also an observation deck that provides a panoramic view of Osaka and beyond. The Osaka Castle Park is also a popular hanami spot during sakura season. Use our Japan cherry blossom forecast to plan for your trip!
📍Osaka Castle
Address: 1-1 Osakajo, Chuo Ward, Osaka
Admission: ¥600 (~S$7.60)
Opening Hours: Daily 9am to 5pm (Closed 28 December to 1 January)
10 THINGS TO DO IN OSAKA FOR UNDER $20
12 DAY TRIPS OUT OF OSAKA INCLUDING NARA AND KOBE TO COMPLETE YOUR TRIP