Discover the home of Japanese historic villages
One of the top sightseeing destinations in Central Japan, Shirakawa-go is known for its traditional houses with steep, thatched roofs surrounded by lush nature. Breathtaking, serene, and charming, this UNESCO World Heritage Site is worth making a trip there!
While getting there may not be as straightforward, it can still be easily accessed in several ways. Keep reading to find out valuable info on how you can get there, where to stay, what to eat, and more!
How to get to Shirakawa-go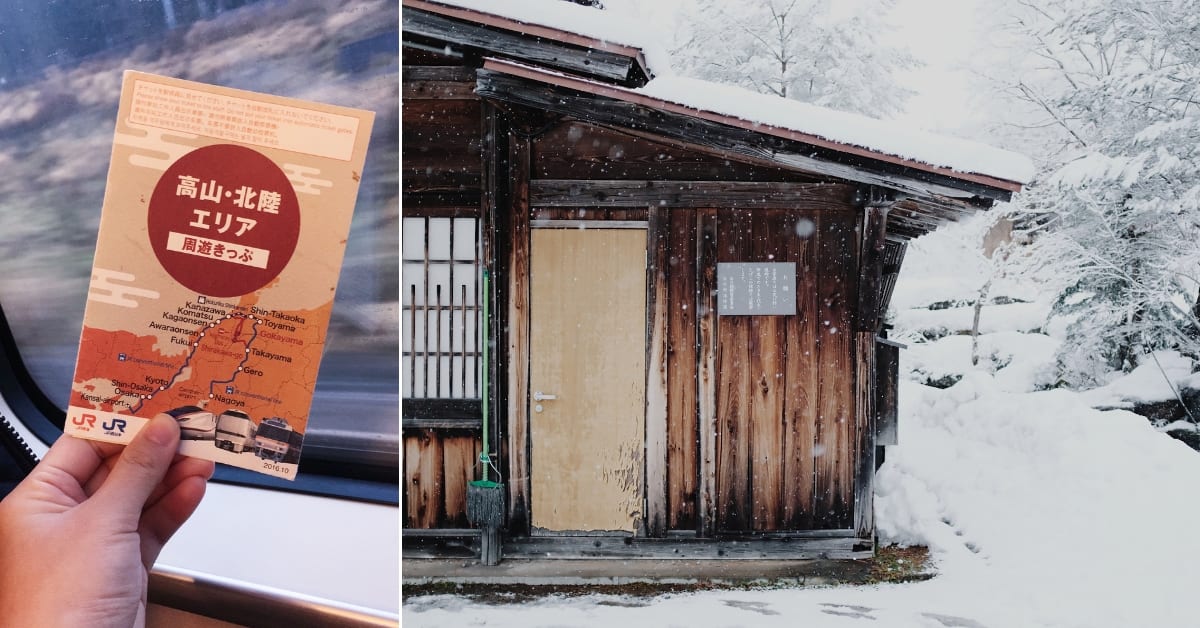 1. Traveling by bus
Getting to Shirakawa-go by bus is perhaps the most economical method but travel time will be longer compared to other methods of transportation. Make your way to Toyama or Kanazawa city then ride a Nohi Bus to Shirakawa-go.
If you're using the 5 Day Takayama-Hokuriku pass, this pass covers the services of Nohi buses which goes directly to Shirakawago. Nohi buses can be taken from Toyama Station or Kanazawa Station.
If the Nohi bus is NOT covered by your JR Pass, you can book an Express Bus Ticket at the station instead.
If you are coming from Osaka/Kyoto, you can consider heading to JR Nagoya Station. Take a bus from Meitetsu BC Bus Stop and transfer to a Gifu Bus bound for Shirakawa-go (Bus fare: ¥3900, NOT covered by JR Pass)
2. Traveling by train
Depending on which city you're coming from, you can opt for a Shinkansen to Toyama city, which is covered by the JR Pass. From Toyama city, you can then ride the Nohi Bus to Shirakawa-go.
Shinkansen from Tokyo and Osaka to Toyama typically takes around 2 hours to around 3 hours.
3. Day tours
Don't want to deal with the fuss of working out the details of transportation? You can book a day tour from Nagoya for a hassle-free visit! Many of these tours cover lunch, roundtrip transportation, as well as a professional and friendly tour guide. Simply search for Shirakawa-go day tours on Klook to find one that fits your traveling needs.
Best time to visit Shirakawa-go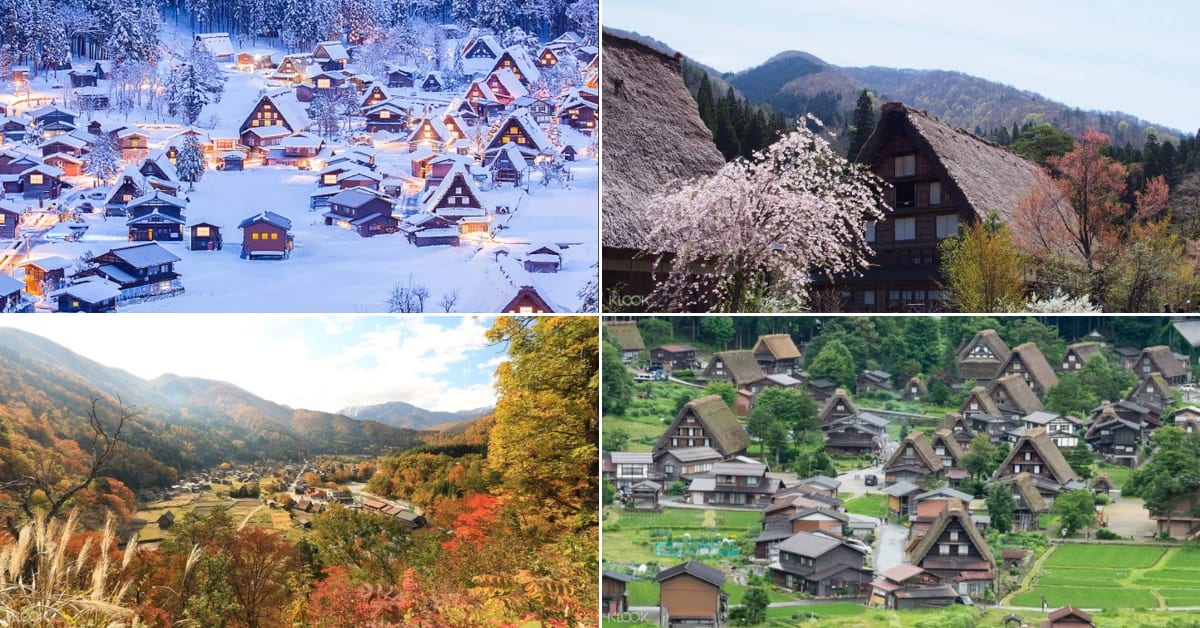 Shirakawa-go like many places in Japan has four distinct seasons, especially due to its high altitude. Many like to visit during winter because you can witness thick blankets of white snow covering the town. It's almost like a magical snowy wonderland!
However, Shirakawa-go is still abundant with beauty whichever season you choose to visit! Come springtime, it's a pastel dream of sakura blooms. Then, sunny days of the summer season in Shirakawa-go is complemented by the surrounding lush landscapes. Of course, autumn will see the town covered with fiery brown and red leaves.
Winter: December to February
Spring: March to May
Summer: June to August
Autumn: September to November
Must-visits in Shirakawa-go
1. Ogimachi Village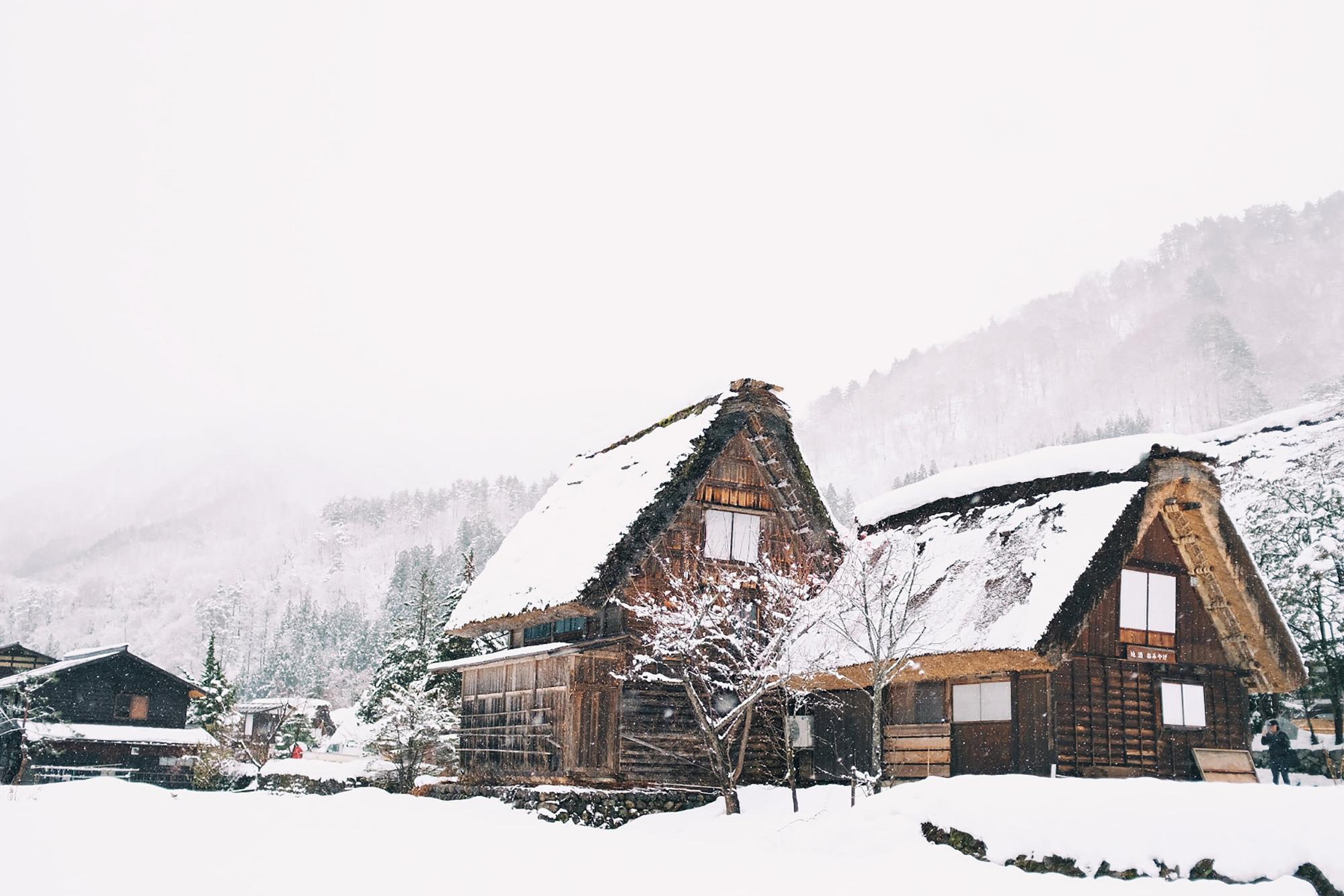 A popular location in Shirakawago, the Ogimachi Village has the largest concentration of the charming Gassho-style houses in the area. These Gassho-style houses are distinguished by their steeply-pitched thatched roofs. In fact, they're also known as the houses with 'prayer hands' due to their unique shape.
You can find over 110 of these houses in the Ogimachi Village, some of them older than 250 years! If you wish to elevate your experience in Shirakawa-go even more, we even have a half-day tour featuring the quaint village specifically!
Address: Shirakawa, Ono District, Gifu 501-5627, Japan
2. Shiroyama Observation Deck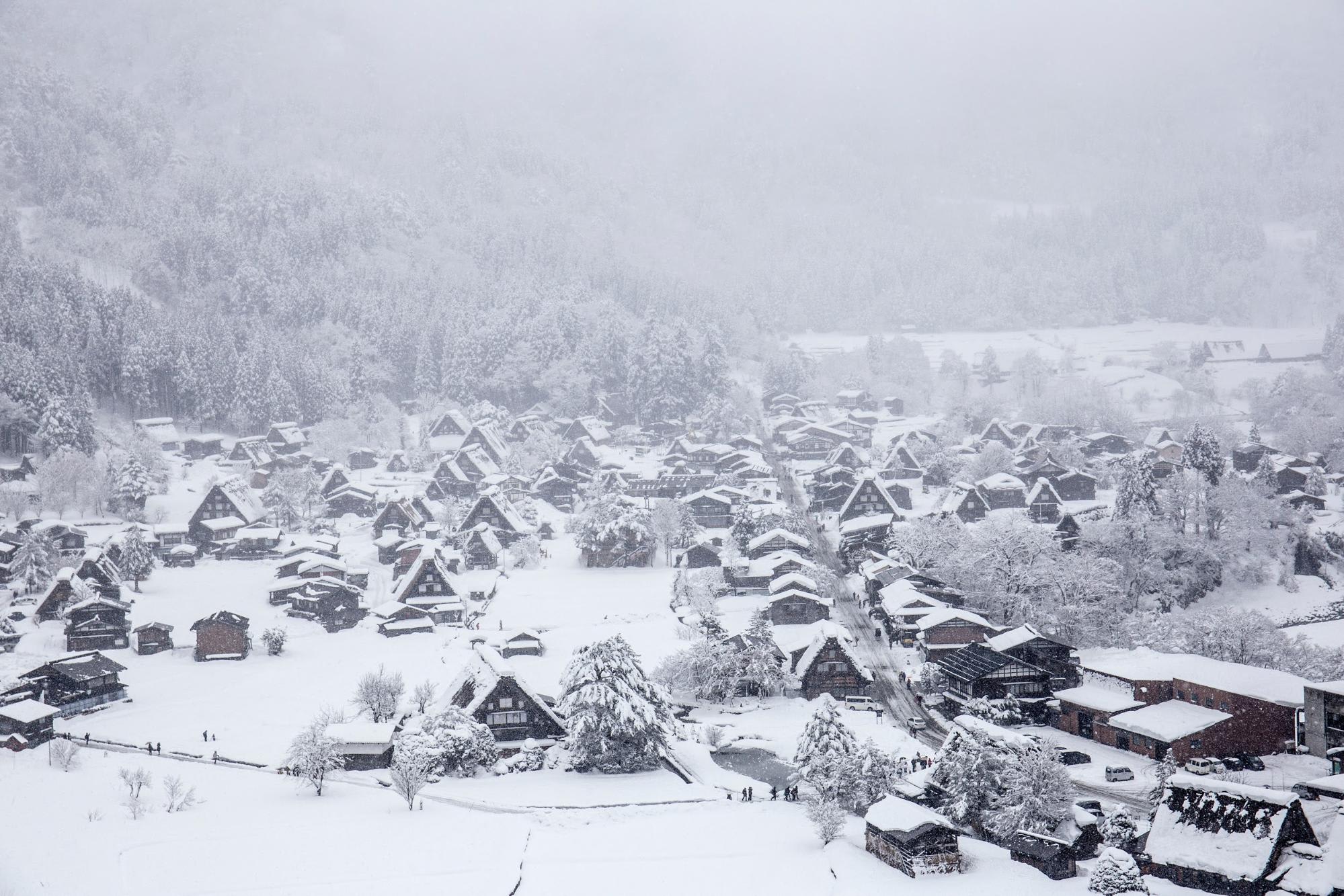 Enjoy the best views of the Gassho-style houses from above when you make your way to the Shiroyama Observation Deck. Just a short 15-minute walk from the main village, it's a relatively easy trek with just a mild slope.
If you have trouble walking, you can get to the observation deck by boarding the shuttle bus which only costs 200 yen for one way. Do take note that during heavy snowfall periods, the trail to walk up may be closed.
Address: 22-13 城山町 Kagoshima, 892-0853, Japan
Opening Hours: 5 am to 12 am
3. Deai-bashi Bridge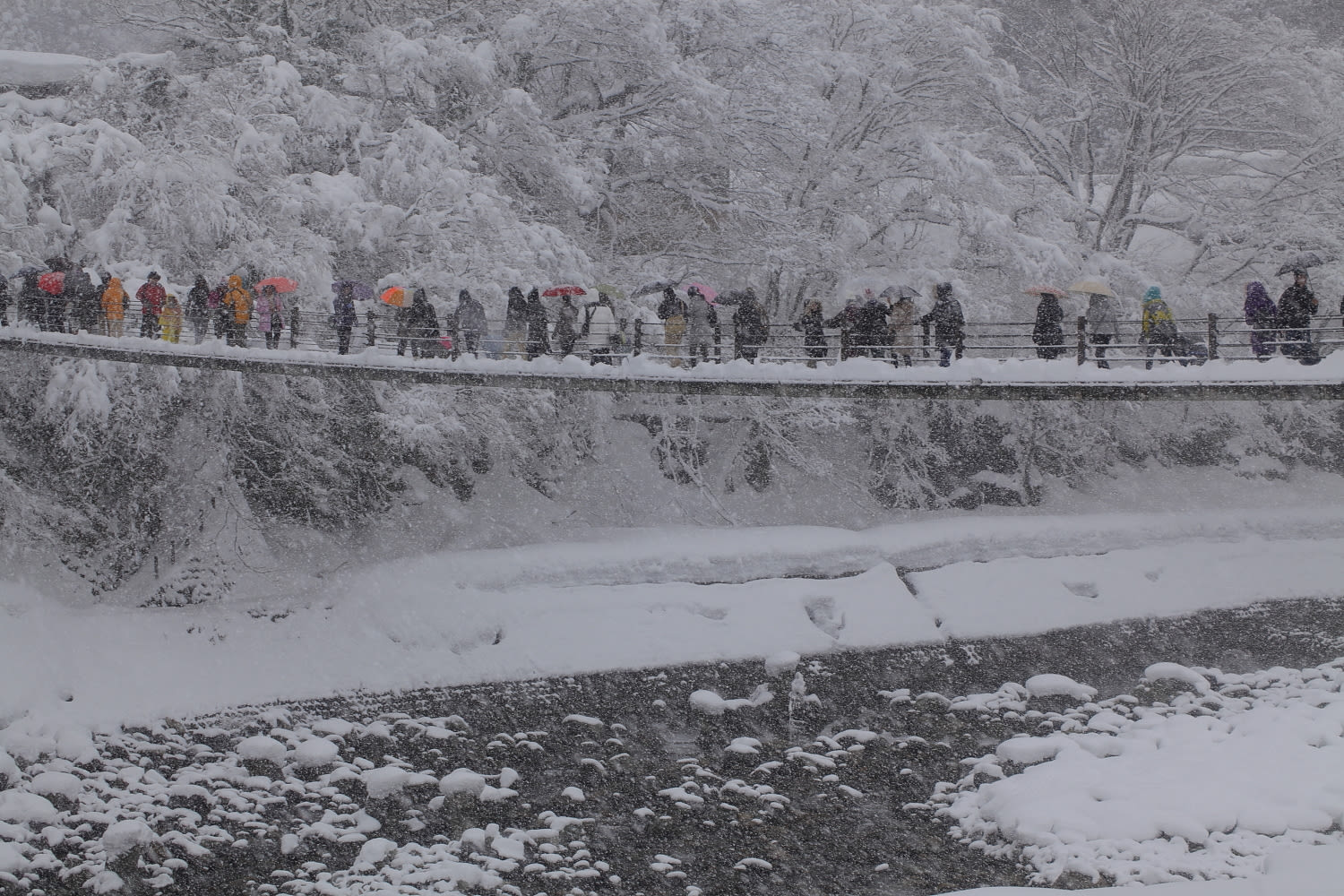 Photo Credit: Wikimedia Commons
The Deai-Bashi Suspension Bridge not only serves as the main entry point to the village, but it is also a spot where visitors can witness lovely panoramic views of Shirakawa-go, the river, and surrounding mountains!
If you happen to visit during springtime, you'll be pleasantly surrounded by sakura flowers. As the season changes, you can also enjoy the views of autumn foliage or snow. Make sure to be careful during winter because the bridge can get slippery from the snow.
Address: 441 Ogimachi, Shirakawa, Ono District, Gifu 501-5627, Japan
4. Shirakawa Hachiman Shinto Shrine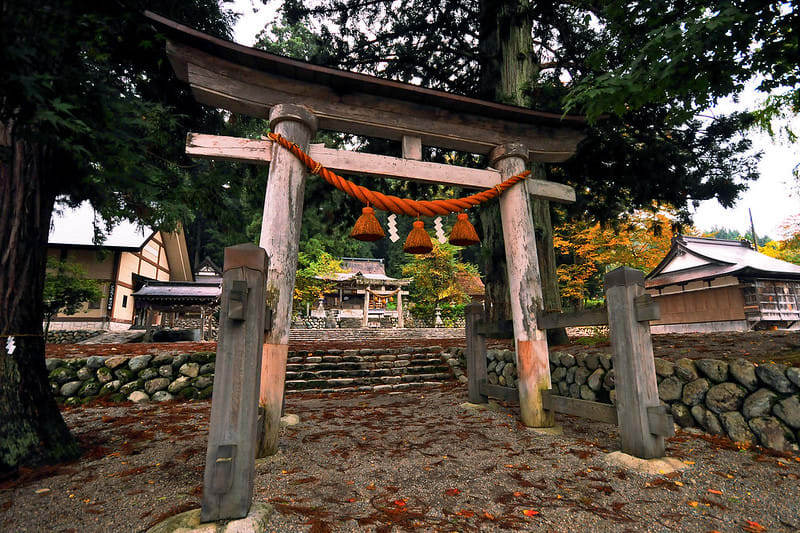 Photo credits: Boleslav Bobcik on Flickr
Located inside the Ogimachi Village, many might overlook the humble Shirakawa Hachiman Shinto Shrine but do keep a lookout for it. While modest in size, it's well-maintained and quite a treat to explore. Don't be surprised to find yourself amongst anime fans since this shrine has been featured in an anime before!
Besides that, the shrine also plays a crucial part in Shirakawa-go history and has served the local villagers for a long period of time. Make sure to drop by, say a prayer or two, bask in its serene settings and snap a few photos!
#Klooktip: Many visit the Shirakawa Hachiman Shinto Shrine every year from September to October for the Doburoku Festival!
Address: Japan, 〒501-5627 Gifu, Ono District, Shirakawa, Ogimachi, 字山越556番地
Opening Hours: 9 am to 5 pm
5. Kanda House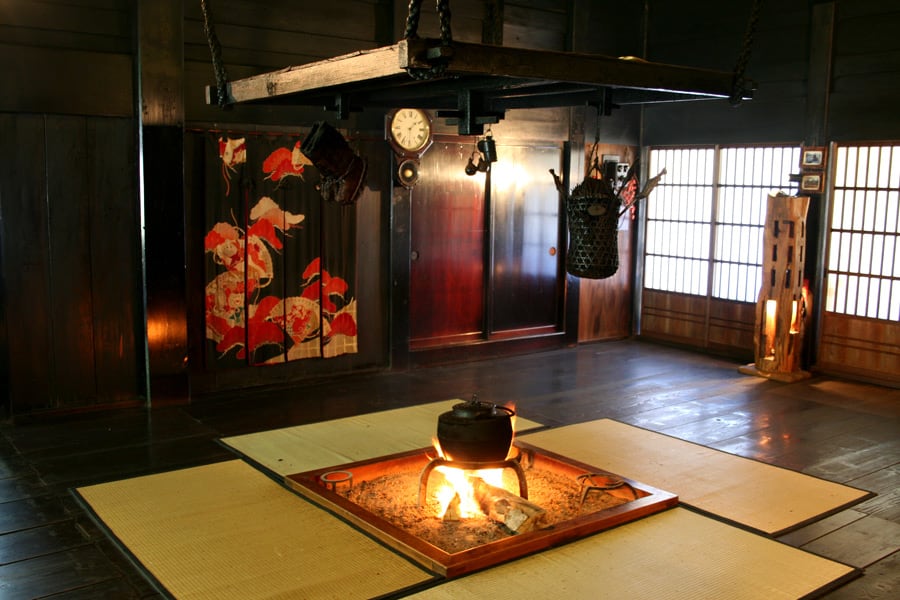 Camouflaging amidst the other Gassho-style houses in the village, you might chance upon the Kanda House. Having been converted into a museum, it allows visitors to take a peek into the lives of the locals residing in these houses since hundreds of years ago!
With an entrance fee of 300 yen, you can spend your time enjoying an educational visit. Take the time to find comfort in a warm cup of tea served in this traditional house and also witness the great view of the village from the highest floor!
Address: 796 Ogimachi, Shirakawa, Ono District, Gifu 501-5627, Japan
Opening Hours: 9 am to 5 pm
Must-eats in Shirakawa-go
While exploring Shirakawa-go, you'll notice plenty of food stalls dotted across the village. Selling a variety of local snacks, they're a great way to understand the local culture which adds to the overall experience of Shirakawa-go. The following are some of the must-try local delicacies: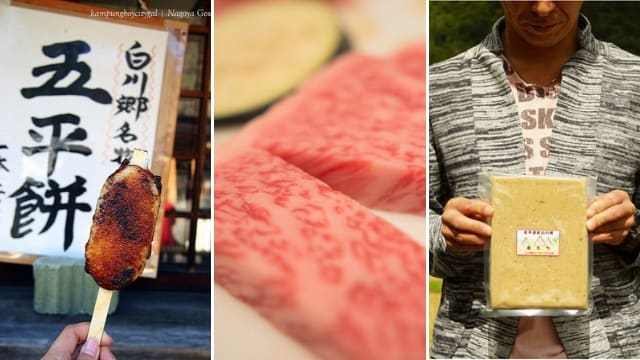 Photo Credit: kampungboycitygal | Wikimedia Commons | Shirakawa Website
1. Gohei dango / Gohei mochi
A speciality in Shirakawa-go is gohei mochi, also known as gohei dango. While you mostly associate mochi as a sweet dessert, the gohei dango, in fact, is a savory snack made from pounded rice glazed in miso paste! Make sure you don't leave without sinking your teeth into one!
2. Hida beef
Absolutely indulgent and melt-in-your-mouth, the Hida beef needs no further introduction. Easily one of the best wagyu cuts you can find, it's no wonder that Hida beef is the region's prized produce. You can have them served as a steak or made into snacks like beef onigiri (rice balls), beef buns, or croquettes!
3. Tochi (Japanese horse chestnut) mochi
A local delicacy that takes days of labor and many stages of processes, tochi mochi a must-try when in the region. Made with Japanese horse chestnuts gathered in the village and the Hida region, preparing the tochi is the trickiest part in order to remove the unpleasant taste.
Shirakawa-go festivals
1. Winter Illumination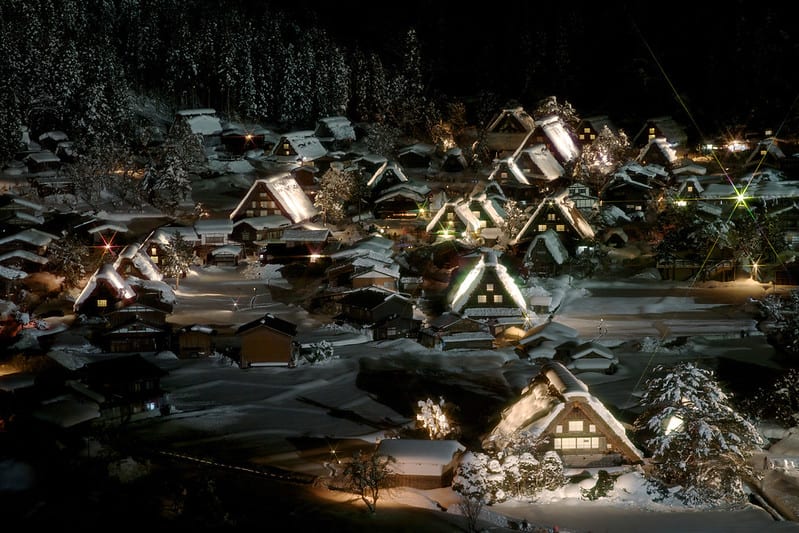 Experience the magic of the Shirakawa-go winter by witnessing an exclusive winter illumination event held only a few times a year during the winter season! Almost like a fairy tale come to life, you can witness lights twinkling amongst the alpine glory of thick blankets of snow in the set of the rustic traditional village.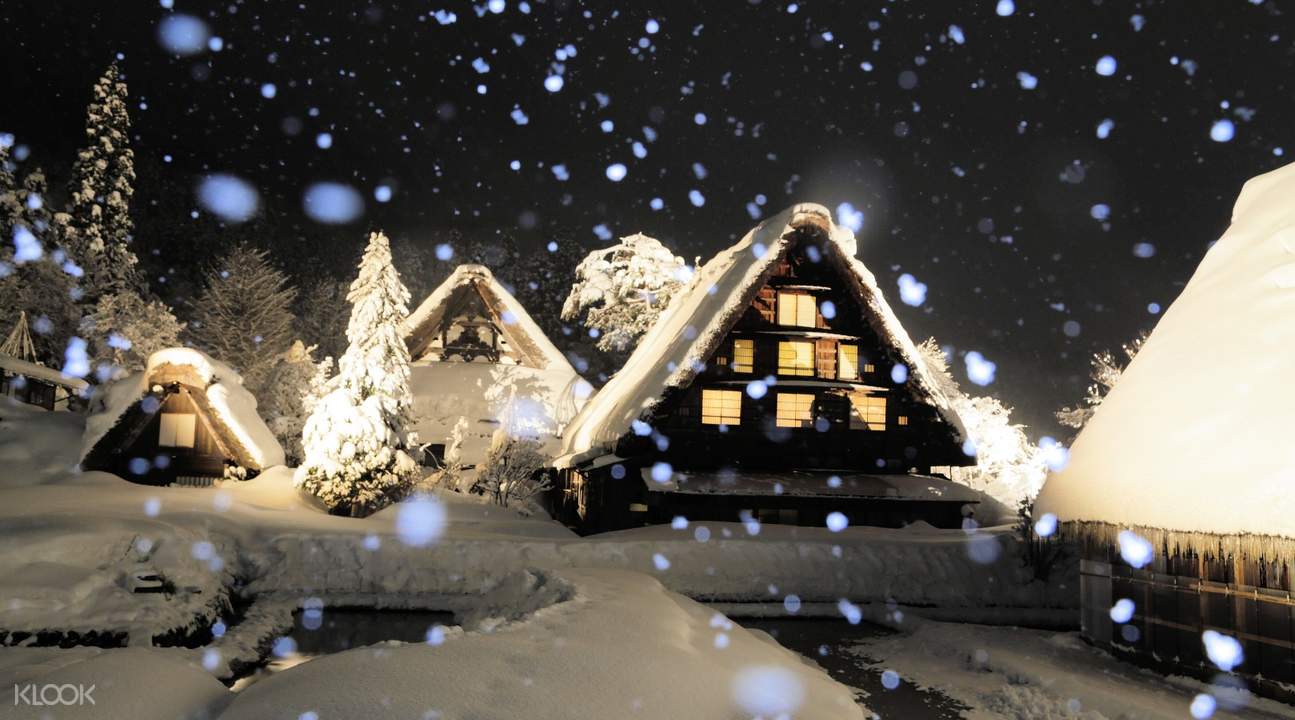 Do make sure that you plan early as you'll have to make tour reservations ahead of time to take part. This is because the event limits a certain number of tourists allowed into the village due to certain restrictions. Check out our day trips which include a visit to Shirakawa-go's light up!
2. Doburoku Matsuri Festival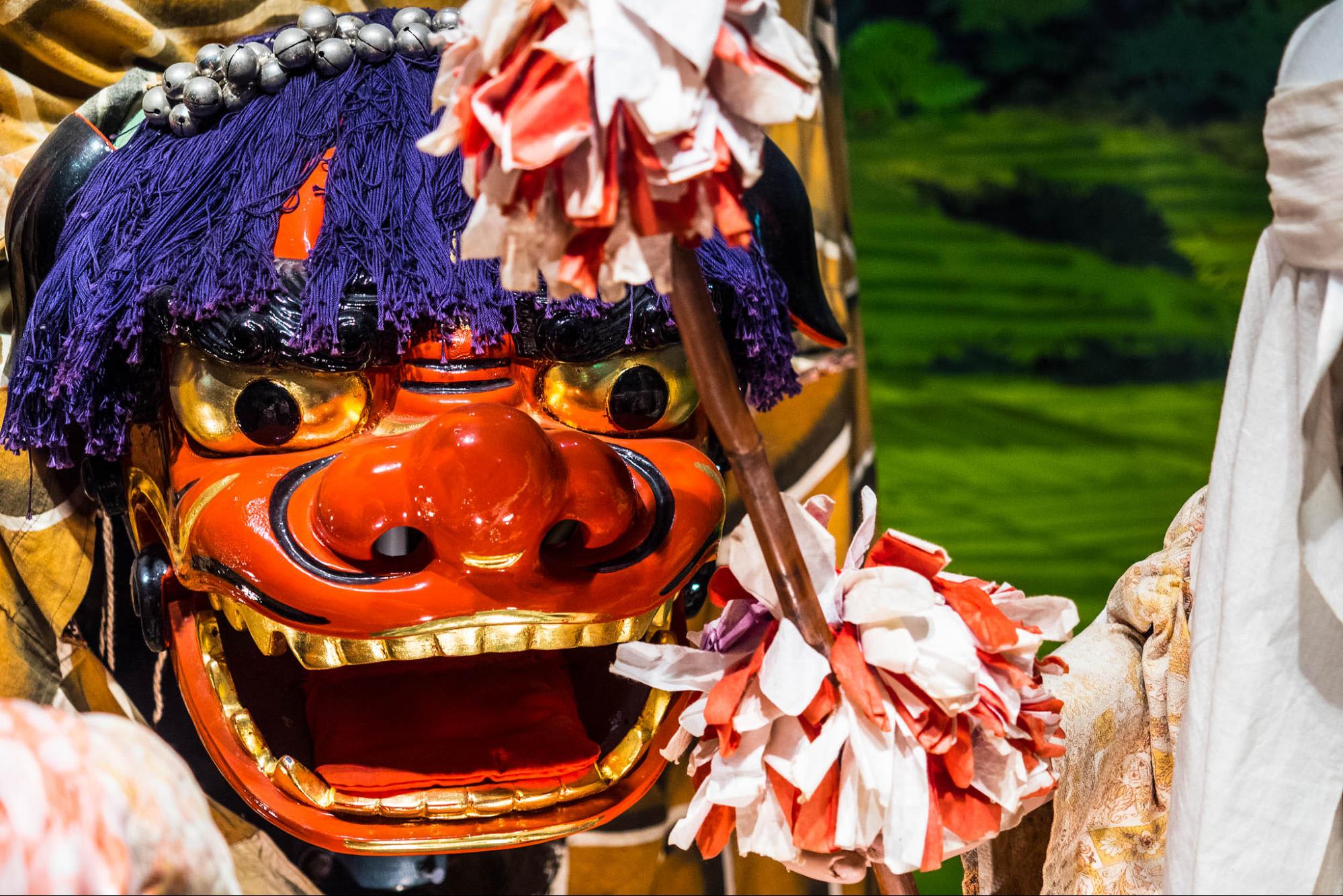 Photo Credit: lau_chan for Flickr
Every year from early to mid-October, the Doburoku (unrefined sake) Matsuri is a festivity that takes over the quaint village of Shirakawa-go. Villagers gather to offer prayers to the local mountain gods for a good harvest and thanks for protection.
During the Doburoku Matsuri Festival, you can witness local villagers conducting sacred processions at the shrines. Other activities include the lion dance, folk singing, dancing and more! It's definitely a vibrant festivity paired with the buzz of potent locally-brewed sake.
Where to stay in and around Shirakawa-go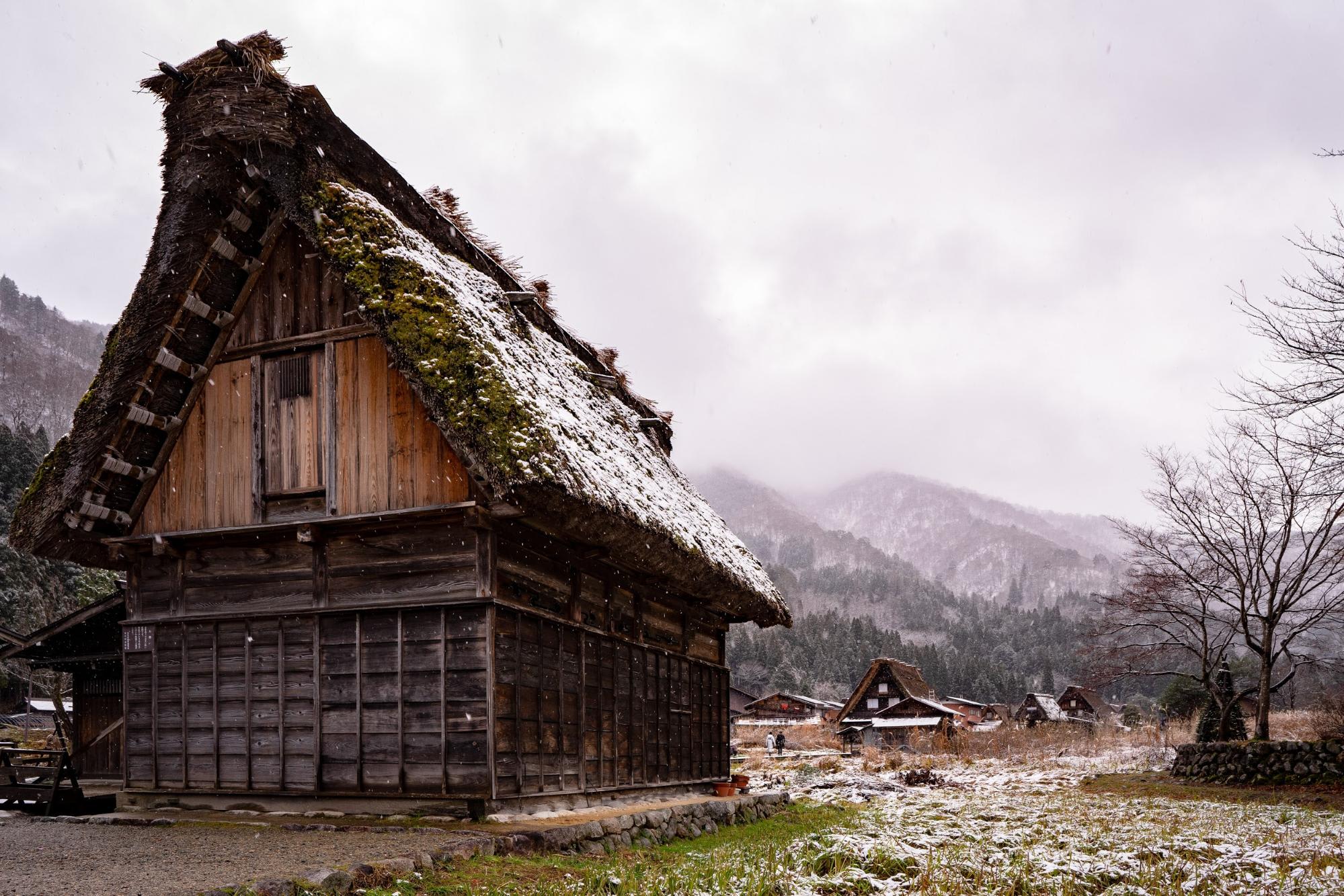 For a unique lodging experience, you can opt for one of the guesthouses around the Ogimachi village. The gassho-zukuri farmhouses are usually fun by local families, so you can expect an intimate and authentic experience of living in a traditional Japanese home.
In these traditional homes, you can find tatami mat floors and low tables. During the nighttime, the futons are unfolded and laid out on the floor for you to sleep on! While keeping with its rustic charm, you can still find modern amenities around the house.
Since Japanese guesthouse stays have been increasing in popularity, reservations can be quite difficult unless booked far in advance. Opt for a 2D1N day trip or stay in nearby cities instead. The neighboring cities and regions include Gokayama, Takayama, Kanazawa, and Nagoya.
Klook your Japan essentials
For a hassle-free holiday in Japan, don't forget these travel essentials: