Day trips out of Seoul
There's Seoul much more to see and do than just the usual suspects like shopping for K-fashion and K-beauty products along the bustling streets of Myeongdong, visiting your iconic attractions like the N-Seoul Tower and the Coex Aquarium and of course feasting on local delights. 
If you're looking for a quick escape from the city, a day trip out of the city is perfect for a quick recharge! Day tours are the perfect option if you're too lazy to do the research. We've rounded up 14 must hit spots that are just a stone's throw away from the city for an unforgettable day trip.
1. Nami Island, Petite France & Gangchon Rail Biking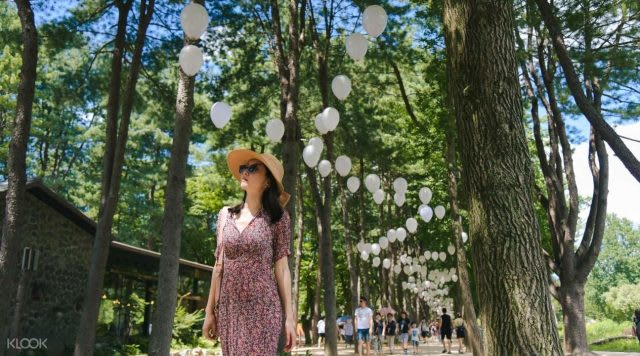 The most popular attraction in South Korea outside of Seoul, Nami Island rests in Chuncheon in Gangwon-do province. The tree lined avenues are stunning no matter what season you visit! This autumn, you'll find the park dressed in crimson and gold leaves, perfect for your #OOTD.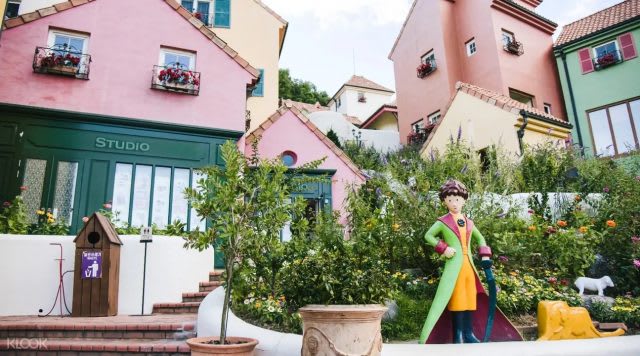 Nearby, Le Petite France, inspired by The Little Prince, is perfect for travellers who want a taste of French ambiance in the Korean countryside. The theme park is a quirky and whimsical affair featuring live shows and scenic views.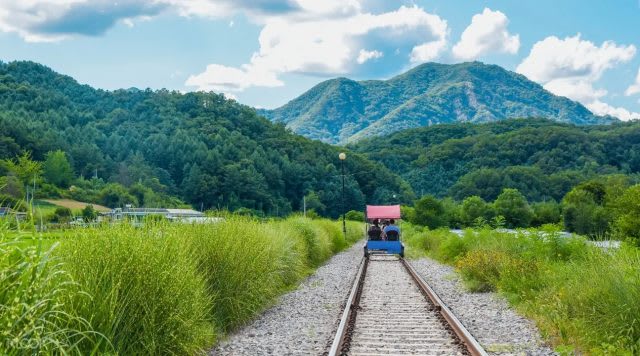 Work off all that Korean BBQ with some light exercise around Gangchon on a rail-bike! You'll barely feel the ache in your thighs thanks to the distracting scenery all around. Pre-book a day tour from Seoul and get chauffeured to Nami Island in a comfortable bus! It even includes all entry tickets so you won't have to wait in line to get tickets to get in.
2. Alpaca Pasture, Jade Garden & Gubongsang Mountain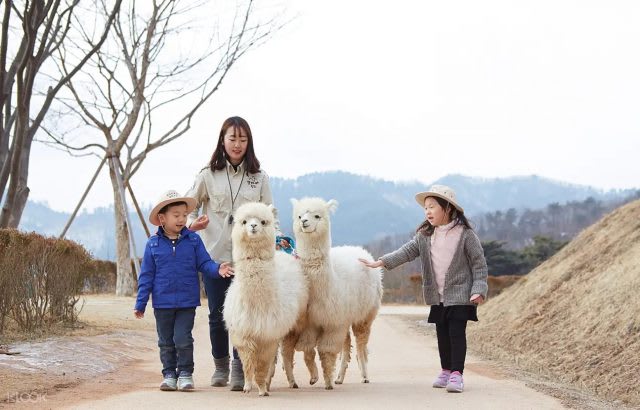 Who doesn't love alpacas? In the newly opened Chuncheon Alpaca World, you can get up close with the cutest furriest alpacas and even take them on a walk! There are also deer, birds, rabbits and goats which we are sure the little ones will love interacting with. 
The Jade Garden is home to a whopping 3000 plant species, beautiful brick houses that look straight out of a fairytale making for great photos! 
The nearby Gubongsang Mountain Observatory is the sweet ending you'll need at the end of the day. With freshly brewed coffee in hand, watch the sunset over the city of Chuncheon before heading back to Seoul.
If you like fuss-free day trips, pre-book your day tour from Seoul and it includes admission tickets, a free drink at the Gubongsang Mountain Cafe, roundtrip transportation from Seoul and even a friendly guide.
3. [Seasonal] Seoraksan Autumn Day Tour with Cable Car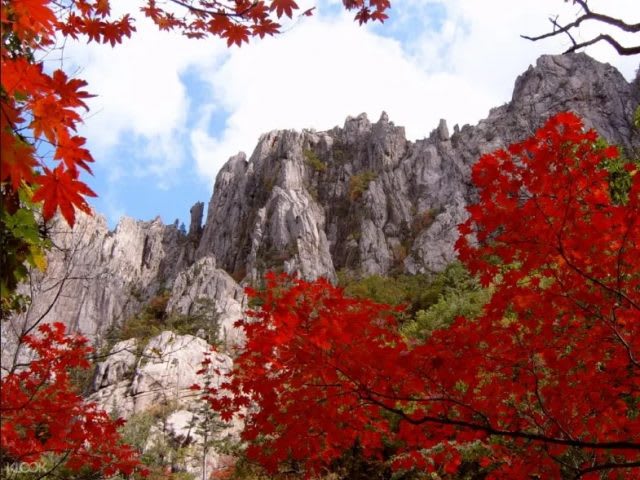 Seoraksan Mountain is one of the best places to catch the autumn foliage! Located in Gangwon-do, a hike along any of the routes will offer you the best views. The best spots are said to be the Cheonbuldong Valley, Osaek Mineral Spring, Osaek Jujeongol and Baekdam Valley.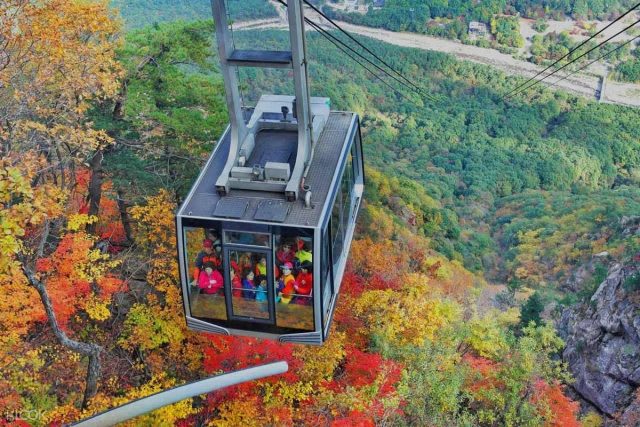 Even if you're feeling lazy and don't wish to make the hike, you can still enjoy the views on a cable car ride!
4. Haneul Park, Pink Muhly Grass, and Dumulmeori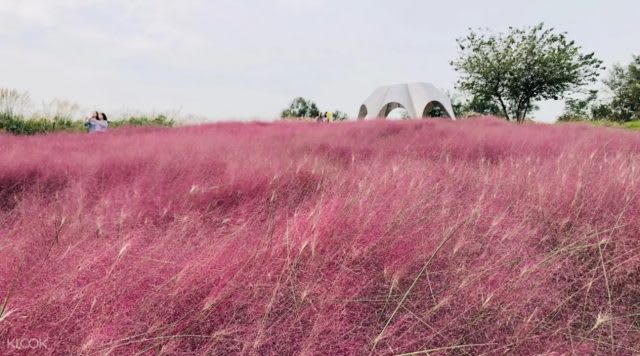 The Pink Muhly grass that you've seen making waves on Instagram can be found in Korea! This can only be found in the autumn season so be sure to plan your trip around them. Haneul Park is a famous park where you can find vast fields of Muhly Grass. 
Grab a Lotus Leaf hot dog and spend the day taking in the beauty of the park! Pre-book your day tour from Seoul for a fuss-free afternoon out. 
5. Everland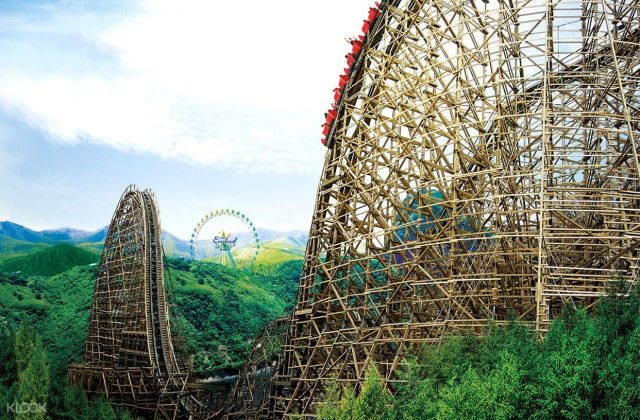 Everland Theme Park is one of the biggest theme parks in Korea and there's something in the park for everyone. Combining a mini safari, carnival games and of course thrill rides, you'll easily spend the whole day there!
P.S. You'll even get to feed the giraffes and bears on the Safari experience. Check out our Everland guide for all you can expect on your visit. 
Located in Gyeonggi-do, slightly outside Seoul, pre-book your shuttle tickets from Seoul to avoid having to navigate on your own. Tickets are also open-dated and are mobile e-tickets for the ultimate fuss-free experience.
6. [Seasonal] Vivaldi Park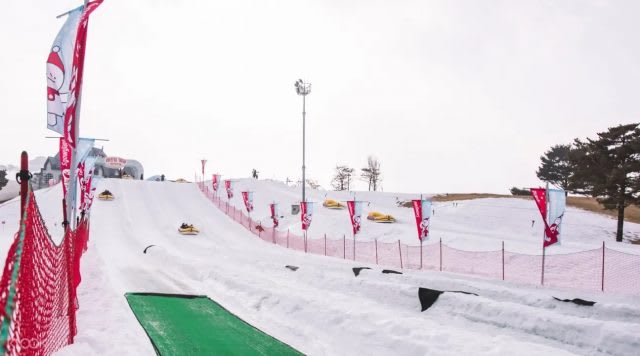 If you're travelling in the winter, make the most out of Korea's white snow and get outdoors for some snow sports! Go snow tubing, skiing or even ice skating at the nearby Vivaldi Park Resort.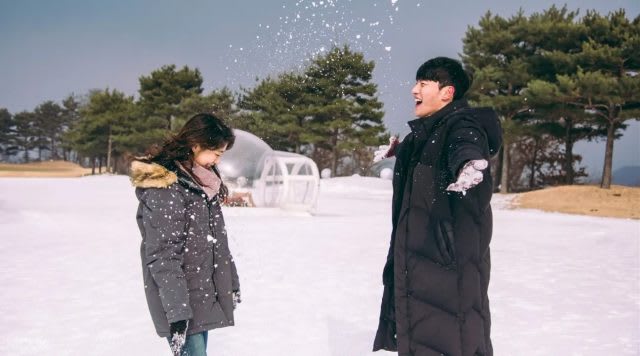 If you're visiting with bae, recreate your favourite K-drama scenes from 'Legend Of The Blue Sea' and 'That Winter, The Wind Blows". 
Pre-book your day trip visit from Seoul and it includes roundtrip transfers to spare you the hassle of getting there on your own. You can even opt for ski clothes and ski rentals as well as the ski lift to make your way up and down the slopes! 
If you can't get enough of the snow, here are some winter gems you should check out! 
7. [Seasonal] Pyeongchang Trout Festival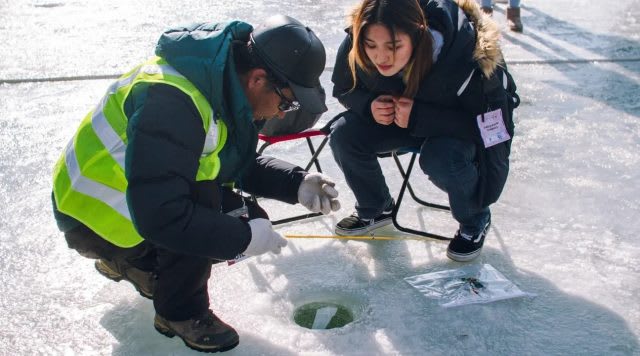 This Ice Fishing Festival in Pyeongchang is a must-try if you're visiting in winter! Learn from the locals how to catch your next meal. After the experts teach you the tricks, sit by a hole in the ground and wait for your catch.  
If you're not into fishing, you can also go ice sledding or take part in other snow sports! Nothing tastes better than eating your catch! Have them freshly grilled in front of you or cut into sashimi slices and eaten raw. Pre-book your day trip from Seoul and it includes round trip transfers, fishing equipment rental and an exclusive fishing chair.
8. Ansan
Ansan is found in Gyeonggi-do and houses Farm Land and Starlight Village, two attractions that are perfect for all-around family bonding. Farm Land is an animal farm that gives its guests the opportunity to interact with a host of critters. Touring the park, petting and feeding sheep, and handling parrots and other animals are activities everyone will enjoy. Starlight Village with their gorgeous night light setups, brighten up the night and is perfect for the IG-hungry traveler looking for their next post.
9. [Seasonal] Naejangsan National Park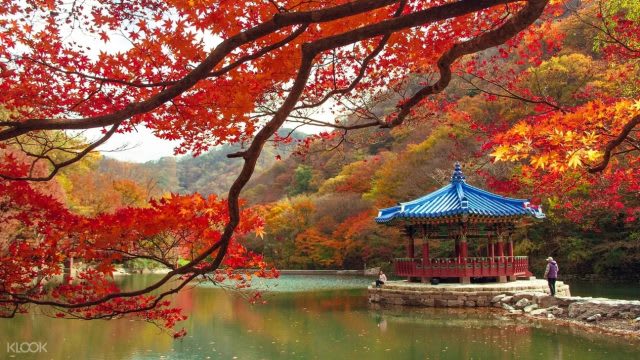 If you need a break from the big city in the autumn months, look no further than Naejangsan National Park. This nature reserve in Jeollabuk-do houses nearly 82 sq. km. of vibrant and stunning scenery that features vast woodlands and a few serene ponds.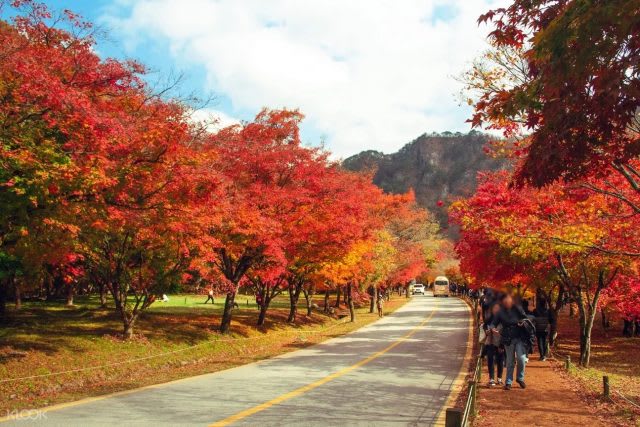 Naejangsan is perfect for traveling couples as the autumn hues of the park create a deeply romantic atmosphere that evokes a warm, comfy feeling that you can associate with your significant other.
10. Jeongdong-Simgok Budabuchae Gil
Put on your walking shoes and don't forget your sunglasses! The Jeongdong-Simgok Budabuchae Gil  2.8 km trail is accessible via a breathtaking stroll or bike ride with a gorgeous backdrop of the coast that's suitable for people of all ages. Another place you will make a pit stop at is the Gangneung Jungang Market. Get ready to fill your bellies with fresh local delights and even pick up a souvenir or two to take home.
11. Jeonju Hanok Village and Baegyangsa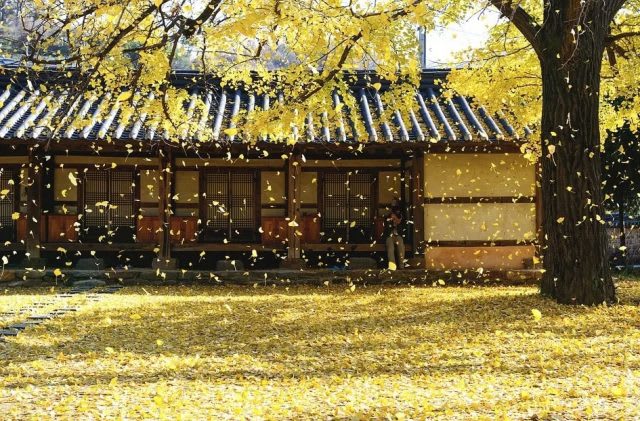 The Jeonju Hanok Village takes you back to the Joseon Dynasty, with traditional Hanok houses that you've seen in the historical K-dramas. Come autumn, this village becomes even more picturesque thanks to the falling Gingko leaves, painting the floor a beautiful golden yellow. 
Afterwhich, head to Baeyangsa, one of the most beautiful temples in Korea. The crimson red maple leaves definitely will not disappoint.
12. DMZ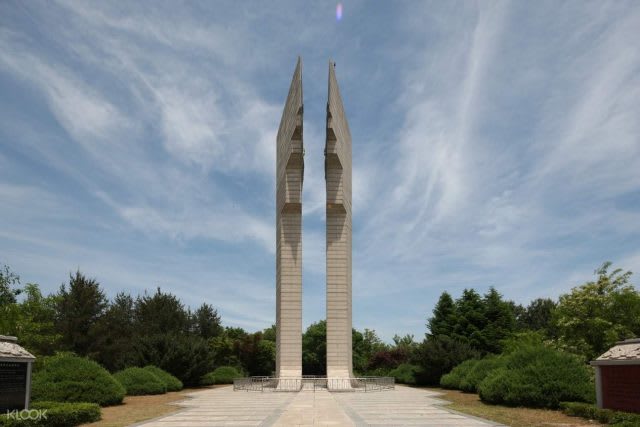 There's a reason why Korea is divided into its North and South territories. After drafting an agreement that ceased the violence of the Korean War, the Korean DMZ (Demilitarized Zone) stands as the border between the territories.
With strict entrance requirements, the Korean DMZ just may be the best chance for you to get anywhere near the North.
Korea essentials 
Enjoy $15 off your Korea trip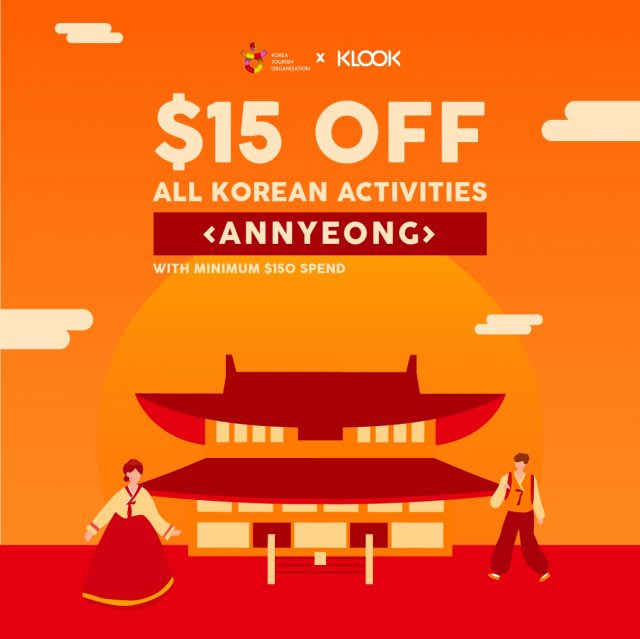 Enjoy $15 off all Korean activities on Klook when you key in the promo code "ANNYEONG" with minimum spend of $150. Who says a trip to Korea has to break the bank!