Food and fun at Universal Studios Japan
For all theme park junkies, Universal Studios Japan in Osaka is a bucket list must-have.
One of the only two Universal Studios parks in Asia, Univeral Studios Japan is every thrill-seeker and movie fan's place to be – with different adventure zones to explore, and new seasonal attractions always popping up. Before you head down, read up on our insider tips and tricks to fully maximise your USJ experience!
All that running around is bound to make you hungry. Here's our pick of 11 USJ dishes and snacks to keep you fuelled on your theme park adventure! Sorted by zones, you'll never go hungry in USJ with this guide.
Minion Park
1. Minion Pizza @ Minion Park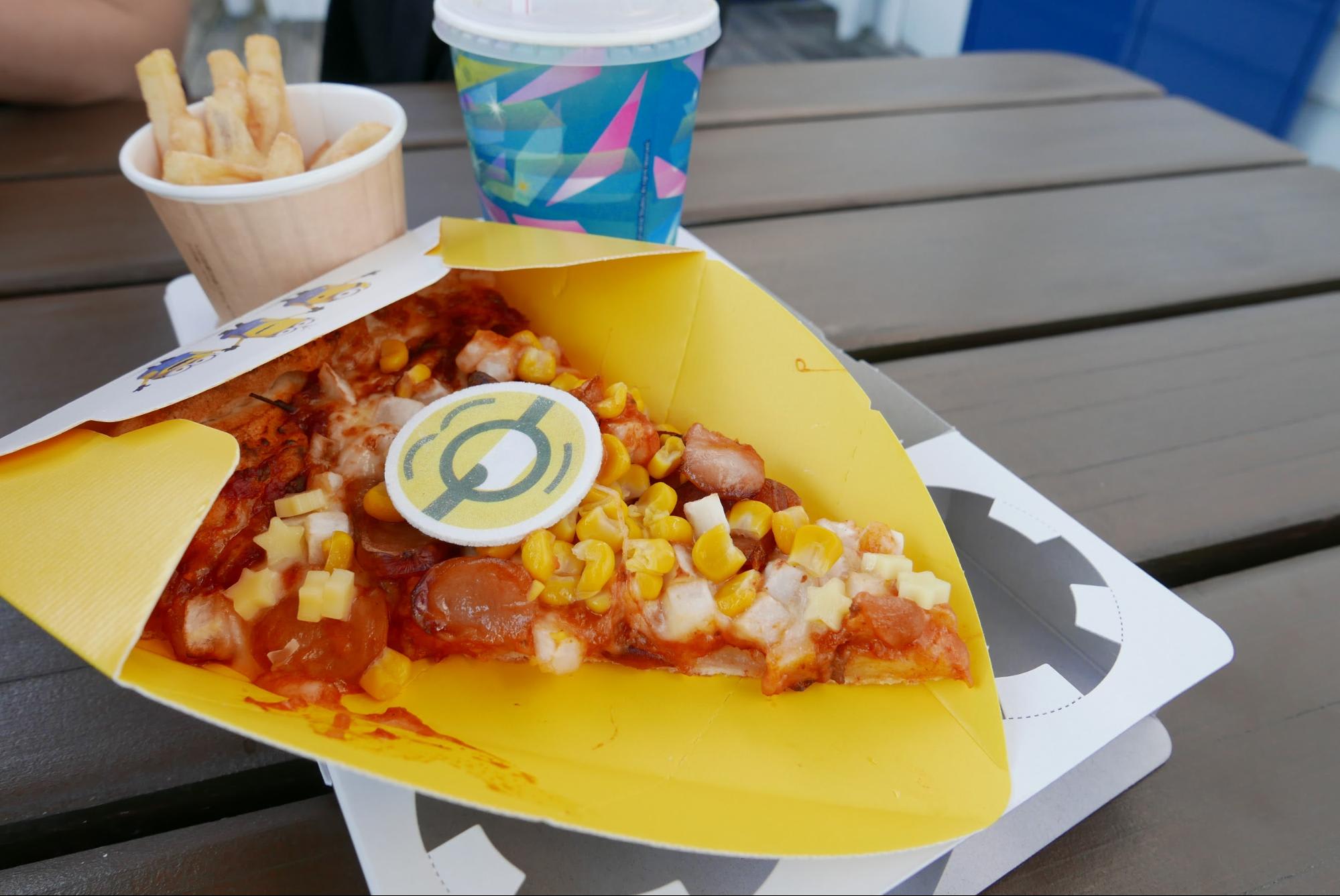 Pineapple on pizza is contentious as it is – but corn? Almost non-existent in North America and several other parts of the pizza-loving world, sweet corn as a pizza topping in pretty popular in Japan.
To try this combination at USJ, head to Minion Plaza for the Minion Pizza. This corn and sausage medley makes for the perfect in-between rides snack, with the crunchy sweet corn kernels adding a great pop of texture and flavor. Add on fries and a soft drink for a full meal.
You can also find a Minion Choco Banana & Marshmallow pizza if you're craving something sweet instead!
2. Minion Japanese Curry Omurice @ Happiness Cafe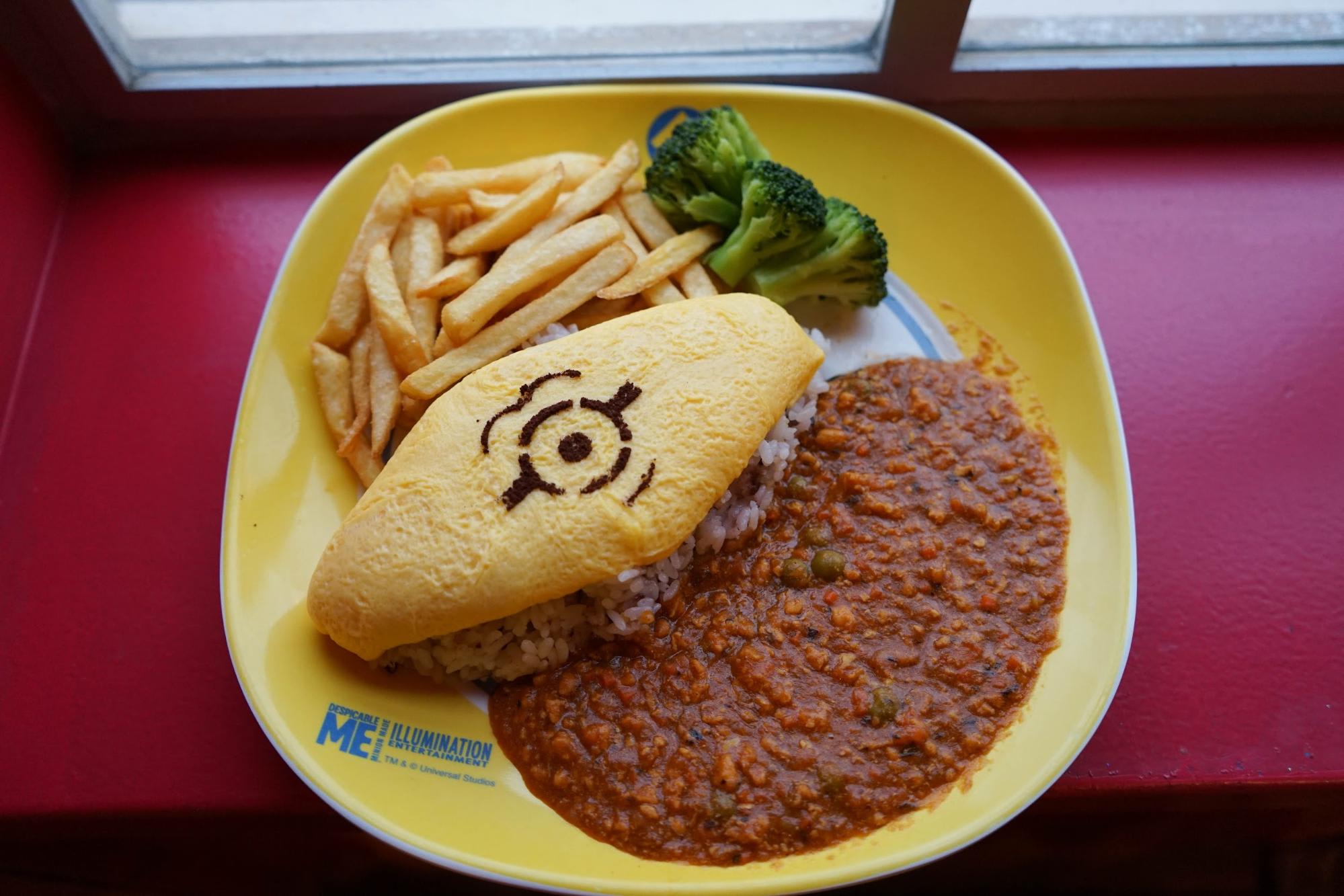 For a sit-down option at Minion Park, head to the Happiness Cafe for their Minion Omurice Set. The creamy-centred Japanese-style omelette is served on top of rice, with minced beef curry, fries, a side of salad and a drink – making for a balanced meal to fuel the rest of your park adventures.
Klook Tip: Set Meals at Happiness Cafe come with free-flow drinks from the drinks bar!
3. Fluffy Churritos @ Delicious Me!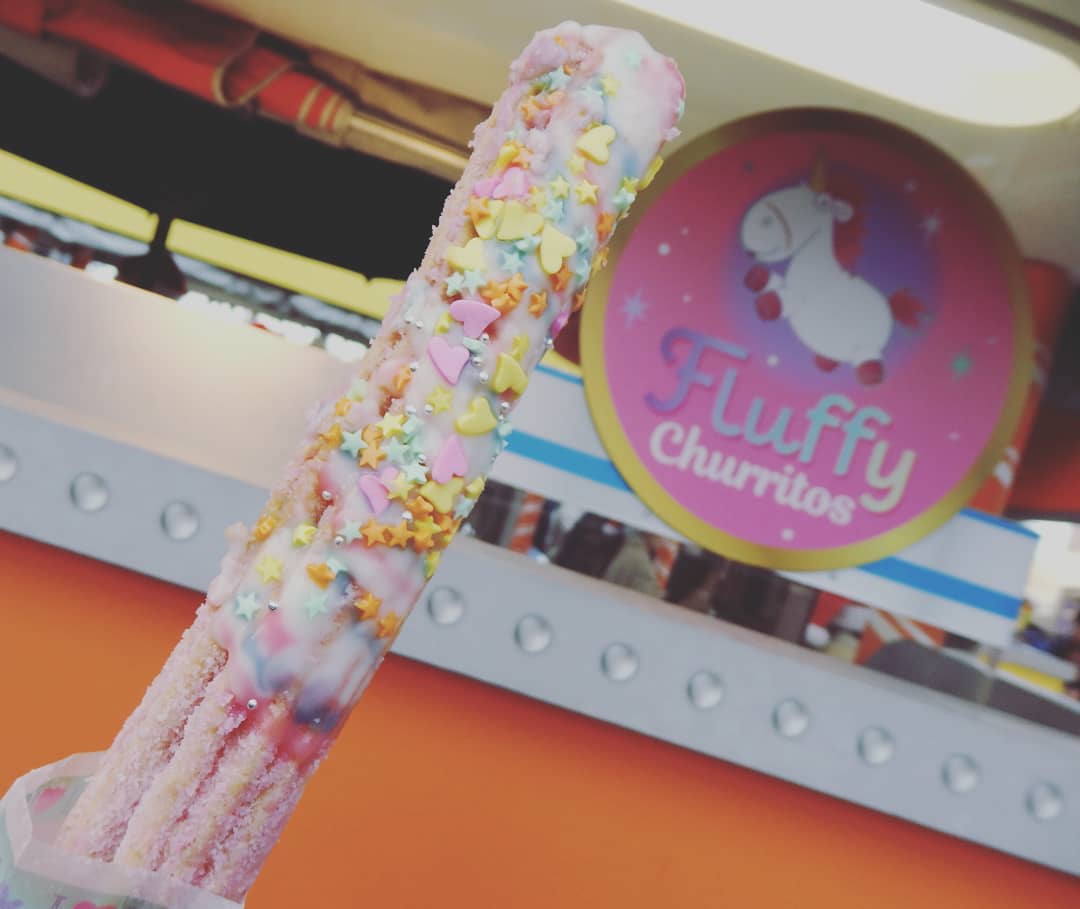 Image Credit @usjfood on Instagram
USJ is always churning out new seasonal Churritos flavors. For more rainbow unicorn madness, the Fluffy Churritos at Delicious Me! will do the trick – a strawberry churro base generously dusted with pink sugar, dipped in rainbow-swirled frosting and even more sprinkles.
4. Minions Ice Cream Sandwich @ Delicious Me!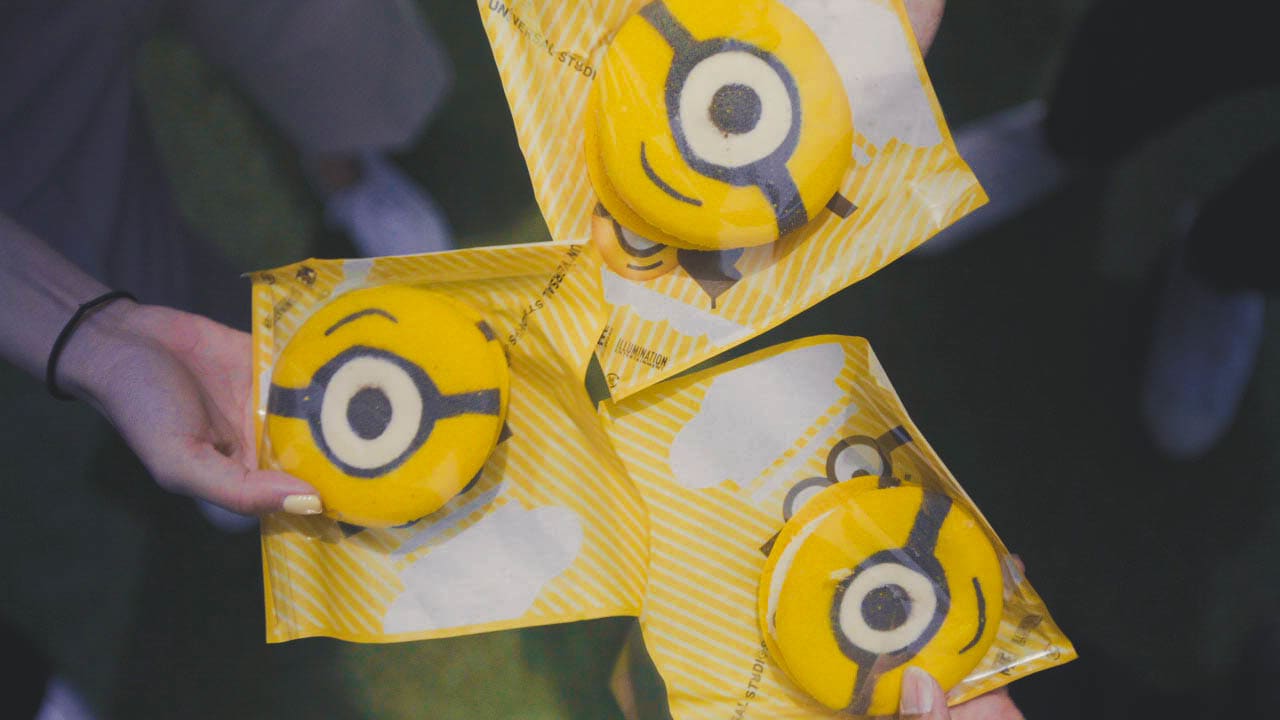 With warmer spring days approaching – it'll be summer before we know it and ice cream sandwiches are getting more justifiable by the day.
Delicious Me!'s Minion Cookie Sandwiches are almost too cute to devour. These shortbread-based sandwiches are available in a range of different flavors, which rotate seasonally. Some of our favorites are Fruits & Cream, Banana Milk & Fruit, Matcha and Tiramisu.
5. Fluffy Hot Chocolate @ Delicious Me!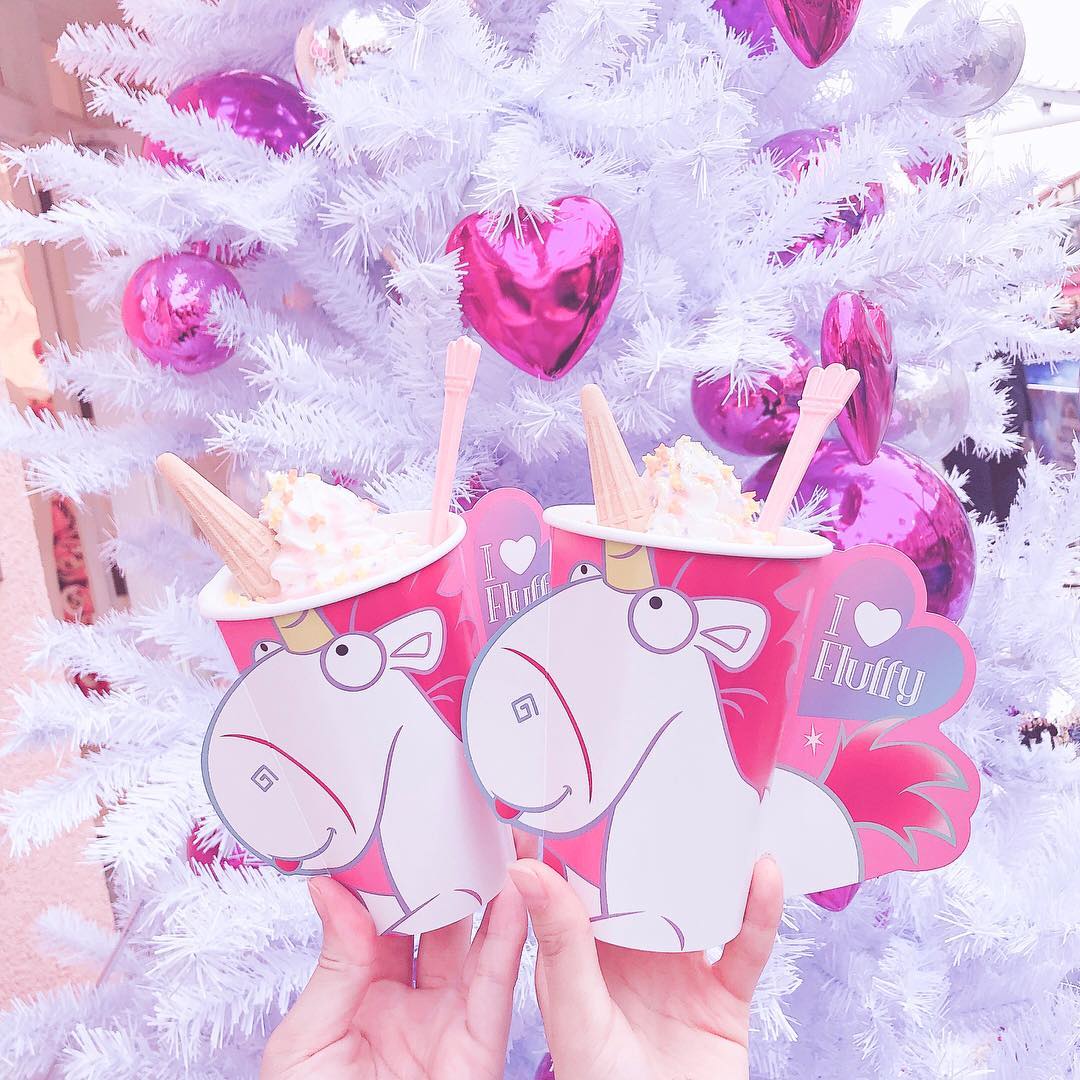 Image Credits @yuri_zvirbulis on Instagram
If you're a fan of cute fluffy unicorns, the Fluffy Hot Chocolate at Delicious Me! is just the thing for you. Topped with pink-tinted whipped cream, rainbow sprinkles and a mini pink waffle horn, this sweet drink is bound to make anyone smile. Major plus: the adorable Fluffy Unicorn cups.
Amity Village
6. Fried Chicken Sandwich @ Amity Landing Restaurant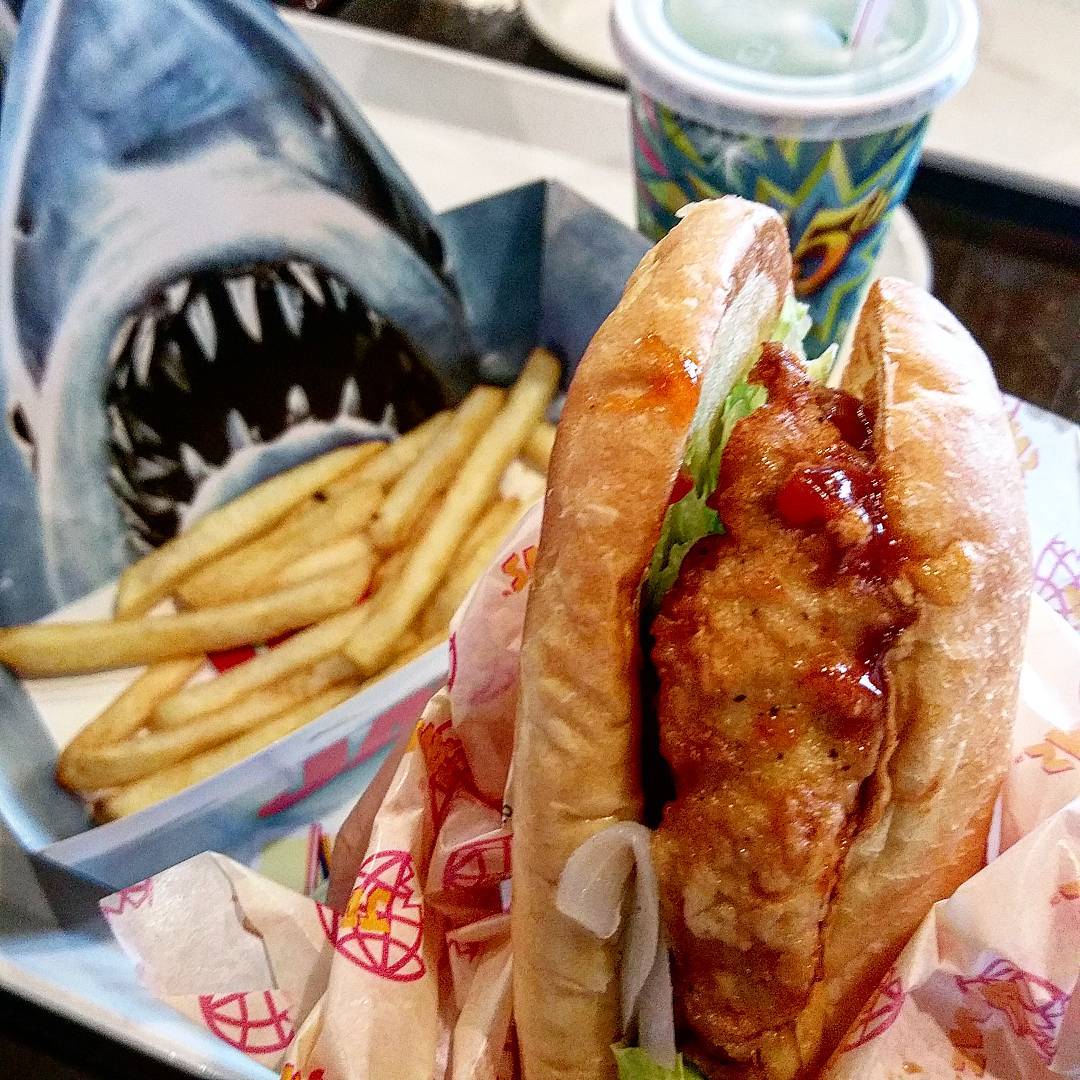 Image Credit: @jocelyn9520 on Instagram
You might not think it at first, but the Amity Landing Restaurant in the Jaws-themed Amity Village serves up some surprisingly good fried chicken.
Their menu is short and simple – fried chicken by the piece, and fried chicken sandwiches. Give their Chicken Sandwich a try – served with a side of fries and a soft drink, the fried chicken is nicely seasoned, with a crisp crust.
7. Jaws Cream Soda Swiss Roll @ Amity Landing Restaurant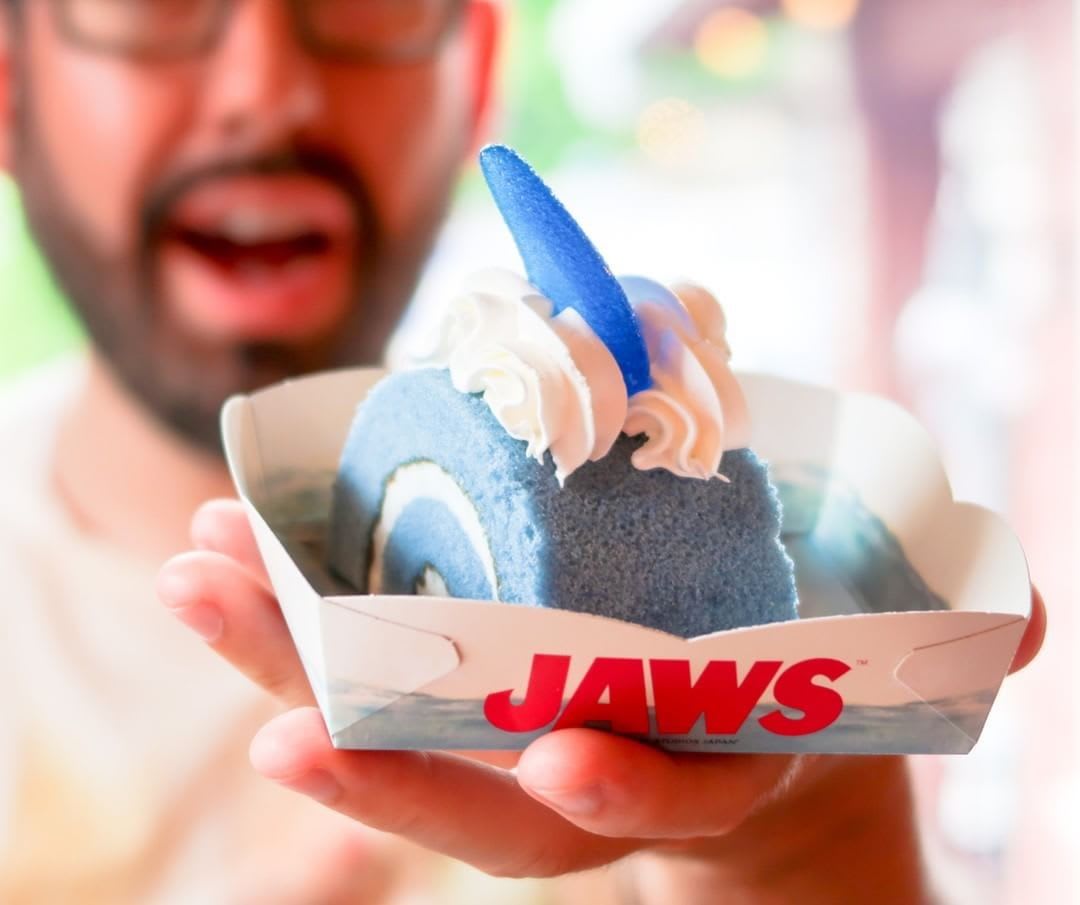 Image Credit @tdrexplorer on Instagram
With the Japanese penchant for sodas – from the all-time summer favourite Ramune to the culturally iconic milk-based Calpis – it's no surprise that they've managed to turn the fizzy drink into cake form.
Finish off your meal at Amity Landing Restaurant with a slice of Jaws Cake. This ocean-blue swiss roll has a surprisingly legitimate cream soda taste to it, and is topped with waves of frosting and a bright blue shark fin candy.
Hollywood
8. Beverly Hills Chocolate Fondant @ Beverly Hills Boulangerie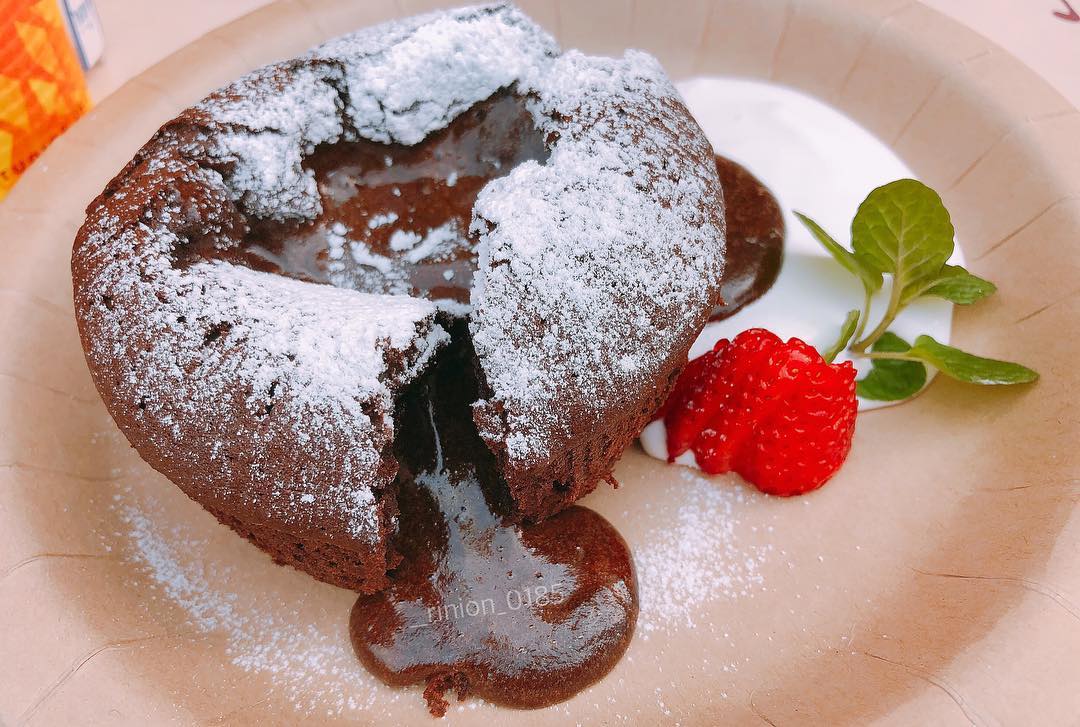 Image Credit: @__rinion_0185 on Instagram
The French-style Beverly Hills Boulangerie in the Hollywood Area has the perfect solution to any sudden onslaught of molten lava cake craves.
There's nothing more sad than a lava cake that doesn't flow, but the Beverly Hills Chocolate Fondant doesn't disappoint – not too sweet, crisp-edged and lightly dusted with powdered sugar, with a centre of chocolate liquid gold.
Jurassic Park
9. Jurassic Hamburg Steak Set @ Discovery Restaurant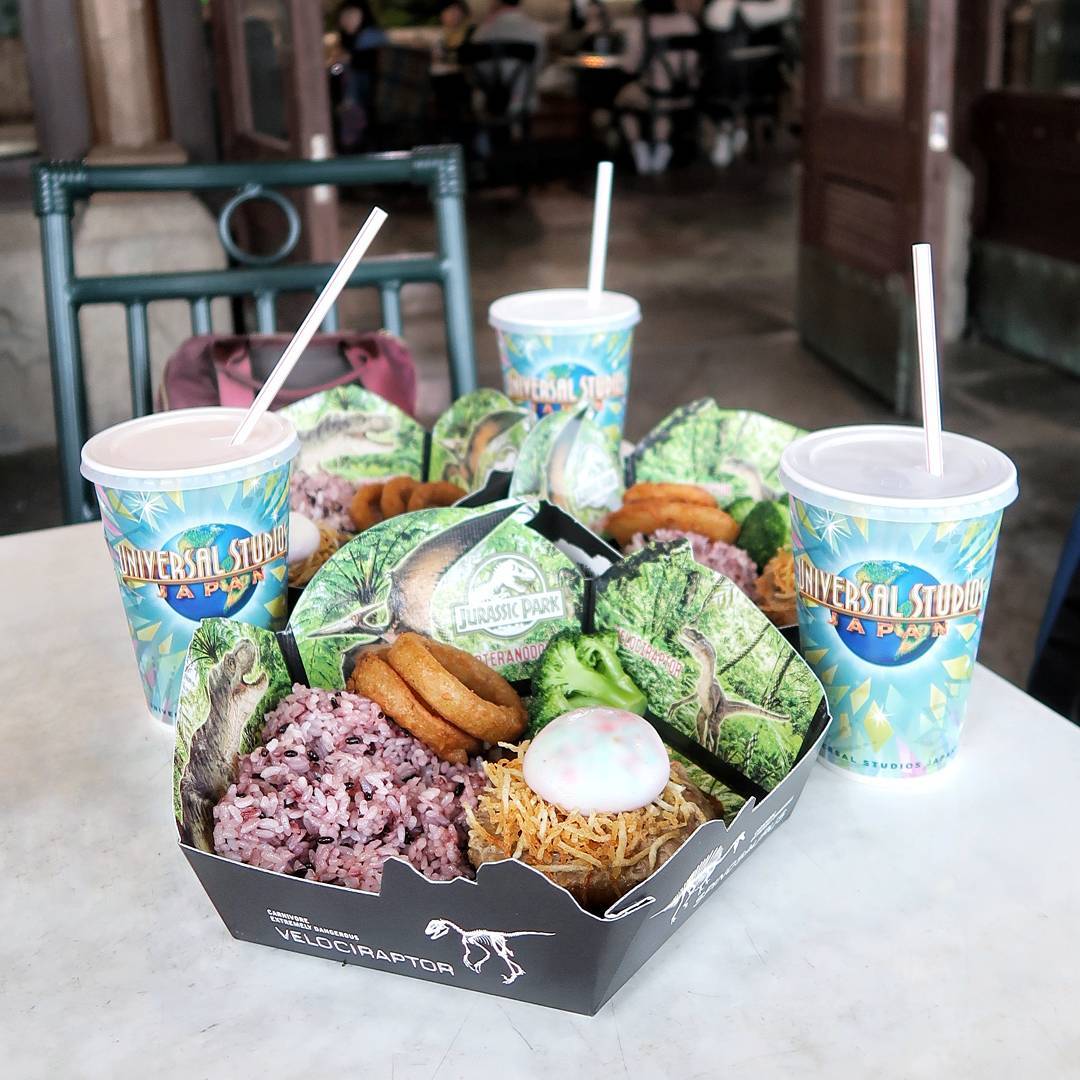 Image Credit: @anthony.ali on Instagram
All the adrenaline-filled rides and running around the park is going to make your hungry for sure. For a sizable meal that's #carnivoreapproved, order the Jurassic Hamburg Steak Set at Jurassic Park's Discovery Restaurant.
The juicy Japanese hamburg steak patty comes with sides of rice, onion rings and veggies – but the star is undoubtedly the runny-yolked "dinosaur egg", nestled in a crispy potato nest.
10. Turkey Leg-Flavoured Popcorn @ Jurassic Park
Image Credit: TDR Explorer
Giant turkey legs are considered an iconic part of the theme park experience – often as big as your face, with a deliciously crisp outside.
If polishing off an entire turkey leg seems too daunting, USJ's Jurrasic Park sells Turkey Leg Flavored Popcorn. Although much lighter in calories, this theme park snack packs a punch in terms flavor. Not to mention, it's much easier to eat.
Wizarding World of Harry Potter
11. Butterbeer @ The Wizarding World of Harry Potter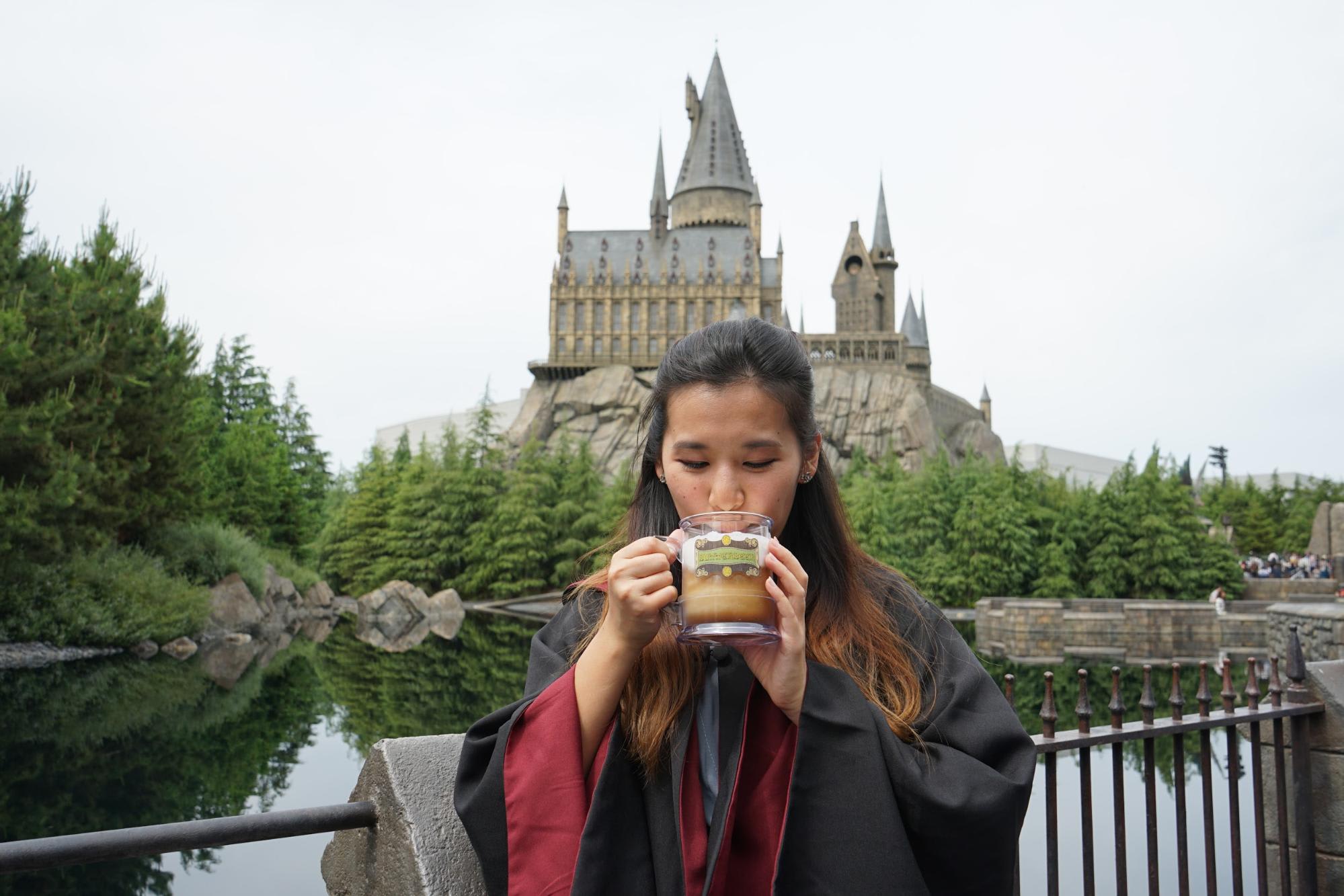 Despite its name, Butterbeer is a fizzy, non-alcoholic beverage that tastes like a cross between cream soda and liquid butterscotch, topped with sweet foam.
This iconic Wizarding World of Harry Potter drink is available cold and frozen all year-round; while a hot version is made available during the colder months.
Most recently, an ice cream version sold in single-serve tubs became available and as well as a the Butterbeer Potted Cream, which is a custard version of the popular item.
12. The Great Feast Platter from The Three Broomsticks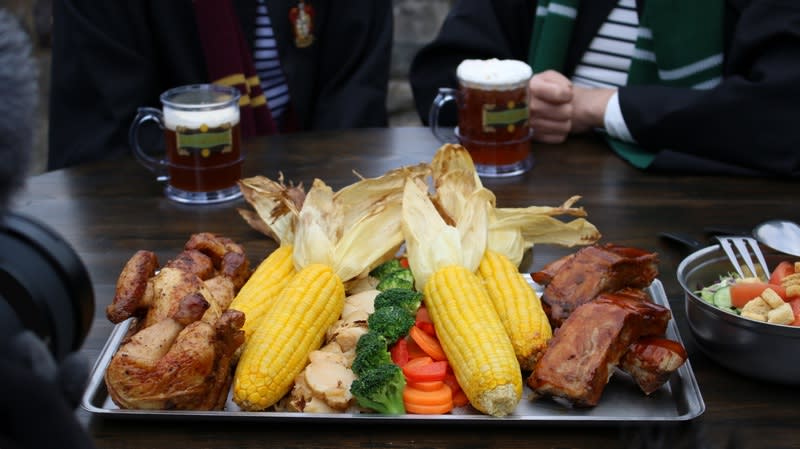 Wow, talk about a full blown meal! If you've already seen all the Harry Potter films, you'd know witches and wizards don't joke around with food. Although we unfortunately cannot make food appear out of thin air, you can get this delicious food platter, aptly called The Great Feast Platter, from The Three Broomsticks! Share it amongst your muggle and wizard friends, they'll love it, too!
Never go hungry at Universal Studios Japan!
Make Universal Studios Japan your next theme park travel destination! No one likes queueing for hours, so maximise your time at the park with USJ Express Pass 3, USJ Express Pass 4 or even the USJ Express Pass 7 – which allows you to skip the snaking lines for seven rides!
The feeling of Home is a Holiday Away!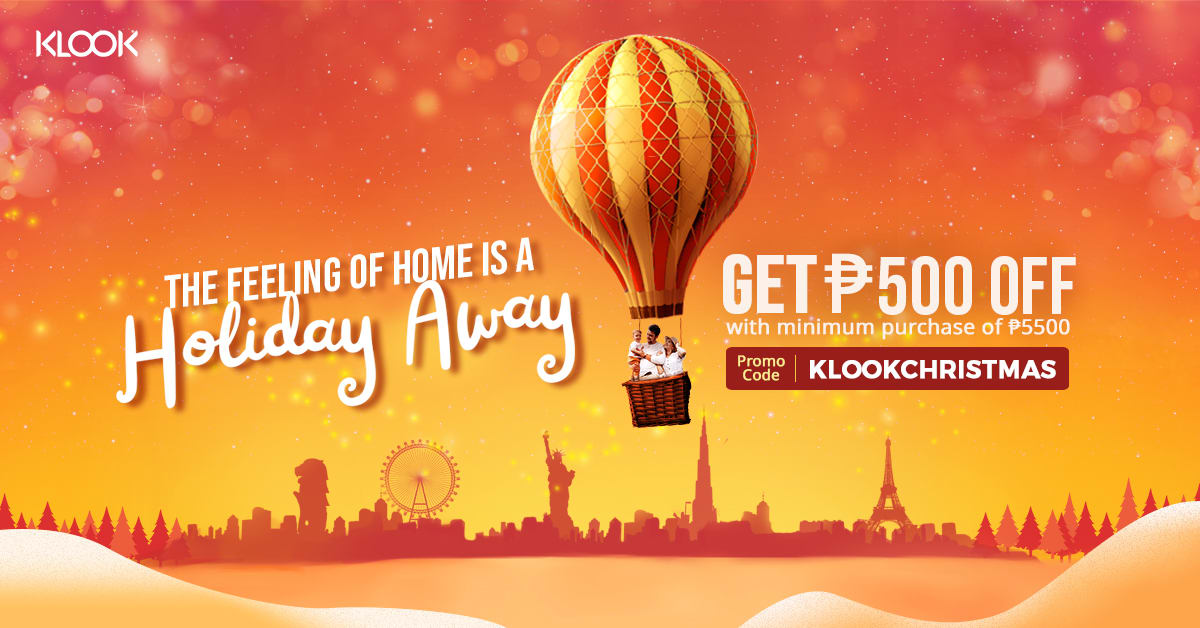 With Klook's Christmas Promo, there's no better time to Klook away all those exciting travel adventures. Be sure to Klook all your Christmas activities on Klook to get a Php 1,000 cashback for every PHP 5,000 spent on our available Christmas Special activities using the promo code <HOLIDAYAWAY>. Additionally, you can enjoy an extra treat of PHP 500 off with a minimum purchase of PHP 5,500 on ANY Klook product using the promo code <KLOOKCHRISTMAS>!