Best Bangkok cafes worth traveling for!
One of the food capitals of South-East Asia, Bangkok is well-known for its mouth-watering street food and Michelin Guide-approved places, along with a vibrant cafe scene that's lighting up as well.
Get set for your Bangkok cafe hop with these travel essentials:
Now that you're ready to take on Bangkok, let the food adventures begin! With enthralling interiors, intriguing concepts and innovative dishes, these 10 Bangkok cafes will certainly be worth your time and money.
1. Featherstone Bistro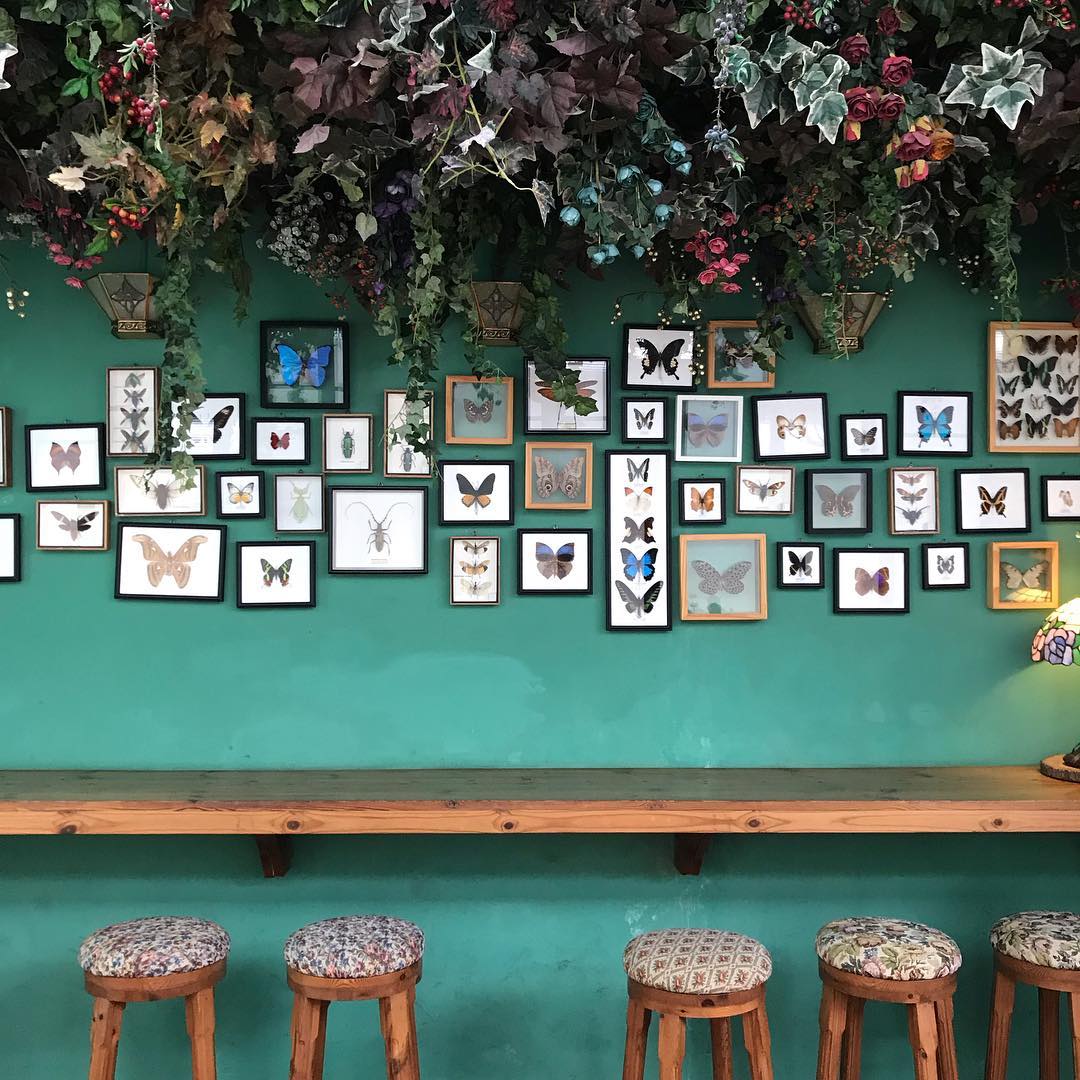 Photo Credit: @kammyyyyy_
With its eye-catching facade and apothecary-themed interior, Featherstone Bistro in Ekkamai transports you to another realm.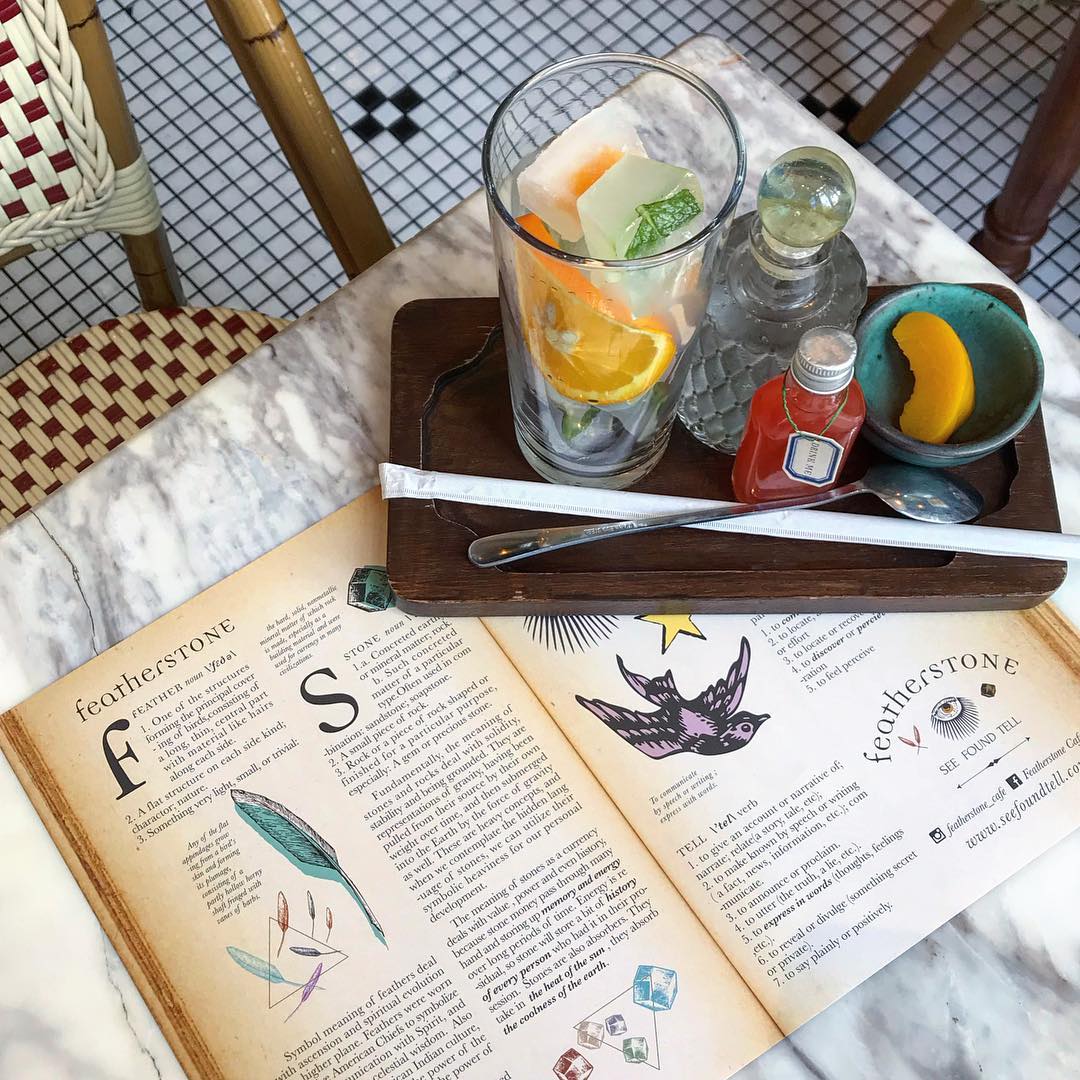 Photo Credit: @chootopia_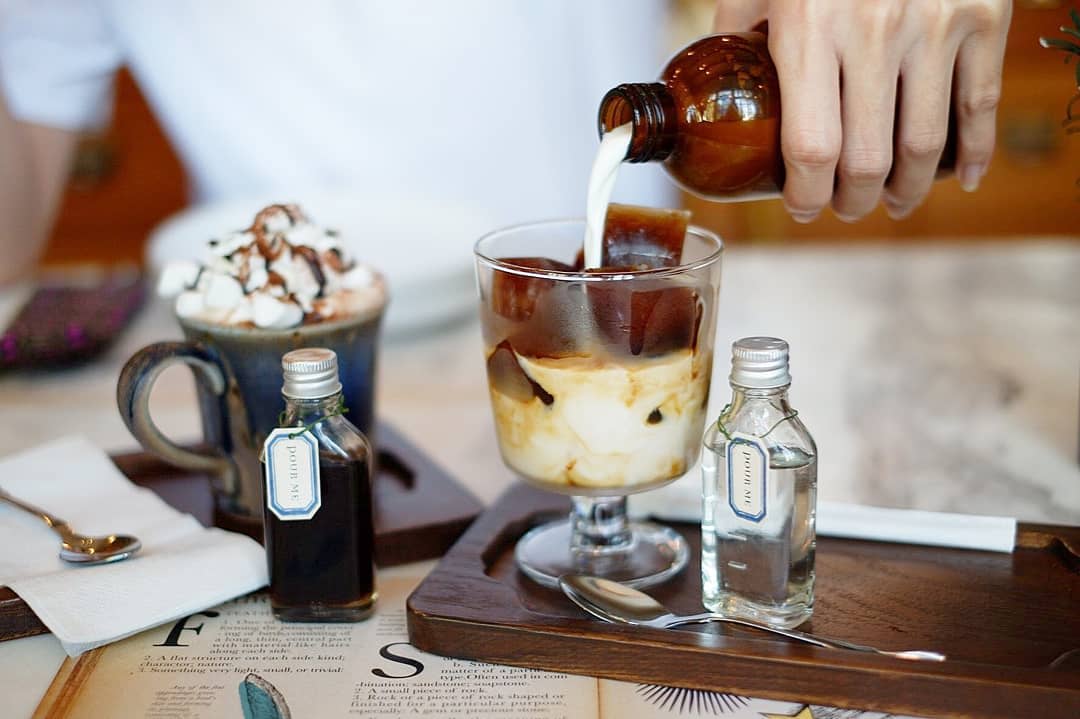 Photo Credit: @febfufy
Their cafe menu has a line-up of enigmatic elixir-like drinks that you can mix up yourself, all arranged in potion bottles. The deconstructed Cold Brew Ice Cube Latte comes with frozen espresso cubes and a glass bottle of chilled milk, with liquid brown sugar and simple syrup on the side. Wait for a little for the espresso cubes to melt into the milk before taking a sip.
After your tea-break, stop by the cafe's lifestyle boutique to browse the trinkets and vintage fashion accessories on display.
Featherstone Bistro
Address: 60 Ekkamai 12 Khlong Tan Nuea, Watthana, Bangkok 10110, Thailand
Opening Hours: Daily, 10.30am – 10pm
2. Souffle&Souffle Pancakes Cafe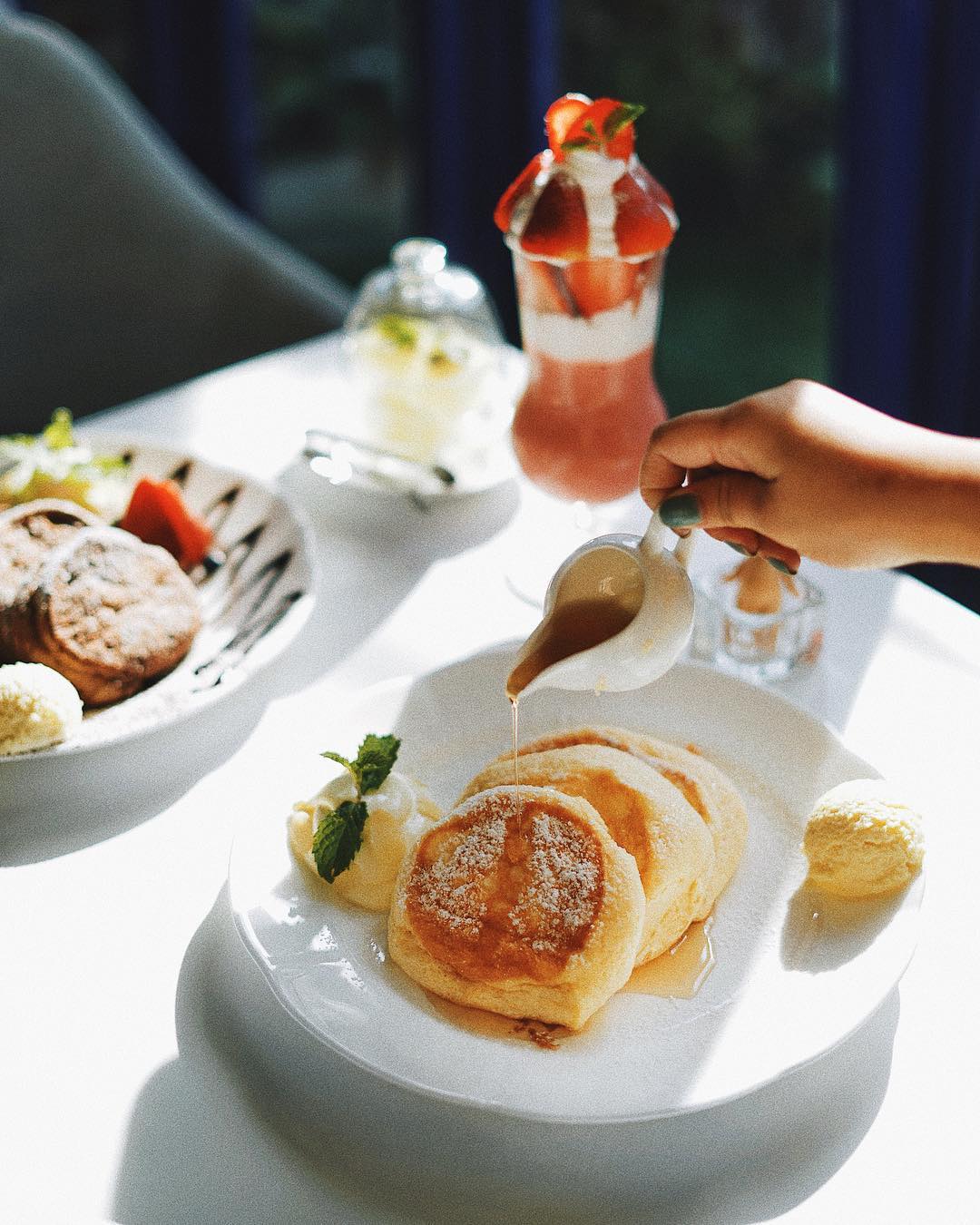 Photo Credit: @bell_nanthicha
For some fuwa-fuwa souffle pancakes, head to Souffle&Souffle Pancakes Cafe in the Japanified district of Thong Lor.
This cosy second-storey cafe boasts an impressive selection of both sweet and savory souffle pancakes, which are all prepared to order. Instead of the basic English muffins or buttered bread, brunch classics like Eggs Benedict and avocado smoked salmon toast are reimagined with extra-fluffy souffle pancakes!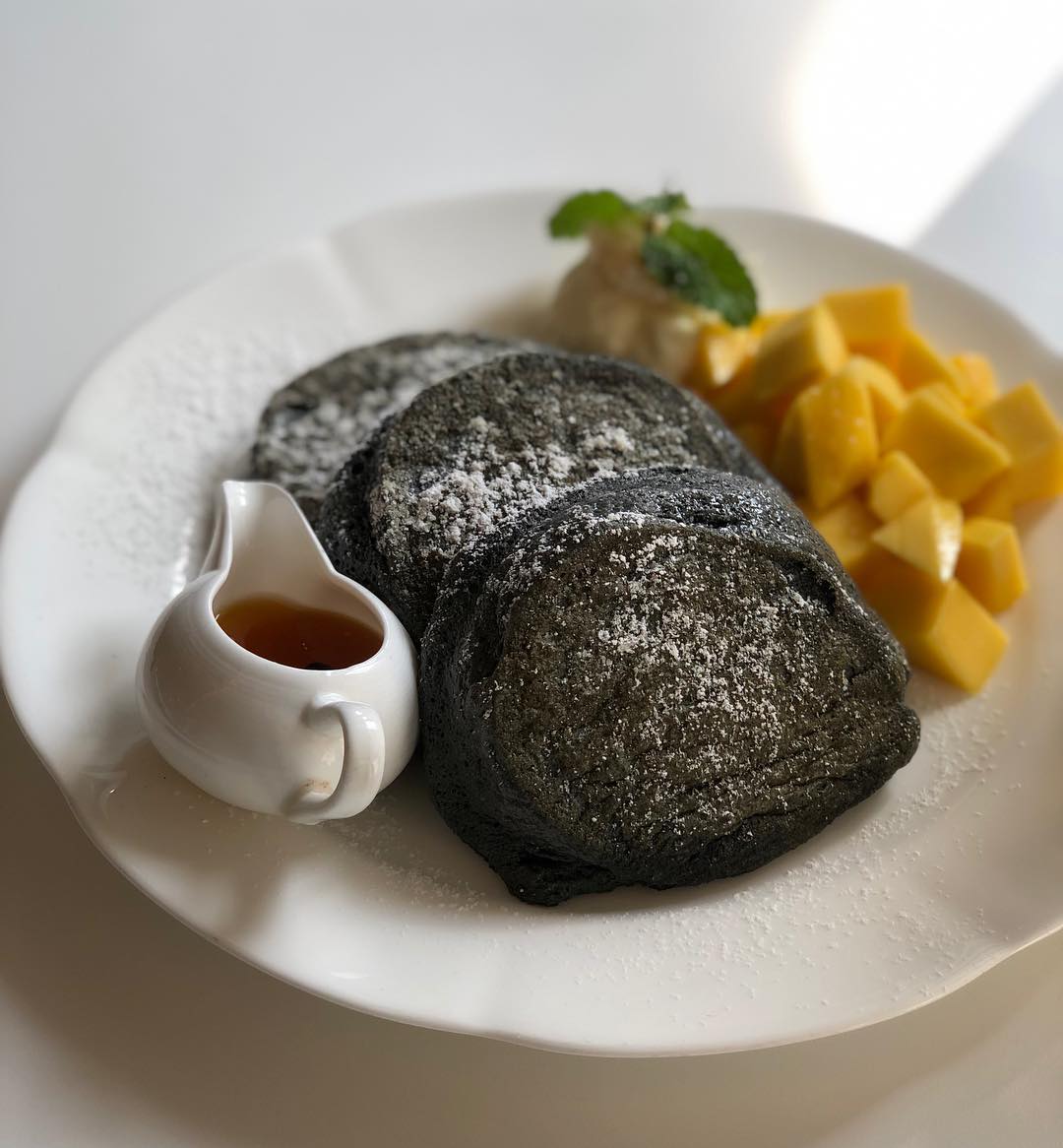 Photo Credit: @ramenking2018
The cottony, melt-in-your-mouth pancake texture shines in their sweet dishes. For something beyond the usual, get the Charcoal Souffle Pancakes, which come with a generous portion of mango on the side.
Souffle&Souffle
Address: 56/8 Soi Sukhumvit 55, Klongtan Nuea, Khet Watthana, Krung Thep Maha Nakhon 10110, Thailand
Opening Hours: Daily, 8am – 8.30pm
3. KIMMIK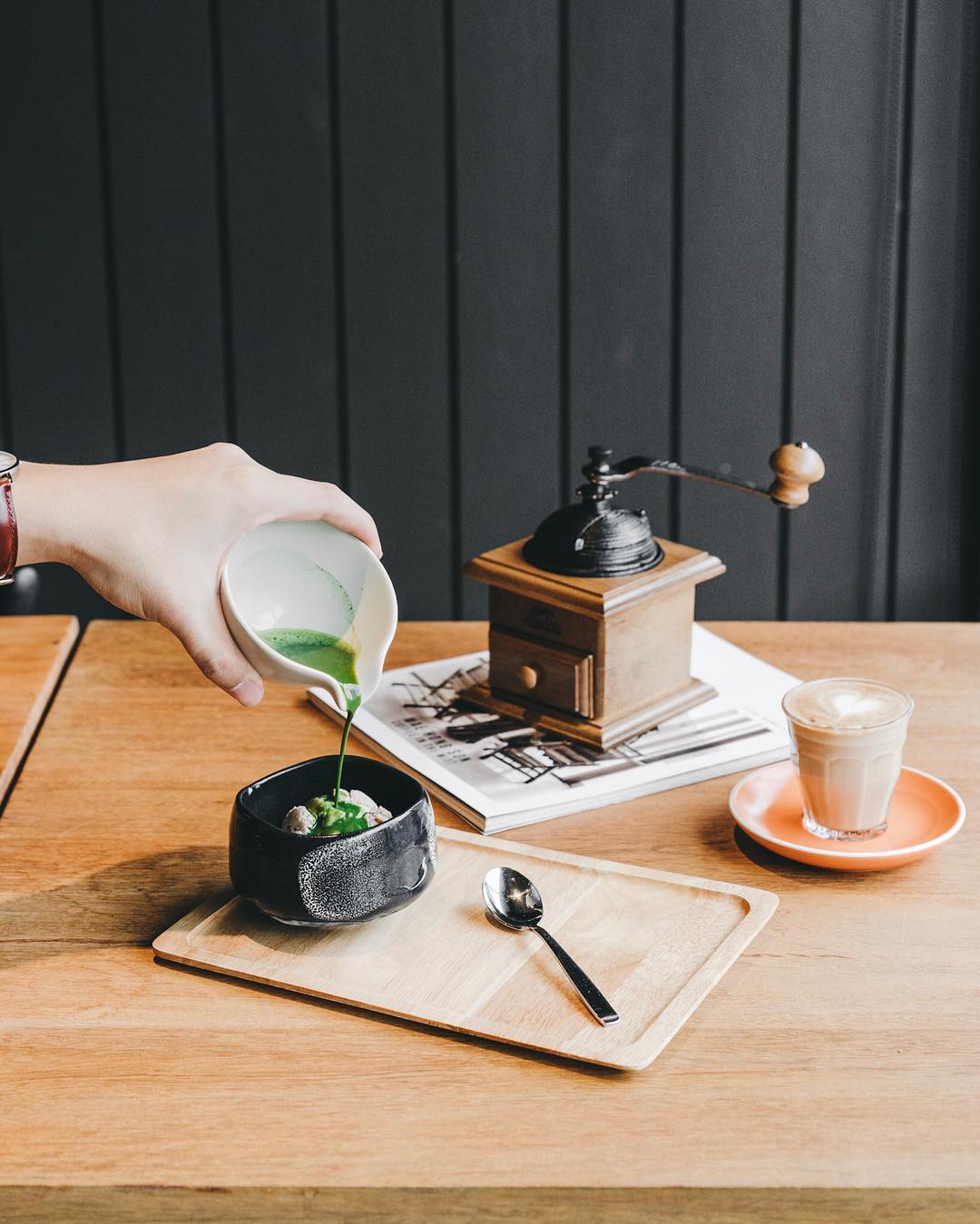 Photo Credit @ohm.xcafehopper
If you're on the hunt for some extraordinary coffee drinks, give KIMMIK a shot. Located at the first floor of Thairong Tower in Suan Luang, this coffee bar boasts a menu that ranges from classic lattes to more interesting inventions.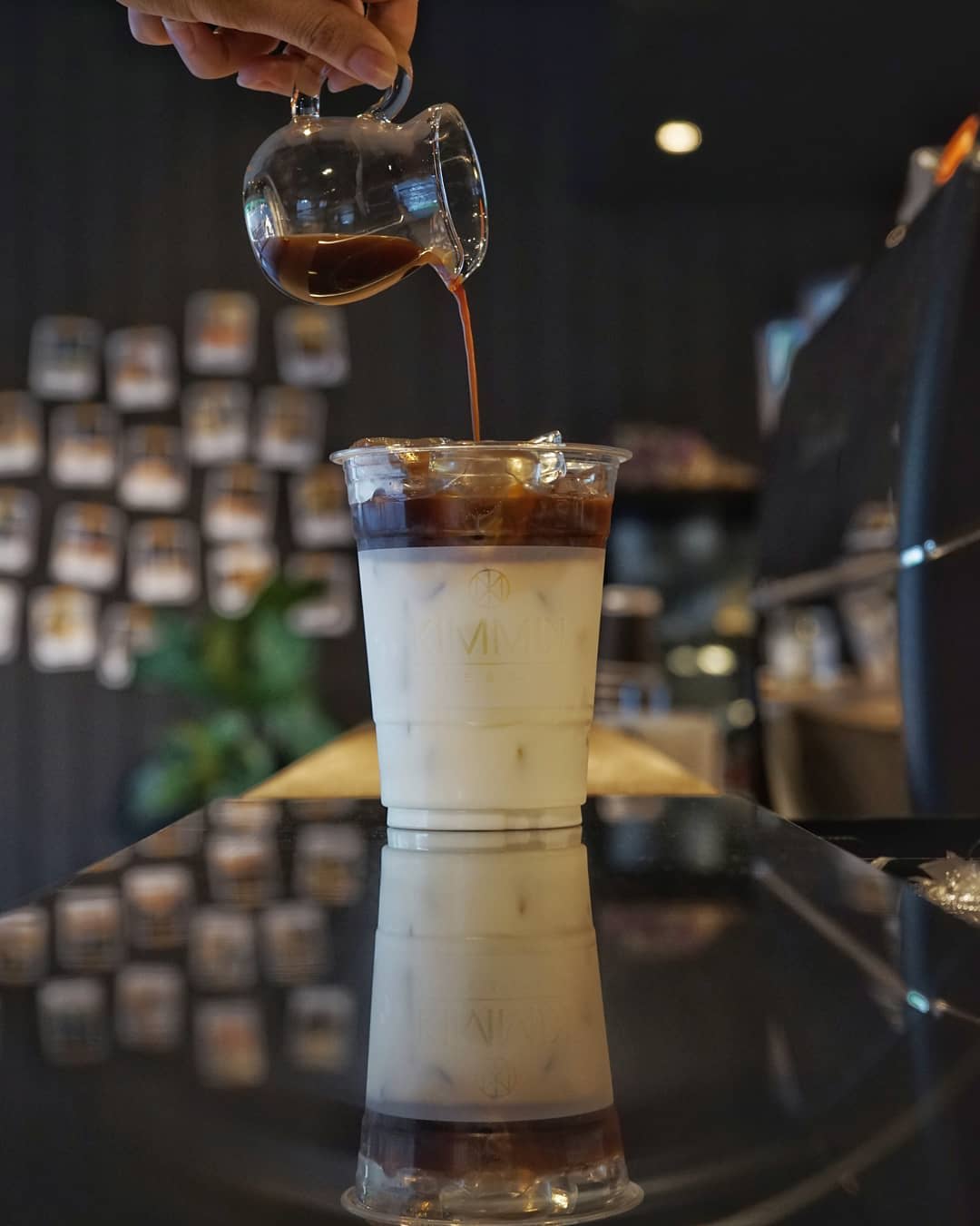 Photo Credit @kimmikbkk
A unique hybrid of conventional white cold brew and espresso-based latte, KIMMIK's Cold Brew Latte tops cold milk with a super-concentrated cold brew made from Thai coffee beans. For something beyond a usual affogato, get the Mat-zuki–to (short for Matcha Adzuki Affogato). Combining frothy matcha with a scoop of creamy adzuki bean ice-cream, this twist on affogato is earthy, sweet and immensely satisfying.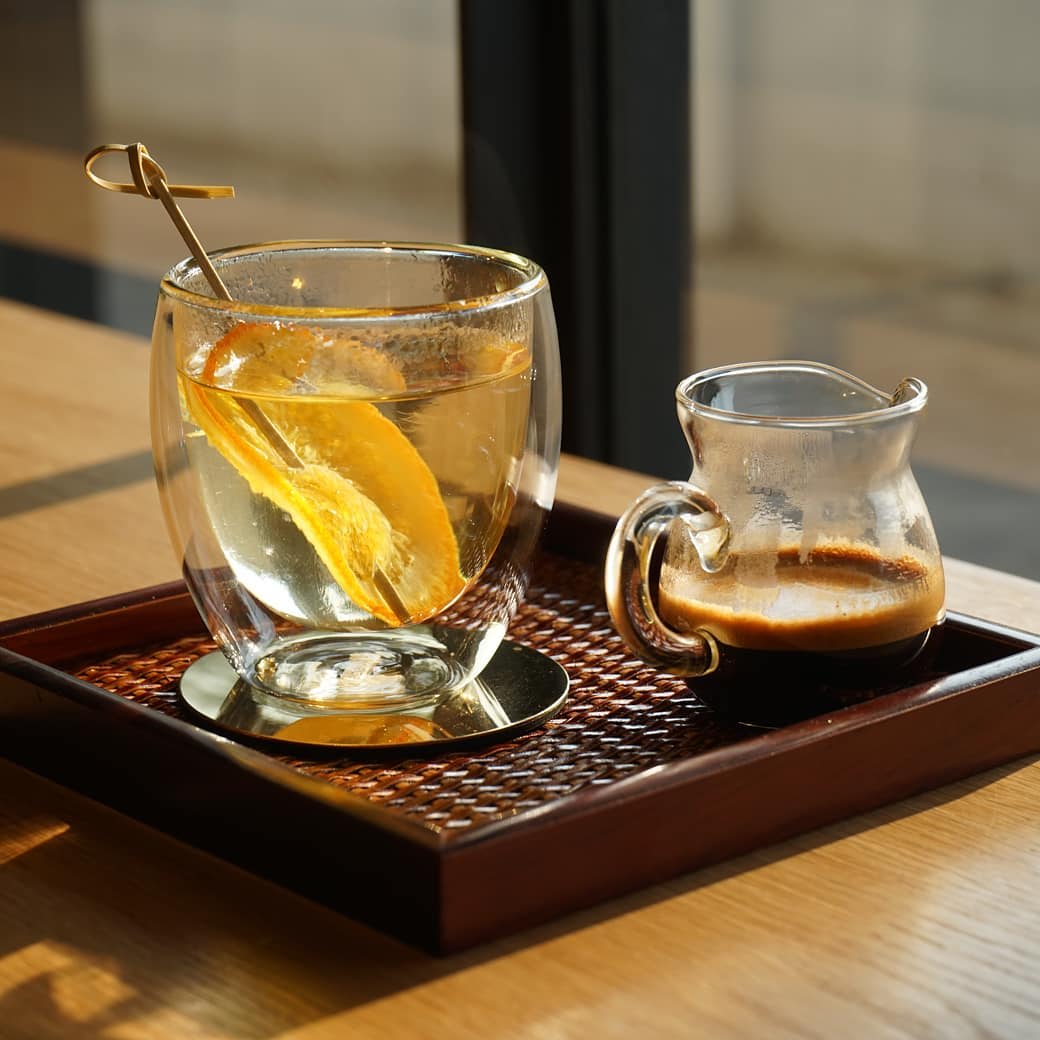 Photo Credit @kimmikbkk
KIMMIK constantly experiments with new seasonal specials for their menu, with one of their latest R&Ds being the Valentine's Day special Bitter-sweet. Made with candied orange and an espresso shot, this hot drink starts off robust and pleasantly bitter, before gradually getting sweeter over time as the candied orange melds with the coffee. Just like a relationship, as they say.
KIMMIK
Address: Thairong Tower 1st Floor, Pattanakarn Road, 10250 Bangkok, Thailand
Opening Hours: Monday – Friday, 7am – 6pm, Saturday, 8am – 5pm. Closed on Sunday.
4. Bluetamp Cafe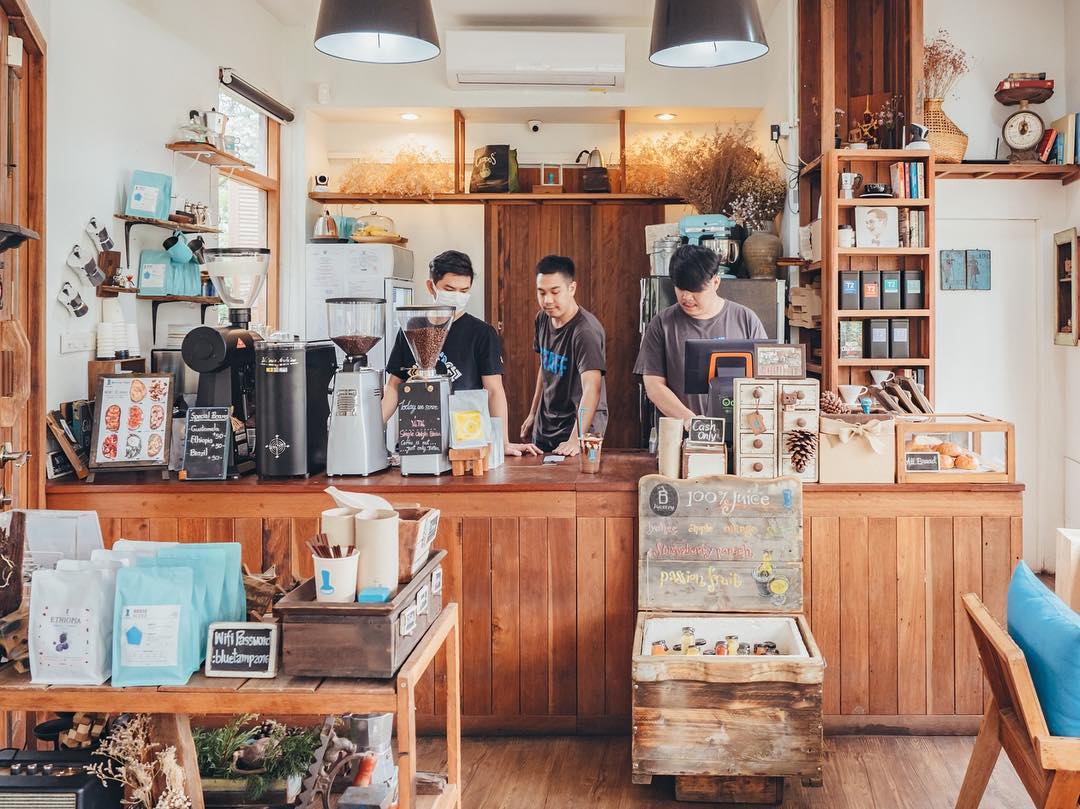 For brunch in a relaxed rustic setting, Bluetamp Cafe is your best best.
With wooden furnishings, lush greenery and plenty of natural light, this Aussie-style cafe is just the getaway from Bangkok's bustle. They take pride in their rotating selection of single origins and speciality coffee blends, which come from all over the globe.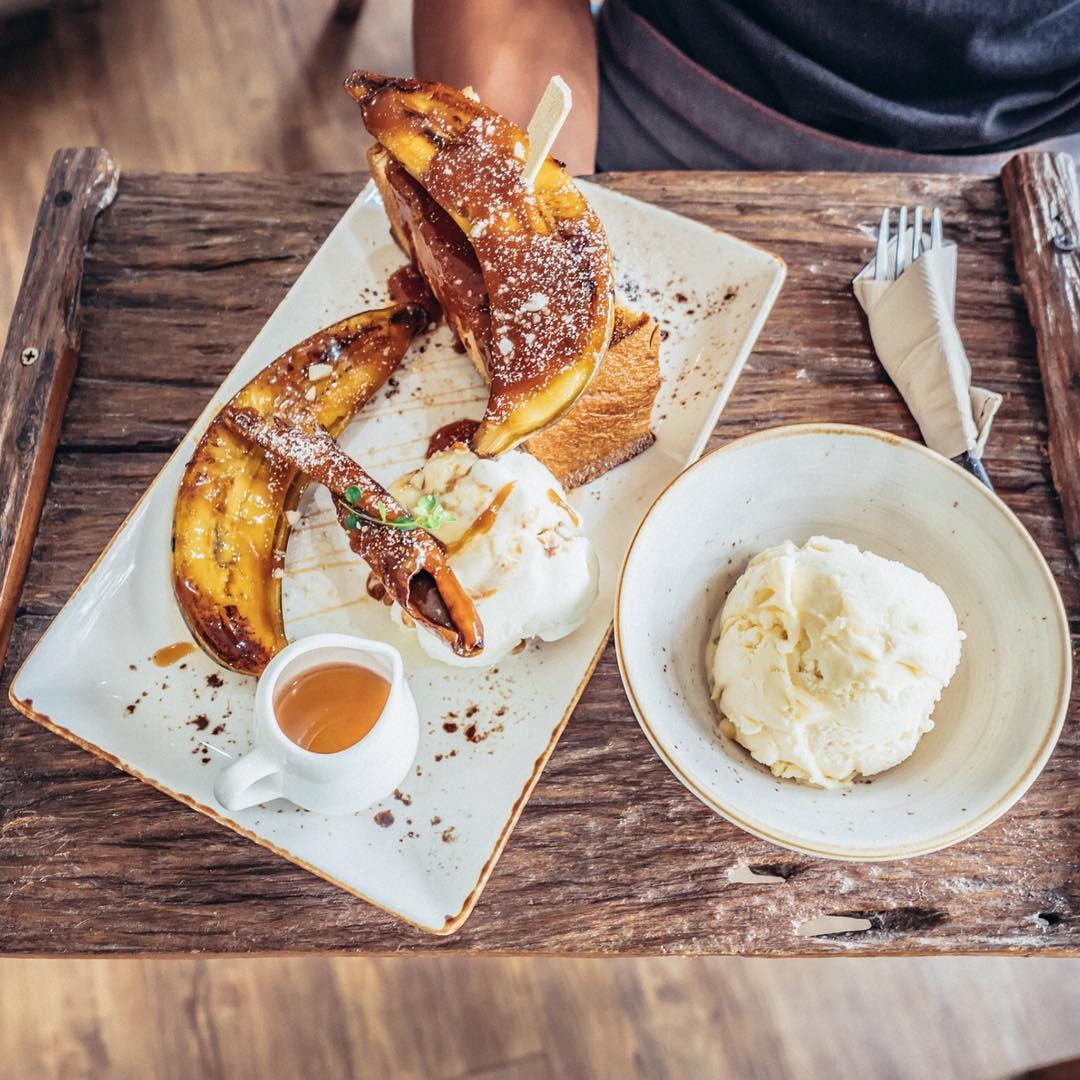 Photo Credit: @bluetampcafe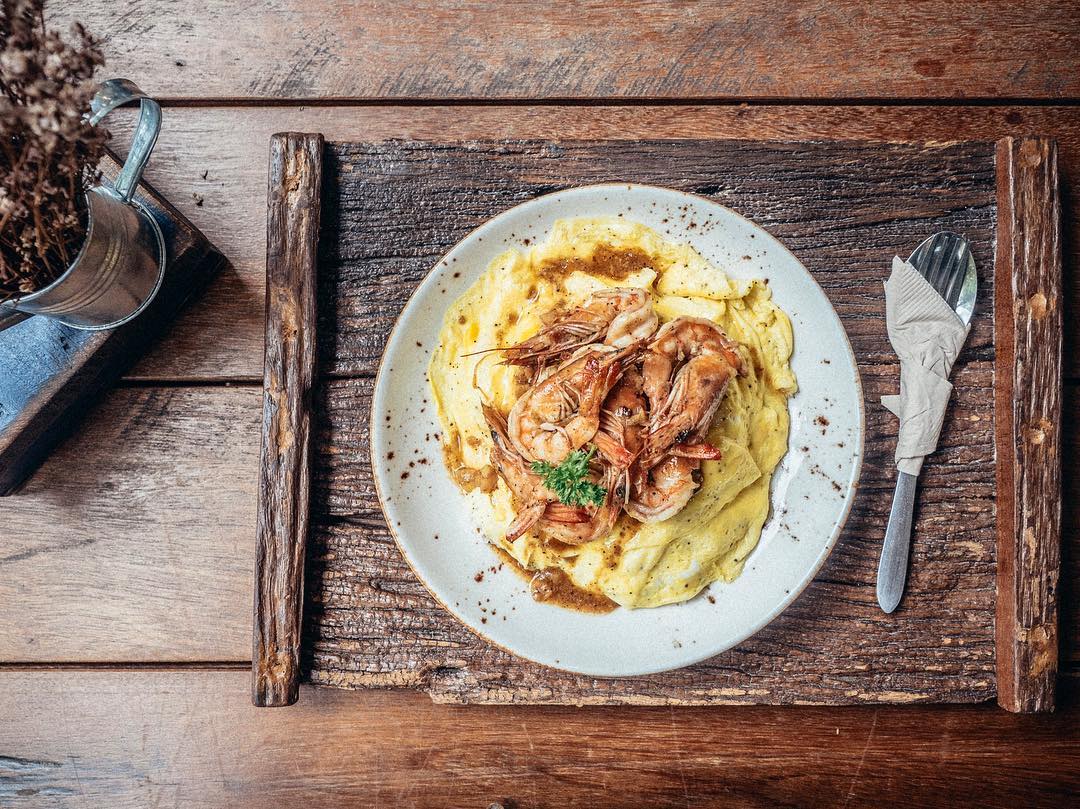 Photo Credit: @bluetampcafe
Apart from creamy lattes and bold coffee drinks, Bluetamp also nails a well-executed brunch. Their Big Breakfast and decadent grilled banana-topped French Toast are worth saving space for, as well as the Thai-inspired Garlic Shrimp Omelette Rice dish.
Bluetamp Cafe
Address: 56 Soi Lat Phrao 73, Lat Phrao, Krung Thep Maha Nakhon 10310, Thailand
Opening Hours: Daily, 8am – 6pm
5. Patchworks BKK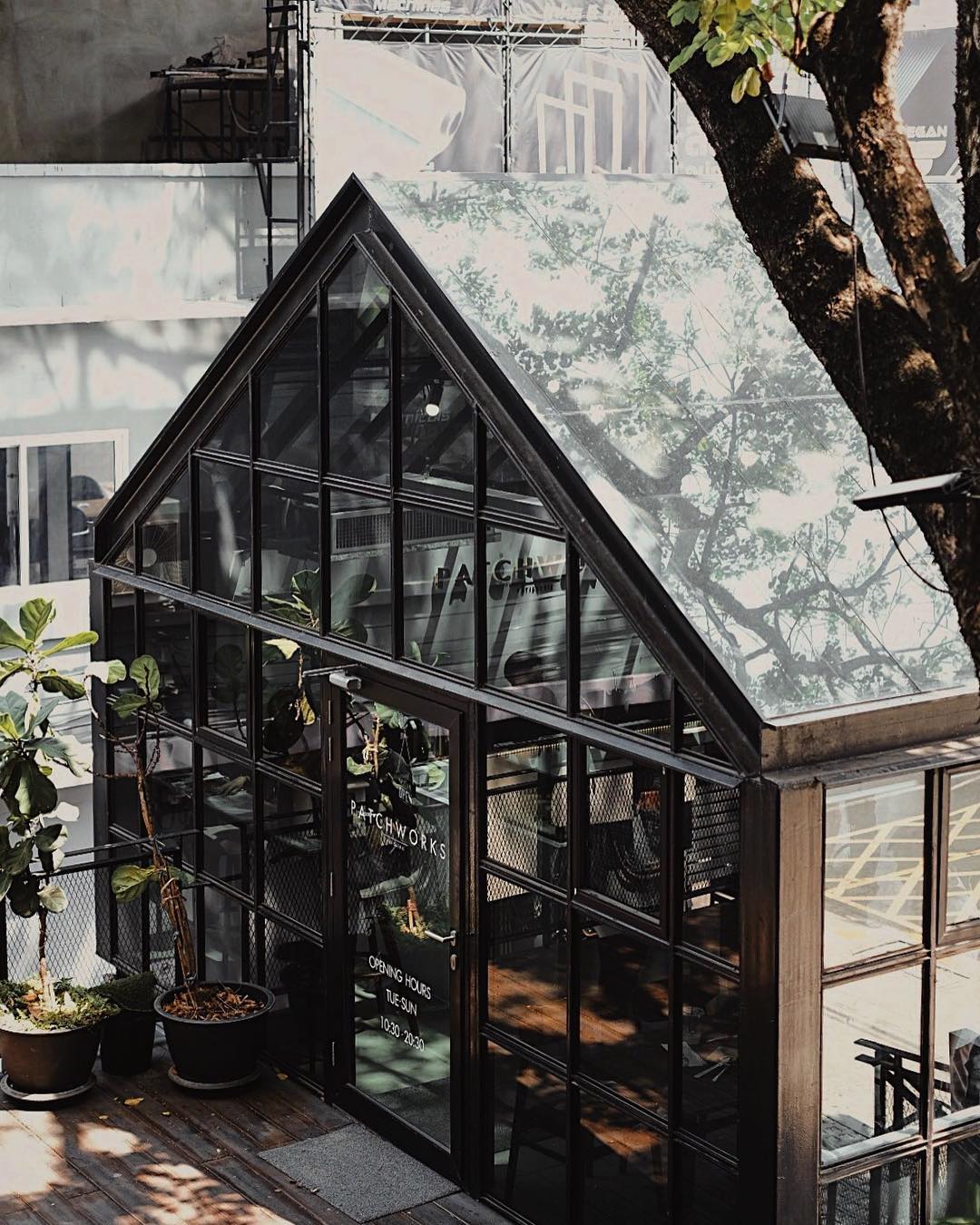 Photo Credit: @cafeteller
With walls and a roof made of glass, Patchworks has plenty of natural sunlight that floods its greenhouse-esque space.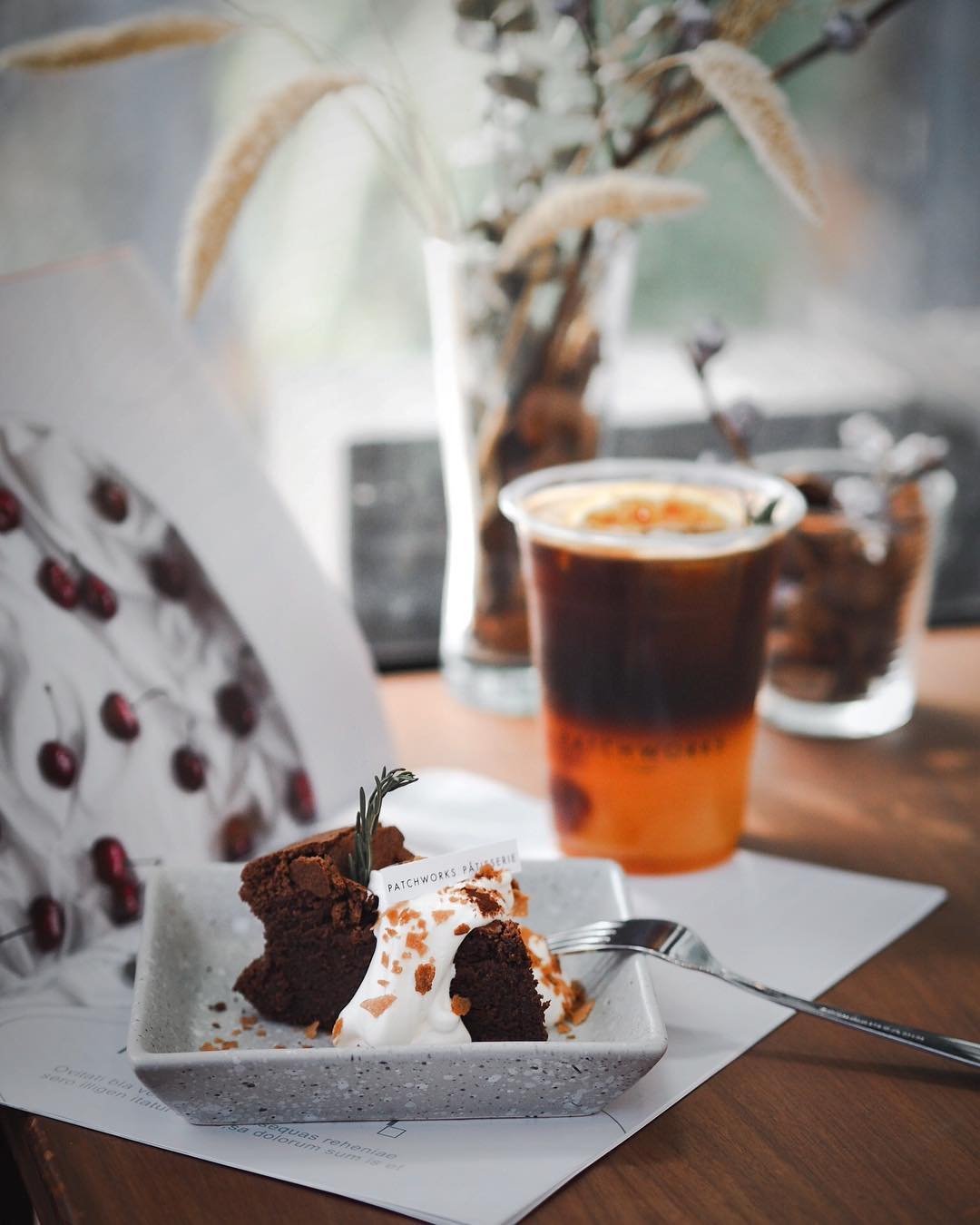 Photo Credit: @khunvee589
This patisserie-cafe has an extensive menu of bakes and cakes, ranging from Japanese-inspired Matcha Adzuki, to dark and fudgy crackly-topped Flourless Chocolate Cake.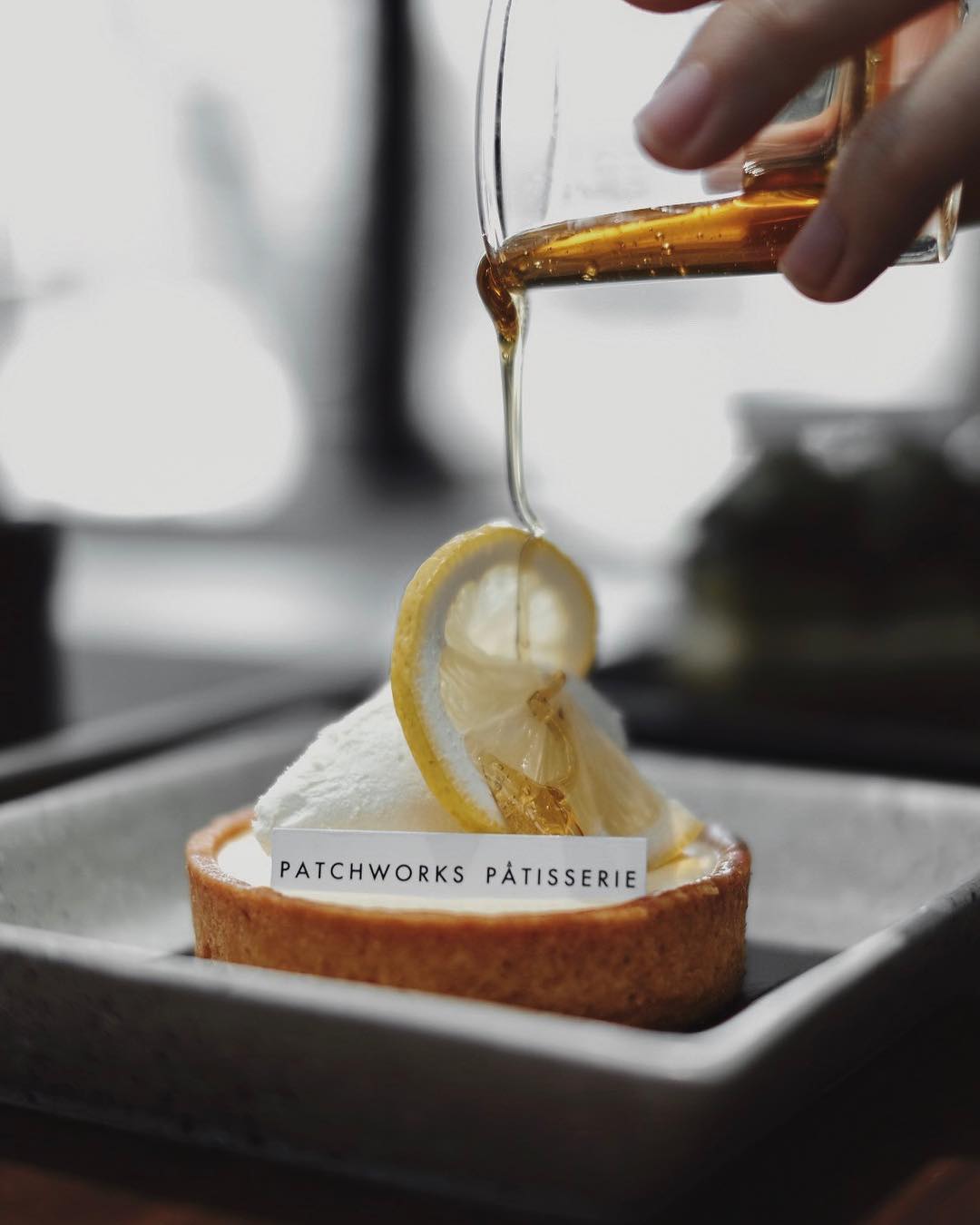 Photo Credit: @cafeteller
Definitely get an order of the signature Honey Lemon Cheese Tart that's served with a seperate shot of honey. Baked with fresh lemon cream, cream cheese and a buttery shortcrust base, this tart is the perfect balance of tangy, sweet and slightly savoury.
Patchwork BKK
Address: Soi Tae Bang Car Center 291, Charan Sanitwong Rd, Khwaeng Bang Ao, Khet Bang Phlat, Krung Thep Maha Nakhon 10700, Thailand
Opening Hours: Tuesday – Sunday 10.30am – 8.30pm. Closed Mondays.
6. ICI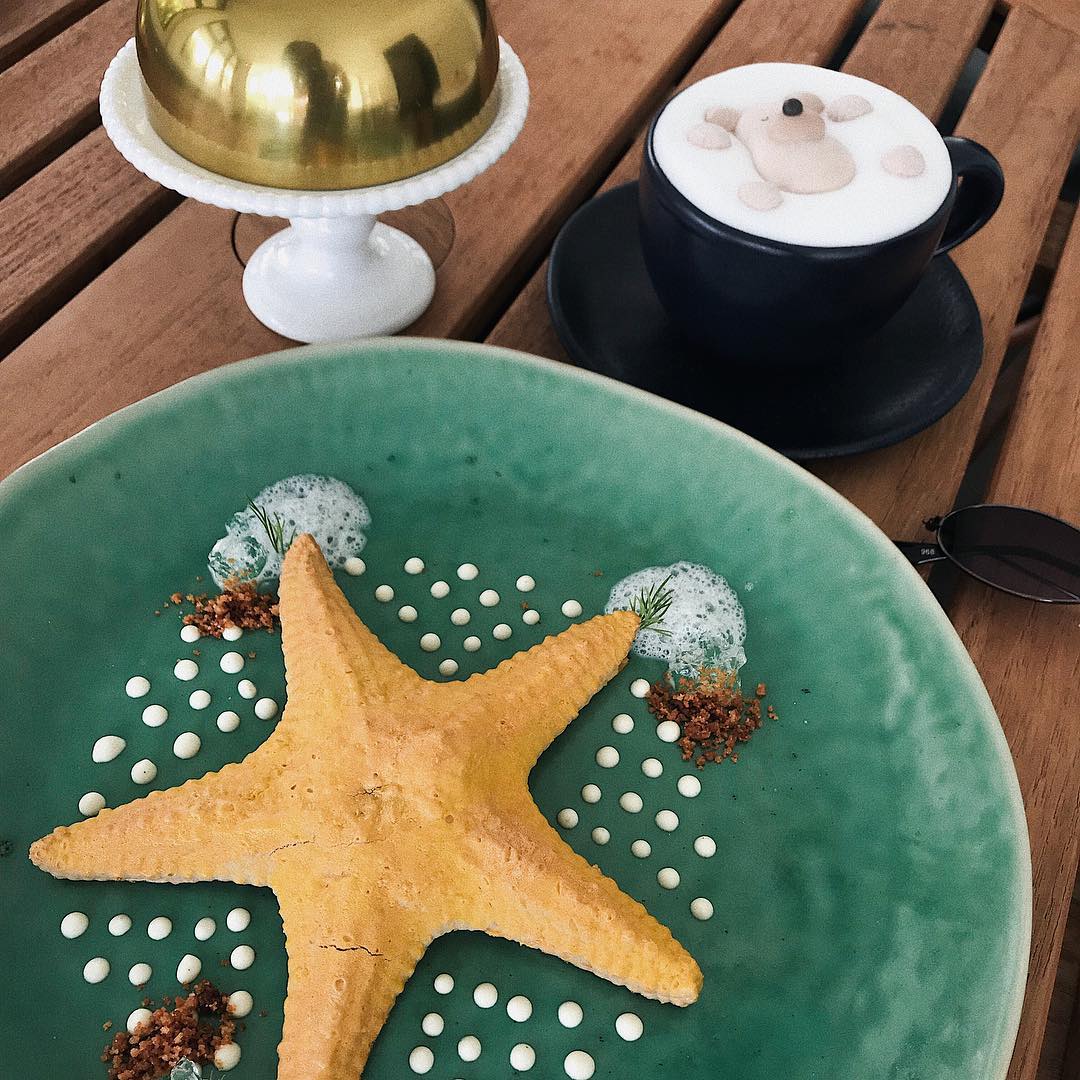 Photo Credit: @kniikun
Hidden in one of Sukhumvit's residential streets, ICI delivers a mind-blowing dessert experience. The brainchild of Top Tables' 2018 Best Pastry Chef Arisara Chongphanitkul, this dessert house has a contemporary lineup that pushes the boundaries of traditional pastry.
The Starfish remains a crowd favorite, comprising of coffee mascarpone mousse, pineapple compote, crunchy cashew nut praline, ginger milk froth and coconut rum gel.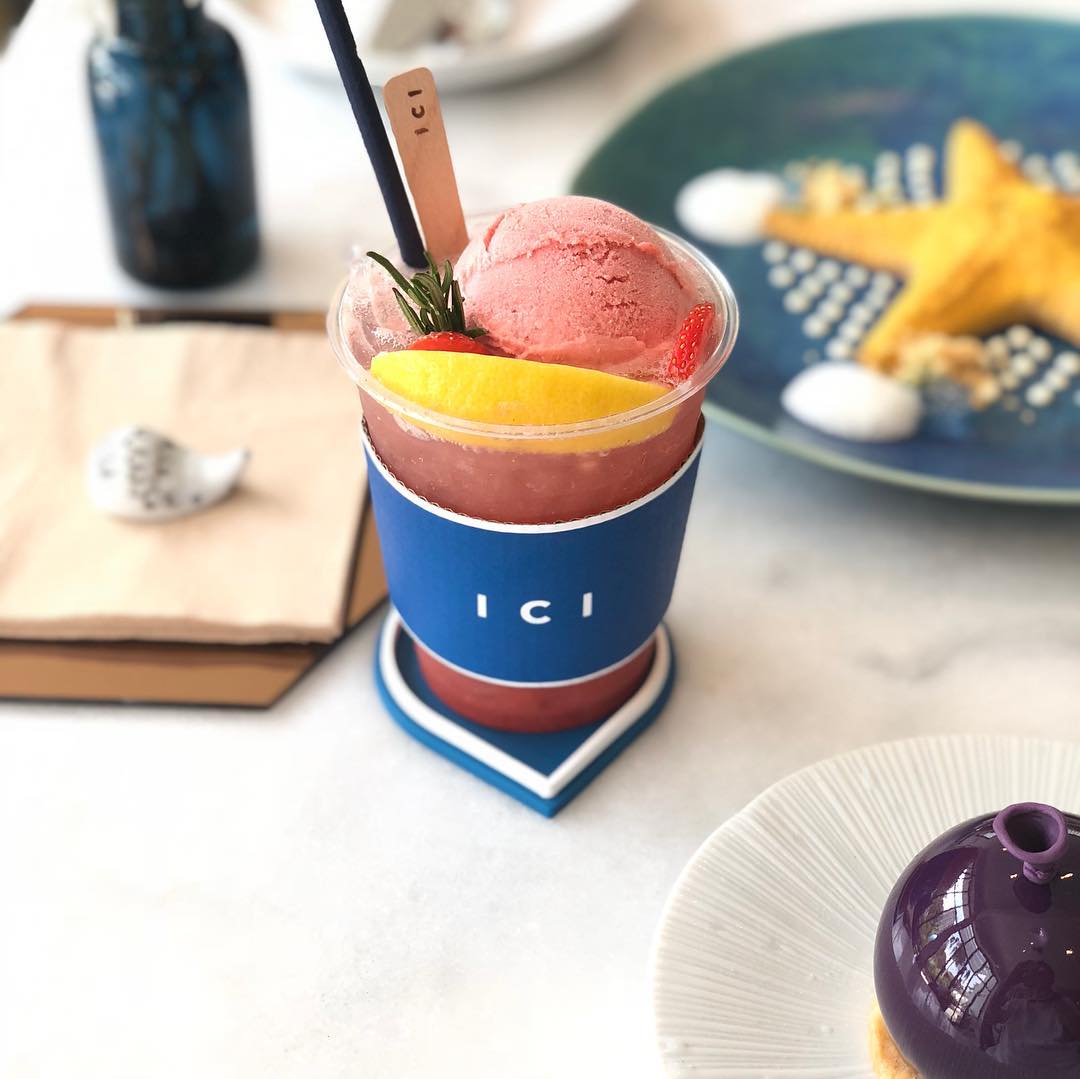 Photo Credit: @harajyukubatakenami on Instagram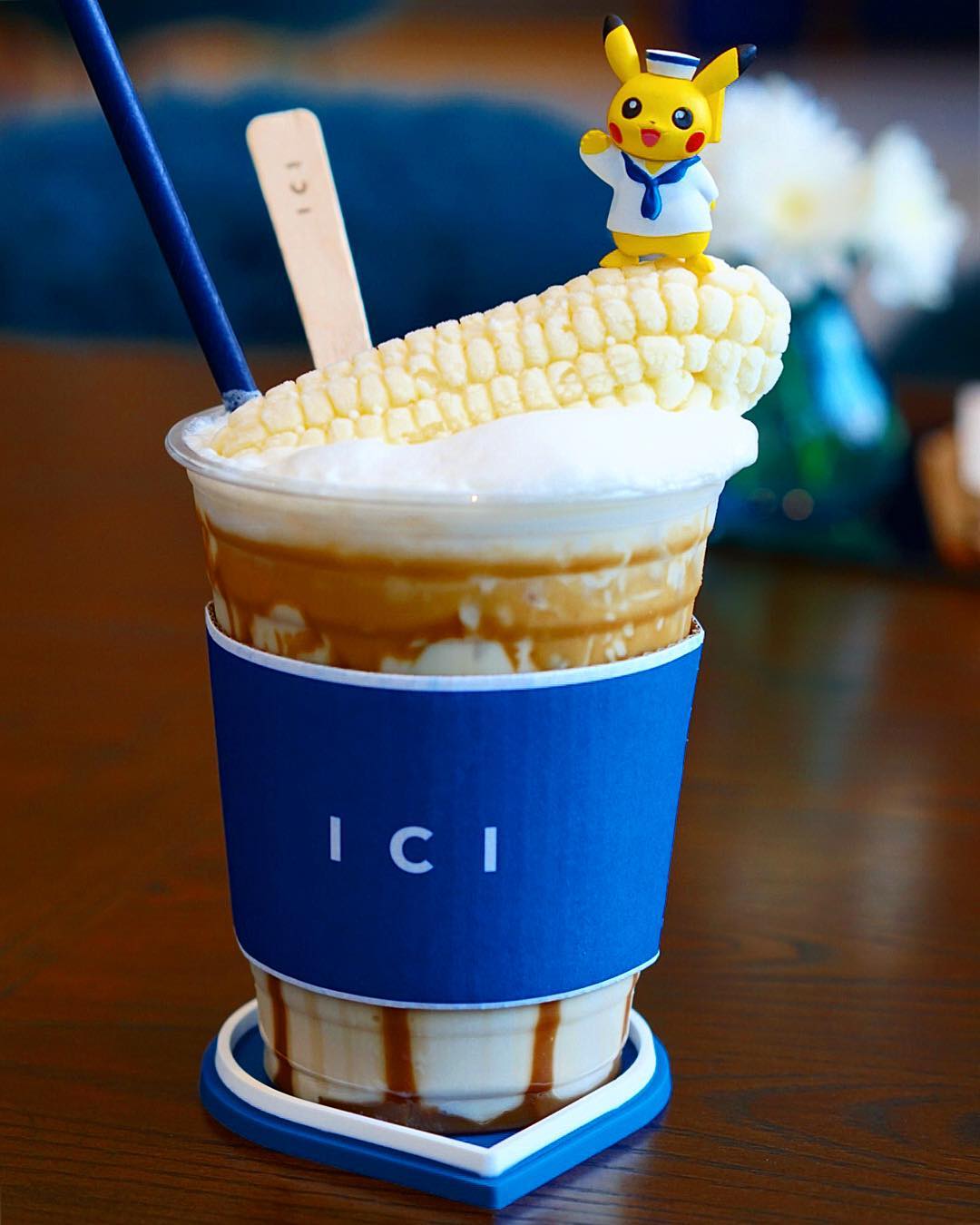 Photo Credit: @naz.almidfa on Instagram
Pair your dessert with a marshmallow bear-topped Hot Chocolate that's almost too adorable to devour, or a refreshing berry-infused Elderflower Soda. For something more outside-the-box, get the signature Butterscotch Milk, which comes topped with a corn cob ice-cream!
ICI
Address: 24 Soi Sukhumvit 27, Khwaeng Khlong Toei Nuea, Khet Watthana, Krung Thep Maha Nakhon 10110, Thailand
Opening Hours: Tuesday – Sunday, 10am – 6pm
7. La Mesa Coffee Co.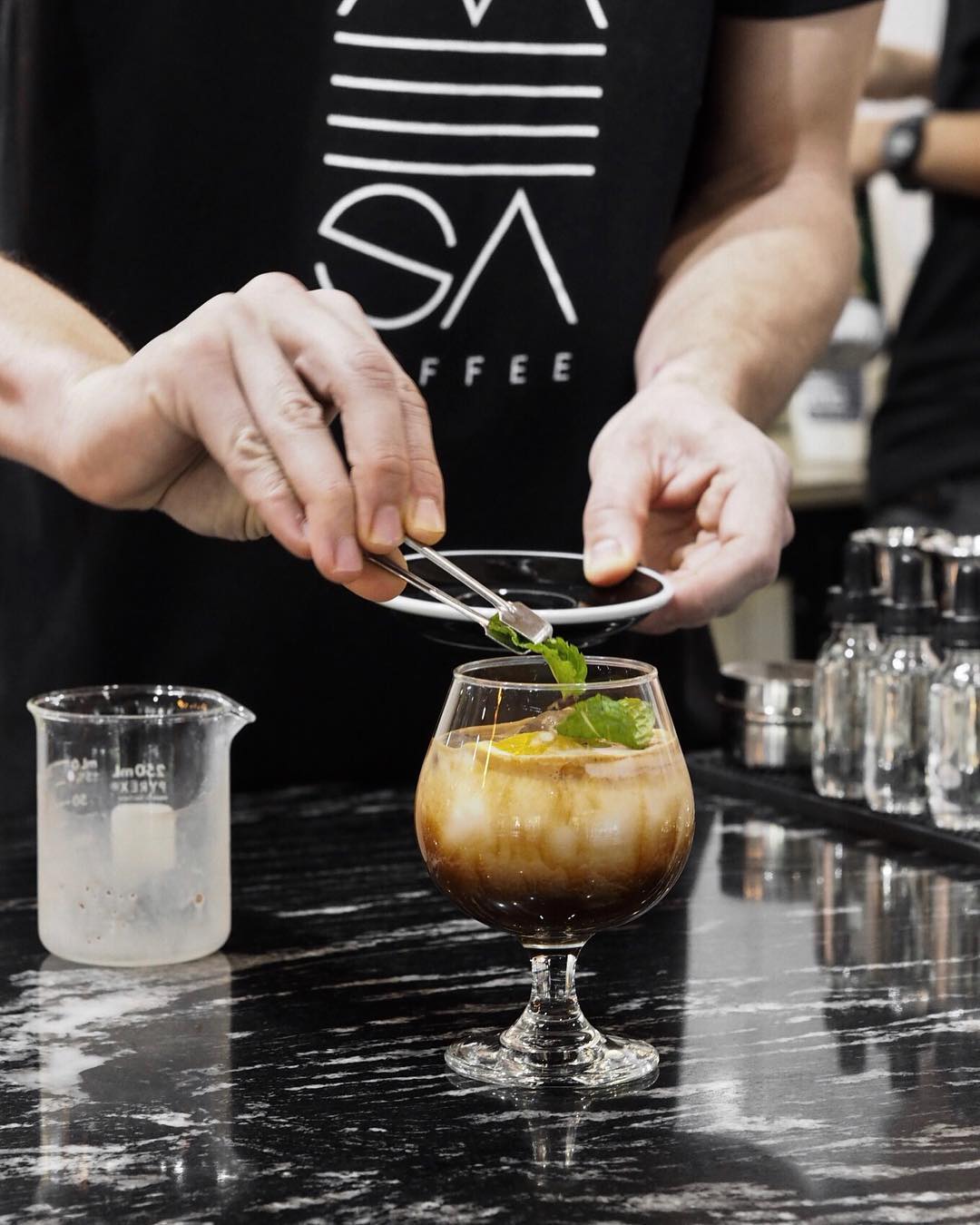 Photo Credit: @ppair on Instagram
For a taste of New Mexico in Thailand, check out La Mesa Coffee Co. With cacti plants and pastel-hued concrete walls, this cafe's space in suburban Udomsuk is the perfect mix of modern industrial chic and cosy nook.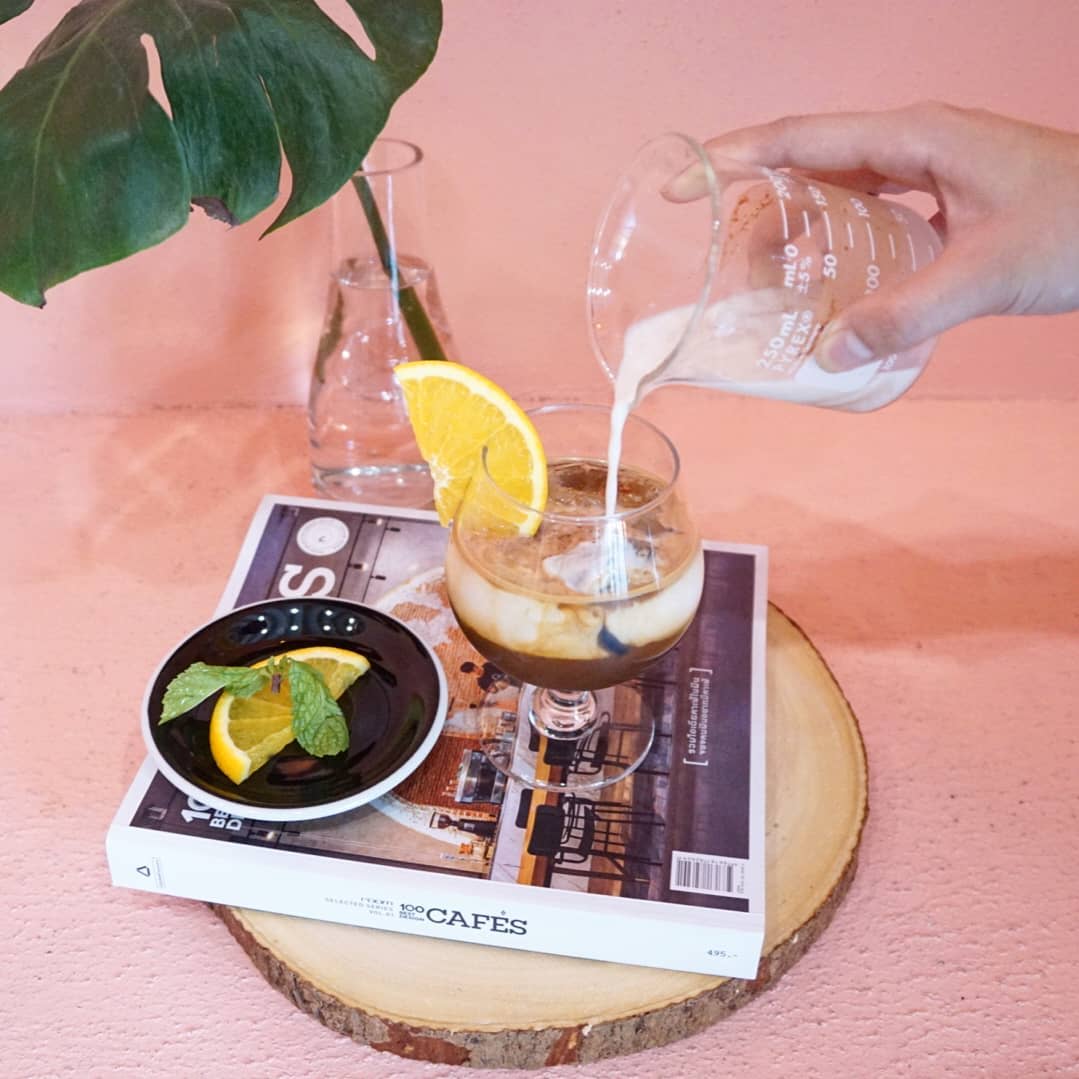 Photo Credit: @lamesacoffee on Instagram
Like their excellent espresso drinks, La Mesa's coffee menu is robust and well-rounded – with creations like Coffee Sodas and spiced Orange Mexican Mocha rounding off the standard coffee choices.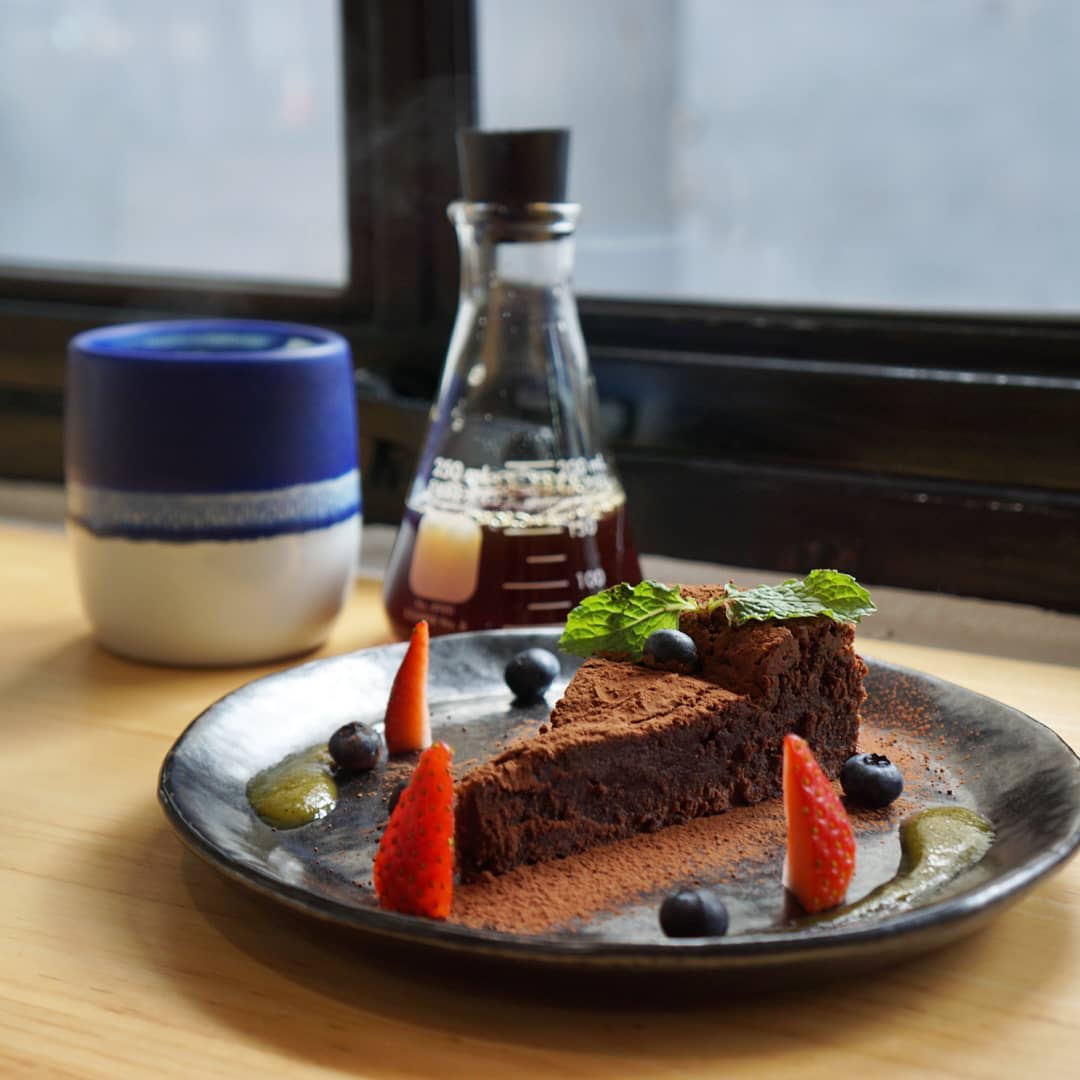 Photo Credit: @lamesacoffee on Instagram
The house-special Flourless Chocolate Cake is not to be missed – decadent and exceedingly satisfying, this dusky dessert heavyweight pairs beautifully with the accompanying fresh fruit. Came for the coffee, stayed for the cake.
La Mesa Coffee Co.
Address: 7/2 Soi Sukhumvit 68 Sukhumvit Rd, Bangkok, Thailand 10260
Opening Hours: Monday to Saturday, 7.30am – 6pm
8. The Blooming Gallery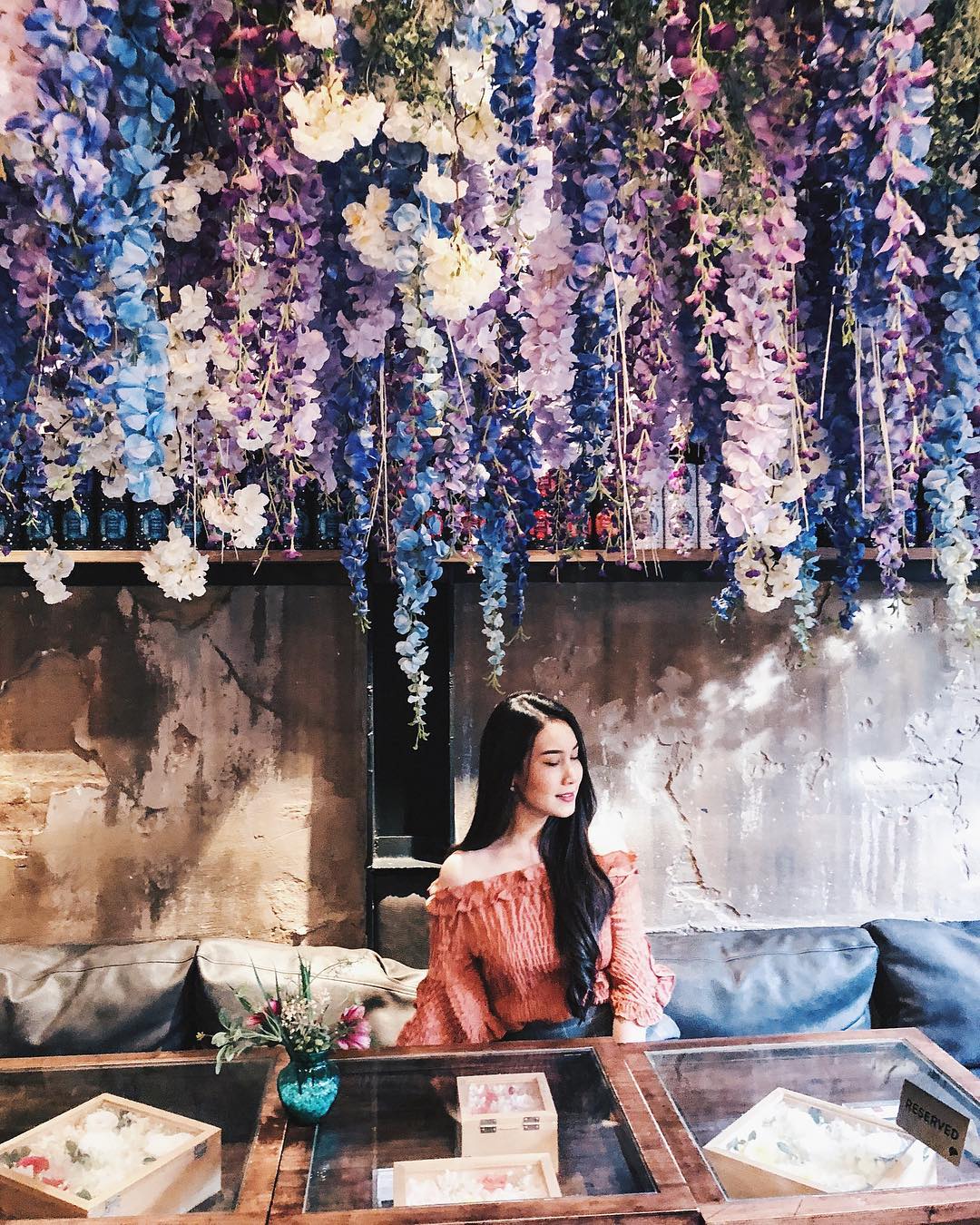 Photo Credit: @sandychashaya on Instagram
After a day of exploring and shopping in central Bangkok, drop by The Blooming Gallery in the Eight Thonglor shopping mall for a welcome escape from the crowds and heat. Entering this forest-themed cafe feels like stepping into a glasshouse, with ferns and flower festoons decorating the walls.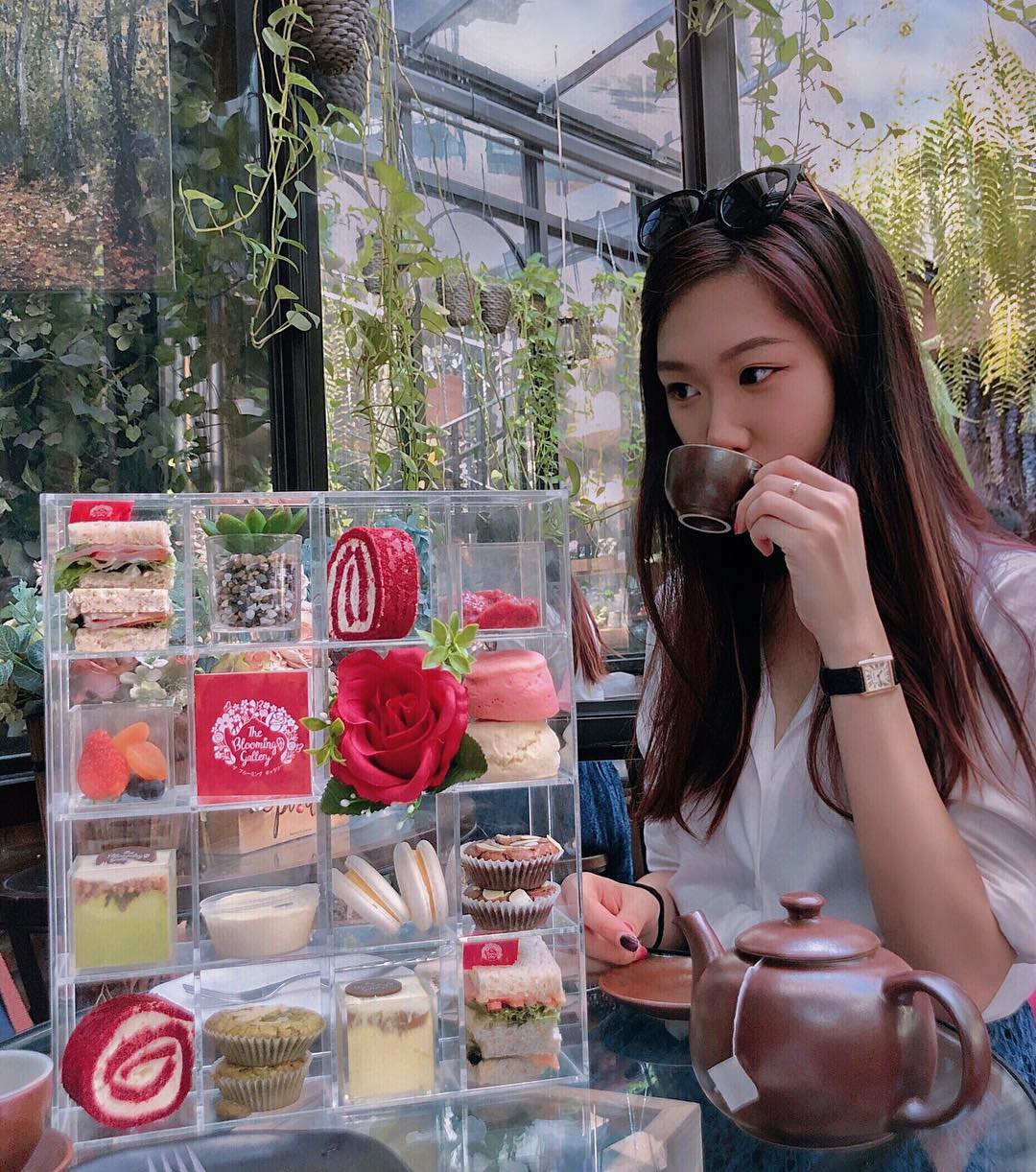 Photo Credit: @queenvt on Instagram
The Afternoon Tea Set for 4 is perfect for a midday break. Aside from the classic teatime staple of scones and clotted cream, an assortment of bite-sized cakes, finger sandwiches and pastries are served, all artfully arranged in a clear box.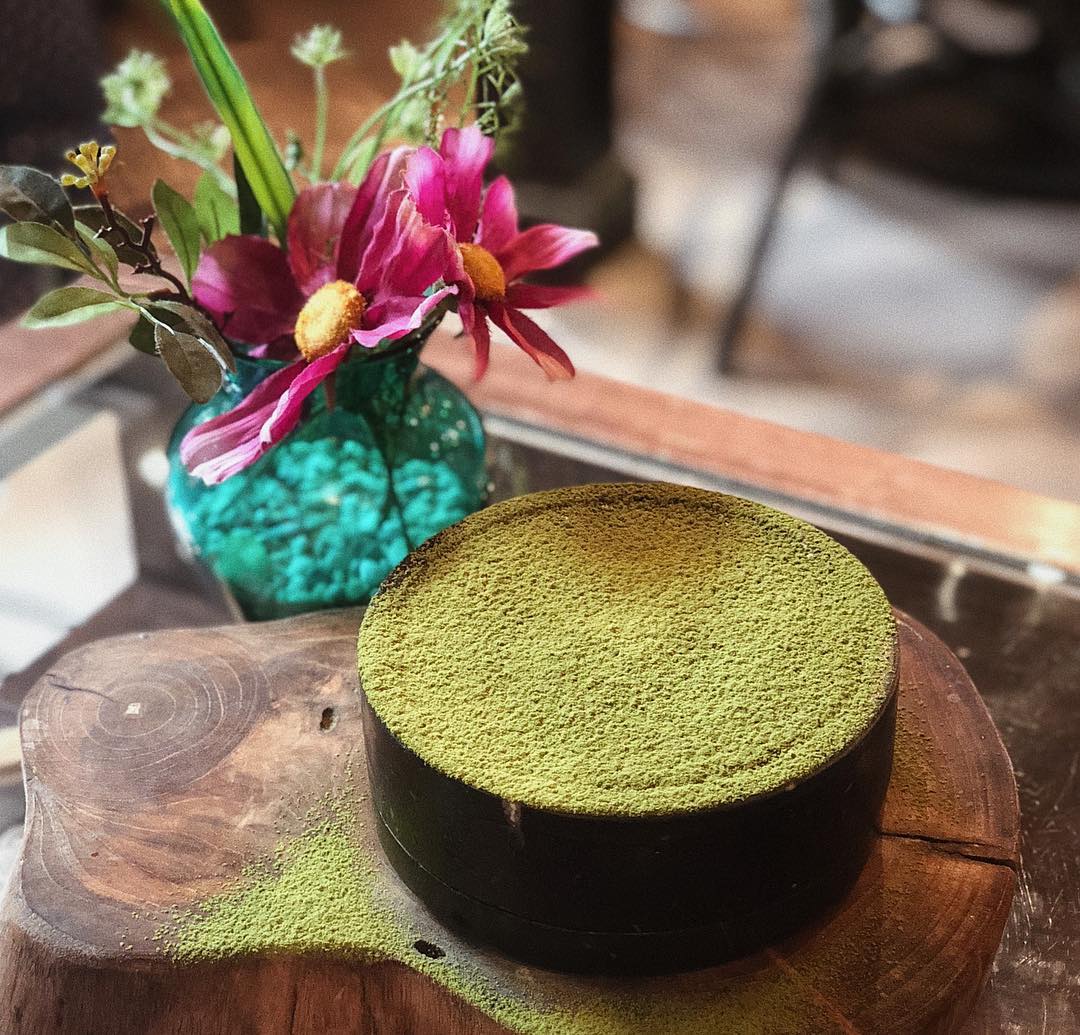 Photo Credit: @anniitakelly on Instagram
The aptly-named A Path In The Forest comprises of four layers: buttery crumble, silky Japanese cheesecake, bittersweet matcha mousse and fresh cream. After it's served to your table, Kyoto matcha is dusted on top as a finishing touch.
The Blooming Gallery
Address: 88/1 Thong Lo 8 Alley, Khwaeng Khlong Tan Nuea, Khet Watthana, Krung Thep Maha Nakhon 10110, Thailand
Opening Hours: Sunday – Thursday, 10am – 10pm; Friday and Saturday, 10am – 12am
9. Pressed Cafe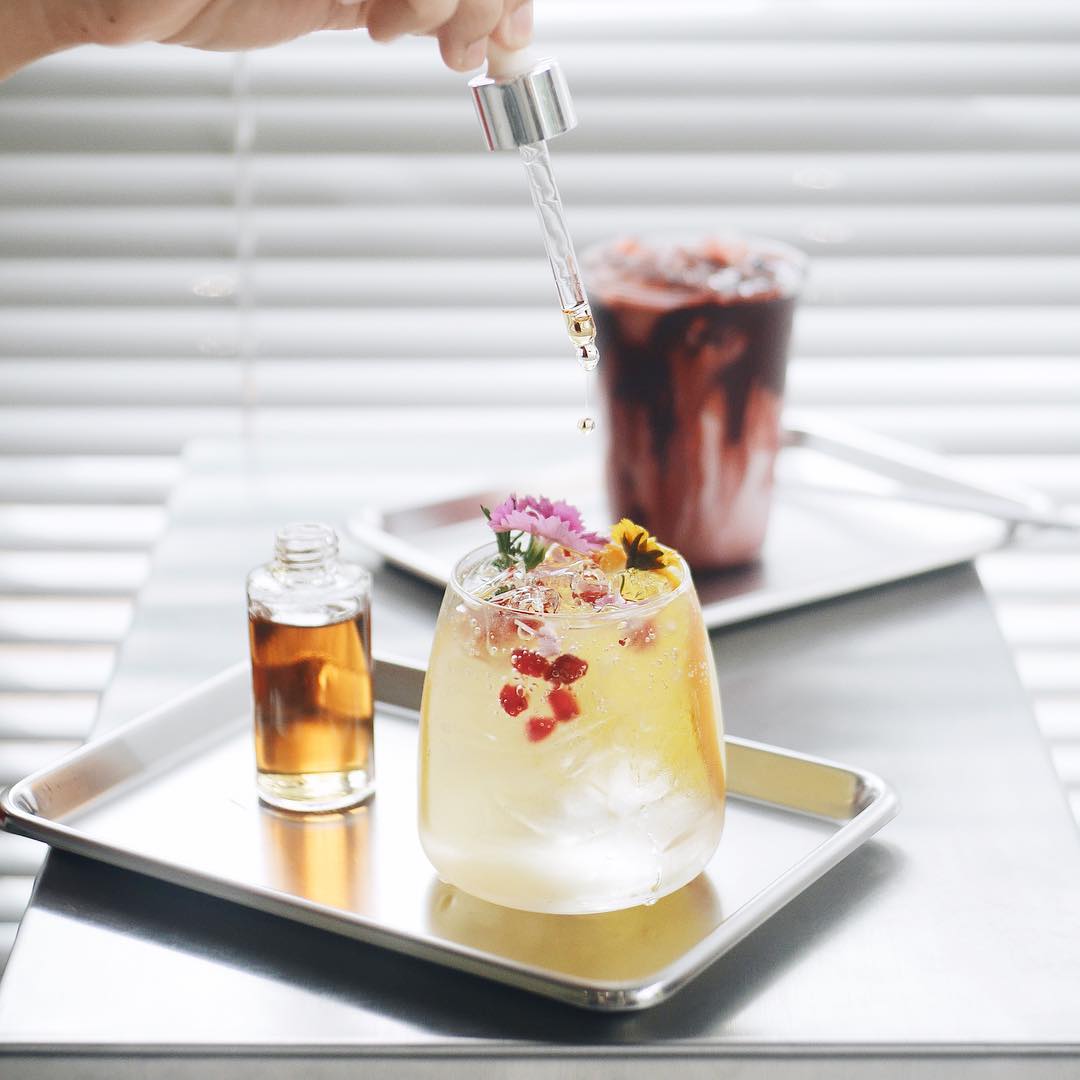 Photo Credit @benyells on Instagram
Head to Pressed Cafe if you're looking for daytime drinks one notch above the ordinary. This minimalist cafe specialises in aeropressed coffees and other innovative drinks you'll be hard pressed to find elsewhere.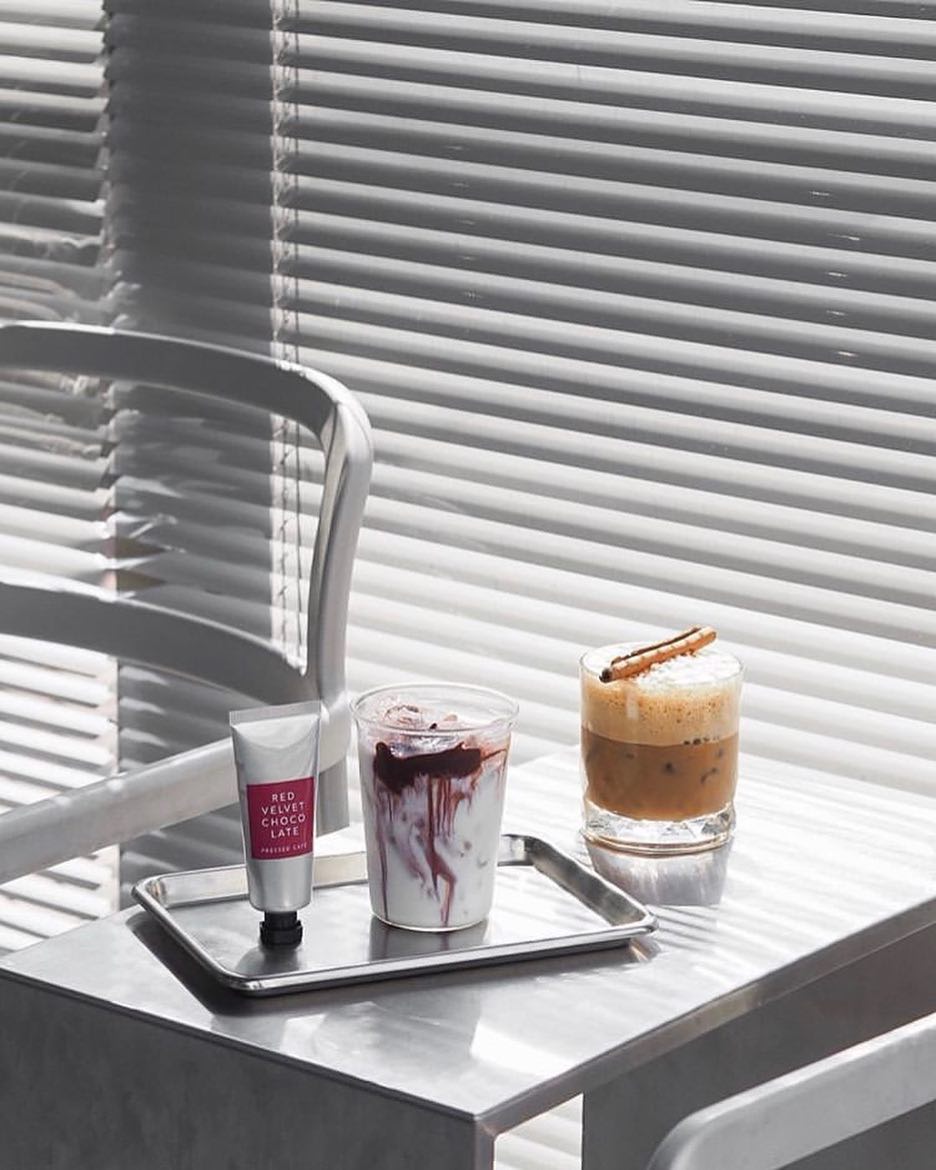 Photo Credit: @ppair on Instagram
Their drinks menu includes a tri-coloured Mixed Berry Chocolate Latte, the smoke-infused Black/White Caramel Latte and a range of deconstructed DIY Chocolate drinks that comes in flavors from Dark Chocolate to Red Velvet.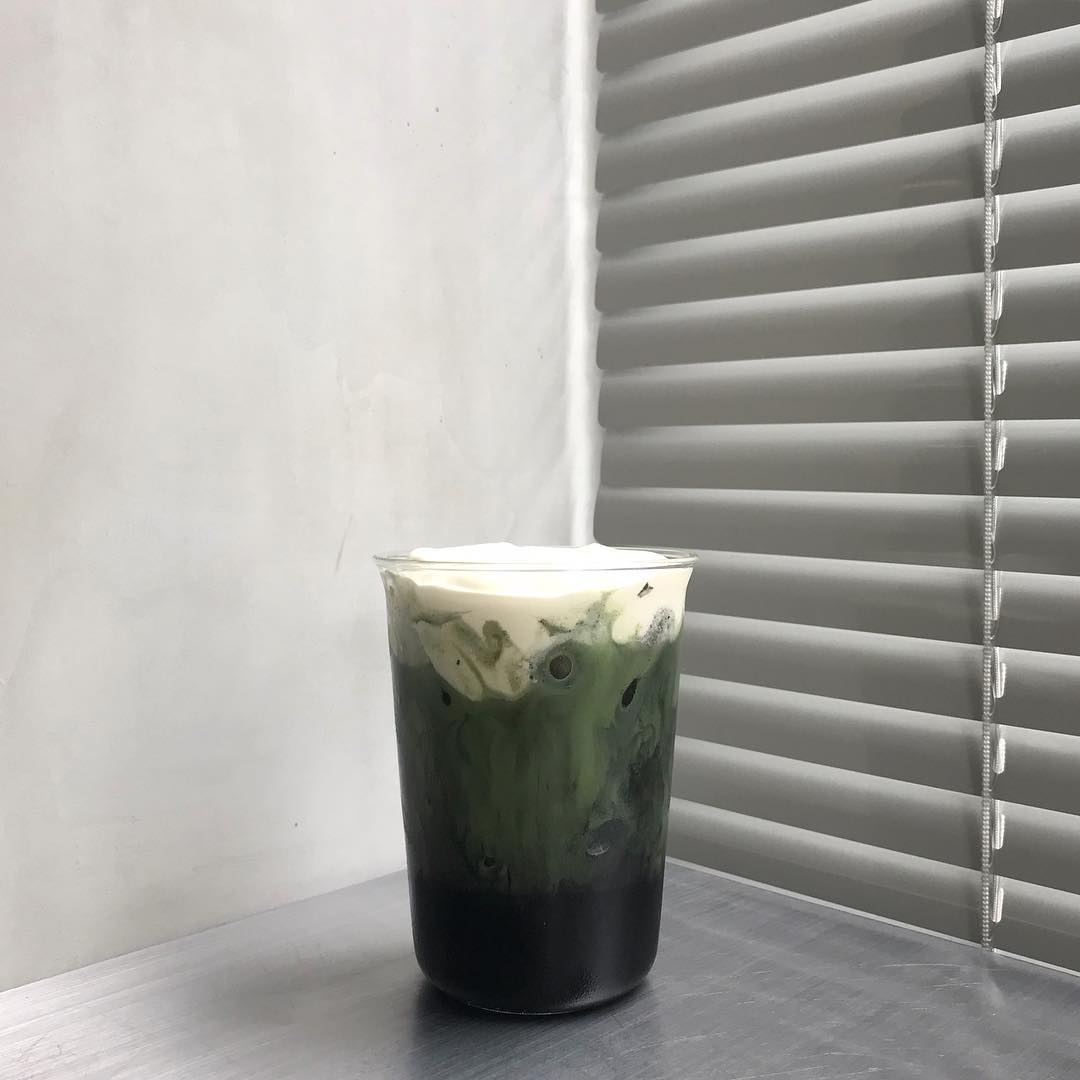 Photo Credit: @pressed.cafe.bkk on Instagram
If you'd like a kick of matcha in your coffee, go for the new Grey Matcha, which combines Uji matcha, fresh milk, charcoal and salted caramel with a shot of espresso, all topped with whipped cream cheese.
Pressed Cafe
Address: 61/120 Rama IX Soi 7, Khwaeng Huai Khwang, Khet Huai Khwang, Krung Thep Maha Nakhon 10310, Thailand
Opening Hours: Monday – Friday, 8am -5pm; Saturday – Sunday, 10am – 6pm
10. Peace Oriental Teahouse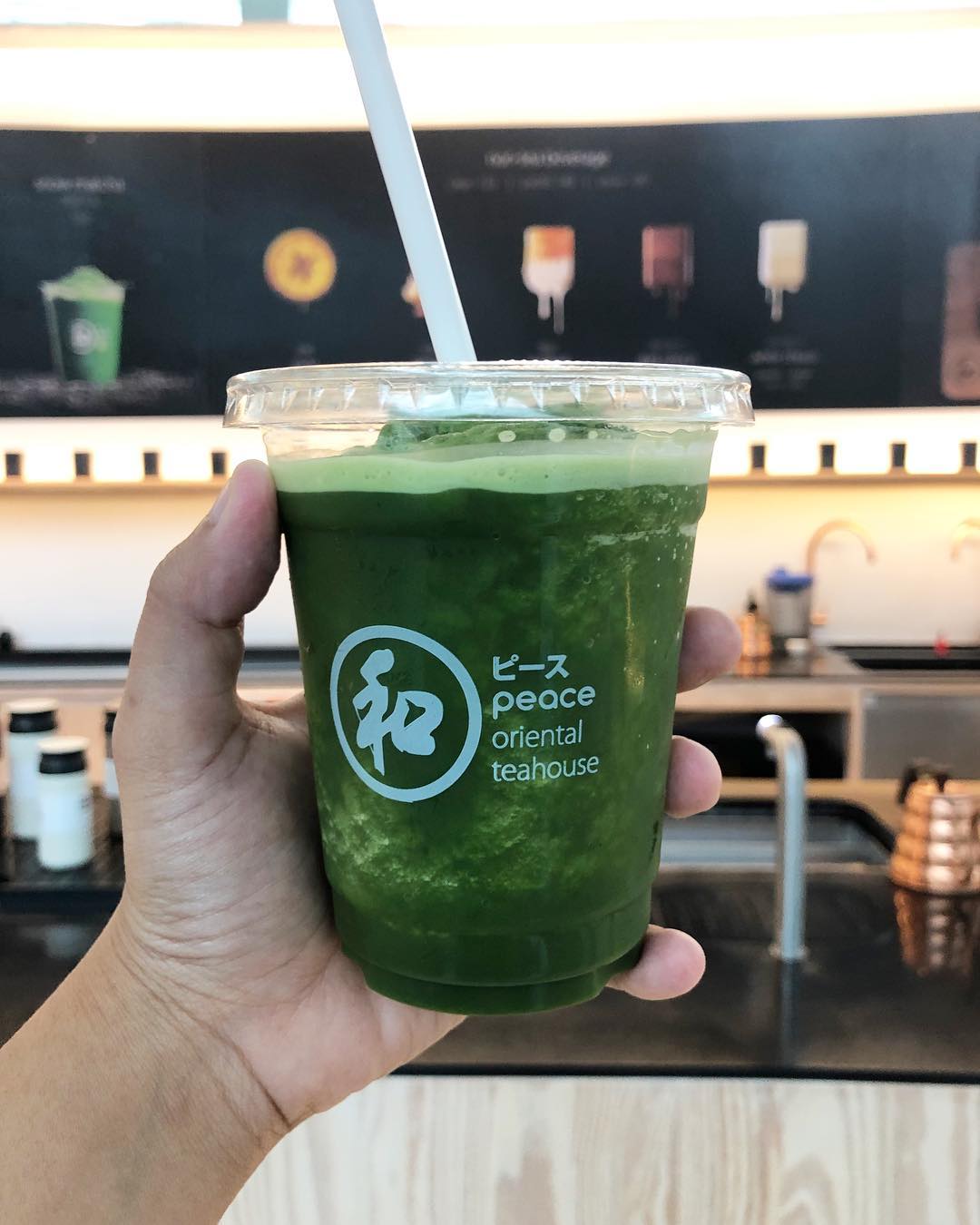 Photo Credit: @s_mink on Instagram
Peace Oriental Teahouse is quite possibly the mecca of every tea lover's Bangkok trip. Decked out in smooth wood details and wide glass windows, along with a footwear removal policy for entering the cafe, a visit to this quiet space makes you feel like you've been transported to a modern minimalist Japanese teahouse.
The majority of their menu revolves around speciality tea, from Chinese Oolong to fragrant Gyokuro. There's also a lineup of milk-based drinks, like their Snow series that includes Honey Yogurt and Dark Choco flavours.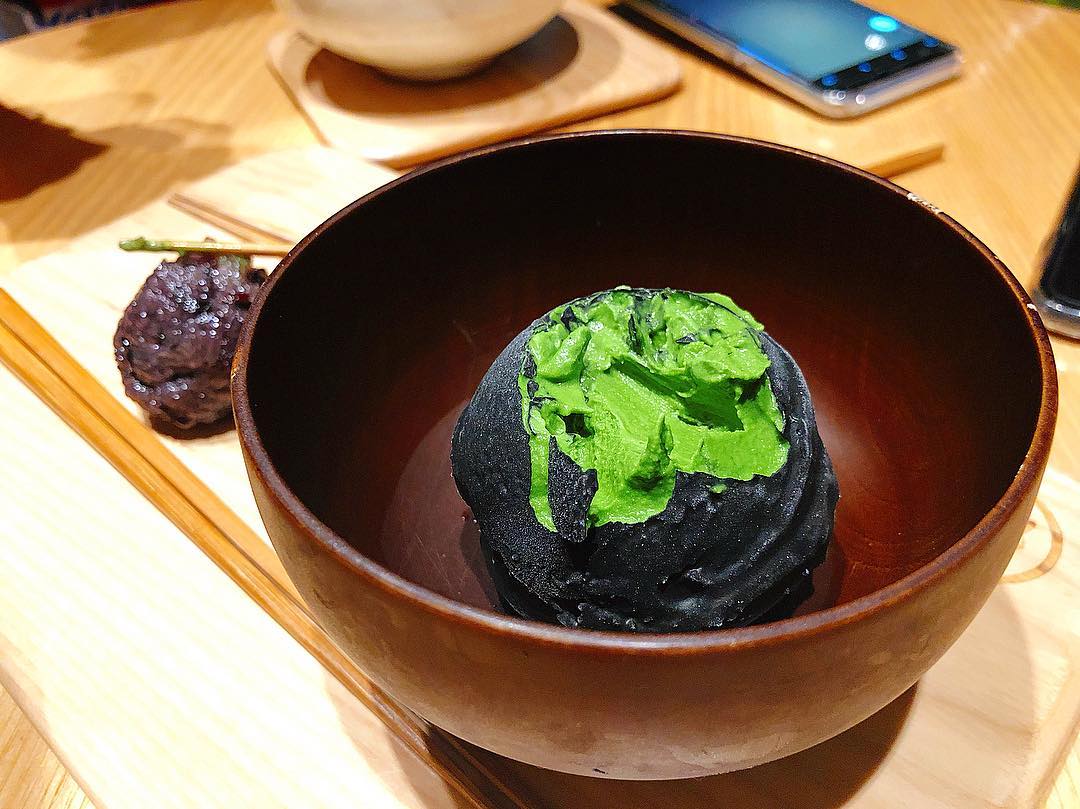 Photo Credit: @water_whatever on Instagram
With Peace Oriental's tagline of "matcha for perfectionists", you can't go wrong with Matcha Extremist – a scoop of incredibly intense matcha ice cream encased in a thin charcoal shell. Look out for seasonal specials as well!
Peace Oriental Teahouse
Address: 47 Soi Sukhumvit 49/1, Khwaeng Khlong Tan Nuea, Khet Watthana, Krung Thep Maha Nakhon 10110, Thailand
Opening Hours: Monday – Friday, 8am – 10pm; Saturday – Sunday, 10am – 10pm
Klook is Turning 2 – and We've Got Amazing Deals In Store For You!
What's a Klook Birthday without any travel deals? Now that we're turning TWO, we're doubling up on the excitement with some pretty awesome deals just for you! To celebrate, we're treating you to up to Php 2,000 OFF your upcoming travels! Get Php 1,000 OFF with the code <BDAY1000> for a minimum spend of Php 12,000 and Php 2,000 OFF with the code <BLAST2000> for a minimum spend of Php 25,000!