…think spectacular nature, rugged hiking tracks and the pull of the southern lights…
Tassie is a hidden gem in Aussie holiday spots, and if you're looking for a different kind of trip, then Tasmania might just be up your alley. If you're lucky enough to have some time here, there's no time to waste. Whether you're here for the jagged landscape of Mount Wellington, the dramatic views from Gordon Dam or the trendy, cozy bar scene in Hobart, a holiday in Tassie will leave you totally enriched. To help you on your way, the list below collates the top things to do in Tasmania. Pick your favourites and get going!
1. Walk across Gordon Dam
When it comes to jaw-dropping man-made feats of engineering, Gordon Dam has to be one of the most popular. Head along Gordon River Road through the Tasmanian World Heritage Centre and you'll be treated to amazing views even before you reach the dam.
Gordon Dam is situated 12km outside of Strathgordon, and is one of the best things to see in Tasmania. This tall, curved structure holds back the water in Lake Gordon and looks like something out of a sci-fi movie. Scale the steps up to the dam walkway and walk across it for views that sweep out over the lake and rocky, tree-topped cliff faces. Only look down if you're feeling brave!
There's no visitor centre in this area, so you may want to read up about Gordon Dam before you go. For more amazing views and wildlife spotting, book onto the Southwest World Heritage Flight – you'll fly all the way to South East Cape and may catch a glimpse of the dam en route.
2. Patrol the old prison in Richmond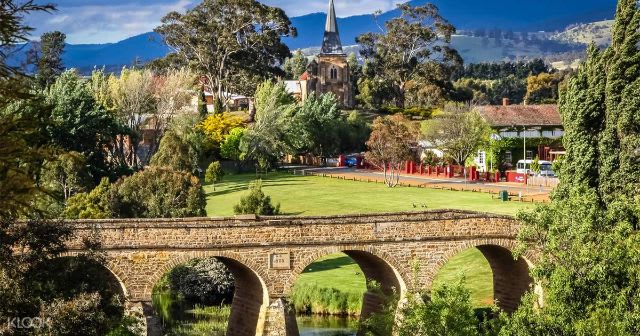 With its Georgian buildings, green landscapes and arched bridge, Richmond may look quaint and cute, but this historic town offers up much more than first meets the eye.
Richmond is home to the oldest intact prison in Australia, and it's one of the best places to visit in Tasmania. Built in 1825 and featuring solitary confinement cells you can step inside, the self-guided tour will take you through the prison's cookhouse, cells and convict holding rooms.
For something a little lighter in mood, check out the Richmond Maze and Old Hobart Town Model Village. They're both great tourist attractions for anyone of any age to enjoy. Lastly, before you leave, don't miss the old-fashioned sweet shop. It makes a great stop for an ice cream after a day of sightseeing, too!
To make a day out of your Richmond trip, you could consider booking a day tour which also includes waterfall-spotting at Mt. Field National Park, summit views at Mt. Wellington, and a trip to Bonorong Wildlife Sanctuary to meet some Tasmania Devils!
3. Browse the goods at Salamanca Market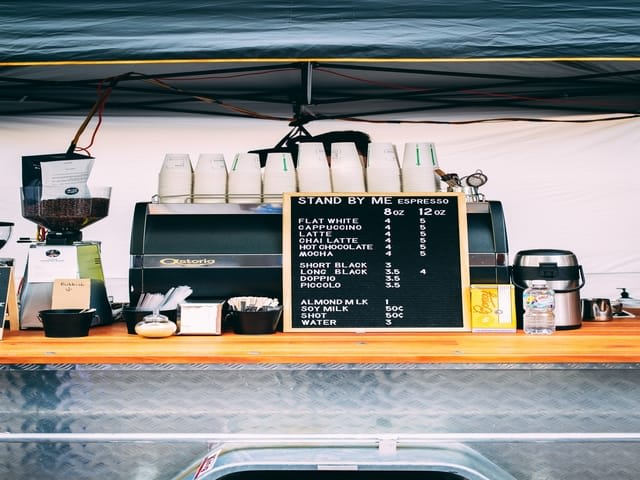 Salamanca Market has been going since 1972, and it's still a huge favourite with locals and tourists. Every Saturday until 3pm, between 25,000 and 40,000 people come here to browse the stalls, people-watch and rummage for goodies.
If you've got something in mind you want to buy, there are usually more than 300 stalls, so it's likely you'll find it here. Whether that's touristy mementos, vintage clothes, a holiday souvenir, secondhand books or cute, hand-crafted homeware, Salamanca Market is where it's at.
If you're hungry or in need of a drink, there's plenty of choice, and if it's out of market hours, you don't need to worry either. There are loads of cafés, pubs and restaurants in this area, close to Hobart's waterfront. Eat in or grab some takeaway drinks and snacks to enjoy in one of the nearby parks.
4. Hike up Mount Wellington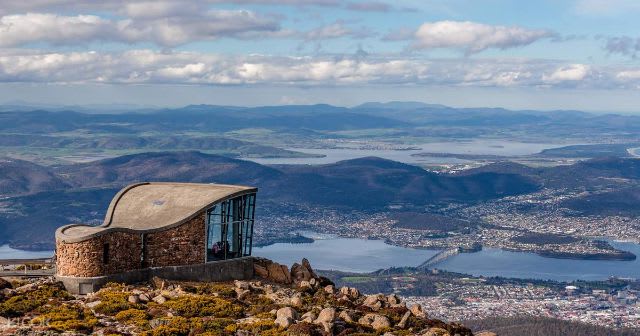 If you're feeling lazy, it's possible to drive the whole 1,271 metres to the top of Mount Wellington and enjoy the views at the top without ever having broken into a sweat. It's a great place to step back from the hustle and bustle of Hobart and see it in a different light. At the top of Mount Wellington, there's a small, enclosed lookout where you can gaze out across the Derwent Estuary in the peace and quiet.
Although driving may be quickest, there's no denying you'll get the most out of this place if you head to the summit on foot. There are loads of walking tracks to ramble along, and you can stop along the way for a rest or to take in the views. It's a good idea to pack a picnic, as it'll let you settle in for a day of nature and exploring. The walking tracks don't have a closing time, so you can come here as early or late as you like!
If you prefer the ease of a tour, book yourself a Mount Wellington morning tour from Hobart, which will take you through David's Park, the first burial earth in the region, and the Female Factory, where female convicts were once housed before being assigned to settlers.
5. Tour around Maria Island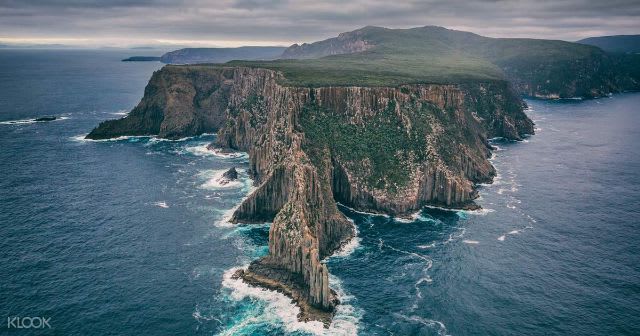 Tasmania may be isolated enough for you, but if you fancy taking things to the next level of peace and tranquillity, head to Maria Island. Book onto the East Coast and Maria Island Tour and you'll fly over and land on this beautifully rugged island. Explore the grizzly past of the island with a trip to Darlington Probation Station, which is a World Heritage Site, then chill out on pristine beaches that are prime places for spotting marine life such as seals and whales.
Elsewhere on the island, you might spot kangaroos, wallabies or Tasmanian Devils, while keen birdwatchers should look to the skies to see if they can catch a glimpse of the super-rare Cape Barren goose. There are so many unusual and endangered birds and animals on Maria Island that it has to be one of the best places to visit in Tassie if nature, history and wildlife are your scene.
6. Immerse yourself at MONA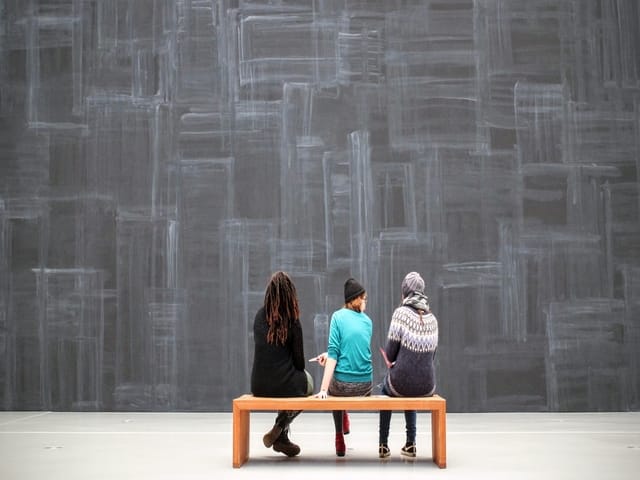 Forget what you think you know about art galleries and get ready to experience MONA – the Museum of Old and New Art. This place is fun, exciting, different and a must-see, even if you don't usually enjoy visiting art galleries. In MONA, you don't just stroll around idly looking up at old paintings. Instead, you engage all of your senses and get totally involved. It's interactive and the team behind the exhibits have worked hard to make sure they maximise the use of sound, lighting and movement. This place is great if you're travelling with kids but it's equally great if you've got a few hours to burn in Hobart and you fancy doing something different and challenging your preconceptions.
MONA also has a cinema experience, live music, a museum shop and even host a couple of festivals each year. There's so much to do here!
7. See the Bay of Fires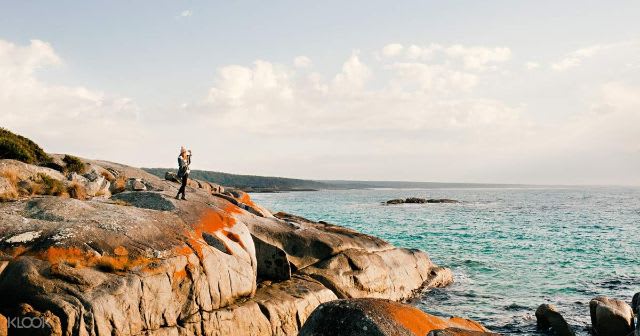 Nothing is quite as iconic in Tasmania that the Bay of Fires. Ever enchanting with the orange glow of lichens on granite rocks, the bay is perfect for photo opportunities with its earthy landscape, against white sand and blue waters. The bay is tucked on the northeastern coast of Tasmania, and is accessible with a day tour from Launceston.
This heart-opening tour starts with smelling the flowers at Bridestowe Lavendar farm, where you can pick up a bite for your trip from their award-winning Cottage Bakery. Continue on to see the Legerwood Carved Memorial trees, and then take a walk through the Myrtle Rainforest Walk. Other stops on the tour include Binalong Bay and Harbour Point. And as we all know, a holiday to Tassie wouldn't be complete with some fresh seafood fare to sample. Fortunately enough, the tour will also bring you to Lease 65 for some fresh oysters before retuning you home.
8. Explore Freycinet National Park
Tasmania isn't short of awesome experiences for nature lovers and explorers, but few can beat the sheer beauty of Freycinet National Park. Scramble up to the lookout at Wineglass Bay and you'll be treated to stunning views. There's a beautiful scoop of white sand hemmed in on either side by tree-topped mountains – this place is one of the prettiest, most peaceful places to explore.
Trek along winding mountain paths and snorkel in the clear waters. Wondering where to eat in Freycinet National Park? Head for the coastal town of Bicheno. This little town is a fishing port and beach resort, and it has a handful of restaurants but the Sea Life Centre Restaurant has to be the quirkiest. The aquarium itself boasts gorgeous views across Waubs Bay.
If you want to experience Freycinet peninsula with a bang, you could even book an aeroplane tour from Hobart.
9. Enjoy the views at Tasman National Park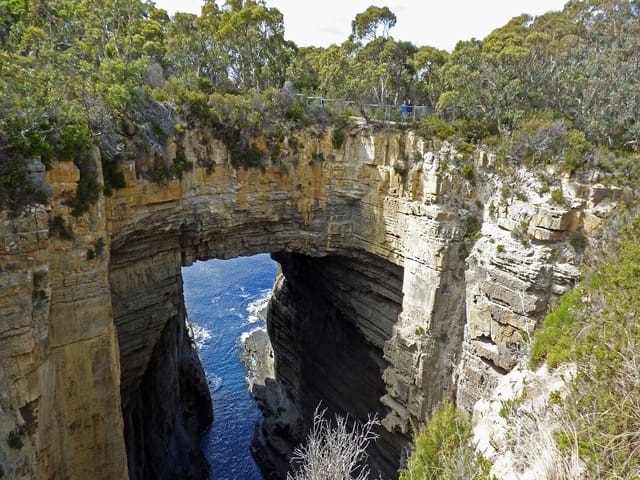 Tasman National Park is jam-packed with amazing geographical features, and while it's totally possible to drive through this place and stop off en route, you can't beat the experience of hiking through this epic landscape. You don't need to be gone for days – a couple of hours will still give you heaps to remember. Picture views across white-sand beaches, cliff faces that drop into the sea at 90 degrees, islands off the coast and dramatic waterfalls, too.
The main hotspots come in the form of the Tasman Arch, the Tessellated Pavement, the Blow Hole and the deep trench of Devils Kitchen. Pathways at the top weave along the cliffs to lookouts where you can make the most of the dramatic geography of this splendid national park. If you'd prefer an easier trip, opt to see Tasman island from the the comfort of a wilderness cruise, where you might be lucky to catch some resident wildlife such as dolphins, migrating whales and sea eagles.
10. Venture across to Port Arthur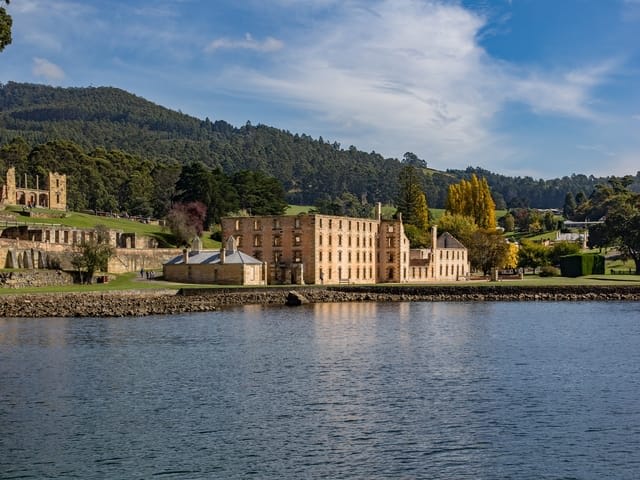 If you've made it to Tasman National Park, you really shouldn't leave without venturing to Port Arthur. It's part of the UNESCO World Heritage-listed Australian Convict Sites.
Step back in time and imagine yourself as one of the convicts sent here to live out their days. Port Arthur was known as the 'inescapable prison' and often the only way out was death. But even in death, the prisoners were close by, as they were buried on an island – named the Isle of the Dead – nearby. There are regular ghost tours on the island, which aren't for the faint-hearted.
Book your 2-day Port Arthur pass on Klook to explore at leisure, with access to 30 different historical sites, including Port Arthur Gallery, which houses many interactive exhibits detailing life back in the day. There's also a 40-minute walking tour and a 25-minute cruise included, so you'll enjoy a mixture of activities all in one booking.
11. Hang out in North Hobart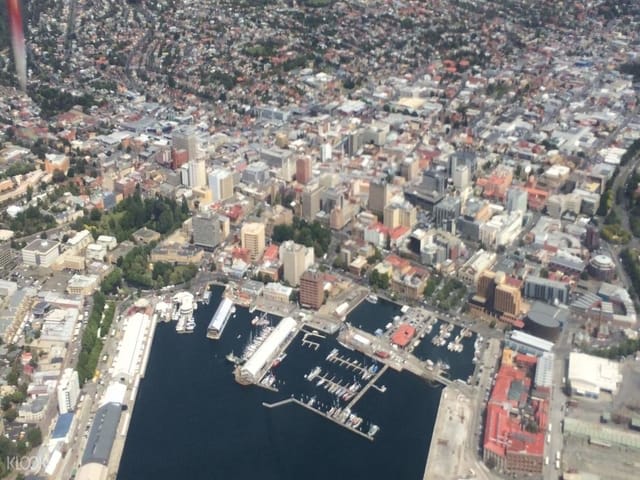 You've done the sightseeing thing, uploaded a few photos to your social media feed and you're ready to take things easy in Tasmania. Head to North Hobart (NoHo), the place to come for the best food and drink experiences in town. With so many pubs, bars, cafés and restaurants to choose from, you could eat and drink somewhere different every day of the week and then some.
NoHo is where the cool, arty, bohemian types hang out. There's lots to see and discover, including a live music venue in the form of the Republic Bar & Café and the independent State Cinema showing everything from art house movies to big blockbusters. And while the State Cinema offers up rooftop screenings, if you want to see Hobart from the sky, book a place on the Hobart City Scenic Flight. From up in the sky, you'll catch sight of MONA and Clifton Beach, and soar over the Derwent River.
12. Do some tasting at Cascade Brewery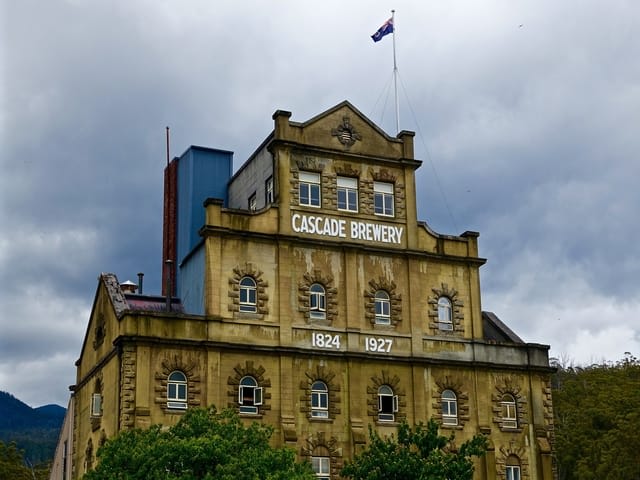 Wondering where to drink in Tasmania? The Cascade Brewery has to be up there as one of the best spots. Set at the base of Mount Wellington among three acres of lush heritage gardens, the grand Cascade Brewery building is rather imposing. It's a beautiful spot to sip a few beers, enjoy lunch and chat with friends against the backdrop of grand Mount Wellington. Make the most of the views and pitch up in the beer garden or head indoors and take a fascinating tour. There's a tasting room so you can sample their finely crafted brews. Brewing beer since 1832, this place knows a thing or two about crafting a delicious drink. If beer isn't your tipple, don't worry – they've got Mercury ciders, too.
Hobart, the underrated gem rich with nature & cultural experiences
Tasmania offers countless awe-inspiring sights and experiences, making it a great destination for travellers from all over the world. Struck out on its own on the southern coast of Australia, this unique place does remote, wild beauty like it's the easiest thing in the world. Mix this back-to-nature experience with a cool, laid-back and funky vibe in the bars, eateries and art scene of Hobart, and you've got a holiday that ticks all the right boxes.
---
⭐️ What is Klook? ⭐️
Klook is a world-leading travel activities and services booking platform, covering over 400 destinations and over 100,000 travel services! Klook's mission is to empower travellers around the world to discover, book and experience the best things to do anywhere, anytime - including attractions, activities, tours, local transfers, wifi and SIM cards.
⚡️Stay in the loop with Klook ANZ on the following channels ⚡️