Indulge in a sky-high experience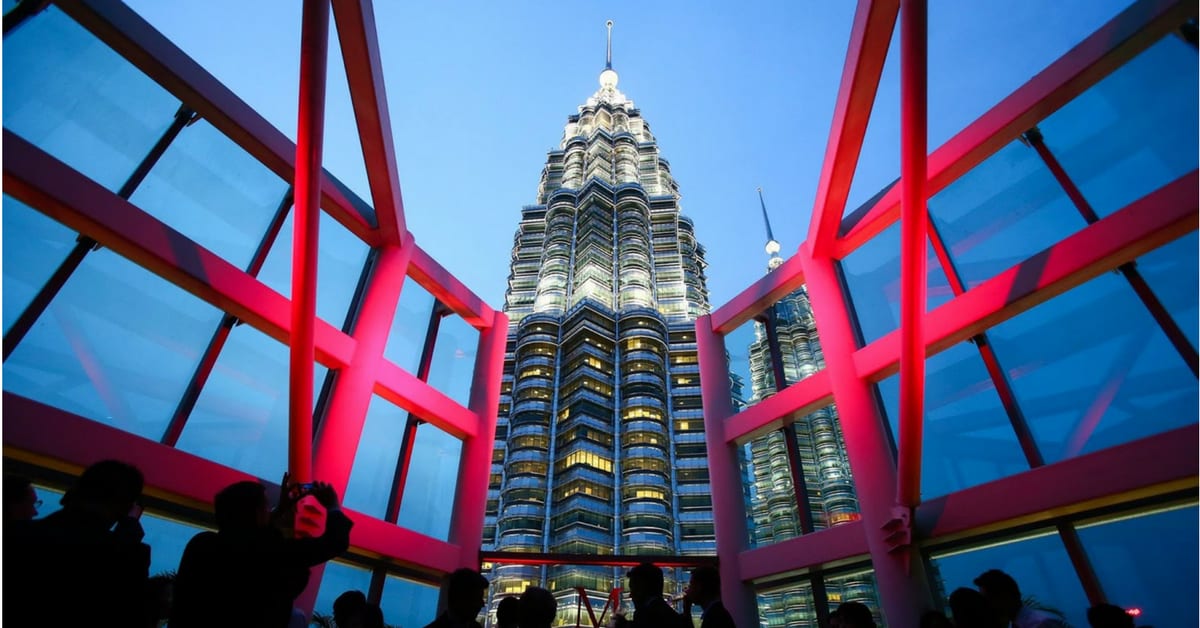 Source: lifestyleasia.com
Nothing beats the special feeling of sharing a meal or drinks with bae, but it's certainly better if you can do it while enjoying a killer view. From fancy restaurants, to rooftops bars and casual dining, there's no shortage of hotspots with the best views in KL to suit anyone.
Valentine's Day is just around the corner and there's nothing like the present to start reserving your seats for the upcoming date!
Dine with a view:
Atmosphere 360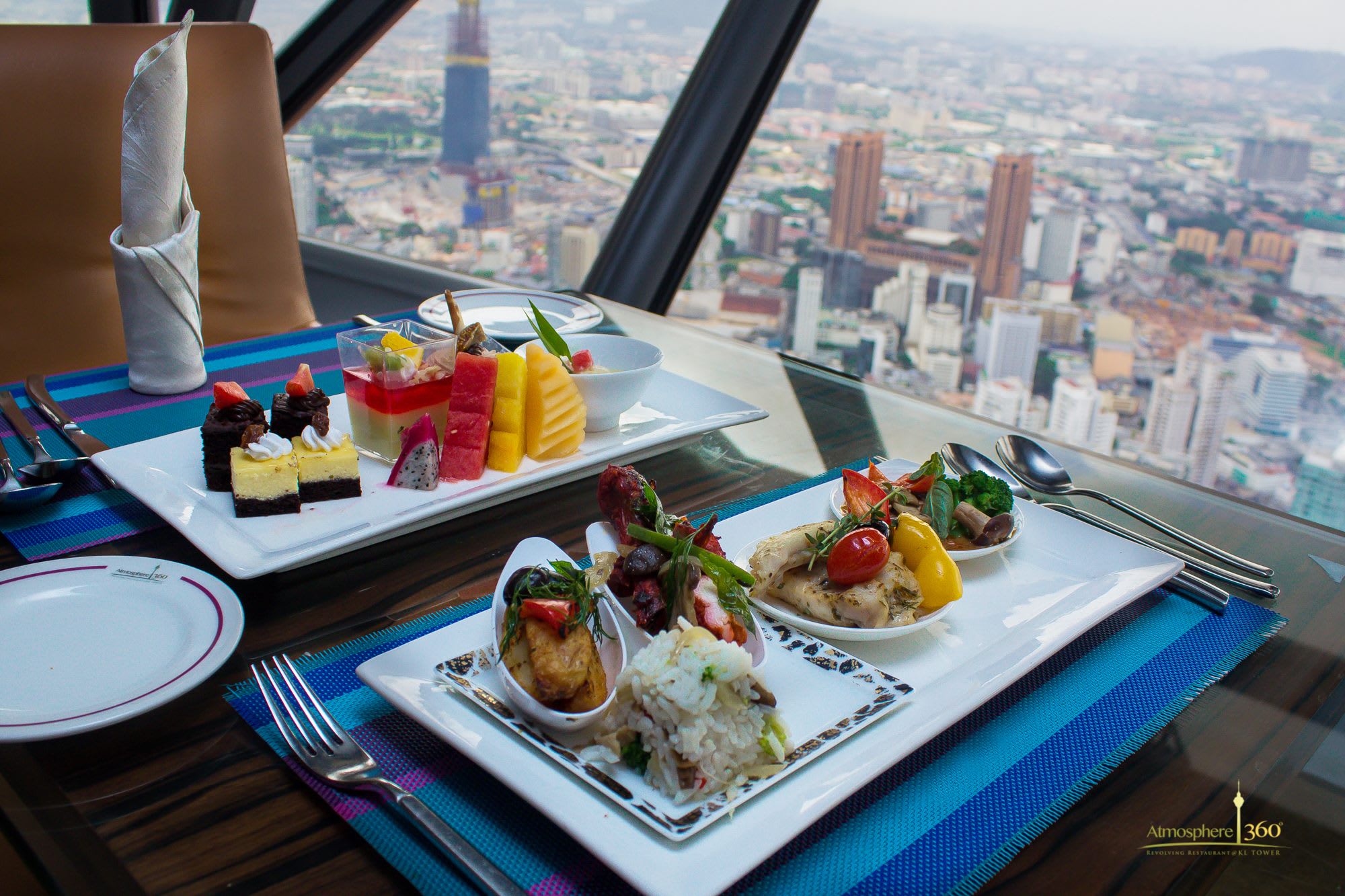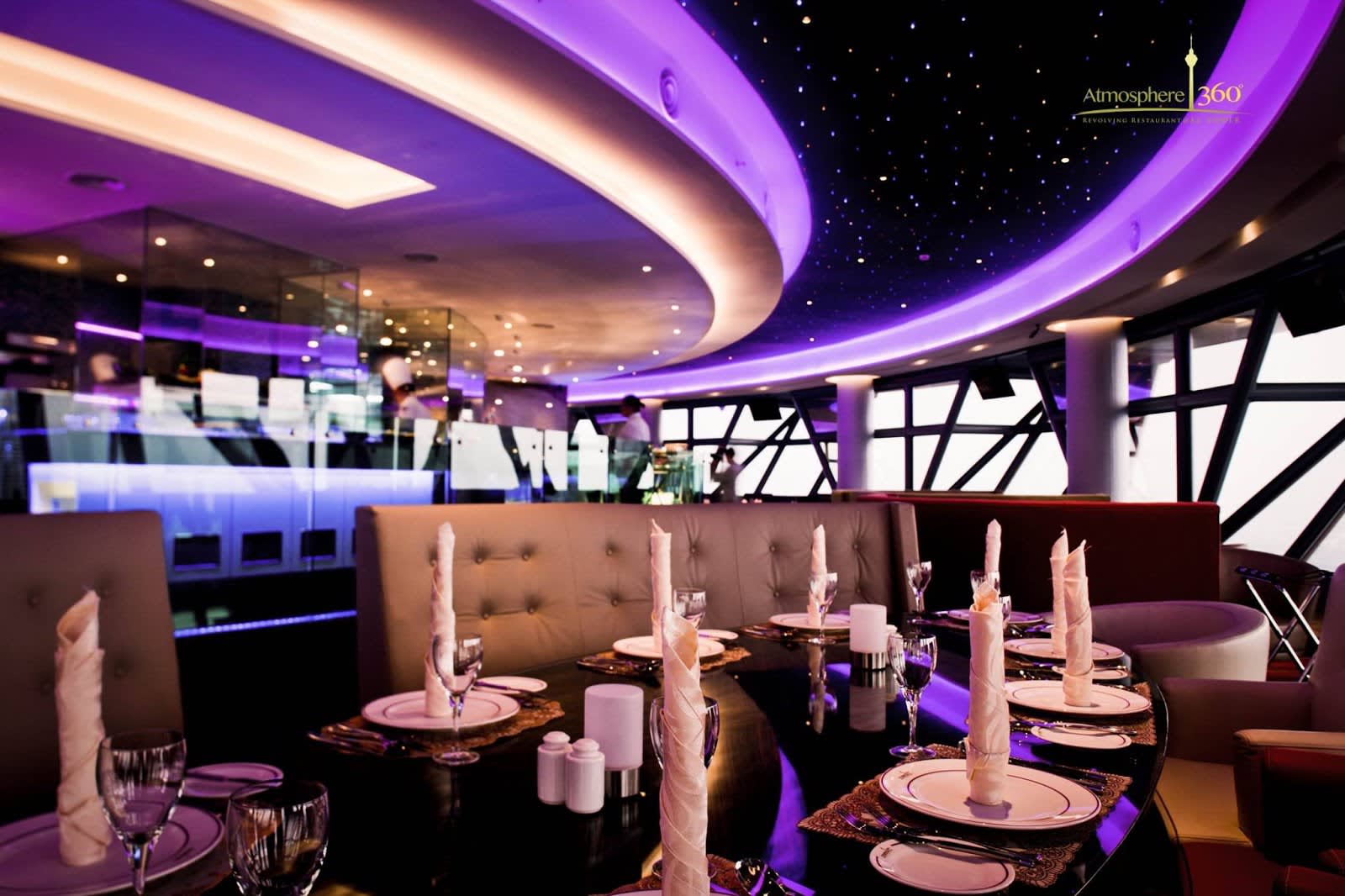 Source: Facebook
Not only does KL Tower serve as an iconic Malaysian landmark, it is also home to the restaurant with the highest view in town. The revolving restaurant, Atmosphere 360, is the place for you and your partner if buffets scream your names!
As the restaurant gradually rotates a full circle to give you a panoramic view, make sure to also dig into the buffet spread. From Western selections to local favourites, the weekly-updated menu will keep you wanting more. Besides, what screams love more than stuffing your faces together with your favourite person in the world?
Opening Hours: Daily, 11.30am – 11pm
Address: TH 02, Menara Kuala Lumpur, No. 2, Jalan Punchak Off Jalan P. Ramlee, 50250 Kuala Lumpur
Fuego At Troika Sky Dining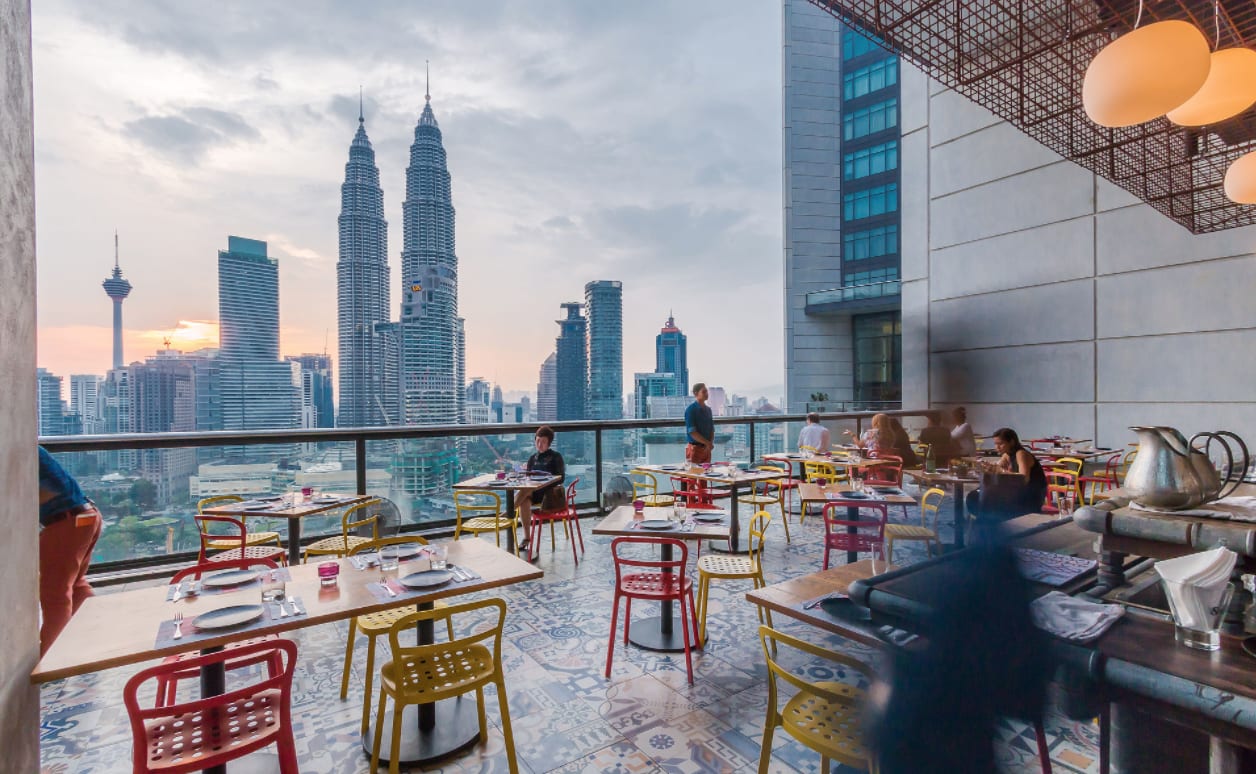 Source: pixelaw.com
If you and your Valentine are looking for something to excite your palates, the thoughtfully-developed fine dining menu at Fuego at Troika Sky Dining will deliver just that. It features South American cuisine with a twist, where you can find a selection of grilled meats and tapas.
Don't let the minimal yet stylish design of the restaurant fool you, they're big on flavours! And just as you'll have a newfound fiery love for this place, we hope you'll feel the same with your other half. After all, Fuego means 'fire' in Spanish!
Opening Hours: Daily for dinner service in 2 seatings – 1st seating, 6.30pm to 8.30pm | 2nd seating, 8.30pm onwards.
Address: Level 23A, Tower B, The Troika,, 19 Persiaran KLCC, 50450 Kuala Lumpur
Marble 8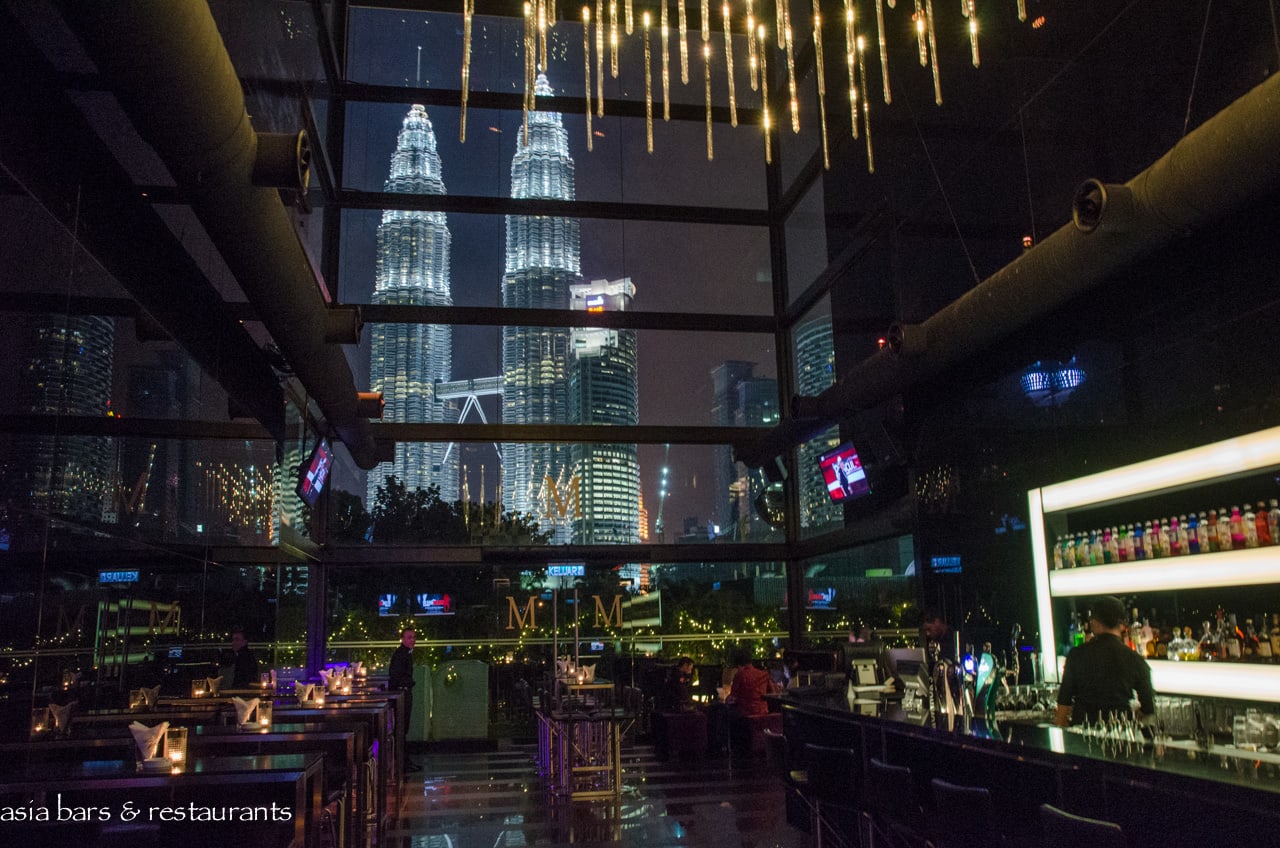 Source: asia-bars.com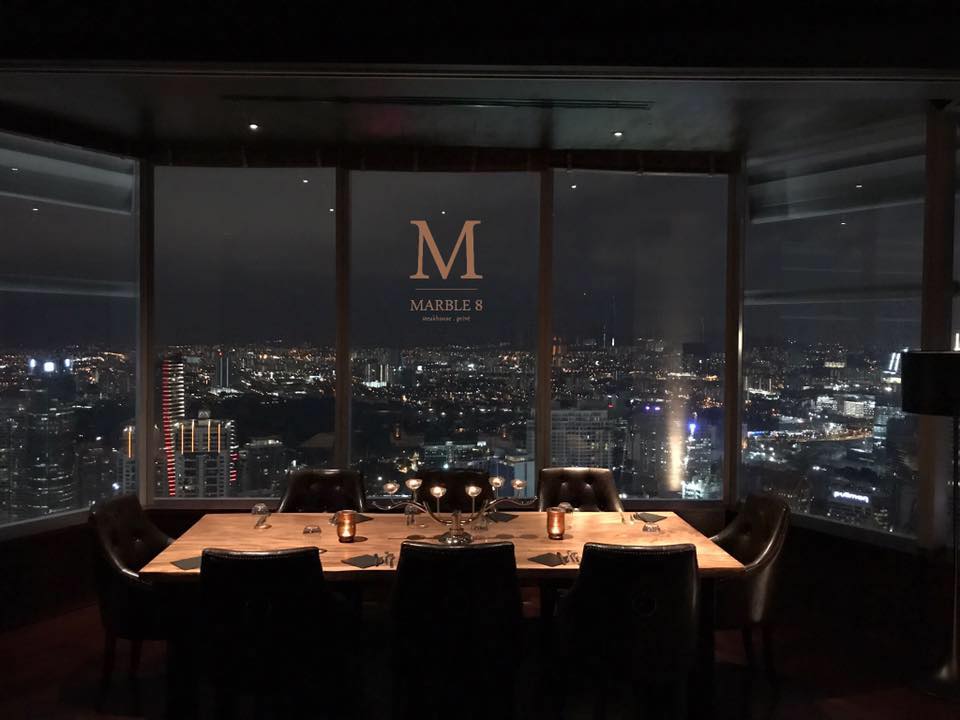 Source: Facebook
Calling out all the lovers out there, steak-lovers that is! From fine cuts of Wagyu and Angus beef in Marble 8, you'll have a hard time deciding if you love your partner or your steak more. Accompanied by a view that is just as impressive, Marble 8's design is elegant and luxurious.
Although it's not the cheapest place in town, it's worth it to splurge on the truly special person who's been through the thick and thin with you. To make it a even more truly spectacular experience, make sure to make a reservation in advance to secure a seat by the floor-to-ceiling window.
Opening Hours: Daily, Lunch – 12pm to 2.30pm | Dinner – 7pm to 11pm
Address: Level 56, Petronas Tower 3, Persiaran KLCC, Kuala Lumpur
Bukit Ampang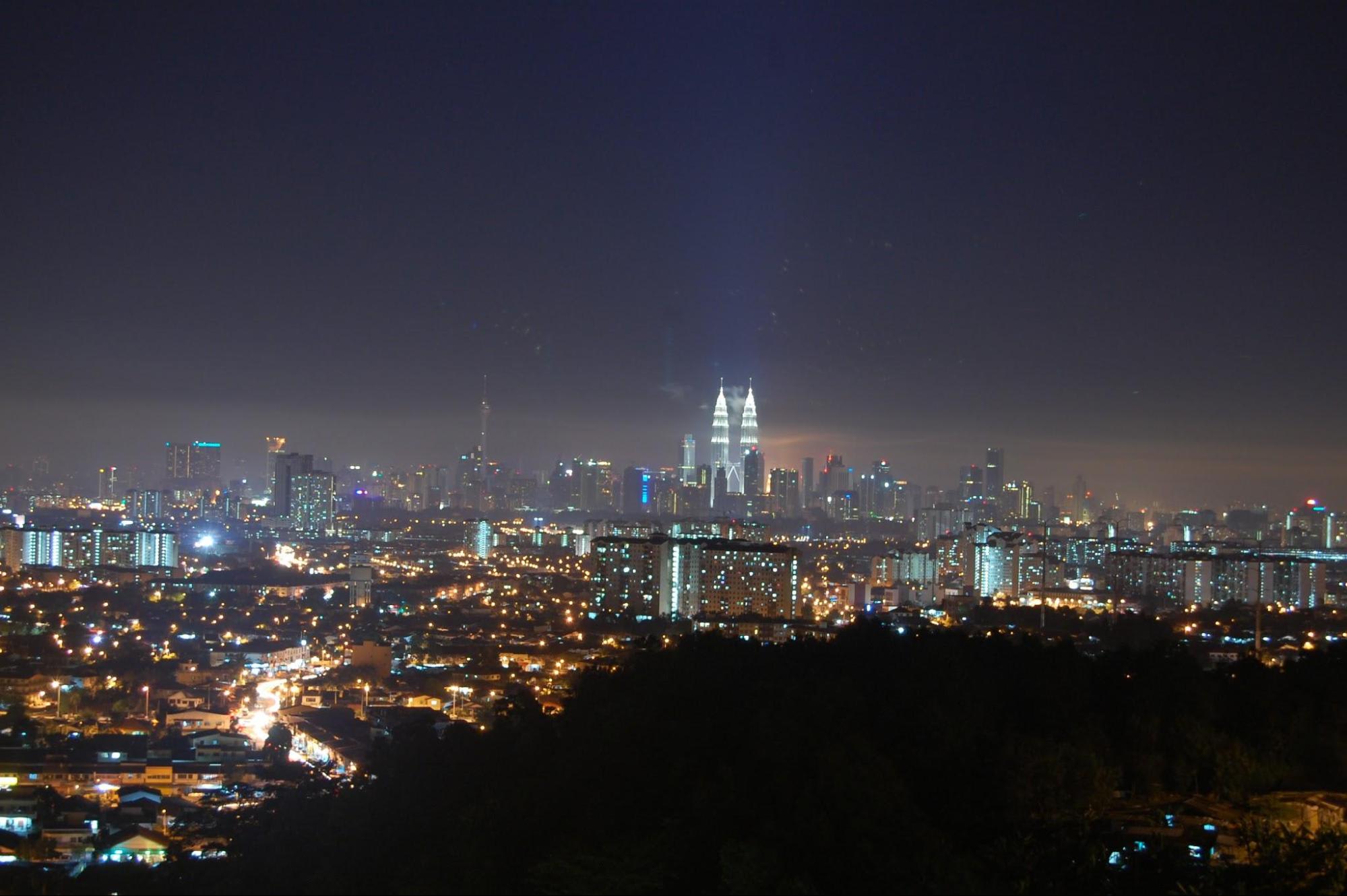 Source: hamydy.wordpress.com


Source: dmsoriginal.blogspot.my
If you and bae want a low-key dinner instead, Bukit Ampang is a no-brainer. Almost a decade ago when rooftop bars and restaurants weren't a huge hit around KL, Ampang Lookout Point used to be the hotspot to dine while enjoying a spectacular view of the city.
Although the actual lookout point has been closed for years, you can find the junction along the slopes leading up teeming with food trucks and seats to enjoy your meal. From char kuey teow to banana fritters, chicken wings, satay and more – you can feast on local comfort food without spending much!
Address: At the junction of Jalan Hulu Langat, Kampung Tasek Permai, 68000 Ampang, Selangor
After-dinner drinks:
Heli Lounge Bar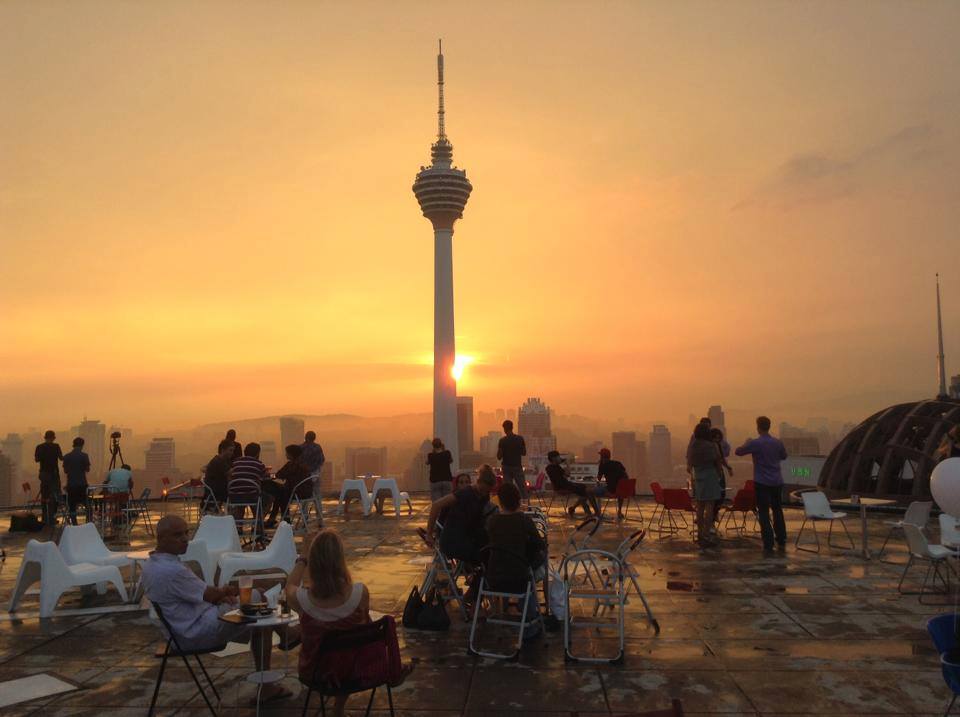 Source: myplayplay.net
During the day, the rooftop on the 36th floor of Menara KH is a fully operational helicopter landing pad and by evening, it transforms into Heli Lounge Bar. Unobstructed by walls or windows, you'll witness a truly unique 360-degree view of the city's skyline.
Amidst the frenzy photo-snapping and posting Instagram stories, don't forget to take a moment to admire the view. And by the view, we mean both the city skyline and your date!
Opening Hours: Monday – Wednesday, 5pm – 12 midnight | Thursday, 5pm – 2am | Friday & Saturday, 5pm – 3am| Sunday, 6pm – 12 midnight
Address: 34th Floor, Menara KH, Jalan Sultan Ismail, KL
SkyBar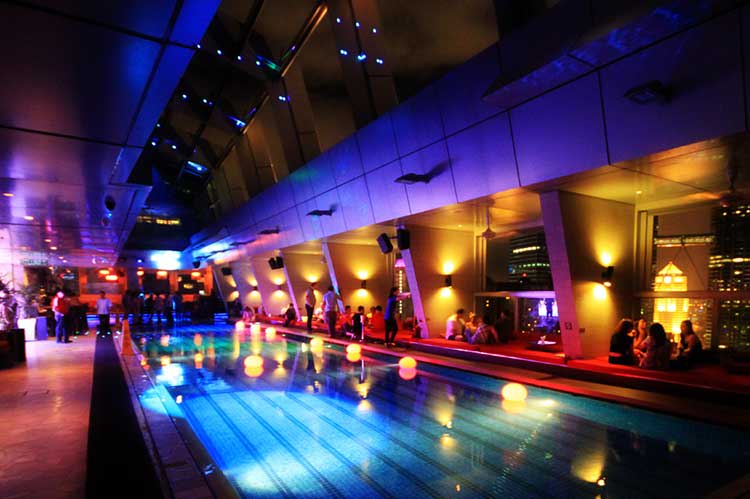 Source: menstylefashion.com
As the sun sets, the swimming pool on the 33rd floor of Traders Hotel transforms into something of a centrepiece. On side of the pool is the bar and the other side contains sunken booths by the floor-to-ceiling windows.
Feel free to relax with your bae in your booth, as both of you enjoy the view of the city while sipping on your cocktails. The music and atmosphere vary on select nights, ranging from jazz to soft rock, pop hits and techno.
Opening Hours: Monday – Thursday & Sunday, 10am – 1am | Friday & Saturday, 10am – 3am
Address: Level 33, Traders Hotel Kuala Lumpur, Kuala Lumpur City Centre
Stratosphere At The Roof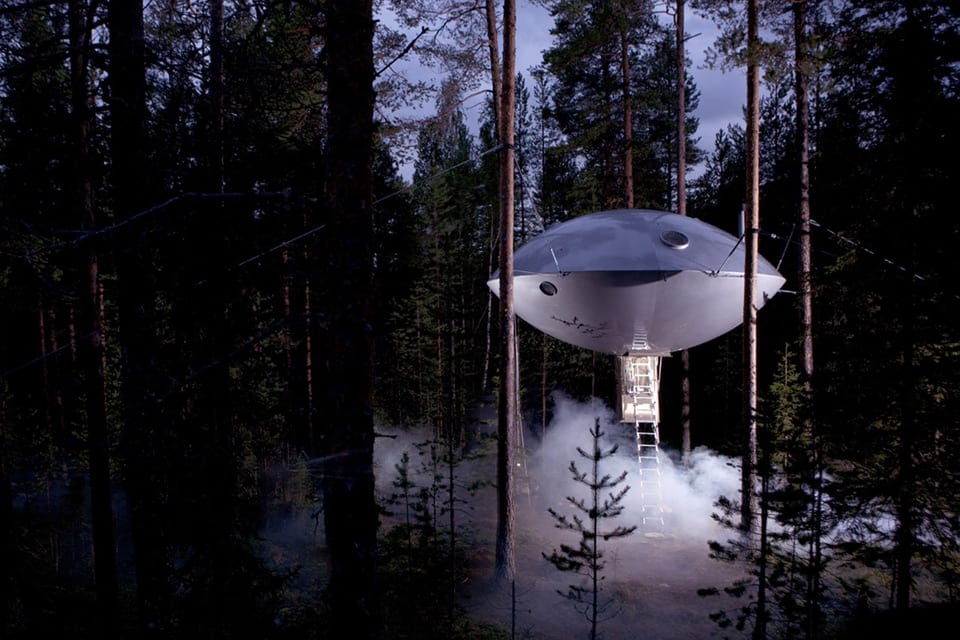 Source: colourlessopinions.com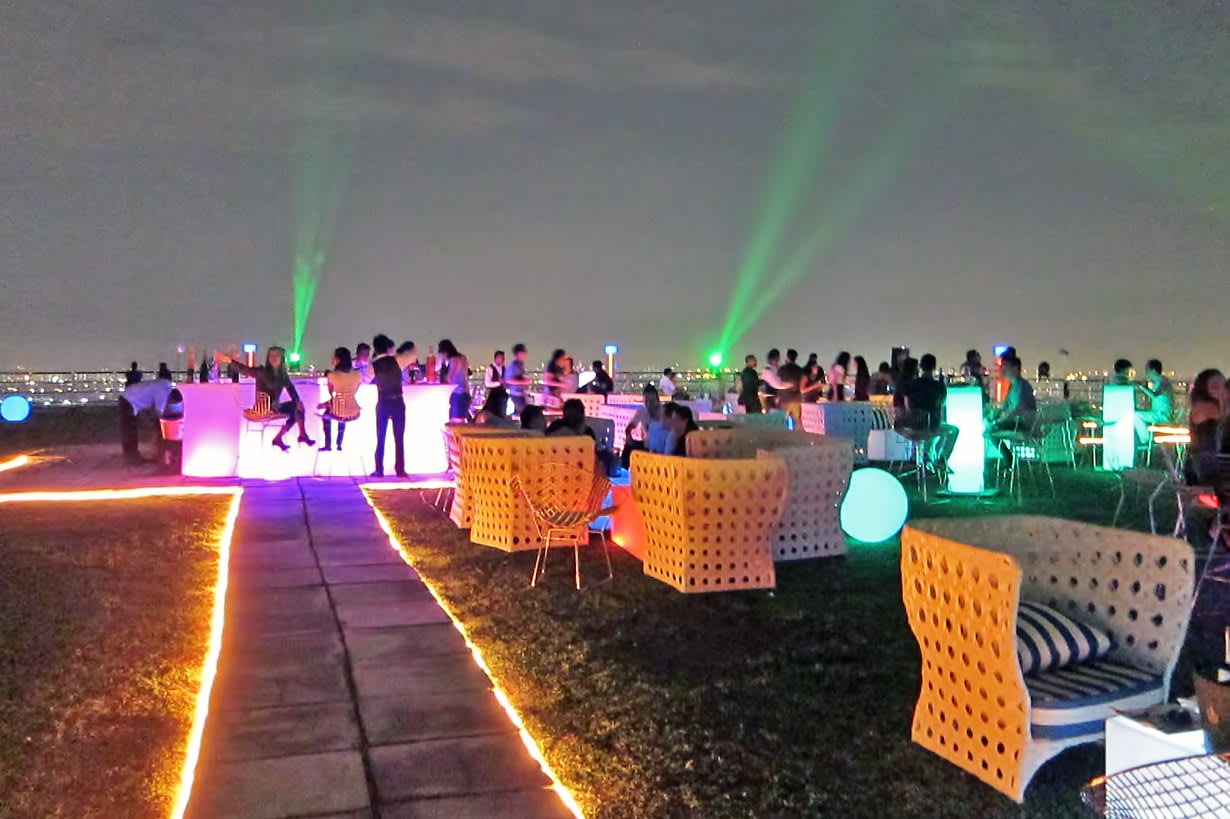 Source: kuala-lumpur.ws
Perched atop First Avenue, next to Malaysia's biggest mall, One Utama is Stratosphere. A bar on a grassy helipad, Stratosphere offers customers with a different view compared to the typical KL skyline. What you'll find instead is a view of the suburban landscape and its surroundings.
The open-air space is decorated with modern and simple furnishings, enhanced by vibrant lights. There's no need to travel all the KL city centre and you can still enjoy a splendid evening of indulging and celebrating with your date.
Opening Hours: Monday – Saturday, 6pm – 2am
Address: The Roof, 1 First Avenue, Bandar Utama, 47800 Petaling Jaya, Selangor, Malaysia
For the best of both worlds:
Luna Bar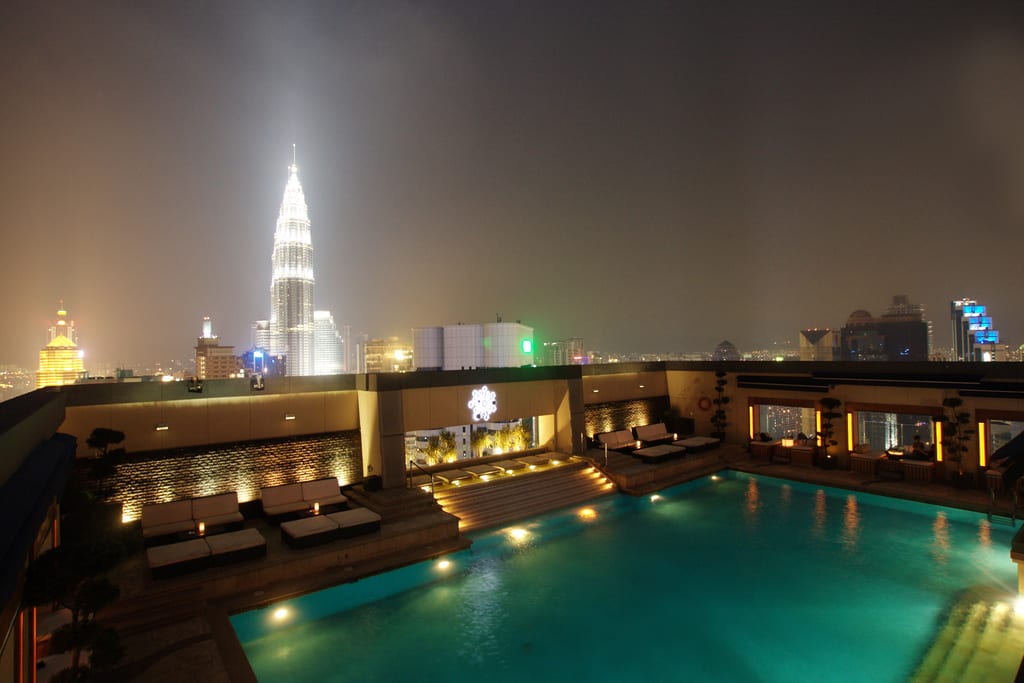 Source: Flickr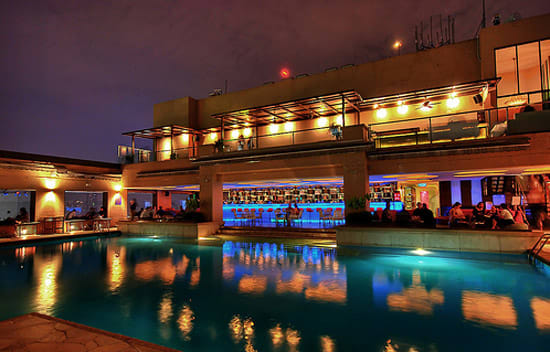 Source: visitkl.gov.my
On the rooftop of Pacific Regency Hotel is one of KL's most popular nightclubs, Luna Bar. This two-storey bar is made up of a restaurant on the upper floor overlooking the pool, while the floor below is an outdoor lounge and bar.
The background music playing at Luna Bar is pretty subdued and unobtrusive so you can chat with each other without having to shout. For that special person where time together never feels enough, Luna Bar is open all day so you can be generous with your time there.
Opening Hours: Sunday – Thursday, 11am – 1am | Friday & Saturday, 11am – 3am
Address: Pacific Regency Hotel Apartments, Menara Pan Global, Jalan Punchak, off Jalan P Ramlee, 50250 Kuala Lumpur
THIRTY8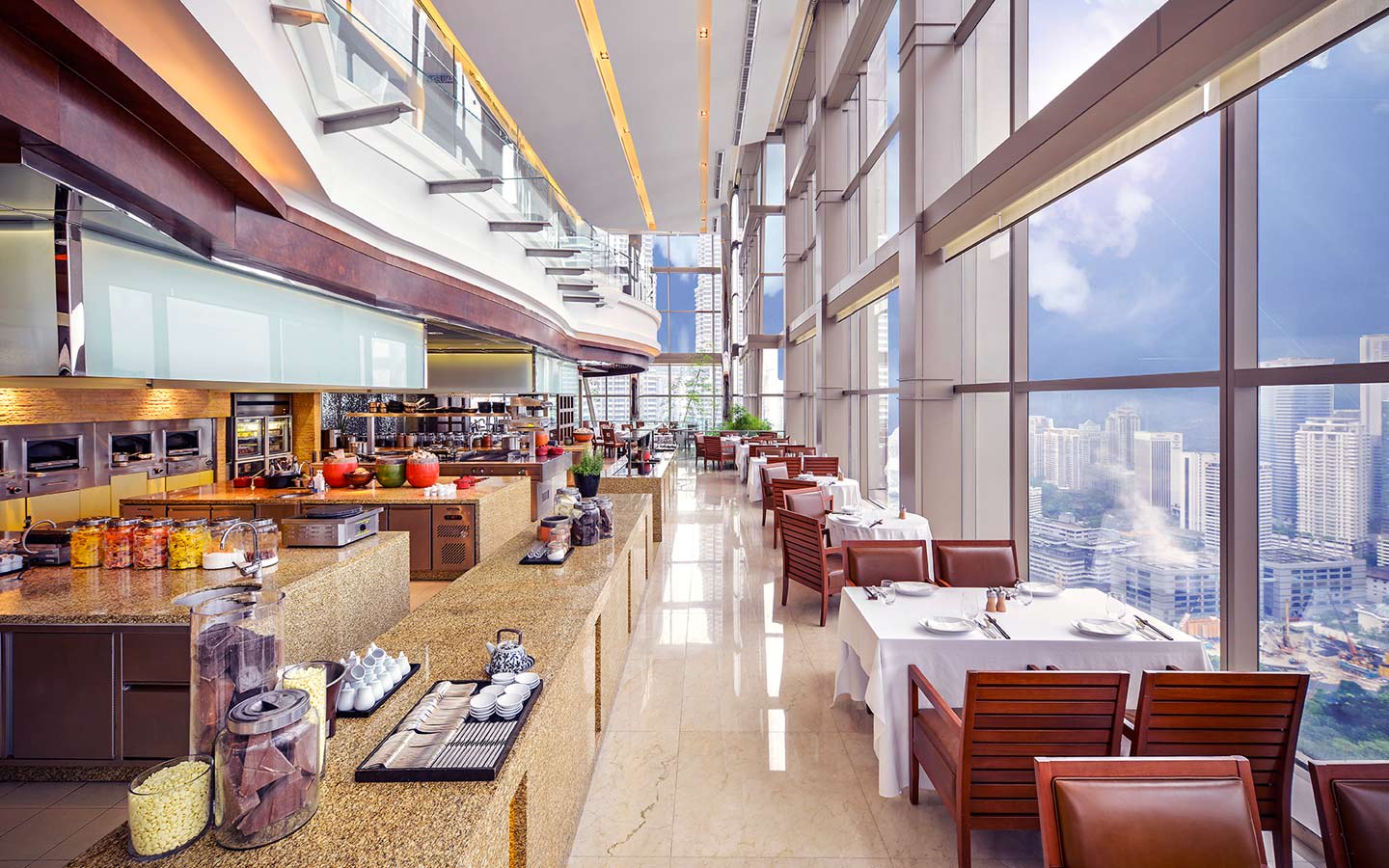 Source: foodadvisor.my
Well-known as one of the best fine dining spots in KL, THIRTY8's sophisticated food and drinks menu will surely impress you. Savour some of the Chinese, Japanese and Western cuisine the city can offer and wash it all down with some eclectic cocktails and spirits.
As the name THIRTY8 suggests, it's on the 38th floor of the Grand Hyatt and it's designed with the same elegance and sophistication as the hotel. Its award-winning dining room, wine bar, and lounge will certainly make your Valentine that extra bit special.
Opening Hours: Daily, 6am – 11pm
Address: Level 38, Grand Hyatt, 12, Jalan Pinang, 50450 Kuala Lumpur
Marini's on 57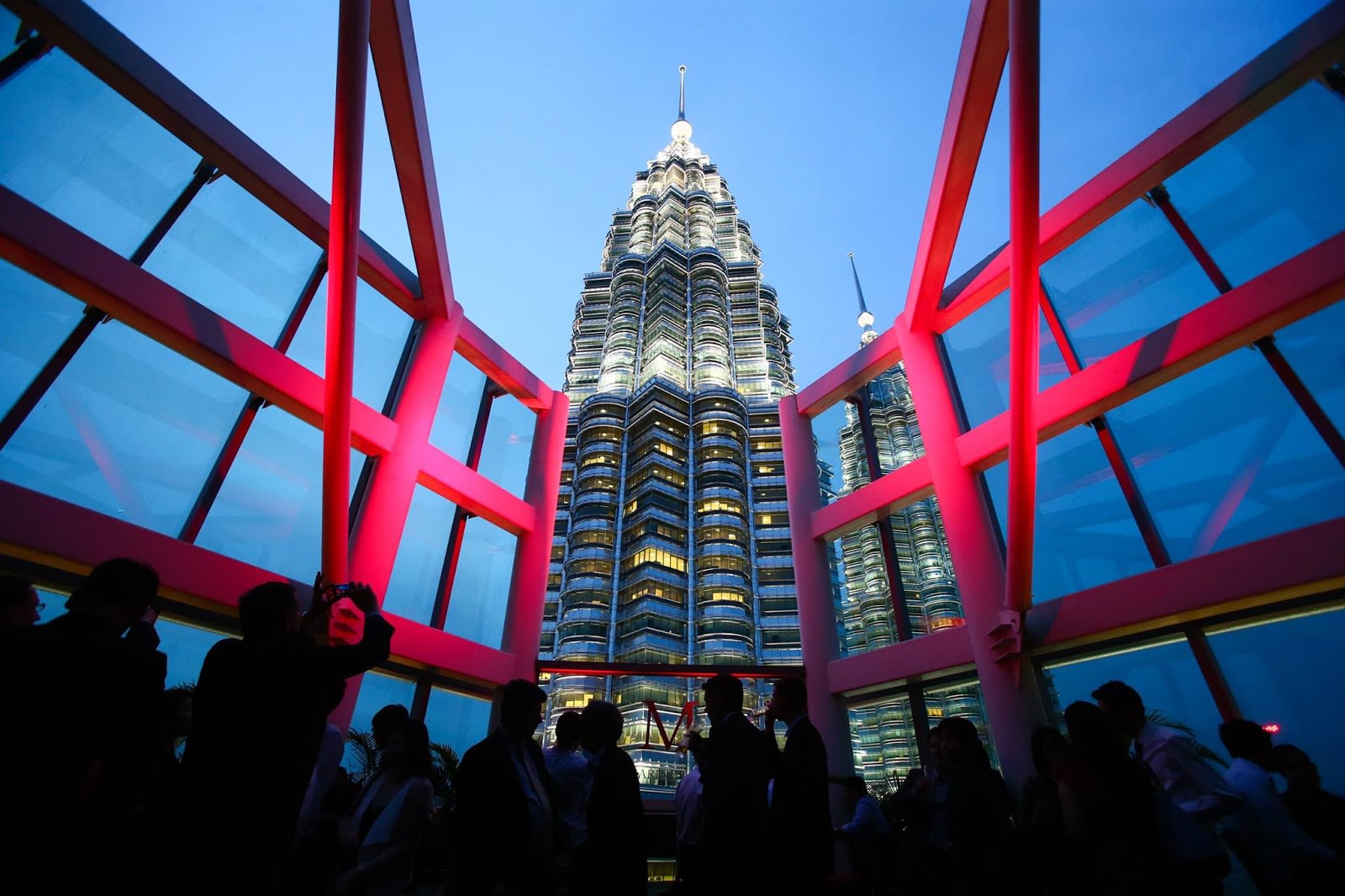 Source: lifestyleasia.com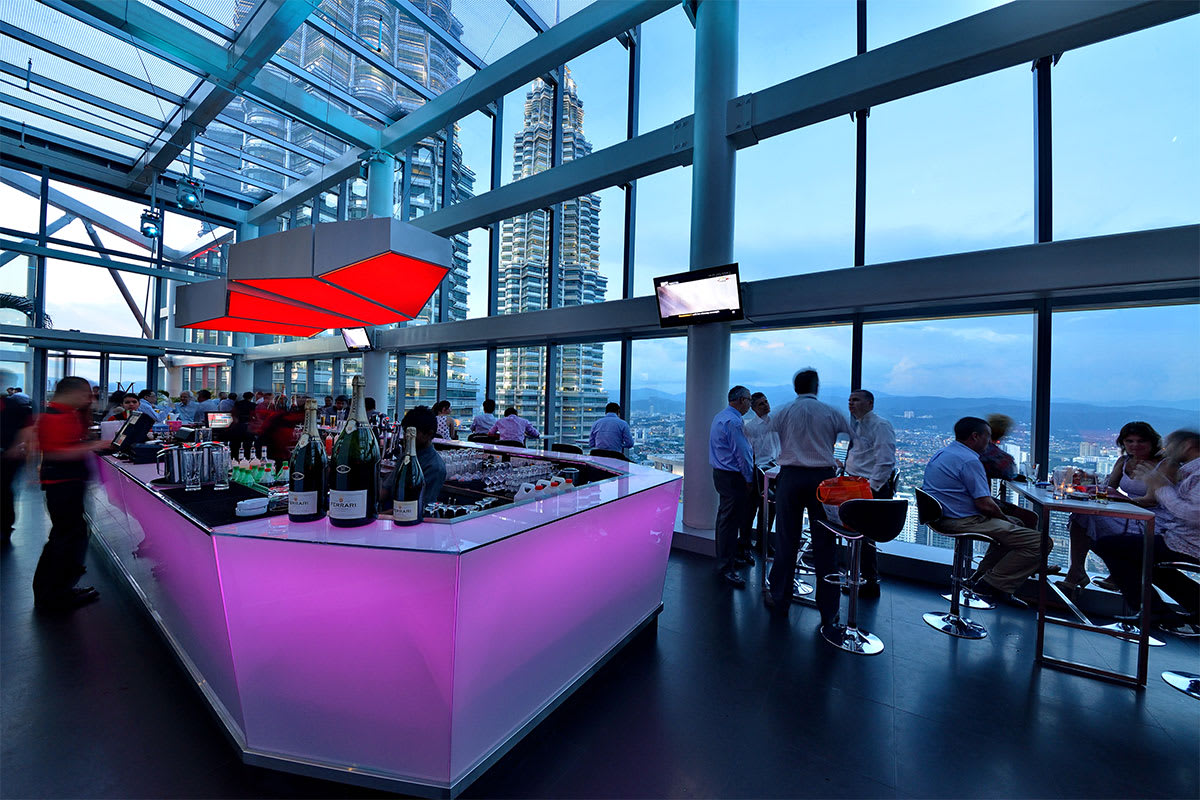 Source: marinis57.com
Adjacent to the iconic twin towers is Petronas Tower 3, which is home to a restaurant and rooftop bar, Marini's On 57. Not only will you find a spectacular Italian food menu, the fine whisky and rare scotch bottles at the bar will call out your name too.
Step out into the outdoor area and you'll be met with the sight of the twin towers so massive and impossibly close, it almost feels like you'll be able to touch them. More than just a place to wine and dine, Marini's On 57 is an experience worth sharing with someone special and it's definitely a place worth saving up for.
Opening Hours: Monday – Thursday, 7pm – 11pm, Friday – Sunday, 6.30pm – 12 midnight
Address: Level 57, Menara 3 Petronas, Persiaran KLCC, Kuala Lumpur
Celebrate the love
While there are plenty non-verbal ways to show your love to the special person in your life, it's all about sharing the experience together. Let Klook be the cupid in your lives for more date ideas and travel inspirations with bae!
| Fireflies Night Cruise | Taman Negara Overnight Tour | Aquaria KLCC |
| --- | --- | --- |
| | | |
| | | |