Spending Family Time in Singapore
Who said Singapore is boring?
There is so much more to this Little Red Dot than tall skyscrapers and yummy food! From ziplining across beaches to bouncing on trampolines, there is something for everyone. Whether you're an adrenaline junkie or a baking enthusiast, read on to find out what you can do as a family in this Lion City.
1. Bounce off the walls at a trampoline park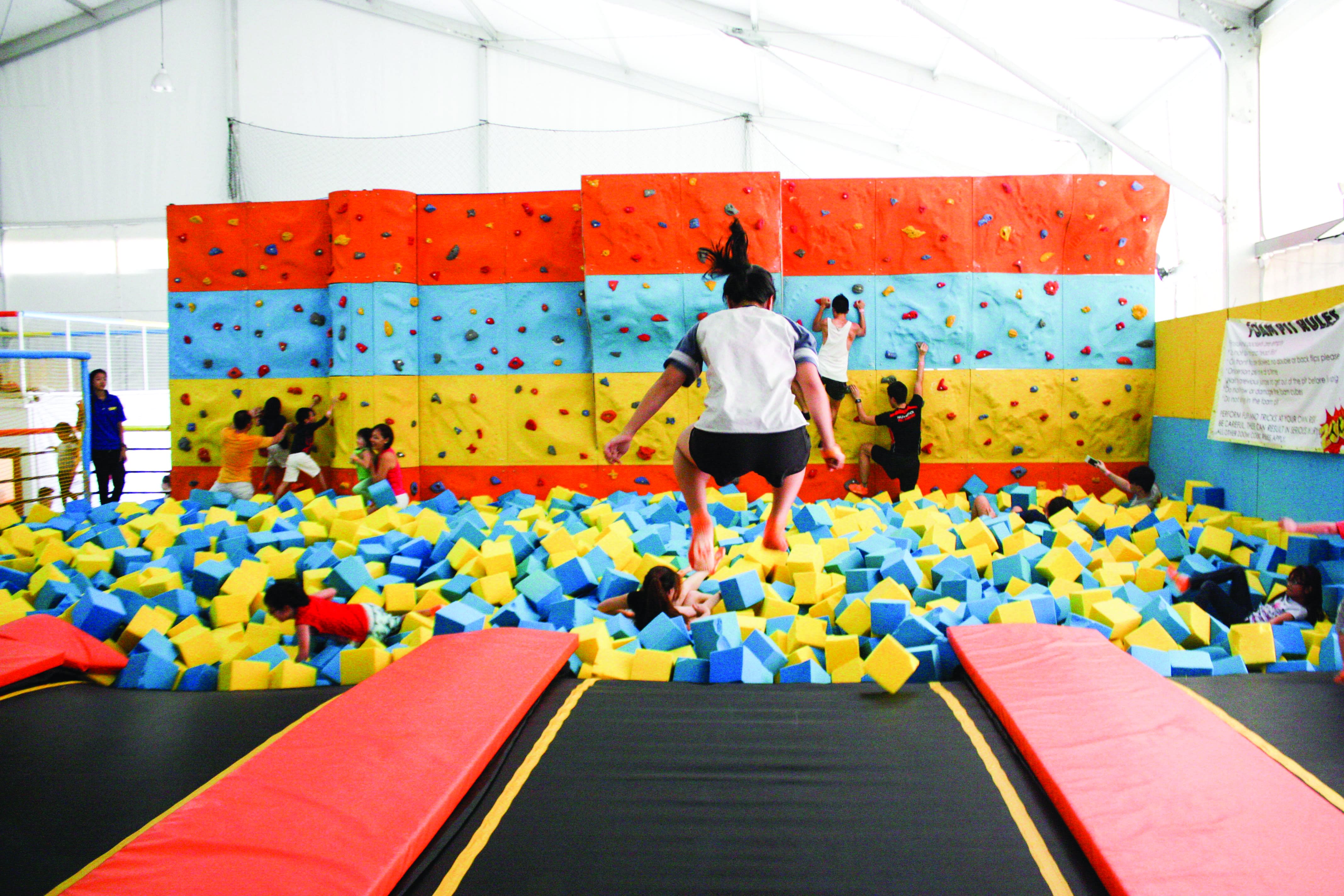 Want to have fun while working out? Did you know that 10 minutes on the trampoline burns 42 calories!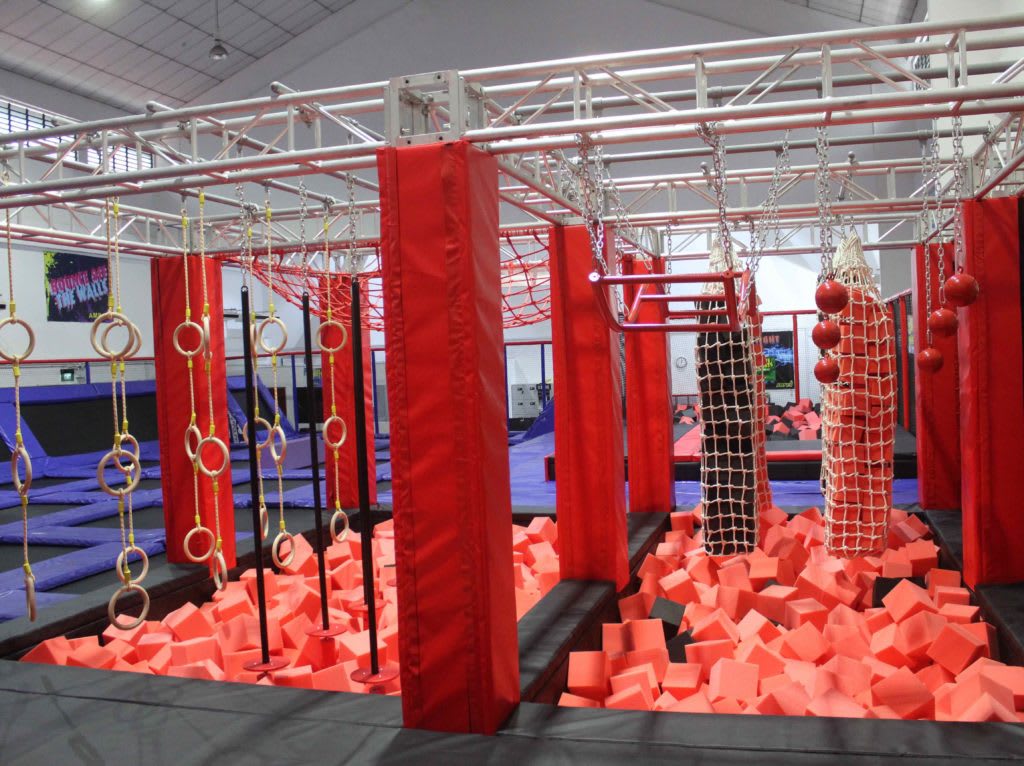 AMPED Singapore is one of the biggest trampoline parks in the little red dot. With zones like the Ninja Warrior course and the dodgeball zones, have some family friendly competition while working up a sweat!
You don't have to worry about your children hurting themselves because there are foam pits to cushion their landing! So just get ready to release your inner ninja as you bounce off the walls, leap off platforms and try out flips and somersaults!
With 4 different trampoline parks in Singapore, you'll be sure to find one near you.
BOUNCE Singapore
#09-01, Cathay Cineleisure Orchard, 8 Grange Road,
Singapore 239695
Zoom Park Asia
200 Pandan Gardens, #01-14 609336
Katapult
81 Lorong Chencharu, #01-11 ORTO, Singapore 769198
AMPED
46 Kim Yam Road, The Herencia, Singapore 239351 (Unit #02-11)
200 Jurong East Ave 1, Yo:Ha, Singapore 609789 (Level 2 Sports Hall)
2. Zipline to the beach with the whole family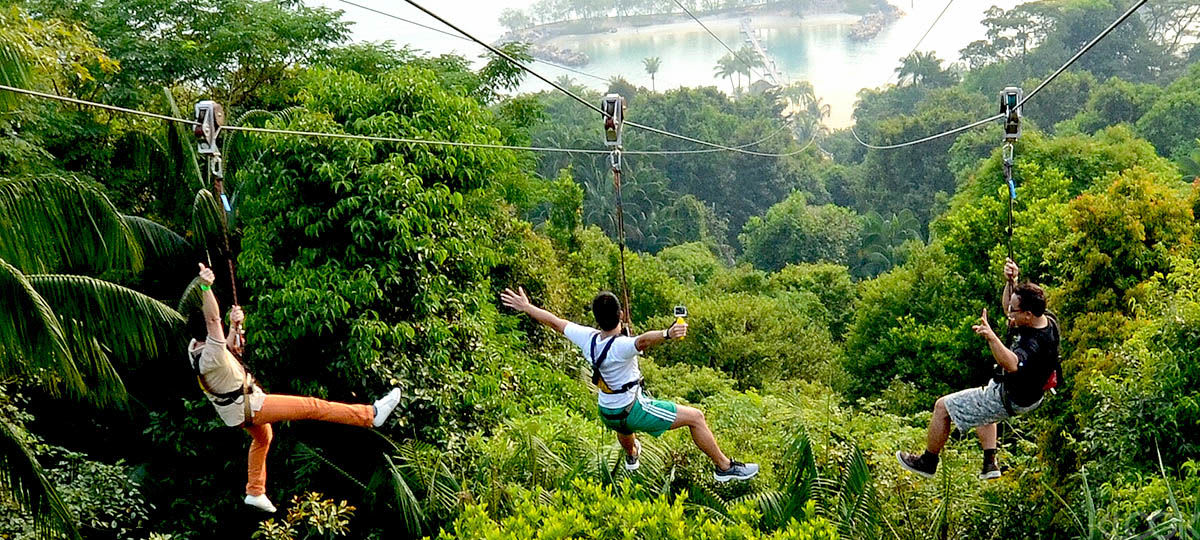 Want one of the best views of Singapore? Zip down from a height of 75 metres and admire the views of the lush greenery and white sand beach! The MegaZip at Sentosa has 3 wire lines so you can share the adrenaline rush or race down with your friends and family!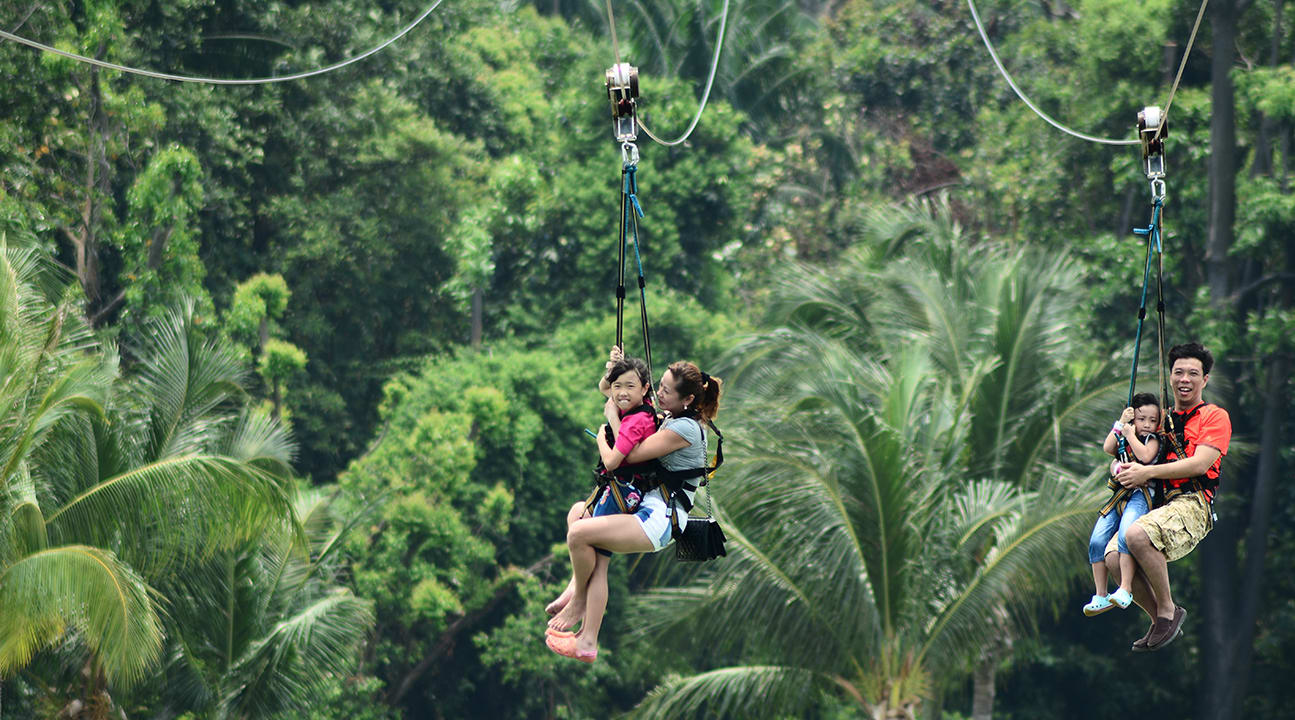 Don't worry about the little ones missing out because they have kid-friendly options for you to ride with your children!
Aside from Megazip you can also try out the MegaJump where you get to replicate a free fall parachute jump by leaping off a platform 15 metres above the ground! With amazing ocean views of palms trees and white sandy beaches, this leap of faith will definitely be an unforgettable experience.
If that's still not enough to satisfy your kid's thirst for adventure, try the MegaWall – one of the highest climb walls in Singapore! With 3 different routes to the 15 metre top, choose your own route and climb safely to the top with supervision from the climbing instructors.
Getting There: Take the Sentosa Express train from Vivocity and alight at the Beach station. Transfer to the free beach tram and alight at the 3rd stop.
Opening Hours: 11am-7pm
Klook Cost: US$33 (SGD45)
Klook your tickets and enjoy 2 attractions for the price of 1! On top of Megazip, you'll get to choose between the MegaJump and the MegaWall to complete your high elements experience.
You also won't need to waste time queuing when you have mobile e-vouchers so you and your kids can head straight for the real deal!
Klook me to the MegaZip Experience!
3. Enjoy the views aboard the Singapore Flyer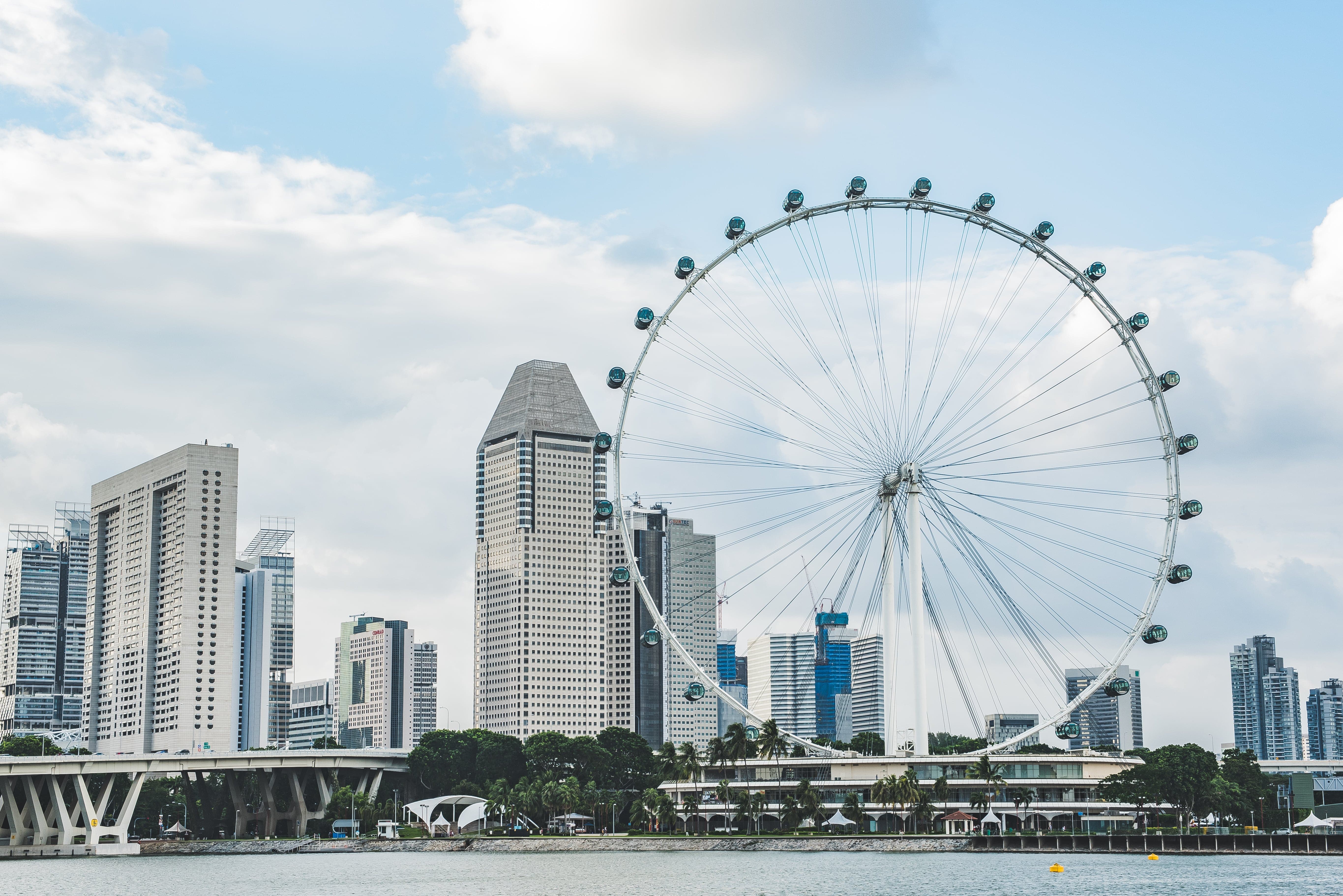 If the jungle views are not for you, the Singapore Flyer offers one of the best views of the Singapore skyline! You can spot architectural landmarks like the Merlion Park and Fullerton Bay and even Changi Airport.
Getting There:

- Take Sentosa Bus 1 or Bus 2 and alight at Imbiah Lookout bus stop; or

- Take the Sentosa Express and alight at Imbiah Station; or

- Take the Singapore Cable Car and alight at Sentosa Island Terminal (2 min walk); or

- Drive and park at Imbiah Lookout Car Park

Opening Hours:

10am - 9.30pm

Klook Cost:

11.22$USD (15.55SGD) onwards
Why not treat yourselves (and the kids) by opting for the premium flight packages where you'll get to enjoy either a glass of champagne or Singapore Sling (or a selection of non-alcoholic drinks for the kids) while enjoying the views in a V.I.P capsule!
Klook your way to the Singapore Flyer and skip the long queues! Simply flash your mobile e-voucher and get ready to toast to one of the best views of Singapore!
Klook me on board the Singapore Flyer with drinks!
4. Spread your wings at iFLY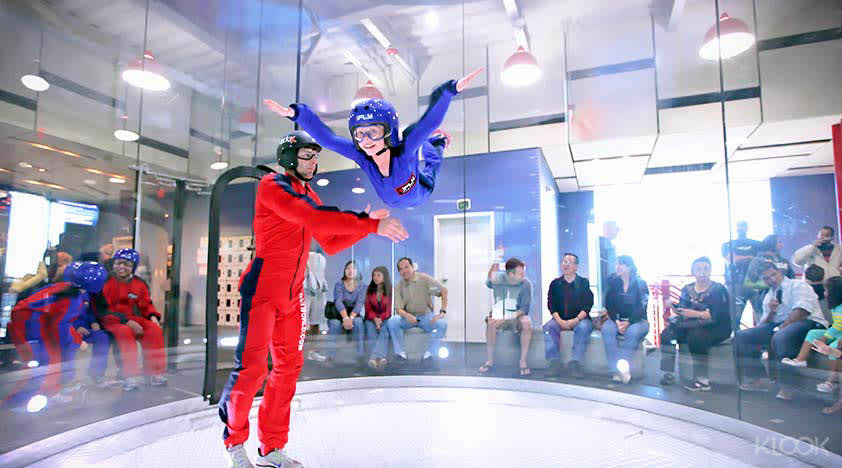 Does your child dream of flying like his favorite superheroes? You can make his dreams come true at iFLY!
Be trained by professional instructors and even learn a trick or two before you get suited up in sky diving gear! For all the worry-warts, ease your fears as they will explain to you all the safety grounds before you step into the wind tunnel.
Getting There: Take the Sentosa Express train from Vivocity and alight at the Beach station.
Opening Hours: 9.00am-9.30pm (except wednesdays 11.00am-9.30pm)
Klook Cost :US$73 (SGD99)
We know how hard it is to schedule activities with children and we've got a solution for you! Klook your iFly tickets and walk in anytime from 10am-3pm.
P.S. Do note that you need to check in 1 hour before flight for your professional training slot!
5. Compete in a mini F1 race at Skyline Luge Singapore!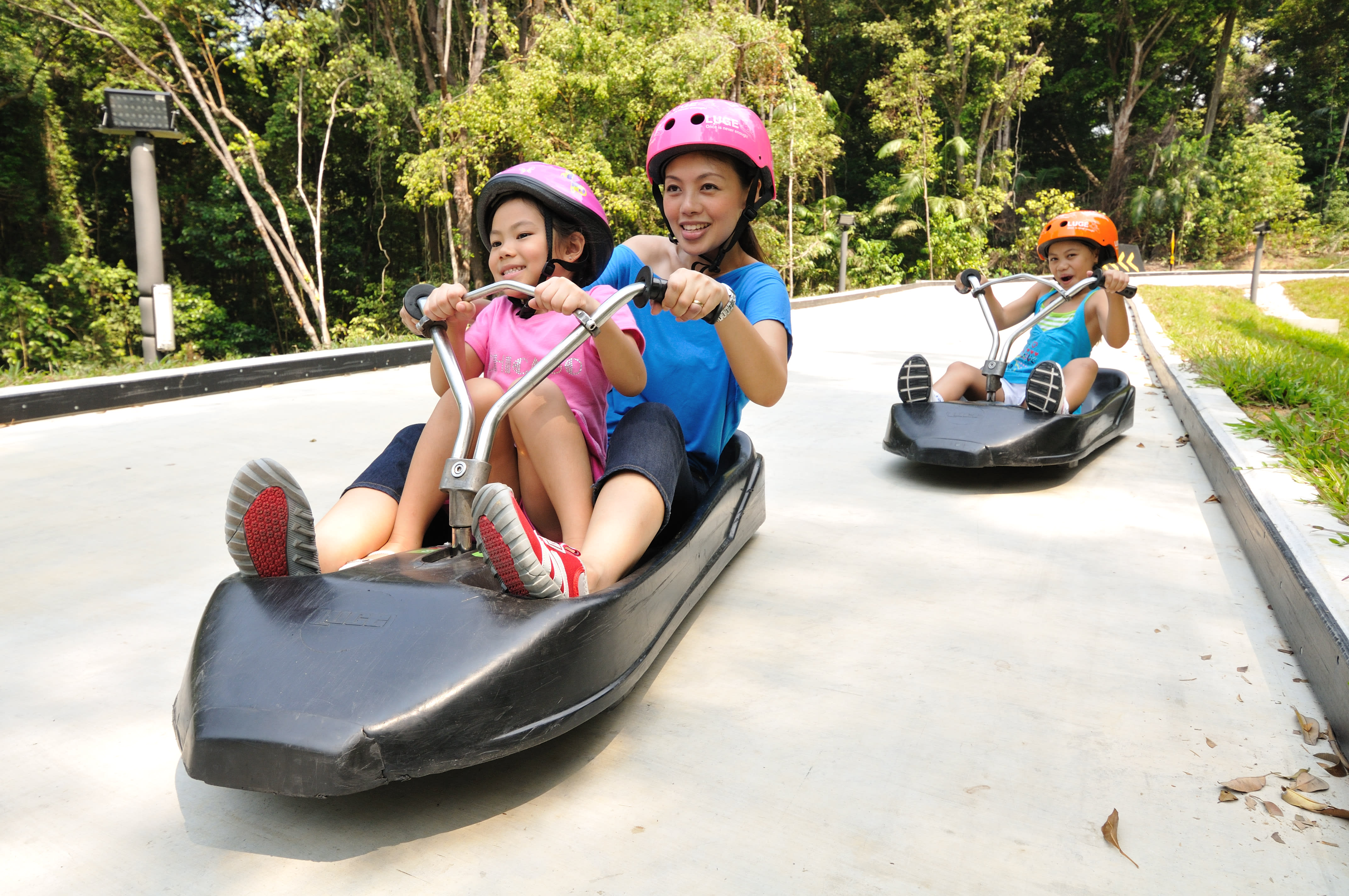 Does your kid love race car toys and anything fast and furious? Singapore's and Asia's first-ever part go-kart, part-toboggan, Skyline Luge, is the perfect race track venue to excite the little ones!
Speed along a 1.2-kilometre racing track in a three-wheel cart safe and ignite their competitive spirit in a unique mini race. These carts are installed with a unique steering and braking system to ensure a safe experience for everyone regardless of their age. Definitely an exhilarating and thrilling adventure, these little munchkins will surely fall in love and beg for another round of luge ride! Luckily for you, you can max your savings with 2 rounds, 3 rounds, and even 4 rounds of luge race for up to 35% off!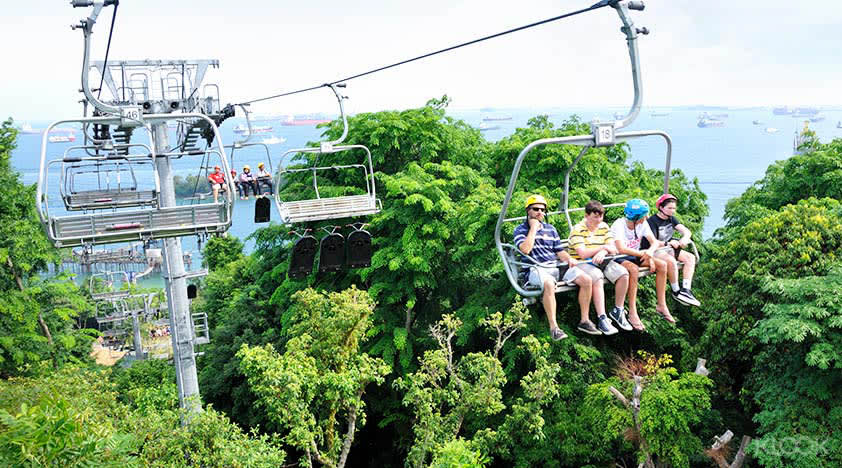 Drained from all the jam-packed action down below? Head up and hop on Sentosa's Skyride for a stunning vantage view of Singapore's tropical scene.
Look down as your feet dangle in mid-air while your little ones squeal at the thrilling airborne experience. Make sure to come in the late evening to escape Singapore's scorching heat!
Getting There: Take the Sentosa Express train from Vivocity and alight at the Beach station. Follow signs to Palawan Kidz City and take the escalator up to the 3rd floor.
Opening Hours: 10.00am-9.00pm
Klook Cost: US$13 (SGD18)
Can't decide on a date to go? Don't worry! If you Klook your tickets to MOSH!, the tickets are open dated! Just flash your mobile e-voucher at the turnstiles whenever you're ready!
6. Relive your childhood at the Mint Museum of Toys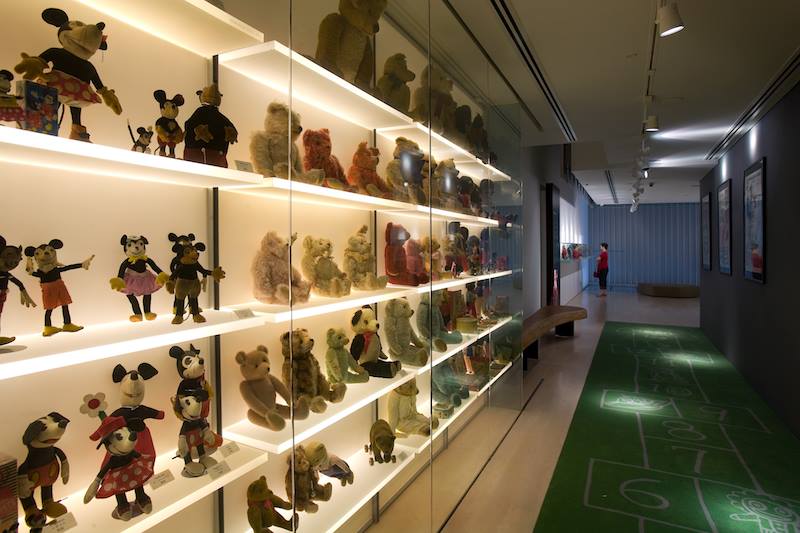 Calling all antique toy lovers: the Mint Museum of Toys is the perfect place for you to spend the day reliving your childhood and sharing your love for old toys with your children! With toys from over 40 countries, this extensive collection of vintage toys is truly a paradise for both kids and adults.
Plus, since it is located conveniently in central Singapore-Bugis, it'll be a great place to walk off the post lunch food coma!
Getting There: Take the MRT to Bugis (Exit C) or Bras Basah (Exit A) station it is just a 10 minute walk away!
Opening Hours: 9.30am-6.30pm
Klook Cost: US$10 (SGD13)
Afraid that your children will be too tired or grumpy to go? Don't worry! Klook your tickets to the MINT museum of toys and the tickets are open-dated! Just come whenever you wish to, show your mobile e-voucher and you're all set!
Klook me to the MINT museum of Toys!
7. Escape from the City at Nature Kayaking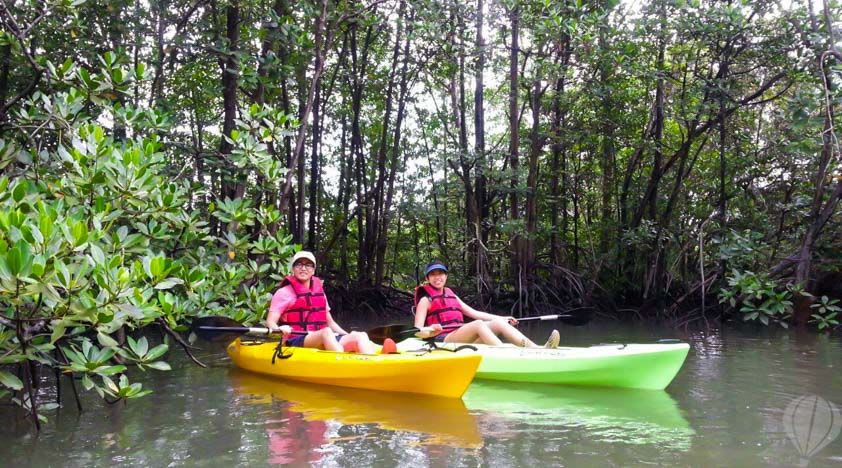 Want to escape from the hustle of city life? Tired of replying those endless emails and want to get your children away from their gadgets? Head down to Singapore's sister island Pulau Ubin! From cycling to trekking and even kayaking, you'll easily spend hours here!
If you're looking for a new and exciting way of exploring Pulau Ubin, opt for the Nature Kayaking route. Don't worry about getting lost as sea as you'll be following certified instructors as they navigate you through the sea and mangroves! Just enjoy the tranquility of the mangroves and learn a thing or two about nature and the people living in that area.
Everyone can join the kayak, even if you can't swim, you'll be given a personal floatation device! Plus, all the crew are well trained in first aid and rescue so you won't ever be left stranded alone without help!
Getting There: Take a bumboat from Changi Point Ferry Terminal to Pulau Ubin Island and lookout for Ubin Adventures (Hut 34)
Opening Hours :9.30 am or 1.30pm
Klook Cost: US$59 (SGD80)
Klook me to Nature Kayaking at Pulau Ubin!
8. Unleash your inner masterchef at Tott!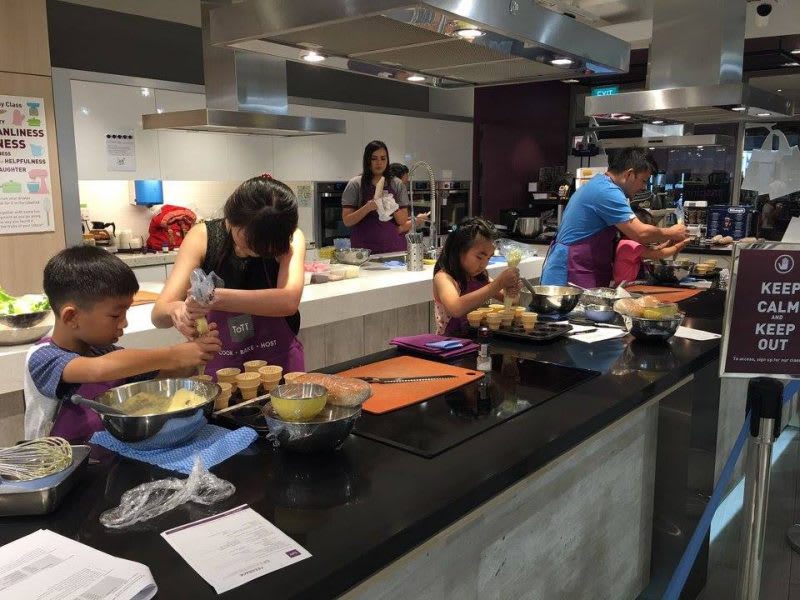 Everyone loves a sweet treat, especially the little ones! Why not get their hands dirty and sign up for a culinary class where they can learn how to make delicious desserts with lots of chocolate?
P.S. We're not responsible for any kids bouncing off the walls from sugar rush!
Tricks of the trade (ToTT) is a culinary destination where you can discover your inner masterchef at their cooking classes!
For those who prefer something less sweet, they also have lessons for savory dishes like pasta and mashed potato cakes! You just might discover a new talent that you didn't know your child had! Just check out their schedule and decide which dish you would like to learn to make!
If your child has a short attention span, don't worry, classes are only 2 hours long!
9. Fly a kite at the Marina Barrage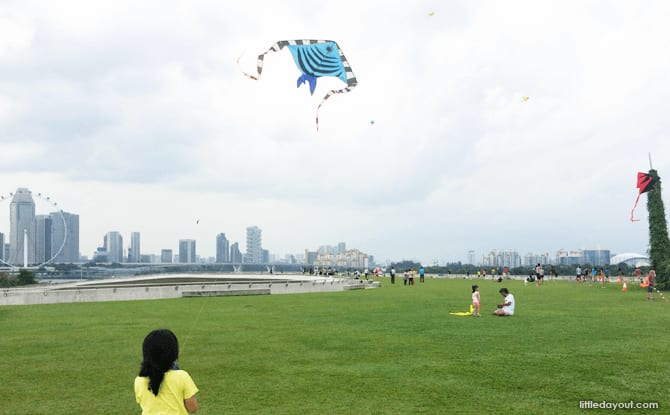 For the uninitiated, Marina Barrage is a dam built in central Singapore across the Marina East and Marina South channel. With the scenic Singapore skyline as a backdrop, the Marina Barrage green roof is paradise for kite flyers! Get your kids away from the television and have them run about on the green grass for a change.
You can even pack a picnic basket and spend the afternoon lounging away on a picnic mat as the little ones exhaust themselves running after their kites!
Getting There: Take bus 400 and alight at the bus stop in front of marina barrage!
Opening hours:
Mon- Fri 10.00am-6.30pm (closed on tuesdays)
Sat, Sun, PH 10am-8pm
10. Play-pretend at Kidzania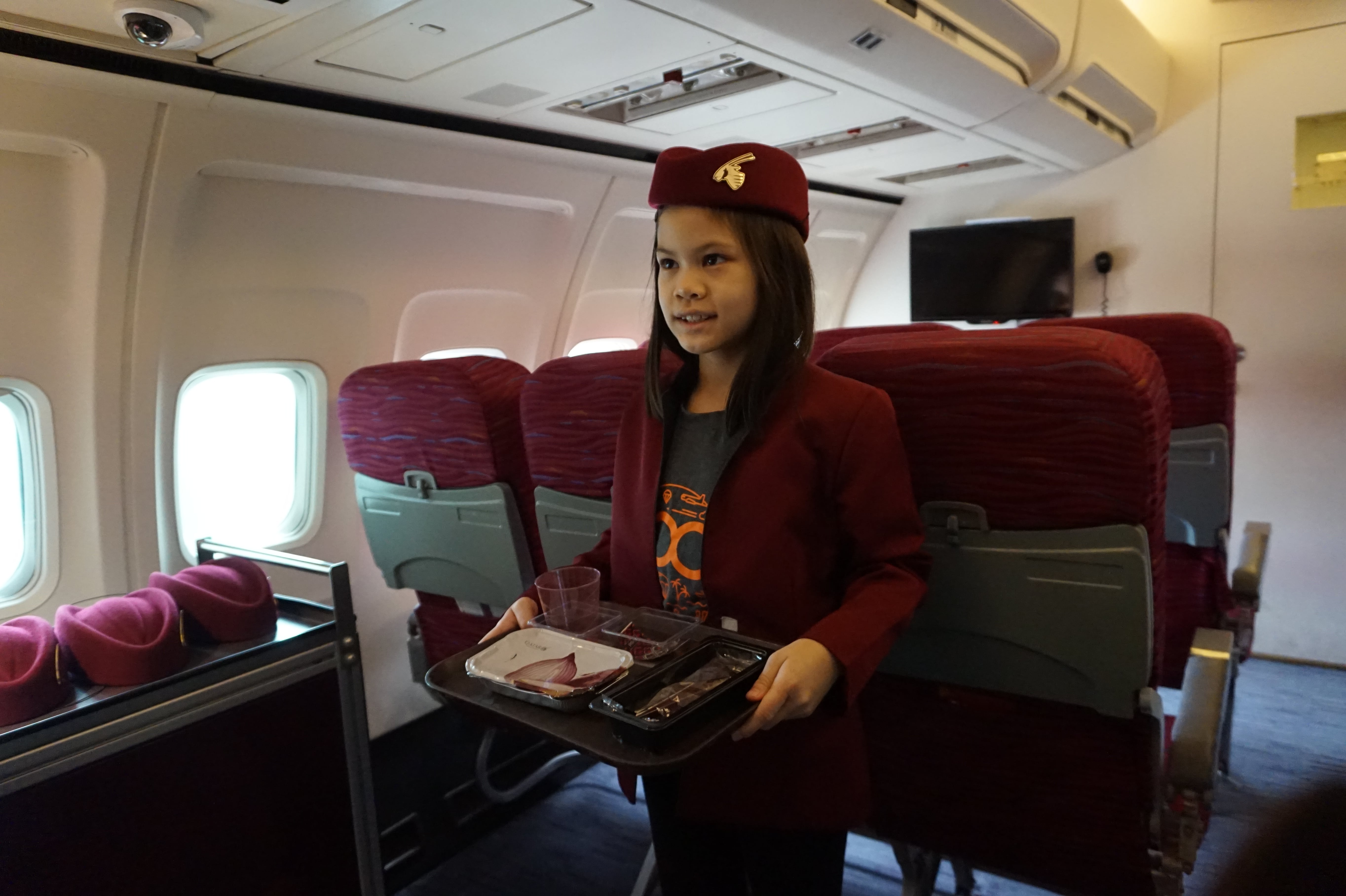 With so many opportunities these days, it's no wonder kids can never make up their minds on what they aspire to be in the future! For the really clueless kids, take them to Kidzania Singapore where they can role-play different careers and hopefully find something they like.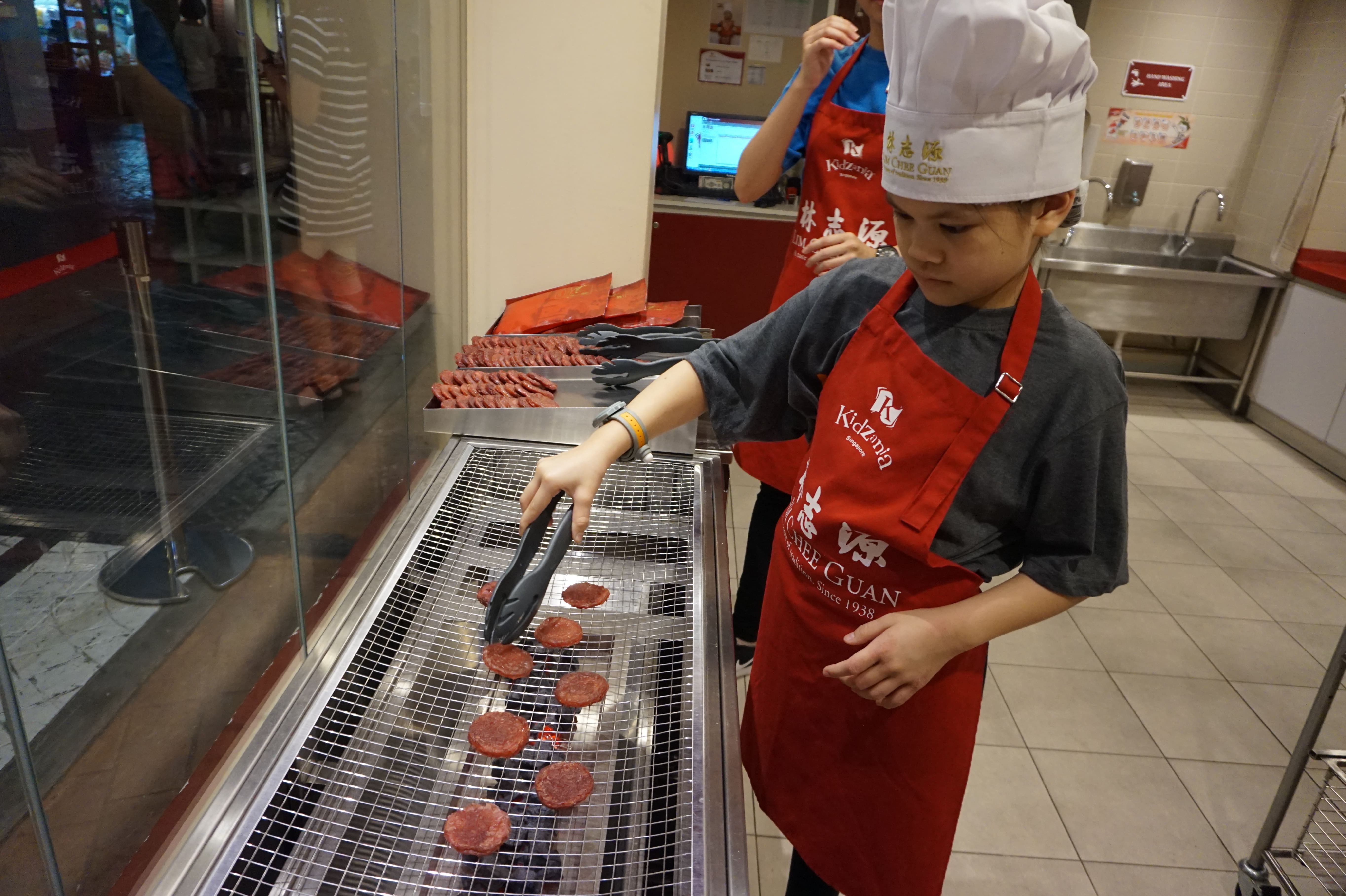 From firefighters to surgeons and even uniquely Singaporean occupations like being a barbequed meat expert at Lim Chee Guan, your child will have endless options to explore. All these experiences are child-friendly and no real fire is involved in the learning process!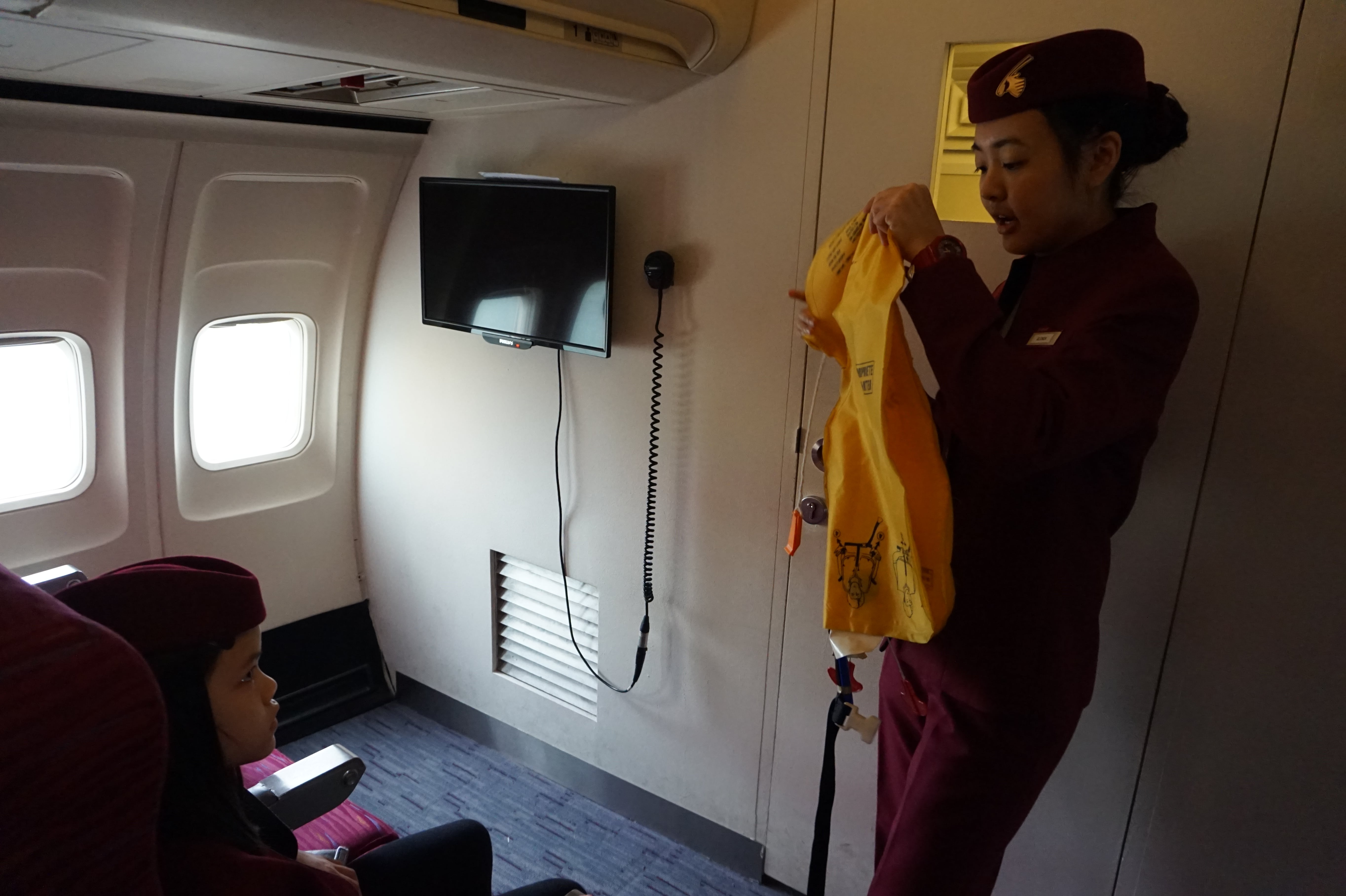 Apart from learning the tricks of the trade, they'll also get to learn useful emergency skills like what to do during a fire or an emergency plane landing! Just like in the real world where all job functions are interlinked, in Kidzania, they also get to work with other children in other occupations!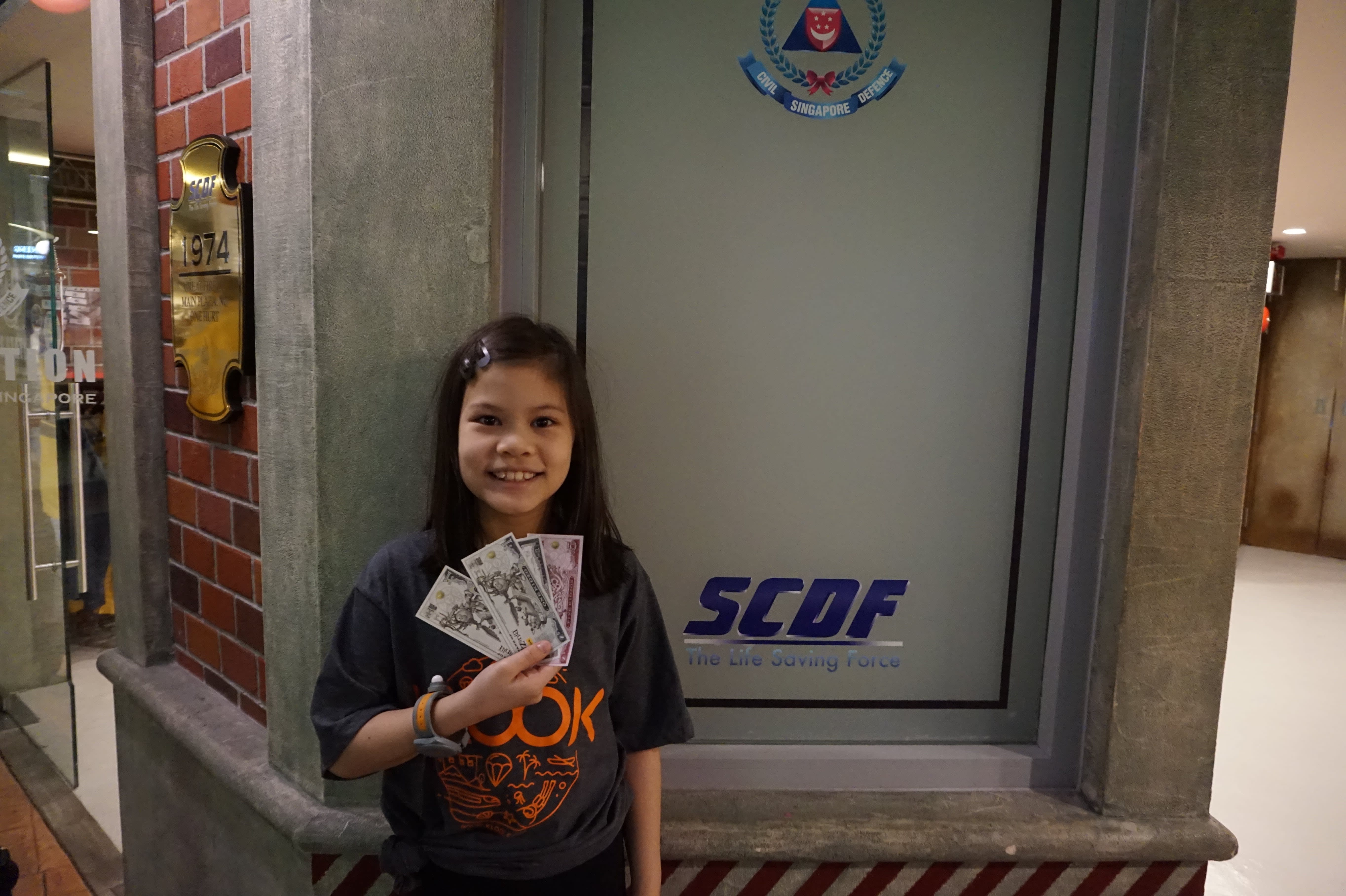 In addition, they'll also learn the value of money as they earn Kidzania cash from the jobs that they try! At the end of the day they can head to the Kidzania bank to deposit their cash or use the money earned to take classes to improve their skills.
These hands-on experiences just may uncover an interest he never knew he had. Apart from all the fun they'll have, they can also develop valuable life skills. More importantly, it can boost their confidence in chasing their dreams!
Getting There: Take the Sentosa Express train from Vivocity and alight at the Beach station. Follow signs to Palawan Kidz City
Opening hours: 10.00am-5.00pm
Klook cost: US$23 (SGD31)
Klook your tickets and you can go to Kidzania any day since the tickets are open-dated! Just flash your mobile e-voucher and get ready to explore your occupational fantasies!
The next time you travel to Singapore, be sure to check out what else the city has to offer! If you need inspiration on where to go, check out our destination guide to Singapore here.
Save more this September school holiday!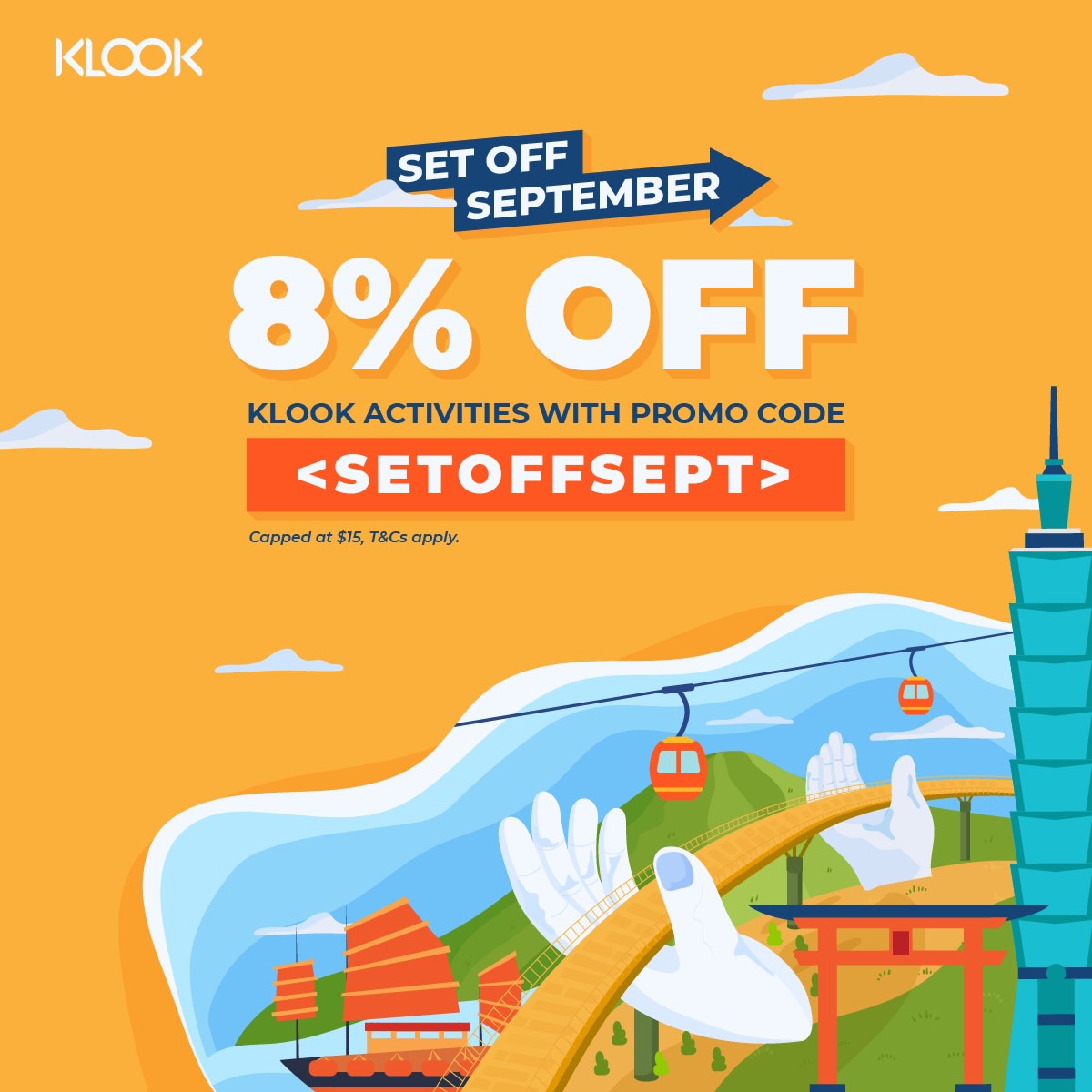 We know that planning activities for the whole family can definitely rack up the cost. Take 8% off on us from 21st August 2019 to 15th September 2019 with "SETOFFSEPT"! Discounts are capped at $15.