Book your Paris Attractions Pass today and get up to 50% off!
Looking for a Paris tourist pass? Get access to 2, 3, or 4 activities with one of the best Paris tourist passes and enjoy exclusive discounts!
The Paris Pass includes general entry to your favorite Paris attractions - Disneyland® Paris (1 Day,1 Park), Mont Saint Michel, Paris Museum Pass (2 Day Pass), Palace of Versailles, The Louvre Museum, River Seine Cruise, and more!
Paris Pass holders have 30 days to flexibly pick and choose which Paris attractions to visit depending on when you're visiting Paris and where you want to visit!
Feel free to check out our Guidebook which highlights the different activities included in the Klook Pass Paris Guidebook
What is there to do in Paris City? There is a wide variety of Paris passes such as GoCity Paris City Pass (or Paris City Card), Paris Seine Pass, Paris Visite Pass, and Paris Museum Pass. The Klook Pass Paris is the newest addition to the Paris Pass family! Have a look at our Guidebook below and choose from a list of your favorite activities!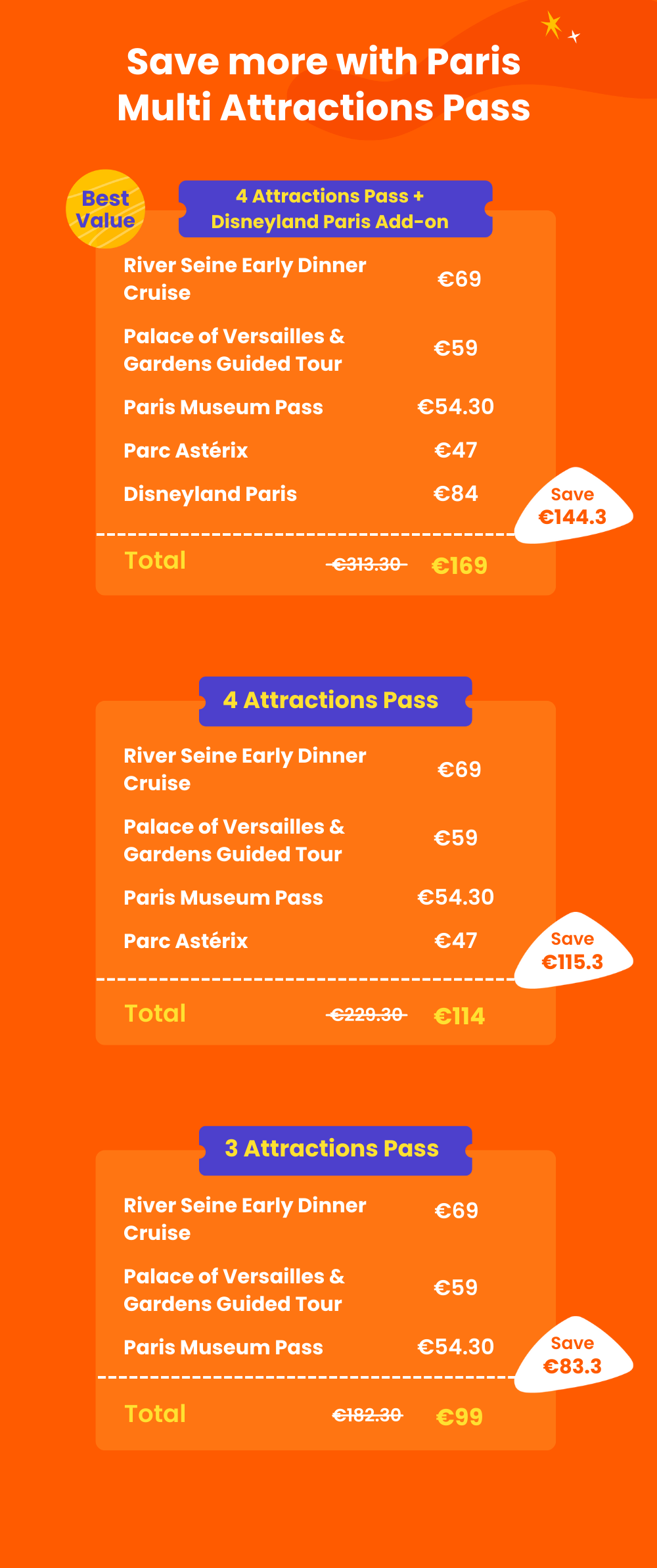 How To Use

Go to Disneyland Paris and meet your favorite Disney Characters, such as Mickey Mouse, Goofy, Donald Duck, and many more!
Spend a fantastic day at UNESCO World Heritage Site, Mont Saint Michel in Normandy, a popular attraction near Paris!
Enjoy a romantic dinner as you cruise along the Seine River with this Seine River Cruise with Early Dinner package!
Visit the Louvre Museum, and enjoy free admission and a guided tour around the stunning museum filled with French art!
Get your Big Bus Paris ticket and roam around the City in this Hop-On Hop-Off bus tour! Stop by famous Paris landmarks such as the Eiffel Tower, Arc de Triomphe, Louvre Museum, Notre Dame, Versailles Palace, and more!
Skip the ticketing lines with this Paris Museum Pass and enjoy free access to over 50 museums and attractions around Paris!
Enjoy a walking tour around the beautiful Versailles Palace and admire the art and lavish lifestyle of the French in the old days!
Ride the Goudurix and enjoy every single one of its seven hair-raising loops when you visit Parc Astérix