Start planning your trip to Japan 90 days before departure and skip the hassle of booking upon your arrival!
Skip the lines and redeem your JR Pass via the newly launched digital redemption machines
Get a rail pass that makes traveling in Japan easier and more convenient for 5 days!
The JR Okayama-Hiroshima-Yamaguchi Area Pass is available exclusively for international travelers in Japan
Experience 5 days of unlimited travel within Okayama, Hiroshima, and the Yamaguchi area with just a single pass!
Take rides on the Sanyo Shinkansen, Express Trains, JR West Miyajima Ferry, and Chugoku JR route buses
For more details and recent updates on the train schedule, please check the official website
The JR Pass is available exclusively to foreign travelers in Japan and gives them convenient access to the most common forms of transportation within a designated area. On this 5 day JR Okayama-Hiroshima-Yamaguchi Area Pass not only gives you access over the Sanyo Shinkansen that takes you between Okayama and Hakata but also lets you board express trains, the JR West Miyajima Ferry, and the Chugoku JR Route buses. You'll even be able to take special Rapid Services, regular Rapid Services, as well as local trains on the JR West conventional lines. This pass even lets you use the rent-a-cycle shops within the usage area! Valid for 5 days, this pass gives you amazing transportation convenience through the Okayama-Hiroshima-Yamaguchi area at a great value.
Get your convenient, 5-day JR Okayama-Hiroshima-Yamaguchi Area Pass to solve your transportation worries!
預訂指南
搭乘前,請務必備妥所有乘客的旅遊證件(護照、身分證件、有效簽證)
Select a redemption date and fill in your information. You can redeem your pass at the major JR West station.
通票預訂資格
JR Pass 僅適用於持「短期滯在」簽證的非日本護照持有者,持日本境內永久居留權的非日本護照持有者恕無法使用
入境時請取得「短期滯在」印章/貼紙,以便合法使用 JR Pass。如使用自動化閘門,將無法取得上述印章/貼紙
請查看官網,了解更多 JR Pass 預訂資格
Adult: 12 or over 12 years old when an exchange order is issued or a rail pass is purchased.
An Adult's or Child's rail pass holder can accompany up to 2 infants (1-5 years old) for free.
The infants from the third one will require Child's rail passes for each.
Babies aged under 1 year old can be accompanied for free.
Child's rail passes will be required for each infant in the following situations: 1. When accompanied infants use Reserved seats by themselves 2. When infants travel by themselves
Insider Tips:
You can also check out the JR East Pass if you want to discover the beautiful places in East Japan
Notice of redemption of reserved seating for JR-West Rail Pass
Different passes can be redeemed for a different number of times of reserved seating tickets. Please check the product page for details.
Please check each product page for the achievable train for reserved seating.
The reserved seating for the pass must be redeemed separately (make a reservation at the green machine or window).
The pass can be used to take non-reserved seating directly when the number of times reserved seating runs out or if there is no prior redemption of reserved seating ticket.
Unlimited rides of reserved seating tickets can be redeemed, it requires a manual reservation at the green window when using for the seventh time and above, and the machine is not able to redeem directly.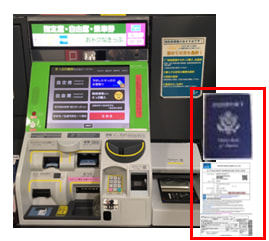 The reserved seat ticket can be redeemed six times. ※If the number of rides exceeds the number of reserved seats, the original ticket can be used to board the unreserved train directly.
Introduction
Okayama-Hiroshima-Yamaguchi Area Pass is valid for unlimited travel in the valid area on the map
Valid trains are below;
Bullet Train "SANYO SHINKANSEN" (Okayama⇔Hakata) (available for the reserved seat ticket )
The pass can be used for the Hello Kitty Shinkansen.
Express Trains (available for the reserved seat ticket )
Special Rapid Services, Rapid Services, and Local trains on JR-WEST Conventional lines
JR WEST MIYAJIMA FERRY (Miyajimaguchi⇔Miyajima)
Unlimited rides on Chugoku JR route buses.
Usable at "EKIRIN" rent-a-cycle shops within the pass's usage area.
(Chugoku JR route buses-For more information, please click here
These trains below cannot be used
Bullet Train "SANYO SHINKANSEN" (Shin-Osaka⇔Okayama)
Not usable on conventional lines on Kyushu Island.
※ Individual customers are prohibited from purchasing or exchanging more than one ticket for the same use period.
Train Accommodations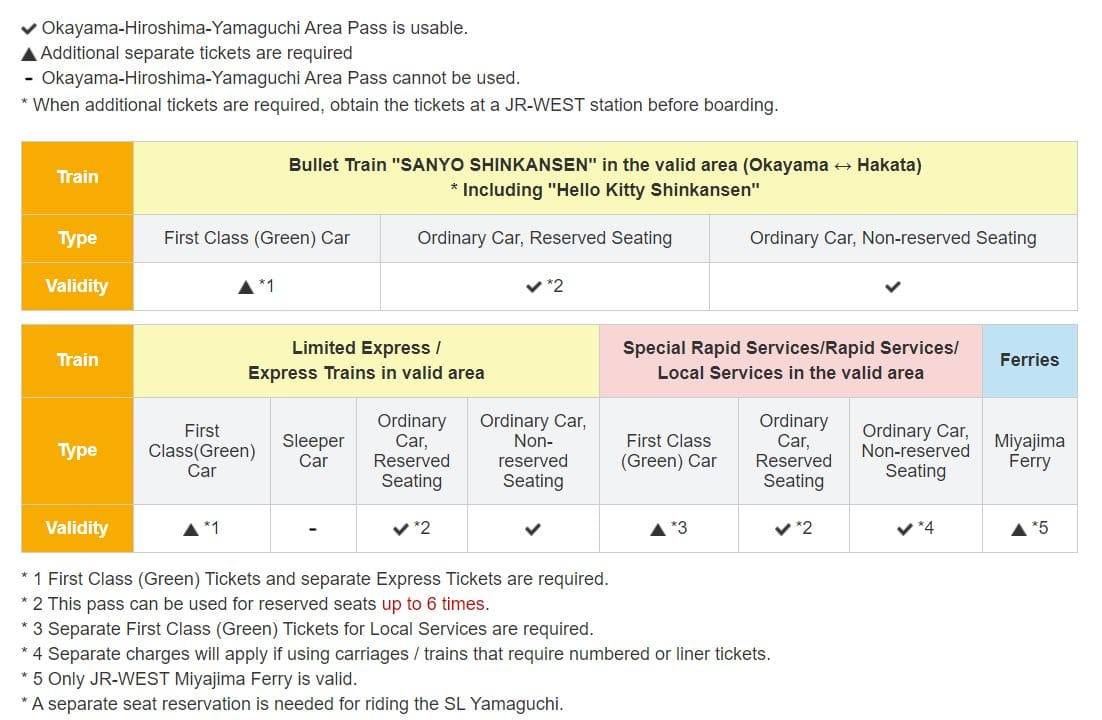 A rail pass is only valid for its rail pass holder only.
A passport must be carried when a rail pass is used and presented when a JR staff asks to.
A rail pass will not be reissued even if lost or stolen.
Conditions of use for a rail pass are stipulated by JR-WEST's carriage conditions and laws of Japan.
Conditions of use for an exchange order are stipulated by regulations and contracts of issuing companies.
If any discrepancies arise between the foreign language and Japanese versions of the carriage conditions, the Japanese version has precedence.
The information displayed (including prices) is current as of December 1, 2020, and is subject to change.