Your local guide this National Day
We love National Day as much as you do! Much like the Great Singapore Sale, it's the only time when the red and white nation erupts into a discounting spree and the latest deals are swept off the shelves before it even started. We definitely live up to our name as Kiasu Singaporeans!
Including some of the best deals, we've curated a list for all of you who haven't found anything to do this longest long weekend! Whether you're looking to be a tourist in your own city or feasting to your heart's content, you can count on us!
Explore these must-do/see attractions this weekend
1. Watch the National Day fireworks from the Marina Bay Sands Skypark Observation Deck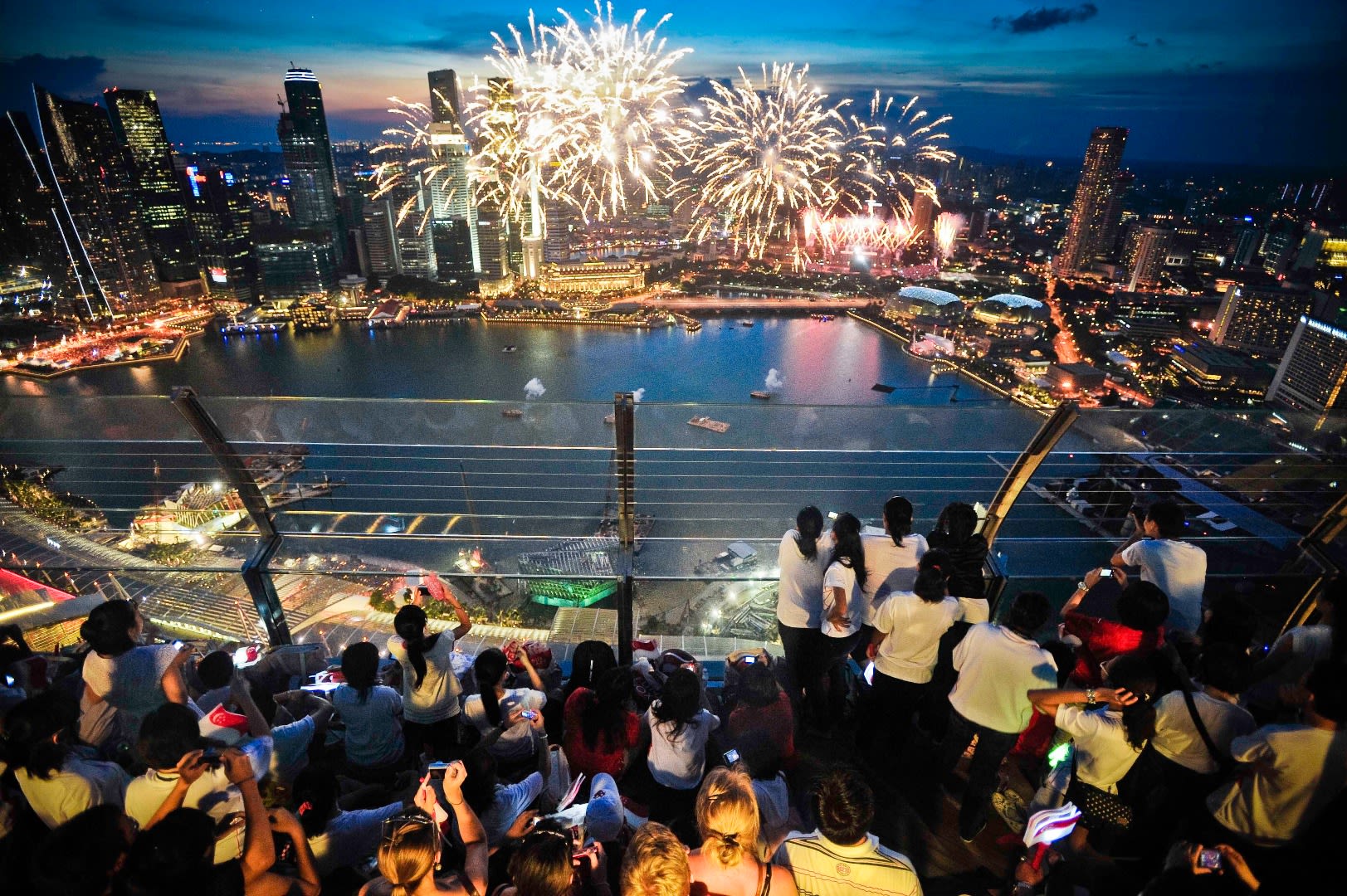 For most of us, the biggest highlight of the yearly National Day Parade is the firework spectacle! Huddle around and witness the 5-minute showcase of fiery, popping fireworks exploding above Singapore's city landscapes and illuminating skyline. Ditch your pyjamas and celebrate this National Day in style like how Nick Young would! Forget squeezing with the crowds down on the ground. Instead, scale the luxurious Marina Bay Sands Skypark Observation Deck for unobstructed views!
Make sure to Klook your discounted admission tickets early to skip the line and avoid disappointment. Simply flash your e-voucher and you're in!
Address: 10 Bayfront Ave Singapore 018956, Marina Bay Sands Hotel Tower 3 Level 57 (Alight at Bayfront MRT Station and walk for 10 minutes or at Promenade MRT Station and walk for 15 minutes)
Opening Hours: 9.30am to 10pm from Monday to Thursday (last admission: 9pm)
9.30am to 11pm from Friday to Sunday (last admission: 10pm)
2. Celebrate with Tiger Beer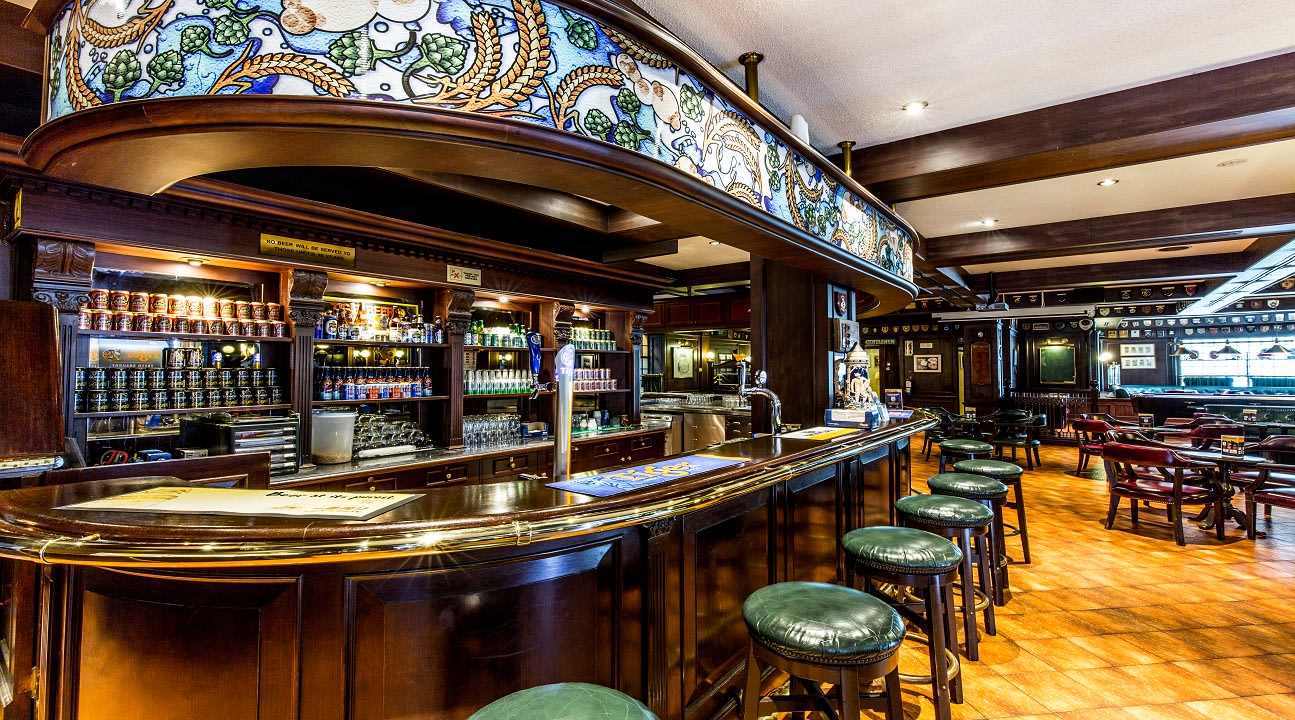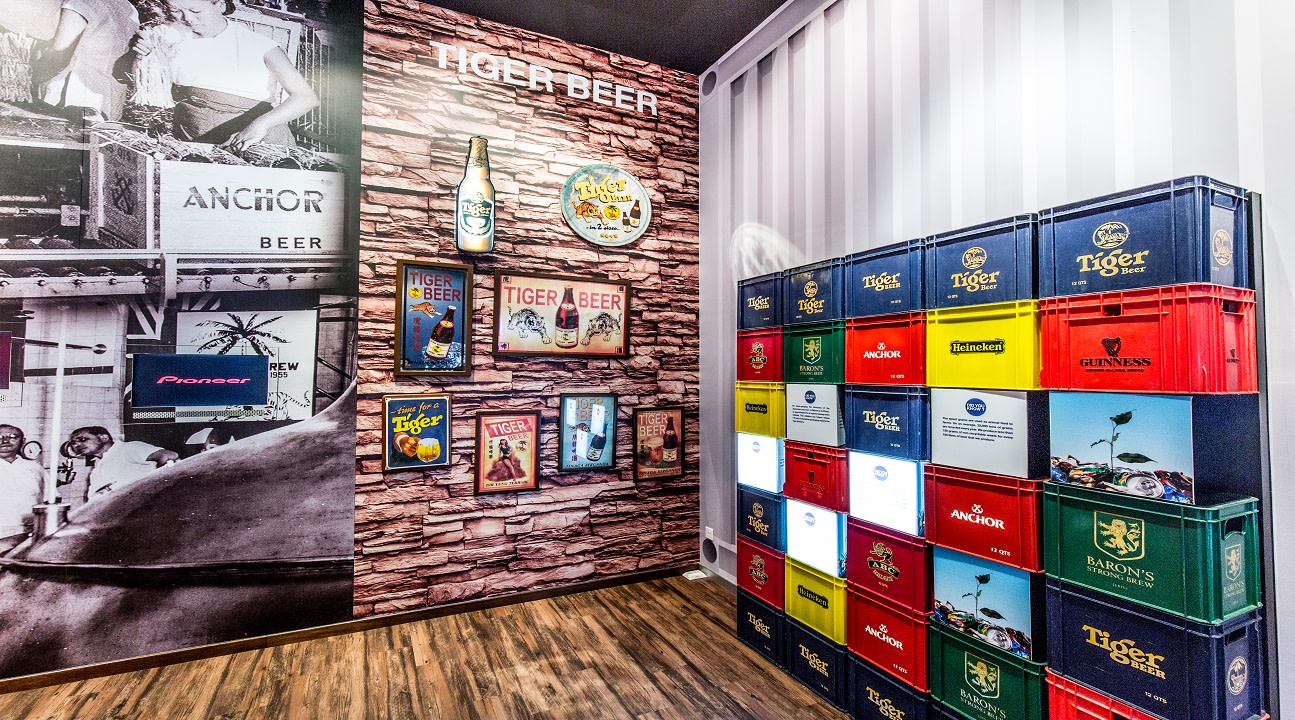 Home to Singapore's most iconic beer, no Singaporean is a stranger to our beloved Tiger Beer. Whether you're meeting with your kakis or enjoying some #metime, you know that it's time for a Tiger. Toast to Singapore's 54th birthday at the Tiger Brewery Tour! Learn and witness how the refreshing taste of Tiger Beer comes about, before sampling the 14 different beer variants for up to 37% off the ticket price!
Address: 459 Jalan Ahmad Ibrahim, Singapore 639934 (Alight at Joo Koon MRT and take bus 182 or 182M at the bus interchange. Walk for 15 minutes)
Timeslots: 1pm, 2pm, 3pm, 4pm, 5pm
3. Zipline across Sentosa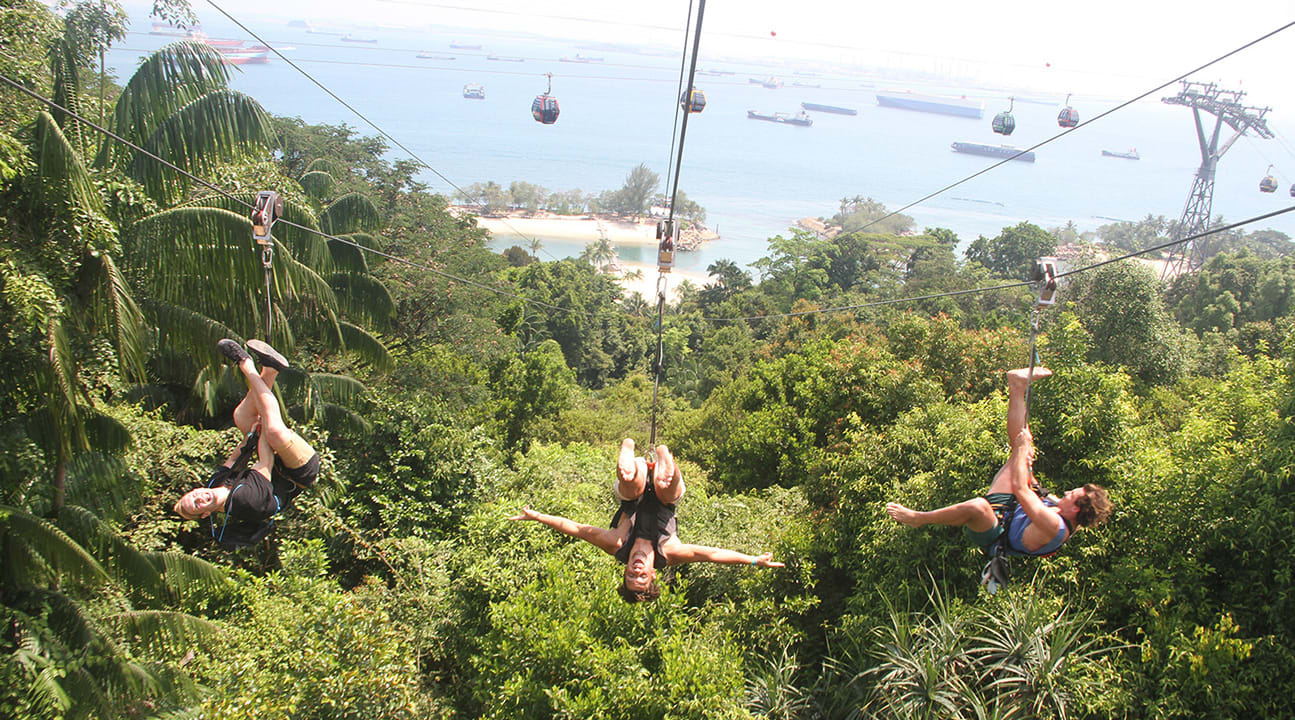 Your heart may be in Bali and your soul may have wandered off to Bangkok. But if you're stuck in Singapore this National Day weekend, don't just spend your holiday stalking IG-worthy travel updates. Take your hidden adventurous spirit for a thrilling ride at Mega Adventure!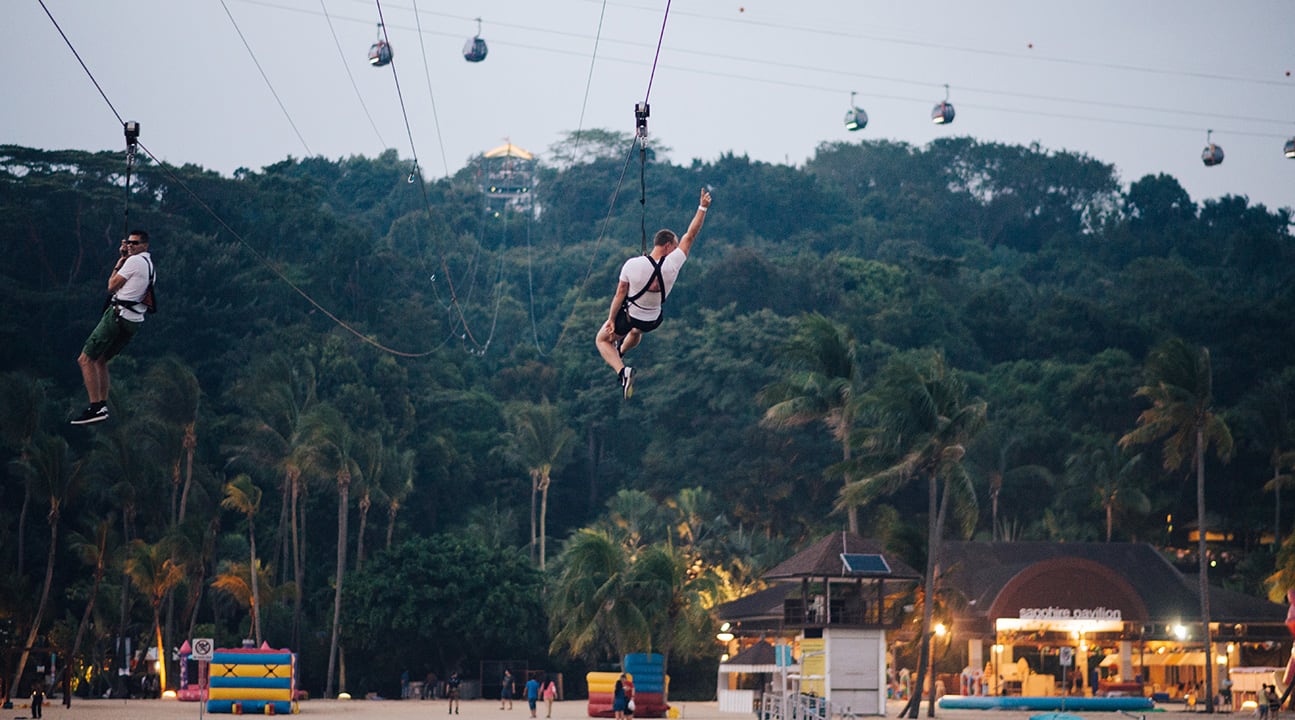 For an exhilarating time you'll never forget, plummet down a 75m or 450m wire zipline as the wild jungle flies past you. Who says you have to travel far for adventures! Save a further $16 when you Klook your Mega Adventure experience.
Address: 10A Siloso Beach Walk, 099008 (Alight at Harbourfront MRT Station, take Sentosa Express (3rd level) to Beach Station, take the free tram to Siloso Beach and alight at 3rd stop)
Opening Hours: 11am to 7pm
4. Make waves at Wave House Sentosa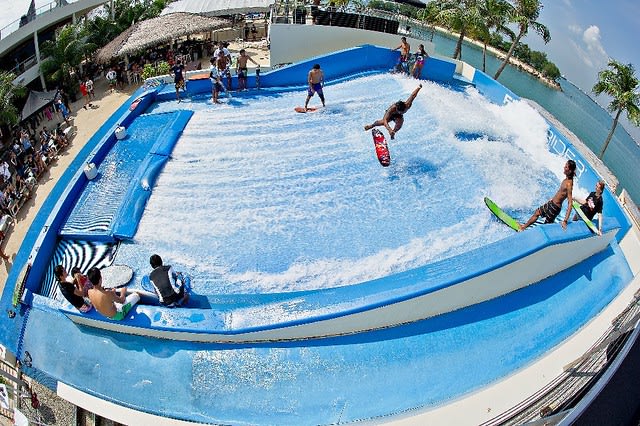 Photo credits: Wavehouse Sentosa
Beat Singapore's humidity with a soaking great time at Wave House Sentosa! This is the sea-son to kickstart your summer vacation! Whether you're an amateur or a certified Flowrider, master those moves and make some waves. Escape the scorching heat when you Klook your Wave House tickets with immediate e-voucher redemption!
P.S. You'll also be needing a Sentosa Express Pass to get to the Beach Station at Sentosa.
Address: 36 Siloso Beach Walk, Singapore 099007 (Alight at Harbourfront MRT Station, take Sentosa Express (3rd level) to Beach Station, take the free tram to Siloso Beach and alight at 3rd stop)
Opening Hours: 12pm to 9pm (Monday to Friday); 11am to 9pm (Saturday, Sunday and public holidays)
5. Check out the exhibits at ArtScience Museum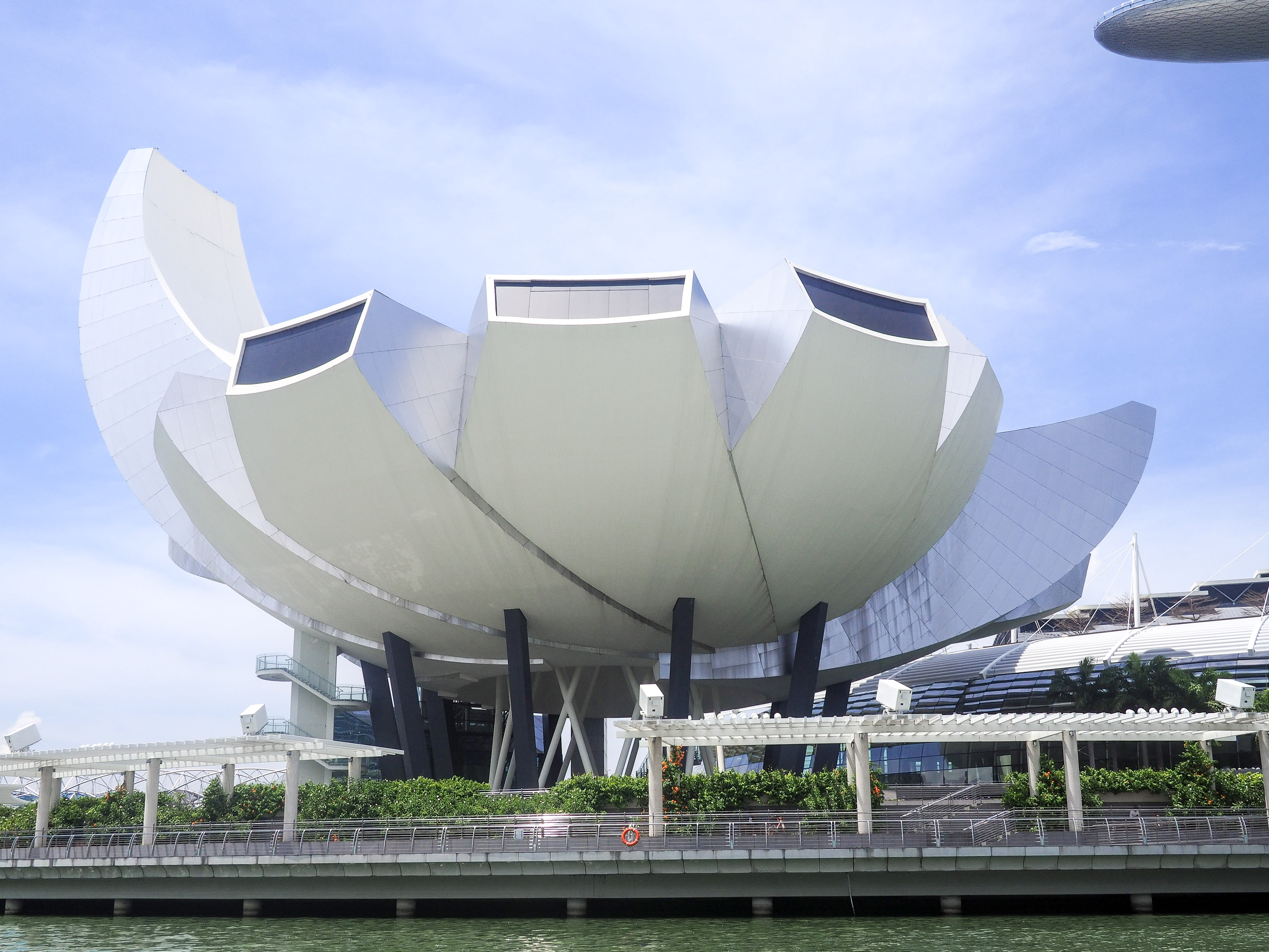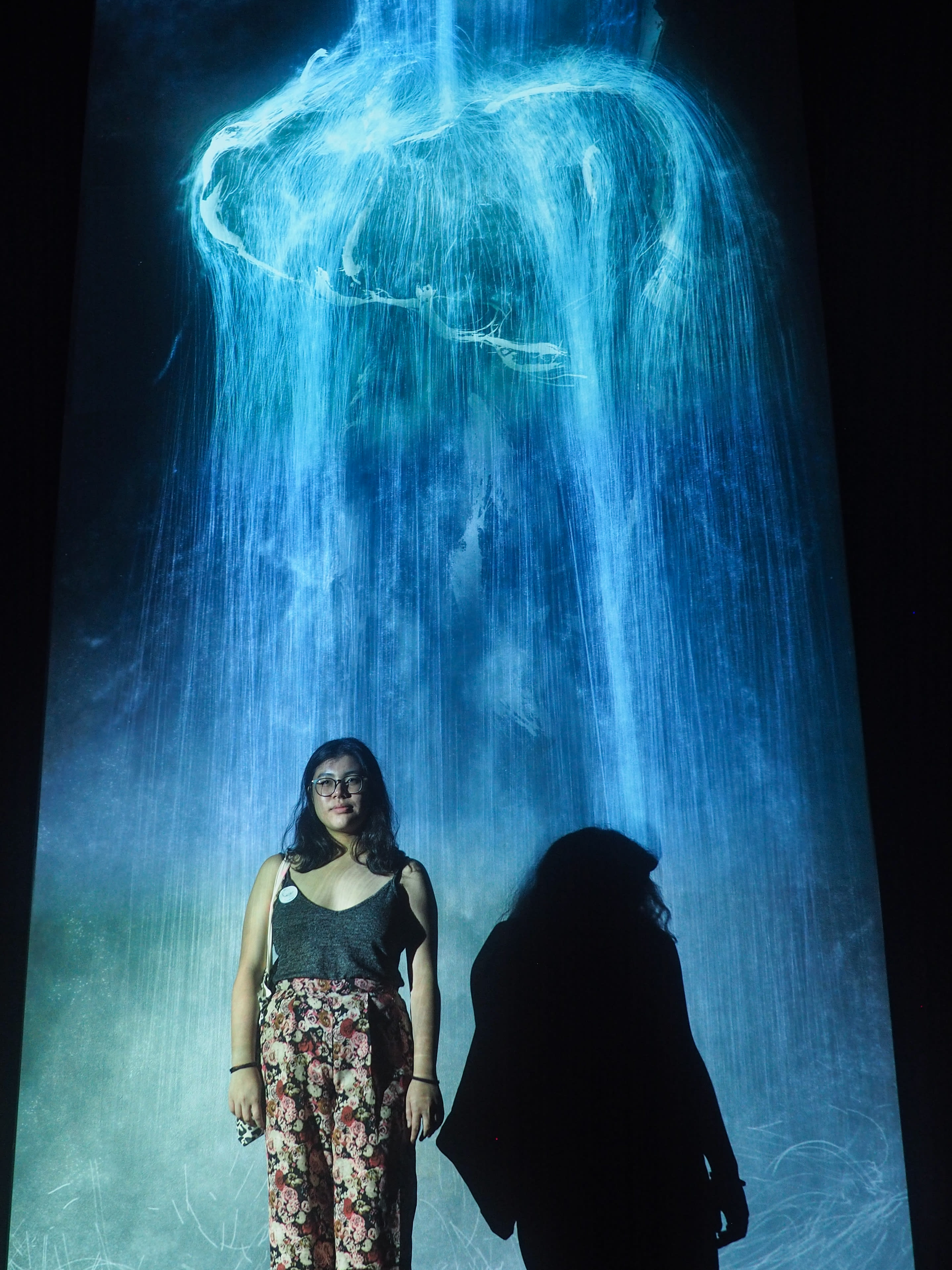 Another cooling escape from the sweltering heat, the ArtScience Museum houses an exciting permanent exhibit: FUTURE WORLD: Where Arts meet Science. In a fascinating series of art instalments, experiment the magical crossover between digital technology and visually stimulating art none has ever shown before! While this exhibition was highly raved everywhere, we know Klook's admission tickets will come in handy for the latecomers. Escape the queue by flashing your e-voucher for immediate admission!
Address: 6 Bayfront Ave, Singapore 018974 (10-minute walk from Bayfront Station or 15-minute walk from Promenade Station)
Opening Hours: 10pm to 7pm (last admission: 5.30pm)
6. Show what you got at Singapore's Axe Throwing Experience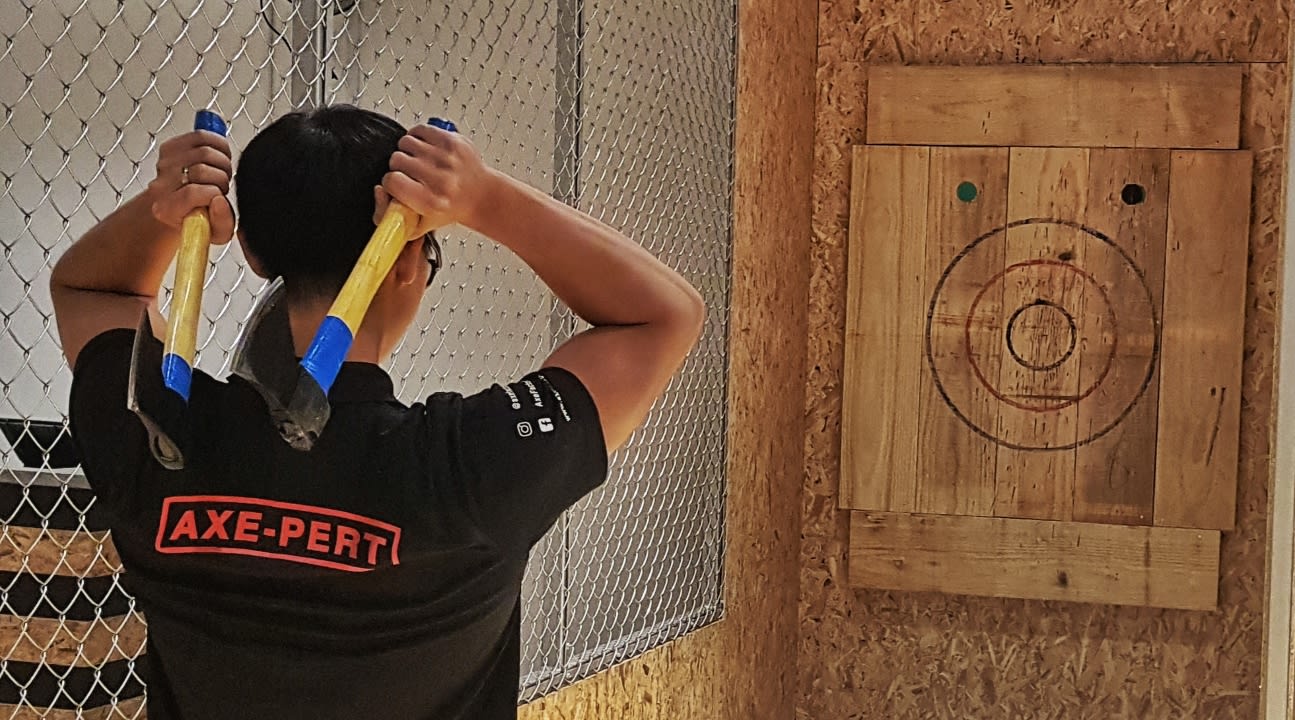 The highly anticipated National Day long weekend is all we can think of! Whether you're in a mid-year slum or simply in need of a break, we know just the place for you. Show off your muscles and throw all of your frustration away at Axe Factor, an indoor axe throwing sport designed to relieve you off your stress! Not only is it safe, but it's also perfect for some healthy competition between you and your friends too! Save up to 28% when you cart out at Klook!
Eat like a trueborn local this weekend
7. Famous Sungei Road Trishaw Laksa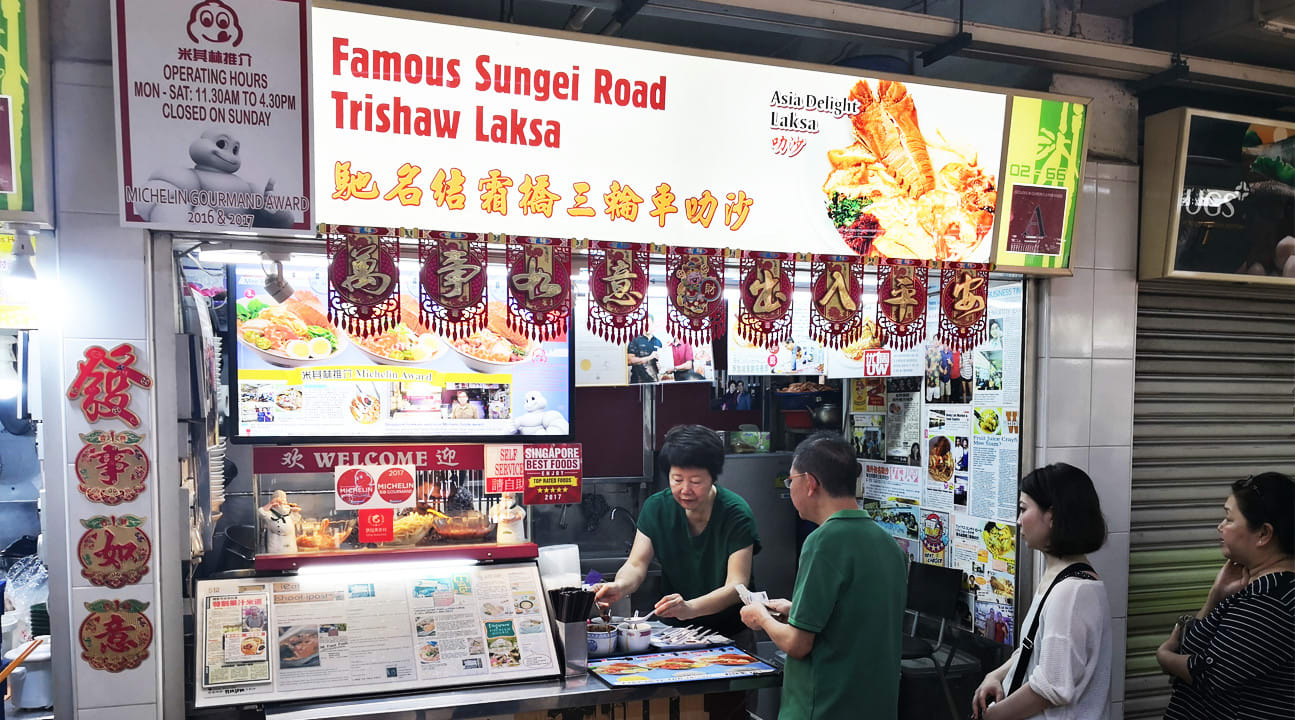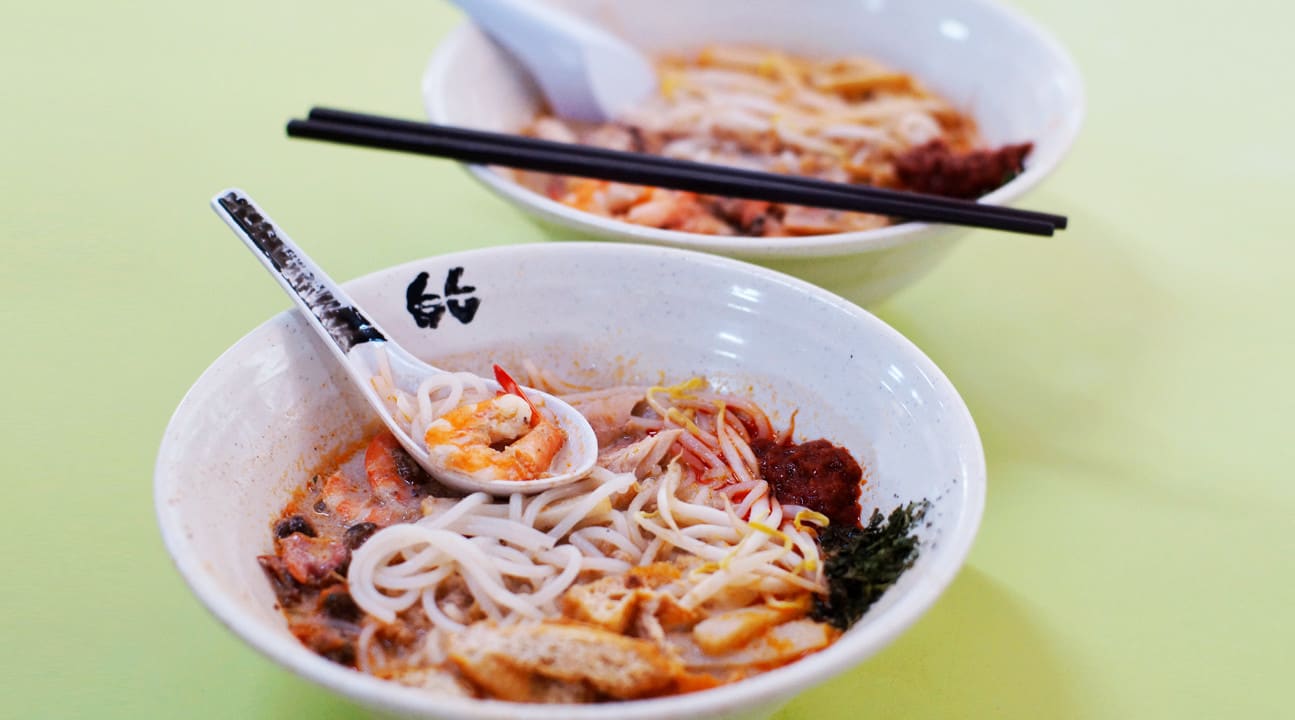 The Famous Sungei Road Trishaw Laksa is not only Michelin recognised but has gained the approval of Singaporeans for 20 years long! Unlike any budget stalls you've come across, their broth is bursting with flavour thanks to quality ingredients such as scallops, oysters and prawns. The white vermicelli noodles are the best choice as they soak up the fragrance of the sweet broth. For just under $4, simply flash your e-voucher and get right to the eating part.
Address: 531A Upper Cross Street, #02-66 Hong Lim Food Centre, Singapore 051531 (Alight at Chinatown MRT Stationat Exit E and walk for 4 minutes))
Opening Hours: 11.30am to 2.30pm, Closed on Sunday
8. Founder Bak Kut Teh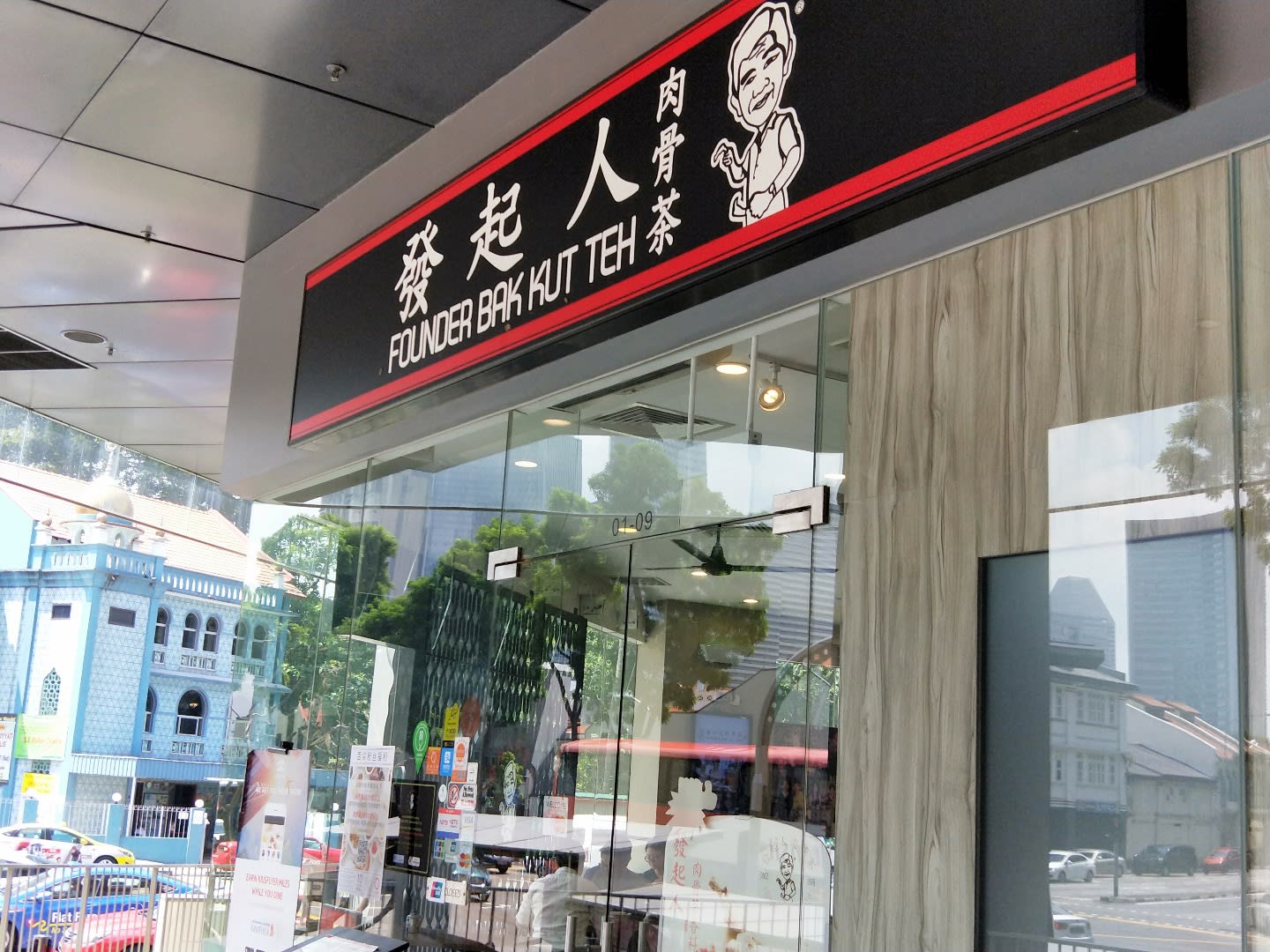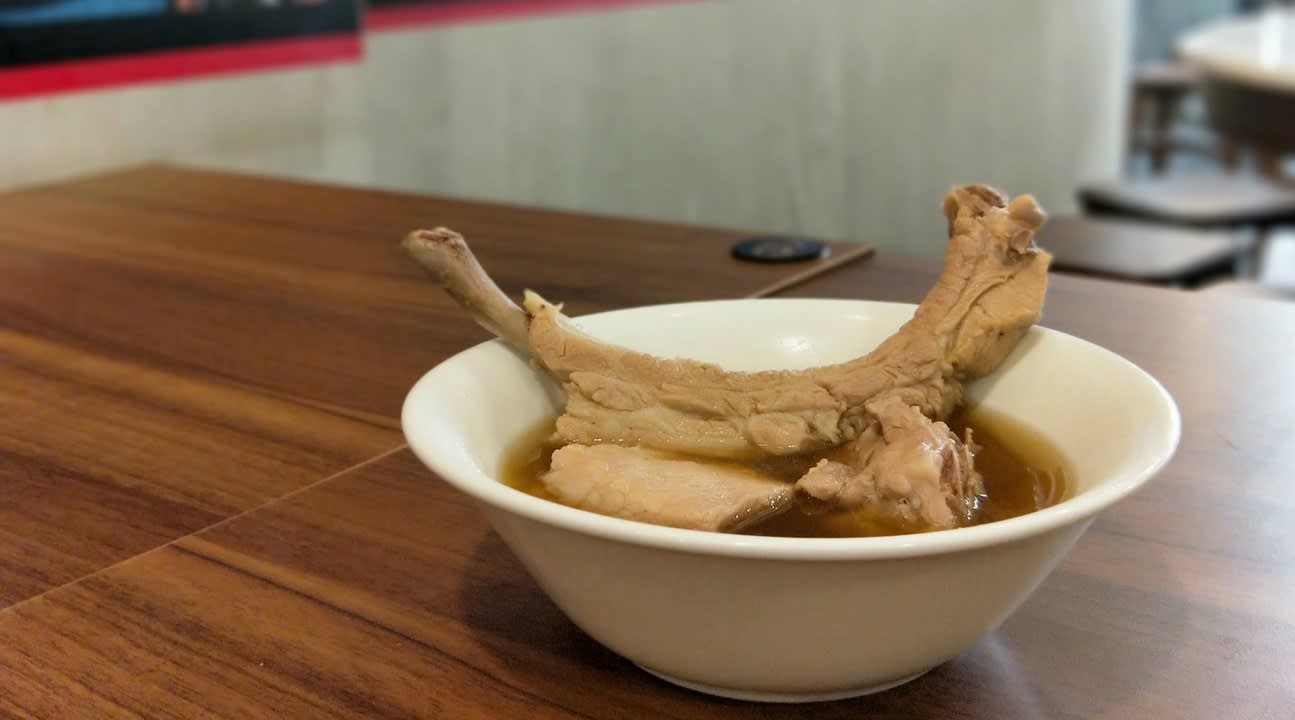 Strewn with so many Bak Ku Teh stalls over the sunny island, everyone has their favourite. However, when it comes to the good and affordable, Founder Bak Ku Teh falls right into our radar. Standing strong for over 40 years, the Singapore Tourism Board has given them a stamp of approval as the 'Singaporean style' of Bak Ku Teh. A typical bowl is doused with a strong peppery fragrance and tender pork rib that just falls off the bone.
Klook yourself an all-under-$11-combo for a Bat Ku Teh set meal. Yes, this includes FREE FLOW soup.
Address: 530 North Bridge Road, #01-01, Singapore 188747 (Alight at Bugis MRT Station and walk for 1 minute))
Opening Hours: 11am to 10.30pm
9. Maxwell Fuzhou Oyster Cakes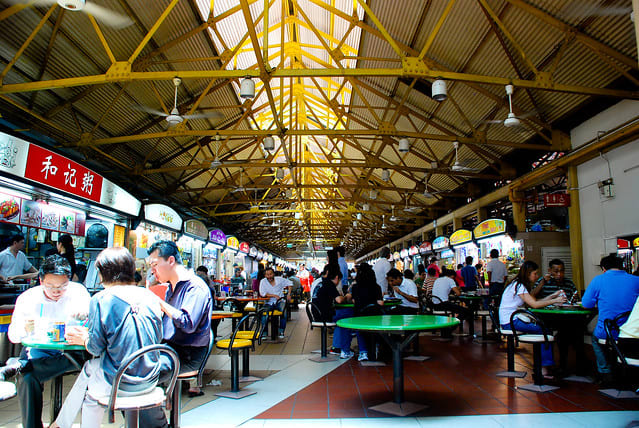 Photo credits: Nate Robert on Flickr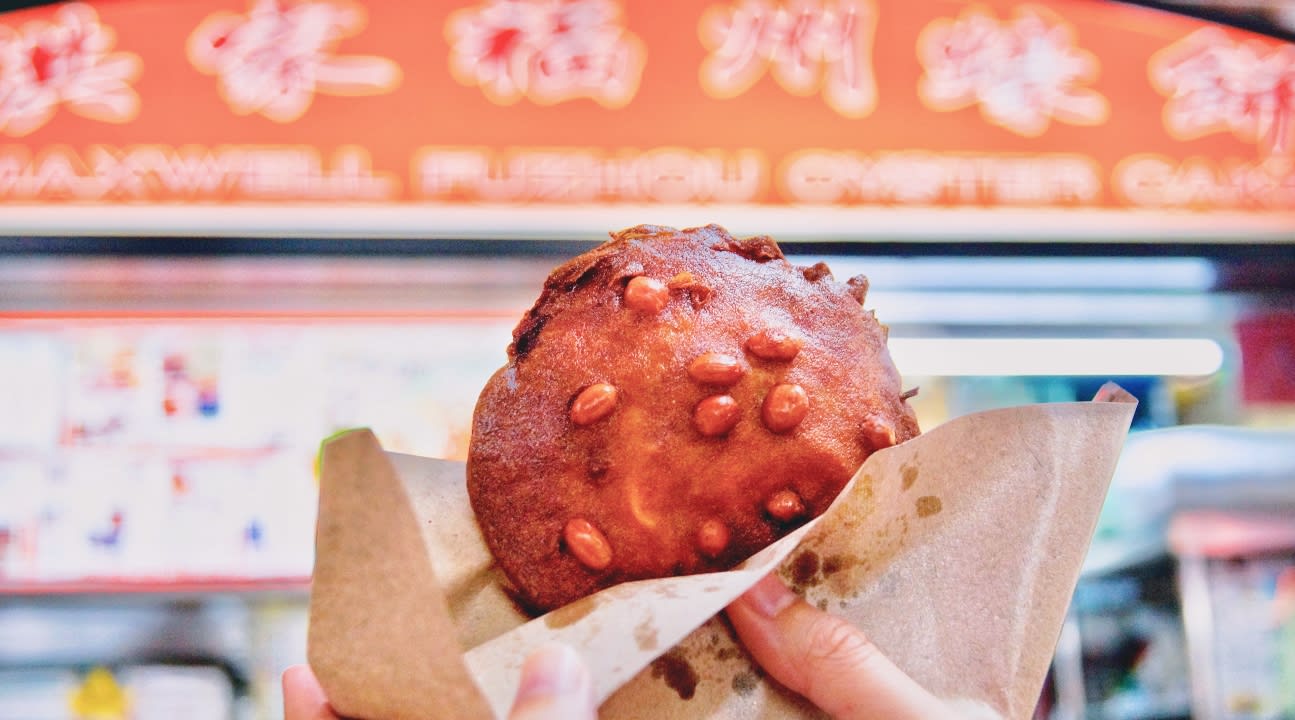 Oyster Cakes have recently gained quite a bit of limelight as people finally start to realize the work that goes into it. Much like how Singapore has quickly changed into an admirable state, we should also learn to appreciate the changing food culture here and preserve pastime local food. One crunch says it all; deeply fried peanuts, juicy oysters and fragrant minced pork all in one bite. For just $2, here's a food voucher to satisfy your oyster cravings with Maxwell Fuzhou Oyster Cakes!
#Klooktip: Sink your teeth into Chinatown's legendary Popiah! Enjoy at a discounted price for another of Singaporean's peanut dish!
Address: 1 Kadayanallur Street, #01-05, Maxwell Food Centre, Singapore 069184 Alight at Chinatown MRT Station at Exit A and walk for 7 minutes)
Opening Hours: Monday-Saturday: 9:00am-7:00pm
10. Teng See Seafood Chilli Crab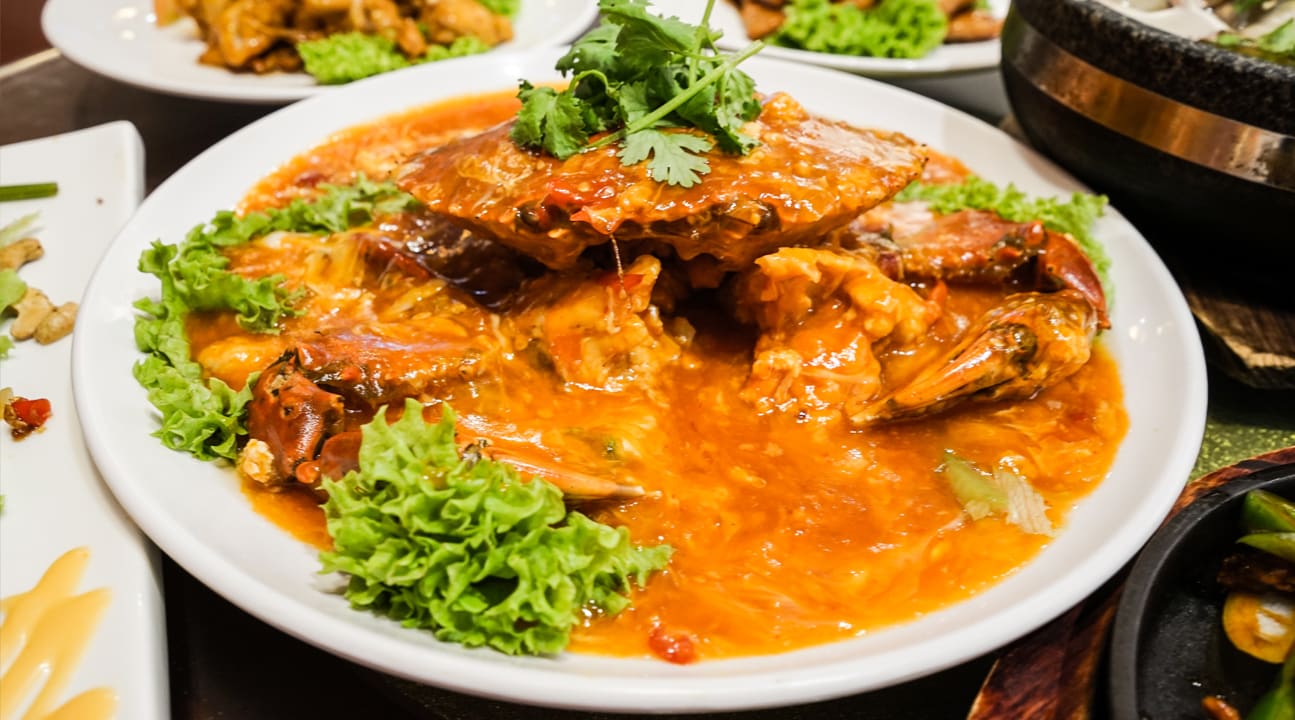 Ask any Singaporean and we all know eating Chilli Crab is hella hot and messy. Much like an SOP (Standard Operation Procedure), we submerge our crab meat in the thick velvety sweet and spicy for an extra kick before cleansing our palette with fried/steamed buns.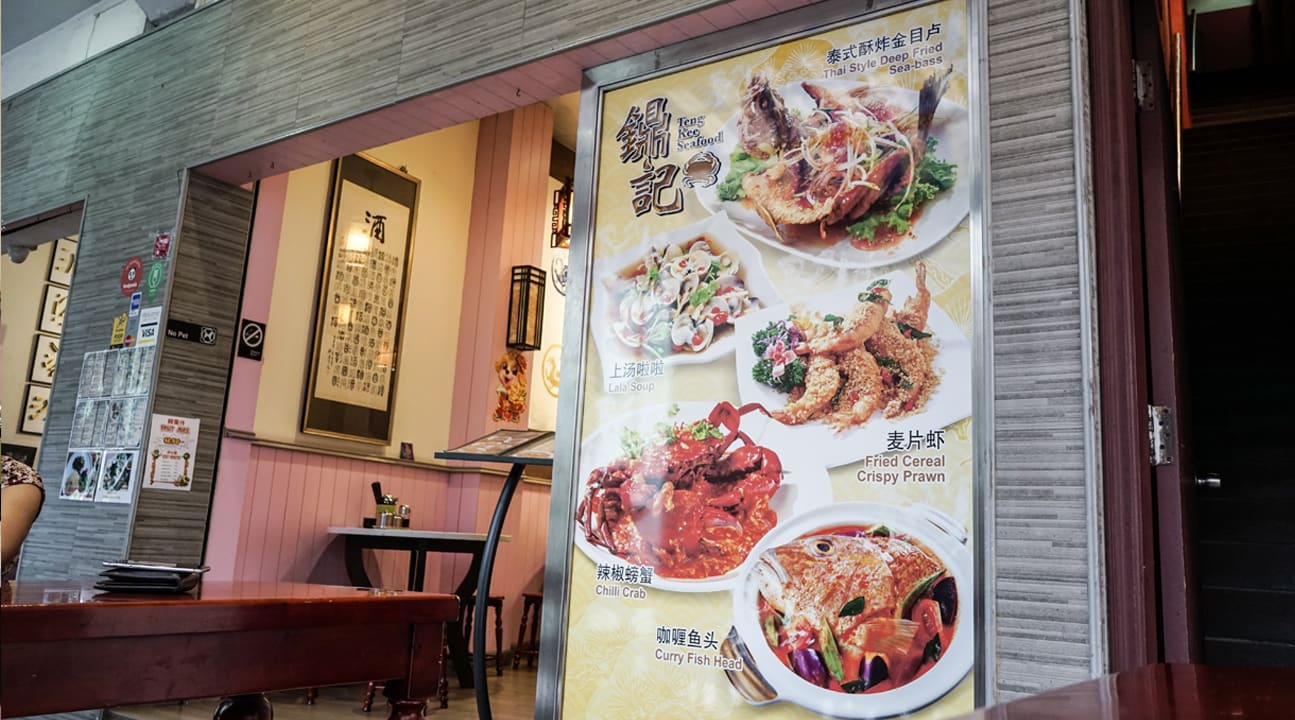 It's definitely not an everyday dish but why hold yourself back? At Teng Kee Seafood, they offer a variety of seafood options much like the Tze Char style we are all familiar with. Celebrate this National Day with a gift voucher for your fam bam to feast this weekend!
Address: 25 River Valley Rd, Singapore 238283 (Alight at Clarke Quay MRT Station at Exit E, F or G, and walk fro 15 minutes)
Opening Hours: 10.45am to 10.45pm
11. Settlers' Cafe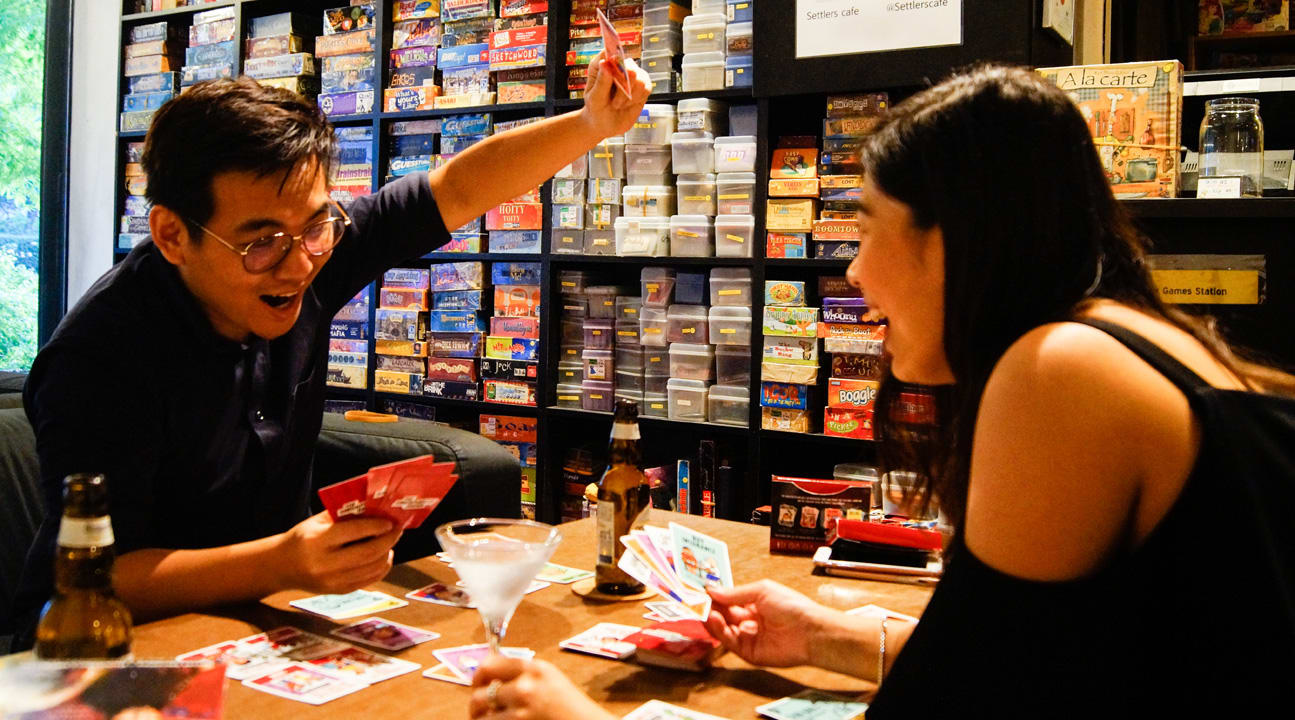 This warm and cosy cafe houses more than 600 boarding games for you to play to your heart's content! Whether you're looking to escape the National Day crowd or searching for a hang-out spot with your squad, here you can have the best of both worlds; combining both good food and playtime at Settler's Cafe with a cash voucher!
Address: 39 N Canal Rd, Singapore 059295
Opening Hours: 6pm to 11pm from Tuesday to Thursday; 1pm to 1am on Friday & Saturday; 2pm to 8pm on Sunday (Closed on Monday)
8th August: 6pm to 11pm
9th/10th August: 2pm to 2am
11th August: 6pm to 2am
12th August: 2pm to 8pm
12. Cat Cafe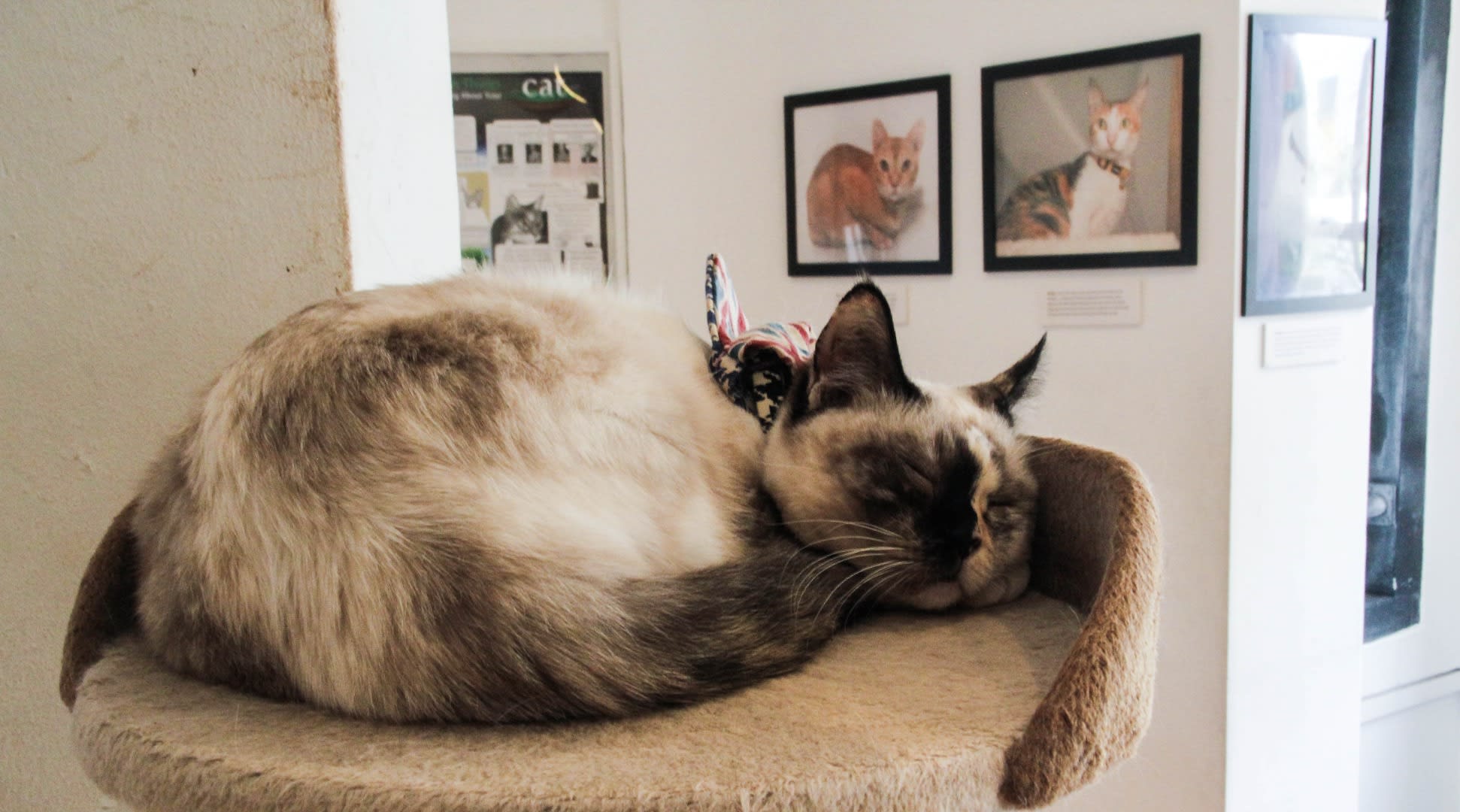 We don't have a merlion cafe, but we suppose a cat cafe is close enough? Purrfect for a lazy weekend, hang out with these loving felines which were once stray cats before! You can also try their top-notch pastries and fragrant coffee. Awake your furry instincts at The Cat Cafe with a reduced entrance fee!
Searching for cute cafes like The Cat Cafe? We've done your weekend homework! Check out these themed cafes in Singapore!
Address: 241B Victoria St, 188030 (Alight at Bugis MRT Station at exit A and walk for 4 minutes)
Opening Hours: 3pm to 10pm on Monday, 10am to 10pm from Tuesday to Sunday (and public holidays)
13. Co+Nut+Ink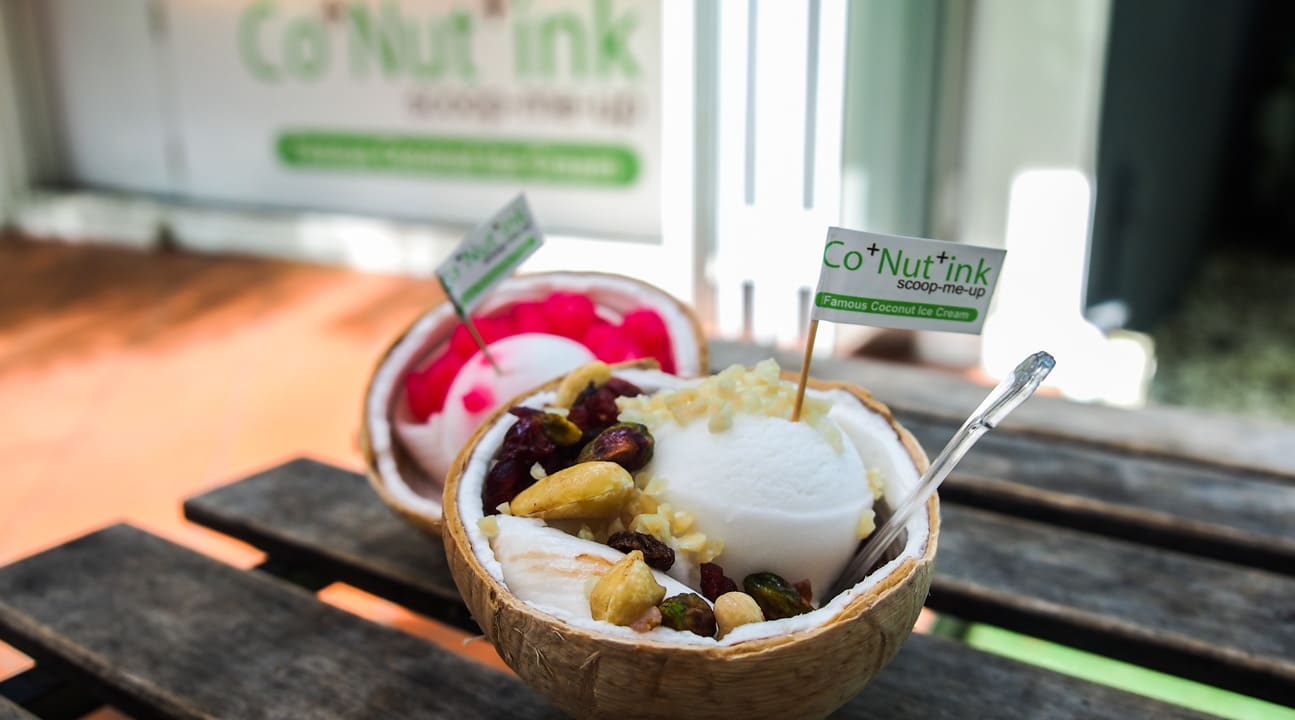 With over 6 different Co+Nut+Ink desserts to choose from, we may have found the perfect remedy from the heat! Quench your thirst with some coconut ice cream, served in a coconut husk just like in Bangkok! Make sure to try their crunchy Red Ruby toppings for extra texture.
But hold on, you haven't heard the best part yet. Now that we have entered August, how can we miss out on the durian season? Whether you're strolling along the Singapore River for a glimpse of the NDP fireworks or returning from a day of jam-packed outdoor activities, Klook your durian ice cream at 3 different outlets for a sweet ending to your day!
14. Bubble tea Galore
Liho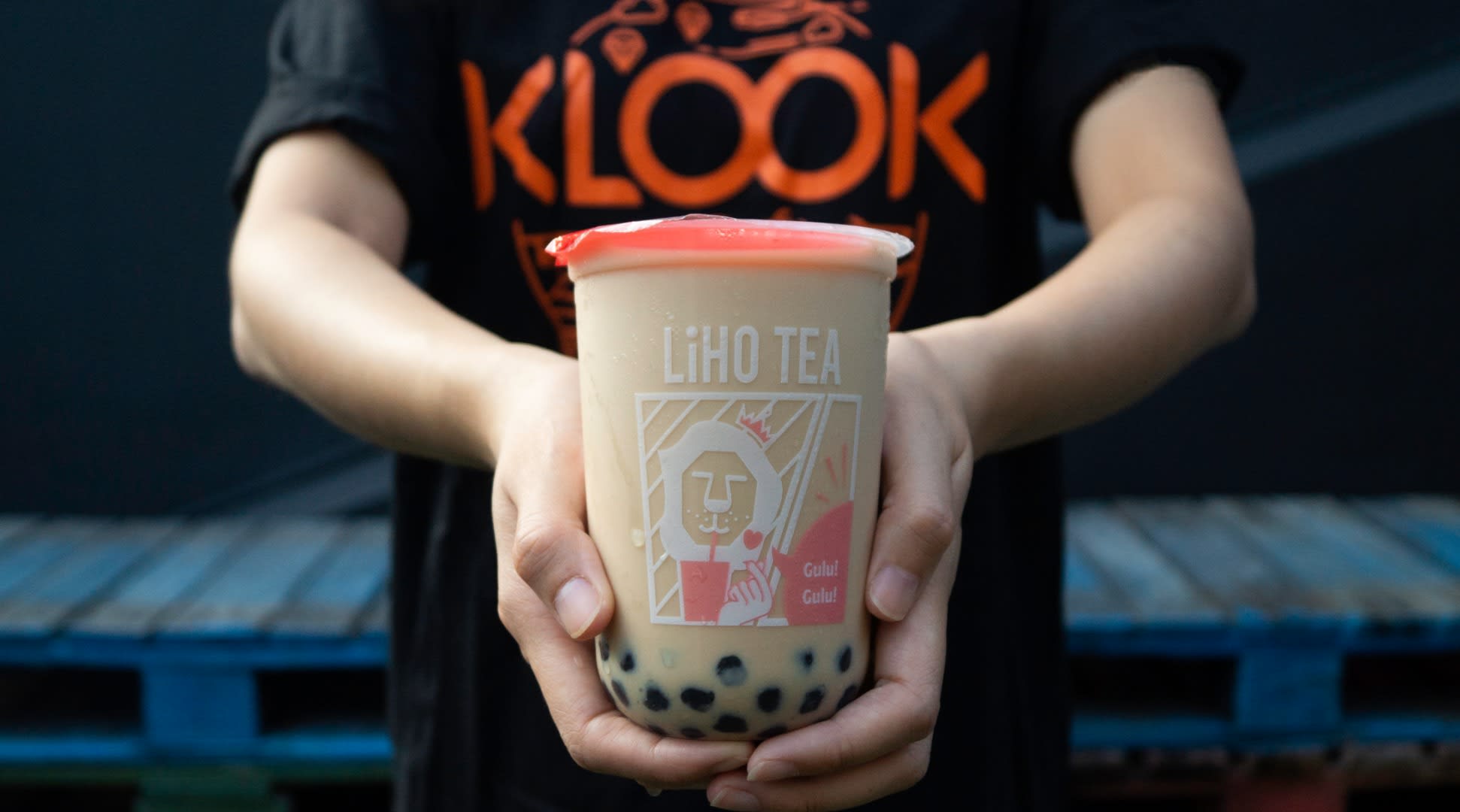 Just like you, we can't live a week without our boba diet! Here's the good news if you haven't heard: Liho has paired up with Klook to bring you their classic milk tea rendition. What can go wrong with a cup of Liho's Milk Tea with Black Pearls and at a discounted price? You can now redeem across all Liho outlets in Singapore!
Milksha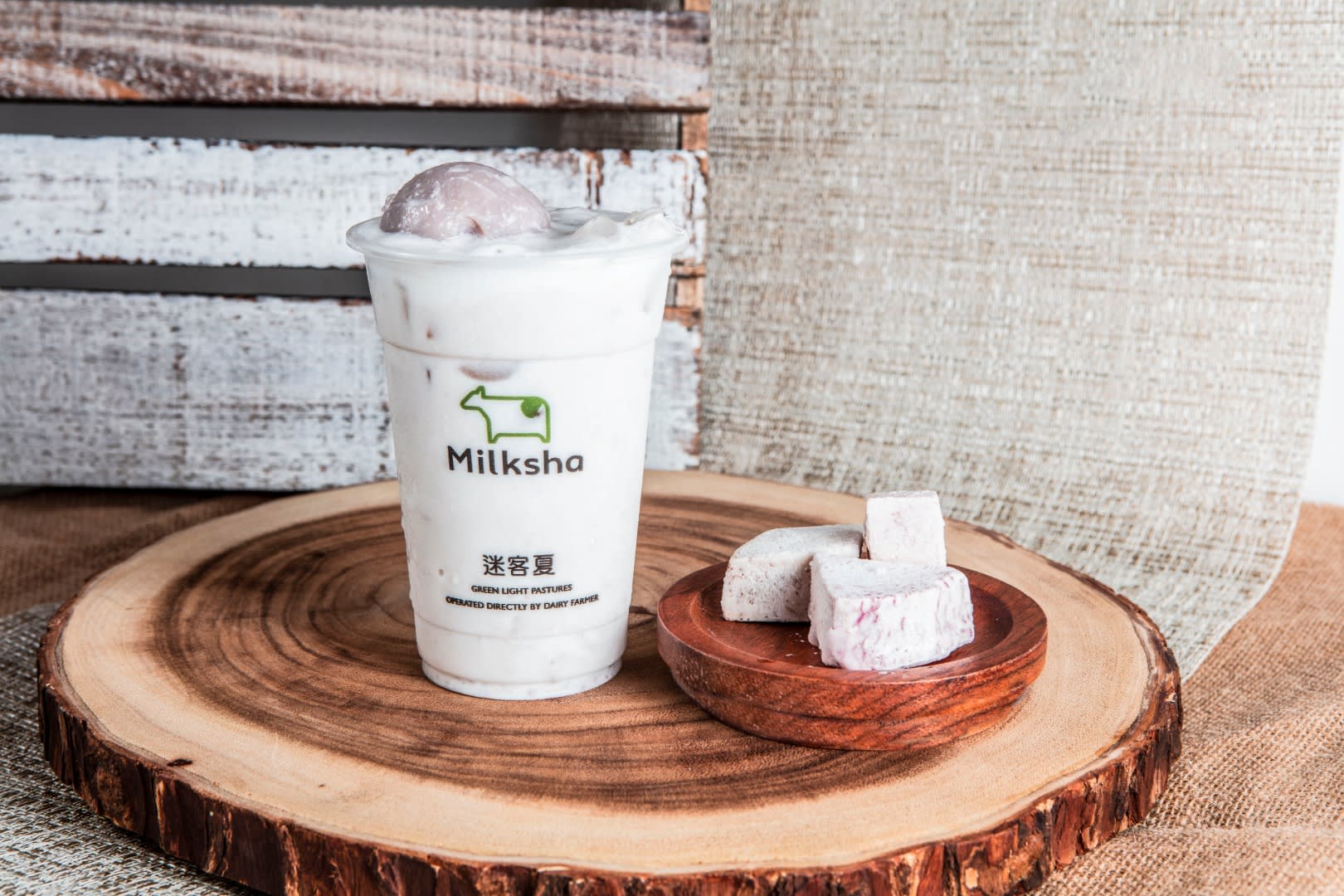 Bubble tea lovers, hold your wallets. Milksha, the leading bubble tea brand in Taiwan, has just been in Singapore for less than 3 months and it's still going strong. Voted number 1 by Taiwan's university students, we can now taste their popular Fresh Taro Milk Tea and Valrhona Cocoa Fresh Milk! Whether you're one for the sweet nutty taste or a fan of the unconventional, you can definitely count on Klook to bring you the best of Milksha.
Gongcha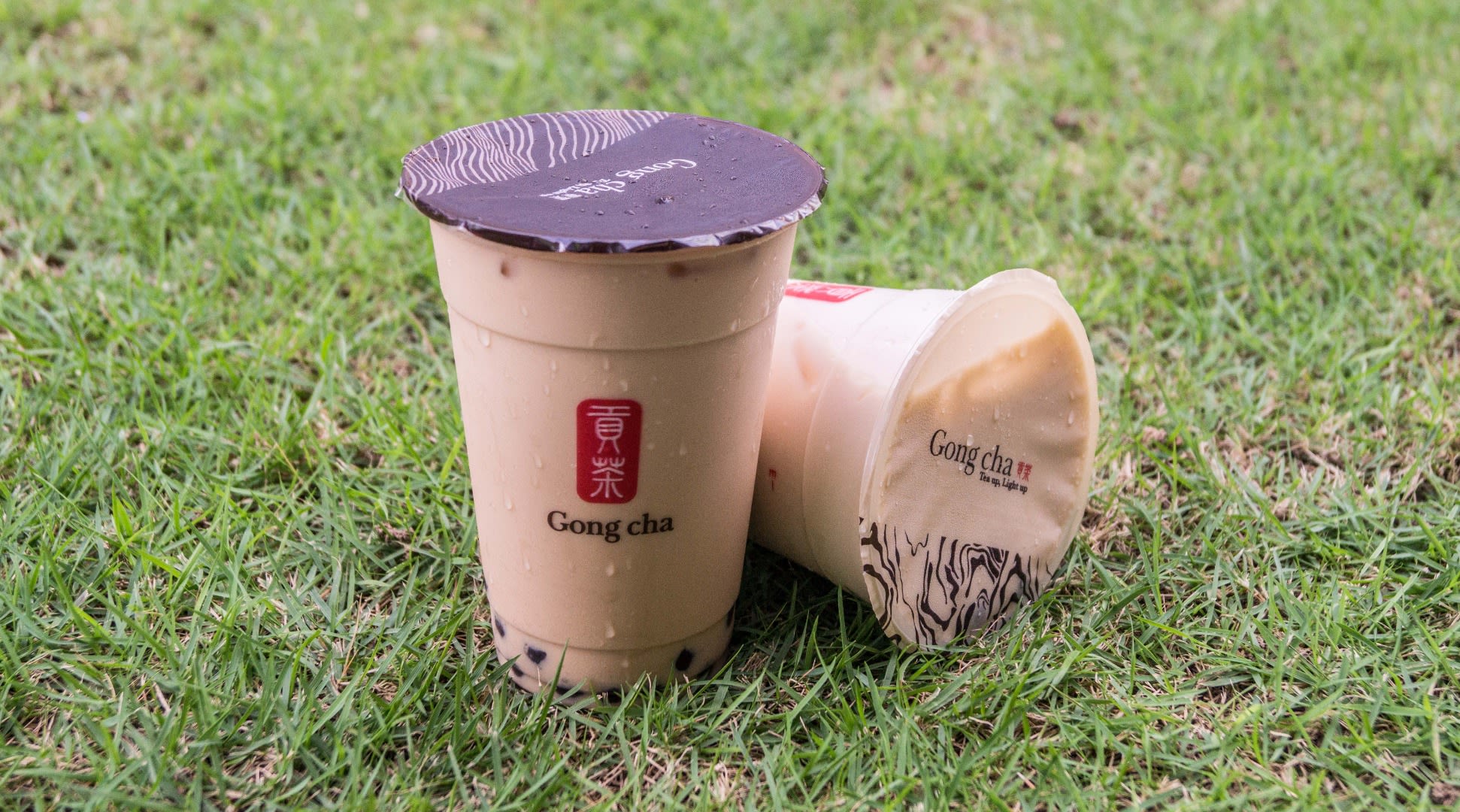 Our latest addition to Klook, Gong Cha is now offering 3 different types of milk tea at a reduced price! For just $2.80, you can slurp on your all-time favourite drinks such as their Earl Grey Milk Tea, Green Milk Tea and Oolong Milk Tea, all with pearls!
This National Day, Gong Cha has a special treat just for you! Exclusively only at Klook, celebrate the red and white spirit with their Bandung Milk Tea with Strawberry Pearls! Hurry and get your very own Singaporean milk tea!
15. Ben & Jerry's Ice Cream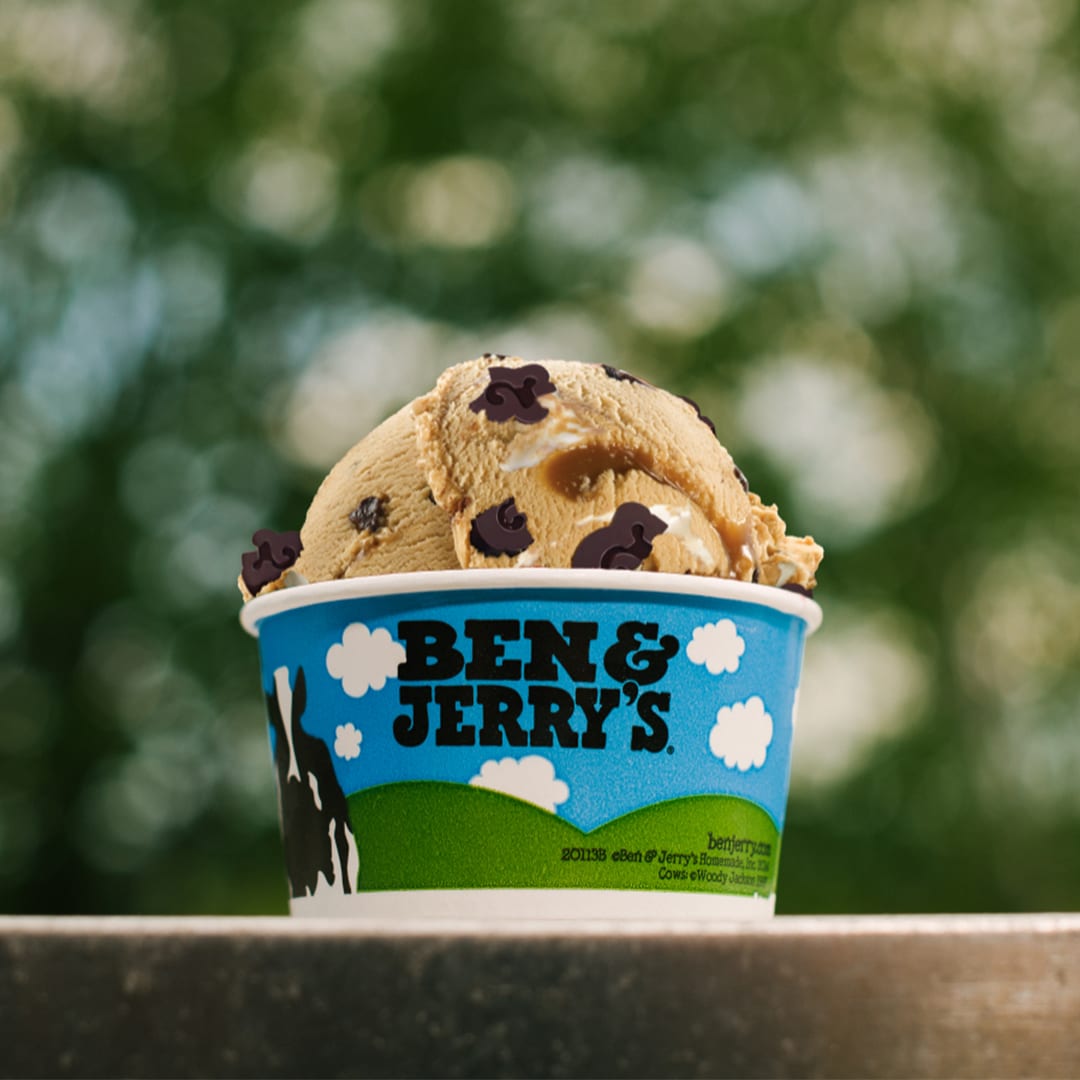 Did you know that the founders of Ben & Jerry's, Ben Cohen and Jerry Greenfield, had initially wanted to set up a bagel shop? Lucky for their foiled plan, we are now able to taste one of the best ice-cream ever! Here's a food voucher for 1 scoop of Ben & Jerry with any flavour of your choice!
16. MAXI Mango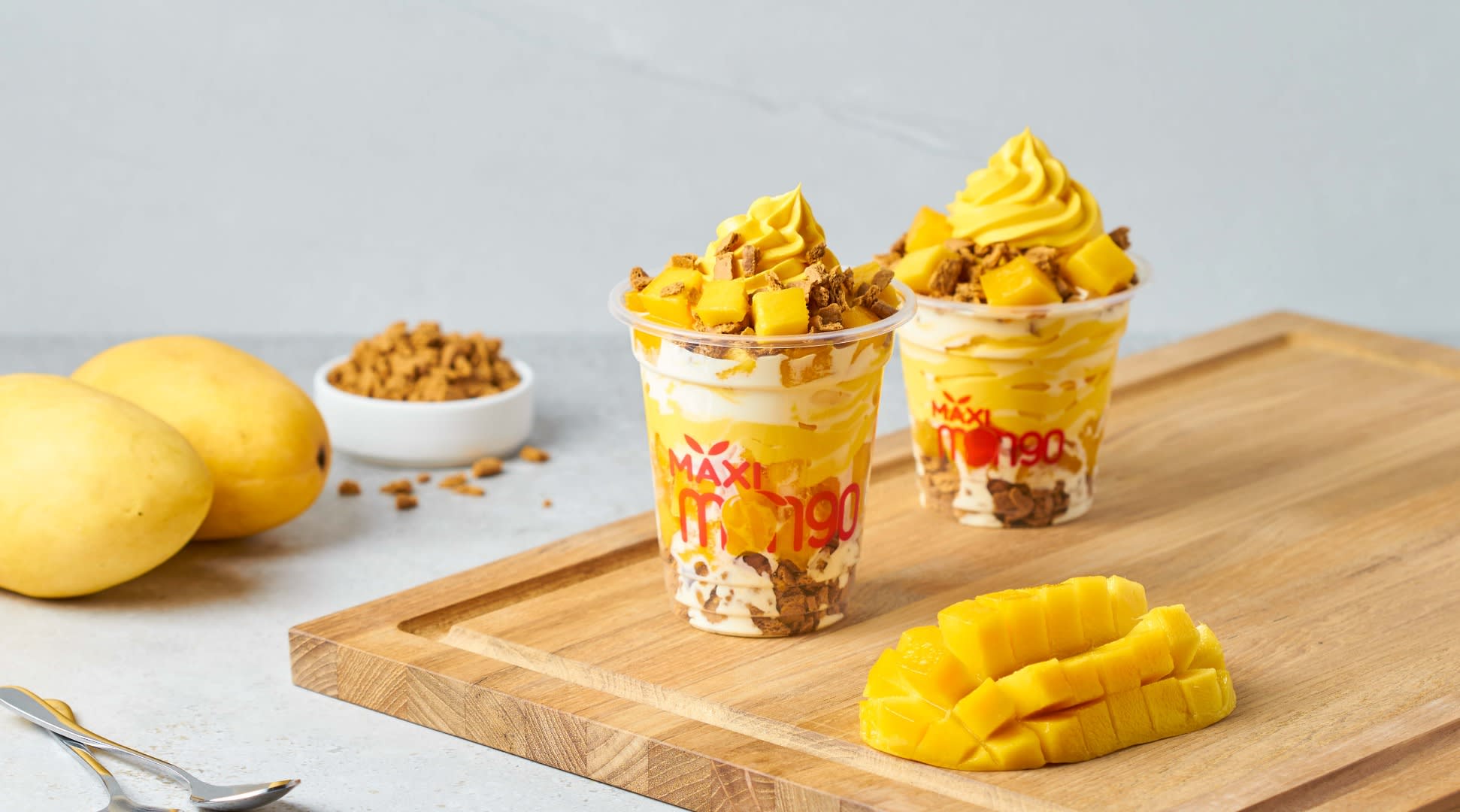 MAXI Mango has officially made its way to Singapore! Much like the bubble tea craze here, MAXI Mango is ubiquitous in the Philippines as well. Soft serve with Cebu's homegrown mangoes, this mango delight will not only melt in your mouth but melt your heart. Simply klook your MAXI mango item and cart out at a cheaper price!
Address: 13 Stamford Road, #B2-29 Capitol Piazza, Singapore 178905 (Alight at City Hall MRT Station and walk for 1 minute)
Opening Hours: 11.30am to 10pm
Save an extra $12 off!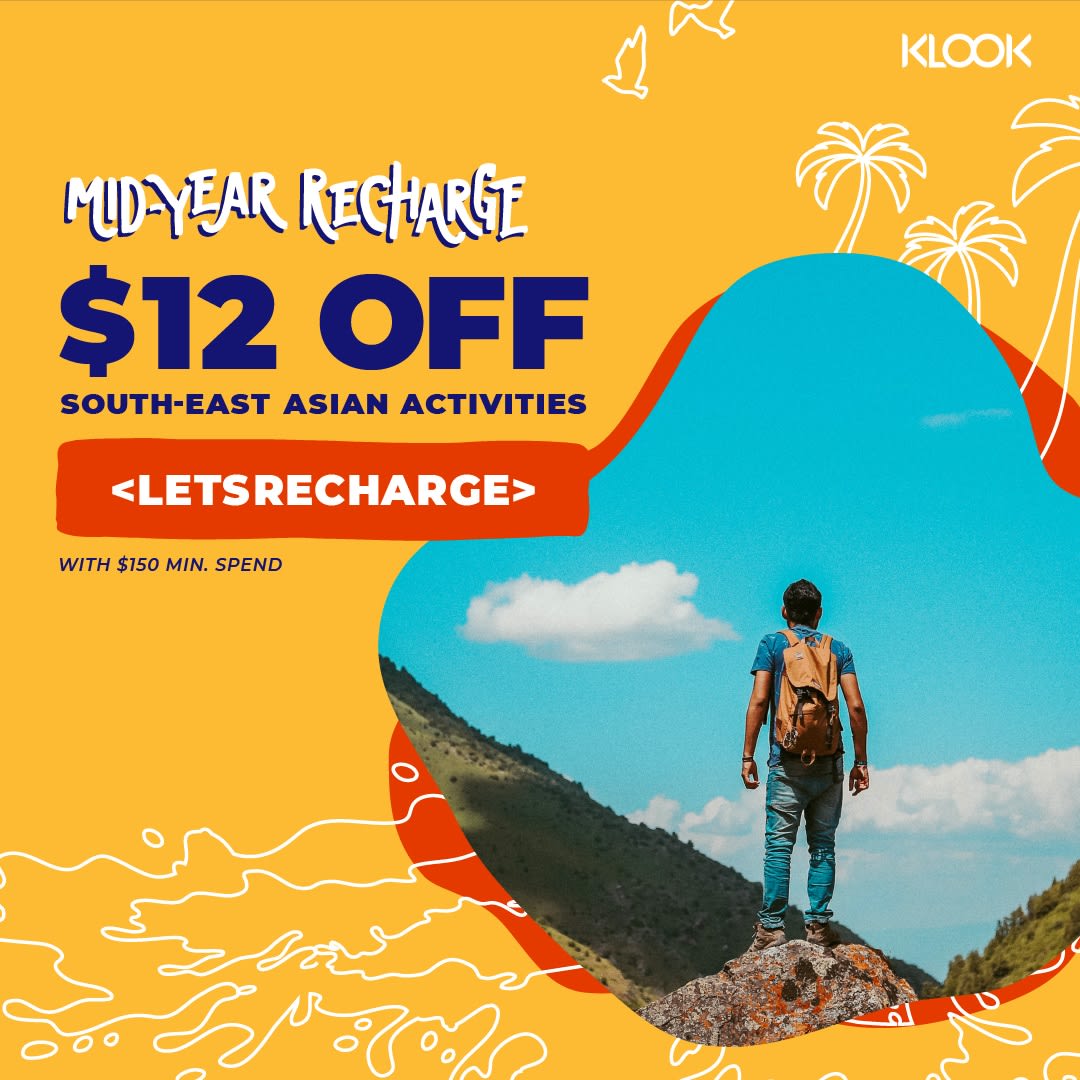 Every Singaporean loves a good budget deal! Save $12 off any activities in Singapore when you book through Klook this weekend! Use the promo code <LETSRECHARGE> till 12 August 2019 and simply cart off with minimum spending of $150!