Get bang for your buck when shopping in Seoul
Gather your eco-friendly bags, put on your best walking shoes and keep your eyes peeled. We have compiled a list of must-know insider tips from locals and travellers alike in this exclusive Seoul shopping guide. Score value for money Hallyu finds or bring home an antique piece of Seoul with a T-Money Card. Now you can devote all of your savings to budget hauls rather than wasting it on transportation!
Seoul Essentials
Before the splurging is done, here are 3 checklists to tick off before you make your flight to Asia's fashion capital.
Enjoy unlimited data connection under $7 and quick pick-up

services at Incheon Airport and 3 other pick-up points in

South Korea.

AREX Incheon Airport Express Train

(One Way Ticket in Seoul)

Cut down on transportation time and head to Seoul Station with

no stopovers! For a small deposit fee and immediate ticket

redemption, score free wifi and USB charging ports while on-board!

There is no reason for cab rides now that you have a reloadable

transportation card to Seoul's shopping paradise
Itching to get started? Here are 10 budget shopping paradise for your shopaholic s(e)oul!
1. Ewha Woman University Shopping Street (Edae)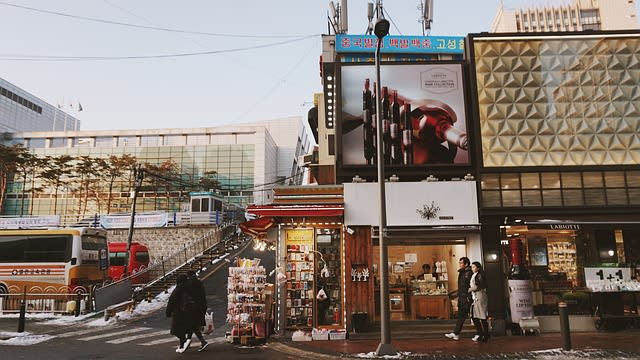 If you've been itching for some retail therapy, this is the place to be! Strategically located just outside Seoul's most prestigious all-female university, Edae owes its reputation to their next-door female neighbours as a Hallyu fashion statement. From as low as 5000 ₩ ($5.71), you can find hair salons, beauty products and feminine styled-clothings needed for a total beauty transformation!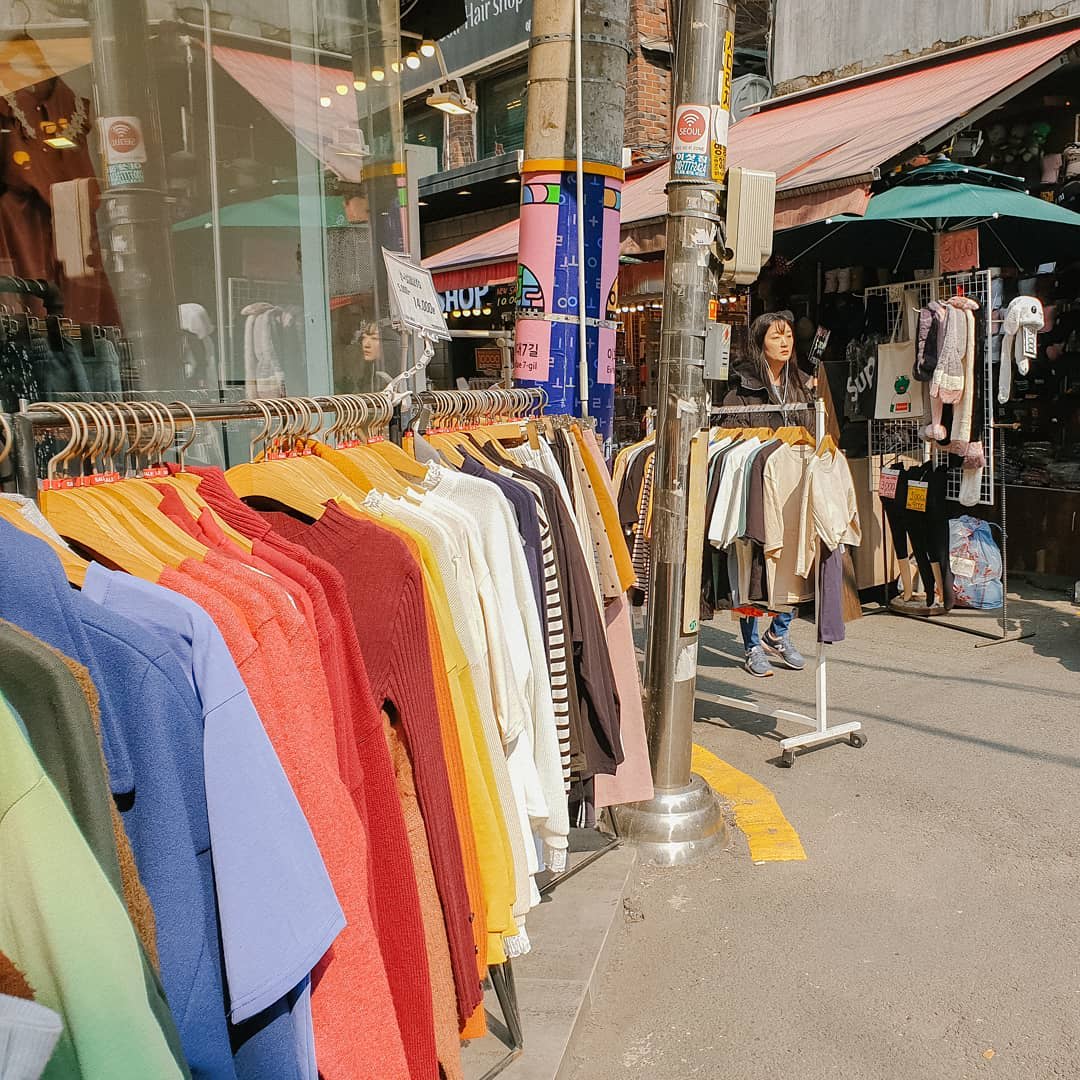 Photo credits: @ashanywhere on Instagram
Whether you're drowning in student debt, in dire need of a wardrobe makeover, or simply digging pleated skirts and off-shoulder tops, Edae is the answer to your bruised wallet.
Address: 52 Ewhayeodae-gil, Daehyeon-dong, Seodaemun-gu, Seoul, South Korea
Opening Hours: 12pm to 9pm
Directions: Take the Subway Line 2 to the Ewha Woman's University Station and get off at the station for Exit 3
2. Hongdae Shopping Area (Hongik Shopping Street)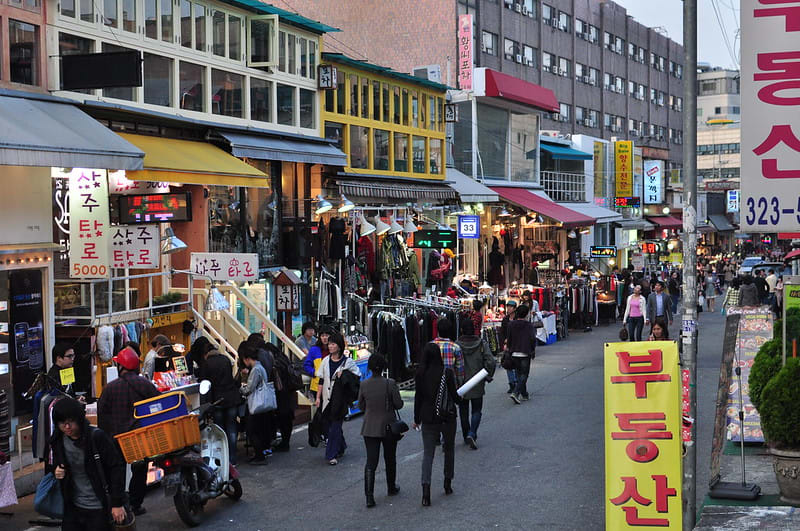 Photo credits: Jordi Sanchez on Flickr
Owing to its influence to Hongik University's impressive art programmes, Hongik Shopping Street is Japan's Harajuku; independent, free and unapologetic. You will find a bustling club scene, aspiring street dancers hoping to break into the k-pop industry and bold independent fashion statements.
Of course, waste no time and dive straight for the gigantic sticker signs that scream "D-I-S-C-O-U-N-T-E-D R-A-C-K" for cheaper hauls priced mostly at 10,000 ₩ ($11.41).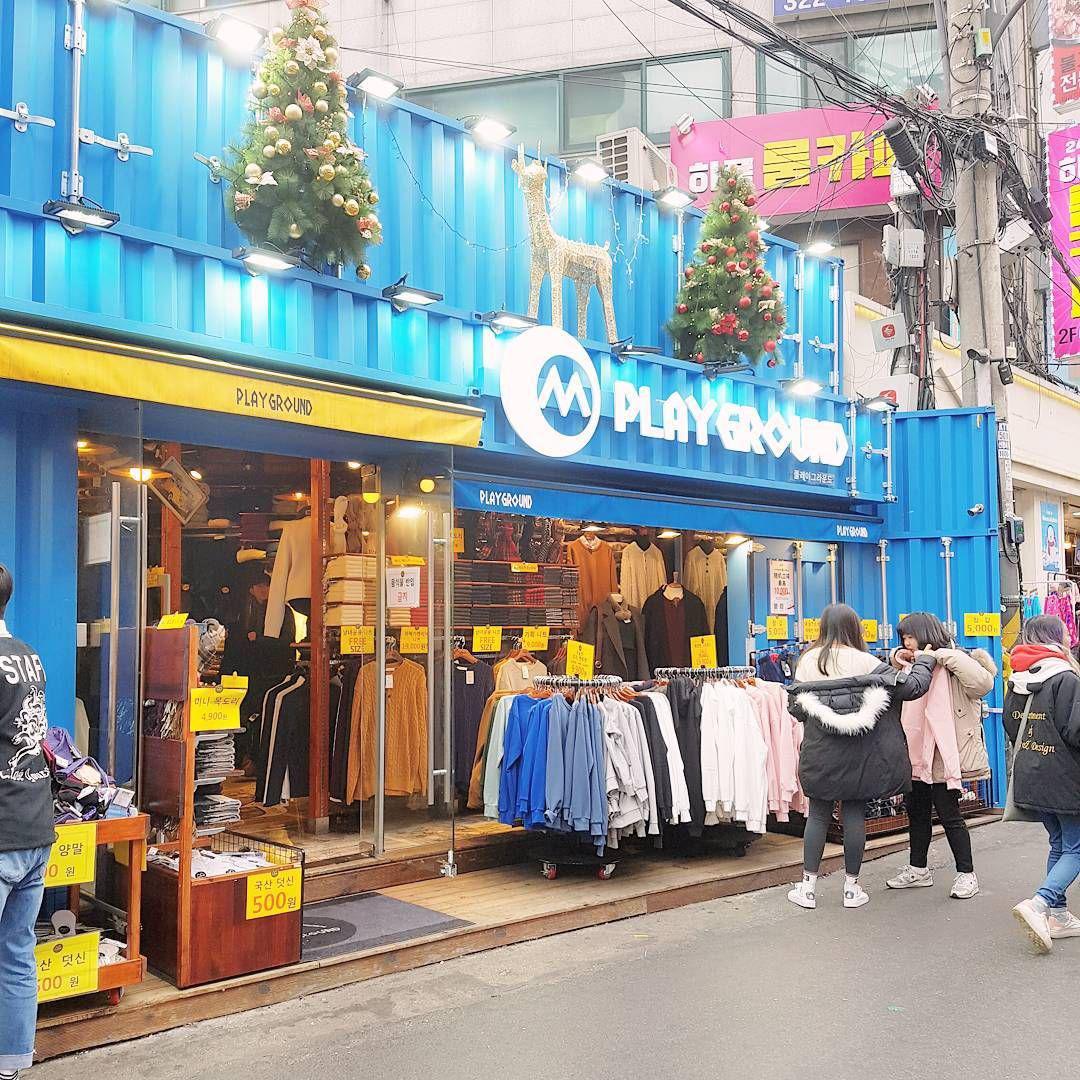 Photo credits: @jeon_heeeee on Instagram
Who said men are destined to wait aimlessly by the sidewalks as the females in their squad load up their shopping bags? At Seoul's indie fashion landscape, check out Korea's men clothing at M PlayGround and AA.
Address: Seogyo-dong, Mapo-gu, Seoul, South Korea
Opening Hours: 10am to 11pm (Note: opening hours may vary for different shops)
Directions: Take the subway to Hongik University Station and head on to Exit 8/9
3. Dongdaemun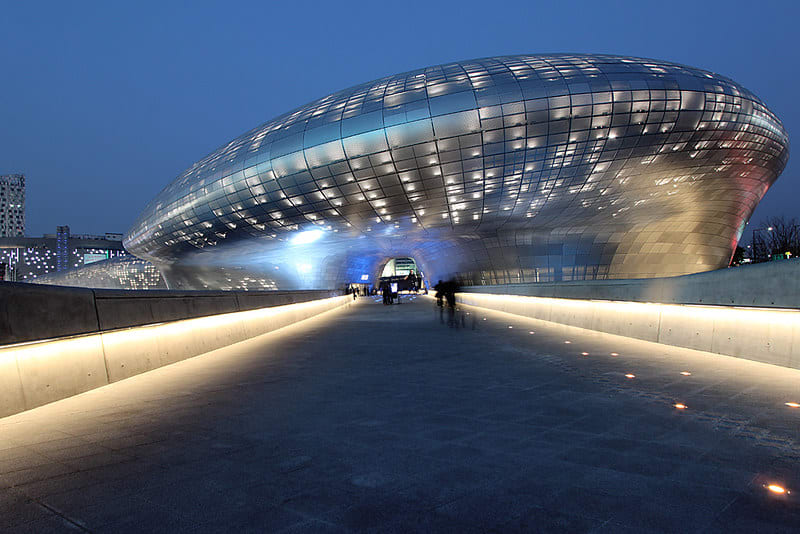 Photo credits: Nestor Lacle on Flickr
Literally, a shop till you drop haven, you can scour Dongdaemun across 5 shopping districts till the middle of the night and still not cover most of the shopping area. Whether this is music to your ears or a turn-off, we've got a plan devised for you!
Not built for long haul shopping sprees? Waste no time and head straight to Doota and Migliore, Dongdaemun's famous retail complexes. Not only do they sell locally produced fashion clothing, but you can save yourself the hassle as these clothes are of Asian fitting! If you mean serious business and intend to sweep these bargain buys in bulk, you will find your slice of heaven at wholesale shops. Located in Dongdaemun Fashion Town, New Pyeonghwa Market, Designer Club, U:US and more, be prepared for some heavy-lifting exercises as you lug your shopping bags across the shopping complex!
#Klooktip: Korean vendors at Dongdaemun are more likely to slash their prices if you offer to pay in cash!
Opening Hours: Mostly 24 hours.
Address: Euljiro 6(yuk)-ga, Jung-gu, Seoul, South Korea
Directions: Alight at Dongdaemun Station and head to Exit 9. Walk for about 2-3 minutes.
4. Seocho Saturday Flea Market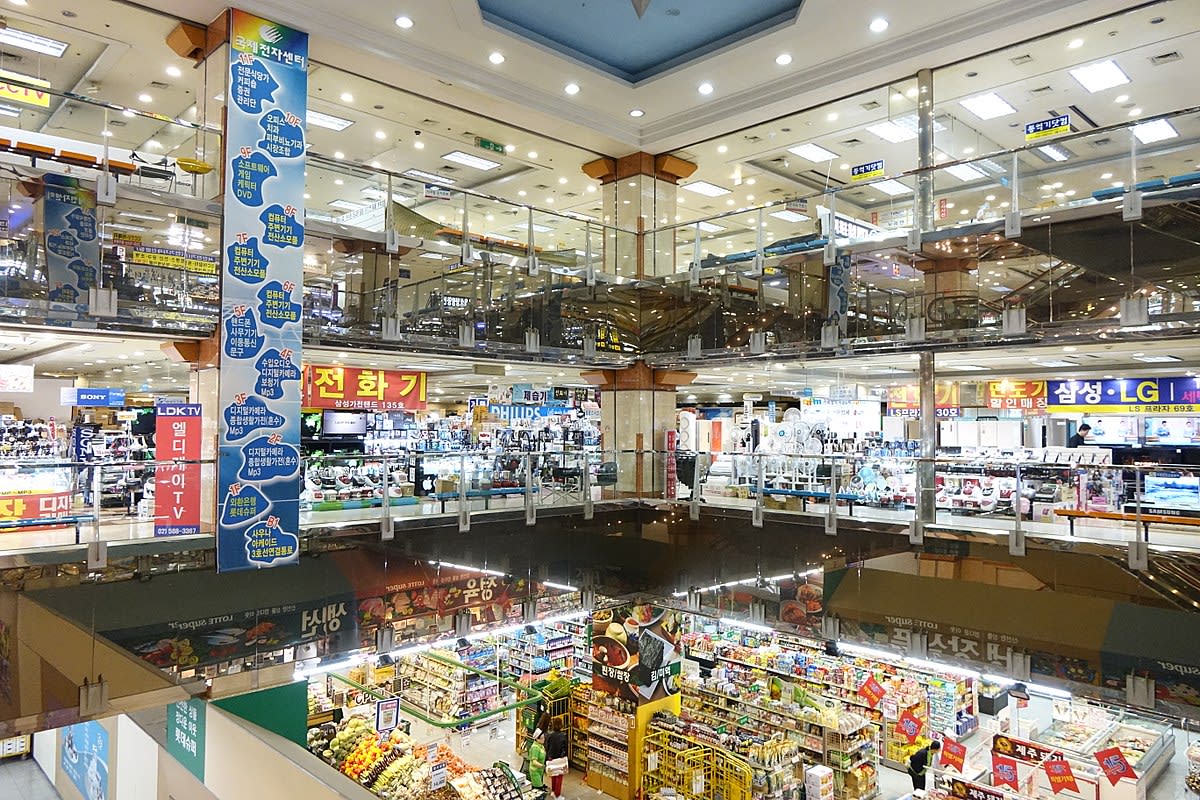 Photo credits: Wikimedia Commons
Probably the most thrilling place ever, Seocho Saturday Flea Market lives by a competitive motto: You snooze, you lose. Away from the throngs of tourists, you will find yourself among ajummas and ajusshis in the middle of a heated discussion as they slash for rock bottom prices. While you're still debating, the item you've been eyeing on for is gone before you could even speak a word. Keep up, or you'll go home empty-handed!
#Klooktip: Make sure to come on a full stomach! Seocho Saturday Flea Market has everything under the sun except food.
Address: Just outside of Sadang Station
Opening Hours: 9am to 2.30pm; Only on Saturday
Directions: Alight at Sadang Station and head to Exit 14
5. Myeongdong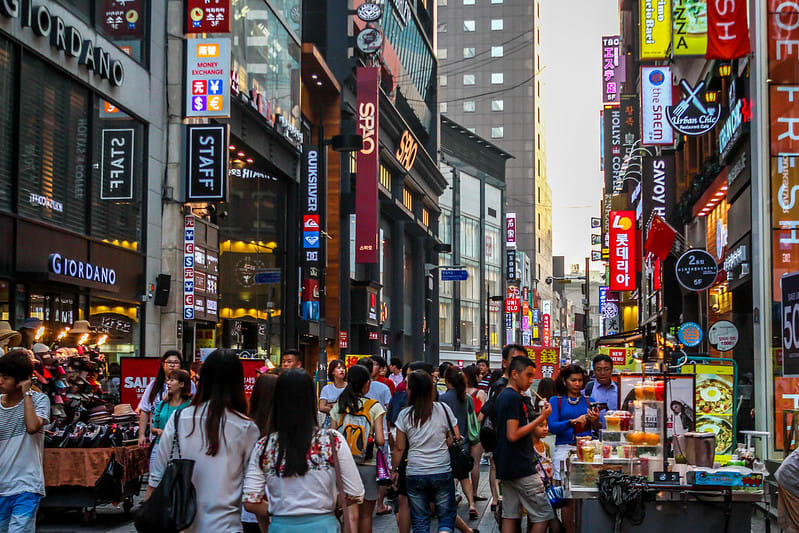 Photo credits: Doug Sun Beams on Flickr
What is South Korea without its famous skincare regime and billion-dollar beauty industry? Touts will follow you as free samples are aggressively pushed into your face. Although, that's not a bad thing right? #welovefreegifts
Since it is generally 50% cheaper in Korea then in Singapore, don't be surprised if your friends bombard you with a list of cosmetic supplies seemingly for a lifetime supply. With so many brands to choose from, check out our Myeongdong Shopping Guide which includes must-have Korean products like Holika Holika, Tony Moly, Innisfree and tantalizing local street food!
#Klooktip: Did you know that shops at Myeongdong are tax-free with minimum spending of 30,000 ₩ ($34.16)? Simply request for a tax return slip at any stores with the tax-free logos and look for the Tax Refund/Customs Declaration counter at Incheon airport together with your passport.
Address: 04536 27 Myeong-dong 8-gil, Jung-gu, Seoul
Opening Hours: 11am to 10pm
Directions: Take the subway to Myeongdong Station, Exits 5, 6, 7, or 8 or Euljiro 1 (ij-ga) Station, Exits 5 or 6
6. Namdaemun Market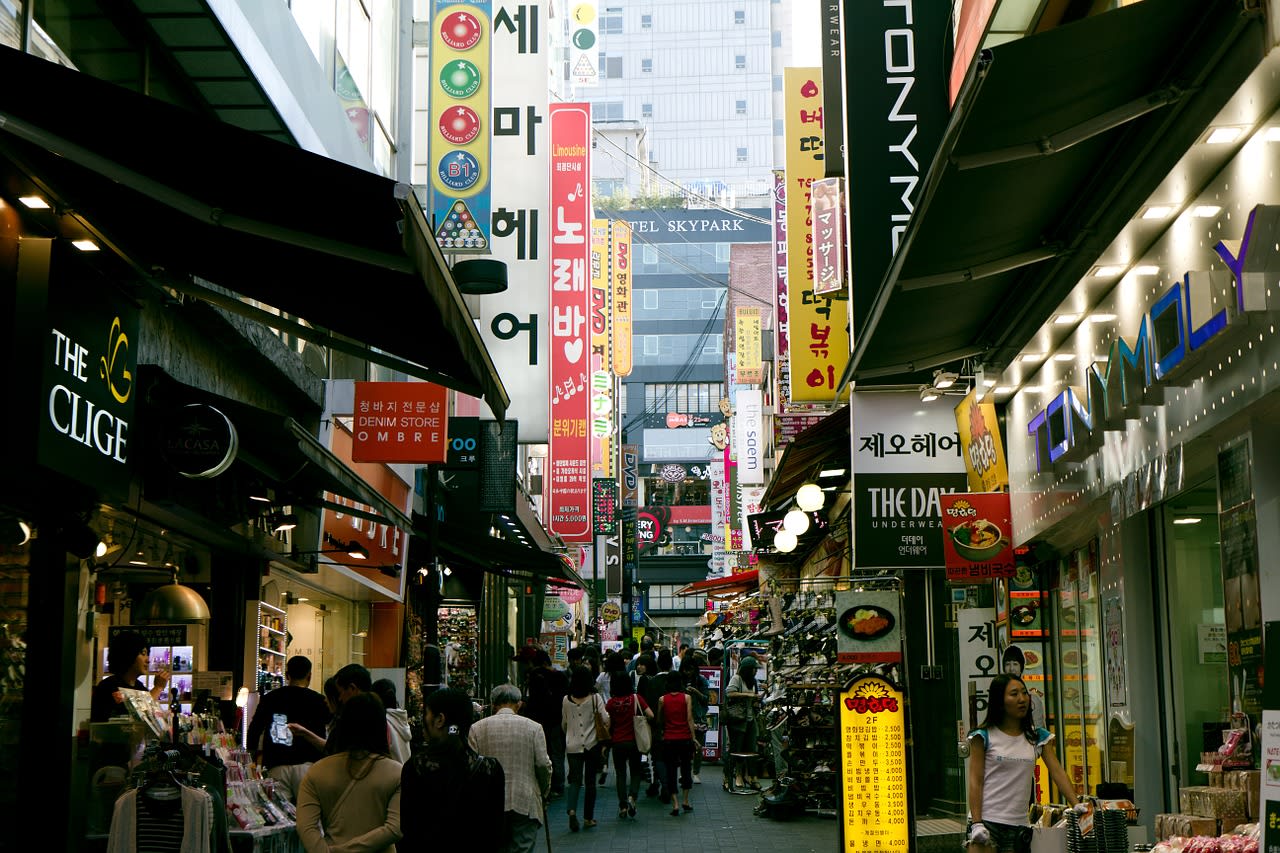 Thrifters, hold your breath. Much like our local version of Pasar Malam, Namdaemun Market adapts a similar street shopping style, only at a much grander scale. I kid you not.
The trick to navigating Namdaemun Market? Wander aimlessly and lose your way! With over 10,000 stalls, there is not a single thing you can't find here. From umbrellas to luggage, accessories to jewellery, bedding to toys, make sure to haggle and score all your best loots!
Address: 21 Namdaemunsijang 4-gil, Hoehyeon-dong, Jung-gu, Seoul, South Korea
Opening Hours: 7am to 5pm (Retail stores); 11pm to 3am (Wholesale)
Directions: Take the subway to Hoehyeon Station and head to Exit 5
7. Seoul Folk Flea Market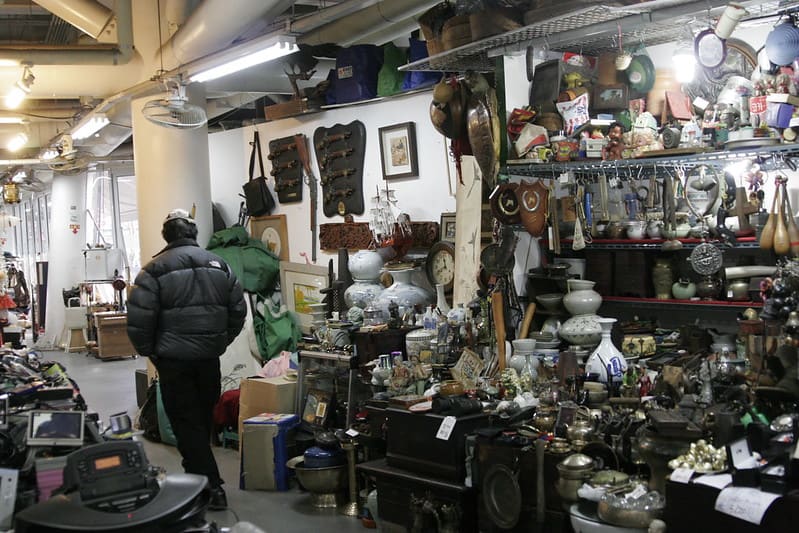 Photo credits: sellyourseoul on Flickr
Feast your eyes on antique souvenirs from over 900 booths in the oldest flea market in Seoul. It's not a glamorous shopping area, but never judge a book by its cover! Seoul Folk Flea Market certainly has some of Korea's best-hidden gems for you to bring home. You may even catch a rare expensive find at a low price!
What's more impressive is this market is split into 8 coloured divisions, each colour representing a niche market where you will discover anything from electronics to traditional crafts. Talk about hugeeeee!
Address: 21, Cheonho-daero 4-gil, Dongdaemun-gu, Seoul, South Korea
Opening Hours: 10am to 7pm (closed every 2nd and 4th Tuesday of the month)
Directions: Line 1 Sinseol-dong Stn. Exit 9
8. Insadong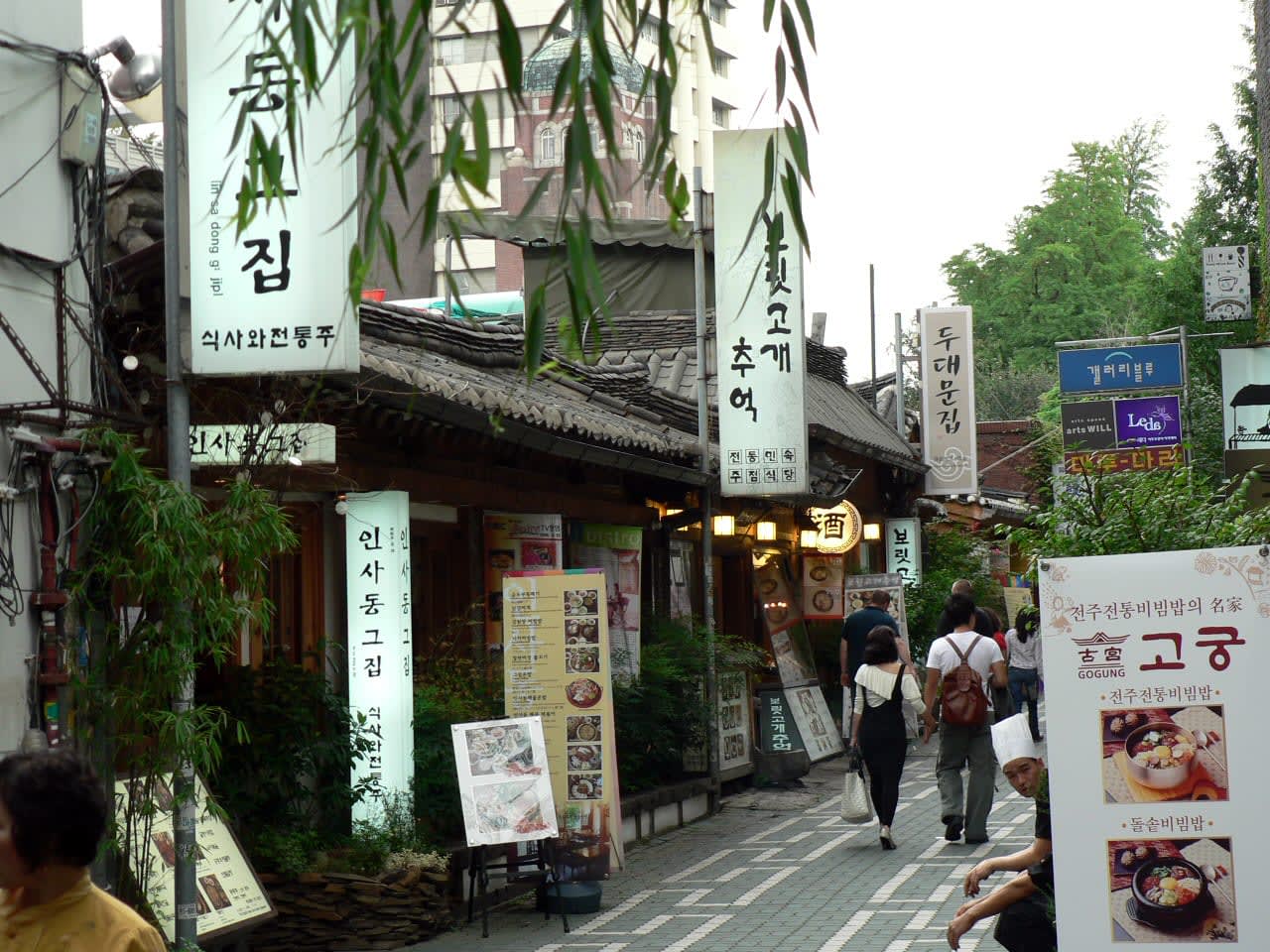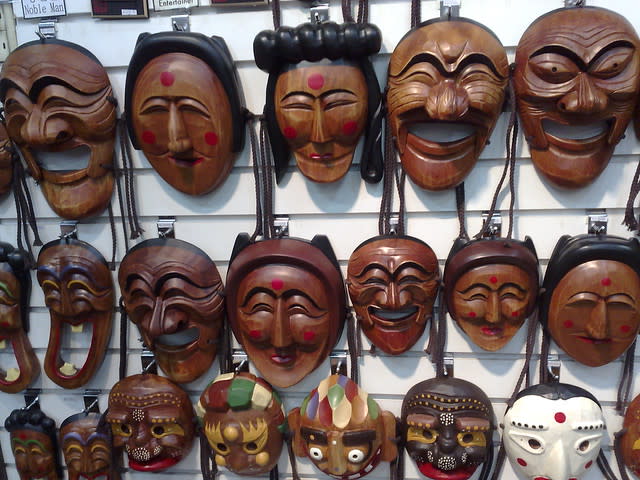 Photo credits: Tim Walker on Flickr
Bring out the auntie in you and enjoy a shiok retail therapy as you bring home metal chopsticks and pouches for only 2000 ₩ to 3000 ₩ ($2.28 to $3.42)! Proudly display your golden/bronze figurines or whacky masks from Insadong at only 4000 ₩ ($4.56) and snatch those delicate antique fans for 10,000 ₩ ($11.41).
Address: 62, Insadong-gil, Jongno-gu, Seoul
Opening Hours: 10am to 9pm
Directions: Take the subway to Anguk Station, Exit 6 or Jonggak Station, Exit 3
9. Gwangjang Market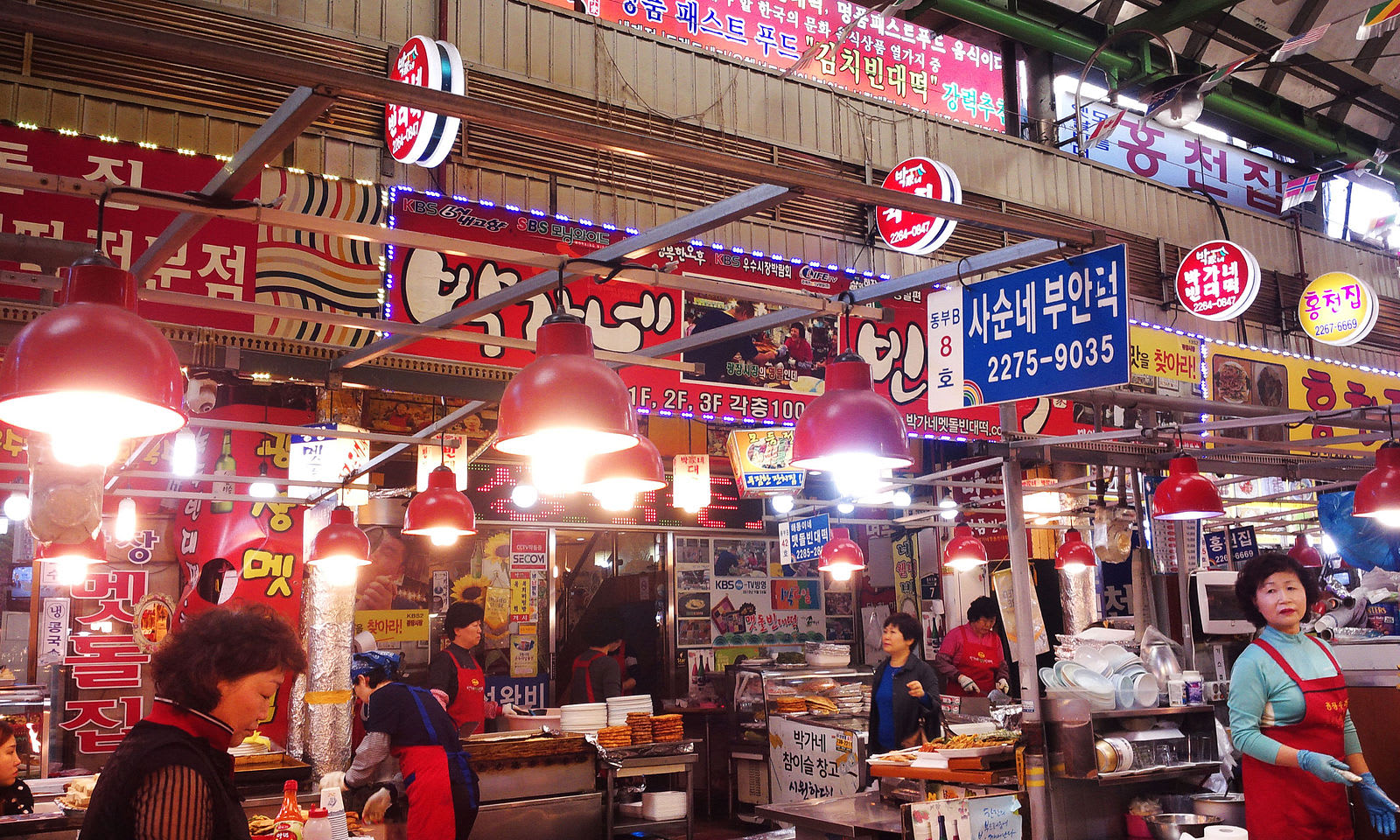 Featured in Netflix Street Food, Gwangjang Vintage Market may be better known for their street food such as its Kimchi dumpling and Soy Sauce Crab. However, what most travellers don't know is that this flea market is an absolute money saver! Especially so for newlyweds who are looking to build their new home together, you can find bedding, hanboks, luxurious silk (which make for the perfect wedding gifts) and more while slashing prices all in one place!
How can we miss sharing South Korea's irresistible food scene when it comes to Gwangjang Vintage Market? Here is an exclusive food guide inclusive of other local spots for all you foodies!
Address: 88 Changgyeonggung-ro, Jongno 4(sa)-ga, Jongno-gu, Seoul, South Korea
Opening Hours: 7am to 10pm
Directions: Take the subway to Jongno 5-ga Station, Exit 8 or Euljiro 4-ga Station, Exit 4
10. Express Bus Terminal Underground Shopping Mall (Goto Mall)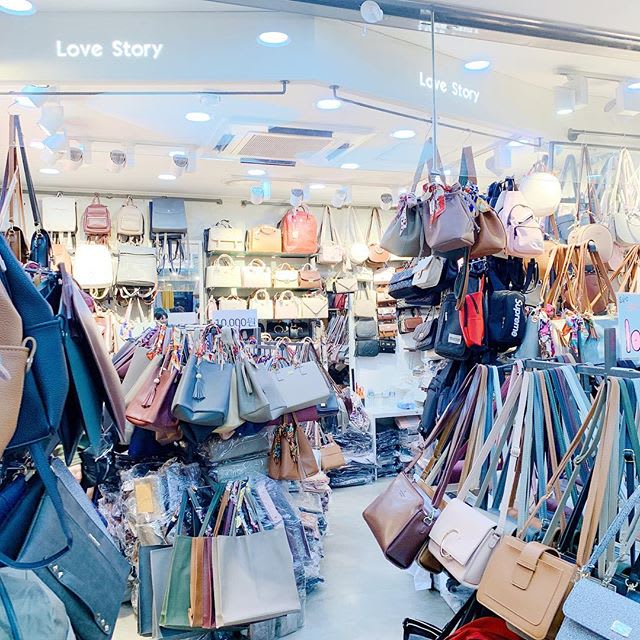 Photo credits: @chihirosawa on Instagram
Definitely, a shopping paradise dedicated to femininity, the GOTO Mall is the perfect wet weather location to continue your shopping spree. There is no room for hesitation here; this shopping complex is so gigantic that it's nearly impossible to retrace your steps. Better to snag first than regret later! Here you can splurge on bags and clothes from 5000 ₩ ($5.69) and still not get enough of Seoul!
Address: Banpo 3(sam)-dong, Seocho-gu Seoul South Korea
Opening Hours: 10am to 10pm
Directions: Head to Exit 8 at Express Bus Terminal Station
Hop on the Hallyu Wave to Seoul's Top Attractions
What's a trip to Seoul without visiting the rest of Seoul? Before we dived into Seoul's hotspots recommended by Klook travellers from all around the world, make sure to snag your Discover Seoul Pass with admissions to a shocking 34 attractions for just $38! Did we also mention that we are offering a BTS limited edition Discover Seoul Pass as well?
1. Everland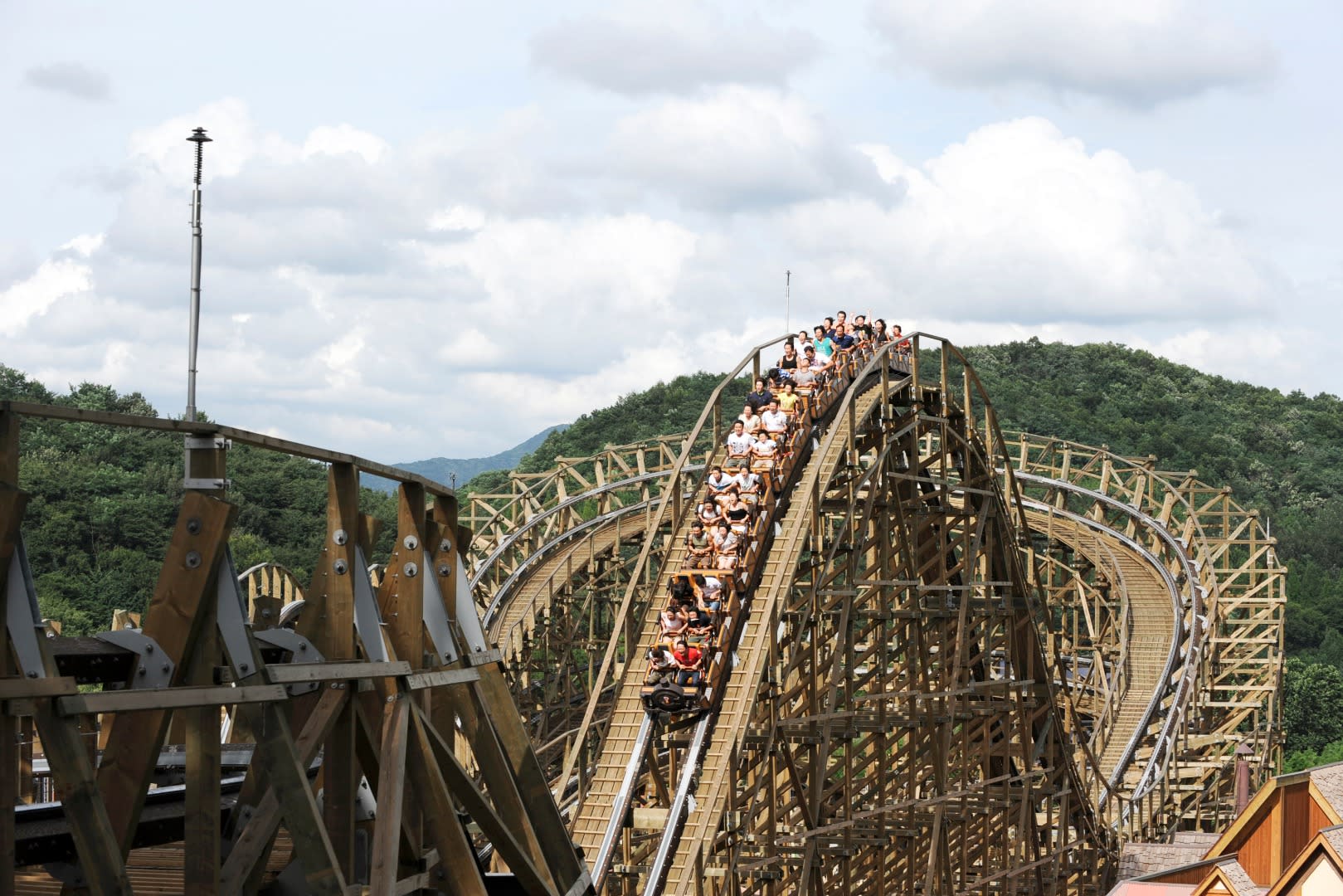 Calling all the brave souls out there, are you prepared to plunge into mid-air at T-Express, the world's steepest wooden roller coaster? Hop on to Everland, South Korea and the world's largest theme park ever which is split into 5 different themes and thrill-factors. Other than the renowned T-Express, you can also take a breather and snap some close-up selfies at Zootopia and Panda World with our friends in the wild!
For up to 32% off, you can score major savings on an Everland 1 Day Ticket, Q-Pass and a Round Trip Shuttle Bus from Seoul all in 1 purchase! Choose any of the 7 pick-up points that are nearest to you. Travelling has never been this fuss-free!
Address: 199 Everland-ro, Pogog-eup, Cheoin-gu, Yongin-si, Gyeonggi-do
Opening Hours: 10am to 10pm
2. Lotte World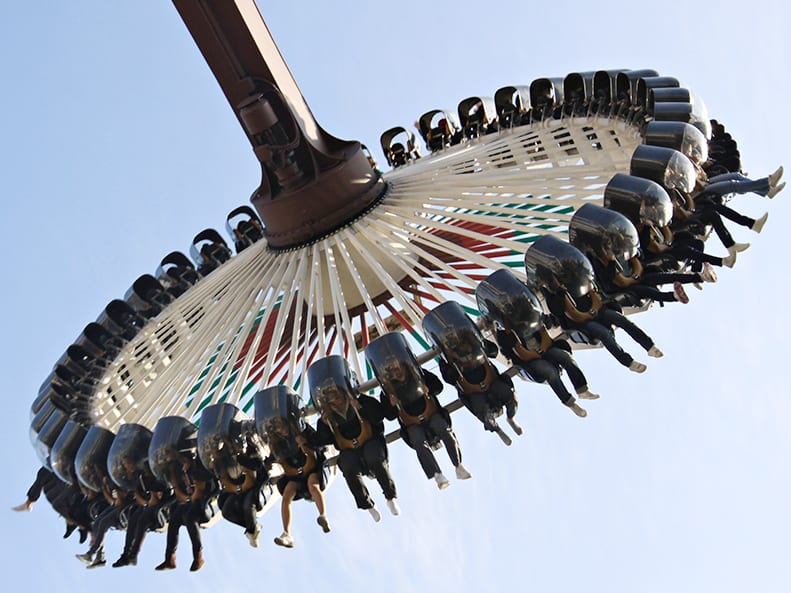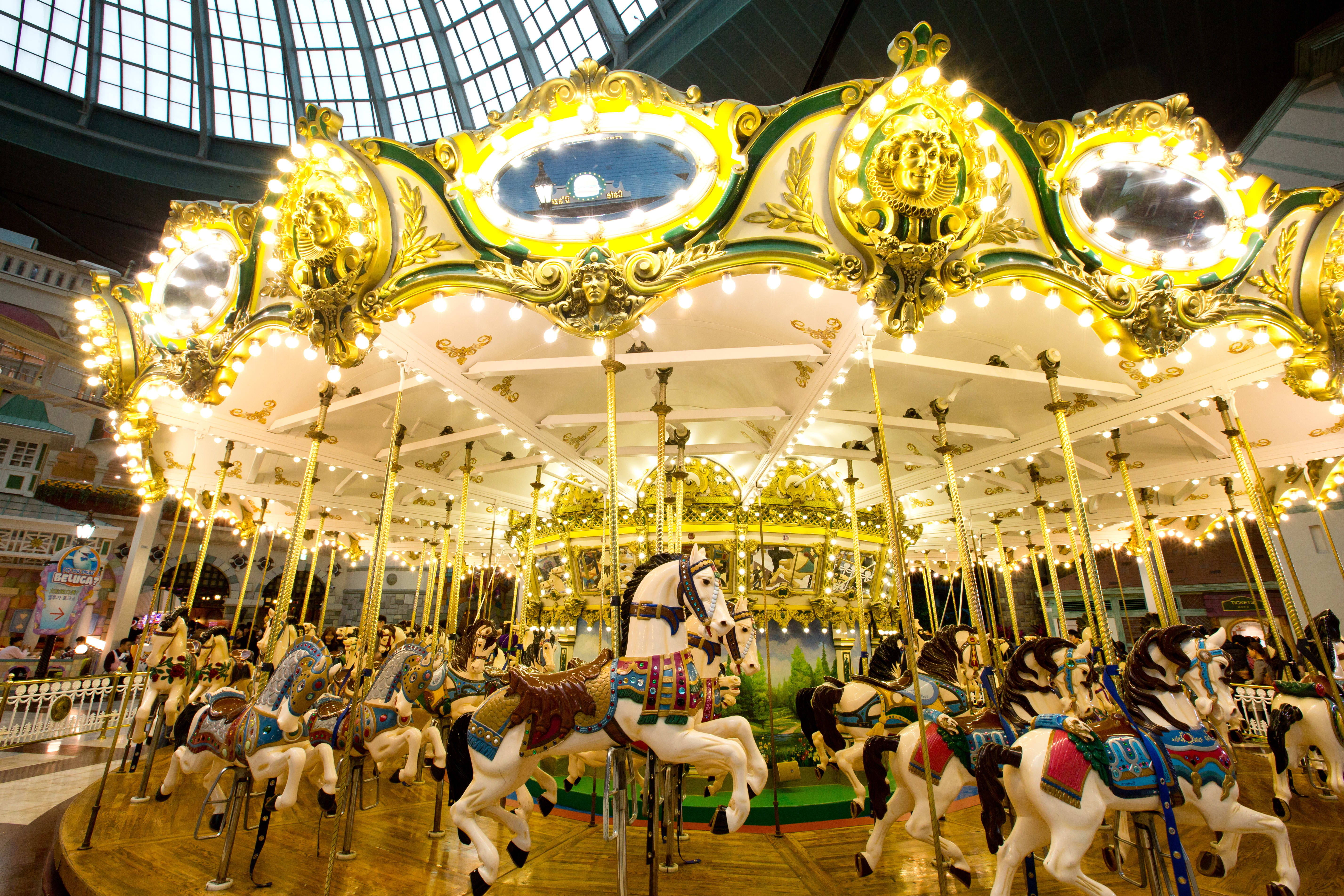 If you are doomed to spend your day in the pouring rain, fret not! Lotte World is the next best alternative for all adrenaline-pumping souls or families heading out for some quality time. You can opt for the Giant Loop as you spin 360 degrees in the air or get your Instagram shot at the golden Camelot Carousell. Waste no time and head for your anticipated rides with our Lotte World Hacks Guide!
Address: 240, Olympic-ro, Songpa-gu, Seoul
Opening Hours: 9.30am to 10pm from Monday to Thursday; 9.30am to 10pm from Friday to Sunday (last admission: 30 minutes before park closes)
3. Nami Island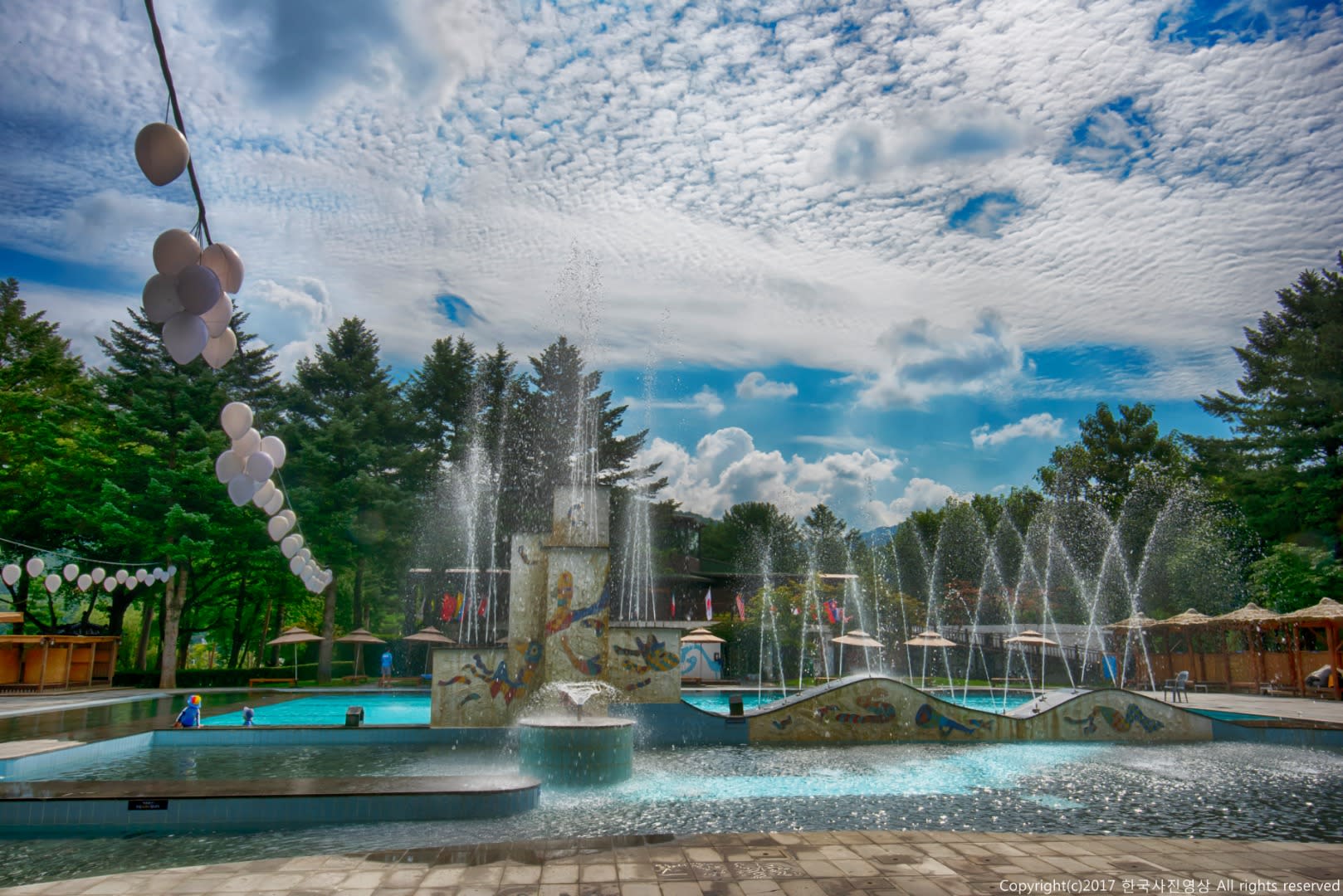 The first Hallyu wave surely started from Nami Island when Winter Sonata hits global television! You can even take a nostalgic trip back in time as you catch Auntie killer Bae Yong Joon and Princess Choi Ji Woo locked in an embrace. A perfect backdrop to up your aesthetic games for the 'gram, capture the sheer beauty of the Garden of Morning Calm before you call it a day! With 26 themes to explore, Nami Island is definitely not enough for a day's visit.
Remember to Klook your Nami Island ticket inclusive of a round trip ticket for the best price guaranteed!
Looking for more budget tips in Seoul? Look no more! We have curated a 4D3N budget guide in South Korea just for you!
It's Seoul-satisfying to enjoy massive savings on your trip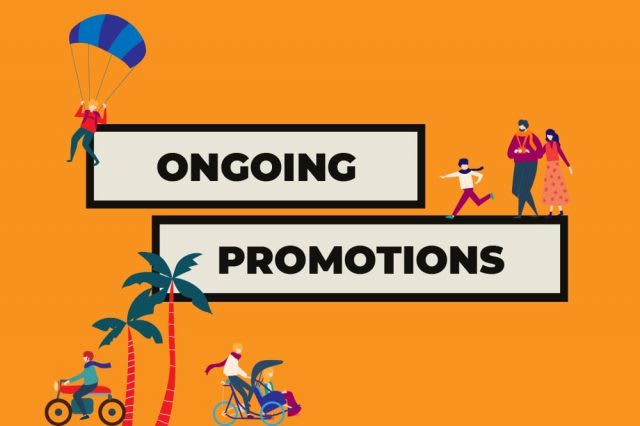 Save BIG when you use our ongoing promotions! This gives you more budget to spend on your shopping sprees food cart runs in Seoul! Check out our ongoing promotions page now!