The best way to explore Bangkok
Mention 'Bangkok' to anyone and you'll most likely receive 3 unanimous replies; cheap food, shopping paradise and TRAFFIC JAMS! The heart-palpitating narrative would go like this: triple-checking if the taxi driver knows the route to your destination, eyes glued on the meter and voluntarily trapping yourself in the backseat for a supposed 15-minute drive but now an hour instead.
Lucky for you, we've sorted out Bangkok's top attractions and some delicious food picks by BTS station for easy access. Read on to find out how to skip the traffic jams!
Your BTS Skytrain essential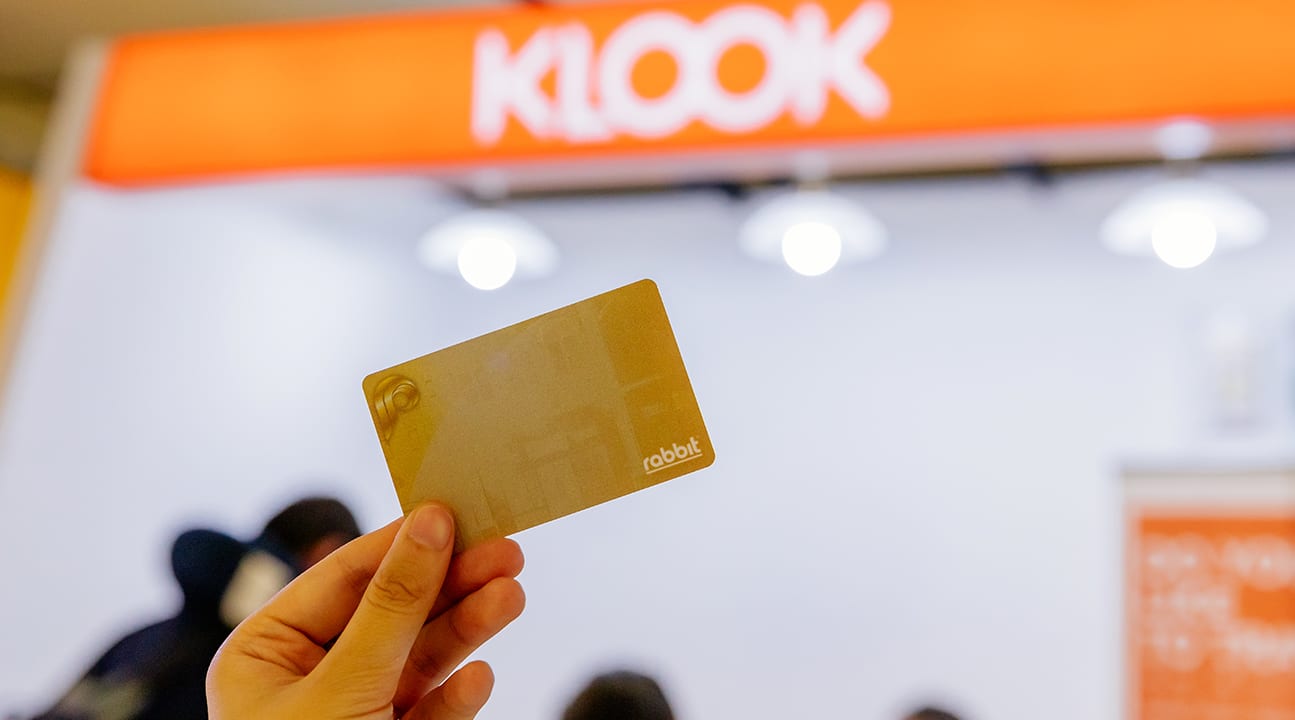 Sure, travelling in a 5-seater vehicle is the fastest and most convenient, but it's not as simple as it seems. Did you know that Thai taxi drivers don't like going by meters, Grab prices are always on the surge due to congested roads, and certain roads and highways are off-limits to motorcycles?
Thankfully, the Bangkok public transport system is cheap and efficient! You'll need either a BTS Skytrain Rabbit Card or a (BTS) One Day Pass to save yourselves the hassle from queuing for single trip tickets and fumbling for change at the machines. Pre-book yours on Klook and pick it up immediately upon landing at the airport. Pair yours with the Bangkok Airport Rail Link ticket for a fuss-free journey upon landing.
To fully understand the perks of the BTS Skytrain Rabbit Card, here is all you need to know before uncovering Bangkok's most coveted spots along some of the popular BTS stations!
Siam BTS Station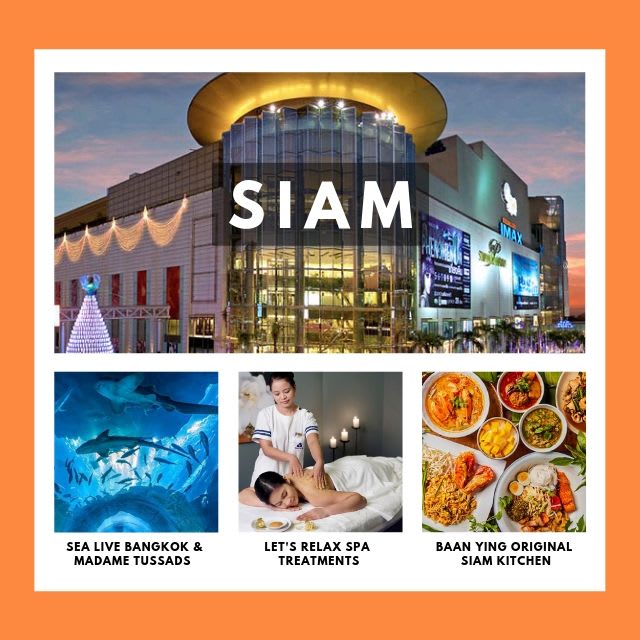 1. Dive into SEA Life Bangkok for a soaking adventure!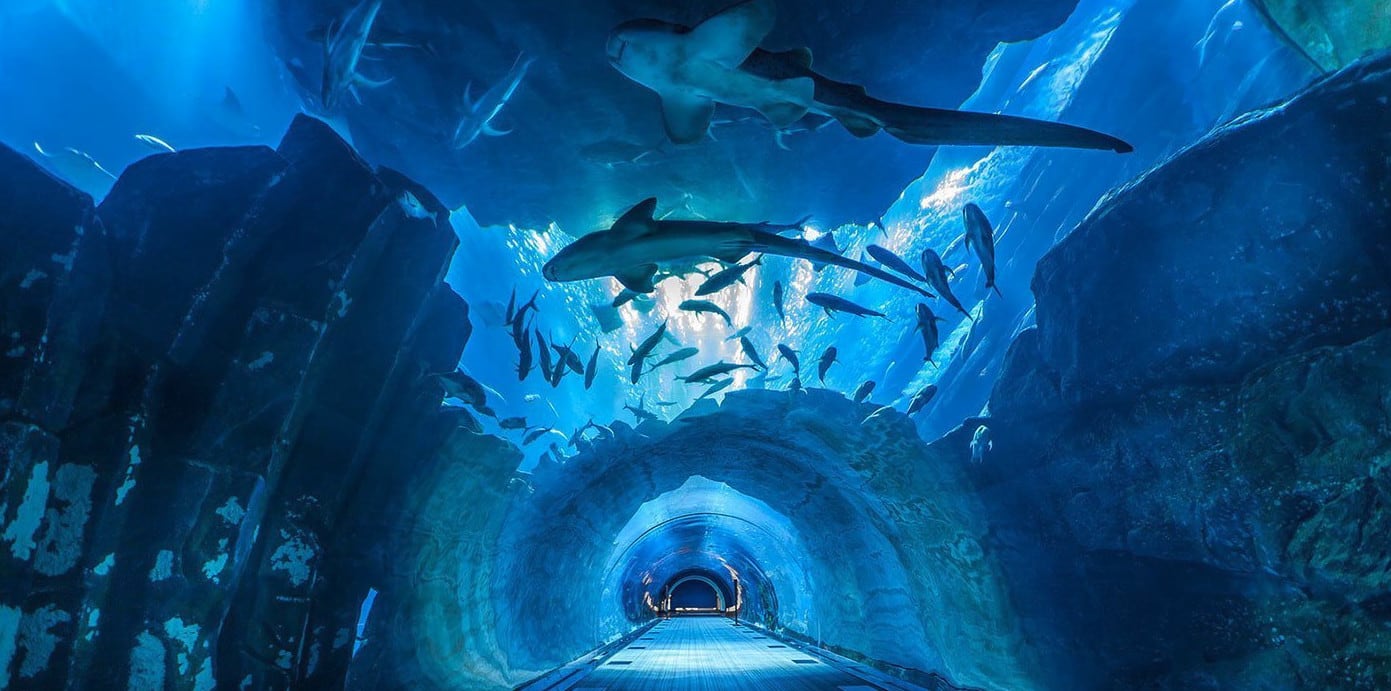 Away from Bangkok's sweltering heat, the SEA Life Bangkok Ocean World is the coolest (literally) alternative. Try your hand at feeding Jackass penguins and live the life of Aquaman as you dive deep into the aquatic world at the 4D cinema and swim with menacing-looking sharks (P.S. Just kidding! It's totally safe!).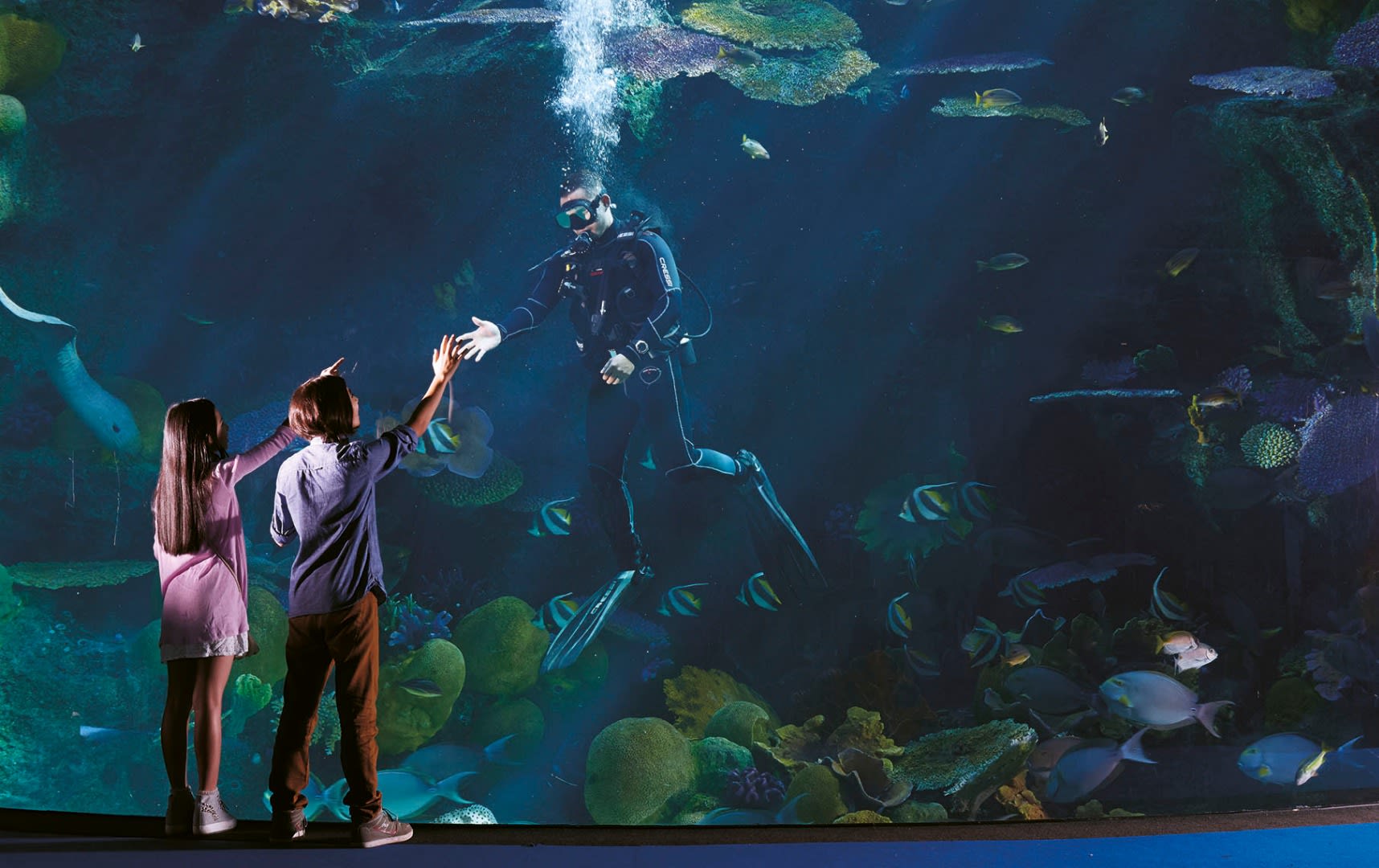 Skip the ticketing queue and head to Klook's private booth to enjoy immediate verification of e-vouchers. What's even better? With this combo package including entry to Madame Tussauds, snag more discounts rather than spending on 2 separate tickets!
For more wet weather alternatives or cooler options, beat Bangkok's heatwave with these 11 indoor activities.
Address: B1-B2 Floor, Siam Paragon, 991 Rama 1 Road, Pathumwan, Bangkok 10330 Thailand
Opening Hours: 10am to 9pm
Directions: Head to Exit 5 from the BTS Siam Station to Siam Paragon
2. Up your selfie games at Madame Tussauds Bangkok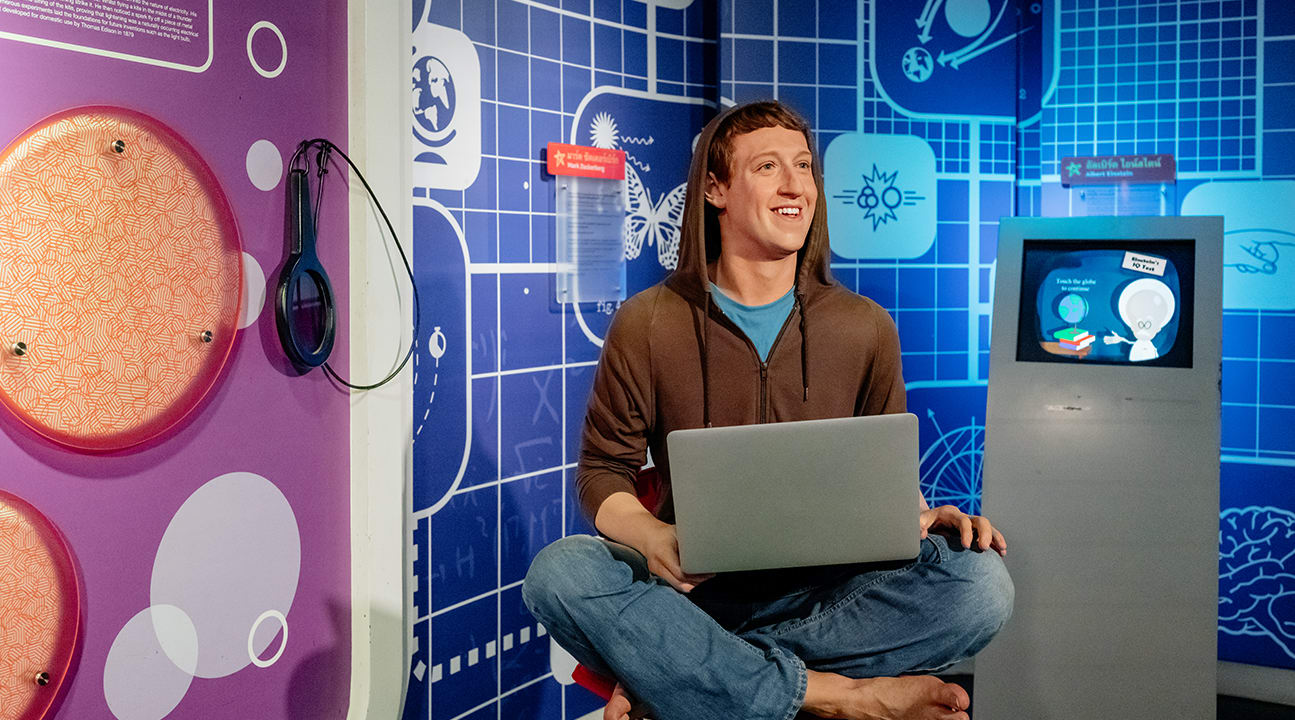 If you thought this was just another overrated tourist attraction of fake wax dolls, you thought wrong. Madame Tussauds will scare you with its seemingly real-life replicas or have you bursting into fits of laughter at the realness of it all. With more than 8 different categories of celebrities and artists, there is not a boring moment at Madame Tussauds. Make sure to prepare your selfie game because this one is for the 'gram.
Important: Make sure to redeem your combo ticket at the Ocean World's Information Counter (B1) before heading to Madame Tussauds!
Address: Madame Tussauds, Siam Discovery, 6th Floor, 989 Rama 1 Road, Pathumwan, Bangkok 10330
Opening Hours: 10am to 9pm
Directions: Head to Exit 5 from the BTS Siam Station to Siam Paragon
3. Indulge in a Spa treatment!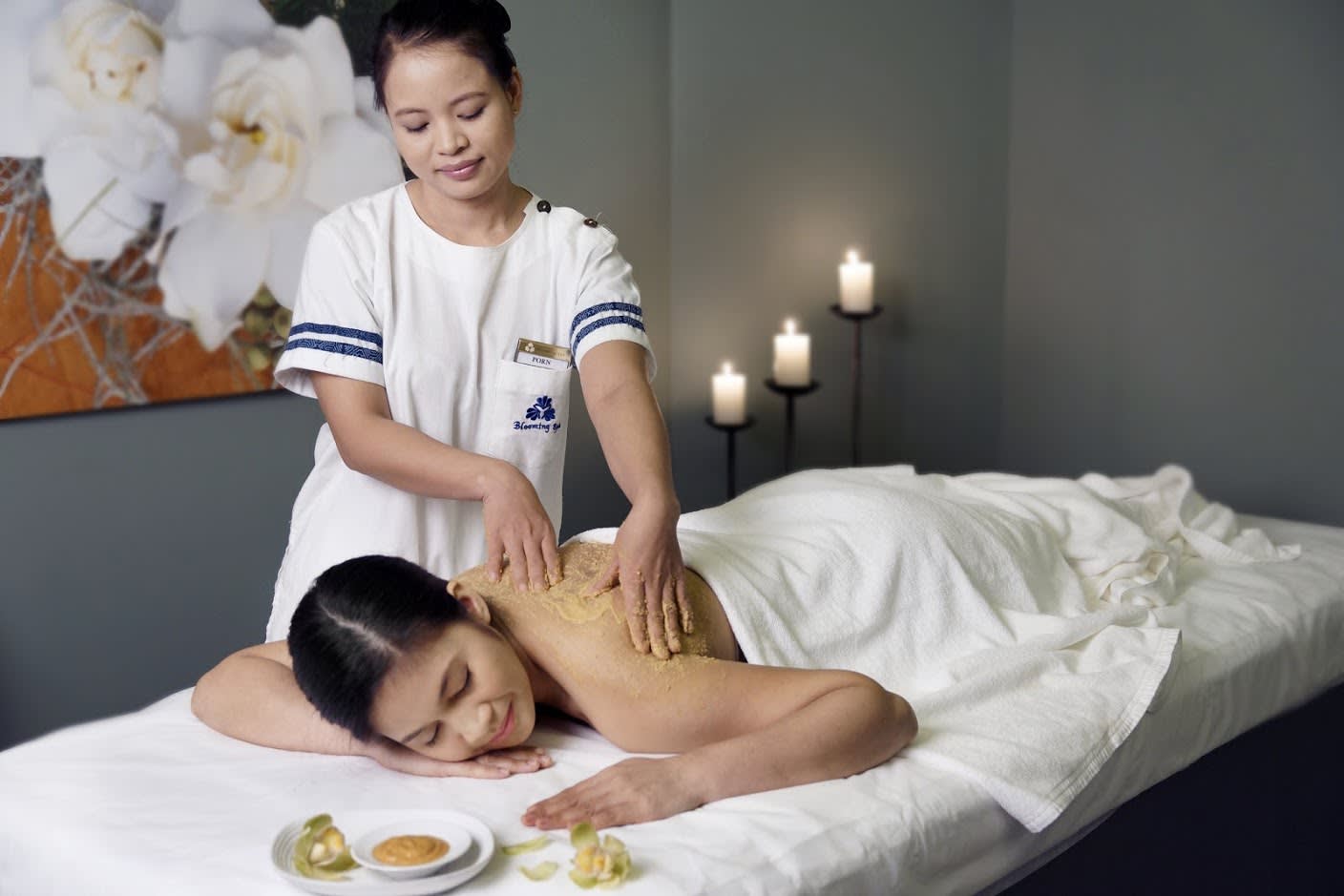 After working off the calories, end your day with a relaxing spa treatment at Siam Square 1! Soothe your aching muscles or simply rejuvenate with a relaxing massage. Sounds exotic and expensive? Put your worries aside because there isn't a need to strain your wallet with this popular discounted package at Bangkok's top spa treatment. Make sure to call to reserve a slot at the outlet of your choice.
Address: 6th Floor (Summer Zone) of Siam Square One, 388 Siam Square 1 Bld., Room SS6032. Phraram 1 Rd., Pathumwan, Bangkok 10330
Opening Hours: 10am to 12am
Directions: Head to Exit 4 from the BTS Siam Station
4. Authentic Thai cuisine at Baan Ying Original Siam Kitchen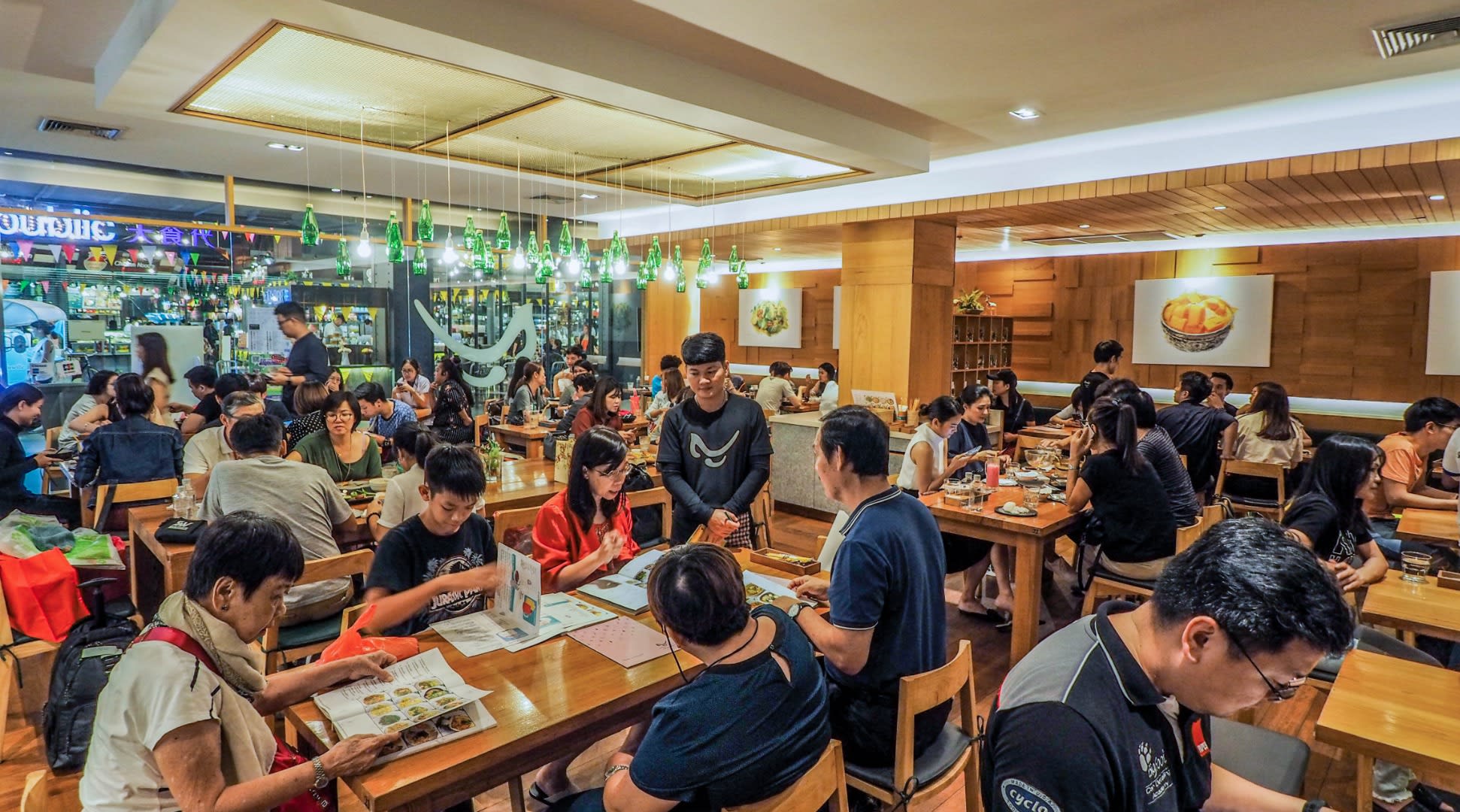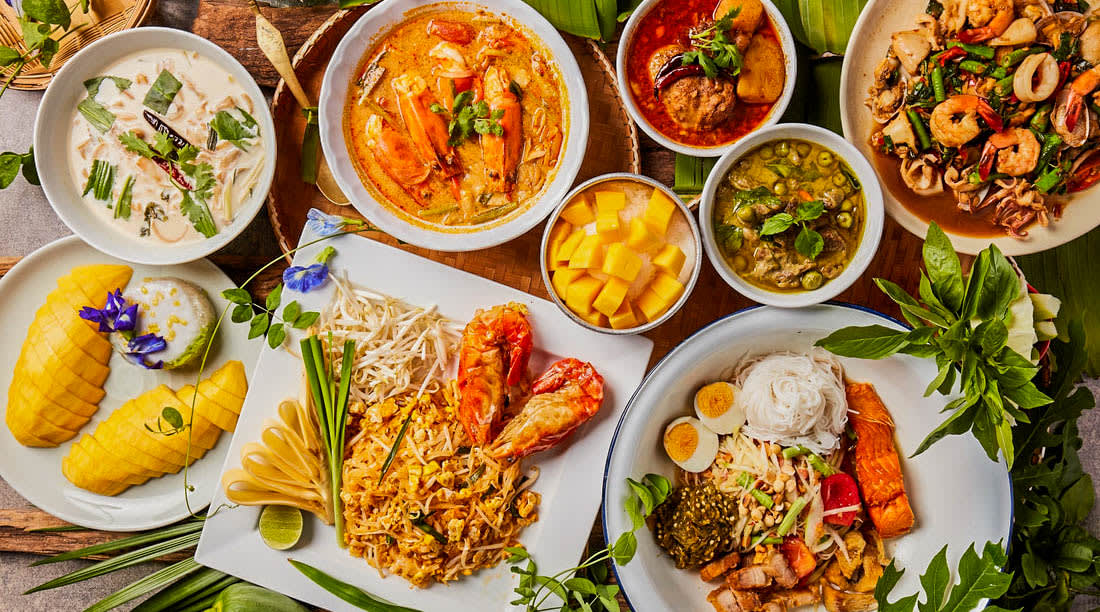 Baan Ying Original Siam Kitchen started as a humble stall with only 9 tables in Siam Square area. Today, the Thai local eatery is now a household name and the locals' favourite for its authentic home-cooked taste. Opt for their tender-licious Omelette rice or their Deep Fried Sea Bass with Herbs. Fried into a crispy golden brown, the Mango Sticky Rice is a perfect switch for a sweet dessert with a refreshing finish at a Thai dining experience!
Make sure to Klook a 10% discount voucher or a complimentary dish of Baan Ying's Fried Chicken Wing with Fish Sauce as well. You're welcome!
Check out more of Klook's Best Food Deals at Siam for more tantalising options!
Address: 4th Floor, Siam Center Shopping Mall, Pathumwan, Bangkok, Thailand 10330 Opening hours: 10am to 10pm daily (last order is at 9.30pm)
Directions: Head to Exit 1 at Siam BTS Station
Chong Nonsi BTS Station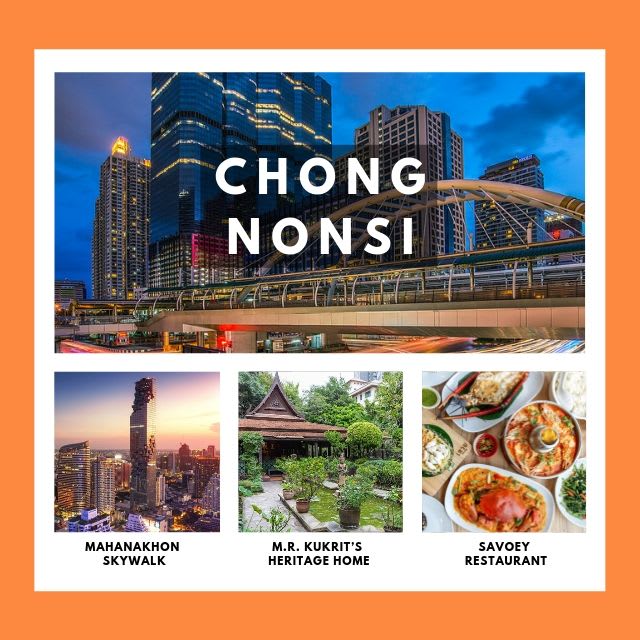 1. Stand on top of the world at Mahanakhon SkyWalk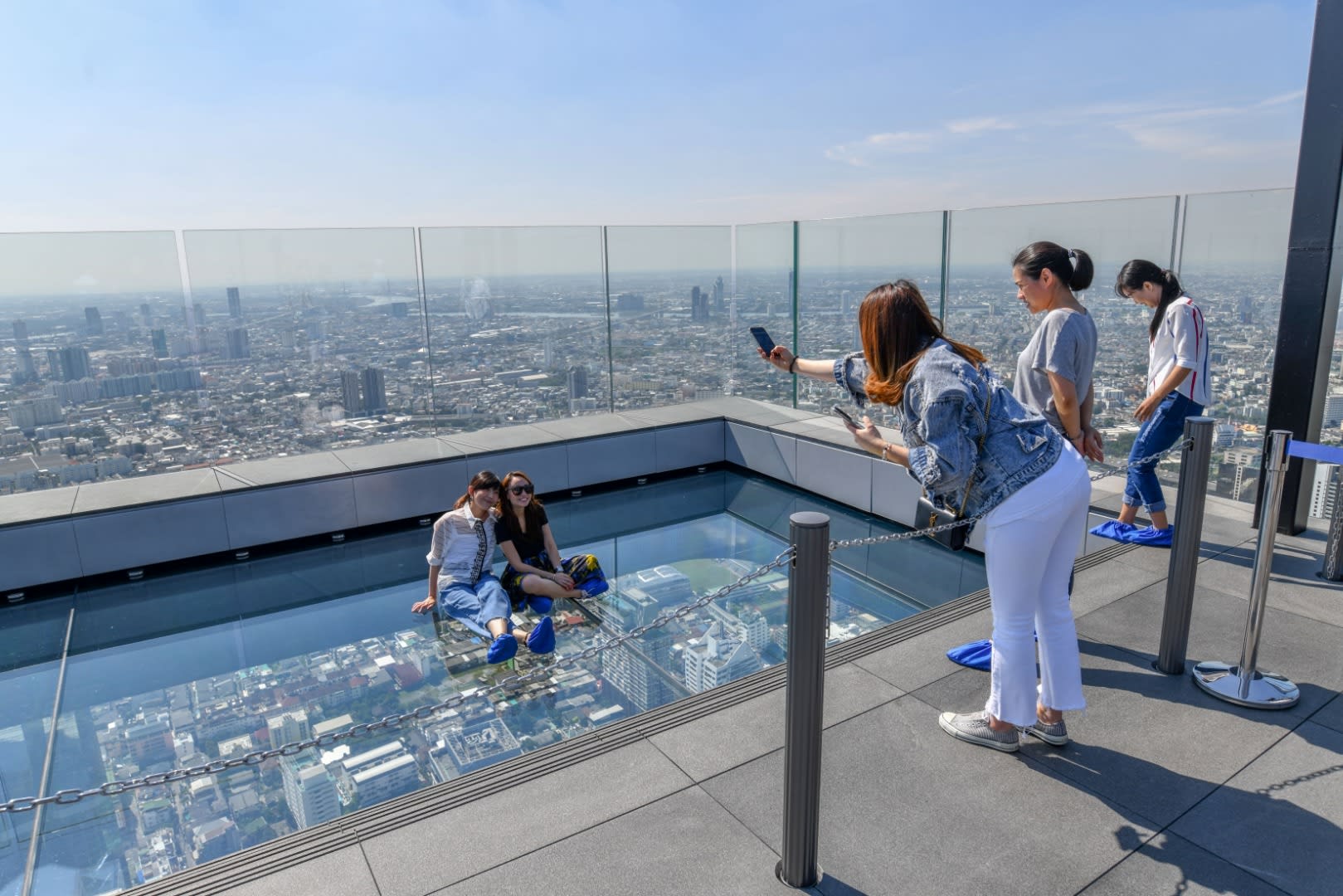 Your palms will sweat and your legs may tremble. At 310 meters high, the Mahanakhon Skywalk is a truth or dare challenge; admit defeat or plummet to death when you step onto the Rooftop Bar. However, once you realised you're still impossibly safe and alive, snap some pictures to commemorate your near-death experience. After all, YOLO.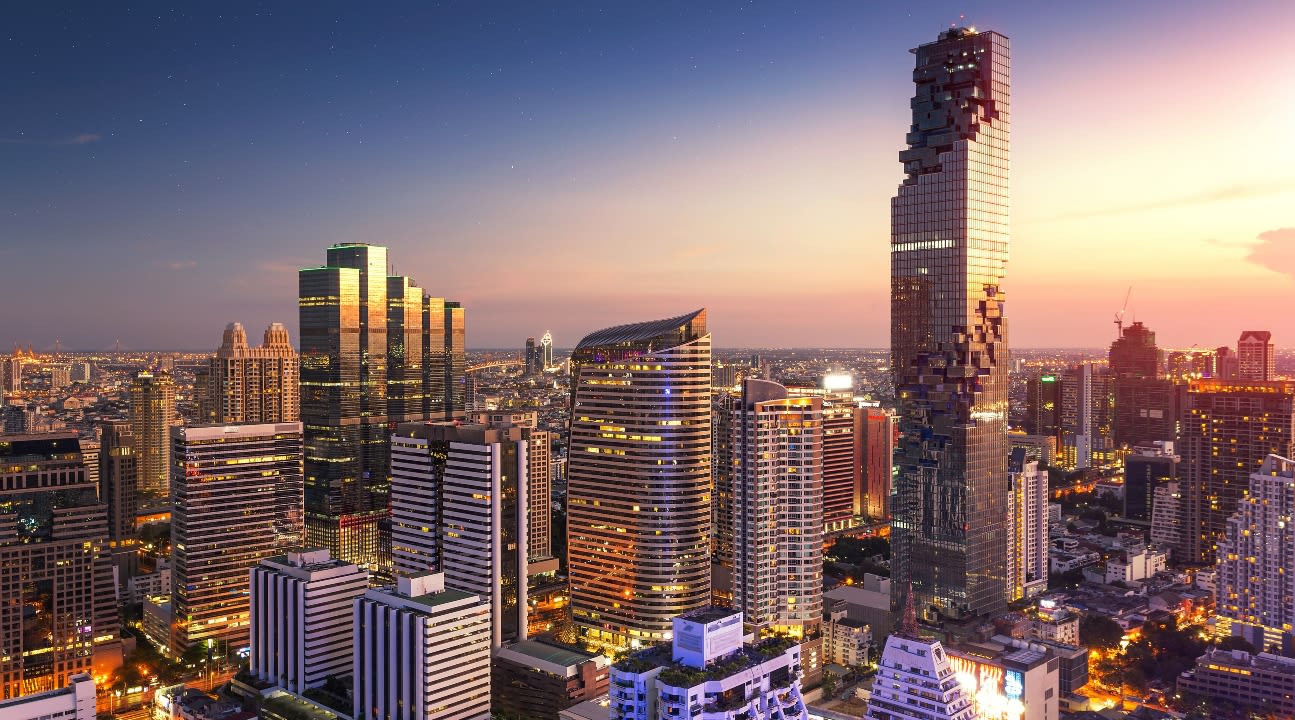 Reward yourself with the view at "The Peak" (level 3). Boasting Thailand's impressive landscape of towering skyscrapers and golden city lights, the panoramic view will take your breath away. Since it is crowded with tourists during the day, escape the queue and the unforgiving heat by booking your admission ticket at Klook. For a limited time only, save up to 34% off original ticket price with instant booking confirmation!
#Klooktip: Visit the King Power Mahanakhon Skywalk during the evening for a glorious sunset view!
Address: King Power MahaNakhon Tower, 114 Narathiwas Road, Silom, Bangrak, Bangkok
Opening Hours: 10am to 12am, last admission: 11pm
2. Peer into a former Prime Minister's residence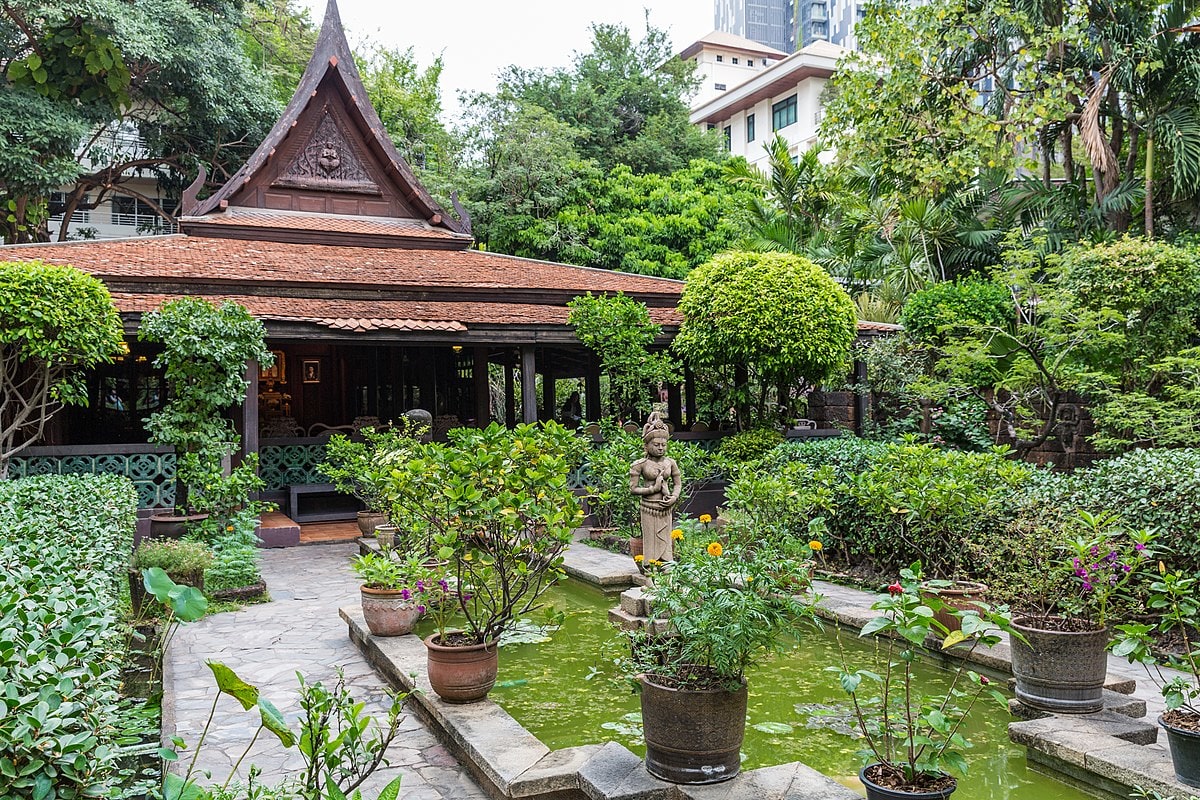 It's not every day that you get an opportunity to roam around the residence of Thailand's VIPs. Step into the home of an important leader, Mr Kukrit, where the museum was recognised by the Department of Fine Arts for its historical heritage.
Despite its name, M.R. Kukrit's Heritage Home gives off a homely vibe and is not your typical museum. Ready your cameras not just for the lush green background, but if you're lucky, stand a chance to meet Mr Kukri's son for a selfie!
Address: 19 Naradhiwas Rajanagarindra 7 Alley, Yan Nawa, Khet Sathon, Krung Thep Maha Nakhon 10120, Thailand
Opening hours: 10am to 4pm
3. Savoey Restaurant in Bangkok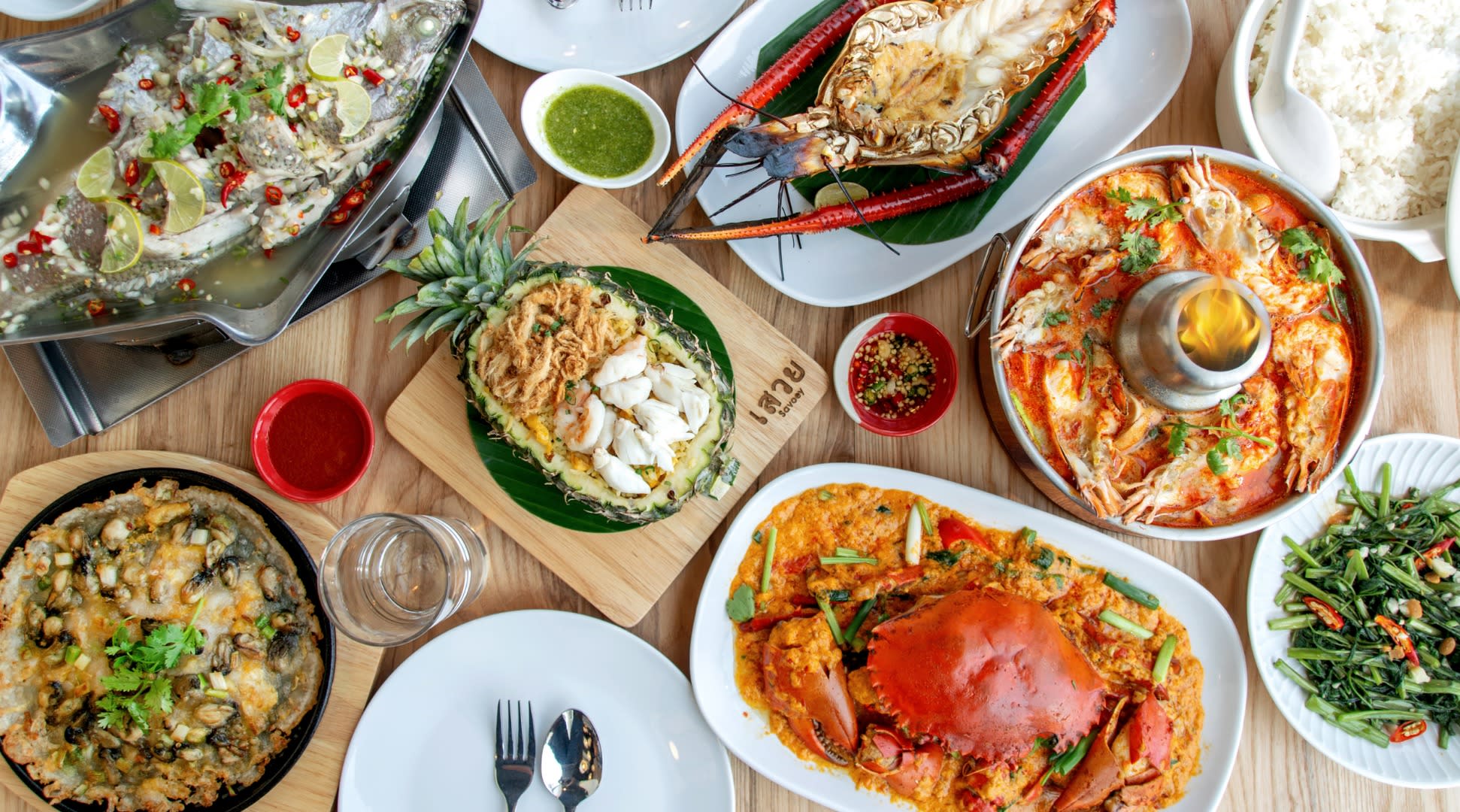 Right at the edge of a riverbed, feast on a variety of scrumptious seafood dishes such as their steamy Stir-fried Curry Crab and the Pineapple Fried Rice infused with a tangy-sweet flavour. Savour the Hot Nang Rom as the chilly fresh oysters slip down your throat. Can't get enough? Here's a 1000 baht ($44.87) cash voucher to sate your inner foodie spirit for all things seafood!
Address: Empire Tower, South Sathorn Rd. M2 Floor Tower, Sathorn, Krung Thep Maha Nakhon 10120
Opening hours: 11am to 10pm, Monday to Friday (last order is at 9.30pm); Closed on weekend and public holiday
Directions: Head to Exit 2 from the BTS Chong Nonsi Station and walk for 3 minutes to Empire Tower
Ari BTS Station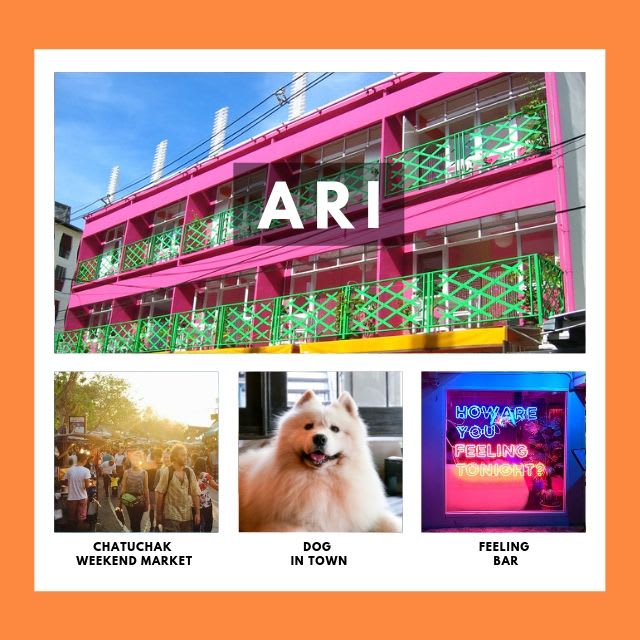 1. Shop till you drop at Chatuchak Weekend Market
You name it, Chatuchak has it. Whether you're looking for the oddest vintage ornaments for an added dosage of aesthetics or flattering streetwear fashion with rates comparable to Taobao, Chatuchak has everything you dream of. Get an energy refill with some local street food before round 2 of shopping!
Shop like a local with these tips for shopping in Chatuchak Weekend Market!
Address: Kamphaeng Phet Road | Lat Yao, Chatuchak, Bangkok 10900, Thailand
Opening Hours: 7am to 6pm from Monday to Thursday, 6pm to 12am on Friday; 9am to 6pm on weekends
2. Spend a fluffy afternoon at Dog in Town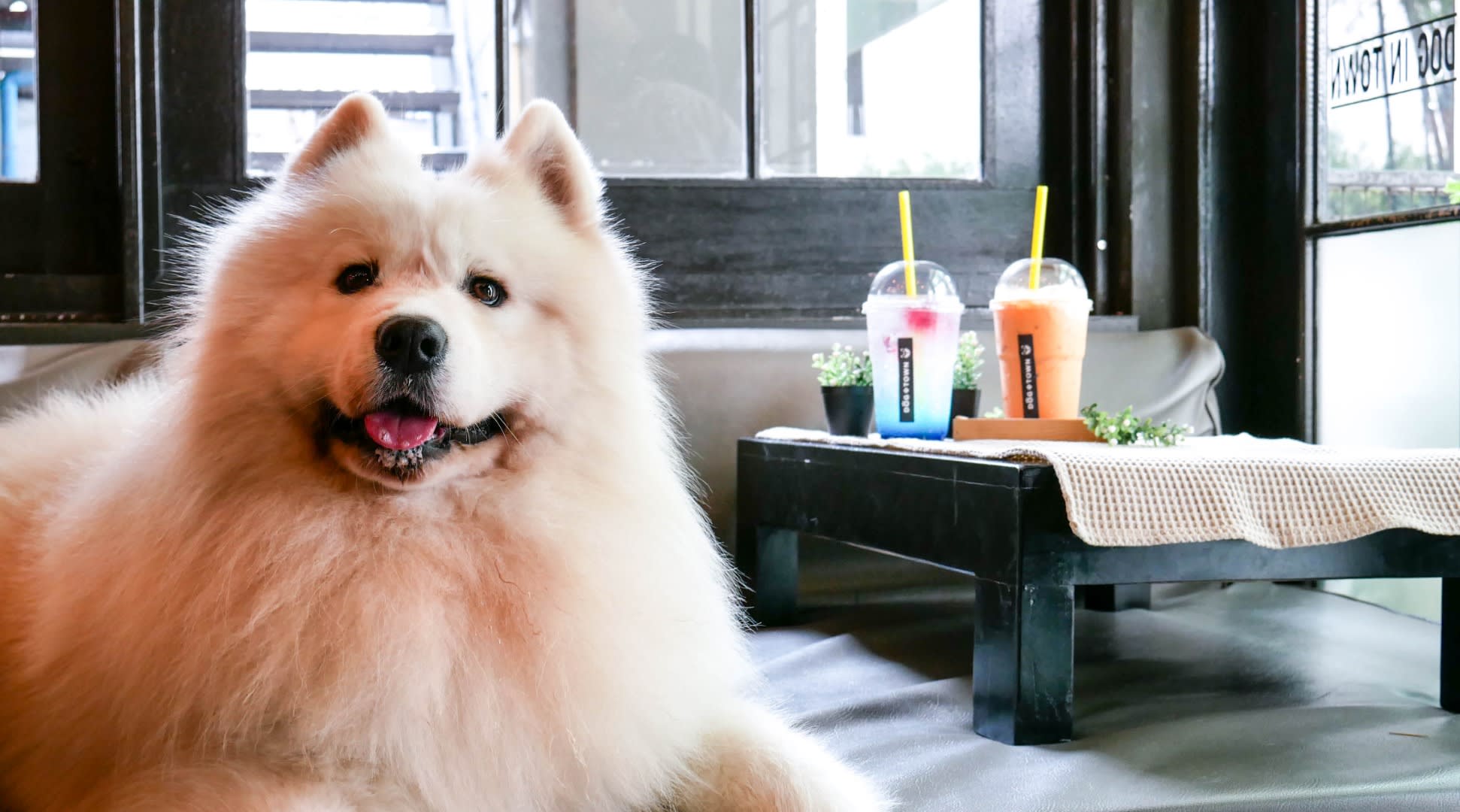 Who let the dogs out? Dog in Town sure did! Catch them during their water break as they roam about freely in green foliage just beside the cafe. Livening the cafe are 9 fluffy balls of happiness that are named after Bangkok's BTS stations. Make sure to clear your itinerary for a date with these canine cuties along with a discounted entrance fee and a free drink! Guard your heart because they are definitely heartbreakers.
Address: 11/2 Soi Ari 3, Phahonyothin Rd 7, Samsennai, Phaya Thai, Bangkok, 10110 Opening Hours: 11am to 8pm (last entry time: 7pm) from Sunday to Thursday:
11am to 9pm (last entry time: 8:00pm) on Friday and Saturday;
Closed on every third Tuesday of the month
Directions: Head to Exit 3 from the BTS Ari Station and walk for 10 minutes
3. How are you feeling at the Feeling Bar?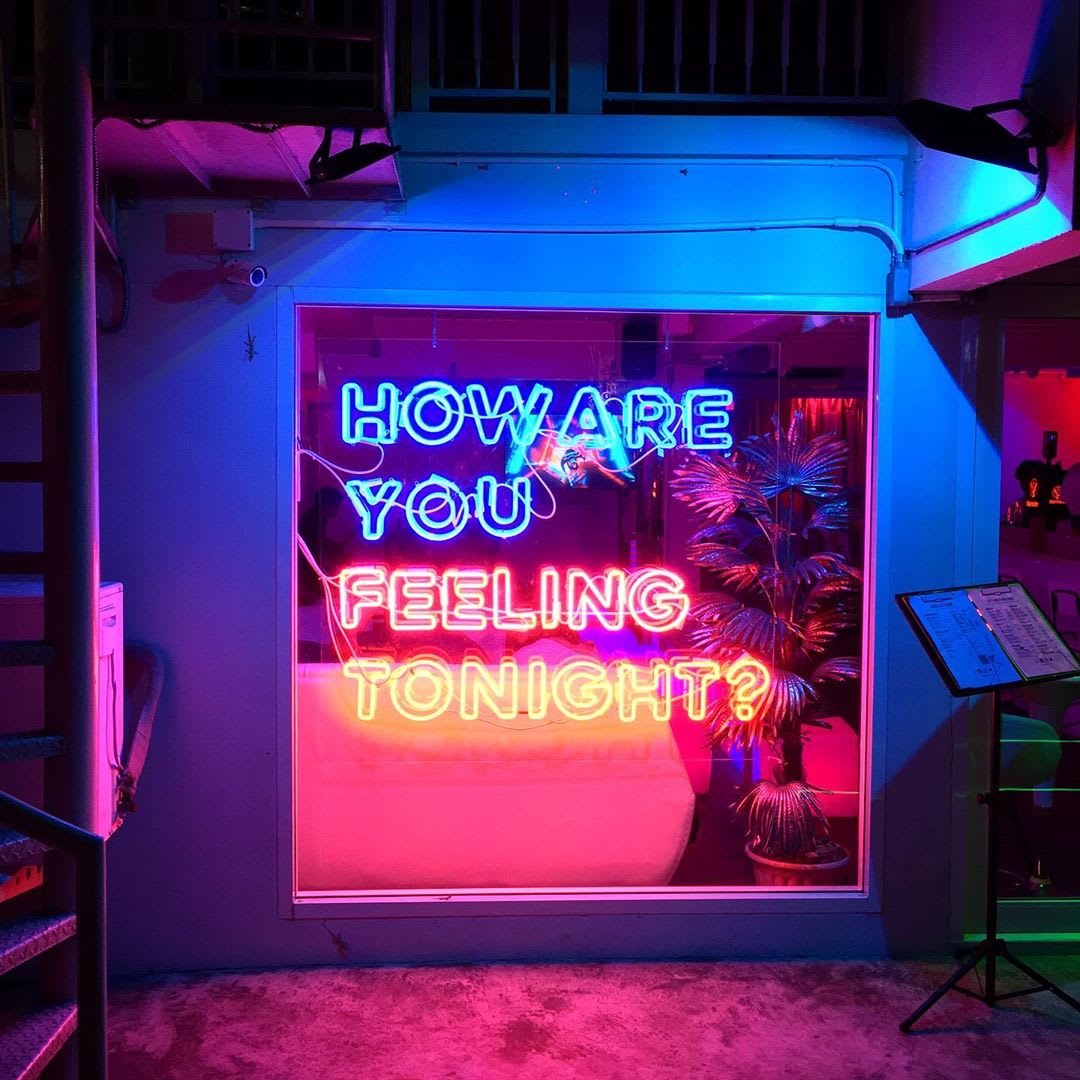 Photo credits: @thekrao44 on Instagram
Head to the Feeling Bar no matter how you're feeling that day. If you're exhausted, perk yourself up with their laidback soundtrack of all things pop on Tuesday and evergreen hit songs on Friday. Homesick? Head down for the nightlife on Thursday for some throwback tunes back in the 90s. At the end of the day, what matters ultimately is an update on Instagram of Ari's neon signboard!
If you're a party animal, or passionate about the nightlife, here are 10-night activities you should explore before you leave Bangkok!
Address: 18 Ari 4 Fang Nua Alley, Khwaeng Samsen Nai, Khet Phaya Thai, Krung Thep Maha Nakhon 10400, Thailand
Opening hours: 6pm to 1am (Closed on Sunday)
Victory Monument BTS Station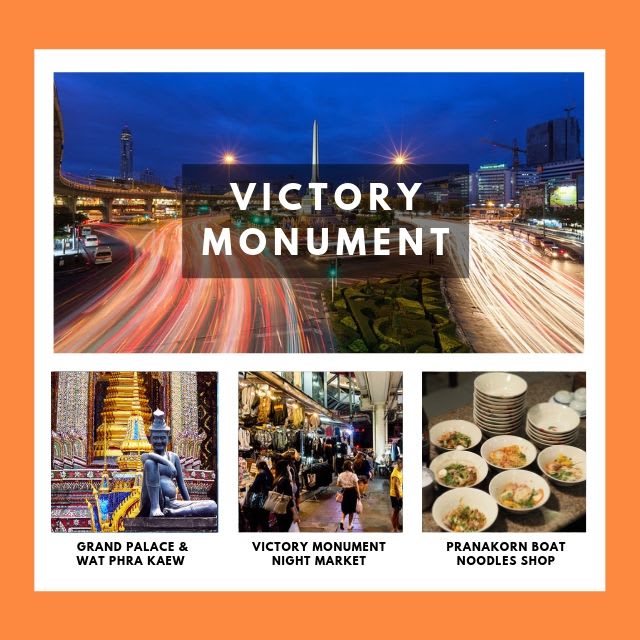 1. Bangkok Grand Palace and Wat Phra Kaew Morning Tour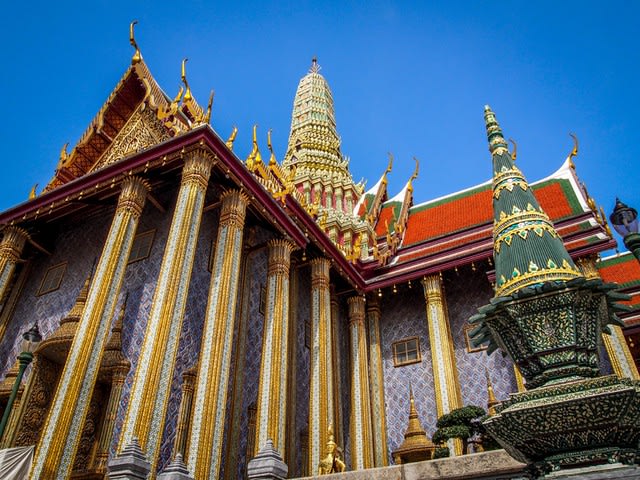 Photo credits: Maxim. B on Flickr
The Grand Palace is a must-visit for every traveller! Marked as the city's capital attraction, this majestic architecture has been a home for the Thai King and the rest of the ruling court for 150 years. Today, the golden palace embodies a spirit every Thai has for their rulers and their homeland; sheer reverence and respect.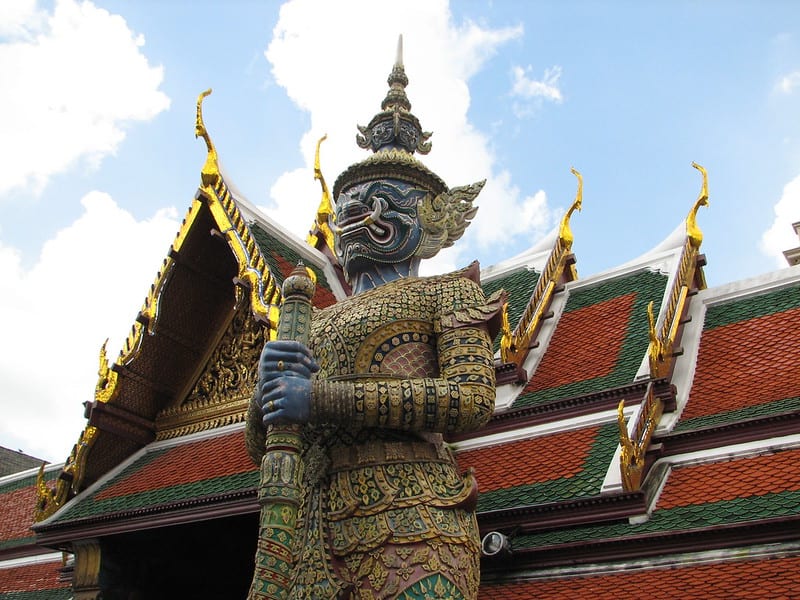 Photo credits: edwin.11 on Flickr
Capture the vibrancy of the Grand Palace from the outside as it is strictly forbidden to take pictures inside and in Wat Phra Kaew, also known as the Temple of the Emerald Buddha. The most sacred temple in Thailand, no one is allowed to touch the Emerald Buddha other than the king himself. Klook your admission and tour tickets at the lowest price (we guarantee!) and an in-depth friendly tour by a local tour guide.
Pick-up Time: Time: 9:30am
Pick-up point: Entrance of Century Mall, opposite King Power Bangkok Rangnam (Take the BTS to Victory Monument station, leave the station from Exit 2 and walk straight ahead for approximately 100m)
2. Snag your budget buys at Victory Monument Night Market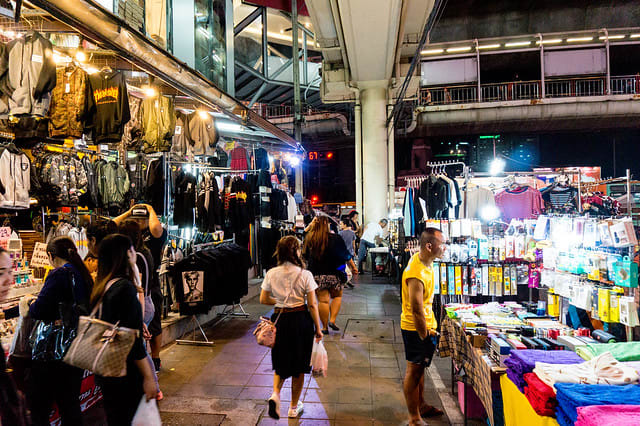 Photo credits: Dave Junia Lum at Flickr
Victory Monument Night Market is probably the smallest shopping space out of the rest of the shopping areas, but if it's frequented by university students, it'll be cheap and good. Whether you're looking for some basic tees or chic flare jeans, remember to unleash your bargaining skills and get your #shoppinghaul for less than 100 baht a piece!
Address: Take Exit 3 or Exit 4 at Victory Monument Station
Opening hours: 10am to 10pm daily
3. Try Bangkok's Best Boat Noodles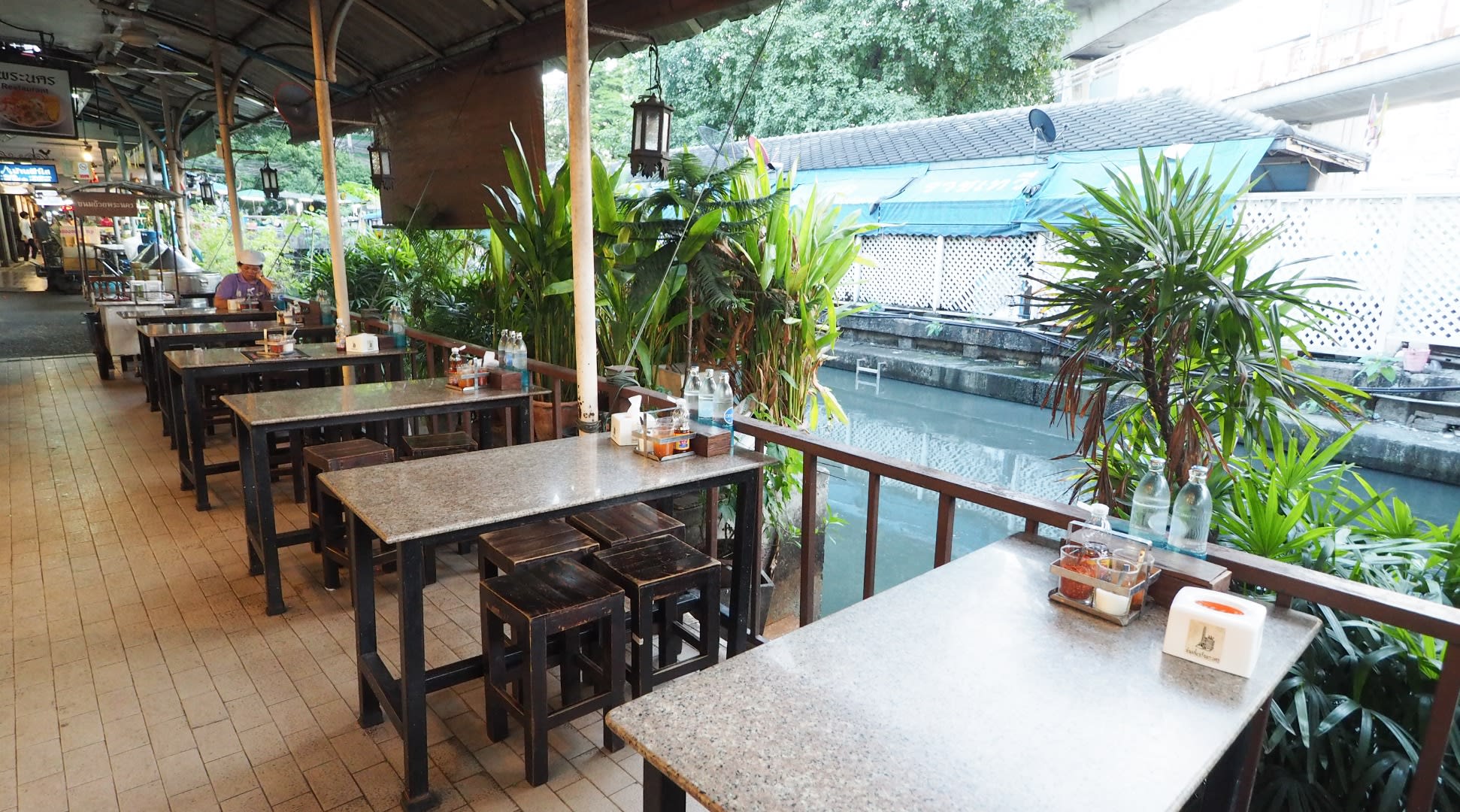 Right off the street, Pranakorn Boat Noodles Shop is arguably one of the most outstanding boat noodles shops thriving at Victory Monument. If this is your virgin try, satisfy your tummy with an assortment of Tom Yum and Pork Blood broth selections; spicy and sweat-worthy while the other is doused in a thick heavenly fragrance. Our recommendation is to pair it with their chewy rice noodles.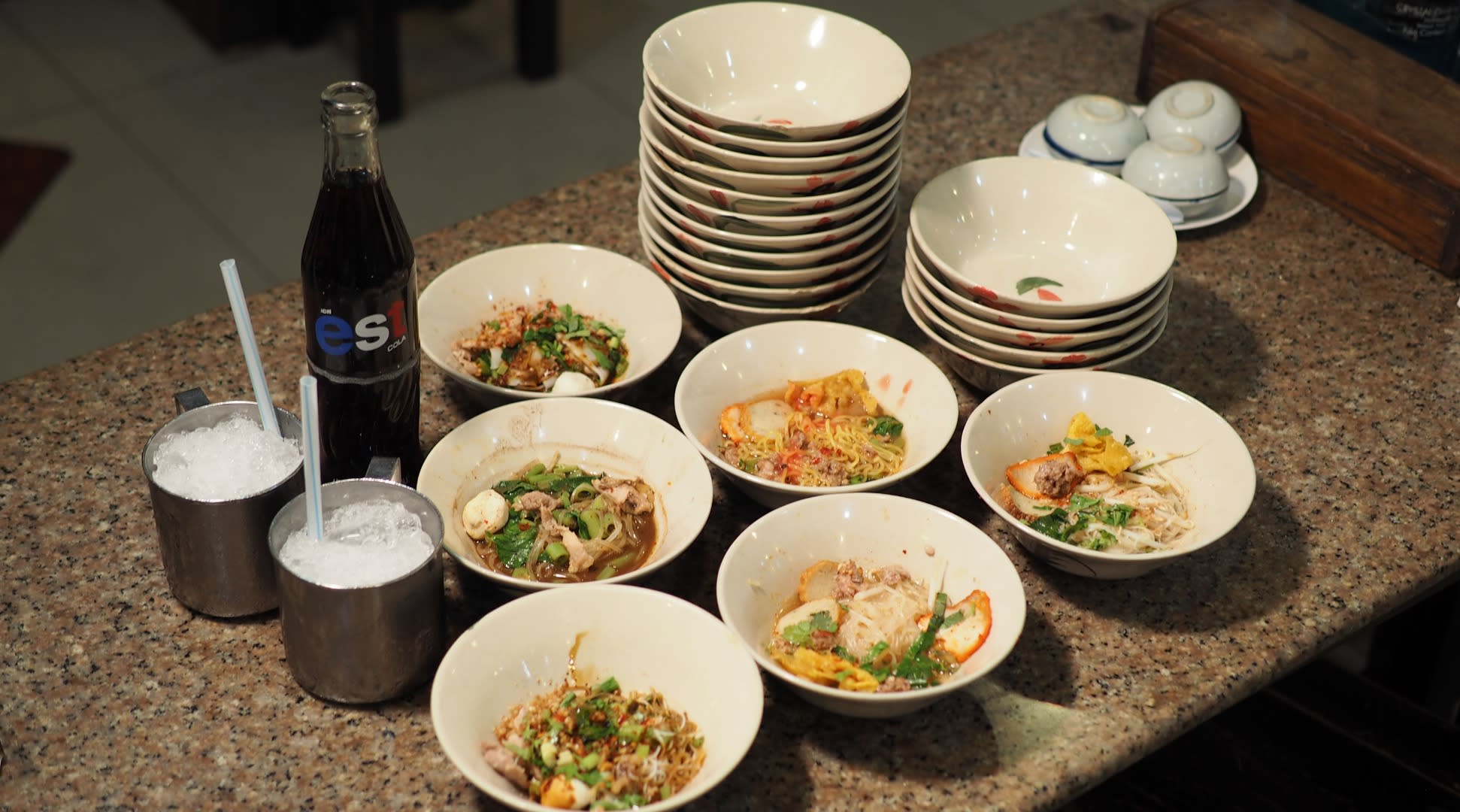 If you're wondering how on earth is this filling at all, you're meant to eat several bowls in one go! Just as you thought it couldn't get any cheaper, here's a set voucher inclusive of 10 bowls of boat noodles along with 1 bottle of est cola with ice! Now, that's what you called a value-for-money deal! Scouring for the next Bangkok food trail? You can't go wrong with this essential guide for all Thai foodies!
Address: Phahonyothin Rd, Khwaeng Samsen Nai, Khet Phaya Thai, Krung Thep Maha Nakhon 10400
Opening Hours: 8am to 9pm, daily (last order is at 8.30pm)
Directions: Head to Exit 2 from the BTS Victory Monument Station and walk for 5 minutes along the skywalk to the other side of the roundabout
On Nut BTS Station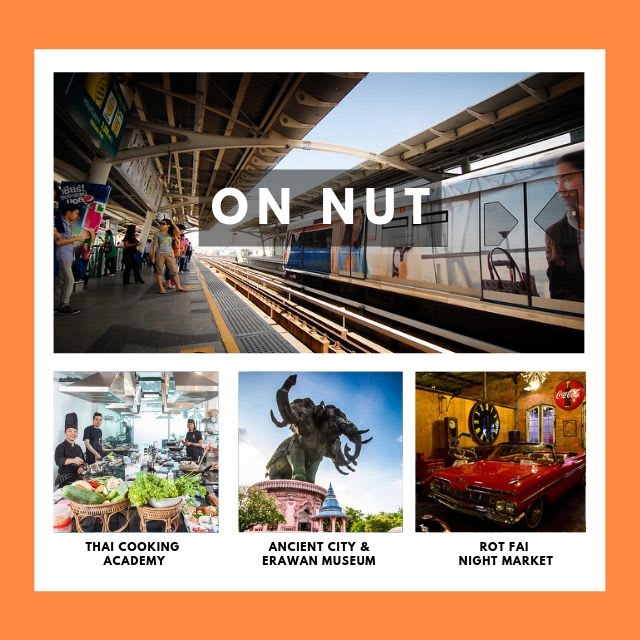 1. Learn the secrets behind famous Thai dishes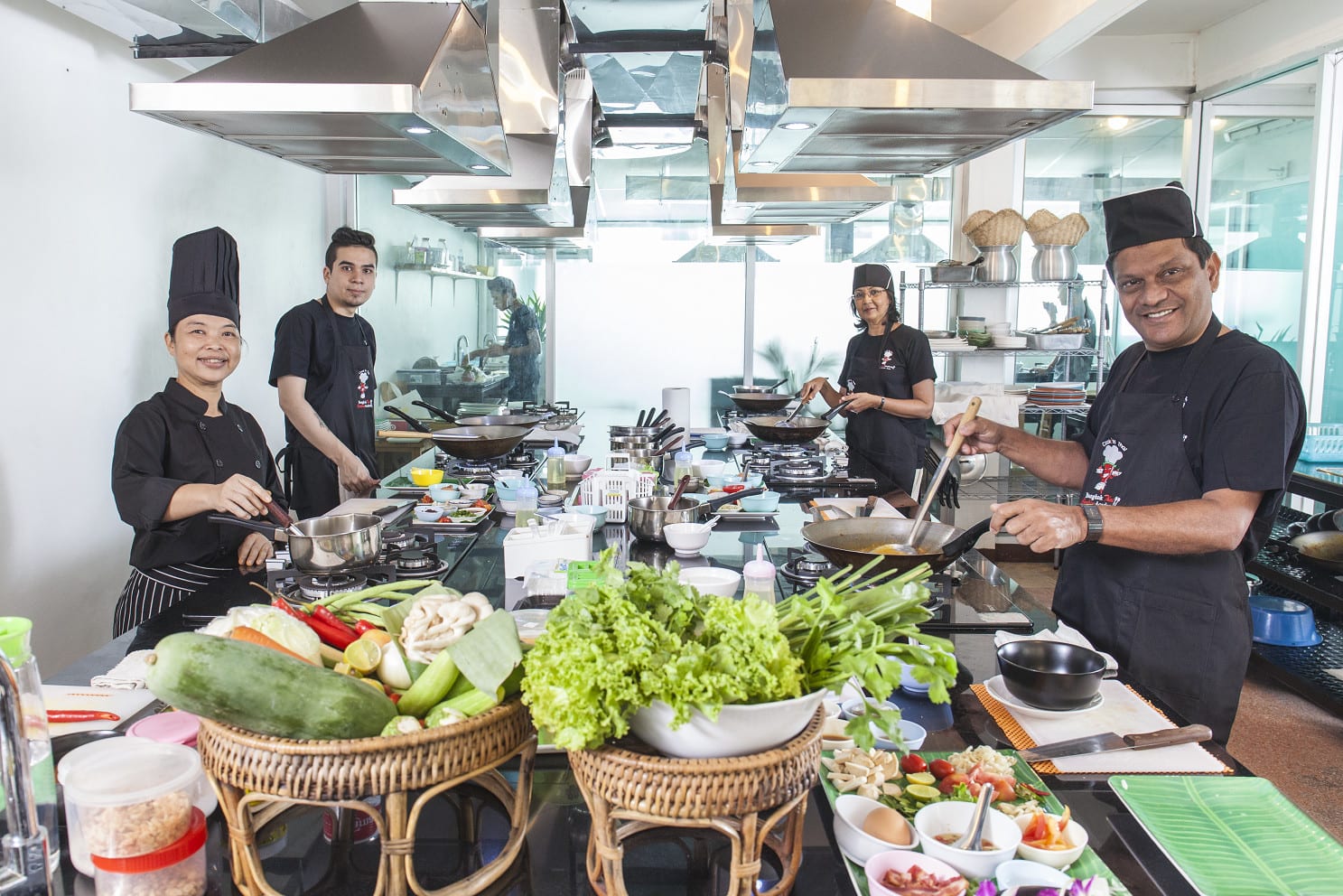 Calling all foodies and wannabe chefs! Now that you're in love with the taste of Thailand, why not learn how to make your favourite food from scratch? In an exclusive workshop which includes a trip to a fresh market, gather your hand-picked ingredients under the guidance of an instructor and choose your favourite local dish from 5 different catalogues including Chicken Satay, Pad Thai, Green Curry and many more! Who knows? You might become the next Masterchef!
Klook your Thai cooking experience with a fuss-free and complimentary pick-up service at Chong Nonsi Station!
Pick-up Time: 8.45am/1.15pm
Pick-up Point: Alight at On Nut station and meet at Exit 3 in front of Century Movie Plaza at street level
2. Travel in time to the ancient city and Erawan museum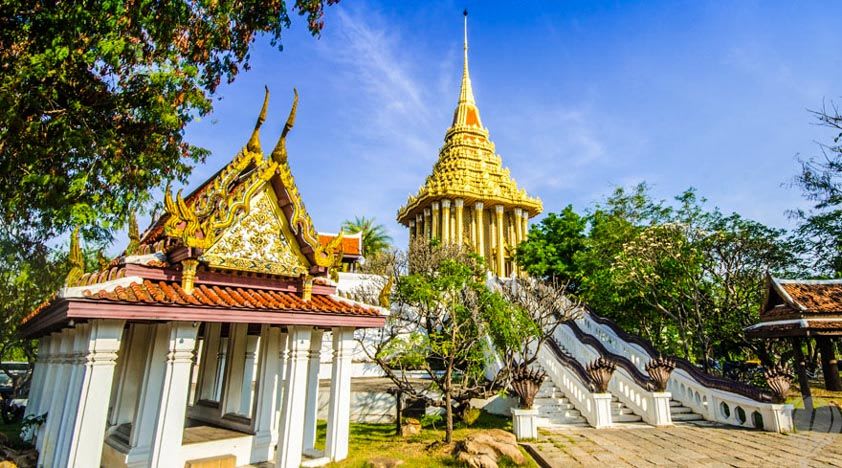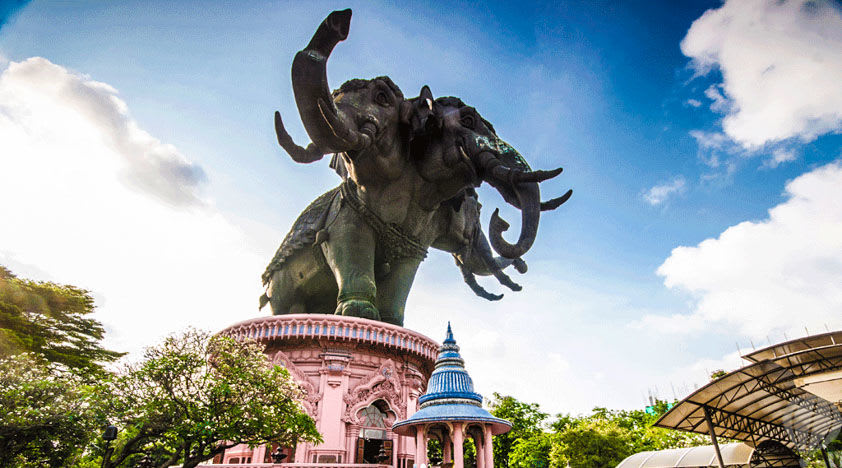 Head to the world's largest outdoor museum at Erawan Museum for a stunning display of elephant statues, especially the 3 headed elephant god situated just outside. If you have an eye for the arts and fine craftsmanship, the Ancient City is your jam. Ironically condemned as humanity's failure, this lush and beautiful garden has instead preserved Thailand's heritage for the arts and religion. Klook your tickets to Thailand's most sacred monuments for instant ticket redemption inclusive of a tram ride!
#Klooktip: It's nearly impossible to finish admiring all of Thai's archaic gem so do put aside the bulk of the day for this eye-boggling tour.
Address (Erawan Museum): 99/9 Moo 1 Bangmuangmai, Samut Prakan, Bangkok 10270, Thailand
Address (Ancient City): 296/1 Sukhumvit Road, Bangpoo, Samut Prakan 10280, Thailand
Opening Hours: 9am to 7pm
Directions: Alight at On Nut Station and take a taxi to the museum
3. Vintage galore at Rot Fai Night Market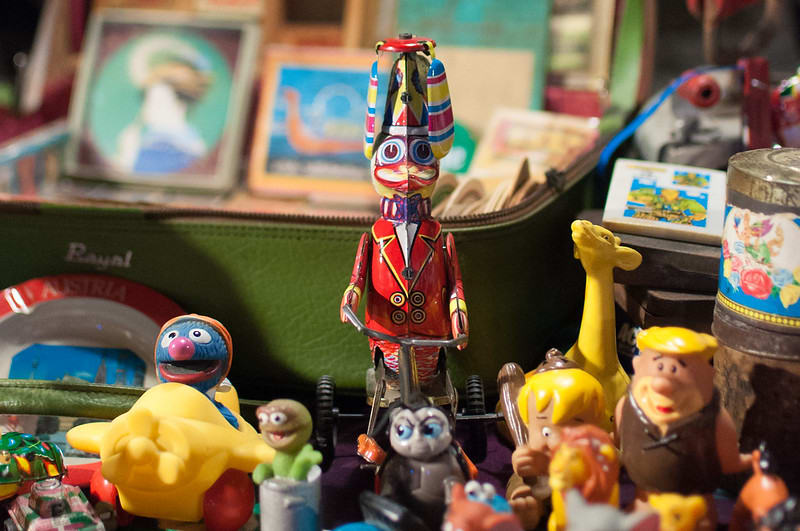 Did you know that "Rot Fai" in the Thai language means 'train'? This is exactly how Rot Fai Night Market came about! It was once situated at Chatuchak but due to the expansion of the BTS stations, it is now conveniently accessible from On Nut Station with a short cab ride. Similar to Chatuchak, you'll be able to shop to your heart's content and sweep off anything vintage and whacky off the streets!
Opening Hours: 5pm to midnight from Thursday to Sunday
Address: Srinakarin Road Soi 51, behind Seacon Square
Directions: Alight at On Nut station and take a taxi
Your Bangkok essentials
Before your trip to Bangkok, here are some essential items you'll need:
Pick up your SIM Card immediately upon landing at Siam Centre, BMK

or DMK Airport pick-up! Easy and convenient!

For fuss-free transportation, purchase a one-way ticket to Siam Centre

upon landing at BKK airport.

Airport Transfer at BKK airport

Got lots of luggage? With a sedan selection from 3 to 10 in a group,

avoid getting split from your squad or facing luggage space

constraints.