Bali's best beach clubs and bars
It's no secret that Bali is a sun-and-sea paradise. Besides stunning scuba diving spots, waterparks and South-East Asia's largest Starbucks, Bali is home to some of the region's best beach clubs and seaside bars!
After a day of activities, there's nothing better than to kick back and relax. The best part: these bars and beach clubs are great for both night and day. Sunbathe by the water, stay for the sunset, and party the night away.
Before you set off, here are some essentials for your Bali holiday:
| Bali Must-Have | Why You'll Need It: |
| --- | --- |
| | With ride-shares frowned upon on the island, a private transfer ensures that you get to your destination quickly and safely! Not to mention, you don't have to worry about getting ripped off! You can even enjoy the convenience of adding on admission tickets or table reservations upon checking out on Klook! |
| | If your priority is beach club-hopping, our Bali Beach Club Shuttle is just right for you! Get one-way or round-trip transfers to some of the most popular beach clubs in Canggu, Seminyak and Uluwatu. |
| | Stay connected on your Bali adventure with a 30-day Bali SIM card, which you can pick up with ease at Denpasar Airport. Plus, you can keep your friends posted on your Bali beach club adventures too. |
– Seminyak –
1. Mrs Sippy Beach Club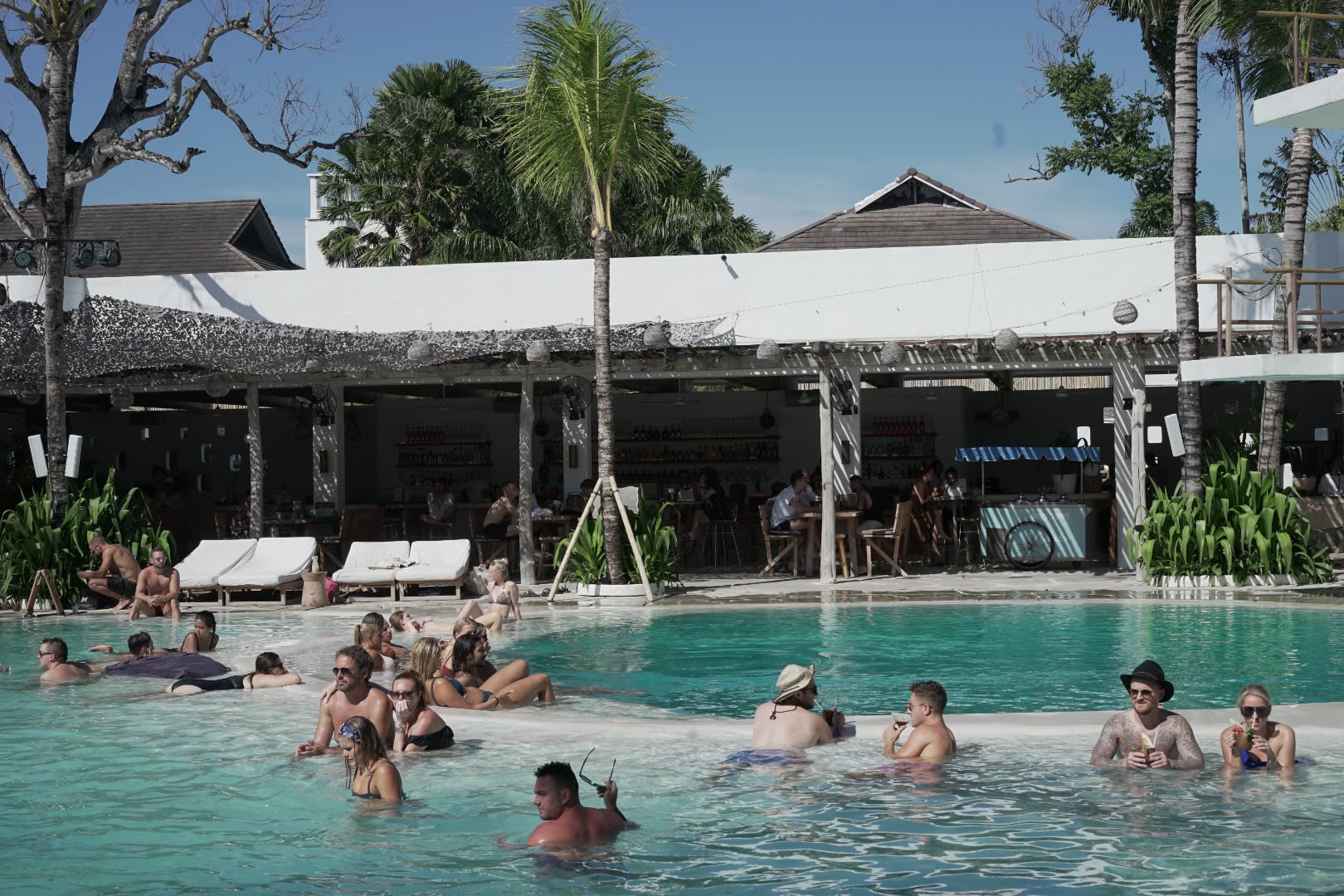 Home to the largest saltwater pool in Bali, Mrs Sippy Beach Club is an oasis for drinks, food, music and catching plenty of sunshine for that perfect tan. With multiple daybed options, a triple-tiered dive tower and poolside DJ gigs once the sun goes down, Mrs Sippy's got every aspect of the pool party experience down to a T.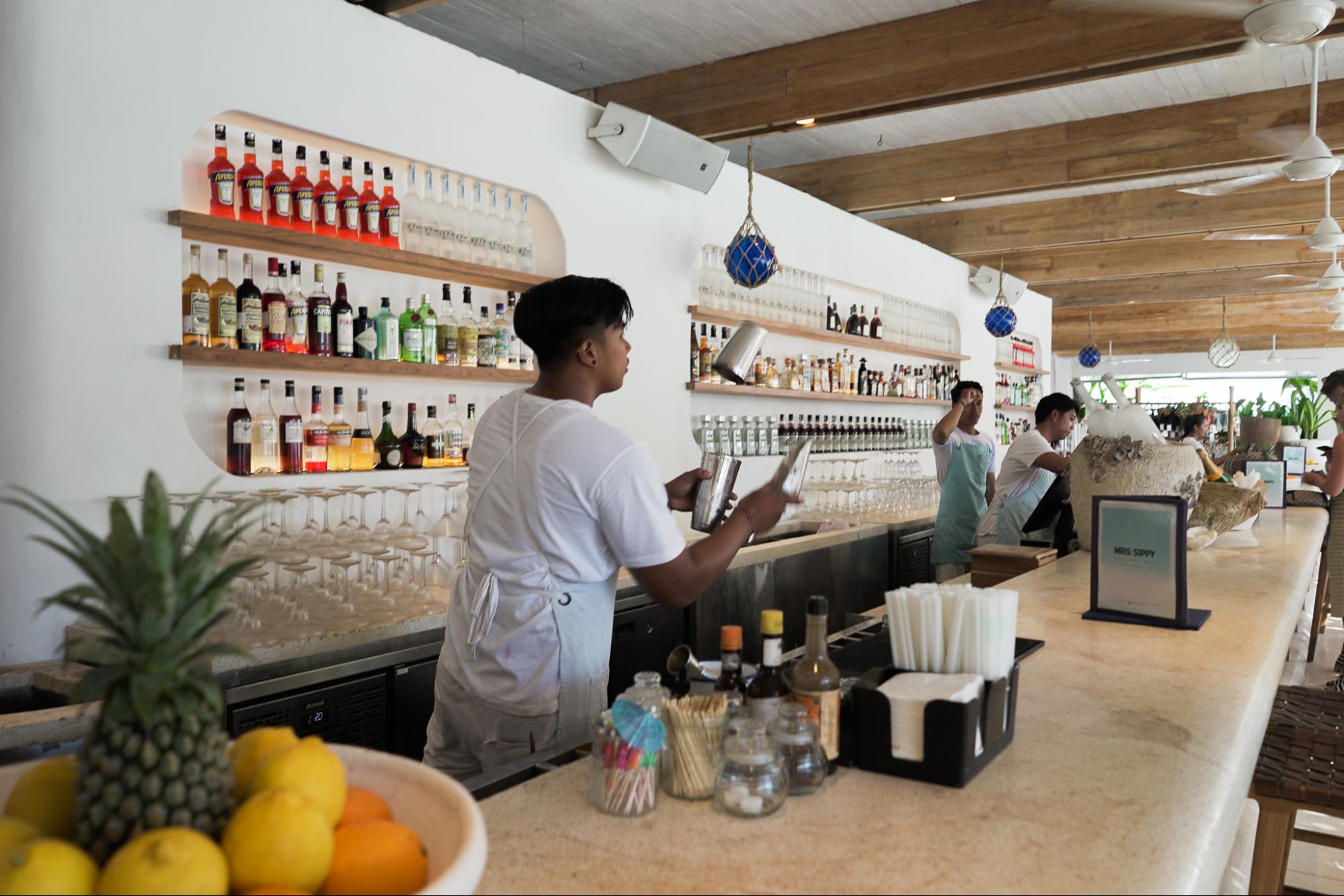 Stop by the open-air bar for Mrs Sippy's Thirsty Thursdays after 6pm – there's free entry, pizzas for less than SGD$8, as well as two-for-one beers, slushies and spirits! You'll be well-stocked way after the sun goes down.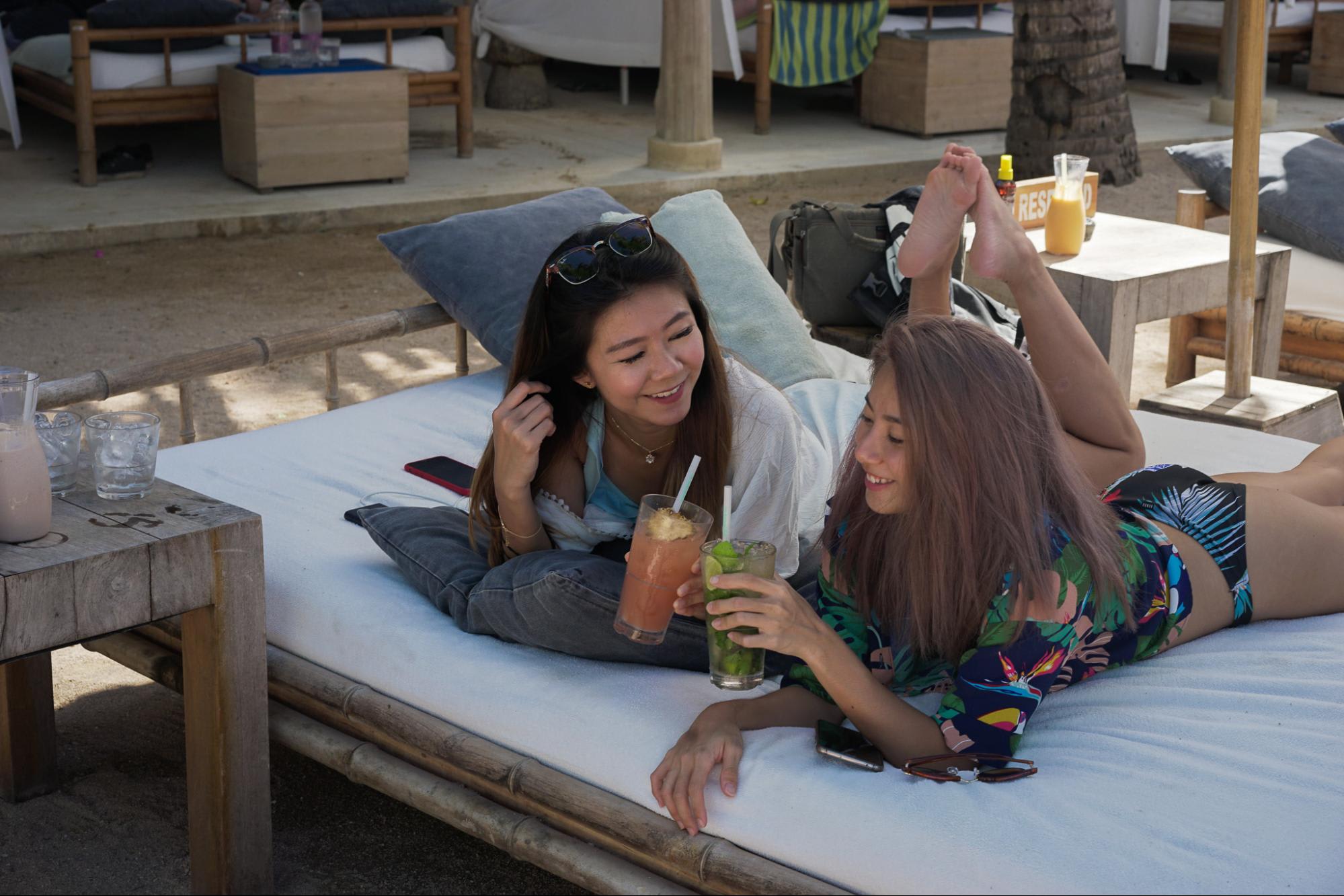 Get more holiday inspiration for a short Bali getaway with our 4D3N Bali Itinerary!
Mrs Sippy
Address: Jl. Taman Ganesha, Gang Gagak 8 Kerobokan Kelod Kuta Utara Kerobokan Kelod, Seminyak, Kec. Kuta Utara, Kabupaten Badung, Bali 80361, Indonesia
Opening Hours: 10am – 9pm
2. Tropicola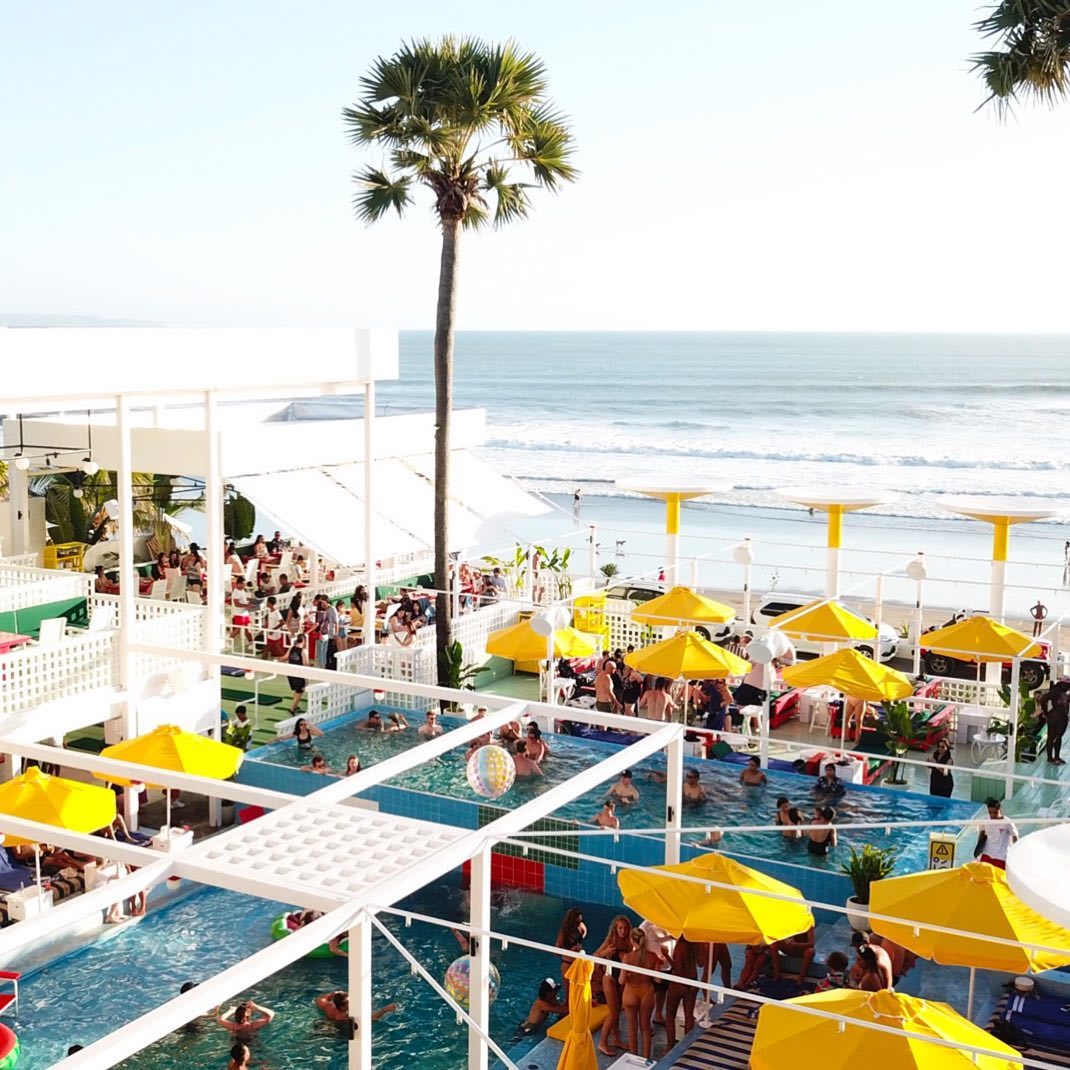 Photo Credit: @tropicolabali on Instagram
Opened by the same squad behind the iconic Motel Mexicola, Tropicola takes the Seminyak beach club experience to the next level. With its '80s pool club colorblock aesthetic, this 7,000 sq. metre beach club is pure #ThrowbackVibes.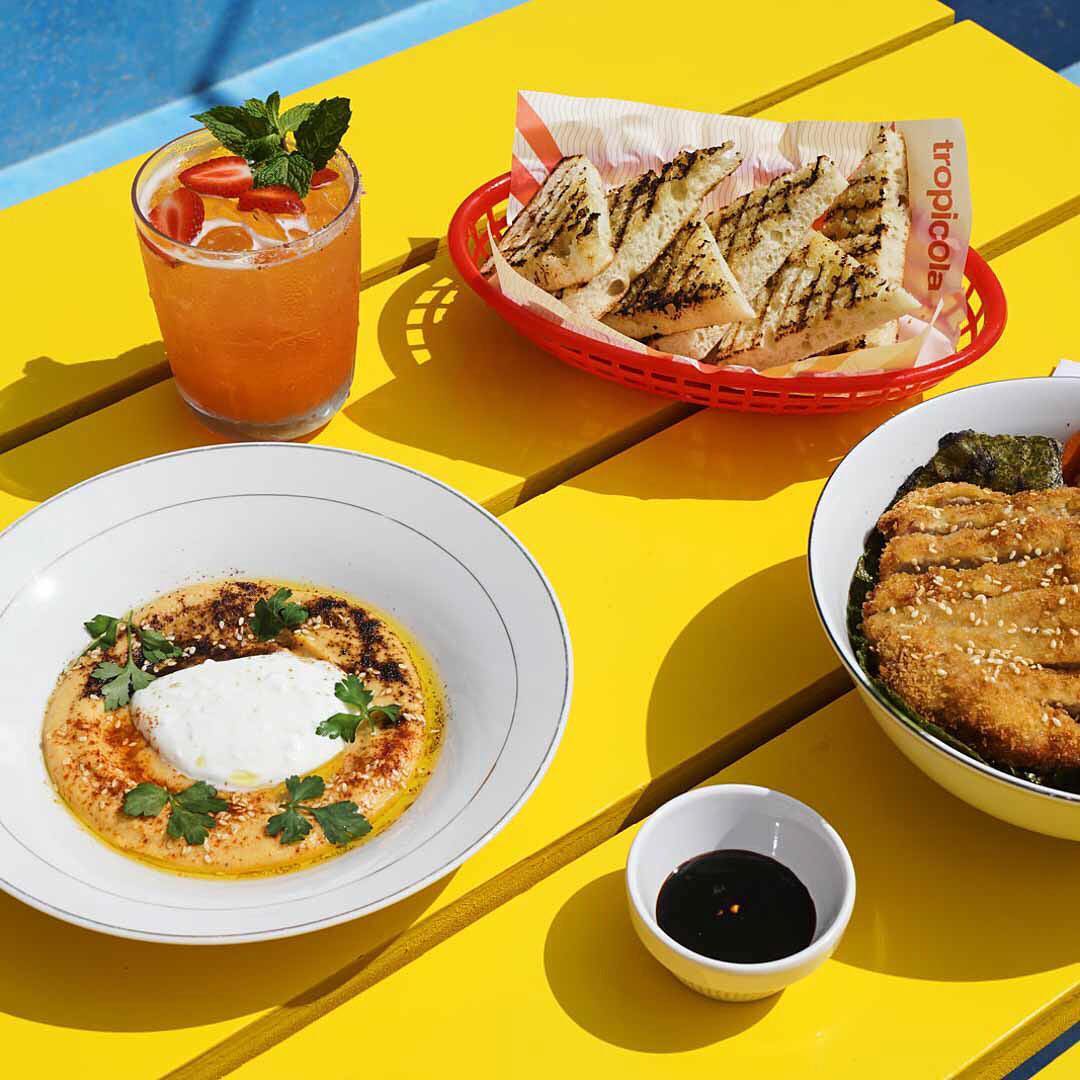 Photo Credit: @tropicolabali on Instagram
Head to any of the three bars within this multi-level space for some Tropicola specials, created in-house to fit the beach club's theme. The Tropicolada is a signature, with jackfruit replacing the usual pineapple from the original cocktail. In case you're feeling peckish, there are a ton of food options at the open-air kitchen, from a menu of fresh seafood, grilled meats and roasted vegetables.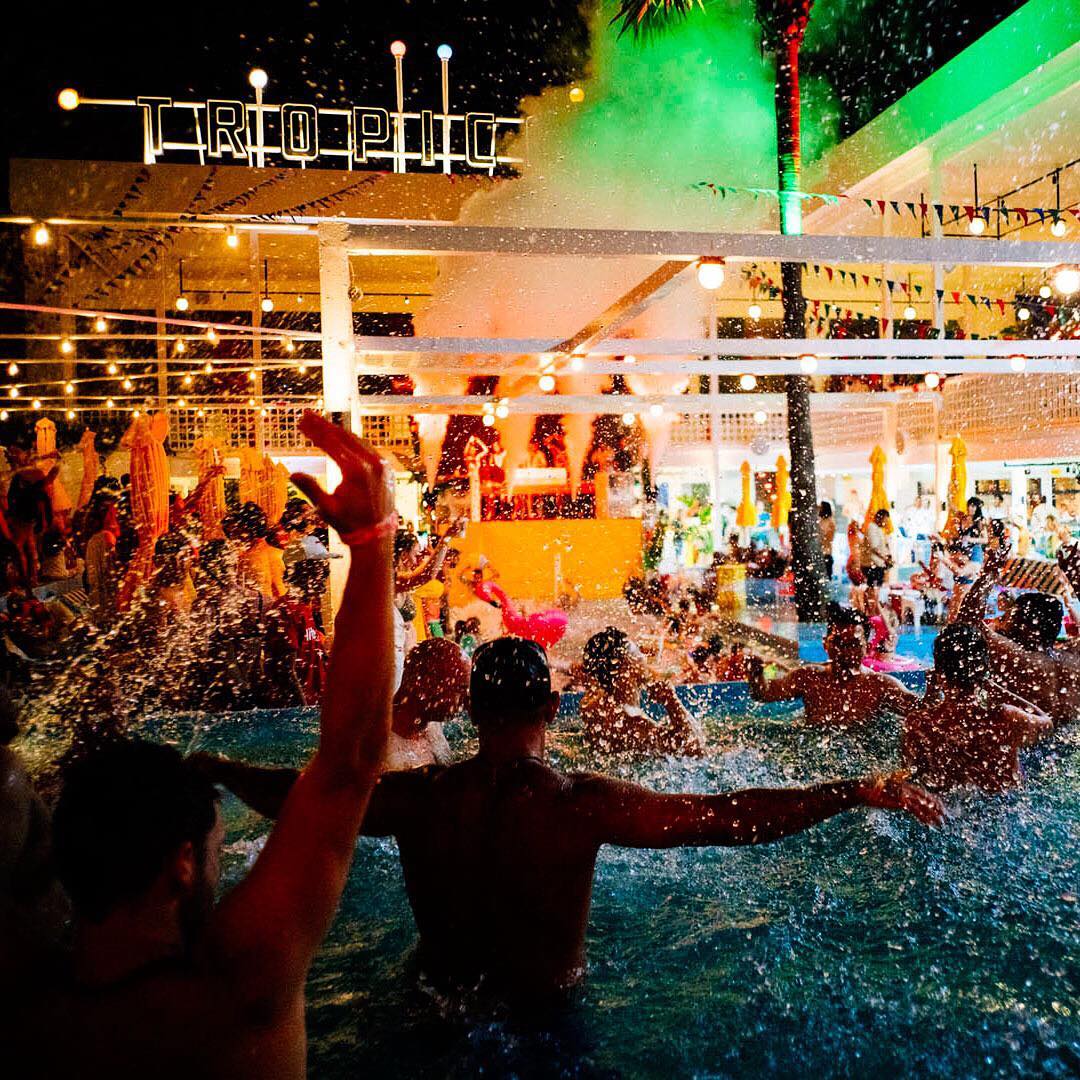 Photo Credit: @tropicolabali on Instagram
Watch the sunset over the Indian Ocean from one of the two pools, and then stay on through the night as the in-house DJ cranks up the music and energy!
Tropicola
Address: Jl. Pantai Batu Belig No 5, Kerobokan Kelod, Kec. Kuta Utara, Seminyak, Kerobokan Kelod, Kuta Utara, Kabupaten Badung, Bali 80361, Indonesia
Opening Hours: Daily, 11am -10pm
3. Motel Mexicola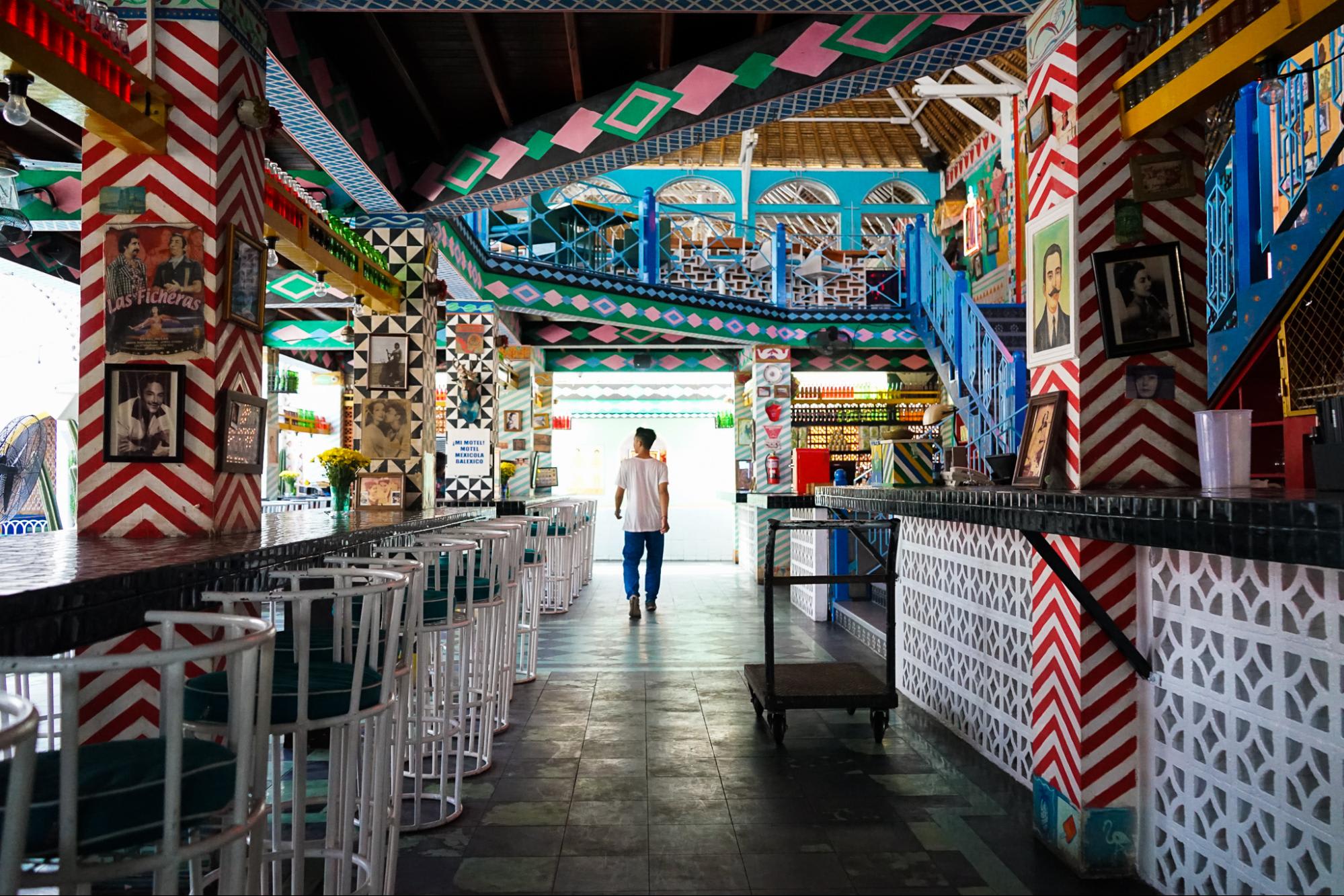 For tacos and tequilas all day long, head to colourful, quirky Motel Mexicola. This eye-catching Mexican bar and restaurant is all decked out in bold patterns and motifs – from the front steps to the sheltered bar area, every inch of this place screams #InstaGoals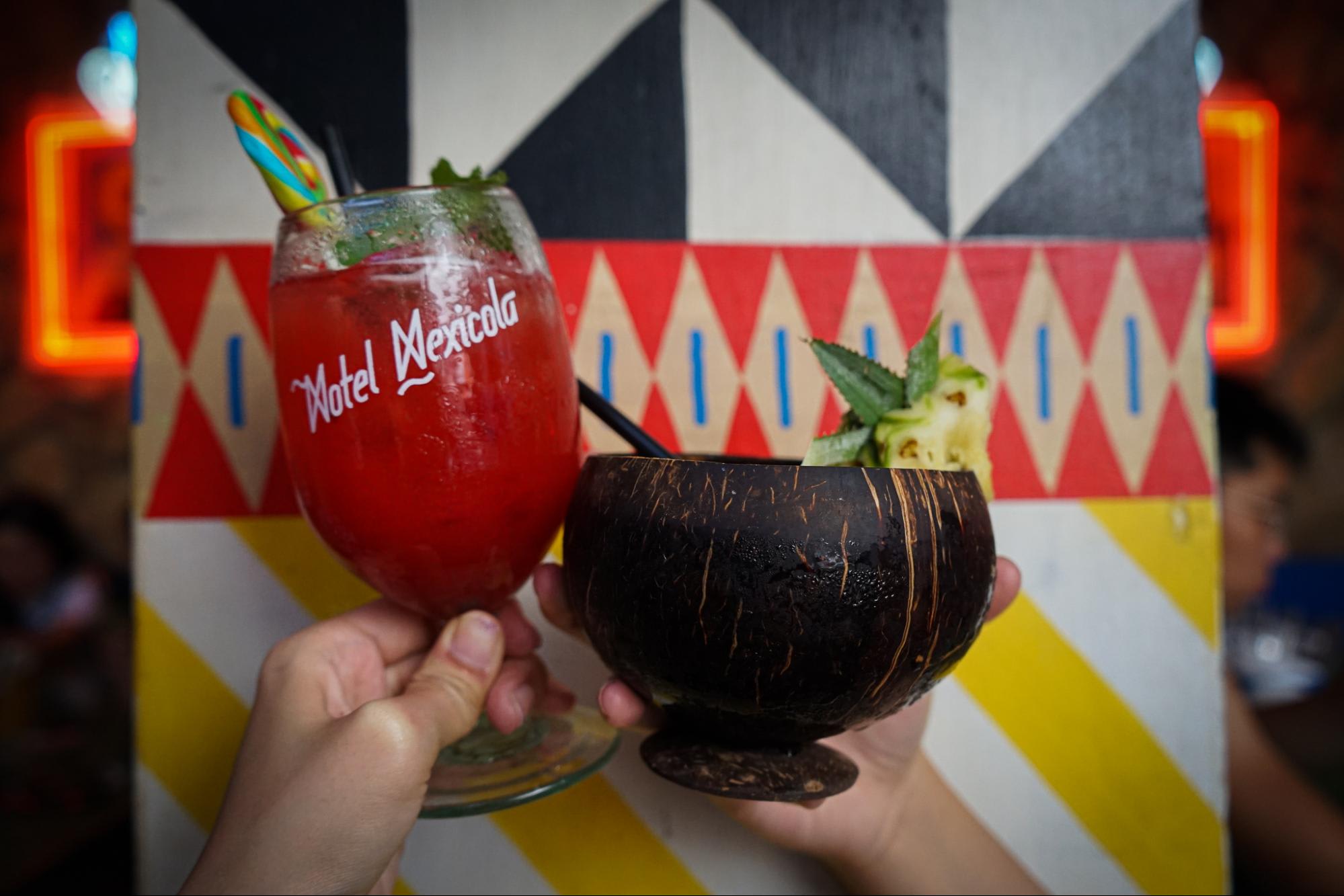 For a picture-perfect cocktail, order the Pina Colada, which comes with a mix of white and dark rum, along with coconut liqueur and coconut milk. If you're taking a break from the alcohol, Motel Mexicola also makes some great mocktails! Get the Lollipop drink with fizzy raspberry, elderflower and lime soda.
Accompany your drinks with the bar bites and snacks. Some of our favourites include the Classic Nachos that come with smashed avocado, pico de gallo and homemade corn chips, as well as the extra-cheesy Quesadilla De Queso.
The atmosphere at Hotel Mexicola really starts to heat up at night, as the courtyard fills up and the music cranks up. Head upstairs for more drinks, or join the crowds and dance the night away!
For more Bali must-eats, check out our Tried-and-Tested Bali Food Guide.
Motel Mexicola
Address: Jalan Kayu Jati No. 9X, Petitenget, Kerobokan Kelod, Kuta Utara, Kabupaten Badung, Bali 80361, Indonesia
Opening Hours: Daily, 11am to 1am
– Canggu –
4. Finn's Beach Club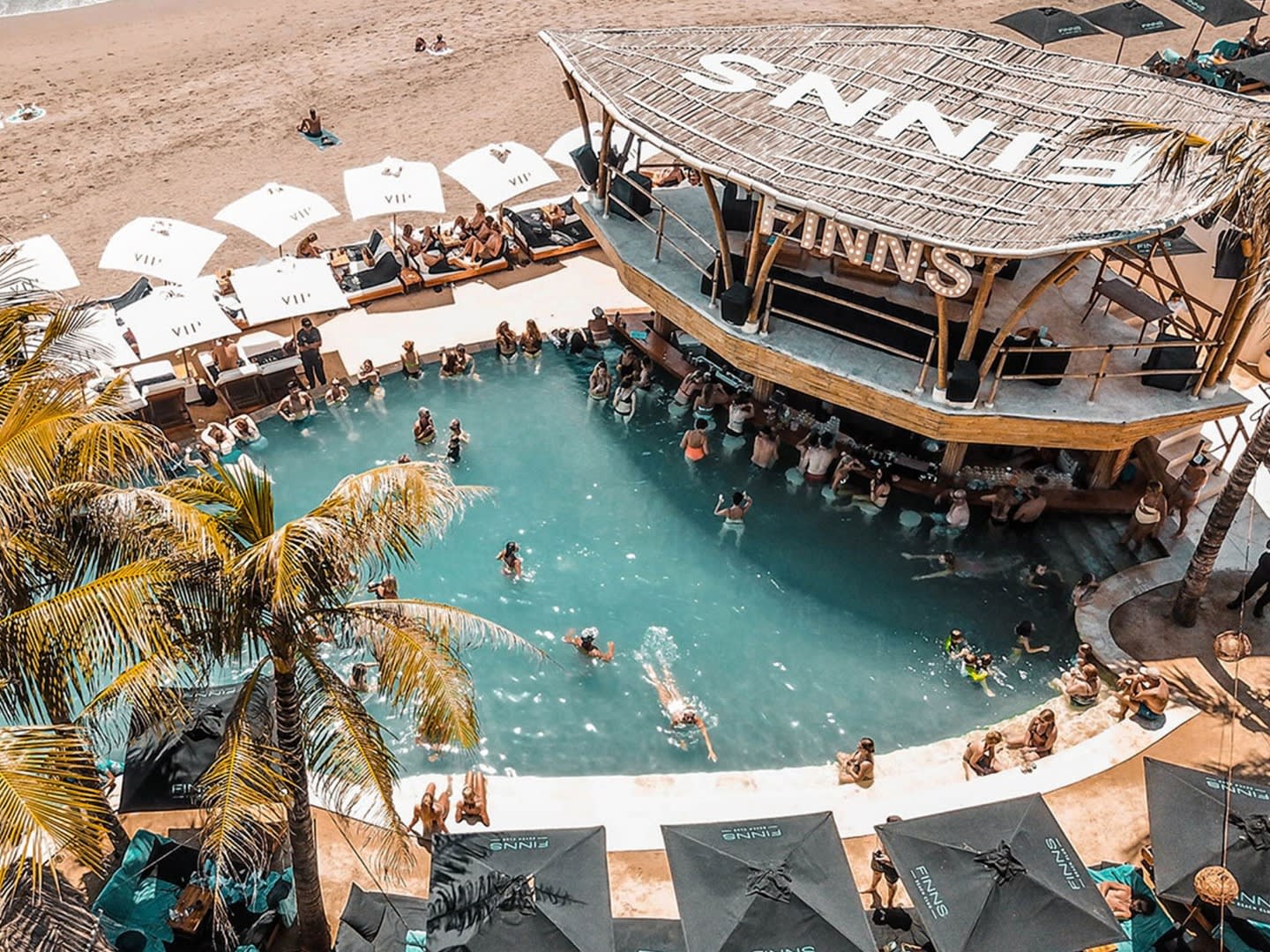 Stretching out along the sands in Canggu, Finns Beach Club is an iconic Bali destination for watching the surf, catching up over food and breathtaking sunset views. With two pools, nine bars, two restaurants and tons of options from poolside lounge chairs to oceanfront daybeds, Finns has everything for a classic Bali beach club affair.
Whether you score a seat at the open-air pavilion, or decide to splurge on a daybed, head over just before sunset for a day-to-night experience you won't forget! Order a round of drinks, and watch the sky fade from gold to midnight.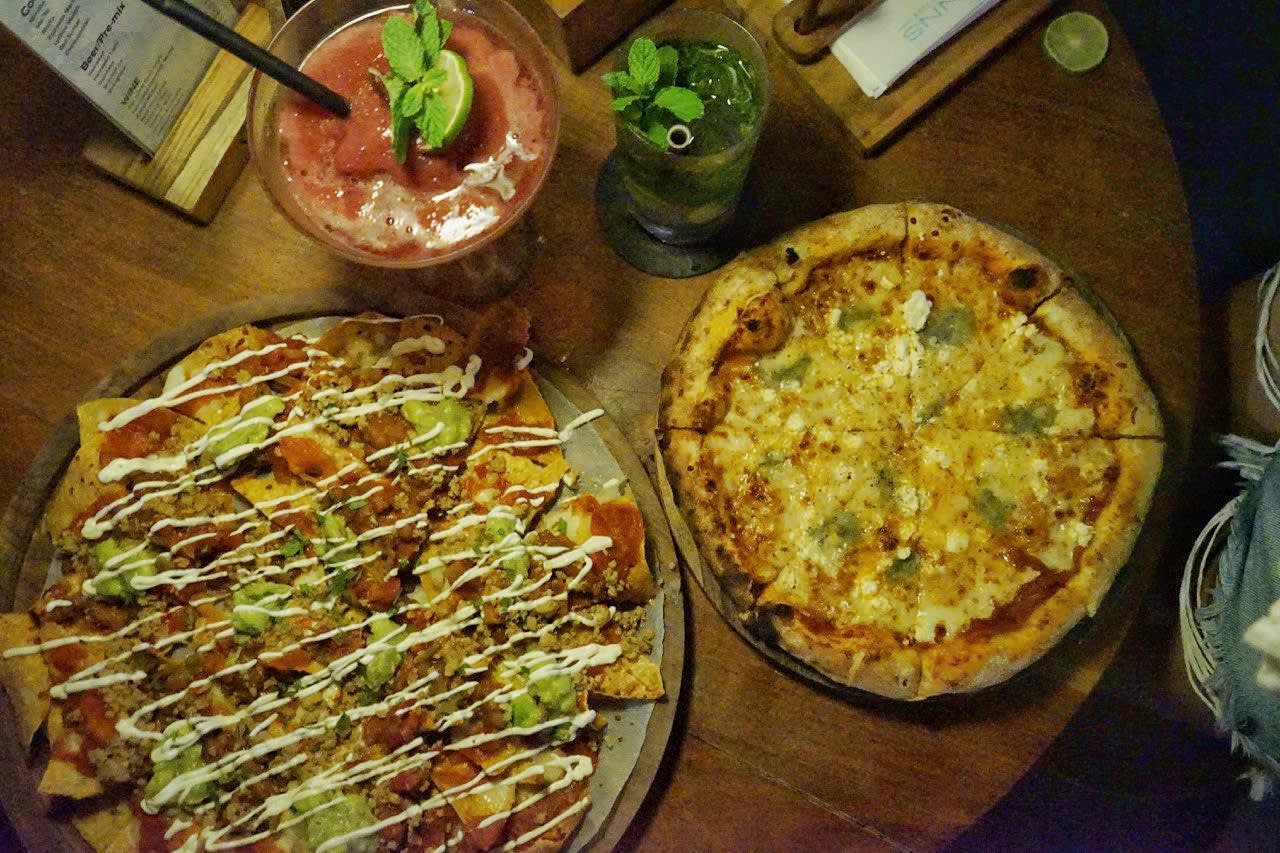 Don't miss out on the food at Finns. Fill up on their signature Pizzas and sharing platters, and end the night with dessert or a final round of drinks.
Aside from the Beach Club, Finns Bali has a Recreation Club with a fitness centre and spa, as well as a Splash Water Park with slides and a lap pool! Get the complete Finns experience with a Finns Bali Day Pass – complete with roundtrip transfers between the Recreation Club and Beach Club.
Finns Beach Club
Address: Jalan Pantai Berawa, Canggu, Tibubeneng, North Kuta, Badung Regency, Bali 13120
Opening Hours: Daily, 9am – 11pm.
5. La Brisa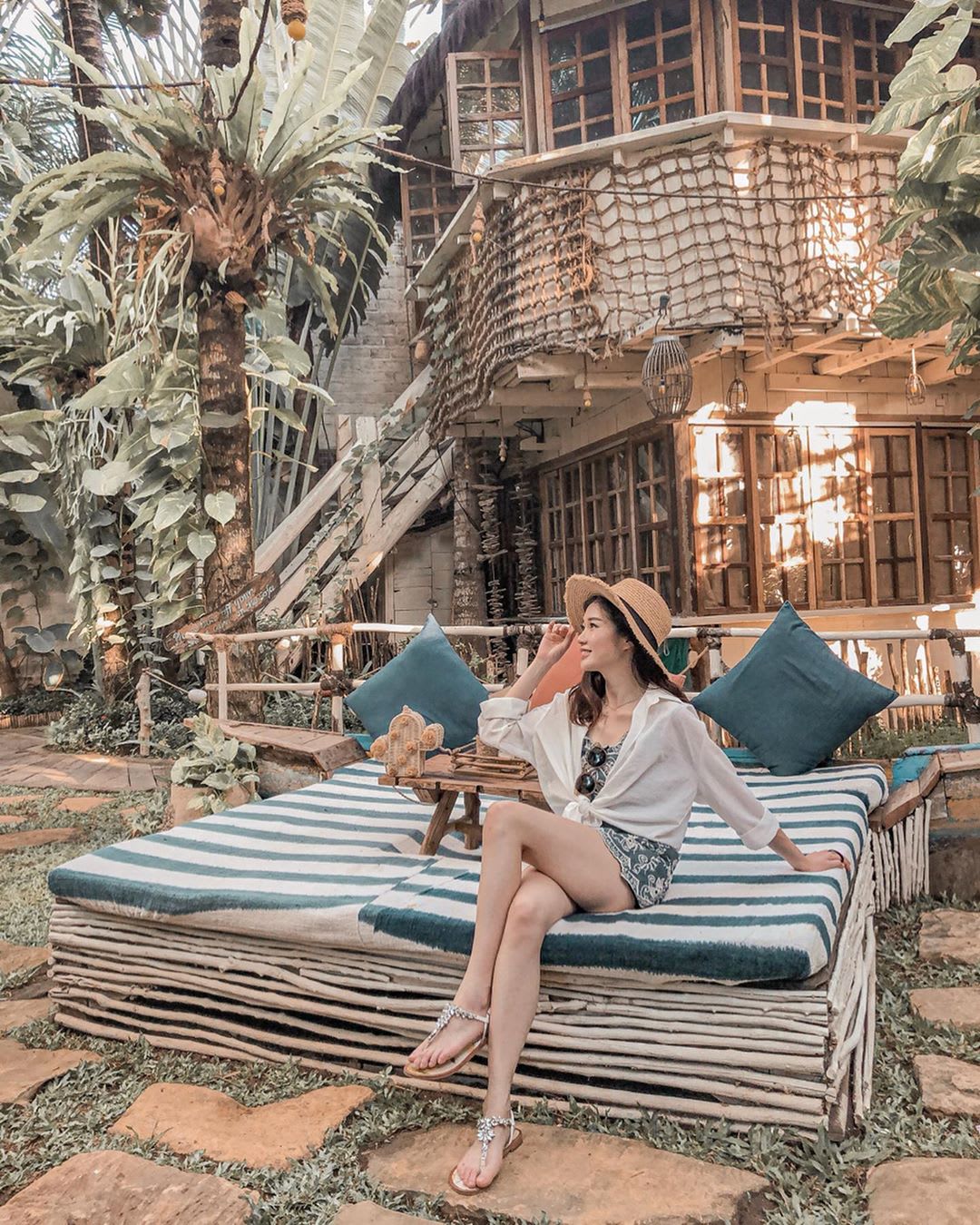 Photo Credit: @oooginananaooo on Instagram
Tucked away on Canggu's famous Echo Beach, La Brisa is a beautiful eco-centric beach club that embodies the spirit of Bali. True to its name – which means 'sea breeze' – this rustic beach club makes a perfectly soothing spot for letting your troubles slip away as you take in the seaside air.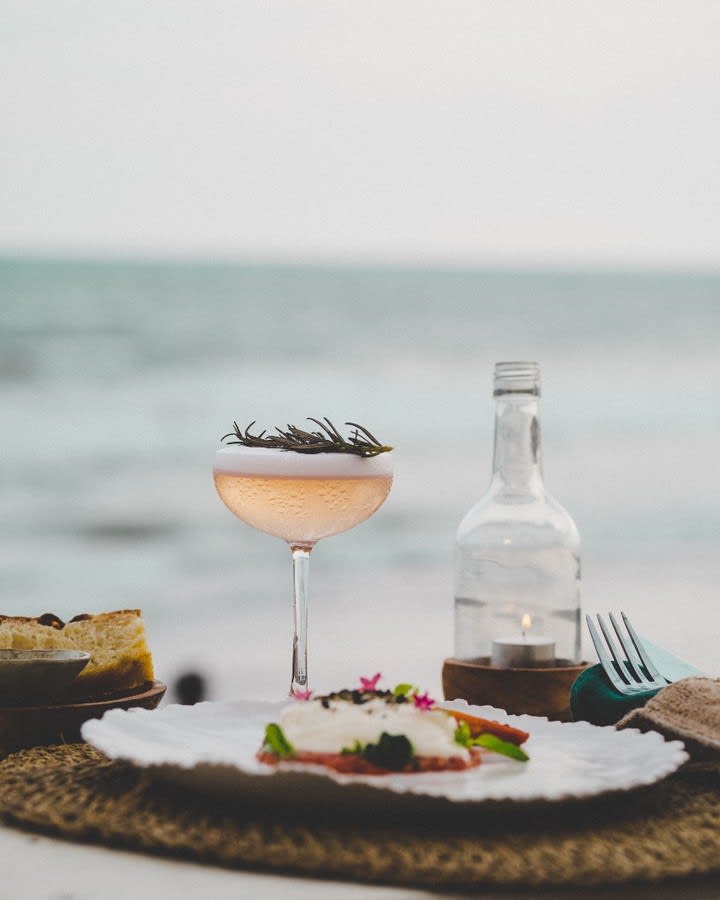 Photo Credit: @labrisabali on Instagram
Built using reclaimed wood from fishermen's boats to embody a Balinese fisherman's home, La Brisa serves up seafood-based signatures and seaside-inspired drinks to go along with the ambience. The food menu features Ceviche, Superfood Bowls and different kinds of Grilled Fish, while the bar has a selection of small bites like Croquettes and Cured Salmon.
For drinks, you won't go wrong with the Bali Sun Set, which comprises of white rum, watermelon juice, passionfruit syrup, lemon juice and a hint of tarragon.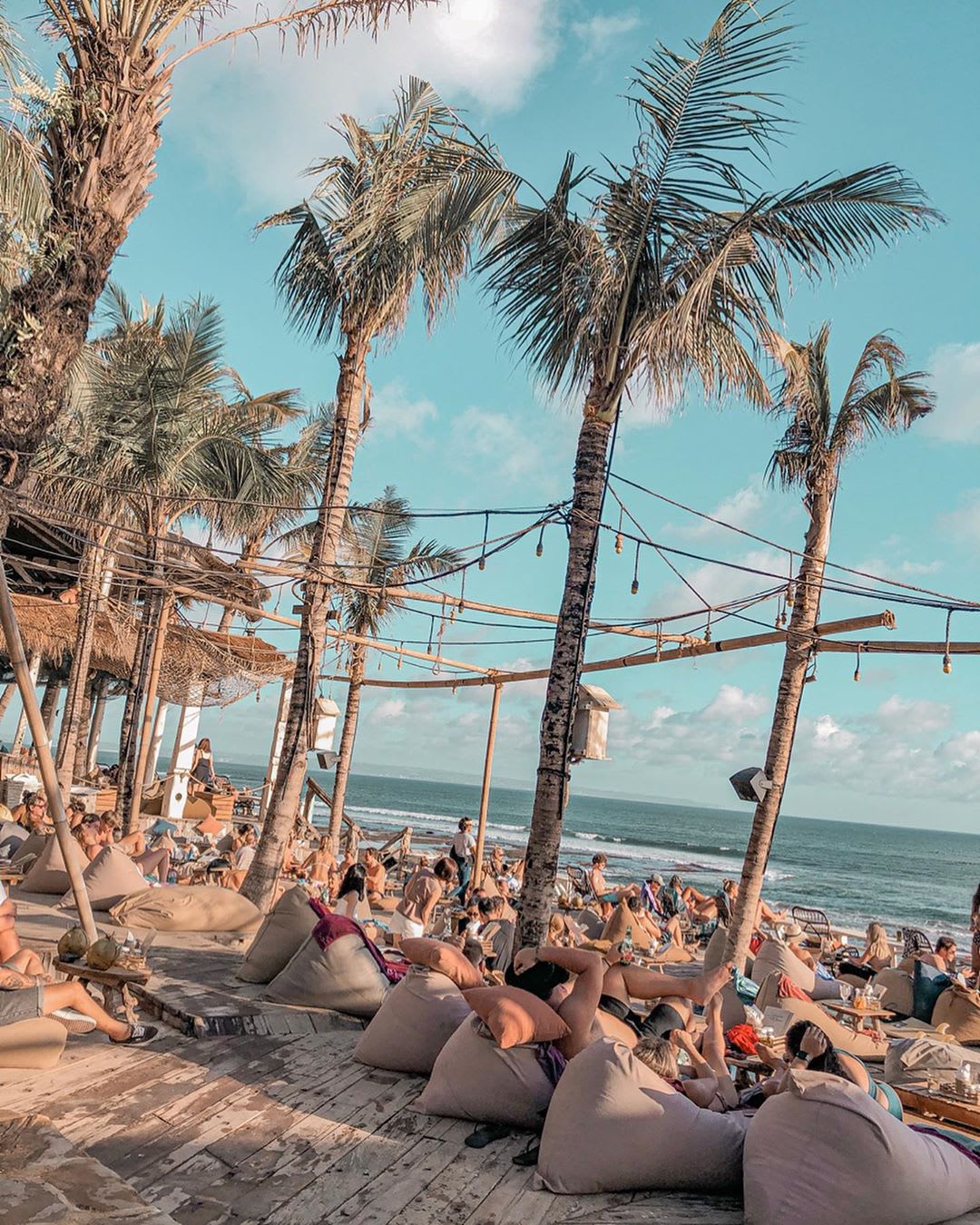 Photo Credit: @oooginananaooo on Instagram
Whether you're here just after sunrise, in the mid-afternoon or long after dusk has settled, La Brisa will have you covered with a rejuvenating beach club experience.
La Brisa
Address: Jl. Pantai Batu Mejan, Canggu, Kec. Kuta Utara, Kabupaten Badung, Bali 80361, Indonesia
Opening Hours: Daily, 7am -11pm.
6. The Lawn Canggu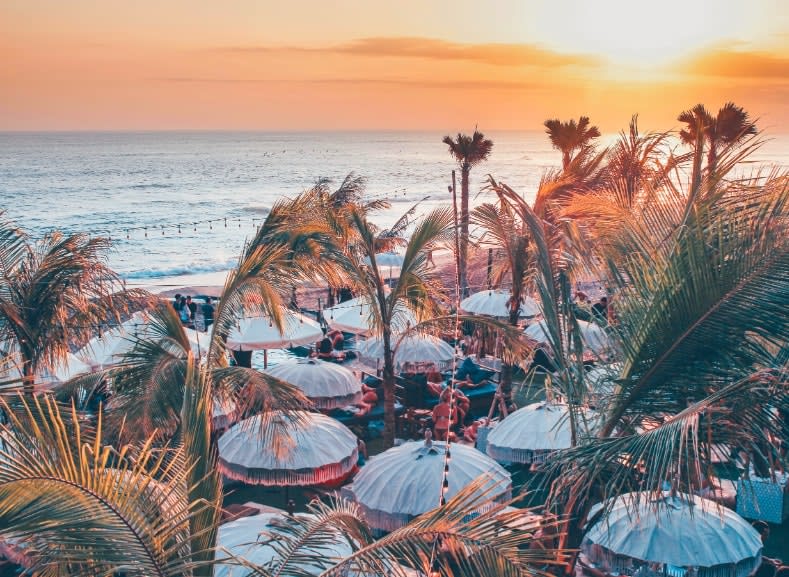 Photo Credit: The Lawn Canggu
Right on the beach, The Lawn in Canggu is just the place for spending time with friends over food and drinks by the sea, at any time of the day.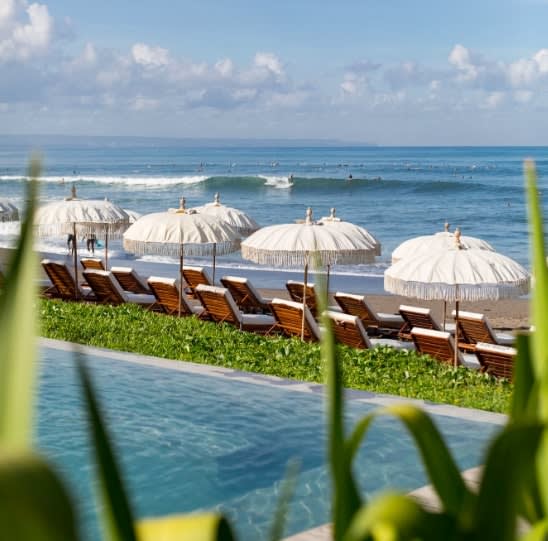 Photo Credit: The Lawn Canggu
With daytime and evening menus centred around fresh produce, small plates as well as grilled seafood and meats, you'll find something for every palate – whether it's Truffled Four Cheese Mac and Cheese Balls or Lemongrass Chicken Sate.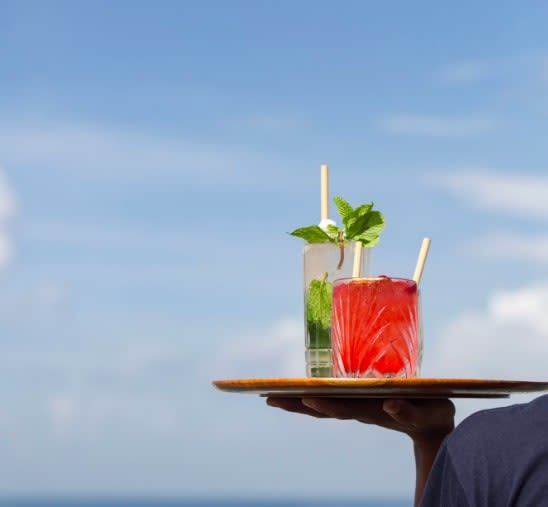 Photo Credit: The Lawn Canggu
The Lawn's cocktail menu features classic tipples with a local twist. Get the Spiced Colada made from spiced rum, coconut liqueur, pineapple, lemon, coconut milk and homemade spiced sugar. If it's still early in the day, try the Espresso Martini for a kick of caffeine, with vodka, coffee-infused Bali arak, coffee liqueur, fresh cold brew and organic coconut nectar.
The Lawn Canggu
Address: Jl. Pura Dalem, Canggu, Kec. Kuta Utara, Kabupaten Badung, Bali 80361, Indonesia
Opening Hours: Daily, 10am – 11pm
7. Old Man's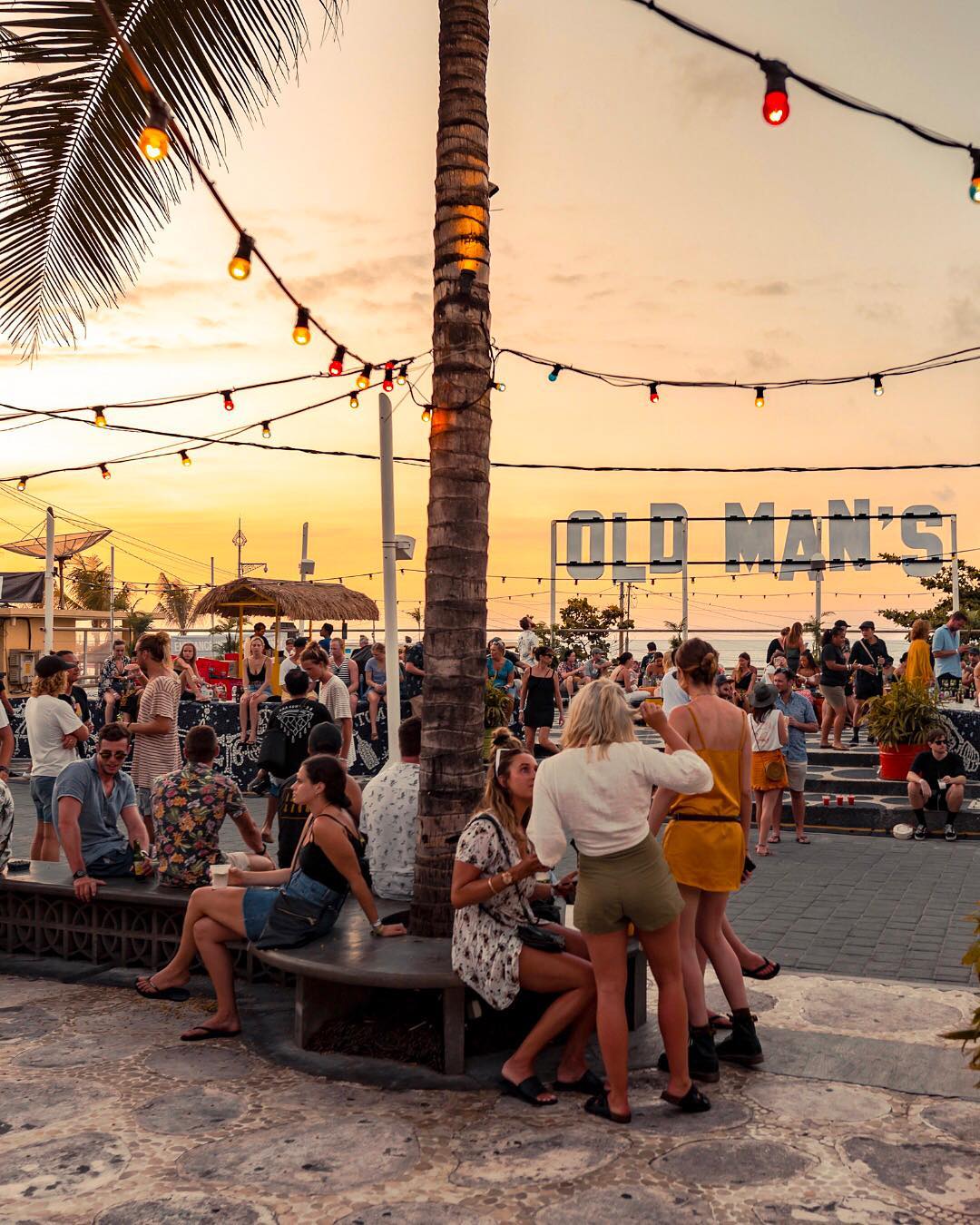 Photo Credits: @oldmansbali on Instagram
If you're down for dancing the night away, put Old Man's on your Bali beach clubs list. This beachfront restaurant, bar and beach club probably has one of the longest opening hours amongst its Bali counterparts – starting from breakfast at 7am and staying open all the way till 1am at night!
Happy Hour happens every evening from 5pm – 6pm, with all drinks going at 2-for-1, so head down just before then to get your night started early. Prices for dinner are very reasonable – get the Fish & Chips, pastas and some starters to share, to fuel up for later.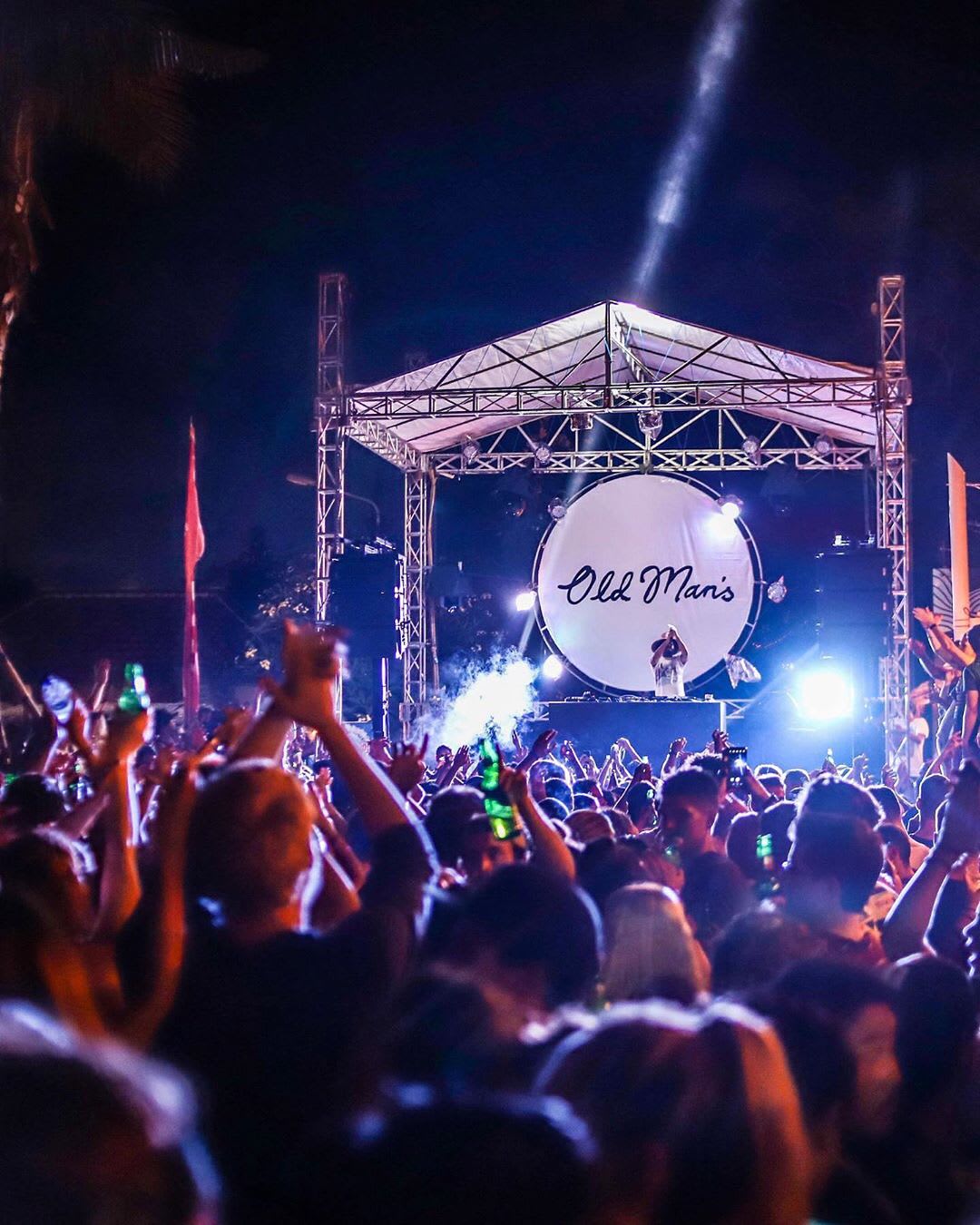 Photo Credits: @oldmansbali on Instagram
The DJ set usually starts around 9pm or so. Grab your friends and join the crowds on the dancefloor, or find a cozier spot on a lounge for a more laid-back night.
Old Man's
Address: Pantai Batu Bolong Street No.117X, Canggu, North Kuta, Badung Regency, Bali 80351, Indonesia
Opening Hours: Daily, 7am – 1am
8. Ji Terrace by the Sea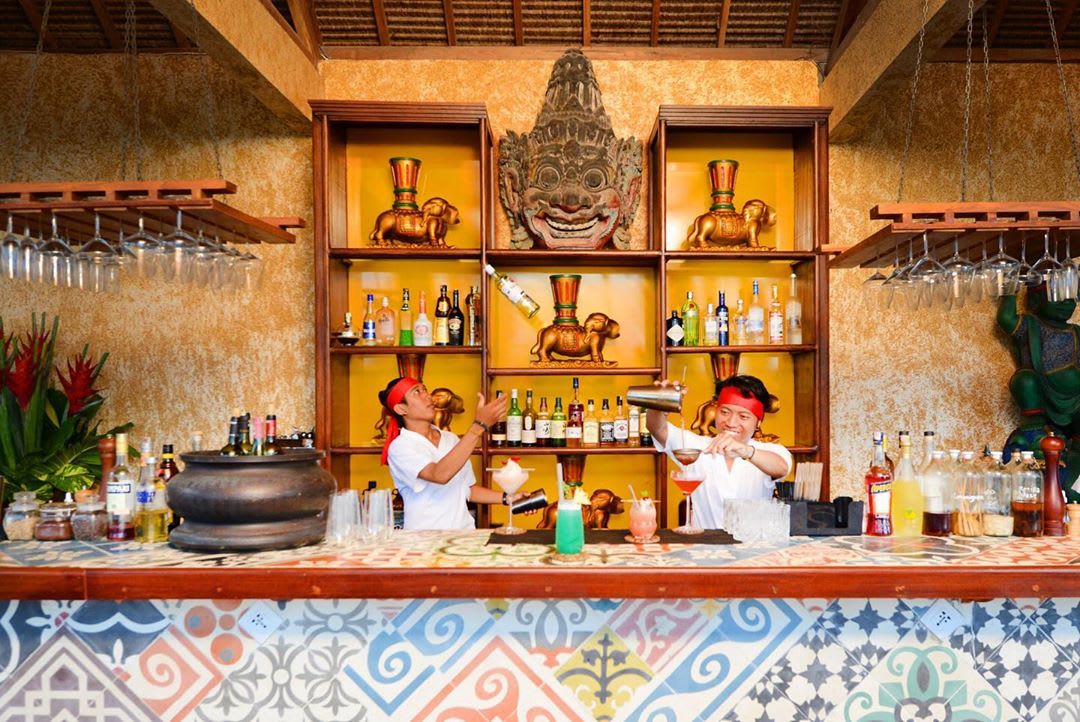 Photo Credit: @jirestaurantbali on Instagram
For a stunning bar experience that'll take your tastebuds for a ride, head to Ji Terrace by the Sea. This terrace restaurant and bar – with a 180-degree view of Canggu Beach – serves up a fusion of Asian flavors, which is reflected in its vibrant airy interior spaces and outdoor balconies.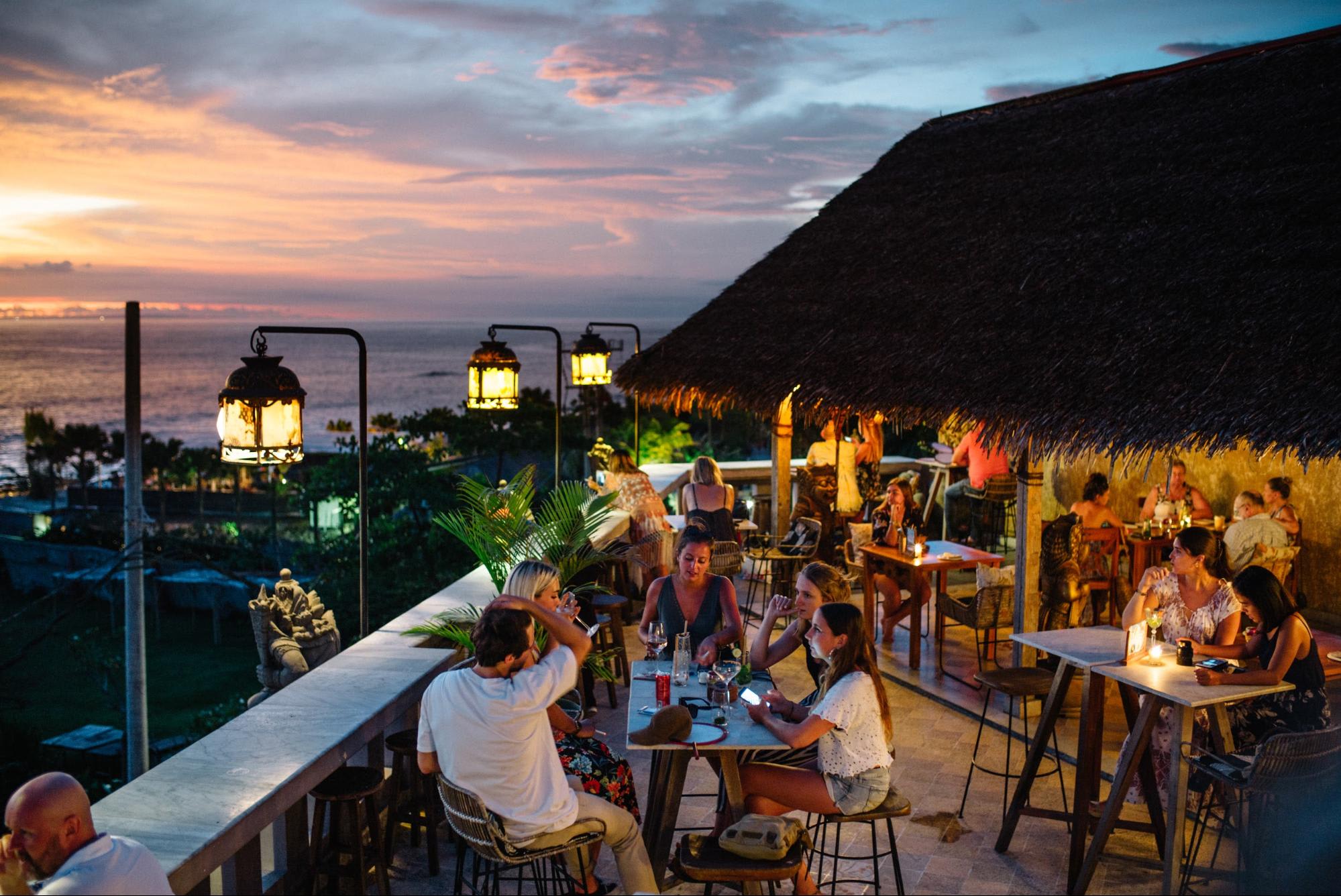 Photo Credit: Ji Restaurant Bali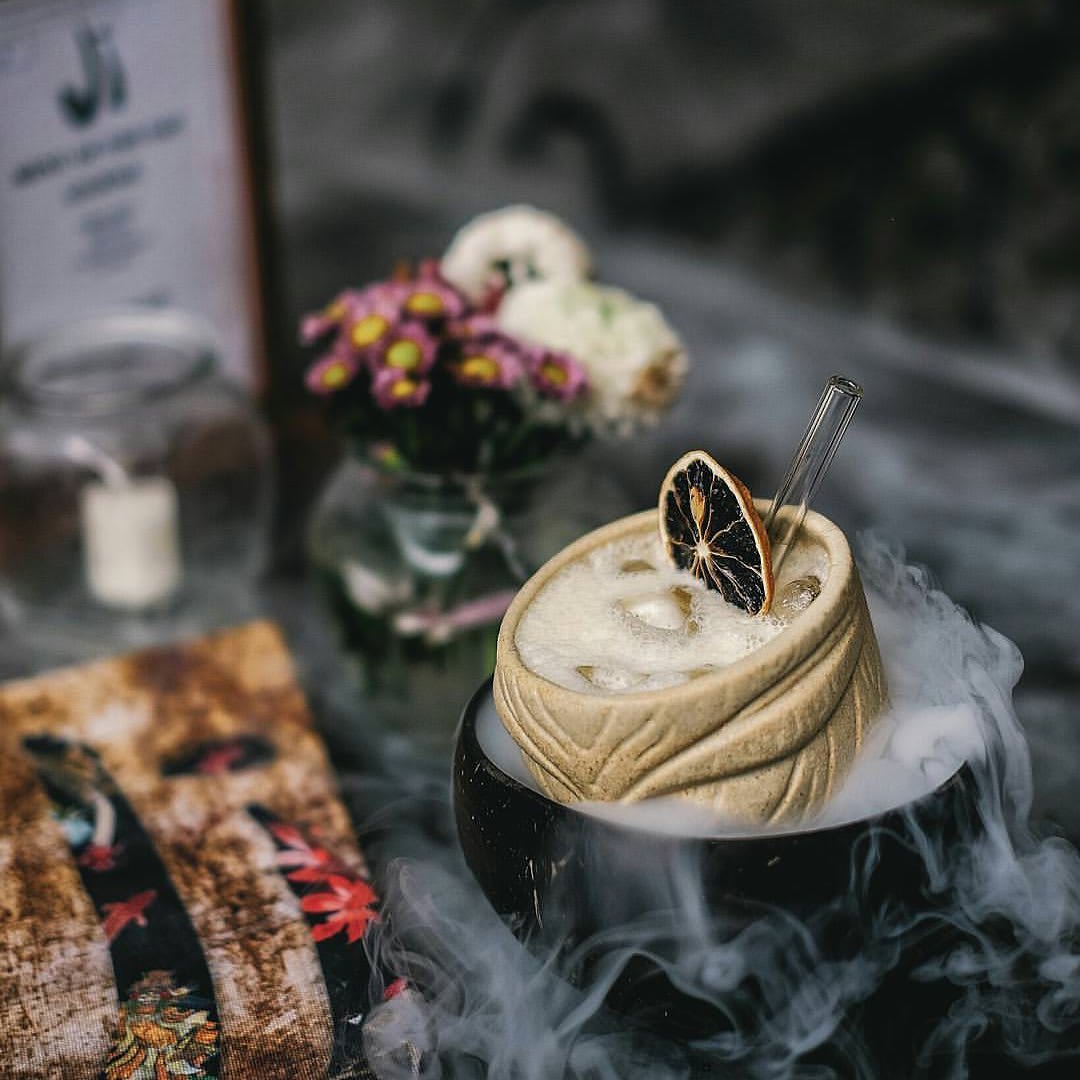 Photo Credit: @ericklim on Instagram
Head up to the long bar on the second floor, for an eclectic cocktail experience based off the local produce. Inspired by Indonesia's volcanoes, the signature Coco Sexo is as eye-catching as it is ingenious, while The Tugu Signature Gin & Tea puts a refreshing spin on the classic spirit.
Ji Terrace by the Sea
Address: Jalan Pantai Batu Bolong, Canggu Beach, Canggu, Kuta Utara, Canggu, Kec. Kuta Utara, Kabupaten Badung, Bali 80361, Indonesia
Opening Hours: Monday – Saturday 4.30pm – 11.30pm; Sunday 11am – 11.30pm
– Uluwatu –
9. OMNIA Dayclub Bali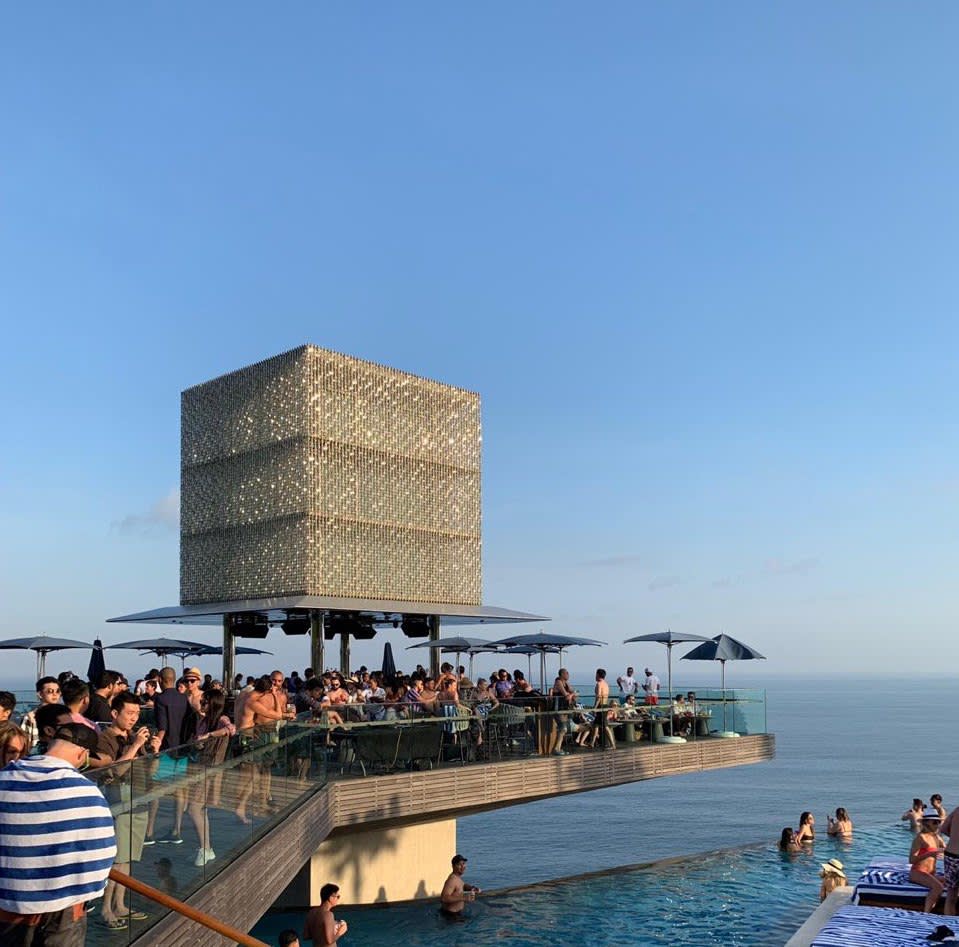 With scenic cliff sides, hidden beaches alongside clusters of luxury villas and resorts, Uluwatu is paradise for every beachclub junkie. Perched atop a limestone cliff, the eye-catching OMNIA Dayclub is probably one of the first names that come to mind when you hear someone mention Uluwatu beach clubs.
Opened by the team behind Las Vegas's OMNIA Nightclub, OMNIA was designed to meld the Indian Ocean panorama with all sorts of daylife entertainment.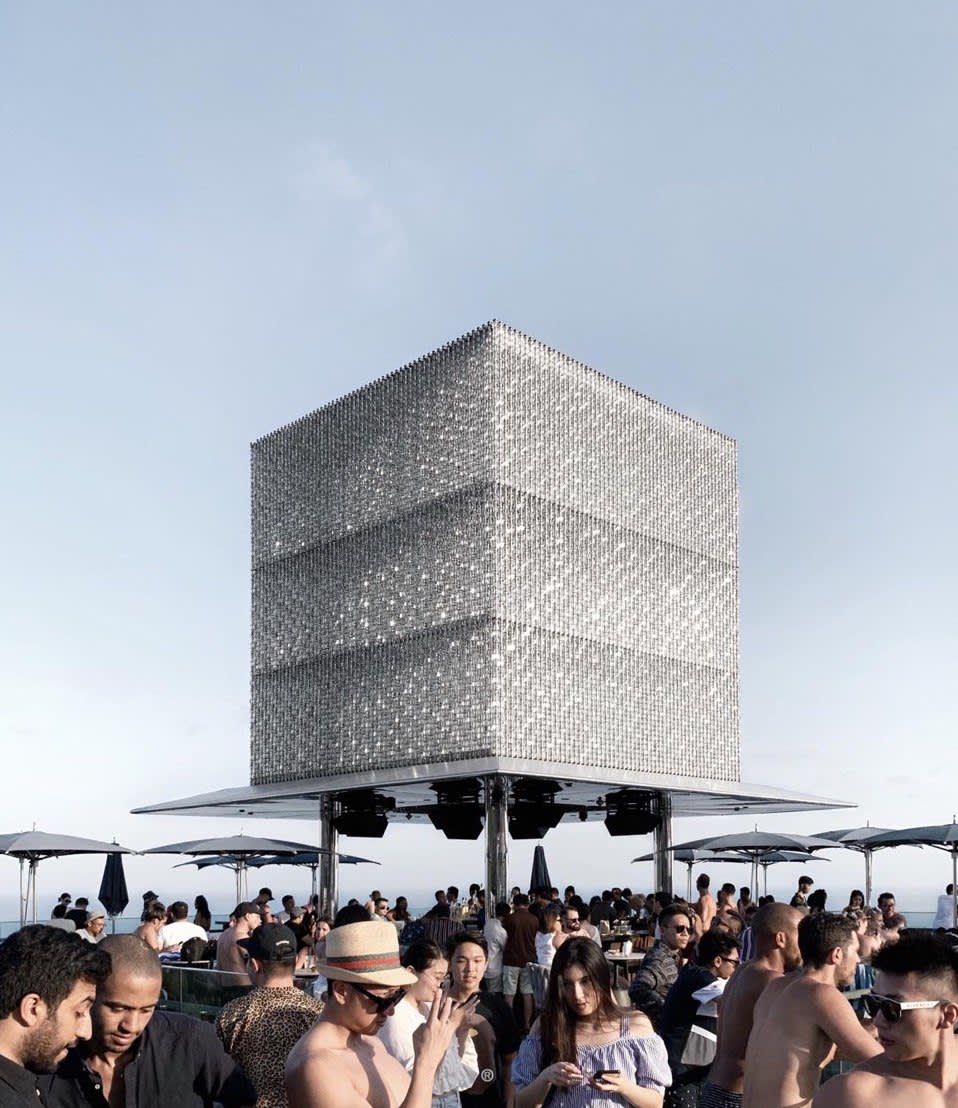 Think supersized daybeds, an infinity pool with ocean views, a swim-up bar, the open-air Lounge and more! There's even a restaurant, Sake no Hana, above the Lounge that serves delicious modern Japanese charcoal grill dishes and sushi. You can get a range of Japanese-inspired drinks and OMNIA signature cocktails there too!
OMNIA Dayclub Bali
Address: Jl. Belimbing Sari | Banjar Tambiyak, Desa Pecatu, Uluwatu, Uluwatu 80364, Indonesia
Opening Hours: Daily, 11am – 10.30pm.
10. Single Fin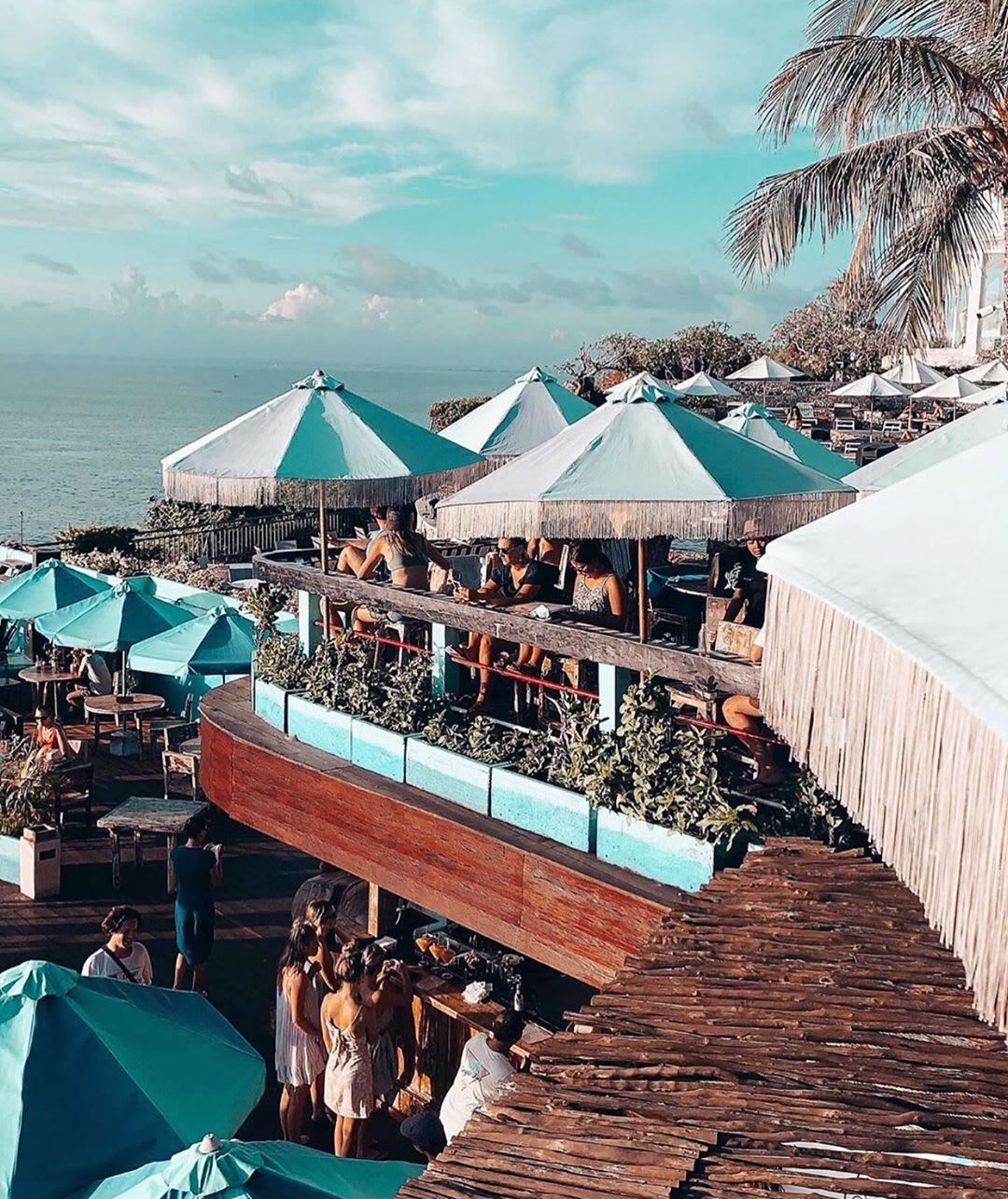 Photo Credit: @singlefinbali on Instagram
If there's only one beach bar you can hit in Uluwatu, make it Single Fin. With stunning views of the Uluwatu surf break, this terrace beach bar is terrific for boozy brunches, pre-golden hour drinks, and late-night bar snacks.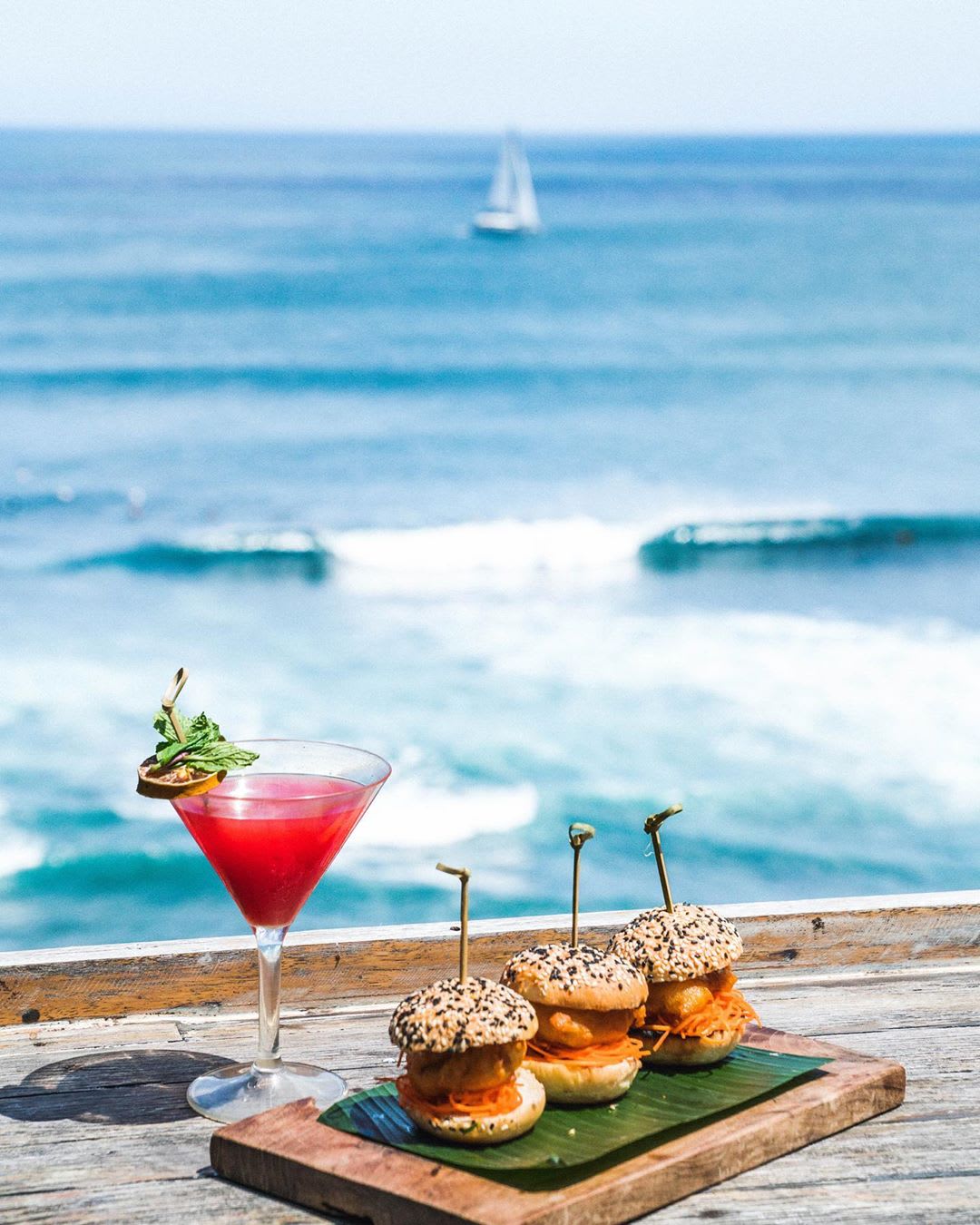 Photo Credit: @singlefinbali on Instagram
Single Fin's extensive drinks menu is split into four: Tropical Cocktails, Local Favourites, Signatures and Classics. Try as many as you can, from a fruity-fresh Hawaiian Mojito to the spicy and dusky Dark 'N Stormy. If alcohol isn't your thing or you're saving the drinks for later in the day, get a smoothie or cold-pressed juice – they even have coffee from Revolver.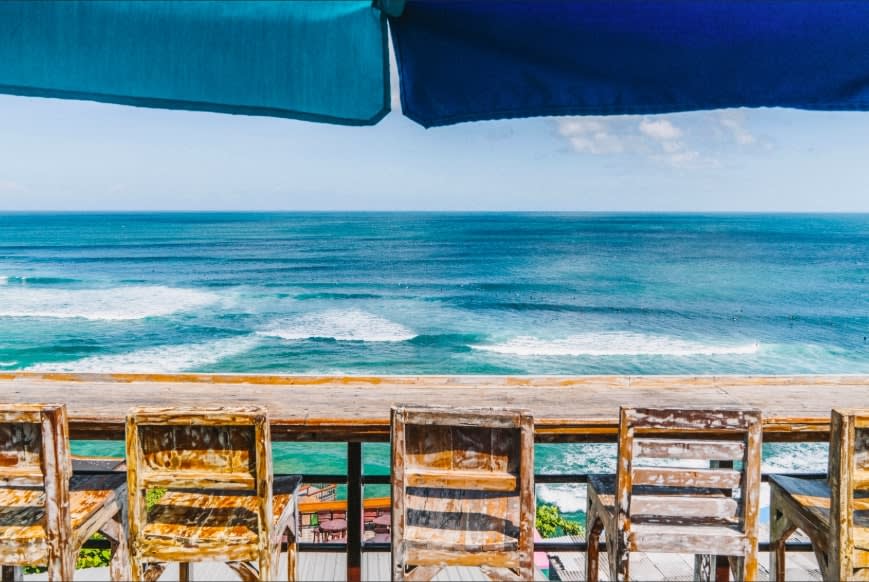 Photo Credit: Single Fin
Come for the bar, and stay for the music! Single Fin's acoustic Wednesday jams and Sunday Sessions feature international DJs and live music acts – the cherry on top of your Uluwatu beach bar experience.
Don't miss out on one of Uluwatu's most iconic sights – the cliff-top Luhur Uluwatu Temple! This Uluwatu Temple Sunset and Kecak Fire Dance Tour includes stops at Padang-Padang Beach, the famous Uluwatu Temple and a fire dance performance!
Single Fin
Address: Pantai Suluban, Jl. Labuan Sait, Pecatu, Uluwatu, Kuta Selatan, Pecatu, Kec. Kuta Sel., Kabupaten Badung, Bali 80361, Indonesia
Opening Hours: Monday, Tuesday and Thursday 8am – 11pm; Wednesday and Sunday 8am – 1am; Friday and Saturday 8am – 12am.