Your secret weapon to a stunning IG Feed
Bali is not just a tropical paradise of clear glistening water and white coconut trees. Exquisite archaic monuments. Sunsets setting the clouds on fire. Breathtaking landscapes of rugged mountains and steep cliffs. With Bali gracing your Instagram feed, you're already half-way done to vamping up your aesthetic game!
Before you set off and let your wanderlust souls free, here are the 4 remaining crucial steps to step up your IG game.
1. Rent a GoPro or Fujifilm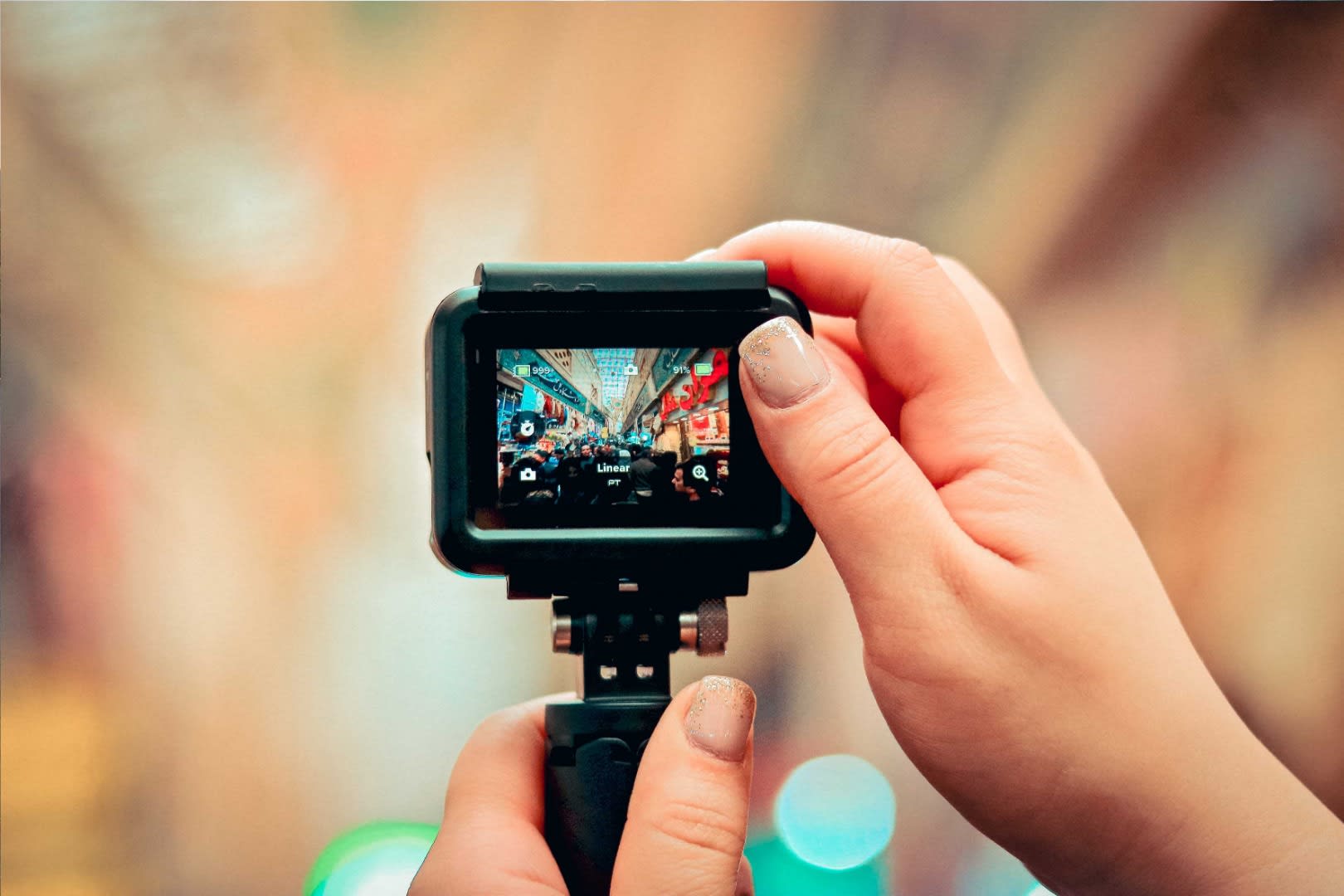 If you don't own one, here's the perfect opportunity to rent either a GoPro or Fujifilm, perfect for wide angles, HD quality and even action packed videos. I mean, no one likes grainy, low quality photos! Pre-book yours on Klook and enjoy free delivery of your handy gadget right to the doorstep of your overseas accommodations!
2. Stay connected to your Instagram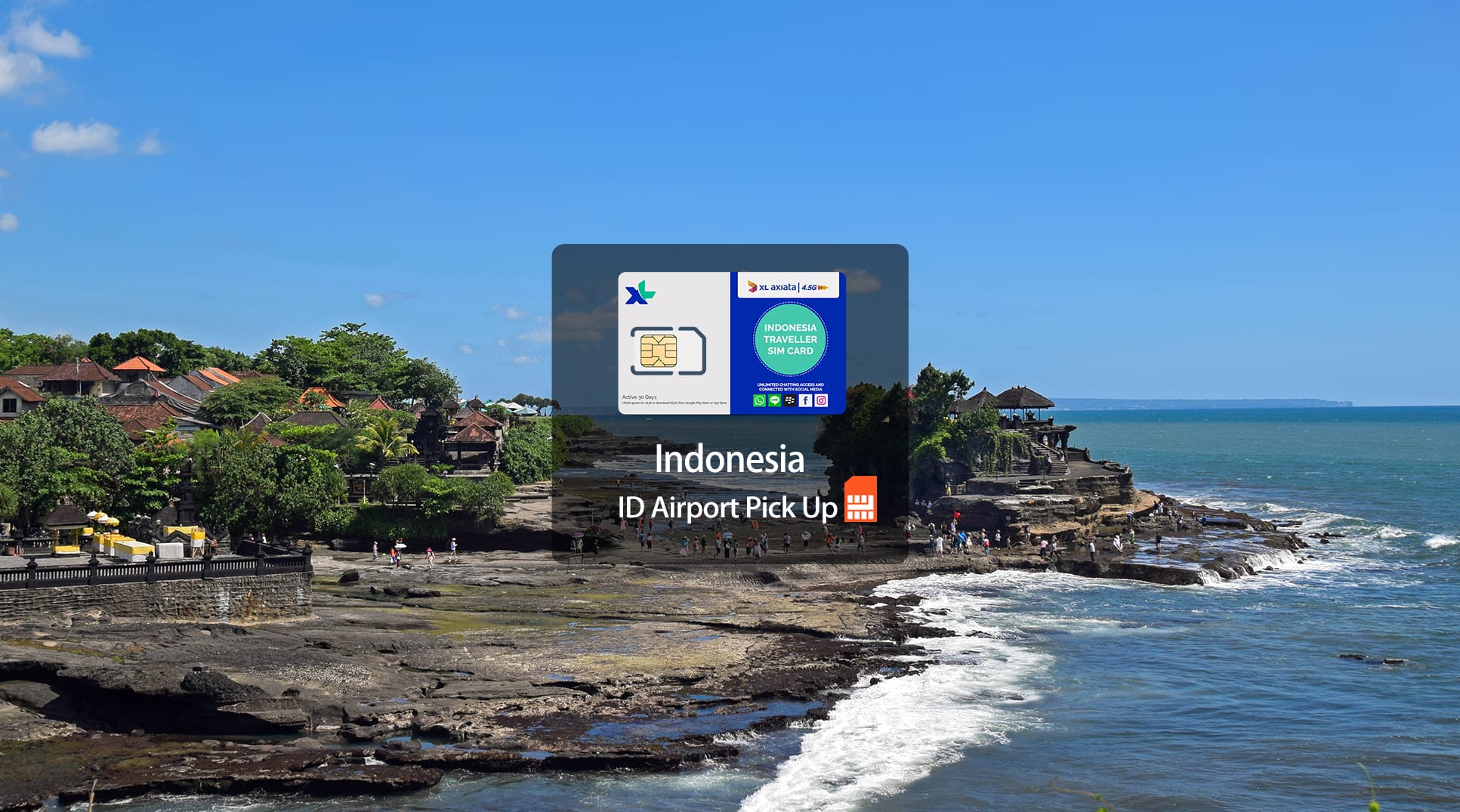 Did you really go to Bali if you didn't have a 3G/4G SIM Card to show-off those pictures on Instagram?
3. Transportation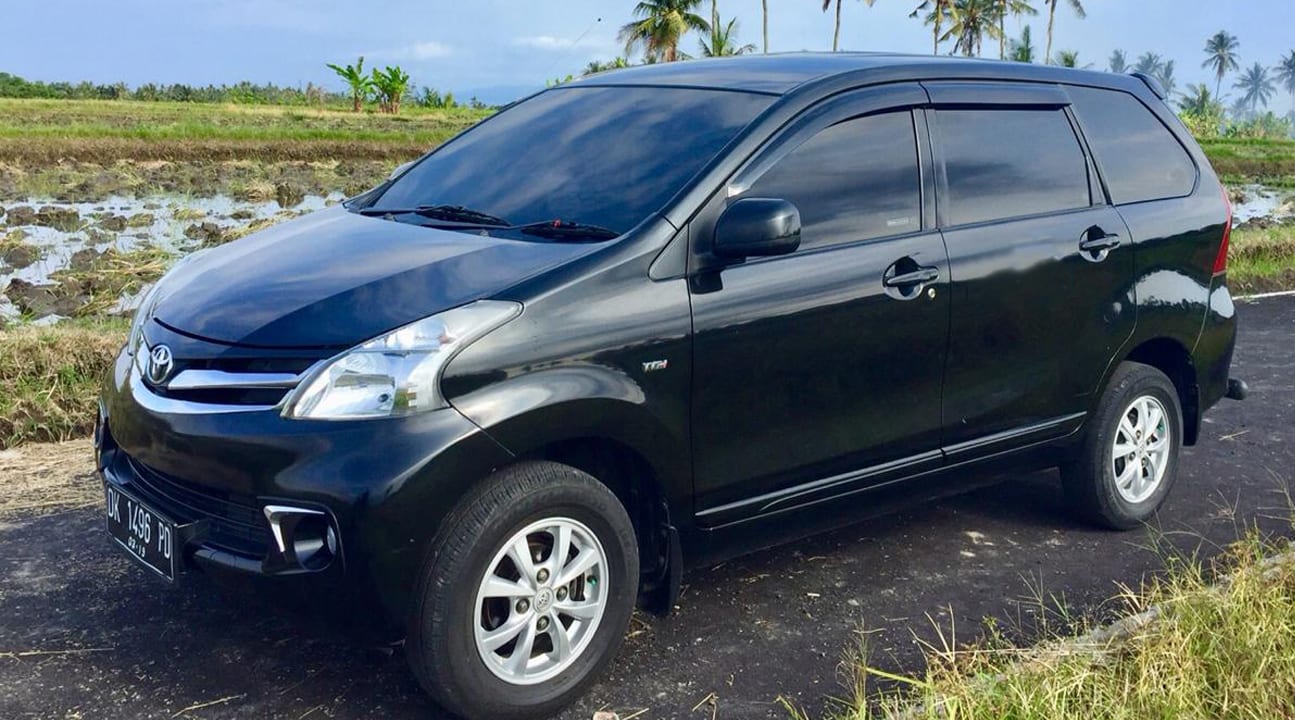 Travelling around Bali could be a big hurdle when it comes to planning your itinerary. Travellers have shunned from Blue Birds Taxis, Bali's reputable taxi firm, after an uproar of dishonest taxi drivers overcharging travellers for their rides. To make matters worse, it is illegal to engage in ride-hailing services such as Grab or GoJek.
Hop on to the Bali Private Car Charter and get wherever you need to hassle-free! With options of smaller sedan cars for groups of 2-5 and vans for groups of up to 12 people, you won't have to worry about getting split up from the squad. Better yet, you have 100% flexibility on where you want to go and the time you'd like to spend there.
And the 4th final step?
Lucky for you, we've done your homework. Here are 12 picture perfect spots to explore when picking out your picturesque locations in Bali!
P.S. Read on to find out how you enjoy savings on your next Bali trip with Klook!
IG Spots: For Sunsets' Glow'up
1. Uluwatu Temple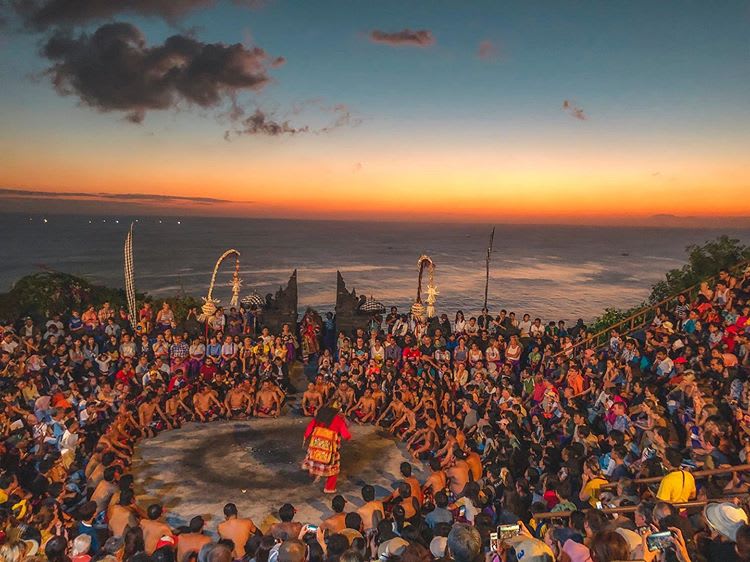 Photo credits: @sugarnapapatt on Instagram
Uluwatu Temple is perched on a 70-meter-high cliff above sea level. Here resides the worshipping site for the Balinese Hindu, Siva Rudra, who became the protector of Bali against any monstrous sea devils. Remember to snap some pictures because the view at the peak may bedazzle you into silence.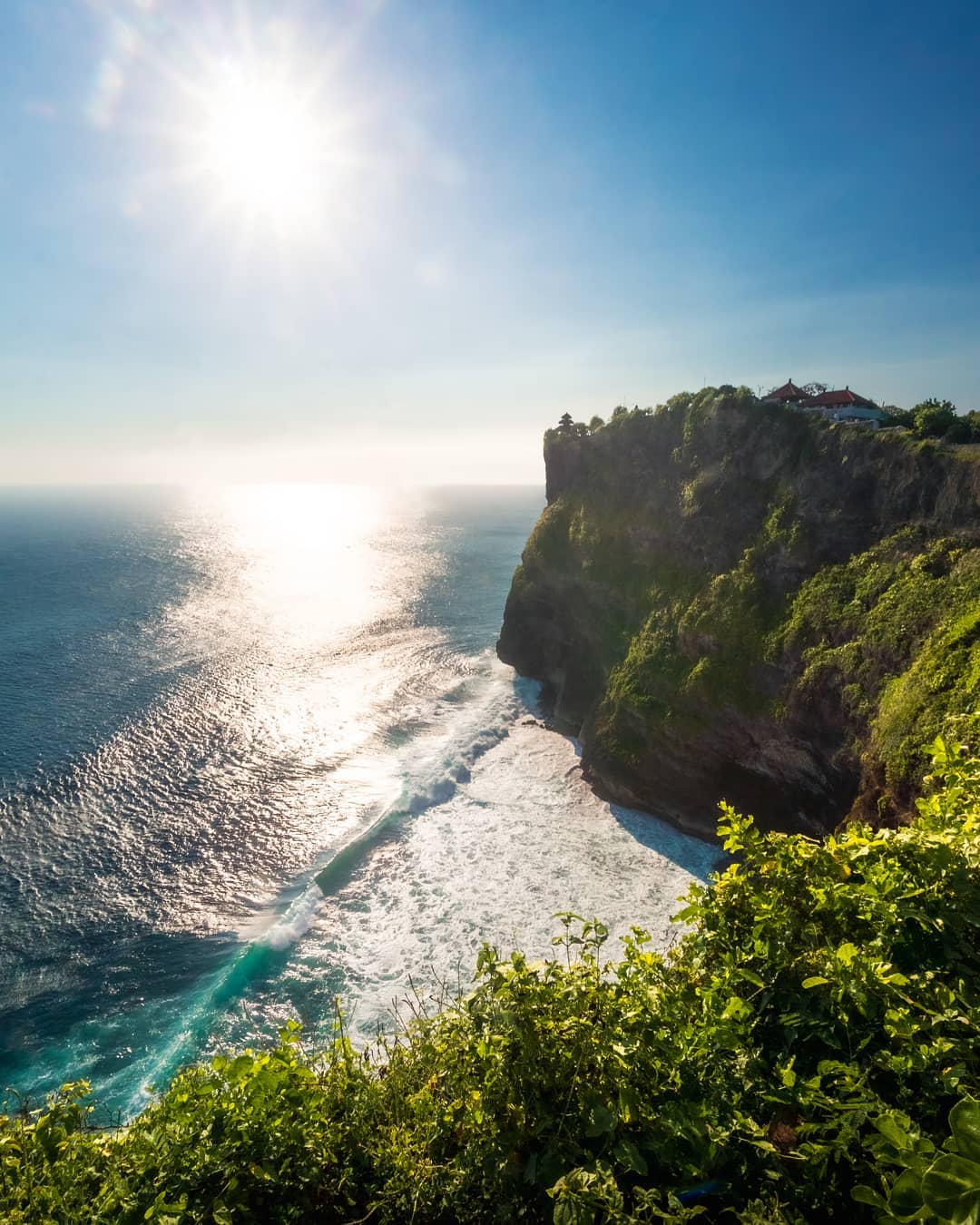 Photo credits @throughthelens88 on Instagram
Snag yourself a spot at our evening tour for the Uluwatu Temple Sunset and Kecak Fire Dance or the Padang Padang Beach and Uluwatu Temple Tour with Kecak Fire Dance in Bali. Jam-packed with a mouth-dropping evening of Balinese choreography with fire and an amazing sunset view, round off your night in the comfort of your private vehicle. After all, the last thing you would want is to get stranded or become prey to taxi scams.
Operating Hours: 9am to 6pm
Address: Jalan Raya Uluwatu, Pecatu, Badung, Bali 80361, Indonesia
Entrance fee: IDR 30,000 ($2.94) for adult; IDR 20,000 ($1.96) for children.
2. Tegal Wangi Beach (Sunset Cave)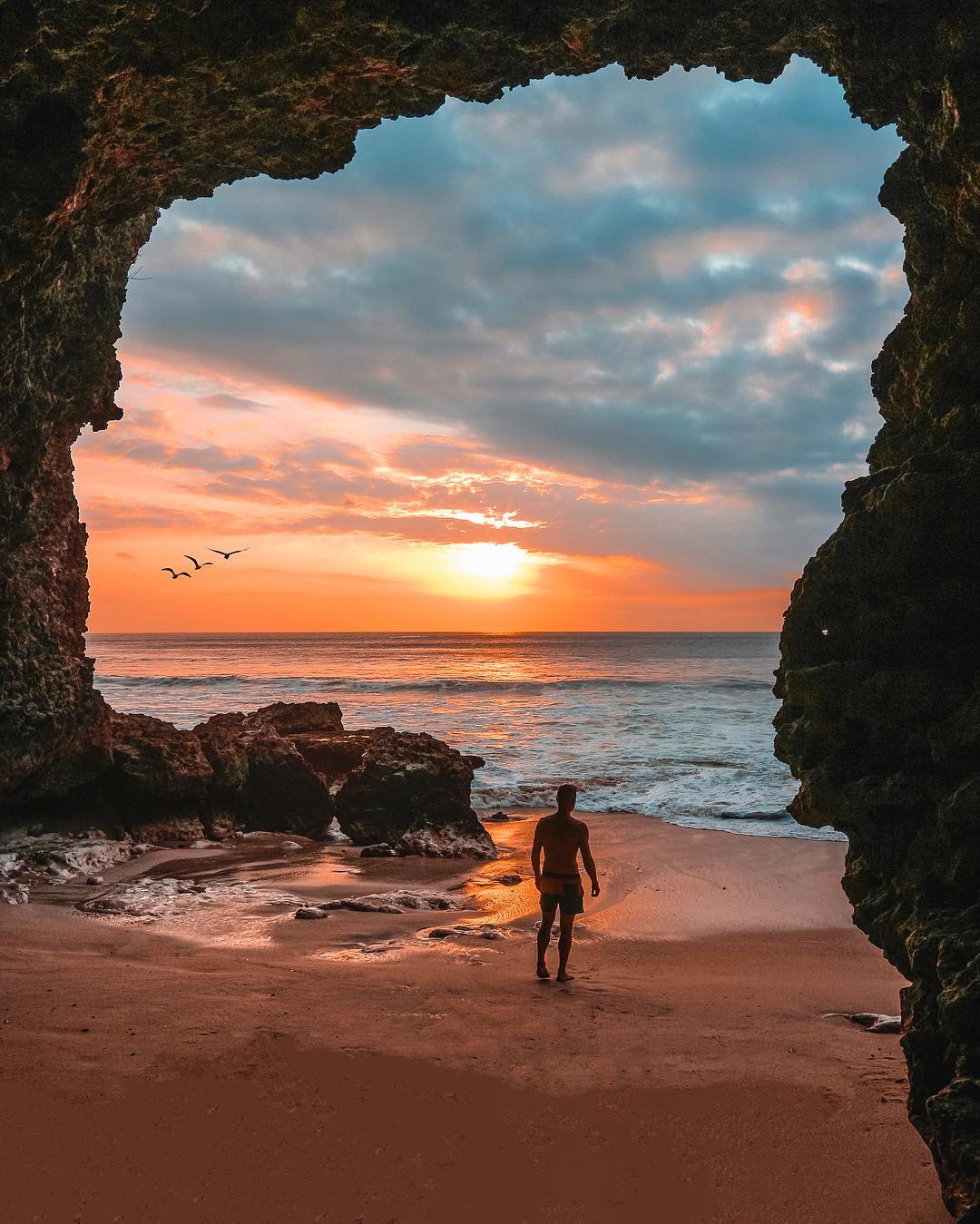 Photo credits: @whereisphilipp on Instagram
Unlike Uluwatu Temple, you can chase that golden glow from below! Pad along the beach as fine sands slips through your toes. Camp over at the Sunset Cave and if you're lucky, it could just be a lovely date between you and the rugged enclave for the rest of the tranquil evening.
Address: Jl. Tegal Wangi, Jimbaran, Kec. Kuta Sel., Kabupaten Badung, Bali 80361, Indonesia
Opening Hours: 24 hours
Entrance fee: Free
3. Mahana Point Cliff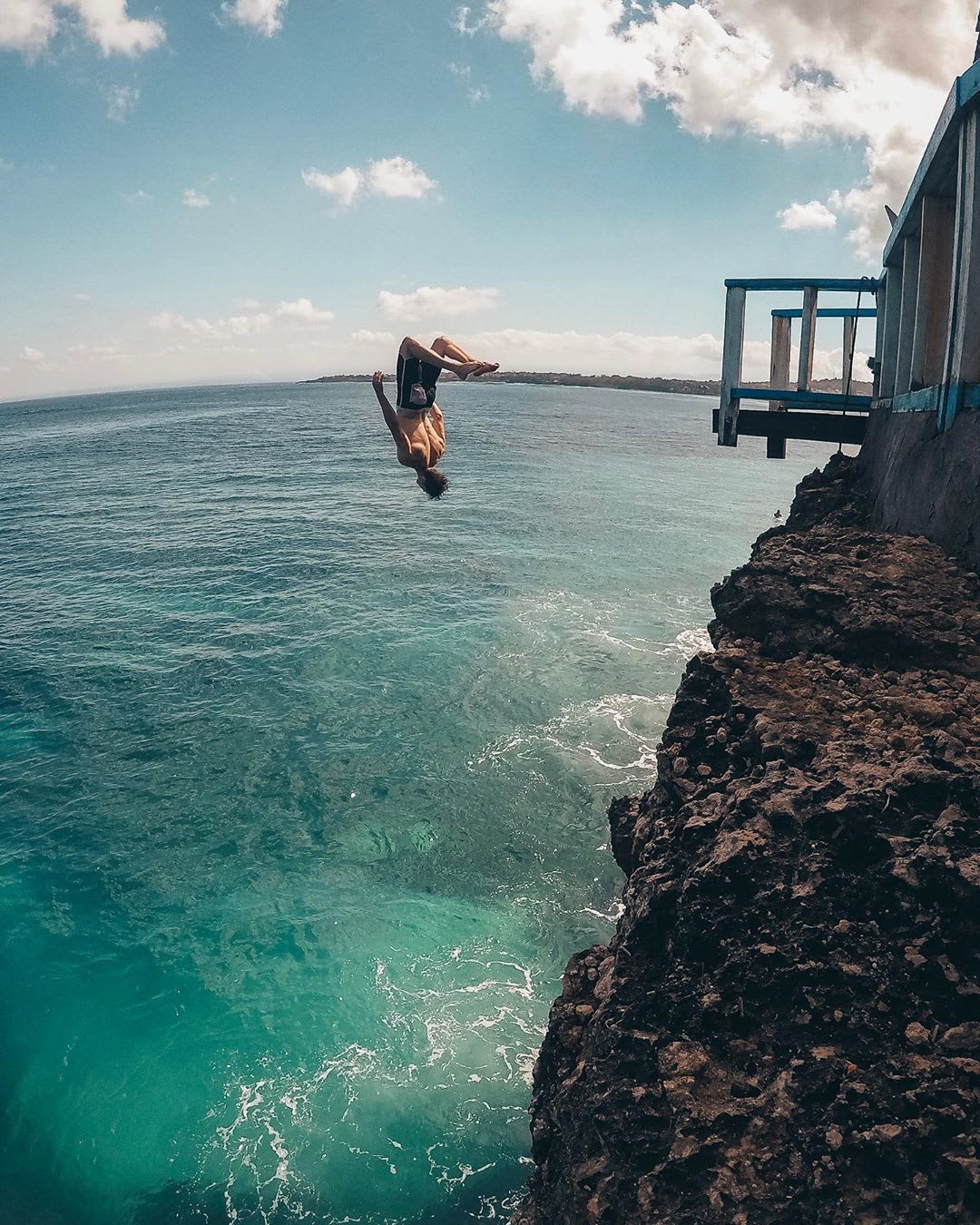 Photo credits: @kevin.earl on Instagram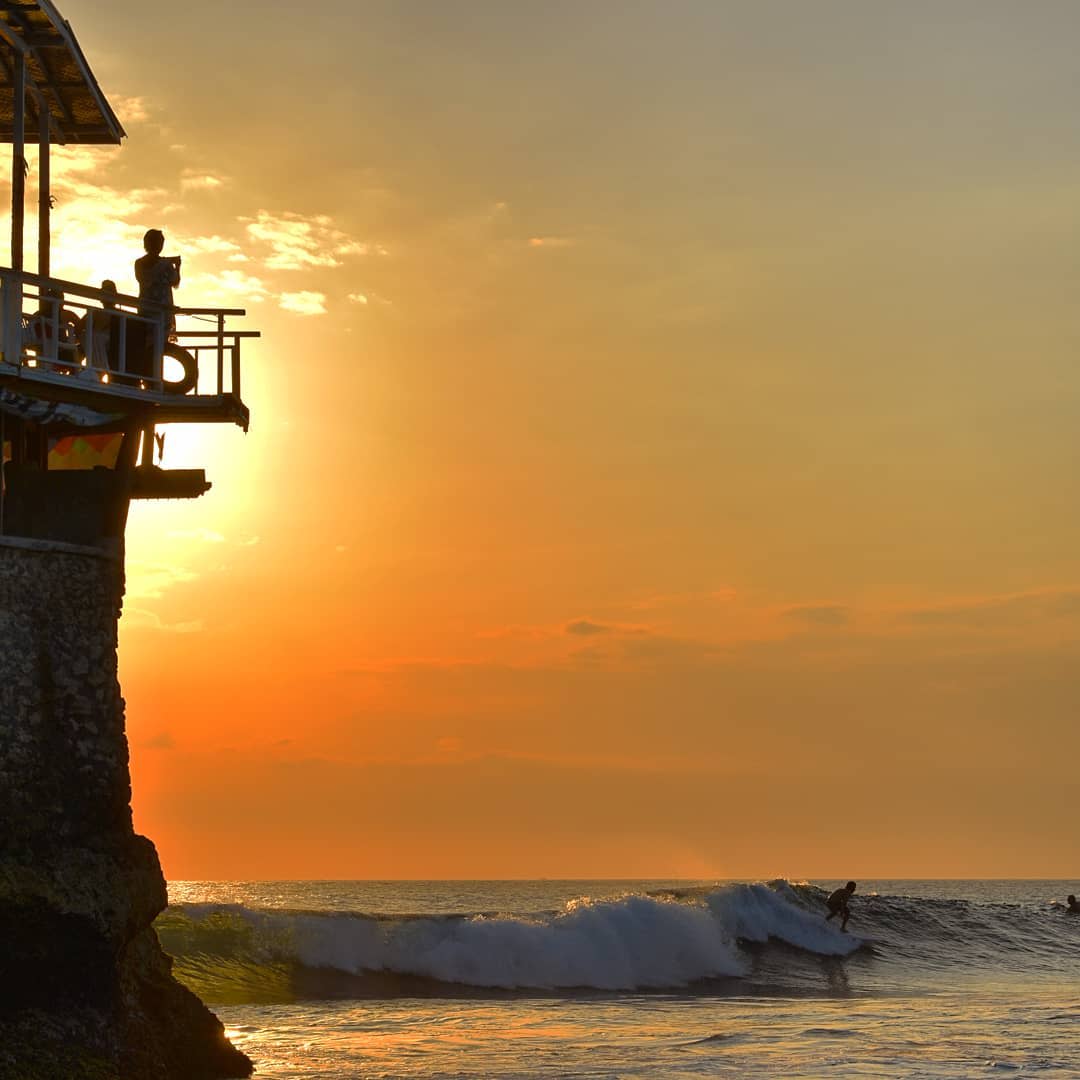 Photo credits: @saschkeller on Instagram
Switch it up for a heart-pumping and nerve-racking afternoon! Head on to Mahana Point Cliff and be knocked breathless. Ready to show your guts? You can take the plunge at the 10m jump or take it easy at the shorter 5m jump. As the sun envelopes the sky in its vibrancy, camp by the cliff and watch the sunrise marks the end another day.
Pumped up and ready for more out of the world experiences? Snorkel your way at another highly raved location: Nusa Penida Island. This hidden gem is another of Bali's scenic treasure. From swimming alongside with huge manta rays and diving past statues of Buddha, there is no qualm if it's worth ticking off the bucket's list!
Address: Lembongan, Nusa Penida, Klungkung Regency, Bali 80771, Indonesia
Operating Hours: 7am to 9pm
Entrance fee: IDR 50,000 ($4.90) for 10m jump; IDR 25,000 ($2.45) for 5m jump
IG Spots for Bali's Swings & More!
4. D'Tukad River Club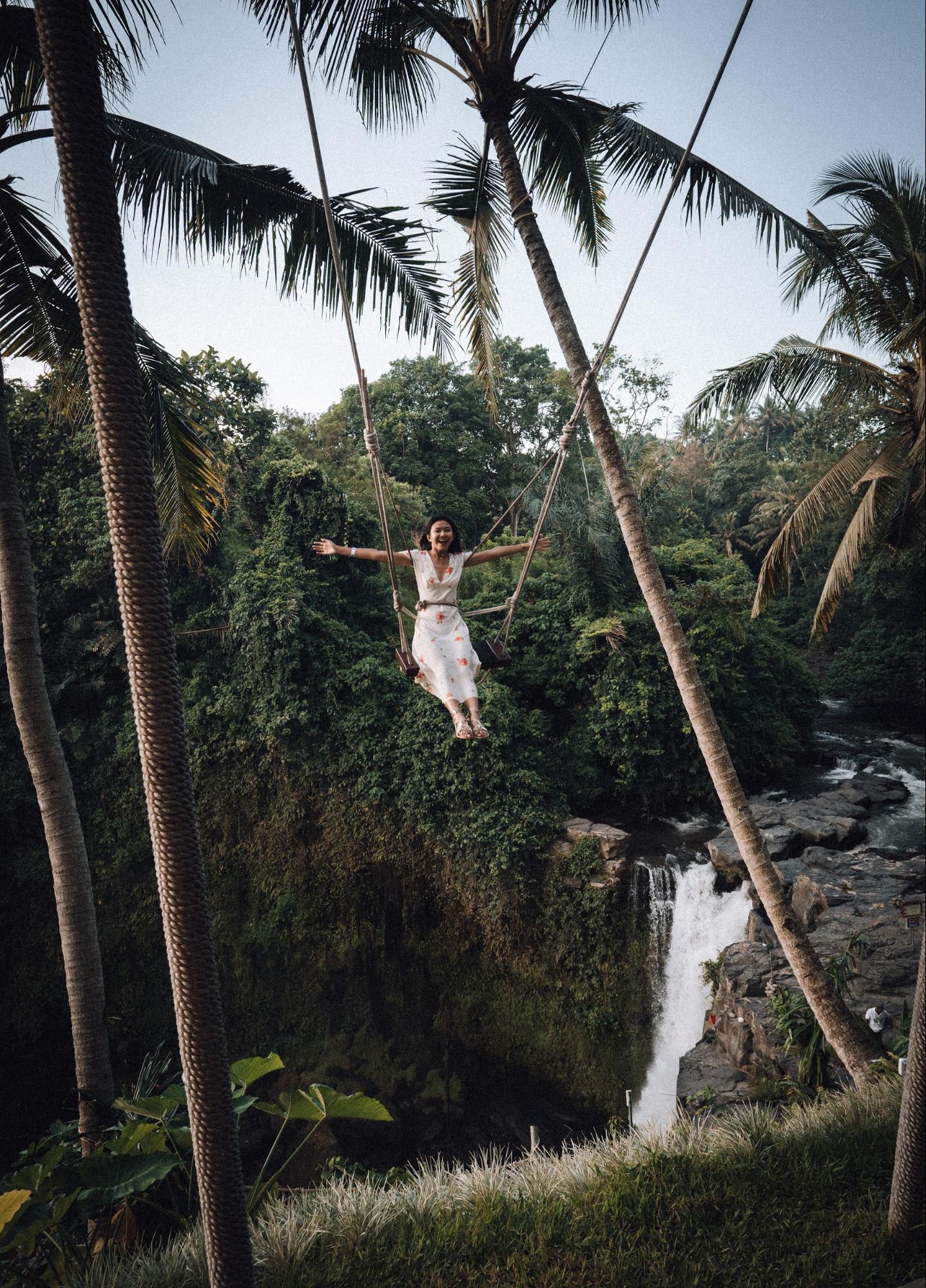 Swings have become a symbolic epitome of Bali; adrenaline, exhilaration, and thrill. Teetering on the edge of paradise, D'Tukad River Cub offers what the ubiquitous Bali Swing doesn't have, amazingly cheap cost (why would you pay US$35 when you can get the same amazing visuals for a fraction of that price?) and a stunning waterfall from behind!
To complete the picturesque experience, deck in your flattering swimsuits and get that golden tan on by the waterfall! Inclusive of a lunch package and access to the infinity pool as well, check out Klook's exclusive all in one package and snag more IG worthy shots!
Address: Desa Wisata Blangsinga, Saba, Kec. Blahbatuh, Kabupaten Gianyar, Bali 80581, Indonesia
Opening Hours: 9am to 7pm; 9am to 9pm on weekends
5. Wanagiri Hidden Hills
Photo credits: @jillatissimo on Instagram
Just a snippet of how Wanagiri Hidden Hills soared to fame: some AirBnb hosts came up with an ingenious idea to drive traffic away from the Bali Swing; their very own array of makeshift swings! Set against a background of the Wanagiri Twin Lake, these unique designs won't disappoint you! From a replica of a cocoon to a giant birds nest, each set has its own distinctive personality.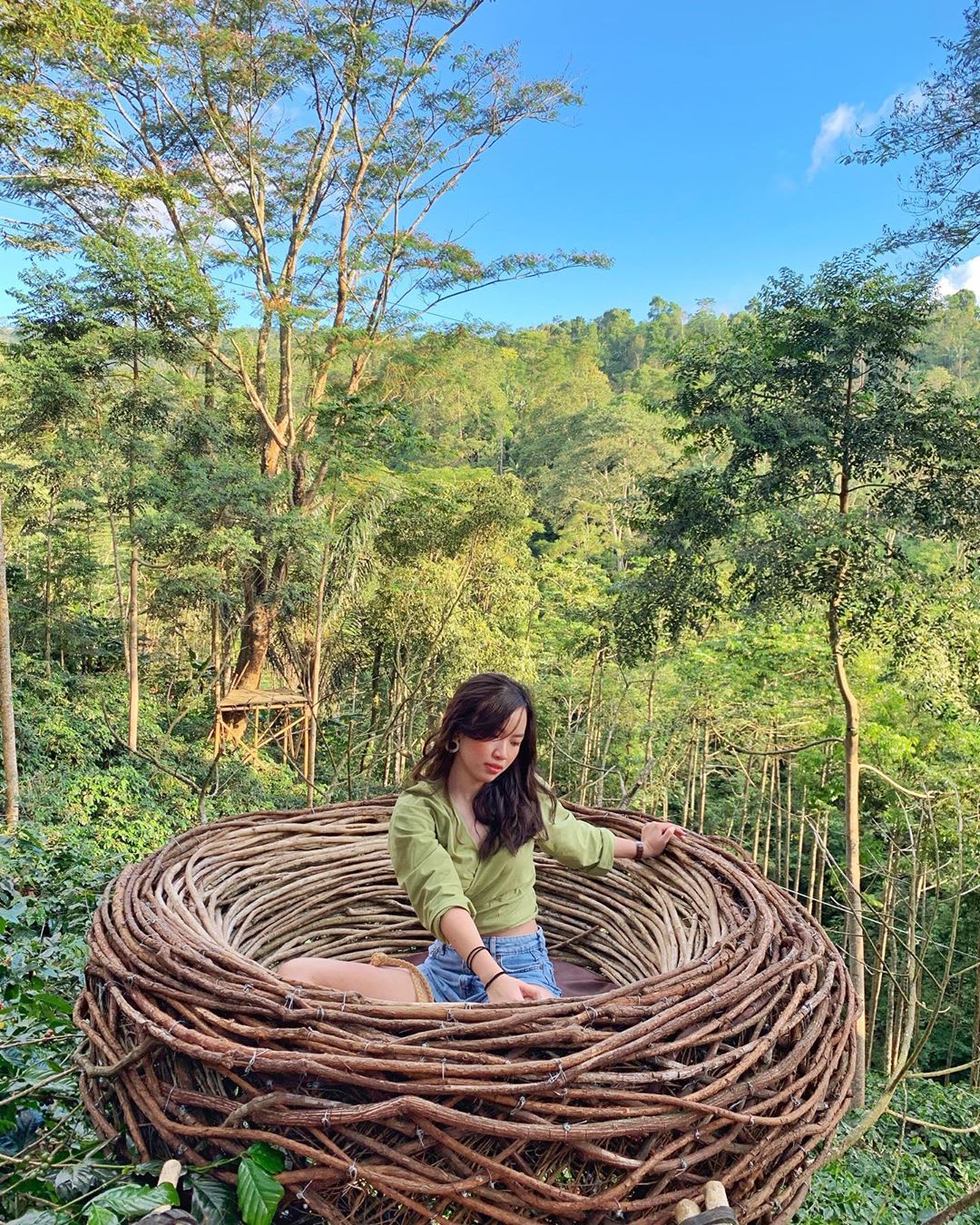 Photo credits: @jessiekeziah on Instagram
#Klooktip: Maxi dresses, summer singlets and crop tops may be all for the gram', but behind the cameras, make sure to grab an outerwear after getting those IG shots. Perched on top of mountains, the weather at Wanagiri Hill can be pretty chilly. The last thing you would want is catching a cold!
Address: Jalan Munduk – Wanagiri, Wanagiri, Sukasada, Pancasari, Sukasada, Kabupaten Buleleng, Bali, Indonesia
Operating Hours: 24 hours; 8am to 6pm (for photography with swing shots)
Entrance Fee: Free; IDR 40,000 ($3.91) to IDR 60,000 ($6.87) for photography
6. Tegalalang Rice Terraces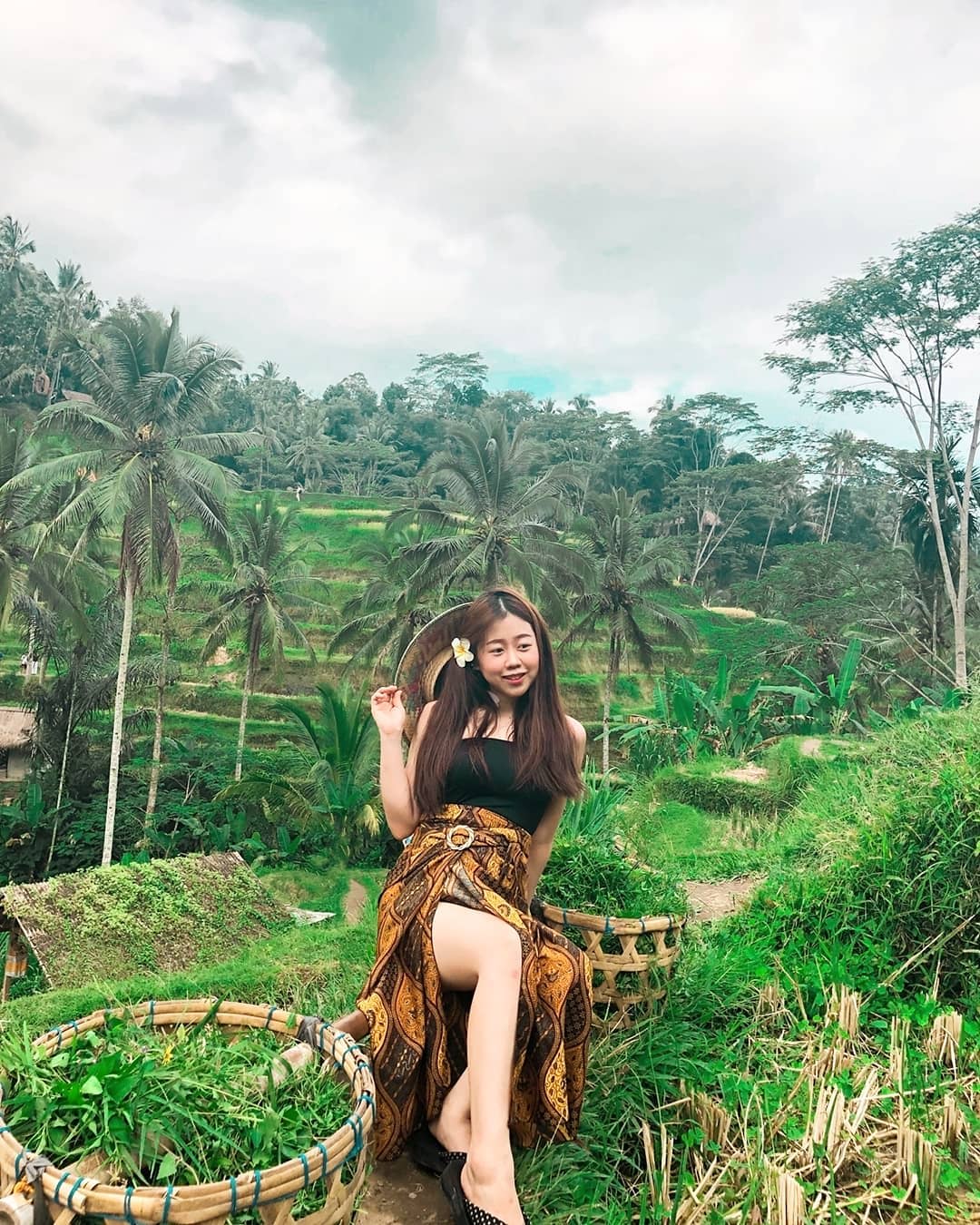 Photo credits: @taniahart12 on Instagram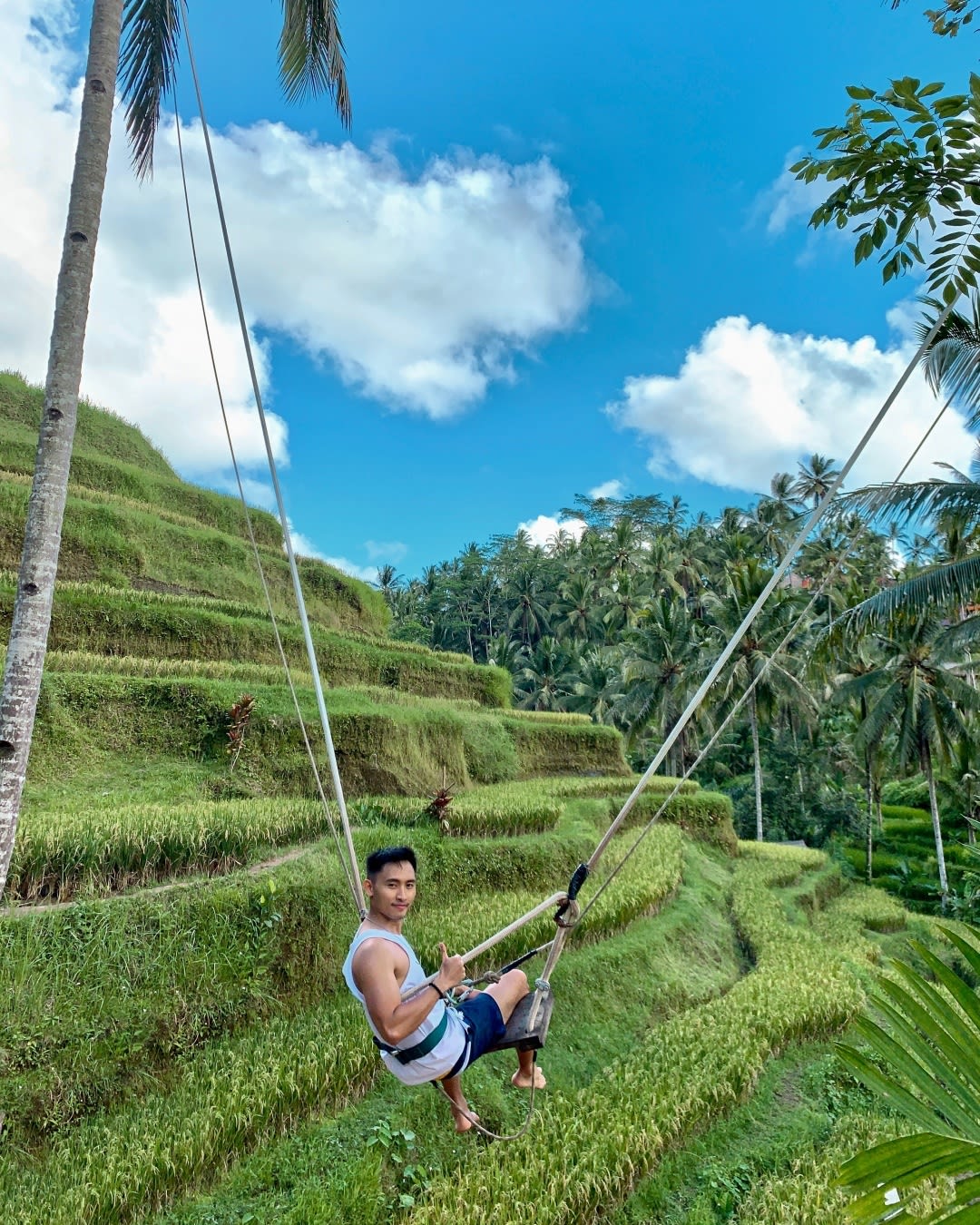 Photo credits: @paulcagayan on Instagram
If you're running out of time, our recommendation is to set off for the Tegalalang Rice Terraces straight! Much like a combination of everything, here you can try on swings of different heights and even picture yourself with seemingly infinite rice terraces spreading across Tegalalang. Adding on to your shot are the edgy landscapes of the rice terrace and on great days, a clear azure sky for your gram'.
Address: Jl. Raya Tegallalang, Tegallalang, Kabupaten Gianyar, Bali 80561, Indonesia
Operating Hours: 7am to 6pm
Cost: IDR 150,000 ($14.67)
IG Spots: For History Geeks!
7. Bali Handara Gate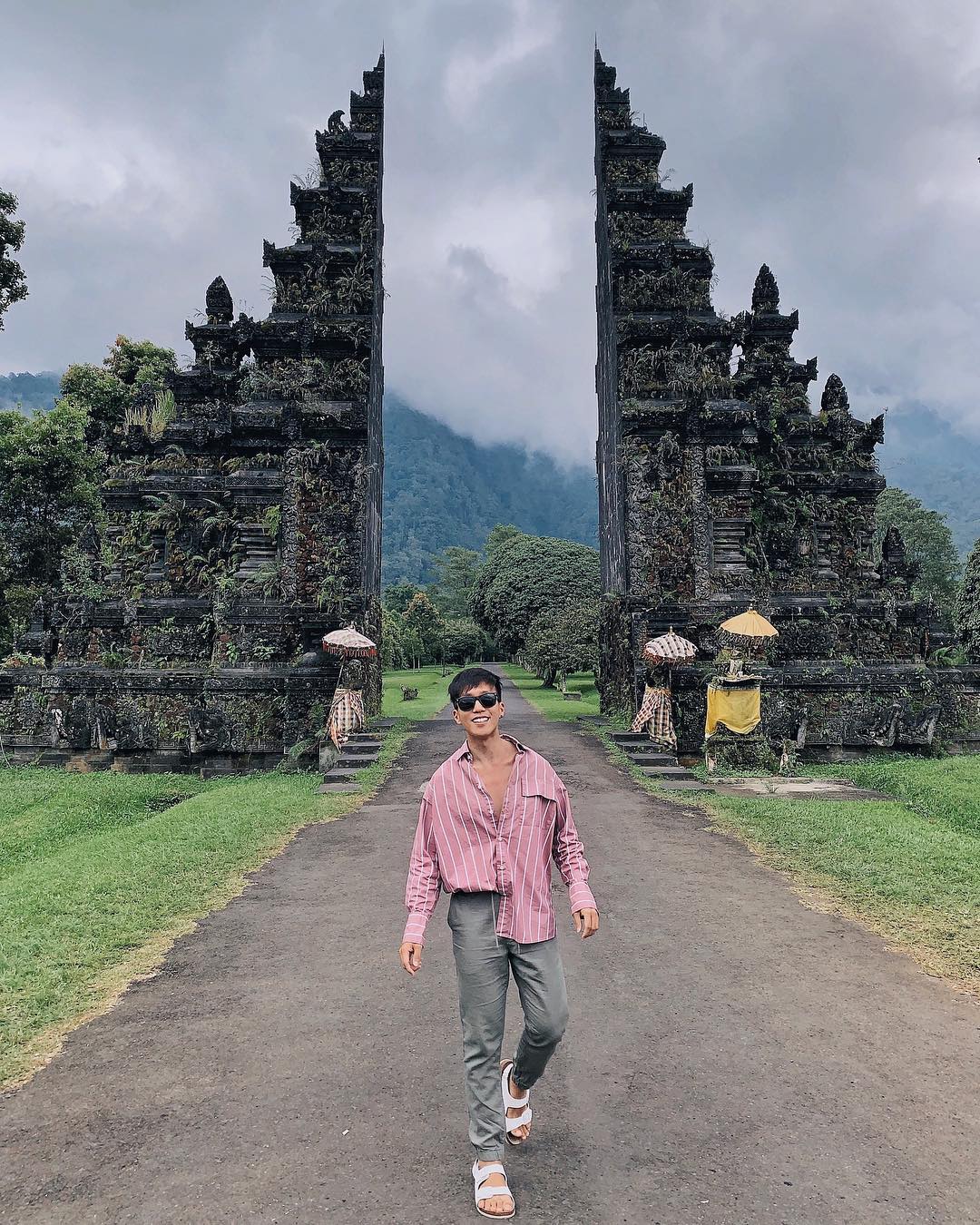 Photo credits: @shawnlimzr on Instagram
The Bali Handara Gate is a crossover in time between Javanese/Balinese centuries-old culture and a modern country club/resort spanning over 18 golf courses. The green habitat has largely been ravished by human development, but the Pathway to Serenity has stood against time. Set against a smouldered backdrop of fluffy clouds and lush green landscapes, it is an IG worthy spot for the #1 social media platform and an awe-inspiring sight to behold.
#Klooktip: Visit the Bali Handara Gate between April and June for the best weather!
Address: Desa Singaraja-Denpasar, Pancasari, Sukasada, Pancasari, Buleleng, Kabupaten Buleleng, Bali 81161, Indonesia
Opening Hours: 6am to 10pm
Entrance fee: IDR 30,000 ($2.93)
8. Pura Lempuyang Luhur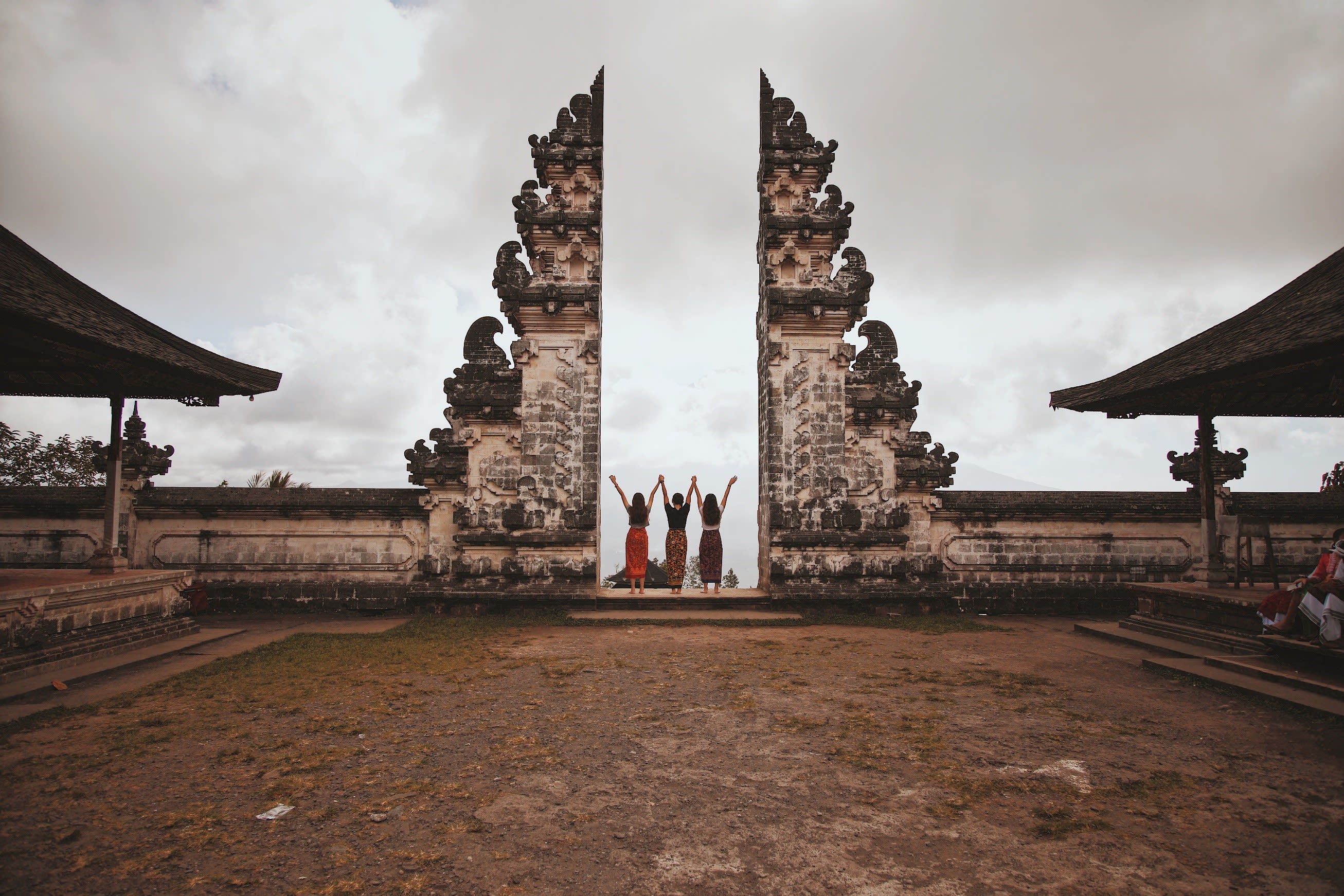 As dreamy as it sounds, the "Gates of Heaven" is nestled deep within a horizon of rainforest and mountains. You will have to scale more than 1,500 steps in a Sarong or any clothing covering your shoulders and knees. However, the trade-off is irrefutably worth the aching joints! The Lempuyang Temple sits at the peak of a volcanic mountain and commands a quiet aura that will calm your frantic heart. After an exhaustive workout, you may wonder, "Am I in heaven already?"
There are sarongs available for rental for IDR 10,000 ($0.98) if you come in outfits that don't cover your shoulders and knees. So make sure to dress appropriately!
Address: Jl. Pura Telaga Mas Lempuyang, Tri Buana, Abang, Kabupaten Karangasem, Bali 80852, Indonesia
Operating Hours: 24 Hours
Entrance fee: Free
9. Tirta Empul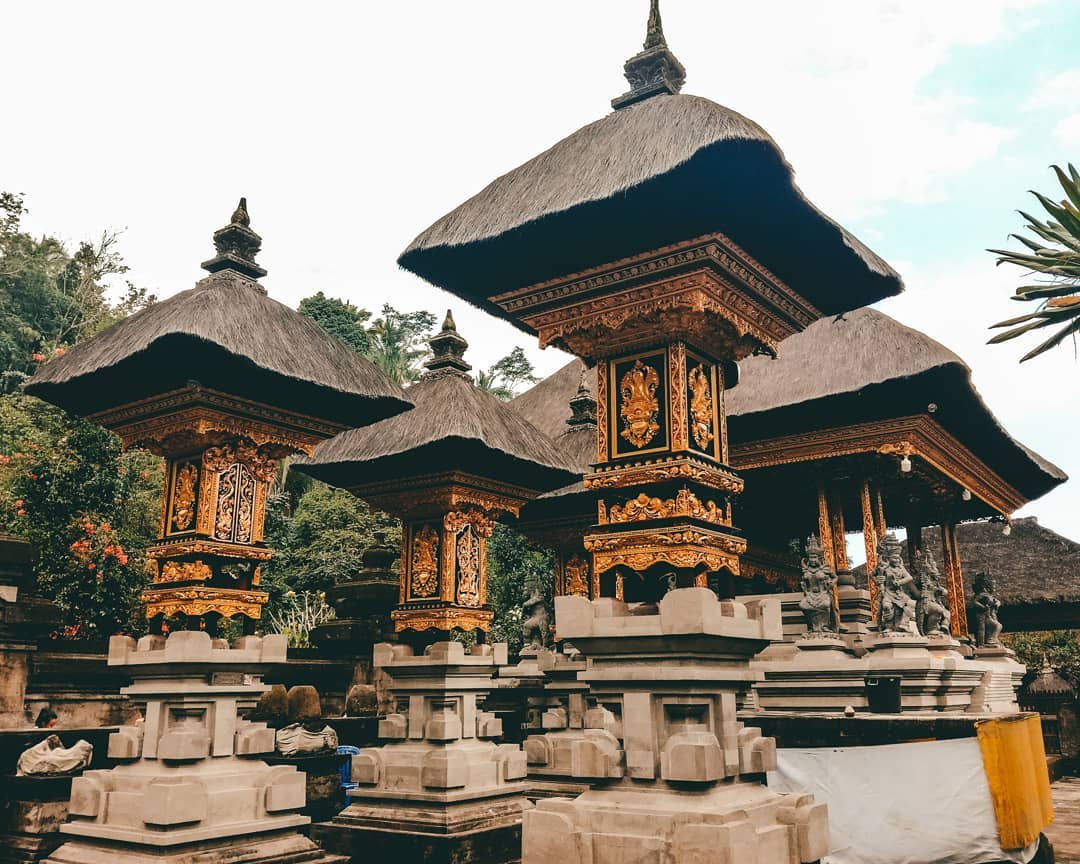 Photo credits: @jadedwz on Instagram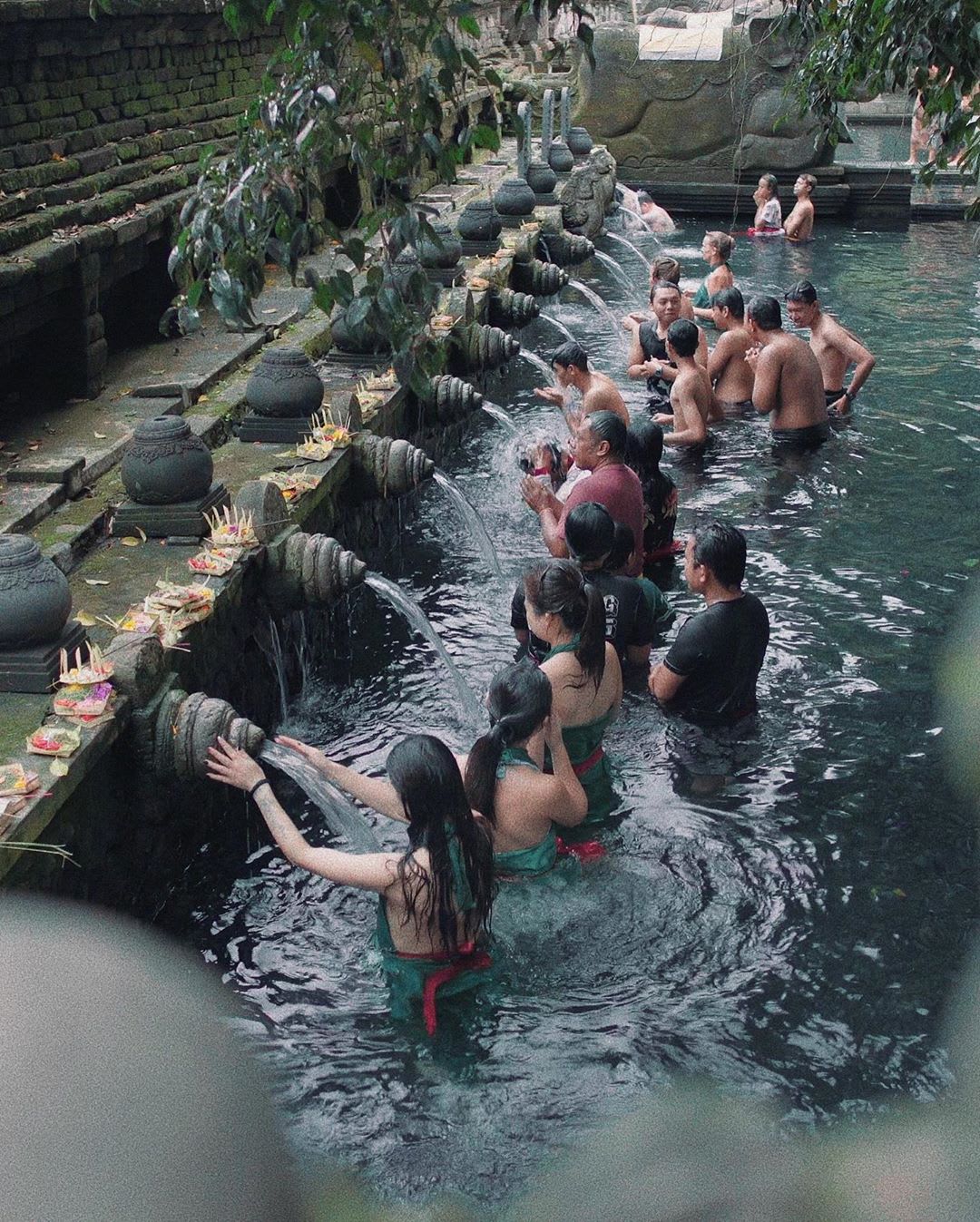 Photo credits: @bethmoth on Instagram
Balinese Hundu worshippers fervently believe that God Indra has created the 'Holy Water Spring' to cleanse people from its sins. Some reckon that there are even curative elements to cure the sick. Others were allured by the mysterious myth and came to capture the grandeur of the temple through their lens. Whoever you might identify with, Tirta Empul will add a dosage of freshness into your IG game and quench your thirst for more wanderlust photos.
Address: Jl. Tirta, Manukaya, Tampaksiring, Kabupaten Gianyar, Bali 80552, Indonesia
Operating Hours: 9am to 5pm
Entrance fee: IDR 15,000 ($1.47) for adults, IDR 7,500 ($0.74) for children
IG Spots: Foodies' Paradise
10. Revolver Espresso (Coffee Café Spot)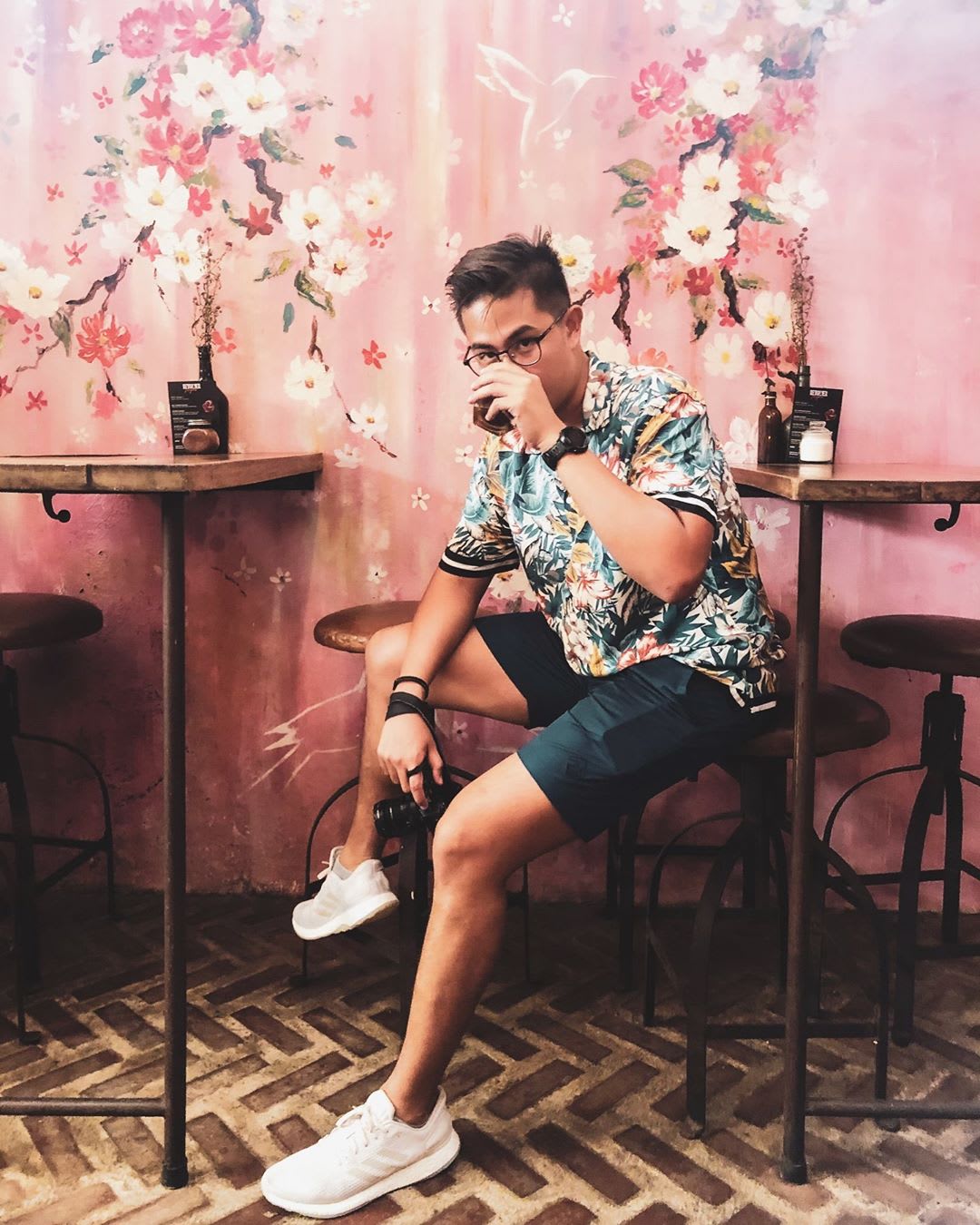 Photo credits: @jaimejaji on Instagram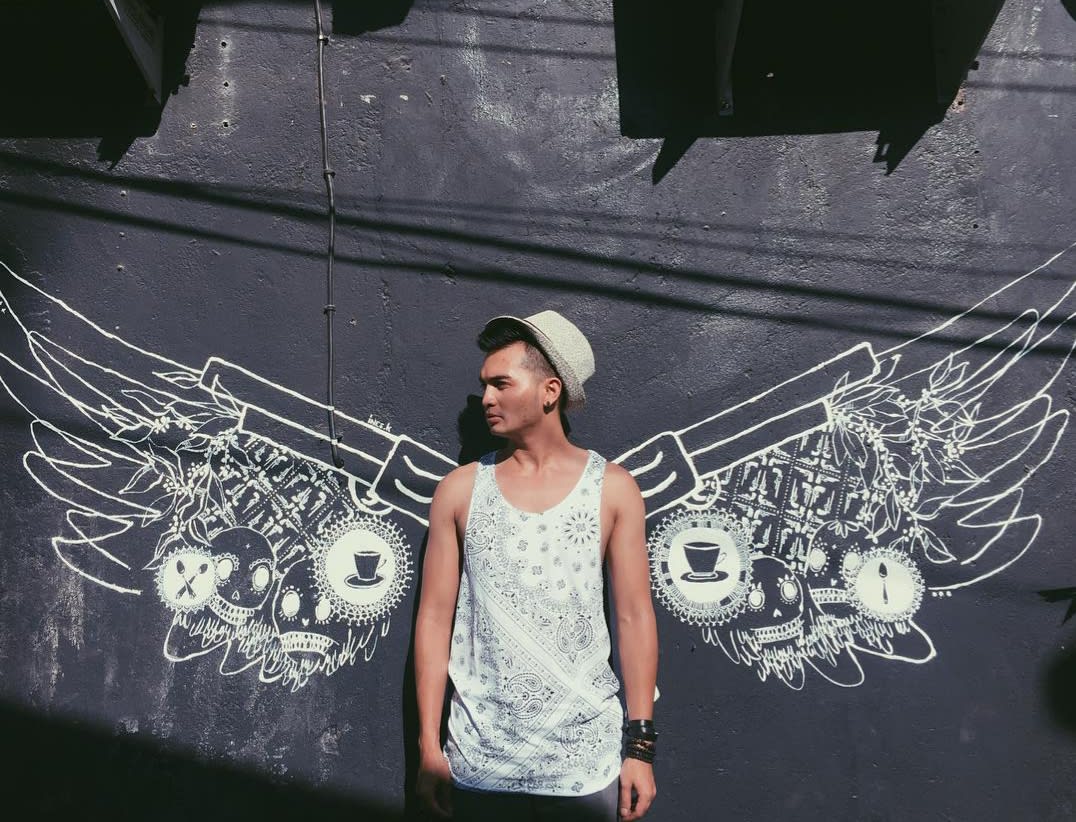 Photo credits: @rhandra__ on Instagram
Calling all coffee fiends! Get both of your fixes (coffee and Instagram) at Revolver Espresso. Get your shot inside the pink interiors pampered with floral walls or venture outside and pose with elaborate murals.
Address: Jl. Kayu Aya Gang 51, Seminyak, Kuta, Seminyak, Kuta, Kabupaten Badung, Bali 80361, Indonesia
Operating Hours: 6am to 6pm
11. Motel Mexicola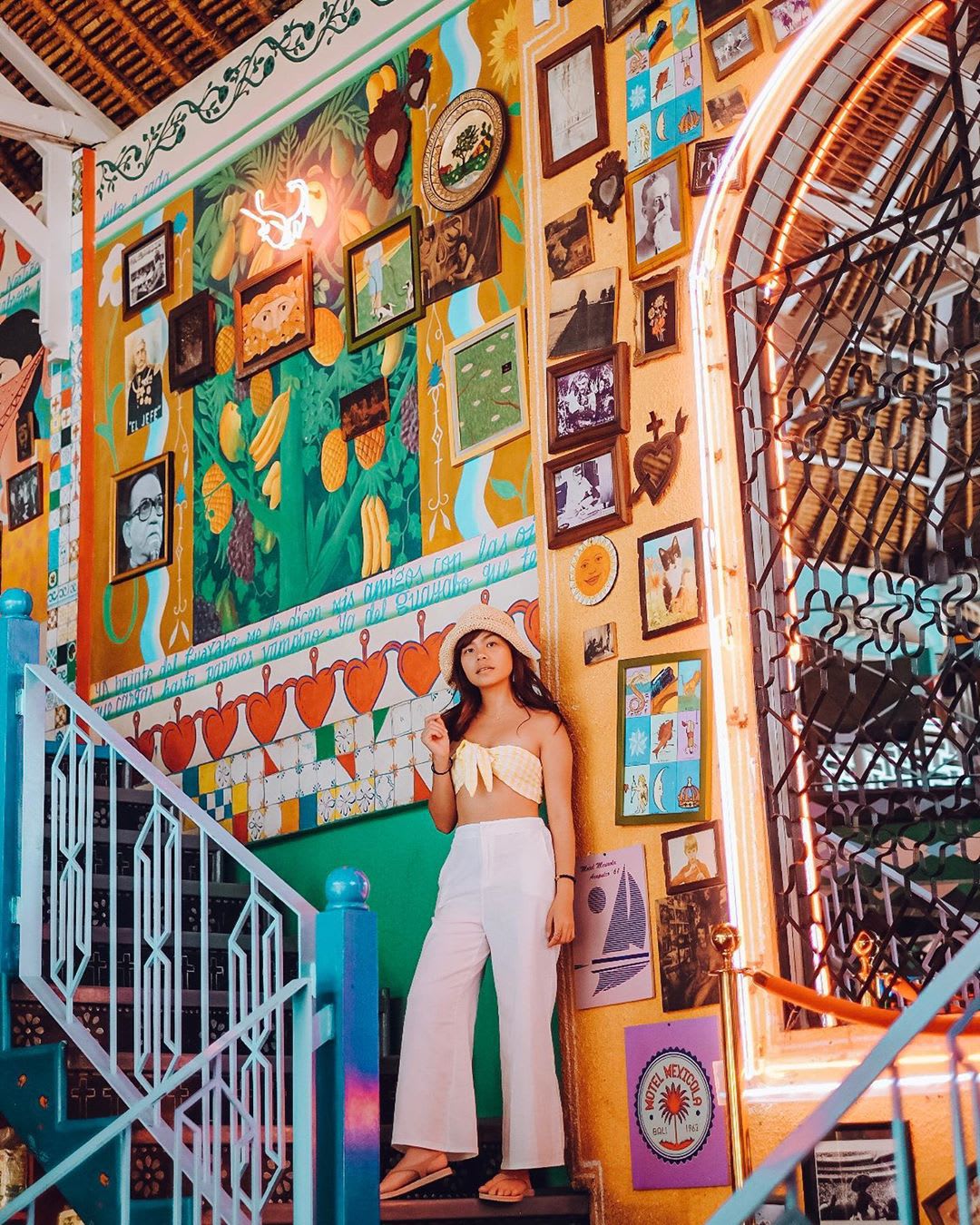 Photo credits: @wengwengwander on Instagram
Motel Mexicola screams M-E-X-I-C-A-N the moment you lay foot into the hall and Mexicans are definitely not shy when it comes to their national colours; popping hues of blue, red, yellow and green. Right at the entrance are walls brandished with wacky photos and scenes of the tropics.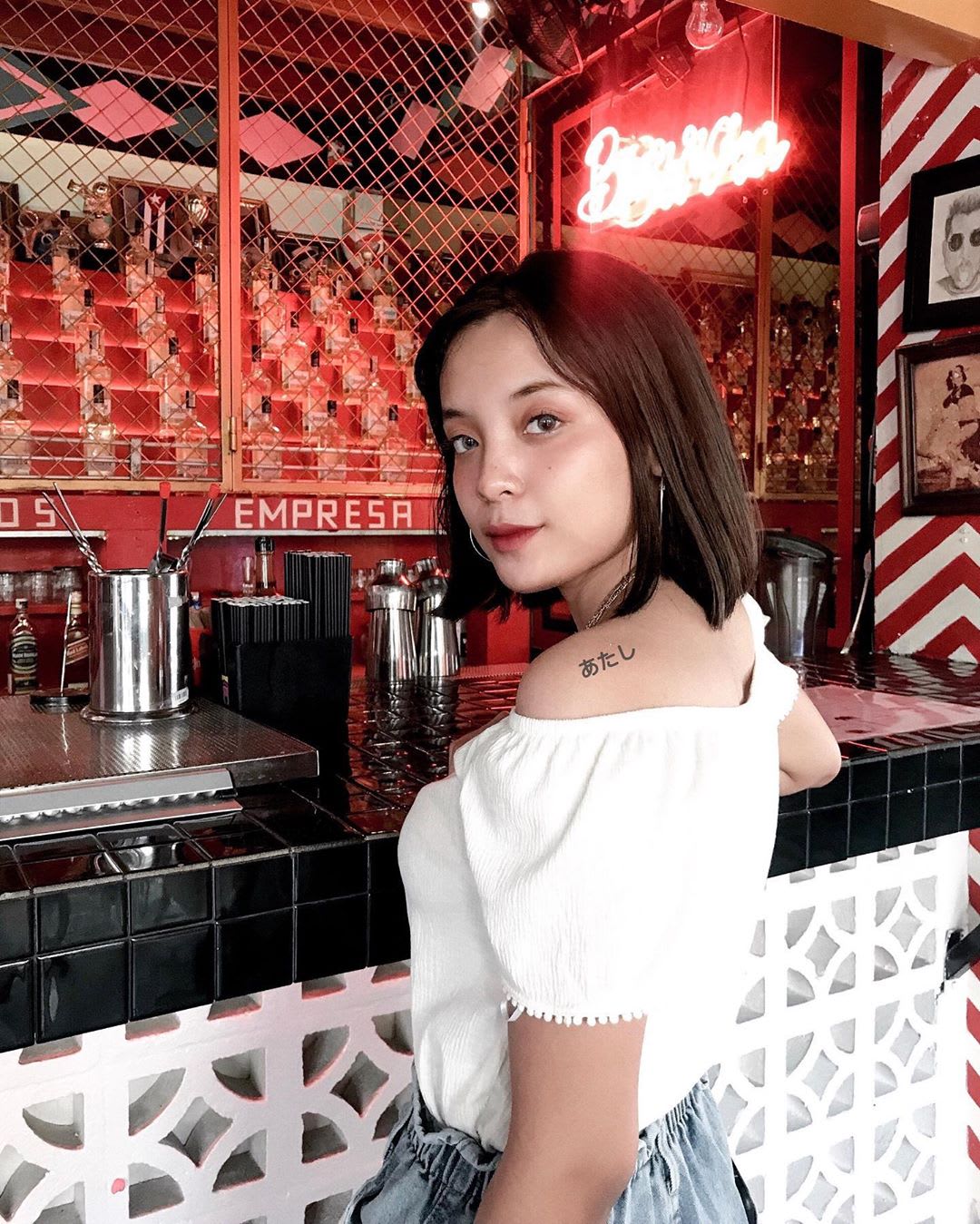 Photo credits: @canniii__ on Instagram
Stay till the and you'll be in for a surprise! The bold personality lights up in complete neon pink as the evening draws closer. Yes, even the beaming spotlights are pink! Not just for show, Motel Mexicola brings the taste of authenticity to the land of paradise. Make sure to dine in first before eating at your phone!
Address: Jalan Kayu Jati No. 9X, Petitenget, Kerobokan Kelod, Kec. Kuta Utara, Kabupaten Badung, Bali 80361, Indonesia
Operating Hours: 11am to 1am
12. The Loft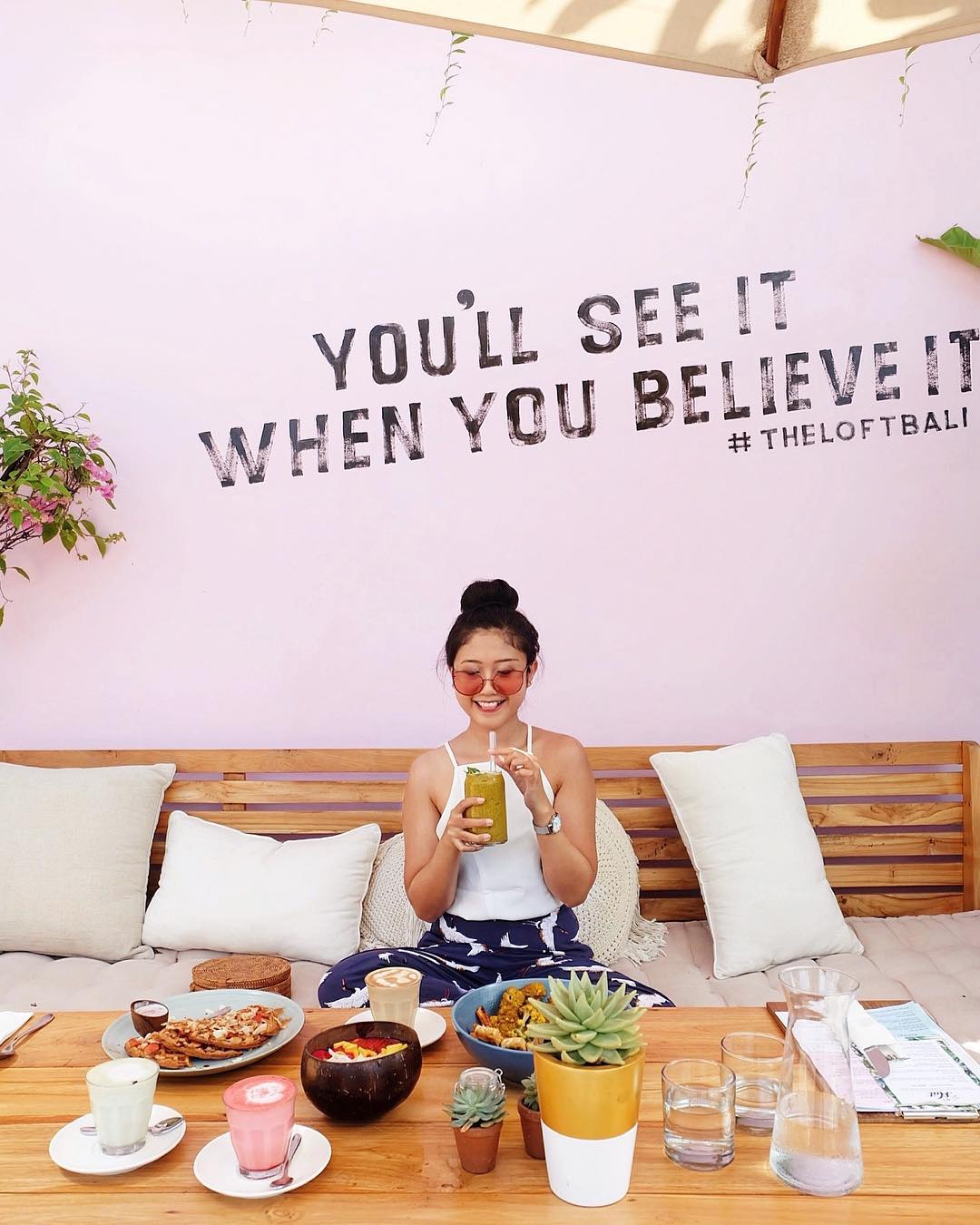 Photo credits: @medinapuspita on Instagram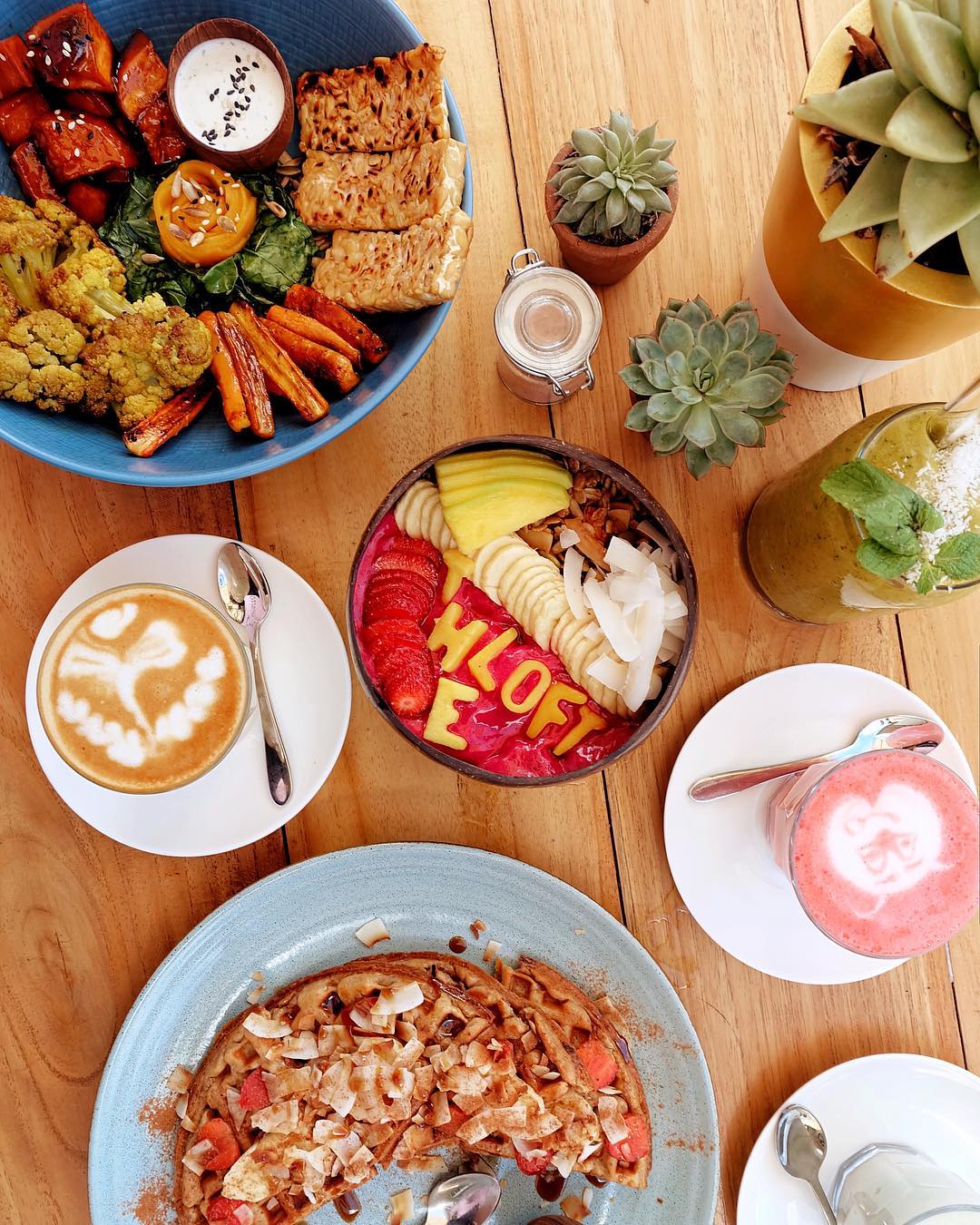 Photo credits: @tanialitadevi on Instagram
Something about pink fits right with Bali. Introducing the next Instagram spot is The Loft. Much like their slogan "You'll see it when you believe it", the same could be applied to their shockingly aesthetic standards to food as well. It's no wonder why tourists have exclaimed their heartaches; it's simply too beautiful to eat it. Not sure what we're driving at? You'll see it when you believe it.
Address: Pantai Batu Bolong Street No.50A, Canggu, North Kuta, Badung Regency, Bali 80361, Indonesia
Operating Hours: 6.30am to 10pm; 6.30pm to 4pm on Sundays
Feeling FOMO yet?
Here's a 4D3N Bali Itinerary to get you started!