The football fever is coming!
The FIFA World Cup football craze is just around the corner and that means it's time to get that jersey out again! Bars, cafes and restaurants will open their doors (and giant projector screens) for all the kaki bola out there. Some fans even host football viewing parties at their house.
But of course, nothing beats the atmosphere of your favourite neighbourhood mamak! Cheap and good food, usually opens 24/7, and most importantly, you can cheer as loud as you wish. Despite the closure of several popular mamaks recently, you can still count on these other popular ones around Klang Valley to watch the World Cup!
Cover image by Anna-Rina Rahim for Cilisos.my.
Mamaks to watch the 2018 FIFA World Cup:
1. Restoran Hakim
This mamak in Seksyen 7, Shah Alam is a household name for fellow Liverpool fans. During the World Cup season however, Premier League debates are out the window and all kinds of football supporters gather around for the boisterous atmosphere to watch the game on the big screen!
Address: Jalan Kristal J7/J, Seksyen 7, 40000 Shah Alam, Selangor
2. NZ Curry House
One of the most popular hangout spots in KL, the NZ Curry House in Wangsa Maju is great to just chill or watch some sports with your buddies. The wide seating area of this mamak gets filled up quickly when there are huge sports events, so you can bet on a lively mood during the World Cup.
Address: No 12 G , Jalan Wangsa Delima 11, D'Wangsa, Wangsa Link, Wangsa Maju, Seksyen 4 Wangsa Maju, 53300 Kuala Lumpur
3. Original Kayu Nasi Kandar
Perhaps the most popular chain of mamak in Malaysia, the SS2 branch is still one of the busiest and popular. Although they're not exactly known for being the most economical mamak around, it sure does get crowded during football seasons!
Address: Check out the list of Kayu Nasi Kandar outlets.
4. Nasi Lemak Cinta Sayang
Many football fans in the Shah Alam area are probably already familiar with this go-to place. As the name suggests, you have to get yourself a plate of their signature nasi lemak! For the upcoming FIFA World Cup, don't be surprised to see this place full house. Also, when it's not the World Cup season, it's a favourite place for Manchester United fans to gather around.
Address: 2, Jalan Renang 13/26, Seksyen 13, 40100 Shah Alam, Selangor
5. Devi's Corner
Surrounded by endless cafes and bars around the Bangsar Telawi area with screenings of live matches, Devi's Corner continues to attract loyal patrons. Usually an after-drinking spot, it gets jam-packed with kaki bola during the football seasons. A special dish you must order when you're there is their nasi lemak goreng!
Address: 14, Jalan Telawi 4, Bangsar Baru, 59100 Kuala Lumpur
6. Restoran Lotus Curry House
This neighbourhood mamak has an indoor and outdoor seating area, where you can find live matches being displayed on the big screens. Aside from the usual mamak offerings, the banana leaf rice and nasi kandar are worth trying as well.
Address: G-G-21, Jalan PJU 1/45, Aman Suria, 47301 Petaling Jaya, Selangor
7. Restaurant SK Maju
Just across the Taman Bahagia LRT station, this mamak is a favourite amongst students and locals. It gets pretty crowded at night and the crazy traffic at the intersection by the mamak combined with the lack of parking space can be a bit tricky. So, the best way to get there is by taking the LRT or carpool with your friends.
Address: SS 2, 47300 Petaling Jaya, Selangor
8. Merrah by Selera Ikhlas
Although not technically considered a mamak, they do serve many mamak and local favourites. Fun fact, you know this place caters to football fans because they also have a special Gooner menu designed for Arsenal fans!
Address: 22, Jalan PJU 8/3A, Damansara Perdana, 47820 Petaling Jaya, Selangor
9. Rasta
The go-to hangout spot for many locals since the days it used to be in Jalan Burhanuddin Helmi, Rasta is now located at a bigger premise in Jalan Datuk Sulaiman. You can find this place crowded at night with locals who are there to eat, shisha, and to lepak after work.
Address: Lot 3052, Jalan Datuk Sulaiman, Kampung Sungai Penchala, 60000 Kuala Lumpur
10. Safiz Corner Restoran
If you frequent the Desa Sri Hartamas area, you will most likely have heard or been to this mamak. During sports seasons, this place is packed to the brim with supporters watching the live matches projected on the massive screens.
Address: 2, Jalan 31/70a, Desa Sri Hartamas, 50480 Kuala Lumpur
11. Nasi Kandar Pelita
A well-known mamak chain across Malaysia, the huge outlet in Jalan Ampang remains one of their busiest outlets. Just across from where Zouk used to be, this mamak was once a go-to spot after clubbing. Now, it caters more to locals working around the area and travellers staying at nearby hotels and hostels.
Address: 149, Jalan Ampang, Kuala Lumpur, 50450 Kuala Lumpur
12. The Port
Just down the road from Centrepoint Bandar Utama and the huge McDonald's, you will come across a lively hangout spot amongst the younger crowds. More of a food court than mamak, The Port kept to their theme, using shipping containers as decor as well as food stalls. Usually crowded after dinner time, if you can't find a spot you can simply head to the nearby 24-hour McDonald's!
Address: Lebuh Bandar Utama, Bandar Utama, 47800 Petaling Jaya, Selangor
13. Rock Cafe
A hybrid between the best parts of a food court and mamak, it's no wonder that Rock Cafe is a treasured gem in Bandar Sunway. With over 30 food stalls selling all kinds of cuisine, you're spoilt for food choices at Rock Cafe! A favourite amongst families, friends, and students, the place gets especially busy during the screenings of major sports events.
Address: Medan Rock Cafe, Jalan PJS 11/20, Bandar Sunway, 46150 Subang Jaya, Selangor
Who are you rooting for?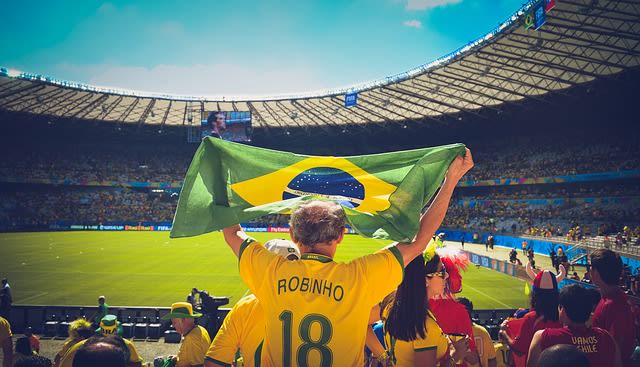 It'll be a month of sleepless nights soon but hey, it's worth losing sleep since it's only every 4 years. Did we miss out any one of your favourite mamaks to watch football? Let us know in the comments!