Phuket boasts so many romantic hideaways that you might return several times for anniversaries or for your honeymoon.
When you think of Phuket, what comes to mind? That time you challenged your girlfriends to downing 3 cocktail buckets, or that time you were too hungover to go snorkelling?
Though those days are long gone, the charm of Phuket hasn't worn off. On the other end of the spectrum, it's a world away from boozy nights out… and you might even return for an intimate spa trip with your +1. Phuket boasts so many romantic hideaways that you might return several times for anniversaries or for your honeymoon. Don't worry though, we've got you sorted – below we've laid out the top romantic things to do in Phuket for couples.
Reaching Phuket couldn't be easier – it's a matter of an overnight flight. As you approach Phuket, flying over Phang Nga Bay, the idyllic blue waters will remind you of why so many Aussies choose Phuket for their holiday, and come back for more. You'll be able to discover Phuket in a new light – and fall in love with each other all over again (cheesy, but don't worry she'll like it!).
1. Explore Phi Phi & Maya Bay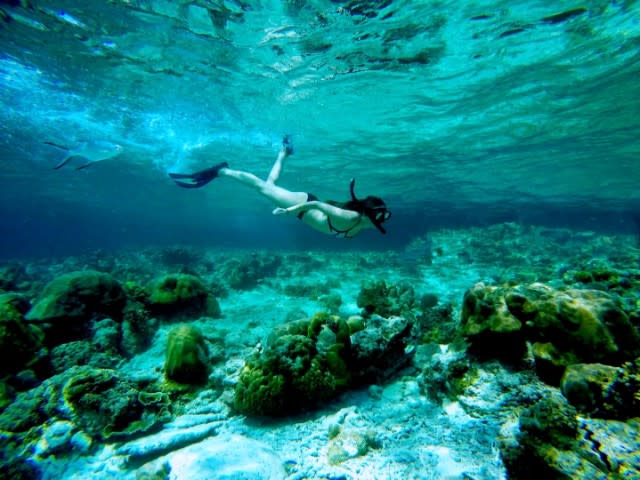 If you're looking for memorable honeymoon ideas, look no further than spending the day exploring Phi Phi's wealth of treasures. The Phi Phi and Maya Area Snorkeling Day Trip from Phuket with Premium Lunch Buffet is a fantastic way to delve deep into the jewels in Phuket's crown, from the stunning Loh Samah Bay to the picture-perfect Pileh Lagoon.
Your day starts as the sun rises, and ends 10 hours later as the afternoon draws to a close. After being picked up from your hotel, you'll be whisked away to some of Phi Phi's most outstanding areas by boat. Island hopping and snorkelling is on the menu, followed b . y a tasty lunch enjoyed on the white sands of Bamboo Island.
You'll have the opportunity to marvel at the magnificent Maya Bay, Viking Bay and Monkey Cliff before cruising the turquoise waters back to Ao Por Pier. A brilliant day spent exploring Phi Phi in all its glory is guaranteed.
2. Indulge in spa and wellness treatments in a top-class Phuket spa
x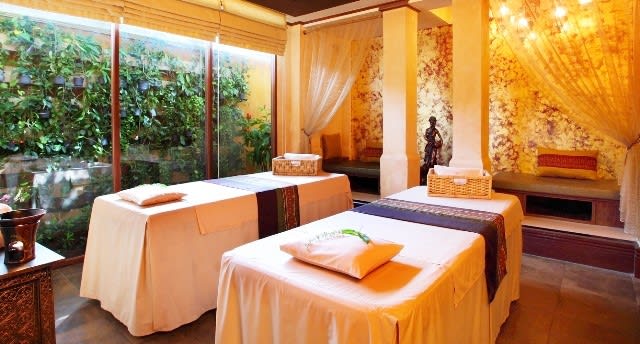 Get your romantic getaway in Phuket off to a good start and indulge in a spa experience. From massages to mud baths, time spent in Phuket's luxury Spa Burasari is sure to leave you feeling Zen. After all, no trip to Thailand would be complete without an authentic Thai massage! Go ahead and treat yourself.
We particularly love the Spa Burasari Experience for couples, where you can opt for the Buralicious Spa Package, which is 3.5 hours of full-body pampering, ranging from an invigorating Natural Tuina facial massage to a feel-good foot-cleansing session. Spa Burasari is ideally located in the 5-star Burasari Phuket Hotel in Patong city centre, so getting there is hassle-free.
A spa day in one of Phuket's top-rated hotels is sure to leave you feeling thoroughly refreshed and ready to embrace the beauty of Phuket.
3. Take to the countryside of Phuket on two wheels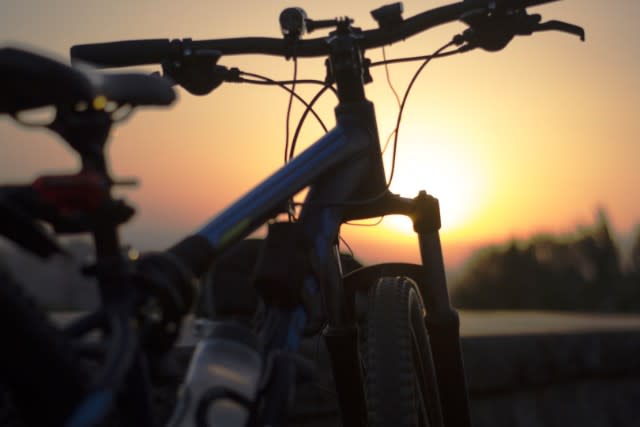 Phuket's breathtaking countryside and array of tropical wildlife make for very special bike tours. Discovering the island's raw beauty and panoramic views on two wheels really is a once-in-a-lifetime experience that lets you get up close and personal with the island's tropical heart.
The Phuket Countryside Half Day Biking Tour takes you on an 18km adventure through soaring palms and rubber trees, giving you the chance to soak up Phuket's flora, fauna and wildlife. Don your helmet, fill your water bottle and follow the guide as they lead you into Phuket's dense landscape. You'll make a stop at The Gibbon Rehabilitation Project before visiting a National Park deep in the jungle.
An unforgettable experience for couples looking to celebrate their honeymoon amid Phuket's tropical surroundings.
4. Learn how to make cocktails in paradise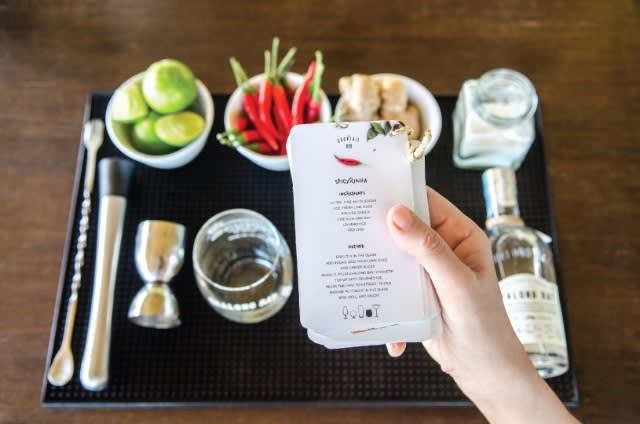 Make the most of long evenings and lazy starts in Phuket by taking part in a cocktail class. The Chalong Bay Rum Cocktail Workshop is a great way to sample the lemon-grass infused, locally produced Chalong Bay Rum at its finest.
During the 2-hour workshop, professional bartenders with vast knowledge of Chalong Bay Rum show you how to make cocktails using this sweet, delicately floral spirit. You can even create your own tropical rum cocktail using professional equipment during the class – the perfect way for newly-weds to raise a toast to their honeymoon!
There's also the option to join the Distillery Tour during your visit, where you'll learn all about the fascinating distillery process for Phuket's Chalong Bay Rum.
5. Enjoy a sunset dinner and canoeing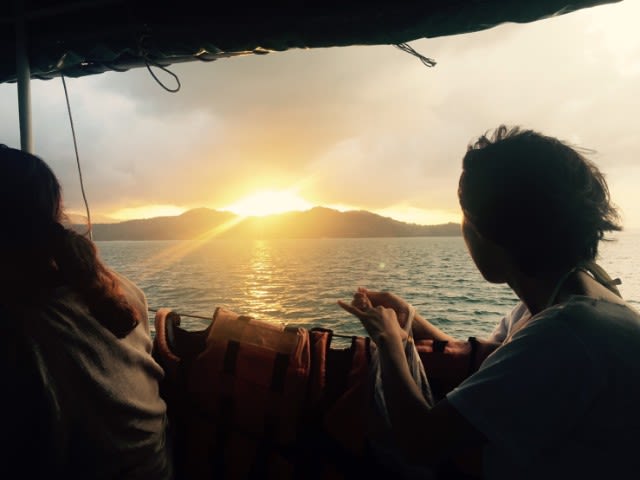 When it comes to romantic things to do in Phuket, little compares to a sunset dinner over the Andaman Sea. Picture you and your +1 aboard a ferry gently floating across tranquil waters just after a guided canoe trip through Phuket's hidden caves, and you've officially arrived in every true romantic's dream scenario.
The Phang Nga Bay Sunset Dinner & Canoeing experience is arguably one of the best honeymoon ideas out there. As you step aboard the ferry at Ao Por Pier, you'll be overwhelmed by the beauty around you as the sun begins to set. Once aboard, you'll be treated to sublime views of Panak Island in Phang Nga Bay, before expert canoe instructors guide you on an enchanting journey through Phuket's hidden caves and mystical lagoons.
After your sunset paddle, savour a romantic meal for two amid idyllic views of Hong Island before sailing back to Ao Por Pier.
6. Take part in your own private photoshoot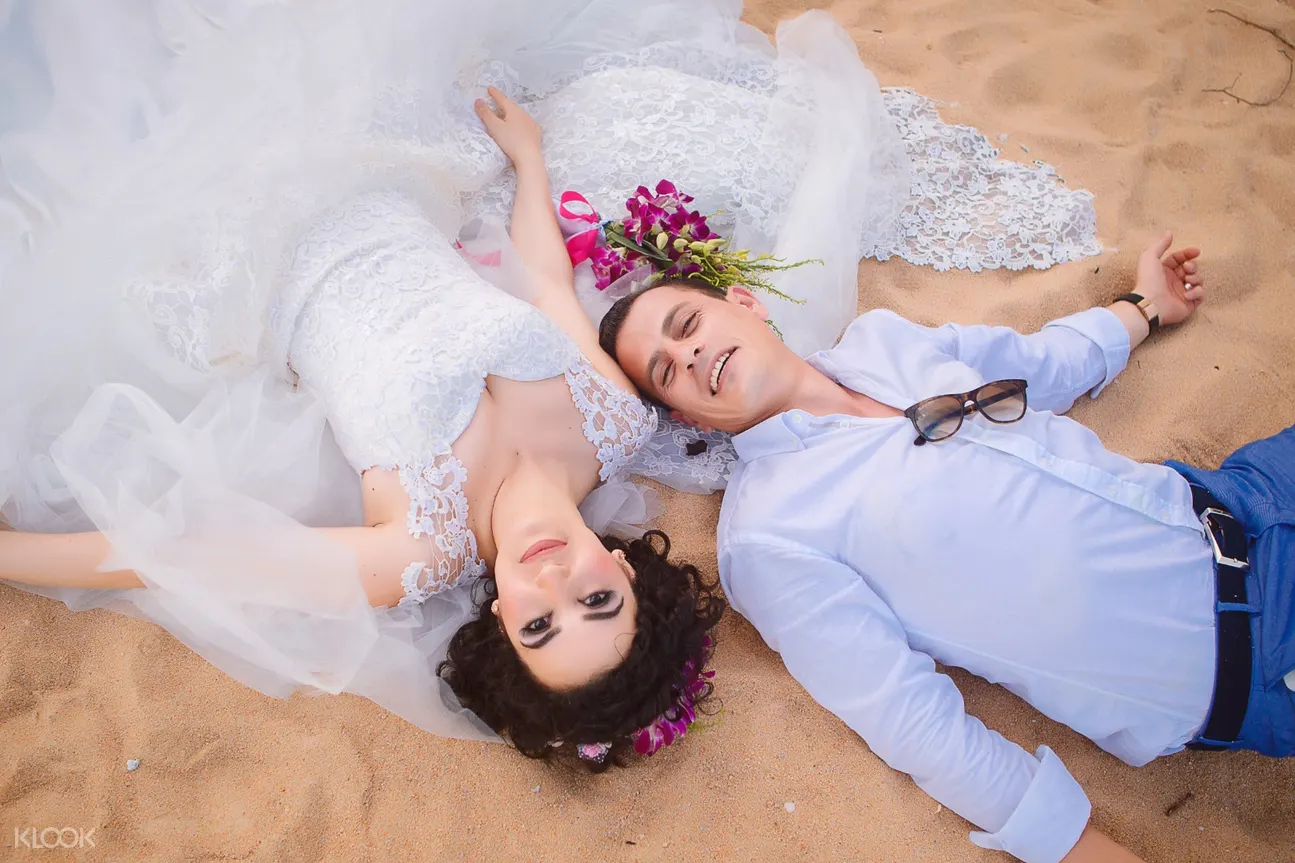 You might not be a famous instagram couple, but hey, you can pretend. Take your relationship one step further by booking a Private Photo Shoot Experience in Phuket, and you'll return home with stunning photographs taken by your own professional photographer – the perfect way to remember your special holiday together.
Couples can choose from four settings and times for the photoshoot and can also customise the theme, ensuring the result is exactly what you had in mind. Go on, run into the sunset, frolic in the water or cuddle up on the sand – your imagination is the limit!
Once the photoshoot is wrapped up, you'll receive the images in your chosen format within 3 to 7 days.
7. Take to the skies on a helicopter tour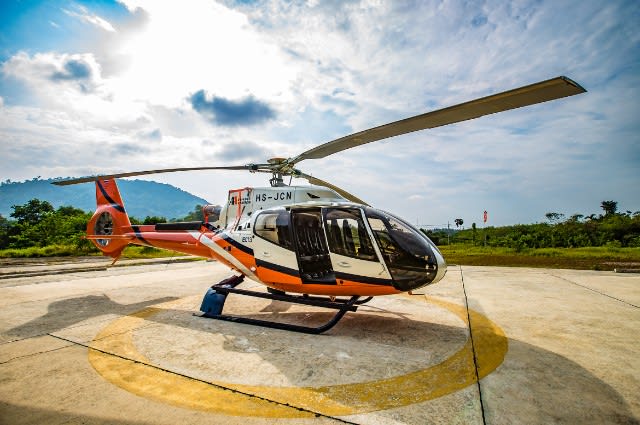 Create unforgettable memories as you take to the skies high above Phuket. The perfect activity to celebrate a special anniversary trip, Phuket Helicopter Tours give you the chance to experience Phuket's exceptionally beautiful beaches and landscapes as you've never seen them before.
You can choose between three impressive routes. Route A covers Phuket's world-famous beaches and exclusive resorts, and Route B sees you soaring over beaches, tropical rainforests, the island's 46m Big Buddha, Wat Chalong and the Royal Phuket Marina, among other beautiful sites. Meanwhile, Route C covers the island's incredible natural landscapes, the floating Muslim Village and the Blue Canyon Golf Course.
Your pilot will share in-depth knowledge of Phuket as you admire the scenery from the EC-130 helicopter. Just make sure you remember your camera – aerial photos do great on the 'gram!
8. Explore 4 Islands in Krabi with a snorkelling trip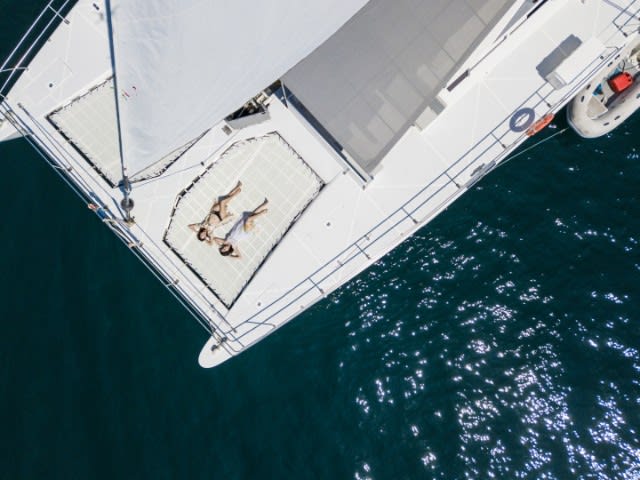 If you're a couple planning a Phuket itinerary, then one of the most romantic things you can do for your partner is to tour the Krabi 4 islands by speedboat or longtail boat. This speedy tour will take you to some of Krabi's most iconic landmarks which includes sights like Koh Gai, aka the Chicken Island, noted for its peculiar-shaped mountain top. Snorkel in crystal clear turquoise waters of Koh Poda and don't forget to press stud a photo with the background of its famous rock featured on travel postcards and tourist brochures. With transportation from hotel and lunch taken care of, all you have left to do is relax and take in stunning Krabi views.
10. Take a romantic speedboat tour to Surin Island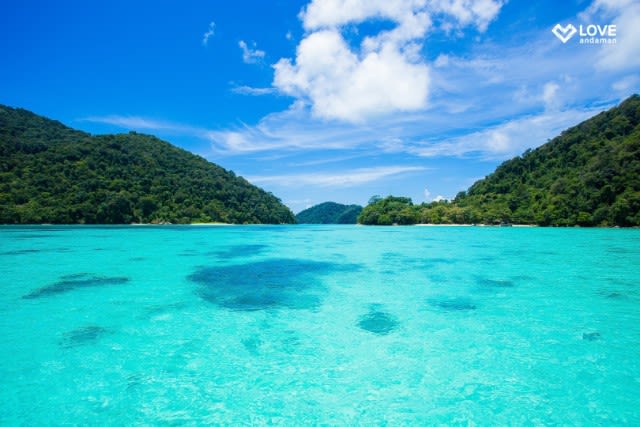 When curating the top pick of romantic things to do for couples, it doesn't get much better than a day spent cruising along the idyllic coastline of Surin Island. Covered in a lush blanket of soaring palms and tropical flora, the island is lapped by shimmering waters, home to a myriad of aquatic life.
Your day begins as the sun rises above Phuket, and ends at 5pm, with door-to-door service included as part of the price of the Surin Islands Speedboat Tour by Love Andaman. After arriving at Love Andaman's private pier, you'll skim the seas in a stunning speed boat before snorkelling amid sensational coral reefs as the sun bounces off the ocean.
After stopping for a hearty lunch, you'll cruise over to Moken Village and learn about the fascinating history of Thailand's tribes people. More snorkelling opportunities ensue before travelling back across the waves to Tablamu Pier.
11. Enjoy a unique night out watching Siam Niramit
A great way to experience Thai food and culture, the Siam Niramit Phuket show is one of the best in Thailand. Tickets to see this wonderful show also include an optional traditional Thai buffet for a truly authentic evening in Phuket.
The three-act performance is a cacophony of sights and sounds. More than 100 performers transport you into a wondrous Thai world, complete with acrobatics, martial arts and a dancing set against stunning backdrops and lighting. You'll be taken on a fascinating adventure through Thailand's vast cultural landscape in all its splendour.
If you opt for dinner during the show, you'll be treated to a selection of Thai and international cuisine, with vegetarian and halal options also available. In short, a fabulous evening out and a great honeymoon idea!
12. Spend quality time together on the Phang Nga Bay sunset cruise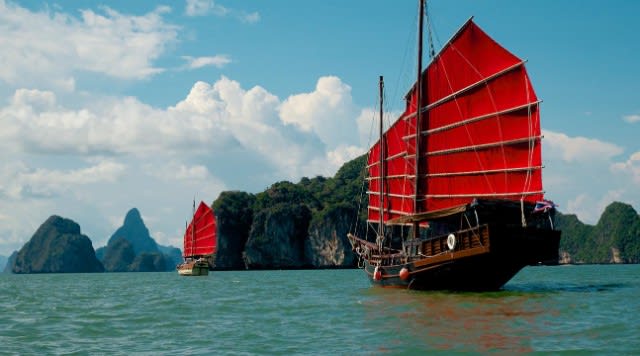 What's more romantic than cosying up on a cruise into the sunset in Phang Nga Bay? Deserving of its place among the most romantic things for couples to do in Phuket, the June Bahtra Phang Nga Bay Sunset Cruise will leave you with treasured memories long after you step off the boat.
This breathtaking cruise takes you to Lawa Island to soak up the sunset before enjoying a delicious Thai buffet dinner as dusk quietly falls around you. A leisurely sail back to Yacht Haven Marina Pier follows, where you'll then be driven back to your hotel. Take your camera with you as there'll be plenty of opportunities for you to snap some memorable shots!
Your proposal, honeymoon or anniversary sorted – in Phuket of course!
Few places can rival Phuket's striking landscapes, luxury resorts and first-class trips and activities. From out-of-this-world experiences along the island's coastline to endless sunsets, the Thai islands are an obvious choice. And with so many romantic things to do in Phuket for couples, it's a spectacular way to plan proposals, honeymoons or anniversaries.
Curious about how to explore the best of Phuket in one day at your own pace? Check our our guide to the on how to explore Phuket in one day using the Klook's Phuket's car charter experience.