Everyone knows that New York is a foodie's heaven!
Dishes from all around the world are brought together and served up on a near endless bed of food stalls, street markets right through to multiple Michelin star restaurants.  
And that's the beauty of this bustling metropolis! You can gorge on trash food (y'know what we're talking about – the filthiest nachos and dirtiest pizzas that we all love to travel for!) and you can eat like royalty at the fine dining hotspots. It's like a tale of two cities, except it's a taste of two cities and you get to try them both!
So here's our recommendations on what to eat for breakfast, lunch and dinner when you're next visiting the Big Apple! 
(Disclaimer: nothing of what we're about to recommend contains apples. There's a banana, but no apples. Sorry.)
A Trashy (and totally tasty) NY Food Tour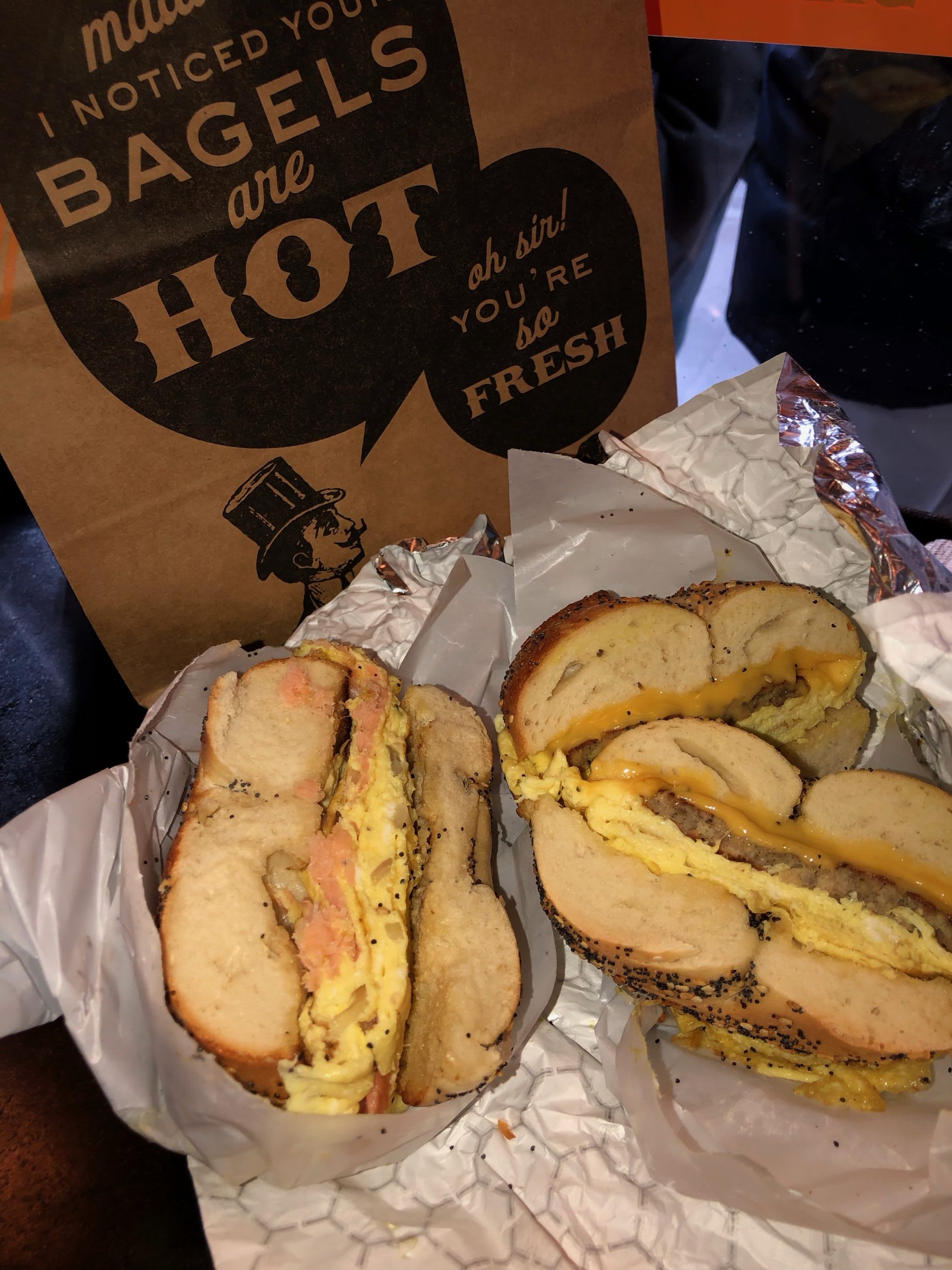 Meal: Breakfast
Area: Financial District 
Dish: The Shimmy (salmon, whitefish salad, tomato and Bermuda onion)
Description: You'll probably have to queue for 10 minutes to get served, but man alive it's worth the wait! And it might technically be 'trashy' prices, but don't be fooled – this is some good quality grub and will set you up for a day of exploring! 
Price: £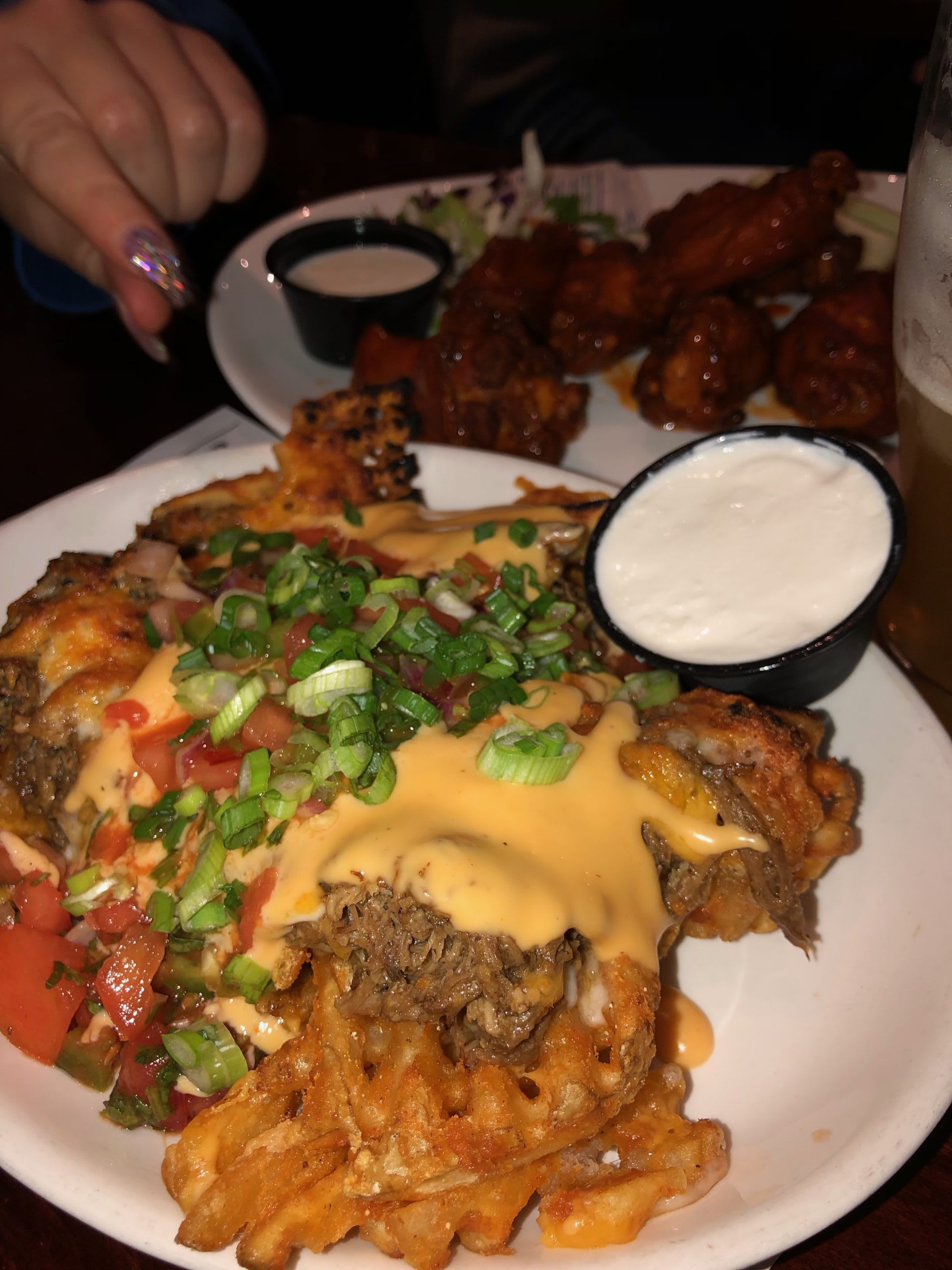 Meal: Lunch
Area: Midtown
Dish: Short rib nachos (waffle fries, cheddar jack cheese) & a side of wings
Description: This place is like a small slice of Ireland, except it's in NYC and it's BUZZING!. All the staff are Irish and there's a bunch of TV screens showing sports, so it's a great way to catch the football (Champions League or Prem!)! They've also got loads of different beer taps and they do all-day happy hour on drinks! 
Price: £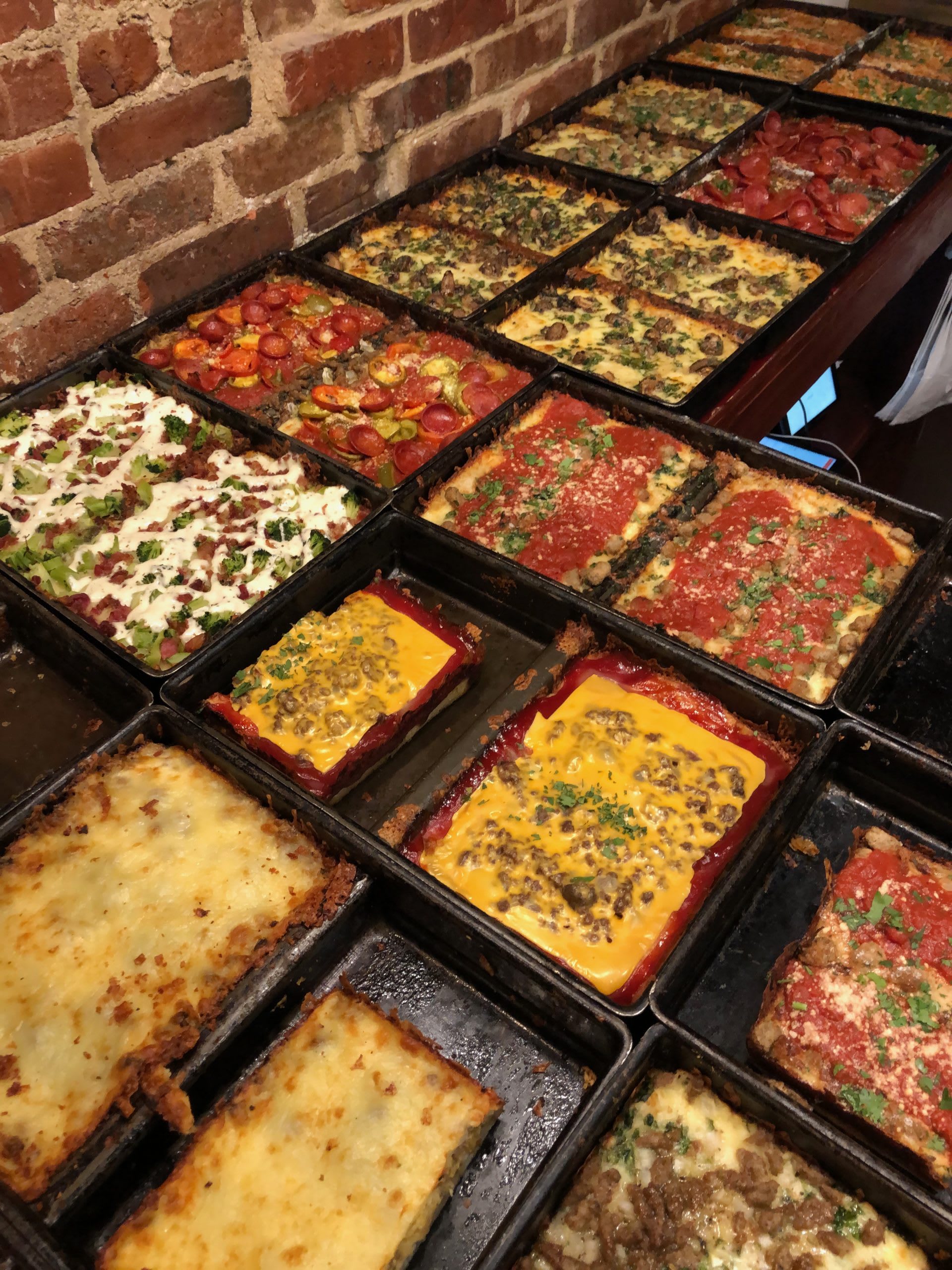 Lions & Tigers Detroit Square Pizza
Meal: Dinner
Area: Chelsea
Dish: Vodka pizza (caramelised cheddar crust and creamy vodka sauce)
Description: L&T is classic New Yorker vibes with no time wasted! You get in, you order, you get out. Simple. And the deep pan pies are basically pizza heaven so you won't complain about the fact you get to eat it quicker!
Price: £
NYC Noms Fit For Foodie Royalty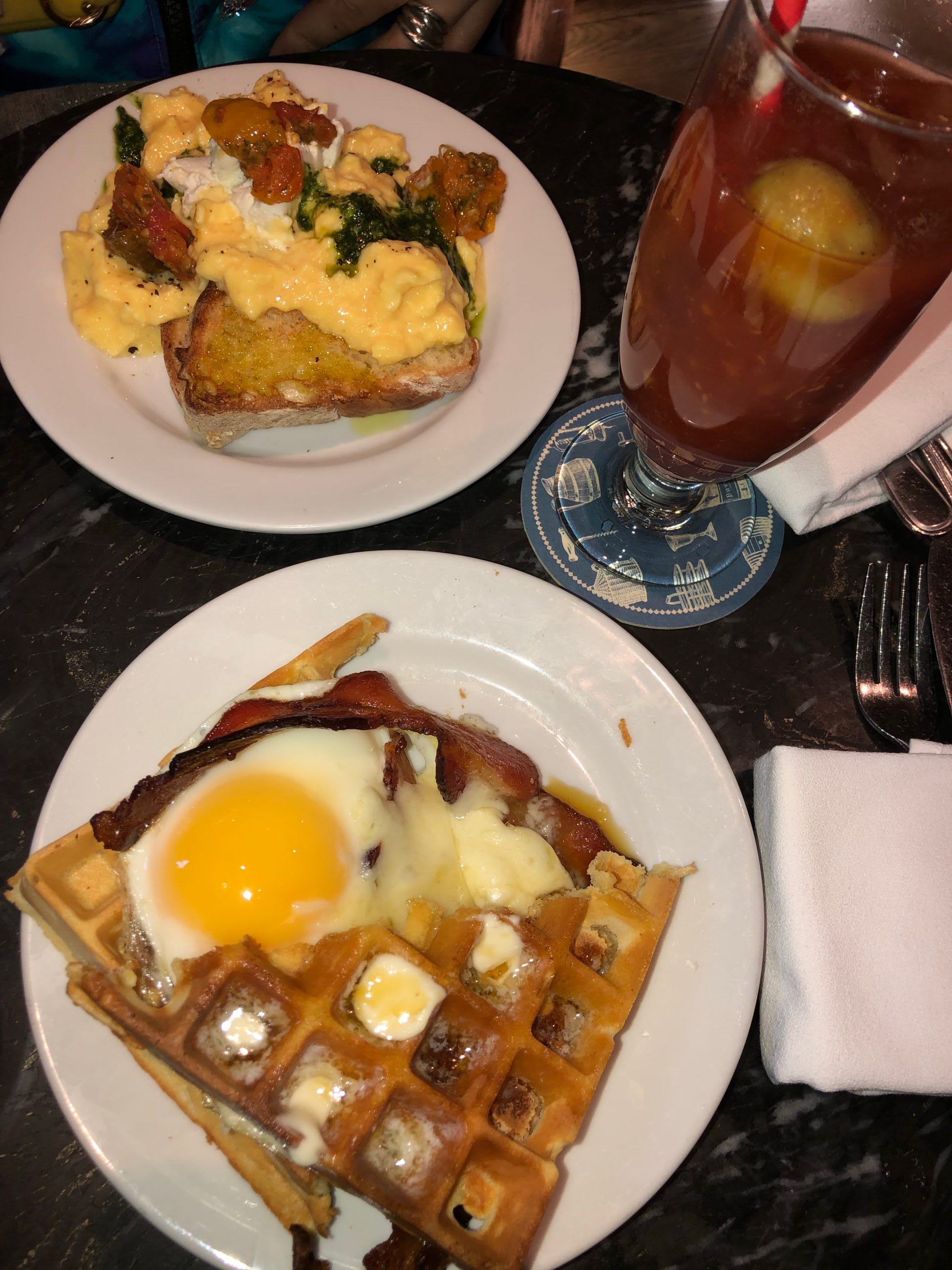 Meal: Breakfast
Area: Greenwich Village
Dish: Chevre (steamed eggs, goats cheese, tomato confit and pesto)
Description: This cafe is the closest one to the famous 'Friends' apartment building and the interior is a little taste of Paris. It's cool, quirky, and the Chevre is worth the trip alone. Pro-tip: get there before 10am to get a seat straight away and you should also be able to get a photo of the Friends building without anyone else in shot!
Price: ££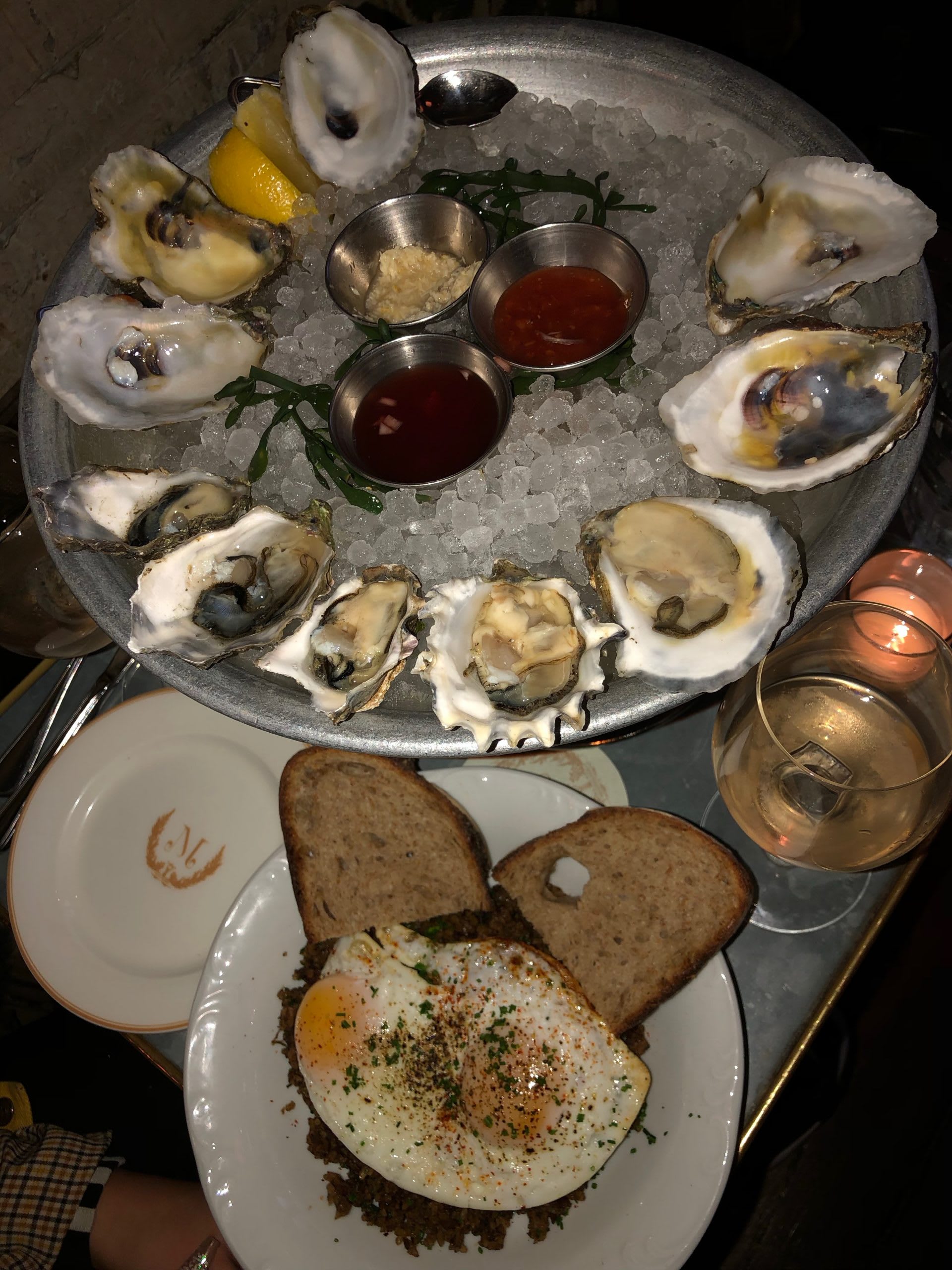 Meal: Lunch 
Area: Williamsburg (BK)
Dish: Oysters. Oysters. Oysters.
Description: Holed up in the heart of Williamsburg, this place is well worth a visit, if only for the happy hour they have on oysters. Yup – it's totally a thing! And it works out as $1 an oyster which is unreal! If you're looking to have a tipple while you're there, be warned – at $60 a bottle, the wine is punchy! But if you're just there for the food, we recommend 10 oysters with a side of dirty rice and eggs (fried egg, pork & scallion) which is "banging"!  
Price: ££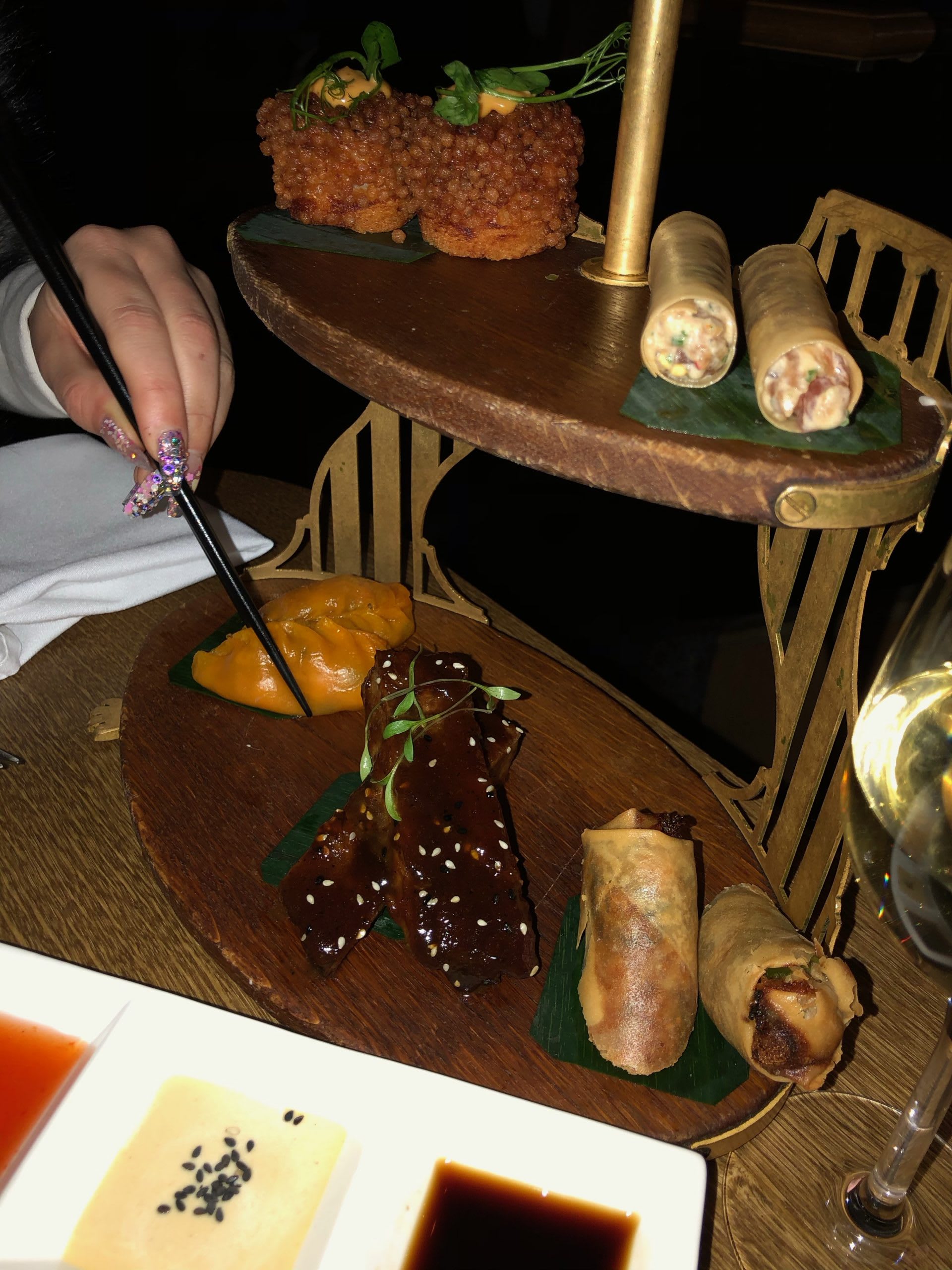 Meal: Dinner
Area: Chelsea
Dish: For starters, the Tuna Tartare Spring Rolls and the Tea-Smoked Spare Ribs are "unreal"! For mains, the Black Pepper Beef & Chilled Udon Noodles is a great combo between two people. Then for dessert, look no further than the Double Chocolate Chip Monkey Bread!
Description: This place is big, busy and bougie, but the food is bloody brilliant! The taster menu is a good way to keep costs down too. Just make sure you book as this place is popular (and for good reason)!
Price: £££
Oh, and one final tip – when it comes to eating out in NYC, you should know that it really is the city that never sleeps. Hunt out a restaurant at 10pm on a Sunday and it's still likely to be buzzing, so reservations are your best friend here!
Enjoy!