Grab your Floo powder, pick up a Portkey, or maybe you're advanced enough to apparate?
However you get there, Potterheads know that London is the divinitive – sorry, definitive – destination for anyone looking to follow in the footsteps of 'The Boy Who Lived'. Because nowhere has more hidden evidence of the wizarding world than the UK capital.
Why not transform your trip with one of Klook's magical experiences? Maybe you'll choose to marvel at the movie spots on our Harry Potter Film Locations Walking Tour or hop aboard the Harry Potter Filming Locations Bus Tour.
For a more personal alternative, you'll be spellbound by our  Harry Potter Private Tour. Or, although we can't promise a flying car, how about this Harry Potter Private Taxi Tour?
Whether you prefer to explore on foot, by taxi, bus or broomstick, give Klook a click to discover where Muggles and magic collide, and enter in the 'magic' number (_ _ _ _ _) and for a limited time only, you can get 10% of any of the Potter-themed experiences handily listed here.
King's Cross Station/Platform 9 ¾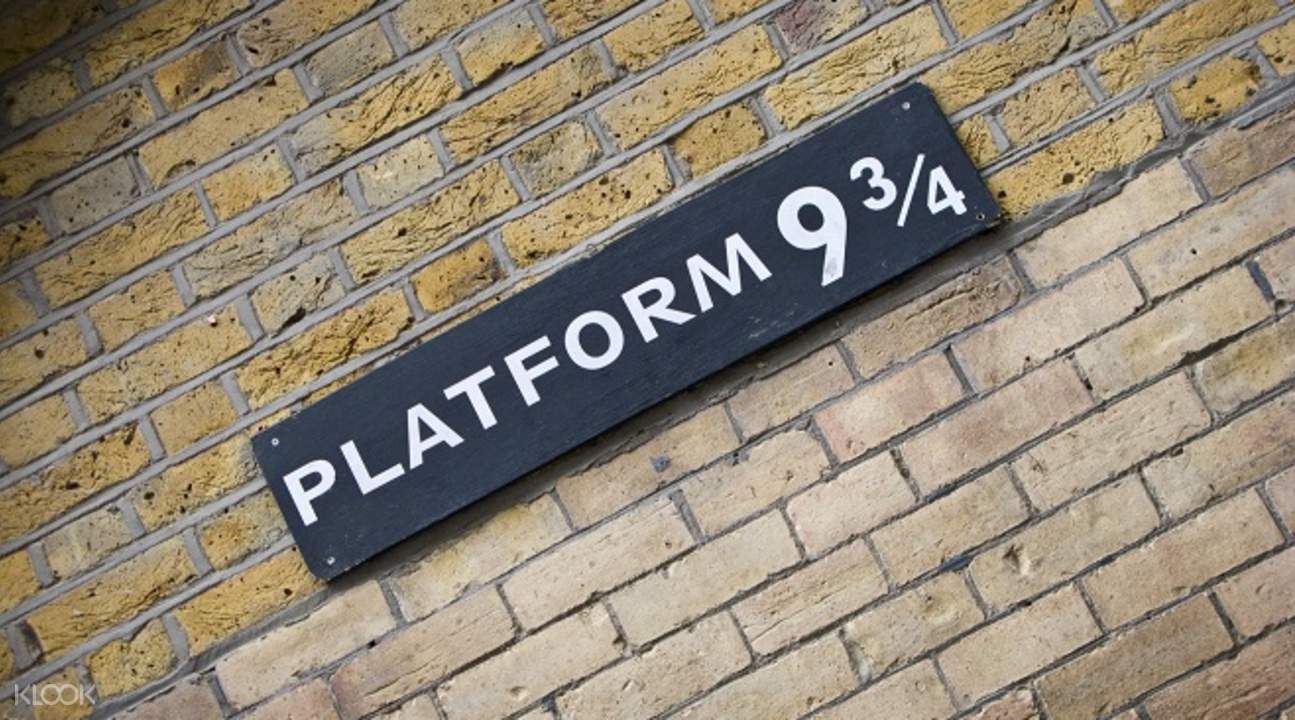 Even without the Weasley family to guide you, you'll want to take a run at the wall between the worlds – where students bound for Hogwarts School of Witchcraft and Wizardry push their trolleys to board the Hogwarts Express!
King's Cross has featured in every one of the movies; however, perhaps unsurprisingly for a 'magical' platform, Platform 9 ¾ has moved around a bit over the years!
It's now located on the Western Concourse and attracts long lines of visitors every day. Staff from the nearby 'Harry Potter Shop at Platform 9 ¾' are on hand to help you select a wand and house scarf and to take official photos, or you can ask a friendly fan to take a pic for free with your own phone 📸
And who knows – if you're really lucky, maybe you'll make it to the other side?!
St Pancras Station
Even though Harry and his friends boarded the Hogwarts Express at King's Cross, the station exterior used in the films was the rather more impressive neo-gothic facade of the St Pancras Renaissance Hotel. There's no mistaking its distinctive clock tower as the backdrop when the Weasleys' flying Ford Anglia takes off in Harry Potter and the Chamber of Secrets.
The Reptile House at London Zoo
Potter aficionados will know this as the place where Harry first became aware of his predilection for Parseltongue on Dudley Dursley's birthday outing.
In Harry Potter and the Philosopher's Stone, Harry speaks to a boa constrictor as he helps it escape as a result of his previously undiscovered magical powers. During filming in the reptile house in 2001, the boa was replaced with a Burmese python, but the featured enclosure is now home to a black mamba so drop by and hiss hello…carefully!
Whilst extra admission fees mean this venue is not included in many Harry Potter tours, you needn't miss out as it is one of the many locations included in the cost of a London Pass.
The Millennium Bridge
It's hard to forget the dramatic scenes of the Millennium Footbridge collapsing in the opening frames of Harry Potter and the Half Blood Prince after the Minister of Magic, Cornelius Fudge, refused Voldemort's command to step aside.
Back in the real world, it's a much more pleasant experience to stroll across the bridge, between Bankside and the City, knowing that despite being affectionately known as 'the wobbly bridge', the Millennium Bridge is safe from Death Eaters…for now.
Piccadilly Circus
In Harry Potter and the Deathly Hallows Part 1, Harry, Ron and Hermione narrowly miss being hit by a red London bus, as they apparate into London's West End. That whirlwind scene was filmed in Piccadilly Circus which always provides prime photo ops thanks to its brightly lit billboards and swirling crowds. Enjoy the scenes and the bustling energy, but make sure you stay clear of any rogue red buses!
Leadenhall Market – Diagon Alley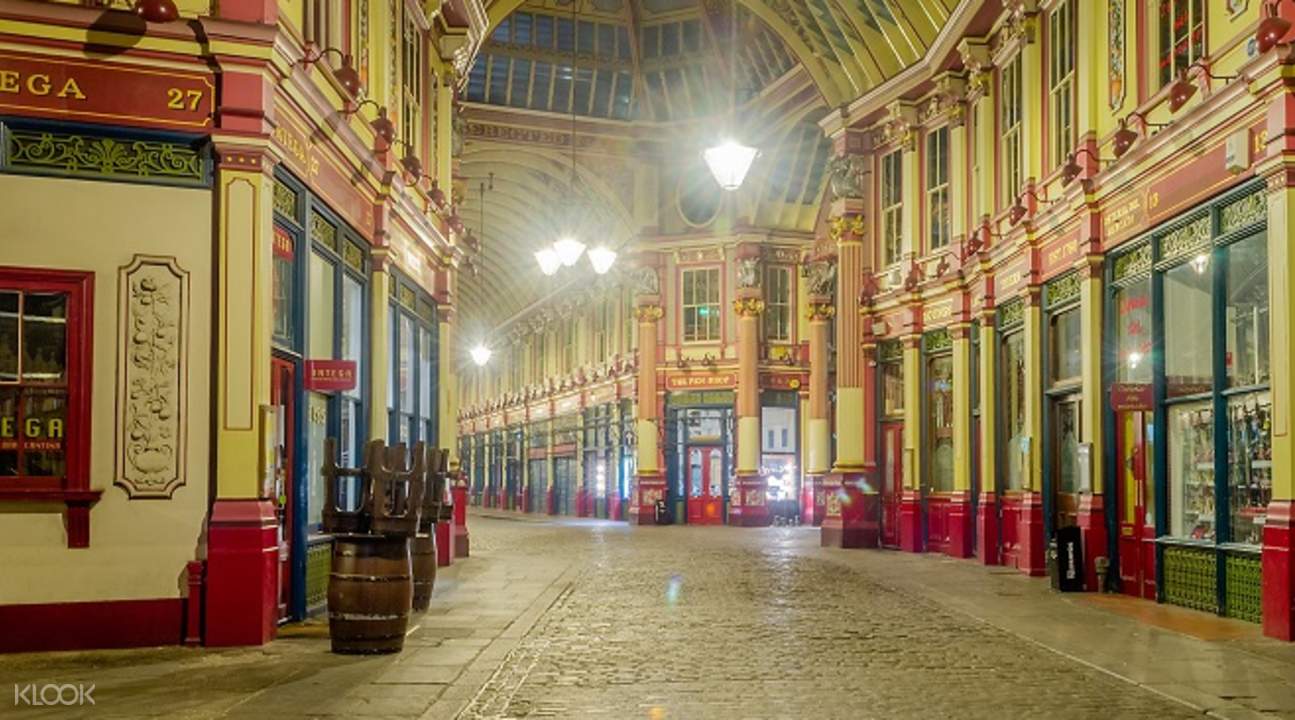 Despite extensive research, tapping the third brick from the left above the dustbins in the backyard of various pubs across London, we've still not been able to find the one that allows access to Diagon Alley… Why not join our private taxi tour to see if you can do better.
The Leaky Cauldron, where the entrance to the famous wizarding high street is concealed, is alleged to be on Charing Cross Road. The Victorian shop fronts and antiquarian bookshops of Cecil Court make it a likely contender. In the Philosopher's Stone, Harry and Hagrid enter the Leaky Cauldron through a blue door. which (IRL) belongs to an opticians in Leadenhall Market.
But you can only walk the actual set of the alley at the Warner Bros Studio Tour in Leavesden. To discover the illusions behind the props, sets, costumes and secrets why not sign up for our unique package Warner Bros Studio Tour London: The Making of Harry Potter with Return Transportation from London and immerse yourself in yet more magic? We'll raise a butter beer to that!
Scotland Place – Ministry of Magic (visitor's entrance)
In The Order of the Phoenix, Harry and Mr Weasley first entered the Ministry of Magic through a magical red phone box. The phone box has sadly disapparated (it was only a prop) but the location can be found at Great Scotland Yard, which runs between Whitehall and Northumberland Avenue (just off Trafalgar Square). 
Westminster Tube Station
Harry and Mr Weasley make their journey to the Ministry via Westminster Tube Station, which also happens to be the departure point for Klook's Harry Potter Film Locations Walking Tour. Here, Mr Weasley (permanently both delighted and confused by Muggle technology) struggles to understand the ticketing barriers, but with a guide to help you out, we know you'll fare much better!
Australia House – Gringotts Wizarding Bank
 'Ain't no safer place' than Gringotts, the wizarding bank, according to Hagrid. 
The scene where he accompanies Harry through the bank's main atrium, as goblin bank clerks work at either side, was filmed in the majestic entrance hall of Australia House on The Strand, just one of the stops on Klook's Harry Potter Filming Locations Bus Tour
Sadly Muggles are not permitted inside but if you sneak a peek through the entrance doors, during office hours, you should be able to catch a glimpse of the 160ft exhibition hall, decorated with 1,200 tonnes of marble; and of the massive sparkling chandeliers that you'll recognise from the movies. But fortunately, no dragons.
Lambeth Bridge 
Depending on how you plan to get around the sights you might be ready to hop aboard a triple-decker Knight Bus, complete with comfy beds and super speed! However you choose to get about, you should recognise Lambeth Bridge from the hairy moment in Harry Potter and the Prisoner of Azkaban when the Knight Bus narrowed in size to squeeze between two red, Muggle double-deckers coming the other way.
Raise your wands…and we'll take you there
For guided tours, group trips or private experiences, you can trust Klook to bring you the latest of all things Potter!
Why not get closer to the magic by downloading the Klook App?
As Stan Shunpike suggests, "just stick out your wand hand, step on board, and we can take you anywhere you want to go."
Original article researched and written by Klook contributor, Jo Cooke.