So you've secured your Japan Rugby World Cup 2019 tickets and booked your flights. But what's the plan once you actually touch down in Japan? If you aren't sure of this yet, don't stress – we've got you covered. From how to navigate the Japanese rail system to where to eat and drink once the game is done, read on for the ultimate guide to your rugby world cup Japan holiday.
Back in 2009, the International Rugby Board announced that Japan was successful in its bid to host the 2019 Rugby World Cup. This decision was momentous, as it was the first time that a host country had been named outside of the traditional heartland of the sport, and the first time the tournament was to be held in Asia.
The Draw
First things first – you're going to want to know when and where your team is playing. That is after all why you're in Japan. This Rugby World Cup, Australia belongs to Pool D, and are up against Wales, Georgia, Fiji and Uruguay, while New Zealand is in Pool B and will play South Africa, Namibia, Italy and Canada.
NZ timetable
POOL B
New Zealand, South Africa, Italy, Namibia, Canada
Sat 21 Sep New Zealand v South Africa (Yokohama), 6:45pm
Wed 2 Oct New Zealand v Canada (Oita), 7:15pm
Sun 6 Oct New Zealand v Namibia (Tokyo), 1:45pm
Sat 12 Oct New Zealand v Italy (Toyota), 1:45pm
AU timetable
POOL D
Australia, Wales, Georgia, Fiji, Uruguay
Sat 21 Sep Australia v Fiji (Sapporo), 1:45pm
Sun 29 Sep Australia v Wales (Tokyo), 4:45pm
Sat 5 Oct Australia v Uruguay (Oita), 2:15pm
Fri 11 Oct Australia v Georgia (Shizuoka), 7:15pm
Travelling around Japan, between the Rugby World Cup stadiums
Japan is a country of efficient, expansive, high-speed rail. The trains in Japan couldn't be more different to the old, slow trains that we're used to in Australia and New Zealand. A convenient way to gain access to the country's entire rail and local bus network is with Klook's 7, 14 or 21 Whole Japan Rail Pass. This pass is exactly as the name implies – a rail pass that allows you to travel on almost all of the JR railways, local buses, and even the Miyajima Ferry. Opt to have the pass mailed to you in Australia or New Zealand, so you can arrive in Japan and hit the ground running wherever you are.
Read more about the Japan Rail Pass.
If you're flying into Narita airport, the most convenient way to get to downtown Tokyo is with a Tokyo Skyliner ticket. This is the fastest (41 minutes total travel time) and the most cost-effective way to get into the heart of Tokyo. More transport tips and tickets can be found on Klook's dedicated Rugby World Cup Japan page.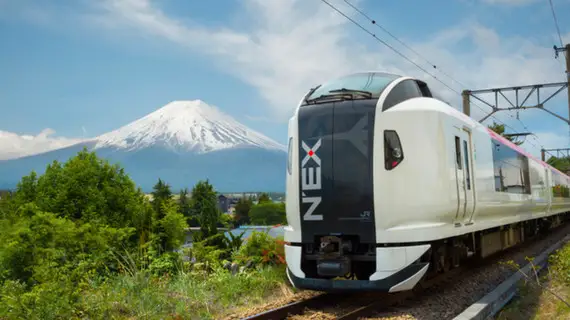 The Stadiums
The 2019 Rugby World Cup will be held at 12 different stadiums across Japan – from the Northern Sapporo Dome, all the way down south to Kumamoto Stadium. Here's the low down on the six stadiums Australia and New Zealand will be playing at.
Yokohama
Key games: New Zealand vs. South Africa (21 September), Semifinals (26 & 27 October), Grand final (2 November).
Getting there: Yokohama's biggest stadium, International Stadium Yokohama (also known as Nissan Stadium) and is to the North of the CBD. Trains from Tokyo Station to Shin-Yokohama Station leave roughly every ten minutes, for the 20-minute journey. This trip will cost between $30 – $45 (AUD) or is included in a Whole Japan Rail Pass.
Where to stay: As Yokohama is only half an hour by train, you could easily stay in either Tokyo or Yokohama. If you do choose to stay in Yokohama, there are plenty of hotels located within walking distance of the stadium. Shin Yokohama Prince Hotel is just one of these hotels and is home to clean, functional rooms. More notable is the hotel's expansive gym, indoor ice-skating rink, restaurants and beer garden.
What to do after the game: Yokohama is home to Japan's largest Chinatown, and the food is the standout here. Go for the dim sum, bubble tea and the biggest pork buns you've ever seen.
Rugby fans need to have at least one drink at Rugby Diner 7 Oaths. The sports bar caters exclusively to rugby fans, showing all the games along with a range of burgers and craft beers from around the world. Beers on offer are selected based on who is highest in the Rugby rankings. Here's hoping VB and Tui are on the menu.
If you have any spare times between or before games, jump on a boat cruise. The two-hour cruise takes you through Yokohama's Port and by Tokyo Bay, with drinks available to purchase on board.
Sapporo
Key Games: Australia vs. Fiji (21 September)
Getting there: Sapporo is located on the Northern Japanese island of Hokkaido, meaning that getting to Sapporo Dome from Tokyo isn't quite as quick as travelling to many of the other stadium locations around Japan. Getting to Sapporo from Tokyo by train will take you roughly eight hours, and is included in the cost of a JR rail pass.
If you're a little more strapped for time, there are plenty of daily flights between the two cities, which will only take you an hour and a half. Check out the budget airlines like Jetstar and Vanilla Air for low-cost flights.
To get to Sapporo Dome from the city centre of Sapporo, you're best taking the Soho Subway Line to Fukuzumi Subway Station. You'll then need to walk about 10 minutes to Sapporo Dome – don't stress, the route is well signed. The entire trip only takes about 25 minutes from the centre of Sapporo.
Where to stay: The best area of Sapporo to stay in is undoubtedly the Susukino area in Chuo-ku. This district is home to the city's most vibrant nightlife and the sprawling Odori Park. The Red Planet Hotels (yes, there are two of them) offer good value for money, stylish, tech-savvy rooms in the Chuo-ku area. If you're travelling in a larger group, check out Mezamashi Sandwich (we promise it's a hostel, not a sandwich). Dorm room beds are configured in pods, giving guests ample privacy, while the common areas offer the chance to meet fellow rugby fans.
What to do after the game: Yes, it's the city that gave birth to the Sapporo brand of beer. This means that you need to pay a visit to the Sapporo Beer Museum. Walk around the free, self-guided tour, and finish up in the tasting corner. After you're done drinking the liquid gold, move on to a crab and lamb BBQ buffet next door at Sapporo Beer Garden, located in the Kaitakushi-kan building, a Hokkaido heritage site. Book early to secure your group a table.
Tokyo
Key Games: Australia vs. Wales (29 September), New Zealand vs. Namibia (6 October)
Getting there: Most major airlines from Australia and New Zealand fly into Tokyo's airport, Narita International airport. Getting from the airport into central Tokyo takes 40 minutes via the Tokyo Skyliner train. There's usually a line to purchase tickets at the airport, so it's best to buy online in advance.
Tokyo Stadium is easily accessed by catching a train to Tobitakyu Station on the Keio Line. From there, the stadium is a five-minute walk away.
Where to stay: If you've never travelled to Tokyo before, you're going to be mesmerised by the city of flashing neon lights and never-ending rushes of activity. The best place to stay for first time Tokyo travellers is Shinjuku – a hub for shopping, sightseeing, as well as bars and restaurants.
What to do after the game: Tokyo is known for its offering of weird and wacky experiences. One of the most popular of these is Robot Restaurant – a themed restaurant and bar that basically turns into a pop-up dance/cabaret/pop culture performance (we should also mention that Anthony Bourdain was a huge fan of Robot Restaurant). Mario Kart enthusiasts should make time for Street Go Karting, where you can dress up in your costume of choice and hit the actual streets of Downtown Tokyo in a go-kart.
Get an insight into the daily life of a sumo wrestler by attending one of their training sessions. These sessions are usually closed off to the public and tourists, so seeing one of these scared and traditional events is a real honour. There are plenty more activities and discounts to be found on Klook's Rugby World Cup Japan page.
Robot Restaurant
Oita
Key Games: New Zealand vs. Canada (2 October), Australian vs. Uruguay (5 October)
Getting there: Travelling from Tokyo to Oita is best done by plane. If you're looking to get from Osaka to Oita, this can be done by train using the Japan Rail Pass and takes roughly three and a half hours.
Getting from central Oita to Oita Stadium takes about 45 minutes by bus. Take the bus from Oita Station and get off at Oita Sports Park East.
Where to stay: While Oita will play host to the rugby, a number of people choose to stay in the nearby city of Beppu (only a 15-minute train ride from Oita). Beppu's 'Tokiwa' precinct is home to a stack of cheap and cheerful gyoza restaurants and quirky bars.
What to do after the game: The natural hot springs around Oita and Beppu are some of the best in Japan. These hot springs, most of which are too hot to swim in, are referred to as 'hells'. Tours of a number of these 'hells' are available to purchase as a package.
Beppu hot spring
Shizuoka
Key Games: Australia vs. Georgia (11 October)
Getting there: Getting to Shizuoka from Tokyo takes 3 hours by train, and is covered by the Japan Rail Pass. Access Ecopa Stadium via Kakegawa Station, on the Tokaido Bullet Train Line.
Where to stay: Ecopa Stadium is located in the smaller town of Kakegawa. If you're looking for nightlife, it might be worthwhile staying in Shizuoka City, which is a 50-minute train ride from the stadium.
What to do after the game: If you have a few days of free time before heading back to Tokyo for the rest of your Rugby World Cup tour, purchase a Mount Fuji Pass. This affordable pass gets you access to transport around the base of Mount Fuji (via hop on/hop off buses), and entrance to a number of theme and amusement parks. One of these parks is Fuji-Q Highland, and is home to the world's steepest rollercoaster.
Fuji-Q Highland
Toyota
Key Games: New Zealand vs. Italy (12 October)
Getting there: Getting to Toyota City takes around three hours by train from Tokyo or two hours from Osaka. From Tokyo, the Hikari and Kodama trains travel to Nagoya and are included in the Japan Rail Pass. For more travel routes and information visit the Discover Japan website.
Where to stay: Most rugby fans and rugby world cup tour groups will choose to stay in the nearby city of Nagoya, and travel to Toyota city via train (around a 50-minute trip).
Naka Ward is one of the most central locations in Nagoya and is home to the best nightlife and restaurants. For a unique hotel experience, stay in a capsule hotel. First Cabin is a capsule hotel close to the train station, and offers some seriously cool 'pods'.
What to do after the game:
Two words: Lego. Land. Yes, there is a Legoland in Nagoya. It's home to a bunch of lego, roller coaster, water park and cinema. Skip the queues with a Klook pass and dedicated entry lane.
While you're in Nagoya, make sure you check out a few of the local Izakaya (Japanese Pubs). These cosy drinking holes usually specialise in sake and skewers of various cuts of meat and are perfect for a bar crawl. If you're craving European beers, check out the World Beer Museum, a chain restaurant/bar which is just around the corner from Nagoya's main train station. The sprawling bar is ideal for larger groups.
Legoland, Nagoya