The real reasons for Vietnam
After a historic Singapore summit between the United States and North Korea last year, Donald Trump and Kim Jong-un are set to reunite in the Vietnamese capital of Hanoi, from 27 to 28 February 2019.
The buzz around this second meeting is real – from infographics explaining the destination choice, to top Google search results for "Why Vietnam" all pointing to the second Kim-Trump summit. Vietnam's location, post-war economic transformation and good diplomatic relations with both nations are likely factors – but is that really all there is?
Here's our take on "Why Vietnam" for this significant meeting.
1. To oust Obama from Bun Cha Huong Lien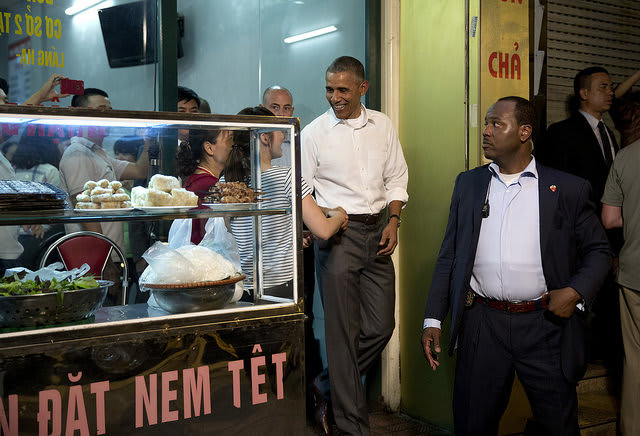 Image Credit: manhhai on Flickr
If there's one thing we know about Donald Trump, it's that he doesn't let things go easy. The Trump-Obama rivalry has been going on for decades now, from Trump's tentative scepticism in the 00s, to the whole saga over Obama's  "fake birth certificate" in recent years.
Bun Cha Huong Lien is a humble hole-in-the-wall noodle shop in Hanoi that shot to fame in 2016, when both Barack Obama and celebrity chef Anthony Bourdain popped by to film a scene for Bourdain's TV series Parts Unknown.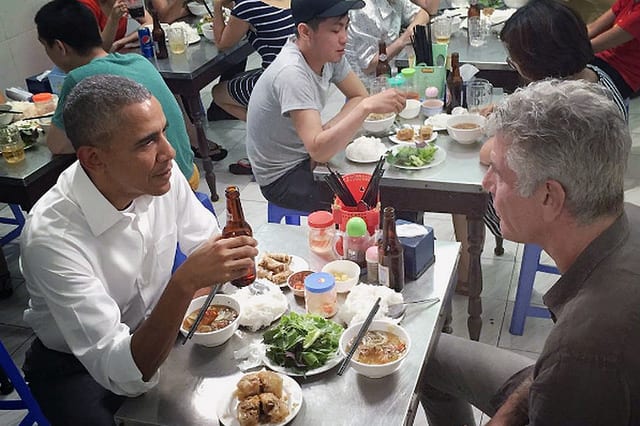 Image Credit: manhhai on Flickr
Apparently the restaurant owner was so taken by the duo's visit, she immortalised the moment by preserving the entire table in a glass case inside the restaurant – including the utensils that Obama and Bourdain used! There's even a Combo Obama on the menu now, which features every dish that Obama ordered during his supper there.
You can be sure that Trump isn't going to let the previous POTUS outshine him – not without a fuss. We might be seeing a Combo Trump on the Bun Cha Huong Lien menu very soon.
2. For a relaxing pre-summit cruise along Halong Bay
With Trump's open declaration of how he and Kim "fell in love" after exchanging letters, it's safe to say that the previously-frigid relations between the two have warmed up after the breakthrough Singapore summit.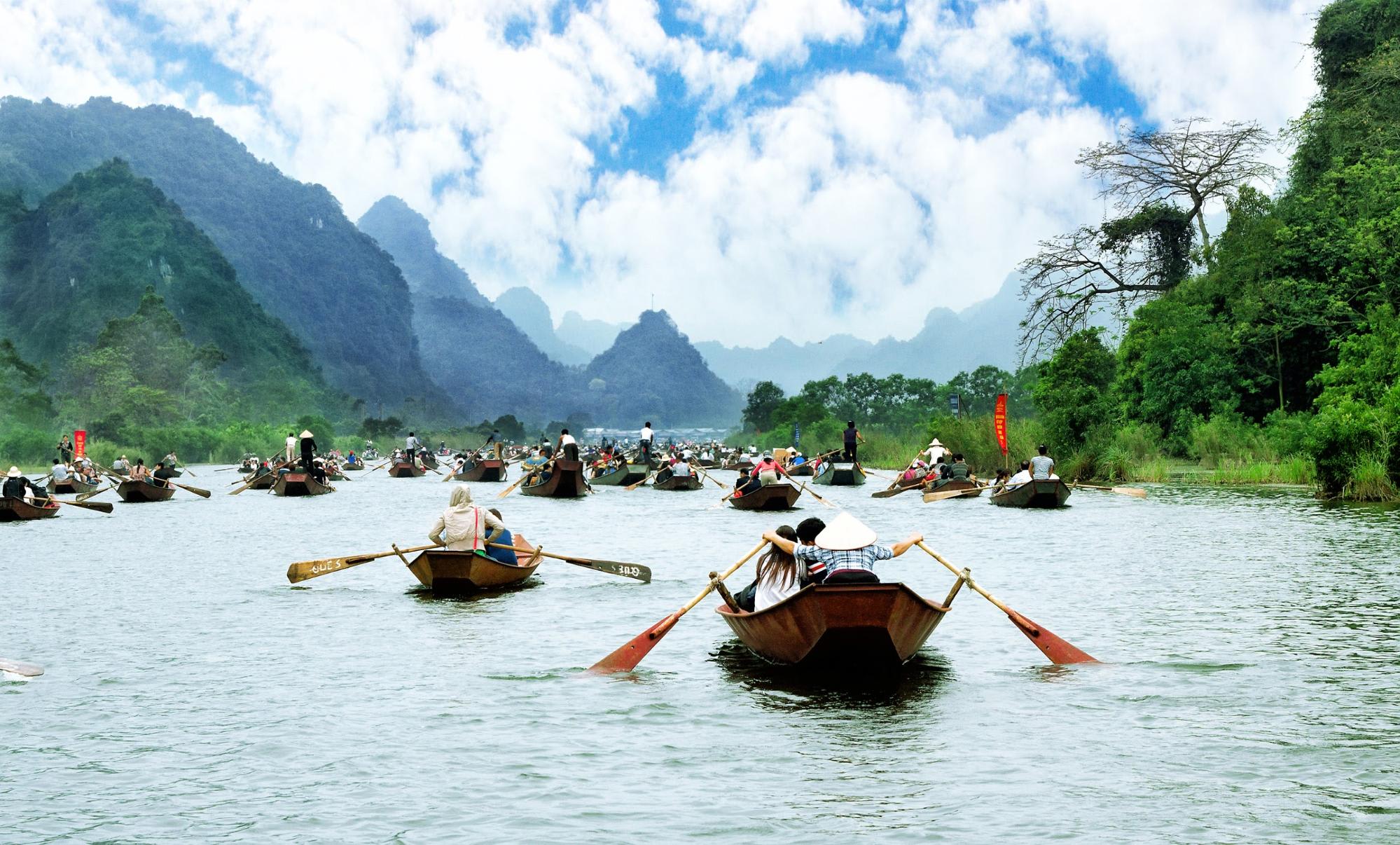 What better way to start a summit, than with a idyllic cruise down Hanoi's beautiful Halong Bay? Not only are the sights a stunner, there're adventure activities like bamboo boat kayaking and swimming available – maybe Trump has changed his theory that exercise makes you die young.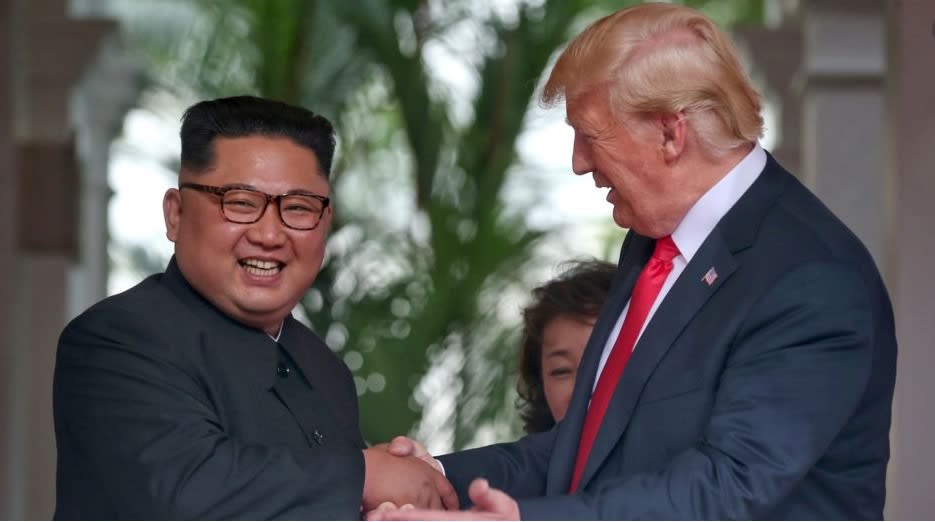 Photo Credit: Wikimedia Commons
Halong Bay's blissful atmosphere is low-key romantic, but hey, the #bromance is real after all.
3. Hanoi Old Quarter Food – a chance to change Trump's diet fail?
Trump's undying love for fast food and diet sodas is well-established. In the past, his Mcdonalds dinners consisted of two Big Macs, two Fillet-O-Fish burgers, AND a large Chocolate Shake. Talk about a fast food mainline straight to the veins.
Trump had reportedly been making an effort to better his diet and exercise habits, after a 2018 health check up indicated that he was near the obesity borderline. However, he hasn't exactly been sticking to the diet plan assigned to him, according to a report from this month. Also, he ordered 300 hamburgers into the White House – and then topped them up with more.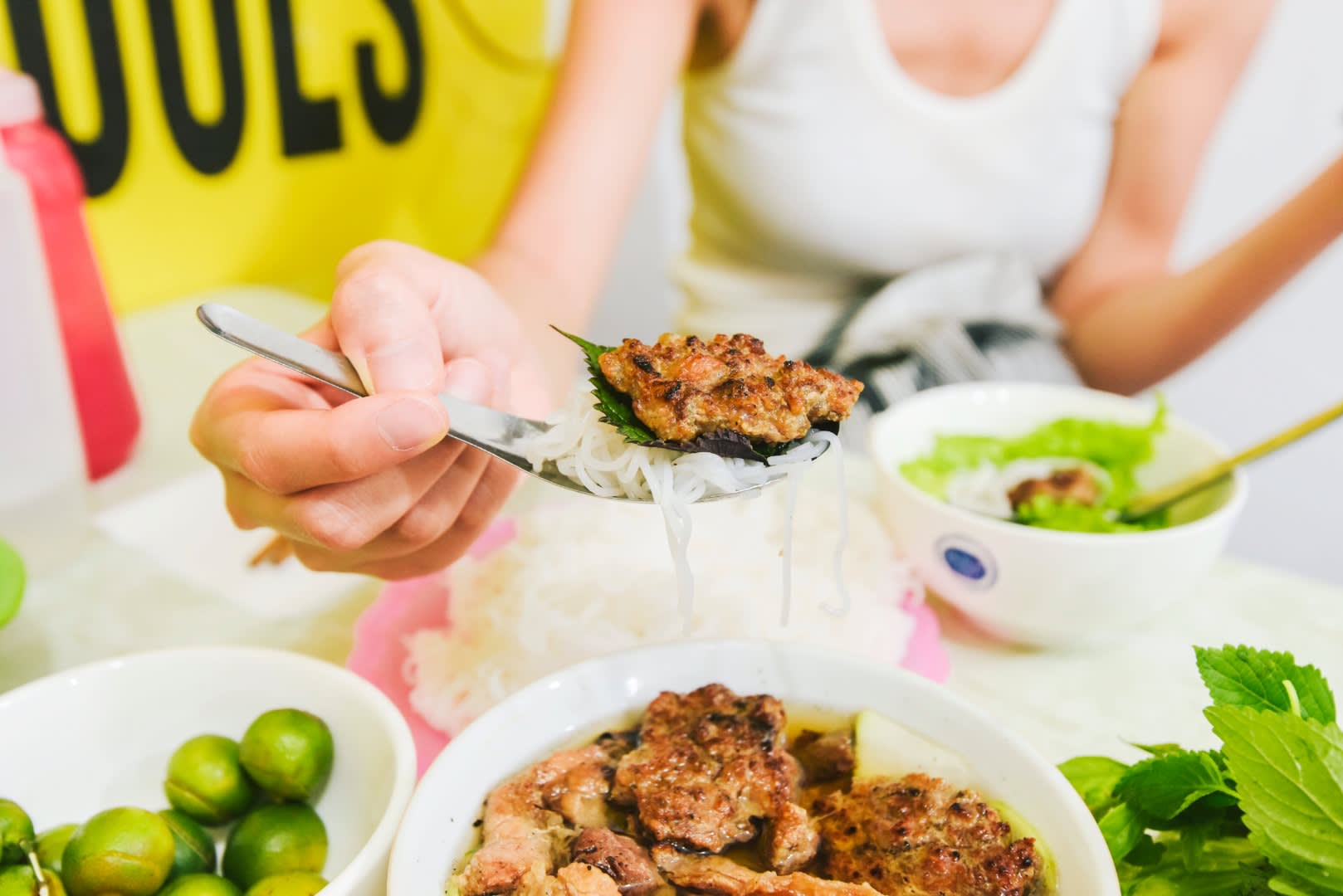 Is it time for drastic measures? Possibly so. Maybe the idea is that the delicious local food in Hanoi's Old Quarter will be the trigger to reset his palate, and get him to finally follow his doctor's orders. 
4. Tweet-worthy Trang An
Having sent his first tweet almost a decade ago and with over 58 million followers, Twitter is by far Trump's favorite social media platform. He's pretty notorious for blasting out personal insults and gratuitous political rhetoric – although some of his cryptic Tweets do make for viral memes.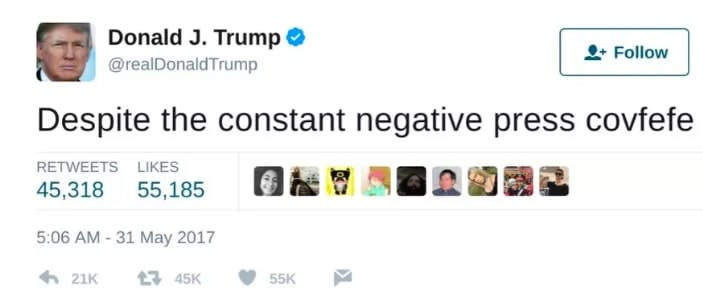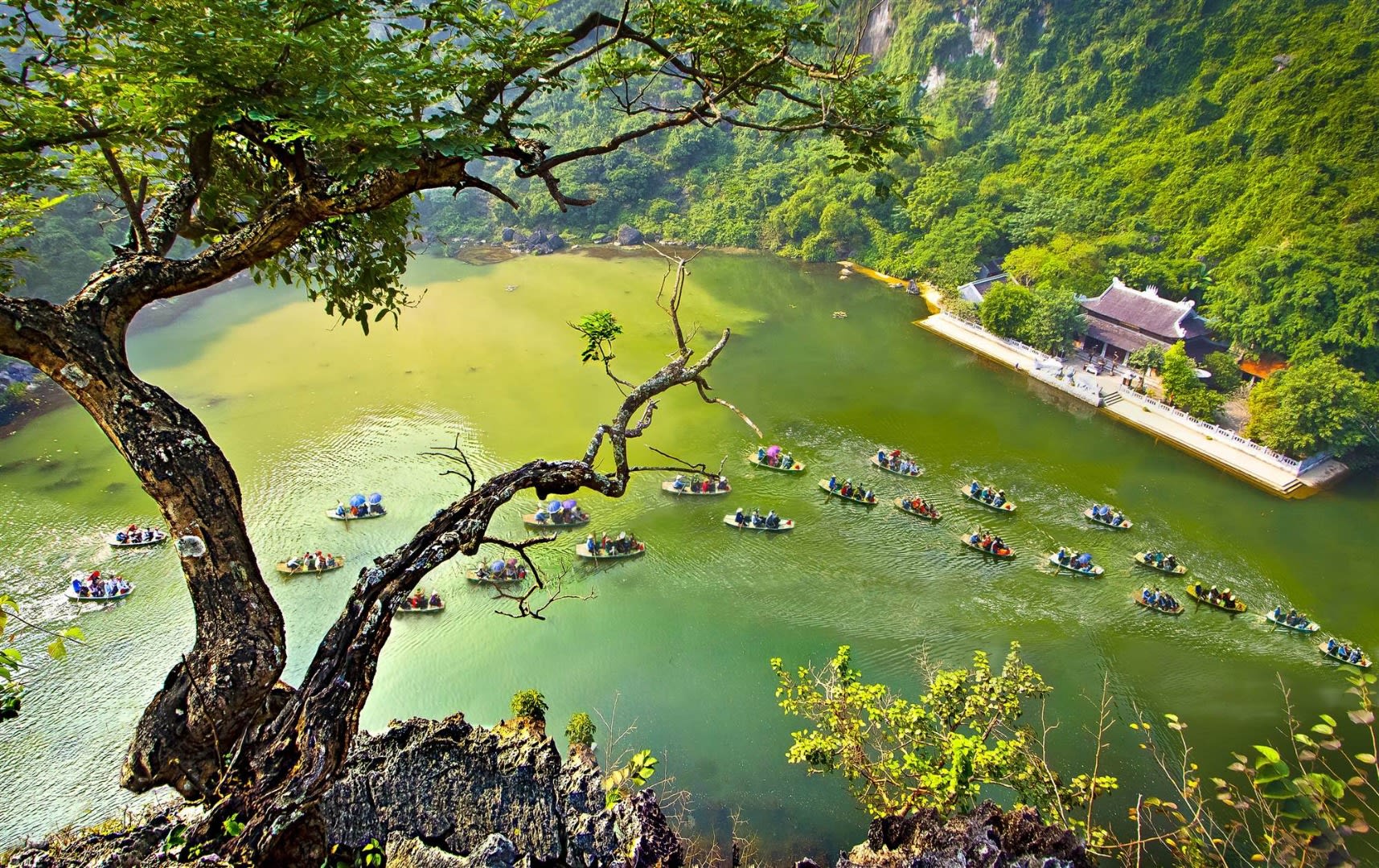 There's nothing like shots and selfies on a scenic boat tour for embellishing Trump's Twitter feed. With rolling banks of lush greenery, majestic mountains and sprawling cave complexes, Trang An makes for a picture-perfect day trip. Just two hours from Hanoi, it's home to Vietnam's largest pagoda, the Bai Dinh Pagoda.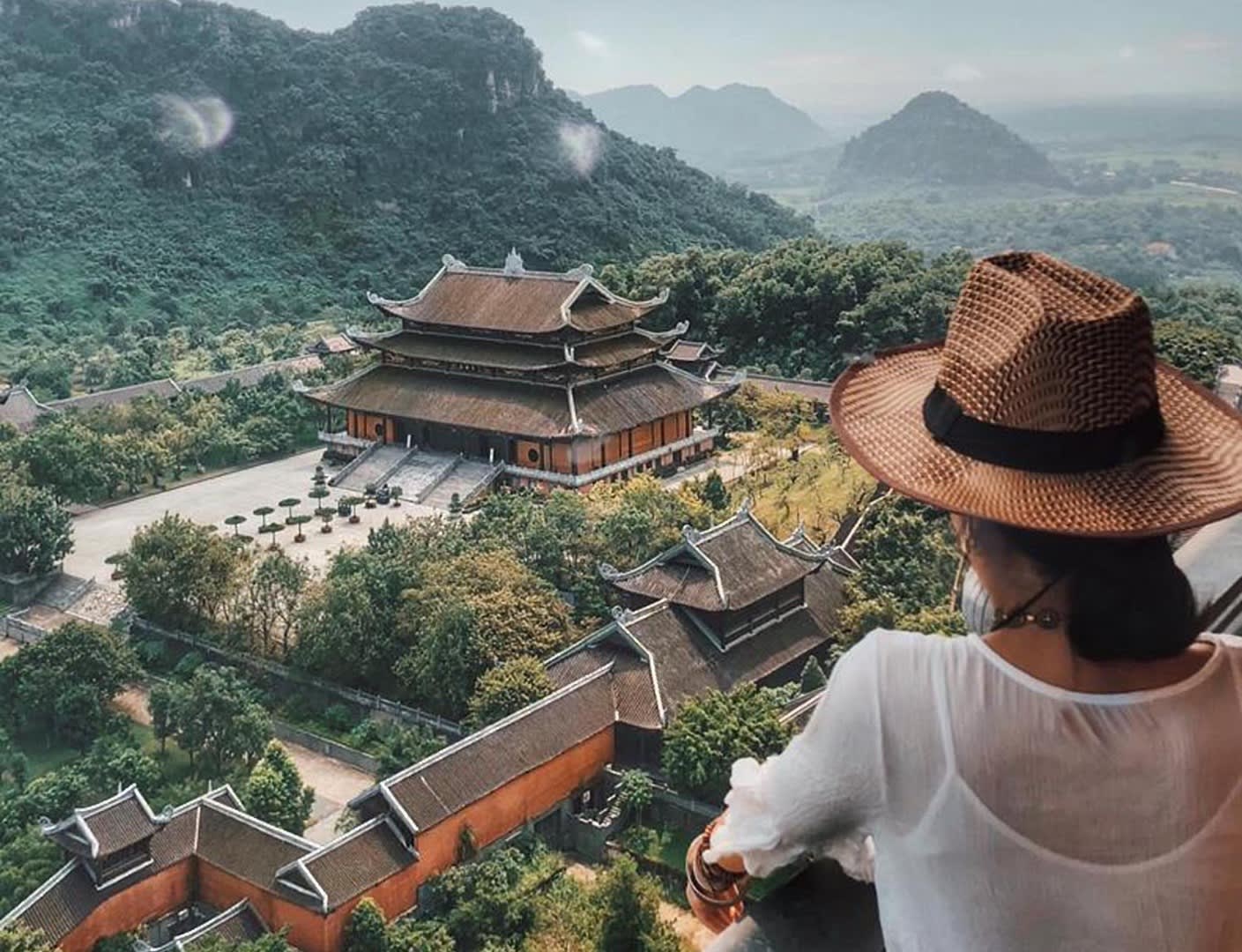 How could you not tweet about a view like this?
5. For KJU to restock his snake wine supply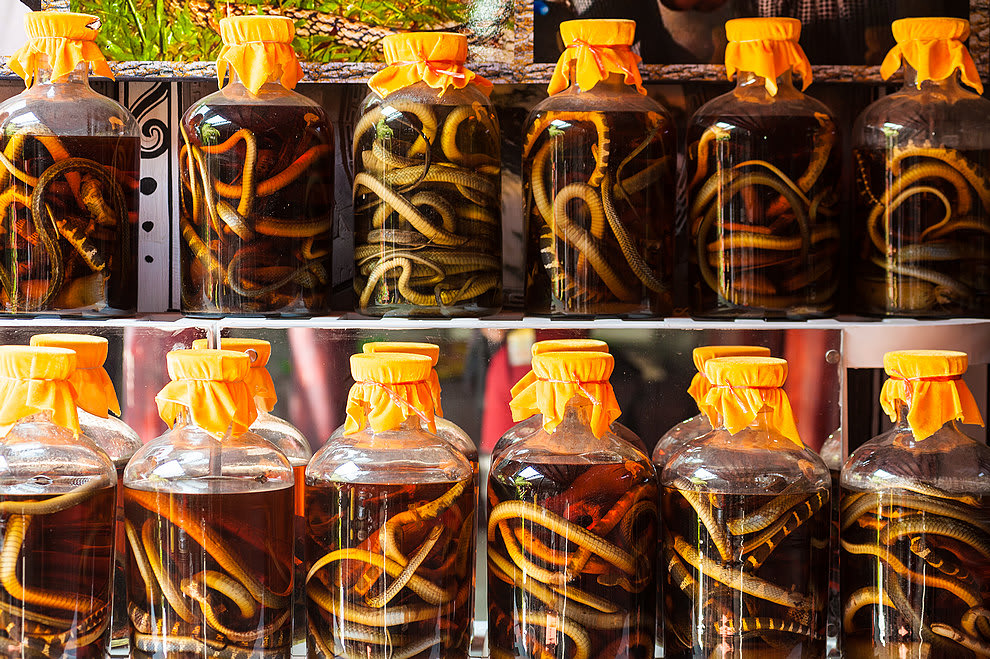 Kim Jong-un's taste for expensive champagne borders on excessive – he reportedly drinks two bottle of Cristal in one sitting, along with spending over $30 million a year on imported liquor.
But aside from the more conventional whiskies and cognac, Kim is rumored to partake in the occasional bottle of snake wine. This Asian elixir – made by steeping whole venomous snakes in rice alcohol – can be found in speciality shops in Hanoi and is supposed to be a powerful aphrodisiac. Apparently, the North Korean leader drinks it to help improve his virility.
6.  The next cafe-hopping stop for KJU the coffee connoisseur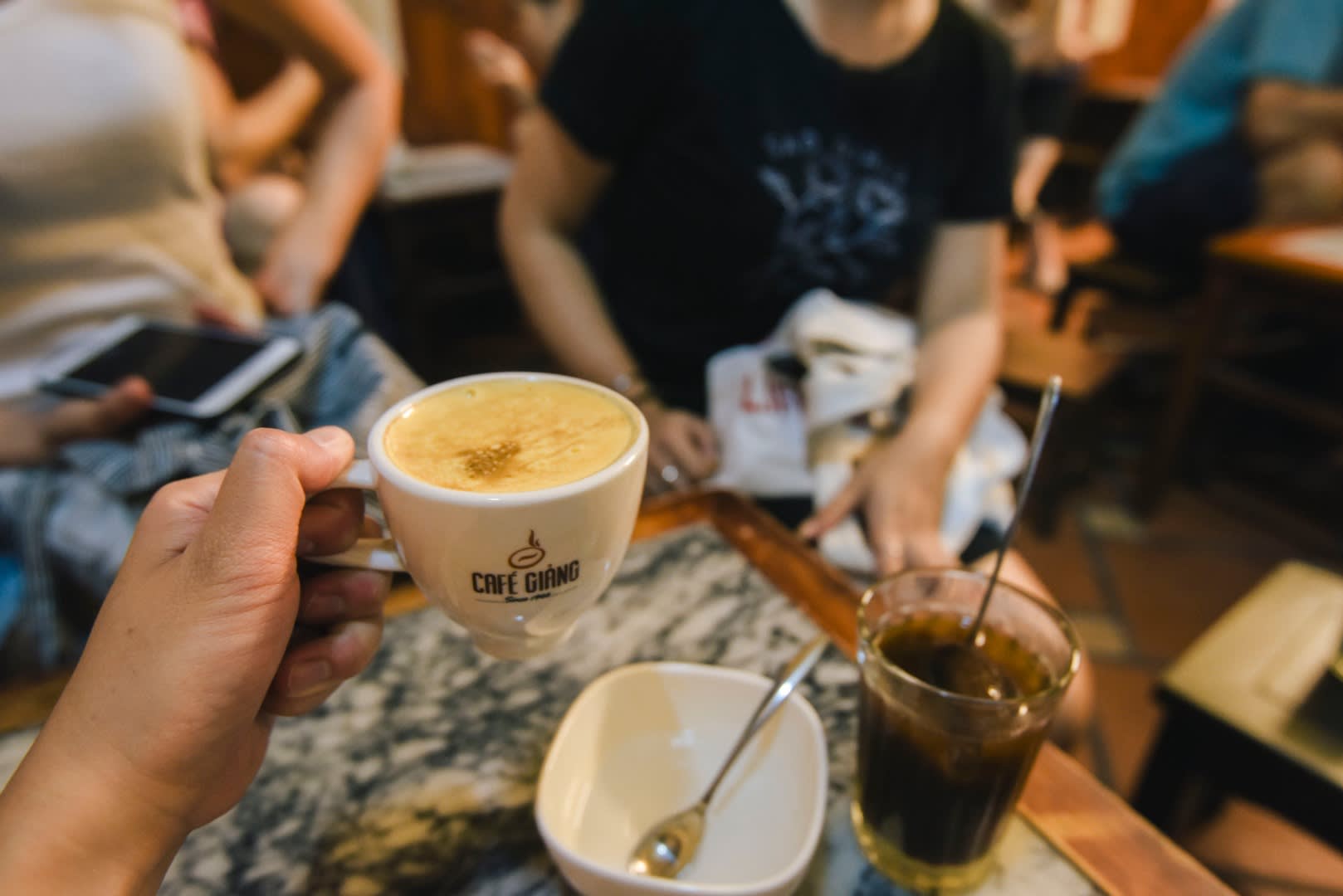 Coffee culture and cafe-hopping remain quite the global phenomenon. The North Korean leader isn't immune either – having apparently spent more than $920,000 alone on Brazilian coffee beans in 2016.
It looks like Hanoi might be Kim Jong-un's next big coffee hunt destination. Vietnamese coffee is pretty legendary, from condensed milk-spiked drip coffee to the strange-sounding but incredibly delicious egg coffee.
Way better than your basic Starbucks – which you can't get in North Korea, anyway.
7. To unlock the secrets of Hanoi's cuisine – a chance for some good PR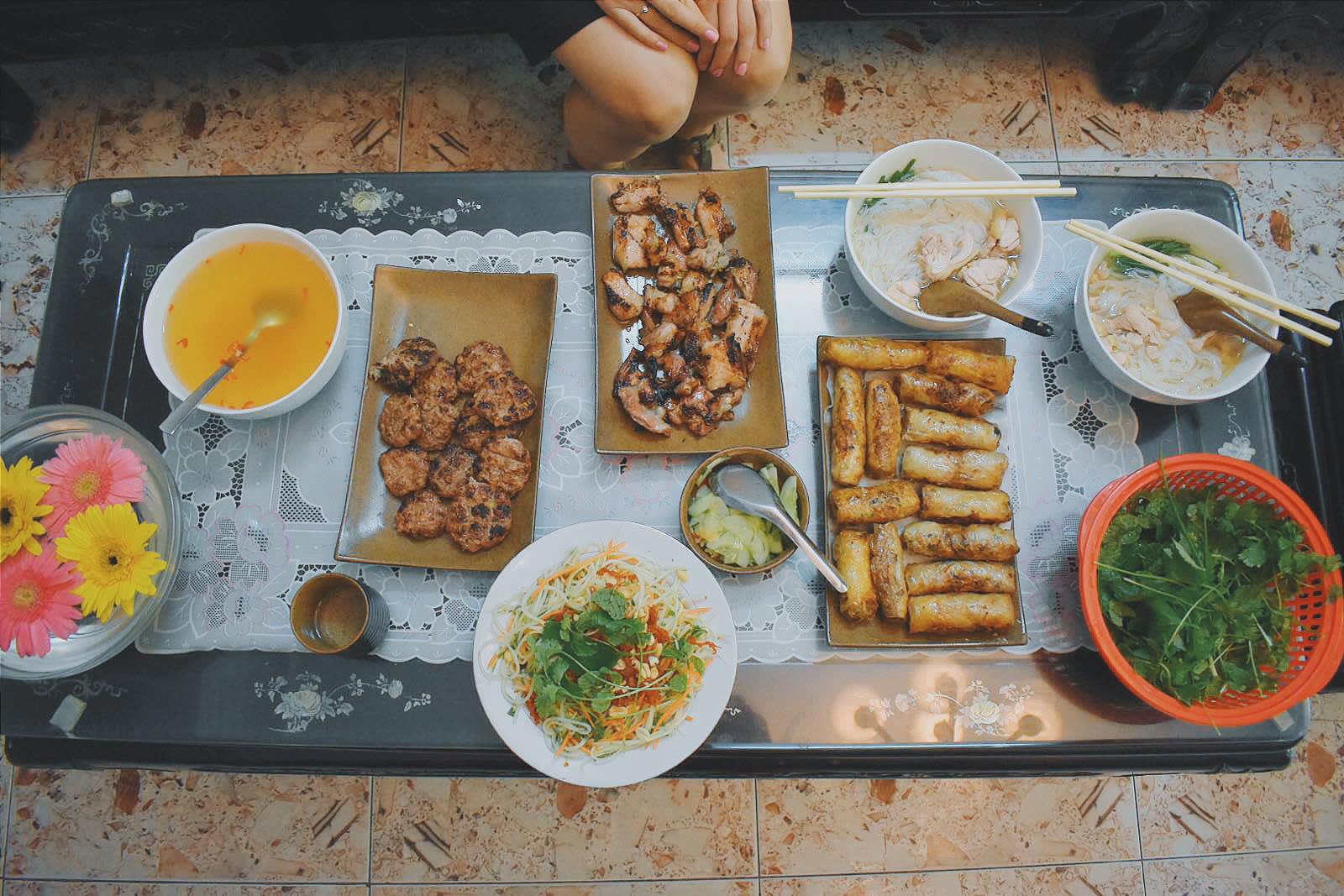 It's a well-known fact that Kim Jong-un is a major foodie with extravagant tastes. He's a huge fan of luxury foreign delicacies – from caviar to Emmental cheese – and has gotten backlash for his lavish food spending that contrasts dramatically with the typical North Korean lifestyle.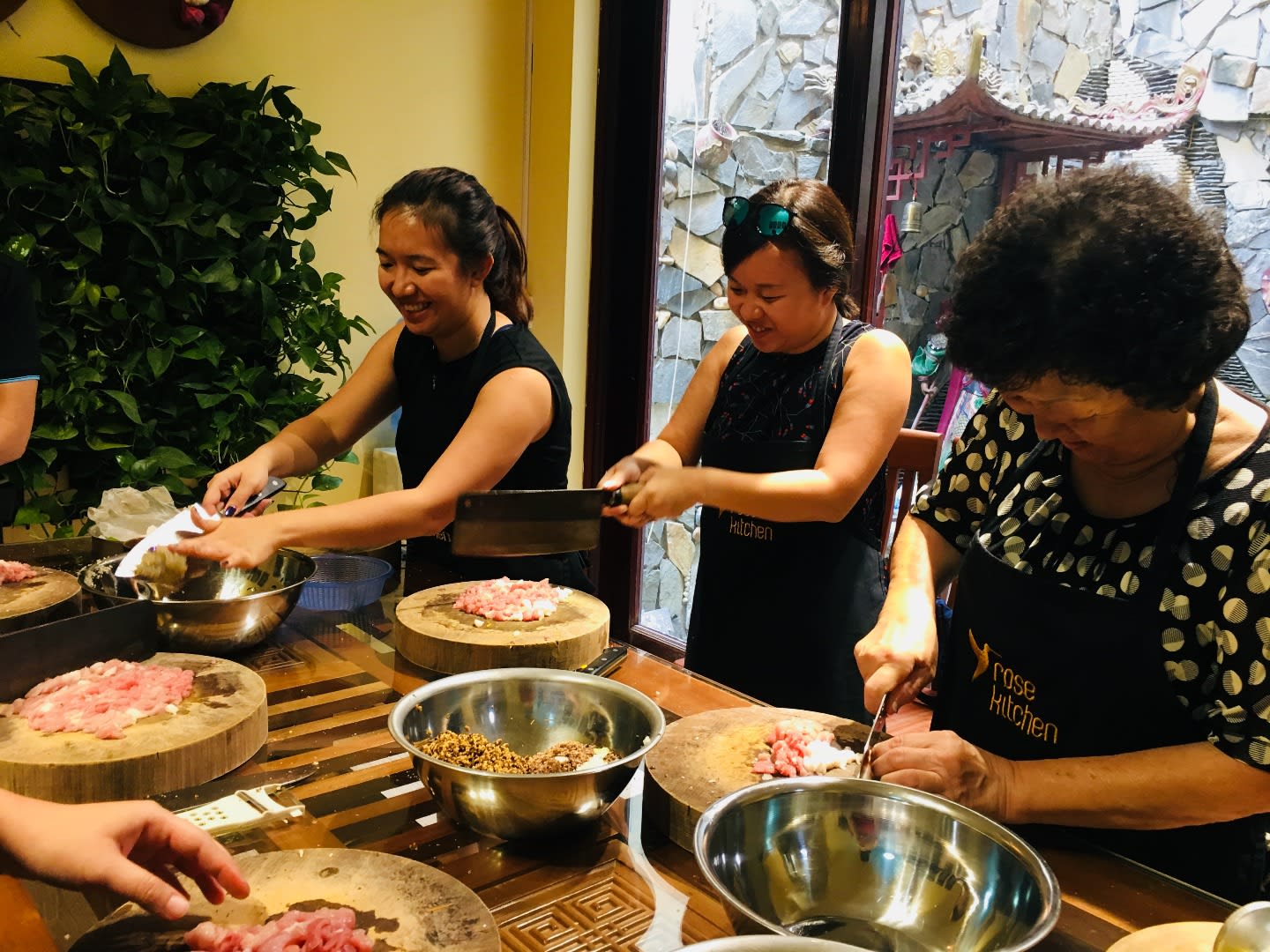 A trip to Hanoi and an immersion into its rustic food culture kills two birds with one stone. Not only does Kim gets to fulfil his foodie's soul with local Hanoi dishes, no one can accuse him of being unreasonably high-SES while indulging.
8. To treat themselves to some Bo Bit Tet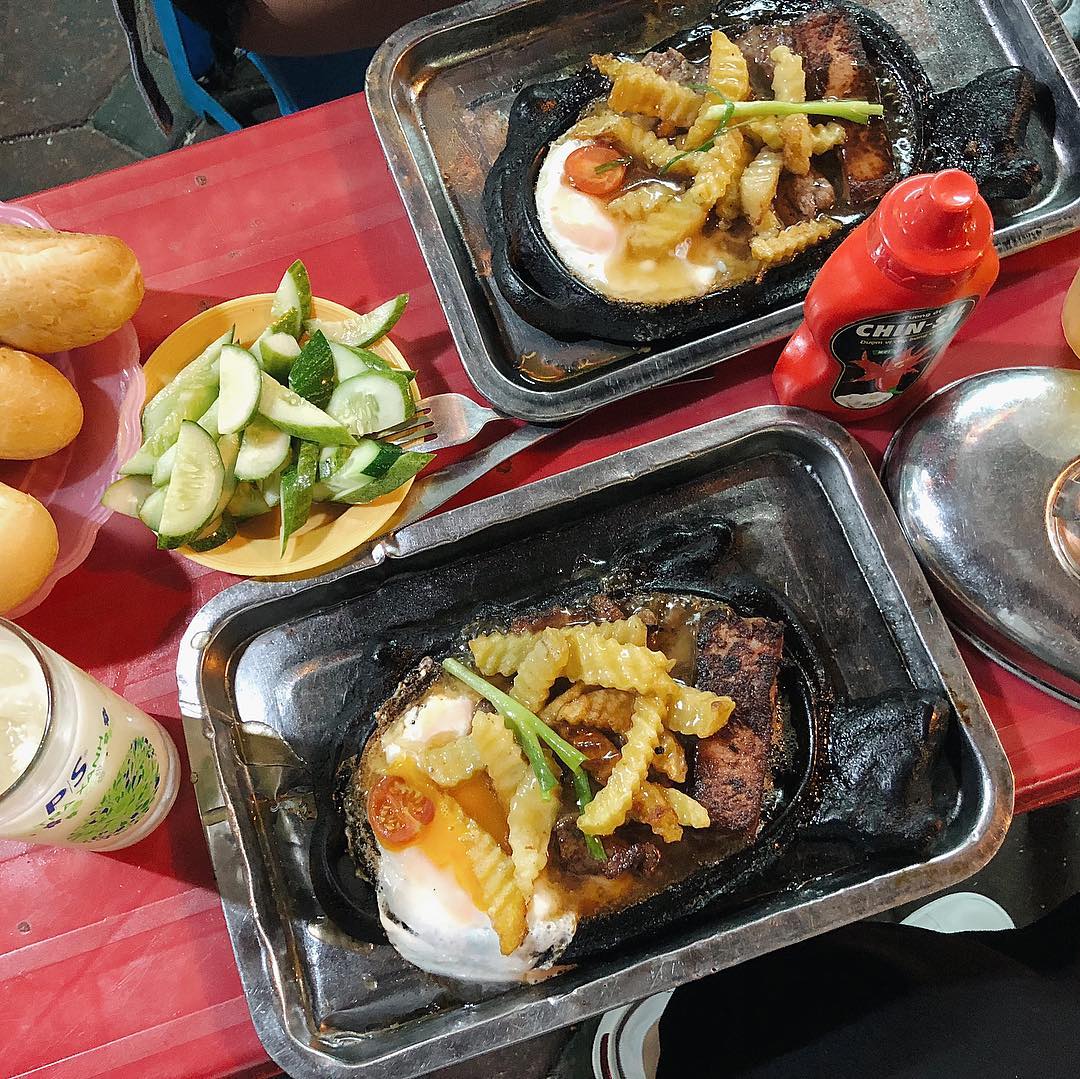 Image Credit: @hinvu on Instagram
Trump and Kim are infamous for their undying love of red meat – Trump for his well-done New York striploin dinners (still against the advice of his doctors) and Kim for his obsession with Kobe beef.
Hanoi hides some of Vietnam's best Vietnamese-style steak, or bo bit tet, and it's no shocker that Hoe Nhai Street sounds like a paradise. Also known as Bo Bit Tet Street, this quiet street houses over 10 different places that serve this Vietnamese dish.
Bít Tết So 3 is one of the more popular stalls. For a mere 70,000 VND, you can score a sizzling hot plate piled with thin-cut steaks, fried eggs, pâté, fries, sliced veggies and baguette, all drenched in gravy.
That's $3 USD for a whole plate of steak and eggs, including sides! Trump and Kim might live large and lavish, but these leaders know a good deal when they see one.
That's why Vietnam
These leaders know what's good in Hanoi – so don't miss out either. Make Hanoi your next vacation stop and indulge in its panoramic sights and vibrant culture!
Make your trip to Hanoi hassle-free with these travel essentials:
Don't confine yourself to Hanoi – there's tons more to see in the neighbouring regions. Make a trip to the breathtaking Ba Na Hills in Da Nang, or explore the natural wonders of Sapa.