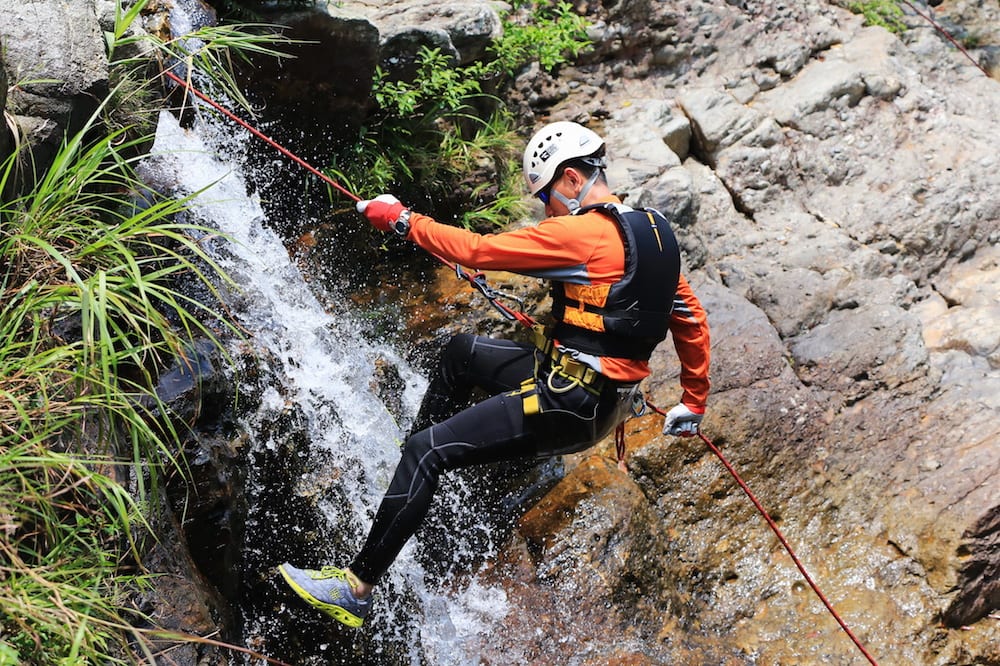 When I was offered the chance to try Klook's canyoning in Hong Kong adventure, I jumped at it. Waterfalls, abseiling, 10 meter cliff jumps – just my cup of tea. But when you live in a skyscraperopolis such as Hong Kong, it can be difficult to drag yourself away from the comforts of weekend brunches and air conditioning. It's no secret that Hong Kong has some amazing nature to explore if you know where to look but I'd wager that if you tell most visitors to Hong Kong, or even residents, that you can go canyoning here, they'd be pretty surprised and eager to know where to sign up!
https://www.youtube.com/watch?v=5RLRcTlwL_s
The adventure begins in Fanling, with a 20 minute bus ride from exit C of the MTR (light blue Mui Wo line). The 56K minibus can be a little difficult to find –  it's marked by a small white sign. Once the minibus is full, you'll be on your way to Tin Hau Temple, where the canyoning team will be awaiting your arrival.
The safety briefing and equipment check is thorough – canyoning can be dangerous, so safety precautions are taken seriously. There was approximately one instructor for every two participants so we felt in very safe hands throughout. The instructors checked our gear then we had an abseiling practice-run on a 3 meter wall before setting off.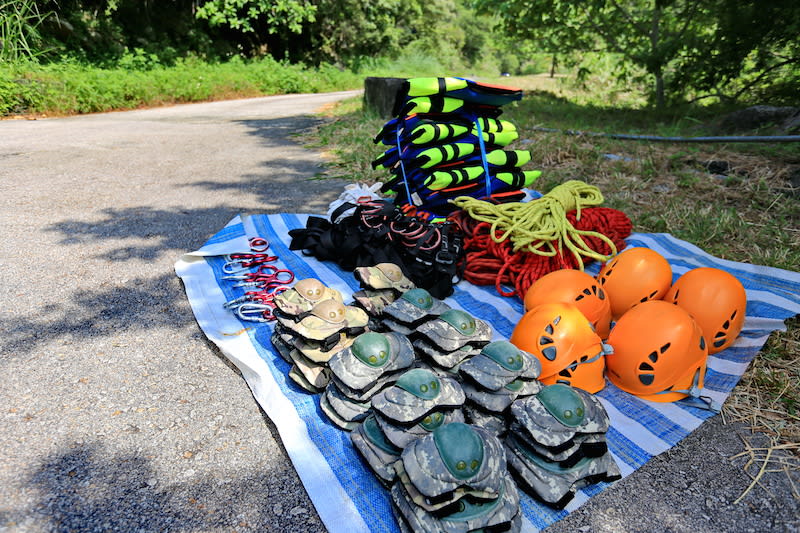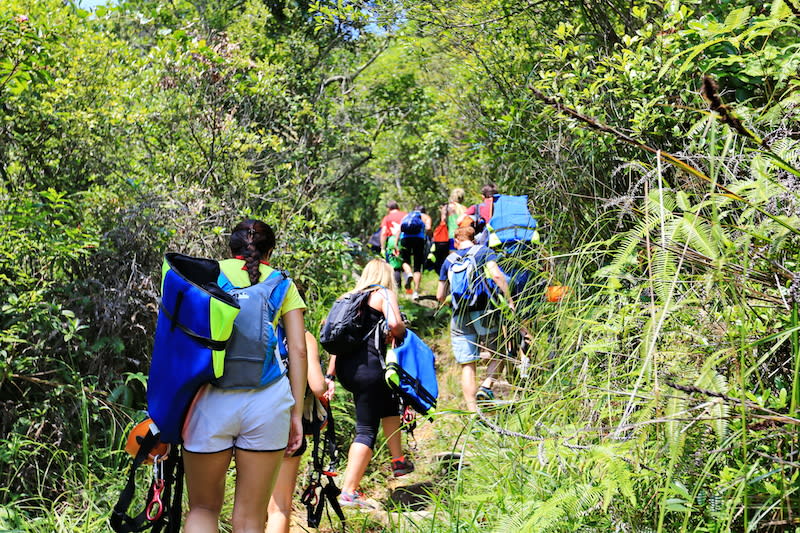 Kitted out in harnesses as well as knee and elbow pads, we took it in turns to tackle the series of waterfalls, lagoons and rocky crags, the instructors and other participants were great in offering support and advice as we all gave it a go. The waterfall abseils were tough because the rocks were so slippery and you have to keep focus whilst water is crashing down on your helmet. We all took a number of tumbles and the advice to keep one hand free to protect yourself from the approaching rock face definitely came in useful.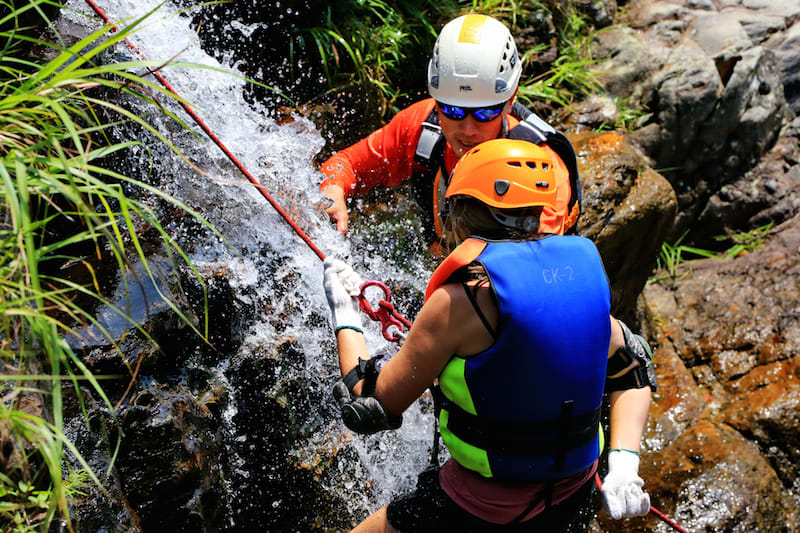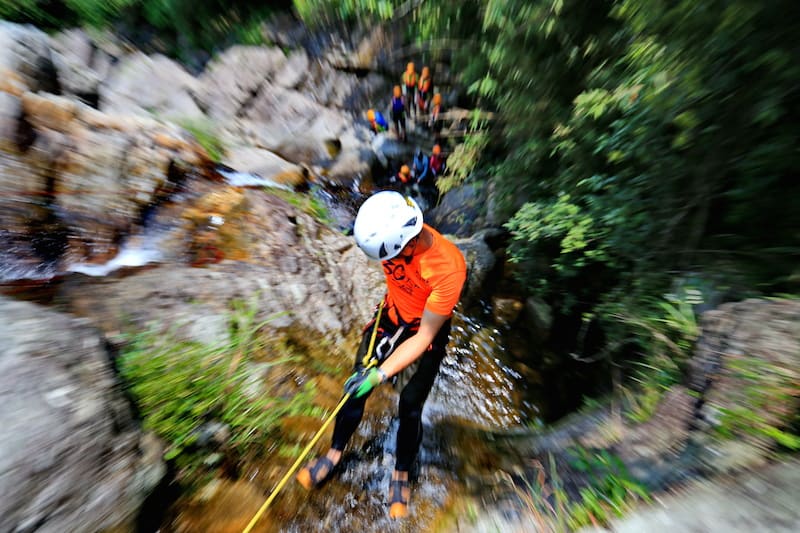 The downstream route also included a number of deep pools which were safe to jump into. Beginning with a two meter pool, we then built up the courage for a four meter and eventually a ten meter jump! My body was screaming out for me not to make the jump and it was honestly one of the scariest things I've done! But the sense of adrenaline afterwards was amazing! For those not confident enough (or reckless enough) to make the big jump, there was a rock slide which looked equally as fun.
It was definitely an advantage to have the experience in a group. Not only was it a great way to meet new people but it also gave everyone that extra bit of confidence to tackle each challenge – once you set off, there's only one way down, and no going back! If you want to give canyoning a go, Klook your ticket here!
Kickstart your outdoor adventure with our friends, Singapore Airlines and discover Hong Kong's rugged beauty. From 4-18 Jan 2018, two-to-go fares (all-in) start at just $248! Grab a friend and click here for more details!