Steak and fries with a side of Batman, please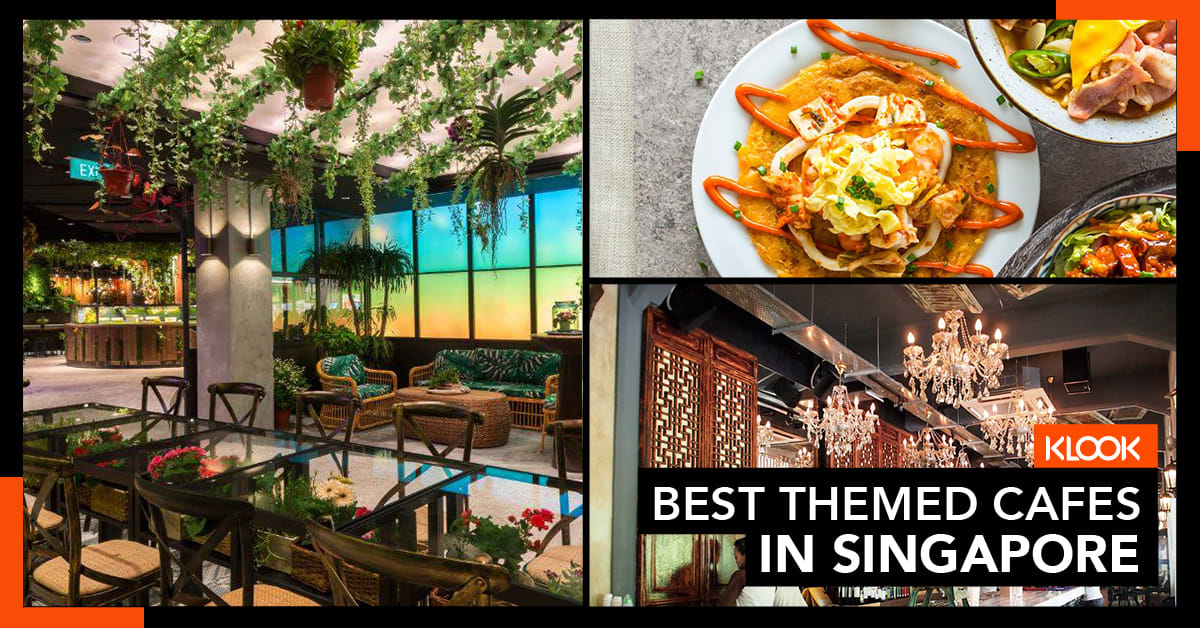 Singapore's not short of dining options, but somehow everyone gets a kick out of visiting themed eateries, especially if they're fashioned after their favourite superhero! From the Marvel fanatics to Hello Kitty fans willing to queue overnight for a plush toy of their favourite cat, you'll be surprised to know this little island is home to some pretty cool themed cafes!
Check out these 10 themed cafes in Singapore for a one-of-a-kind dining experience, especially if you dress according to theme!
1. Dine in the company of (hungry) heroes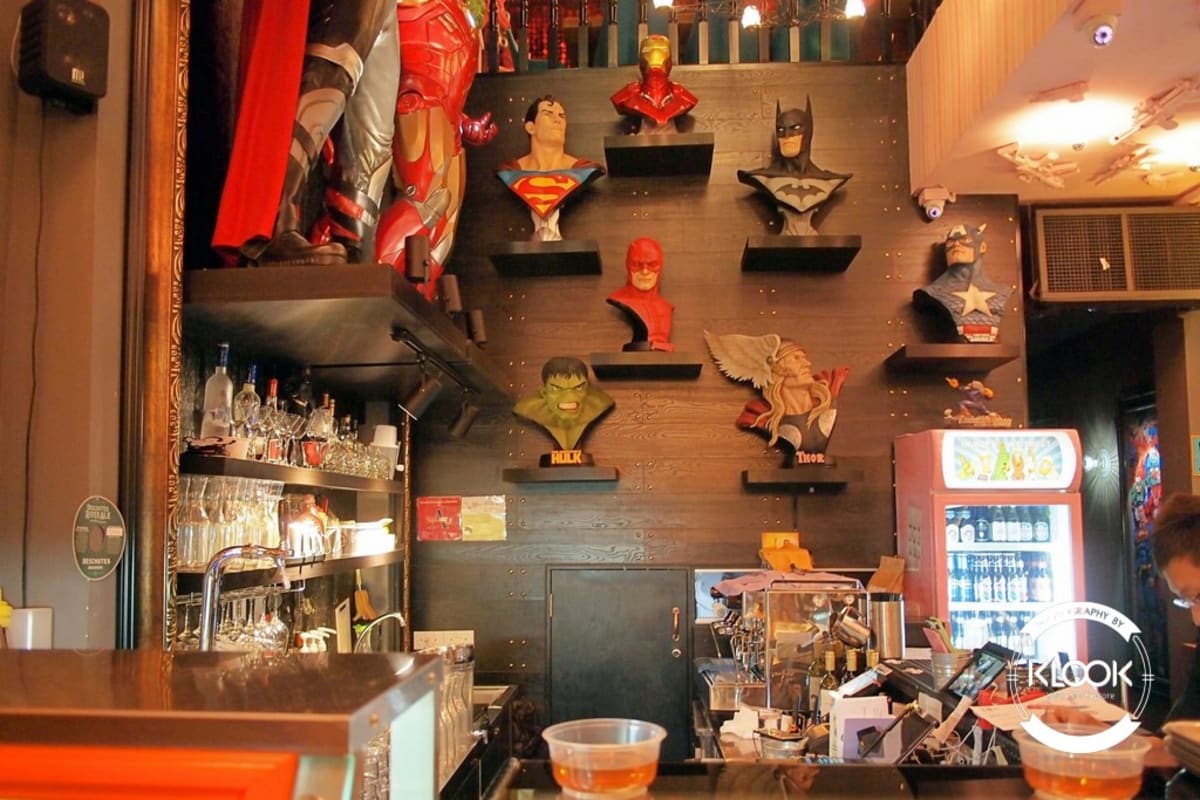 If you're looking for a place where you can dine in the company of both Marvel and DC fans (sans the friendly rivalry), Hungry Heroes is the perfect place to be.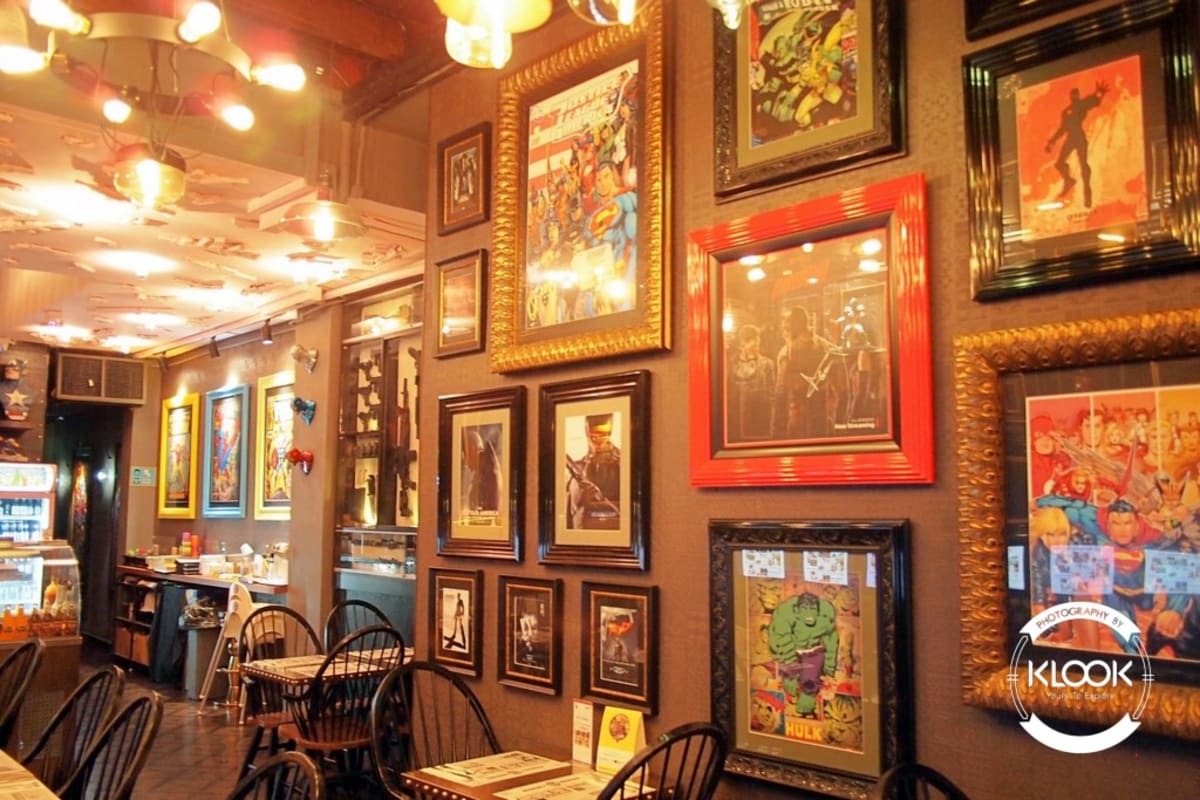 Their menu is nothing short of impressive. From bigger-than-your-face burgers to twice-cooked pork ribs, Hungry Heroes serves meals that are guaranteed to leave your tummies content. However, their bestsellers would have to be their meat platters, of course.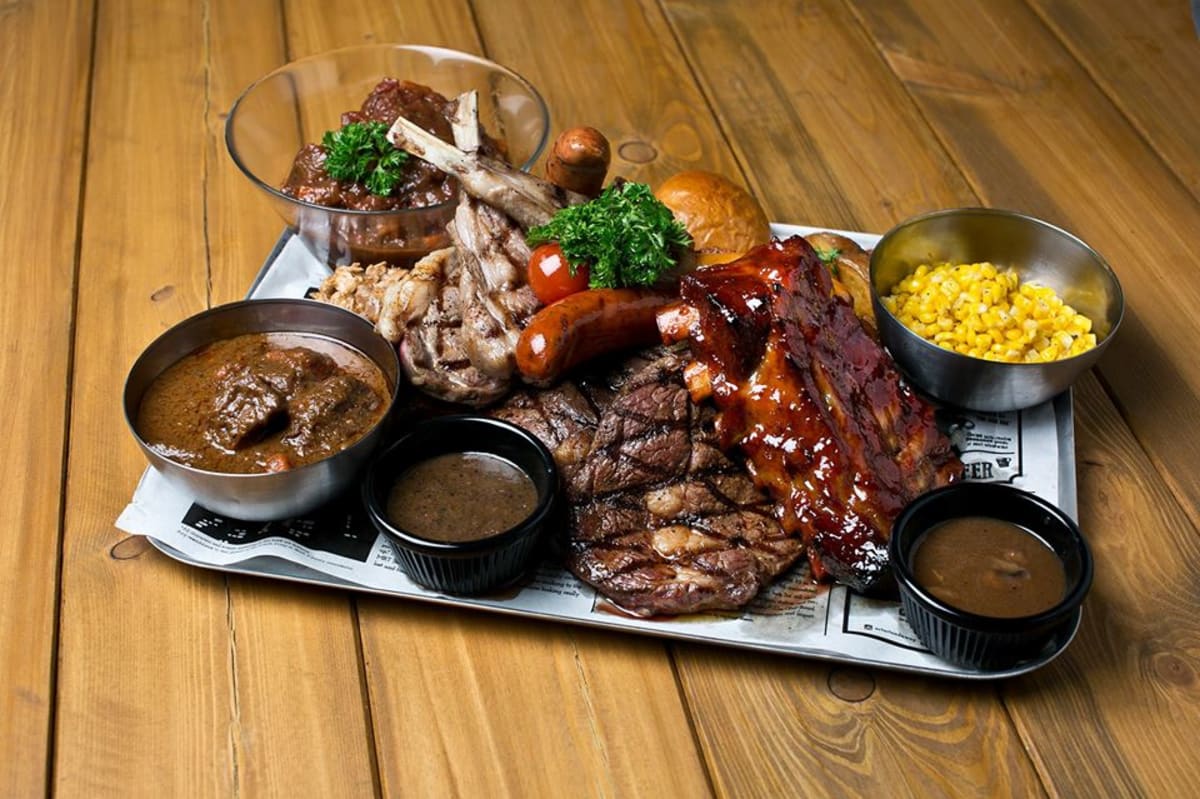 Choose from Nice-To-Meat-You and The Steak-Out and you'll be greeted with a table-full portion of pork ribs, pulled-pork, sirloin, ribeye, bangers and well, you get the picture.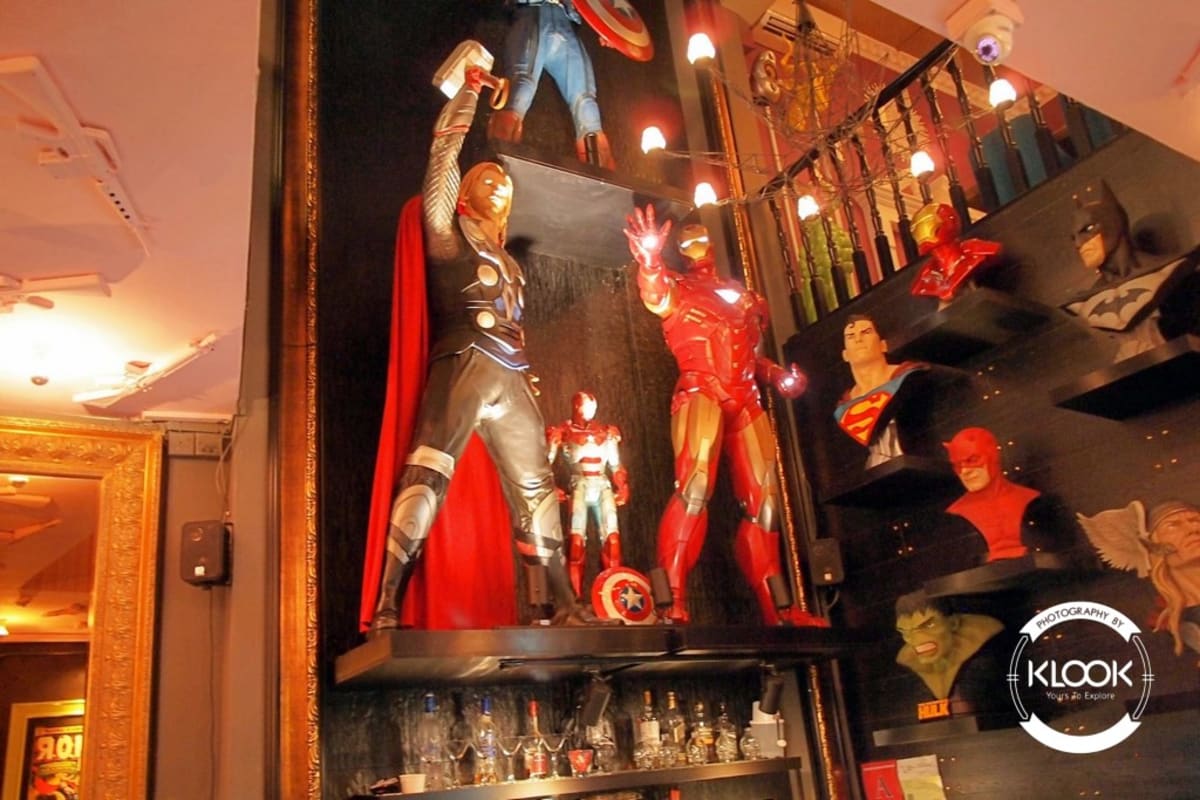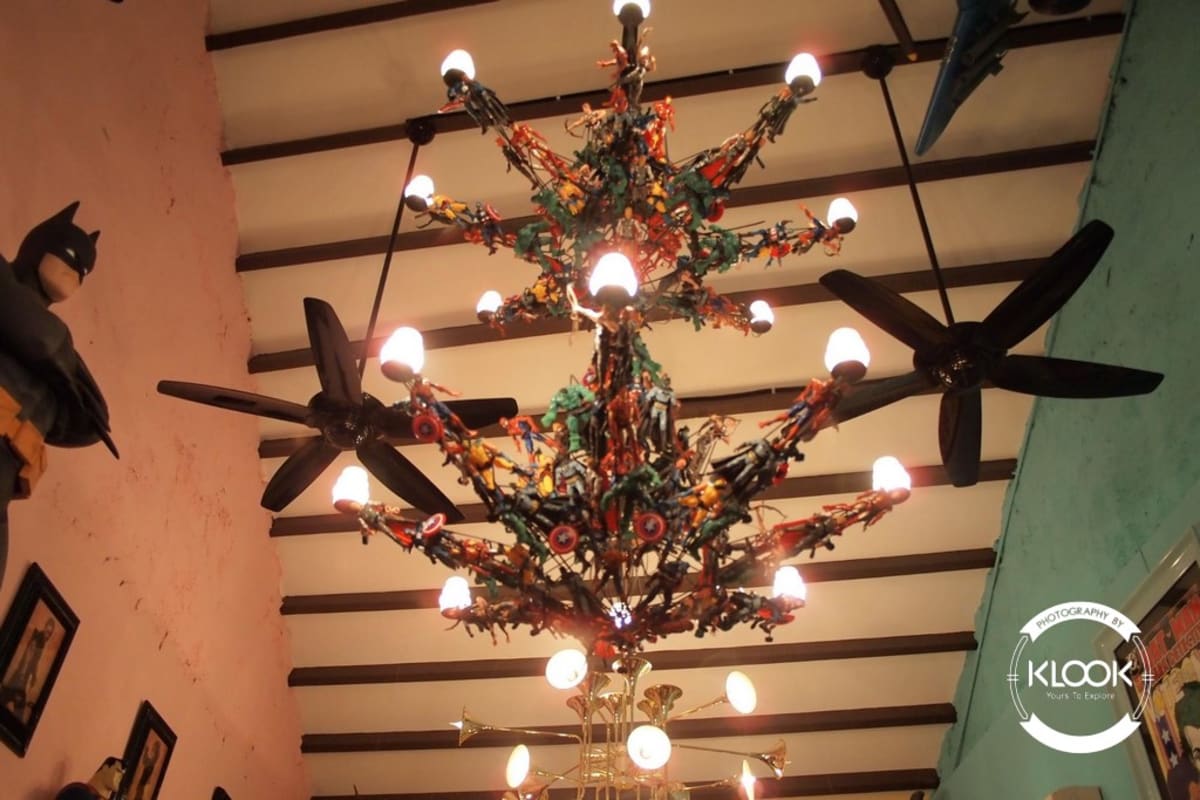 Hungry Heroes sure takes their interior design seriously! With life-sized statues of your favourite Marvel heroes surrounded in tons of memorabilia, the superhero lover in you will be leaping for joy from the moment you step in!
Speaking of superheroes, did you hear that the guys from Avengers have arrived at the Science Centre Singapore? That's right! From now till 5 March, catch your favourite superheroes at the Marvels Avengers S.T.A.T.I.O.N. at the Science Centre Singapore! Discover the secrets behind the Hulk's green skin and even have a go at donning Iron Man's suit for a supersized day out with the whole family.
Klook me to the Marvel Avengers S.T.A.T.I.O.N.!
Location: 33 Tessensohn Road Singapore 217656
Operating hours: Tuesday – Friday: 4:00pm – 11:00pm, Weekends & Public Holidays: 12:00pm – 11:00pm
Nearest MRT: Farrer Park MRT Station
Contact: 6295 5401
2. Laze your day away at the Gudetama Cafe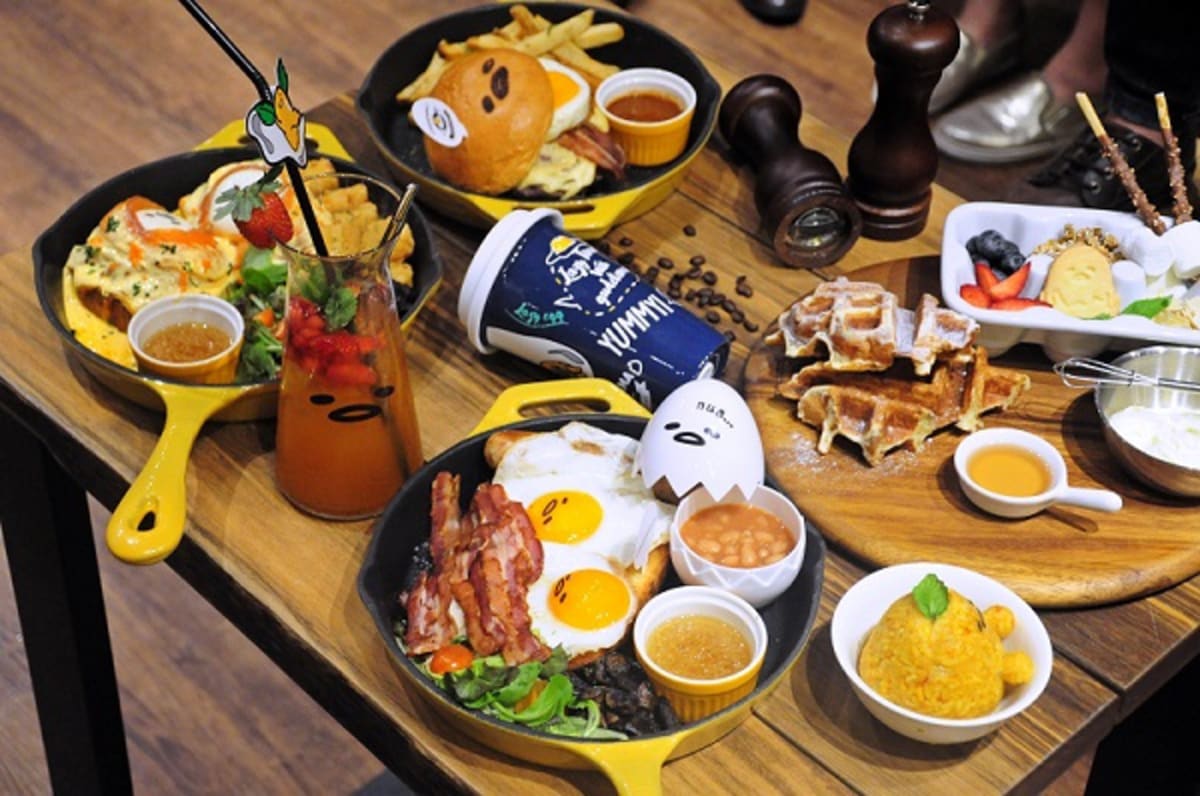 Gudetama Cafe opened in Suntec City last November and everyone's fawning over the melancholic egg-human that everyone somehow finds irresistibly cute. Every single item on the menu is personally crafted by bento artist LittleMissBento and is 110% Insta-worthy.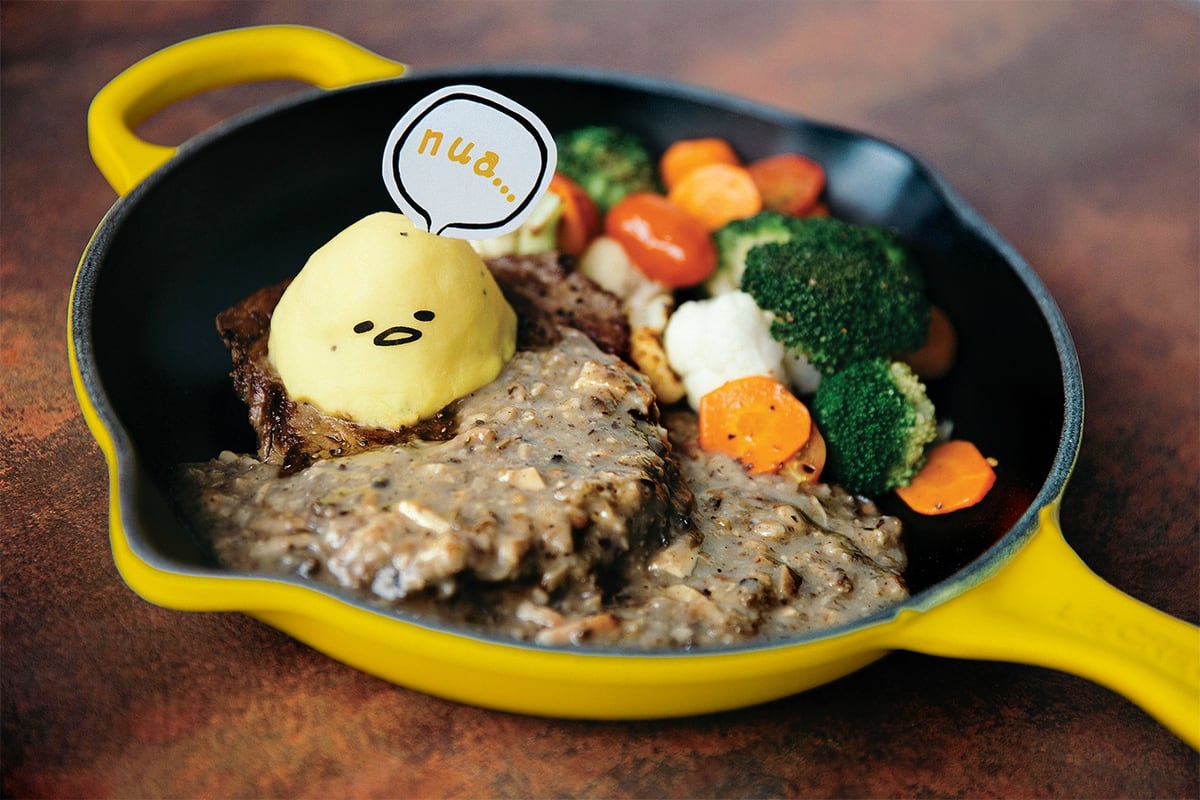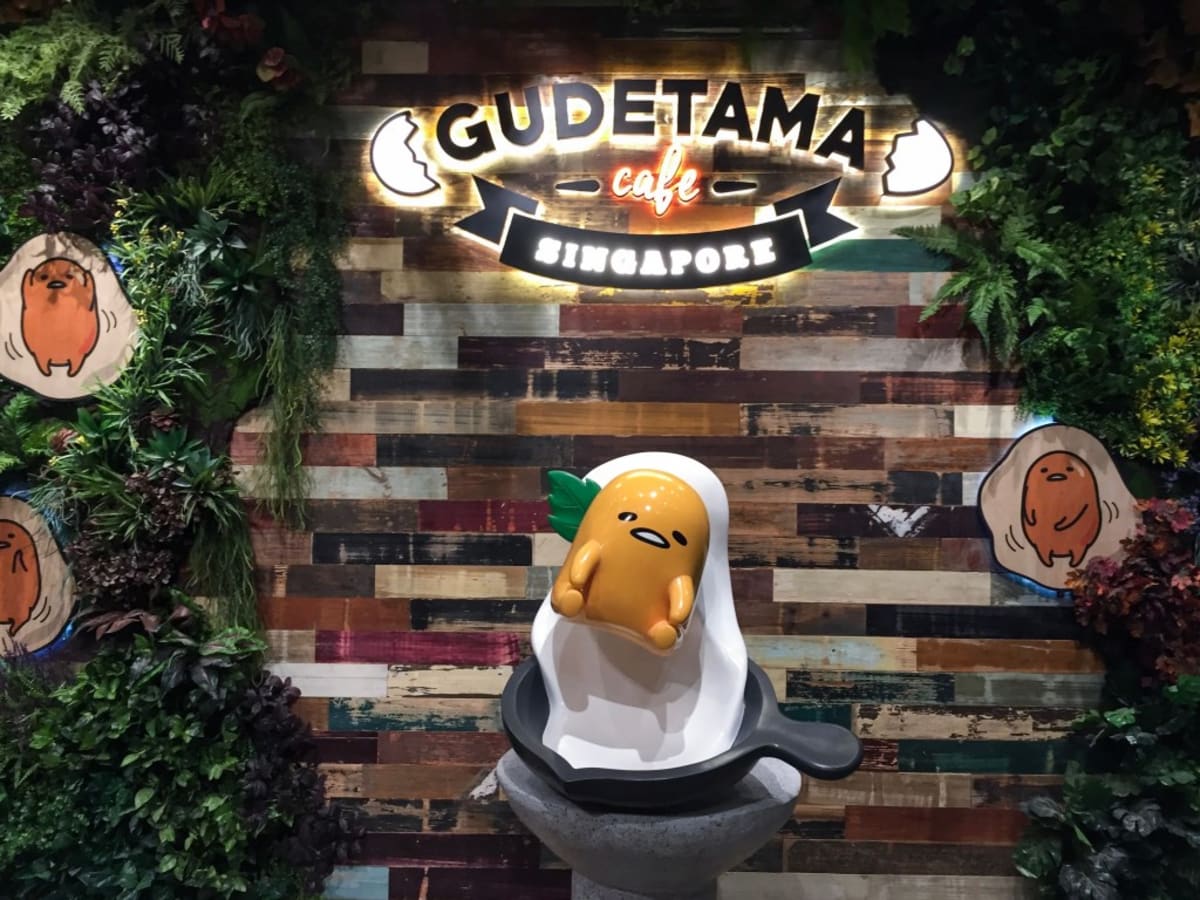 The 112-seater cafe screams Gudetama-everything with touch of local flavour.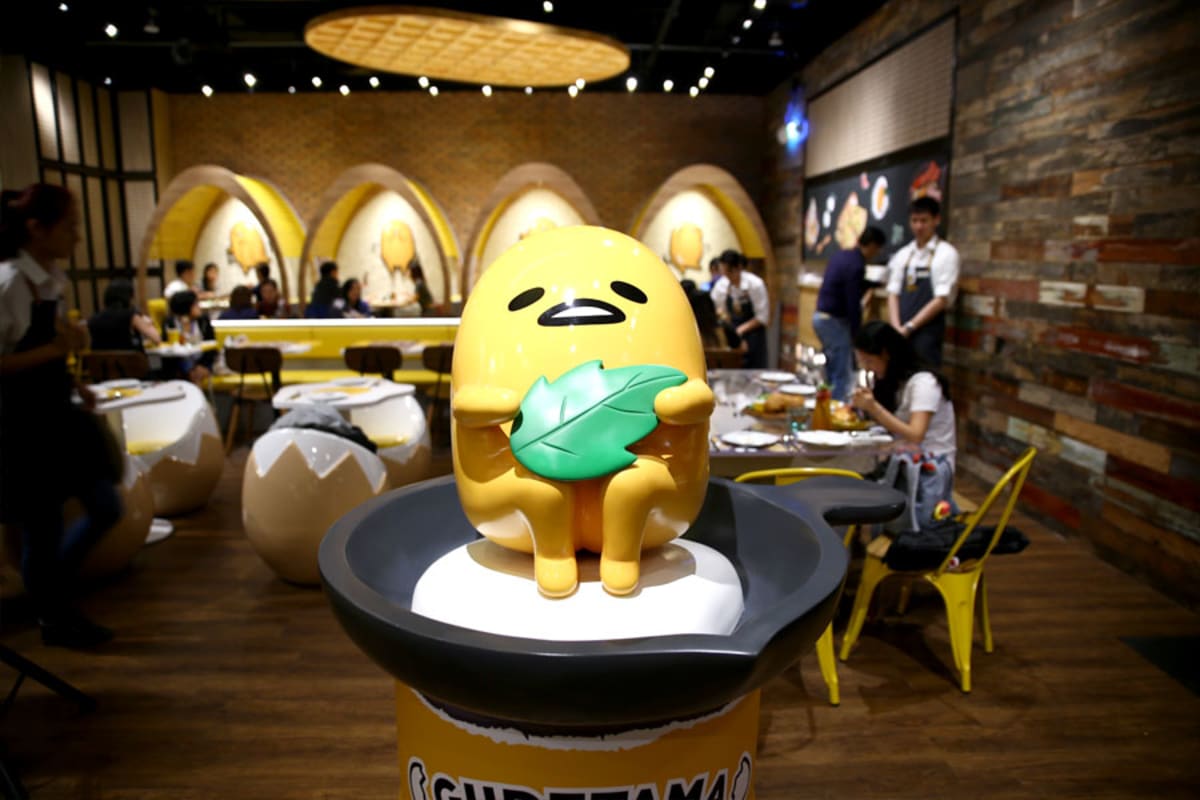 With egg chairs, waffle ceilings, adorable table settings, adorable Gudetama-food presentations, and Gudetama figurines everywhere, fans of Hello Kitty's lazy egg friend will be more than willing to brave the queues and fork up a few extra cash for the food!
Location: Suntec City Mall #01-361/362/363/364 (West Wing), 3 Temasek Boulevard Singapore 038983
Operating hours: Monday – Thursday: 9:00am – 10:00pm; Friday – Sunday: 8:00am – 10:00pm
Nearest MRT: City Hall MRT Station
Contact: 6677 6195
3. Play the night away at Singapore's first board game cafe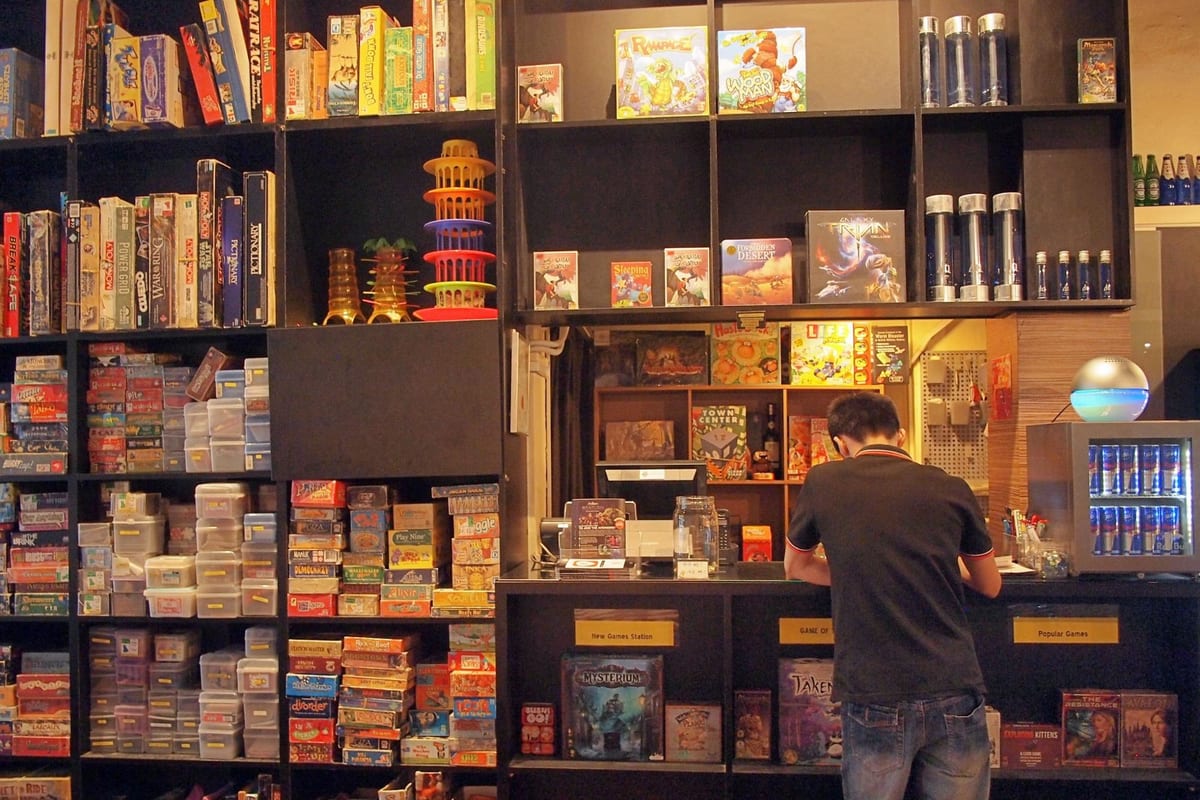 The first of its kind in Singapore, board game cafe Settler's Cafe opened way back in 2003 and has amassed more board games on its shelves than you can count at their outlet on North Canal Road. From swanky new games like a Game of Thrones themed Monopoly deck to age-old classics like Cluedo, the friendly staff on site are always ready to recommend a game based on your own preferences.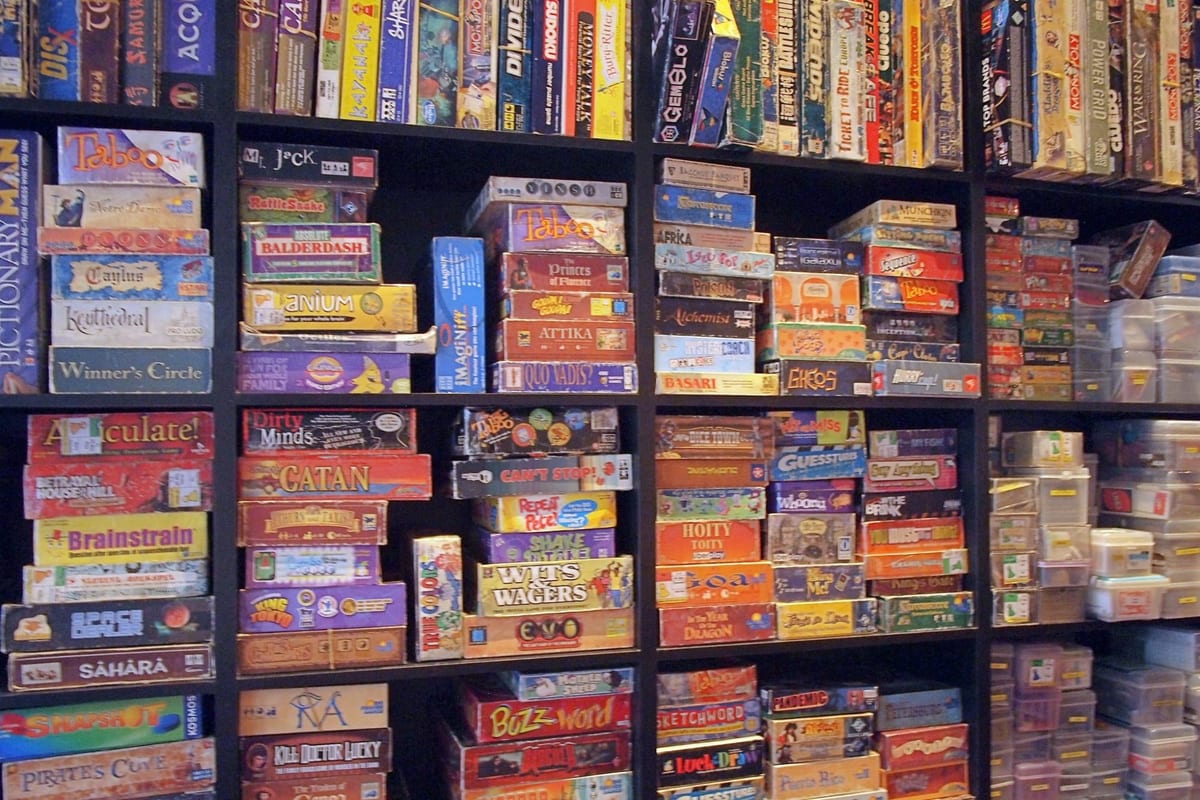 Settler's Cafe also offers menu items at reasonable prices – Chicken Chop ($9.90), Dory Pasta Spaghetti ($10.90) and Beef Lasagne ($13.90) – so you can enjoy a good competitive game of UNO (or any of the 300 different games here) without having to burn a hole in your pocket.
They also have attractive package deals from time to time like their Ladies Night Promo that will help to shave off a few extra dollars for a whole evening of fun perfect for all sorts of occasions.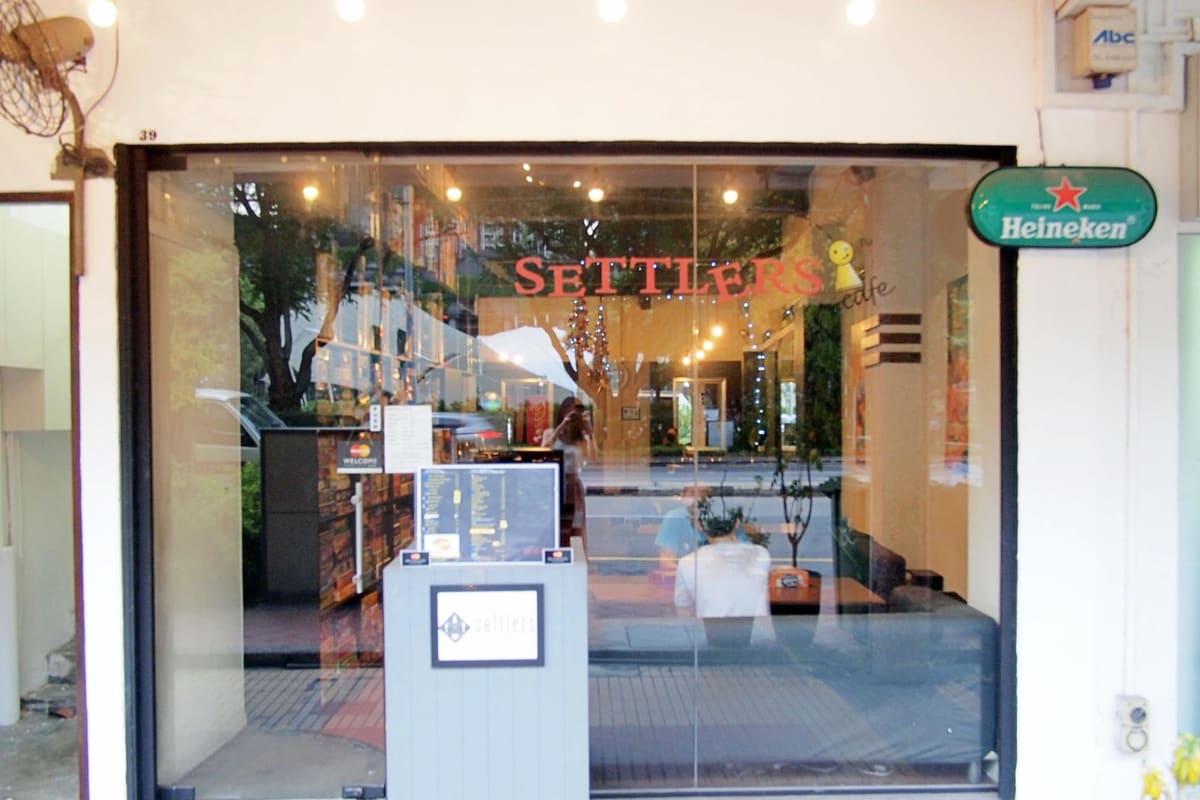 Settler's is also conveniently located along a row of shophouses a mere 5-minute walk away from Clarke Quay MRT Station.
A game of good ol' Monopoly, anyone?
Location: 39 North Canal Road Singapore 059295
Operating hours: Tuesday – Thursday – 6:00pm – 11:00pm, Friday – Saturday: 1:00pm – 1:00am, Sunday – 2:00pm – 8:00pm
Price: from S$15.90 per package
Nearest MRT: Clarke Quay MRT Station
Contact: 6535 0435
4. Have a (gastronomical) happily ever after at the Blisshouse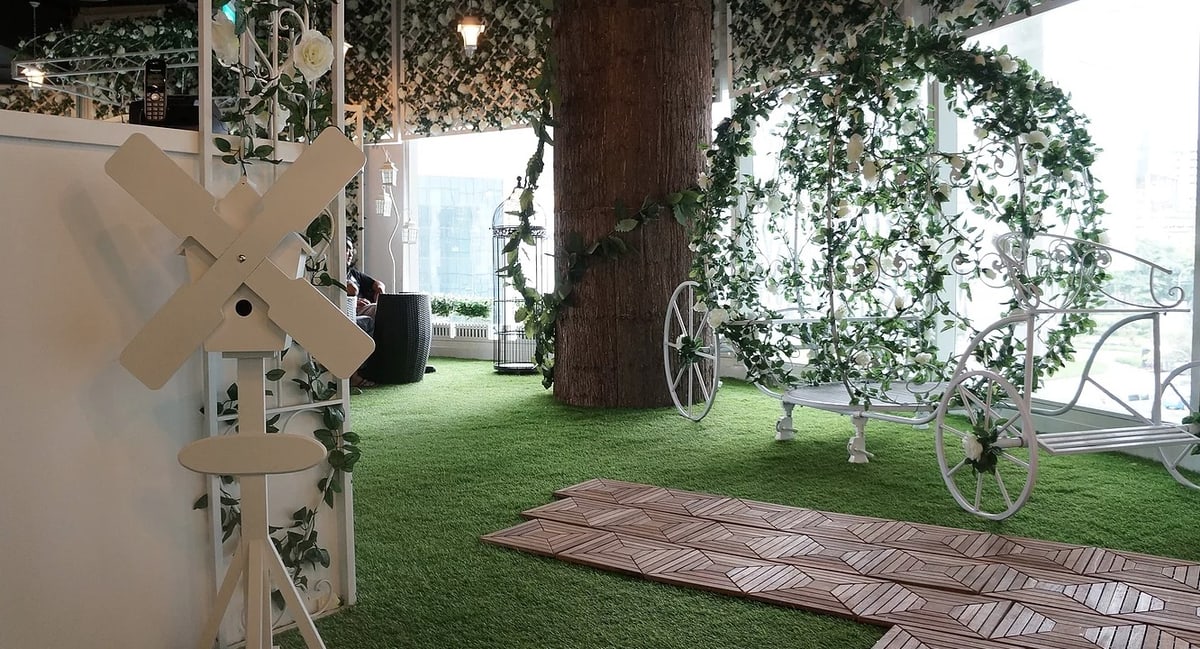 Aspiring royals rejoice! Located at The Central, Blisshouse looks like it came straight out of a Cinderella movie with this pumpkin carriage lookalike!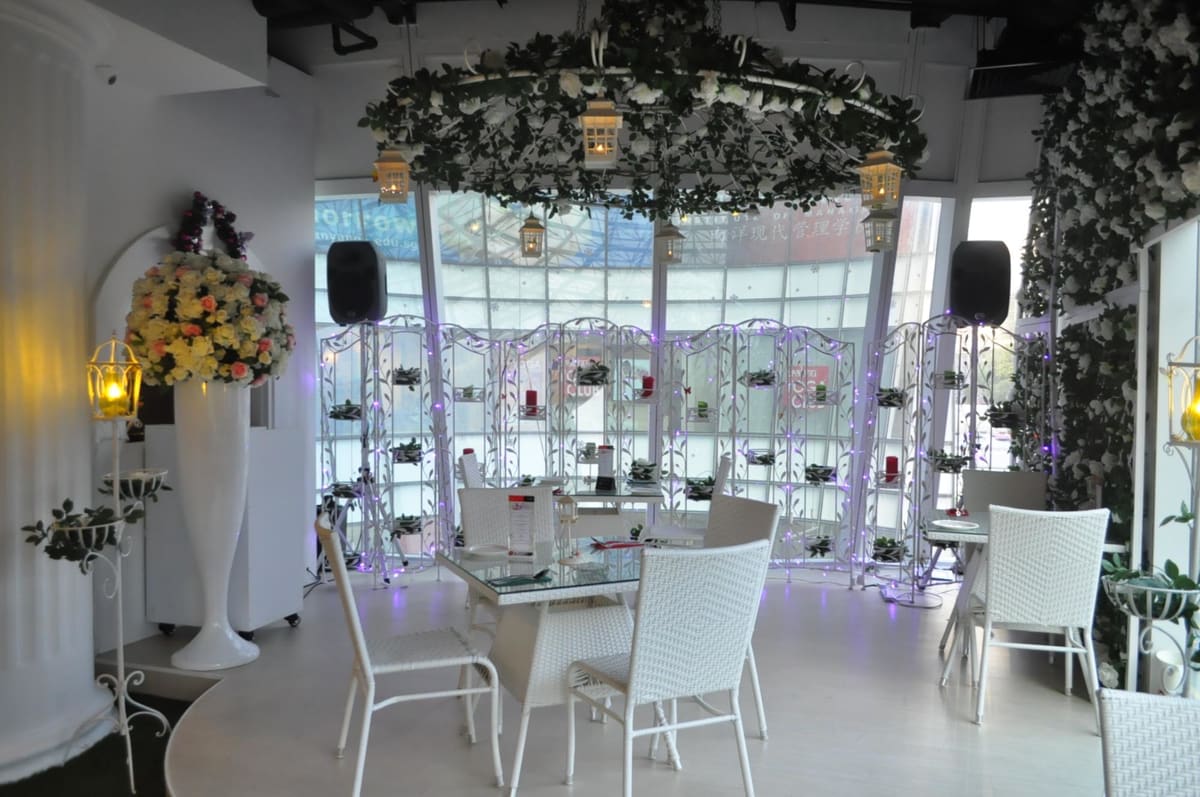 The spacious interior is kept simple and quaint, perfect for large group gatherings and special events. Needless to say, this space attracts many soon-to-be husbands and wives with Blisshouse used as a wedding reception venue almost every other week!
They even offer rental services for wedding dresses, so if you're looking to hold that fairytale wedding you've always wanted, you know where to go.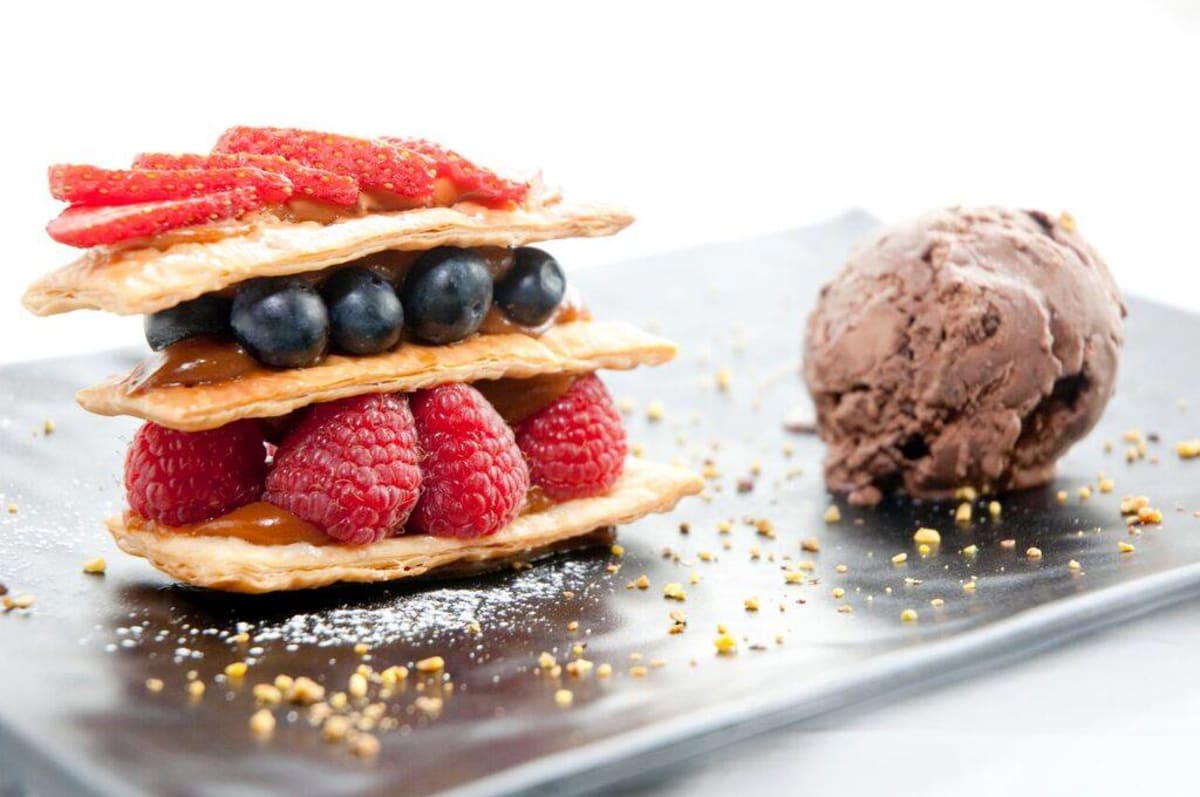 Pyramid of Love. Source
Blisshouse has also just been granted the Halal cert last September, and menu items like the Tomato Pesto Oven Baked Cod Fish and Quesadillas are definite must-trys! One thing you shouldn't miss however, is the Pyramid of Love. This bestselling berries-filled dessert is so beautifully crafted, you might have trouble even eating it!
Location: 6 Eu Tong Sen Street, #03-21, The Central, Singapore 059817
Operating hours: Monday – Thursday: 12:00pm – 10:00pm, Weekends & Public Holidays: 12:00pm – 11:00pm, closed on Fridays
Nearest MRT: Clarke Quay MRT Station
Contact: 6225 5532
5. Have a picnic MINUS the hot sun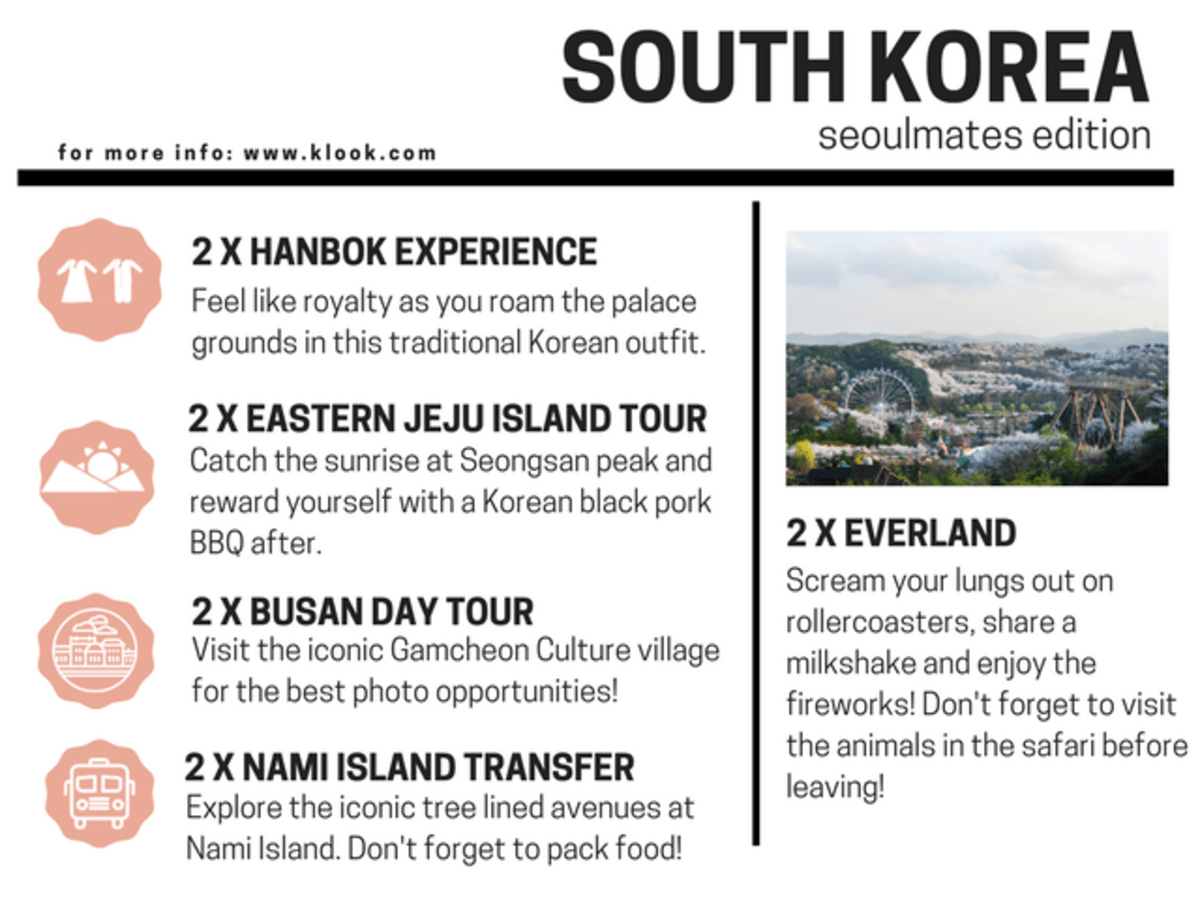 Singapore may not be the ideal place for a picnic given the fact that there's only one season all year round and that's humid, sticky tropical Summer.
However, at Picnic SG, you can dine without having to be under the scorching sun AND choose between a wide range of dining options, all in one cute and huge, garden-themed restaurant.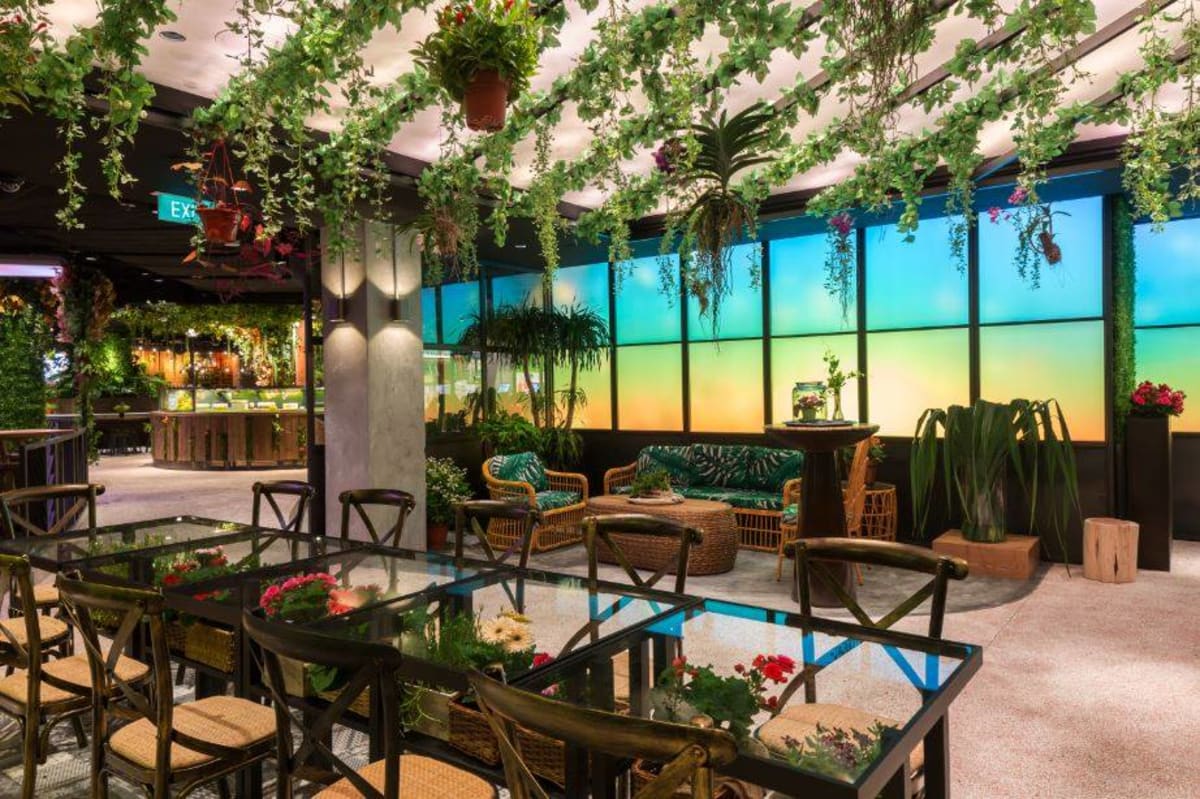 There are altogether 13 food stalls here including food trucks, and patrons can choose to sit wherever they please in the 13,000 square feet of space located at one of the biggest malls in town, Wisma Atria.
Also, the seating areas accommodate both big groups and small groups, so whether you're with a group of friends or on having the "picnic for a first date" affair, Picnic SG is the place to be.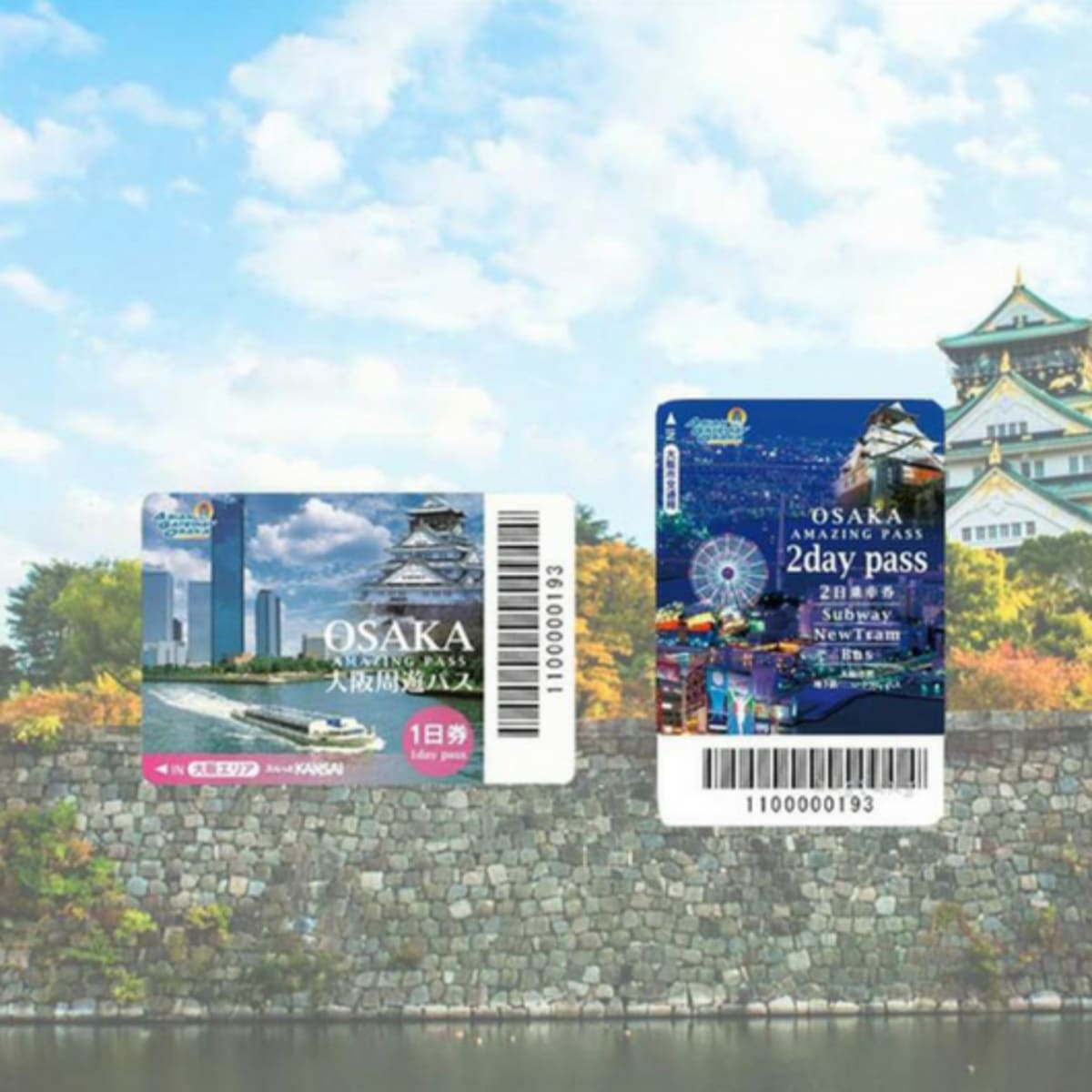 For those with a hearty appetite, expect not-so-picnic-like food here like Beef Noodles, Pastas, Pizzas, Korean Fried Chicken, Tikkas and more!
Location: Wisma Atria #03-15, 435 Orchard Road Singapore 238877
Operating hours: 10:00am – 10:00pm daily.
Nearest MRT: Orchard MRT Station
Contract: 6734 8352
6. Casual dining at its best at the Coastal Settlement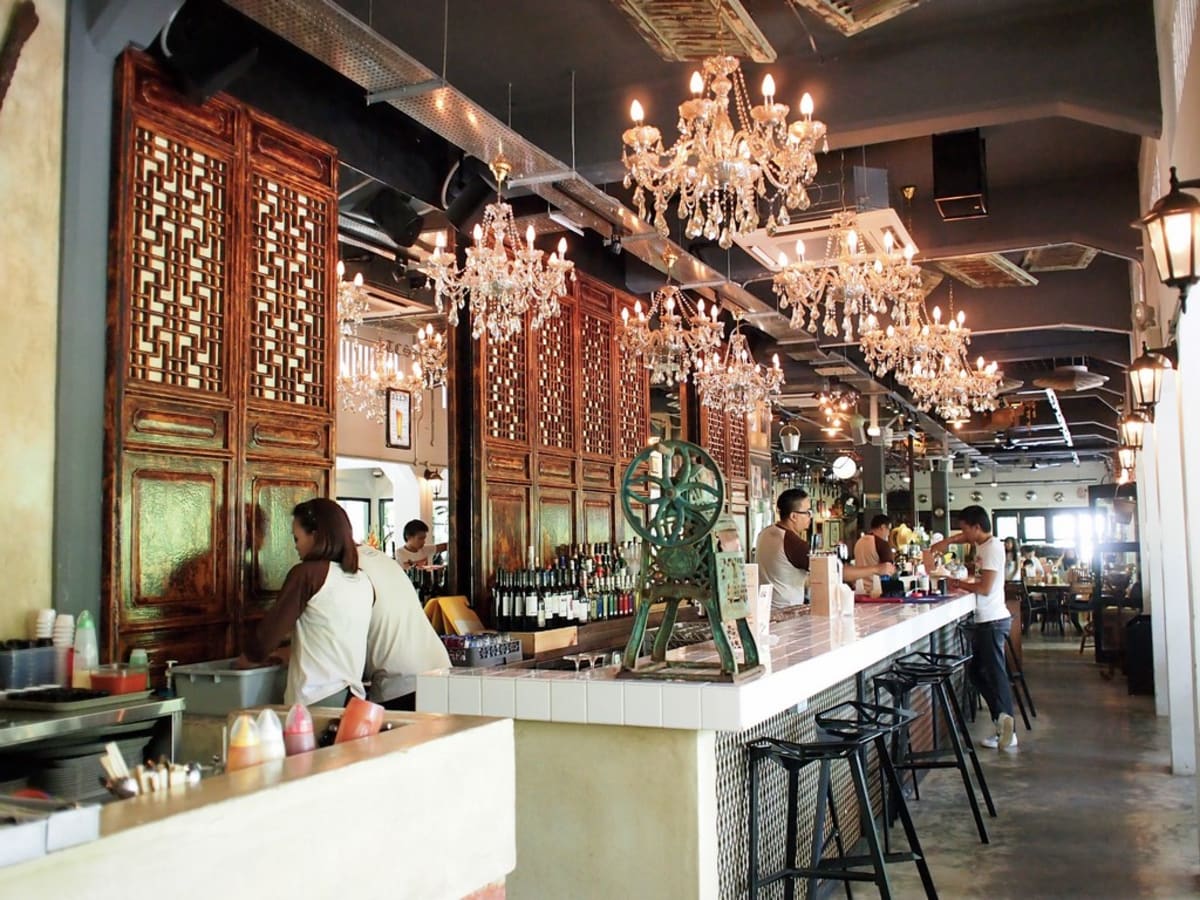 Imagine a restaurant, cafe and a bar all in one village-like place tucked in the middle of lush greenery in the east of Singapore and you'll get Coastal Settlement. Serving up Western and Asian dishes, this casual dining restaurant quickly rose to being one of the most popular themed eatery in Singapore – lush greenery on the outside, vintage-museum interior on the inside.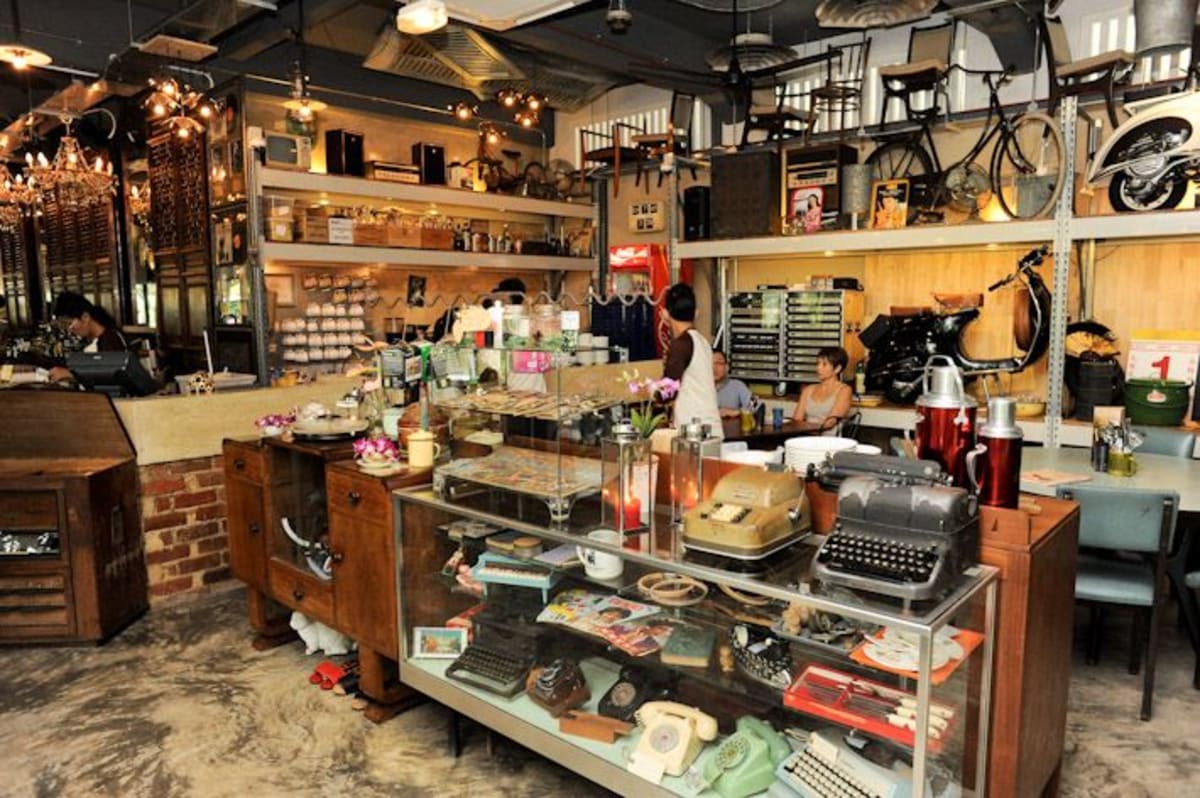 The walls in Coastal Settlement are filled with all things vintage – Vespas, old-school gadgets, and old paintings – this place is a hit with both the young and old.
The cafe has an extensive menu where dishes are served in generous portions and awesome presentations, clearly seen from their Lamb Chop pictured above!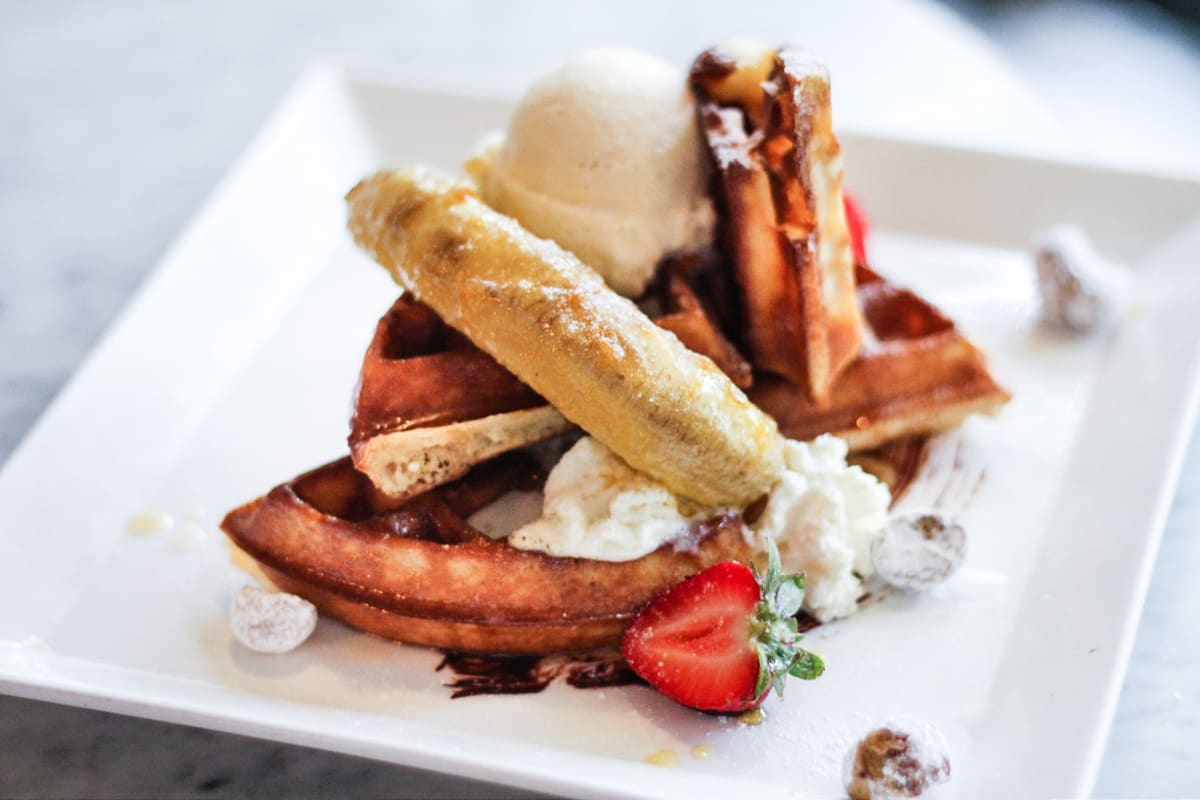 No meal is complete without desserts, and the desserts here are equally appealing. Do try their Waffle Stacks with brown buttery waffles topped with fresh fruits, maple syrup and whipped cream – the perfect way to end your meal!
Location: 200 Netheravon Road, Singapore 508529
Operating hours: Tuesday – Sunday: 10:30am – Midnight.
Nearest MRT: Pasir Ris MRT Station
Contract: 6475 0200
7. Dine with the famous feline at Hello Kitty Orchid Garden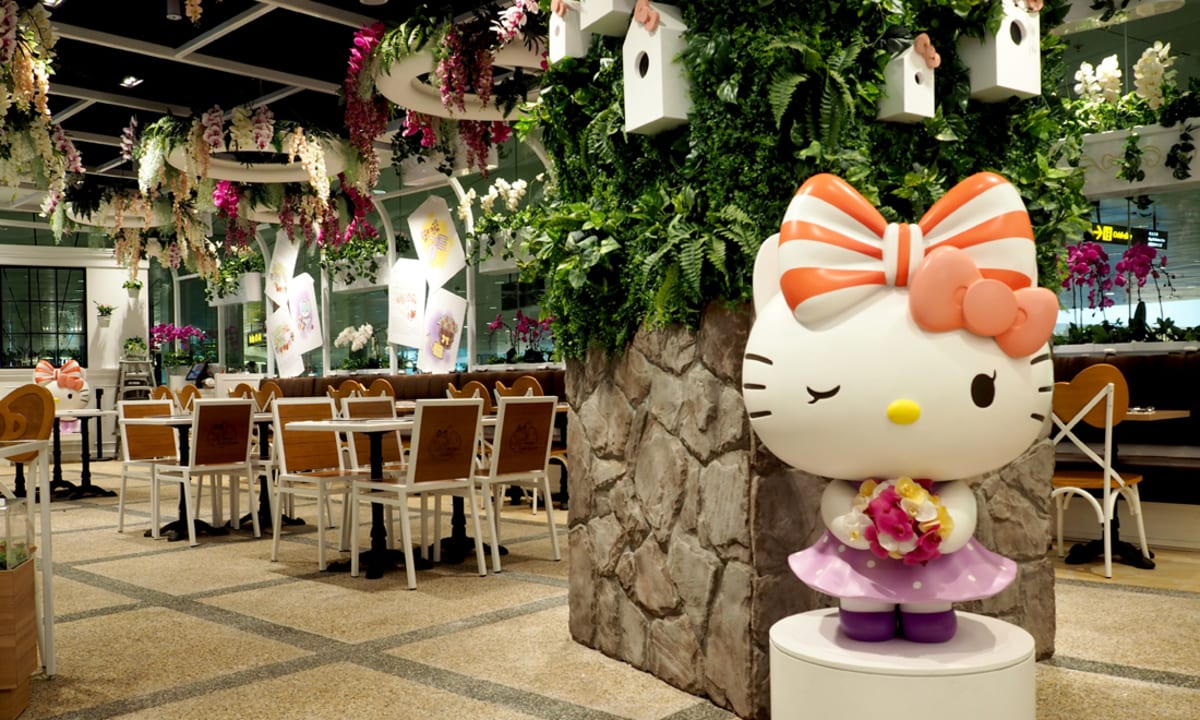 The first in Singapore and the only 24-hour Hello Kitty-themed cafe in the world, The Hello Kitty Orchid Garden sits at Changi Airport Terminal 3 and is pretty hard to miss.
If you're not able to make it across the causeway to the gorgeous Hello Kitty Town, the Hello Kitty fan in you will still be satisfied here! Not to mention that this cafe might be the reason why you're willing to arrive at the airport extra early next time!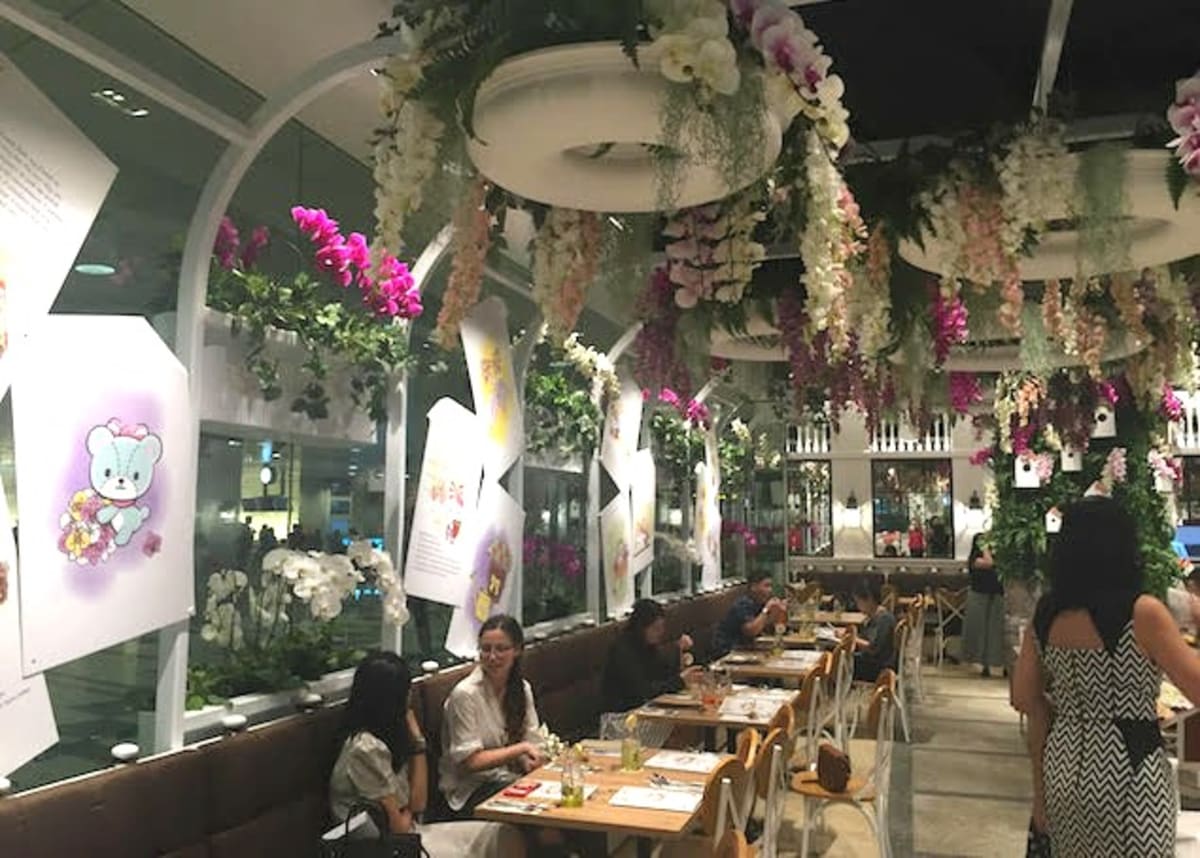 Just like its name, the cafe is donned with orchids everywhere, including some that hang beautifully from the ceiling. There are also a handful of figurines and decorations located around the cafe for great photo opportunities!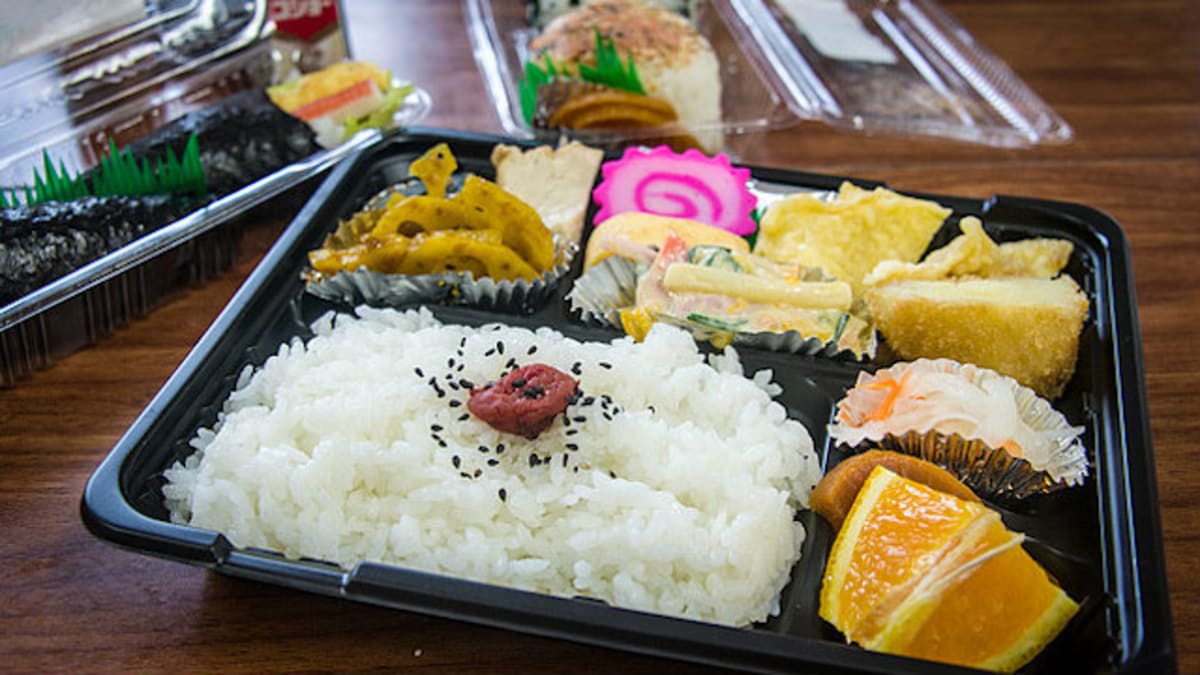 Guests can expect locally-inspired kitty-fied food like the Beef Rendang Cowbunga (made using Wagyu beef!) and The Hide & Seek (pandan infused panna cotta dessert served with vanilla gelato and sprinkled with gula melaka, passionfruit and strawberry marshmallow sauce)!
Location: #01-22 Singapore Changi Airport Terminal 3
Operating hours: 24 hours
Nearest MRT: Changi Airport MRT Station
Contact: 6241 6127
8. Dine alongside Hello Kitty's insanely adorable canine friend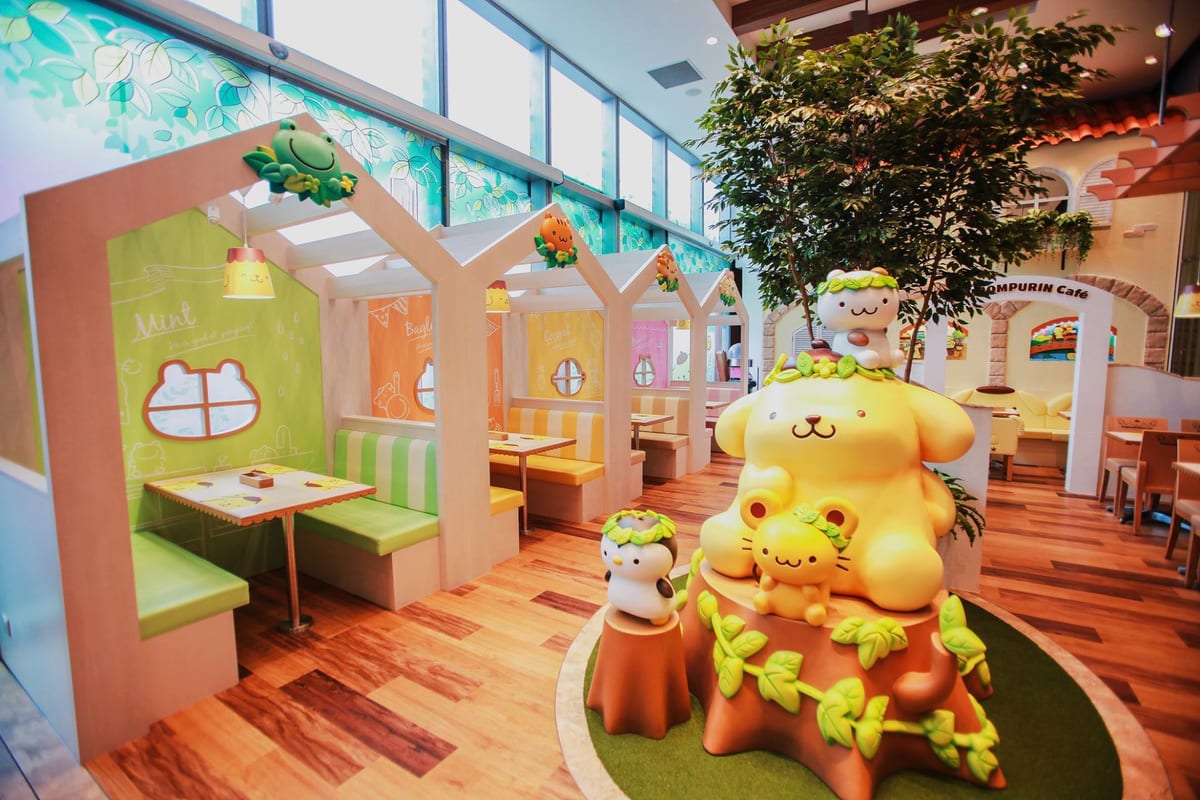 Also adopting the garden-themed concept like its very good friend at #7, the Pompompurin Cafe is probably the cutest Sario-themed cafe in Singapore, with pastel colours, booths and themed-everything, every corner of the cafe.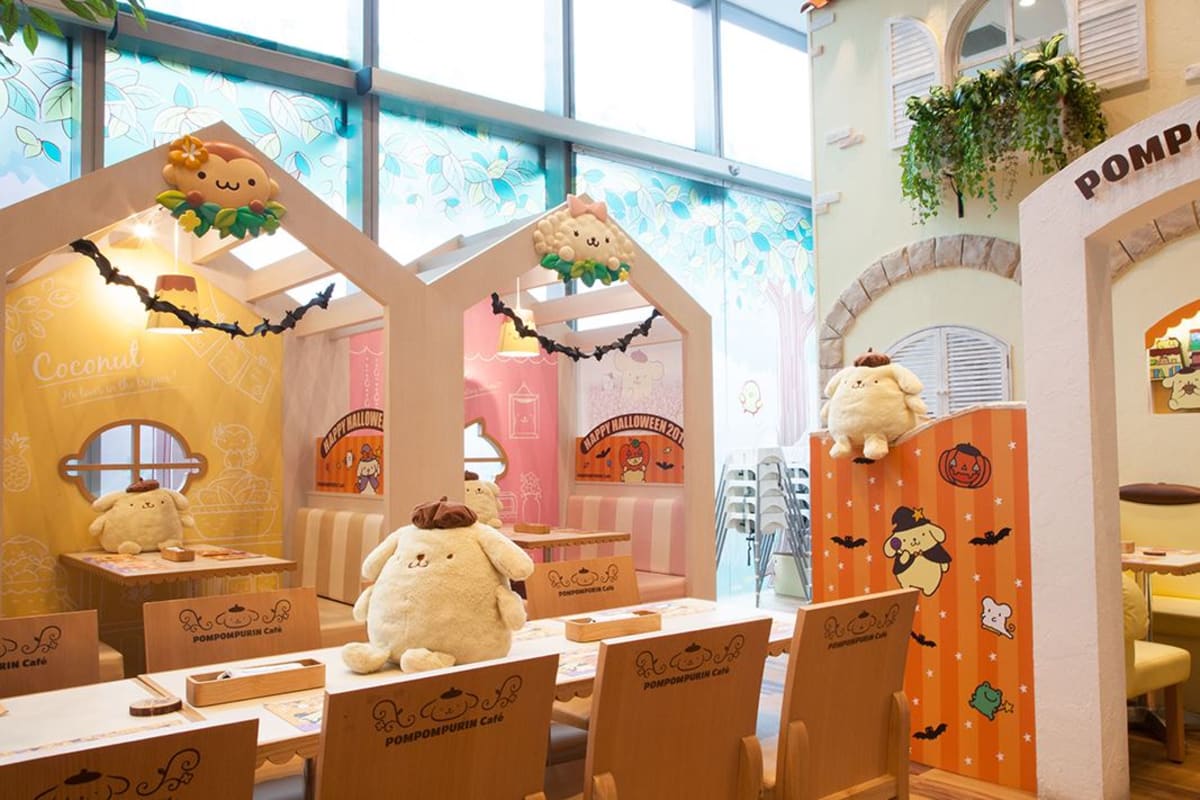 Also, we should mention that there are adorable stuffed toys of this pudding-loving canine  at every table, so you can actually dine with him!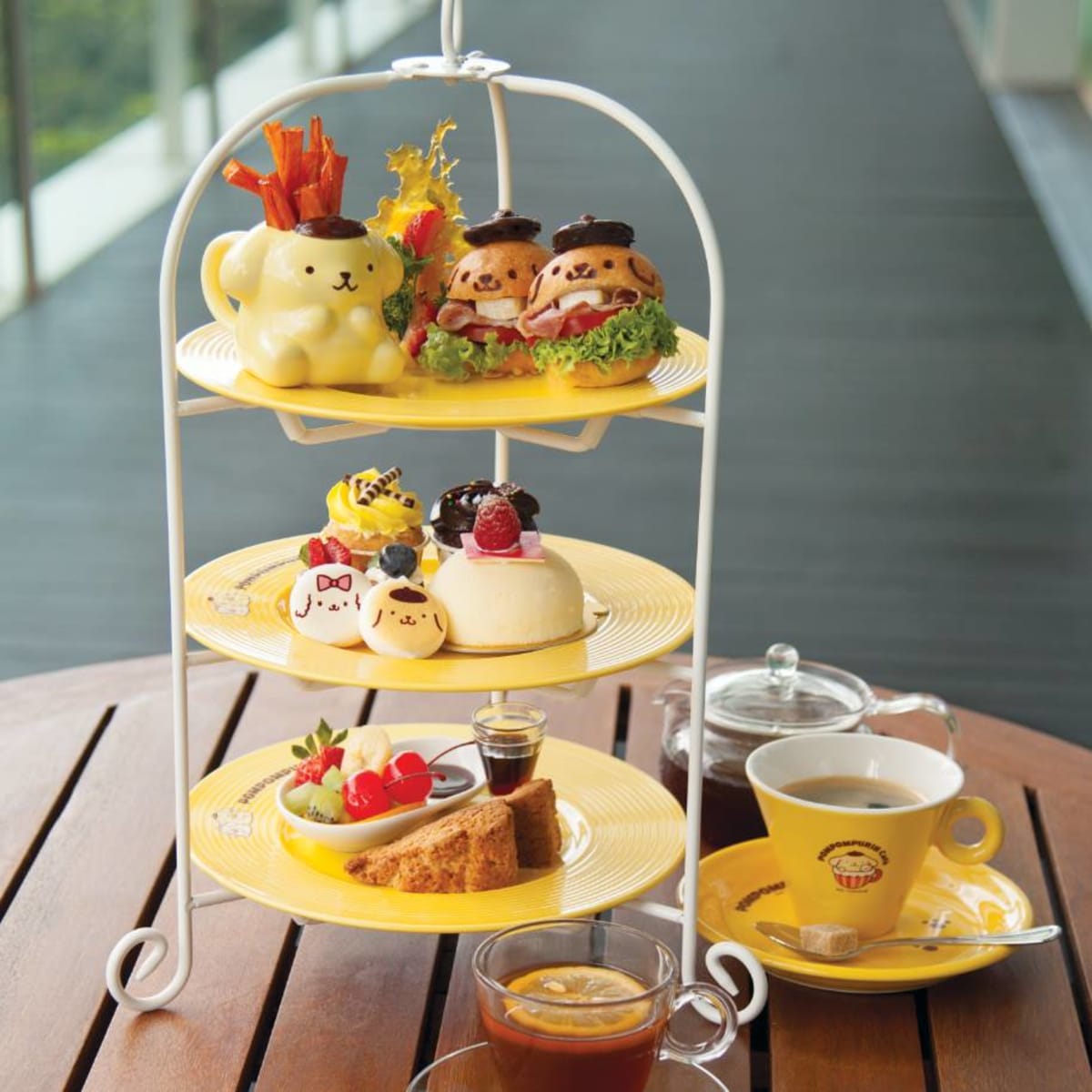 From Pompompurin pancakes to curry rice, it's definitely hard to resist taking some shots for the 'gram before you sink your teeth into these adorable indulgences.
We recommend ordering the cafe's High Tea Set (S$49.99) with a selection of cakes and desserts that are all just too cute to eat! Do note that the High Tea Set is only available from 2 – 5pm on weekdays!
Location: 181 Orchard Road, #04-08, Orchard Central, Orchard Central, 238896
Operating hours: 11:00am – 10:30pm daily.
Nearest MRT: Somerset MRT Station
Contact: 6509 8672
9. Step into your childhood dream at Oh My Tian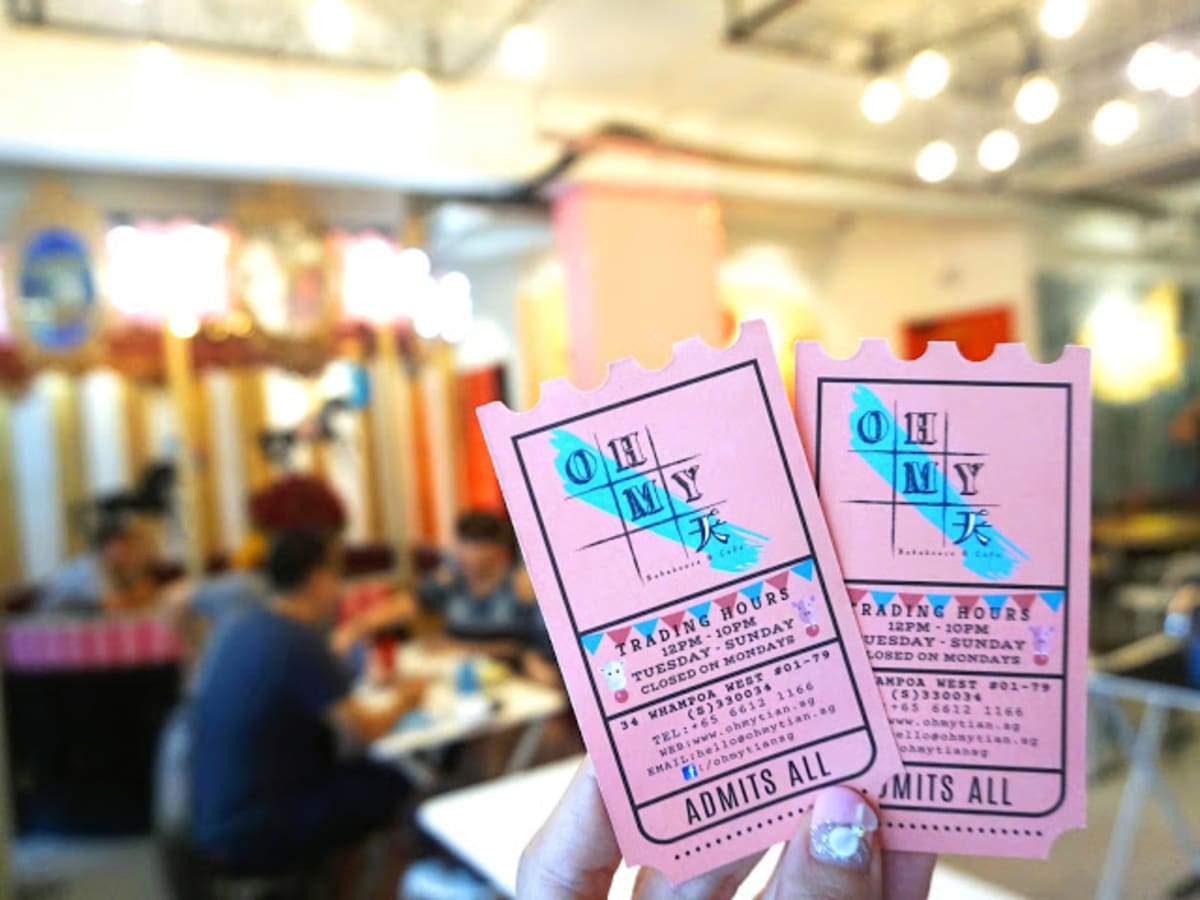 Oh My Tian (local slang for 'oh my goodness') is literally everything all childhood dreams are made of.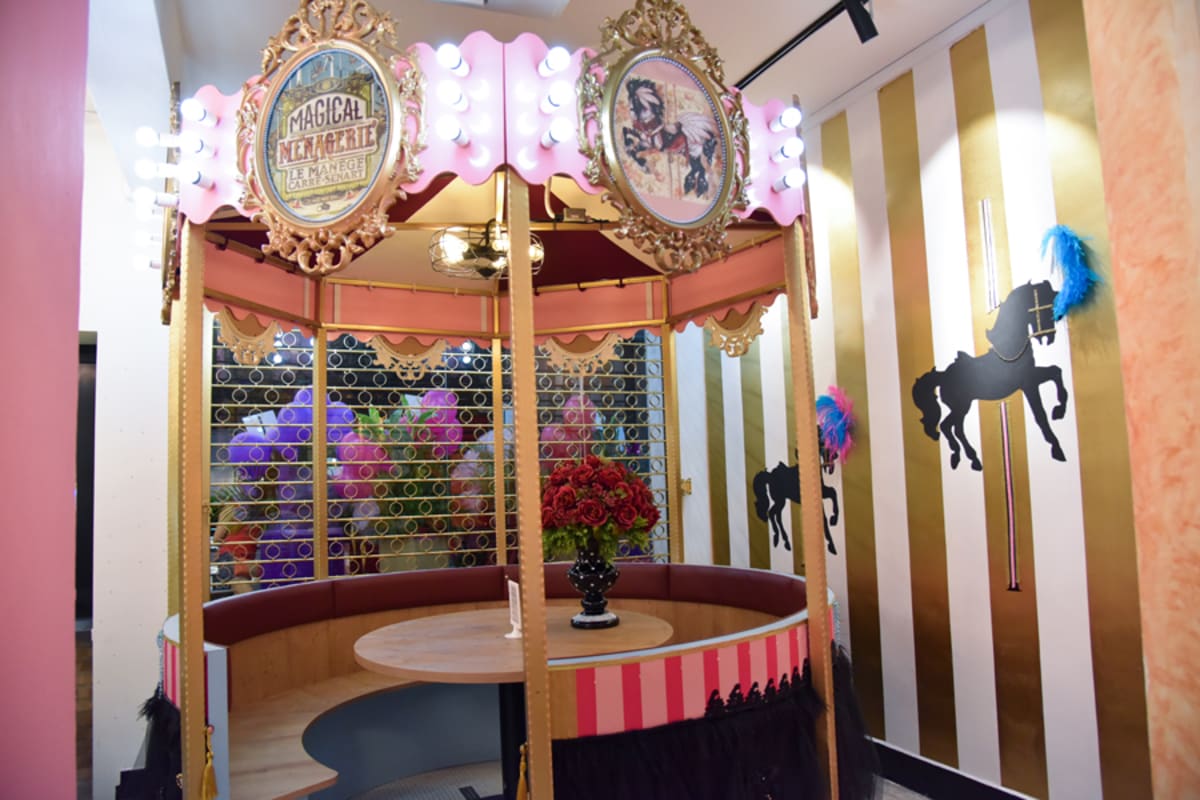 With walls and ceilings adorned with whimsical motifs of airships, balloons and everything that comes to mind when you think of funfairs and carnivals, this insanely photogenic cafe sticks out like a (pleasant) sore thumb amidst the heartlands in Whampoa.
You can even dine in a carousel if you're lucky enough to grab it before everyone else!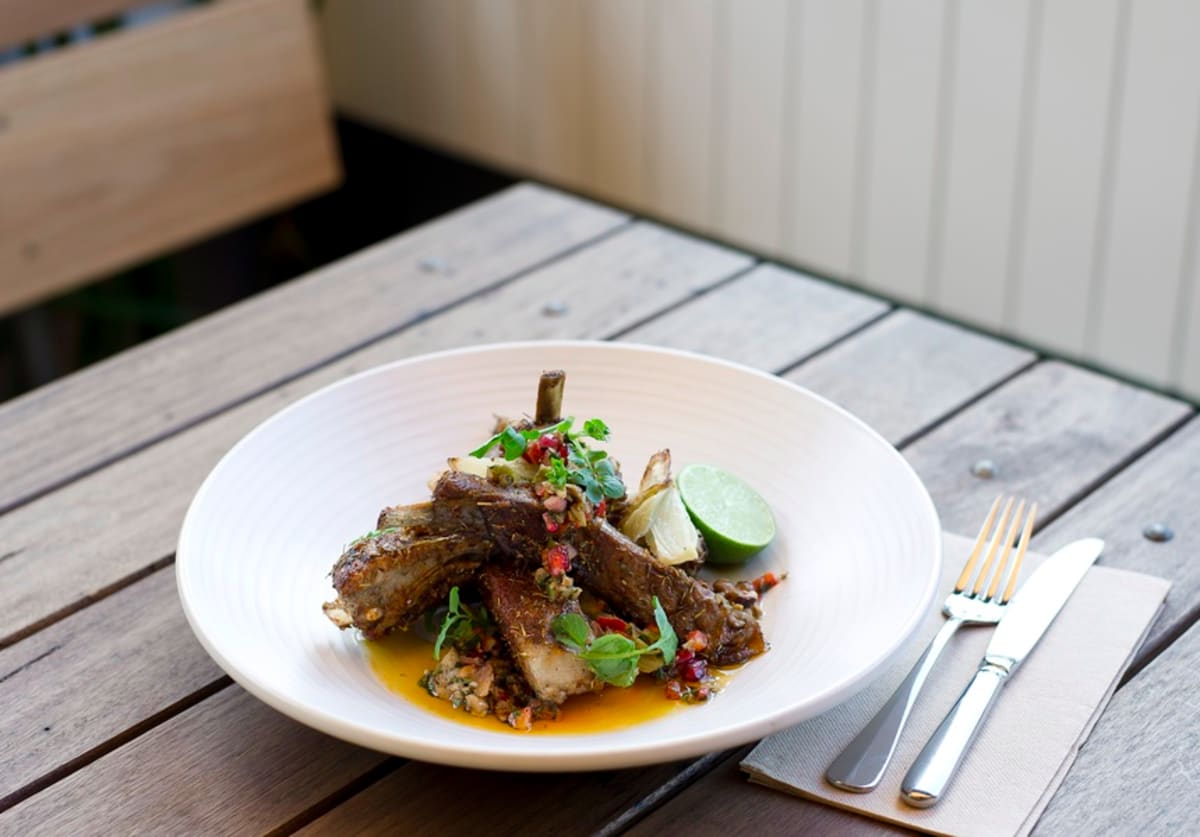 Besides the bestselling OMT Big Breakfast, they also serve a few fusion dishes like the Ayam Thai (chicken and waffles served with Thai slaw and crackers) and Oyakodon (sushi rice, Japanese curry and grilled teriyaki chicken served with a sunny-side-up and mixed vegetables)!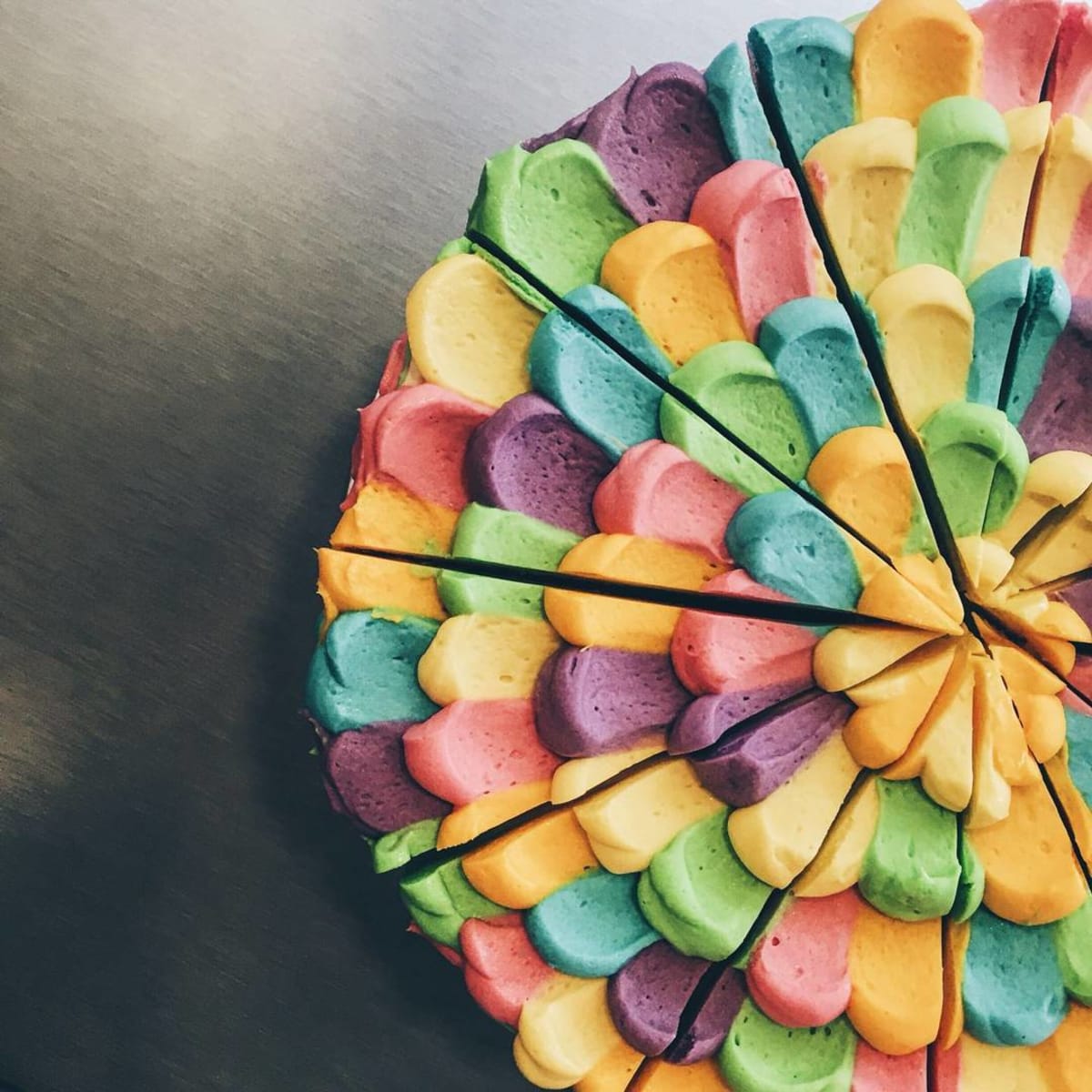 However, the one that really takes the cake (pun intended) in OMT has got to be their desserts. The cakes and desserts here are so gorgeous you simply can't leave without dessert. Try their Jello Ramen, a jelly dessert that can almost pass off as a bowl of noodles!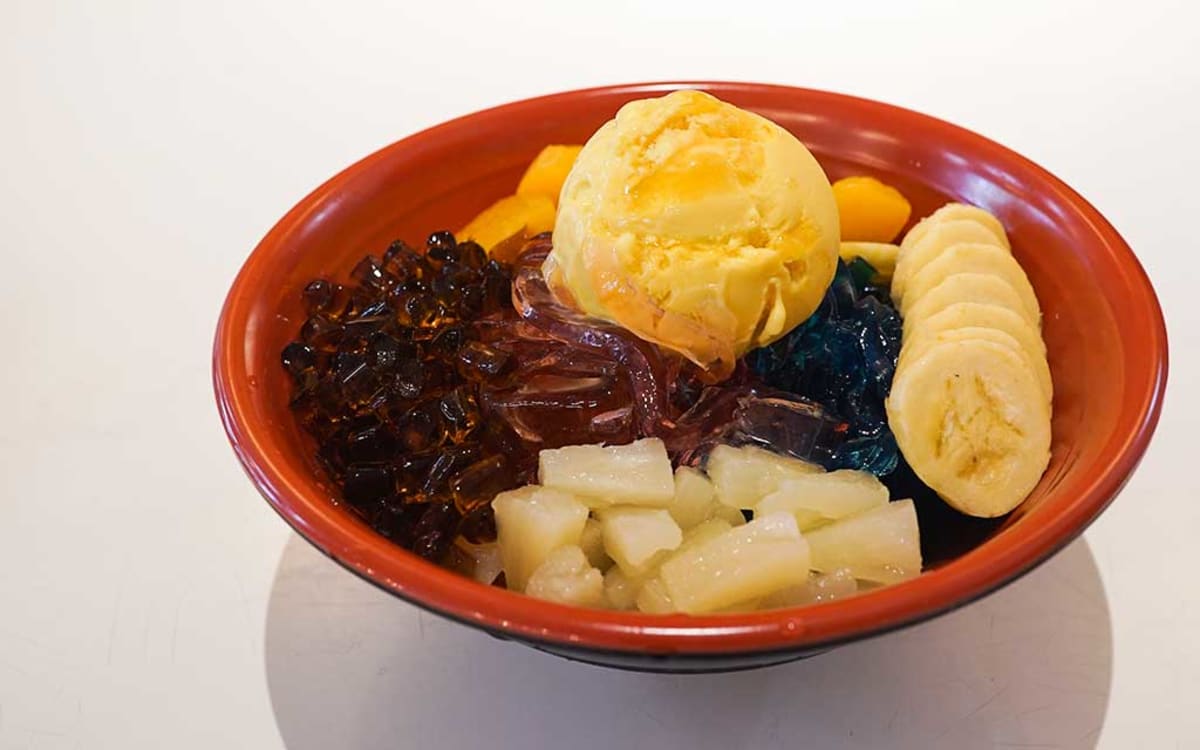 Location: 34 Whampoa West #01-79 Singapore
Operating hours: Tuesday – Sunday: 12:00pm – 10:00pm
Nearest MRT: Boon Keng MRT Station
Contact: 6612 1166
10. Reminisce on your childhood with Snoopy's BFF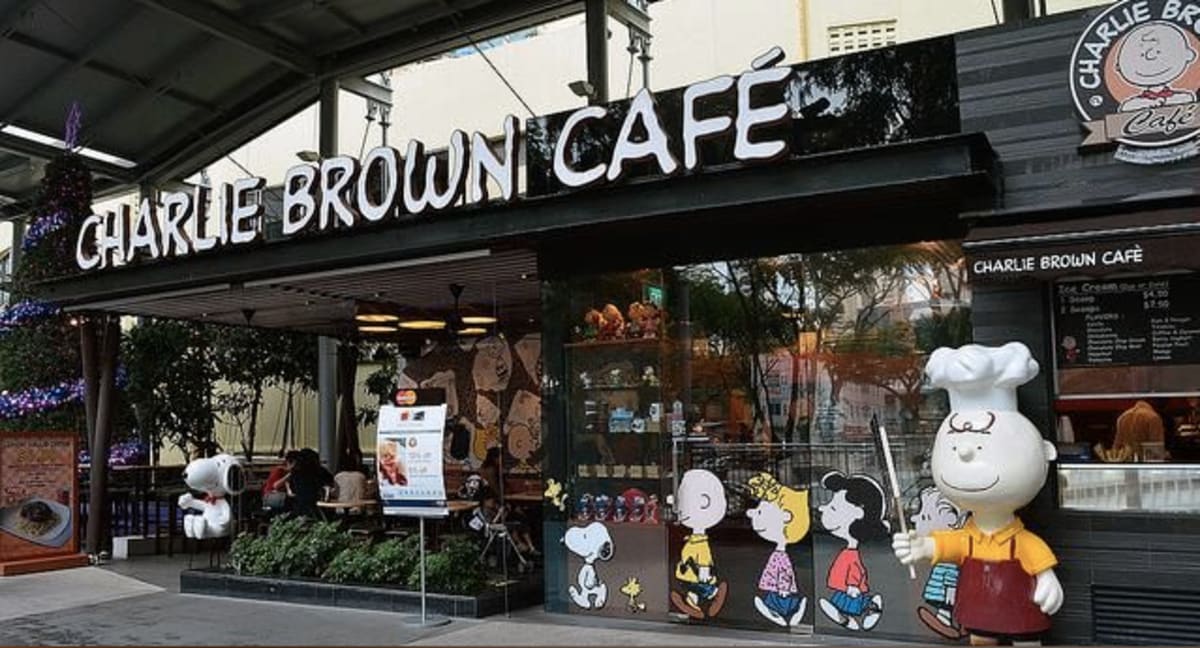 We're all familiar with Snoopy's adorable friend Charlie Brown and what better way to reminisce on our growing-up years than to visit an actual Charlie Brown cafe?
The cafe currently has three outlets in Singapore, and they show off the adorable Charlie Brown concept perfectly right from the entrance with life-sized figurines of the popular cartoon character welcoming you in!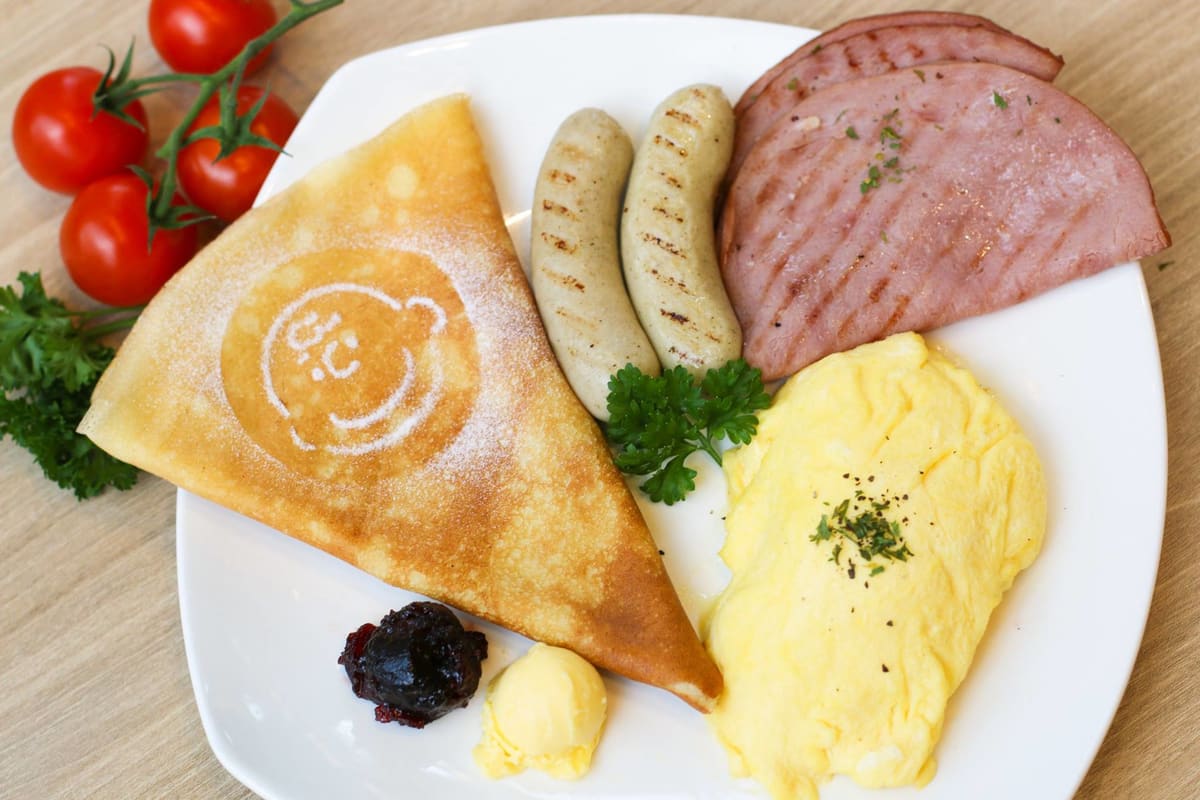 The food served at all of the outlets are Halal-certified, and guests can expect all-day breakfasts, including mains like Chicken Rice, Pastas and Pizzas!
However, the cafe's bestselling item would have to be the Snoopy's Lava Cake filled with a delicious portion of gooey matcha goodness.
Location: (One KM outlet) 11 Tanjong Katong Rd, One KM, Singapore 437157
Operating hours: 10:30am – 10:30pm daily
Nearest MRT: Paya Lebar MRT Station
11. Dine like French royalty at Antoinette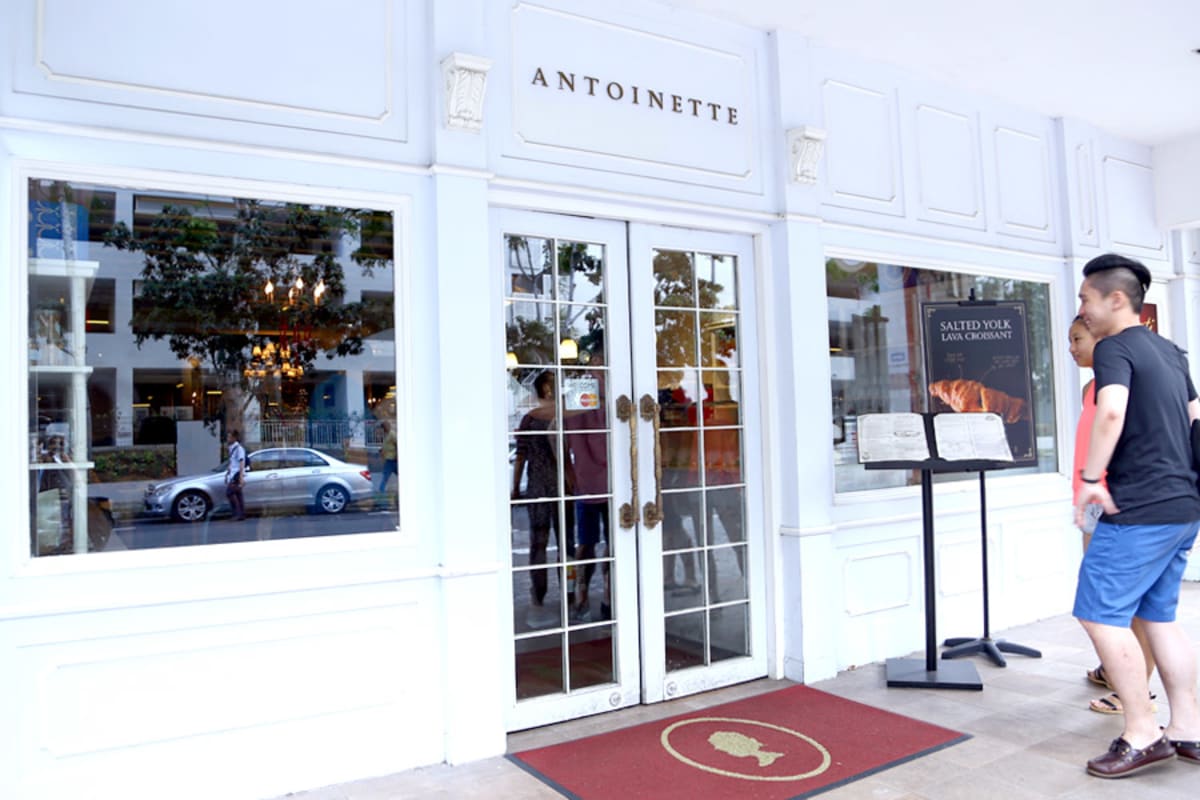 If you feel like a little indulgence, Antoinette with its luxurious Parisian concept should totally be at the top of your list of cafes for a good afternoon tea.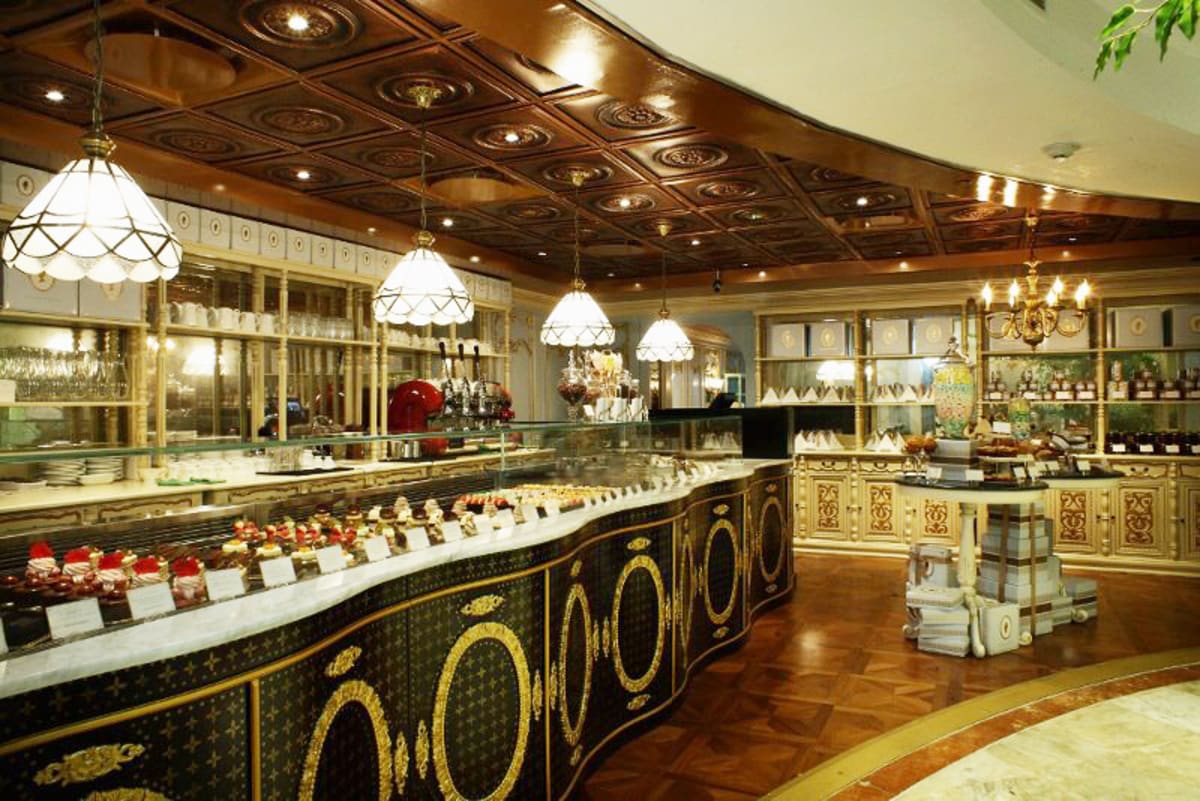 Founded by one of Singapore's best pastry chefs, Chef Pang Kok Keong promises nothing less than a wide range of aesthetically pleasing and delectable desserts that will have you craving for more in no time.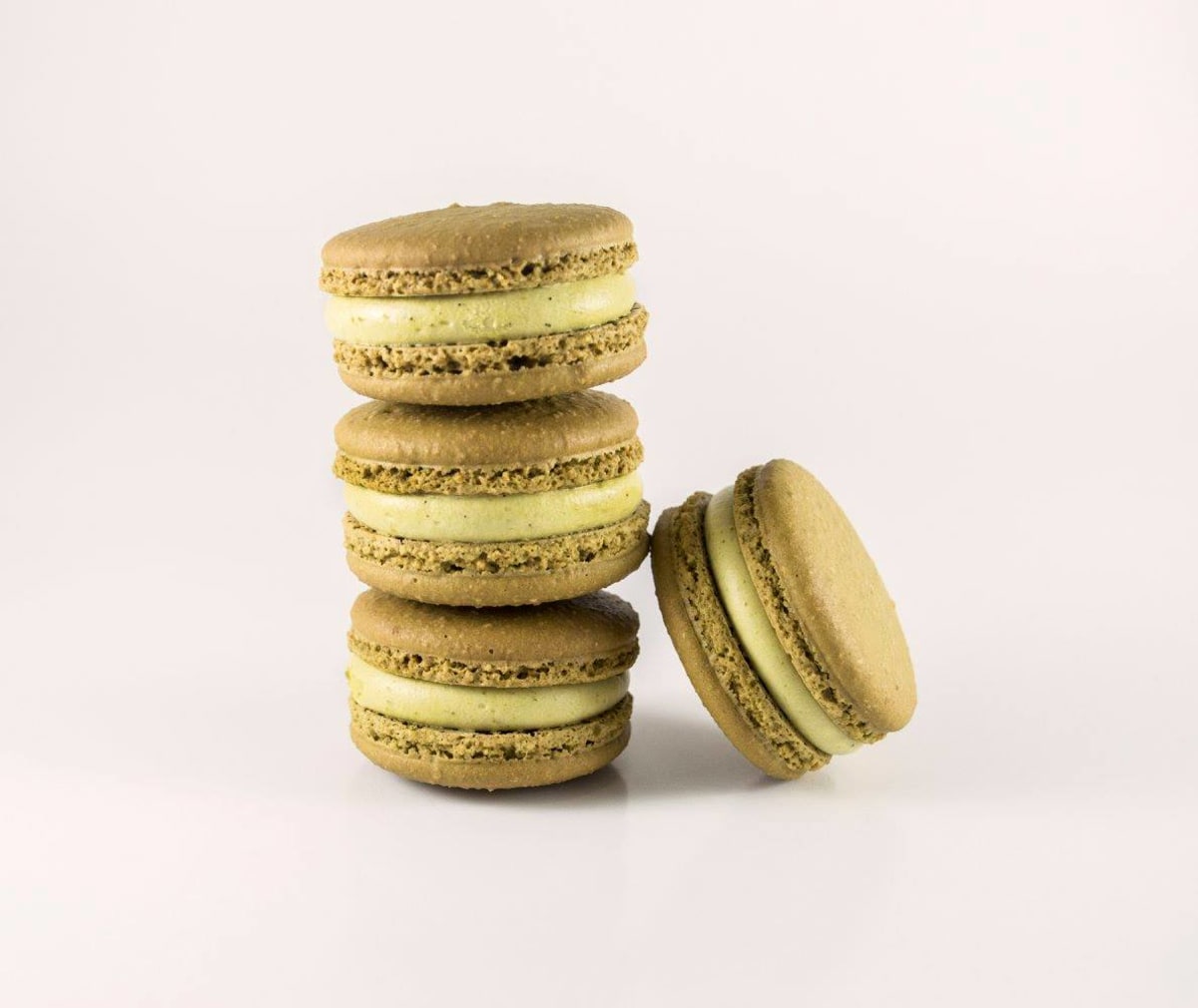 Matcha lovers will also be thrilled to know Antoinette has a healthy selection of matcha-related desserts ranging from matcha croissants to matcha macarons.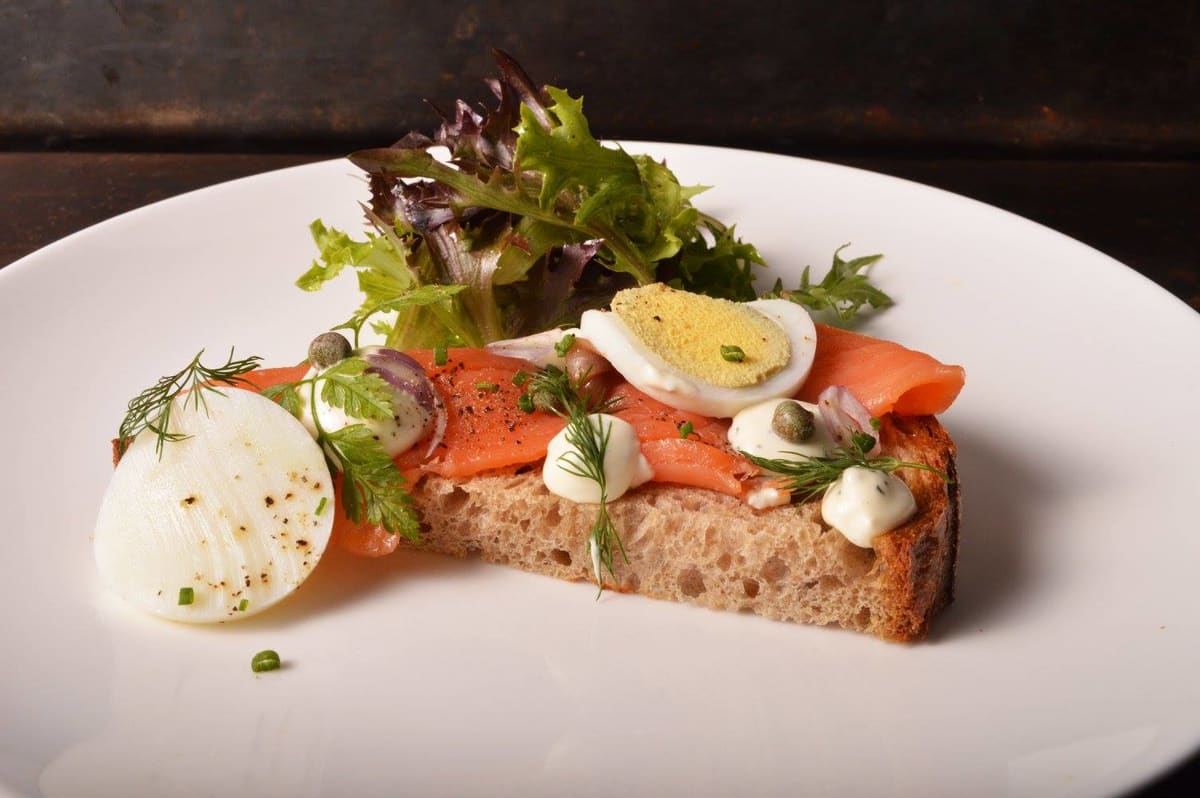 For those without a sweet tooth don't worry there's something for you too! Antoinette offers a range of savoury items including the highly recommended Smoked Salmon.
Location: (Mandarin Gallery outlet) 333A Orchard Road, #02-33/34, Mandarin Gallery, 238897
Operating hours: 11:300am – 10:00pm daily
Nearest MRT: Somerset MRT Station
Contact: 6836 9527
12. Do two of the best things in life (shopping and eating) in a cute little cafe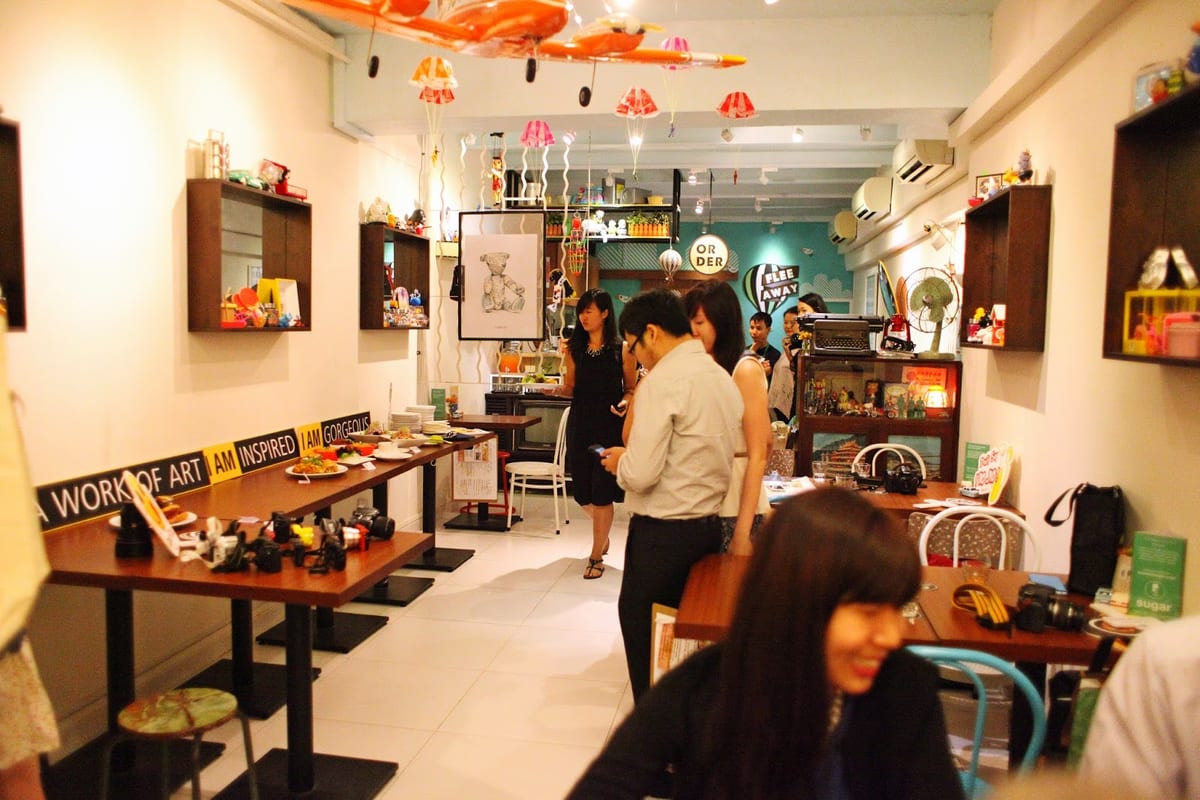 Flee Away Cafe, probably the first cafe of its kind in Singapore, has perfectly mastered the mix of a flea market and a Cafe, while comfortably tucked in an adorable corner along Dunlop Street. So while waiting for your food to arrive, you can shop at for artisanal items at the cafe's Flea Market section.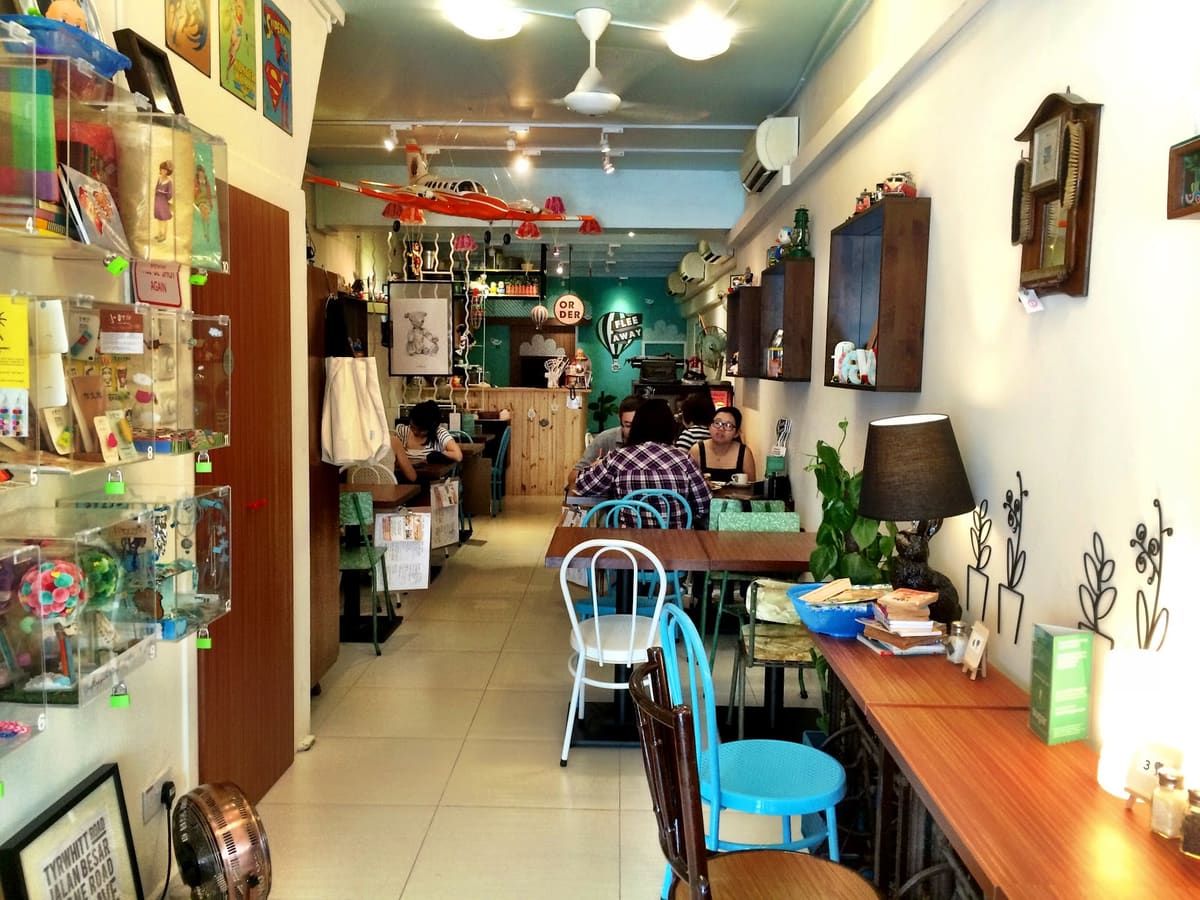 The Flea Market section actually consists of small "box" compartments that customers can rent to sell their wares. The cafe is also really supportive of local designers so you can expect a whole bunch of local vintage products made from home-grown designers here!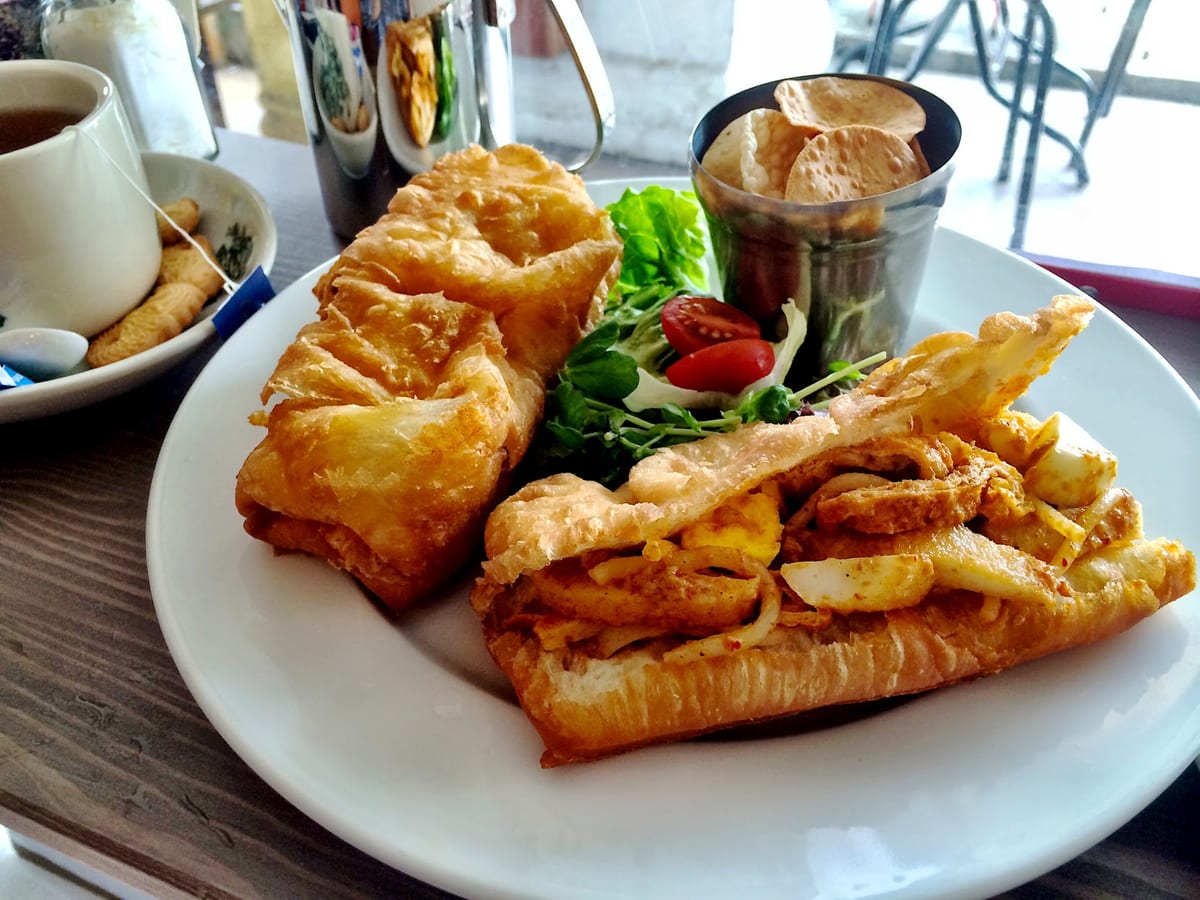 In line with the local theme, patrons can expect a menu filled fusion local delights such as the bestselling Le Char Kuey, which is actually a bigger-than-your-palm size you-tiao baguette that comes with a generous portion of different fillings like laksa!
Location: 70 Dunlop Street Singapore 209398
Operating hours: Tuesday – Thursday: 11:00am – 10:00pm, Friday & Saturday: 11:00am – 11:00pm, Sunday: 10:00am – 5:00pm
Nearest MRT: Little India MRT Station
Contact: 6341 7843
13. Travel back in time at Colbar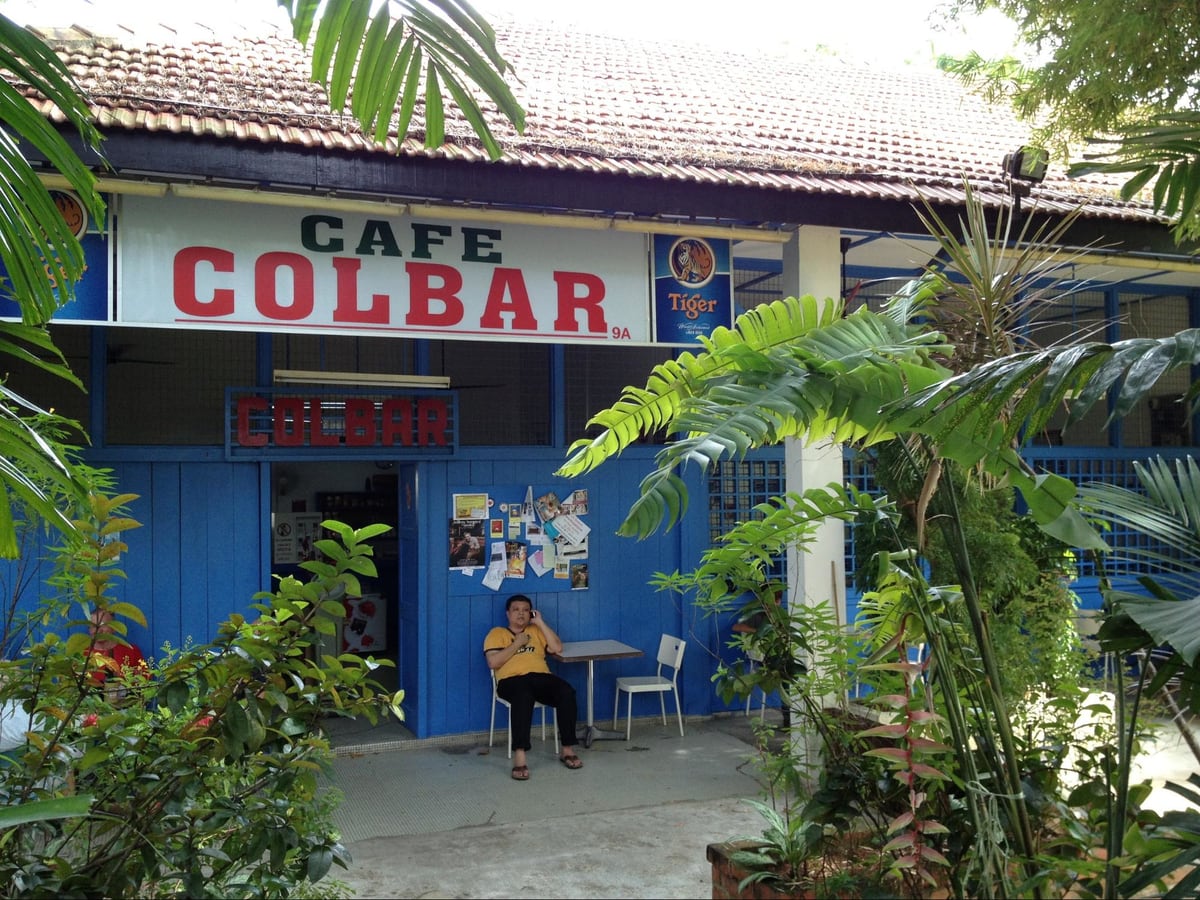 Short for Colonial Bar, the Colbar cafe will have you reminiscing the early kopitiam (local coffee shop) days from the moment you step in. This kampong-themed eatery doesn't serve your typical eggs benedict, doesn't have beautifully designed walls and isn't even air-conditioned but it sure sets itself apart from the other cafes!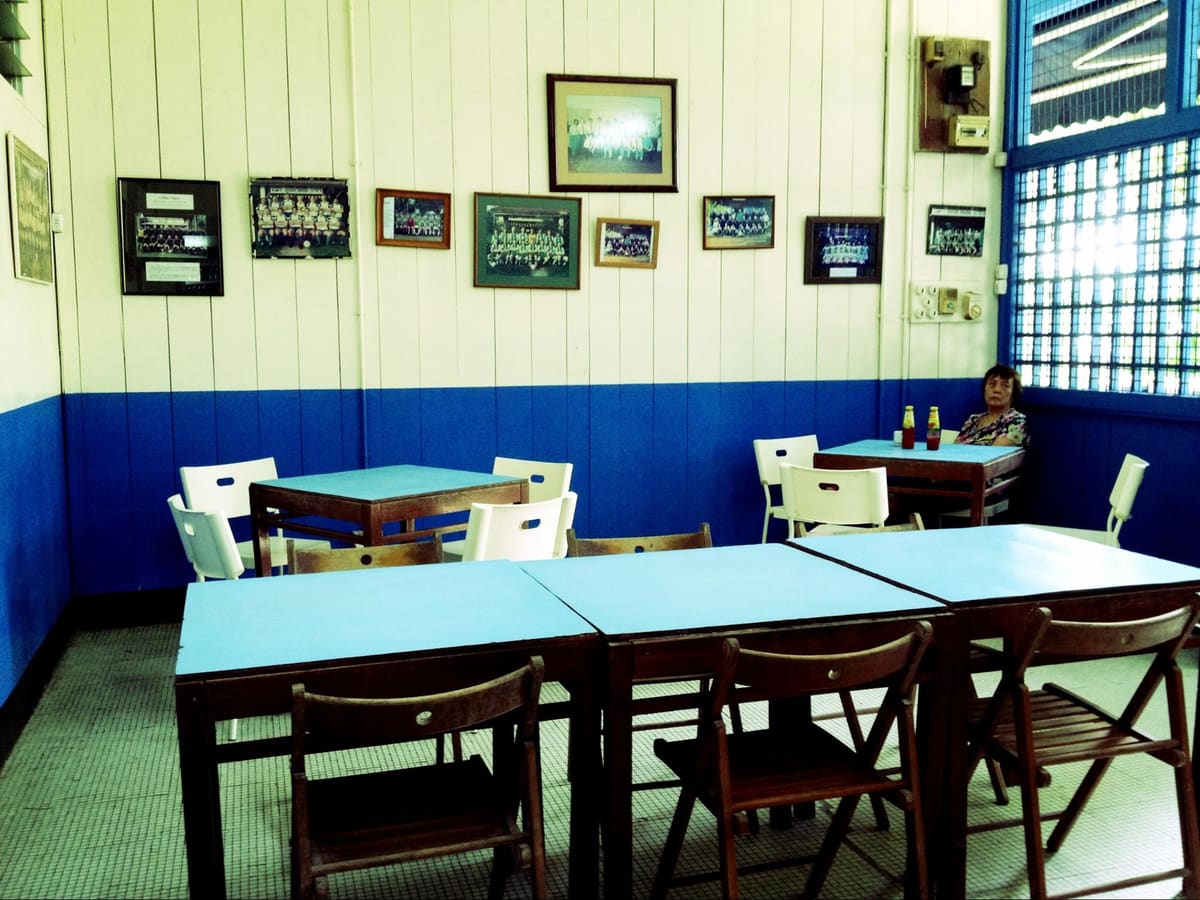 Its interior is filled with old-school wooden chairs and tables, and its walls are actual wooden planks several decades old. There are also framed up photographs and cupboards storing trophies from Singapore's golden years and other memorabilia.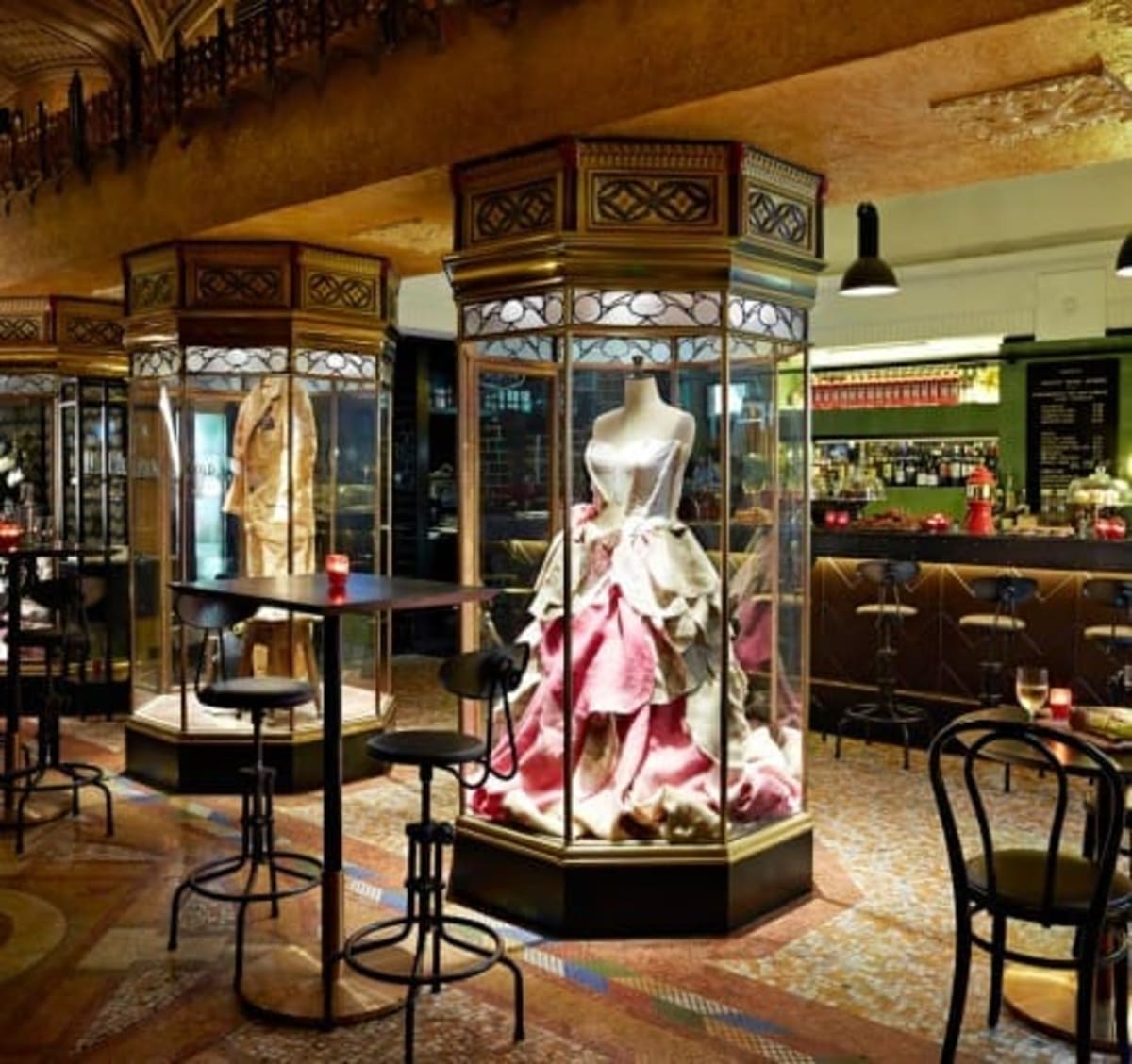 Best of all, Colbar's menu. Serving mainly local food that will have you thinking of the good old days, the food here at Colbar are served in generous portions and friendly prices.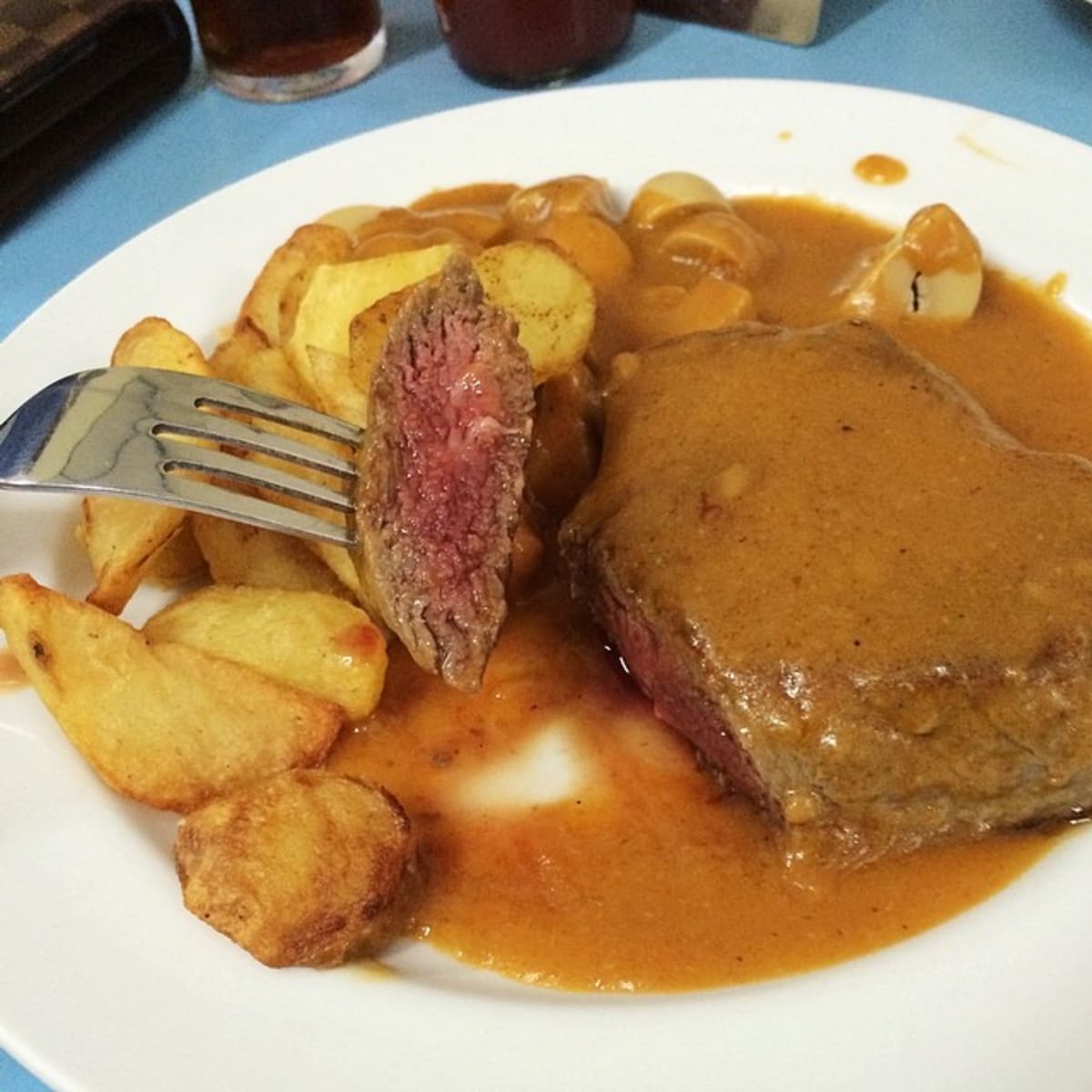 They also have a range of Western food here, that includes the Old-School Fillet Steak! Don't miss their Hainanese Pork Chop – one of the most iconic colonial-inspired dishes in the early years of Singapore!
Location: 9A Whitchurch Rd Singapore 138839
Operating hours: 11:00am – 10:00pm daily
Nearest MRT: Queenstown MRT Station
Contact: 6779 4859
Dining experience like no other
No time to waste! Grab some friends and explore some of these cafes today! Once you've had your fill, why not explore the rest of Singapore and don't forget to pick up a 4G SIM Card to share all your moments with your loved ones!
Klook other Singapore activities here!