Thailand, locally known as Prathet Thai, is popularly characterised by its majestic elephants, splendid temples, pristine sandy beaches and delicious spicy seafood curries, and is the travel hub of Southeast Asia. From the archaic tribes in the rolling hills of the north to the laid-back beach culture of the south, Thailand offers diverse and unique experiences for adventurous travellers. To help you explore this extraordinary destination, here's a list of the major differences between the northern and southern regions of Thailand.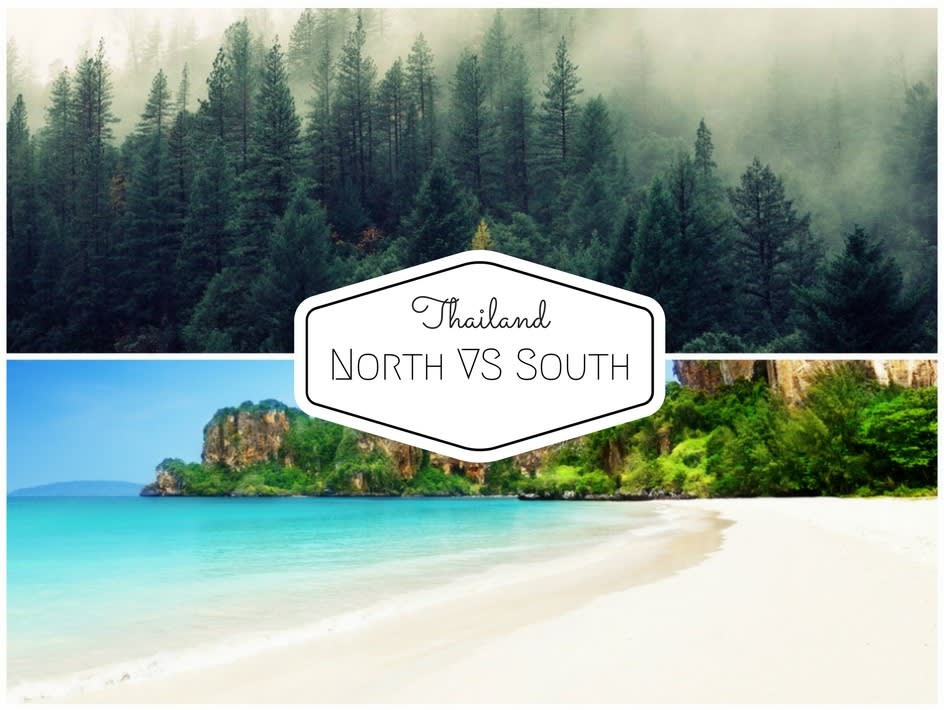 1. The Landscape
North

The northern parts of Thailand are significantly different from the rest of the country. With hills and lush green mountains covered in dense tropical rainforests, the northern regions are home to numerous ancient tribes and ethnic minorities, each with distinct language and culture. Their traditional bamboo and mud huts built on hilltops are surrounded by crops of rice, corn and opium

South

In stark contrast to the north, southern Thailand is part of the narrow Malay peninsula and is known for its tropical beaches and islands surrounded by steep limestone hills. With the Indian ocean on one side and Pacific Ocean on another, the southern regions boast a large assortment of restaurants, hotels and nightlife.
2. The People and Culture
North

The people of northern Thailand refer to themselves as khon muang, with the majority of people speaking the language of Lanna Thai. They are known for their colorful and exotic way of living along with exceptional abilities with handling elephants, demonstrating the heavy influence of their Burmese neighbors. While most locals practice Buddhism, many also believe in the existence of ghosts and village spirits protecting them from danger and misfortune.

South

Southern Thai people are characterized by a rich cultural diversity, with people of Buddhist and Islamic origins, and a modern beach culture bustling with local and foreign travellers. Located on the Malay Peninsula, the Southern Thai culture is heavily influenced by its border country Malaysia, with similarities in religious practices and cuisine.
3. The Cuisine
North

Thailand is well-known for its coconut infused cuisine, however, due to its lack of palm trees in the north, the coconut is virtually nonexistent in the cuisine of northern Thailand. Instead, their foods have unique flavors derived from the herbs and vegetation of the jungle, giving it a spicy and sometimes bitter taste. Popular dishes from the north include Yum Jin Gai, a spiced chicken soup with lemongrass, sweet shallots and local spices, Larb Moo Muang, a chopped pork salad with minced meat, dried chillies and fish sauce, and Kow Soy, crispy and boiled egg noodles served with curry sauce and chicken or beef.

South

Southern Thai cuisine is rich in seafood, spices and coconuts, bearing remarkable similarity to the cuisine of its Malaysian neighbors. Popular dishes include Geang Tai Pla, a thick fish stew with veggies, dried chillies, and turmeric, Satay, seasoned skewered grilled meat served with a sauce, and coconut based curries with beef, pork, chicken and seafood.
4. Popular Destinations and Attractions
North

Chiang Mai & Chiang Rai


Once a capital of the Lanna Kingdom, Chiang Mai is now the most culturally significant province of Thailand. It's lush countryside, picturesque waterfalls, elephant sanctuaries and pristine temples provide a beautiful escape from the hustle bustle of big cities. Spend a weekend in Chiang Mai and take a bus or rent a private car and go to Chiang Rai, a nearby sleepy provincial town rich in art, temples, cuisine and music.
Popular attractions
a) Black House and White Temple
b) Golden Triangle
c) Doi Inthanon National Park

Mae Hong Son


Just a few kilometers away from the Myanmar border in the northwest of Thailand is the city of Mae Hong Son, a remote city with beautiful valleys, scenic lakes and surrounded by several Shan style temples. Popular with local tourists, this quaint valley is a convenient base for numerous adventure trips including boat rides, trekking and hiking.
Popular Attractions
a) Wat Chong Kham & Wat Chong Klang
b) Padong Longneck Village
c) Pong Duad Hot Spring

Sukhothai


Situated in lower northern Thailand, Sukhothai is a small ancient city with remains from the mid 13th to late 14th century, a period often referred to as the golden age of Thai civilization. Rich in ancient art and architecture, this city provides a deep insight into the ancient kingdom of Siam and is a perfect place to immerse in the traditional Thai history and culture.
Popular Destinations
a) Wat Mahathat
b) Ramkhamhaeng National Museum
c) Sukhothai Nightmarket

South

Pattaya


Situated in the wide crescent shaped bay of Ao Pattaya, Pattaya is one of Thailand's first beach resorts. With hundreds of gogo clubs and beer bars, a plethora of hotels and guest houses and numerous sporting opportunities on land and water including golfing, fishing and scuba diving, Pattaya offers a perfect weekend experience for people of every age and persuasion. Take a bus or a private car from Bangkok and spend the weekend at this lively and intriguing city.
Popular Destinations
1. Cartoon Network Amazone
2. Jomtien Beach
3. Sanctuary of Truth

Phuket


Often referred to as the "Pearl of the Andaman", Phuket is a blissfully laid back town with numerous beaches, seaside restaurants serving delicious seafood and beautiful sea-view hotels and beach resorts. With a casual atmosphere and numerous nightclubs and bars, it is the perfect place for a weekend getaway for people of all ages. If you're a solo female traveller, here are some tips on what to do in Phuket.
Popular Destinations
1) Phuket Fantasea
2) Patong Beach
3) Splash Jungle Waterpark


Ko Samui


An island off the east coast of southern Thailand, Koh Samui was first inhabited centuries ago by fisherman from the Malay Peninsula and Southern China. With sandy beaches, coral reefs and coconut trees, this island is a popular weekend escape with both budget and wealthy travellers alike.
Popular Destinations
1) Angthong National Park
2) Big Buddha Beach
3) Mummy Monk at Wat Khunaram
5. The Weather
North

The northern Thai region has three distinct seasons:
1. The cool season: October to February, ranging from 20 to 25 degrees
2. The hot season: March to April, ranging from 35 to 40 degrees
3. The rainy season: May to September, from 20cm to 30cm

South

Southern Thailand enjoys moderately warm temperatures year round, except in April and May when temperatures rise up to 40 degrees C. Due to the south-west monsoons, September and October are the wettest months of the year.

6. Best time to Visit
North

The best time to visit the northern regions of Thailand is during the cool seasons from October to February, although it is important to note that temperatures may drop to less than 20 degrees in the hilly regions, especially at night.

South

To avoid the scorching heat of the sun in the south, the best time to visit southern Thailand would also be in the cool season from December to March,when the weather is breezy and not too humid