As Australia's largest city, Sydney is often the first stop for travellers taking a trip down-under. With a unique blend of impressive skyline, picturesque harbour, iconic architecture and stretches of golden beaches, it's no wonder that Sydney's been hailed as one of the world's most beautiful cities. A vibrant destination that is both buzzing with high energy and effortlessly chilled out, you'll have an unforgettable time discovering the different sides of the city. So if this is your first time in Sydney, check out these must-do activities to get your trip started!
For Animal Lovers
Being home to some of the most loved (and feared) creatures, Australia's wildlife is certainly unique to the rest of the world. If you're looking to get up close and personal to some of these native animals, then just a short walk from Darling Harbour is the Sydney Wildlife Zoo where you can enjoy the Australian outback in the heart of the city. Here, you'll have the unforgettable opportunity to cuddle koalas, hand feed kangaroos and come face to face with Tasmanian devils whilst learning about their habits from informative and passionate staff. If you dare, step into the Nightfall Habitat and discover some of the weird and wonderful creatures that only come out after dark or explore the Gum Tree Valley habitat and meet two of the world's deadliest snakes.
Book Sydney Wild Life tickets here
Also situated by Darling Harbour is the Sydney Sealife Aquarium where you can immerse yourself in the magical world under the sea and discover the wonder of The Great Barrier Reef. You'll be sure to find something that captivates you whilst walking through these fascinating marine exhibits, from immense tanks of kaleidoscopic tropical fish to neon jellyfish pools. One of the must-see highlights are the long transparent tunnels where huge reef sharks and sting rays swim right overhead! The aquarium is also a fantastic place for families, and kids can enjoy a hands on learning experience in the touch rock pools and even feel live starfish.
Discover a world under the sea
Insider Tips:
Due to the popularity of both the Sydney Zoo and Aquarium, these venues can get heavily crowded during peak hours so we recommend timing your visit outside 12pm-3pm on weekends.
To meet Sydney's cutest residents, head to Manly Sea Life Sanctuary and discover some of the smallest penguins in the world! If you can, try and catch one of the feeding sessions where you can watch these little fellows play, swim, and eat as you learn about the conservation efforts of this sadly endangered species. If you're feeling brave, Manly Sea Life Sanctuary also offers the opportunity to dive with sharks and the best part, arguably the worst part (depending on your feelings towards sharks) is that you'll be cage-less! During this exhilarating experience you'll swim amongst a colony of Grey Nurse Sharks that range from 1- 3 meters as well as other creatures such as sea turtles and sting rays. For more information, check out their official website.
For Thrill Seekers
If you want to inject a dose of adrenaline into your trip and don't struggle with heights, then the Sydney Harbour Bridge climb is the ideal activity for you. Step by step you'll ascend the arch of one of Sydney's most iconic landmarks as you absorb spectacular 360 degree views of the harbour. Once you reach the thrilling 134 meter height of the summit, you can enjoy an uninterrupted panorama of the city and of course have your photo taken against the beautiful backdrop. If you're nervous about climb, the experienced and patient guides will put you at ease right away and entertain you with stories of the bridge throughout the ascent. As this activity is carried out with the highest levels of safety and includes an equipment prep before you start climbing, you'll have nothing to worry about as you embark in this unique and exhilarating adventure.
Insider's Tip:
Although you'll get fantastic views at any time of day, doing this activity at dusk will allow you to enjoy a breath-taking sunset over the city.
Click here for the climb of your life
For Culture Vultures
For anyone who wants to get a sense of Sydney's past then a walk through the Rocks will feel like going back in time. As the area where the first European settlers stepped ashore, this historic quarter is seen as the birthplace of modern Sydney. Over the last two centuries it's transformed from a rough and rowdy neighbourhood of sailors, convicts and gangs into a creative and cultural hub lined with funky bars, delicious food stalls and boutique shops. This area is also home to Sydney's oldest pubs such as Lord Nelson and Fortune of War, so if you're interested in savouring all the Rocks' many watering holes then why not check out The Great Pub Challenge for full details. If you've explored the area and the inner history buff in you still isn't satisfied, then join the free walking tour that takes place every evening at 6pm where you'll explore the charming cobbled streets, colonial buildings and learn stories about the area's vibrant past.
Insider's Tip
On Friday's from 9am -3pm, the Rocks plays host to The Foodie's Market. Here you can savour a variety of fresh food and Australian-made gourmet produce, from olive oils and home-made bread to delicious lamb kebabs and barbecued salmon. A stroll through these irresistibly-smelling stalls as musicians play easy-going tunes against the backdrop of Sydney harbour is the ultimate way to get that Friday feeling!
For Beach Bums
With over 100 beaches located in and around the city, you'd be mad not to visit a few of Sydney's golden beaches. As a go-to spot for locals and tourists to relax, work out and socialise, Bondi Beach is a great place to soak up Sydney's lively atmosphere and vibrant beach culture. It's world-famous status also means it's a magnet for huge crowds but at 1km long, there's enough space (albeit cramped) for everyone.
Manly Beach located in northern Sydney is another local favourite. Flanked by tree-lined cliffs and with 2 extensive beaches it's a much quieter alternative to Bondi. The 20-minute Manly Ferry that leaves from Circular Quay makes for an impressive ride in itself as it sails though the picturesque harbour and offers magnificent views of the Sydney Opera House. At the beach, basque in the sun after a refreshing swim or watch surfers ride the glittering waves as you wiggle your toes in the soft golden sand. The waters at Manly provide ideal conditions for surfing and the Manly Surf School, voted the No. 1 surf school in New South Wales is the place to be for any aspiring surfer. The school runs daily classes open to all ages and abilities as well as private sessions, so grab a board and get involved in this fun-filled Aussie sport!
Insider's Tip:
If you're looking to visit Bondi Beach but don't want to get in the thick of it, a great way to escape the crowds is by taking a walk along the coastal footpath. The route will take you along the craggy hilltop where you can admire the beach from afar and get fantastic views of the coastline. Taking approximately an hour and a half, the walk also passes several quieter beaches such as Bronte Beach as well as a string of cosy cafes to stop and take a coffee break along the way.
For anyone looking for the best city view
Standing at 309 meters, The Tower Eye is Sydney's tallest structure and a visit to the observatory will give you unrivalled views of city. At the 360 degree observation deck you can admire Sydney from above the rooftops and on a clear day even see up to 80 km into the distance! With breath-taking views both day and night, the Tower Eye is also a great way to orientate yourself and get your bearings if you're a first time visitor. The Tower also offers a choice of two revolving restaurants and a coffee lounge so you can savour the picturesque panorama for even longer. At the 360 restaurant for example you can enjoy your dinner and cocktails as you watch the magical sunset over Sydney.
Experience Sydney at 360 degrees
 …And the best news is
If you're considering a visit to more than one of the attractions above, buying a Sydney Attractions Combo Ticket will  give you the best value admission as well as skip the line entry. Depending on what and how much you want to see, the ticket allows you to choose 2, 3, 4 or 5 of the following attraction options: Wild Life Sydney, Sydney Aquarium, Manly Sea Life Sanctuary, Sydney Tower Eye and Madame Tussauds. If this is your first time in Syndey, the Attractions Combo is your ultimate ticket to the city allowing you to explore all that Sydney has to offer without the hassle of buying tickets or queuing at each attraction.
Click here for your Combo Ticket
Stay connected anywhere with M1 Data Passport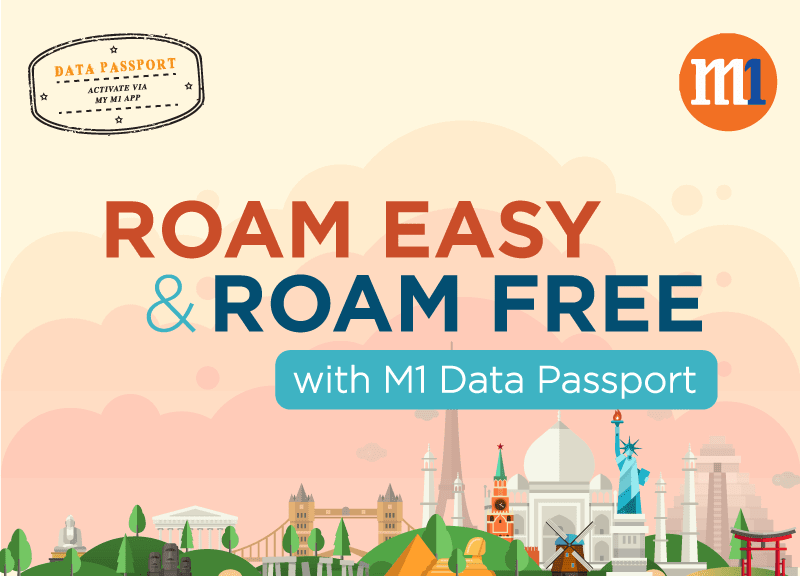 Rejoice M1 users, you no longer have to worry about sky high data roaming bills when you travel. With M1 Data Passport, you can now use your local mobile data while you're overseas!  Your data roaming usage will be deducted from the local data bundle of your mobile plan, saving you the hassle of getting an additional 4G SIM card when you travel. 
For all those who aren't under M1, fret not! You can Klook yourselves a 4G WiFi device and stay connected wherever you go!