Aboard Asia's LARGEST Wheel

Did you know the height of the Singapore Flyer is equivalent to 31 stacked male giraffes?
If you're like most Singaporeans and think the Singapore Flyer is just one big ferris wheel, you're wrong!
Apart from being Asia's LARGEST observation wheel, the Singapore Flyer is also the perfect venue for special occasions, lavish dinners and even the perfect chill-out spot for friends.
Read on to find out why!
1. 360 degrees Bird's eye view of Singapore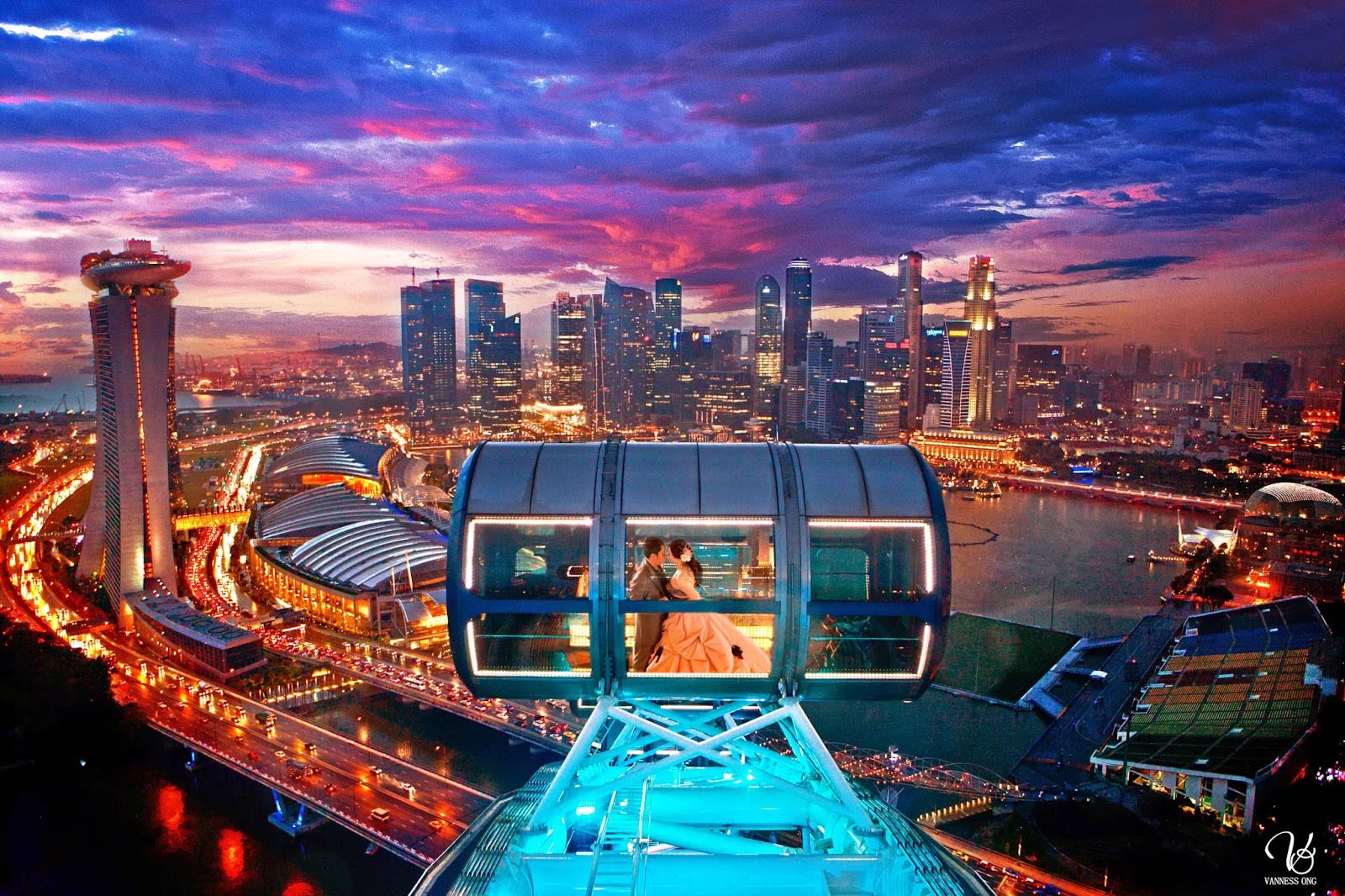 Voyage on board the Singapore Flyer and enjoy one of the best panoramic views of the Lion City. Look out the capsule and try to spot architectural landmarks like the Merlion Park, Fullerton Bay and the Padang! With a 45km view radius, you'll even be able to spot Singapore Changi Airport in the distance!
Each revolution takes approximately 30 mins, which gives you ample time to soak up the sights and enjoy the Singapore skyline!
2. Enjoy after-dinner drinks on board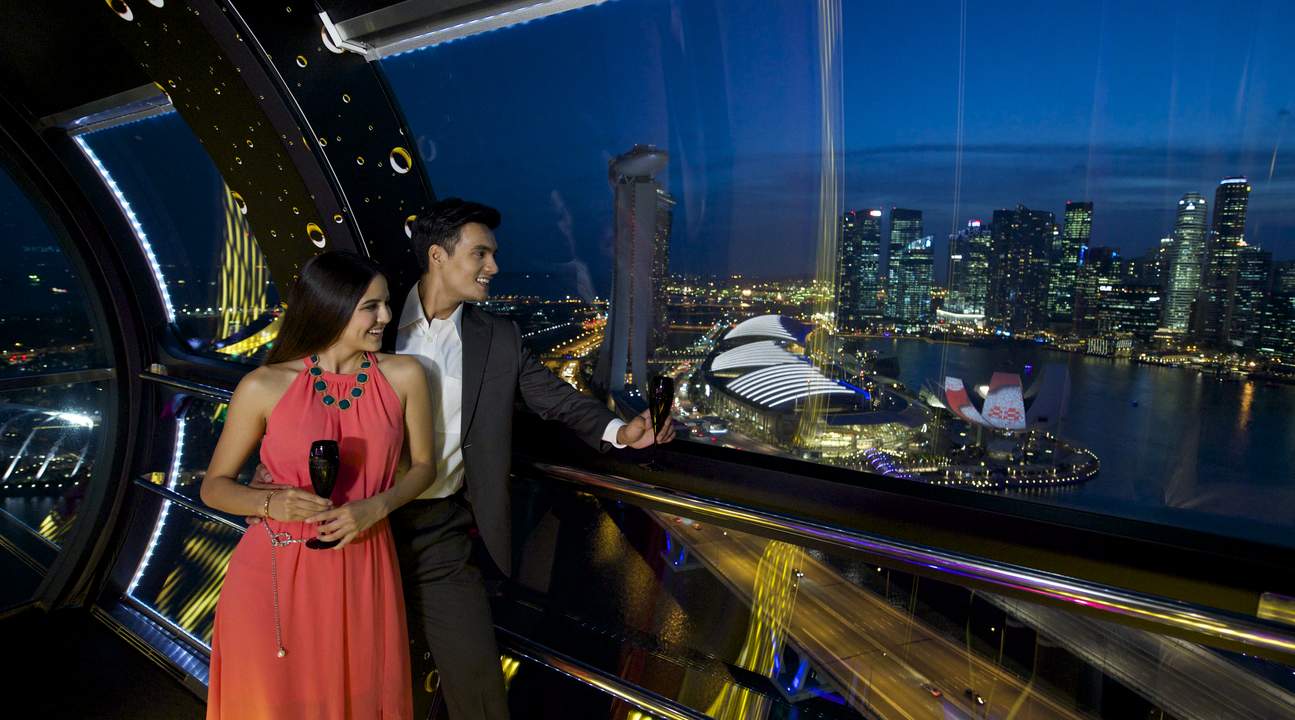 If you're all for first impressions, drinks aboard the Singapore Flyer's VIP-themed capsule will surely raise the bar for your date! Sip on your flute of champagne and chocolates as you enjoy some quality time while admiring the twinkling city lights. While you're at it, you can even snap that perfect Instagram shot for those #luxlife vibes.
Timings: 3:00pm, 5:00pm, 8:00pm, 9:00pm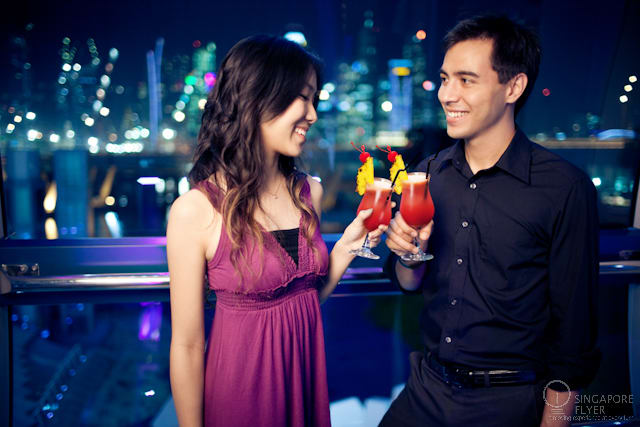 Not one for champagne? You can also opt for the classic Singapore Sling for the ultimate local experience. Non-alcoholic beverages are also available upon request.
Timings: 2:30pm, 4:30pm, 6:30pm, 7:30pm, 8:30pm, 9:30pm
Klook your way to the Singapore Flyer and skip the long queues! Simply flash your mobile e-voucher and get ready to toast to one of the best views of Singapore!
Klook me on board the Singapore Flyer with Drinks!
3. Have dinner 165 metres up in the air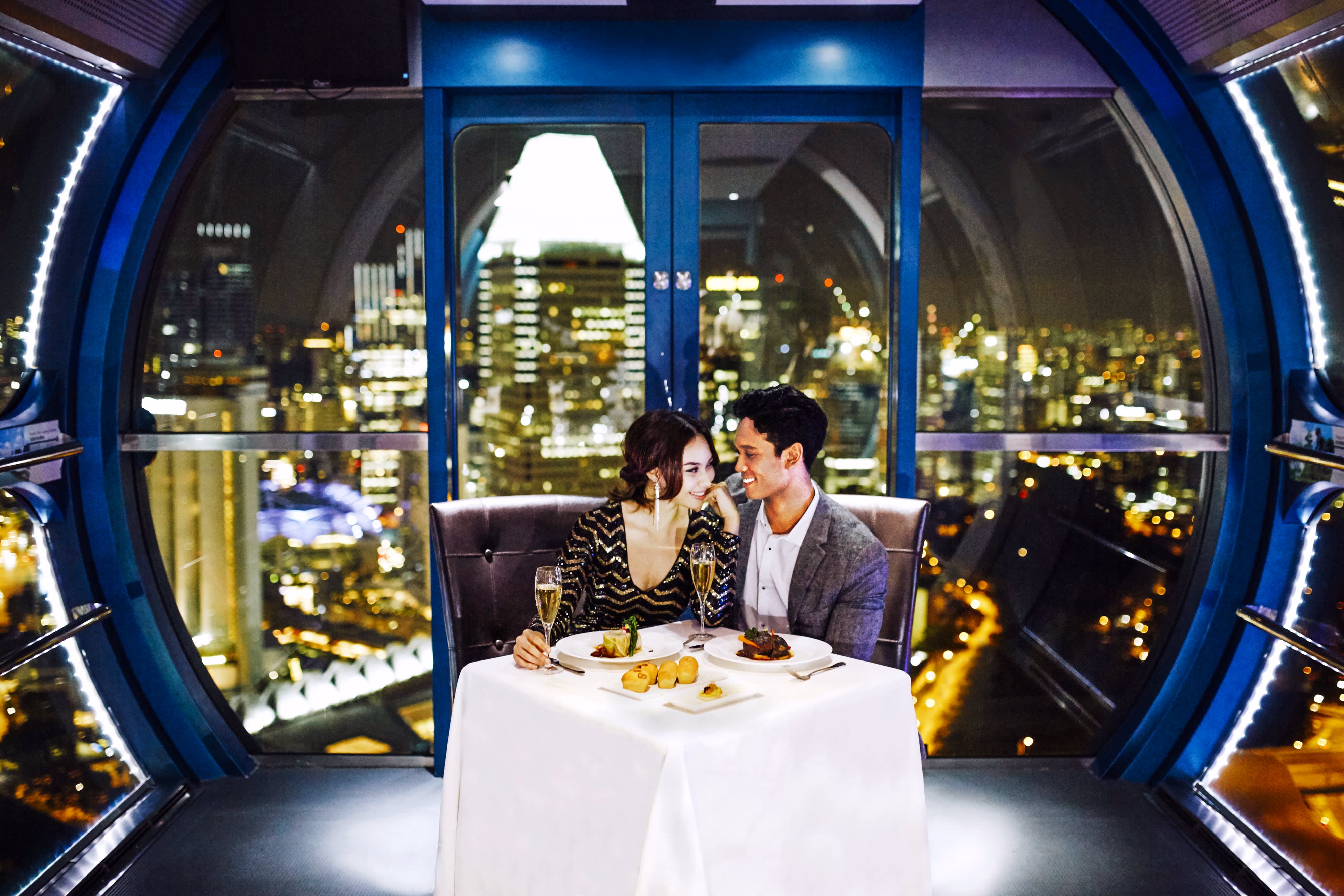 Planning for a special occasion or just want to treat yourself?
The premium Sky Dining flight aboard the Singapore Flyer includes a 4 course dinner complete with butler service! With Western, Chinese or vegetarian meal choices, there's something for everyone!
Yet another great #datenight idea, impress your significant other with the ultimate V.I.P experience for a night he/she won't soon be forgetting.
P.S. We usually don't encourage third-wheeling, but the Singapore Flyer might just be the best third-wheel for your date.
Timings: 7:30pm, 8:30pm
Klook your tickets to the Singapore Flyer Premium Dinner flight and skip the queues! Just flash your mobile voucher and get ready to feast!
Klook me to dine aboard the Singapore Flyer
4. Learn about Singapore in the Journey of Dreams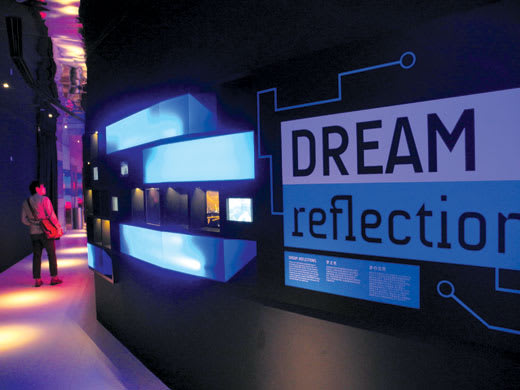 Who says science has to be boring?
Learn about the mechanics behind the flyer through interactive games and revolving psychedelic patterns!
Apart from learning about the culture and architecture of Singapore, you'll also get to hear stories about Singaporeans and the path to their dreams.
5. Feast on local delights at Singapore Food Treats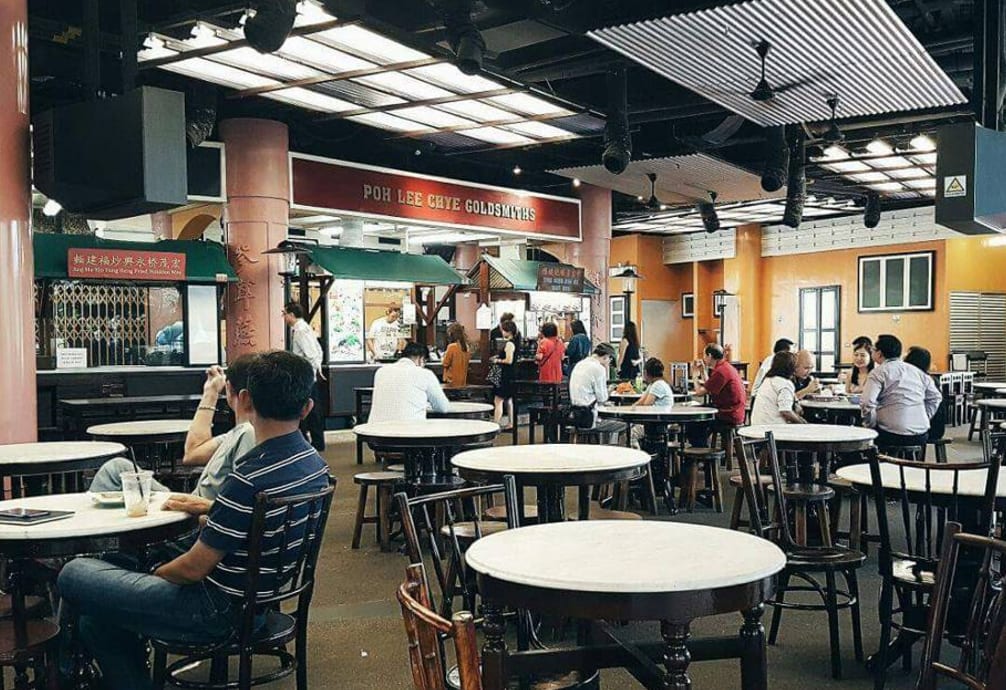 I'm sure you've heard that the best part about Singapore is its FOOD!
Stuff yourself with local hawker food at Singapore Food Treats, a retro themed food court located at the ground floor of the Singapore Flyer terminal. Find all your local favorites like Hokkien Mee (Fried Prawn Noodles), Bak Kut Teh (Pork Rib Soup) and of course, Hainanese Chicken Rice.
We recommend trying the famous Sin Min Road Rong Chen Bak Kut Teh for a traditional taste of the Teochew dish. The 7-inch long rib with meat that just falls off the bone coupled with the heavy garlic and peppery broth will leave you wanting more!
The High Street Tai Wah Pork Noodles is also not to be missed! Get ready for egg noodles dressed in vinegar, chilli and soy sauce with a side of flavorful meatballs and meat pieces, or as Singaporeans say "SHIOK"!
P.S The owner is the brother of the Michelin starred Hill Street Tai Wah Pork Noodles.
Getting There:
By MRT:
Alight at Promenade Station (CC4) and take exit A, the Singapore Flyer will be a 5 minute walk away!
By Bus:
You can catch public buses 56, 75, 77, 97, 97e, 171, 195, 960, 961C and alight Before Temasek Avenue (02191).
Getting Tickets:
Get your tickets from the Singapore Flyer at the ticketing counter on the 1st floor of the Singapore Flyer Terminal or online from the Singapore Flyer website here.
Klook is one of the authorised resellers of the Singapore Flyer Tickets! Want to skip the queues and get your tickets at a discounted rate? Get your tickets online from Klook and all you need to do is flash your mobile E-voucher at the turnstiles!
| Flight Options on the Singapore Flyer | ราคา Singapore Flyer | ราคาจาก Klook |
| --- | --- | --- |
| Singapore Flyer Flight | 33 | |
| Singapore Flyer Premium Drink Flight | 69-79 | 69 |
| Singapore Flyer Premium Dinner Flight | 299 | 176 |
| Singapore Flyer and Universal Studios Singapore | | 95 |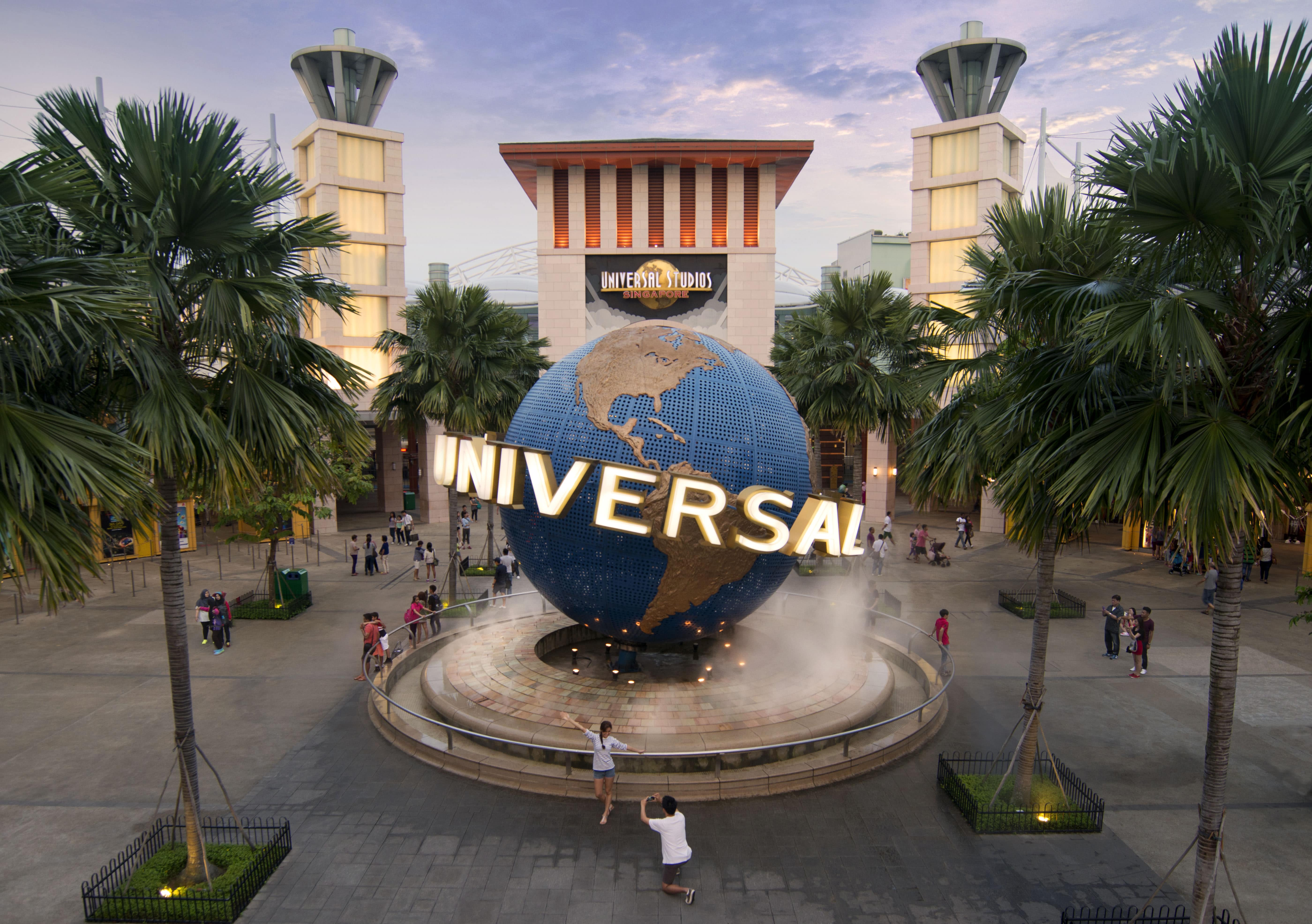 Unsure of what else to do in Singapore? Why not head to Universal Studios Singapore (USS)?
Experience the 7 Hollywood themed zones, scream your lungs out on the roller coasters and dine at the themed restaurants! Check out our guide to USS here!
If you plan to head to Universal Studios Singapore as well, Klook your tickets and enjoy a SGD5 voucher for retail and dining in the park!
Klook me on board the Singapore Flyer and Universal Studios Singapore!