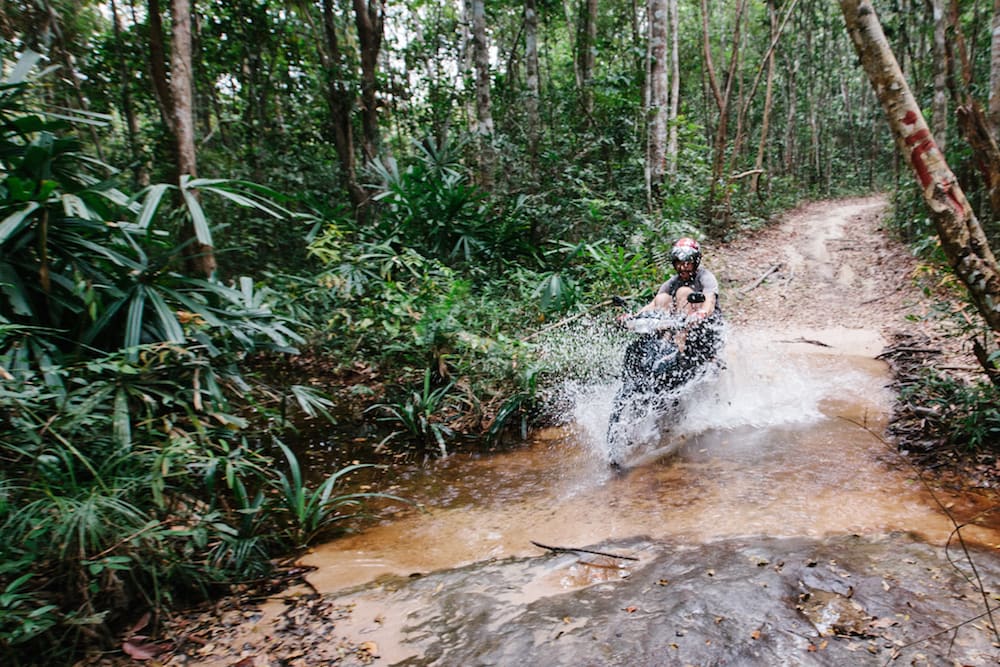 The scooter, or motorbike, as it's called in Cambodia, is the quintessence of local transportation. No matter where you travel to, you'll see hundreds, if not thousands of 125cc Honda Dreams, the motorbike of choice – zipping through the streets. These small bikes are cheap, fuel efficient, easy-to-ride and – as I learned on the Kulen Mountain Motorbike Adventure – you can take them anywhere. Roads need not apply.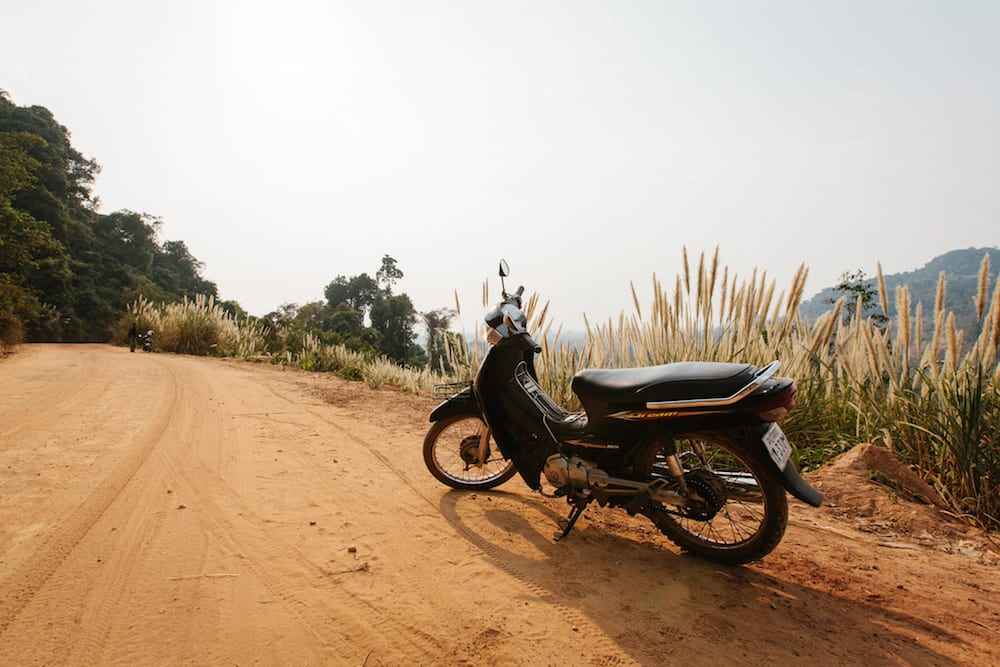 I woke bright and early, packed my things for the day; the guide was waiting outside my hostel at 730 am – right on time. I jumped on the back of his motorbike; we headed across Siem Reap to the outskirts of town – where the tour would begin.
My own Honda Dream was waiting for me when we stopped. The guide set me up with a helmet, gloves, and gave me a crash course on riding the bike (I'm an experienced street and dirt biker already, but there's no previous experience necessary for this adventure – the scooters are really easy to ride.) After a couple of practice laps around the block, we were on our way.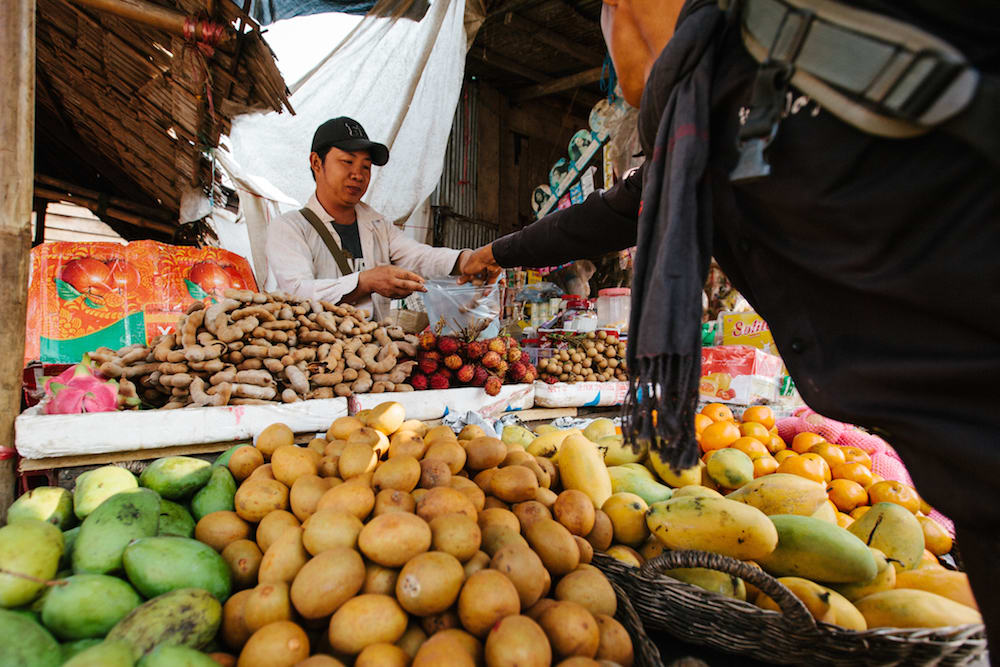 We quickly left the hustle and bustle of Siem Reap behind before stopping at a local market to get breakfast and snacks for the day. Soup and tea would provide fuel for the morning; tamarind and rambutan for snacks after lunch. After a couple of more scenic stops, we left the highway behind – trading asphalt for a surface much more adventurous: dirt.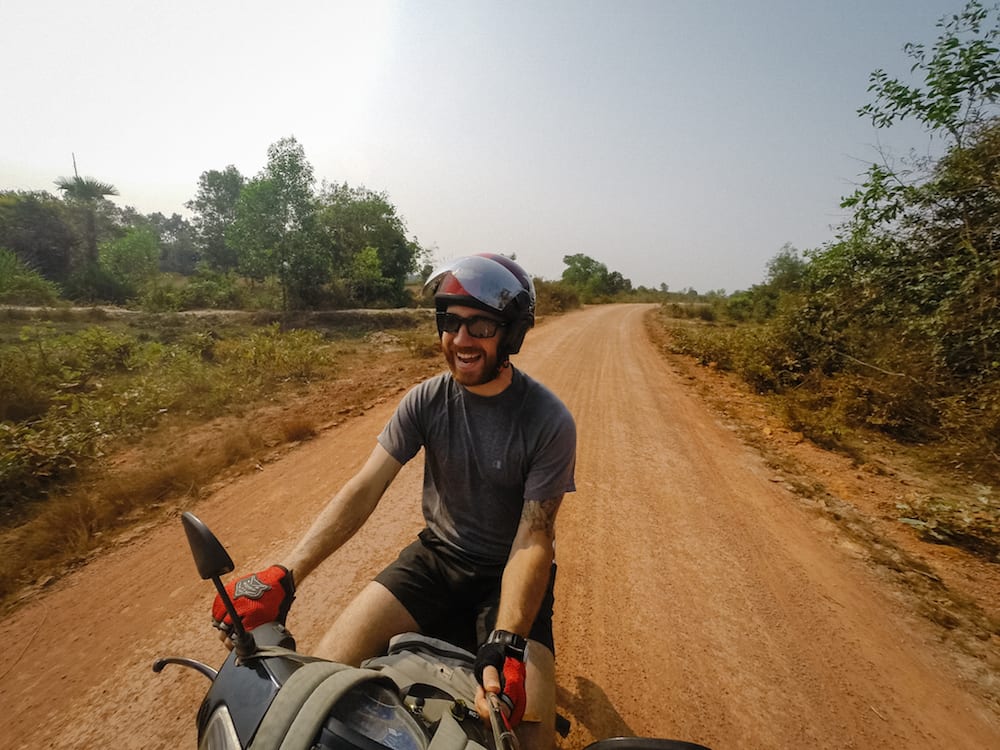 For the next hour or so we raced down backroads, skirted alongside rice fields, and passed through villages before arriving at the entrance gate to Phnom Kulen National Park. From there we rode up a windy mountain path to the park's main village.
Another quick break to grab a cold drink and discuss our game plan for the afternoon. The park's main attractions – a giant reclining Buddha and a massive waterfall – would be crowded with tour busses and people. Instead of fighting the the masses, we'd be going off the beaten path instead.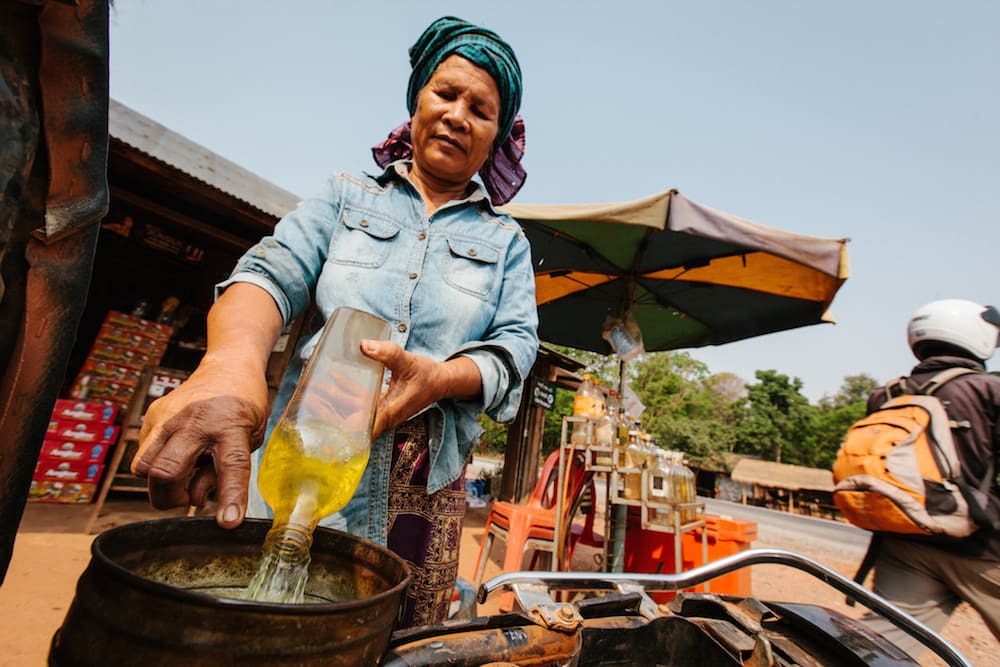 We set our plan in motion, following a small dirt road for a few kilometers before it turned to a rutted trail. No cars would be getting through here; we were on our own. Soon we reached a rare silver langur – a temple of sorts – built atop an ancient stone wash. It's metallic finish faintly glinted under the overcast sky; its own hue not too varied from the expanse above.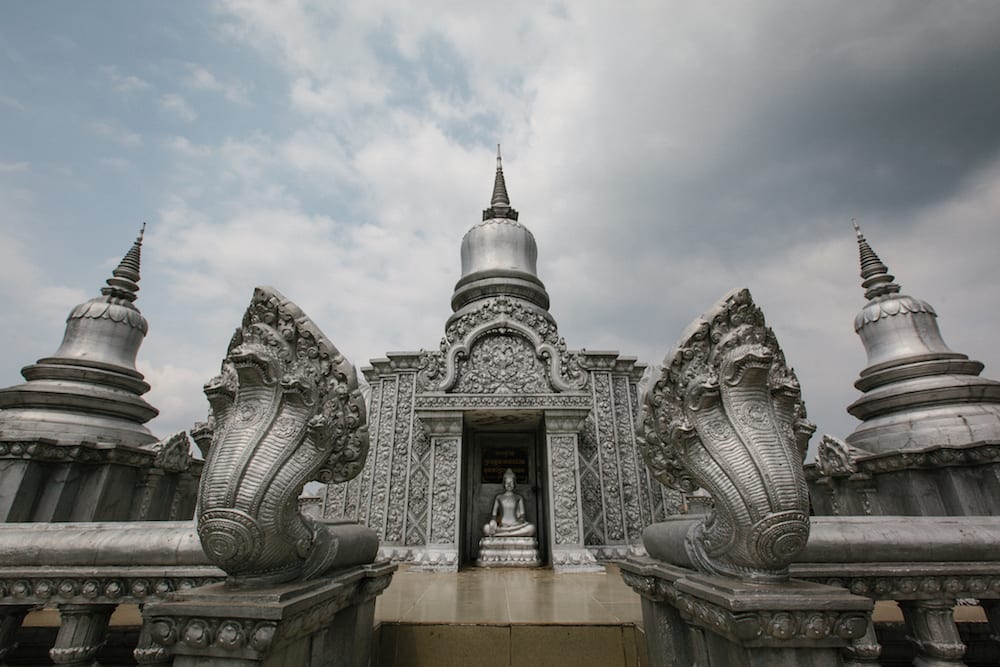 From the langur, we continued along riding along the ancient river wash, bouncing up and down over every rut; sliding through every sandy patch. The wash gave way to a single-track dirt trail; we crossed over bridges and splashed through streams before arriving at a remote village – the humble abode for some monks.
We parked our bikes, donned flashlights, and ventured into a huge cave. Bats darted around overhead; upon entering the main chamber we could see hundreds of them flying around. Their screeching sounds were as beautiful as they were eerie. I embraced my inner Bruce Wayne before moving on.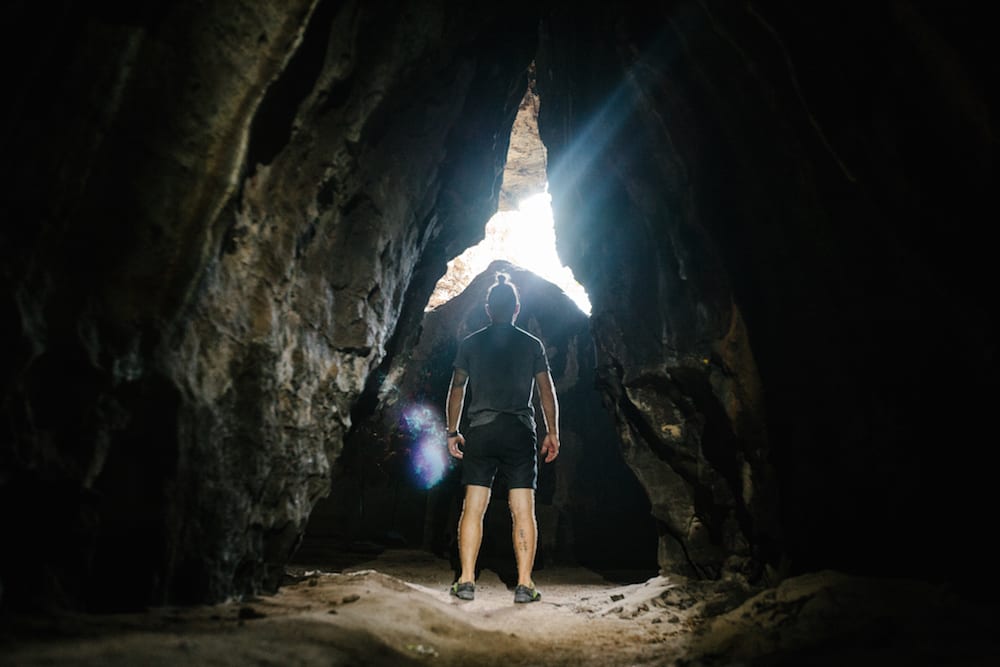 Next we jumped back on our bikes and rode another two kilometers into the jungle, stopping at the end of the line. We trekked down a couple hundred meters to "the place where it all began" – the birthplace of the Age of Angkor, where Jayavarma II crowned himself godking in 802 AD. The spot was marked by larger-than-life stone carvings of lions and an elephant. That particular area of the mountainous jungle was once home to over a million Khmers.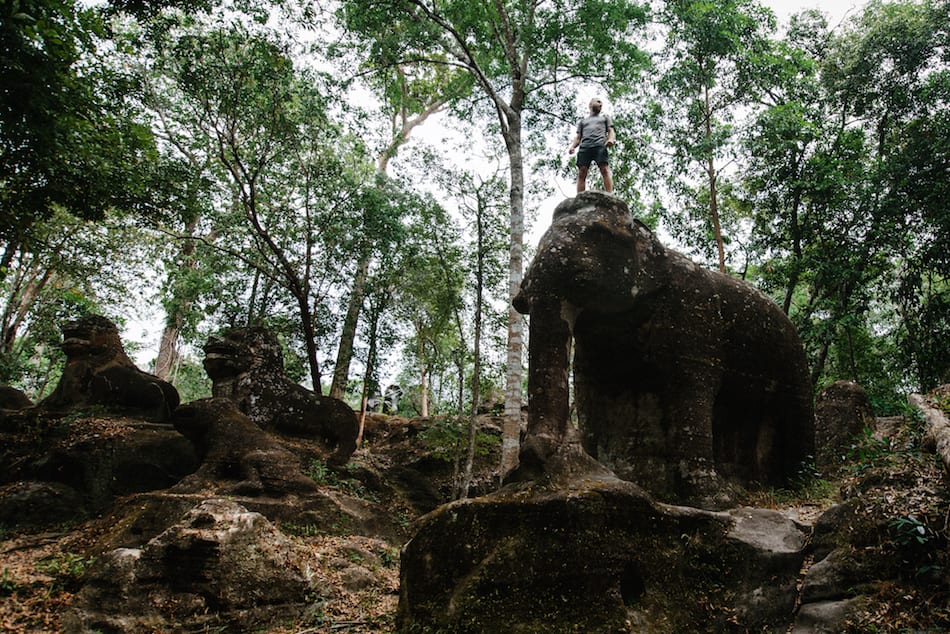 After my guide's brief, but interesting history lesson, we rode back down to the main village and stopped for a delicious lunch of Khmer cuisine: beef skewers, bok choy with pork, and rice.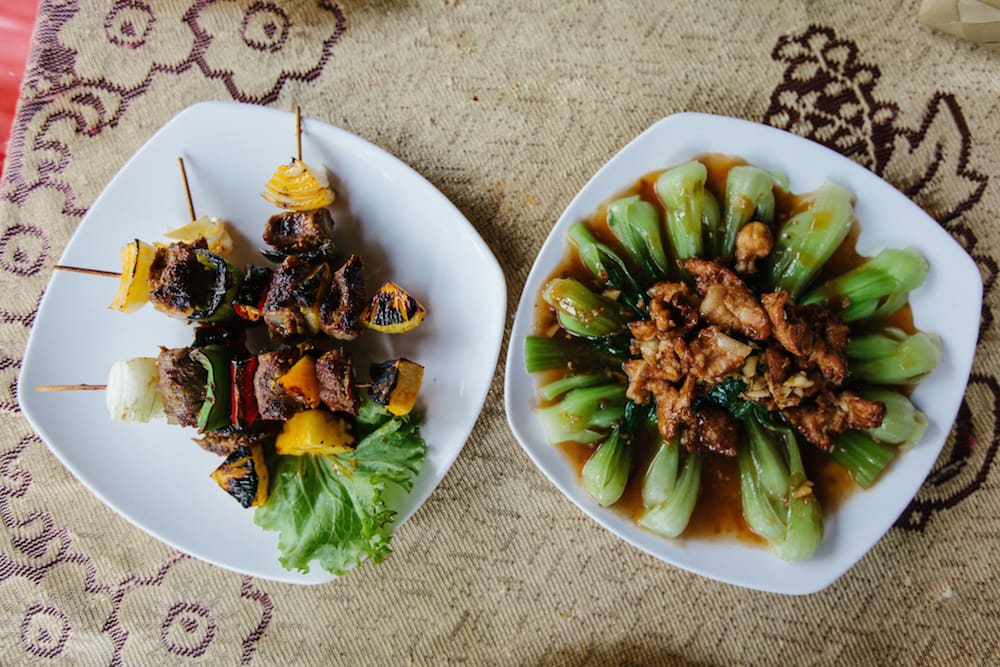 Next we walked down to the waterfall, which was a highlight of the adventure for me. By this time, it was later in the afternoon; hardly anyone was there. I immediately jumped into the shimmering water and had the entire pool to myself. I climbed up onto the rocks just below the fall and let its power fall down on me. A free nature-massage!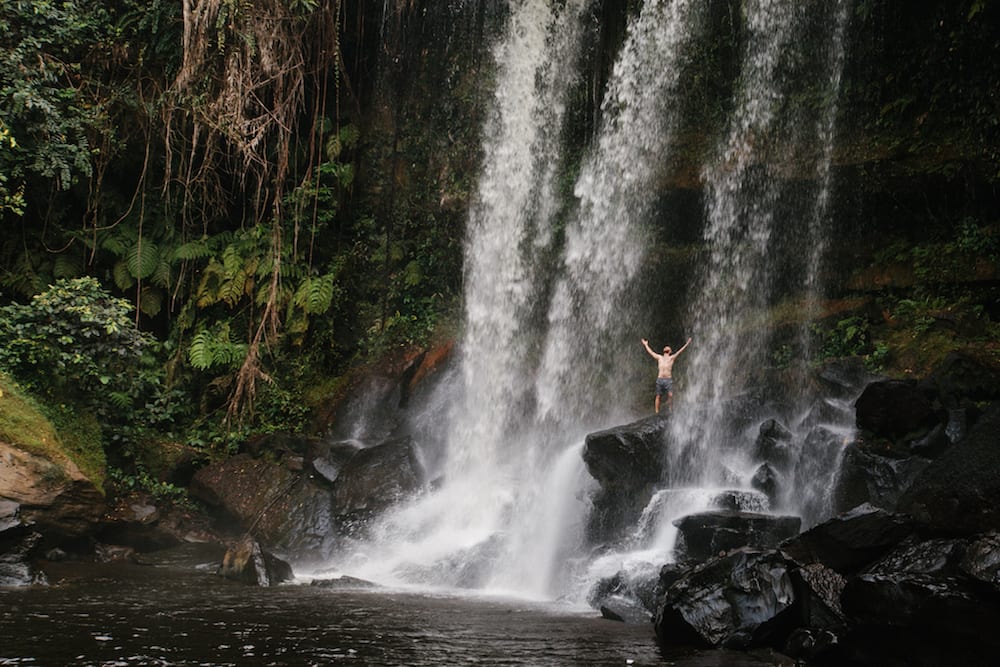 When I finally got my fix, we rode a short distance up to the reclining Buddha, which was carved into the top of a massive boulder, high in the sky. Once again, we were the only people there – my guide timed this thing right!
We had one more quick stop on the way out – a river called the Thousand Lingas, where Jayavarma II had ordered a thousand small carvings be made in the sandstone, just below the water's surface. The river was said to be his bathing place; it's sacred water fertile.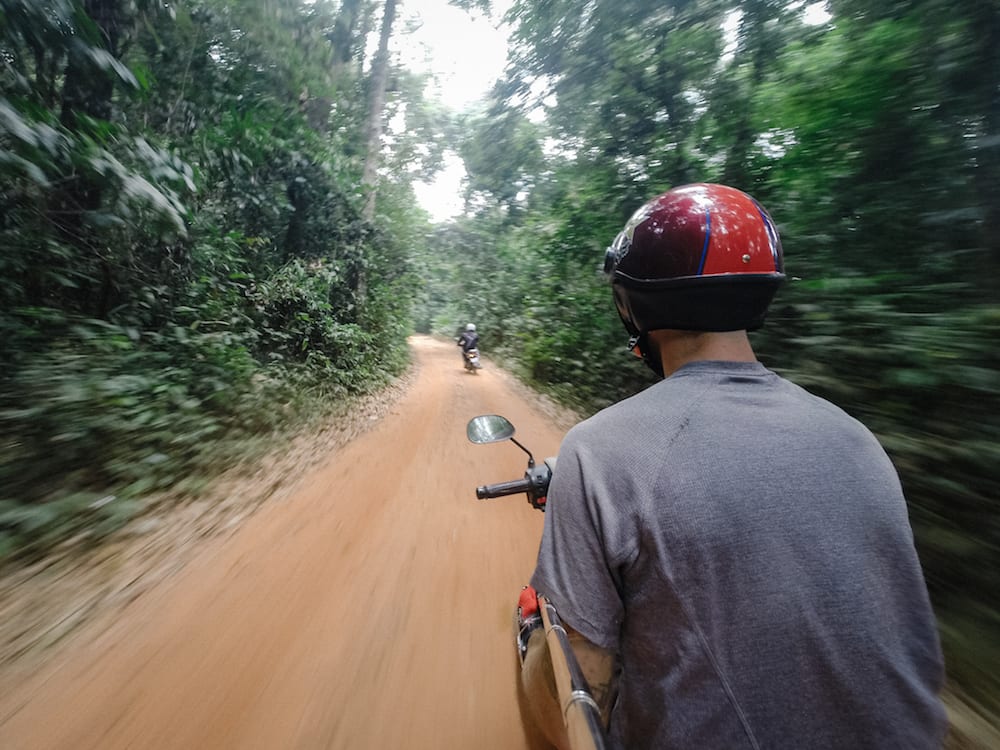 The sun was setting as we rode back into Siem Reap – casting golden rays across the entire land. A warm breeze blew through my hair; the engine's hum blurred the lines between reality and Dreamland. It was a perfect end to a perfect day.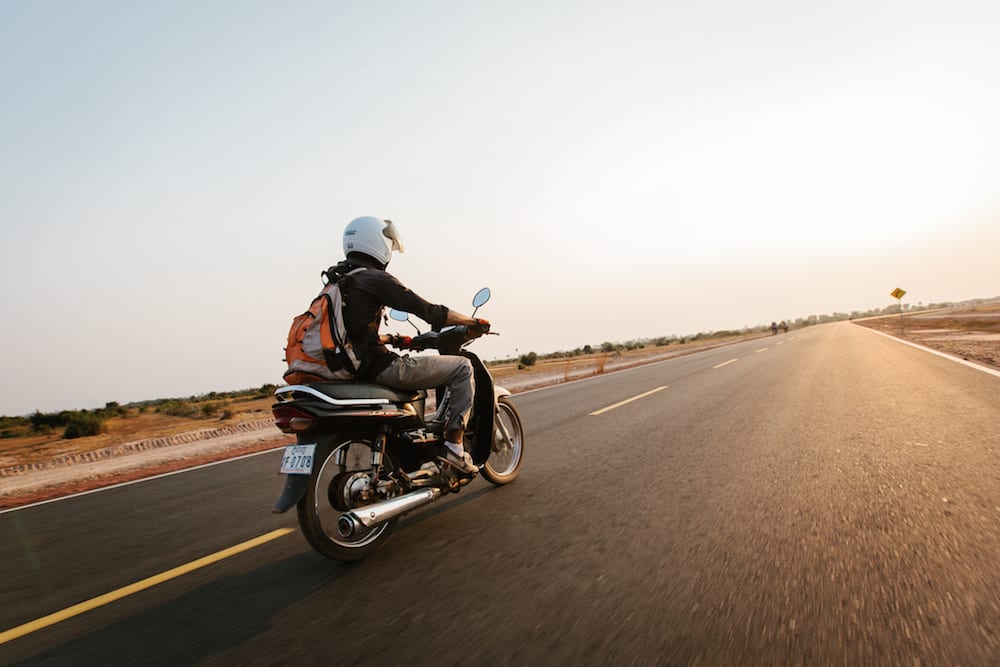 To experience the adventure for yourself, you can find out more and book through Klook.com 
Photos: Chris Brinlee, Jr.