10 Things To Do This Spook Fest
It may be a Western festivity, but over the years Hong Kong folk have come to do Halloween like a boss. We now have a number of ways to celebrate the season, and the best part is there's no need to select just one – these activities pick up as sweater weather descends in October, through to the eve of November 1 (and beyond, for some).
So draw up your smart calendars and block out some dates. You can worry about your costume later.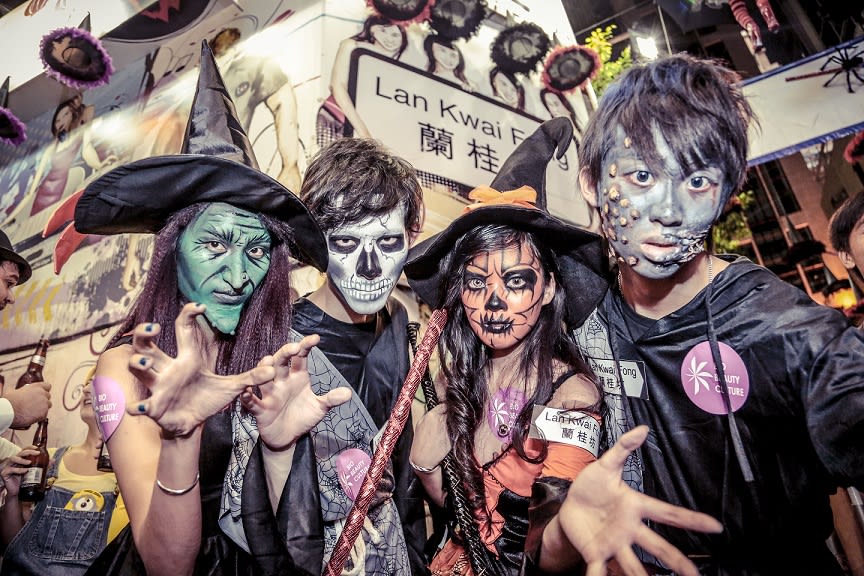 The city's party central is throwing its annual Halloween Street bash, Till Death Do Us Part, in celebration of the Bloody Mary and Horrible Tom Collins wedding. Some things to keep in mind: make reservations if you plan on partying it up at your favorite bar or restaurant, and don't forget to dress up, lest your love life be cursed. Otherwise, make a trip to No. 1 Lan Kwai Fong for some Halloween face paint and makeup. No reason to show up costumeless, really!
WHEN: 31 October, 7PM onwards
WHERE: Lan Kwai Fong. Take Exit D2 at Central MTR Station and follow the well-dressed (for Halloween) crowds to D'Aguilar Street.
FREE! To roam. Buy your own drinks.
TIP: There are two ways to go about Halloween in Lan Kwai Fong: come early, or make reservations far in advance. There's going to be a sea of people, so unless you're willing to stand in line for hours, do come prepared!
2. Ocean Park Halloween Fest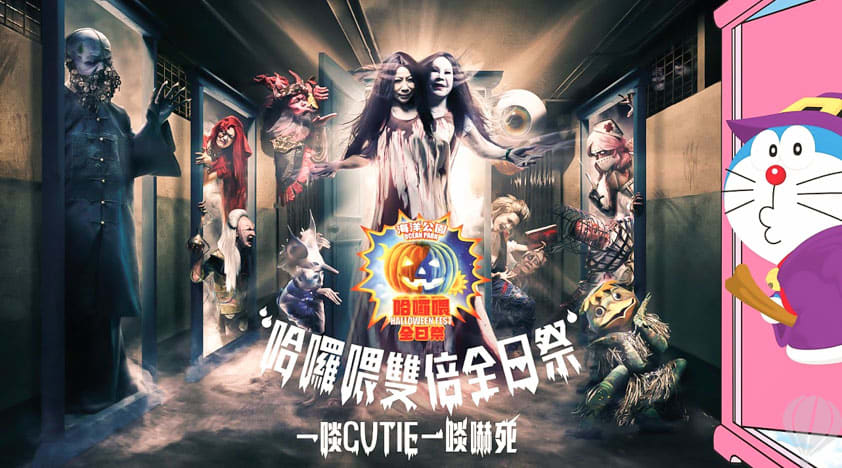 Arguably the stuff of annual pilgrimages – at least amongst locals – Halloween Fest at Ocean Park returns ever bigger and better. One of this year's highly anticipated attractions is Rigor Mortis LIVE, a recreation of scenes in director Juno Mak's award-winning directorial debut. Roam around dilapidated public estates. Marvel at blood spatters, gravity-defying ghost stuntmen, as well as characters from the movie. An equally exciting offering is the H14 madhouse, where scares are reportedly customized to the participant's fears, and the Forest of Legends, which features a Chinese fairyland in the day before dramatically transforming into an ancient tomb come night. Real fright and fun await across seven haunted attractions, on top of which you have the rest of the park's rides. It's not a wonder many continue to look forward to Halloween Fest, now 14 years strong.
WHEN: 2-31 October, Thursdays to Sundays
WHERE: Ocean Park Hong Kong. Take Citybus Route 629 from Admiralty MTR Station or Central Star Ferry
TICKETS: HKD320 (Standard General Admission), HKD628 (Fast Pass)
KLOOK DEAL: HKD275 (Standard General Admission), HKD578 (Fast Pass)
3. Disney's Haunted Halloween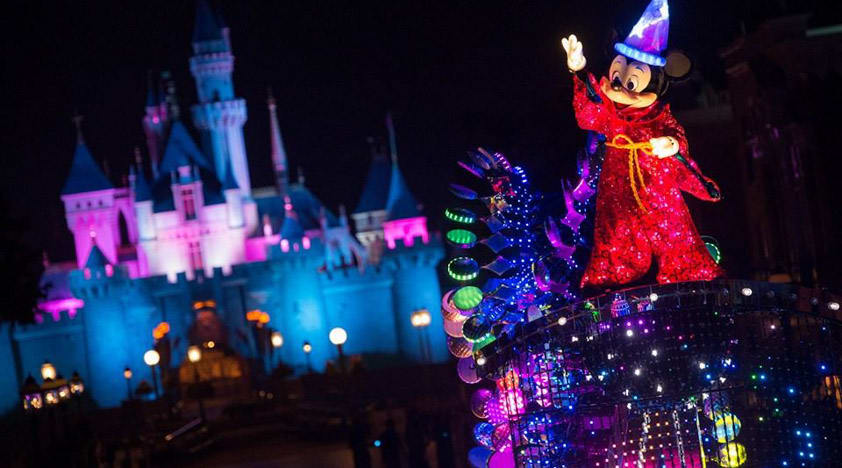 It's the same Disney magic with a twist of dark, family-friendly fun. Get a dose of playful scares at this year's Haunted Halloween, as Jungle River Cruise Skipper, Jonas Brisbane, tells you about his nighttime voyage in Horrors of the Amazon. Take a couple of frightening classes at Graves Academy, or be blown away by performers at the Sideshow Carnival Extraordinaire. Also joining the festivities is the all-new Paint the Night, a colorful light extravaganza that invites audience participation. Change dancers' costumes with a wave of the Mickey Magic Paint Brush, for instance, or add your own hues to the dazzling parade with the Mickey Glow Mitt.
WHEN: 2 October; Fridays to Sundays from 3-31 October. Disney Paint The Night begins 1 October. 6-11pm.
WHERE: Disneyland Hong Kong. Ride to Sunny Bay MTR Station on the Tung Chung Line
TICKETS: HKD450 (Standard General Admission), HKD340 (Night Ticket)
4. Fright Dome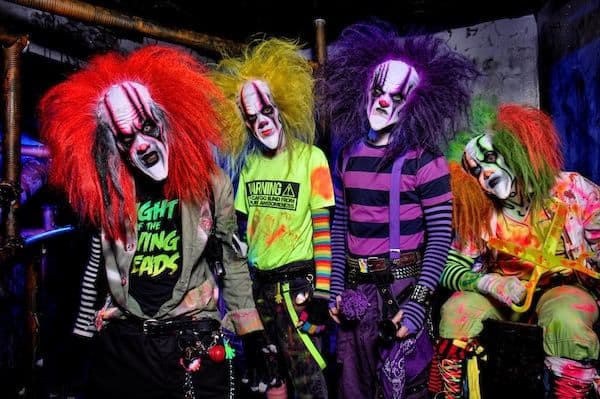 Brought to you fresh from Las Vegas and MGM Circus, this thriller may just become a mainstay in the city's Halloween lineup. Featuring two haunted houses (Texas Chainsaw Massacre and Killer Klowns in 4D) perched on the roof of The Peak Galleria, Fright Dome may at first seem like your typical Halloween attraction – and then you realize how everything has been amped for a scarier, more realistic feel. Also check out the Bury-Me-Alive simulator and nightly laser light show, alongside a dozen other selfie ops on-site.
WHEN: 26 September – 2 November
WHERE: Peak Galleria. Take bus 15 from the Exchange Square bus terminus (near Hong Kong MTR Station, Exit D) or minibus 1 from Hong Kong MTR Station public transport interchange
TICKETS: HKD199-399
TIP: Wait till you get to the venue to purchase tickets, so you can decide whether or not you'll need the Fast Pass (which, should there be long queues, means you won't need to wait in line!)
5. SCREAM at Madame Tussauds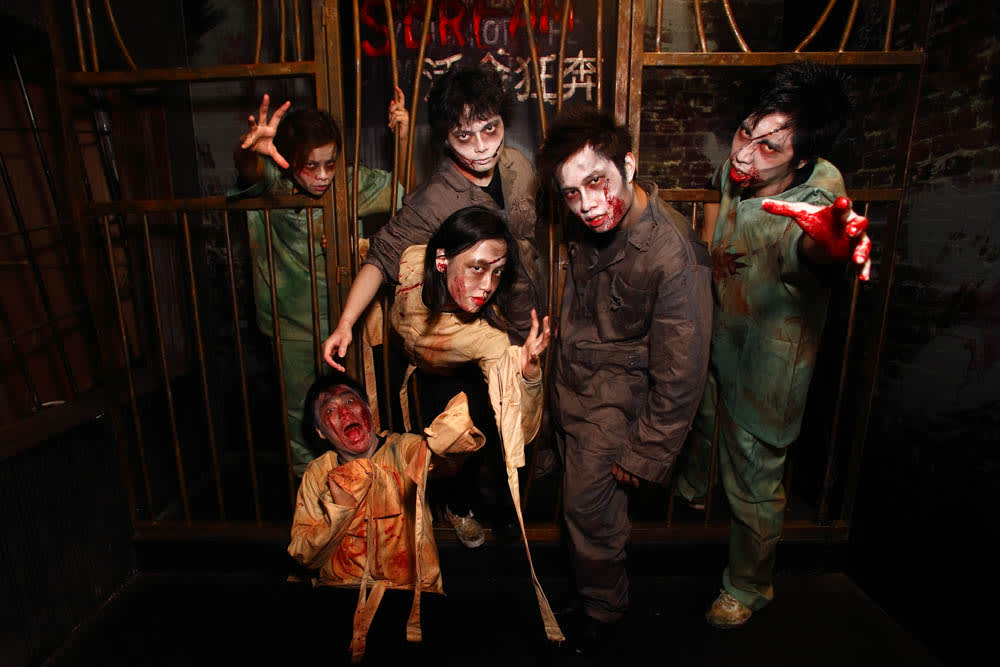 While at The Peak, drop by the famed wax museum's SCREAM asylum. There's no turning back once you're in, but that's where the fun lies. Will you make it through the dark corridors, past permanent patients raging with delirium? Like they say: there's only one way to find out.
WHEN: 1-31 October
WHERE: Madame Tussauds at The Peak (Click for transport options)
TICKETS: HKD250 (Inclusive of entry to the entire museum)
KLOOK DEAL: HKD178
Here's a haunted house you could explore for free. Inspired by the Villa Nabila in Malaysia, Dark Mansion covers 4,000sq feet at Lok Fu Plaza. The 18th-century colonial structure is known as one of the top 10 most haunted in Asia, and here you get a taste of what it might be like inside – with 10 rooms of cinematic lighting and special effects that will get your imagination going. There's also a Ghost Parade in line with the festivities, and a Halloween Carnival featuring game booths. Look out for the grub, too – Lok Fu Plaza is partnering with a number of its establishments for some inventive, Halloween-inspired dishes. How does about a plateful of bloody ghost eye meatballs sound? Anyone?
WHEN: Fridays to Sundays & Public Holidays from now until 31 October 2014, 5-10pm
WHERE: Foot Square, Zone A, Lok Fu Plaza. Take the MTR to Lok Fu Station
FREE entrance to the Dark Mansion, Crazy Halloween Carnival game booths, and Ghost Parade
TIP: Want the fast lane to doom? Spend HKD300 or more at the following shopping centers and get an Express Package for free: Lok Fu Plaza, Chung Fu Plaza, Cheung Fat Plaza, Kai Tin Shopping Centre, Lei Yue Mun Plaza, Hau Tak Shopping Centre, Maritime Bay Shopping Mall, Wo Che Plaza, Wong Tai Sin Plaza and Leung King Plaza
7. Wan Chai Haunted Tour
This Halloween, why not rediscover the district best known for its bars and nightclubs on Lockhart Road? Get firsthand accounts of stories passed down through generations from your walking guide, a longtime Wan Chai local. Learn the former use of today's Southorn Playground, and locate an old bomb shelter now covered by a shrine. Discover the mansion that was turned into a brothel, and dare climb to the site of an educational building so haunted, it was eventually abandoned. Bear in mind, though, that as one of the more authentic ways to get into the spirit of the season, there should be no thing as strange sightings or eerie sound effects…
WHEN: Year-round, but extra apt for the season!
WHERE: Group meetup at Wan Chai MTR Station
TICKETS: HKD200 on-site
KLOOK DEAL: HKD150

See and be seen among the fashionable at the heart of Causeway Bay, when Fashion Walk throws its Styloween party for the year. Entry is fee for shoppers who spend over HKD500 (in a single day) at Fashion Walk between 29 September to 31 October. You'll also want to check out the handful of goings-on in the vicinity, such as the month-long zombie workshops at University of Halloween and sexy zombie dance. Photo ops abound, too, with a five-metre tall puppet and characters that embody the seven deadly sins.
WHEN: 1-31 October
WHERE: Fashion Walk, Causeway Bay. Take Exit E at Causeway Bay MTR Station
FREE to roam. Party entry is free with every HKD500 same-day spend at Fashion Walk
Lose yourself in house music at zuma restaurant and bar, as lifestyle music brand Hed Kandi parties it up with resident DJ Stuart Ojelay and saxophonist Benjammin on the night of October 31. Get dibs on tickets and tables with early bird prices now available. For those who want an alternative to the mob at Lan Kwai Fong, this is your best bet.
WHEN: 31 October, 10pm-4am
WHERE: zuma, Levels 5&6, The Landmark, Central. Take Exit G at Central MTR Station
TICKETS: HKD400-650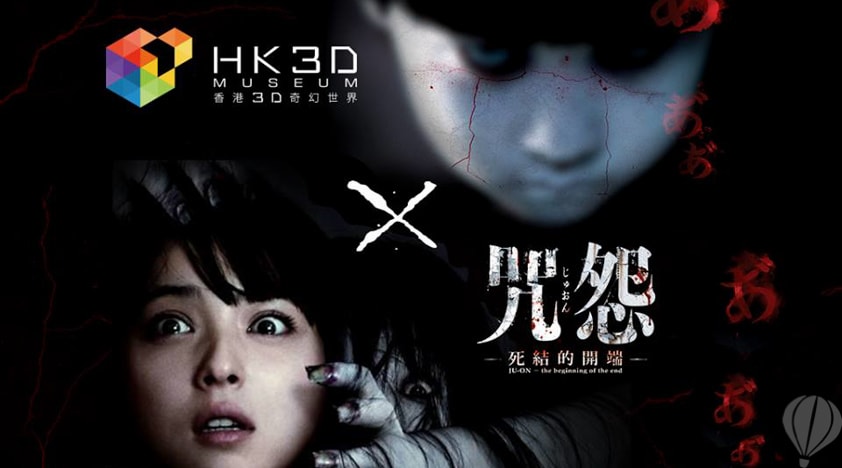 Remember that kid from The Grudge, who would've passed for cute if only he weren't so darn creepy? Toshio's the name. Well, he's making a special appearance at Hong Kong's 3D Museum, so get your cameras ready for the next haunted selfie you'll be taking. You'll still get to enjoy the rest of the museum's quirky gallery pieces, but this October special comes only once a year – we reckon that now's one of the better times to drop by.
WHEN: 1-31 October
WHERE: 1/F Hilton Tower, 96 Granville Road, Tsim Sha Tsui East, Kowloon (near TST East fountain, above Watson's)
TICKETS: HKD149
KLOOK DEAL: HKD110
Are we missing anything? Let us know in the comments below!