Formula racing is coming to Hong Kong! On October 8-9, Hong Kong will host the first stop of the third FIA Formula E championship. Wait – what's Formula E? Is that the same thing as the Formula One Grand Prix happening in Singapore? Or the annual big event Macau Formula Three Grand Prix? This guide will answer these questions and prepare you for the upcoming formula racing fever.
What's Formula racing?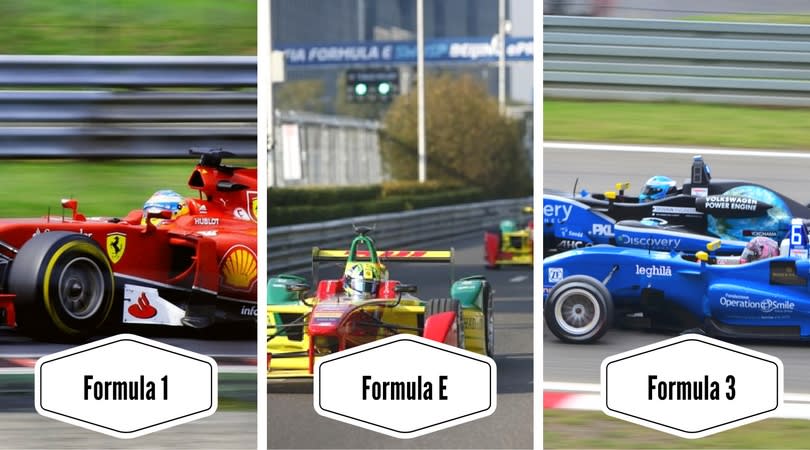 The term "Formula" refers to all races for open-wheeled single-seater motorsport, which means the competition between automobiles with wheels outside the car's main body. While unique in their own ways, Formula One, Formula Three, and Formula E actually derive from the same origin.
History?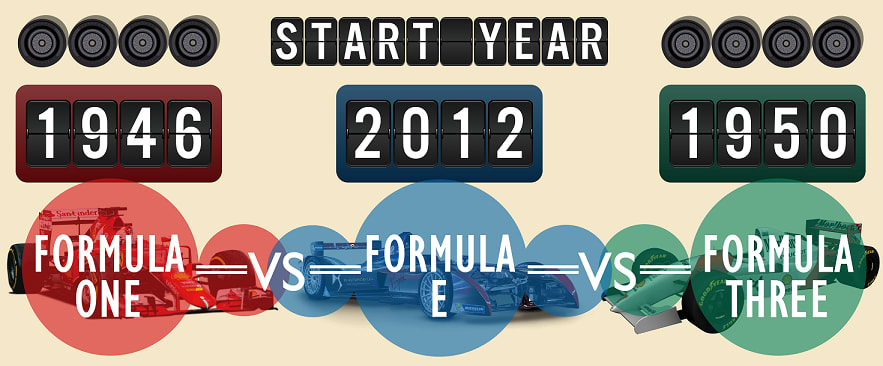 Start Year: Formula One (1946) | Formula E (2012) | Formula Three (1950)
Among the three type of races, Formula One dates the longest back in history, starting around World World II. The Fédération Internationale de l'Automobile (FIA) created Formula One by defining the rules for racing. Shortly after, FIA formed the Formula Three, as a low-cost entry point for Formula One prospectives. In fact, many Formula One drivers started their careers on the Formula Three stage. Newest of all, Formula E only commenced in 2012 as the class of racing which uses all electric cars. Formula E promotes itself as the hippest, most sustainable, and most future-oriented type of Formula racing.
Top Speed?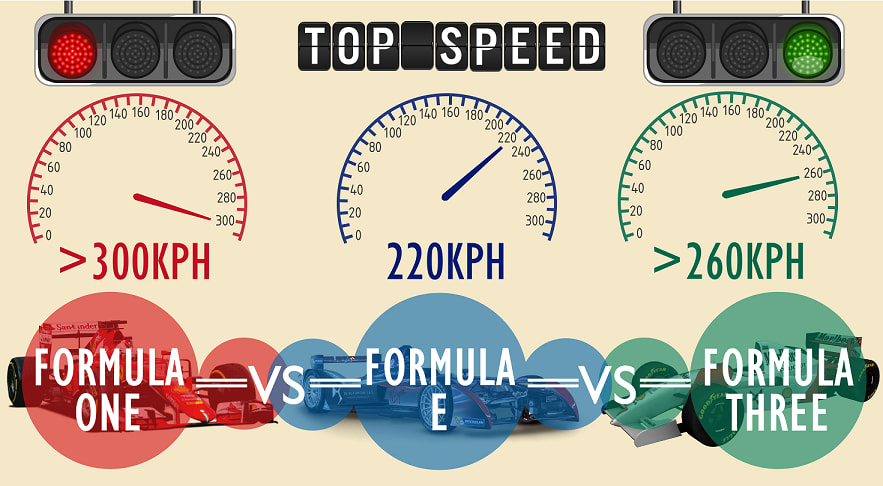 Top Speed:  Formula One (>300 kph) | Formula E (220 kph) | Formula Three (>260kph)
Formula One currently reigns as the king in terms of speed. Formula One cars can achieve over 300 kph.  The fastest record was set by Valtteri Bottas during the European Grand Prix at Baku City Circuit, clocking a top speed of 378 kph.  Significantly lower in production costs, Formula Three cars reach over 260 kph in speed. Lastly, the car of the future, Formula E trails behind in speed, usually going at around 220 kph. Though currently slower than fuel car, electric cars in Formula E display huge potential to reach Formula One car speed as Formula Three technology continues to improve and develop.
Racing Costs?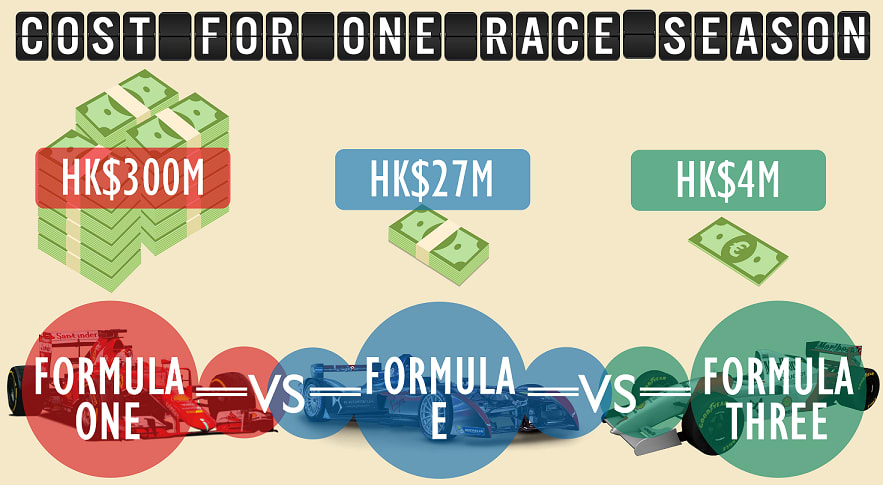 Cost for 1 Race Season: Formula One ($HK300m) | Formula E ($27m) | Formula Three ($4m)
Racing costs a lot. Teams must invest to enter into Formula racing; for younger drivers, racing in one season of Formula Three takes around HK$4 million. Expenses grow in the other two categories. Formula E gives each team the budget of around HK$27 million for a season and each Formula One team staggers to spend over HK$300 million. It takes a village to raise a child — and a Formula racing car.
Top Drivers?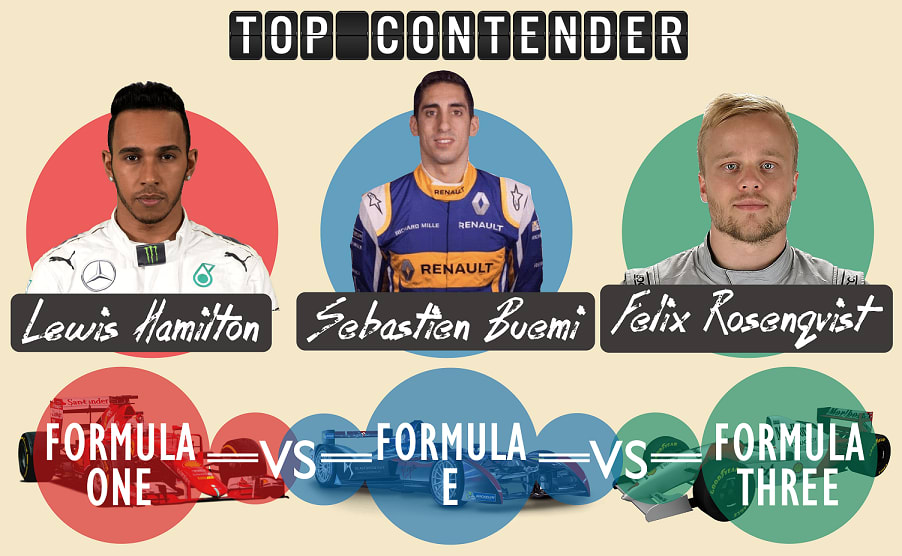 Top Contenders: Formula One (Lewis Hamilton) | Formula E (Sébastien Buemi) | Formula Three (Felix Rosenqvist)
Now that you know the background, it's time to get the latest updates. Who are the superstars to look out in the upcoming races?
Team Mercedes dominates Formula One. Winning 11 out of the 12 races, Nico Rosberg and Lewis Hamilton together lead with 415 points. The rivalry between these teammates has became one of the most dynamic and intriguing aspect of this season. The official roster for the Macau Formula Three Grand Prix has not been released. But among Formula Three races, Felix Rosenqvist stands as the frontrunner. At age 24, he has won multiple Formula Three titles, including two championships of the Macau Grand Prix. For Formula E, last year's winners, Sébastien Buemi and Nicolas Prost from the French team Renault e.Dams, return to defend their titles. Generating tons of buzz, Antonio Felix da Costa challenges to take the top position. The Portuguese contestant and former Macau Grand Prix winner exhibited new confidence about this upcoming race. Audience anticipates what these Formula Three drivers will bring to the circuit.
Audience Experience?
The aspect that varies the least is your experience as an audience. Formula One, E, and Three all promise a great time. At the racecourse, you will find fun festivities and sensational energy. Aimed at a younger target, Formula E tries to include additional elements of excitement. With smaller circuit, Formula E's circuit tends to be closer to the city center, integrating urban vibes. Formula E invites fans to engage on their digital platforms through "fan boost," a voting system that gives the fan-favorite driver extra 100 kJ of energy. Formula E. Even in music selection, Formula E puts in extra effort to appeal to crowds by having an exclusive resident DJ EJ, who specializes in dance music.
Formula Racing Tickets?
For each type of Formula racing, you can catch an upcoming race in Asia.
Formula 1 in Singapore: 16-18 Sep 2016
Formula E in Hong Kong: 8-9 Oct 2016
Formula 3 in Macau: 17-20 Nov 2016
There are usually two types of tickets, zone tickets and grandstand tickets. Zone tickets allow you to enter into the festival zone, where the entertainment and booth activities take place. Costing less, these tickets give access to places farther from the circuit compared to grandstand tickets, which allow the audience to directly overlook the race.
The racing costs act as a good prediction of the ticket prices. As a race for lesser known drivers, Macau Formula Three tickets are the cheapest. For HK$550, you can purchase a grandstand admission ticket. On the other extreme, Formula One, the most well-known race, sells the Singapore Grand Prix's pit grandstand tickets for up to HK$8000. The zone tickets, called the 3-day walkabout tickets, cost around HK$1500. The cost for Hong Kong ePrix Formula E tickets falls in the middle. You can buy tickets for festival zone, called eVillage, for HK$300 and for the grandstand for HK$2,380. (Better yet, you can get exclusive discounted tickets on Klook for HK$240 and HK$1904!)
Whether you identify as a racing fanatic or not, Formula racing offers a memorable experience. The upcoming Formula E race in Hong Kong will surely become the buzz of the city. Share with us your expectations for this ePrix or insights about Formula racing!