Be afraid, be very afraid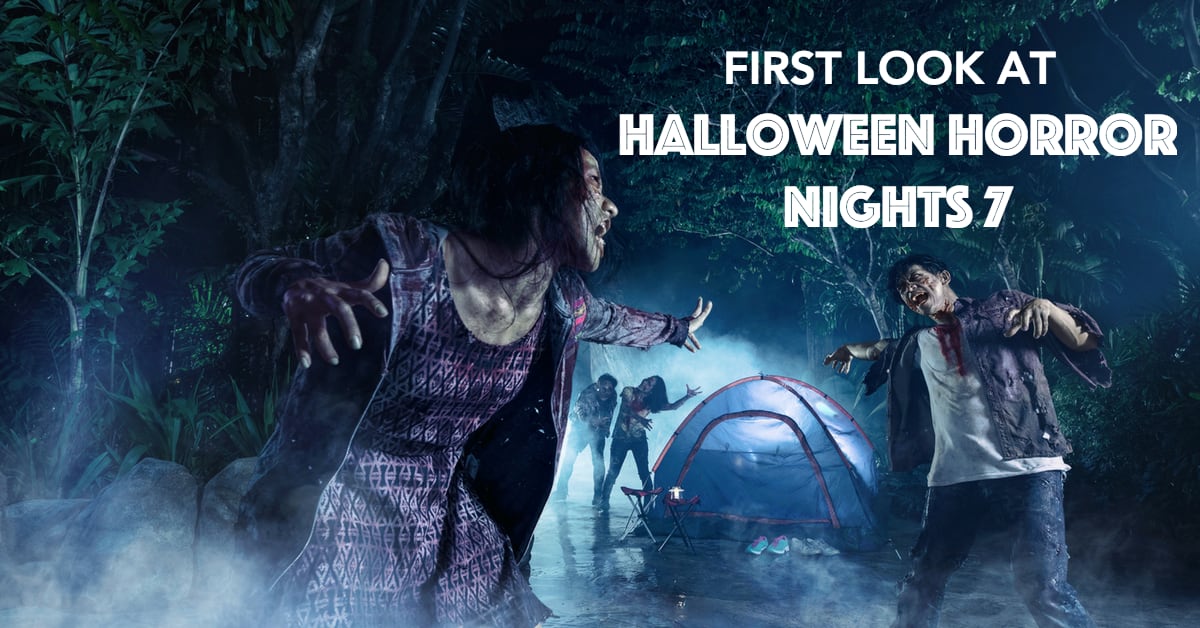 Source: RWS
Universal Studios Singapore's BIGGEST annual event, Halloween Horror Nights is back for the 7th year running. Themed after the 7 new incarnations of modern day sins, Halloween Horror Nights is back bigger, better and scarier than ever!
Cruelty, Deception, Malice, Manipulation, Narcissism, Perversion and Obsession manifest themselves in the scariest way possible. Catch these sinisters in the scarefest of 5 haunted houses, 2 scare zones and 2 killer shows.
Read on for an exclusive first look on what you can expect at this year's Halloween Horror Nights 7!
Here's a peek at what you can expect at this year's Halloween Horror Nights:
1. Haunted Houses
1.1 Shop till you drop (dead) in the Death Mall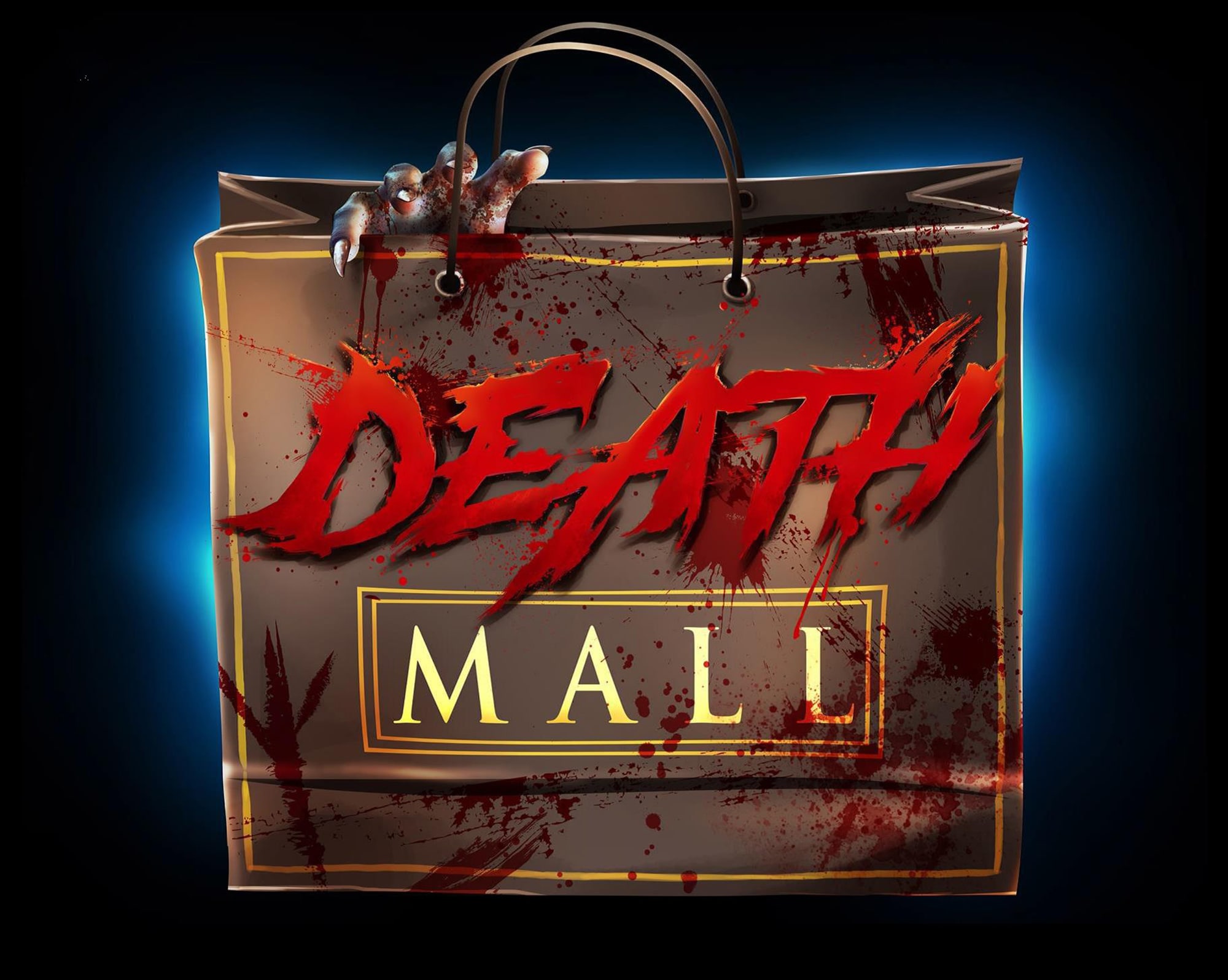 Source: RWS
This year's headlining locally-themed haunted house adds a fear factor to Singaporeans' favourite pastime: shopping. After a structural breakdown, the Death Mall is laden with malicious ghosts.
Watch your back as the vengeful spirits roam around the aisles and lanes! Innocent passers-by will not be spared.
1.2 How far would you go to Make the Cut?
What lengths would you go to for fame and fortune? Catch the Gore-ditions for the next big Gore-pop star, where fame crazy wannabes undergo x-scream makeovers to seal their faces into stardom.
1.3 TERRORcotta Empress
They say there is nothing scarier than an angry woman…Nothing can stop Empress Qing in the quest to be the most powerful female ruler in ancient China, not even death. Experience the cruelty of the dragon lady as you try to escape from her palace and army of TERRORcotta soldiers.
1.4 Inside the Mind
Source: RWS
Ever wondered how an evil mind functions?
Peep inside the mind of a deeply depraved force of evil and come face to face with shadowy forms of Inner demons, tormented souls and night terrors.
1.5 Hex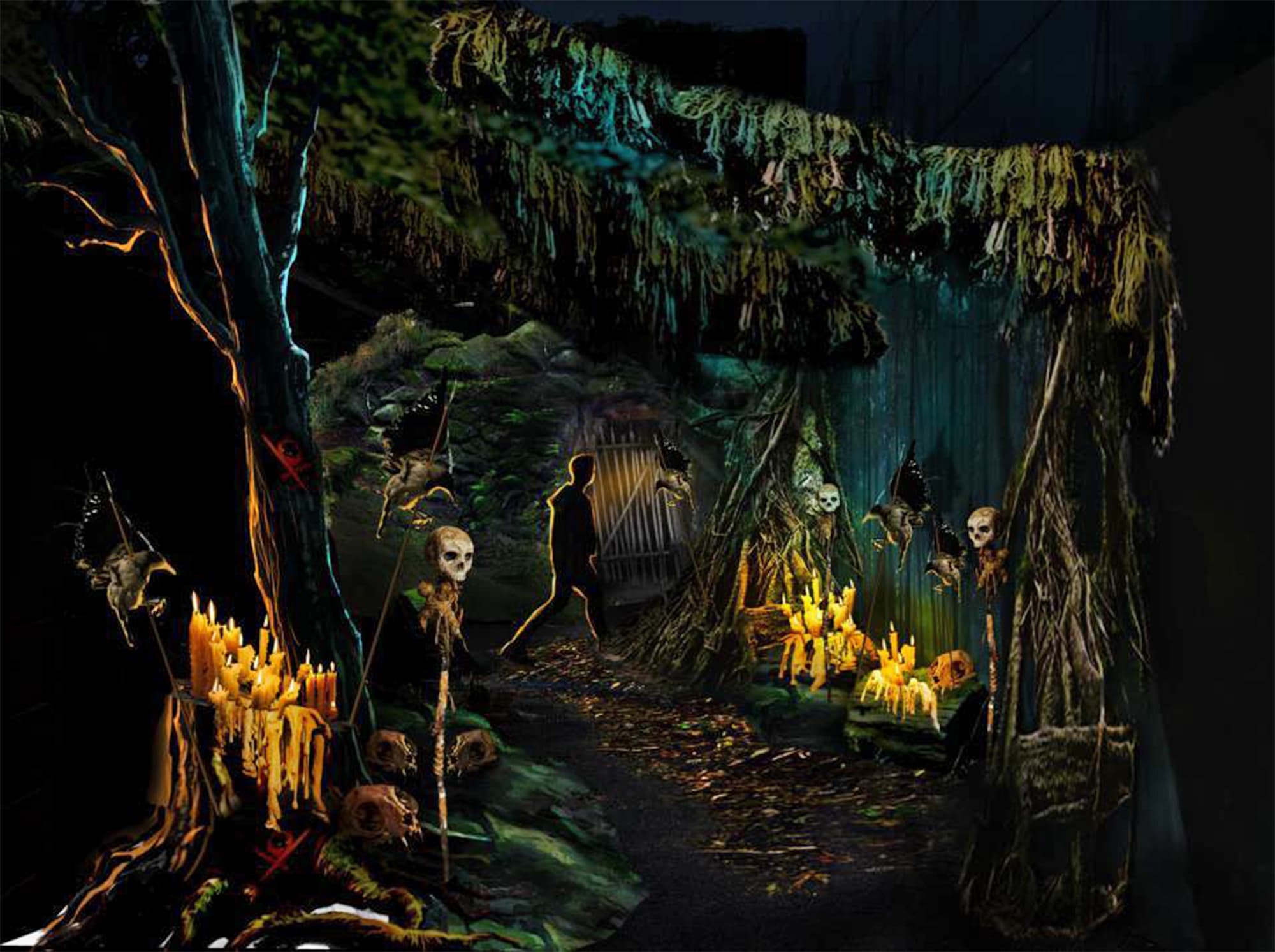 Source: RWS
Do you believe in Black Magic? Trek through a cursed jungle hut filled with evil voodoo relics and antiques to find out if you've been cursed.
P.S. Be sure to avoid the Midnight Man if you want to make it out alive.
2. Scare Zones
2.1 Pilgrimage of Sin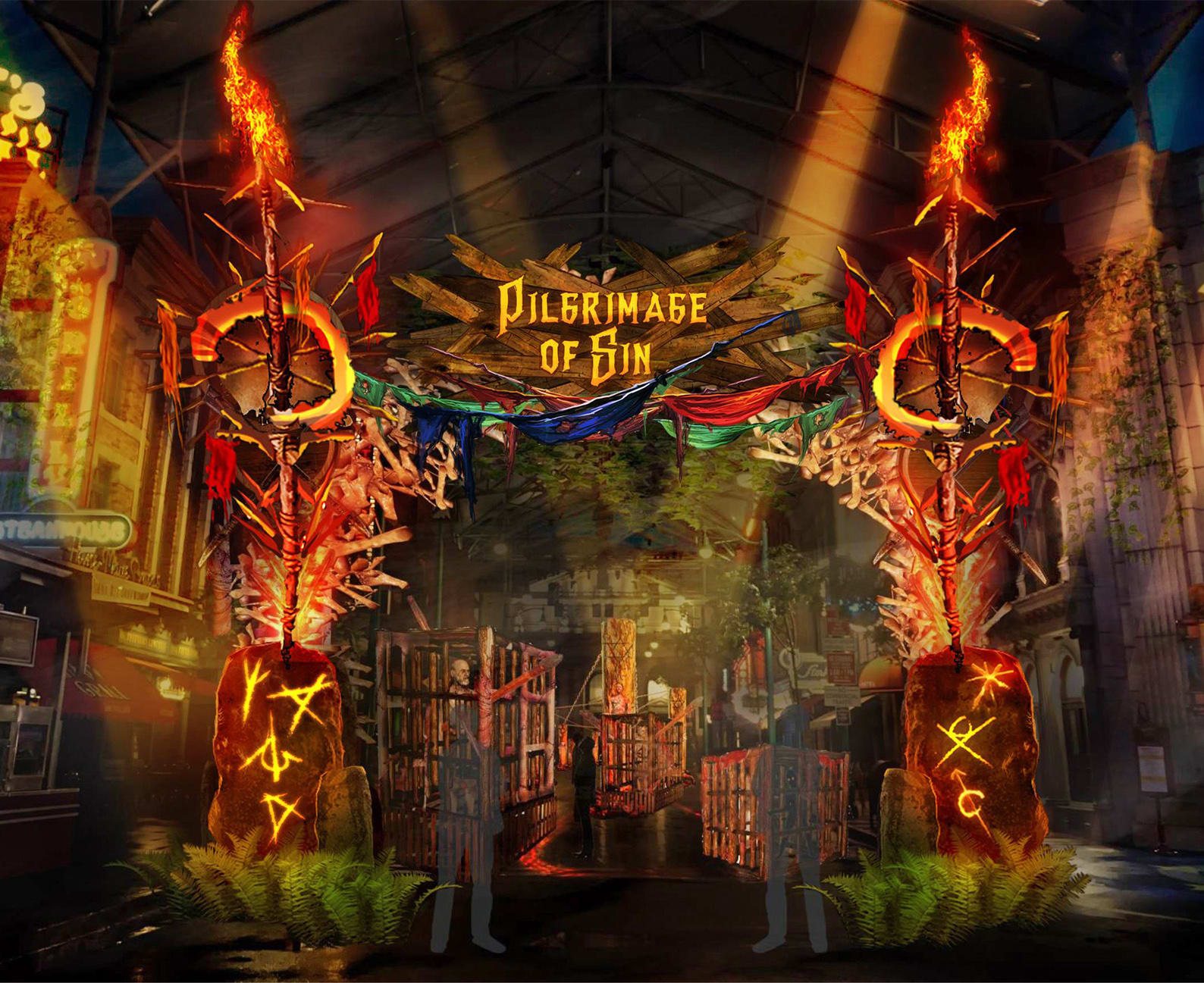 Source: RWS
Following the release of the new deadlier sins on earth, come plea for absolution and pay penance for your wrongdoings! Tread carefully and maybe – just maybe – the keepers and seekers of sin will spare you.
But, we've heard salvation doesn't come easy.
2.2 Happy Horror Days (Holidays)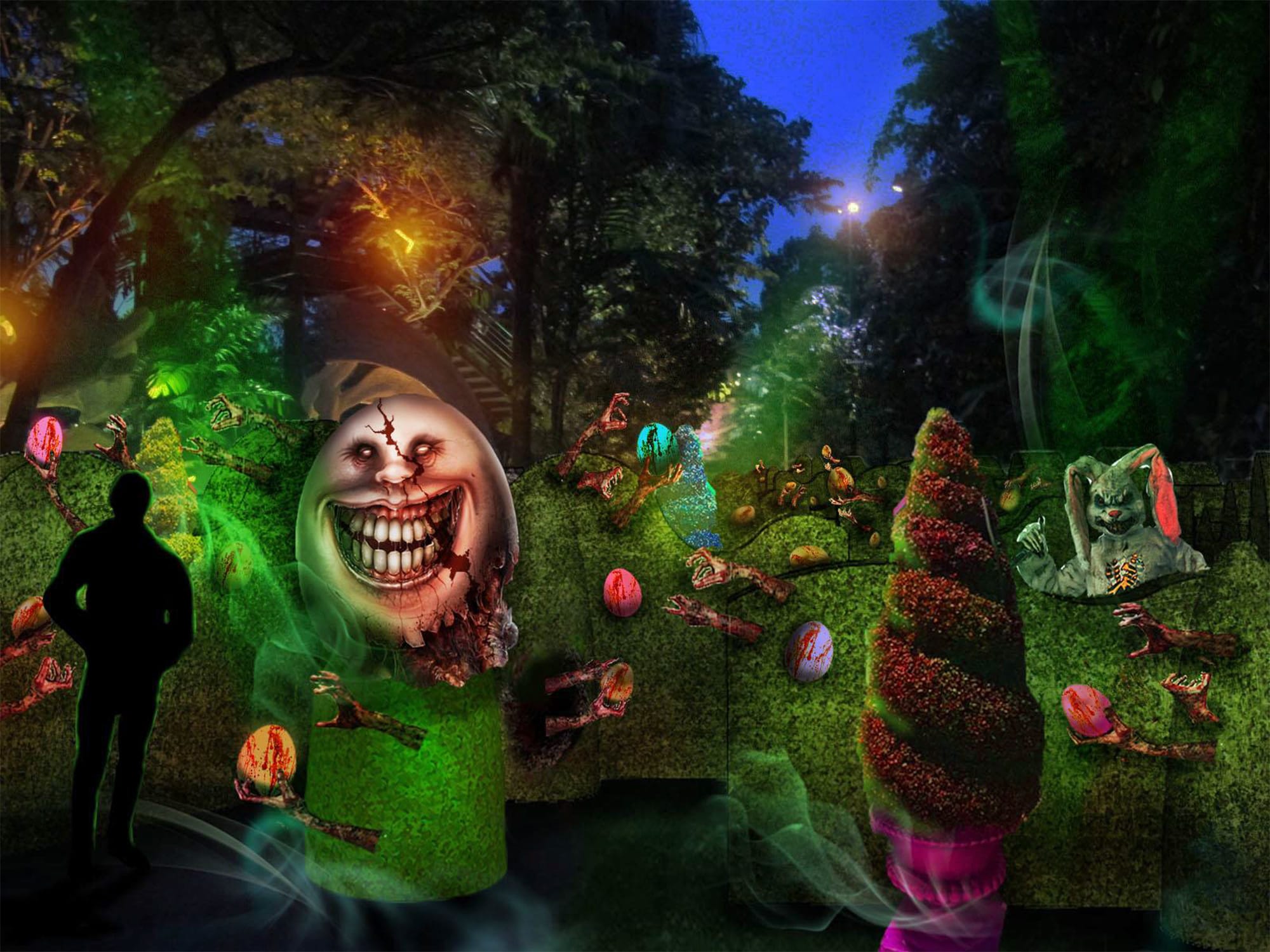 Source: RWS
Everyone loves the holidays – but this zone will have you thinking twice about celebrating the next festive season. Featuring a diabolical easter bunny and wicked humpty dumpty, we'd caution laying off those eggs if we were you.
3. Live Shows
3.1 Laboratorium
Ever wished you had superhuman abilities? Get "treated" by the plague doctors of the black death but beware of unintended side effects! Or, just leave it to the professionals and be amazed by their death defying stunts!
3.2 Slice of Life Tour
Are you a K-Pop fan? You might not be after this.
Catch the latest K-pop sensation Slit Face Girls live at the Hollywood Lagoon Stage! We heard they're even doing an exclusive fanmeet to celebrate the launch of their new album!
4. Zombie Laser Tag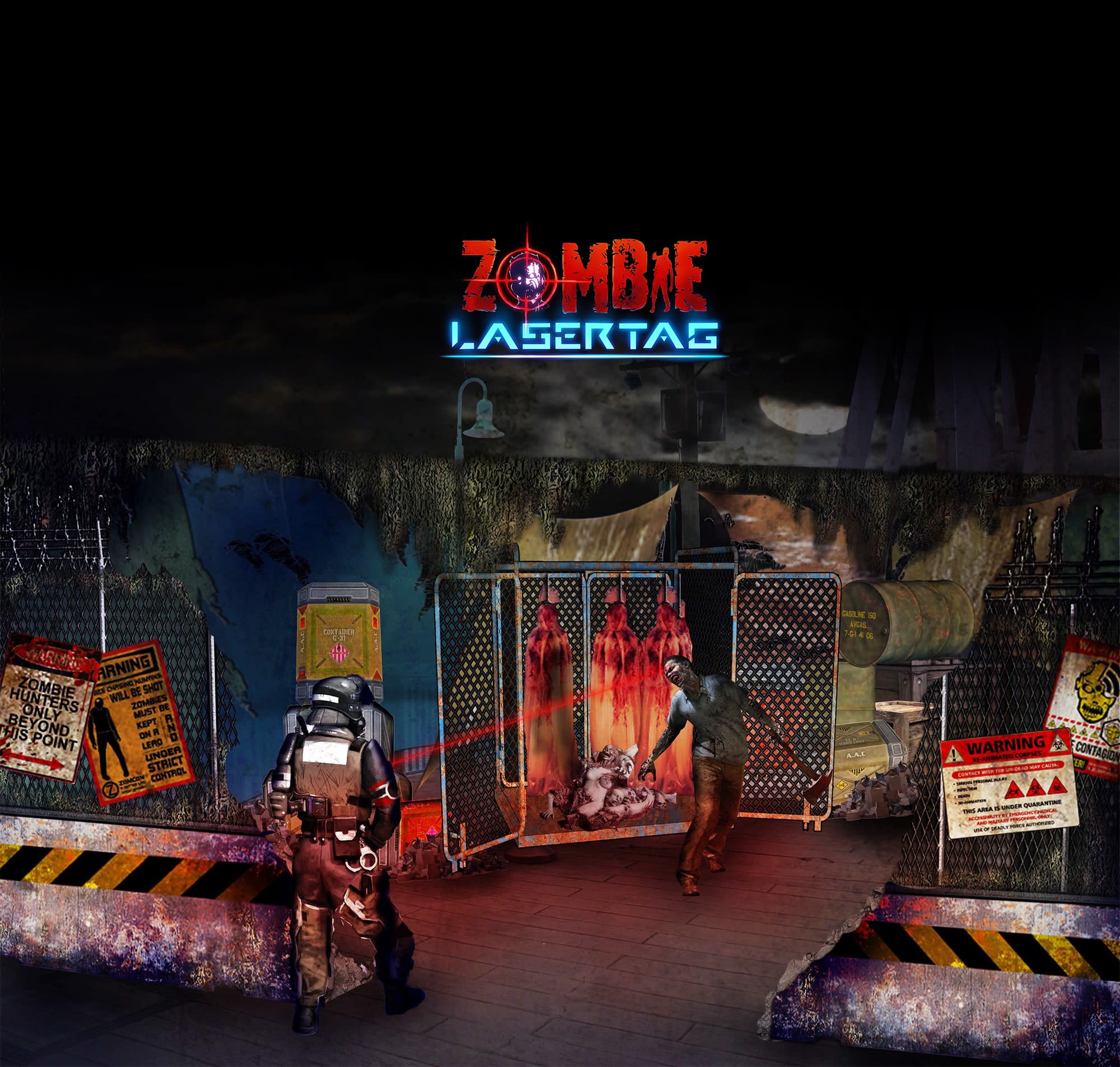 Source: RWS
Experience a zombie apocalypse in the newest addition to Halloween Horror Nights this year, Zombie Laser Tag! Fend off and kill deranged zombies in infested areas in teams of 4. Put on your concentration headbands to help you unlock clues in your quest.
5. Getting Tickets
Halloween Horror Nights is always a sell-out event, so we recommend you get your tickets fast!
If you can't decide which day you'd like to visit, don't worry because all HHN7 tickets bought via Klook are open-dated. This means you can buy your tickets now and decide which day you'd like to visit later on!
Better yet, lock in those early bird prices if you book by 5 September 2017 and get ready for a scarefest you won't forget. Just flash your mobile e-voucher and you're all set for the best night of your life!
P.S. .For Klook First Timers, get $10 off (min $100 spending) for any Klook activity with promo code "FIRST10".

| Ticket Type | Price |
| --- | --- |
| Early Bird | SGD55 |
| USS Bundle (USS + HHN7) | SGD111 |
| Frequent Fear | SGD120 |
Skip the Queues!
With the whole Singapore all up and ready to have the most horrific night of their life, expect crowds, crowds and MORE crowds. Beat the long lines and be up front with the Express Pass Add-on to enjoy a fuss-free Halloween experience!
| Type of Pass | Price |
| --- | --- |
| Opening Night Express Pass | SGD85 |
| Express Pass (Friday) | SGD75 |
| Express Pass (Saturday) | SGD85 |
| Express Pass (Sunday) | SGD65 |
Each day's Express Pass has a different price and by purchasing it with Klook, it saves you a lot of time from standing in the ticket queues. Do take note that you must make a trip down to Klook's Singapore Office to redeem your Express Pass prior to attending Halloween Horror Nights 7.
Address: Klook Office, 78B Boat Quay, Singapore 049866
Opening Hours: Mon-Fri (closed on Public Holidays) 10:00am-12:00pm / 2:00pm-7:00pm
Brave enough for more?
The night is still young! Battle against zombies in Zombie Laser Tag or go on a special behind the screams tour through 2 of the haunted houses.
For the ultimate R.I.P experience, skip all the lines and get an exclusive meet and greet session with the HHN 7 characters in addition to 10% off F&B and Retail purchases during that night.
| Ticket Type | Price |
| --- | --- |
| Zombie Laser Tag | SGD38 |
| Behind the Screams Tour | SGD38 |
| RIP Tour | SGD248 |
Klook your tickets to the R.I.P tour and lock in those early bird prices if you book by 6 September 2017! Just flash your mobile voucher and you're all set!
6. Getting There
Halloween Horror Nights will run on all Fridays, Saturdays and Sundays from 29 September 2017 – 29 October 2017.
Fridays and Sundays: 7:30pm-12:30am
Saturdays: 7:30pm to 1:30am
By Mrt/Sentosa Express Train:
1. Take the North-East line or Circle line and alight at Harbourfront MRT.
2. Take Exit E to VivoCity and proceed to level 3 to board the Sentosa Express.
3. Alight 1 stop later at Waterfront station.
4. Walk straight till you see Chili's Restaurant on your right. Turn right and head towards the Universal Studios Globe.
Looking to fill your tummies to avoid paying for overpriced amusement park food? Chow down on local delights like Mee Rebus and Laksa at the Beaver's cafe before your frightful night begins!
Klook yourself a Beaver's cafe meal voucher and get ready to feast without burning a hole in your pocket! Simply show your mobile e voucher to the cashier and you're all set!
Unsure of what else to do in Singapore? Check out our guides here.
Klook me to Halloween Horror Nights 7 NOW!