Bangkok, a dynamic city with ancient and modern characteristics, has numerous beautiful rivers traversing into the horizon and the majestic South China Sea. With monumental landmarks, famous attractions and busy markets lining both banks of its rivers, exploring Bangkok on a boat is an amazing way to discover the eternal charm of the city. The next time you're in Bangkok, don't miss out on these exciting boat adventures.
1. Dine on the Chao Phraya River
Dine in style on this exquisite dinner cruise on the renowned Chao Phraya river of Bangkok. Also known as the River of Kings, this gorgeous river is surrounded by antique wooden shacks, pristine temples and churches, and 19th century European style buildings, portraying the unique blend of modern and traditional Bangkok. Feast on a delicious gourmet buffet with Thai and international delicacies while swaying to the soft tunes of saxophone and gaze at the Emerald Buddha Temple, Grand Palace and other historical landmarks from the comfort of your dinner table. Go up to the deck of the boat and dance to the tunes of popular 80s and 90s bands such as ABBA performed by talented live bands. The cool breeze, great music and unlimited food and drinks on board will give you a sense of luxury and romance and should not be missed.
How to get there: BTS Saphan Taksin Station, taxi or public bus to River City Pier, Si Phraya (Soi Charoenkrung 30)
| | Regular Price | Klook Discount |
| --- | --- | --- |
| Adult | 1400 THB | 930 THB |
| Child | 1000 THB | 800 THB |
Get a Ticket for the Chao Phraya River Cruise NOW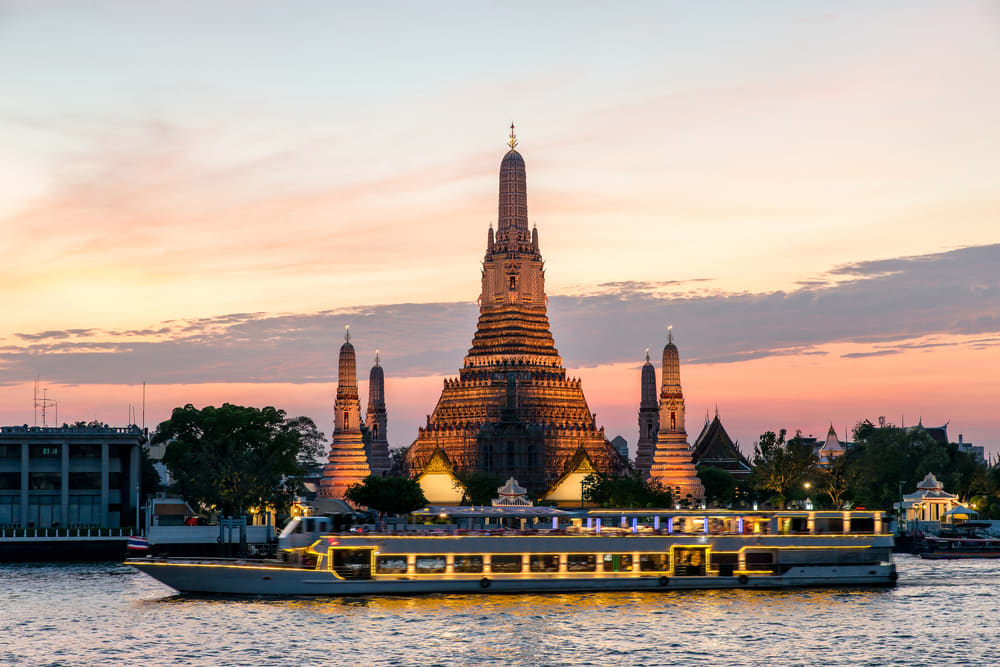 2. Shop at a floating market
Popularly known as Bangkok's biggest and best-known floating market, the Damnoen Saduak Floating Market is a perfect destination for tourists to experience the traditional Thai lifestyle. Watch vendors and patrons float in narrow long tailed boats propelled by friendly Thai women wearing bamboo hats, selling and exchanging a variety of goods, from handicraft souvenirs to colourful flowers, fruits and vegetables.Taste exotic fruit, traditional Thai snacks, and sip on fresh coconut water as you navigate through the winding waterways exploring Thailand's oldest traditions.
How to get there: Public buses leave for Damnoen Saduak from the Southern Bus Terminal every 40 minutes from 6 pm onward.
| | Regular | Klook Discount |
| --- | --- | --- |
| Join-in Tour | $700 | $700 |
| Private Tour (2-3 Pax) | $2500 | $2000 |
| Private Tour (4+ Pax) | $2000 | $1655 |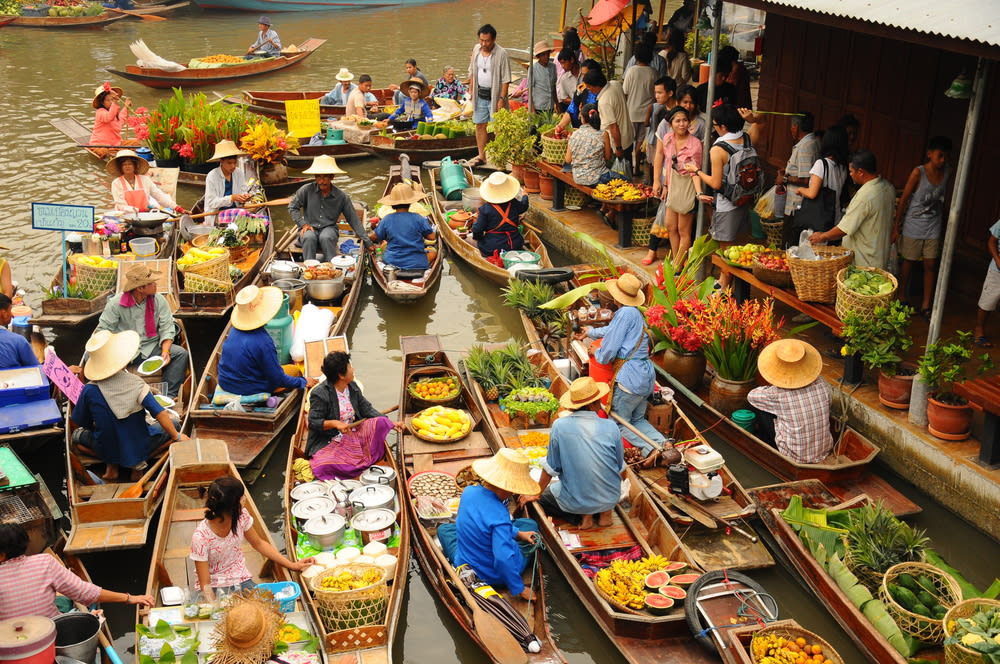 3. Explore an ancient riverside town
Embark on a refreshing journey with a grand cruise to the historic ancient town of Ayutthaya along the Chao Phraya River. Founded in 1350, Ayutthaya was the second capital of the Siamese kingdom and was attacked by the Burmese army in 1767 which destroyed the flourishing, advanced city. It was never rebuilt and is now one of the most important archaeological sites and tourist destinations of the country. This cruise gives you a chance to explore this extraordinary city and its ancient temples and monasteries such as the Wat Kalayanamit and Wat Mahathat and other such historic landmarks as the Royal Grand Palace. What's more, the cruise includes an all-you-can-eat buffet lunch on the Grand Pearl Cruise liner and afternoon tea with snacks on the cruise ship.
How to get there: Grand Pearl River Cruise from Bangkok to Ayutthaya, departure from River City Pier, Si Phraya (Soi Charoenkrung 30)
| | Regular | Klook Discount |
| --- | --- | --- |
| Adult | 2400 THB | 1980 THB |
| Child | 1600 THB | 1540 THB |
 Get a ticket for the Ayutthaya Grand Pearl River Cruise NOW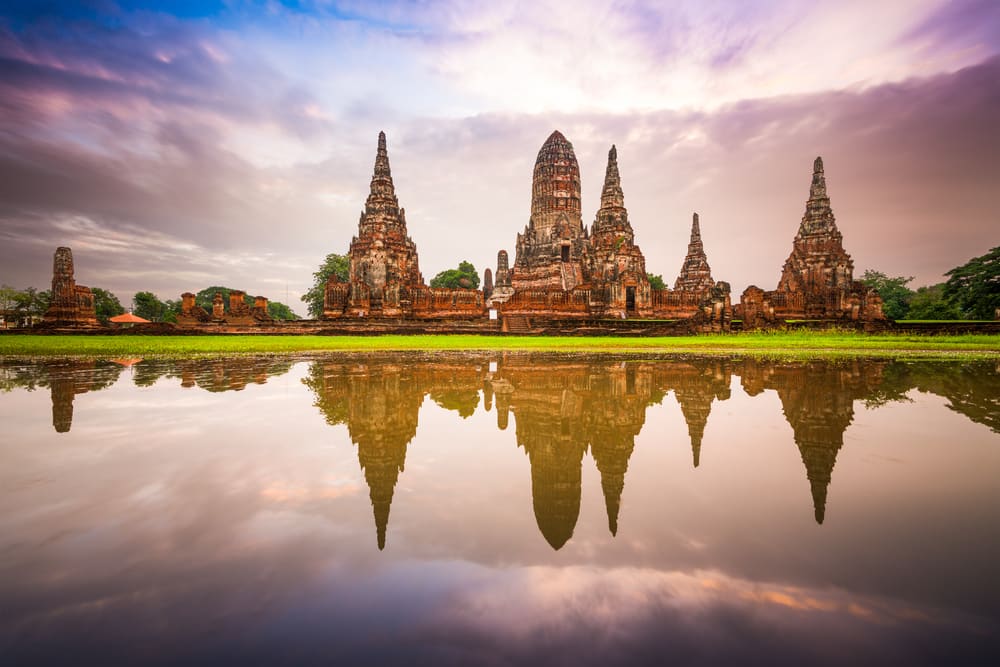 4. Experience traditional Bangkok lifestyle
Ancient Bangkok was characterised by a network of winding canals or Klongs, where people travelled on narrow long-tail boats and lived in stilted wooden homes. While most of these canals are now filled up and have become part of the bustling street system of Bangkok, Thonburi, the former capital city still possesses some of the larger Klongs and is popular with travellers wanting a glimpse into the traditional Thai way of living. With remarkable riverside scenery, including temples and shrines, large colonial mansions and mobile food vendors selling local delicacies such as mango sticky rice, noodles and Thai barbecue chicken, these Klongs provide a refreshing contrast to the hectic pace of the city life and is an incredible way to explore Bangkok. 
| | Regular Price | Klook Discount |
| --- | --- | --- |
| Per Person | 2598 THB | 2385 THB |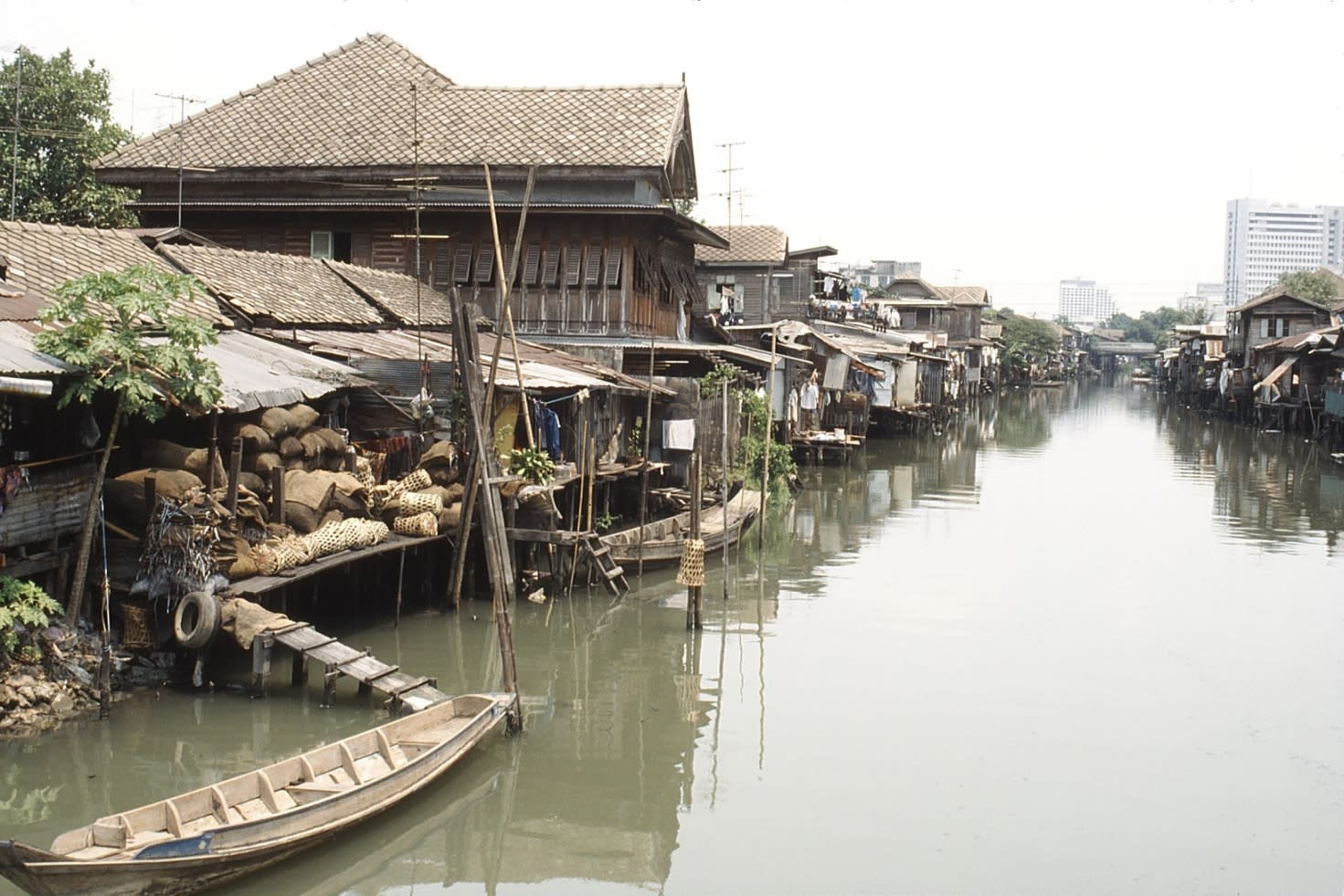 5. Enjoy the Bangkok sea breeze
Located just outside of Bangkok is the small T-shaped island of Koh Samet, which boasts of some of the most beautiful white sand beaches along the crystal clear sea, exotic tropical coral reefs and seaside restaurants offering delicious, fresh Thai seafood. While the northern beaches have an active nightlife, including juggling shows, beach barbeques and parties, the southern beaches are more deserted and sedate and are perfect for travellers who enjoy relaxing quiet vacations. However, both sides have opportunities for water sports including diving and snorkelling, as well as relaxing activities such as massages, spas and yoga and meditation classes
How to get there: Take the public bus from Bangkok's Eastern Bus Terminal to Ban Phe's Nuan Thip Pier and then a ferry to Koh Samet. Alternatively, you can use Klook's convenient private city transfer service.
| | Regular Price | Klook Discount |
| --- | --- | --- |
| Per Car (3 Pax) | 3600 THB | 3300 THB |
| Per Van (10 Pax) | 3800 THB | 3500 THB |
 Book a privte city transfer service to Koh Samet NOW