Go big for a smaller price tag in South Korea!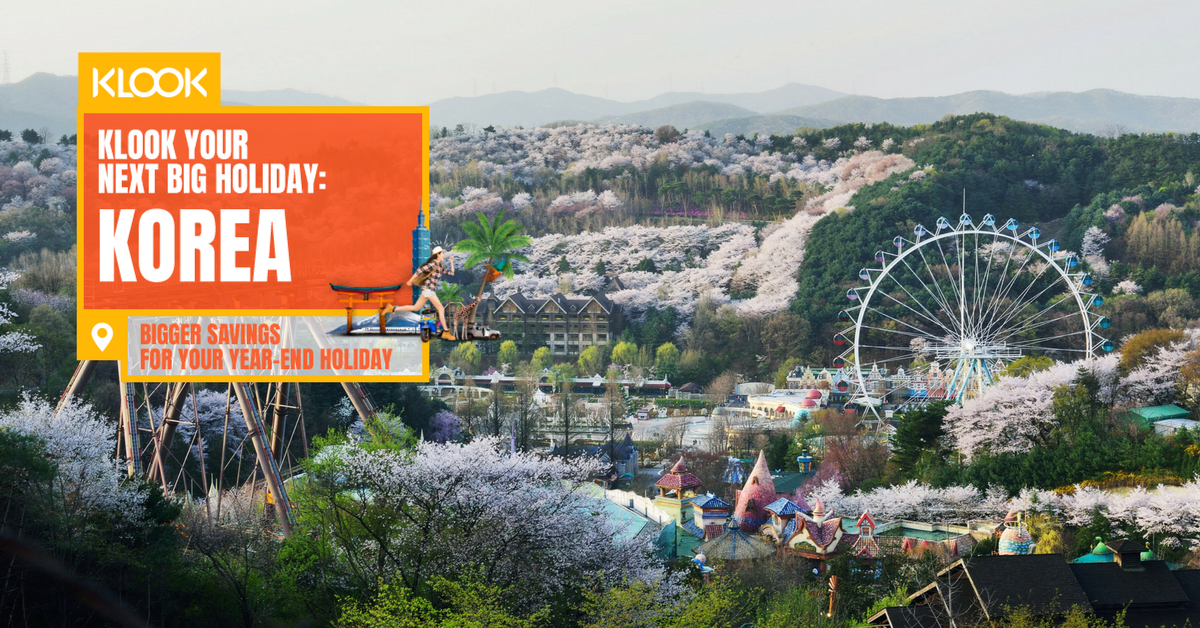 Known for its rich culture and history, delicious Korean delicacies, beauty shopping and so much more, if you've never visited South Korea, here's why you should visit this year end!
Whether you're travelling with friends or family, as a couple or even alone, you'll definitely be swarmed with choices. No matter which season you visit, there are ALWAYS beautiful sights waiting to be admired. From cherry blossoms in spring to snow capped mountains in winter, fulfil those wanderlust goals in South Korea!
Lucky for you, Klook is holding its LARGEST year end sale! Read on to find out how you can make full use of the sale to have yourself the best trip to South Korea!
Enjoy S$100 off epic experiences on Klook

With Klook's end of year sale, you can enjoy everything Korea has to offer at a smaller price tag! The promo is open to Klook users residing in Singapore, Malaysia, Philippines, Indonesia and Thailand. Please refer to the following table for the respective promo codes:
Step 1: Check out S$450 worth of products with promo code "yes100"
Step 2: After checking out with S$450, an email will be sent to you with a UNIQUE promo code within 24 hours. Input this promo code into your Klook mobile app and get another S$50 off when you check out with a minimum of S$300!
Check out the Klook end of year sale guide to find out how you can maximize those savings!
You might be thinking, it's so difficult to unlock S$450 let alone S$750! Well, the Klook team has done the math for you so read on to find out how to save big this holiday!
1. For solo travellers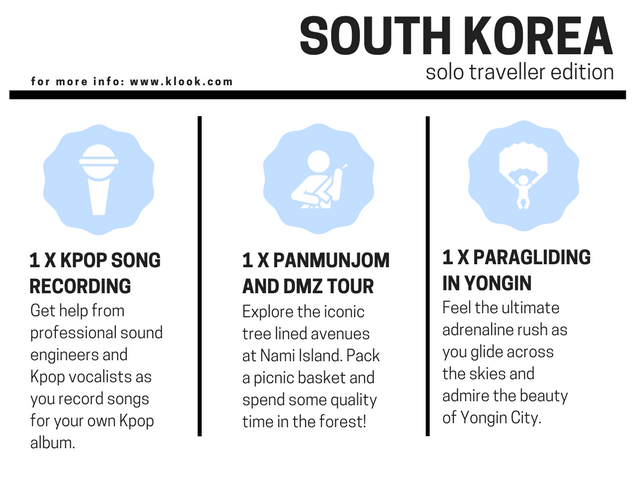 Everyone has to try travelling solo at least once in their lifetimes and South Korea is perfect for a solo-trip! Where else would you be able to do some Seoul-searching? Plus, with equal parts yummy Korean food, Korean pop and adventure, you'll have plenty of opportunities to make new friends!
Here's how you can easily unlock S$450 for your Klook activities in Korea:
1.1 Realize your K-pop dreams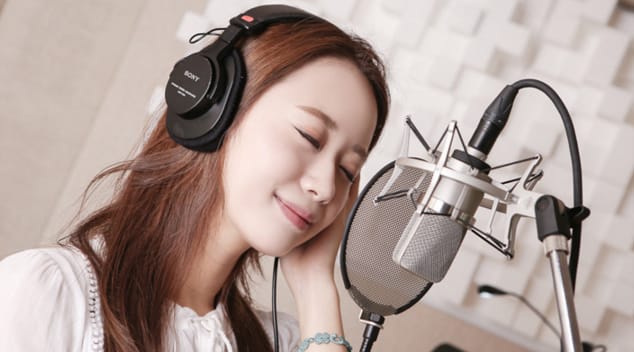 Most of us have hopped on to the Hallyu-wave bandwagon, whether it's supporting our favorite groups, binge-watching on Korean dramas or even learning Korean pop dances. Here's your chance to try your hand at training to become a Korean pop star to see what goes on behind the hit songs we have on repeat!
With the help of the professional sound engineers and vocalists, record your favorite song in the same studios other famous Korean idols like VIXX have recorded in! For all the budding K-pop stars, use this chance to seek expert advice. For the rest of us, just have fun belting out your favorite tune and have it immortalized in a digital copy at the end of the day.
Klook yourself a Kpop recording experience and all you need to do is flash your mobile-e voucher and get ready to rock!
1.2 Visit no man's land between the North and South Korea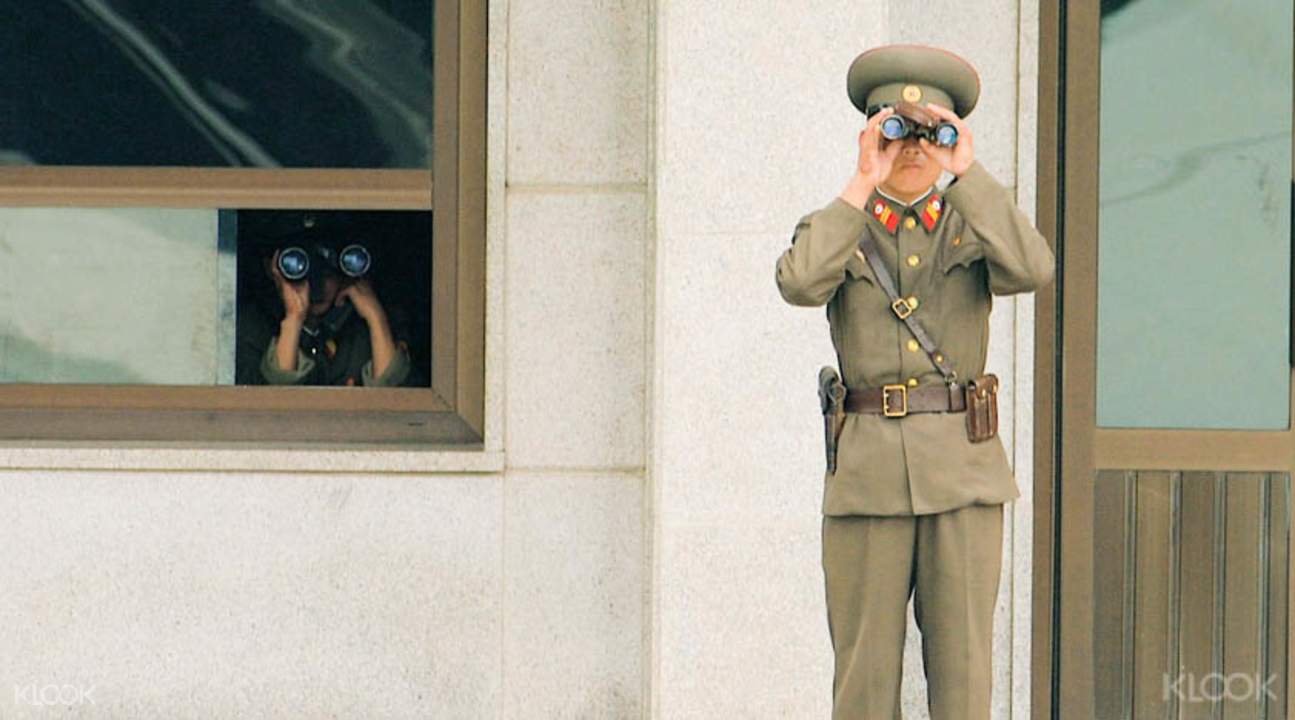 Whether or not you're a fan of history and politics, a visit to the border territory between North and South Korea is an eye-opening experience.Learn about the tensions between the North and the South as you travel to the buffer zone between the two-Demilitarized Zone (DMZ). Explore historical sites and follow the routes the prisoners of war took to freedom.
After that, step into the Joint Security Area – Panmunjom area, where the North and South held their neutral negotiation. Finally, you can technically say that you've stepped into the North.
Tour Timing: 8am to 5pm Daily
Klook your way to the DMZ and Panmumjom experience and all you need to do is flash your mobile voucher! Get picked up from your hotel and taken on one of the most eye-opening experiences you'll get in Korea. Plus, lunch is included so all you'll need to do is sit tight and wait to get to your destination!
1.3 Glide across the skies in Yongin
What better way to get a bird's eye view of the city than gliding across the skies? We all think paragliding involves breaking the bank, but not in Yongin! One of South Korea's most reputable paragliding operators- Songgolmae will take you on thrilling but safe journey across the skies. Don't worry, you won't need any experience or special training prior to this! You'll be riding tandem with one of the experts so ease your fears and get ready to enjoy the lush green views!
Klook yourself a paragliding experience and enjoy the adrenaline rush for less! Just flash your mobile e-voucher and get ready to fly! For a fee of 20,000, you can immortalize those memories with 30 digital photos and a 2 minute video emailed to you.
This is how much you'll save on Klook:
2. For couples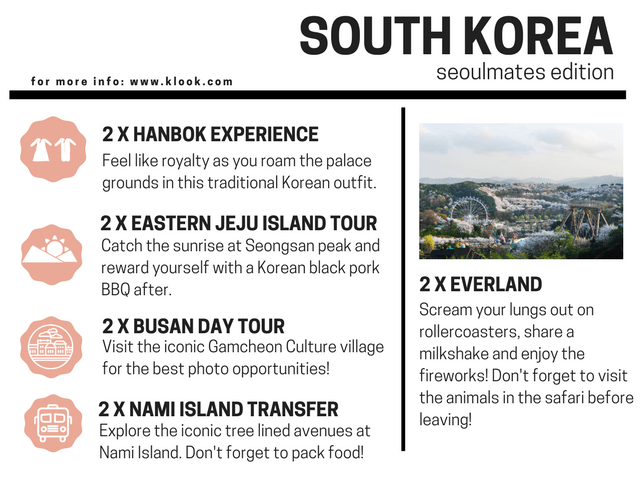 Nothing like the full-blown K-drama experience for a date with your Seoulmate. Recreate those picture perfect moments at iconic Seoul locations and explore new places together! The best part? Two is definitely better than one when it comes to the Klook year end sale!
The Klook Team put our most romantic foot forward and gathered some date ideas you might want to add to your itinerary.
2.1 Feel like royalty as you strut around the palace grounds in a Hanbok!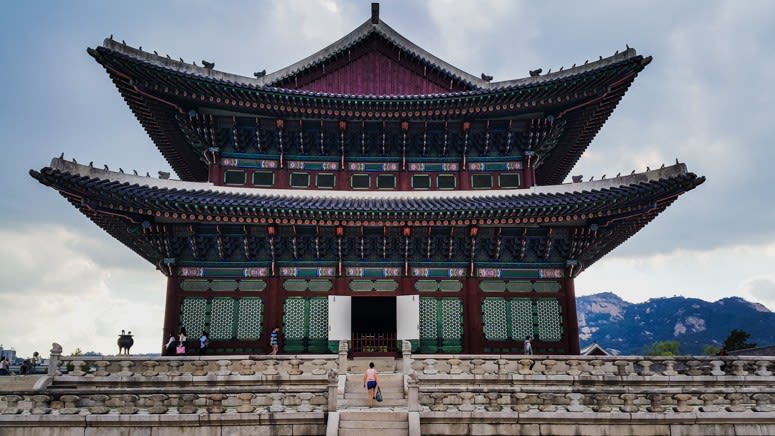 One of the must-dos when in Seoul is to visit one of the many palaces! Gyeongbukgung Palace is the largest of the 5 palaces in Seoul and arguably one of the most beautiful! Serving as the main royal residence of the Joseon Dynasty, this is definitely the heart of Korean history.
Be sure to stay for the changing of guard ceremony which takes place at the top of every hour from 11am to 3pm between Gwanghwamun gate and Heungnyemun gate.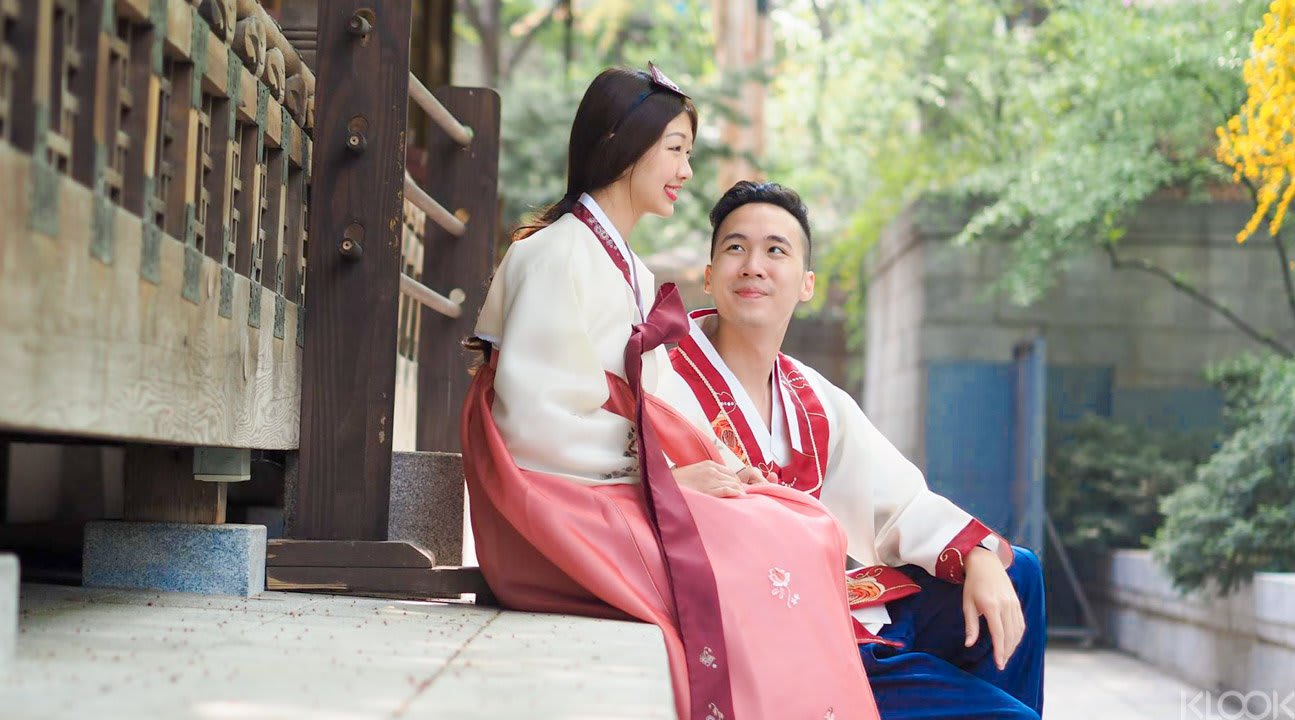 Get FREE ENTRY to Gyeongbukgung Palace and all the other palaces (and some shrines) if you dress up in a Hanbok! You'll also be able to experience the true gracefulness of the Korean royalty as walking around in the many layers of dressing is not an easy feat especially if you're in a hurry!
Be sure to charge your cameras and immortalize those Korean royalty memories at the palace! Better yet, recreate some iconic moments from your favorite historical Korean dramas with your loved one.
Klook your hanbok rental and all you need to do is flash your mobile e-voucher and get ready to get all dressed up to roam the streets of Seoul!
2.2 Cycle along the tree-lined avenues at Nami Island
Explore the scenic Nami Island on two wheels! Rent a tandem bike with your significant other and enjoy the breeze in your face as you take in the lush greenery. Don't forget to pack a picnic mat and some food to spend the whole day there!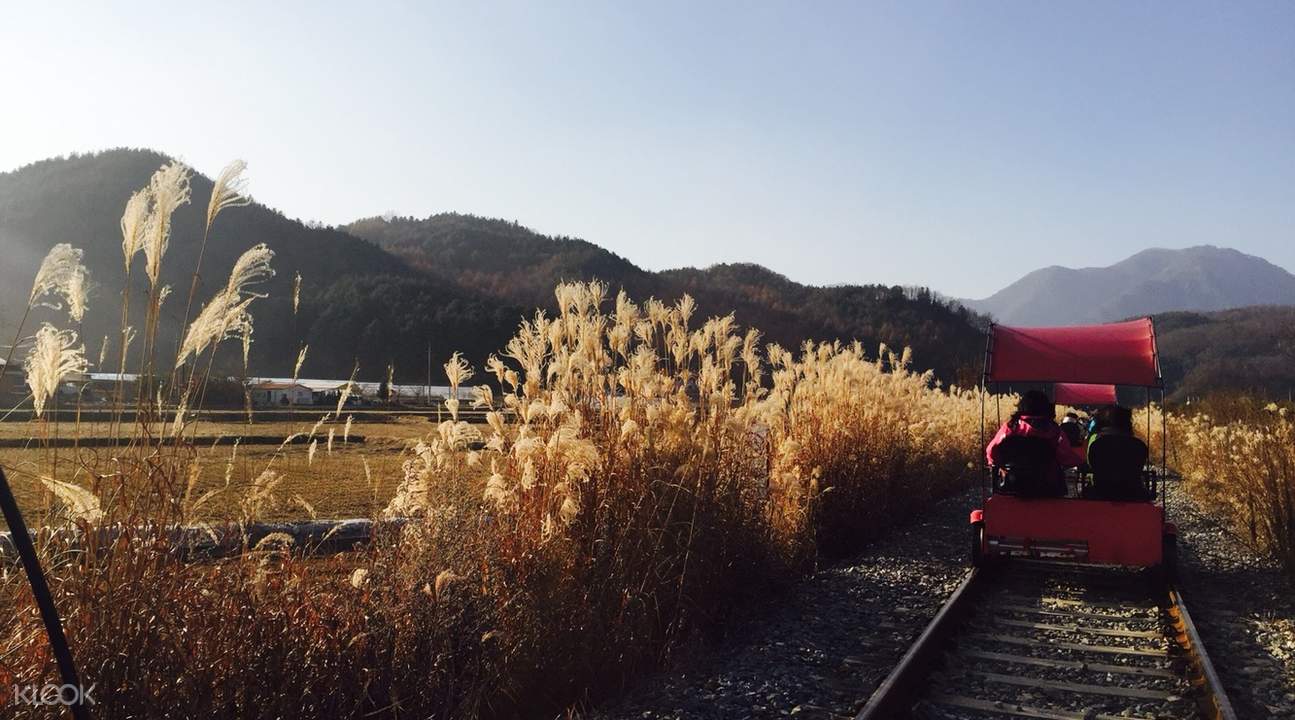 Also housed on Nami island is the Gapyeong rail park! Paddle through bridges and tunnels as you take in the beautiful river view while burning those Korean BBQ calories. So ride off into the sunset with your significant other and be sure to capture those beautiful moments on camera!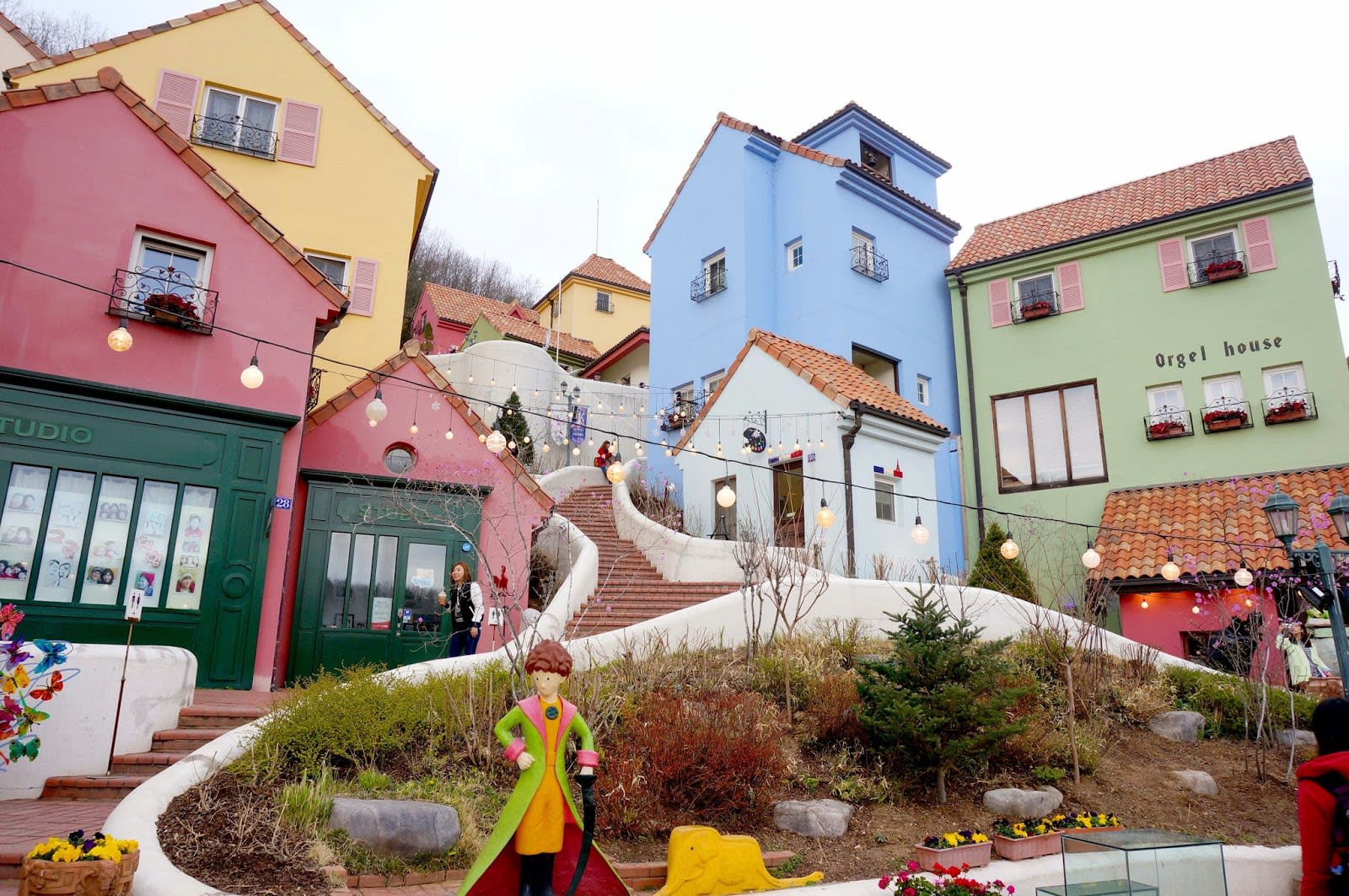 Finally, end of the day at Petite France, a small french cultural village set in this Korean countryside. Afterall, France is the romance capital of the world right? With museums, restaurants and cafes, other than taking those Instagram worthy pictures of this picturesque place, you definitely have lots to do! If the images look familiar to you, it's because this place was themed after the movie "The Little Prince"!
The island is not accessible by car, but we promise the journey there would definitely be worth it! It can definitely be confusing and troublesome to keep transferring transport lines and even taking a ferry to get to the island. Instead, Klook yourself a Nami Island transfer for a hassle free trip right to the island!
If you plan on visiting all 3 attractions, Klook yourself a Nami Island, Petite France tour and your roundtrip transportation and your entrance fees are all taken care of! All you need to do is get ready for a full day of fun!
2.3 Scream your lungs out at Everland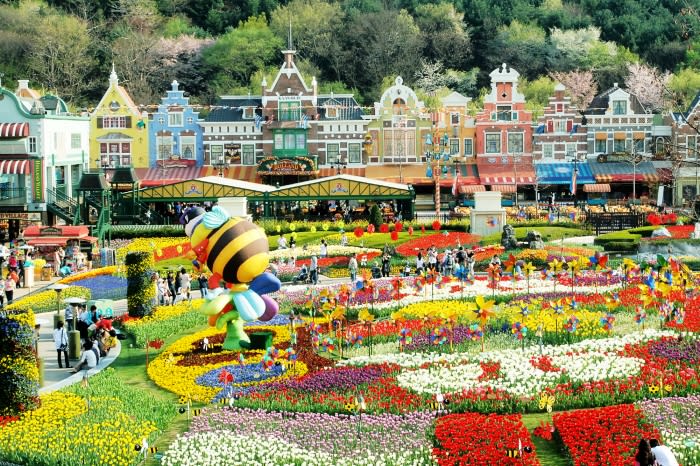 There's no better place for skinship with your loved one than a theme park. Think- extremely fast scary rides that you'll need to grab onto someone one.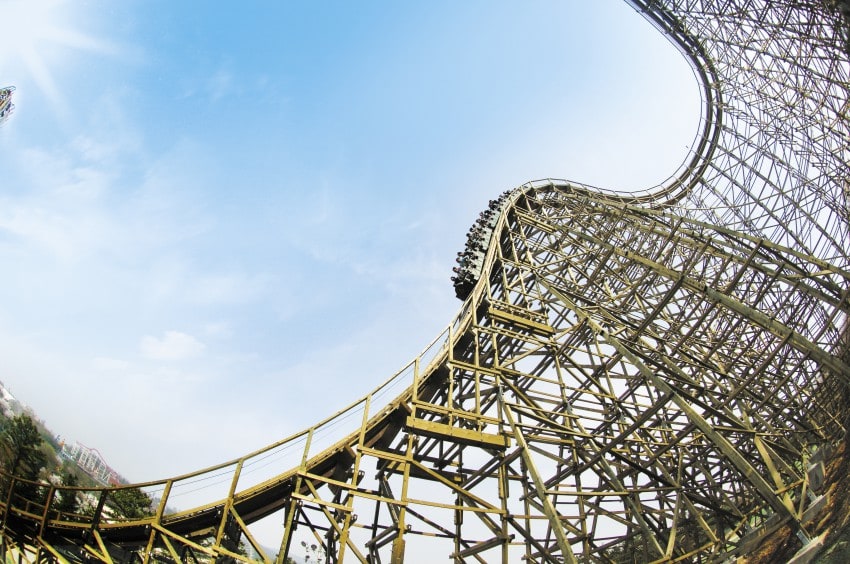 Enjoy the adrenaline fuelled day at Everland as you ride on some of Korea's biggest and most exhilarating rides! You will love the T-Express ride, Korea's first wooden roller coaster! Going at a speed of 104km/hr and a 77 degree angle, it will definitely leave you with an unforgettable time.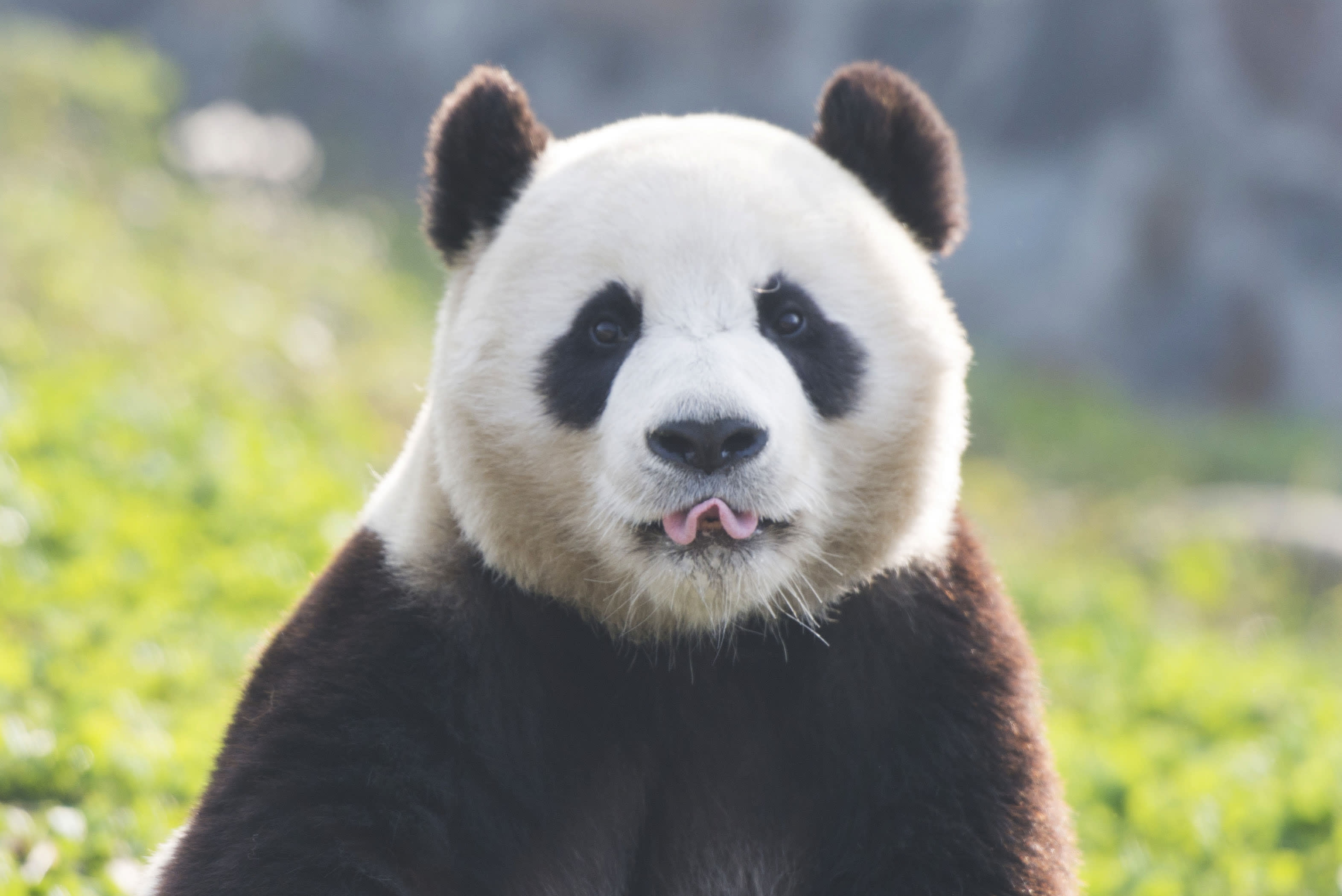 If you've got a weak heart, don't worry! There are many other options like Safari world where you get to come up close and personal with exotic animals like bears and giraffes! Board the safari vehicle and have animals walk up to your window grill to say hi!
Don't forget to stay for the night parade. Afterall, what can be more romantic than fireworks in the sky?
Everland isn't near any train station in particular but you can hop onto the everland shuttle bus from Jeondae station on the Yongin Ever Line. Instead, if that is too inconvenient for you, opt for the Klook Everland transfer for a hassle free journey to Everland!
Klook your tickets to Everland to skip the long queues! All you need to do is flash your mobile e-voucher and you're all set! The best part is that tickets are OPEN DATED so you can visit anyday you want! Hooray to no more wet weather foiling your plans! If you hate queues, opt for the Everland Q-pass to skip the long lines at the attractions!
2.4 Visit Busan's best in a day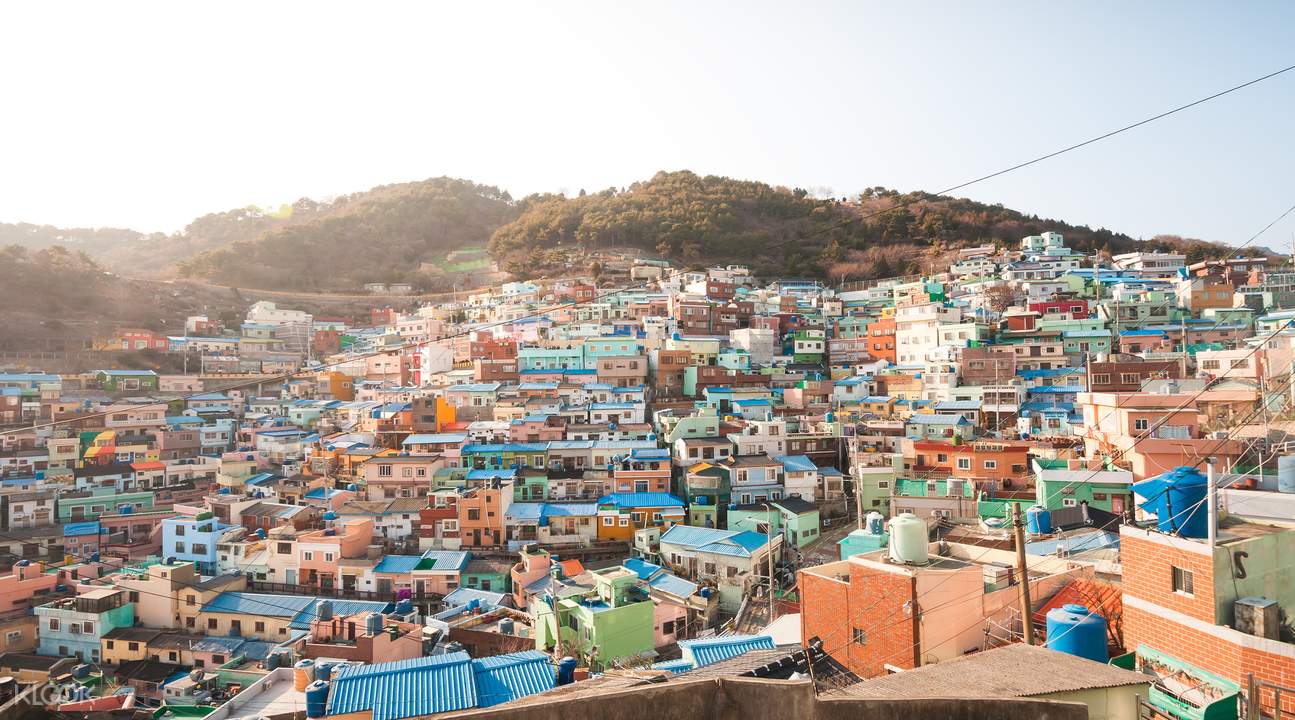 Escape from the pulsating capital by taking a day trip to Busan- known for its laid back vibes. Visit the famous Gamcheon culture village where you'll be treated to views of colorful lego house lookalikes that seemed as if they came out of a fairytale!
Fill your bellies at the Gukje market with traditional Korean food! You can also put your bargaining skills to the test as you check out some souvenirs to bring home for your loved ones.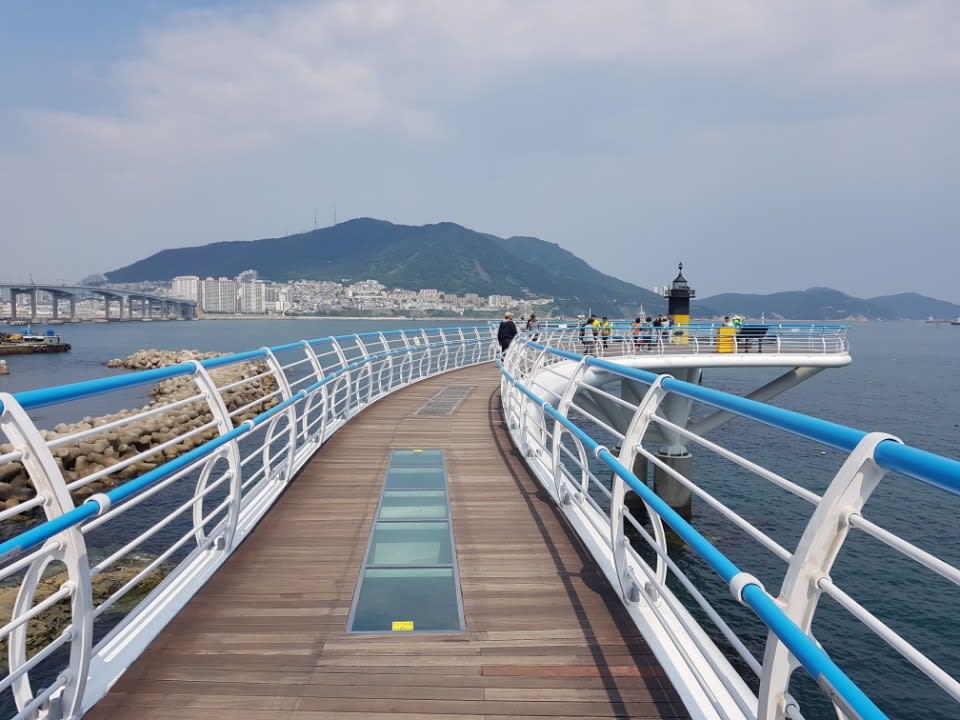 Finally, complete your day with a romantic stroll along the Songdo Skywalk. The best part? The skywalk has glass bottomed portions for you to look down into the ocean!
Tour Timings: Check out the tour timings here
Klook yourself the Busan recreational tour and make the most out of your trip! Just flash your mobile e-voucher and you're all set!
Getting to Busan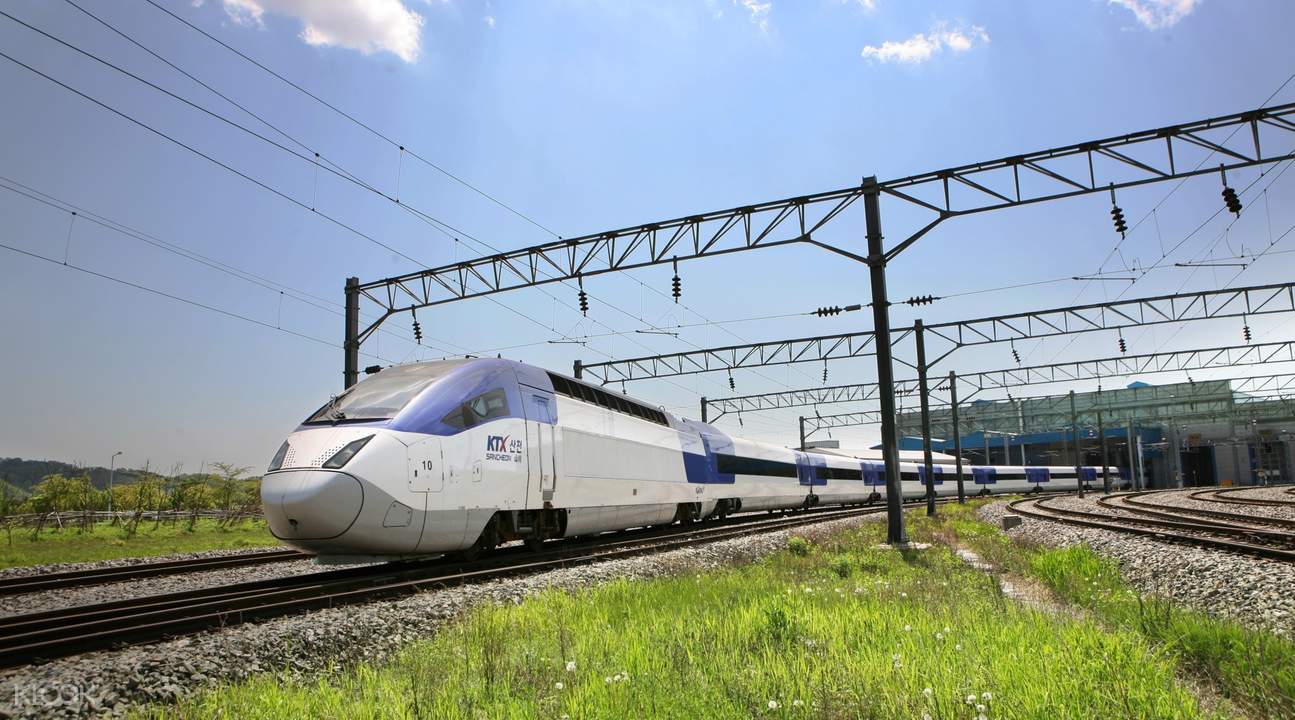 If you're heading to Busan and other South Korean cities, opt for the Korea Rail pass! Choose between a 1 week ticket or even just a 1 day pass for a quick escape! Klook yourself a Korea Rail (KR) pass and travel all around South Korea hassle free.
2.5 Catch the women divers in action in Jeju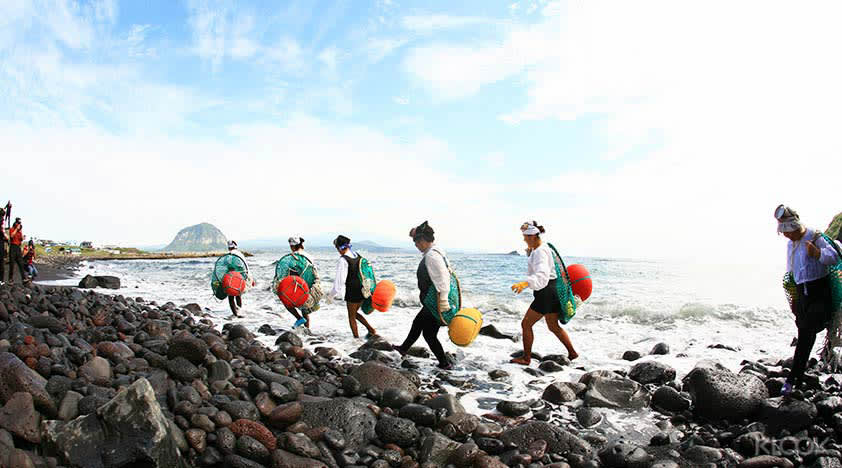 Jeju Island is known for it's breathtaking scenery, women divers and black pork! Well, you can experience all of that in a day! Kick start your day horseback riding, taking in the beautiful views as you strut along. After that, head to the foot of Mt Halla to the Seongeup Folk Village where you can learn more about the rich culture of the island.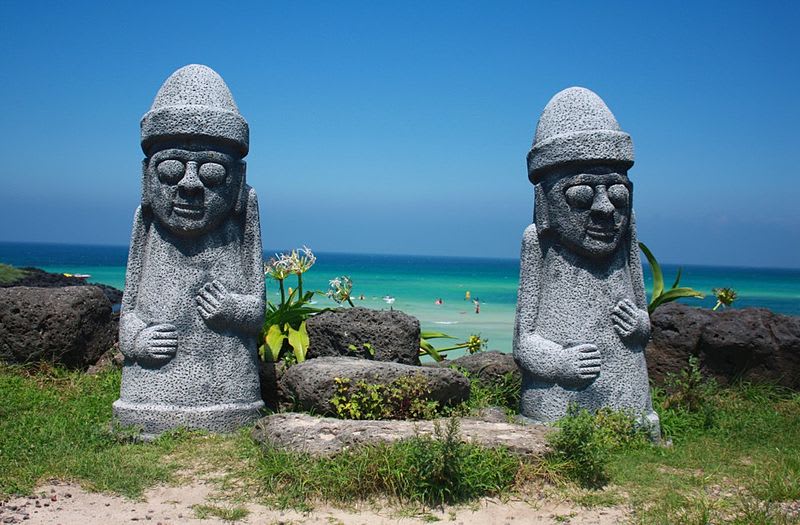 P.S. We hear that touching the stone grandfather statues (Harubang) can help those who wish to conceive a son fulfil their wishes!
Fill your bellies after all that exploring with some nutritious and delicious Jeju Black Pork BBQ before continuing on your journey to the Seongsan sunrise peak! As with all peaks, the hike up may be tiring but the views would definitely be rewarding!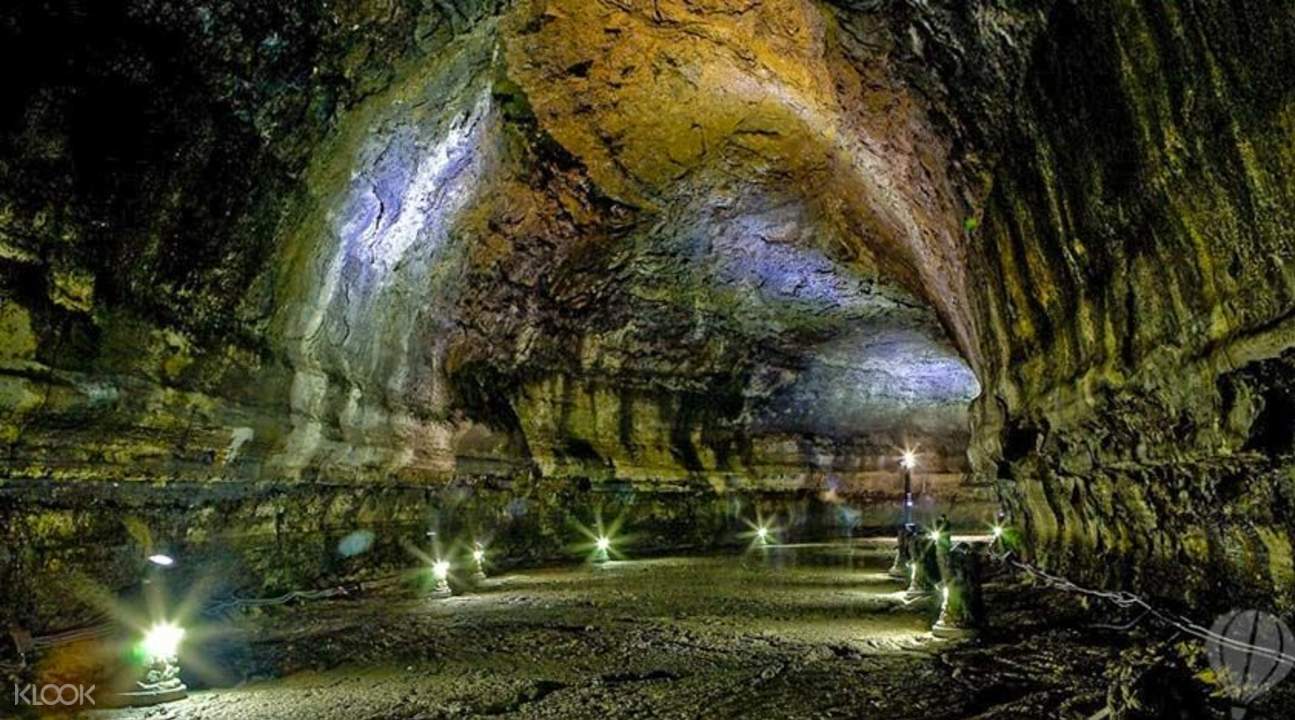 Continue your day catching the Women divers in action as they brave the icy cold waters to hunt for the freshest seafood! You'll surely be amazed at how strong they are. Finally, end off your day inside Manjang cave, a UNESCO world heritage lava tunnel!
Tour Timing: 8.20am to 6pm | Tuesdays, Thursdays, Saturdays
Most of us want to explore the whole Jeju Island but don't want the hassle of renting a car. Well, Klook yourself an eastern Jeju discovery tour and you get to explore in comfort! It includes not only a 2 way transfer but also free lunch- talk about all inclusive!
Here's how much you'll save on Klook.
(Calculations based on 2 adults)
3. For families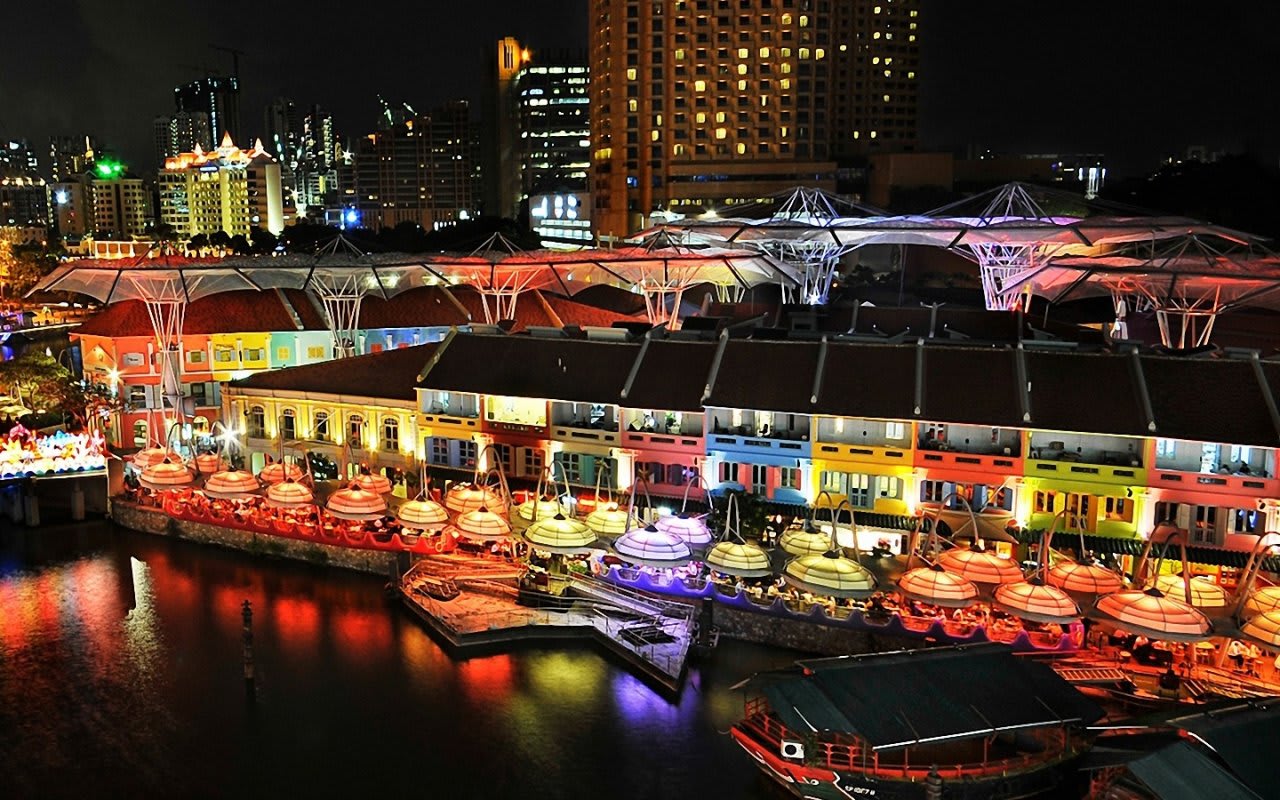 South Korea is definitely a destination for the whole family. From family friendly theme parks to exciting shows guaranteed to keep the little ones entertained, read on to find out how to unlock those discounts for an unforgettable time for the whole family!
3.1 Enjoy a fun day out at Lotte World theme park and aquarium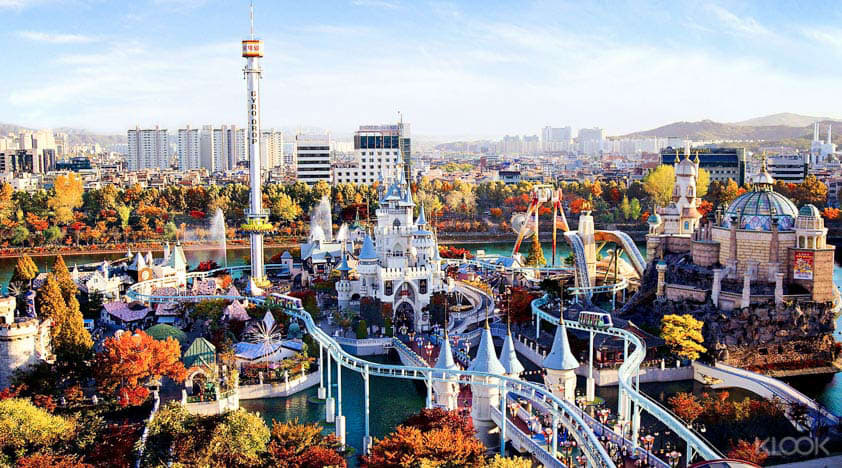 If you're heading to South Korea as a family, you definitely have to visit Lotte World! Coined the Disneyland of Korea, bring the whole family out for a magical day of fun. Lotte World consists of both an indoor AND outdoor area, making it the place to be at no matter the weather. Lotte World is also home to Korea's largest aquarium!
With facilities like nursing rooms with changing stations, microwaves, water purifiers and even bottle cleaners as well as bracelets to help you track your lost child, it is definitely one of the most family friendly places in town!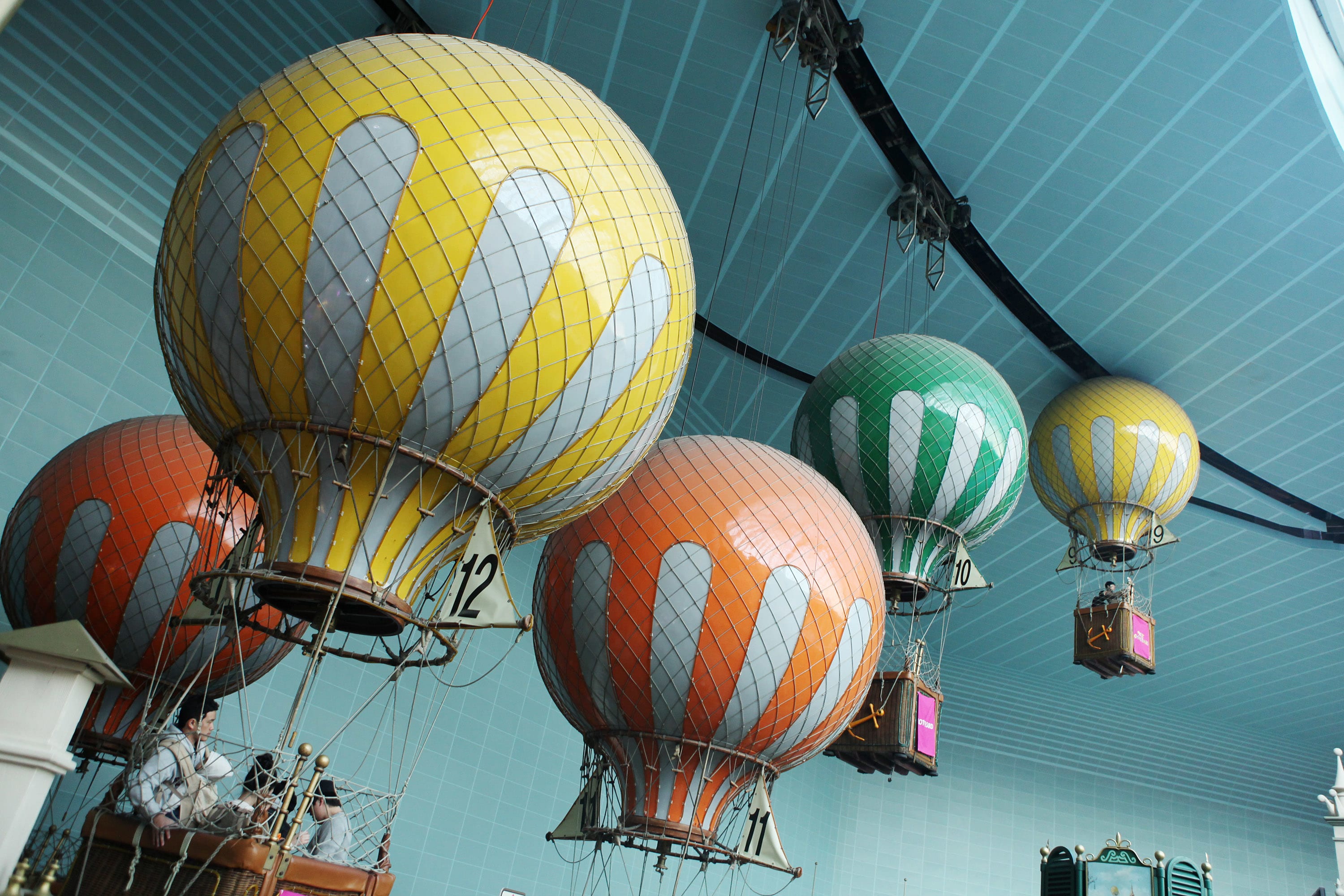 If it's your first time to the park, you definitely have to ride the Aeronauts Balloon ride. Get one of the best views of the entire adventure park as you sail around in your hot air balloon! Look down at the sparkles and colors of the park and try to spot all your favorite rides.
For a more comprehensive guide to Lotte world, check out our guide on how to conquer the entire Lotte World here!
With Lotte World's soaring popularity not just among foreigners but even the locals, you can be sure that the wait time for thrill rides can be at least 30 minutes long. If you hate waiting in line, opt for the Magic Pass to skip the queues!
It's truly a bummer when you head to the theme park and it rains, or if your favorite rides are closed. Klook your tickets and you can throw those worries away! Since the tickets are OPEN-DATED, check the weather forecast and the official website for ride closures before you go!
3.2 Watch then cook up a storm at the Nanta show!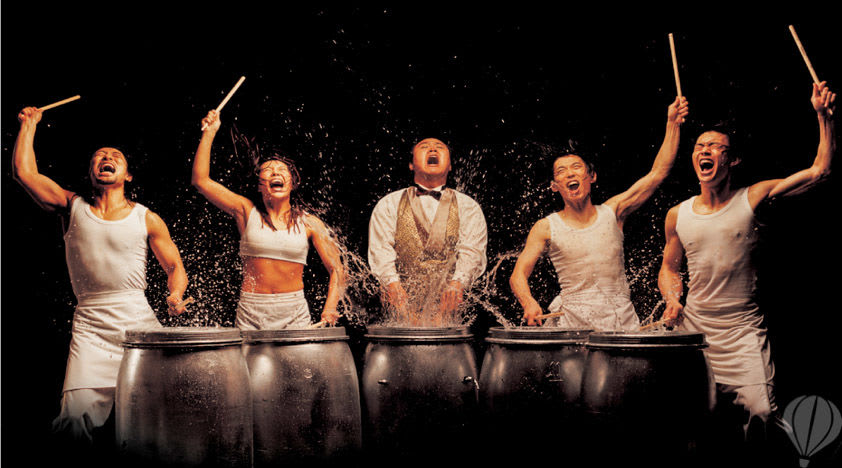 From acrobatics to martial arts and even music and culinary skills, be amazed by the multi-talented troupe as they cook up a storm on stage in the Nanta show! You'll definitely be laughing in your seats as the madness unfolds. This blend of Korean traditional music coupled with modern beats will have you bouncing in your seats!
Klook your way to the Nanta cooking show and skip the queues at the ticketing counter! Just flash your mobile e-voucher and you're all set for a slicing good time!
Here's how much you'll save on Klook.
(Calculations based on a family of 2 adults and 2 children)
4. For friends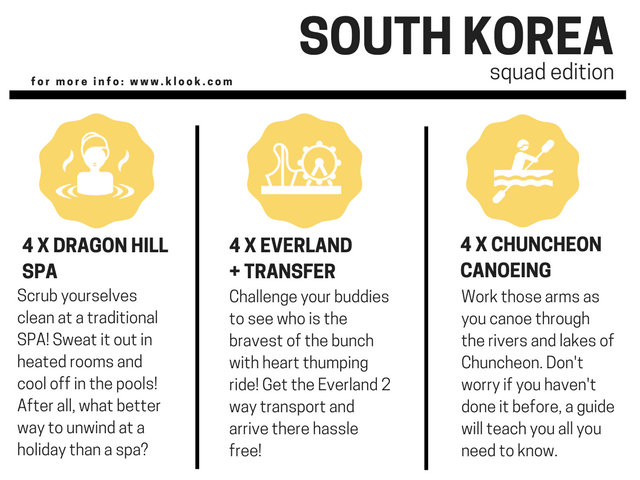 Travelling with your friends are always a great idea, because who else would do silly things with you right? If you watched any Korean variety shows, you'll know that South Koreans love to have fun! Chicken and beer aside, here are some things that are just way more fun when you're with your squad! Travelling in a group also makes it easier for you to activate those discount codes! Read on to find out how to have the best time for a small price tag:
4.1 Challenge your buddies to rides at Everland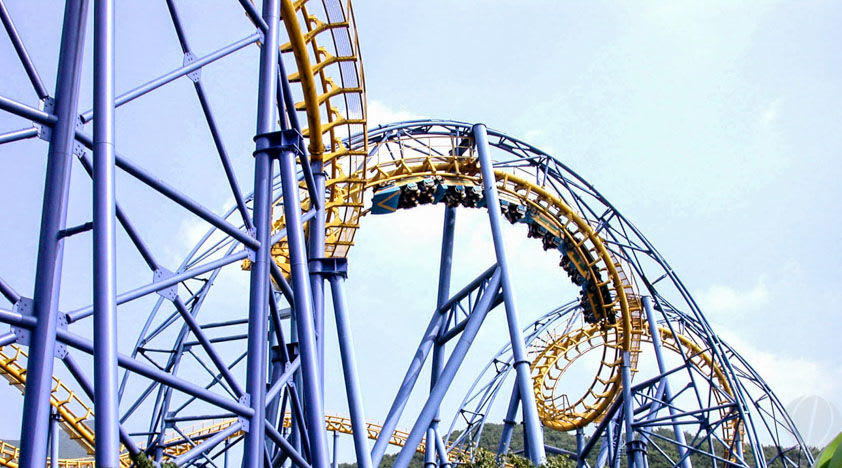 If you're looking for an adrenaline rush, Everland is the place to be! If your squad is into thrilling rides, hop onto South Korea's steepest wooden roller coaster the T-express for the ride of your lives! Feel the bloodrush as the Rolling X Train twists and turns and loops while you hang on for your dear life.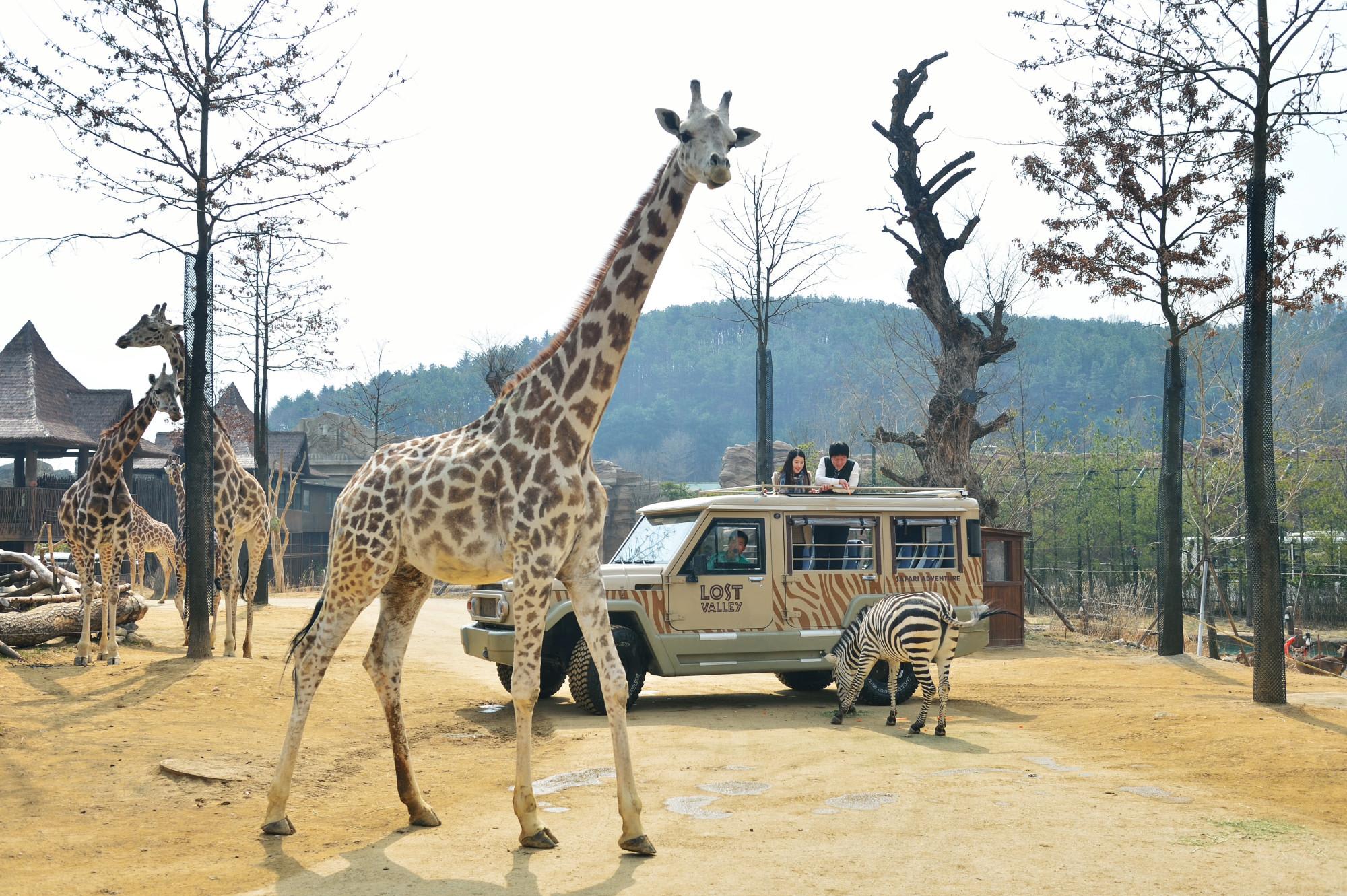 If thrill rides aren't for you, head to the Safari to get up close and personal with all the exotic animals! Don't forget to arm yourselves with fully charged cameras as they animals come really close to your safari vehicle.
Everland isn't near any train station in particular but you can hop onto the everland shuttle bus from Jeondae station on the Yongin Ever Line. Instead, if that is too inconvenient for you, opt for the Klook Everland transfer for a hassle free journey to Everland!
Klook your tickets to Everland to skip the long queues! All you need to do is flash your mobile e-voucher and you're all set! The best part is that tickets are OPEN DATED so you can visit anyday you want! Hooray to no more wet weather foiling your plans! If you hate queues, opt for the Everland Q-pass to skip the long lines at the attractions!
4.2 Scrub each other's backs at Dragon Hill Spa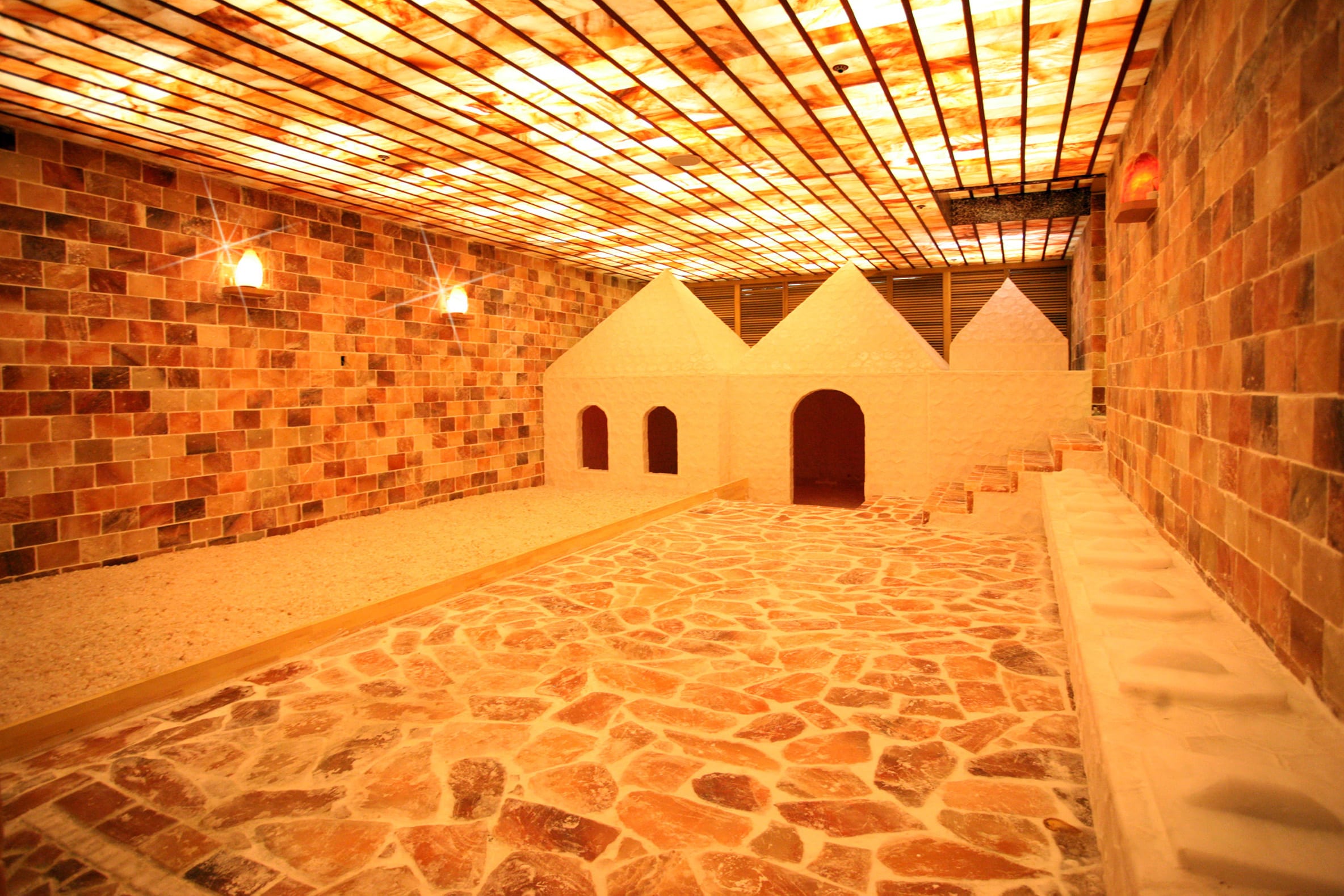 Experience a traditional South Korean bathhouse experience as you've seen in all those Korean shows! But, named by CNN as one of the best spa and sauna in Korea, Dragon Hill is definitely the place to go for your first sauna experience.
Apart from rooms with different temperatures, scrub downs, massages, you can even stay the night in their sleeping areas! Sweat out all those toxins, give your buddies a good scrub and then enjoy a cold sweet drink at the end of it all!
Klook your tickets to the famous Dragon Hill Spa to skip the queues. Redeem your ticket at the counter and get ready to scrub off all that dirt!
4.3 Row your boats along the Chuncheon lake
Escape from the hustle of city life in Chuncheon, where you can try your hand at some watersports! Share a canoe with your friends and get paddling. Albeit the sore arms, you'll be rewarded with stunning views of the beautiful rivers and lakes. After that intense arm workout, take a stroll along the skywalk and feast your eyes on the views. It'll definitely be a day you won't forget!
Don't fret if you have no canoeing experience, Klook your tickets and you'll be accompanied by a professional instructor the whole way!
Total savings:
Prices based on group of four:
5. More essentials not to be missed!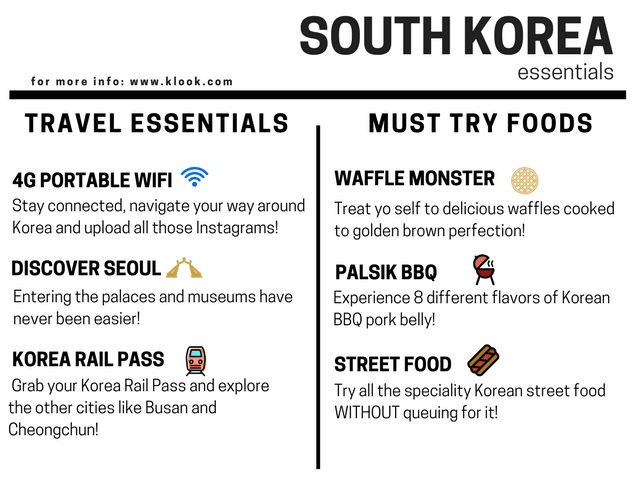 Now that you've settled what you can do in Korea, here's some travel essentials that you will surely need on your trip! Plus, these essentials can also help you unlock further discounts!
5.1 Stay connected and upload those Instagram stories!
Even though we go on a vacation to escape from the stress back home, it is almost impossible for us to completely disconnect! Apart from sending messages back home, you'll surely be needing the internet to navigate to places and translate foreign terms. More importantly, you'll need to snap those Instagram worthy moments. Afterall, pictures or it didn't happen right?
Klook yourself a 4G pocket wifi and connect up to 5 devices at once, so share this with your travel buddies and stay connected! Plus, pick up your device wherever you land since collect points are in most major international airports in South Korea. Check out the collection points here.
5.2 Cover all grounds with the Discover Seoul pass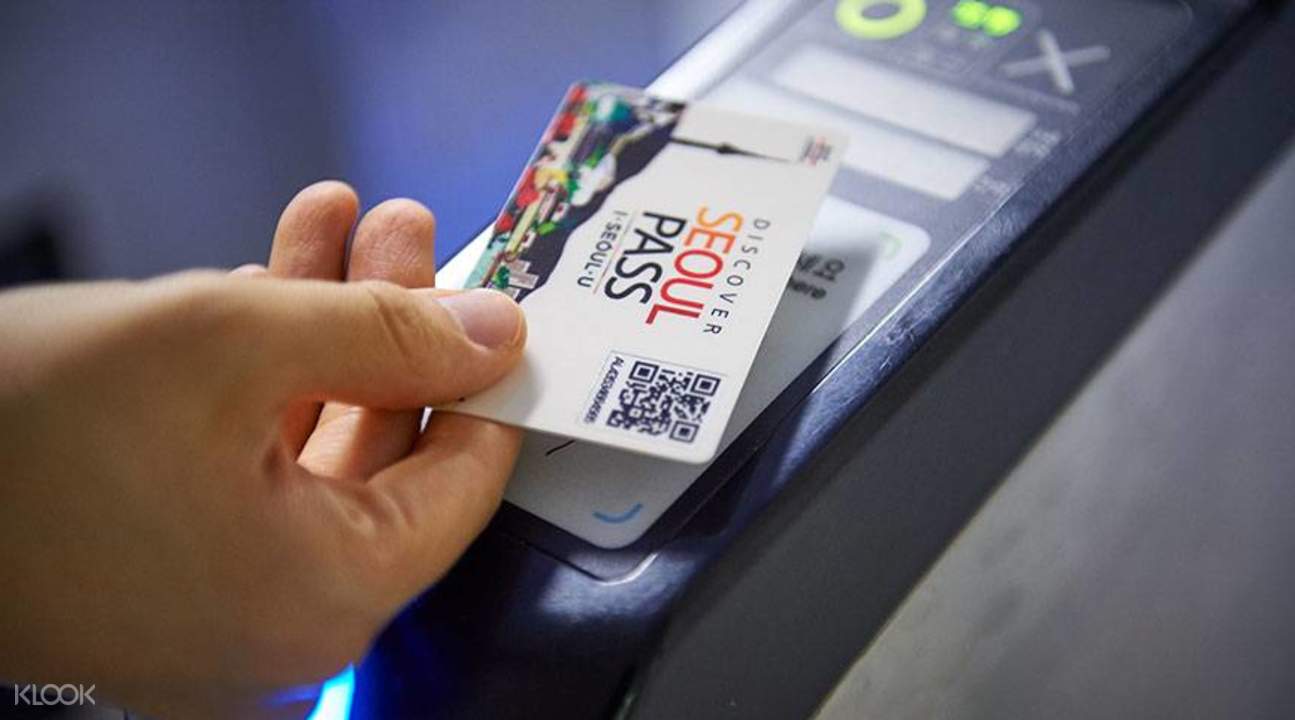 Get entry to 21 different tourist attractions all for just one price! Imagine how much you'll save on instead of getting individual admission tickets. You'll get to visit Seoul's biggest landmarks and museums like the Trickeye and Ice museum, SMTOWN and even Gyeongbukgung Palace and the N Seoul Tower!
The best part is this card also doubles up as a T-money card! Reload it with cash and you'll be able to use it as a transport card to pay for subways, buses and taxis!
Passes are valid for either 24 hours or 48 hours. Klook your Discover Seoul passes and they are open-dated! We would suggest picking a rainy day to camp out in all the museums on the list. Check out the locations you can use the pass.  Don't forget to head to these counters here to pick up your pass.
5.3 Explore beyond Seoul with the Korea Rail pass
You can't truly say you've travelled South Korea if you don't venture outside the capital! Explore nearby cities like Busan and Gangwondo which are only 2.5 hours away by the Korea Rail!
If you plan to explore many different South Korean cities, or even visit 2 different cities in one day, this is definitely the more cost efficient method to do it!
Klook your Korea Rail passes and choose whenever you wish to activate it! After all, the weather is so unpredictable and could spoil your plans for a day out in the sun in Busan. If you're travelling in a group of 2-5, opt for the saver pass! It's valid for 2-5 travellers going to the same destinations and it's a more cost efficient option as compared to 2 individual passes!
5.4 Seoul food, Seoul yummy!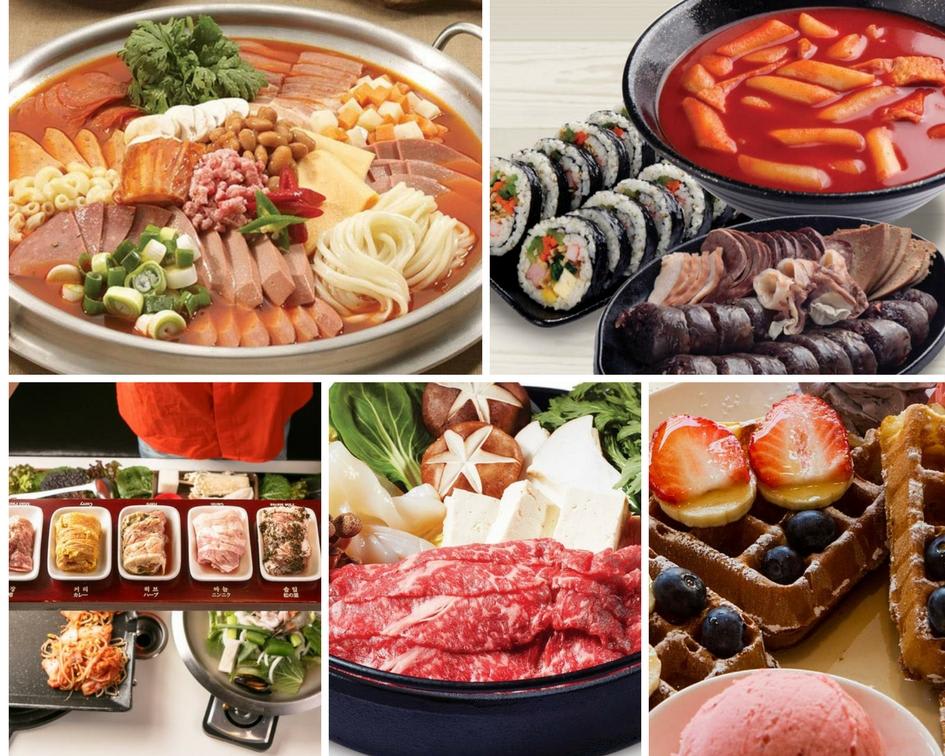 They say the best part of every holiday is the guilt-free eating! After all, you're only going to visit once in a blue moon, so just indulge in everything you wish to eat! Korean food is definitely going to tantalize your taste buds- think savoury rich flavors in your mains and sides and sweet Instagram desserts!
Here are some of the things you must try: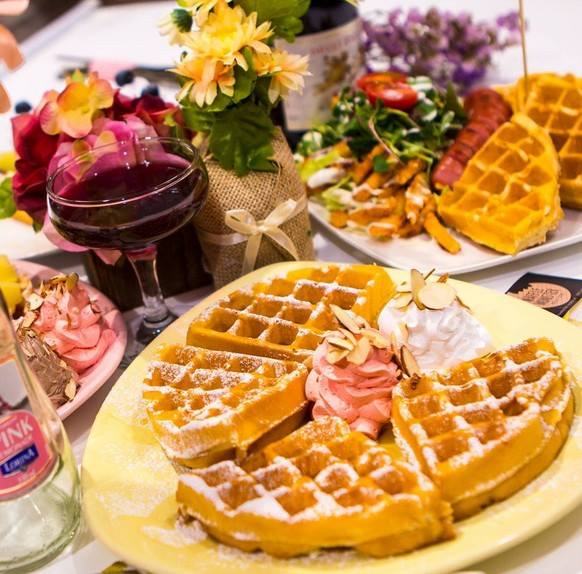 Waffle Monster should definitely be on your list if you're a waffle-lover! Enjoy golden brown waffles that are crispy on the outside and soft on the inside. Don't forget to load up on those crazy toppings!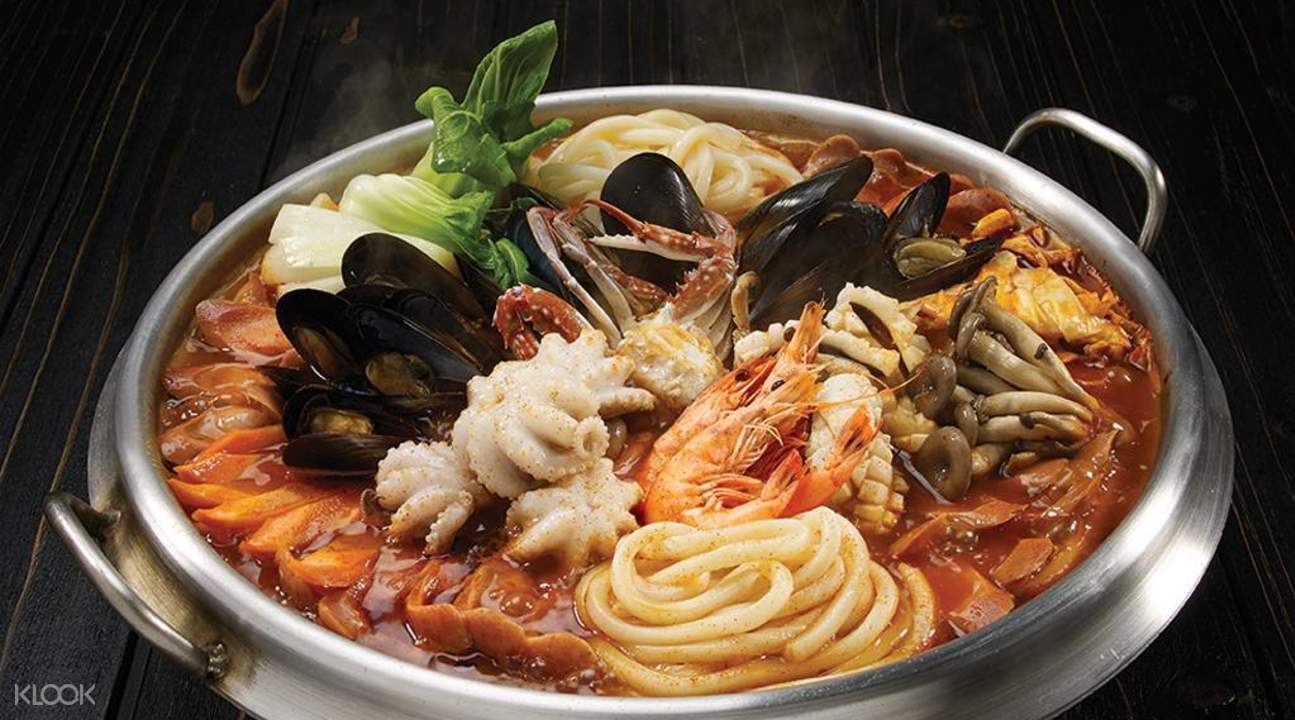 Nolboo Budae Jigae is one of the most popular army stew specialty store in Korea! For the uninitiated, army stew is a spicy sausage stew that comes with generous amounts of vegetables, sausages and ham! It has the name army stew as soldiers use to eat it out in fields!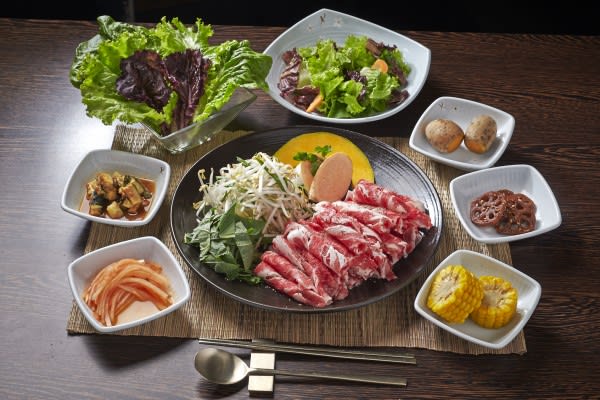 Bulgogi Brothers is one of the most popular KBBQ brand WORLDWIDE! Enjoy authentic high quality meats in a chic and lively ambience. You can't say you've visited Korea without eating Korean barbeque. Of course, you have to try grilling it at your table! Pair it with some cold noodles and even bibimbap for a complete meal!
Check here for the address and opening hours of the various branches.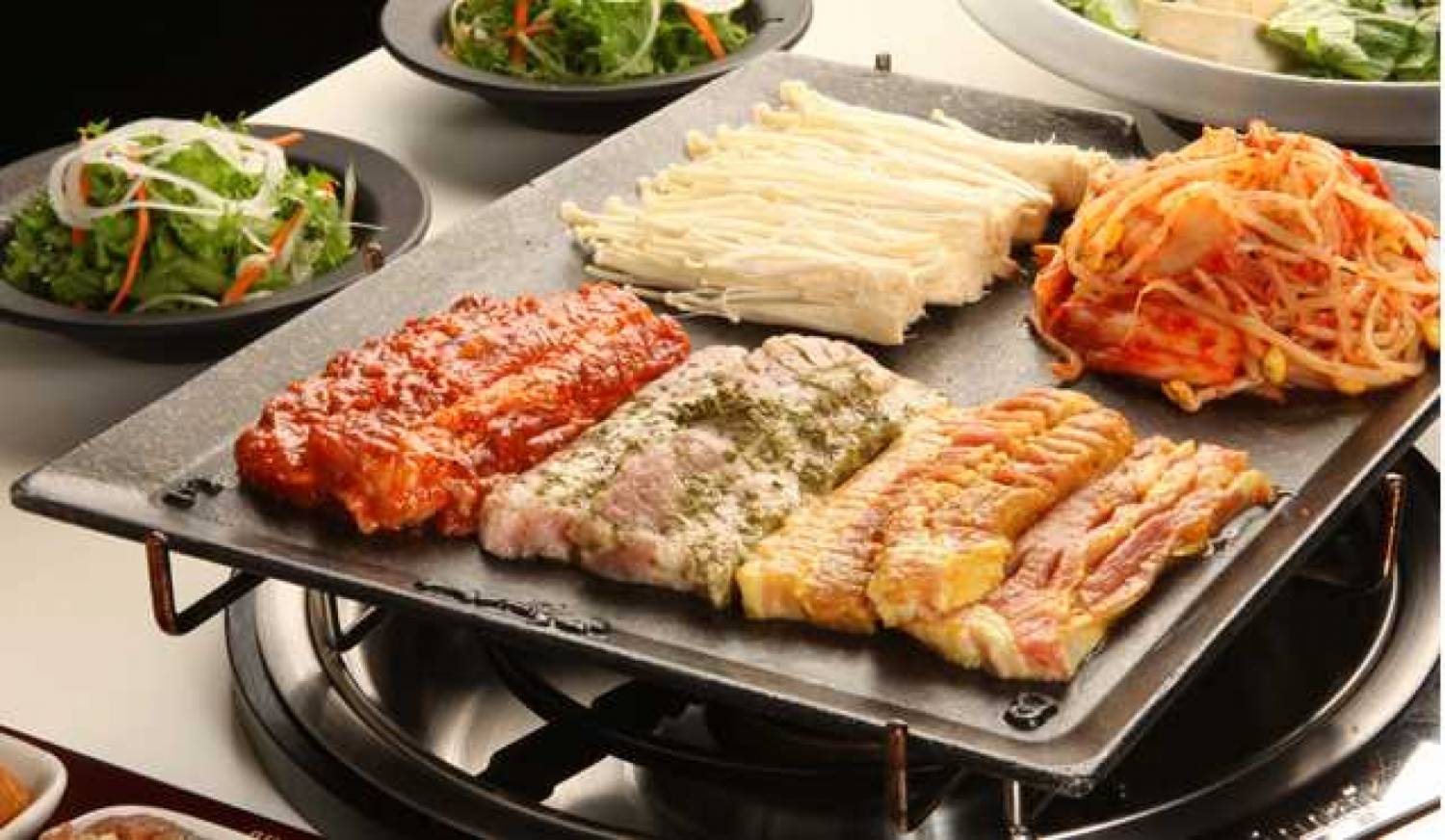 Experience Korean BBQ at its best at Palsaik Samgyupsal– a restaurant specializing in grilled pork. Their speciality is the 8 different flavours of grilled pork belly! Order the set and try all the flavours- this way you'll definitely find one to suit your taste buds.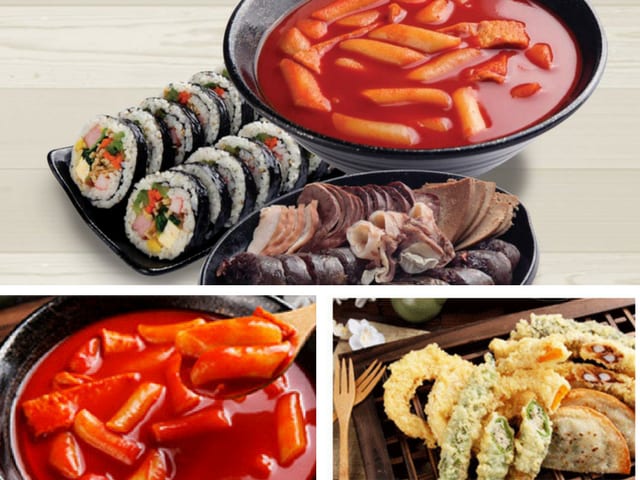 Finally, after walking along the streets of Korea, i'm sure you've seen numerous food carts and are curious as to what these food items are! Well, try ALL of the snacks in one place, WITHOUT queueing up for it! Gongsugan Korean Snacks is a traditional restaurant chain known for its handmade snacks. Their speciality is the tteokbokki (stir fried rice cakes) which are chewy and spicy, guaranteed to leave you wanting more!
Total savings:
Get Seoul searching today!
Why pay full price when you can get the same experience (or better) for less! Check out what else Klook has to offer in South Korea here to mix and match your own holiday and unlock those discounts! Remember, go BIG or stay home!