Dim sumbody say travel deals to Hong Kong?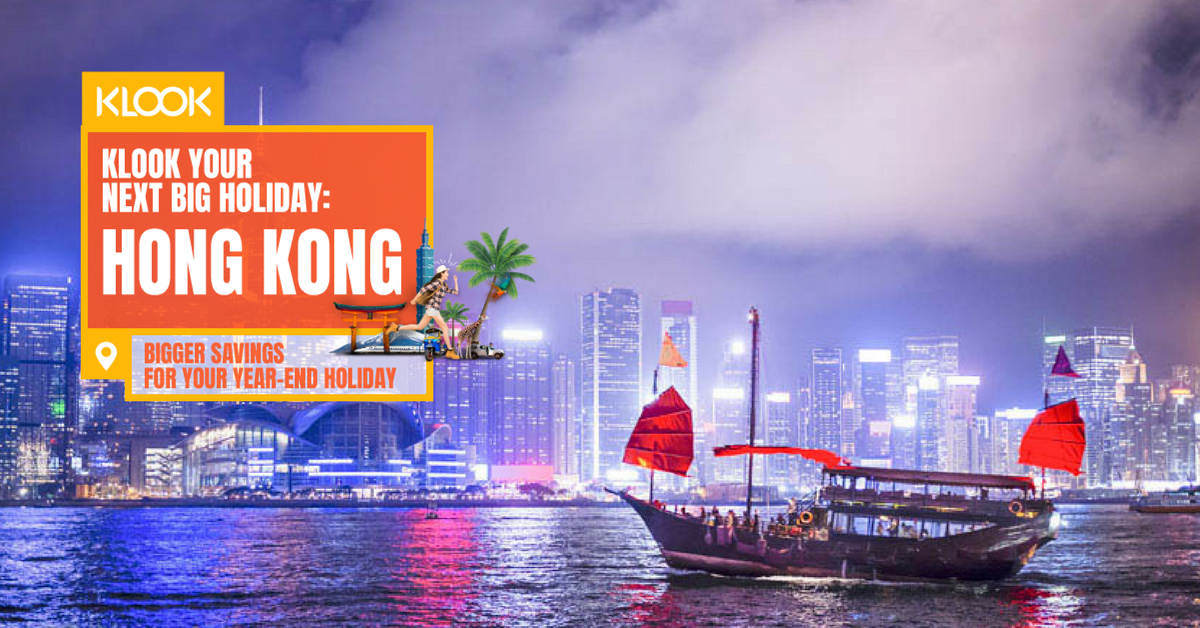 Hong Kong is truly the city that never sleeps – there's always something to do and something to see no matter what time of day!
If you're planning a BIG year end holiday to Hong Kong, you'll be glad to know Klook has just launched a major travel sale that can help you to save up to S$100 off on your holiday! The best part? We'll teach you exactly how to maximize your savings on Klook in this article.
Read on to find out how!
Enjoy S$100 off epic experiences on Klook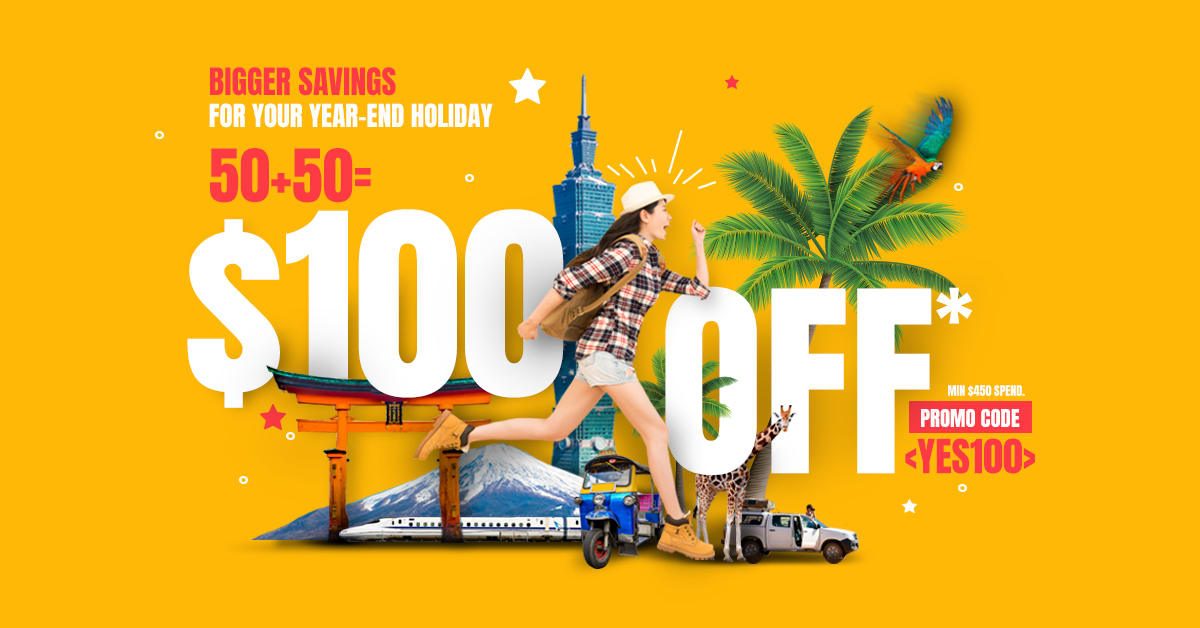 With this massive promo there's really nothing holding you back from that epic holiday in Hong Kong you've been waiting all year for! This promo is open to Klook users residing in Singapore, Malaysia, Philippines, Indonesia and Thailand. Please refer to the following table for the respective promo codes:
Here's how to use the Klook big year end sale promo:
Step 1: Check out S$450 worth of products with promo code "YES100"
Step 2: After checking out with S$450, an email will be sent to you with a unique coupon code within 24 hours. Input this coupon code into your Klook mobile app and get another S$50 off when you check out with a minimum of S$300!
You can check out the Klook end of year sale guide to find out how you can maximize those savings, but first check out these travel inspiration itineraries to help you make the most of the Klook year end promo!
1. For solo travellers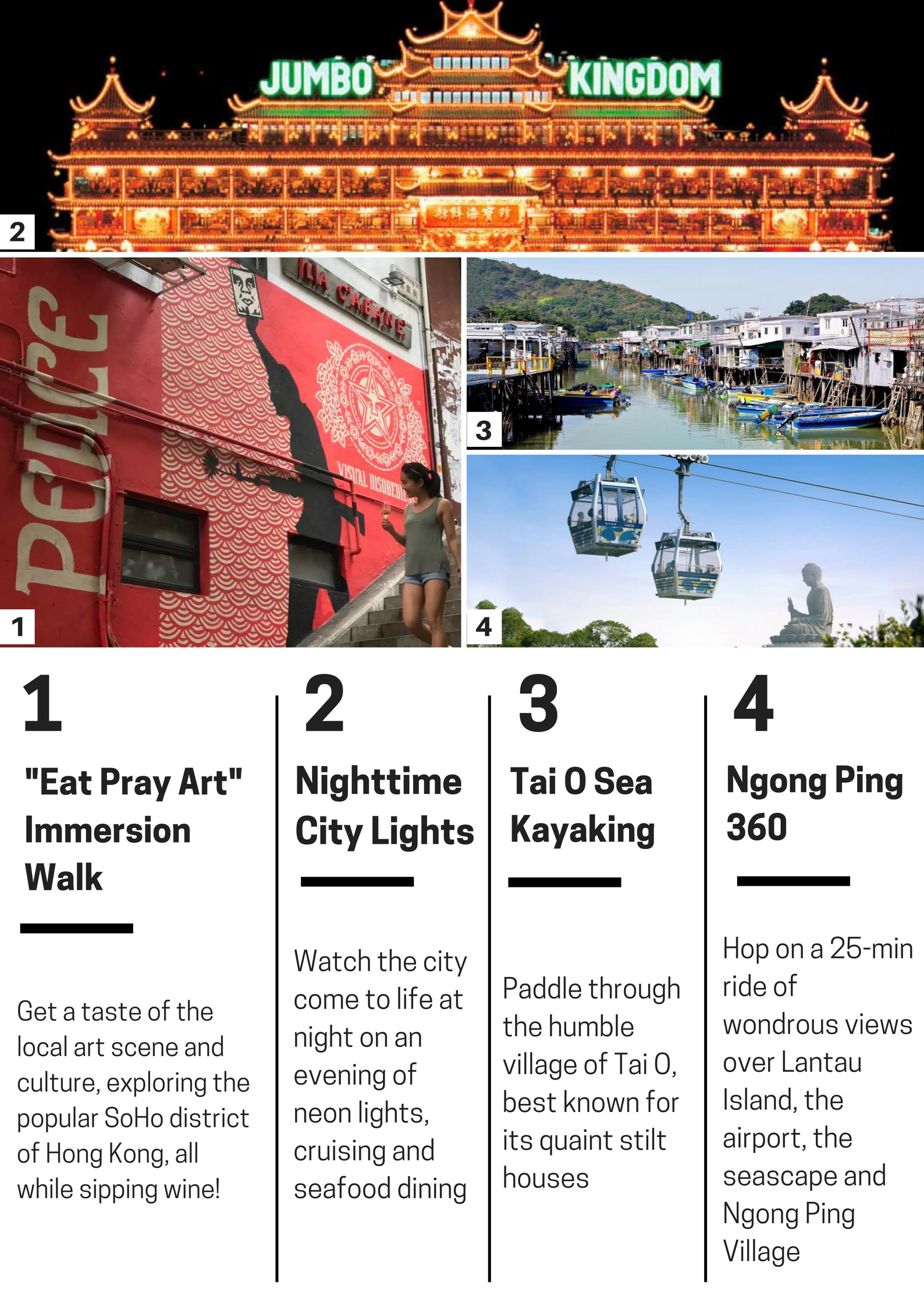 Hong Kong is one city where travelling in a big group can sometimes prove to be a little inconvenient. With 57 250 persons per square kilometre, you'll be glad you're travelling solo to one of the most densely populated cities in the world!
1.1 Eat, pray, art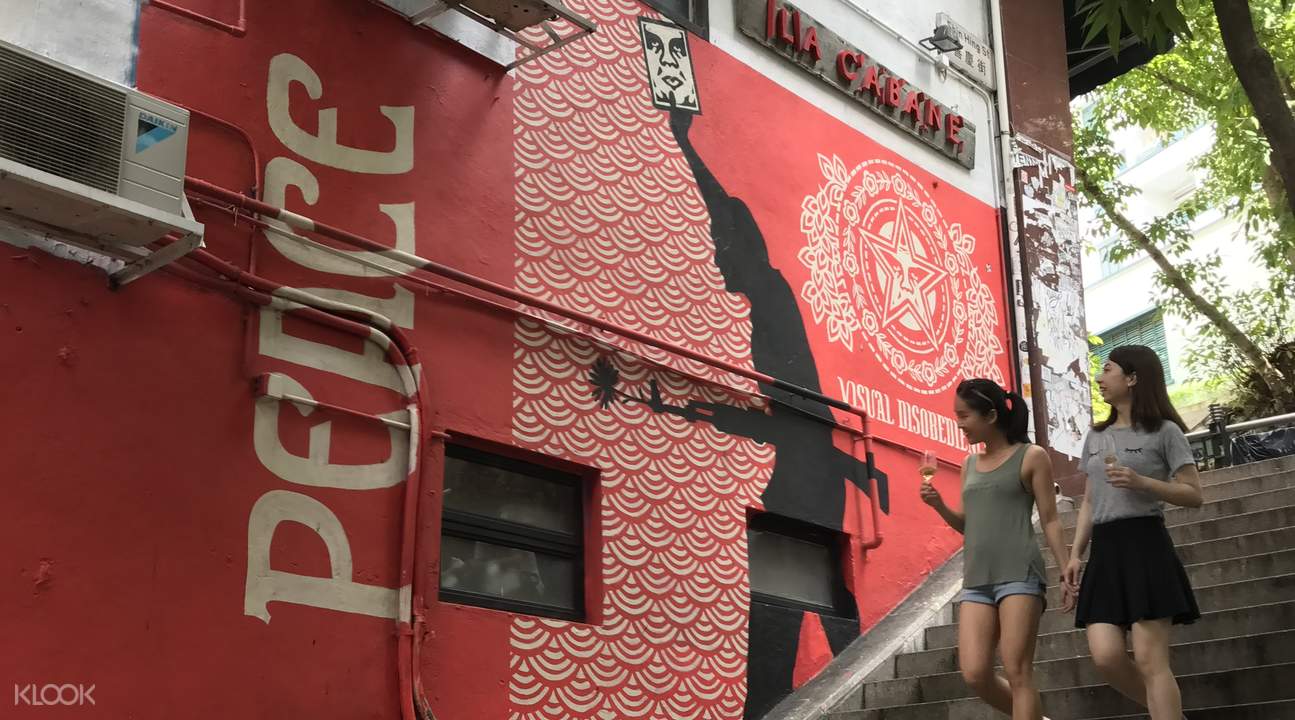 Hidden amongst the busy streets lie some seriously eye-popping pieces of street art. The catch? You'll need to know where to find them.
Sign yourself up for the "Eat, Pray, Art" art immersion tour and explore 3 different art galleries, feast on local food, and discover all of SoHo's street art with your local guide!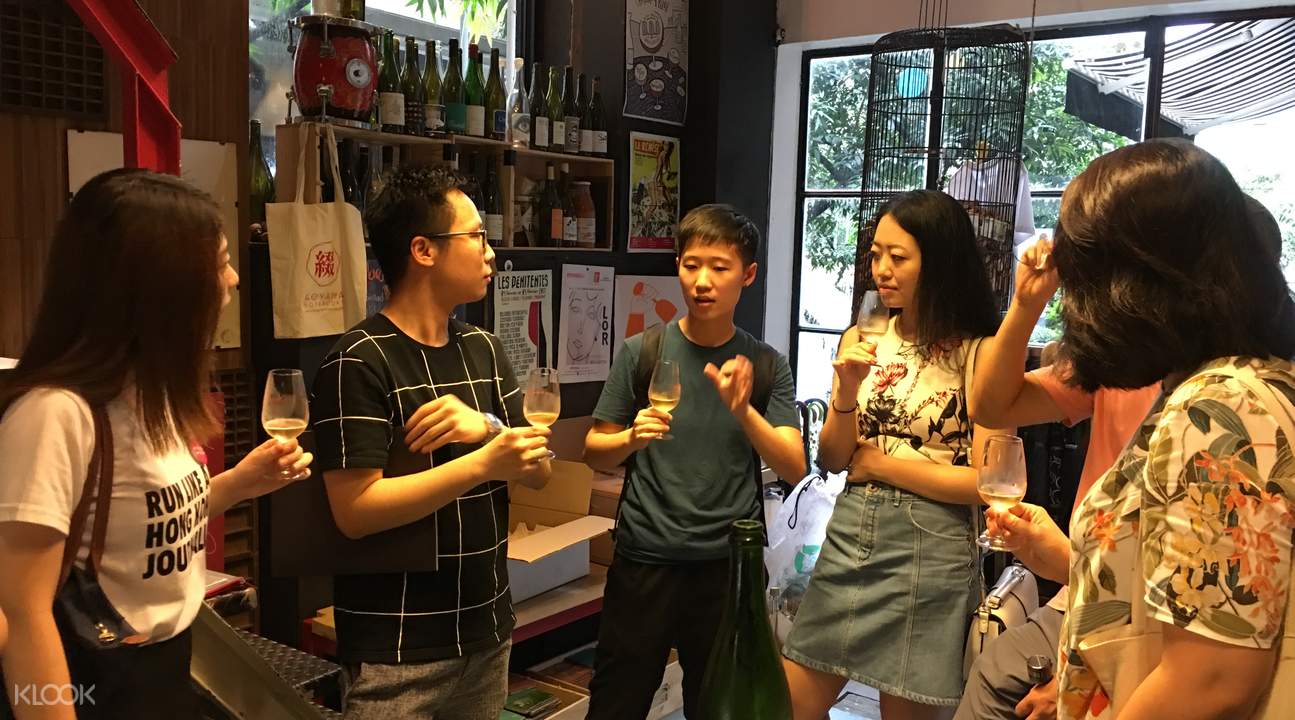 Find your favourite art piece and make some new friends along the way as you get to know a totally different side of Hong Kong.
1.2 Uncover the city by night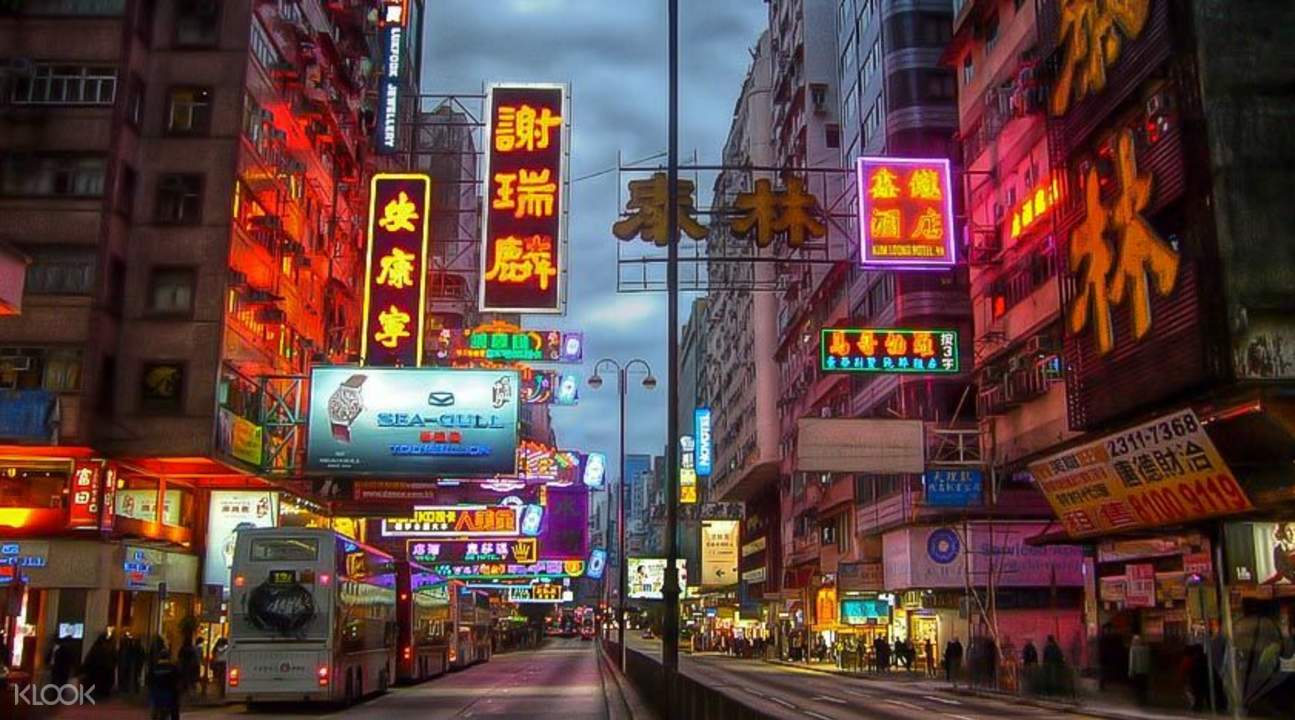 If your senses are flooded with the smells, sights and sounds of Hong Kong in the day, you'll be even more overwhelmed at night! Watch Hong Kong come alive with a harbour tour (FREE-FLOWING drinks included) on the Aberdeen Night Cruise, hunt for bargains at Temple Street and marvel at the blinking neon lights of Nathan Road at night!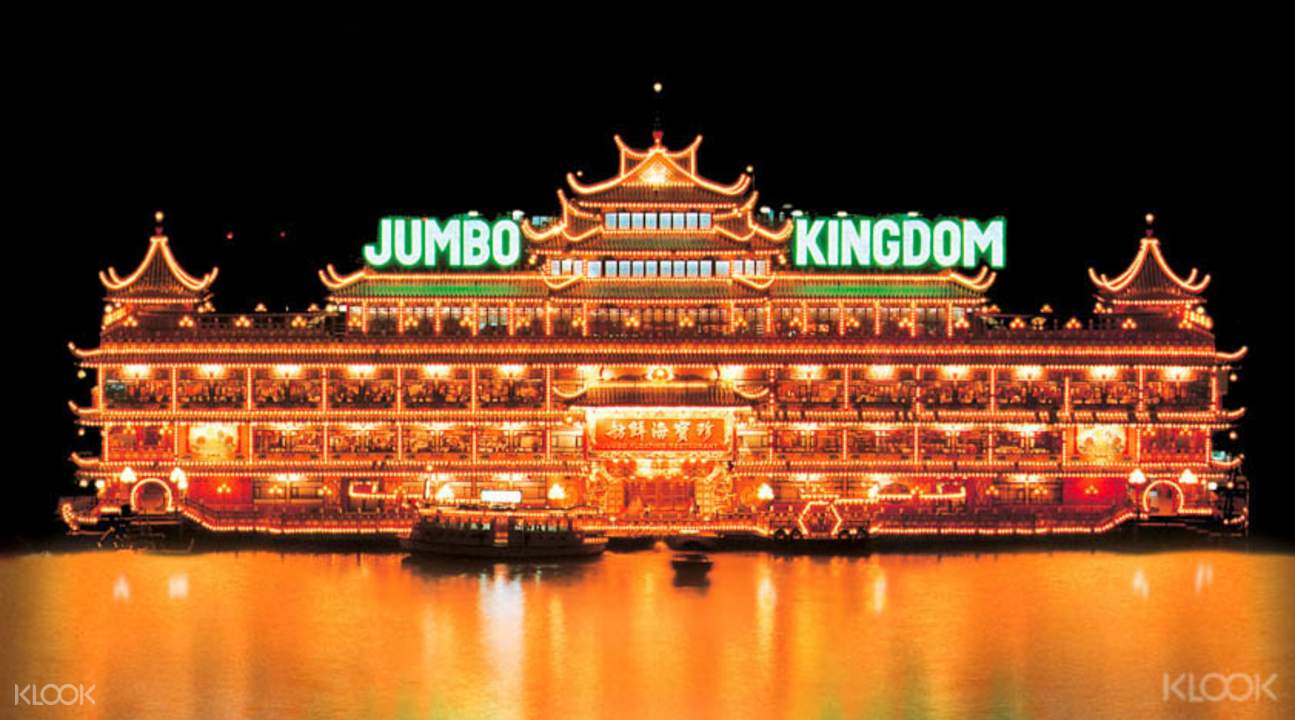 That's not all – you'll even get to enjoy a mouthwatering 8-course meal aboard the famous JUMBO floating restaurant!
Package
Price
HK Night of Delights
Wander through Temple Street & feast at JUMBO Restaurant
S$130
Find out more!
Aberdeen Night Cruise
Enjoy a Harbor cruise & savor sumptuous Chinese fare with a breathtaking finale.

S$156
Find out more!
1.3 Escape to an old fishing village in Tai O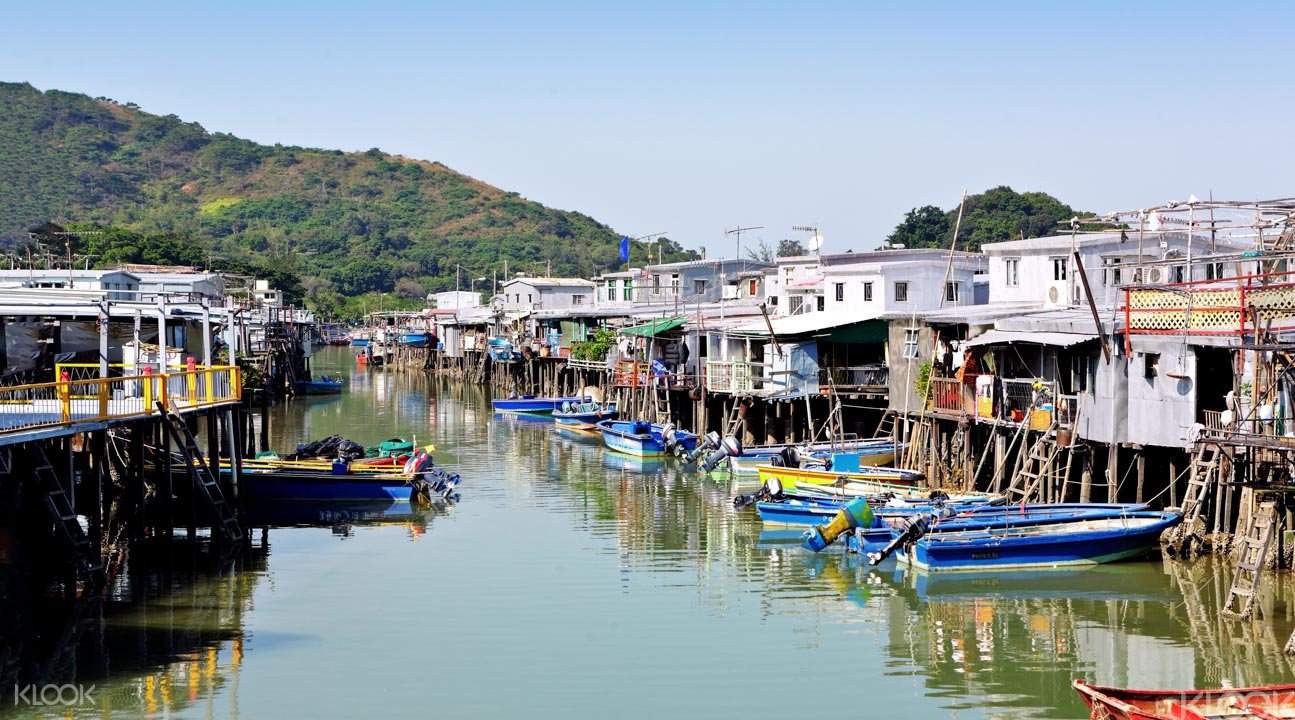 If you thought Hong Kong was just about its skyscrapers and food, you're wrong! Not too far away lies the quaint fishing village of Tai O, filled with stilt houses and decor from yesteryear.
Hop into a kayak and head to Lantau Island Country Park – the home of pink dolphins native to Tai O! The highlight of your trip will definitely be the gorgeous picnic spot by a waterfall just a short hike away from your kayak.
1.4 Hop on Hong Kong's most iconic cable car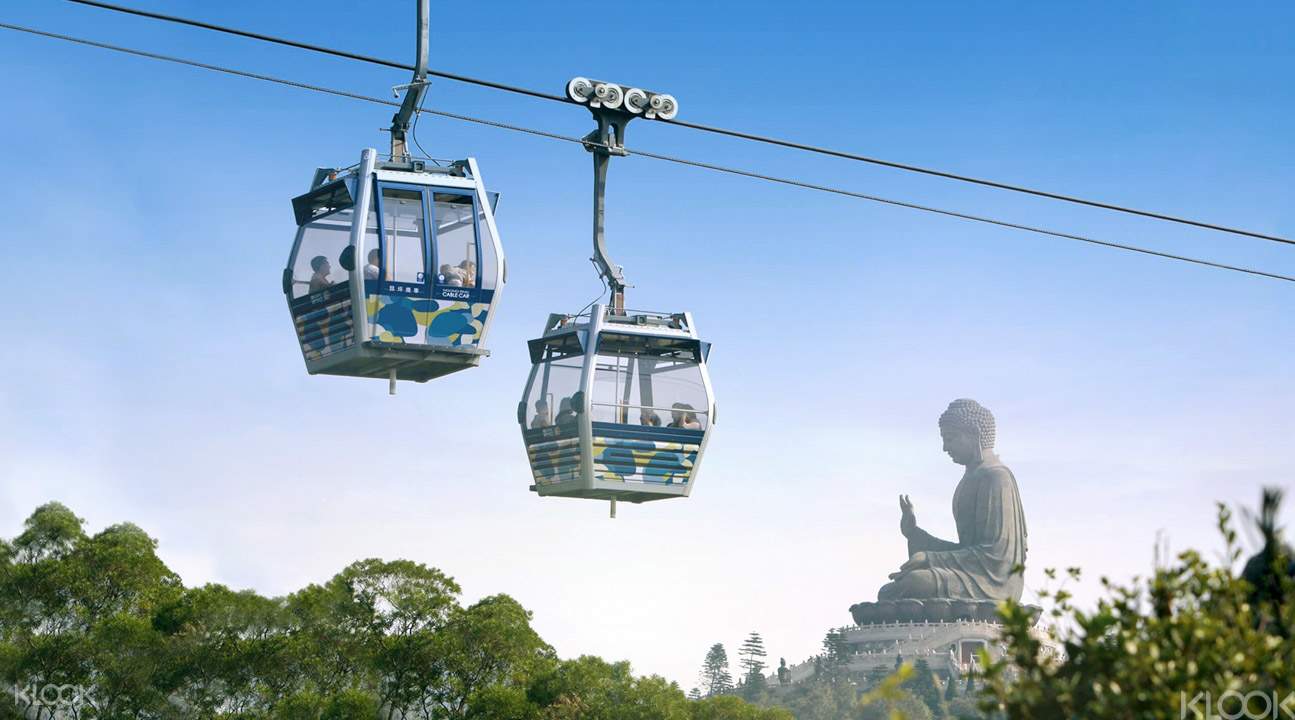 Ngong Ping 360 is one of Hong Kong's most iconic attractions and it's not difficult to see why – this cable car ride spans a whopping 25 minutes and offers panoramic views of Lantau Island, the airport, the seascape and Ngong Ping Village.
Opt for the crystal cabin for unobstructed views. Klook customers enjoy special skip the queue privileges with a separate VIP line for fast-track entry!
Here's how much you'll save on Klook.
Activity
Retail Price (S$)
Klook Price(S$)
Eat Pray Art Immersion Walk
S$130
S$122
Nighttime City Lights: Aberdeen Night Cruise
S$156
S$156
Tai O Sea Kayaking: Group of 8 or above
S$139
S$139
Ngong Ping 360: Afternoon 1+1
S$39
S$33
Total Price
S$464
S$450
Klook End Of Year Sale Promo Applied
S$400
Total Savings
S$64
2. For couples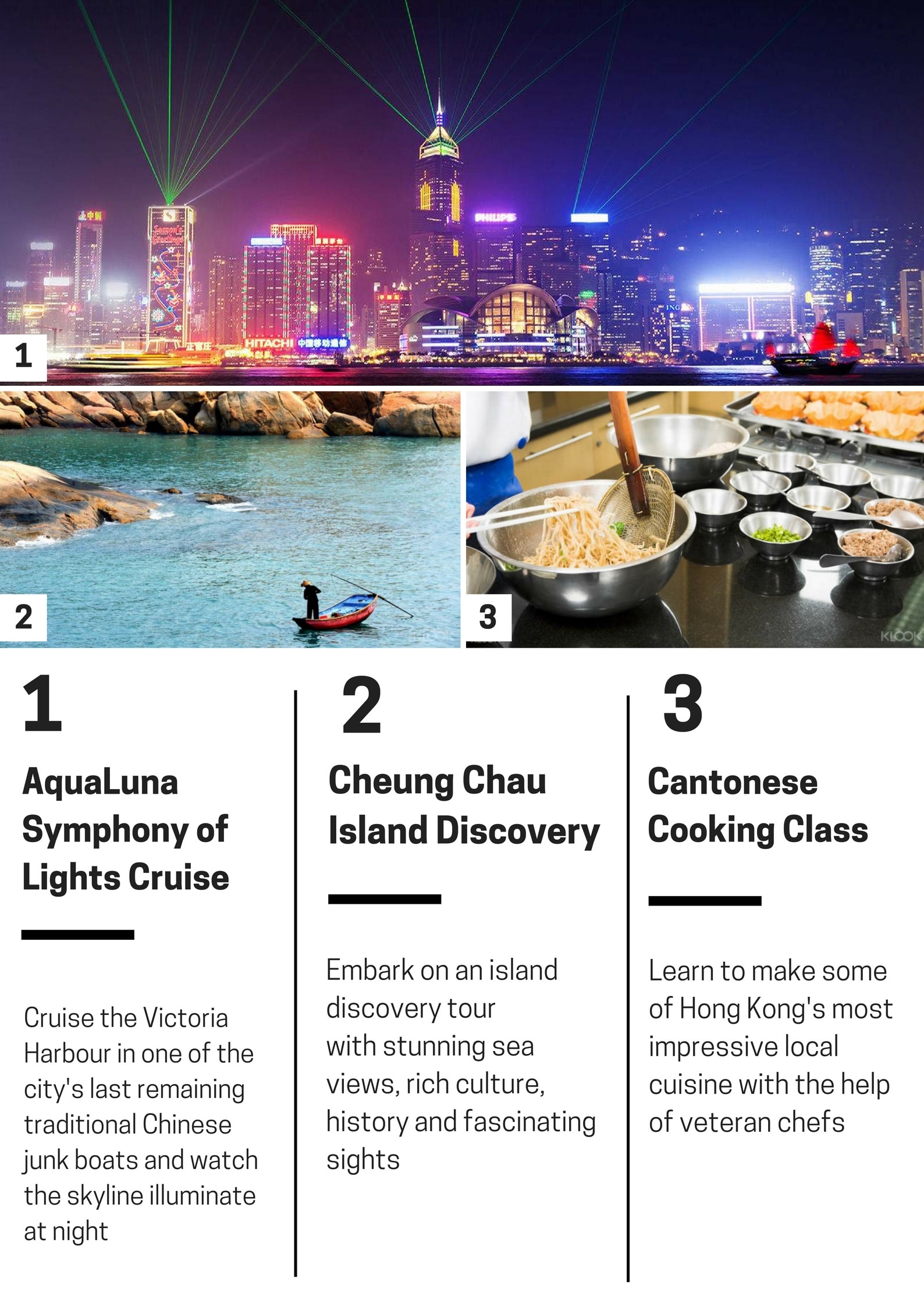 Romance sure isn't dead when it comes to Hong Kong. From breathtaking sunset view of the magnificent harbour to a cultural island discovery tour and engaging cooking class, you and your date will have plenty of opportunities to make memories together.
2.1 Impress your date with an evening sail aboard the AquaLuna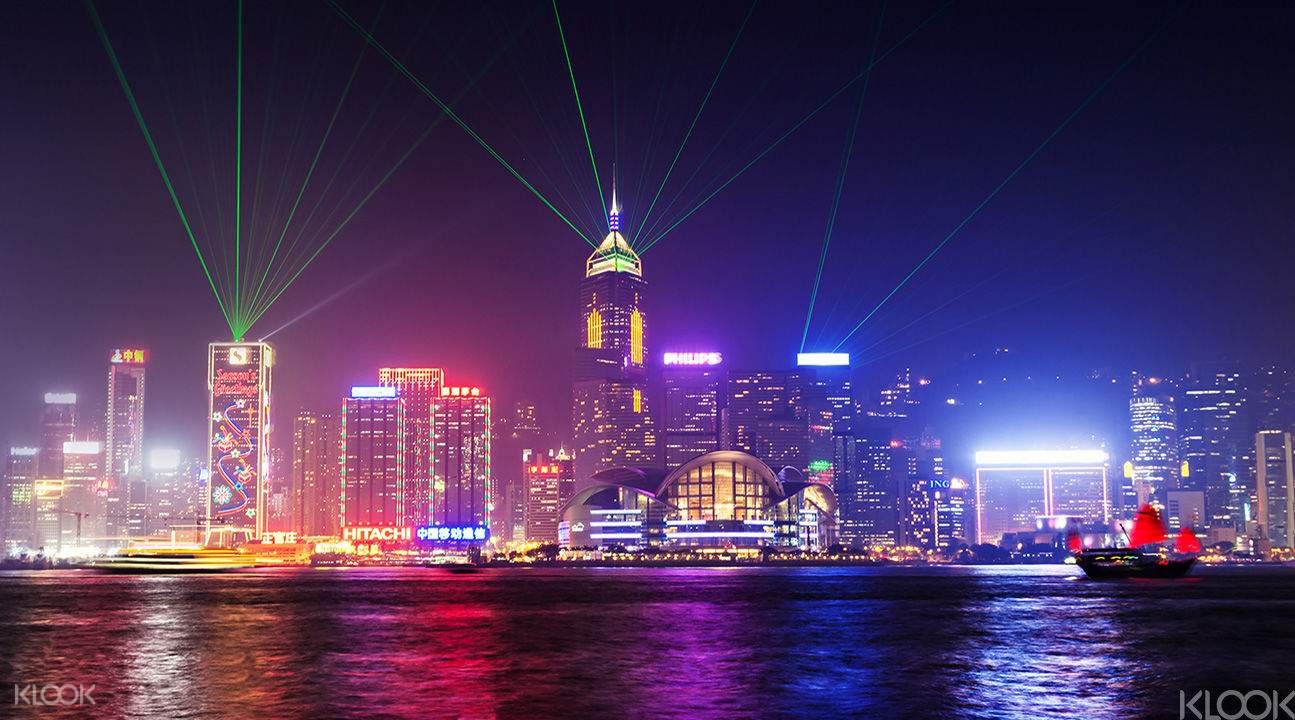 There are a few things more romantic than an evening cruise along Victoria Harbour, especially one happening at the same time as the famous 'Symphony of Lights' show!
Spoil your date with a ride aboard one of the last remaining traditional Chinese junk boats and enjoy a complimentary drink on board! The Symphony of Lights AquaLuna cruise departs at 19:30 from Tsim Sha Tsui and 19:45 from Central Pier 9. Do note all journeys conclude at Tsim Sha Tsui (even if you boarded at Central) unless otherwise arranged.
Package
Price
Symphony of Lights Cruise
A one-hour cruise and one complimentary drink
S$49
Find out more!
2.2 Escape to the island of Cheung Chau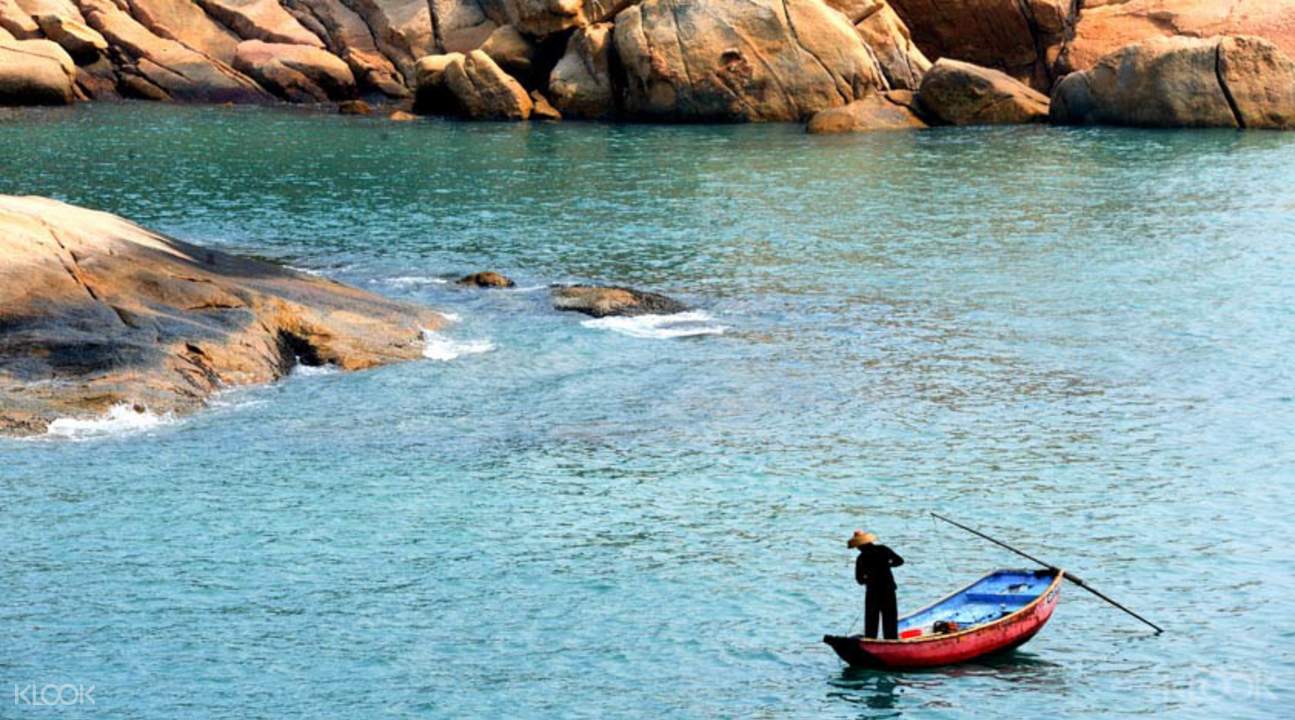 Cheung Chau is an idyllic island off the coast of mainland Hong Kong known for its beaches, temples and seafood. Enjoy a 20-minute sampan ride to the hideout of a local pirate and make a stop at Tin Hau Temple – the place of worship for the Goddess of the Sea. After a delicious dim sum lunch, you can't leave without first taking a dip at Tung Wan Beach!
Package
Price
Explore Cheung Chau
Island discovery tour with lunch Explore Cheung Chau Island, a microcosm of local culture and heritage known for its great food, beautiful beaches and interesting structures!
S$94
Find out more!
2.3 Level up your culinary skills at Cantonese Cooking Class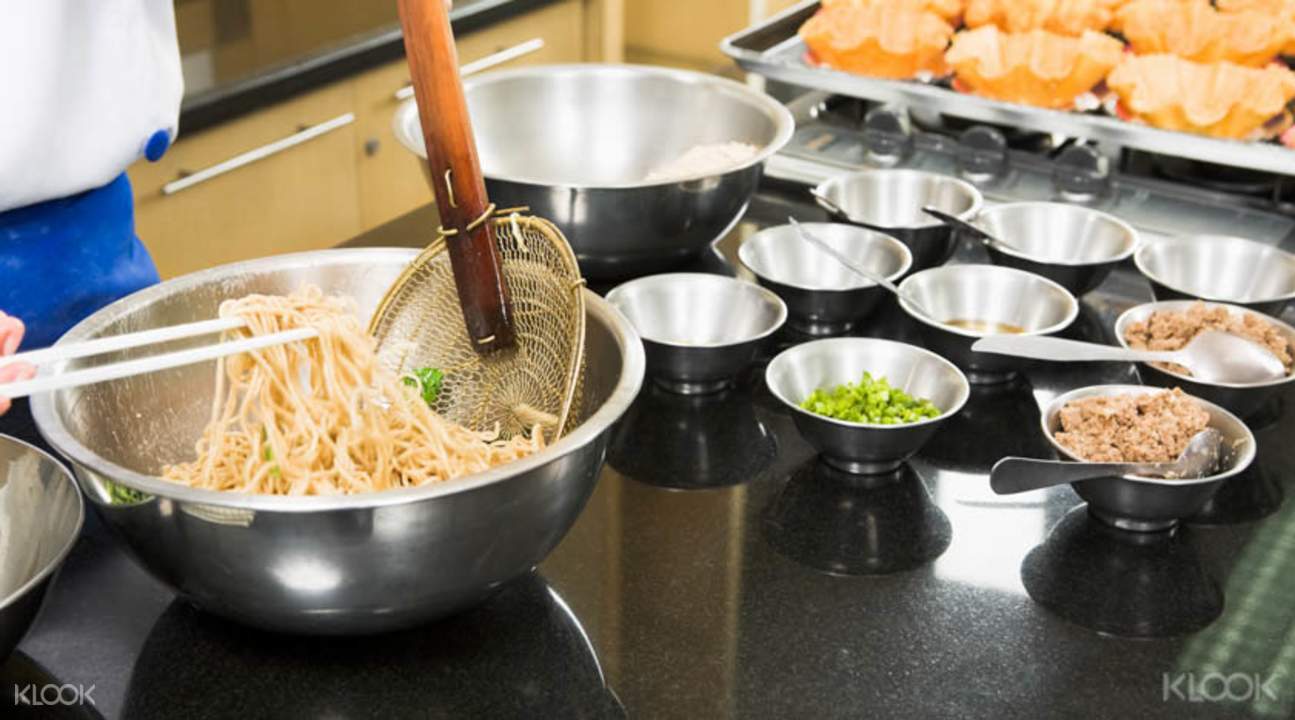 Learn to make some of Hong Kong's most impressive dishes like fried beef with fresh mango or fried oyster with soy sauce under the guidance of a professional chef! With hands-on help and live demonstration, you'll discover tricks you can't learn from cookbooks.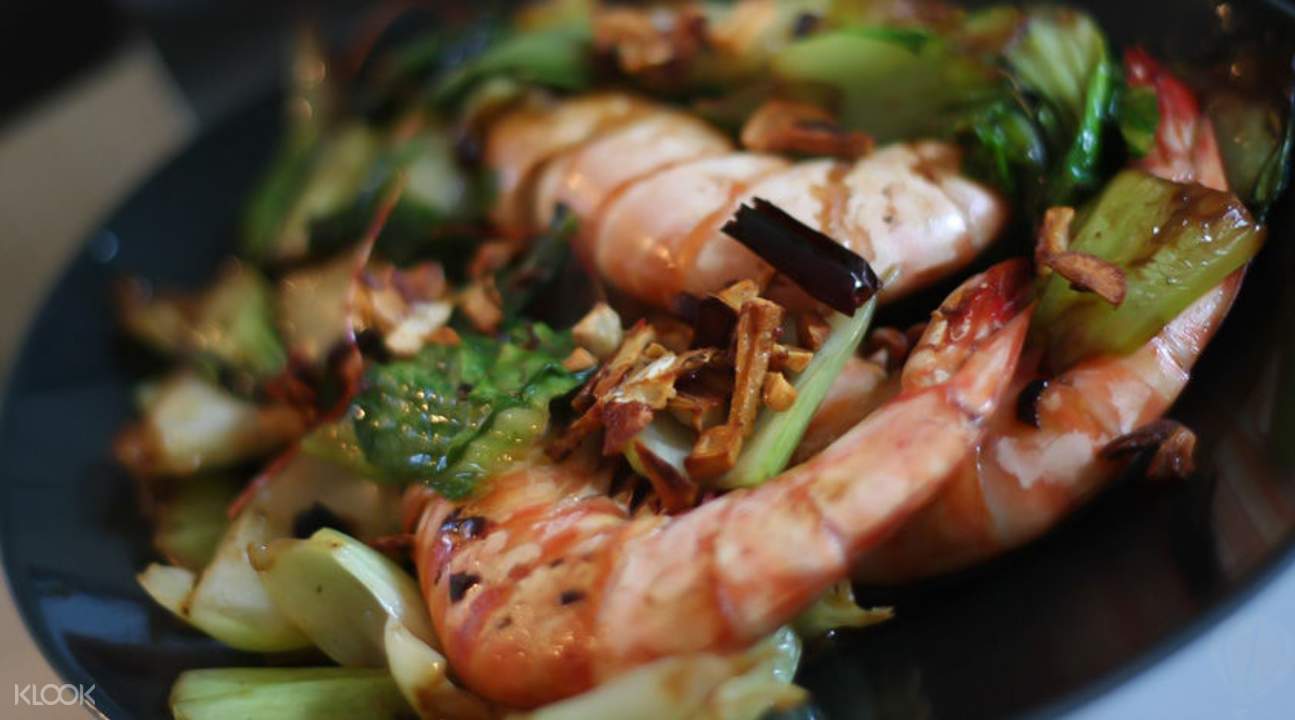 You can say goodbye to boring ol' dinner date nights now and cook up your own storm. Plus, cooking a meal together with your date can be quite the bonding experience!
Package
Price
Traditional Chinese Dishes
2-hour class: Learn to make basic meals They demonstrate, you follow. Don your apron and learn to make Chinese dishes with ease!
S$78
Find out more!
Here's how much you'll save on Klook.
Activity
Retail Price (S$)
Klook Price(S$)
Symphony of Lights Cruise
S$102
S$98
Explore Cheung Chau
S$188
S$188
Cantonese Cooking Class
S$156
S$156
5-Day 4G SIM Card
S$12
S$9
Total Price
S$458
S$451
Klook End Of Year Sale Promo Applied
S$401
Total Savings
S$57
3. For families
Children will love Hong Kong for its sights and delicious food, but most of all for Disneyland and Ocean Park! Your kids will be occupied for hours on end when all their favourite childhood characters and theme park dreams come to life.
3.1 Childhood stories come alive at Hong Kong Disneyland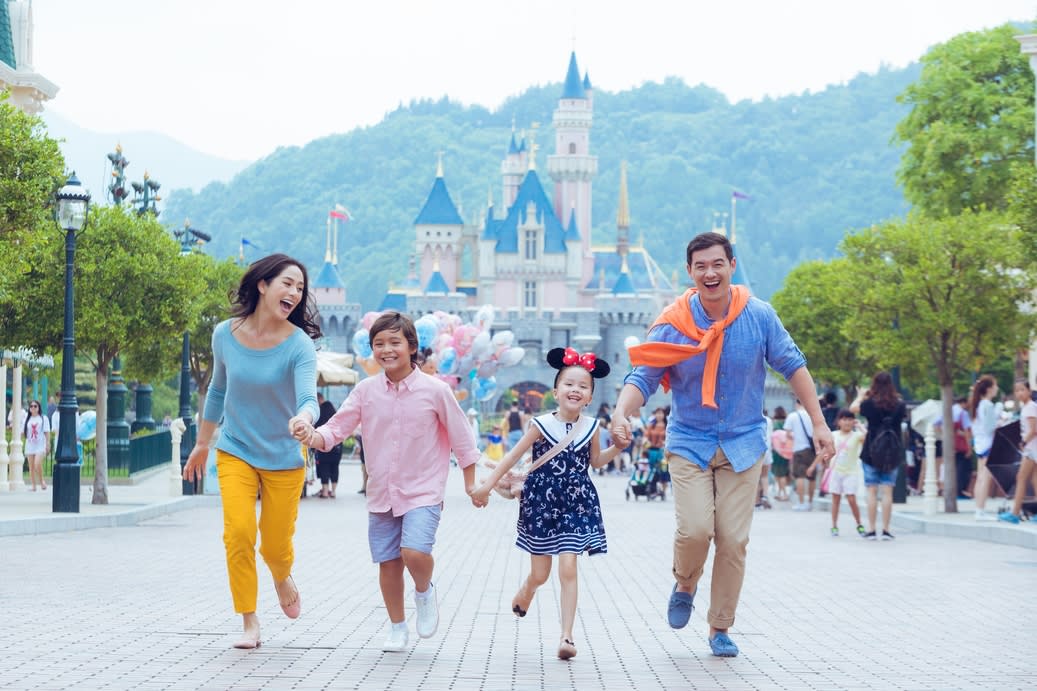 Parents – we think you'll have just as much fun as your kids at the happiest place on Earth! Visit Hong Kong Disneyland and take a walk down memory lane to the fondest moments of your childhood.
The latest Iron Man attraction has proven to be a great hit with everyone who's been to the park, but old favourites like Space Mountain will never lose its shine.
Klook your tickets and skip the queues with your mobile e-voucher! Simply rock up to the gantry and scan your e-voucher for direct access to Hong Kong Disneyland!
3.2 The fun never stops at Ocean Park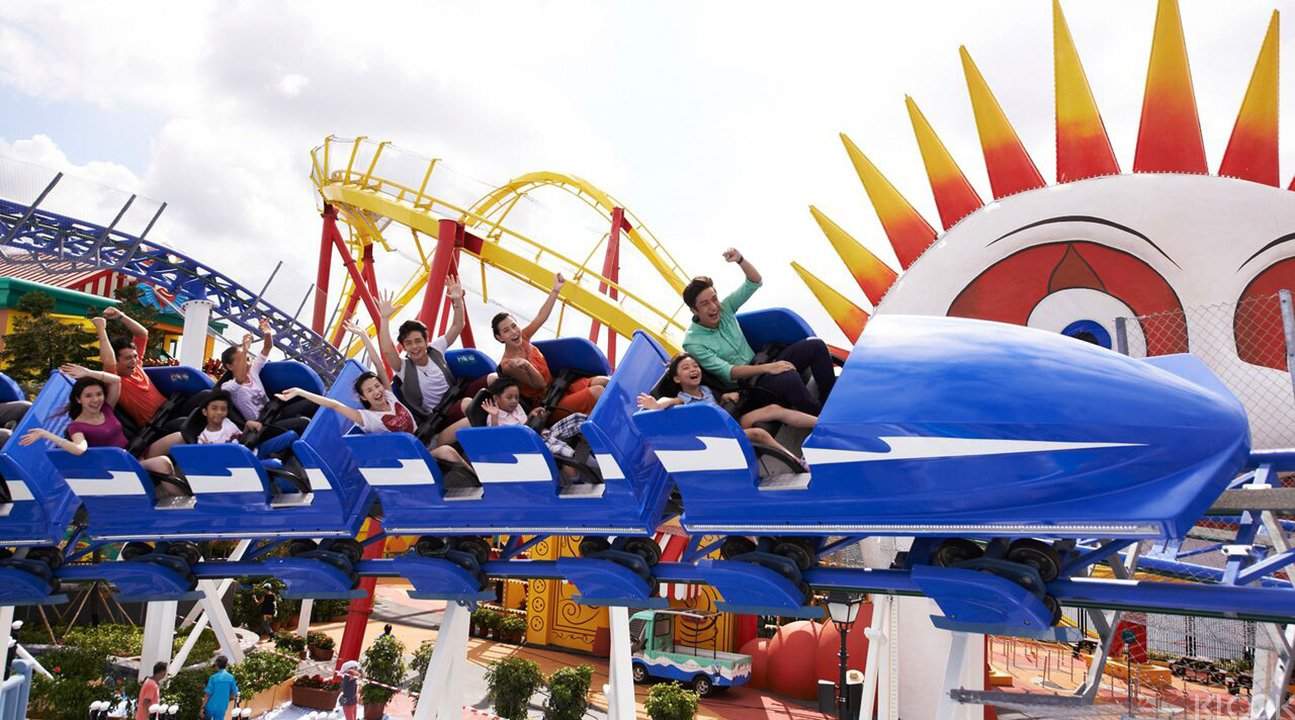 One theme park is never enough especially where kids are concerned! Ocean Park's sprawling theme park grounds provide hours of endless entertainment for young bubs and toddlers. You'll definitely never run out of fun things to do.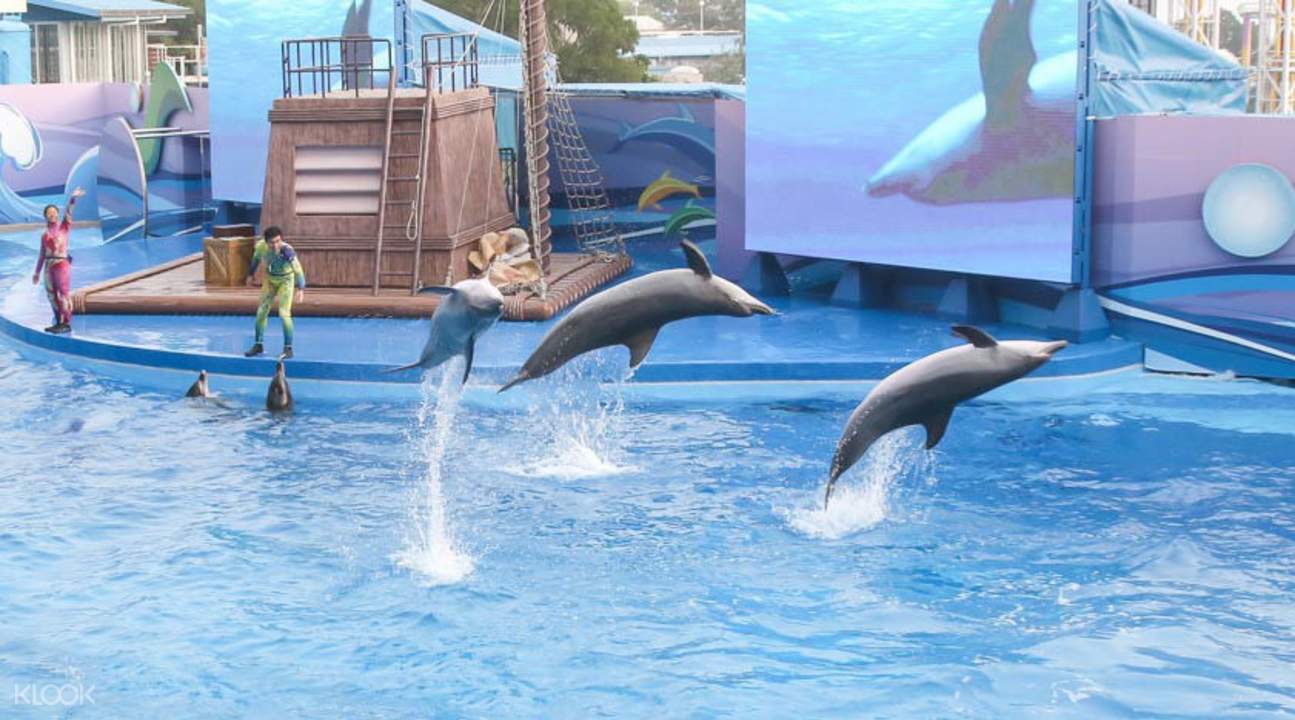 Did you know Ocean Park is also home to an aquarium and a zoo? Get up close and personal with these animals and learn about how we can all do our part to save the environment!
Package
Price
1 Day E-Ticket
S$64
Find out more!
Admission + Meal (Kiosk)
Inclusive of entry ticket and one set meal including main course and a glass of soft drink at one of the following kiosks: Chan's Noodle (The Waterfront), Panda Cafe Food-to-Go (The Waterfront), Clown Corner (The Summit), Golden Fried Chicken (The Summit) and Boardwalk Cafe (The Summit)
S$73
Find out more!
Admission + Meal (Restaurant)
Inclusive of entry ticket and one set meal including main course and a glass of soft drink at one of the following restaurants: Aqua City Bakery, Panda Cafe (The Waterfront), Bayview Restaurant, Terrace Café or Cafe Ocean (The Summit)
S$77
Find out more!
Admission + HK$100 Souvenir Cash Coupon
S$68
Find out more!
Special Combo for 2 Pax
Inclusive of entry tickets for 2 adults.
S$96
Find out more!
Family Fun Ticket
Inclusive of 2 adult tickets and 1 child ticket.

S$129
Find out more!
Special Combo For 4 Pax
Inclusive of 4 adult tickets.
S$189
Find out more!
Klook your Ocean Park tickets and have your e-vouchers sent instantly to your mobile phone!
3.3 Hassle-free MPV airport transfer to your hotel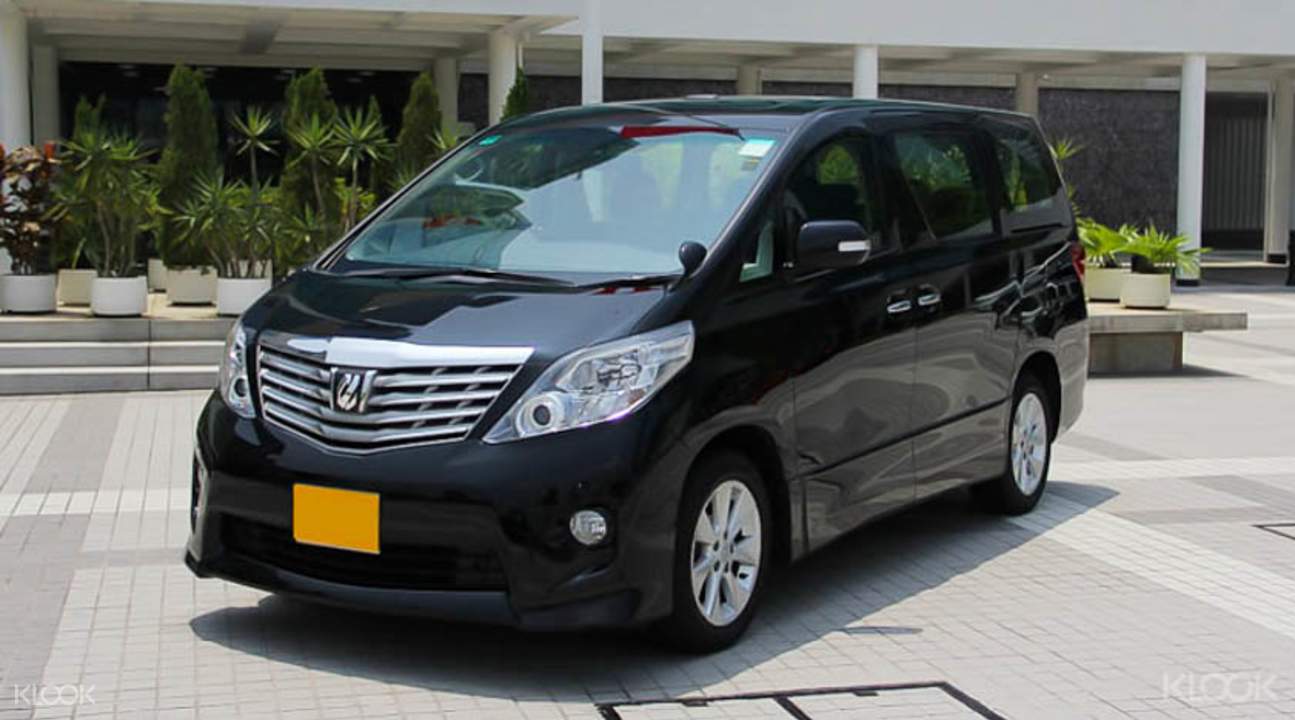 When you arrive in Hong Kong the last thing you want is to be stranded at the airport, figuring out how to get to where you need to go. Klook's MPV Airport Transfers offer a comfortable, hassle-free ride to your accommodation and your driver will even get in touch with you via text before you land!
Here's how much you'll save on Klook.
(Calculations based on 2 adults 1 child)
Activity
Retail Price (S$)
Klook Price(S$)
Hong Kong Disneyland 1-Day Ticket
S$277
S$245
Ocean Park Family Fun Ticket
S$190
S$129
MPV Airport Transfer (Arrival)
S$120
S$88
Total Price
S$587
S$462
Klook End Of Year Sale Promo Applied
S$412
Total Savings
S$175
4. For friends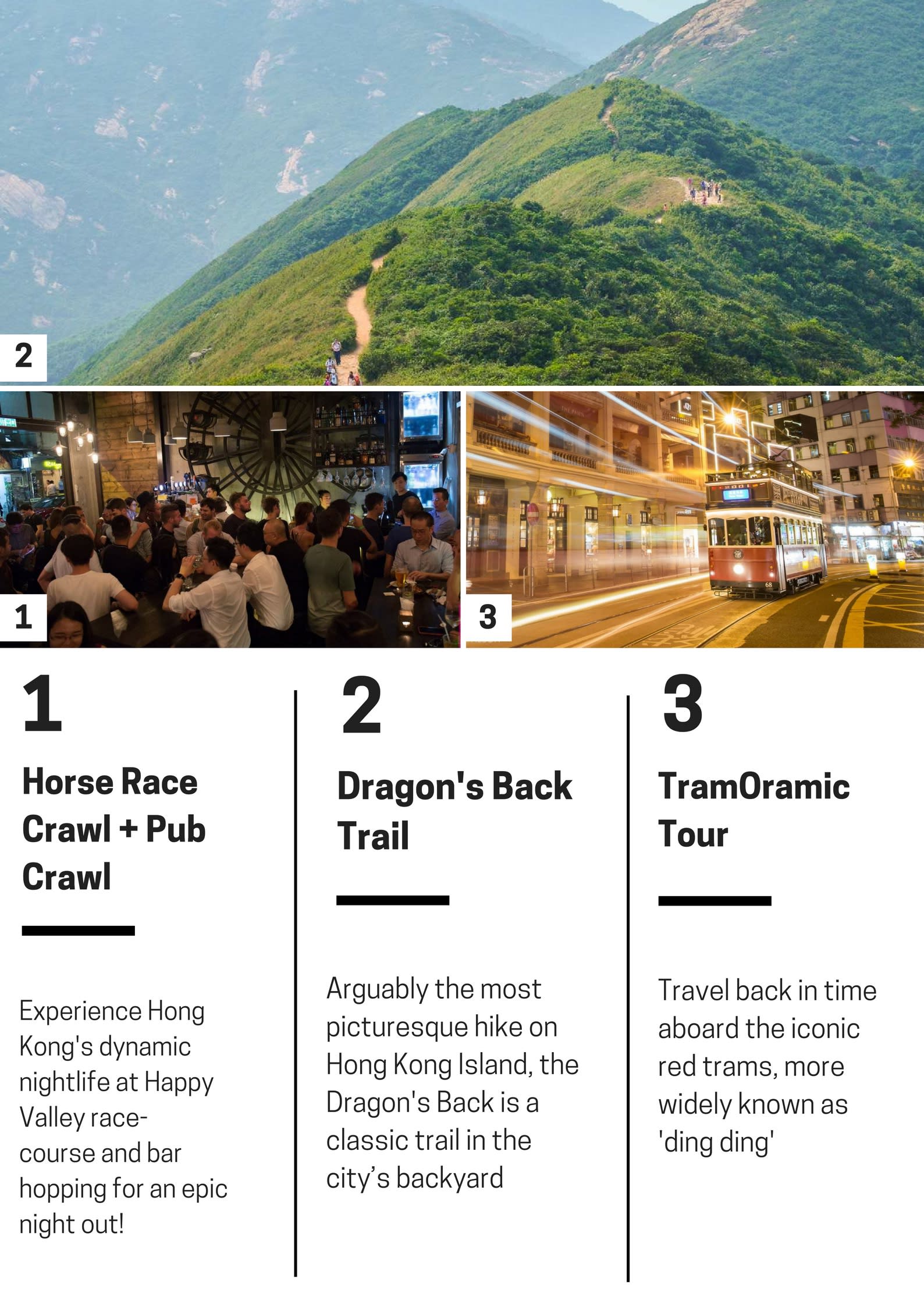 Hong Kong is perfect for groups of friends looking for that epic #squadgoals holiday together! With endless nightlife, swanky bars and pubs to discover, it's no wonder people keep on returning to Hong Kong!
4.1 Go on a pub crawl and catch a horse race!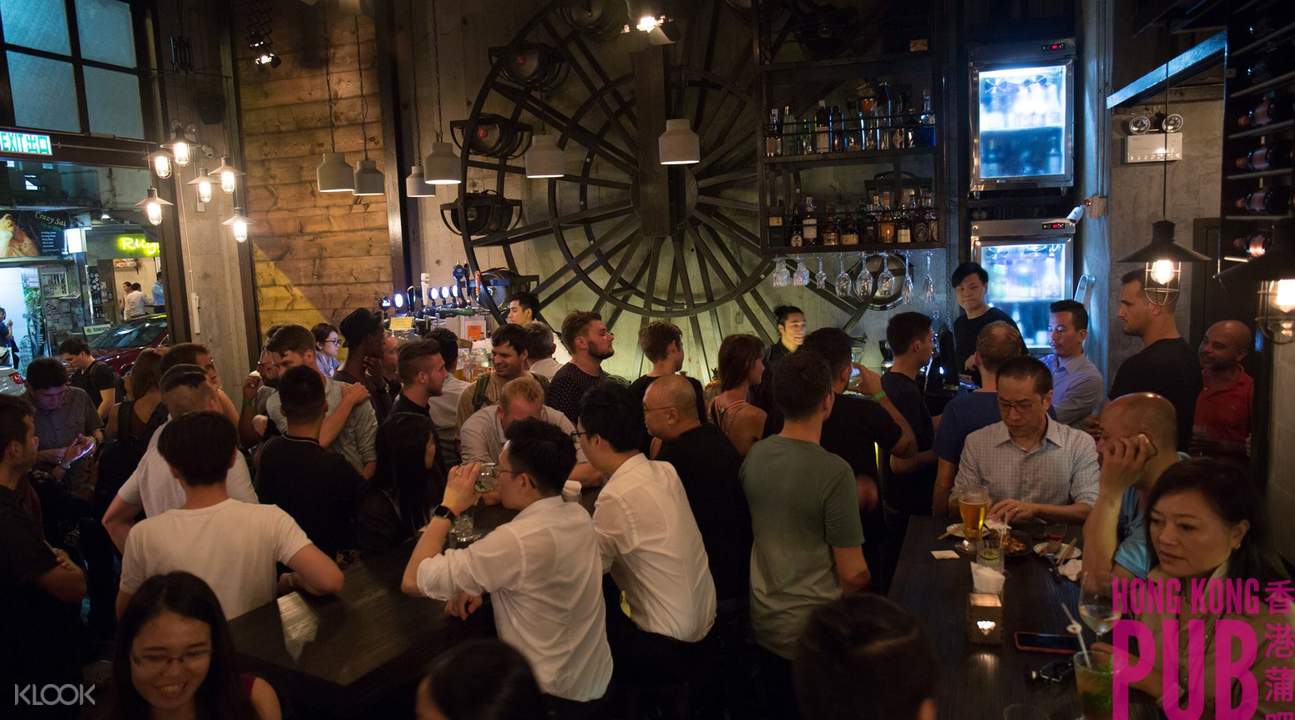 Do something different and make new friends when you sign yourself up for a night of Happy Valley horse races and bar hopping! Enjoy a FREE shot and discounted drink at each of the bars. On top of that, there are also awesome promotions that all night long.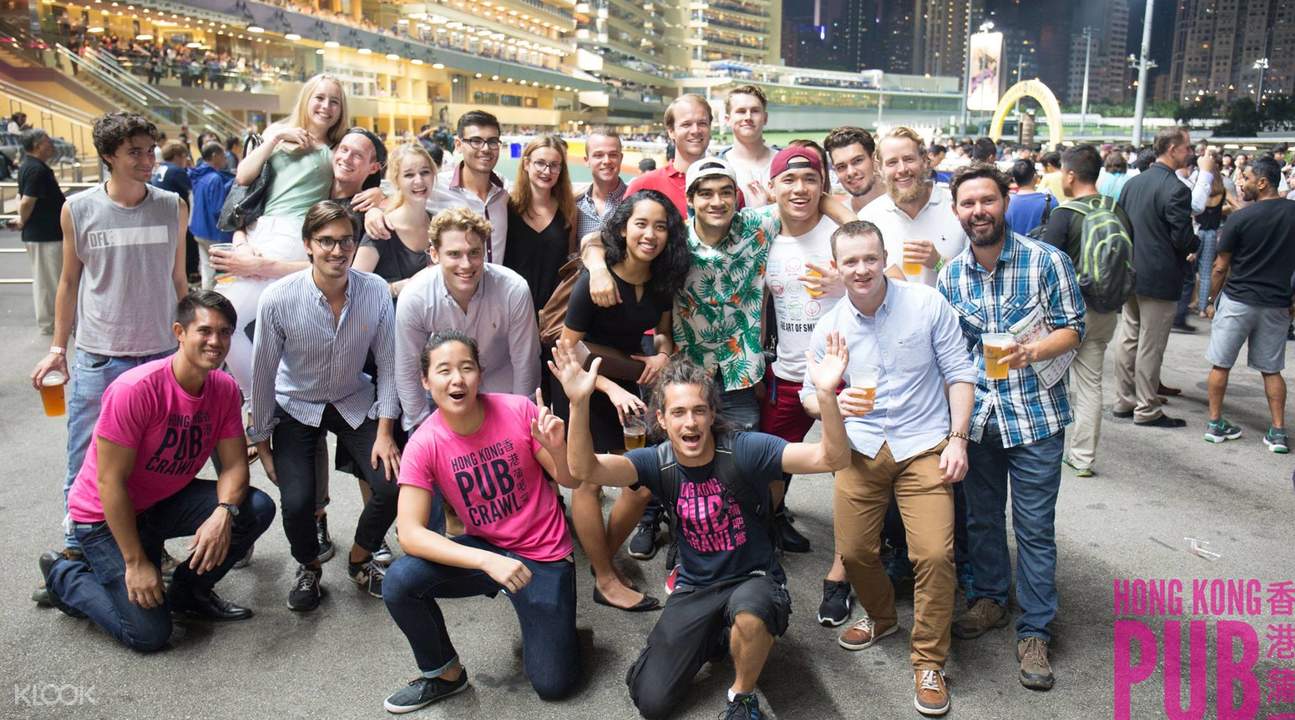 You'll also gain FREE entry to Happy Valley, a beer voucher, betting book and tutorial for you to hop on the horse-betting bandwagon pronto. Opt for the Pub Crawl t-shirt package to bring home a memento of your epic night out!
Package
Price
Horse Race Crawl
Free shots, entry to the racecourse and a night of fun!
S$17
Find out more!
Horse Race Crawl + Pub Crawl T-shirt
Free shots, entry to the racecourse and Pub Crawl T-shirt or tank top.
S$31
Find out more!
4.2 Catch the sunrise from one of Hong Kong's most famous trails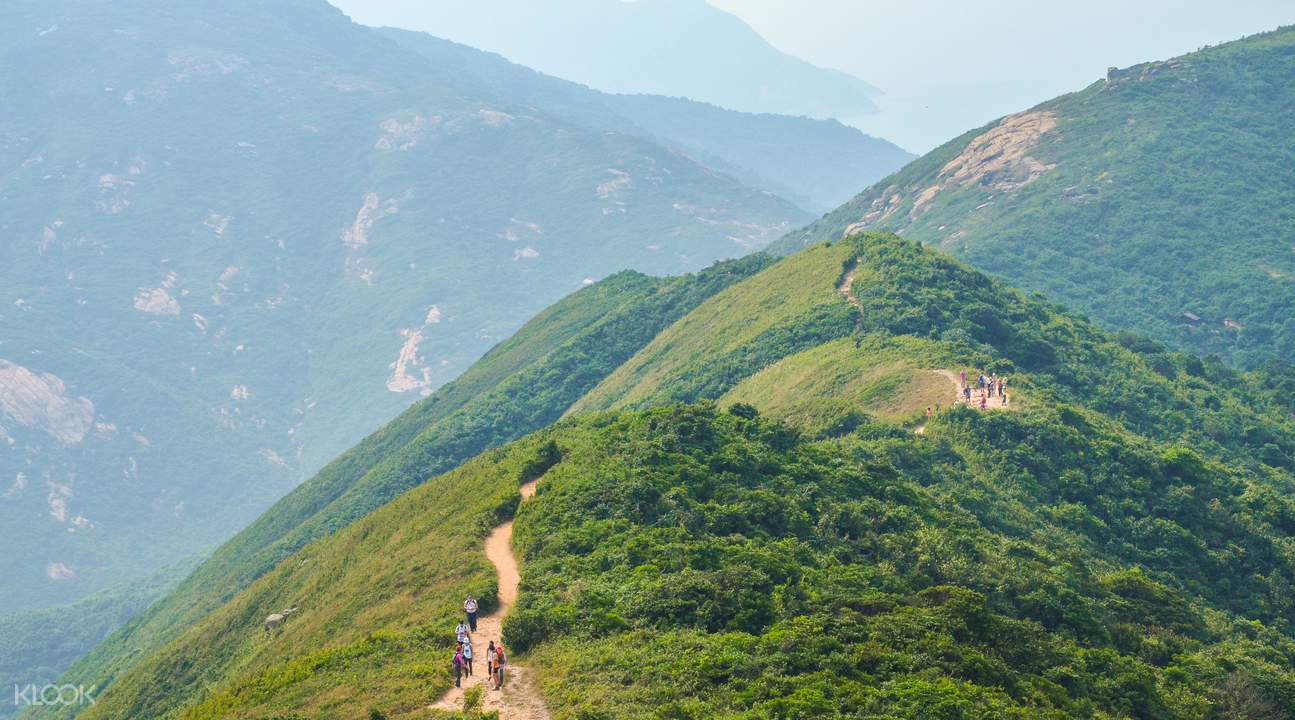 Recently voted Asia's best urban hike by Time Magazine, Dragon's Back is arguably Hong Kong's most picturesque hike. It's a classic trail in the city's backyard which boasts views of the ocean from the mountain peak.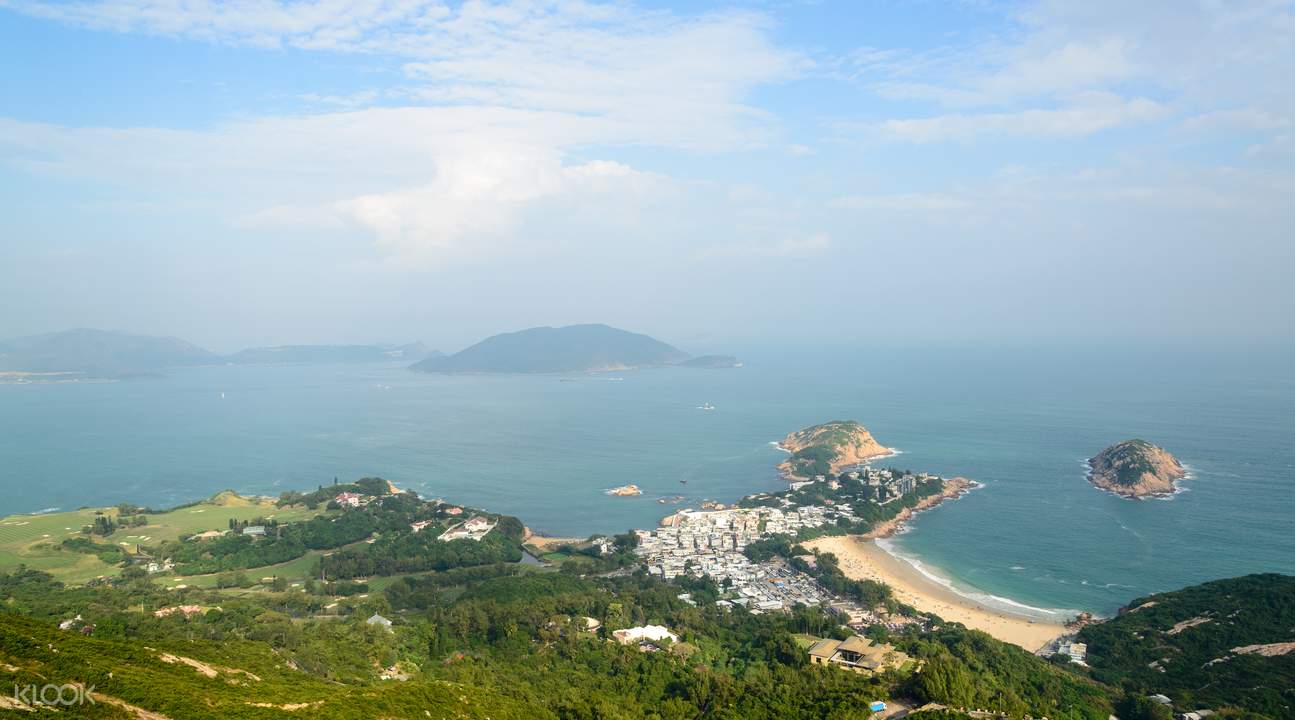 After hiking to the peak, cool off in the refreshing waters of Tai Long Bay. If you're up for it, you can even try your hand at surfing! Do remember to dress appropriately with robust walking shoes or trainers and bring lots of water!
4.3 Travel back to the 1920s aboard an iconic 'Ding Ding'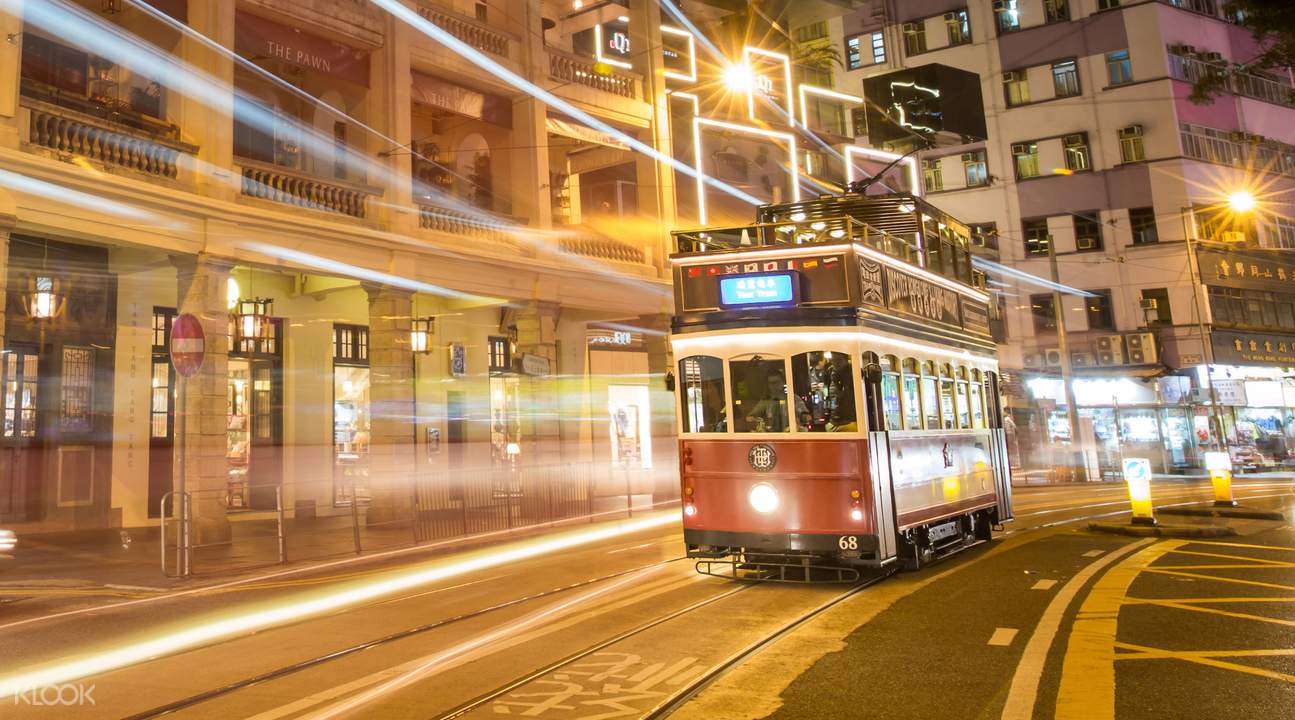 Take things slow and hop aboard the classic red trams and be transported back to Hong Kong in the 1920s! Affectionately known as 'ding dings', these trams are a part of the local culture.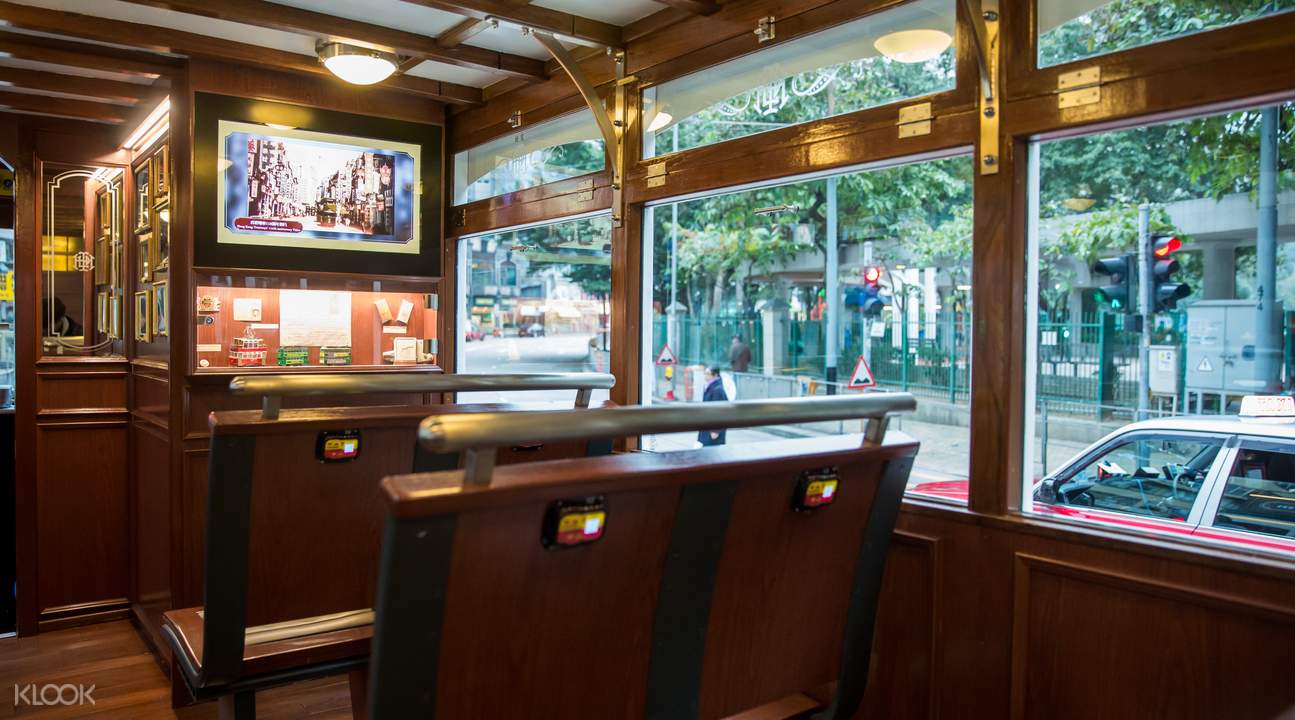 Perfectly preserved in the styles of the time, enjoy authentic tales of local life and tram history and a city tour along Hong Kong's most outstanding landmarks. Thereafter, you can even gain UNLIMITED access to Hong Kong's Tramway network with a Golden Ticket package!
Here's how much you'll save on Klook.
(Calculations based on 4 adults)
Activity
Retail Price (S$)
Klook Price(S$)
Horse Race Crawl + Pub Crawl T-shirt
$140
$124
Dragon's Back (Group of 4-7)
S$280
S$280
TramOramic Tour
S$68
S$52
Total Price
S$488
S$456
Klook End Of Year Sale Promo Applied
S$406
Total Savings
S$82
Do more with less!
Why compromise on travel experiences when you don't have to? Maximize your Klook promo and make your trip to Hong Kong this year-end one to remember! Check out other interesting activities you might want to add to your itinerary. It's worth enjoying the finer things in life!