Wet and wild at Songkran Thailand
It's that time of year again to have a splashing good time at Songkran! For the uninitiated, Songkran is an annual water festival that takes place over the Thai New Year – 13 to 15 April. The Thais believe that Songkran – or the act of splashing water – washes off all misfortunes of the past year, thus welcoming the new year with a fresh start. Prep your super soakers and waterproof your belongings as all of Thailand shuts down for some epic water battles.
The best part? The festival is free for all! Don't forget to Klook your 4G SIM card to Instagram all those candid moments, along with a BTS Pass to get you around.
For all those headed to Thailand, we've got something special in store for you! Read on to find out more about how you can score this deal.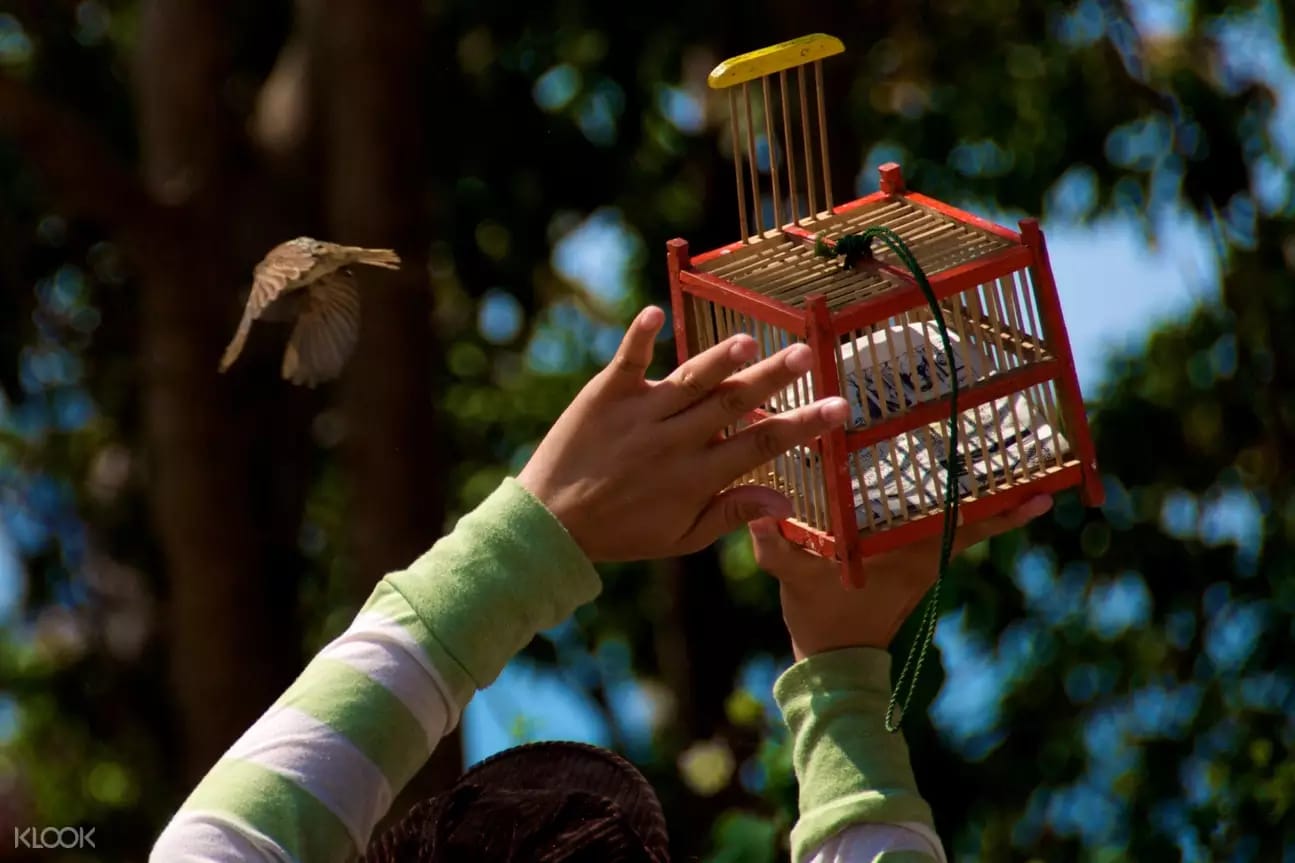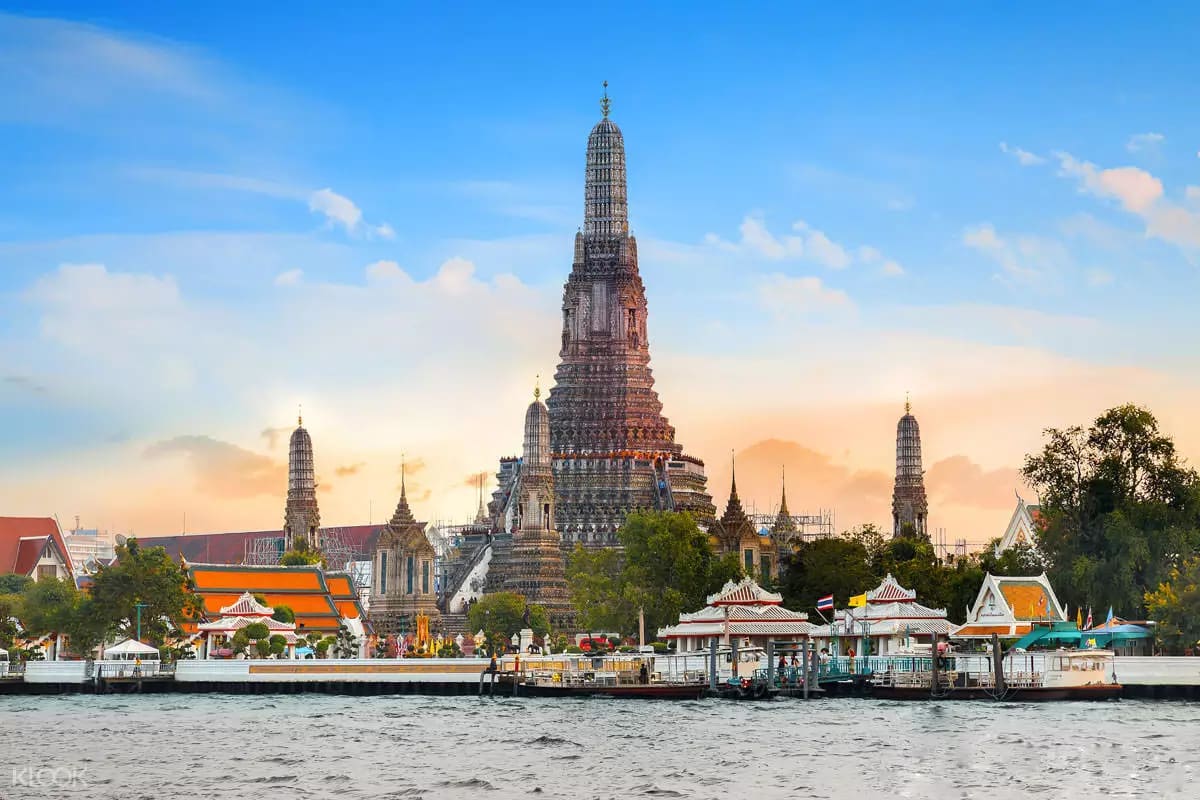 Making merit is another essential part of Songkran – with visiting nine sacred temples during the Thai New Year being considered one of the ultimate accumulators. Whether you're in Bangkok or Chiang Mai, take a tour of some of Thailand's most prominent temples and accumulate some good karma!
Tips for enjoying Songkran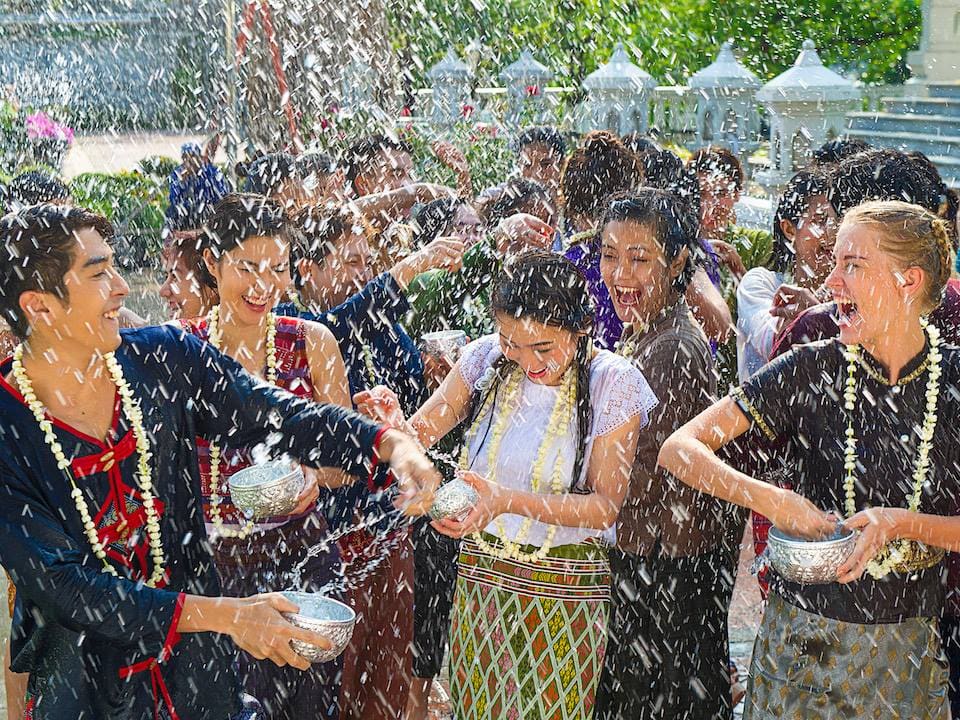 Photo Credit: Tourism Authority of Thailand
Waterproof your belongings!
Prepare your water bottles, water guns and buckets, because it's going to get wet!
Greet everyone with Sawadee Bee Mai – it means Happy New Year!
Avoid wearing white.
Don't ever splash water at monks!
Wear non-slip shoes.
If you want to keep dry, stay indoors!
Songkran in Bangkok
1. Khao San Road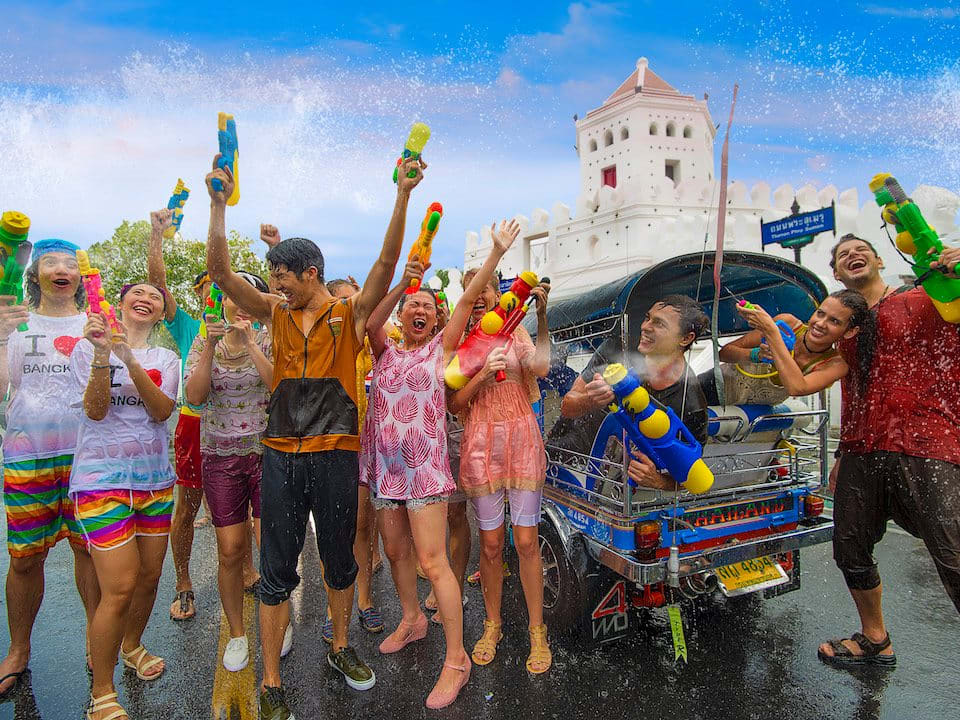 Photo Credit: Tourism Authority of Thailand
The backpackers haven of Khao San Road is the place to be if you're looking to get soaked from head to toe. With DJs set up inside plastic shelters, dance podiums and all the bars lined up along the street, this is one wild party not to be missed!
Update (5/4/19): Even though the authorities have dialled back on the Khao San Road festivities in anticipation of King Maha Vajiralongkorn's coronation in the first week of May – with shops no longer providing water refills and coloured powder as per usual – tourists and locals will still be allowed to hold water fights in the area.
2. Silom Road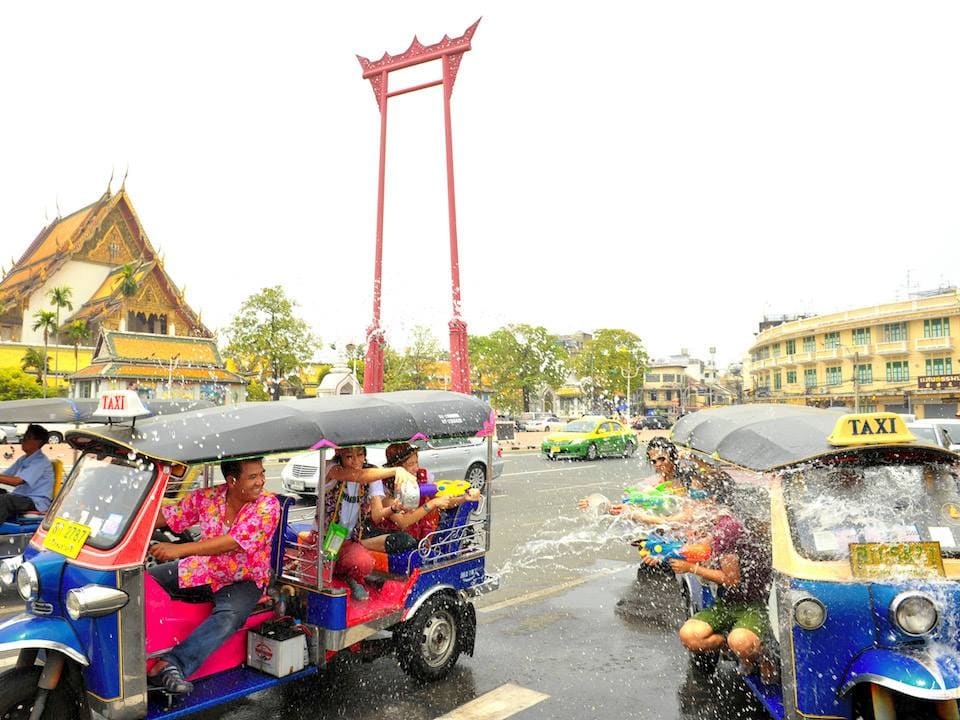 Photo Credit: Tourism Authority of Thailand
If you're looking for the largest Songkran party in Bangkok, head over to Silom Road for one of the craziest water festivals in the country!
The whole 5km stretch of road will be packed with locals armed to the teeth with as many water guns they can carry. The highlight is definitely the fire trucks rolling up with giant water hoses, all prepped to drench the crowd. Temperatures in Bangkok can soar up to 40 degrees – so bring it on.
However, if you want to stay relatively dry, we suggest staying on the BTS skywalk. From there you'll get to witness all the action – but still no guarantees that you won't get wet.
3. Siam Songkran Music Festival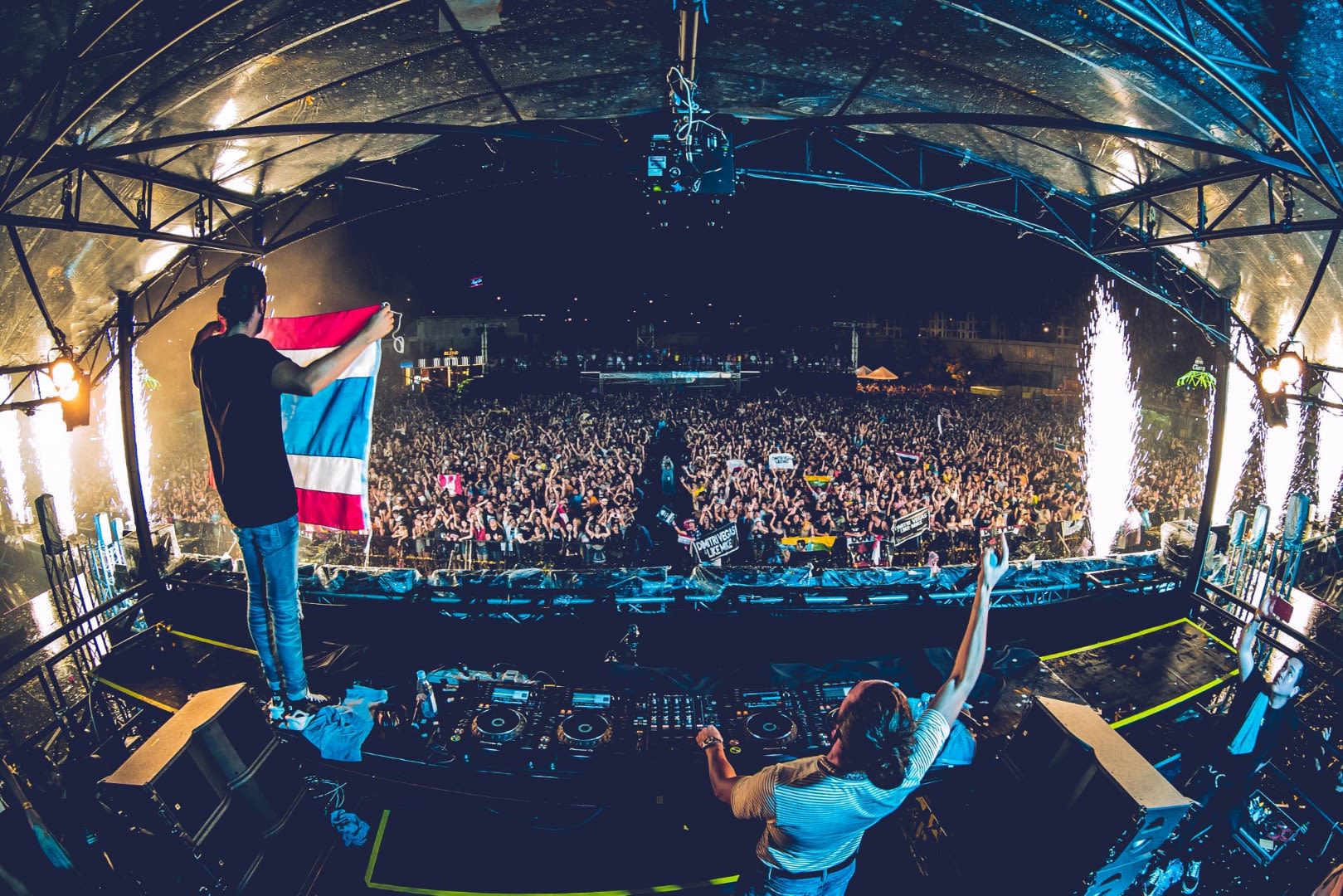 Grab your best party buddies for the Siam Songkran Music Festival this 12-15 April. Expect four days of electric beats, international and local performers, crazy crowds and of course, lots of water! Catch international DJ acts like Afrojack and Alok performing live on the main stage, an electrifying party atmosphere, and to battle it out in the crowds with the free Siam watergun provided.
Make the most out of your Songkran holiday this 2019 and book your ticket for the Siam Songkran Music Festival!
The full Songkran experience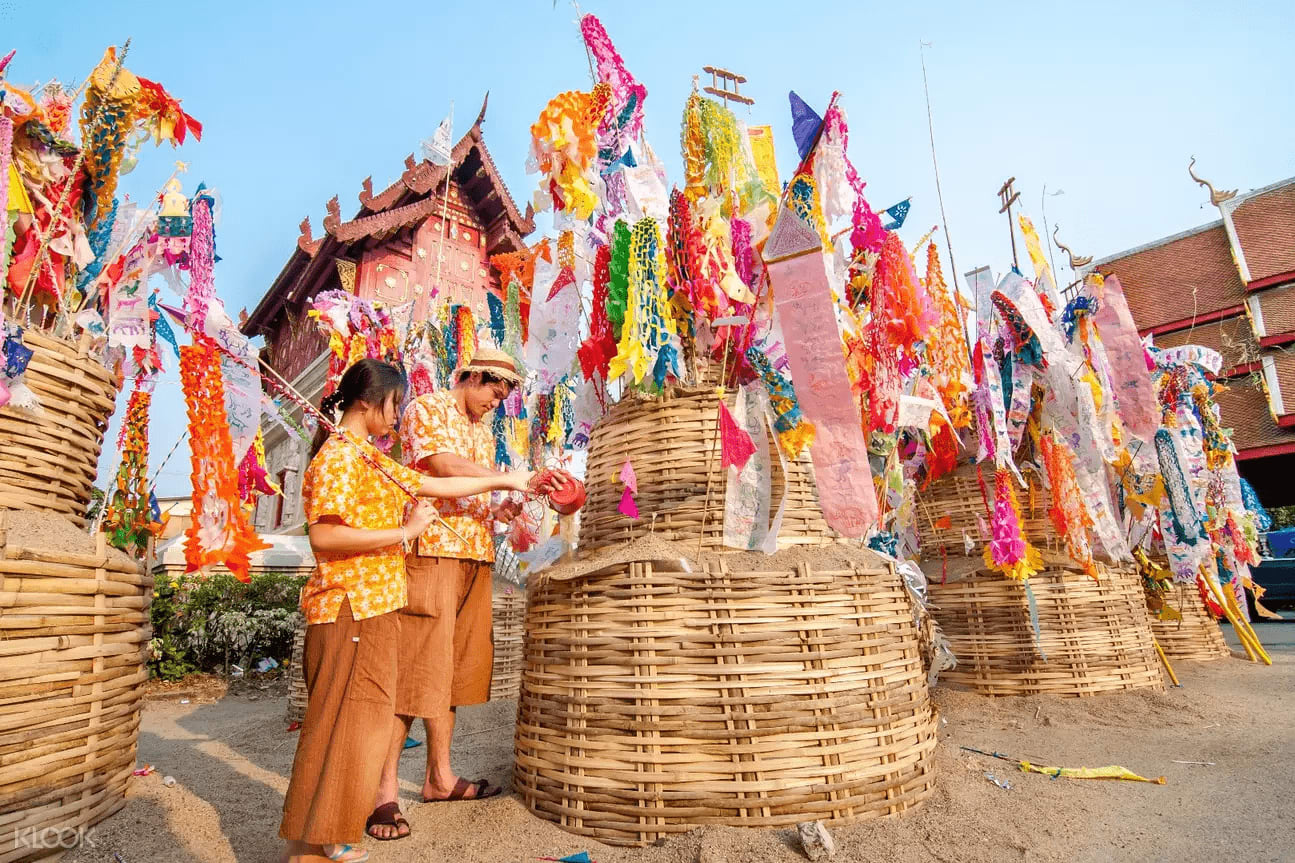 If you want the full Songkran experience, immerse yourself in experiences of both merit making and the water fights with Klook's Songkran Festival Tuk Tuk Day Tour!
Starting with a morning tour of Wat Arun, you'll spend the morning experiencing some Songkran rites, such as watching observing the Buddha image bathing rites and joining in on merit making activities. You'll hope on your tuk tuk in the afternoon for a wet and wild battle along Silom Road, where thousands of visitors from around the globe gather for one massive water fight!
Klook me a Songkran Tuk Tuk Bangkok tour!
Songkran in Ayutthaya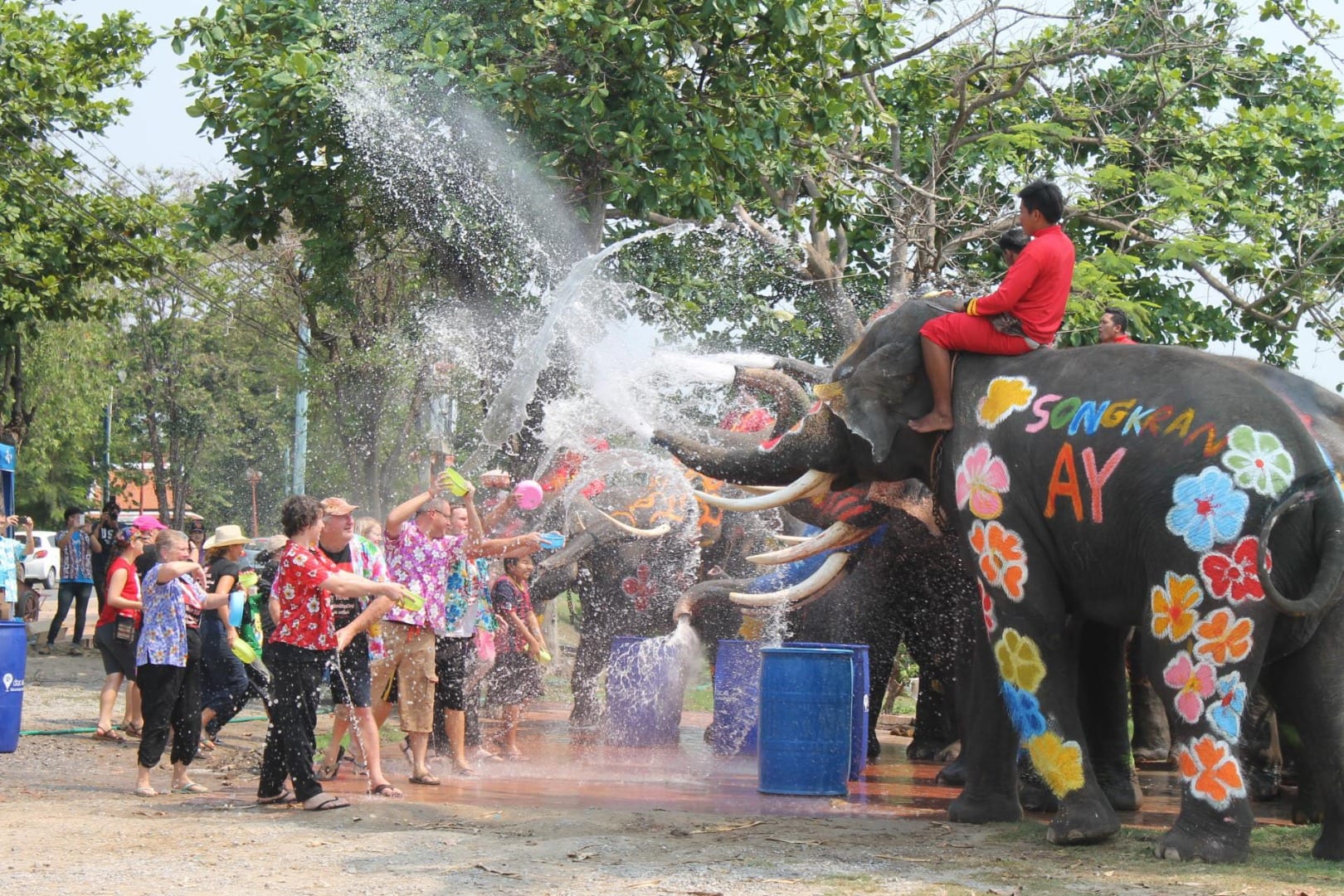 Experience a flipside to bustling modern Bangkok this Songkran, with a day trip to the historic city of Ayutthaya. Leaving from Bangkok's Century Mall, the Ayutthaya Songkran Festival Day Tour takes you through this ancient capital of Siam. You'll see the famous temples in the morning and have lunch at the Ayutthaya Floating Market before joining the locals in a water fight frenzy on the streets!
The day doesn't stop here – after freshening up after the water fights, you'll stop by a night market to fuel up with snacks and street food, before heading back to Bangkok in the evening.
Klook me a Ayuthhaya Songkran Day Tour!
Songkran in Chiang Mai
1. Tha Phae Gate – Old City Moat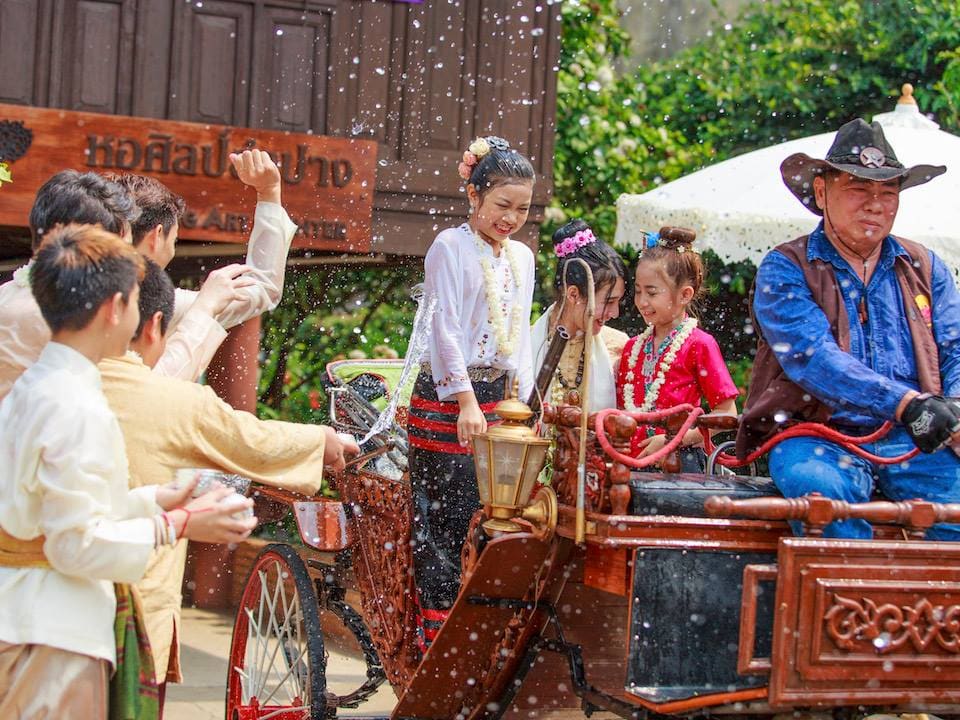 Source: Tourism Authority of Thailand
The Tha Phae Gate also known as the old city moat is where you'll find the biggest and most popular water fight. You can lower your buckets on strings into the moats for a quick refill before emptying the load on an unsuspecting passerby! We'd recommend getting a private car charter to take you to the different Songkran hotspots and also for you to escape from the waterworks.
Klook me around Chiang Mai in a Private charter!
2. Wat Phra Singh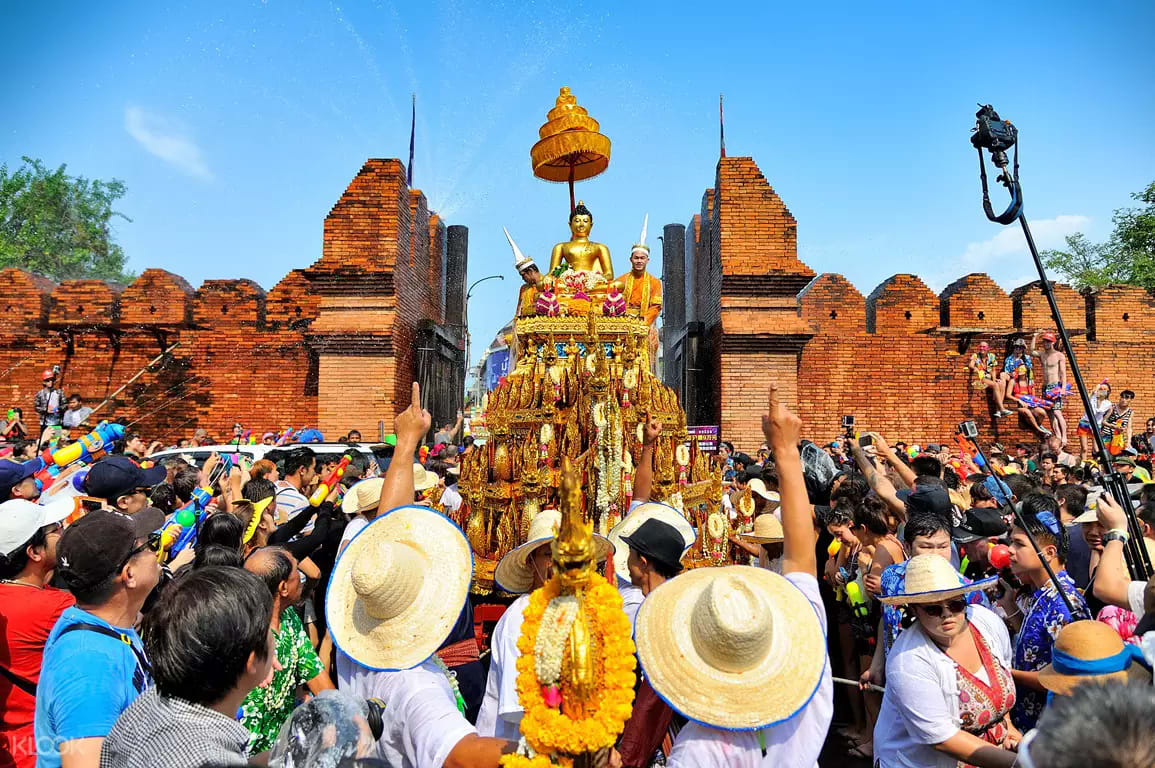 For an authentic Chiang Mai Songkran experience, you'll have to pay a visit to the Wat Phra Singh temple. Join in the bathing rites of Buddha, watch Thai folk singing contests or make lanna flags and accumulate some merit! The day ends with a crazy water battle on the streets of Chiang Mai.
Klook your Wat Phra Singh Songkran tour and have your local guide show you the true spirit of Songkran in Chiang Mai.
Klook me a Chiang Mai songkran tour!
Songkran in Phuket
1. Patong Bangla Road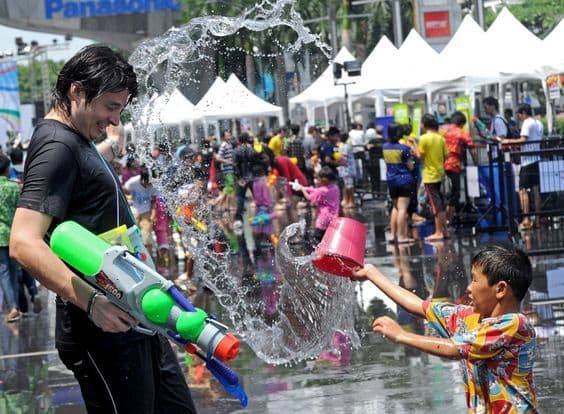 Source: pinterest
It's no surprise that the place to be at for Songkran in Phuket is Patong! Be prepared to get ambushed by kids with water guns and buckets of ice-cold water as you walk down the streets of Patong. After all the crazy water fights, you'll be tired out for sure. Instead of dragging your tired feet up the subway, Klook your private car charter and let your driver take you back to your accommodation in comfort!
Klook me around Phuket in comfort!
Songkran in Pattaya
1. Beach Road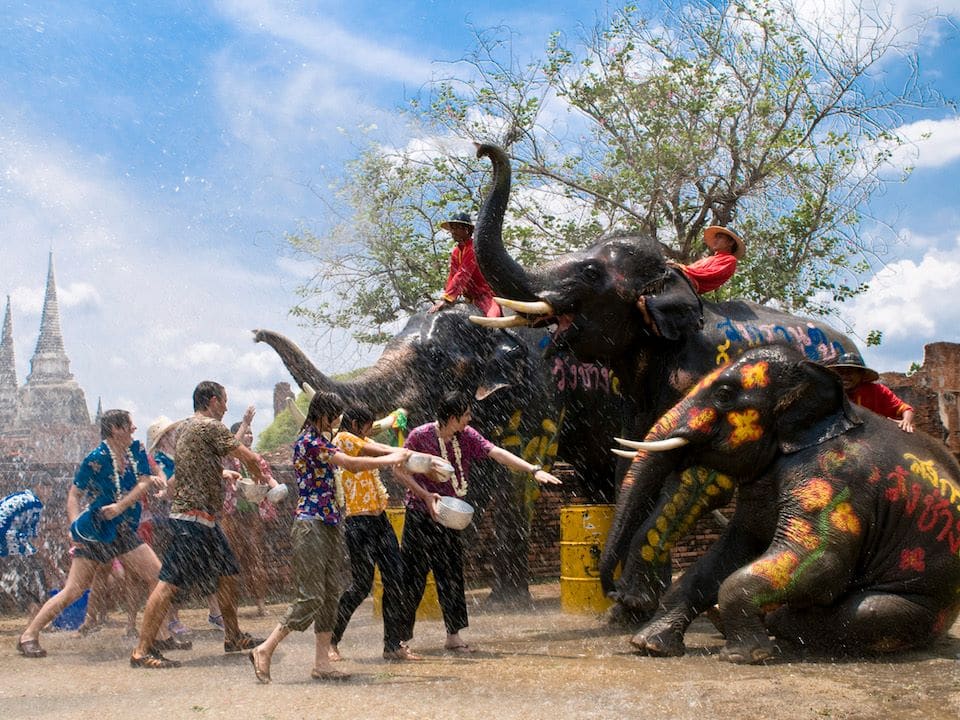 Source: Tourism Authority of Thailand
For an extended Songkran experience, you'll definitely want to head to the party city of Thailand, Pattaya.
While Songkran only lasts three days elsewhere, Pattaya's festivities are extended till the 19th of April! Wan Lai, which translates to "the flowing day", is what Songkran is referred to in this city, where the festivities are held for a whole week!
Head over to Soi 6 and 7 on Beach road, where almost every building is a bar. Fill up your water guns and get ready to be completely drenched in an unavoidable crossfire. We'll definitely advise against riding a motorcycle or songthaew, unless you like being soaked on your commute. Besides, why trouble yourself when you can Klook a private car charter and be shielded from the splashes?
For more wet and wild fun, the amazing Cartoon Network Amazone water theme park has over 150 slides and attractions in its 10 zones. Check out our Ultimate Cartoon Network Amazone Guide and find out how you can maximise your day at the theme park.
While you're in Pattaya, don't miss out on the famous Pattaya Floating Market for a different floating market experience. Divided into four sections that represent the north, north-east, south and central regions of Thailand, the market holds a ton of souvenirs and food gems for you to unearth!
Klook me around Pattaya in a Private car charter!
Get set for Songkran
Don't miss out on Songkran, for a splashing good time this April! Get prepped for your Songkran adventure with this list of Klook Travel Essentials that you can pick up at the Bangkok Airport.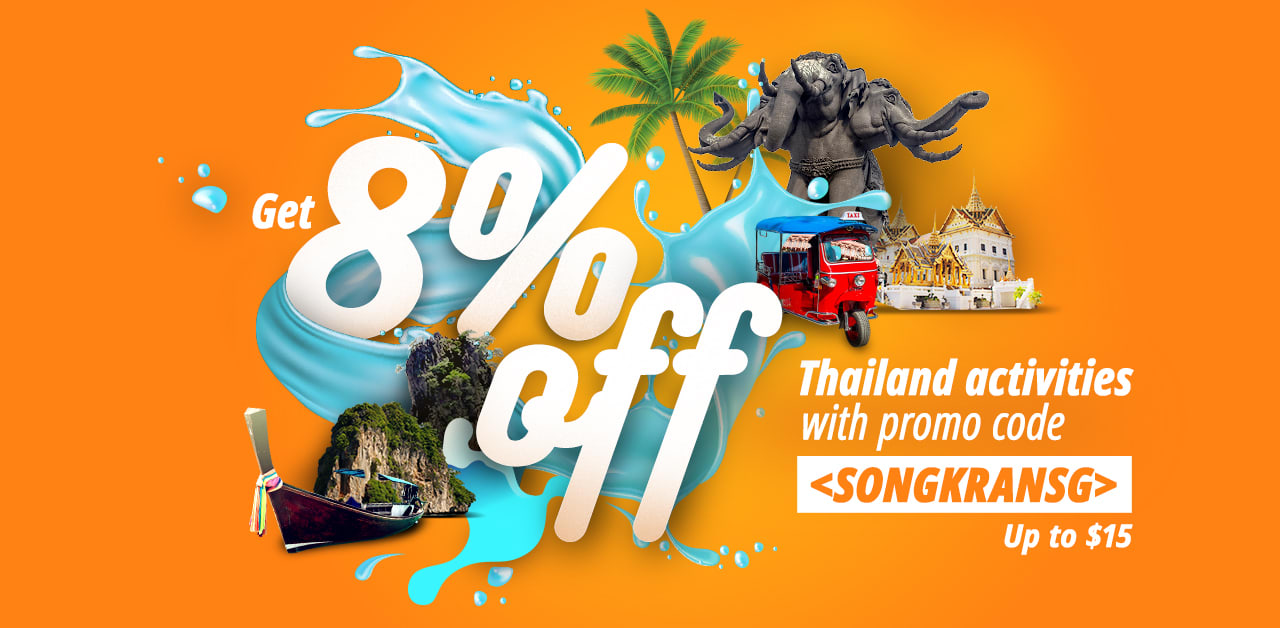 In celebration of Songkran, we're giving you up to $15 off on your Thailand adventure! All you have to do is enter SONGKRANSG when you check out to get 8% off all Thailand activities!
Source for ideas with these indoor Bangkok activities if you're looking to stay dry in between the water fights. Check out our guide on new things to do in the capital city, for ideas beyond the basic night markets and shopping malls!
BONUS: Klook-Exclusive Buy-2-Get-1-Free deals
Seeking out more deals for your Songkran holiday? Don't miss the Buy-2-Get-1-Free Skip The Line deals for Madame Tussauds Bangkok and SEA LIFE Bangkok Ocean World. Available for a limited time from 7 April – 20 April, this Klook-exclusive deal gets you one free admission ticket with every two adult tickets purchased. Get ready for even more great savings this Songkran!