Singapore hawker stalls worth a Netflix feature

Taking a turn from the more polished Salt Fat Acid Heat and Chef's Table shows, Netflix's latest food documentary series Street Food features a different side of the culinary world. Delving deep into the humble local street food scenes across Asia, Street Food doesn't focus on the dishes alone – it also shines a spotlight into the lives of the stall owners working day and night to keep the show running.
Singapore is no short on hawker heroes. Unfortunately, there's only enough airtime in a 32-minute episode to spare for four features:
Haig Road Putu Piring
Master Tang Wanton Noodle (Master Tang himself sadly passed away earlier this April)
Keng Eng Kee (KEK) Seafood
Sin Kee Famous Chicken Rice
We love to debate over food – from which dishes are quintessentially Singaporean, to where to find the best versions of each. As such, there's bound to be controversy over the Netflix picks. Here are 10 hawker stalls in Singapore with amazing dishes and compelling backstories that we think are worth a Netflix feature!
– Savoury –
1. Famous Sungei Road Trishaw Laksa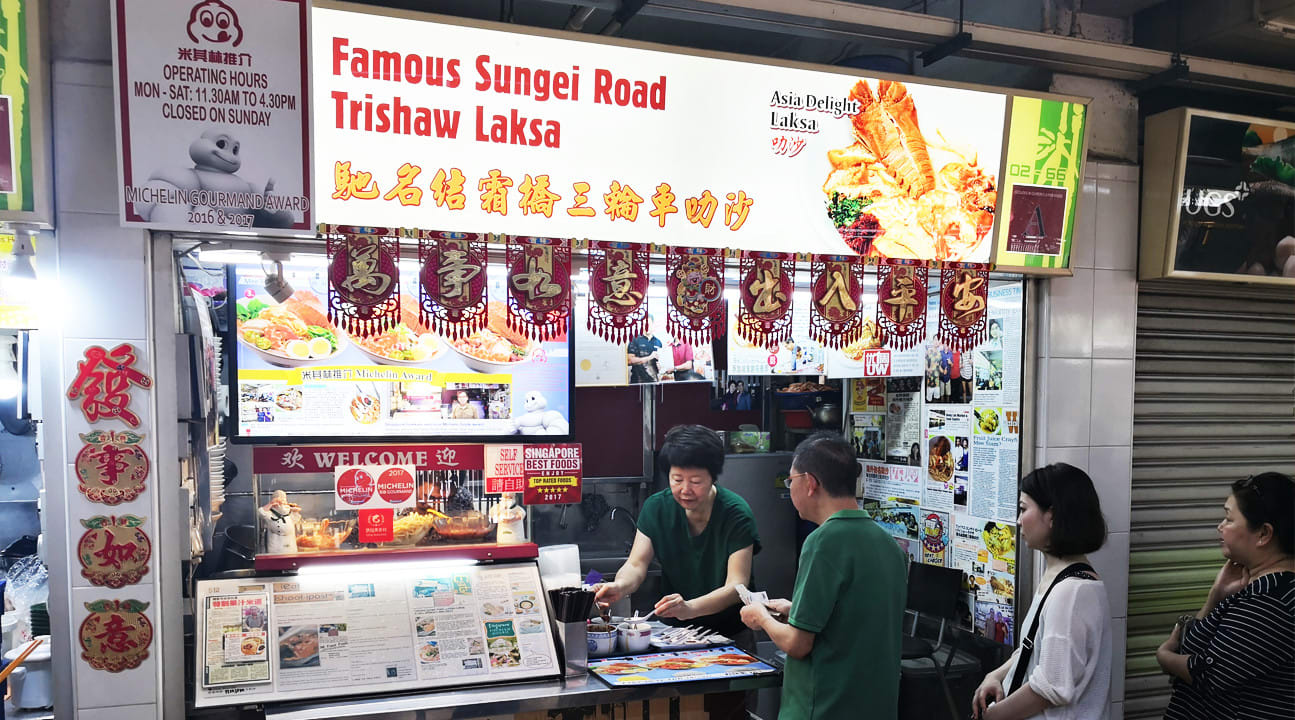 Mee siam and laksa are familiar local breakfast staples, but not all bowls are made the same. With his stall in Chinatown's bustling Hong Lim Food Centre, the owner of Famous Sungei Road Trishaw Laksa, Mr. Daniel Soo, sees consistent long lines – but things weren't always smooth-sailing.
Business was slow when he first opened his stall 17 years ago, so Soo worked tirelessly to gain feedback from customers on his food. There's no generations-old recipe behind the stall's signatures – it's all created by the man himself over the years of R&D.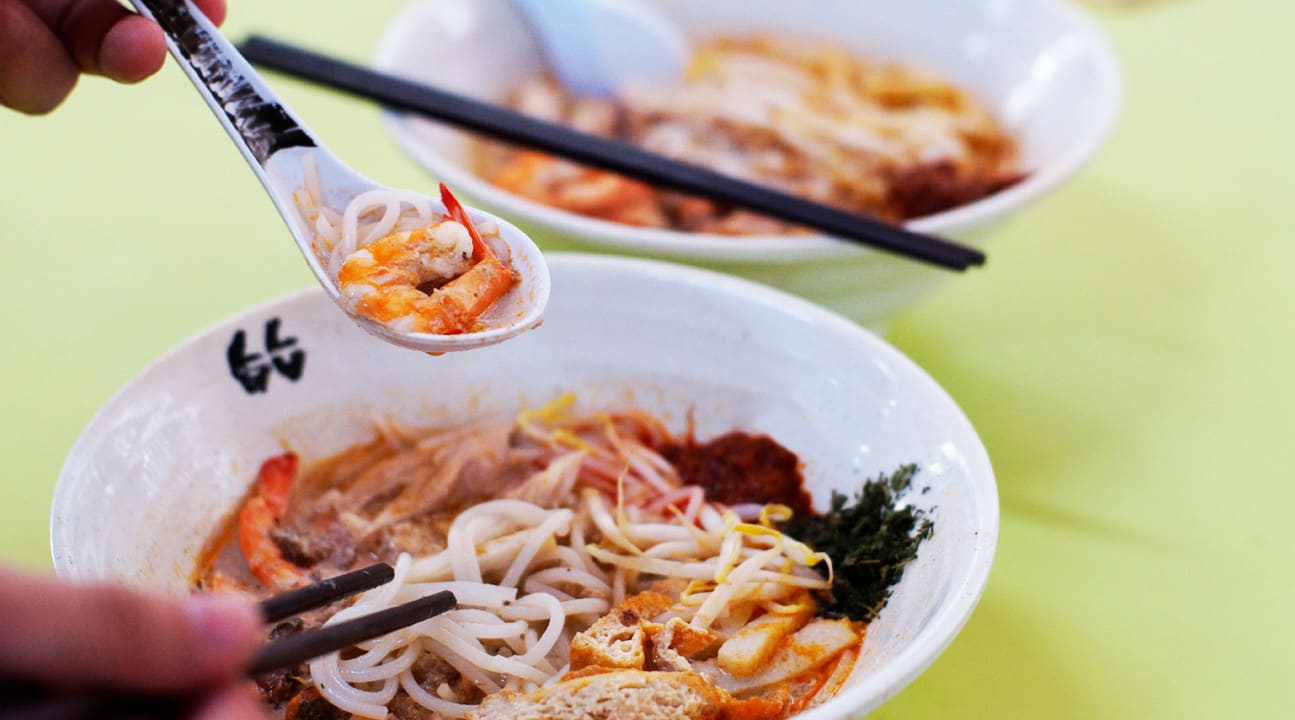 Unlike most bowls of laksa that have an intense coconut-heavy gravy, Soo's Asia Delight Laksa has a much lighter body, with a distinct umami sweetness from being cooked down with dried seafood.
You won't find anything quite like the Fruit Juice Crayfish Mee Siam. Instead of the usual assam paste, a secret mix of fresh fruit juice is used in its place, resulting in a complex citrusy gravy that's both bright and balanced on the palate.
Make your meal even more worth it, with a Klook exclusive discount!
Famous Sungei Road Trishaw Laksa
Address: #02-66, Hong Lim Food Centre, 531A Upper Cross St, Singapore 051531
Opening Hours: Monday – Saturday, 11.30AM – 4.30PM. Closed Sunday.
2. Ji Ji Wanton Noodle Specialist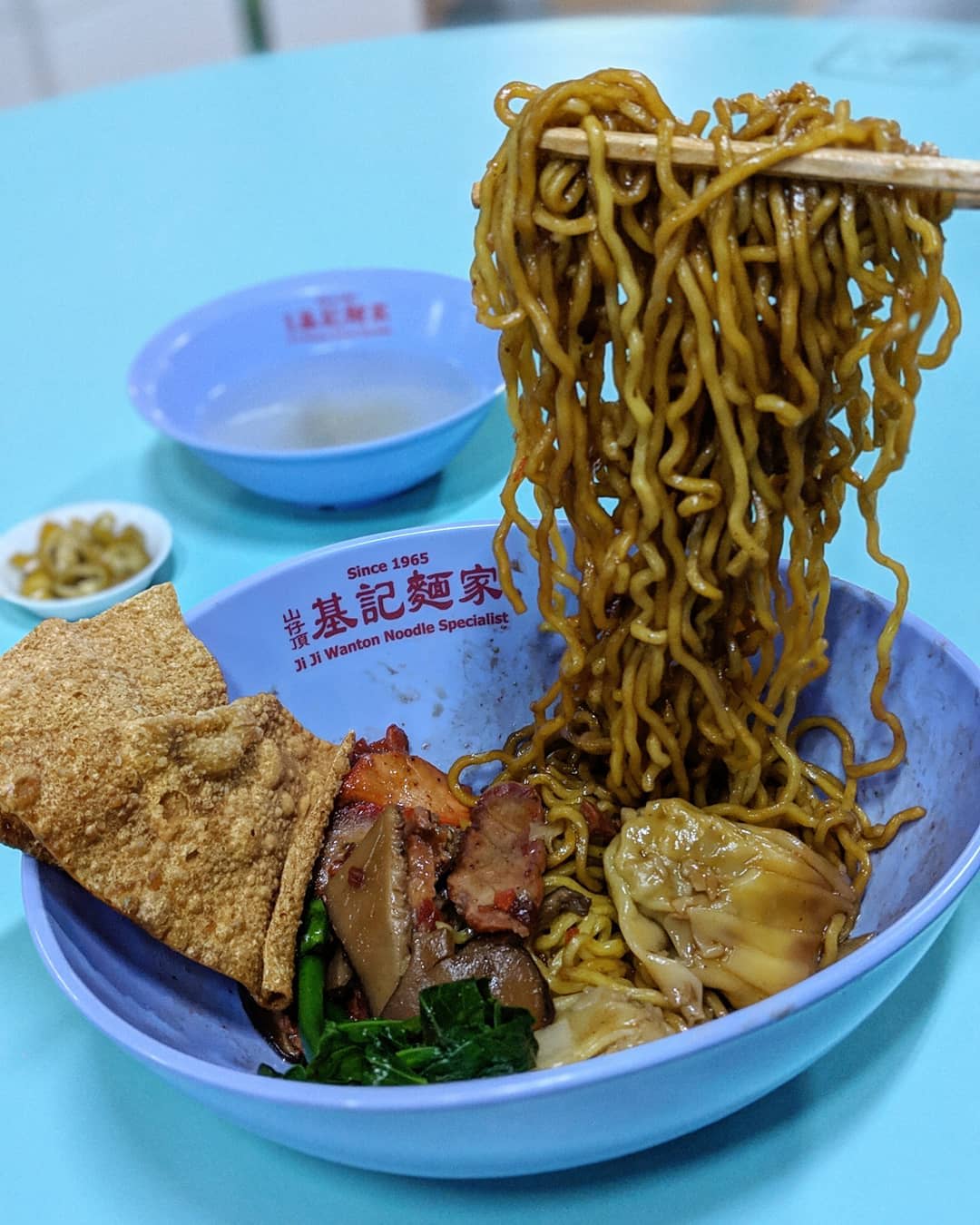 Photo Credit: @tomodachichingoo on Instagram
Hong Lim Food Centre is no short on cult-favorite stalls, and Ji Ji Wanton Noodle Specialist always sees snaking queues during lunch hours. The stall's 68-year-old owner, Madam Lai Yau Kiew, has been in the business for about four decades, taking over from her parents who had set up the stall in 1965.
What makes Ji Ji's wanton mee stand out is their noodles, which are distinctly thicker and curlier than the thin egg noodles you find at most stalls. Combined with a signature dark homemade sauce, every slurp is superbly springy and flavorful. Aside from the usual Char Siew and Wonton, you can get crunchy Fresh Prawn Dumplings to accompany the noodles as well, which are handmade daily with a generous amount of pork and shrimp.
Photo Credit: @derikpoh on Instagram
After Lai's husband passed away in 1997, her daughters, Jill and Kirsten, came onboard to help. Having helped out at the stall since they were both kids, the sisters have gradually taken over from their mother, whose health had taken a hit from the long hours of constant labor the hawker business put her through.
With their days often starting at 3 a.m. and stretching on past 7 p.m., Jill and Kirsten have gone through their share of trials from the trade – from badly scalded fingers to nerve damage as a result from relentless overworking. However, this tight-knit trio remains dedicated to their craft, driven by the determination to carry on the family's legacy for as long as they are capable.
Ji Ji Wanton Noodle Specialist
Address: Level 2 #02-49, Hong Lim Food Centre, 531A Upper Cross St, Singapore 051531
Opening Hours: Daily, 6.30AM – 8.30PM.
3. Ma Li Ya Virgin Chicken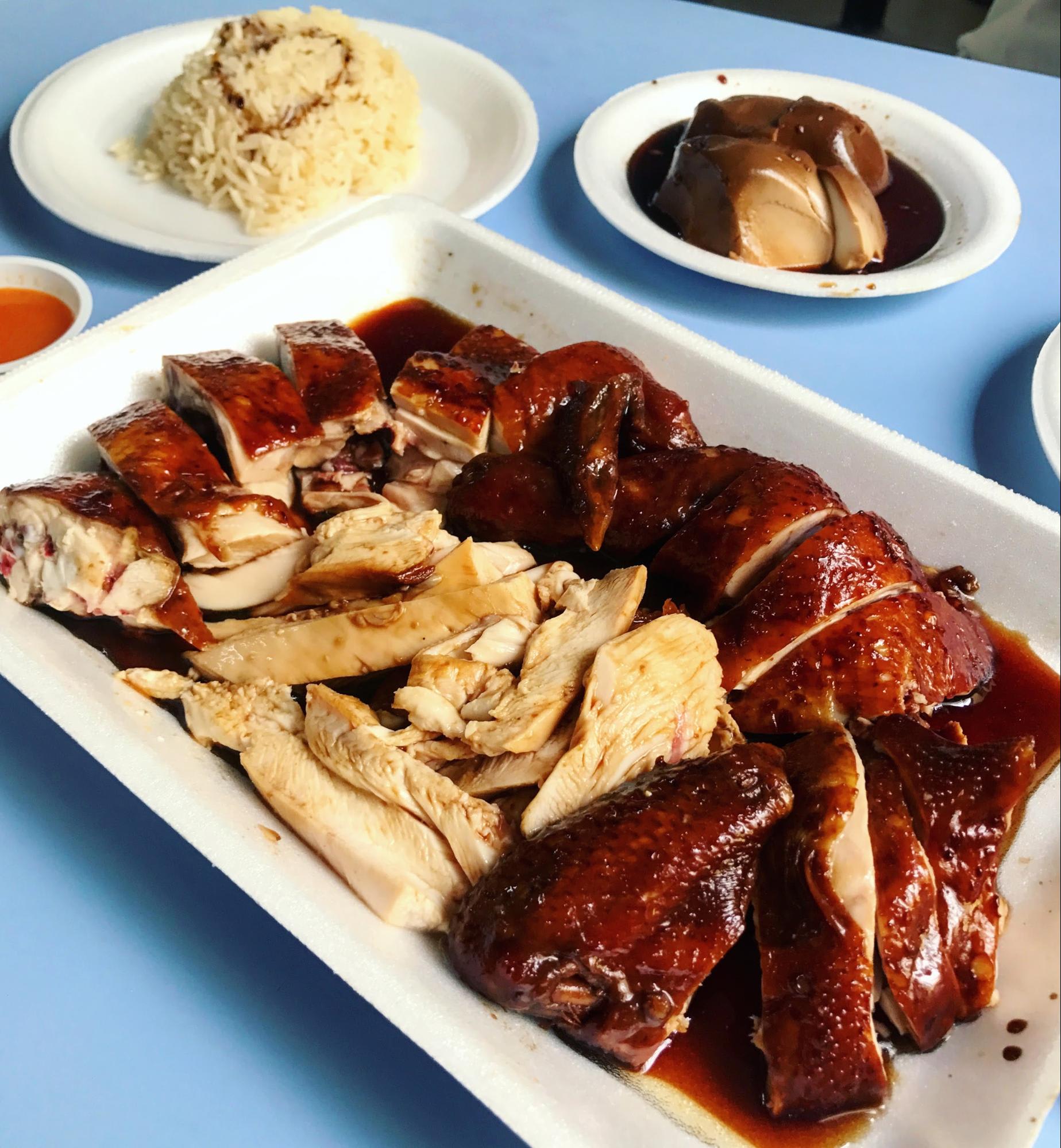 Photo Credit: @aliciaatsh on Instagram
When soya sauce chicken is mentioned, most think of Hawker Chan – the Michelin-starred hawker in Chinatown Complex Food Centre. However, there's another soya sauce chicken stall located in the same food centre that's just as good – and some might say, even better.
Ma Li Ya Virgin Chicken, helmed by Madam Maria Siew, has a loyal following of its own, with many of its fans touting her rendition as being superior to that from other arguably more famous stalls.
Instead of plain white rice or noodles, Ma Li Ya's soya sauce chicken is paired with fragrant seasoned rice, similar to what you'd get in Hainanese chicken rice. The Signature Soya Sauce Chicken is where it's at. Silky and incredibly flavourful, with a touch of rose wine cutting through the sweetness and savouriness of the sauce. Even the breast meat remains soft and juicy.
Not to be confused with the much firmer braised tau kwa typically found at kway chap stalls, Ma Li Ya's Signature Braised Beancurd is a rare dish you probably won't be able to find elsewhere. Braised in the same braising sauce as the chicken, every bite of the delicate beancurd is smooth and creamy.
It's only open four days a week, so make sure you head down at the right times. Bookmark Ma Li Ya Virgin Chicken on your food hitlist for end-May, when the Chinatown Complex Food Centre reopens! In the meantime, check out the stalls at Chinatown Food Street on Smith Street if you're feeling peckish, and make your meals cheaper with Klook vouchers.
Ma Li Ya Virgin Chicken
Address: #02-189 Chinatown Food Centre Chinatown, Smith Street
Opening Hours: Wednesday – Thursday and Saturday – Sunday, 7AM – 4PM. Closed Monday, Tuesday and Friday.
4. Simon Road Oyster Omelette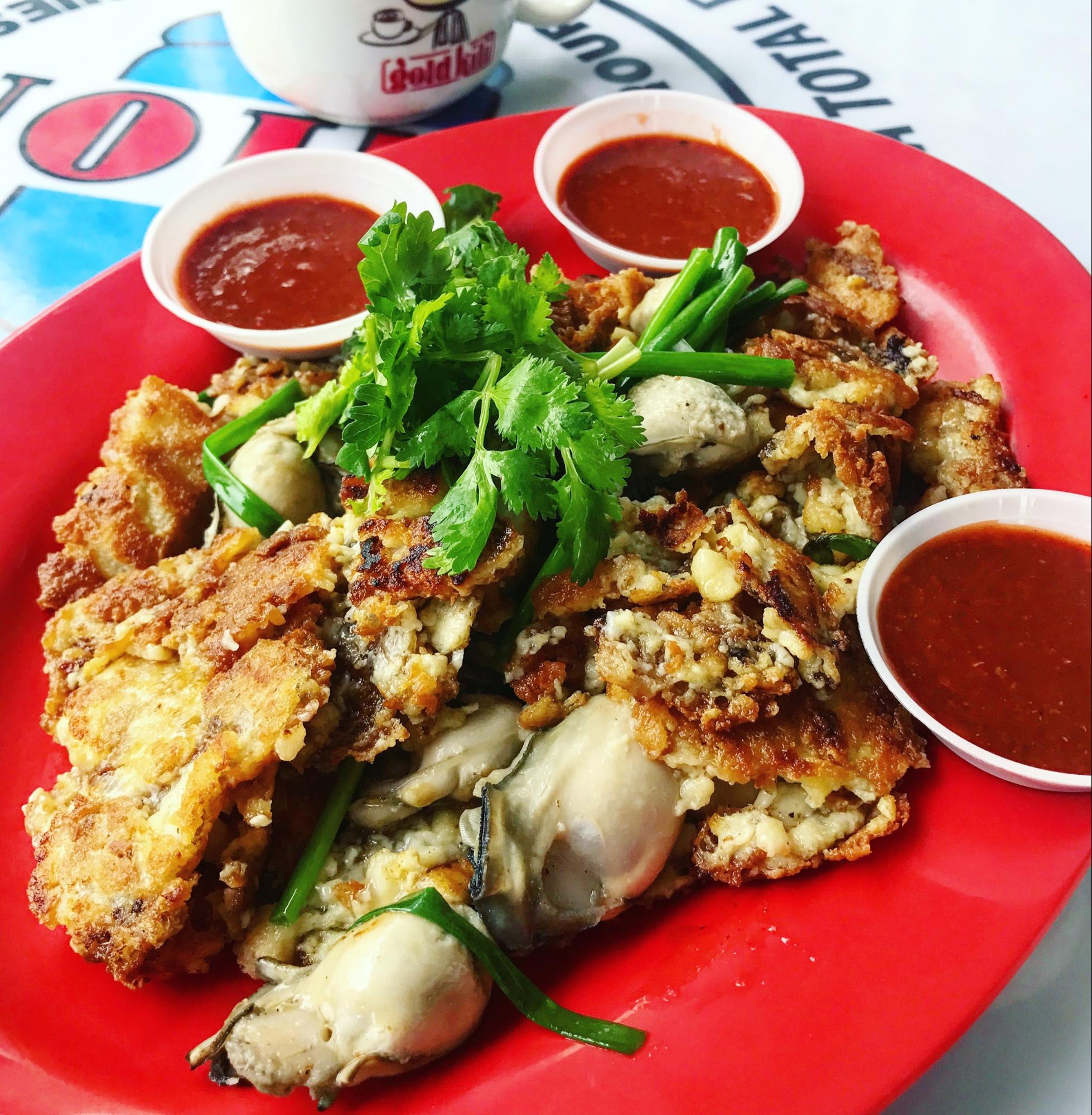 Photo Credit: @aliciaatsh on Instagram
One of Kovan's prized food gems, Simon Road Oyster Omelette is known for serving one of the best renditions of Orh Luak, or oyster omelette, in the island.
What makes this particular oyster omelette a cut above the rest is its glassy extra-crisp edges, intense wok-hei and succulent, almost-creamy oysters. A level up in flavor and aroma comes from the liberal use of pork lard during the frying process, as well as from the time-tested skills of the chef.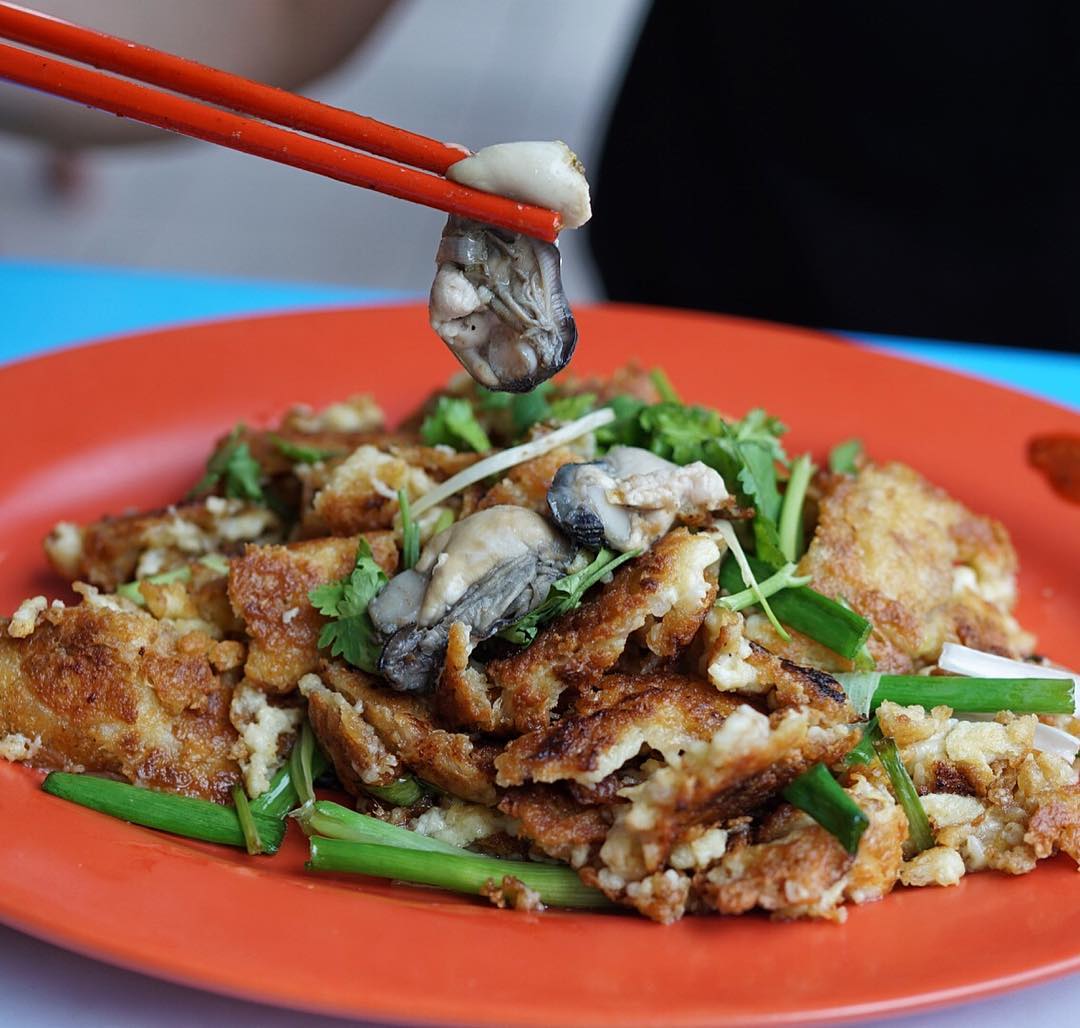 Photo Credit: @shootandspoon on Instagram
The stall's original helmsman, Mr. Lim Seng Hong – known to loyal customers as Lao Hero or Old Hero – had been grooming his younger son to take over his legacy, until tragedy struck with his younger son's passing.
A few years later in 2017, Lao Hero also passed on – leaving the family legacy in the hands of his older son Bao Ping. Having faithfully helped out at his father and brother's stall over the past two decades, the quiet Bao Ping managed to pick up the nuances of his father's cooking skills through careful observation, despite never having much of an opportunity to step up to the station.
Today, he successfully continues his father's long-lasting legacy, and longtime fans have kept returning for his masterfully cooked oyster omelette. Definitely worth the journey to Kovan.
Simon Road Oyster Omelette
Address: Blk 212 Hougang Street 21, Singapore 530212
Opening Hours: Tuesday – Sunday, 3pm – 11pm. Closed Monday.
5. Original Simon Road Hokkien Mee
Photo Credit: @thesilverchef on Instagram
With over four decades of history, the Original Simon Road Hokkien Mee has been a crowd favorite for years, with patrons travelling the distance for a plate of their well-executed hokkien mee. Currently, the store is helmed by You Ri and his father – the latter of which is set to hand the stall over to his son when the time comes.
Each plate of Hokkien Mee is cooked on the spot to order, which means that the wok hei element shines strong in every bite. Mix in the homemade chilli, and the entire dish takes on a different dimension – a well-balanced fiery kick that serves as a counterbalance to the full-bodied, umami rich noodles.
This precious skill of cooking a stellar plate of hokkien mee was taught to You Ri's father years ago by his own father, who in turn was mentored by a hokkien mee master a long time ago. Now, the skill has been passed on to You Ri, and for the past 18 years or so, he has been learning the ropes from his father and strives to attain a similar gold standard.
This famous stall shifted from its original spot to its current location close to Kovan MRT a couple of years back – make sure you pay them a visit when you're in the area!
Original Simon Road Hokkien Mee
Address: 210 Hougang Street 21, Singapore 530210
Opening Hours: Wednesday – Sunday, 10.30AM – 10PM. Closed Monday and Tuesday.
6. Kedai Makan Muhajirin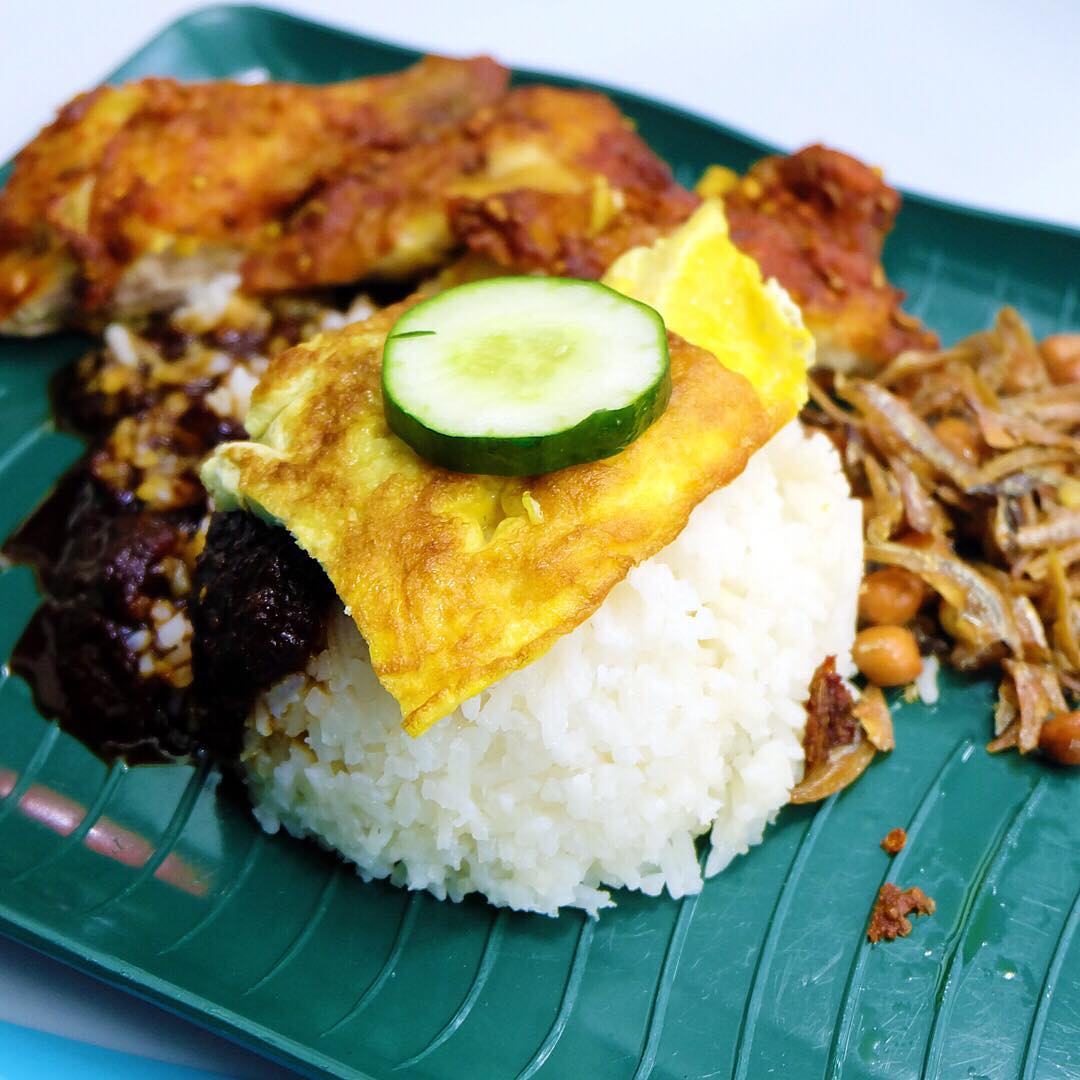 Photo Credit: @nickblitzz on Instagram
One of the fundamental elements of street food is that it's affordable – and nearly nothing can been the price of Kedai Makan Muhajirin's $1 Nasi Lemak.
This Toa Payoh Lorong 7 food stall, run by Madam Zaliah Ishak and Mohd Tahir Omar, has been dishing out plates of nasi lemak at the crazy price of $1 for 30-odd years now. Madam Ishak's elderly customers living in the vicinity are the reason behind her refusal to budge the prices – despite inflation over the decades -, as the low cost help to make the food affordable for them.
For the price and portions, Kedai Makan Muhajirin remains exceptionally popular, with lines leading all the way out of the coffeeshop that the stall is situated in. A dollar will get you a scoop of fragrant coconut rice, omelette, crispy fried ikan kuning fish, as well as the usual suspects of ikan billis, peanuts and sambal.
The stall almost closed down in December last year due to the shop lease expiring, with Zahlia initially intending to retire after that. However, customer demand and encouragement from her husband convinced Zahlia to put her retirement plans on hold, and to reopen just a block away from the stall's original location.
Even more good news: this stall's legacy could still continue for even longer, despite the initial scare. Zahlia's daughter-in-law, Nana Azlina, is slated to take over from her once she retires for good.
One thing's for sure, you'll be hard-pressed to find food this cheap in our day and age.
Kedai Makan Muhajirin
Address: Block 20 Toa Payoh Lorong 7, Singapore 310020
Opening Hours: Daily, 4.30AM – 1.30PM
– Sweet –
7. Ji Xiang Ang Ku Kueh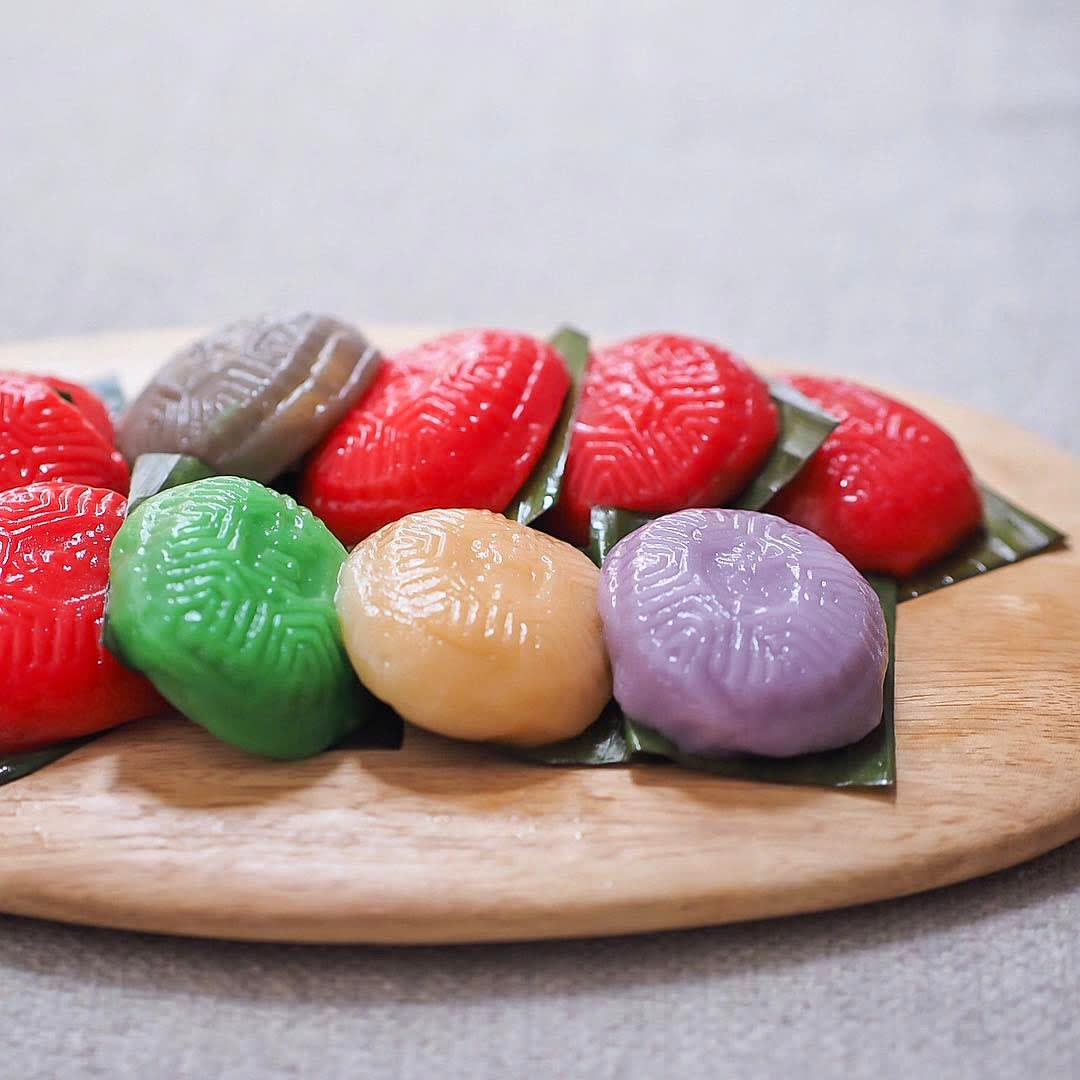 Photo Credit: @singaporeliciouz on Instagram
Now a symbol of nostalgia thanks to a reviving interest in local heritage food, the popularity of ang ku kueh has resurged in recent years – with this distinctive tortoise shell-shaped snack popping up in everything from plushies to pouches.
Out of all the places selling ang ku kueh in Singapore, few do it better than Ji Xiang Ang Ku Kueh. This Everton Park shop has been established since 1988, having started three years prior to that as a living room hobby of Mrs. Toh, who founded Ji Xiang Ang Ku Kueh with her husband Mr. Toh Poh Seek. Since then, this family business has boomed, with throngs of people from all walks of life flocking to their original store for fresh boxes of warm ang ku kueh.
Originally only making the traditional Peanut and Sweet Mung Bean Ang Ku Kueh, Ji Xiang updated their line up over the years to include five more flavors – Corn, Durian, Yam, Coconut and Salted Bean. Even though their flavors have been updated, the next generation behind Ji Xiang insists on keeping everything else old-school – from making the kueh skin by the minute, to moulding the ang ku kueh by hand.
Head out to Everton park for this piece of edible heritage – Ji Xiang's ang ku kueh is made fresh each morning and often sells out by the afternoon, so come early if you can!
Ji Xiang Ang Ku Kueh
Address: 1 Everton Park, Singapore 081001
Opening Hours: Monday – Saturday, 8.30AM – 5PM. Closed Sunday.
8. Tan's Tu Tu Coconut Cake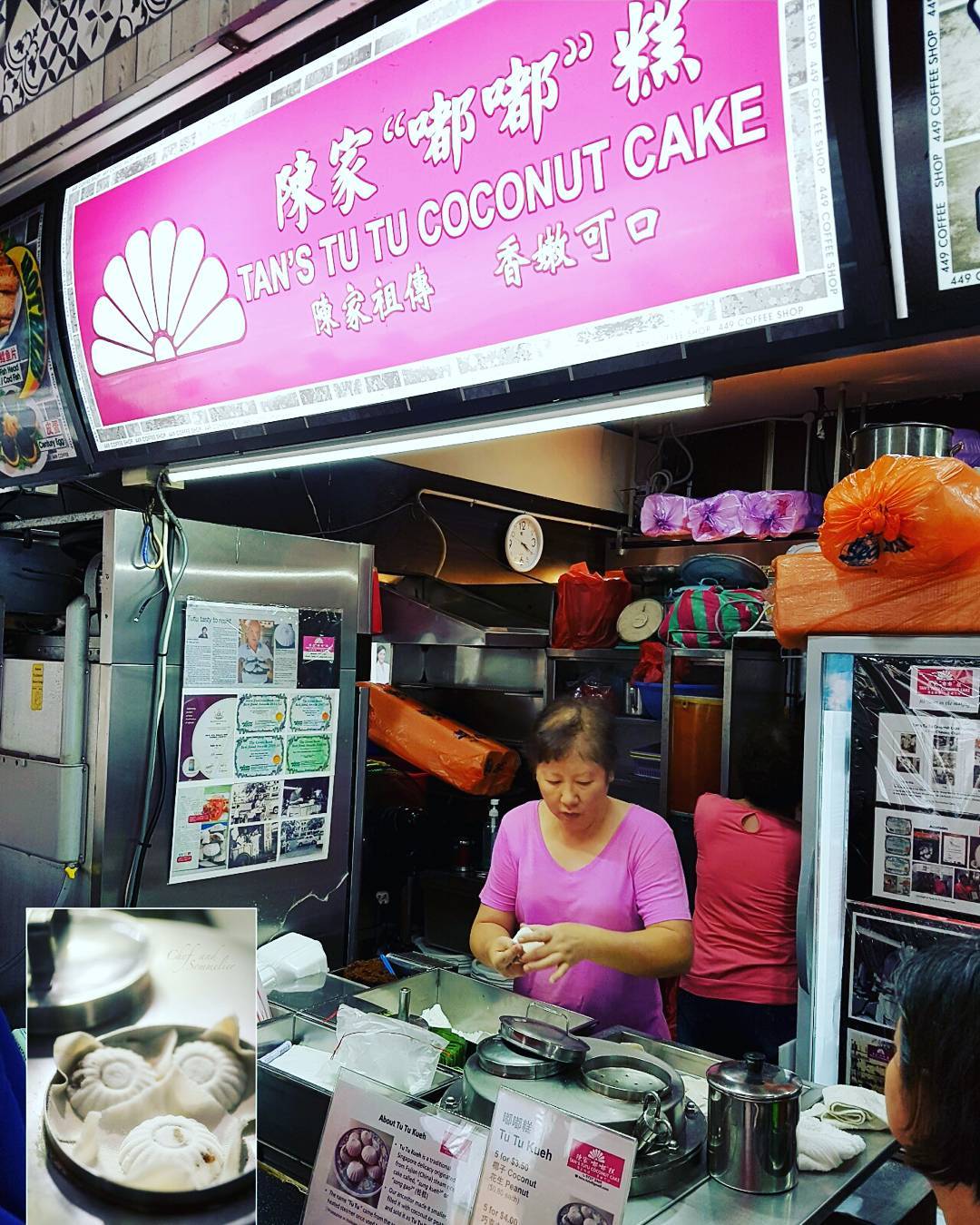 Photo Credit: @tanstutu on Instagram
Another symbol of nostalgia, tu tu kueh is well-loved for its delicate melt-in-your-mouth exterior and delightfully crunchy fillings. There aren't many places that sell kueh tutu nowadays, but Tan's Tu Tu Coconut Cake, helmed by Ms. Tan Bee Hua, is definitely the one to seek out if you're craving a taste of this nostalgic snack.
Not many know this, but tu tu kueh is a true Singaporean snack originally inspired by China's song gao, which is a large steamed sweet cake made from plain rice flour and sugar. When Ms. Tan's late father Tan Yong Fa migrated to Singapore in the 1930s, he adapted this Fukienese snack – making it bite-sized, steaming it on cut pandan leaves and filling it with either crushed peanuts or shredded coconut mixed with gula melaka.
The mobile push cart stall – which roamed all over Singapore from Chinatown to Punggol – was later helmed by Ms. Tan's late brother in the 1970s. He rebranded the business to "Tan's Tu Tu Coconut Cake", and settled it in a permanent stall at Havelock Road Cooked Food Centre.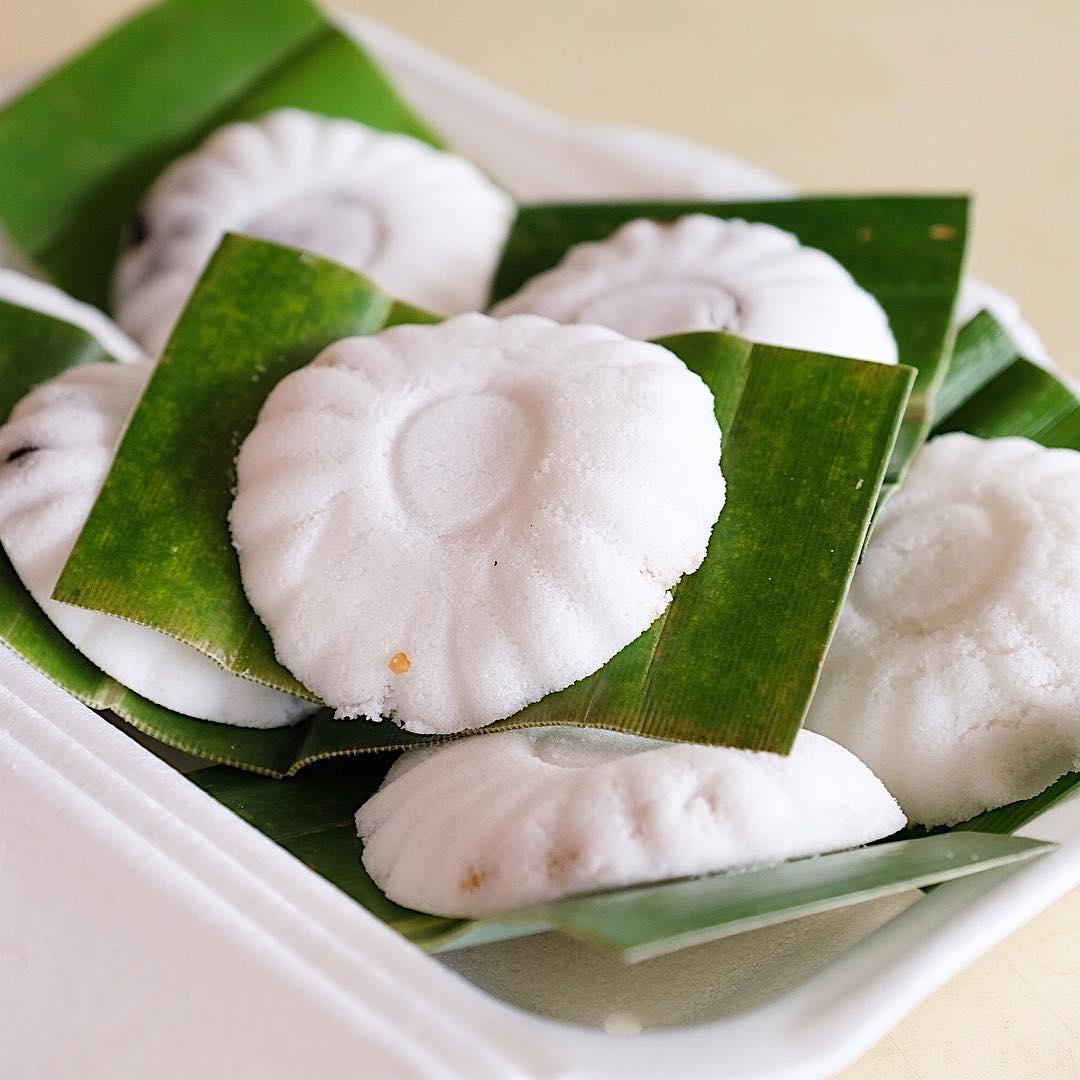 Photo Credit: @joliehwee on Instagram
Since taking over from him 15 years ago, Ms. Tan has been running the family's Havelock Road and Clementi stalls together with her sister-in-law. Everything from the pounded peanuts to the sifted jasmine rice flour are made by hand, with Tan skillfully moulding and steaming the tiny cakes non-stop during peak times. The Peanut and Coconut Tu Tu Kueh remain staples, with Tan having introduced a Chocolate variation in recent years that's become popular with kids.
Despite the shop's lasting popularity, there's no word on a successor yet. However, Tan's Tu Tu has been doing well at heritage festivals and events – so hopefully, there will be a way for this snack to be preserved for future generations to enjoy.
Tan's Tu Tu Coconut Cake
Address: 22B Havelock Rd, Singapore 162022
Opening Hours: Monday – Wednesday and Friday – Saturday, 12PM – 3PM. Closed Thursday and Sunday.
9. Tiong Bahru Galicier Pastry Bakery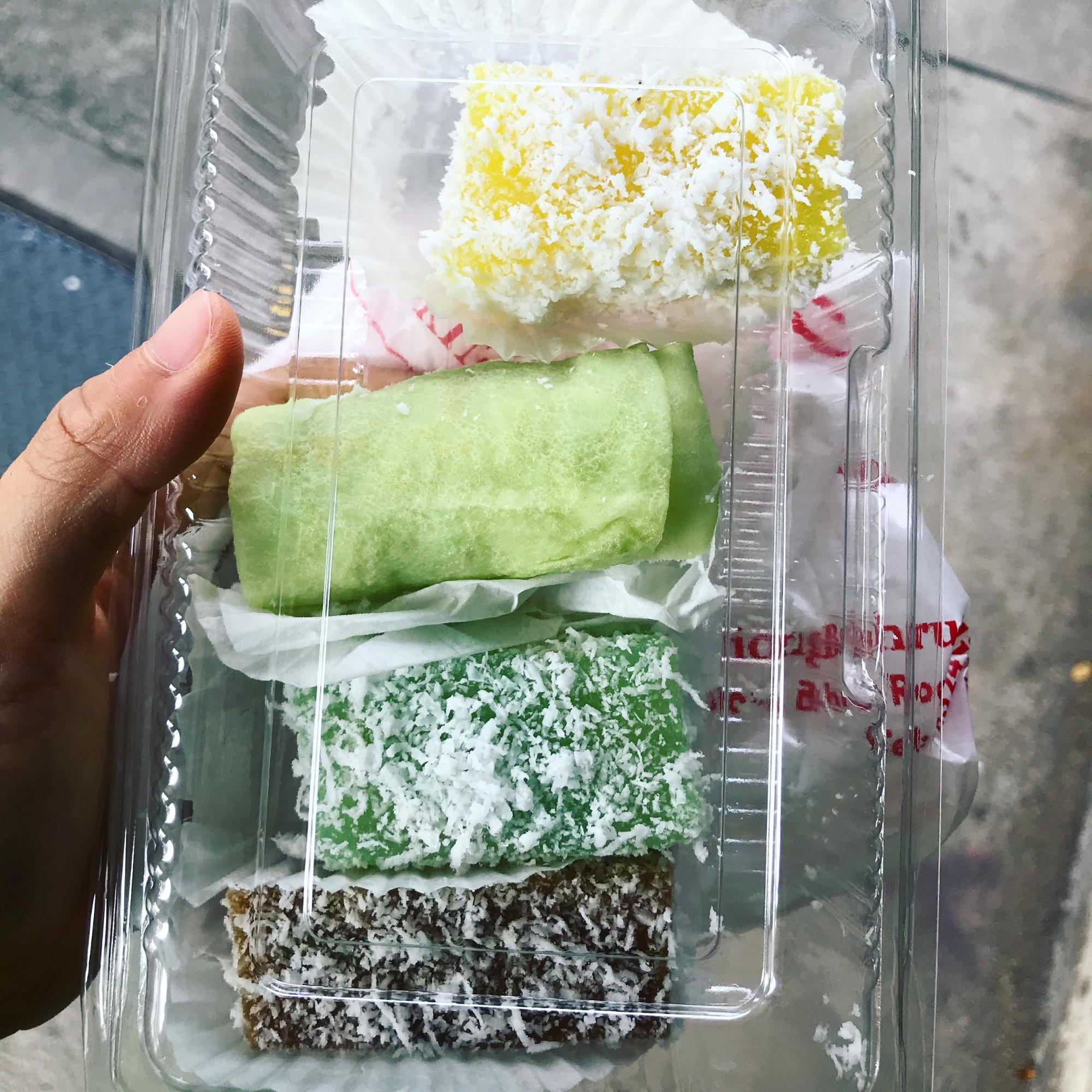 Photo Credit: @aliciaatsh on Instagram
Nonya kueh fans would likely paid Tiong Bahru Galicier Pastry Bakery a visit at least once – or several times – before. This old-school bakery has remained a dedicated favorite of many, from residents in the area to customers who make the trip across just for boxes of their freshly made nonya kueh and cakes.
Owned by husband-wife duo Mr. Tan Yong Siang and Ms. Jenny Soh, Galicier Bakery was founded in the 1980s, and has been at its Tiong Bahru Road space for close to two decades now. In a truly apt fashion, Tan and Soh actually met in a pastry shop many years ago – Soh's father owned the Western confectionery that Tan worked at. The rest is history.
Over the years, they added all kinds of nonya kueh – based off recipes from Tan's Peranakan grandmother – to Galicier Bakery's lineup alongside their rustic Western-style bakes, which have garnered a sizeable following and a special place in their regulars' hearts.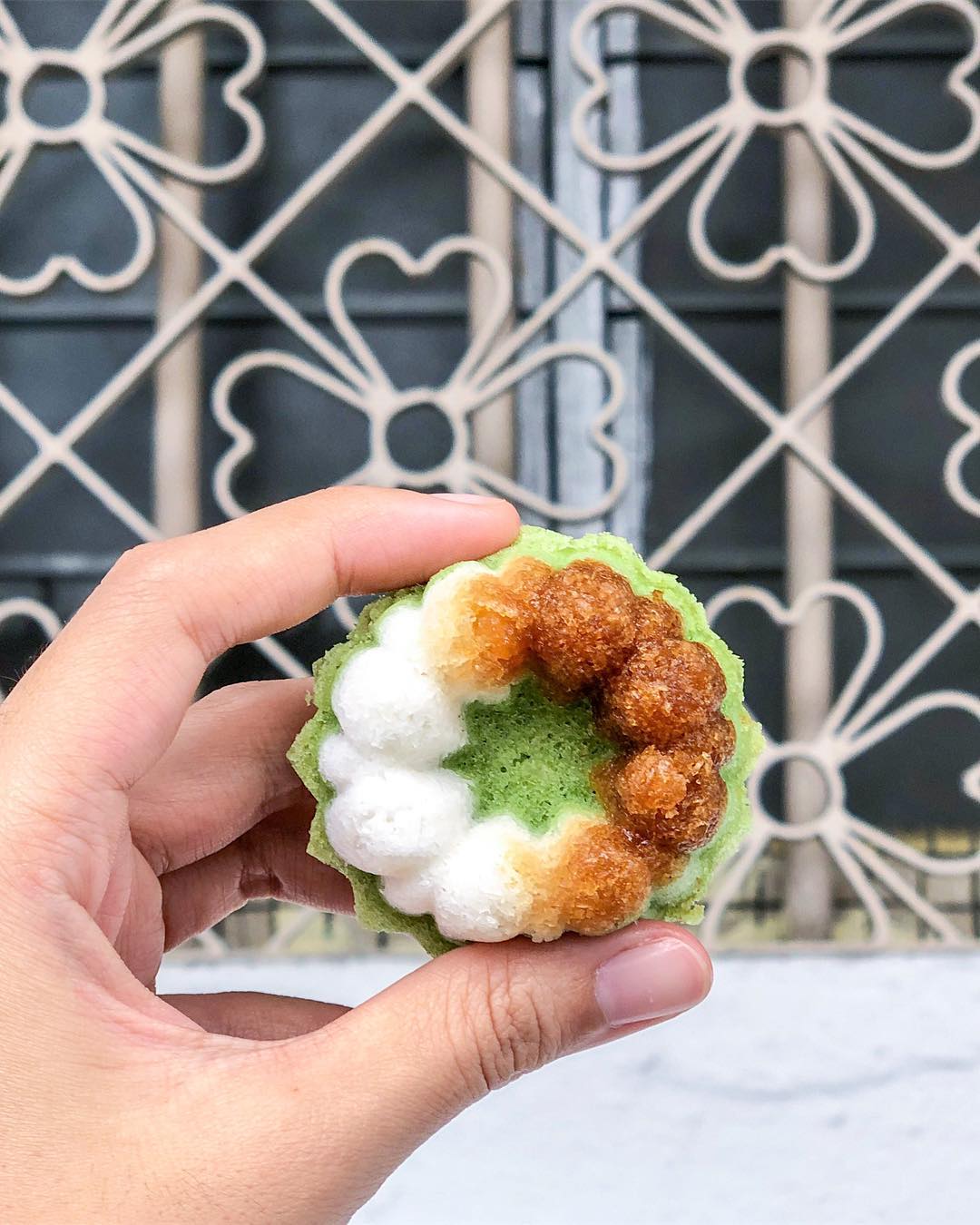 Photo Credit: @cweizhi on Instagram
You can't leave Galicier Bakery without a box of their Putu Ayu. This steamed pandan sponge cake topped with coconut is thought to be of Indonesian origin and is a rare find in Singapore, with Soh putting her own spin on it through the addition of gula melaka on top. This petite cake tastes just as good as it looks. Fluffy with a distinct pandan fragrance, made extra flavorful from the smoky-sweet shredded coconut. The Kueh Dardar is another standout – a delicate rolled pandan crepe stuffed with generous amount of sweet, slightly-salty fresh coconut filling that's incredibly satisfying in every bite.
For more places in Tiong Bahru that'll take you back in time, check out our Tiong Bahru Area Guide for an afternoon of exploration!
Tiong Bahru Galicier Pastry Bakery
Address: #01-39, 55 Tiong Bahru Road, Singapore 160055
Opening Hours: Tuesday – Sunday, 9AM – 9PM. Closed Monday.
10. Teck Seng Soya Bean Milk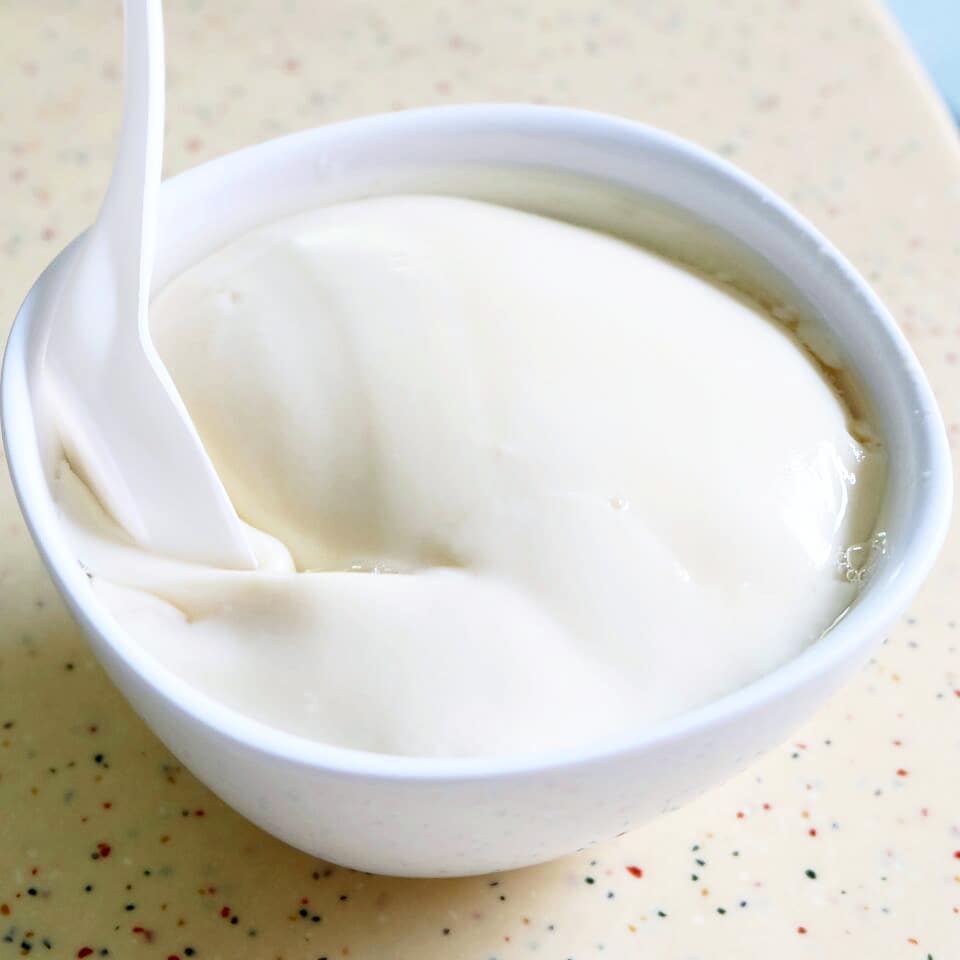 Photo Credit: @vanessa_kou on Instagram
As far as hawker centre breakfasts are concerned, there's nothing more comforting than a bowl of tau huay to end your meal.
At Tiong Bahru Food Centre, there's only one place you should go for traditional soya beancurd. Easily identified by its snaking queues, Teck Seng Soya Bean Milk serves some of the smoothest, silkiest tau huay on the island. The stall's founder, Mr. Loh Teck Seng, has always made his beancurd on site – arriving the night before to prepare the soya beans himself, so that it's all ready by the next morning.
Making soya beancurd by hand is an art that requires years of experience and skill to perfect – every step needs to be precisely executed, from cooking the soybean milk, to setting the beancurd. Mr. Loh's expertise sets shines in his Tau Huay. Every delicate spoonful is unbelievably smooth all the way through without a trace of grittiness, with a balanced sweetness from the light sugar syrup.
Worth the queue? We say yes. Be sure to head down to Tiong Bahru early, before they sell out! If you're looking for a place for tea after exploring the neighborhood, check out the nearby Tiong Bahru Bakery for your coffee fix, as well as their amazing pastries and desserts!
Teck Seng Soya Bean Milk
Address: #02-69, Tiong Bahru Market, 30 Seng Poh Rd, Singapore 168898
Opening Hours: Tuesday – Sunday, 5AM – 1PM. Closed Monday.
Eat your way through the summer
With so many delectable cuisines from other Asian cities being showcased in Street Food, the travel feels are REAL. This summer, make some plans for an overseas food adventure!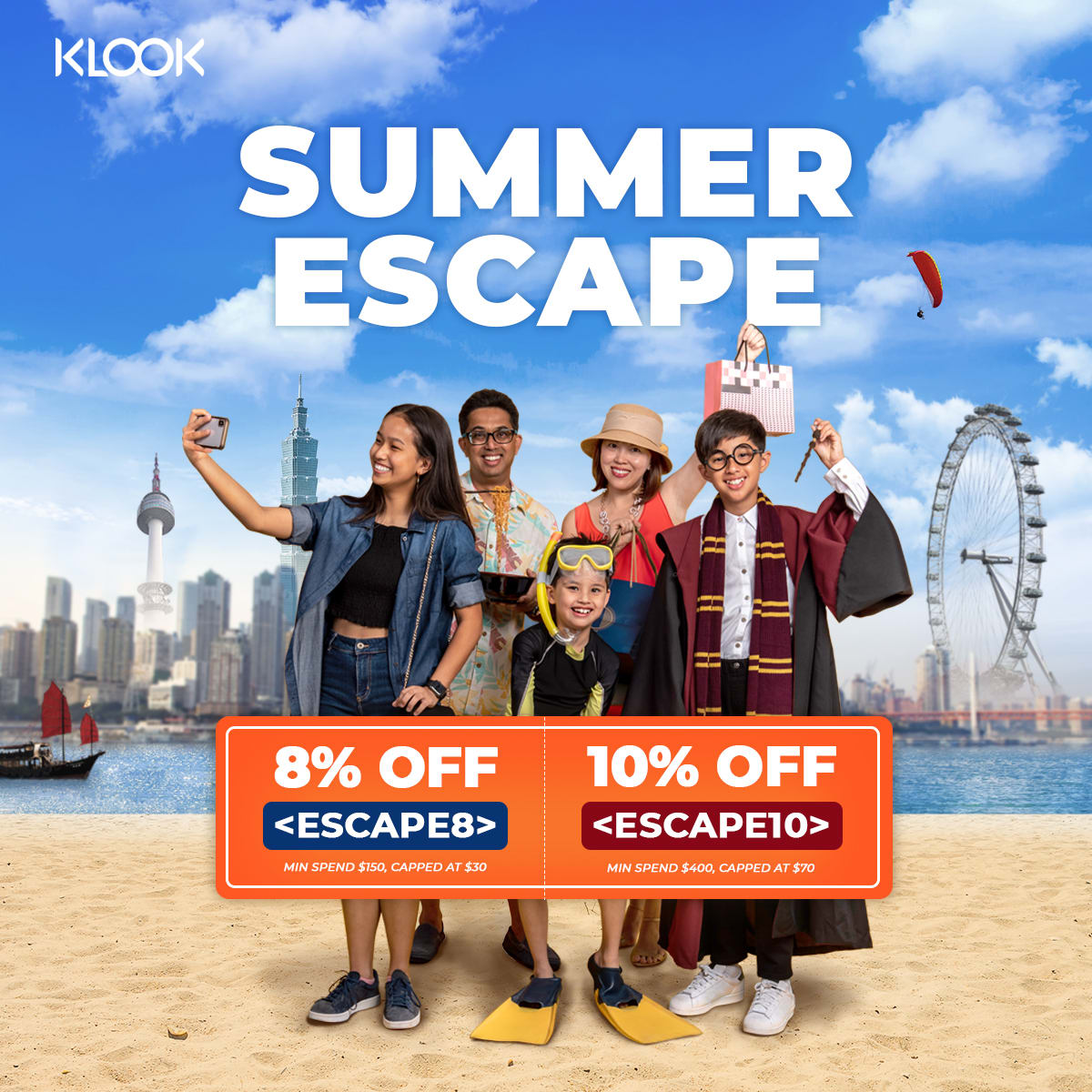 To give you a head start on your summer holiday planning, we're launching a mega Klook Summer Escape Sale. For a limited time only, Klook is offering up to $100 off your holiday activities and experiences with a minimum spend of $550. Enjoy 8% off your purchases on Klook with a minimum spend of $150, capped at $30 when you key in the promo code "ESCAPE8", and 10% off your purchases on Klook with a minimum spend of $400, capped at $70 when you key in the promo code "ESCAPE10".
The Summer Escape Sale will run from 3 May 2019 to 30 June 2019, and is valid for one time use per user only. Head here to find out all the details on how you can maximise your summer holiday with this not-to-be-missed sale!