Family time in Bangkok
When people around me knew that I was travelling to Bangkok, they were quick to suggest this mall, that mall, and yet another mall, to shop for days on end. However, Bangkok, loosely translated as the land of freedom, is a beautiful city that offers so much more than merely being a shopping haven.
With a rich vibrant culture, Thailand serves up not just the best Pad Thai, but numerous opportunities for insights to its customs, traditions, history and even popular culture. Culture geeks would revel in all these during their stay in one of Asia's most cosmopolitan cities.
For those who want to experience a different side of Bangkok apart from its air-conditioned malls and cafes, here are 7 must-dos to spend some quality family time.
1. Take a long-tail boat ride through the Floating Market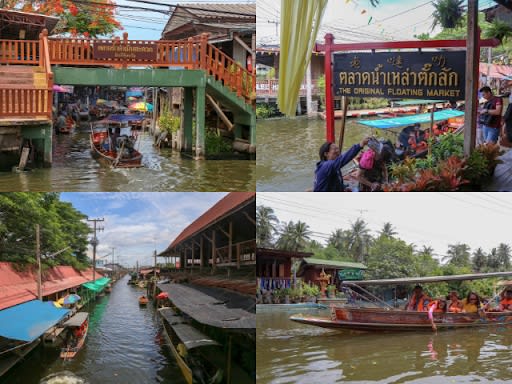 Number 1 on my list of attractions to visit will be the floating markets – the quintessential view on a postcard from Thailand! There are several different floating markets in Thailand, notably the Damnoen Floating Market and the Amphawa Floating Market. The first is known as the most popular one amongst tourists while the latter is the next most popular one.
These floating markets are considerably far from central Bangkok – Damnoen was a 2-hour drive. While there are nearby floating markets, such as Taling Chan Floating Market, friends warned me that they are "super small" and are "not worth the trip". For a more authentic experience, travelling to a further floating market is absolutely necessary. A visit to the floating markets would definitely be made easier by settling the transport and guide before-hand.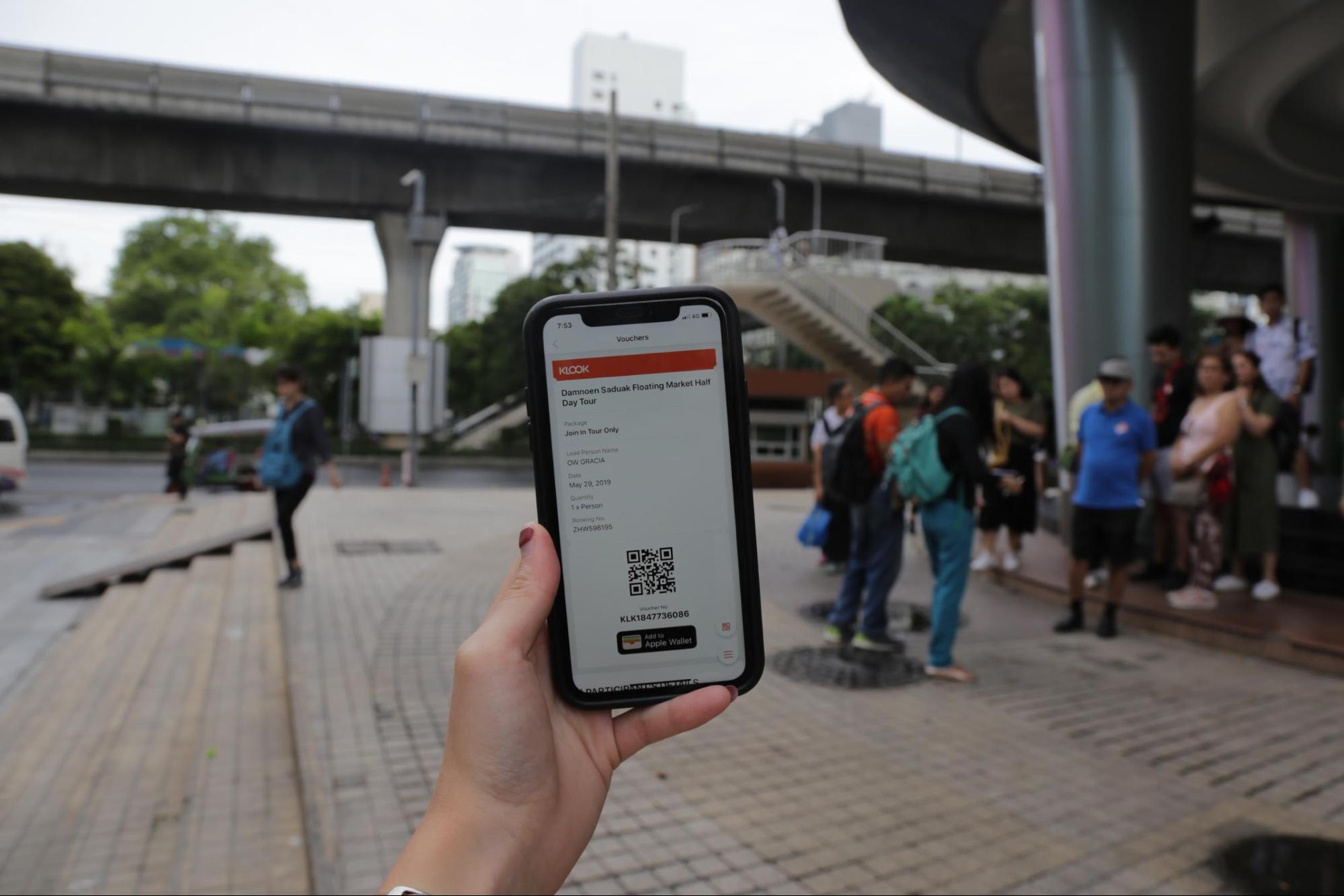 Pre-book a trip to the Damnoen Floating Market through Klook for a hassle-free booking process. From choosing the activity to checking out and paying for my activities, the process was extremely easy and fuss-free. Additionally, you get instant confirmation of the activity which certainly gave me peace of mind. You wouldn't want to be worrying about your activities when you're supposed to be enjoying your vacation!
Simply download the e-voucher on your mobile and present that to the guides at the meeting point at Century Mall (right next to Victory Monument BTS station). It's easy to spot the meeting point as a crowd of participants of the Klook activities would usually gather there. After registering our attendance, we waited for everyone to show up before proceeding to the Damnoen Floating Market.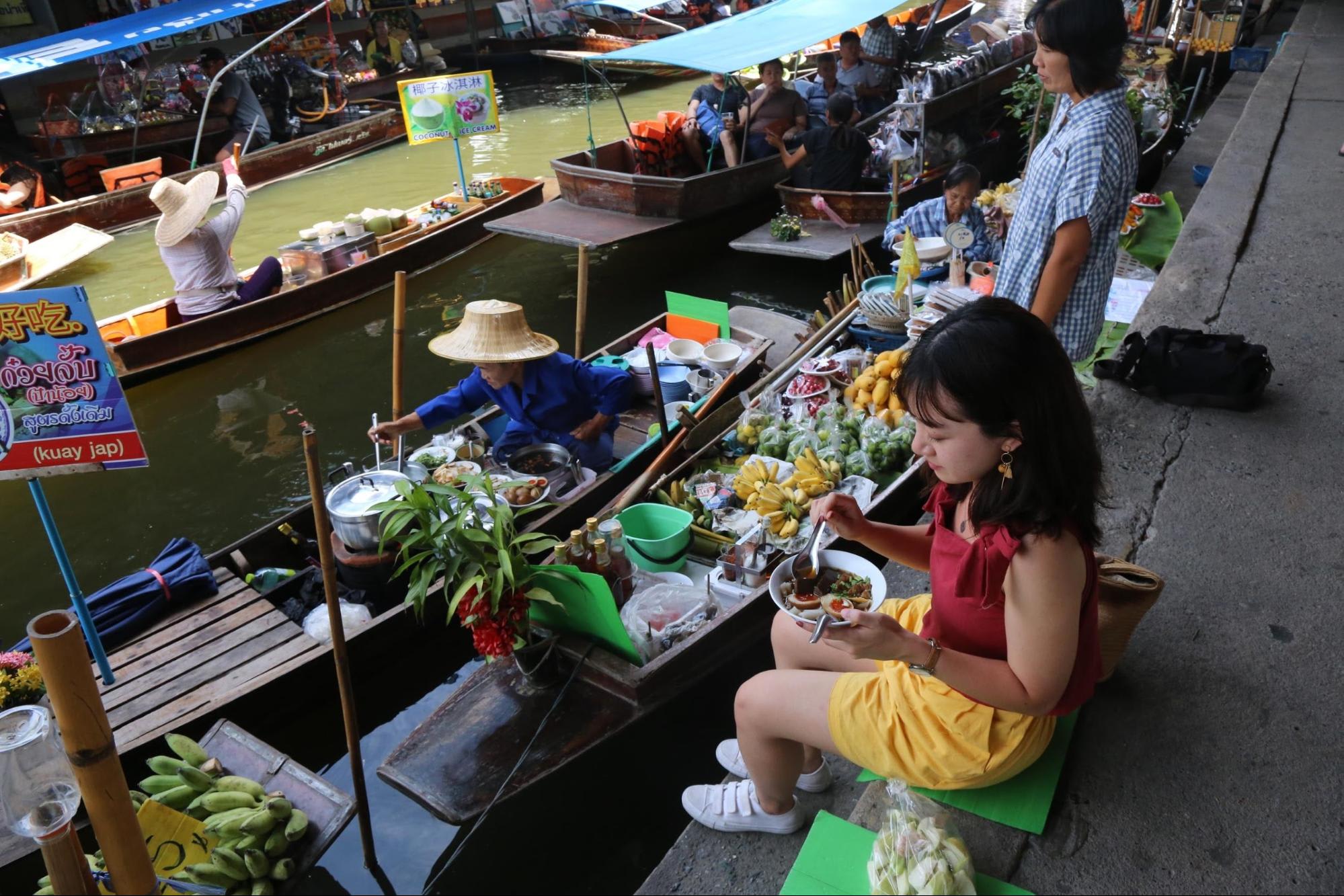 The floating market experience is truly one-of-kind and should not be missed out on. Locals rowing on boats and cooking in them at the same time, store owners peddling their goods as your boat rows past them – this is a sight far from the city life that we're used to in Singapore. For our tour, a long-tail boat ride awaited us, bringing us through the market and the residential areas further down from the market. Be a part of the hustle and bustle at the floating market as hawkers row towards your boat in hopes of making a sale. Rest assured that food options are not inflated to "tourists prices" and there is no need for bargaining – choose from a variety of food options like mango sticky rice, coconut ice cream and even freshly grilled meat skewers.
Personally, the highlight of this activity was exploring the market. Although the time spent at the market was short, we tried this non-descript, unassuming yet mind-blowing Kway Chap.Unlike the Kway Chap we are familiar with back home, the Kway here is curled up into rolls which gives an extra Q texture. Don't miss out on the chance to savour not just the dish, but also the genuine hospitality from the hawkers themselves. Aroy!
2. Live it up with the weekend and night markets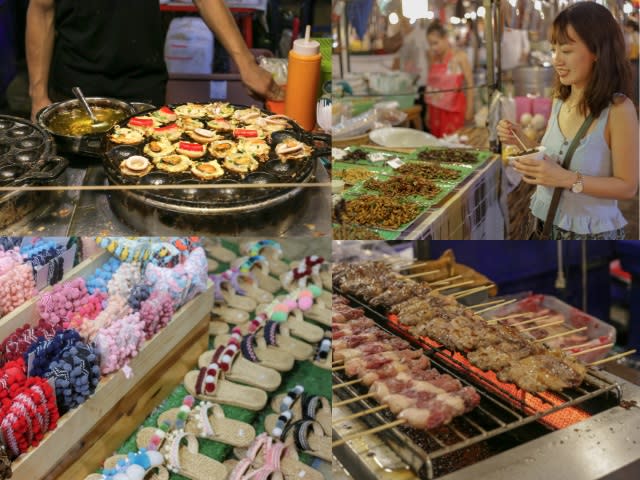 Think Pasar Malam but leveled up with infinite food and shopping options – the celebrated markets of Bangkok. Much as there is no end to the number of markets, here are 2 well-known ones to satisfy your cravings: Rod Fai (Train Market) at the Ratchada location and Chatuchak Weekend Market.
Even though bargaining used to be the norm, I've heard from locals and store owners themselves that it's increasingly hard to get a good bargain due to in flock of tourists who don't bargain but pay full price. But of course, when buying clothes, do bargain, and naturally the more you buy, the more the store owners are willing to lower their prices. Some store owners already have "wholesale prices" where the price per item is lowered when you buy more pieces.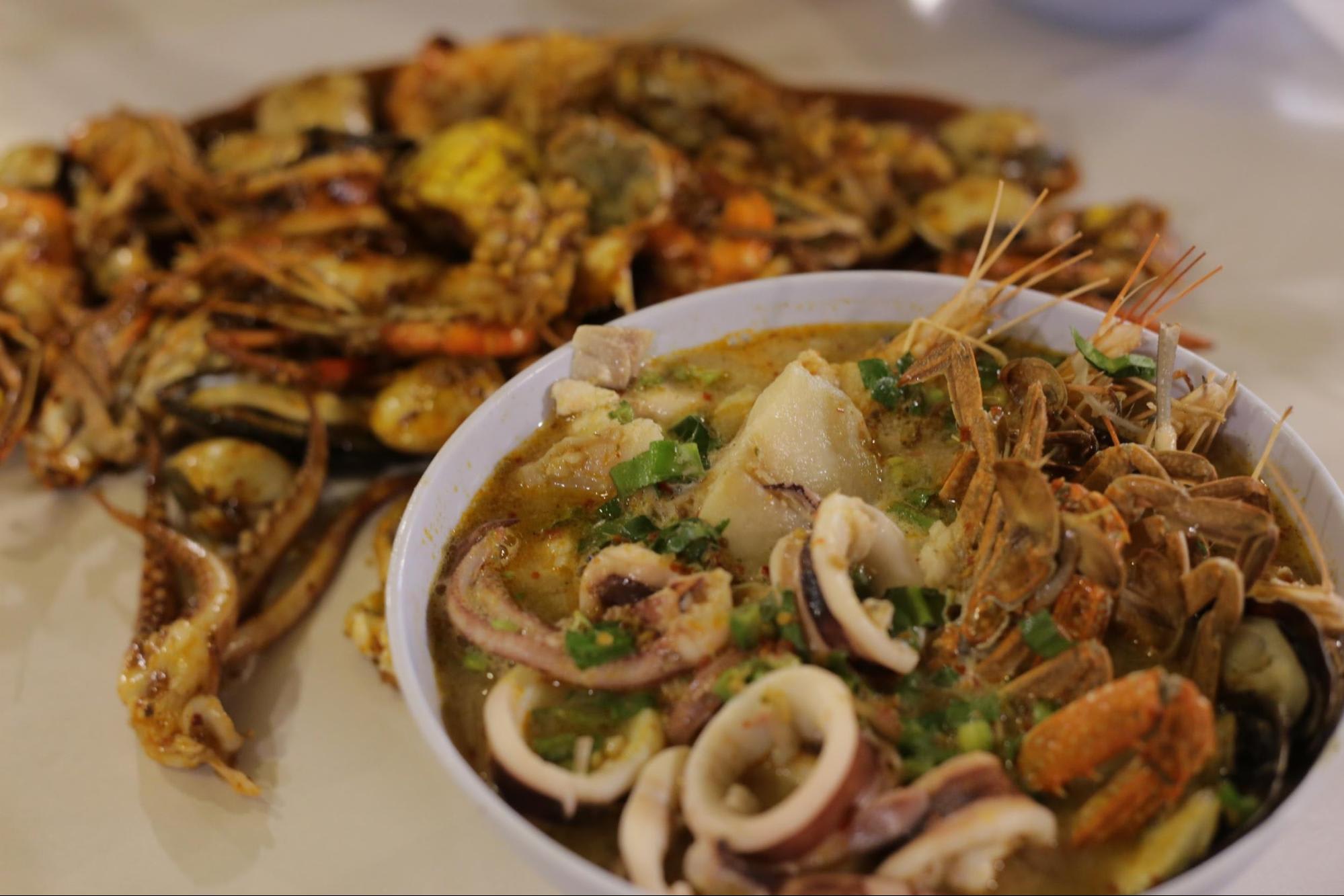 At the Rod Fai Train Market version 2.0 (the OG version is in a more far-flung location), you'll see plenty of sit-down seafood places offering "seafood in a bag" at a fraction of the prices you see in Singapore. Ribs, salt-grilled fish and instagrammable watermelon slushies adorn the market, along with trendy (and not so trendy) apparel and adorable customisable sandals.
Pro-tip: head to the night markets at a later time to avoid tour groups and crowds.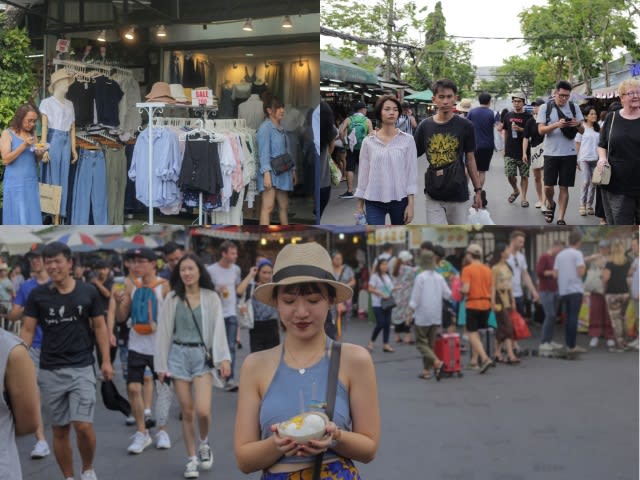 Apart from these night markets, there's the talk about Chatuchak Weekend Market, which as its name suggests, only opens on weekends and Friday nights apparently. With rows and lines of shops, Chatuchak is remarkably huge and it's indeed true that you can find anything and everything there. Not just clothes or food, they even sell dishware and furniture, which is quite a sight to behold. Nevertheless, get your hands on the famed coconut ice cream that is so shiok in the sweltering heat.
3. Try your hand at cooking your favourite Thai dishes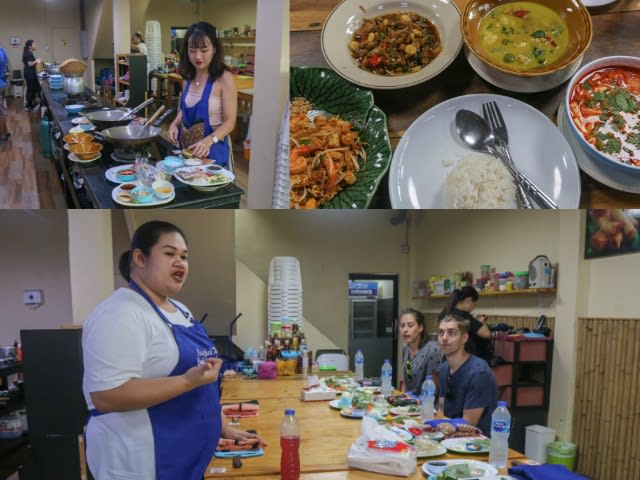 If you're afraid to burn down your own kitchen at home, you'll be glad to know that you can learn to whip up a feast of some delicious Thai dishes in Bangkok itself! 4 dishes to be exact, if you check out the Thai Cooking Academy Cooking Class.  
Customise your lesson from a variety of dishes from 4 categories: soups, curries, mains, sides. Like I did, you can choose your favourite go-to Thai dishes – for me, that was Tom Yum Goong, Green Curry, Pad Thai and Basil Chicken.
Bring those Masterchef (or close enough) skills back home to impress your family and friends. Fret not on the occasion that you forget what you've learnt, you can easily access the recipes on their website!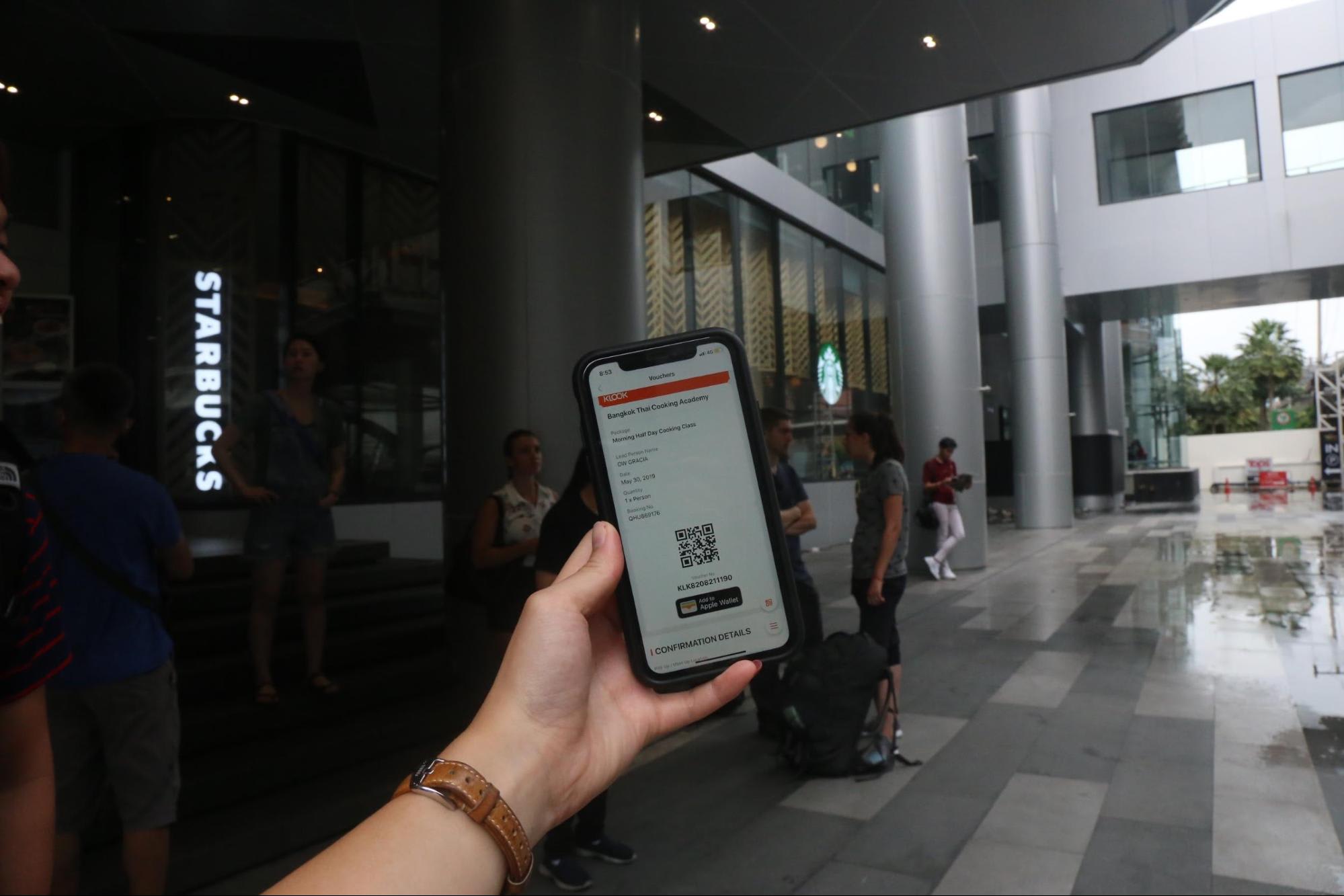 Likewise, simply present the e-voucher at the meeting point (near On Nut BTS Station) and get yourself easily registered for the cooking class!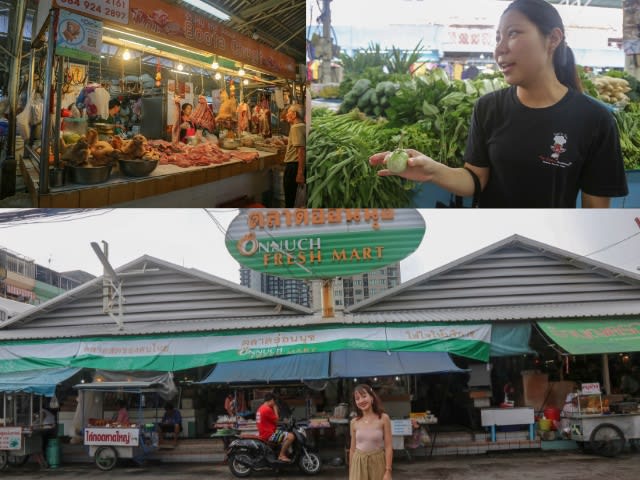 Before the lesson, we were brought to a local wet market for a crash course of key ingredients in Thai cuisine – ingredients that were to be used during our cooking class later on. Not surprisingly, there were many special ingredients that were native to Thailand.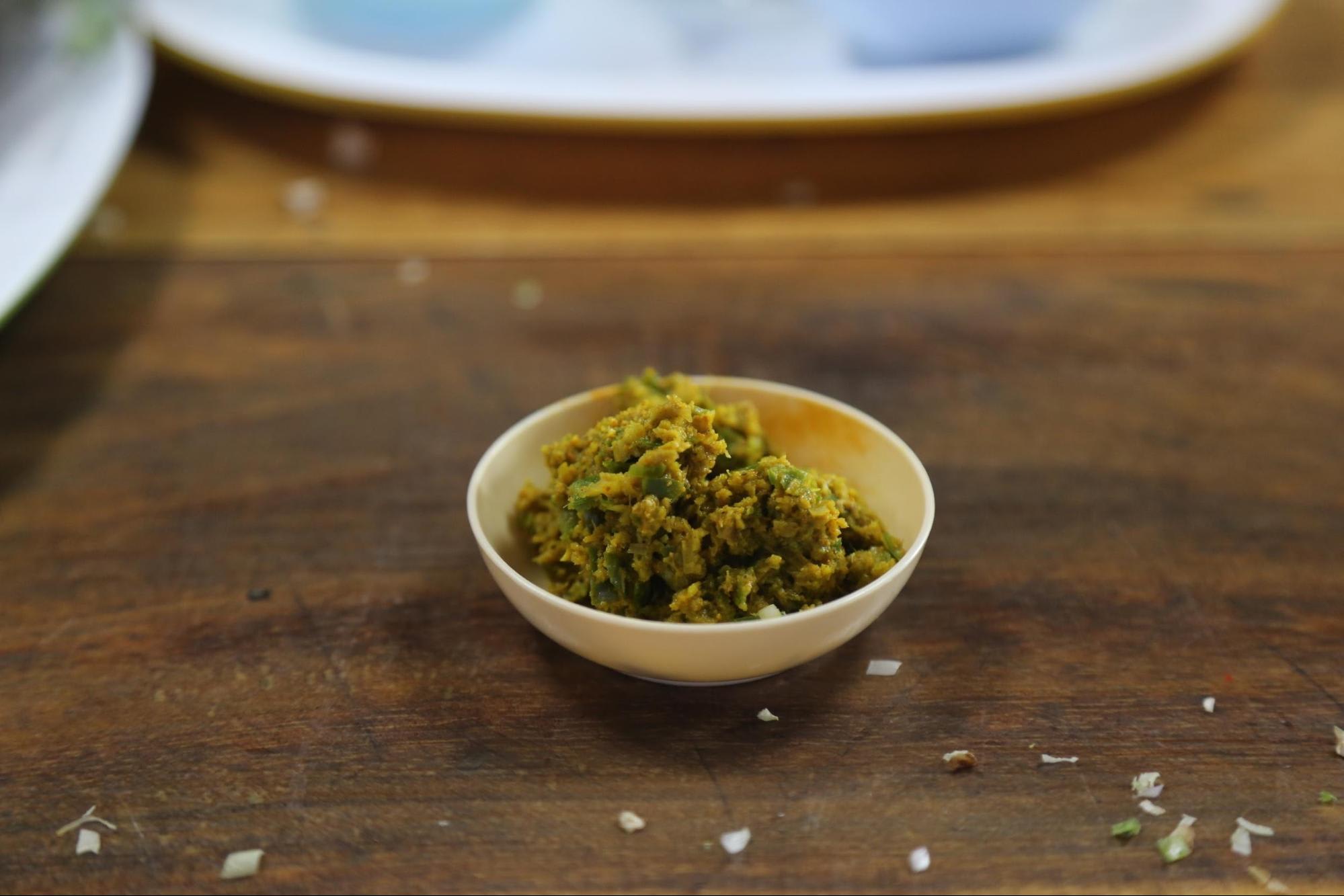 With all the fresh ingredients laid out for us at our respective seats, our teacher proceeded to guide us through the preparation of the different dishes.
How do you make curry paste from scratch you ask? Using the traditional method of pounding (hard!) with a mortar and pestle. 
Lay your prepared ingredients at your cooking station and listen out to the teacher's instructions for a step-by-step guide. At the end of the lesson, delight in the dishes that you've cooked! Even if they aren't on that MasterChef level, you've earned yourself some bragging rights.
4. Discover majestic views at the Grand Palace (and at Wat Arun)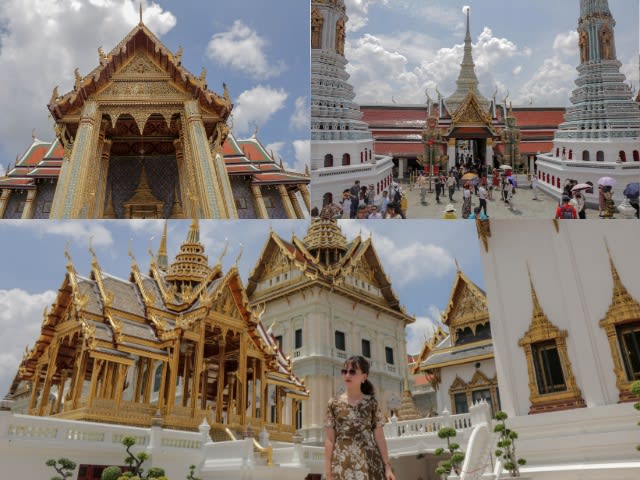 No visit to Bangkok is complete without a visit to the spectacular Grand Palace. Unlike your European castles and palaces, the Grand Palace is unlike any other and is possibly also the most crowded and busiest tourist spot in the city. Everyone wants a glimpse of this magnificent compound with its razzle-dazzle buildings and to no surprise. The Grand Palace is undeniably worth the jostling through the never-ending crowds and the overwhelming heat.
Pro-tip: do make sure that you're not revealing your shoulders and ankles as your dressing will be checked before entering the palace.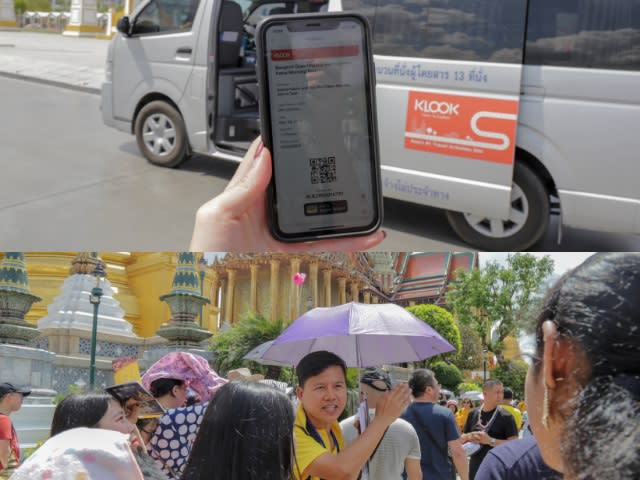 To truly appreciate the significance of the Grand Palace and its buildings, it's all-important to get a guide who will be able to tell you more and answer all your questions at the same time.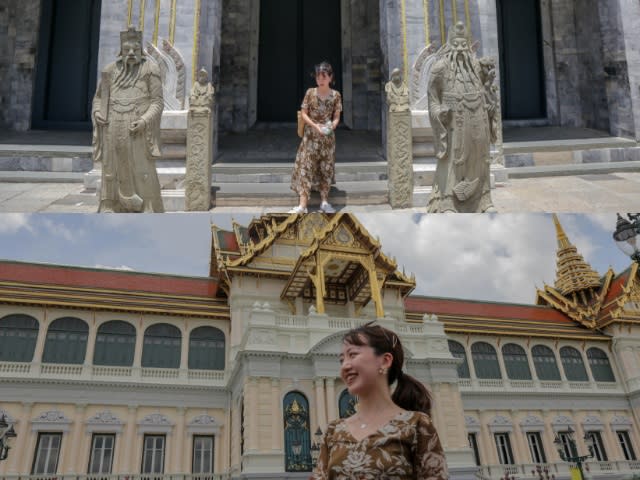 Follow your guide on the Grand Palace tour as they ensure a smooth process from buying the tickets to bringing you through the many different buildings. Wonder why some buildings have European and Chinese influence? Quell your curiosity by asking your guide when you're in the Grand Palace!
Within the glittering Grand Palace itself, make a stop at Wat Phra Kaew (Temple of the Emerald Buddha) to witness the famous and greatly revered Emerald Buddha.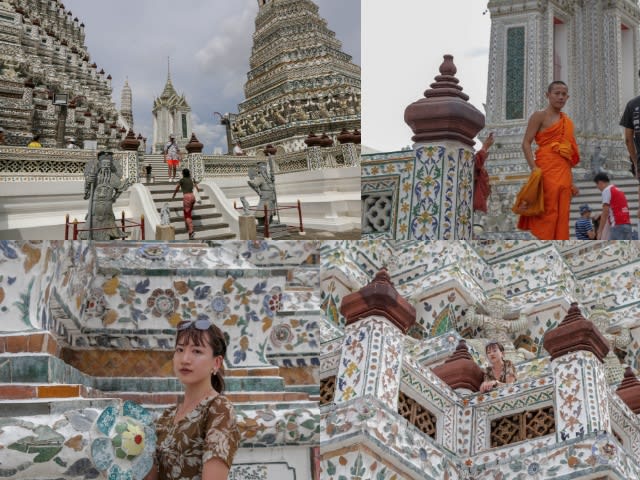 Bonus: take a very short ferry ride to visit Wat Arun (Temple of Dawn) for a far less crowded experience with similar grandiose sights.
5. Immerse in the lively atmosphere in Chinatown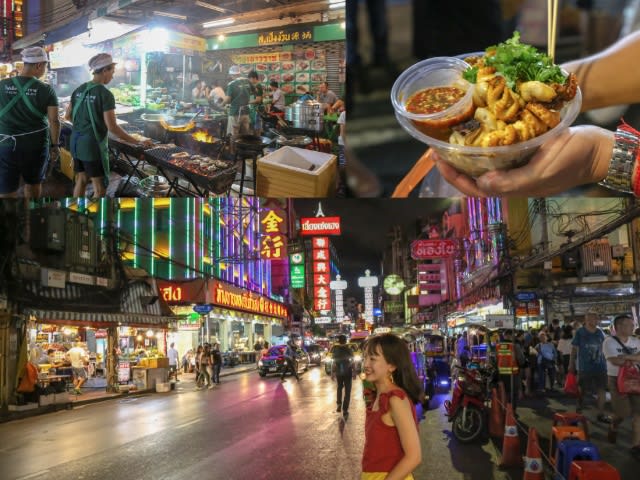 One thing's for sure, we Singaporeans love our food. Even when travelling, our devotion to good food can't be eluded. For those seeking out some cheap and hearty street eats in Bangkok, you can't go wrong with Chinatown. With its shiny bright neon signs and hawkers lining the streets, Chinatown has that dynamic energy that you'll want to soak into.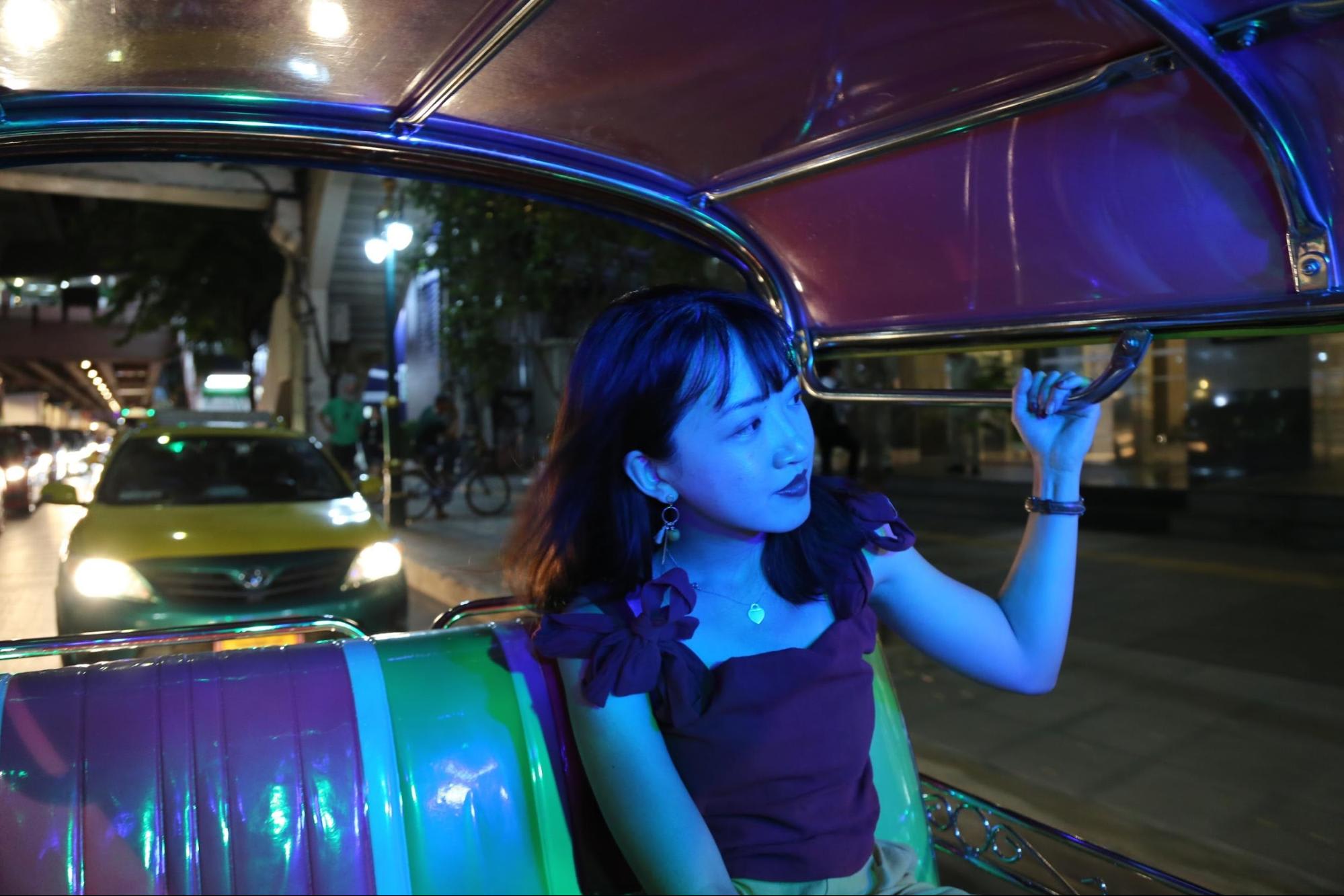 As Chinatown is out of the way from train stations, the easiest way to reach Chinatown is via the Tuk Tuk, an auto rickshaw that is a representative feature of Bangkok's transport system. Be prepared to be tough in bargaining for a better deal as Tuk Tuk drivers will more often than not, quote you absurd prices. But, the ride on a Tuk Tuk is possibly the adventure of a lifetime as you zip through the legendary ridiculous Bangkok jams and get to your destination in speedy motion.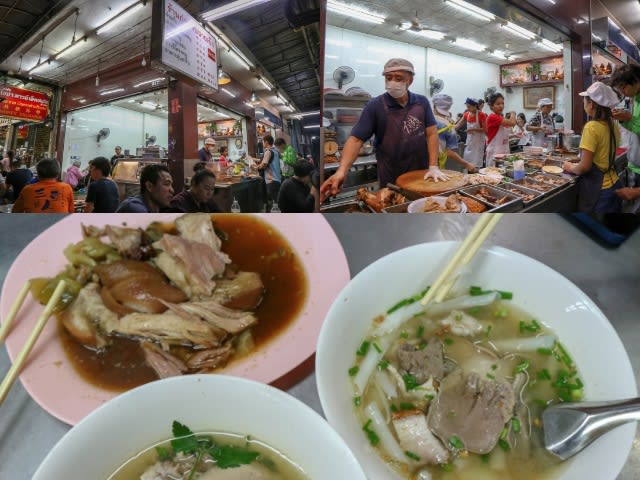 On the net, there are considerable lists of must-try food places in Chinatown and it's easy to spot them because they're usually where the masses gather, and the queues are apparent. We tried the popular selections: Kway Chap (really peppery soup, not for the faint-hearted), grilled squids (exceptionally spicy sauce, so do ask them to separate the sauce from the squid) and toasted bread (go for the milk and custard/kaya flavours). Abstain from over-ordering at just one spot and opt for smaller portions to share so as to leave more space to try an assortment of different food.
6. Bring home a piece of Bangkok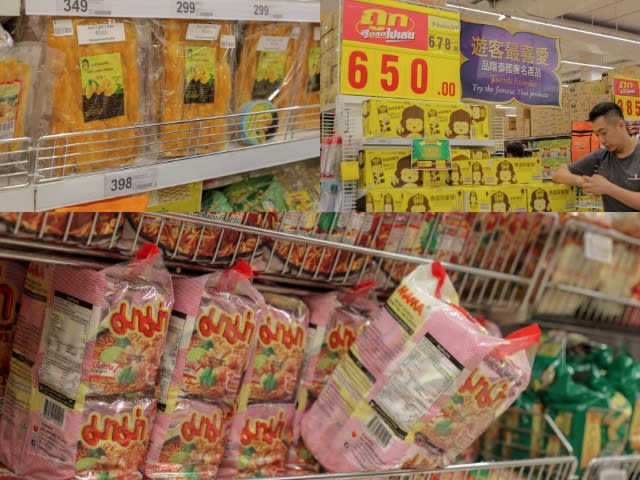 Rather than gifting corny mementos like keychains and magnets that nobody needs, why not attempt to deliver a piece of Bangkok's food culture to your friends back home? Pop by the Big C Supermarkets for Thai food and snacks. Even better if you stay in the Pratunam area, they've got a Big C that is not only extensive but also open for 24 hours round-the-clock shopping. Score some dried mangos, durian chips, Tom Yum instant noodles, snacks from Thai brands and even snacks with special Thai flavours (i.e. Thai Chilli Paste Lays).
Essentials for getting around Thailand effortlessly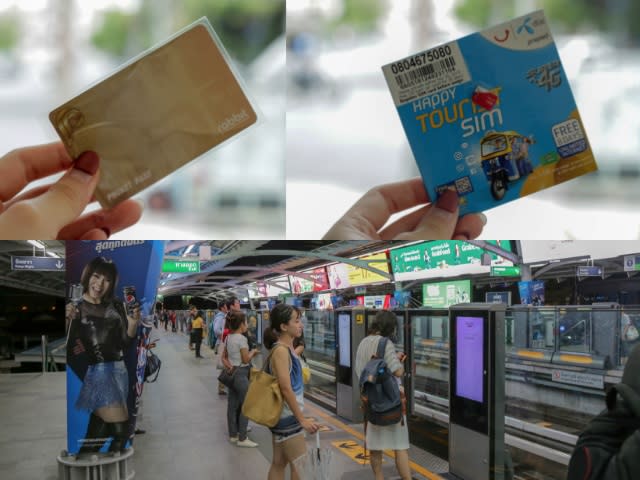 If all the above enticing activities have got you thinking of booking your next flight out to Bangkok? Here's what you need to get you started!
When travelling, access to the internet is crucial, because how else are you going to use Google Maps to navigate? Save yourself the turmoil and trouble in looking for a SIM card when you land and take up Klook's offer of pre-booking your SIM card at an affordable price no less. A painless process, proceed straight to the Klook counter to pick up your SIM card and get hooked on the net immediately. 
Also, to get around Bangkok efficiently and to evade its infamous jams, one obvious path (pun intended) is to take advantage of its convenient BTS Skytrain system. Check out the BTS Rabbit Card on Klook for a worry-free travel option that works just like an EZ-Link card in Singapore. Trust me when I say you wouldn't want to feel the fury of a Bangkok jam.