When and where to find Cherry Blossoms in Japan in 2019
Spring is almost here and one of our favourite things about Japan in Spring is definitely cherry blossoms! The streets of Japan come alive with beautiful pink blooms that crown the trees, it's as if you're looking at the world through rose coloured glasses. If you're planning a trip to Japan this spring, experiencing hanami is definitely a must! If you haven't already heard, the sakura flowers are expected to bloom even earlier than it did in 2018. Read on to find out when and where you can catch these sakura beauties in action. P.S. Be sure to bookmark this page for updates on the blooming schedules.
Sakura chasing tips
[Updated] on 16 January 2019. 
1. Tokyo (22 March – 1 April)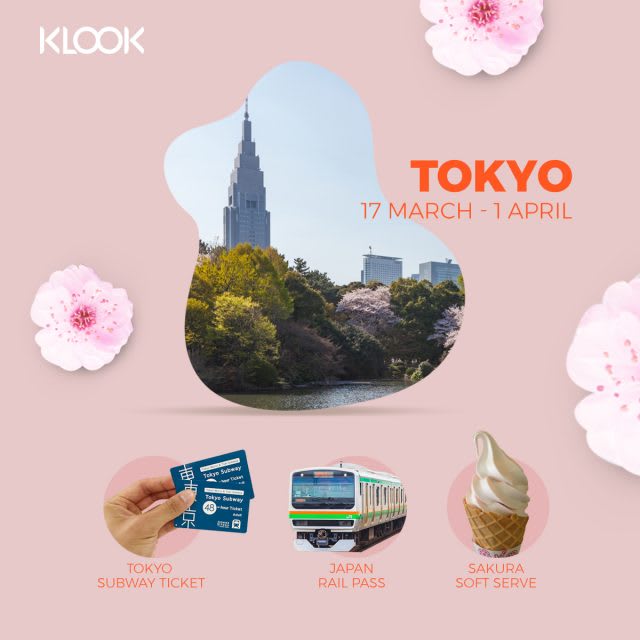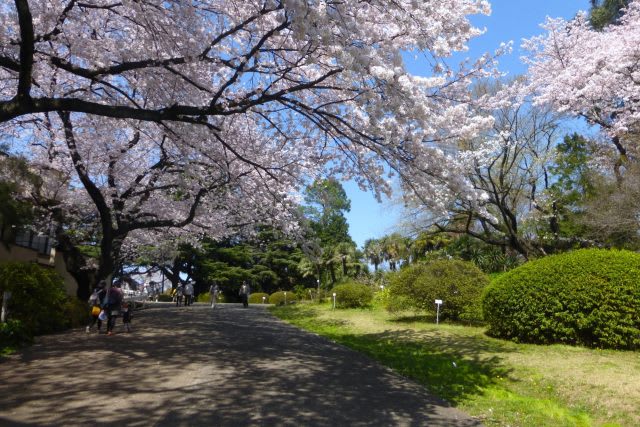 The first cherry blossoms are expected in Tokyo on 22 March 2019 but if you want to catch them in full bloom, you'll need to come back a week later! Some of the best cherry blossom viewing spots include the Koishikawa Korakuen, one of Tokyo's most famous gardens. You'll find weeping cherry trees that typically blossom before the rest! Getting there: Take the JR line to Iidabashi or Suidobashi or the Metro to Korakuen station and it is a 10 minute walk away. Opening hours: Daily 9am to 5pm Admission: JPY 300
Head up the Tokyo Tower to see the city covered in a blanket of pink blossom petals or head over to Sumida Park and see the sea of pink lining the riverside. Expected full bloom: 29 March Other viewing spots: Ueno Park, Shinjuku Gyoen, Chidori-ga-fuchi
2. Fukuoka ( 20 March – 4 April)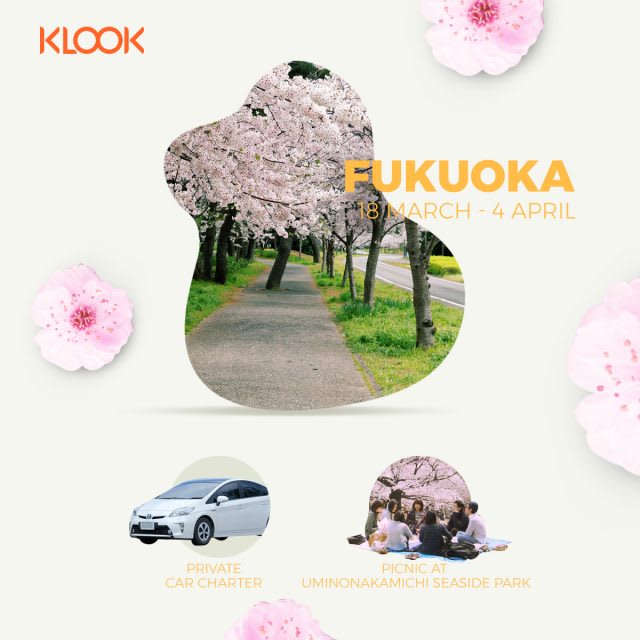 The first bloom in Fukuoka is expected on 20 March 2019. Many flock to Fukuoka for hanami season because of the different varieties found there. The cherry trees around the Uminonakamichi Seaside Park are mostly of the Somei Yoshino and Oshima varieties and the create sakura tunnels upon bloom. Klook your Fukuoka City private car and let a local driver take you around the city as you hunt for the best hanami spots! Expected full bloom: 30-31 March Other viewing spots: Fukuoka Castle Maizuru Park, Atago Shrine
3. Nagoya ( 22 March – 2 April)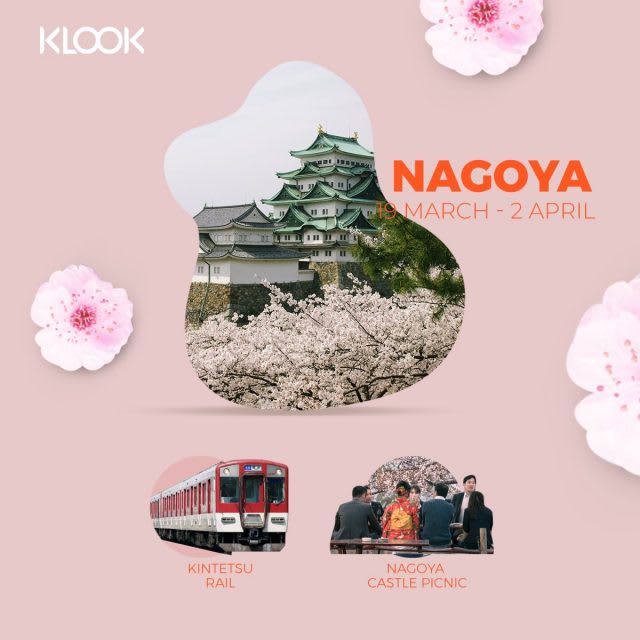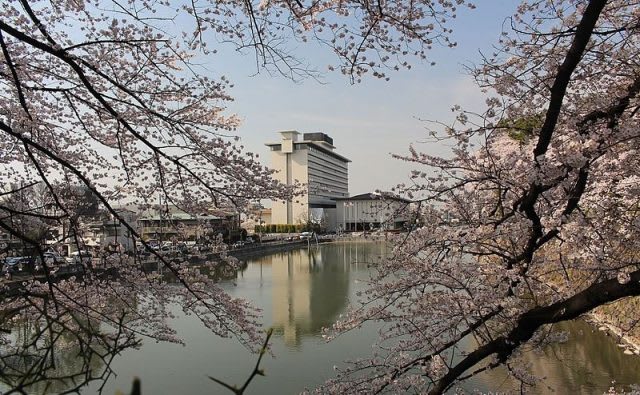 One of the most popular viewing spots in Nagoya is The Nagoya Castle! You'll get to see many somei yoshino trees, weeping cherry trees and some lesser known cherry varieties planted around the park and the surrounding moats. The Tsuruma Park is also another popular place for hanami! With many food stands and large cherry blossom trees, grab a snack and sit under a tree with your loved ones for an authentic hanami experience. Expected full bloom: 27 March Other viewing spots: Nagoya Castle, Nagoya Peace Park, Inuyama Castle, Yamazakigawa Riverside
4. Osaka (27 March – 4 April)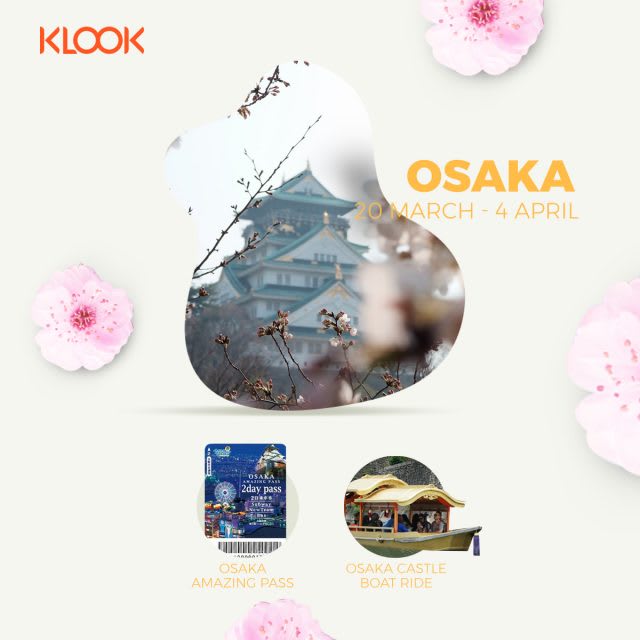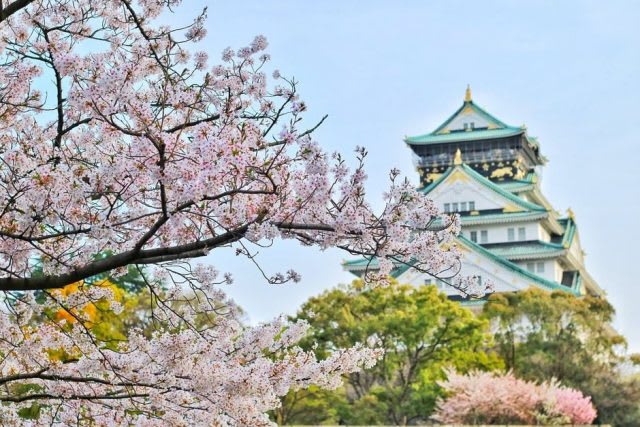 Mark your calendars because the cherry blossoms in Osaka are set to be in full bloom on 27 March! One of the best places to see these beauties is of course the Osaka Castle grounds. With the majestic castle peeking behind the 4000 over sakura trees, pack a picnic basket and spend the day at the Nishinomaru Park in the western citadel! If you'd like to take a boat around the Osaka Castle, be sure to head there early in order to score seats. Klook your Osaka Amazing Pass and you'll get to redeem a boat ride and entrance into the castle grounds free, on top of free entry into 30 other attractions as well as unlimited travels on the subway, metro, trams and buses! Expected full bloom: 6-7 April Other viewing spots: Kema Sakuranomiya Park, Osaka Mint Bureau
5. Kyoto (25 March – 3 April)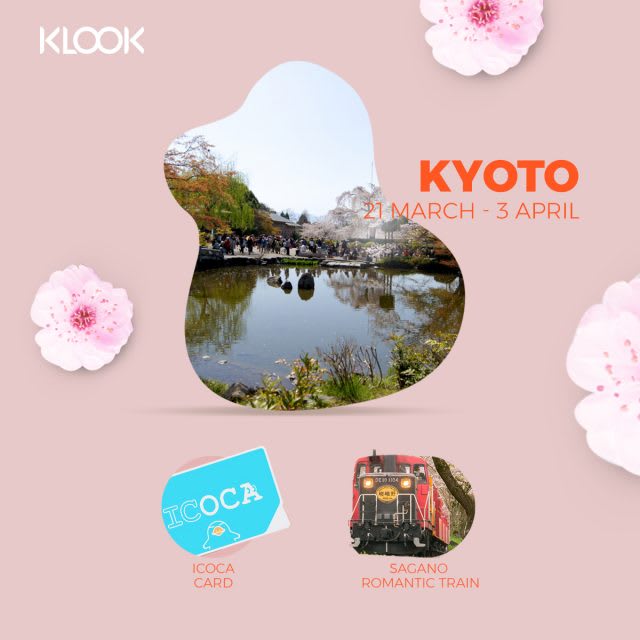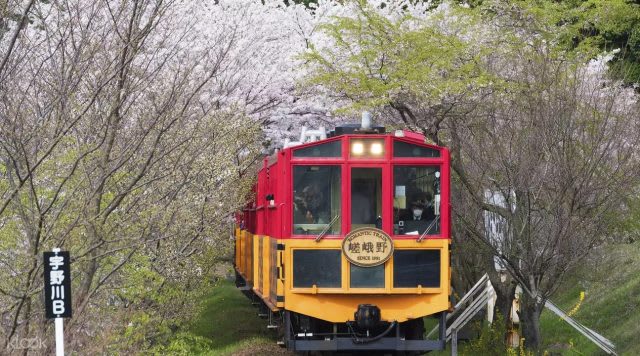 Head to Kyoto on 21 March and be welcomed with cherry blossoms in full bloom! If you're looking for a hanami party spot, head over to Maruyama Park where you'll be surrounded by colored lanterns, food carts and some of the oldest weeping cherry trees. Hop aboard the Sagano Romantic Train and get ready to enjoy one of the most scenic rides of the sakura lined Hozugawa River! Expected full bloom: 6-7 April Other viewing spots: Heian Shrine, Daigoji Temple, Maruyama Park, Philosopher's Path, Kyoto Gosho, Shirakawa, Arashiyama
6. Hiroshima ( 23 March – 5 April)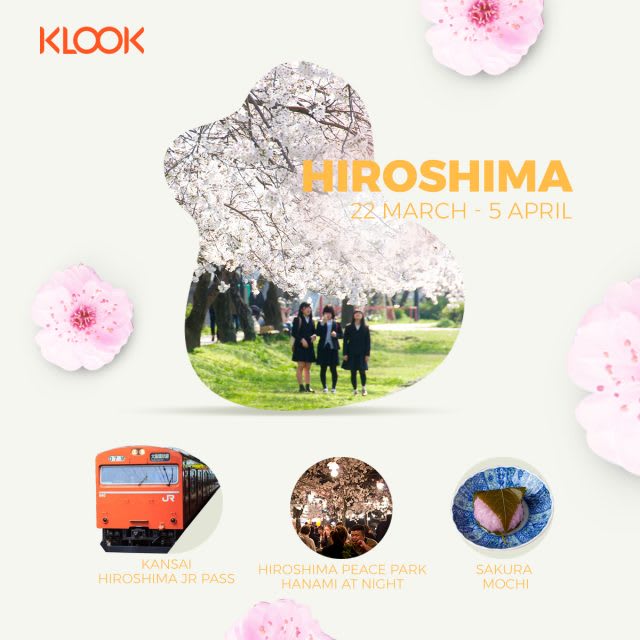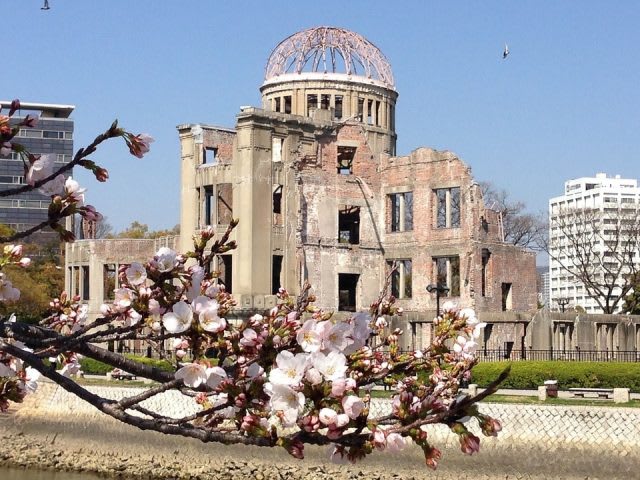 One of the most popular spots in Hiroshima for viewing the cherry blossoms is definitely the Hiroshima Peace Park. The peace park is surrounded by the banks of the Motoyasu River which is lined with cherry blossom trees, making it ideal for viewing whether day or night. If you're expecting to travel between Kansai and Hiroshima on your sakura pilgrimage, be sure to Klook yourselves a Kansai-Hiroshima JR pass for convenient travels. This way, you can shuffle between the cities in case you miss full bloom in one! Expected full bloom: 29 March Other viewing spots: Hiroshima Peace Park, Hiroshima Castle, Shukkeien Garden
7. Nara ( 23 March – 4 April)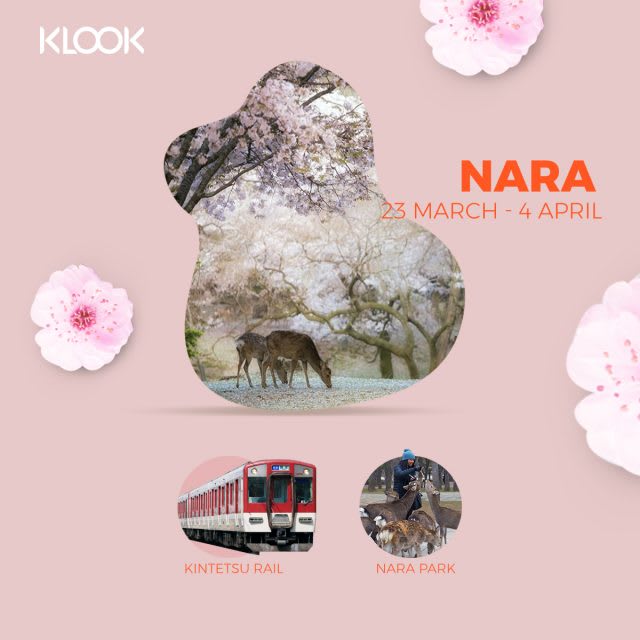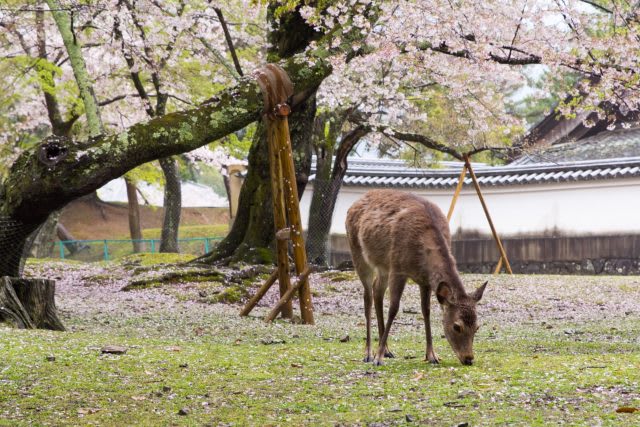 If spending a day in Nara Park surrounded by cherry blossom trees and polite deers doesn't sound like the perfect hanami to you, we don't know what else will. With about 1700 sakura trees, head southeast from the Todaiji Temple main hall and you'll find a large lawn encircled by cherry trees, perfect for a picnic! Expected full bloom: 28 March Other viewing spots: Nara Park, Mount Yoshino, Koriyama Castle Park
8. Fukushima (30 March – 14 April)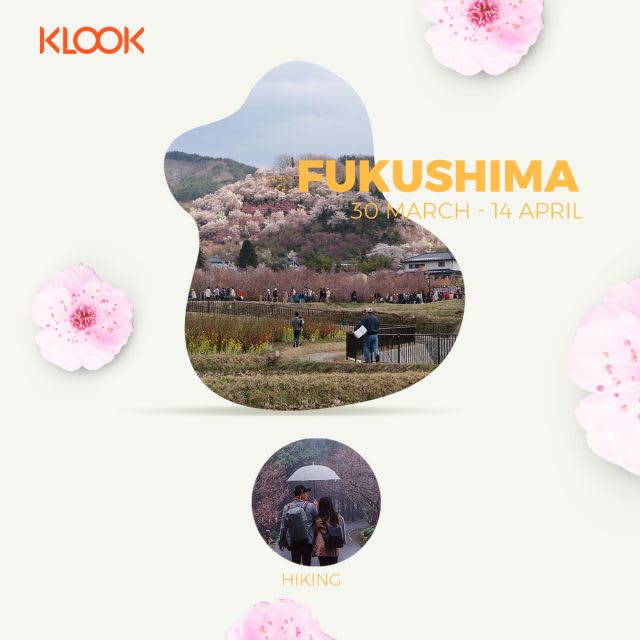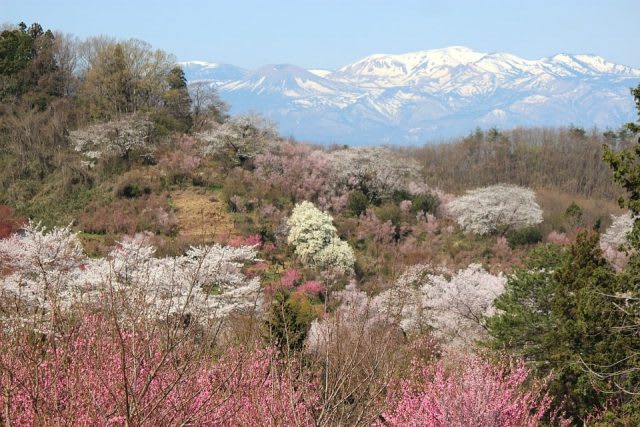 Fukushima is one of Japan's largest prefecture and hence cherry blossom season here lasts longer than many other prefectures. Hanamiyama Park is a great place to visit and is home to over 10 different types of blossoms – cherry, plum, forsythia and more. These blooms against the backdrop of the snow capped Azuma mountains scream photo-worthy! Expected full bloom: 6 April Other viewing spots: Natsui River Senbonzakura, Miharu Shidarezakura, Kasumiga Castle Park, Hanamiyama Park, Ogawa Suwa Shrine
9. Nagano (9 April – 17 April)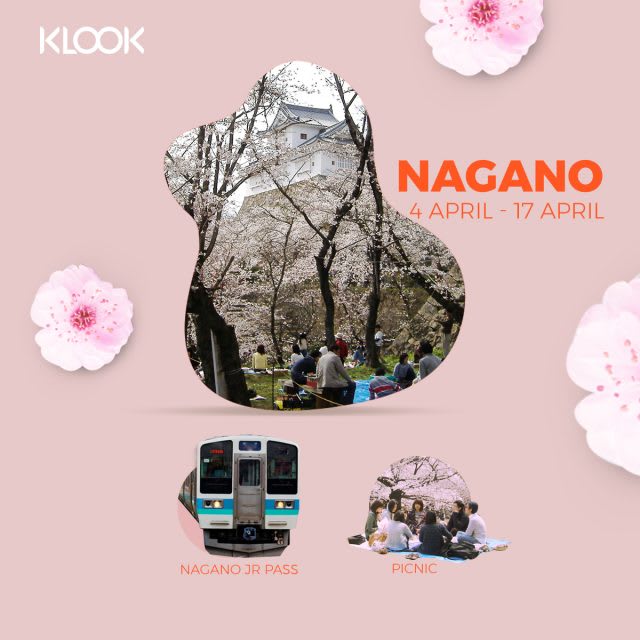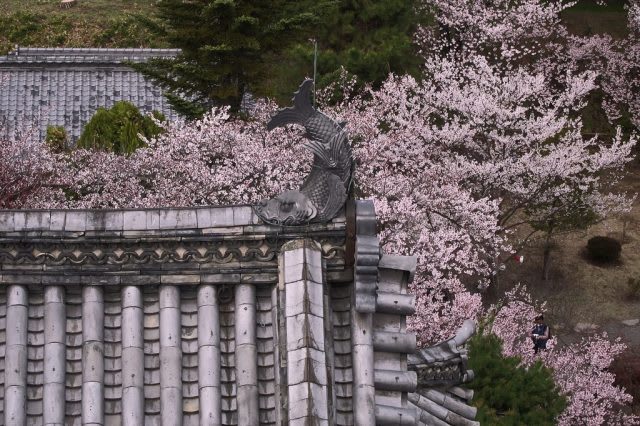 Image credit: Flickr
If you're up for some adventure, take a hike up Mt Hikarujo whose trail is covered in cherry trees! You'll also be photobombed by the snow capped peaks of the Northern Alps peeking behind the cherry trees. If you prefer a touch of history, head over to the Matsumoto Castle where you'll get the beautiful historic landmark with amazing views of the Northern Japan Alps behind. There are around 300 cherry trees spread along the outer castle moat and within the castle park. Expected full bloom: 10 April Other viewing spots: Matsumoto Castle, Mt. Hikarujo, Lake Nakatsuna
10. Hokkaido (4 May – 13 May)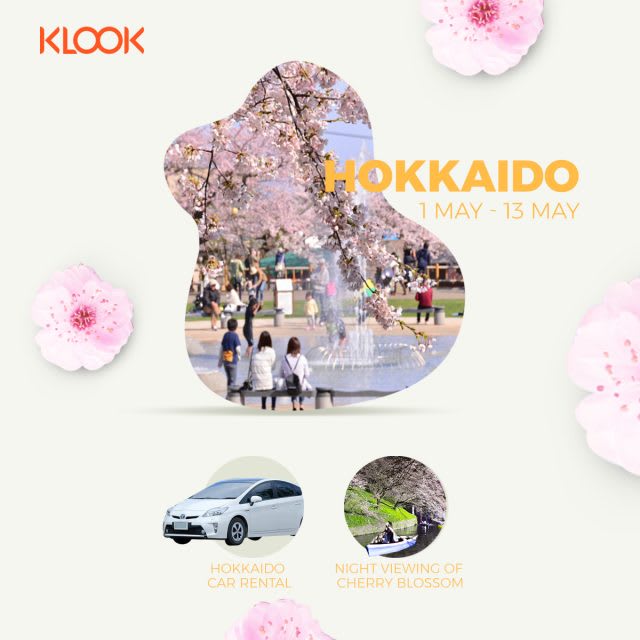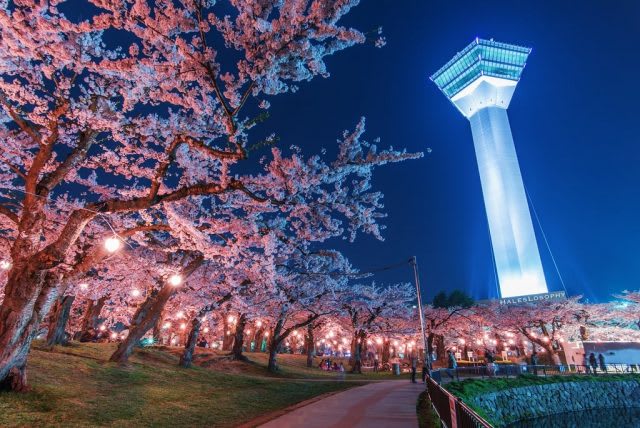 Image credit: Flickr
For a change, visit the Hakodate Park in the evening! The Yozakura (night viewing) of the illuminated cherry blossom trees is a local favourite. Fill your bellies with snacks from the street food carts, visit the mini zoo or just sit under the huge cherry blossom trees and enjoy the hanami experience. Be sure to Klook yourselves a Hokkaido Japan Rail Pass for convenient travels within the different cities! The Noboribetsu Onsen Flower Tunnel is also a famous photo spot. You'll find this road leading from the Noboribetsu Higashi Interchange of the Hokkaido Expressway into the center of town. The veil of cherry blossom trees create a tunnel like effect making it the perfect pit stop! Klook yourselves a rental car in Hokkaido and enjoy a leisurely scenic drive around the city as you take in the many sakura trees. Expected full bloom: 11-12 May Other viewing spots: Noboribetsu Onsen Sakura Tunnel, Arashiyama Koen, Hakodate park, Matsumae park