Food, bars and partying for a fun night in Hongdae under Php3,000!
Back in 2018, I had the opportunity to study in South Korea on an international exchange student program. To this day, it remains one of the best experiences I've had and is responsible for a ton of great memories and friends.
A constant of those great experiences was to head out of our university in Yeokgok, Gyeonggi-do on Friday nights and towards Hongdae, a district in Seoul, known for its proximity to the country's liberal arts colleges and a vibrant nightlife.
Hongdae remains responsible for some of the most enjoyable experiences that I've had when I stayed in Korea. Even better, I got to do all this while on a manageable budget. I'd like to share both the experience and budget breakdown for our nights out so you can make your own memories in Hongdae.
Budget for a Night Out (Breakdown)
| | | |
| --- | --- | --- |
| Activity | Mode of Payment | Cost |
| Transportation (Going There) | T-Money | 1,250 Won (~Php55) |
| Pre-Game | T-Money/Cash | 12,000 Won (~Php520) |
| Night Clubs | Cash | 30,000 Won (~Php1,300) |
| Street Food  | T-Money/Cash | 1,000 Won (~Php45) |
| Recovery Food | Cash | 900 – 13,000 Won (~Php40 – Php565) |
| Transportation (Going Home) | T-Money | 1,250 Won (~Php55) |
| Total | | 46,400 – 58,500 Won  (~Php2,010 – Php2,550) |
---
Essentials for a night out in Seoul
Outfit
Picking out an outfit is simple, but essential. Not just because you want to look good on your night out, but because there's a certain dress code in most Korean nightclubs.
Tip: Make sure you're not wearing any sleeveless tops, shorts, joggers, sweatpants or open-toed shoes on your way out.
Cash/Credit
Have money on hand for things like door charges, food and drinks as well as transportation home. When it comes to my prep, I tend to pack ~50000 Korean Won (PHP 2,000).
Valid ID
Bouncers will be looking for a valid ID to allow entrance into most, if not all establishments you'll be wanting to go to. If you're staying in Korea for an extended amount of time, their Alien Card (a card given to foreigners who choose to live in South Korea) will suffice.
Tip: I highly recommend not bringing your passport for this, to avoid losing or misplacing it.
T-Money Card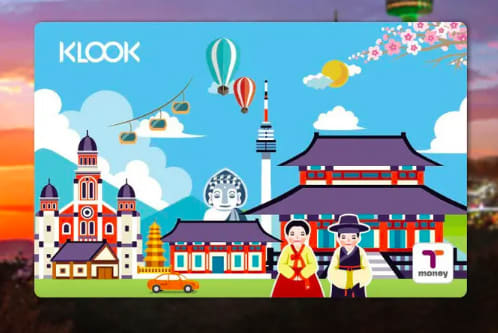 I consider this essential because T-Money is universally accepted in Korea. Save for a few street vendors, you'll be hard-pressed to find any store that doesn't accept T-Money as a mode of payment. It's my train ticket, taxi fare, and food and beverage payment since it's easily reloadable.
Tip: I regularly top up my card between 10,000 – 20,000 Won (~Php430 – Php860) as a rule of thumb to avoid hassles and hold-ups at convenience stores and train stations
Pre-book your T-Money Card through Klook!
---
Getting There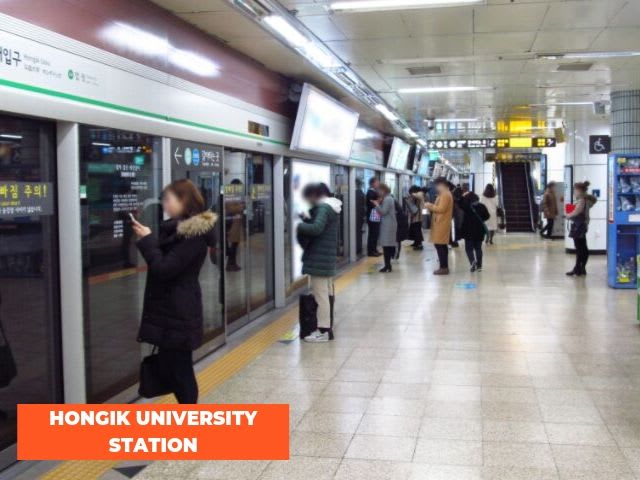 Hongdae is a district found on the Hongik University train stop on the Green Line inside Seoul. It comes right after Sinchon station and right before Hapjeong station.
Getting to Hongdae is simple enough with the T-Money Card. Buses, taxis, and subways all accept it as a form of payment. Since Hongik University is such a well-known area, there are dedicated stops and stations for buses and subway.
In my case, I came from Yeokgok Station, outside of Seoul. This meant that I had to ride the Seoul Subway line going into Seoul and then transfer into the Green Line to get to Hongik University. For transportation purposes, I always used my T-Money Card.
Seoul Subway and Bus fares:
As for fares, subways will cost 1,250 Won (~Php55) which is a flat rate that will take you where you need to go.
Buses have different classifications for the routes they travel, so they tend to have different fares. In any case, you won't find yourself spending more than 2,300 Won (~Php100) for the most expensive bus line.
COST SO FAR: 1,250 Won (~Php55)
---
About the District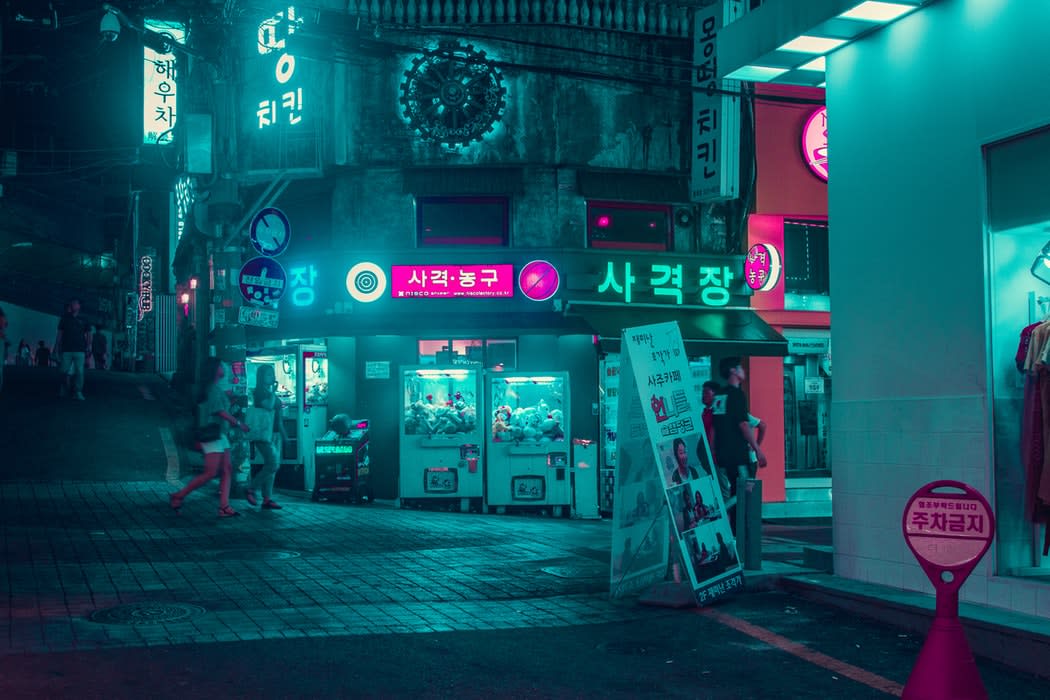 The destination that's marked on the train map is Hongik University, which is actually where Hongdae the district got its name since the university's name in Hangul is Hongik Daehakgyo. It's a university that's known for its liberal arts programs.
As for the district itself, coming up from the subway you'll find a vibrant nightlife scene. More pop-up shops are on the street,food sold on carts and out the back of trucks. Street performers are rapping and singing for passersby and the whole district is bright and alive even if the giant stores that were open in the day have now closed.
If we had time, our group would browse the different pop-up shops selling different kinds of wares inside the subway stations. Cutesy socks, caps, beanies and clothes were all available for browsing as we made our way to the next train.
---
Pre-Game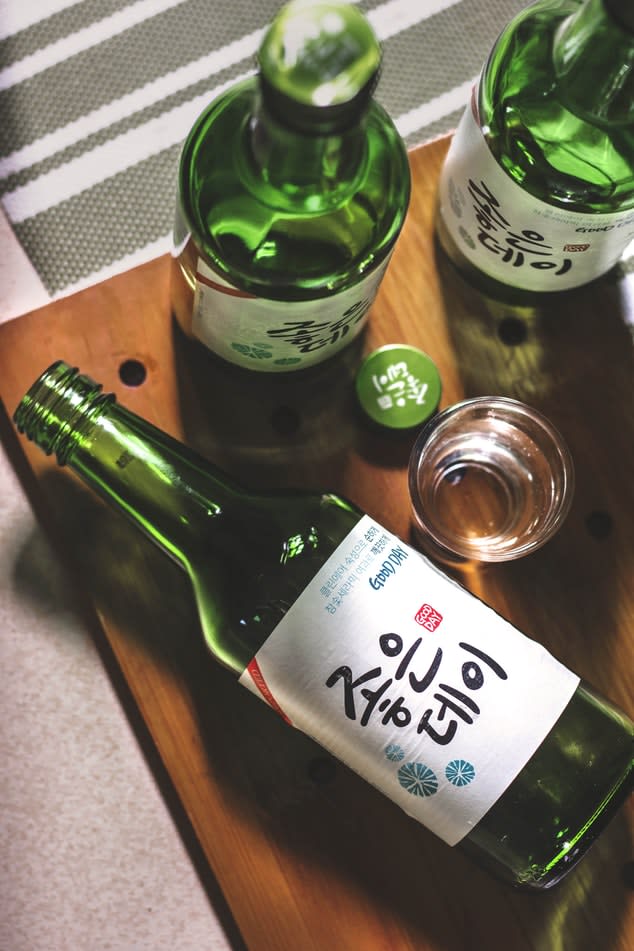 Nothing's really changed with clubs – whether here in Hongdae or back at home, drinks are always going to be more expensive in nightclubs. I've noticed that when I'd go to Hongdae, people didn't really have qualms about buying drinks from convenience stores.
Since it's just a few swipes off the T-Money Card, our group always opted to buy some sojus to enjoy on the street. This is a big thing in Korea as they slowly transition away from physical cash and opt for card-based payment which is convenient so you don't have to carry too much physical cash.
Soju is incredibly cheap and notoriously popular among Korean partygoers as their pre-game drink of choice. Buying a bottle of flavored soju from convenience stores sets me back ~3,000 Won (~Php130).
Pre-book your T-Money Card through Klook!
UNDERGROUND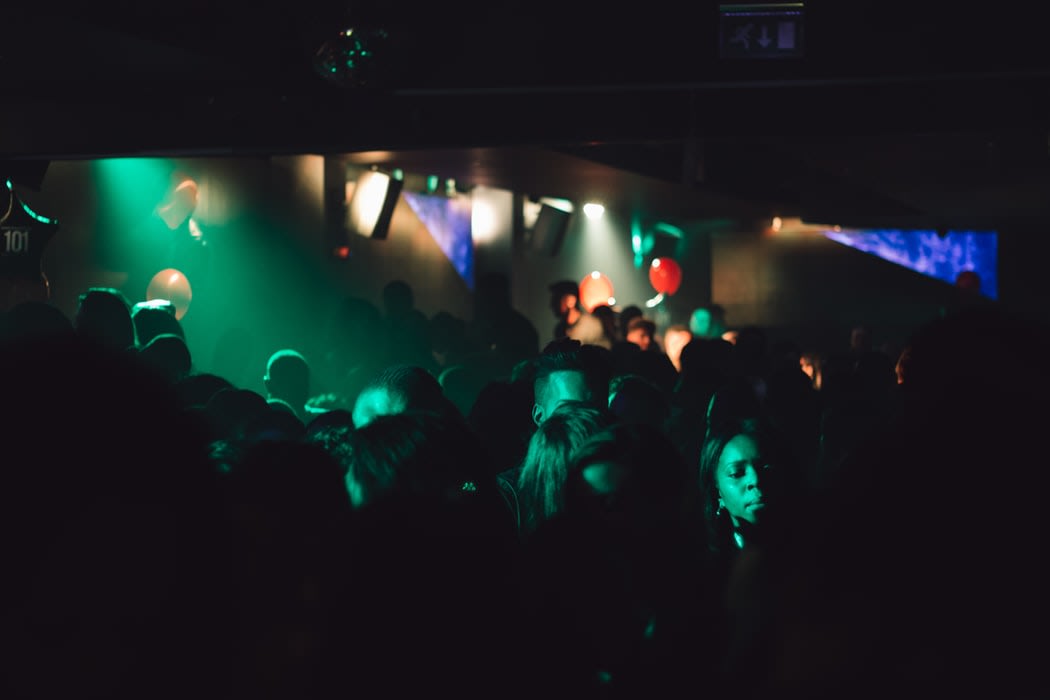 If we wanted a bit of ambiance and atmosphere before heading to Hongdae's club scene, we'd head to Underground, a pub found in the basement of an old office building. I wish I had the details and address to it, but I only figured my way to Underground through experience and memory since I never learned Hangul while I was in Korea.
Nevertheless, entering Underground meant entering a totally different dimension. There was a mish-mash of furniture, the walls were littered with graffiti art, lights were dimmed and were in color, and there was a hollowed-out train car in one side. That was my favorite spot.
Here, my party would indulge in about another bottle of soju for each person. We would also help ourselves to the free bar chow they provided to keep us from going too fast. It's another reason why we love going here so much.
THURSDAY PARTY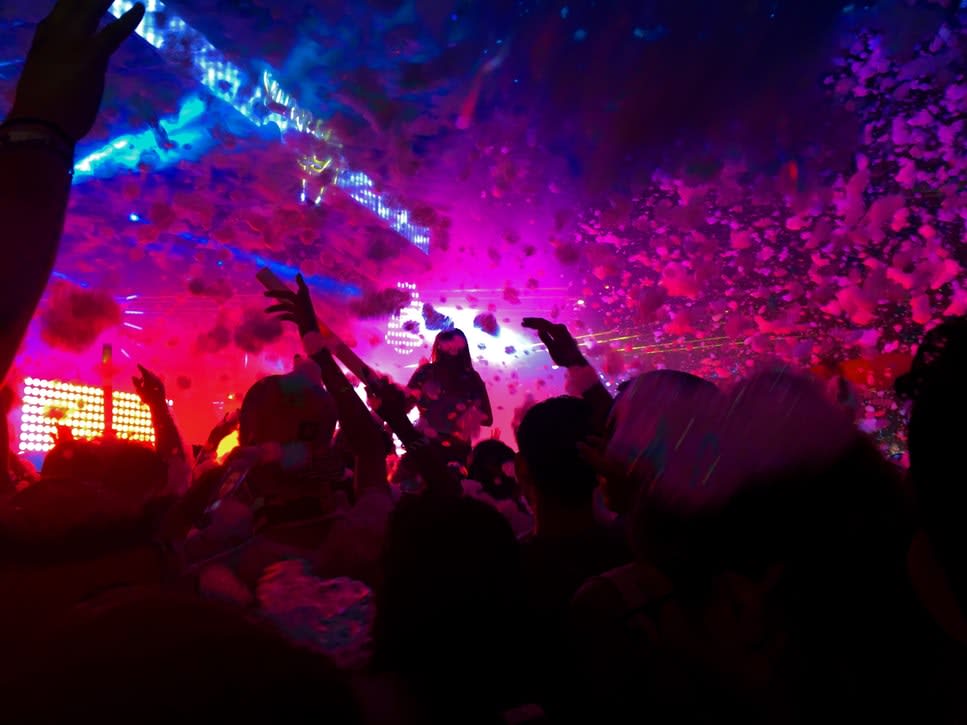 After Underground, we'd head to Thursday Party, a pub-club hybrid that features loud music, cheap drinks and foreigner-friendly atmosphere. There are darts, beer pong, dancing, plus the bar's signature offering: a Long Island Iced Tea that's as tall as a human head.
When I spring for their signature cocktail, it sets me back 6,000 Won (~Php260), but it'll last me the entire time we're there because of how big it is.
Thursday Party can actually be the last stop of your night. With cheap drinks and all the fun activities, it's never gonna get boring for the group. However, there's more to see and do as the night is still young, so off we go to the nightclubs!
ADDRESS: 407-12 Seogyo-dong, Mapo-gu, Seoul, South Korea
OPENING HOURS: 7PM – 3:30AM Sunday – Thursday, 7PM – 5AM Friday/Saturday
COST SO FAR: 13,250 Won (~Php575)
---
Night Clubs
Once pre-game wrapped up, we'd make our way to the nightclubs. You could easily point them out because of the presence of bouncers by the entrance.
Door prices for nightclubs vary greatly. Since I'm on a budget, I made it a rule not to spend more than 30,000 Won (~Php1,300) for entry. I usually pay in cash but most clubs also accept card payments if you'd prefer to use those.
CLUB HENZ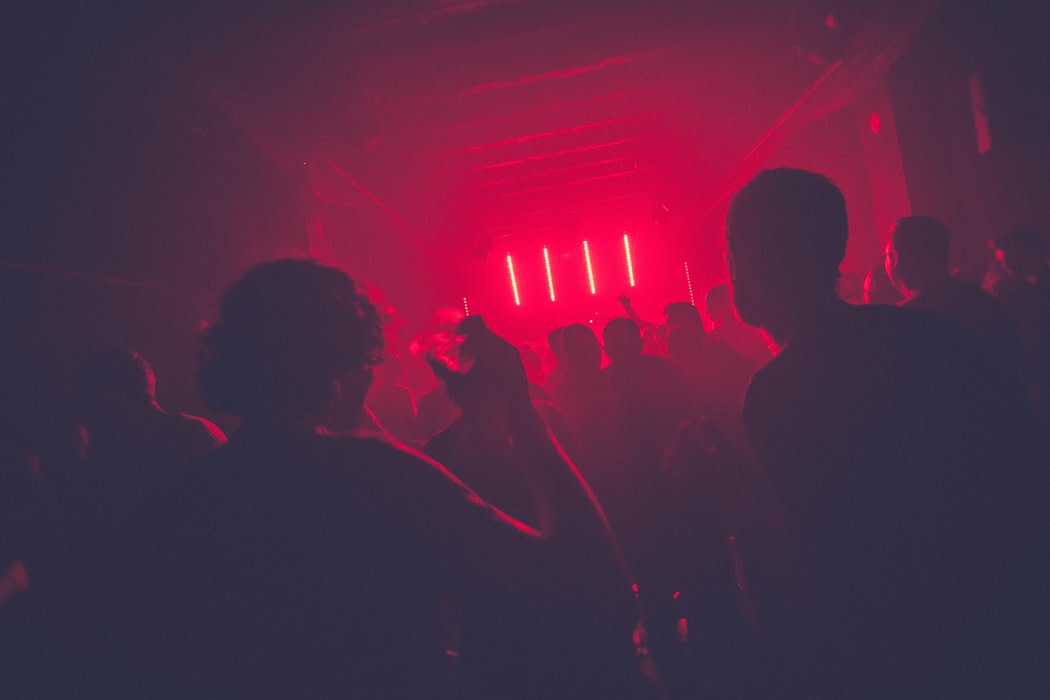 We would go to a variety of nightclubs if we were lucky, but the first one we went to will always be the most memorable to me. For that reason, I always went back to Club Henz – where the music is loud, space is tight, but the dancing almost never ends.
More often than not, a new and upcoming rapper or DJ takes the stage to introduce their music to Korea's youth, something that Hongdae has always been known for.
ADDRESS: 86-22 Sangsu-dong, Mapo-gu, Seoul, South Korea
OPENING HOURS: 10PM-5PM, Thursday-Saturday
AURA
Spacious and pumping with great music, Aura has cemented its place on a lot of people's hearts when it comes to Seoul's best clubs. Two separate buildings that offer EDM and hip-hop (depending on what you're craving for the night), you'll be bopping and jumping until the morning comes.
From here, we waste the night dancing, taking pictures and generally having fun. It'd be midnight when we'd enter, but the sun would be rising when we'd leave.
ADDRESS: 364-24 Seogyo-dong, Mapo-gu, Seoul, South Korea
OPENING HOURS: 5PM – 8AM, Mondays to Sundays
COST SO FAR: 43,250 Won (~Php1,870)
---
Street Food Galore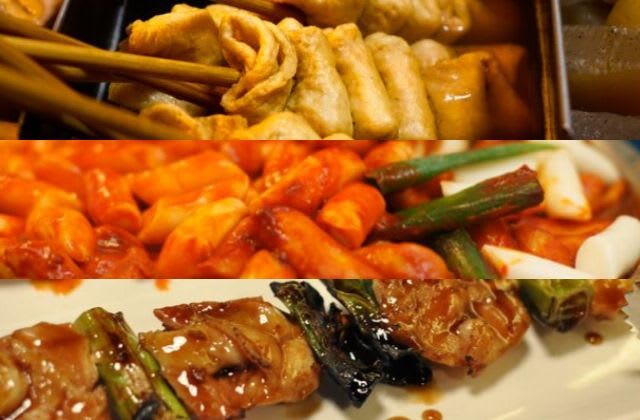 As mentioned before, vendors litter the streets. When someone felt peckish, these were the people you'd head over to see. Without question, my top three street foods to pick up were tteokbokki, eomuk guk, and dak-kkochi.
TTEOKBOKKI
All three street foods had their own selling points. Tteokbokki is a spicy, saucy rice cake dish that you kept my lips tingling and a nice zing of spice to keep me alert and awake for the rest of the night.
EOMUK
Eomuk is a boiled fish cake cooked similarly to fish balls here in the Philippines but is boiled instead of fried.
DAK-KKOCHI
Lastly, dak-kkochi are grilled chicken skewers that were freshly cooked, came paired with a grilled veggie and was safe alternative when I didn't really feel like getting anything spicy like tteokbokki or wanted something a bit more basic.
Got the munchies for these treats? The best place I can think of finding these street food vendors are nearer to the subway entrances and shopping areas. These busy city streets usually hold a ton of these food vendors parked instead of the nightclub regions.
The best part? None of these delectable street treats cost over 1,000 Won (~Php45)
COST SO FAR: 44,250 Won (~Php1,915)
---
Recovery Food
Club and party culture in Korea are intense, but I do think it's worth the experience! There have been nights my group had left the club at 5AM, but extended the fun all through 7AM or 8AM at cheap food spots to restore our energy.
The only establishments you'll find open at these hours of the morning are convenience stores, fast food joints and the occasional internet cafe.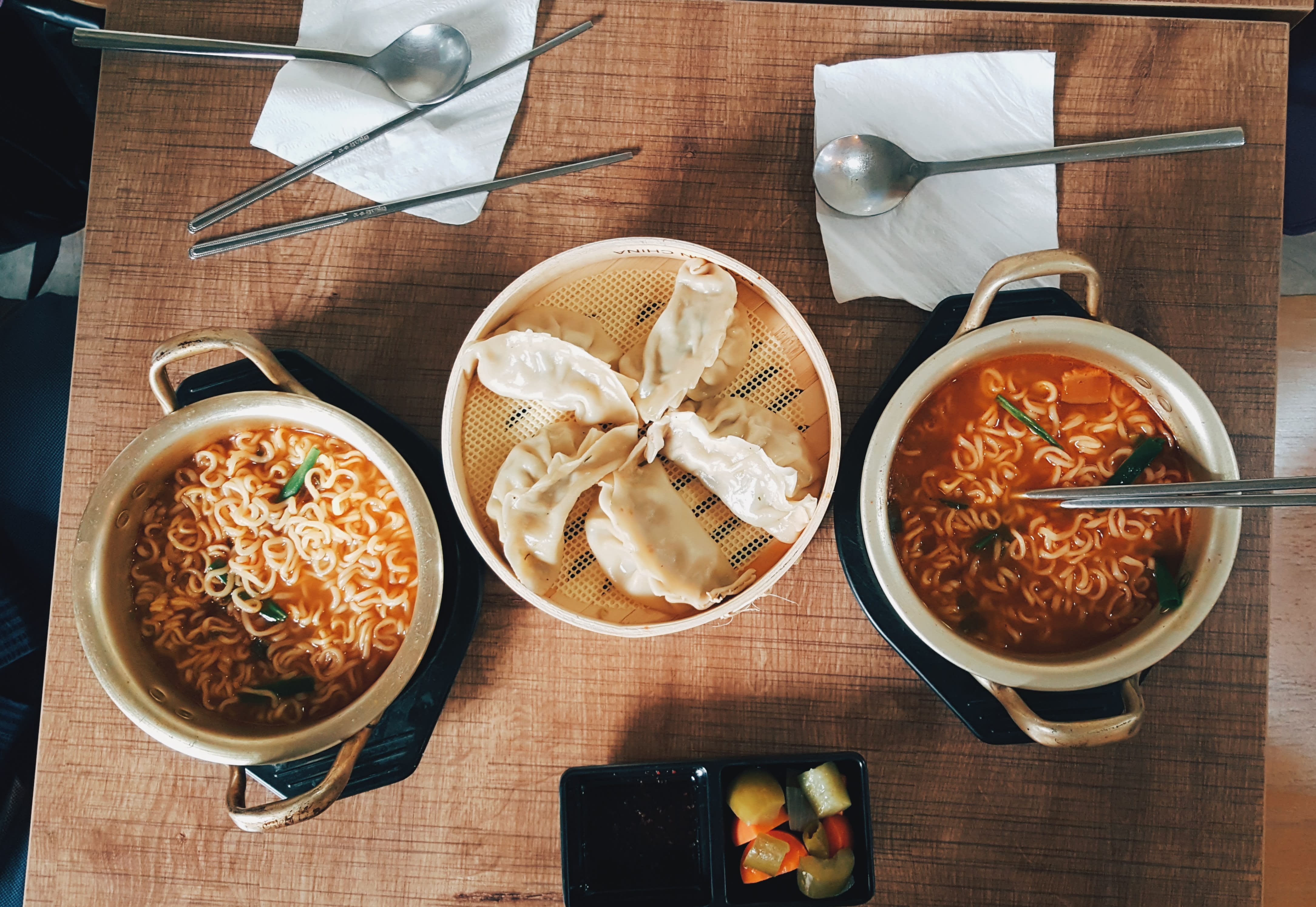 My pick for foods to sober up on would be Korean ramyun. Any type of Korean ramyun, although I usually go for the cheapest one I could find which retails around 900 Won (~Php40) and spring some extra cash for a fresh egg or two. At this point, I may or may not have spent all my physical cash, so I always just opt to swipe the T-Money card.
Pre-book your T-Money Card through Klook!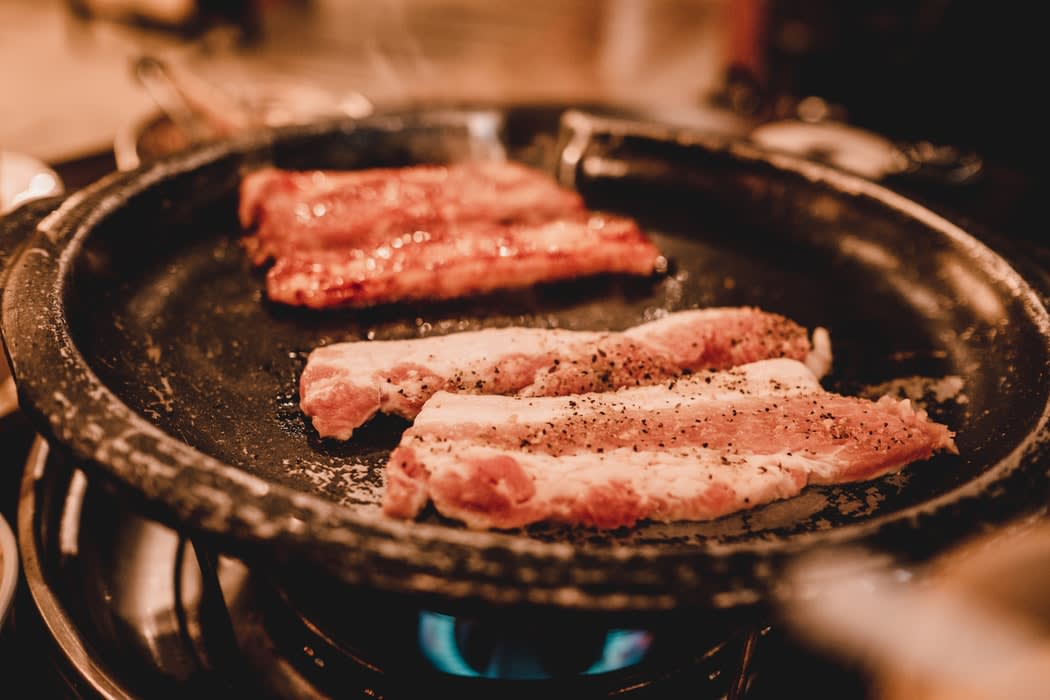 Very rarely, though, my friends and I would come across establishments that were open and served some freshly cooked meals. One of those would be Old House Charcoal Meat.
They'd still be open by the time we'd leave the club and slowly making our way out of Hongdae. So on the dawns that we did want to splurge, 13,000 Won (~Php565) was enough for mouth-watering Korean barbeque and we would regain enough strength to make the journey home.
ADDRESS: 169-6, Donggyo-dong, Mapo-gu, Seoul
OPENING HOURS: 4PM-5AM, Mondays-Sundays
COST SO FAR: Between 45,150 Won (~Php1,950) and 57,250 Won (~Php2,500) depending on what we choose to eat.
---
Heading home
Once that's done, my friends and I would be faced with two choices heading home. Retrace the journey we took on the train or splurge one last time and spring for a cab home.
TAXI CAB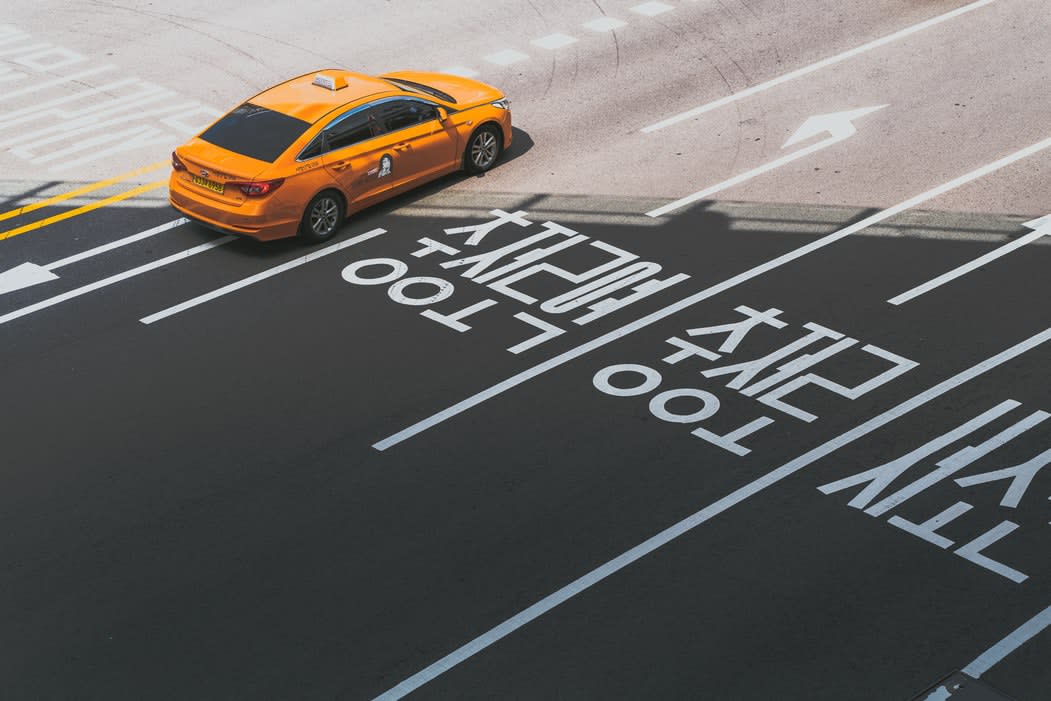 Both have their pros and cons. Taking the subway is cheaper, but taking the taxi means we can fall asleep and just wait for the driver to take us back to the university (be careful here, they may try to cheat you on fare).
Get familiar with how Korean taxi fare is calculated by taking a look at Numbeo's breakdown of taxi fare. Otherwise, it's best to have a local with you to guide you through (and split the fare!).
SUBWAY
If you're partying until the crack of dawn, you should take note of subway hours – or prepare to spend a hefty amount for a cab. My friends and I would always take another train home, simply retracing our steps from when we left to get back.
Once we're off the trains and back in the dorms, we'd say quick goodbyes and shuffle back to our dorm rooms and look forward to our next night out in Seoul.
Discover more travel tips & tricks with Klook Insider Stories!
Looking for more travel tips, guides, and inspiration? Check out Klook's Insider Stories and endlessly scroll through the many travel guides we have on our platform – all created by real travelers, for travelers!
Check out Klook Insider Stories for more travel inspiration