Get ready for some instagrammable fun under the sun!
Pack those swimsuits and make your way to Cebu for some splashin' fun at the happiest floating playground in Asia! The team that brought you Inflatable Island and the Dessert Museum is pulling all the stops to bring you the waterpark of your childhood dreams! Boasting all things IG-worthy including a 16-room millennial pink boutique hotel and the iconic Unicorn Island, Happy Beach is set to become your next must-visit beach destination!

Fortunately for you Instagram and adrenaline junkies, we've got everything you need to know about the newest beach hotspot. Read on to find out what you can expect and how you can get discounted passes to Happy Beach!
What to expect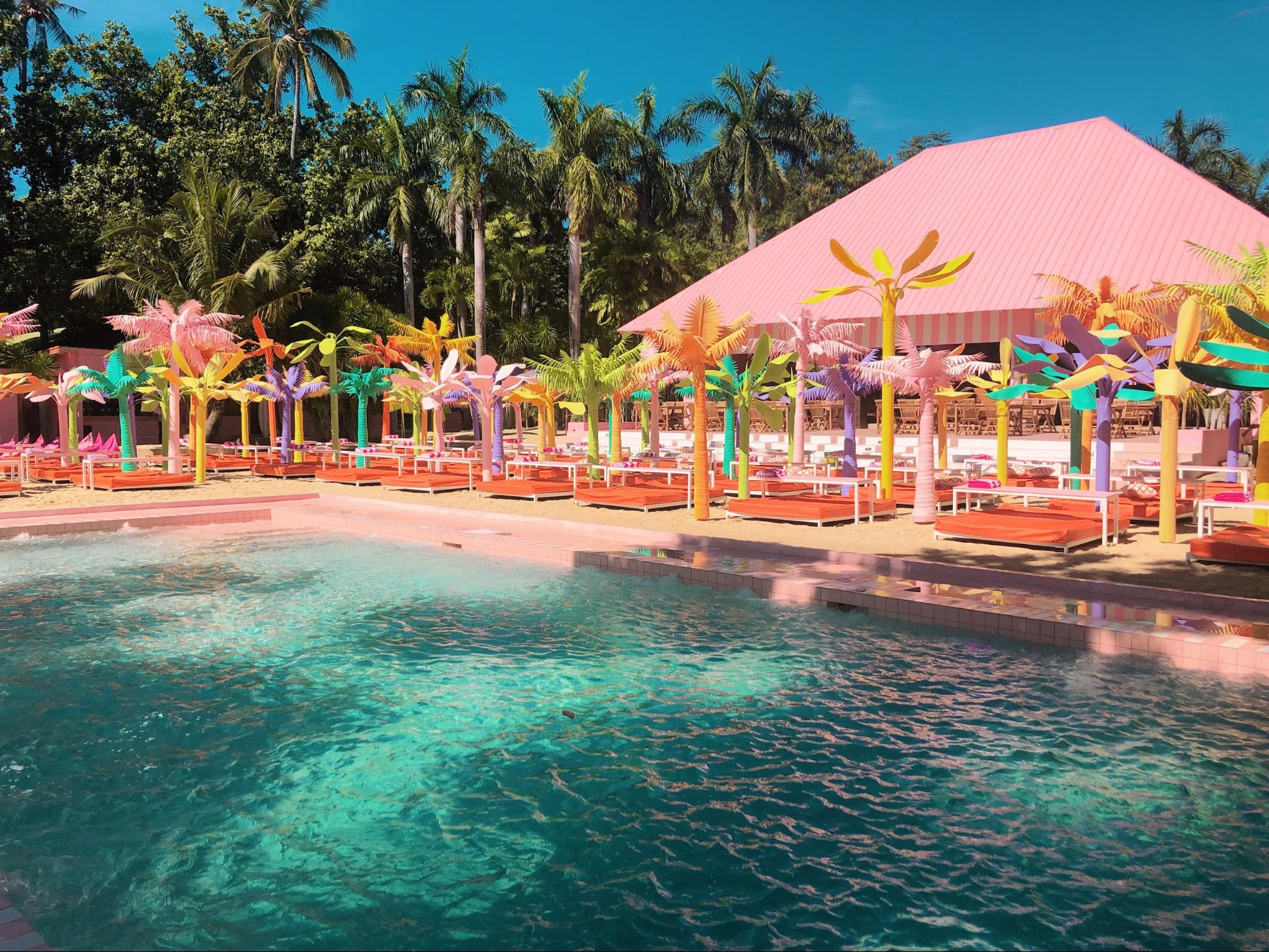 First off, you've got the unmissable Happy Jungle Lounge. Located right by the resort's pink pool, you'll be greeted by a sea of pastel-colored trees and orange daybeds perfect for an afternoon siesta.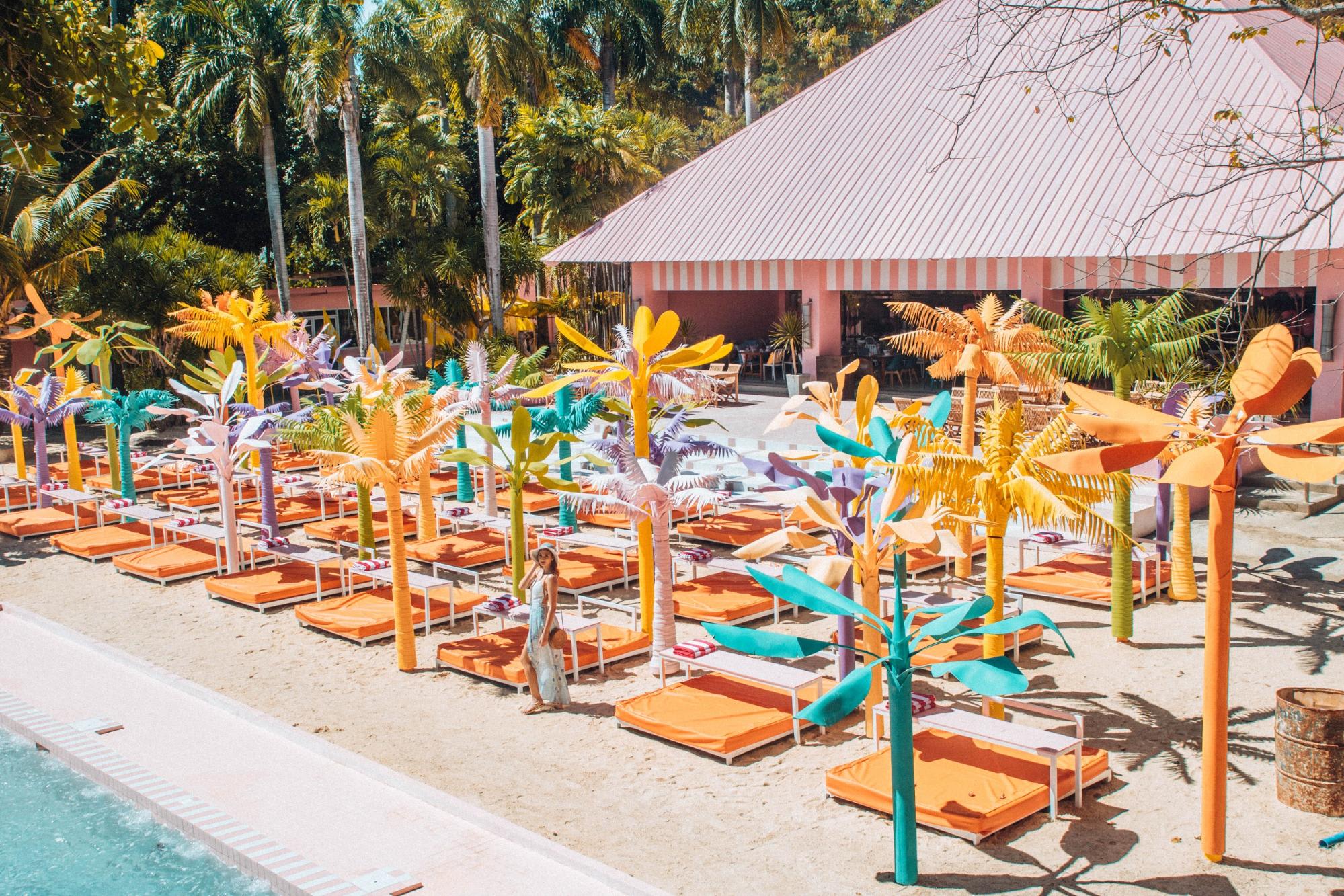 Already imagining all your Instagram posts? We're happy to announce that you can reserve one of these daybeds for only Php 1,299/each (Group of 2) or Php 999/each (Group of 4) on Klook! This is inclusive of a Beach Pass, snacks, and a whole day access to the Pink Pool, Mactan Beach, the Bali Lounge, the Floating Zoo and the Animal Cabanas!
Klook me a Happy Jungle Daybed!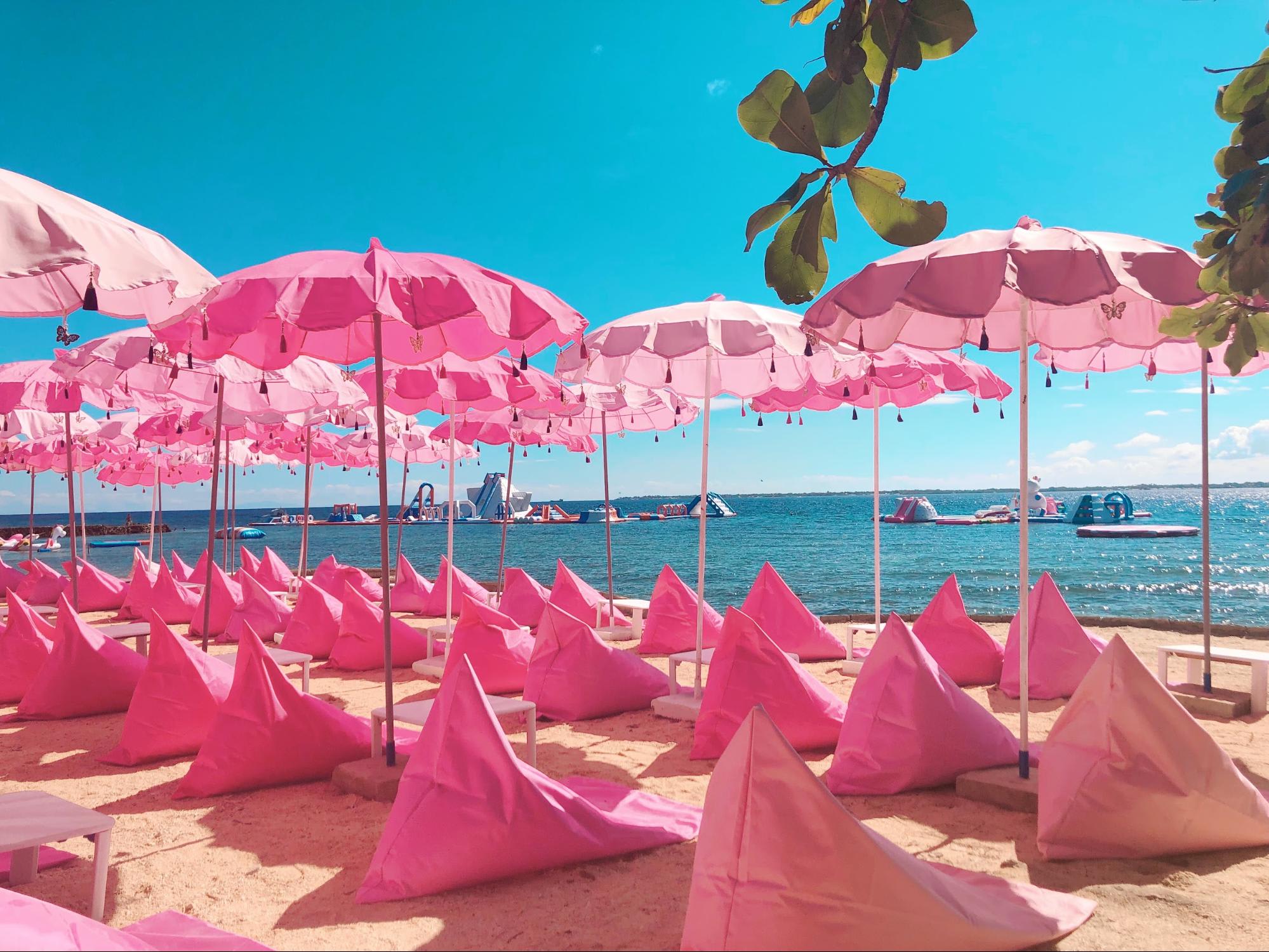 Move closer to the sea and lounge by the Pink Bali Lounge which is situated just right in front of the Happy Jungle Lounge! Claim your spot bright and early, because these umbrella-covered bean bags offer the best view of the ocean.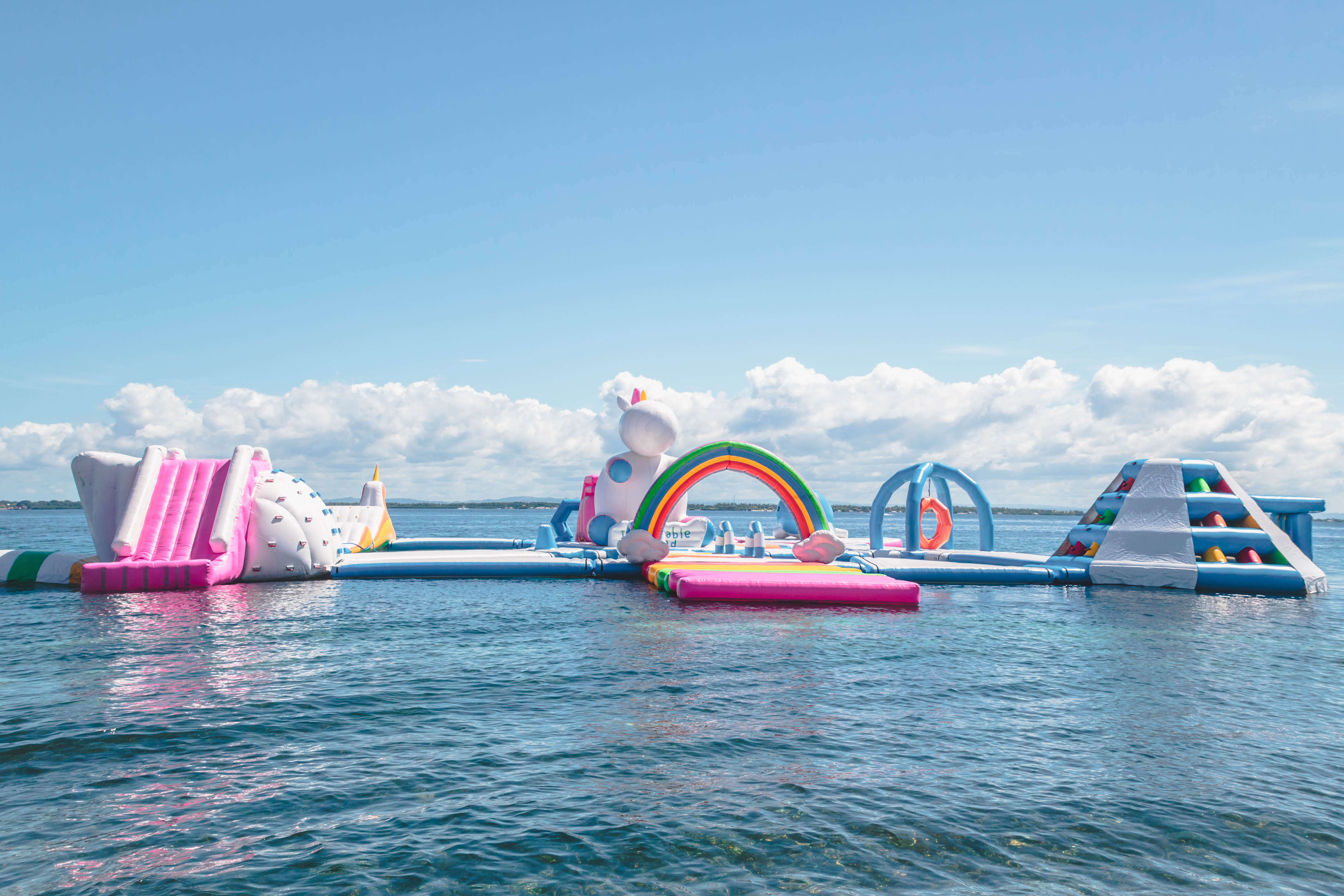 Relive your childhood at the new-and-improved Unicorn Island! With over 4,500 sqm of inflatable fun, you're sure to spend your entire day on this floating playground taking on newly redesigned inflatables such as the "Wrecking Ball", "Leap of Faith", and "The Big One"!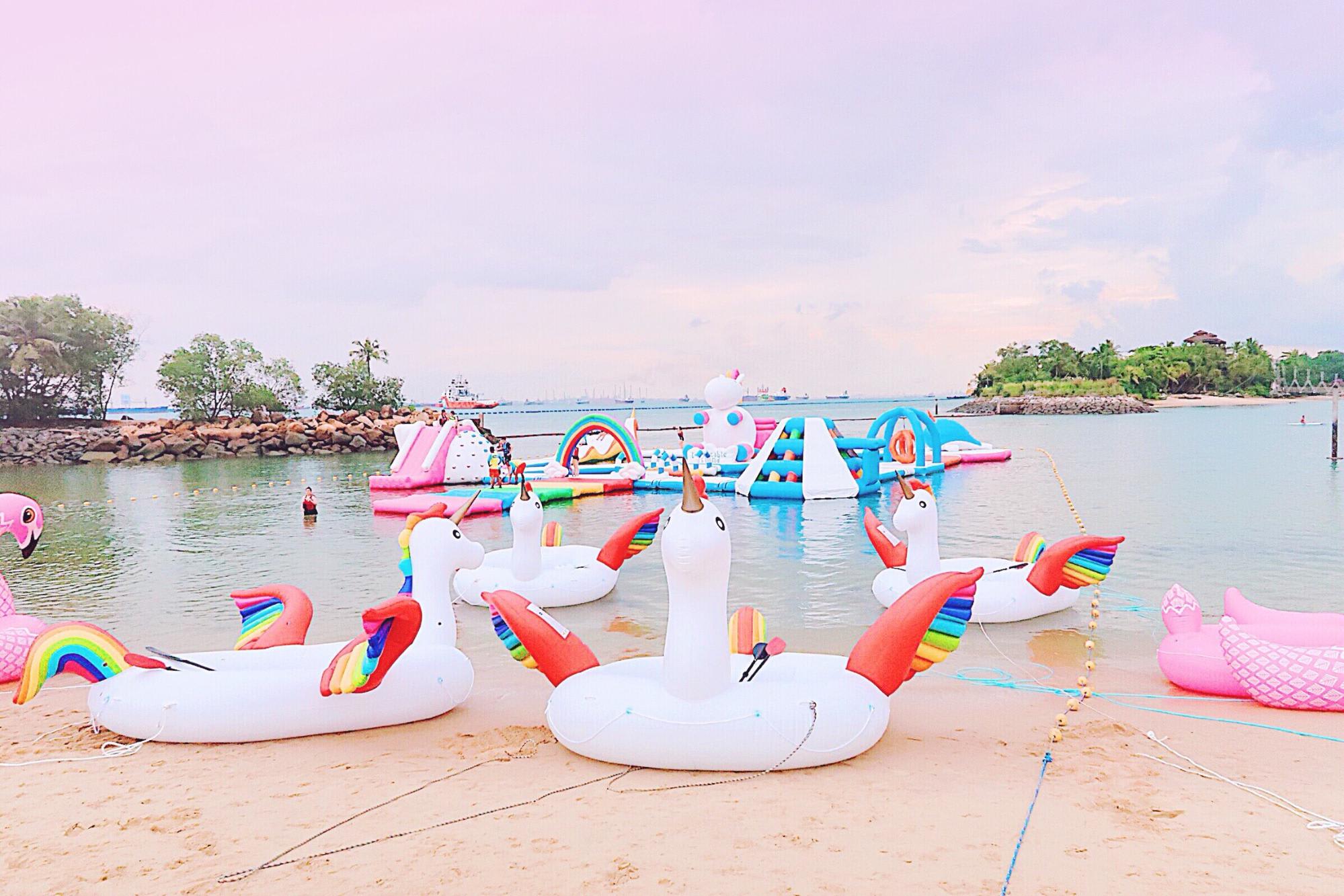 For those who prefer a more relaxed experience, Happy Beach also has a Floating Zoo which features the Animal Cabanas – floaties that can fit up to 6 individuals perfect for a nice chill out on the sea!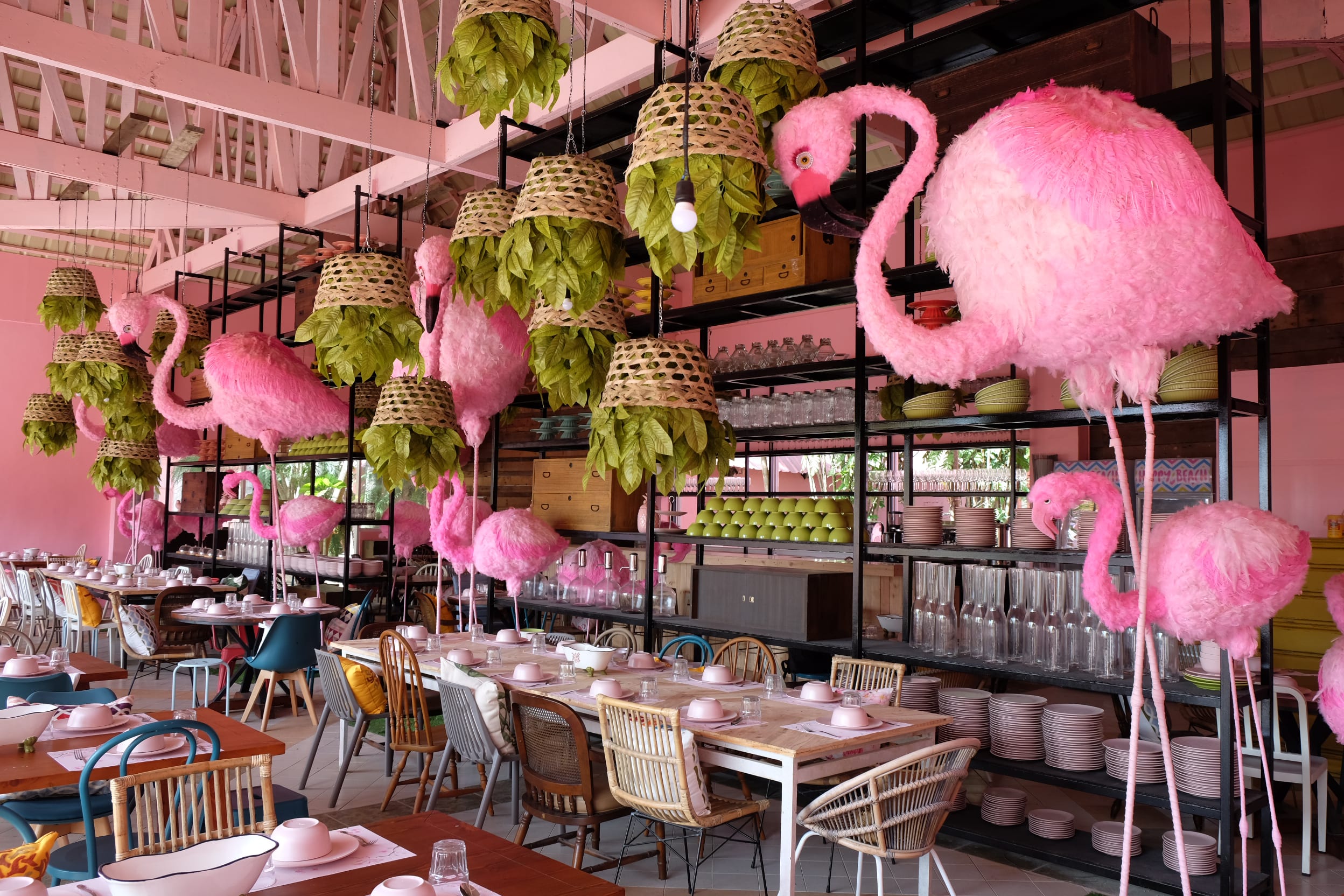 For meals, your senses are in for a real treat over at Happy Beach Mango Mama restaurant! Not only will the delicious entrees tickle your tastebuds, but the restaurant's quirky flamingoes will be the perfect companion to your Instagram selfies. 
Stay overnight at the Happy Beach Resort!
If a day-trip to Happy Beach isn't enough to suffice your Instagram or adrenaline needs, you can also opt to book an overnight stay at The Happy Beach boutique resort hotel featuring 16 ultra-pink bedrooms and a whole lot of perks! Guests staying over at the hotel are entitled to free access to the beach, the pink pool, discounts on the Happy Jungle Lounge and Inflatable Island play passes.
Package Options
Sprinkle Beach Pass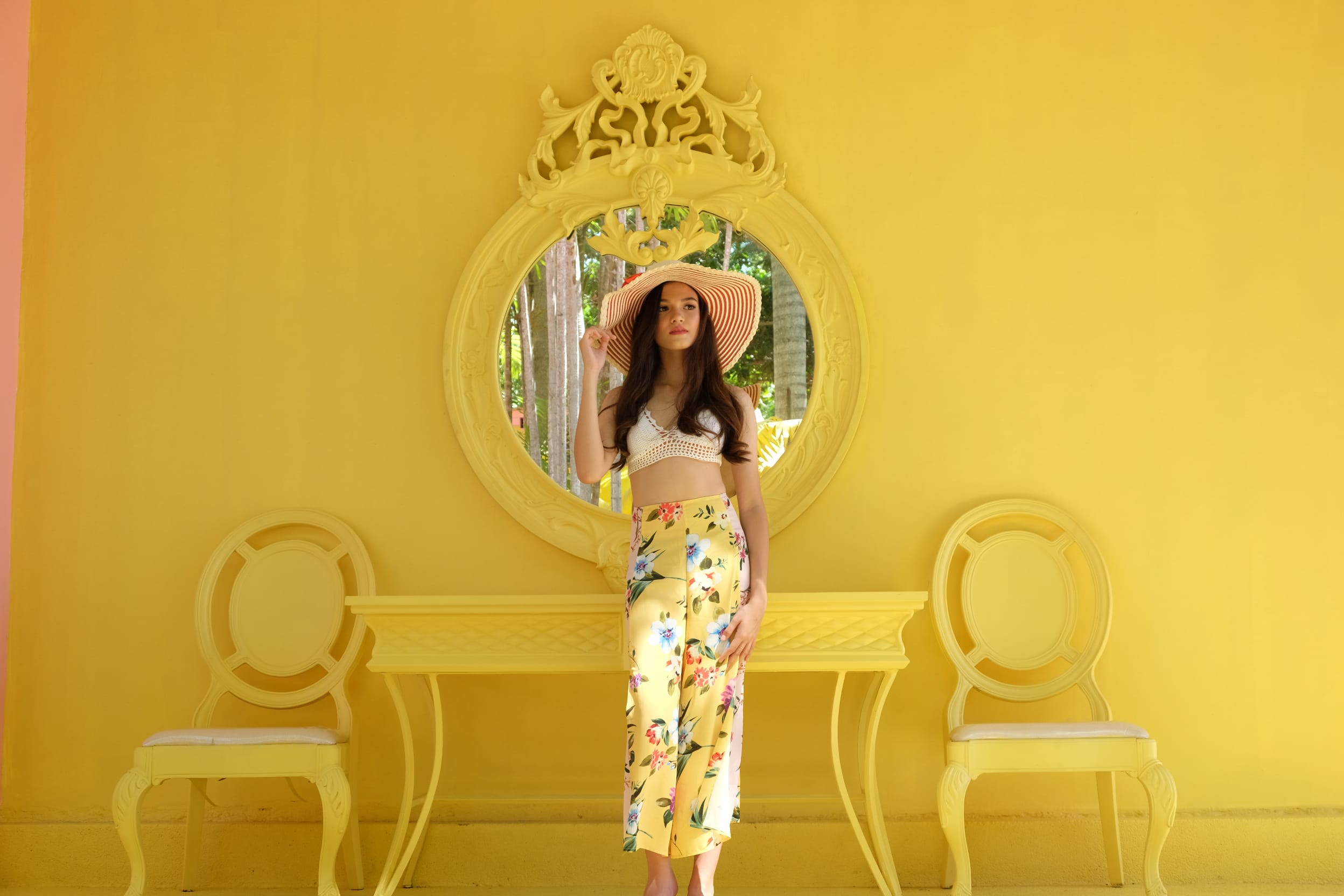 Making a quick one-hour stop to Happy Beach resort? No problem! With the Sprinkle Beach pass, you get entry to Happy Beach, the Bali Lounge, Floating Zoo and the Animal Cabanas, plus a whole hour access to Inflatable Island and Unicorn Island
Klook me a Sprinkle Beach Pass!
Splash Beach Pass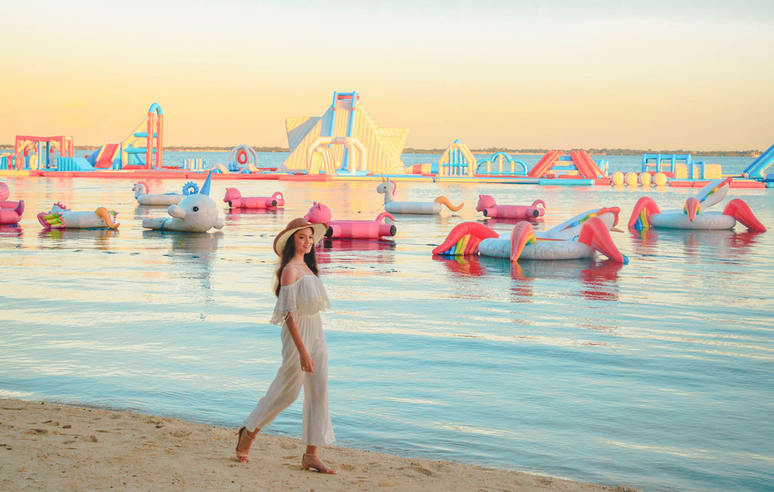 If you think an hour is too short to access both Inflatable Island and Unicorn Island, then the Splash Beach Pass may be a more suitable option! With this pass, you are given entry to Happy Beach, the Bali Lounge, Floating Zoo, and Animal Cabanas, and two-hour access to Inflatable Island and Unicorn Island!
Spray Beach Pass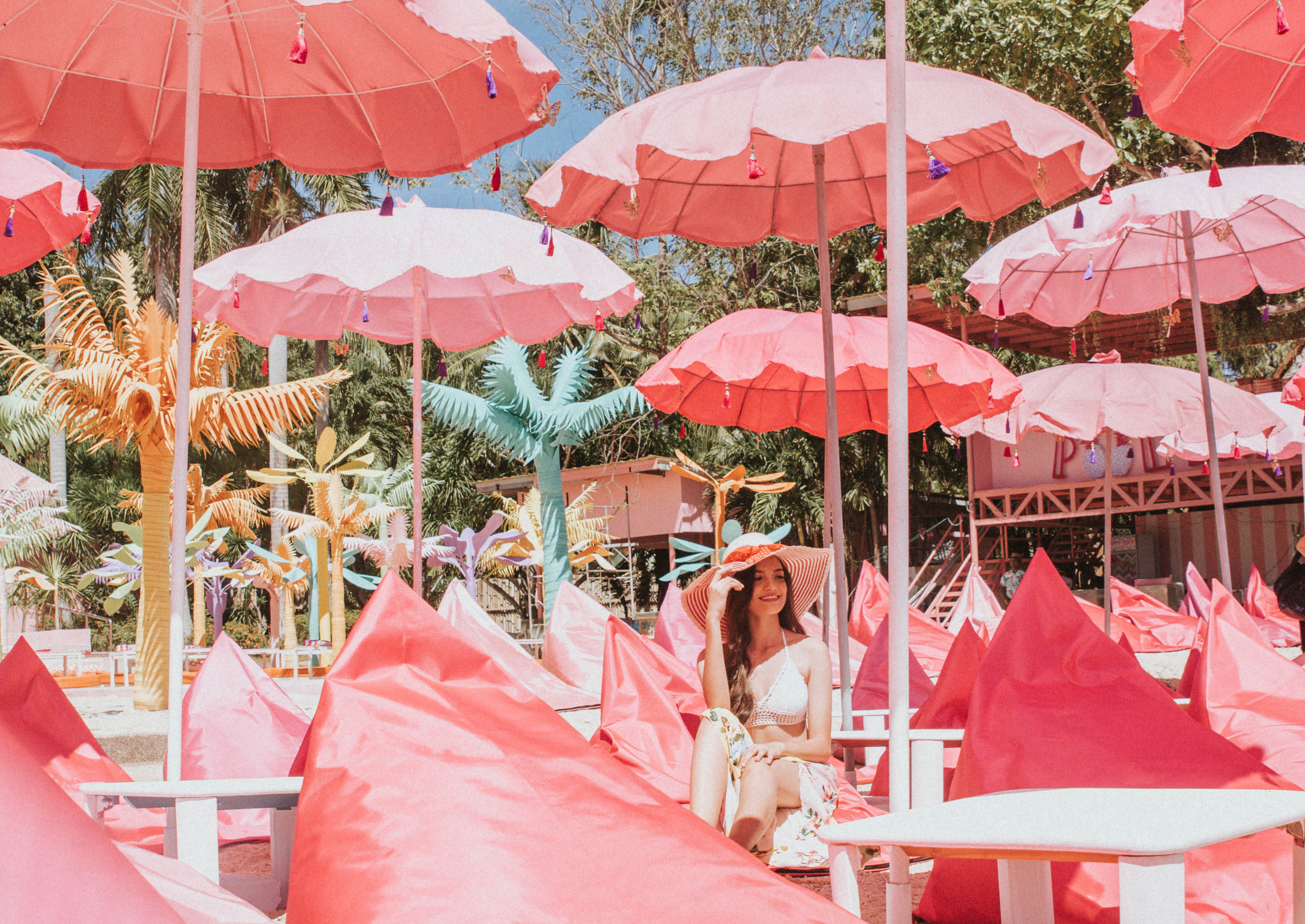 If you're spending half your day in Happy Beach Resort, it would be a good idea to to purchase the Spray Beach Pass for four hours worth of Inflatable fun! Inclusive of whole day access to Happy Beach, the Bali Lounge, Floating Zoo, and Animal Cabanas, you're sure to have a wet and wild time!
Soaked Beach Pass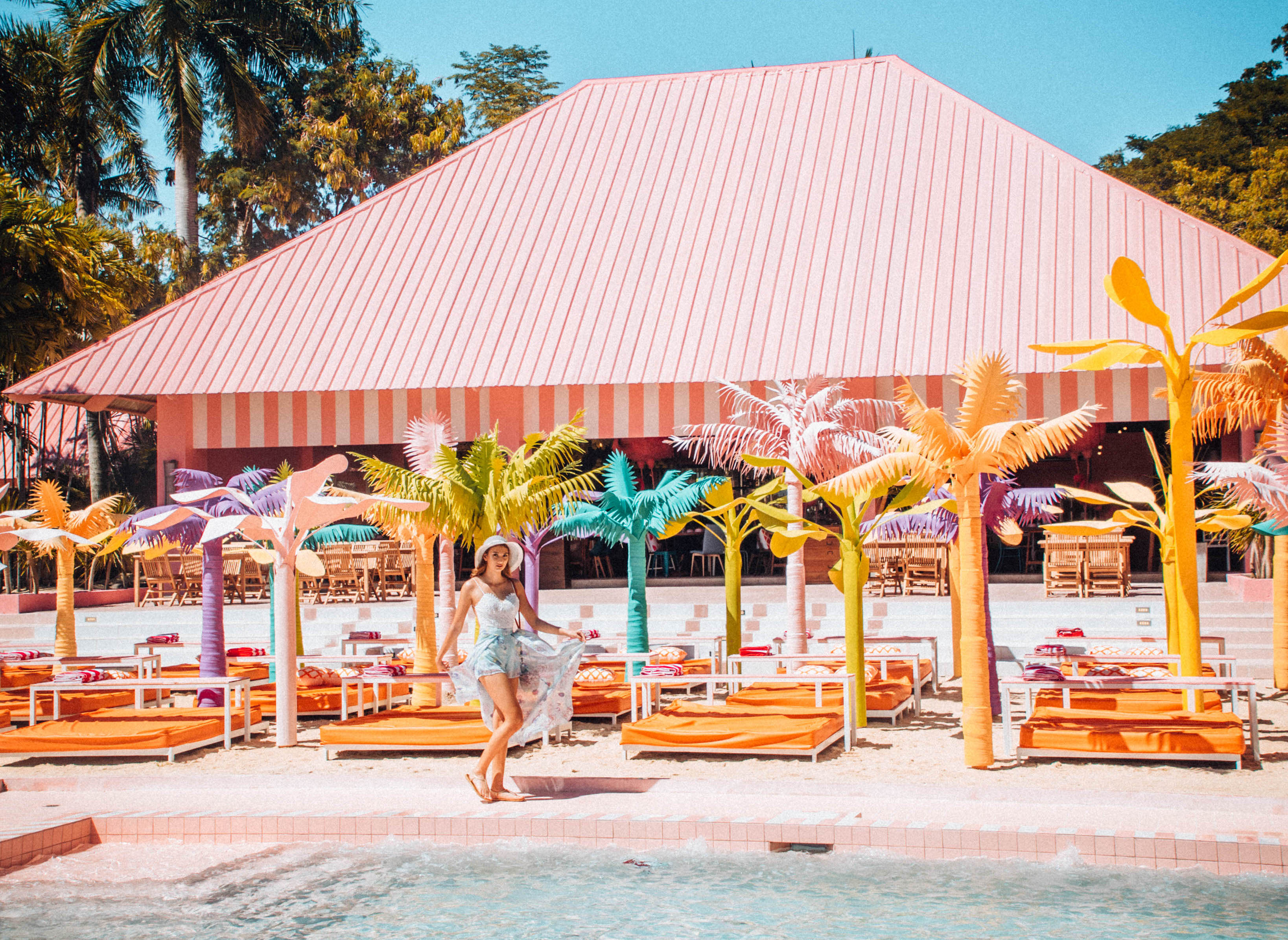 Have all the fun that you want with the Soaked Beach Pass! This pass is perfect for those who don't want to be restrained to a schedule and just want to have fun. Apart from entry and access to Happy Beach, the Bali Lounge, Floating Zoo, and Animal Cabanas, you get whole day access to both Inflatable Island and Unicorn Island – plus a lunch feast!
How to get there

Happy Beach is located just 25-35 minutes from the airport via private vehicle and boat. Upon arrival at the Mactan-Cebu International Airport, take a private car or taxi to Angasil Port then hop aboard the bright pink and yellow Happy Boats for only Php 50 (roundtrip) to Happy Beach Cebu!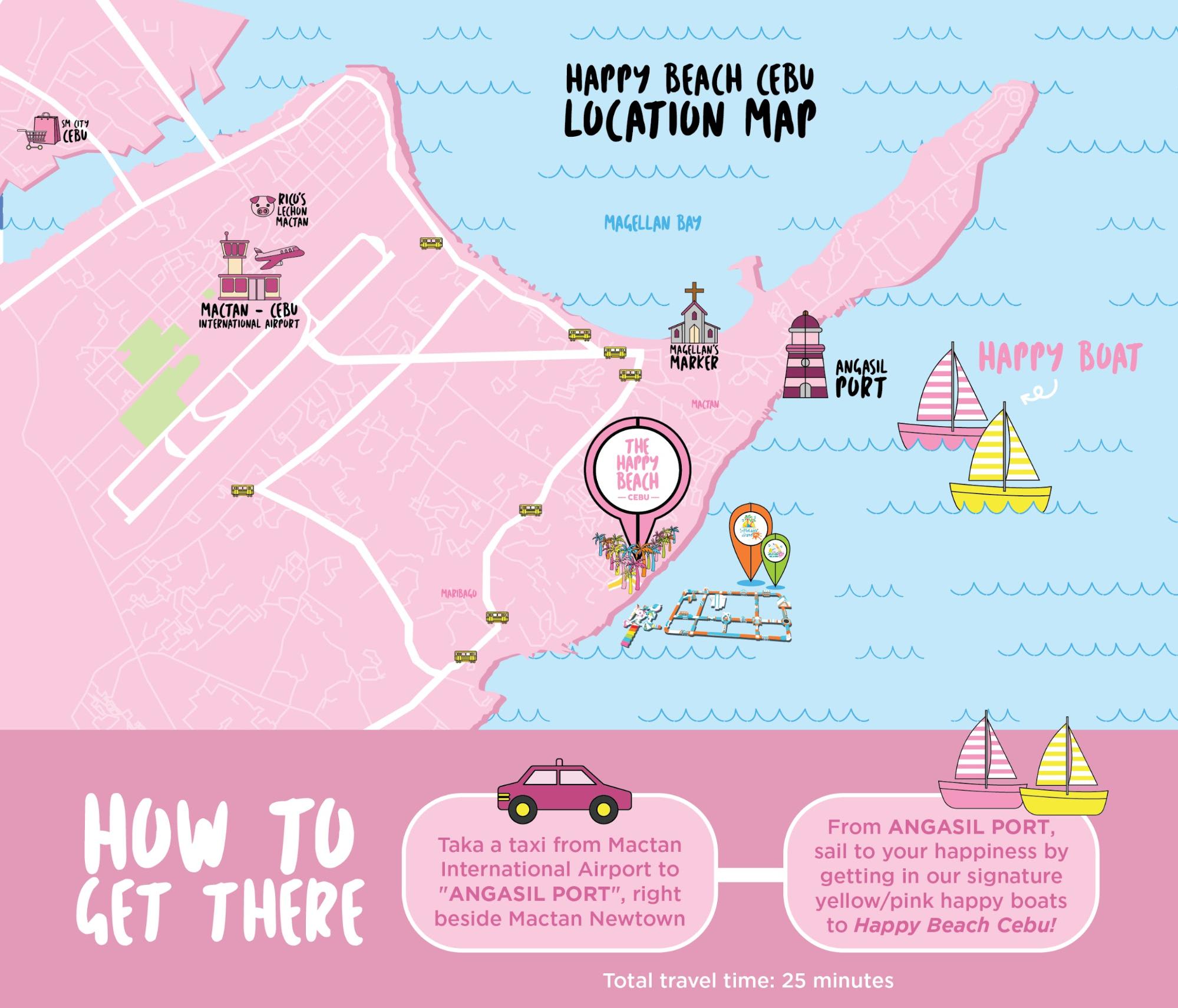 Book yourself a wet, wild, and happy weekend at Happy Beach!
This up-and-coming Instagram hotspot is set to open on December 15, 2018 – and Klook is offering the lowest rates for your beach getaway! As Happy Beach's official ticketing partner, you can now start pre-booking your passes to Happy Beach and garner entry before anyone else in the country! So what are you waiting for? Book your passes today!
Discover the Philippines with Klook!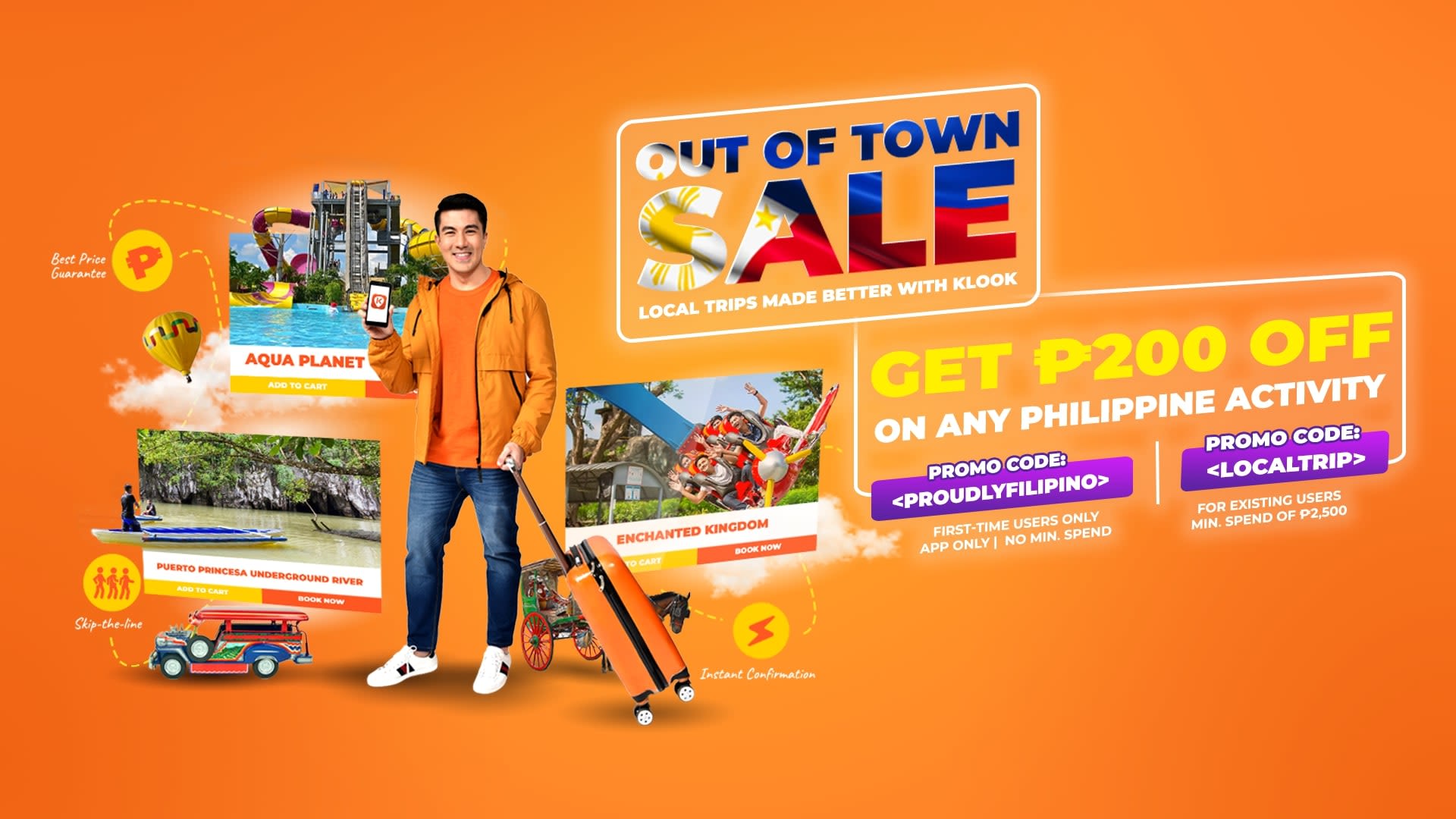 Visit this stunning local attraction and more with Klook's ongoing promo!
All NEW USERS can enjoy Php 200 off with no minimum spend to use on ANY local activity using the promo code <PROUDLYFILIPINO> on the Klook App! While existing Klook Users can also get P200 off ANY local activity with a minimum spend of P2,500 with the promo code <LOCALTRIP>!