Travel to Dubai on a budget!
Let's face it – Dubai is notoriously expensive. In fact, the developer of the city said that his goal for was for Dubai to be the first luxurious travel destination in the world! Even upon initial research, we're sure you've noticed the city's sky-high prices. But this shouldn't stop you from traveling to this dynamic city!
With this budget guide, we'll show you how to lower down the costs with tips, tricks, and the best deals! Read on and find out how you can travel to Dubai with just Php 35,000 (USD 700)!
What you need to know before your trip:

1. Filipinos need a visa to visit Dubai
If you're a Philippine passport holder, unfortunately, you will need to process a visa. If you aren't sure how to apply, feel free to check out our Dubai Visa Guide for Filipinos for reference!
2. You will need to process your visa through a sponsor
As indicated in our visa guide, you will need to settle on a sponsor to process your visa application. A sponsor can be in the form of an airline, hotel, travel agency, or a friend or relative residing in Dubai. Depending on who your sponsor may be, this may add additional costs to your trip – or lessen the costs if you're lucky!
Give yourself time to go through your options, and decide on one you believe is most cost-efficient.
3. Dubai is incredibly expensive!
If we haven't made it clear, Dubai is really expensive! As it is a luxurious travel destination, you can expect anything and everything from food to shopping to be quite costly. That said, a lot of preparation (aka saving up) is needed for this trip!
How to get to Dubai

1. Flights from Manila to Dubai
Fortunately, many airlines offer straight flights from Manila to Dubai. Without a stopover, the flight would usually take around 9 hours. In case you were wondering, the most trusted airlines for Manila to Dubai flights would be Etihad Airways or Emirates. Fortunately, both airlines offer visa services, so they can actually sponsor your visa for you as well!
2. Identifying the best time to travel
One technique that has never failed us (saving wise) is booking ahead of time! And since flight tickets to Dubai can tend to be very expensive, we recommend you look into peak seasons and researching more on the best time to travel.
Peak Season: November to January due to cooler weather
Off-peak Season: June to August due to extremely warm weather and
4. Comparing prices
In order to save big, take some time to compare airline prices. One platform you can refer to is Skyscanner. Just indicate potential dates and adjust according to your budget! Below, we've punched in travel dates for October 31 to November 5 for your referral. As you can see, if you book these dates around July, prices fluctuate from Php 6,000 to Php 8,000.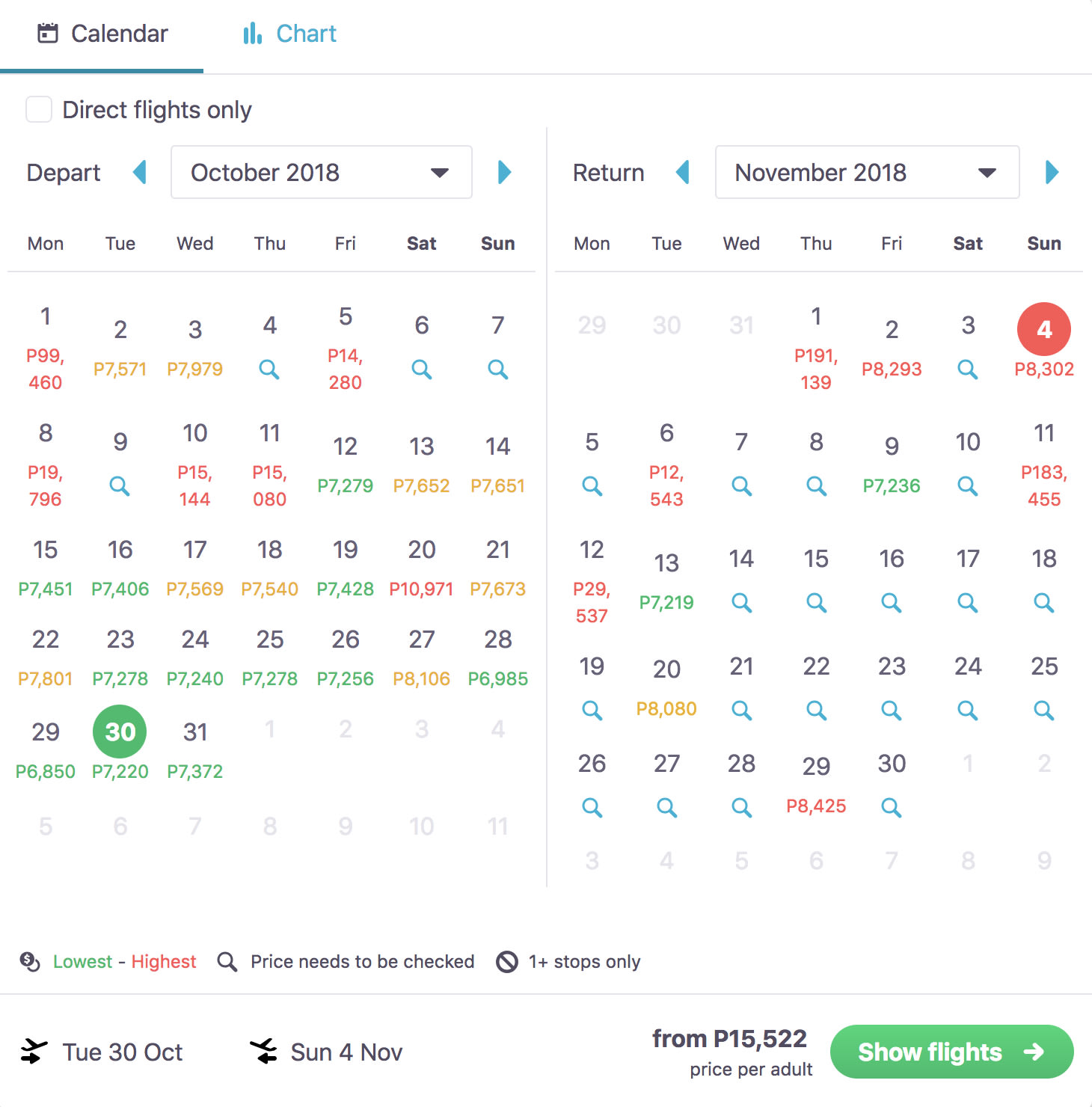 * Please take note that prices change everyday and per chosen departure date.
Where to stay in Dubai

As Dubai is home to some of the most expensive hotels in the world, including the 7-Star Burj Al Arab, you might think it's close to impossible to book a reasonably priced accommodation here. But fear not! Thanks to the rise of real estate in Dubai, we're sure you'll find a place within your budget.
1. Budget-friendly places to live in the city
Obviously, if you would want to stay in the city centre, accommodation costs will definitely cost a lot of money. But, if you're planning to stay within a budget, opt for locations such as Burj Dubai, Deira, Downtown and the beach. Definitely not as close to city centre like Jumeirah, but the friendly costs still beat the commute to the city.
2. Airbnb
If you don't mind renting out an Airbnb during your stay, there are many options under the Php 2,000/night mark. Just adjust the price toggle to fit your budget for accommodation. It's also a lot cheaper to book a private room on Airbnb as opposed to renting out the whole place, so if you're traveling solo – this might be a more cost-efficient option!
* Please note that Airbnb apartment prices fluctuate, so these apartment prices may change.
3. Hostels
If you're serious about budget traveling, look no further! Thankfully, there are many hostels in Dubai that you can look into for a decent accommodation. I mean, you're not really spending your vacation to bum in the hotel room, so this is definitely a budget-friendly option! For hostels under Php 1,500/night, you can check out Backpacker Hostel, At The Top Hostel, or Backpacker 16!
* Please note that hostel prices fluctuate, so these prices may change.
4. Stay with relatives or friends

The cheapest option of course is to stay with family or friends, if they can accommodate you. This will save so much money, considering that a budget-friendly price for a 5 day stay would cost around Php 8,000 to Php 9,000.
If your friends or family can sponsor your visa and accommodation, you'll definitely be able to save big!
Klook Dubai activities that won't break the bank

Once you've booked your flights and accommodation, it's time to look into what Dubai can offer! As you would expect, most activities have quite the price tag, but thanks to Klook, you can score the best deals for Dubai's must-try activities! Here are some of our favorites:
1. Desert Safari
No trip to Dubai is complete without a visit to the Desert Safari! Get a chance to ride a camel, or zoom down the sand dunes with Klook's evening desert safari tour! Make sure to stay until sun down because we're telling you – you'll never see a sunset as beautiful as those in the desert safari.
2. Burj Khalifa
Missing a trip to the Burj Khalifa is like skipping out on the Eiffel Tower on a trip to Paris. That said, being afraid of heights is not a reason to miss this once-in-a-lifetime experience! So pucker-up the courage and feast your eyes on stunning views of Dubai from the 124th floor of Burj Khalifa – the tallest building in the world!
3. Abu Dhabi Full Day Tour:
If you're gotten your fill of Dubai, dedicate a day to exploring its neighboring city – Abu Dhabi! With this full day Abu Dhabi tour, you can gain entrance to the Grand Sheikh Zayed Mosque, visit Ferrari World and explore Marina Mall! One day is enough to fall in love with this city, and we're sure you'll be planning your next trip to Abu Dhabi while you're on the tour.
4. Atlantis Aquaventure Water Park:
Whether or not you're traveling in a group, you absolutely cannot miss a visit to Atlantis Aquaventure Water Park! Not only will you get to experience thrilling water activities, but you can also explore the fun activities past the water park! Atlantis the Palm is pretty much the city of your childhood dreams, so bring out the 8-year-old in you and have a splashin' day at this stunning location!
What to eat in Dubai

No matter where you buy food in Dubai, it's sure to be delicious. But to stay within your budget, avoid areas around Dubai Mall, JBR, and downtown – places here can cost you about Php 700 to 1,500 per meal.
For cheaper options, you can enjoy Dubai's street food for days. We promise, you can live off of this and be extremely satisfied. It's still definitely above normal street food prices, but this quality of food for such low a price – it can't be beat in Dubai. Head on over to Bur Dubai and Deira for extremely cheap street food starting at around Php 100 to Php 200. You can also score quality meals at Al Barsha for around Php 250 to Php 450. Make sure not to miss out on shawarma, oman rolls, and samosas while you're in these areas!
You can also opt to buy your own groceries if you have access to a kitchen. Just take note that supermarkets nearer the city centre tend to be more expensive.
Although Dubai is known for its nightlife, you may need to forget about nights out since it's an extremely costly activity. Save the booze money for actual food you'll need!
Transportation

1. Metro
The cheapest mode of transportation is the Metro. This is the perfect way to get around the city, especially if you'll be traveling to the touristy attractions like the Burj Khalifa or the Marina. Even if you're staying for five days or fourteen, the best option is to avail of the NOL card at the metro station.
A NOL card costs 20 AED (Php 300) and contains 15 AED (Php 200) of travel credits. One short trip would usually cost around 3 AED (Php 45), while a longer route ticket would cost 8 AED (Php 115).
2. Rent a Car
Definitely not the cheapest option available, but it's definitely cheaper than taking a taxi. This Klook Car Charter is perfect for group trips, and you can travel anywhere in Dubai in one day!
3. Taxi
Although we would advise to skip the use of taxi, especially in the city centre, it's quite impossible in a city like Dubai. However, since the metro is still pretty limited, you would need to use the taxi from time to time. Anywhere in the city, taxis can cost 40 AED (Php 580) to 60 AED (Php 870) no matter the distance.
Free activities to enjoy in Dubai

There are a number of things you can enjoy in Dubai without having to cash out! If in any case, you would rather proceed with free activities during your trip, here's a list of our favorites:
1. The Dubai Mall
Of course roaming around one of the city's most luxurious malls is free of entry! It's a great way to spend your afternoon in-doors, window shopping and being amongst the locals. However, if you do have cash to spare, you'll be able to find several imported brands here too like Adidas and Zara for mid-range brands, and Chloe and Fendi for high-end shopping.
2. The Marina
The Marina is a luxurious area in Dubai filled with skyscrapers, luxury apartments that we can only ever dream of. This one's more of a cheat, but it's free to walk through the area and admire the lavish lifestyle of Dubai's locals. One of the top things to see in The Marina is the Al-Rahim mosque, which was only finished recently.
3. The Palm Jumeirah
This artificial island can be best seen from up above, but you might need to pay for a helicopter for views like that. Instead, you can settle for a walk through The Palm, and it's still quite enjoyable! There are many activities available within The Palm, like kayaking, a hop-on-hop-off tour, and a cruise tour. However, if you don't want to shell out money for those, a walk through this iconic location is unmissable!
4. Bur Dubai Souks

If you're strict about your budget, but still want to purchase some souvenirs and such, stop by Bur Dubai Souks for great deals on gold, spices, perfumes, and textiles! Apart from the cool things you'll be able to buy, souks are unique to Arabian countries, so it's an activity we highly recommend!
Technically, a trip to Bur Dubai Souks is free, however, you will need to go on a abra ride across the Dubai Creek for AED 1, which is around Php 15.
5. Al Fahidi Historical Neighbourhood
If you have an afternoon to spare, we recommend stepping out of the city to explore and appreciate Old Dubai. You won't see soaring skyscrapers, or a road filled with Ferraris in this side of Dubai, but it's definitely got its own charm. Once you step foot into the historical neighbourhood of Al Fahidi, you'll surely lose track of time as you explore the century-old architecture and unique art scene in the area.
6. Kite Beach
Entry to Kite Beach is free, so you can soak up the sun and lay on the sand as much as you would like on this trip! Not only can you enjoy a day at the beach, but you'll also get a close view of the Burj Al Arab – so that's another thing to check off your Dubai list!
7. Dancing Fountains

Apart from having the tallest building in the world, Dubai's also got the tallest dancing fountain in the world, too! Located several meters from the Burj Khalifa, tourists can enjoy this water spectacle for free! But if you want to cash out (and you totally can), book a ticket on the Dubai Fountain Lake Ride for the best seats in the house! It costs 65 AED, which is approximately Php 950.
Budget Breakdown
| | |
| --- | --- |
| Round trip Flight | 15,522 |
|     Departure ticket |     7,220 |
|     Return ticket |     8,302 |
| Accommodation | 6,800 (Php 1,700/night) |
| Activities | 6,320 |
|     Desert Safari |     1,715 |
|     Burj Khalifa |     1,948 |
|     Abu Dhabi Full Day Tour |     1,671 |
|     Atlantis Aquaventure Water Park |     1,526 |
| Food | 3,200 (Php 800/day) |
| Transportation | 1,500 (Php 300/day) |
| Total | 33,342 |
* We advise tourists to bring more than enough pocket money in case of emergency
Sample 5-day Itinerary
Day 1
Activity
10:00 AM to 12:00 PM
The Marina
1:00 PM to 4:30 PM
Lunch at Bur Dubai + Bur Dubai Souks
5:00 PM to 6:00 PM
Burj Khalifa Observation Deck
6:30 PM to 7:30 PM
Dancing Fountains Show
7:30 to 9:00 PM
Dinner at Al Barsha
Day 2
8:00 AM to 5:30 PM
Abu Dhabi Full Day Tour
6:00 PM to 8:00 PM
Dinner at Deira
Day 3
10:00 AM to 11:30 AM
Dubai Mall
11:30 AM to 12:30 PM
Lunch at Dubai Mall
2:30 PM to 9:30 PM
Evening Desert Safari with BBQ Dinner
Day 4
10:00 AM to 6:00 PM
Atlantis Aquaventure Water Park
6:00 PM to 8:30 PM
Dinner at Palm Jumeirah area
Day 5
10:00 AM to 12:00 PM
Kite Beach and Burj Al Arab
1:30 PM to 6:30 PM
Al Fahidi Historical Neighborhood
6:30 PM to 8:00 PM
Dinner at Al Barsha