Eat your way through these bazaars
Nothing screams Ramadan season more than taking a trip down to your local bazaar and exploring all the different food stalls. Most of these Ramadan bazaars will open till the end of May / early June, so you still have plenty of time to go to one near you and embark on a glorious food journey.
Must-eat food in Ramadan bazaar:
Before going to the bazaar, make sure you have a game plan on what you must absolutely get. With a seemingly endless street of stalls, it can get pretty overwhelming. So here are the top 5 food to look out for in the bazaar.
1. Roti John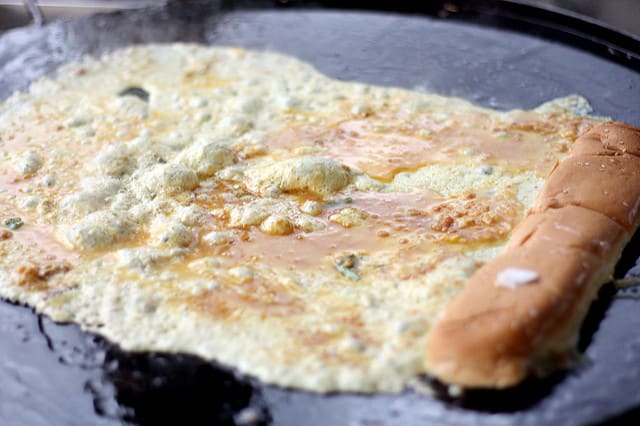 Photo Credit: Flickr 
An omelette sandwich made with a long, soft rolled split and fried on a flat skillet with minced meat and eggs, you can easily easily find Roti John in a Ramadan bazaar. Sometimes topped liberally with chili sauce and mayo, Roti John is typically cut into several portions so it's perfect for sharing!
2. Murtabak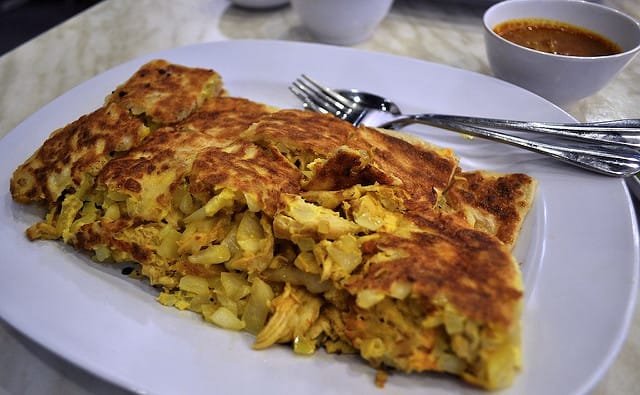 Photo Credit: Flickr
Spiced minced meat and onions stuffed into a roti, murtabak is best enjoyed immediately when it's still warm and crusty. Conventionally in chicken or lamb variations, vendors have been more adventurous with new flavour combinations like murtabak Maggi, murtabak cheese and more!
3. Fried snacks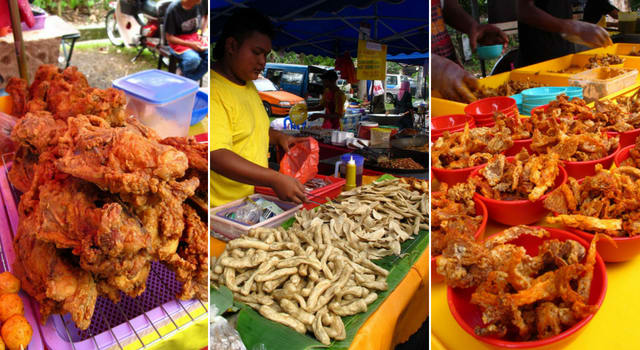 Photo Credit: Flickr
Let's be honest, anything fried is bound to be delicious. It's hard to resist the fried snacks in the bazaar like samosa, keropok lekor, pisang goreng, cucur udang, and the list goes on!
4. Kuih-muih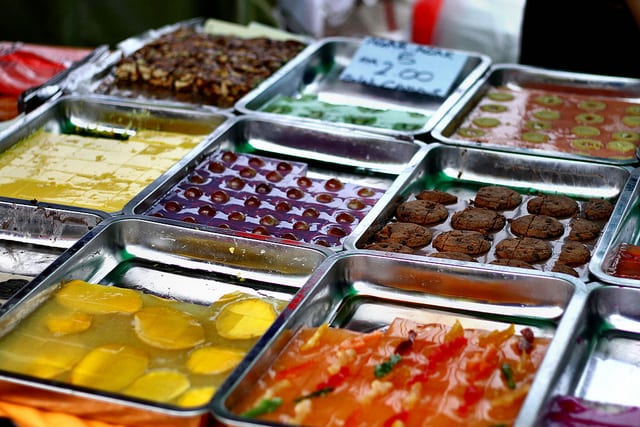 Photo Credit: Flickr 
Nothing gets more intense than squeezing to the front of the stall and having to pick just a few from the endless choices amongst the trays of colourful kuih-muih. From classic favourites like kuih talam and onde-onde to specialty ones, it's tempting to just get one of each!
5. Ayam percik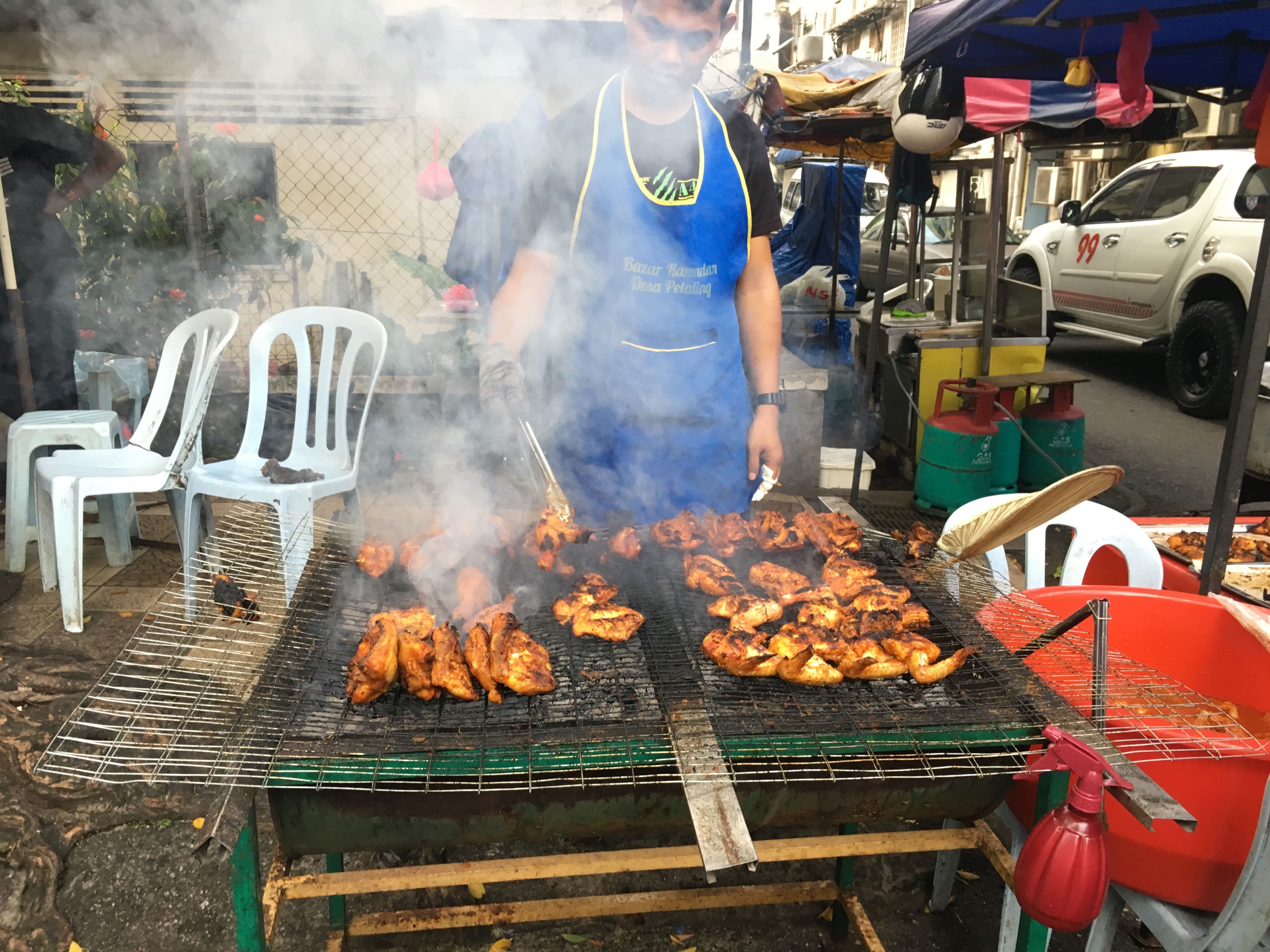 You can spot ayam percik in the making from miles away from the clouds of smoke coming from the BBQ! The chicken is marinated in a spicy-sweet sauce, then grilled for a smoky, caramelised finish. Good to eat on its own but it's best accompanied with nasi campur!
Find your nearest Ramadan bazaar:
Now that the food is sorted, it's time to head to your nearest Ramadan bazaar and get ready for a food marathon!
City
Location
Petaling Jaya
Lembah Subang
Kampung Sungai Kayu Ara
Seksyen 4, Kota Damansara
Seksyen 5, Kota Damansara
Jalan Teknologi 3/1, Kota Damansara
Seksyen 7, Kota Damansara
Apartment Meranti, Bandar Sri Damansara
Vista Business Centre, Damansara Damai
Prima Damansara
Taman Medan, Jalan PJS 2/3C
SS6/1, Kelana Jaya
Seksyen 17/1A
SS8, Sungai Way
Taman Sri Manja
Seksyen 14/20
Kampung Lindungan, PJS 6/3
Desa Mentari, PJS 6/5
Kampung Baiduri, Seksyen 51A
Seksyen 8, Sungai Jernih
Jalan Sentosa 3/57
Shah Alam
Seksyen 6 to 8
Seksyen 13
Seksyen 16 to 20
Seksyen 24 & 25
Seksyen 27 & 28
Seksyen 31 to 33
Seksyen 35
Seksyen U2, U3, U5, U8
Seksyen U10, U13, U19 & U20
Subang Jaya
Jalan SS13/2,
Jalan USJ 7/3
Jalan USJ 4/5
USJ 1 Pangsapuri Angsana
Jalan Pinggiran USJ 1/1
Lorong Berlian 1, Taman Batu Tiga
Jalan Putra Indah 9/1c, Putra Heights
Kinrara
Jalan BK 5a/1, Bandar Kinrara 5
Taman Kinrara Seksyen 4
Puchong
Jalan Perdana 2, Taman Puchong Perdana
Jalan Prima 5/4 & 5/6, Taman Puchong Prima
Jalan Wawasan 2/22, Taman Wawasan
Jalan PU 7/1-JPN, Puchong Utama
Serdang /

Seri Kembangan

Jalan 18/35, Taman Seri Serdang
Jalan PP 1B, Taman Equine
Jalan PUJ 3/2, Taman Puncak Jalil
Kajang
Towards Batu 13, Jalan Cheras
Jalan 2a – 2e, Desa Sri Jenaris
Taman Prima Saujana
Jalan Reko Sentral 2, Jalan Reko Sentral
Jalan 2, Taman Kajang Perdana
Jalan Jasmin 1 Taman Jasmin
Jalan Kajang Mewah 7a, Taman Kajang Mewah
Taman Ramal Indah
Jalan Hentian 1, Hentian Kajang
Jalan 3/1, Seksyen 3, Taman Kajang Utama
Jalan Indah 1
Ampang
Pandan Indah
Pandan Jaya
Cheras Indah
Pandan Mewah
Jalan Pandan Cahaya 1/1, Pandan Cahaya
Taman Melawati
Kampung Pandan
Medan Selera Angsana Hilir
Lembah Maju
Kampung Tasek Permai (in front of the mosque)
Jalan AU2A/16, Keramat
AU5C, Taman Keramat
Jalan AU1A/4E, Taman Keramat Permai
Jalan Wangsa Ukay 2, Bukit Antarabangsa
Jalan UP 1/1, Ukay Perdana
Jalan 16A, Permai Court
Jalan 1, Ampang Jaya
Taman Seri Bayu
Bandar Baru Ampang
Taman Bukit Indah
Cheras Hartamas
Ampang Waterfront Phase 2
Taman Tun Dr Ismail
Jalan Tun Mohd Fuad 2
Bangsar
69, Jalan Maarof
Bukit Bintang
Jalan Sultan Ismail / Jalan Berangan
Titiwangsa
Pasar Datuk Keramat
Jalan Haji Hussein & Jalan Raja Bot
Jalan Tuanku Abdul Rahman & Jalan Raja Alang
Lebuh Pudu
Jalan Masjid India
Jalan Chow Kit
Lorong Berangan
Pasarama Kota
Parking lot at 239, Jalan Tuanku Abdul Rahman
Jalan Haji Taib
Cheras
Jalan Orkid 3, Batu 9
Bandar Mahkota Cheras
Desa Baiduri Cheras (vacant lot beside football field)
Jalan CJ8, Taman Cheras Jaya
Apartment Zapin, Taman Balakong Jaya
Taman Harmoni Indah, Bukit Belimbing
Bandar Tun Hussein Onn (parking lot next to AEON BIG)
Taman Tun Perak (near Pro One Badminton Complex)
Jalan Desa Serdang 1, Taman Desa Serdang (near Minlon)
Wangsa Maju
Jalan 1A/6 Setapak Indah, Danau Kota
Ong Tai Kim Supermarket, Lorong Kempas 3
Jalan Langkawi, Teratai Mewah
Plaza Idaman, Taman Bukit Idaman
Jalan 4/27A, Seksyen 2
Jalan 3/27A, Seksyen 1
Jalan Danau Saujana, Taman Danau Kota
Jalan Jernai, Medan Idaman
Taman Melati
Klang
Port Klang
Pulau Indah
Taman Kem
Jalan Petola, Kampung Raja Uda
Kampung Nelayan, Telok Gong
Armada Putra, Pulau Indah
Seri Perantau Apartment
Samudera Apartment

North Klang
Jalan Keluang, Sg Pinang
Jalan Bukit Kuda (in front of Mydin)
Jalan Rantau Panjang
Lorong Musran
Taman Bunga Melor
Jalan Tiara 4, Bandar Baru
Bandar Sultan Suleiman

Pandamaran
Jalan 66, Pandamaran Jaya
Kampung Pendamar
Pendamar Indah
Kampung Idaman
Bandar Bukit Tinggi 1
Bandar Bukit Tinggi 2
Econsave Pandamaran

Meru
Taman Meru 4
Meru Indah
Jalan Paip
Taman Meru Selatan/Dato Bandar
Dewan Bukit Kapar
Taman Sri Pekan
Meru Ehsan Apartment

South Klang
Jalan Sri Sarawak, Andalas
Simpang Empat, Sungai Udang
Sri Damak, Andalas
Kampung Delek
Sri Bayu Apartment
Johan Setia
Shahbandaraya, Kampung Jawa
Bandar Putera
Jalan Penghulu Abu BakarKapar
Jalan Raja Mokhtar
Taman Sungai Kapar Indah
Taman Cempakasari
Kampung Tok Muda
Jalan Keretapi Lama, Batu 4
Kampung Sementa
Kampung Perepat

Putrajaya /

Cyberjaya /

Sepang

Festival Ramadan Putrajaya, Presinct 3
Lingkaran Cyberpoint Barat, Neocyber, Cyberjaya
Jalan Kenangan 1, Dengkil Jaya
Jalan DPP 3/15, Desa Pinggiran Putra
Jalan Dagang Mas 1, Taman Mas, Puchong
Jalan 5E, Taman Putra Perdana, Puchong
Kipmall Kota Warison (parking lot of the mall)
Salak South New Village football field
Jalan Damai 1, Sungai Pelek
Pasar Malam Pekan Dengkil
Let's travel for food!
Gather round, fellow foodies! Now that this has gotten you hungry, it's time to explore other parts of the world in search of delectable local cuisine! Save on your travels this Raya season with Klook by using the codes "WAHRAYA5" and "WAHRAYA8" for up to RM135 off from now until 9 June 2019.