Major FOMO for Malaysia
The trailer for Netflix's new show 'Street Food: Asia' has just been released. It ventures into the street food culture and what goes on behind the scenes. Watch the trailer below:
From the creators of #ChefsTable, comes your next @NetflixFood obsession: Street Food Asia! pic.twitter.com/Z70zBCPckz

— See What's Next (@seewhatsnext) April 11, 2019
From the short clip, it seems like the show is not just focusing on the street food but also the personal stories of the owners of humble but popular food stalls across Asia. Each episode will highlight one destination in Asia, and several street food stars or 'local heroes' as Netflix calls it.
Also apparent from the clip, Malaysia is not included in the list. What about our nasi lemak or Penang char kuey toew, Netflix?! Or the endless amount of local specialty from each state and district! If they're good for Anthony Bourdain, Mark Wiens, and Gordan Ramsay, they should be good for you too!
No love for Malaysian food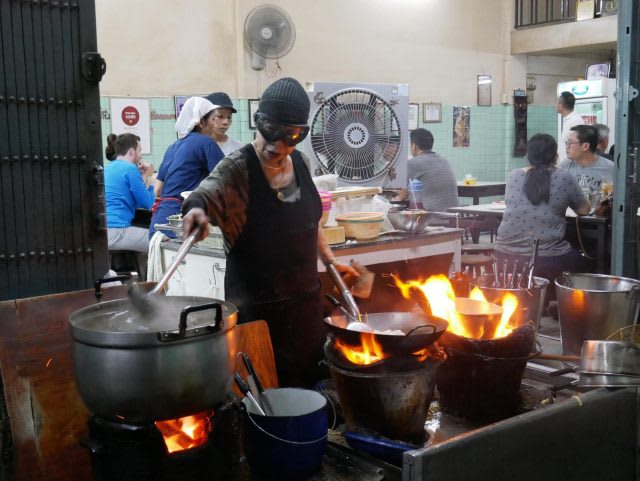 Jay Fai in Bangkok
With 9 episodes for Season 1, Netflix's Street Food: Asia is set to premiere on 26 April 2019. The list of chefs, restaurants and specialties for the first season listed out by Eater are as below:
Bangkok, Thailand
Jay Fai (crab omelette, tom yum soup, drunken noodles)
Khun Suthep (hand-pulled BBQ pork noodles)
Jek Pui (curries)
Get your Bangkok essentials from Klook
Osaka, Japan
Toyo (tuna cooked with a blowtorch)
Mr. Kita (takoyaki)
Goshi (okonomiyaki)
Get your Osaka essentials from Klook
Delhi, India
Dalchand Kashyap (chaat)
Mohamed Rehan (nihari)
Karim's (seekh kebabs)
Dharmender Makkan (chole bhature)
Get your Delhi essentials from Klook
Yogyakarta, Indonesia
Mbah Satinem (jajan pasar)
Leonarda Tjahjono (jajan pasar)
Mbah Lindu (gudeg)
Yasir Ferry Ismatrada (mie lethek)
Get your Yogyakarta essentials from Klook
Chiayi, Taiwan
Grace Chia Hui Lin (fish head soup)
Uncle Goat (goat stew)
Li-Hua and Liu-Zhu (chicken rice)
Tsui-Eh (tofu pudding)
Get your Taiwan essentials from Klook
Seoul, South Korea
Cho Yonsoon (knife-cut noodles)
Gunsook Jung (soy-marinated crab)
Gumsoon Park and Sangmi Chu (mung bean pancakes)
Jo Jungja (rice fried in a waffle maker)
Get your Seoul essentials from Klook
Ho Chi Minh City, Vietnam
Truoc (snails)
Anh Manh (pho)
This episode will also focus on banh mi and com tam vendors
Get your Ho Chi Minh City essentials from Klook
Singapore
Aisha Hashim (putu piring)
Master Tang (wanton noodles)
KEK Seafood (chili crab)
Niven Long (chicken rice)
Get your Singapore essentials from Klook
Cebu City, Philippines
Florencio "Entoy" Escabas (reef eel stew)
Leslie Enjambre (lechon cebu)
Ian Secong (tuslob-buwa)
Rubilyn Diko Manayon (lumpia)
Get your Cebu essentials from Klook
As can be expected, Malaysians are not happy at all about being excluded from the show and took to Twitter to vent out their frustrations:
Skipping Malaysia and choosing Singapore instead…the audacity 💀 pic.twitter.com/vcAMOrAU3B

— Azri suka makan ikan (@azrinyancat) April 11, 2019
WHERE IS MALAYSIA LIKE SERIOUSLY WHERE

— ورده (@idunlikechicken) April 11, 2019
Almost every other nation in South East Asia is in there but not this country called Malaysia where street food is more ubiquitous and authentic.

Ever heard of that? It's sandwiched between Thailand and Singapore with Indonesia on the sides. pic.twitter.com/ka1qIJLpED

— Azfar (@azfrrr) April 11, 2019
There's always Season 2!
While Season 1 has not premiered yet, many Malaysians are already hoping that Season 2 will shine a light on the diverse and unique cuisine from our country. Let's hope the tweets are enough to convince Netflix!
For now, let's just enjoy the show, celebrate the success and show some love to our neighbours (and yes, that includes Singapore too)! We reckon it's best to watch it with a full tummy or it'll be rumbling by the end of it. If you're inspired to go on a food chase tour after the show, make sure to get all your travel essentials from Klook!
You can also find a myriad of F&B dining privileges from famous street food like the Michelin-recommended Jeh O Chula in Bangkok where you can skip the 2-hour queue by pre-booking on Klook! Besides that, you can get all the best Hong Kong eats on Klook with perks like skipping the queue, discounted prices, and more. There are plenty more to explore on Klook from travel essentials, unique experiences, must-eats, just to name a few.