Recreate your own drama scenes
Every Korean drama fan dreams of heading to Korea for the ultimate drama pilgrimage. What's better than sitting in the actual spot your oppa was in?
From beautiful scenery to theme parks and even restaurants, keep reading to find out how to get to your favourite drama sets.
1. What's Wrong With Secretary Kim – Everland Amusement Park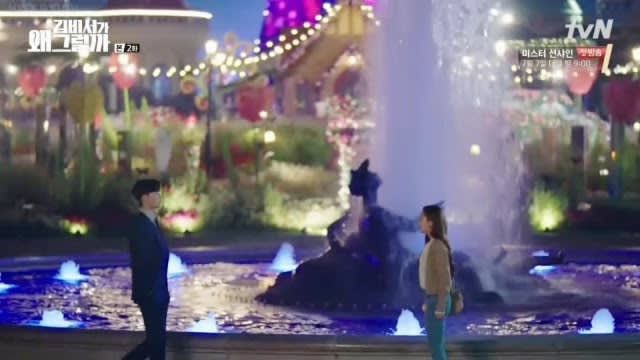 If you've watched What's Wrong With Secretary Kim, you will definitely recognise this scene as the couple's unofficial first date. In episode 2, Kim Mi-so arrived at Everland expecting to meet Park Yoo-sik. Instead it was Lee Young-joon who showed up, with intentions to win over her heart!

Easily the most popular theme park in Seoul, there are plenty of things you can win your crush over at Everland. We can totally see why other Korean dramas such as A Korean Odyssey and The Bride of Habaek were filmed there as well.

How to get there: Transfer to Yongin Ever Line at Giheung Station on Bundang Line. The journey takes around 30 minutes from Giheung Station to Jeondae Everland Station on Yongin Ever Line. For avoid all the hassle, simply Klook a roundtrip shuttle bus transfer from Seoul.

Get your Everland ticket from Klook in advance so you can skip-the-queue on the day! Since it's an open date ticket, you're free to change your mind and visit the park another day.
2. Goblin – Yongpyong Ski Resort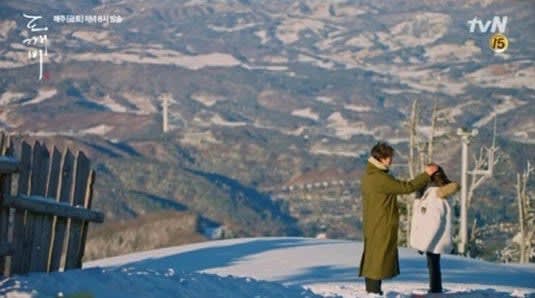 One of the latest K-Drama to hit the screens, Goblin, is not short of scenic filming locations. An iconic romantic scene where where Shin (Goblin) confesses how he feels to Eun-tak in the drama was filmed at Yongpyong Ski Resort!
Also the official site of the 2018 Pyeongchang Winter Olympics and with a backdrop of incredibly scenic mountainous terrain, who wouldn't want to have their bae confess their love for them at this location. If this isn't swoon-worthy, we don't know what is!
How to get there: Approximately 2-hour drive from Seoul, getting there can be quite a hassle. For a convenient transfer, you can opt for a Klook shuttle bus transfer from Seoul. You can also take the one day ski tour where everything is already planned out for you.
3. I Can Hear Your Voice – Coex Aquarium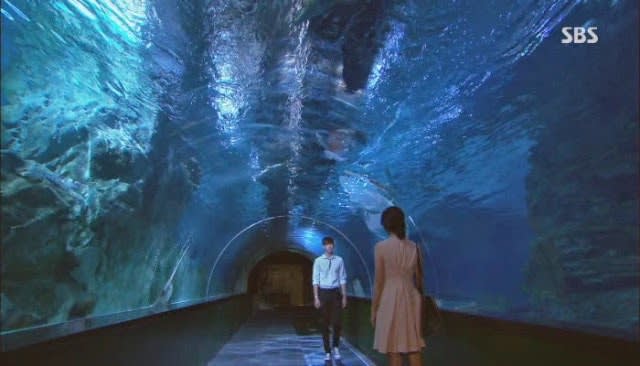 While you might not immediately relate an aquarium to the perfect date night spot, the first kiss scene from I Can Hear Your Voice between Jang Hye-sung and Park Soo-ha in COEX Aquarium will surely change your mind!
For your next date night, perhaps you can steal a kiss from your other half beneath the water tunnel of the COEX Aquarium!
How to get there: Take Seoul Subway Line 2 and Exit 5 & 6 at Samseong Station and it is directly connected to COEX Mall. The aquarium is located at the end of Ocean Walk section.
Klook your open-dated ticket to COEX Aquarium in advance and simply collect your ticket on the day of the visit.
4. Weightlifting Fairy Kim Bok-Joo – E-World, Daegu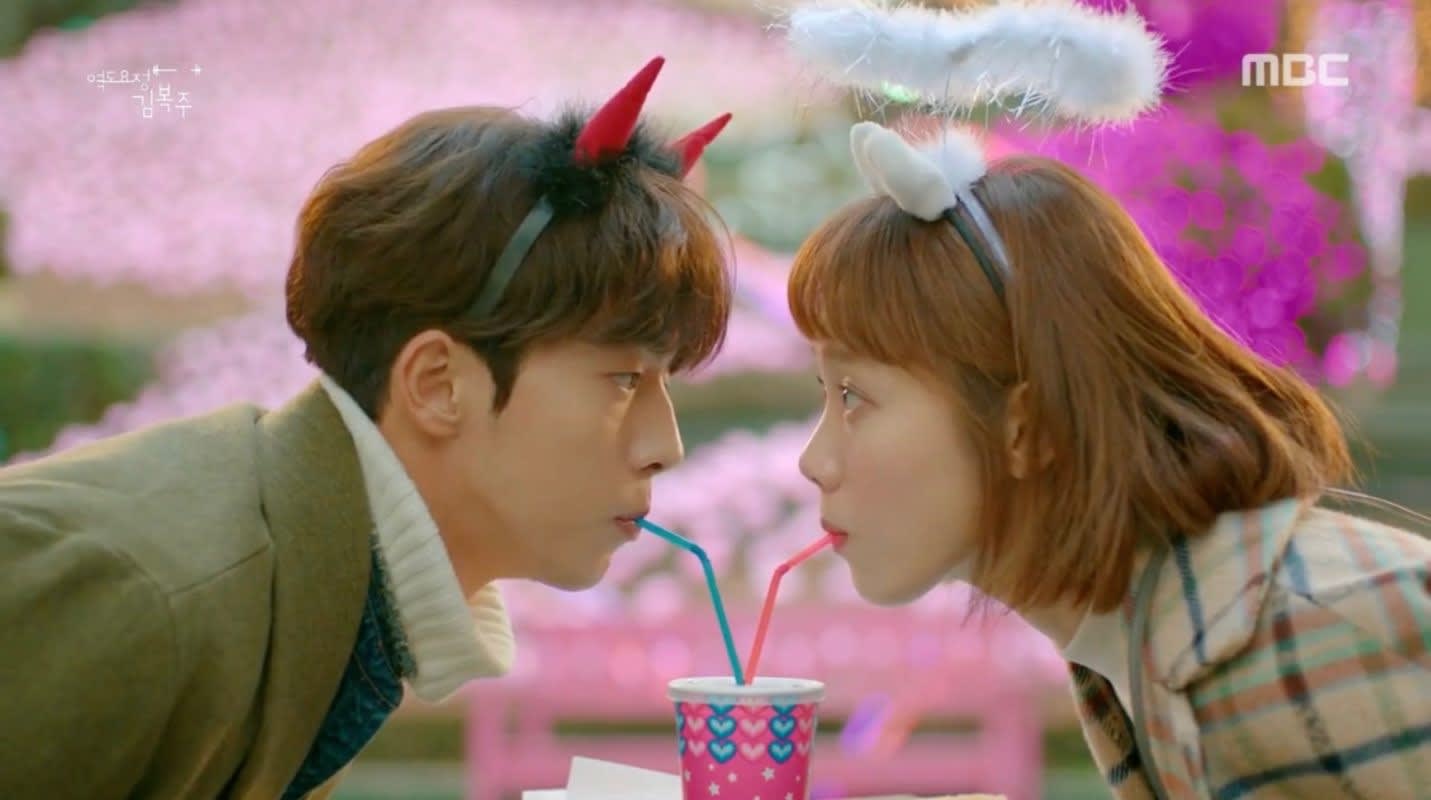 If you've had a friend ruin your secret 'date' then you would totally relate to this scene from Weightlifting Fairy Kim Bok Joo. While Joon-Hyung's 'date' with Kim Bok-Joo at E-World in Daegu got hijacked by their friends, viewers were still treated to them holding hands while watching the fireworks!
As much as we're sure Joon-Hyung made Bok-Joo's heart flutter, we were all feeling the heart eyes emoji while watching that scene! Who would be your choice of a secret crush to bring along to E-World?
How to get there: Take line 2 (green) to Duryu station. Take exit 15 and it's a five-minute walk to the theme park.
Have a fun filled full day tour and discover exciting attractions with Klook's Daegu E-World Day Tour from Busan.
5. You Who Came From The Stars – Petite France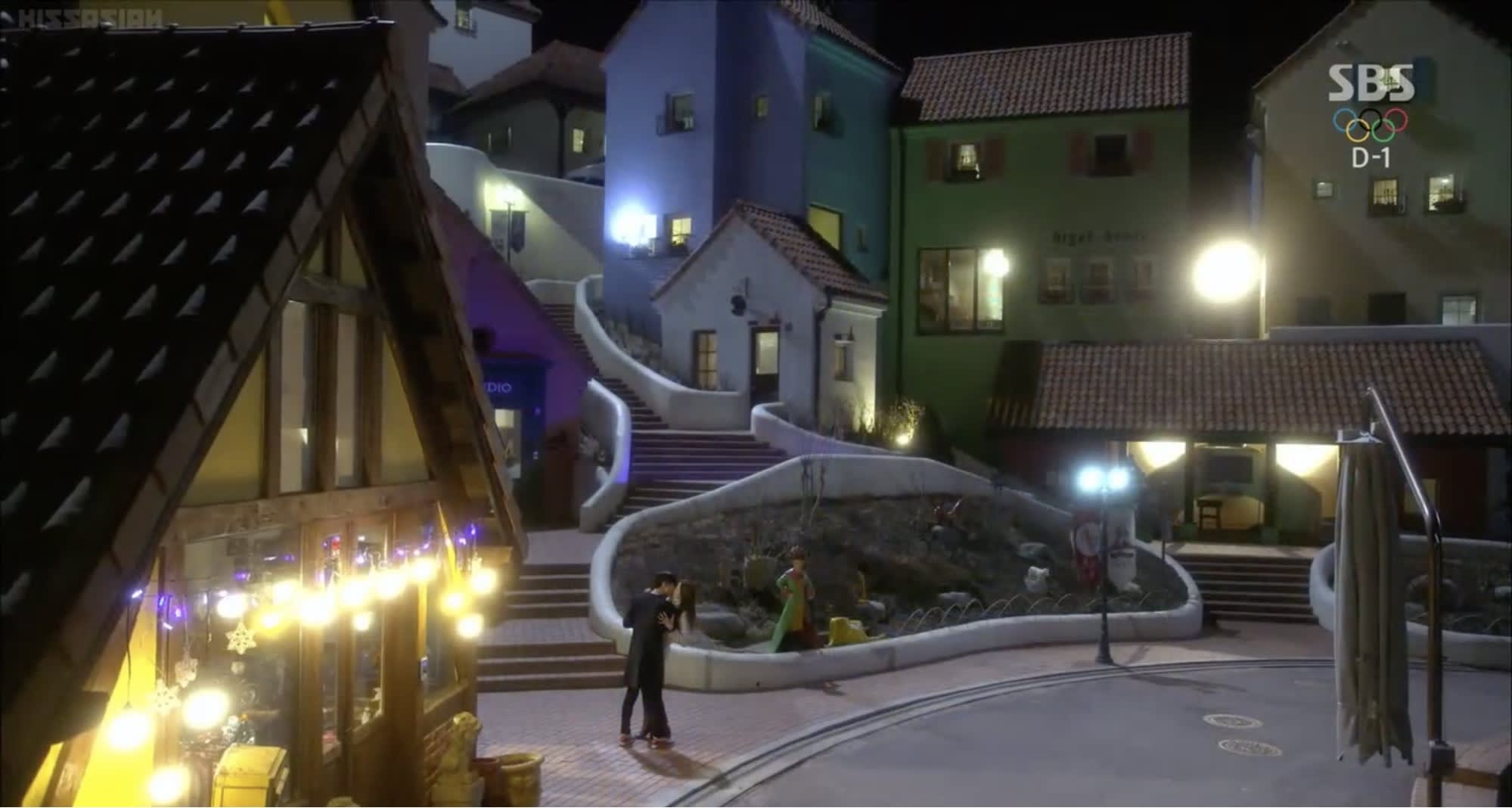 Fans of You Who Came From The Stars will hold the scene where Min Joon confesses his love for Song Yi dear to their heart. Shot at Petite France in Gyeonggi-do, the little French village is also home to other dramas such as Secret Garden. 
Built around the story of The Little Prince, Petite France lets visitors experience the French culture through museums, cafes and restaurants.
How to get there: Take the subway or ITX to Cheongpyeing Station, before hopping on a shuttle bus that takes you straight to Petite France.
Petite France can be hard to get to via public transport, so make sure you Klook your Petite France day trip that includes round-trip transportation.
6. Weightlifting Fairy Kim Bok Joo – Jaguen Maeul (작은마을)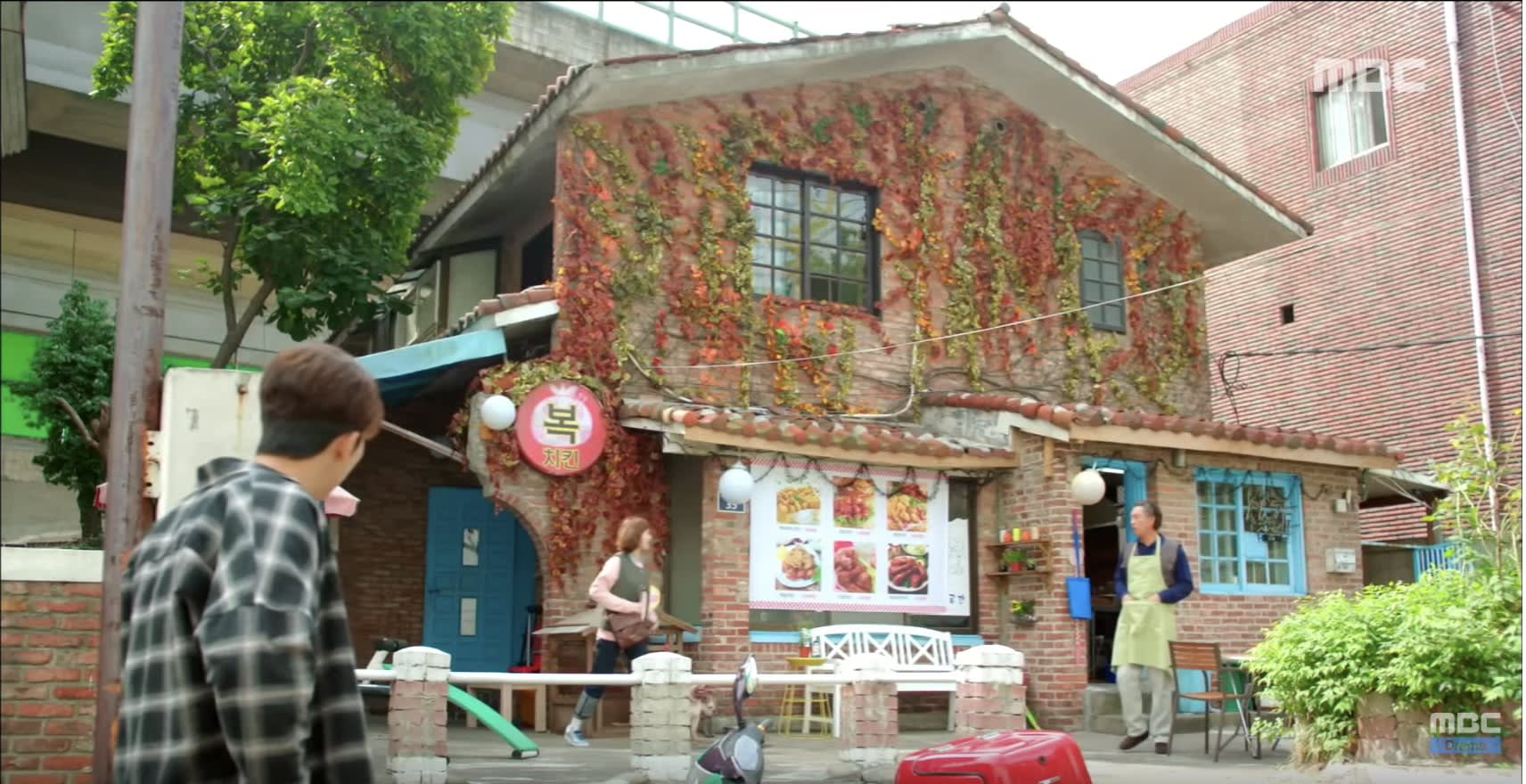 Source: Weightlifting Fairy Kim Bok Joo, MBC
Also known as Bok Chicken in Weightlifting Fairy Kim Bok Joo, Jageun Maeul is home to the fried chicken restaurant run by Bok Joo's father in the show. Unlike the show, the restaurant serves a variety of Korean food instead.
If you're looking for an adventure outside of Seoul, Jaguen Maeul is the perfect place to relive Bok Joo and Joon Hyung's awkward romance that made us swoon.
How to get there: Take the subway to Gireum Station and exit via Exit 3. At the bus stop right outside the exit, take Bus 7211 and alight at Kookmin University. After alighting, cross the road and head down the flight of stairs, where you'll see Jaguen Mal on your left.
7. Winter Sonata – Nami Island
The romance between Yu Jin and Jun Sang stole the hearts of many, with Winter Sonata going on to become one of the most popular Korean dramas to have aired. Many even claim the drama made Nami Island a popular tourist spot. There's even a statue of Yu Jun and Jun Sang on the island!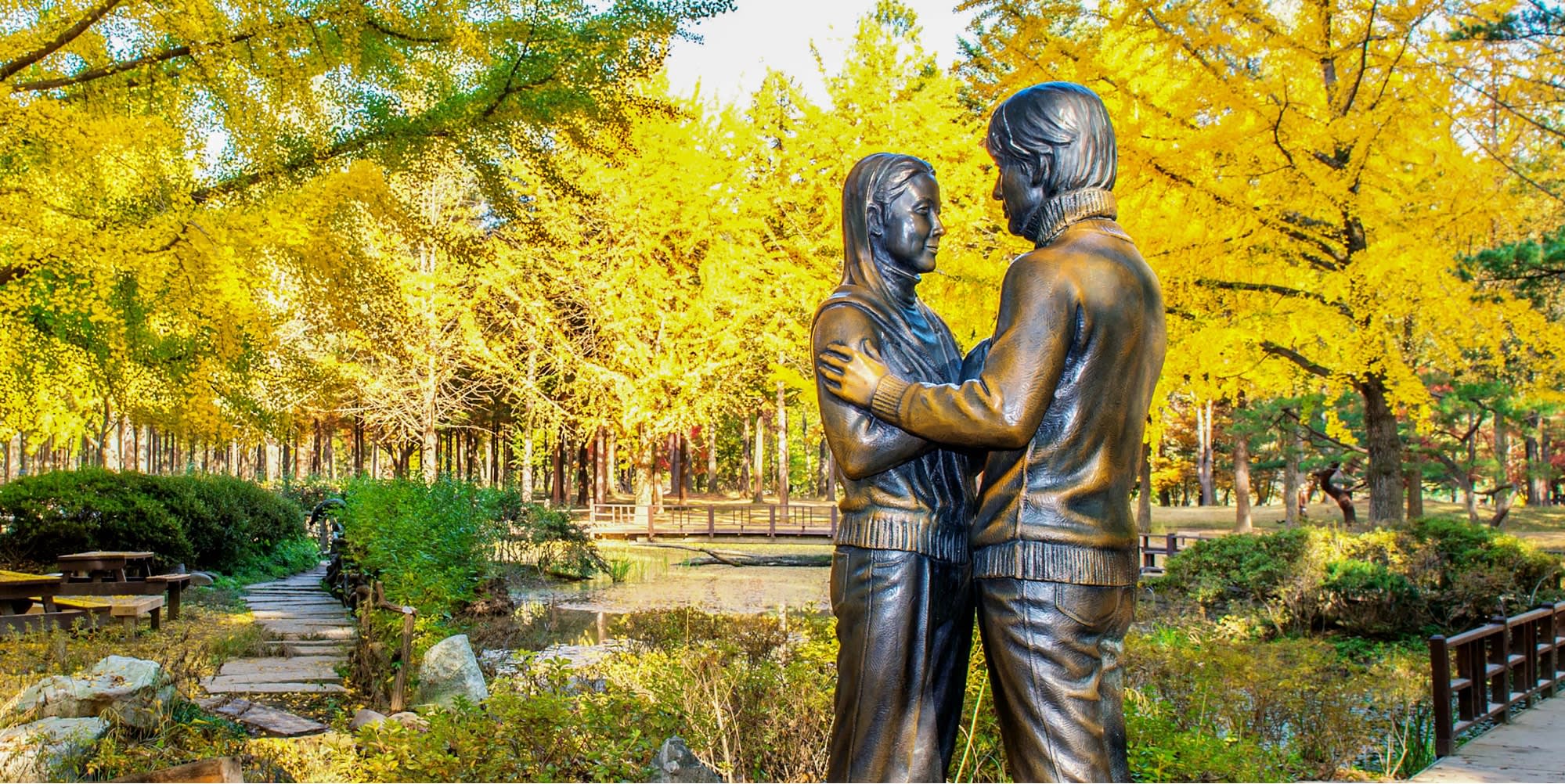 How to get there: Take a train to Gapyeong Station and look out for shuttle buses heading to the island.
To make the most your trip, Klook yourself a day tour to Nami Island, Petite France and the Garden of Morning Calm, where Love in the Moonlight was filmed.
8. Descendants of the Sun – Wolmido Island Theme Park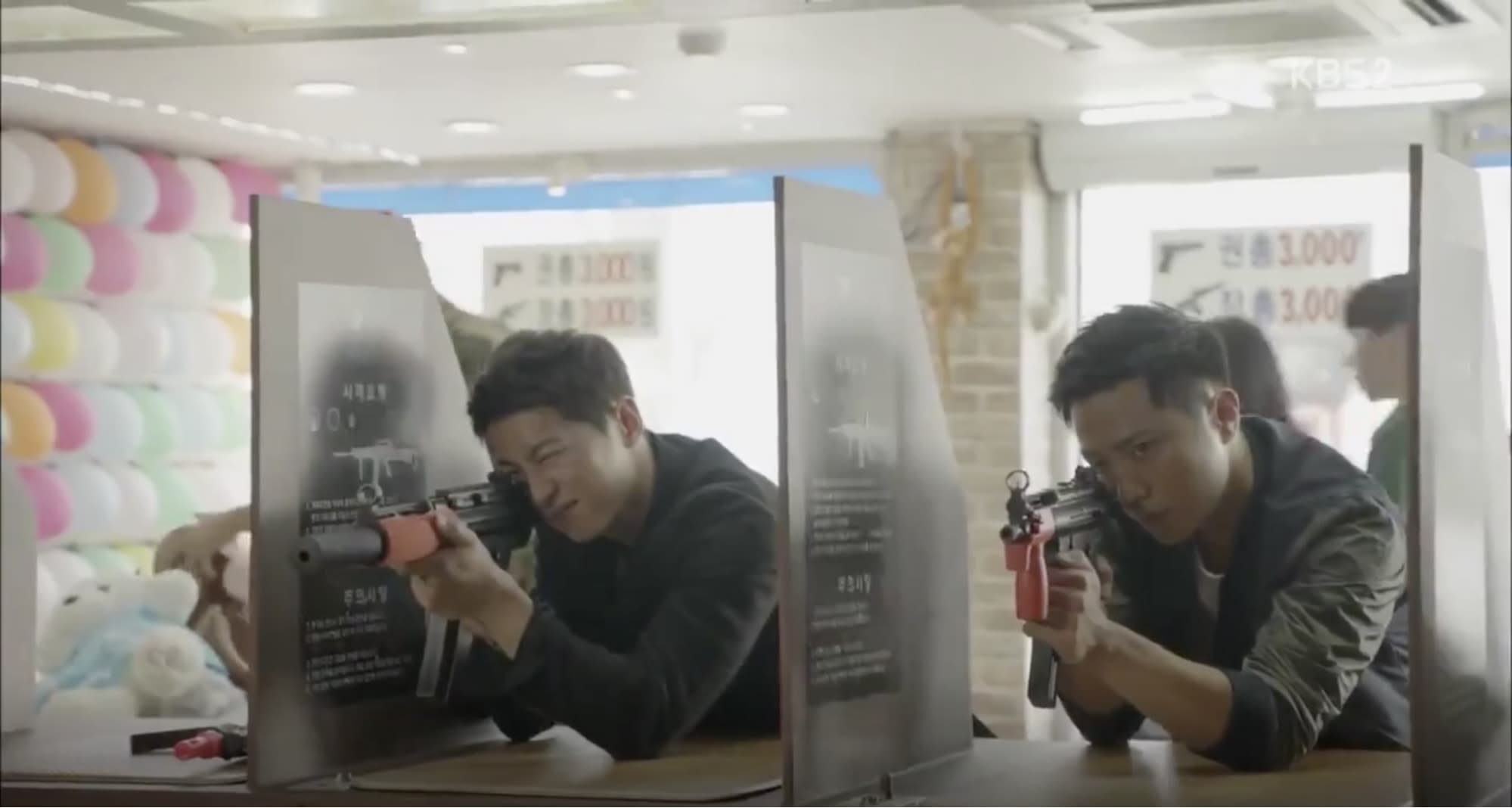 There's no denying that Descendants of the Sun is one of the most popular Korean dramas of all time. The love story between Si Jin and Mo Yeon gripped the hearts of many, and fans will know the Song-Song couple tied the knot in late 2017.
Fans may be disheartened to know that they can't visit Uruk, the fictional country in which their love bloomed, but fret not! Many other sites of the drama can be found in Korea, including Wolmi Theme Park!
Found on Wolmido Island near Incheon, the theme park is featured in the show's first episode There, Si Jin and Dae Young are spending their time off trying to win themselves "girlfriends", the show's famous stuff toys. If Everland's rollercoasters bore you, make sure you check out Wolmi Theme Park!
How to get there: Take the subway to Incheon Station and leave via Exit 1. Turn right at the exit, and make another right 100m before crossing the road towards Wolmi-ro. Look out for Dongil Apartment Bus Stop and take Bus 45 for 7 stops, alighting at Wolmi Theme Park Bus Stop.
9. Fight For My Way – Seuollo 7017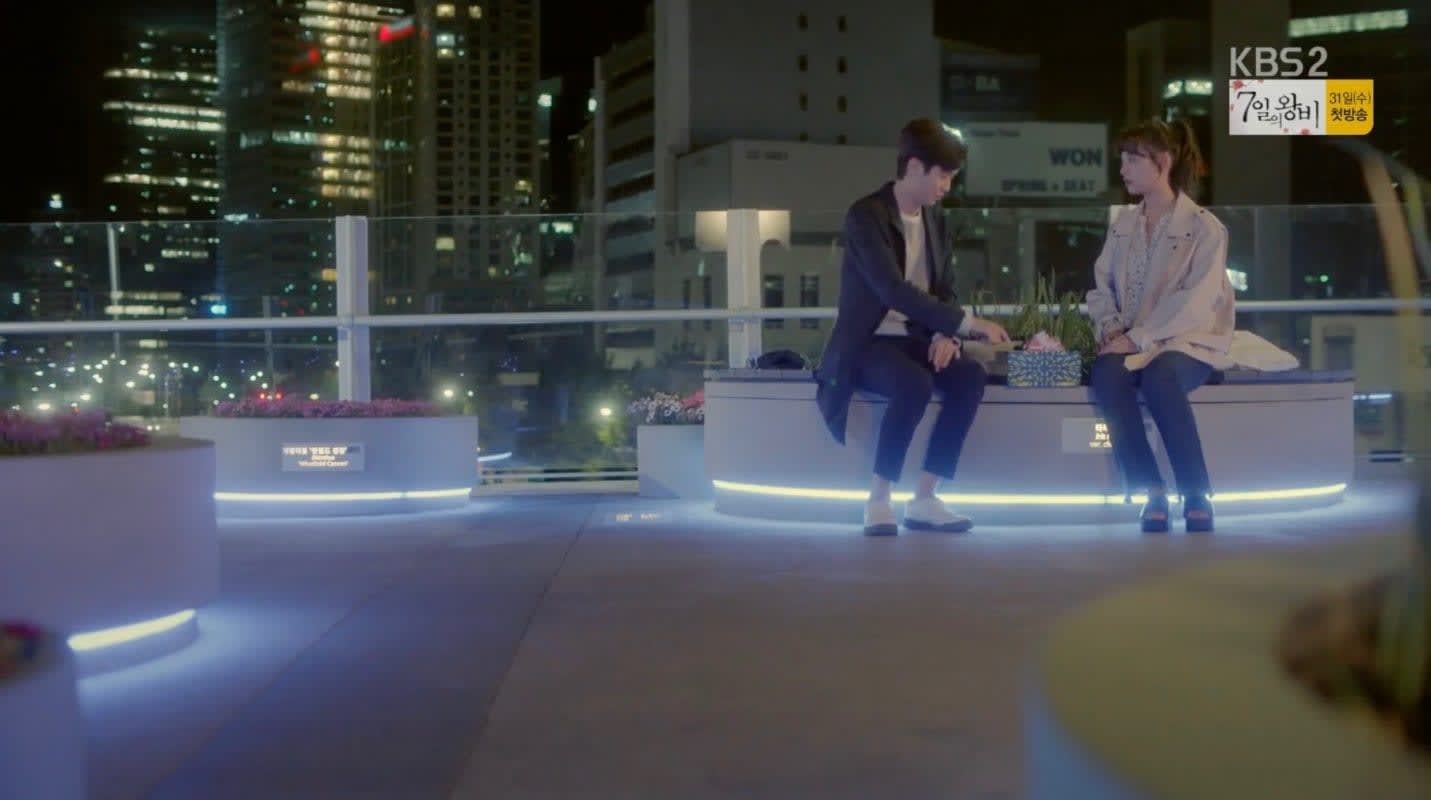 What used to be a highway had been transformed into a park, with Seoullo 7017 having its fair share of drama features! In Fight For My Way, Moo Bin gifts Ae Ra a pair of sneakers in the park, asking her to be Cinderella and try them on.
Located in the heart of Seoul, Seoullo 7017 Skygarden is split into 17 different sections. You can even sign up for guided tours of the park to learn more about its interesting history. If you're near Seoul Station, make sure you check out this unique park.
How to get there: Take the subway to Seoul Station and look for exit 2. Turn right upon leaving right and after about 130m,  you'll spot the park.
For those looking for a longer walk, take the subway to Hoeheyon Station and leave via Exit 5. The walk will take you towards Seoul Station.
10. Legend of the Blue Sea – Aqua Planet Yeosu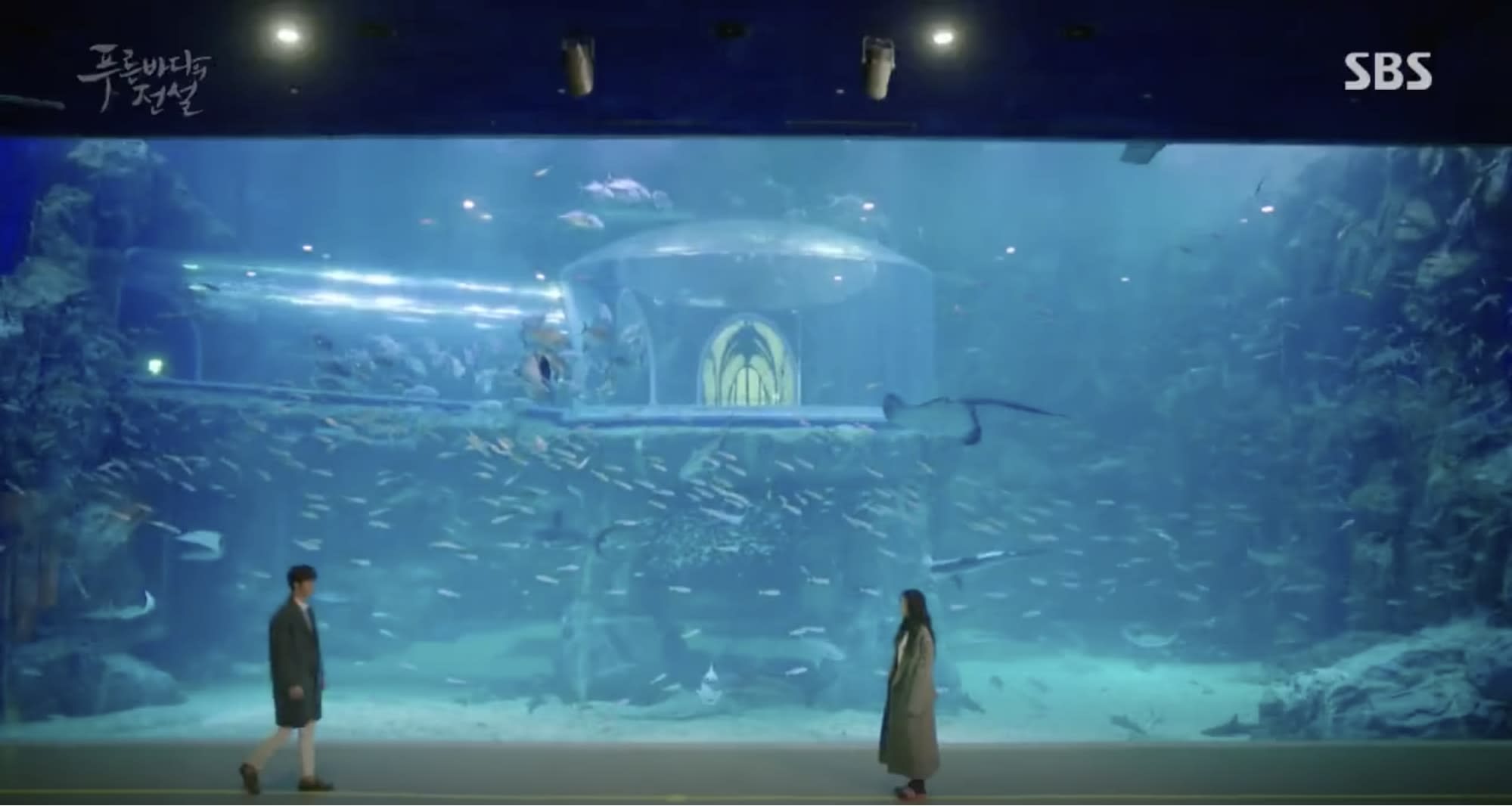 If the scene where Joon Jae and Shim Cheong reunite made your heart melt, this Legend of the Blue Sea set is the perfect place to relive the show's romance. Multiple scenes were filmed at the aquarium, but this reunion scene was filmed in front of the Ocean's Life main aquarium.
The aquarium features over 280 species over 4 floors, and is said to be the second largest aquarium in Seoul. While you're there, don't forget to check out their special mermaid performances!
How to get there: Take a train from Yongsan Station to Yeosu Expo Station. Look for Bus Stop L and take Bus 2, alighting 5 stops later.
11. Boys Over Flowers – N Seoul Tower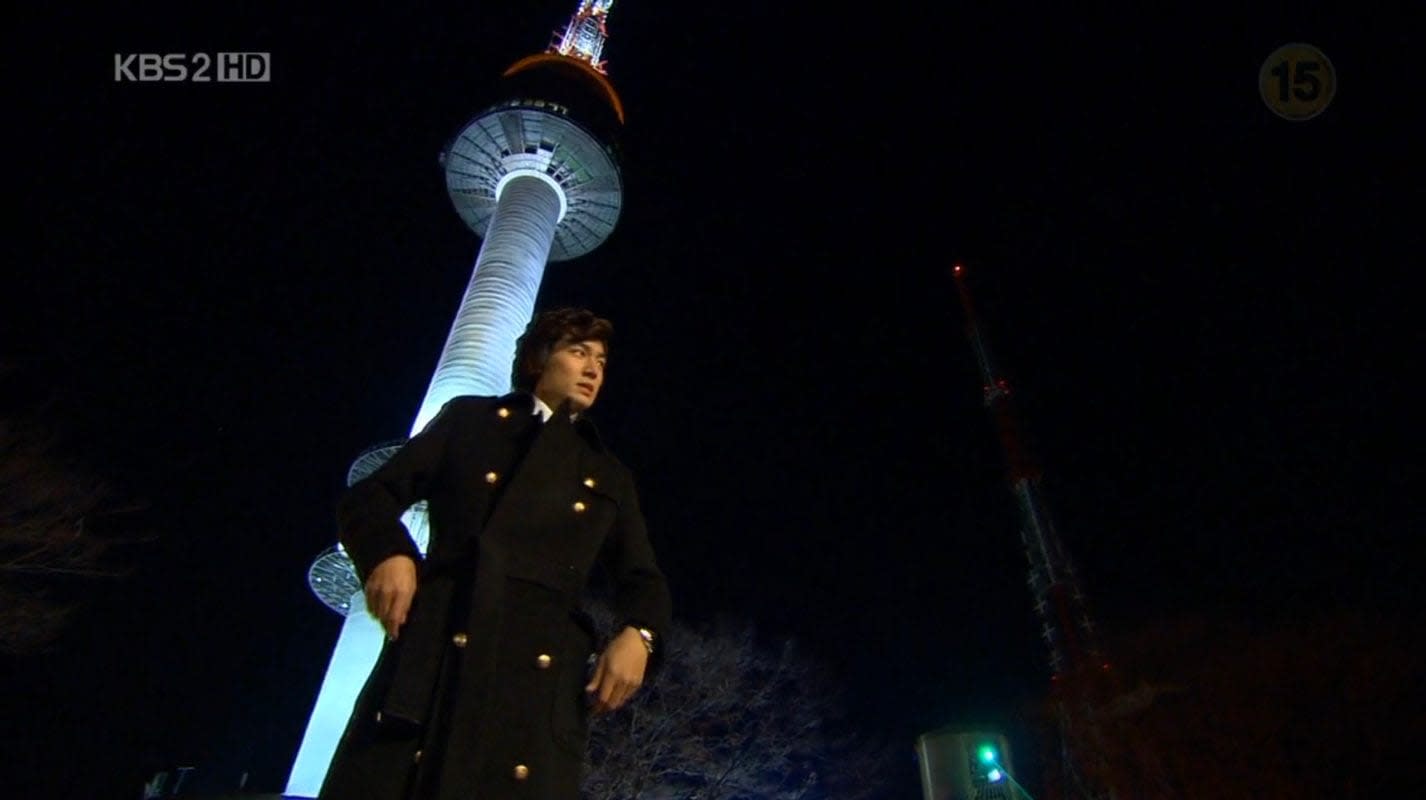 As one of the most iconic landmarks in Seoul, it's no surprise that the cult favourite drama Boys Over Flowers was filmed at Namsan Tower! The tower is where Jun pyo and Jan Di were supposed to have their romantic date.
Famous for its gorgeous views of Seoul, it's a popular date spot for couples. Who knows, you might even meet your own Jun Pyo while enjoying the view.
How to get there: The easiest way to get up the mountain is via the Namsan Shuttle bus, which you can find at Myeongdong Station. If you're up for a more scenic route, opt for a cable car ride up instead!
Pro Tip: Avoid the crowd by planning a trip down in the morning, as the crowd starts picking up in the afternoon.
12. The Heirs – Bukchon Hanok Village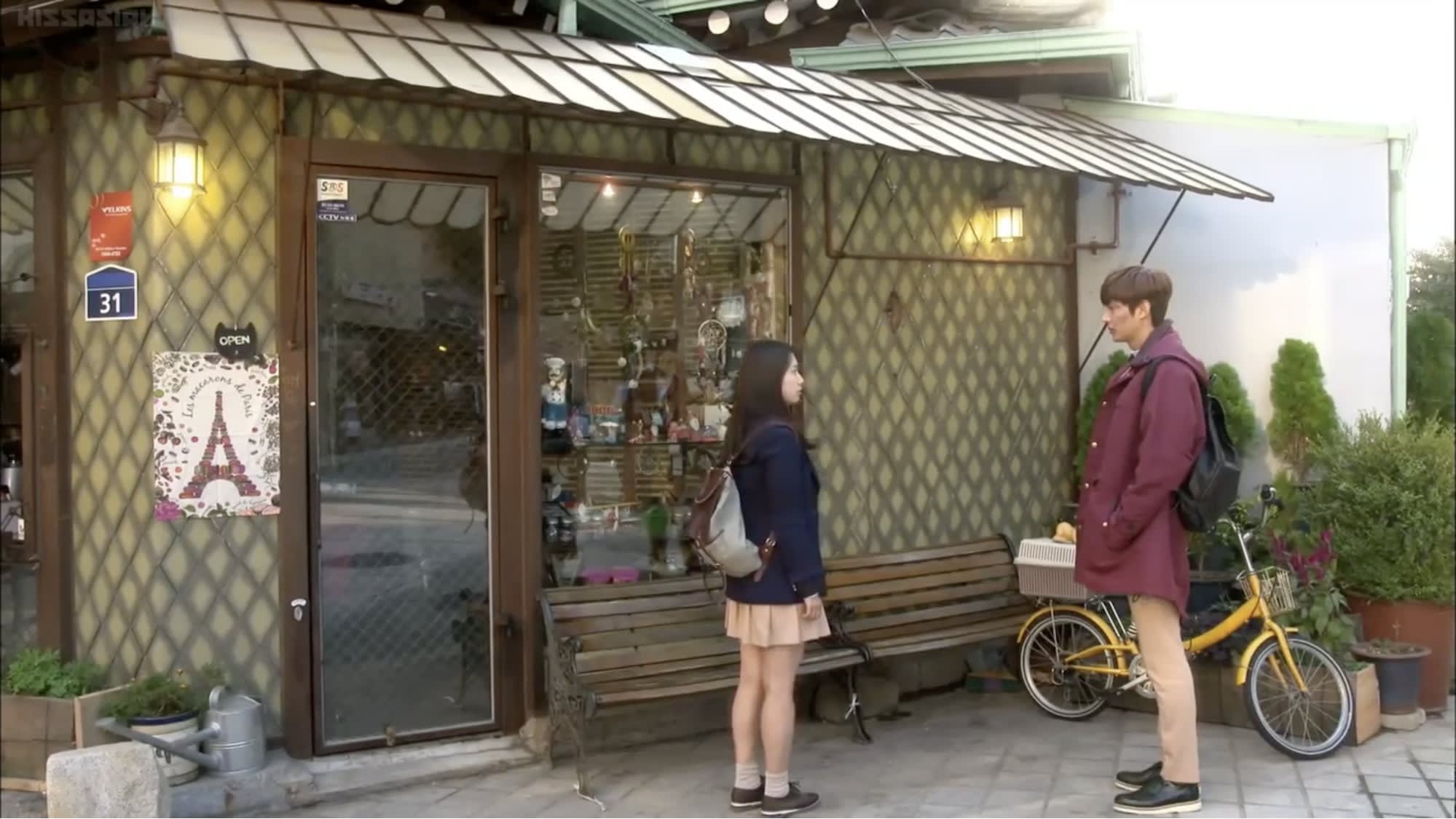 A tiny traditional village in the heart of a bustling city, Bukchon Hanok Village dates back all the way to the Joseon Dynasty. In The Heirs, Eun Sang meets Kim Tan outside a dreamcatcher shop found in the village, but did you know the actual store sells egg tarts?
The village is a popular tourist place for those wanting to experience traditional Korean culture. A walking tour is also available for thise keen to find out more, but remember to be quiet so as not to disturb the residents!
How to get there: Take a subway to Anguk Station and look for Exit 2. After exiting, head straight and you'll spot these traditional Korean houses.
13. Hwarang: The Beginning – Shilla Millenium Park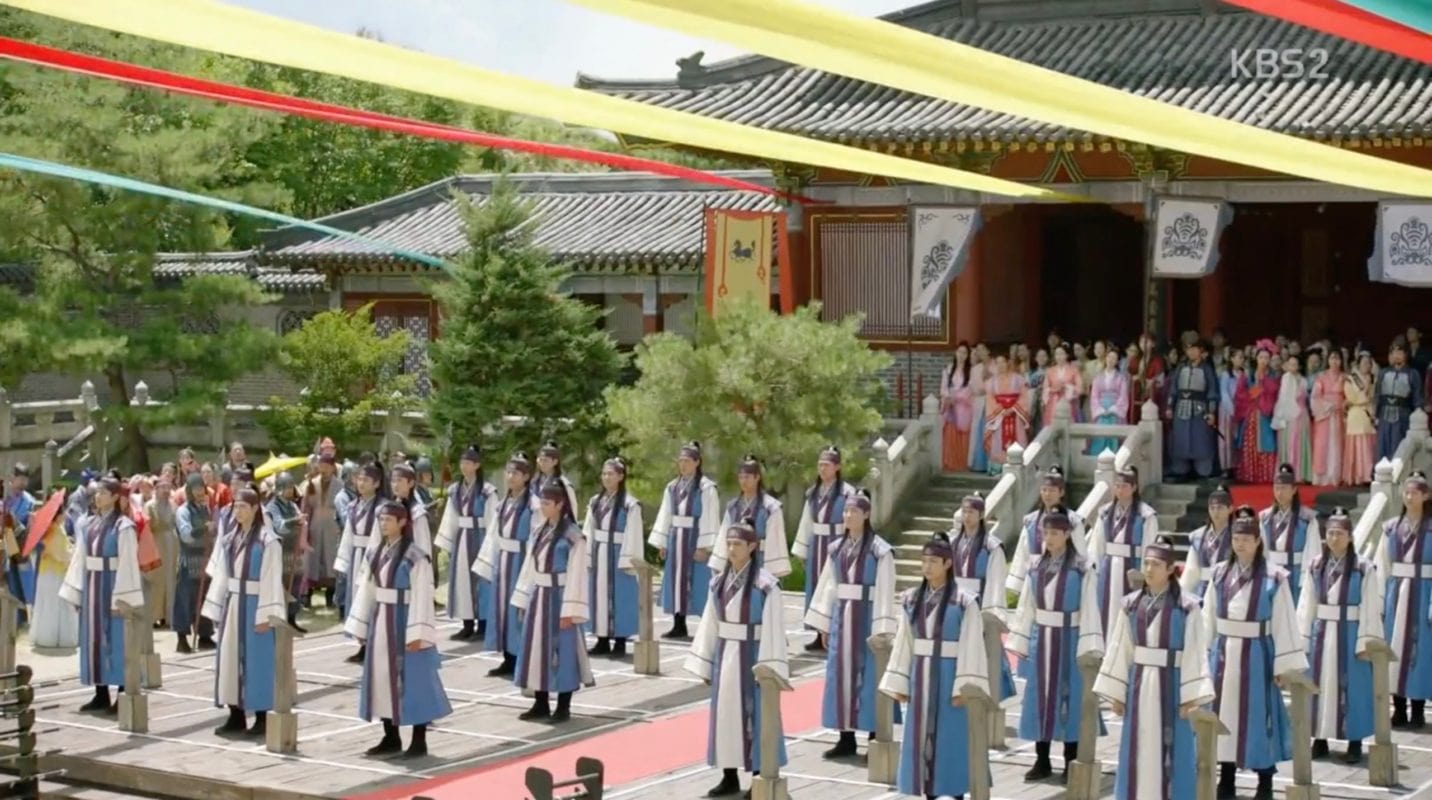 Boasting what might be the most star-studded cast, Hwarang: The Beginning told the story of Hwarang warriors during the Shilla period. Being a period drama, most of the show was filmed at traditional heritage sites. Shila Millenium Park serves as set for Hwarang's training ground int he show.
Shilla Millenium Park is also home to dramas such as Queen Seondeok as well as Boys Over Flowers. The park allows visitors a peek into the life during the Shilla period, complete with architecture unique to the era.
How to get there: Take Bus 10 from Gyeongju Bus Terminal to Gyeongju World Cultural Expo Bus Stop. Walk towards Gyeongju Gyoyuk Munhwa Hoegwan (Gyeongju TEMF), and you'll find Shilla Millenium Park behing TEMF.
14. Strong Woman Do Bong Soon – Seoul Land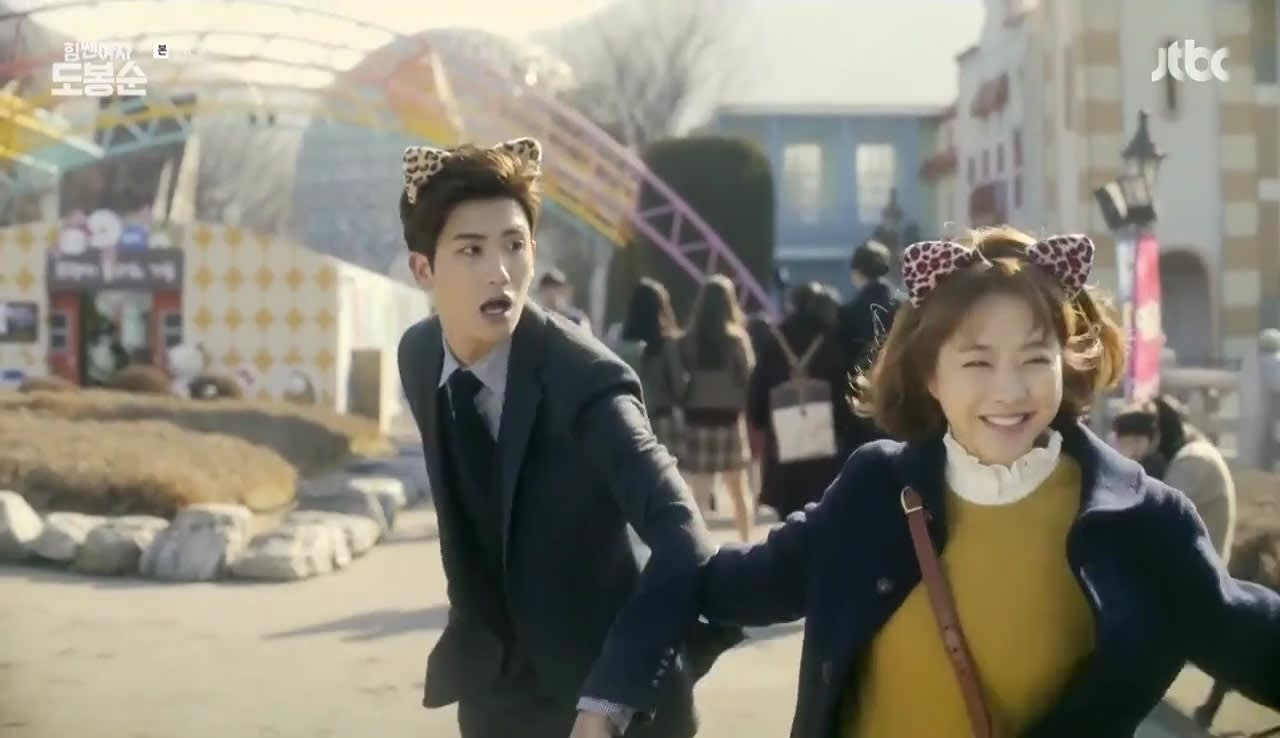 No Korean drama is complete without an adorable theme park date that makes us wish we had an oppa too. If Bong Soon and Min Hyuk's date in Strong Woman Do Bong Soon seemed like the perfect date, don't forget to stop by Seoul Land with your significant other!
The park features over 40 rides and many prefer this to bigger parks such as Everland because of shorter queues. Don't forget to Klook your Seoul Land tickets for a smoother visit!
How to get there: Take the subway to Seoul Grand Station and leave via Exit 2.
15. Goblin – Jumunjin Beach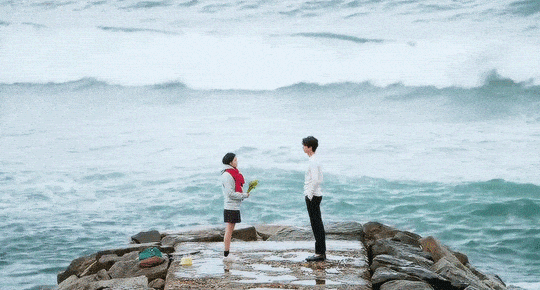 Your Korean drama pilgrimage isn't complete without stopping at one of Goblin's filming sites. One of the most iconic scenes from the show is when Eun Tak first summons Kim Shin to the beach on her birthday. Since then, fans have been flocking to the breakwater to recreate that moment.
Jumunjin Beach is home to more than 5 breakwaters, so make sure you find the right one! if you're not sure which one it is, look out for the huge TV signboard. Rumour has it vendors on site have red scarves and buckwheat flower bouquets available for rent for those who wish to recreate the scene perfectly.
How to get there: Take a KTX train to Gangneung Station. From there, buses 300 or 302 will take you to Jumunjin Beach.
16. Secret Queen Makers – Lotte Duty Free
A common location in many dramas, Lotte Duty Free can be seen in the current web series Secret Queen Makers. Following the story of a girl one her makeover journey, most of the show was filmed at Lotte. The web series also boasts a star-studded cast including Super Junior's Lee Teuk and EXO's Sehun!
Lotte Duty Free carries everything from cosmetics to iconic Korean souvenirs, making it the perfect place to shop for souvenirs. The best part about shopping there? You can choose to pick up your shopping at the airport, saving you the hassle of lugging your shopping around Seoul. Can't find time to squeeze in some shopping during your trip? Fret not, Lotte lets you shop online and pick up your shopping from the airport too!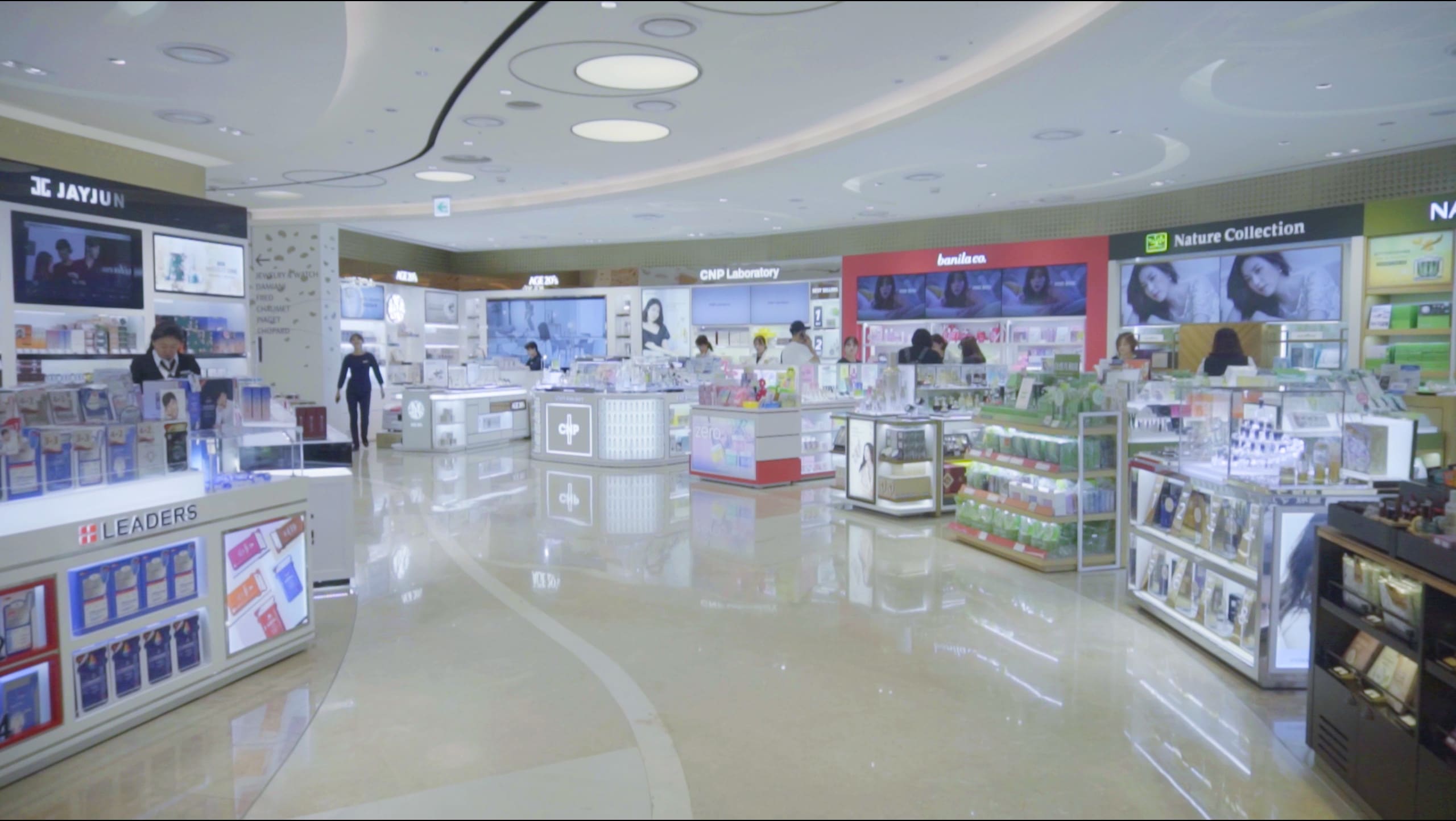 How to get there: Take the subway to Euljiro 1-ga Station and look for Exit 7 or 8. After walking straight for about 50m, you'll see Lotte Duty Free on your right.
Live your K-Drama dreams in real life!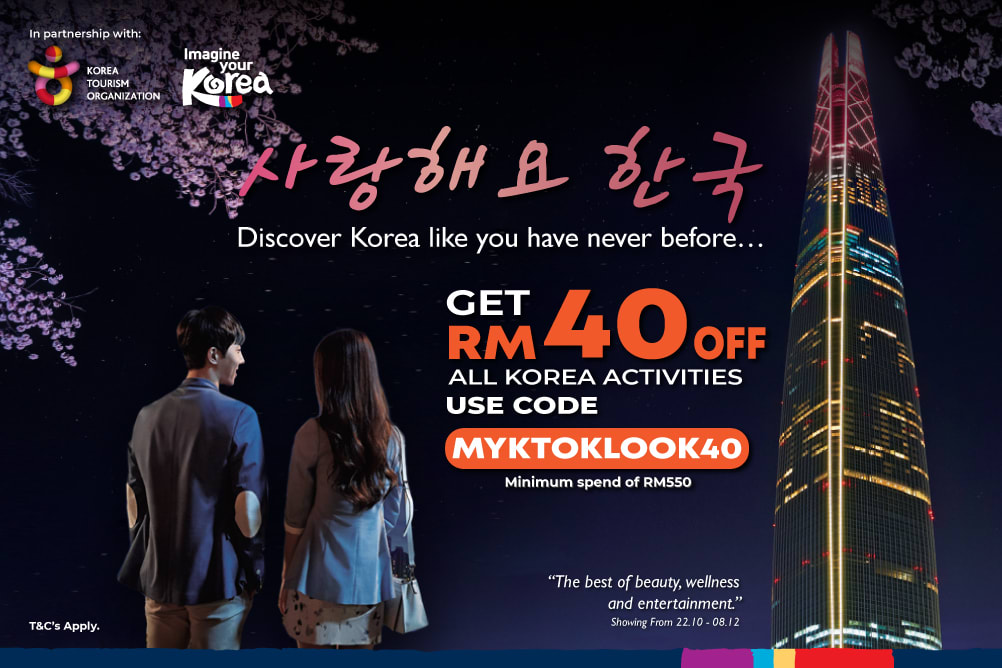 Bring your bae to Korea and re-create the romantic drama scenes! No bae? No worries as you can also bring all of your girlfriends for a girls trip to fangirl together. Discover Korea with Klook and enjoy deals on the best of beauty, wellness and entertainment. Get RM40 off ALL Korea activities with a minimum spend of RM550 with promo code "MYKTOKLOOK40", valid till 16 December 2018.