Penang cafe-hop till you drop
If you thought cafe-hopping was so last year, think again. Penang isn't just for its mouth-watering street eats – this Malaysian food paradise hides a buzzing cafe scene that proves that cafe-hopping is still going strong.
From unbelievably aesthetic interiors to over-the-top fusion desserts, check out these 10 Penang cafes for a food adventure that's equal parts style and substance.

Klook Exclusive: Make sure to read till the end of the article for a special 7% off sitewide Klook discount that you can use for your Penang trip or any other upcoming holiday!
1. China House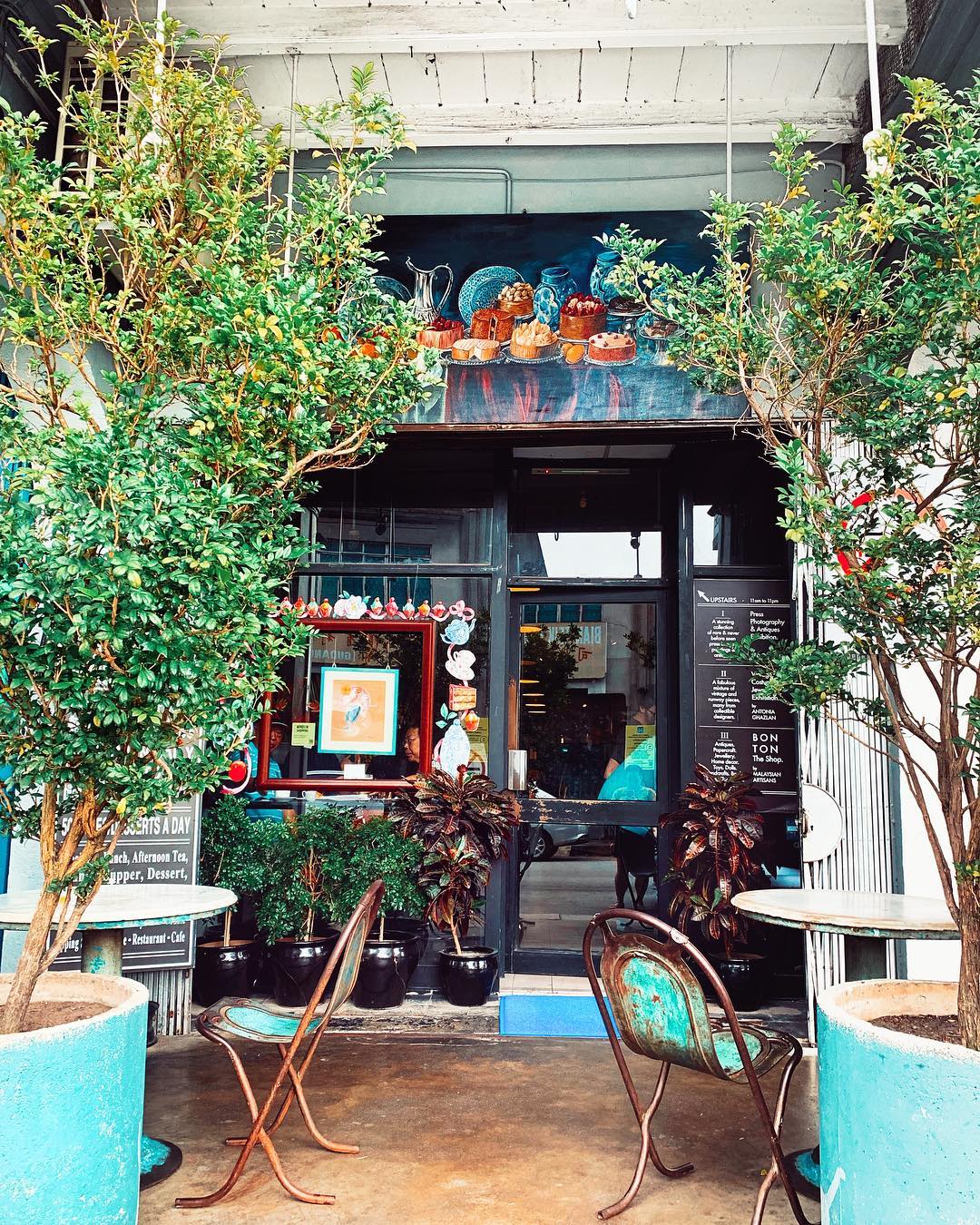 Dubbed "Penang's Longest Cafe", China House is a sprawling multi-concept heritage compound. The two-story establishment is made up of 14 different spaces – including a cafe, bakery and restaurant.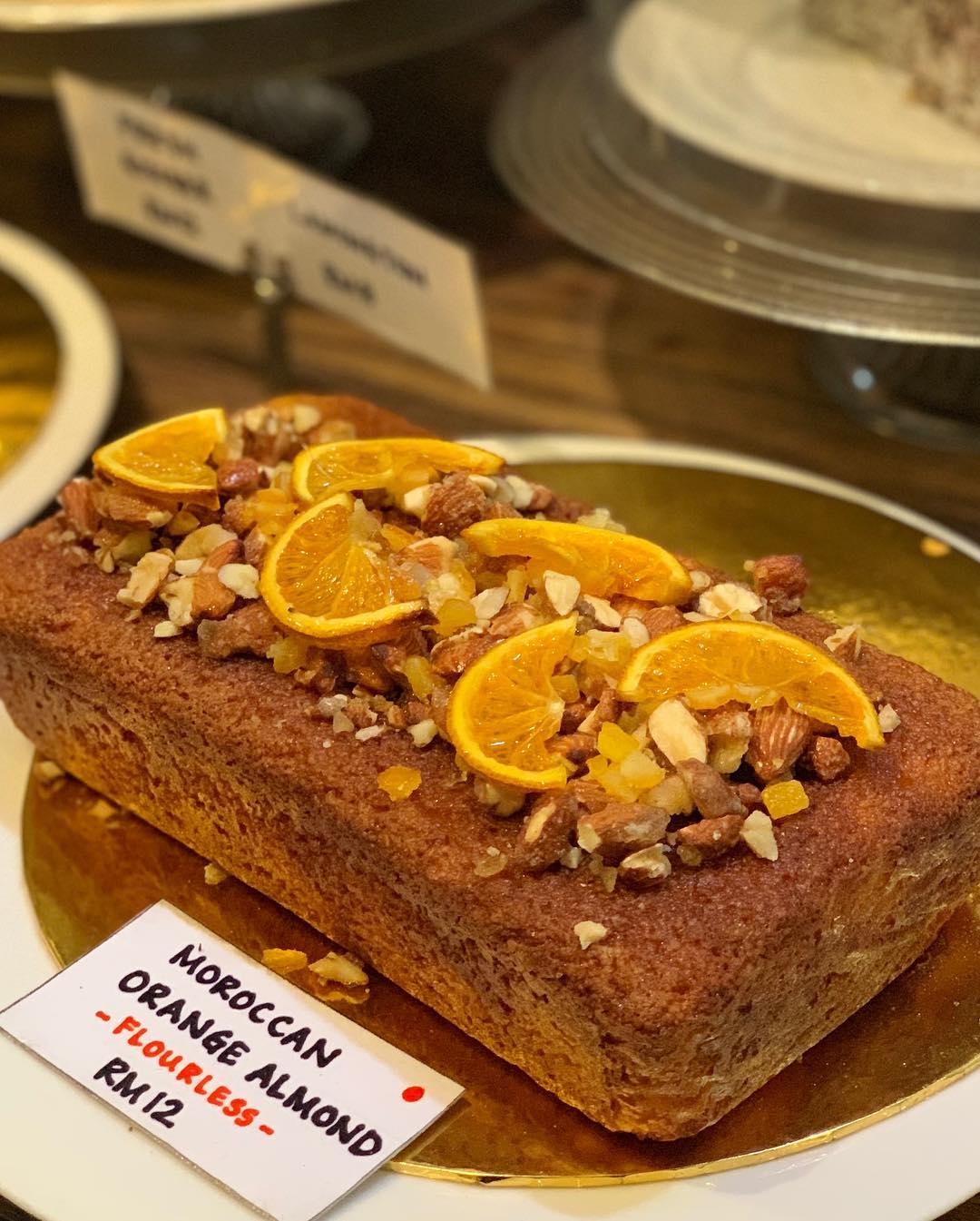 Most stop by for their cakes and bakes. The best-selling Tiramisu Cake consists of a thick chocolate chip and mascarpone-based layer sandwiched between two thin sponge cakes, with a crunchy crust of crushed caramelized almonds. Depending on your preference, you can get either a kahlua-spiked version, or a non-alcoholic coffee version.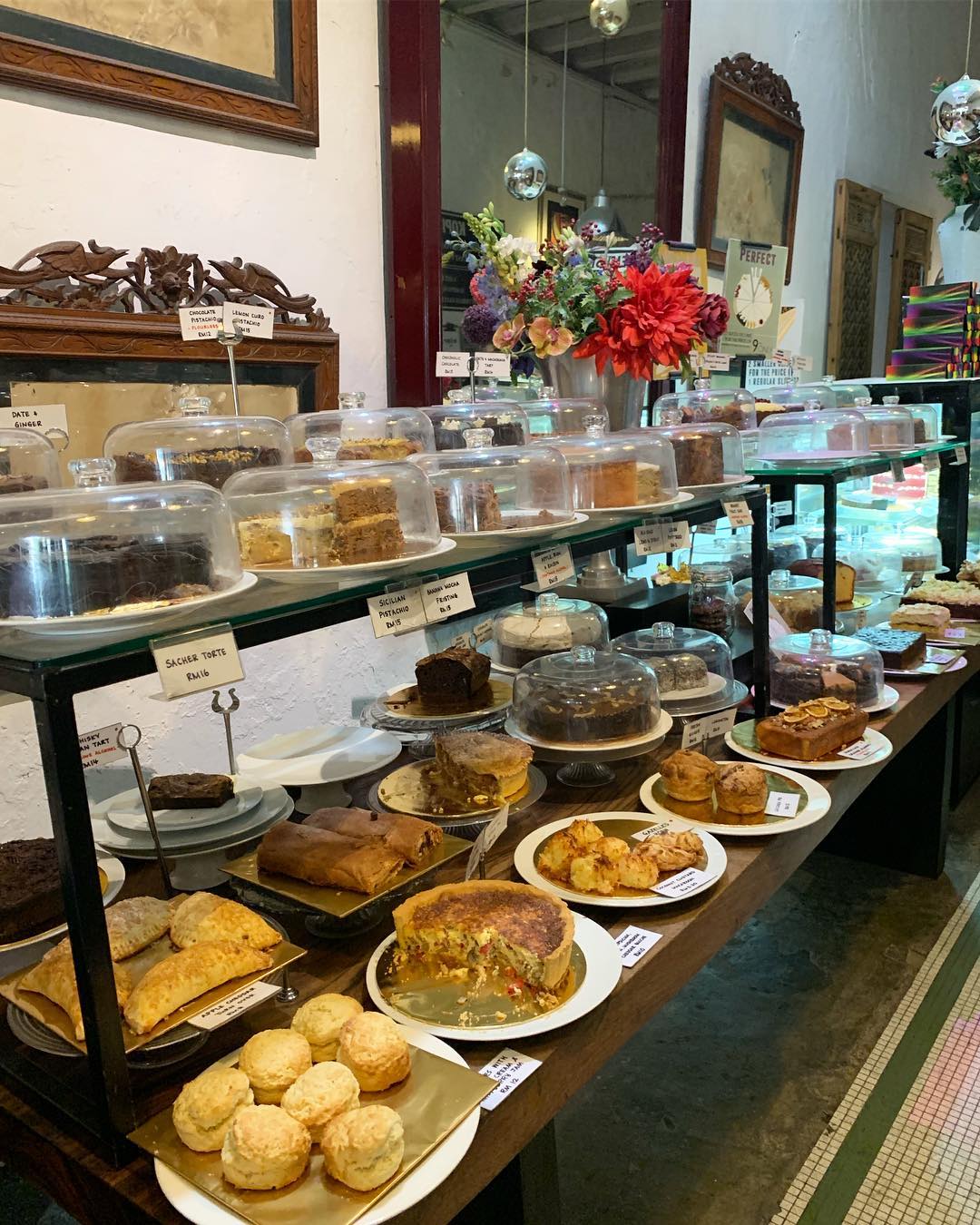 It's every cake-lover's paradise with over 50 different types of cakes a day – from classics like Carrot Cake and Lemon Curd Pistachio to the locally-inspired Pandan Pound Cake and Fresh Ginger Cake. They also have scones, quiches, sheet cakes and pastries to plump up your tea-time selection.
What to order: Tiramisu Cake (RM15/18), Assorted Cakes (RM12-18)
Address: 153, Beach St, Georgetown, 10300 George Town, Penang, Malaysia
Opening Hours: Daily, 9am – 1am
2. Lavish Fusion Bakery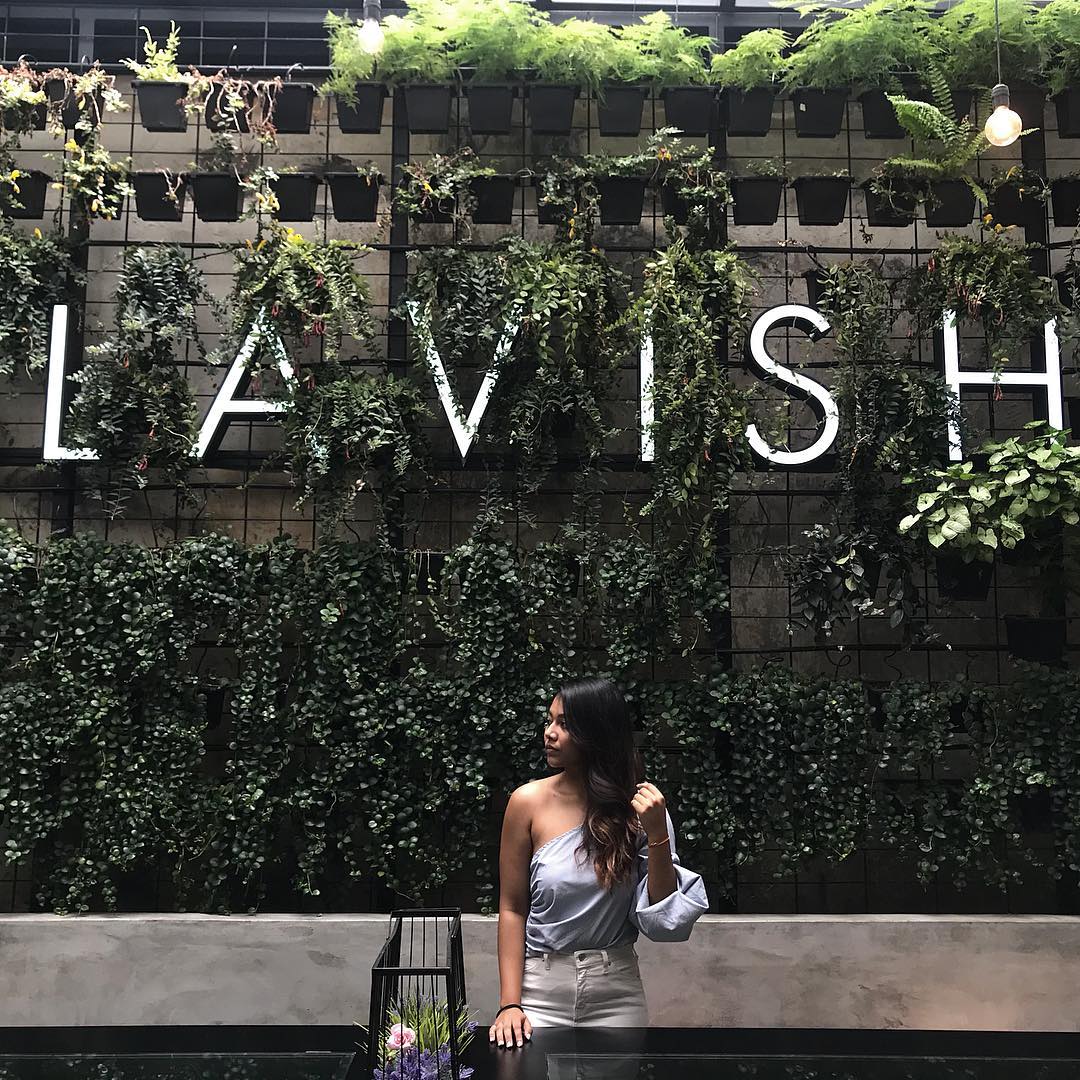 Opened by the same folks behind the Love A Loaf bakery franchise, Lavish Fusion Bakery goes beyond just breads and baked goods. Located in the George Town UNESCO World Heritage Site, this #instagoals cafe features lots of greenery and a vertical indoor garden.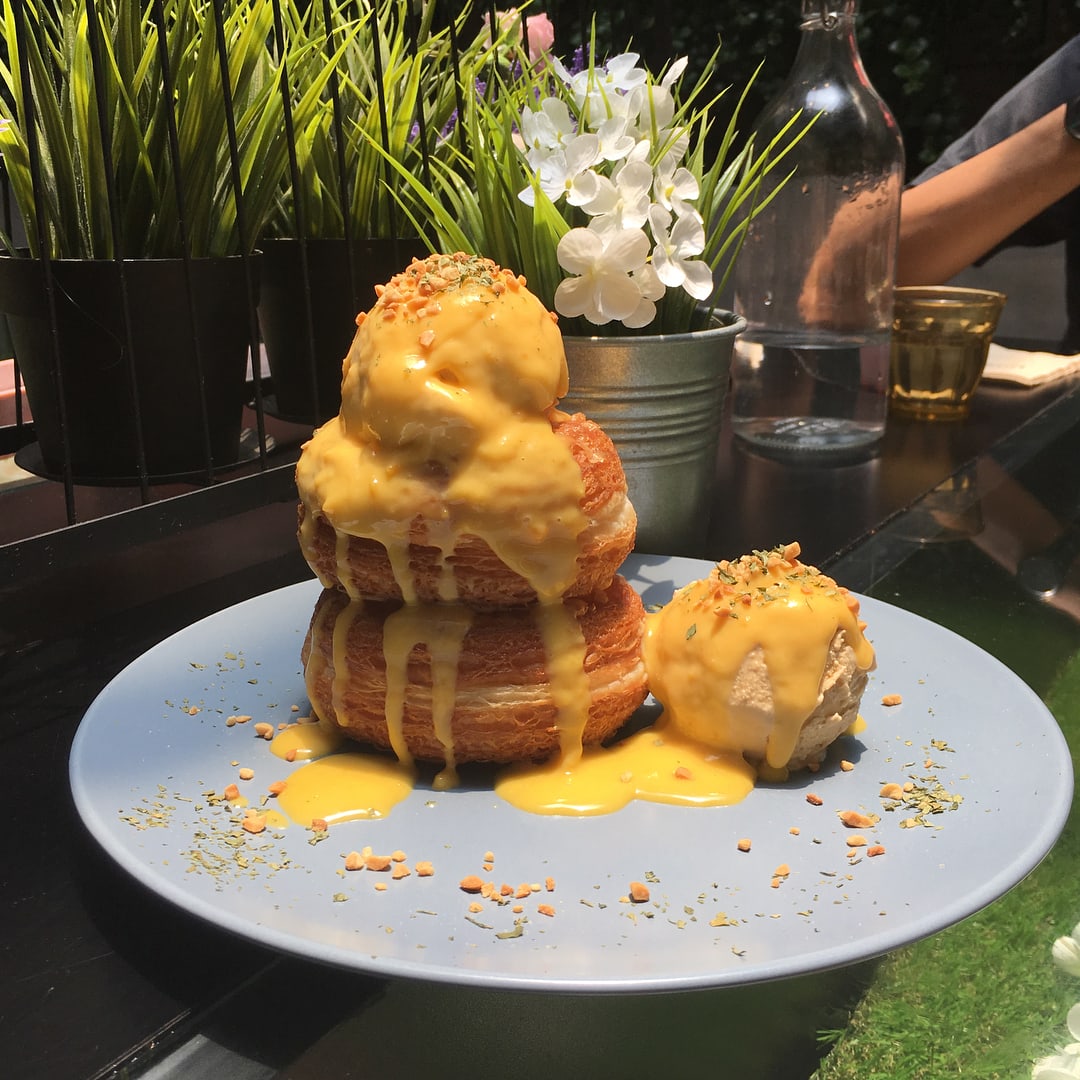 Apart from the hot menu of pastas and brunch dishes, Lavish Fusion Bakery is famous for their over-the-top Cronuts. Coming in flavors from Lemon Booze to Salted Egg, each stack of flaky cronuts is paired with ice cream and a special sauce.
They have a wide menu of Dessert Drinks as well, with the Magnum Coffee Frappe taking the classic combination of coffee and chocolate to the next level – complete with whipped cream and a Magnum Mini on the top.
What to order: Cronuts (RM23.90-24.90), Magnum Frappe (RM17.90)
Address: 214, Lebuh Victoria, George Town, 10300 George Town, Pulau Pinang, Malaysia
Opening Hours: Monday – Friday 10am – 11.30pm; Saturday 9am – 12am; Sunday 9am – 11.30pm 
3. Belle and Cream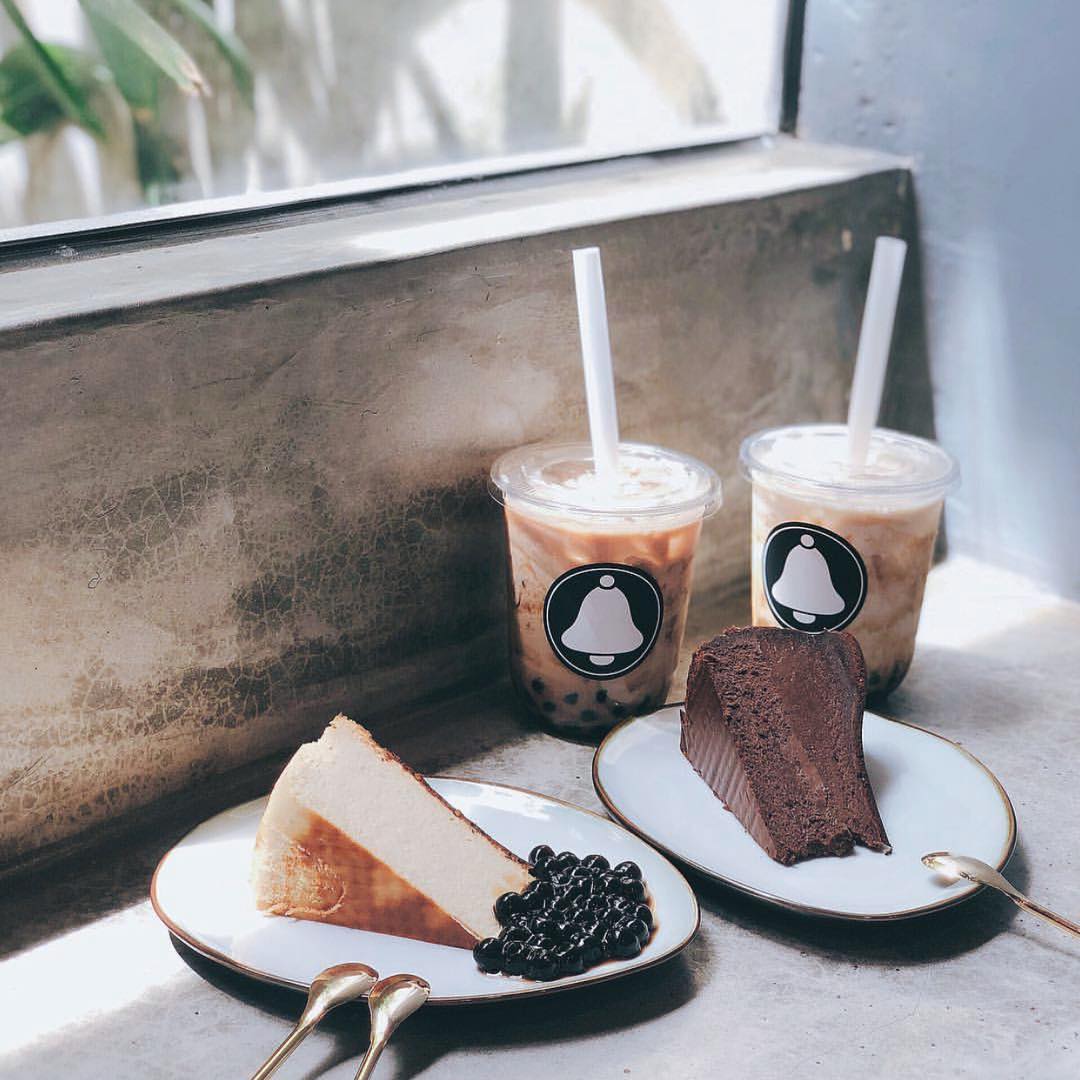 If you've never had burnt cheesecake, better get on that train fast. This traditional Basque style of cheesecake has taken the Malaysian cafe scene by storm, with several cafes baking up their own renditions of this dessert.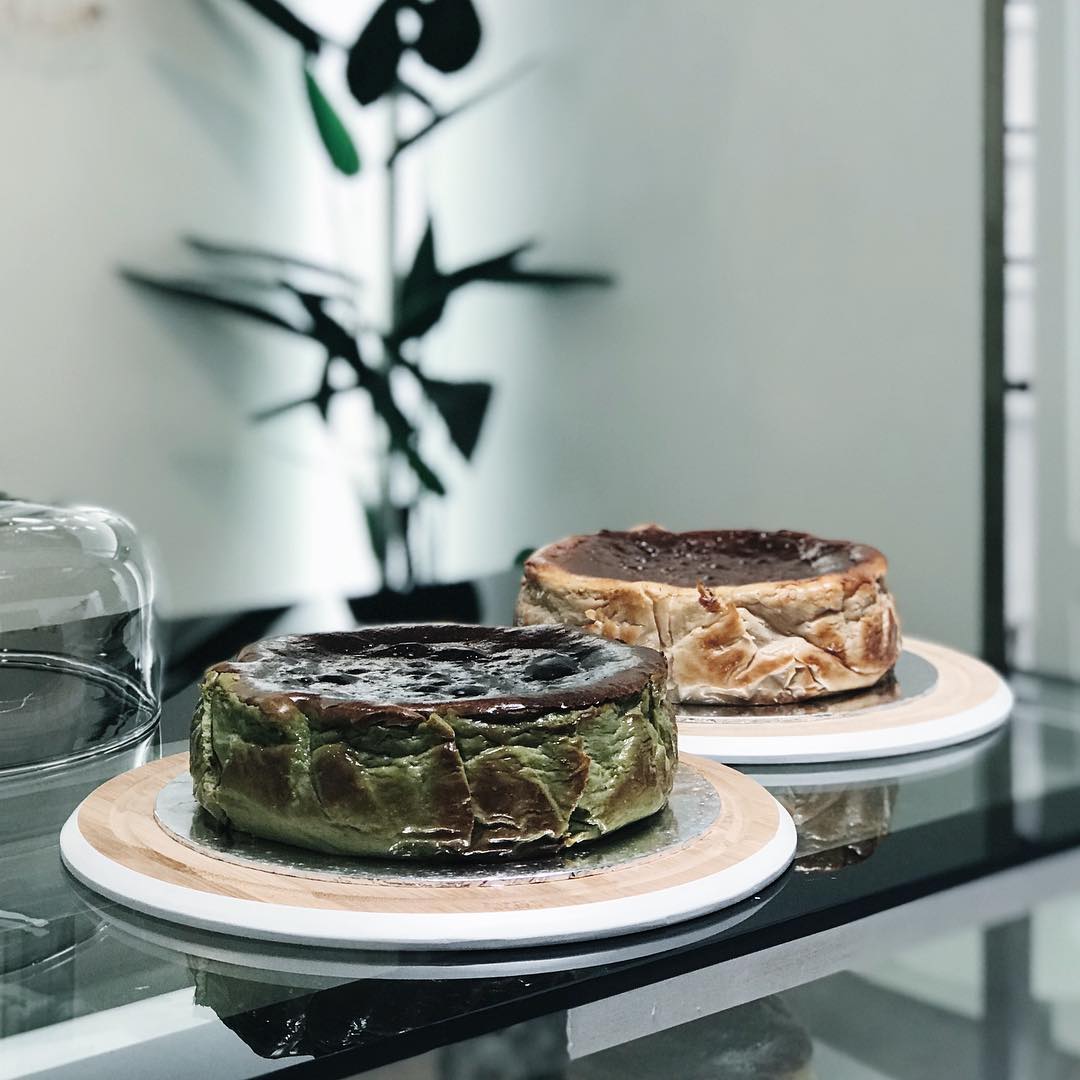 Brought in next door by Aussie-inspired Chapel Street Cafe in Georgetown, Belle and Cream specialises in two things: Burnt cheesecakes and bubble tea. This clean Kinfolk-esque nook serves different flavors of burnt cheesecake, from matcha to milk tea. Each wedge is melt-in-your-mouth rich with a crisp caramelized crust, and comes with a side of warm, chewy tapioca pearls.
What to order: Burnt Cheesecakes (RM18-22), Dirty Bubble Milk Tea (RM14 with pearls)
Address: 16, Medan Lim Cheng Teik, Kampung Syed, 10250 George Town, Pulau Pinang, Malaysia
 Opening Hours: Wednesday – Monday 11am-10pm (Closed Tuesdays)
4. Joies Cafe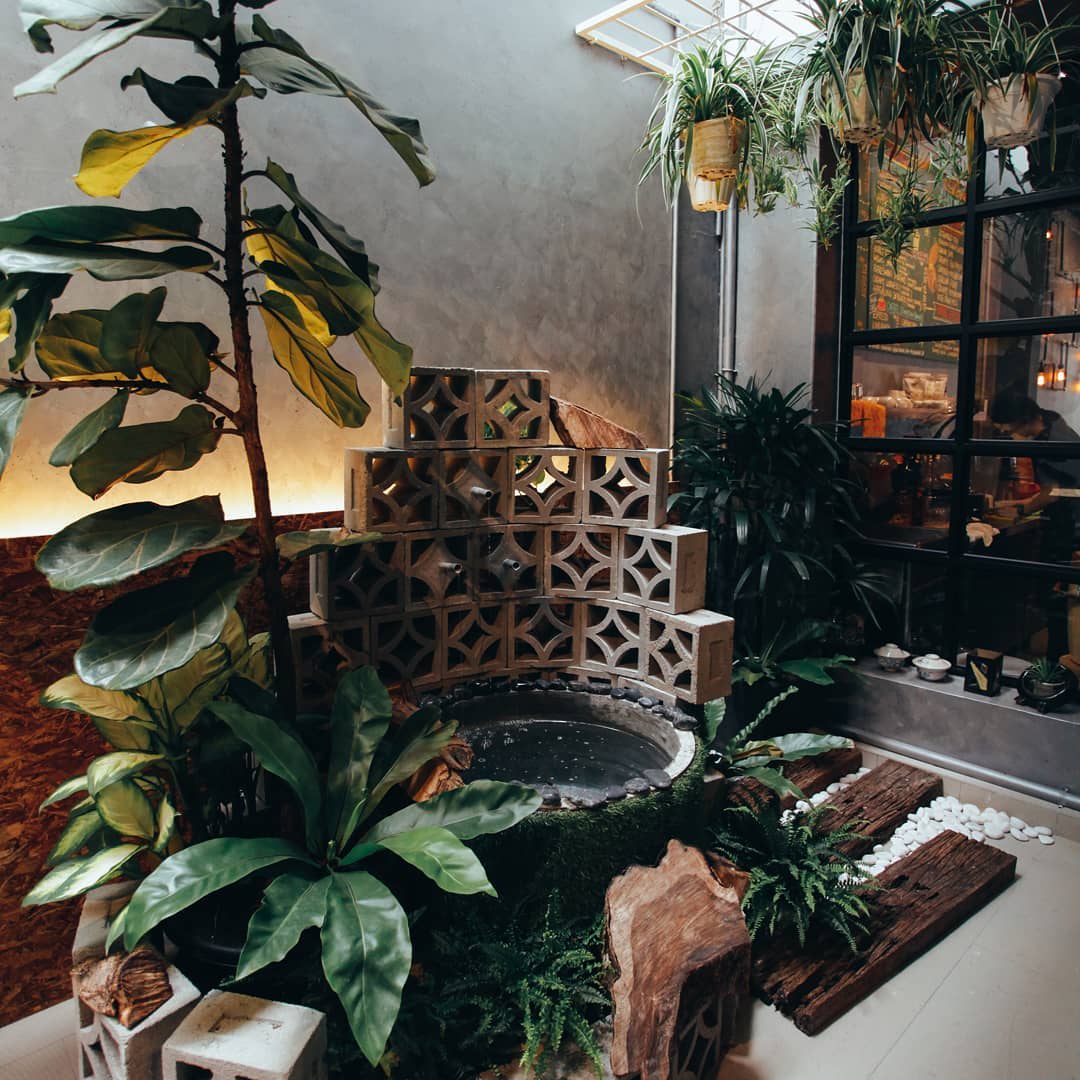 Hidden away with no signboard, Joies Cafe in Georgetown's Pulau Tikus suburb is a sourdough specialist and cafe rolled into one.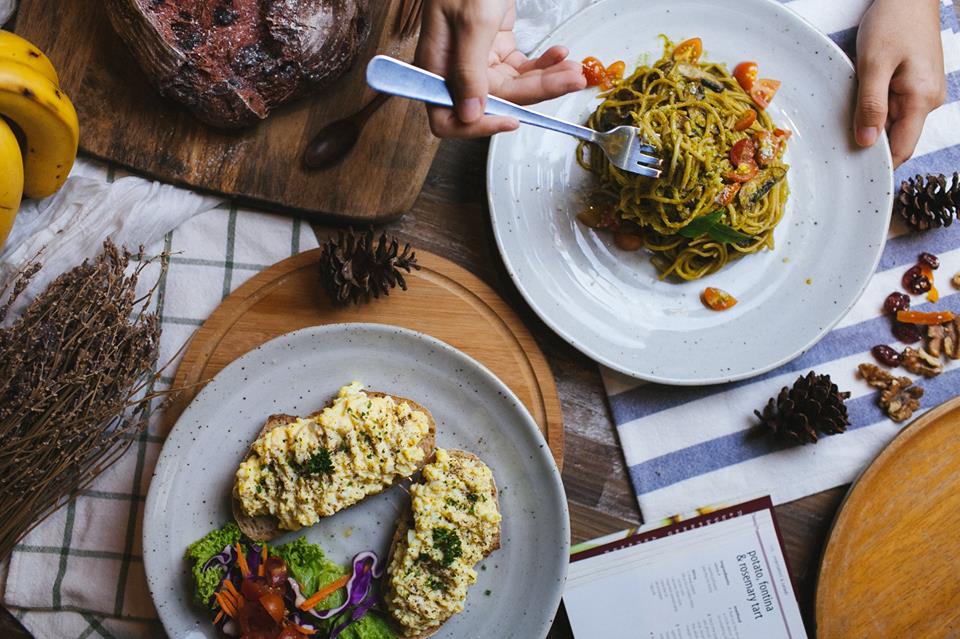 This health-centric cafe prides themselves on their artisanal homemade sourdough, which takes at least 24 hours to prepare. The crusty, tangy bread features heavily in their cafe menu, serving as a base in sweet and savoury open-faced toasts like Italian Fruit and housemade Onion Jam. Supposedly, they have one of the best Carbonara in town too.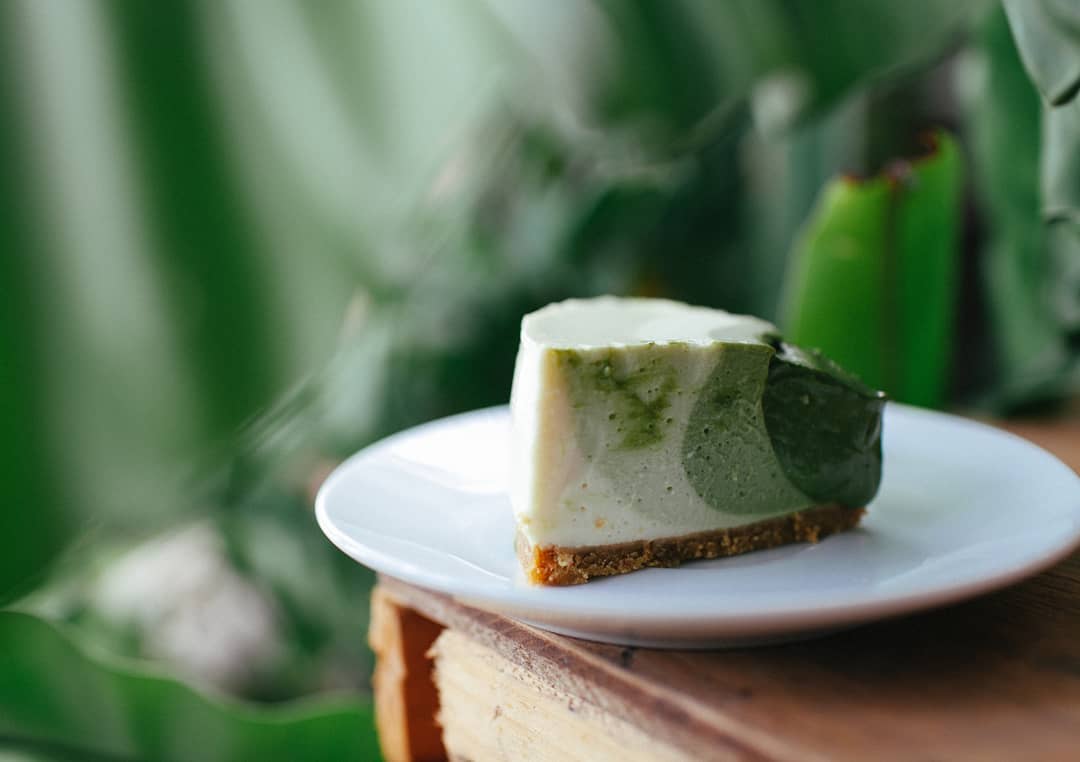 Joies Cafe recently launched a healthy Tofu Cheesecake series – with Asian favorites like Matcha and Black Sesame, as well as fruit-based flavors like Mandarin Orange and Blueberry Made fresh with minimal ingredients, this normally-decadent dessert is lightened up and made extra smooth with the addition of tofu. Even your health snob friends might be swayed.
What to order: Sourdough Toasts (RM13-19), Carbonara (RM17)
Address: 1st floor 32, Jalan Moulmein 10350 Pulau Pinang, Pulau Tikus, 10350 George Town, Pulau Pinang, Malaysia
Opening Hours: Friday – Wednesday 9am – 9pm (Closed Wednesdays)
5. Rabbit x Hold Up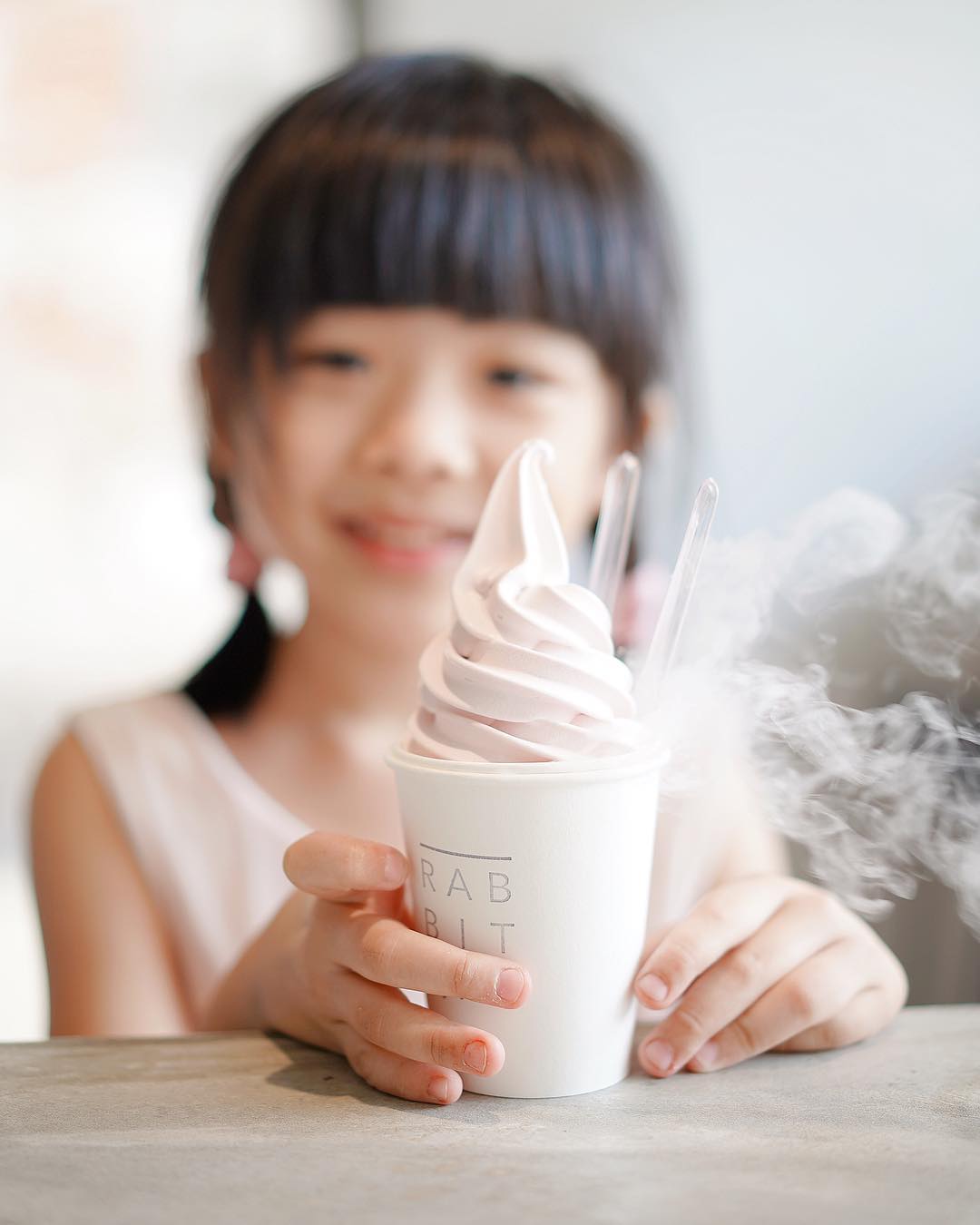 Soft serve fanatics, this one's for you. Rabbit x Hold Up is a crossover concept in Georgetown by the popular Rabbit Softserve, serving coffee, and swirling up a fast-rotating lineup of handcrafted ice cream.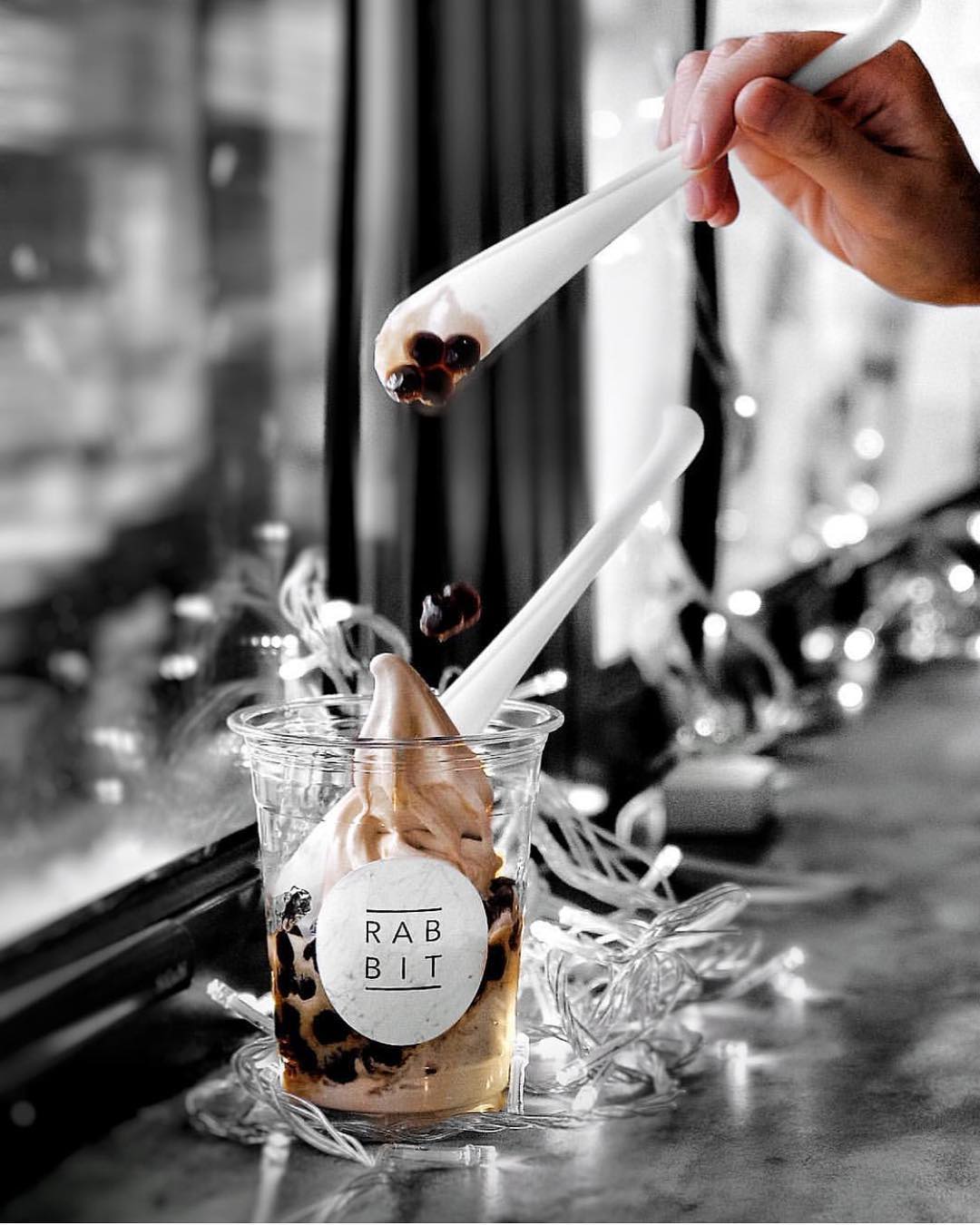 The soft serve could range from local flavours like Gula Melaka to more regional ones like Brown Sugar Oolong Bubble Tea – all made in-house, from scratch. If you're lucky, you might score a seasonal special, like the recent 24k Gold White Truffle soft serve that comes complete with gold leaf, or even a Harry Potter Butterbeer soft serve.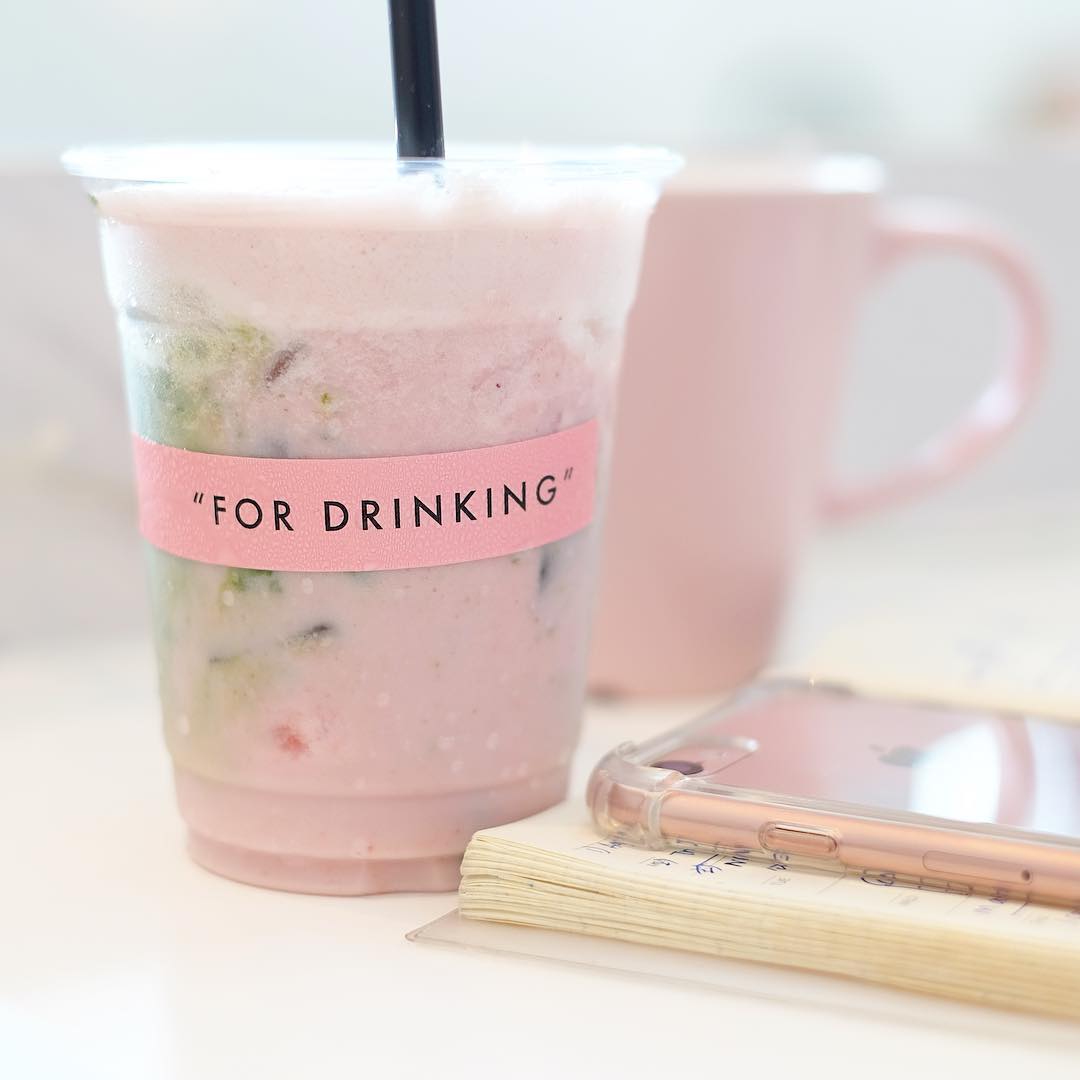 Aside from ice cream, they have some unique drinks as well. All that sugar can be tough on the throat, so get an order of the Pei Pa Koa Coffee to combat this. Their Strawberry Matcha Latte is also pretty in pink (and green).
The soft serve flavors change every week, so be sure to check their Instagram page for updates. Or just turn up and surprise yourself.
What To Order: Soft Serve (RM13-15),
Address: 73, Jalan Kuala Kangsar, George Town, 10100 George Town, Pulau Pinang, Malaysia
Opening Hours: Wednesday – Monday 10am – 7.30pm (Closed Tuesdays)
6. Fuku Eatery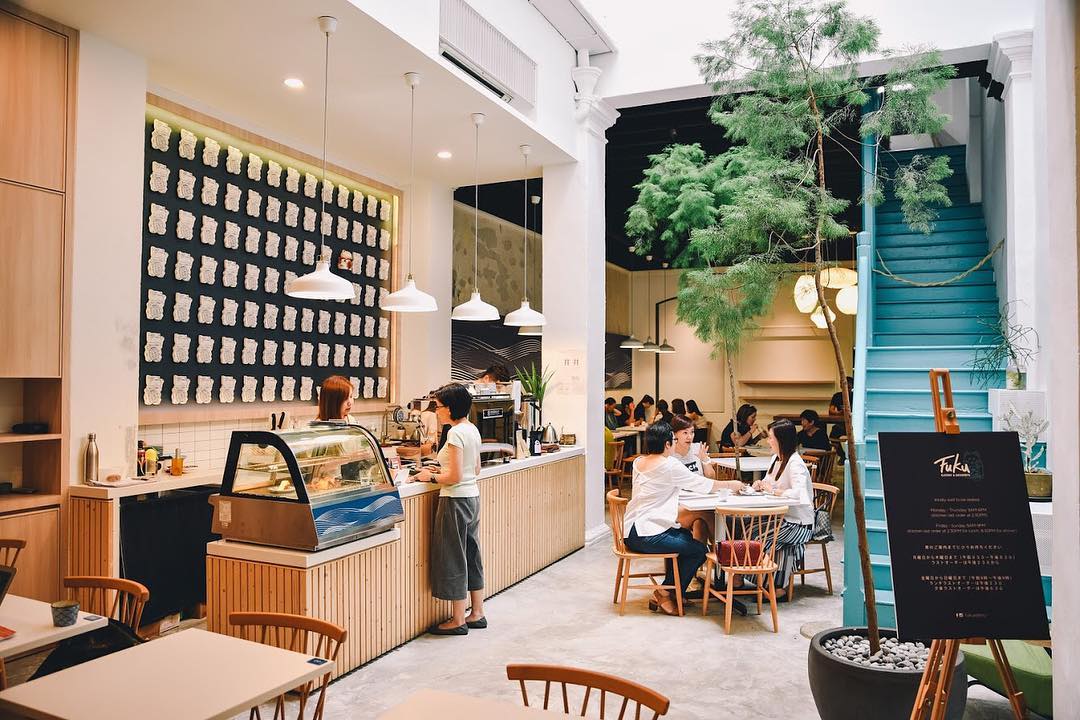 Serving up Japanese fusion comfort food, desserts and coffee, Fuku Eatery is your one-stop cafe if you're in the mood for something comforting yet unconventional.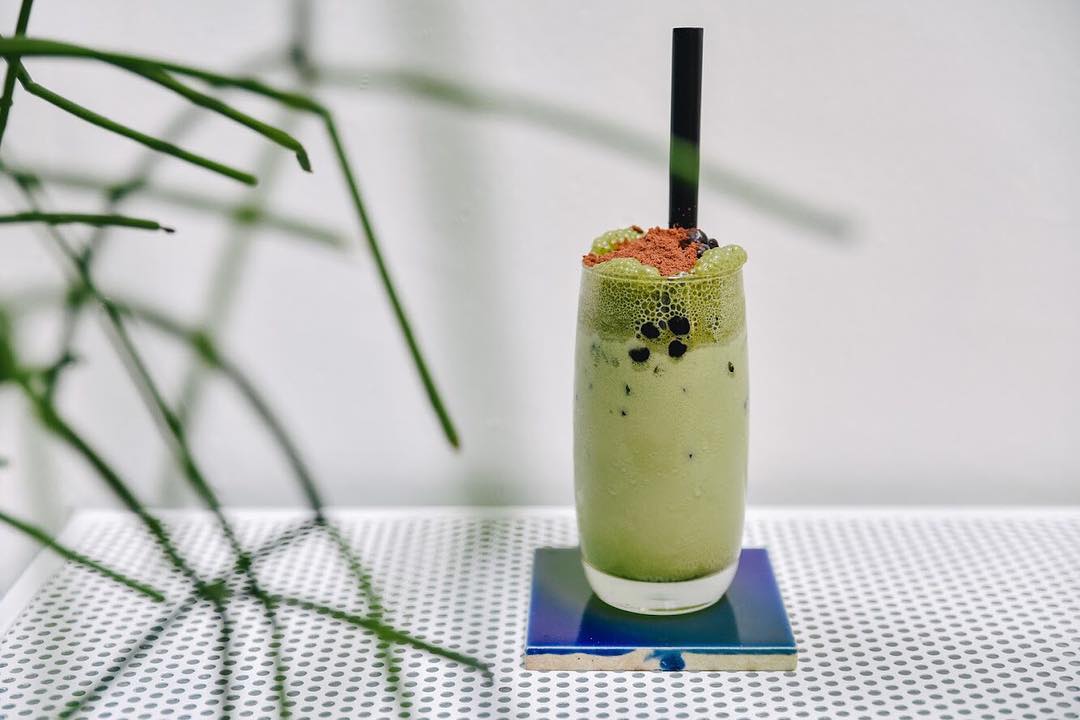 This woodsy, airy space has a good selection of mains, counter-top bakes, plated desserts and drinks – all with a little twist. Their signature Kaiju combines Uji matcha milk, tapioca pearls and a generous dusting of Milo powder in a frothy drink that's equal parts malty, creamy and bittersweet.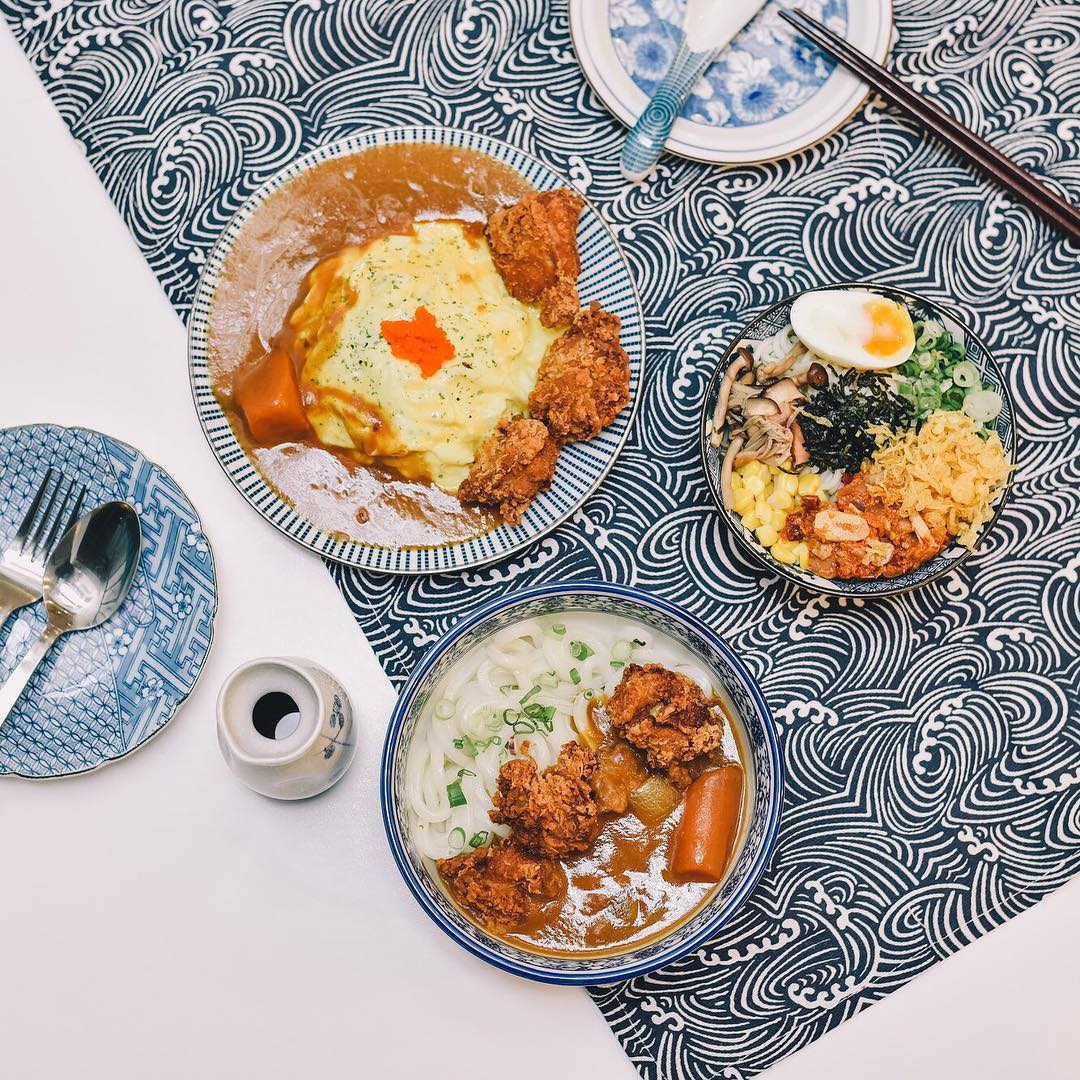 For lunch, choose from a selection of fusion bowls and omurice combinations – the Omu Tori Kaarage has just the right balance from sweet Japanese curry, crispy fried chicken and velvety seasoned eggs.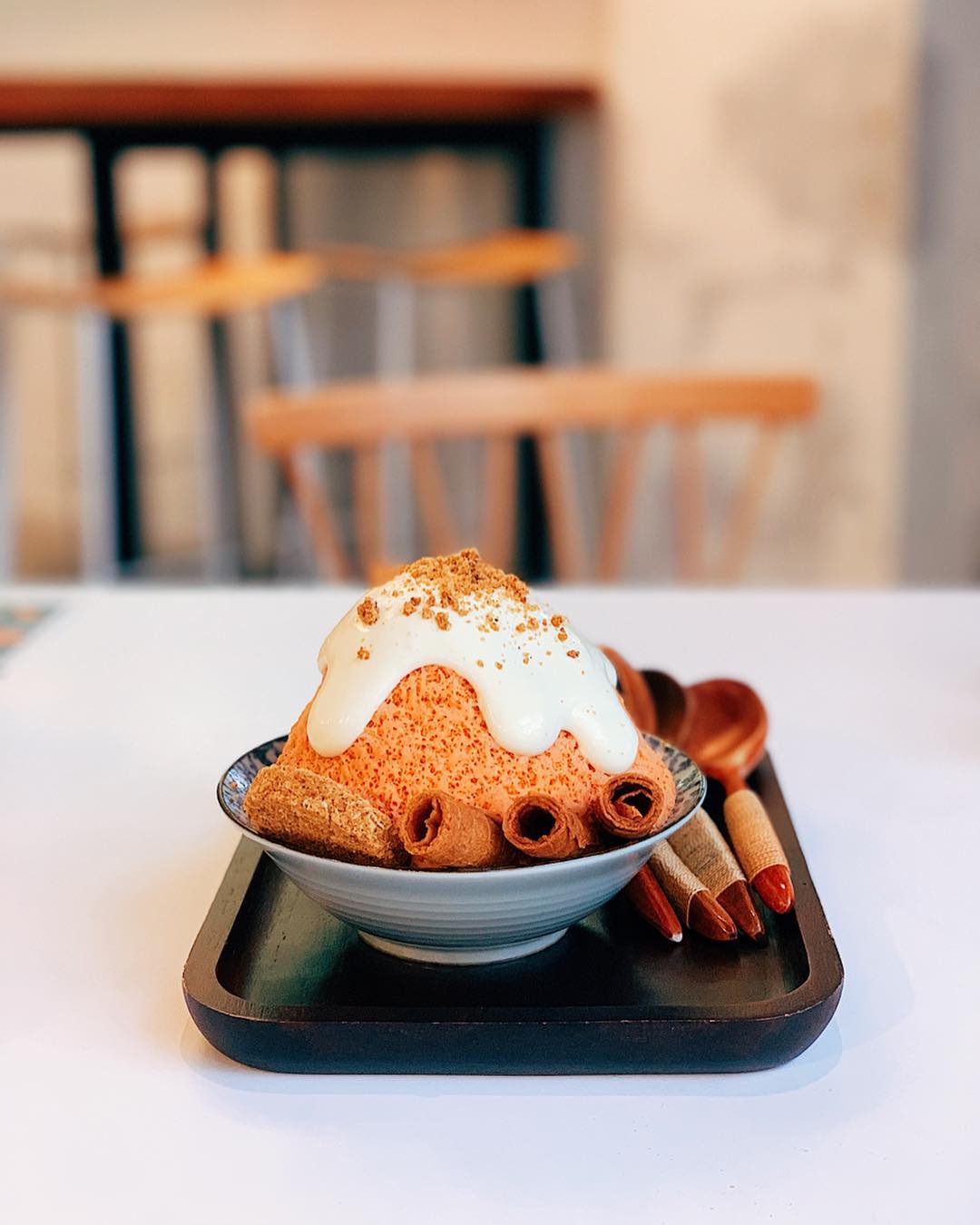 Don't miss out on their updated Thailand-inspired Coconut Thai Milk Tea Kakigori. This mound of finely-shaved frozen thai milk tea is topped with coconut cream, with coconut kueh lapis, crumbly coconut biscuits and a pitcher of gula melaka to drizzle on top. Dig in to reveal a scoop of vanilla ice cream hidden in the centre.
What To Order: Coconut Thai Milk Tea Kakigori (RM17), Kaiju (RM16), Omu Tori Kaarage (RM17)
Address: 37 Beach St, 10300 George Town, Penang, Malaysia
 Opening Hours: Daily 9am – 6pm
7. Le楽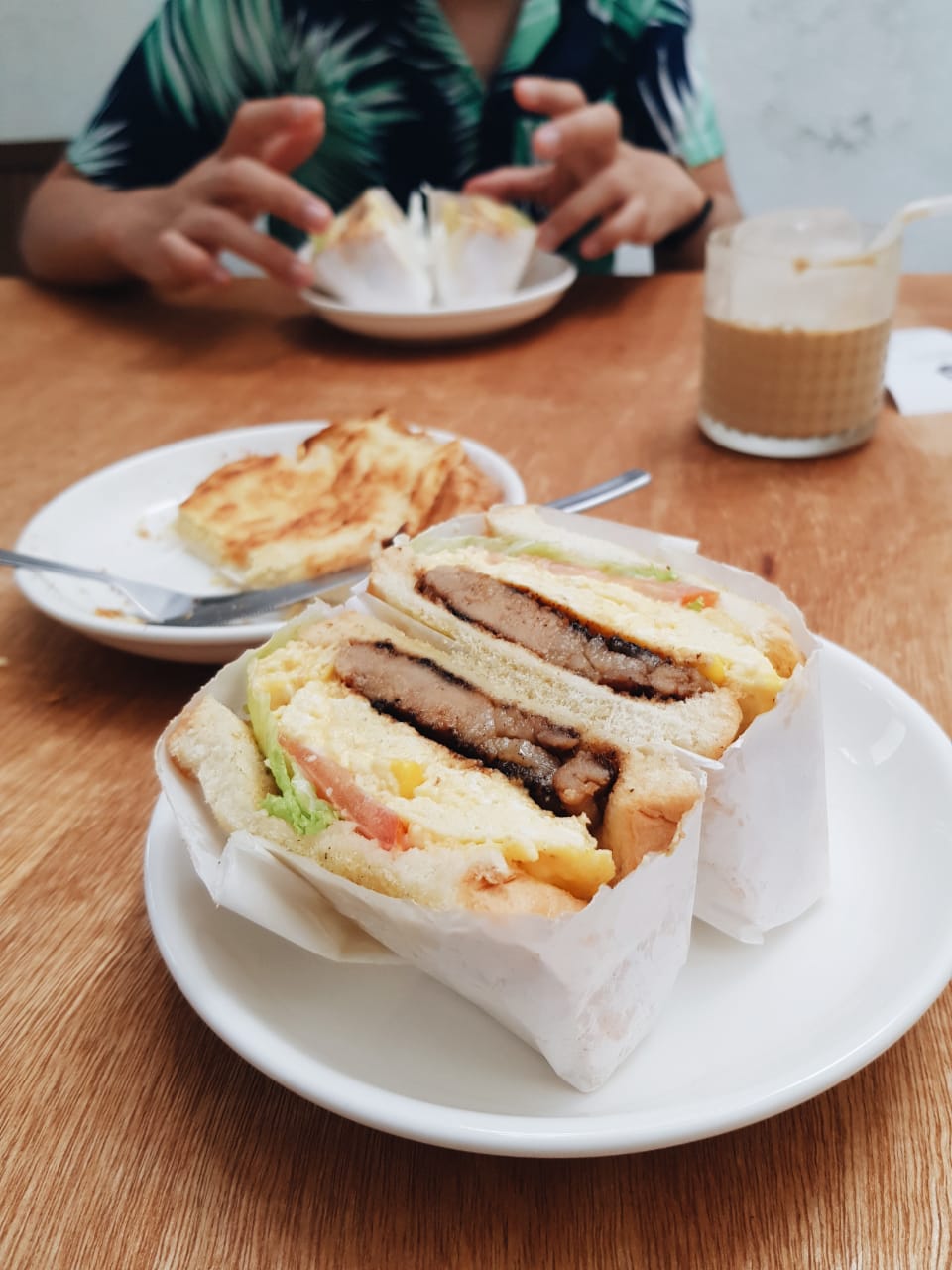 Sandwiches and lattes for less than SGD $3 each?! Tucked away at the corner of Bricklin Road, with only a small sign denoting its existence, Le楽 is one of Georgetown's best cafe secrets. Le楽's menu is kept small and simple, with toasted sandwiches and a short list of coffee drinks.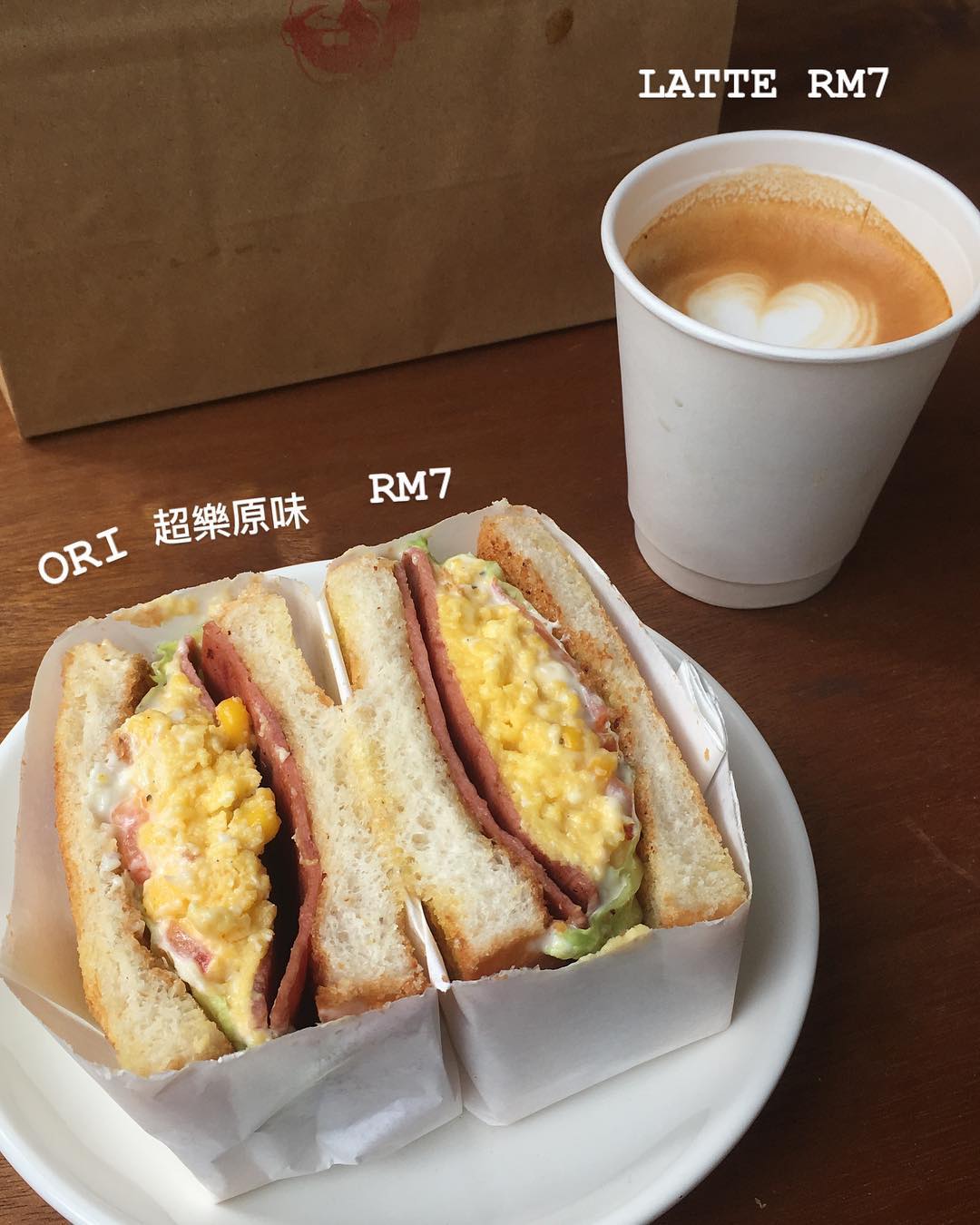 But this isn't your basic sandwich joint. For 7- 9RM, you can get a surprisingly substantial lunch – with out-of-the-box options like Fish Tempura with Japanese Curry and Thai Pork Belly, stuffed between thick slices of buttered toast and a thick slab of fluffy cheese omelette.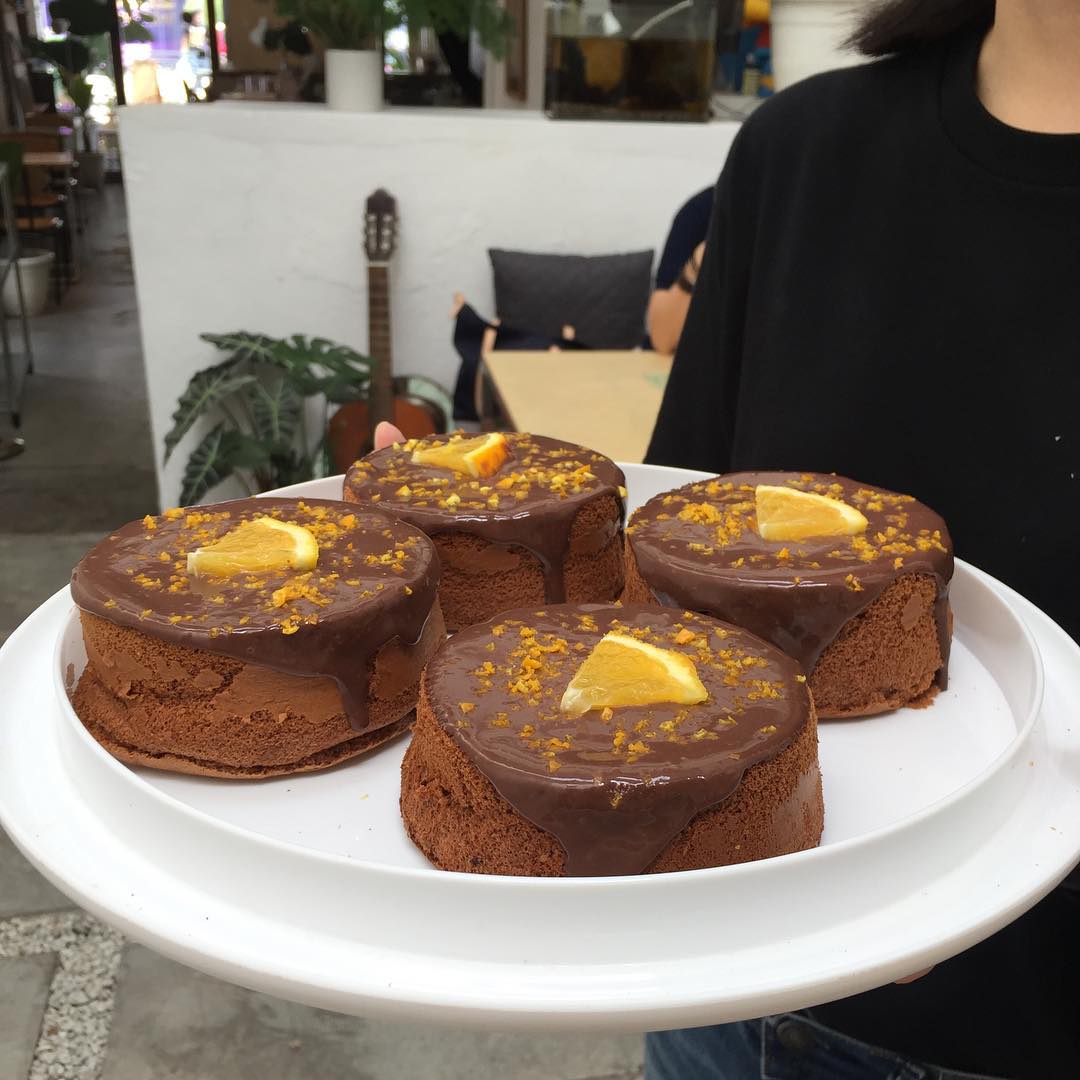 They've recently been experimenting with chiffon cake creations as well for their cake menu, with Orange Chocolate Chiffon and flowy Matcha Cream Cheese Chiffon being one of the latest additions. Their cakes rotate frequently, depending on what they bake up, so check their Instagram to see what's on their counter.
What To Order: Siampo (Thai Pork Belly) Sandwich (RM7), Souffle Toast (RM5)
Address: 33, Jalan Gurdwara, George Town, 10300 George Town, Pulau Pinang, Malaysia
 Opening Hours: Friday – Wednesday 9am – 6pm (Closed Wednesdays)
8. Matcho Cafe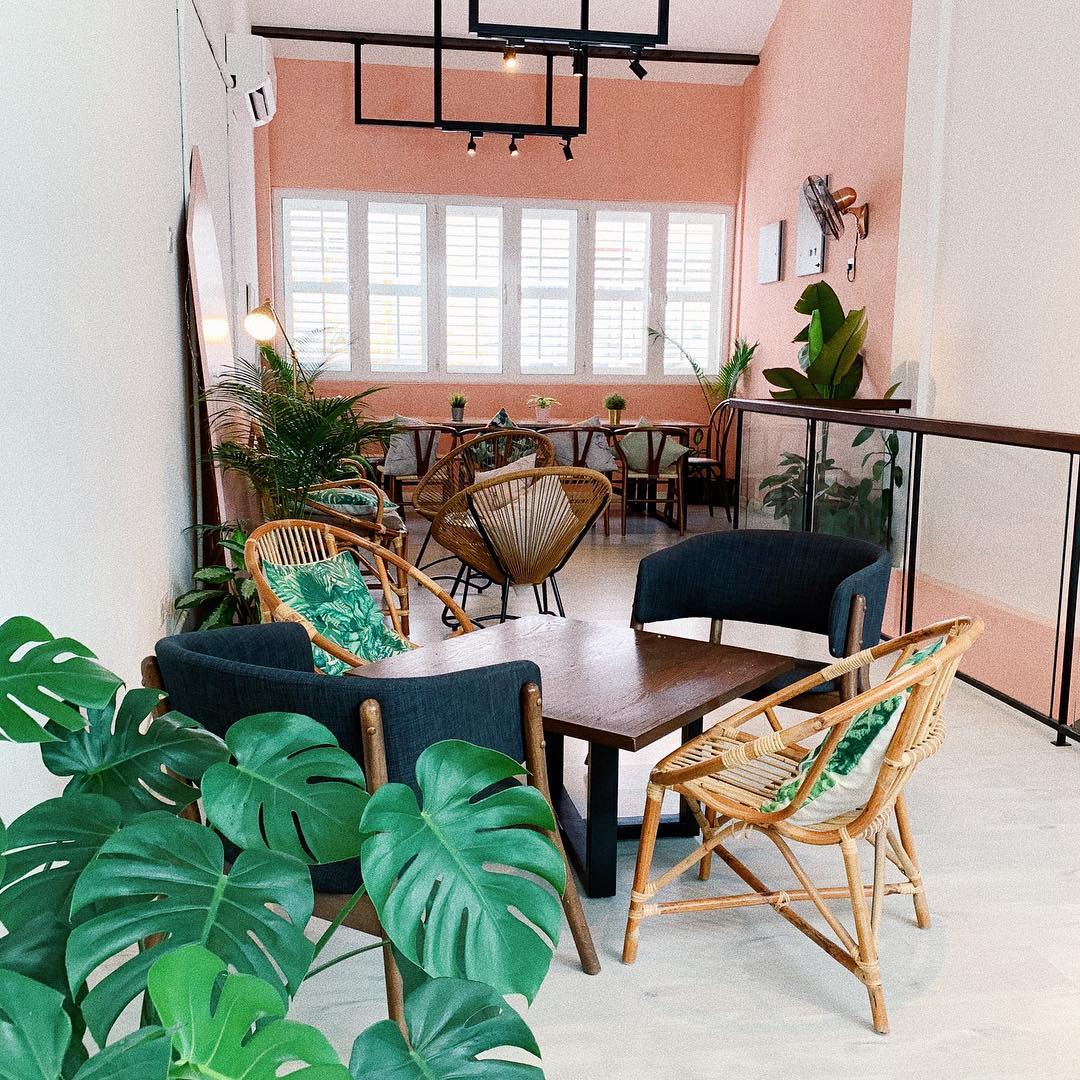 For a tropical vacation throwback, Matcho Cafe has the ambience down to a T. Decked out in rattan chairs, wooden tables, hanging swings and an abundance of leafy plants, this pink-walled space is #aestheticAF.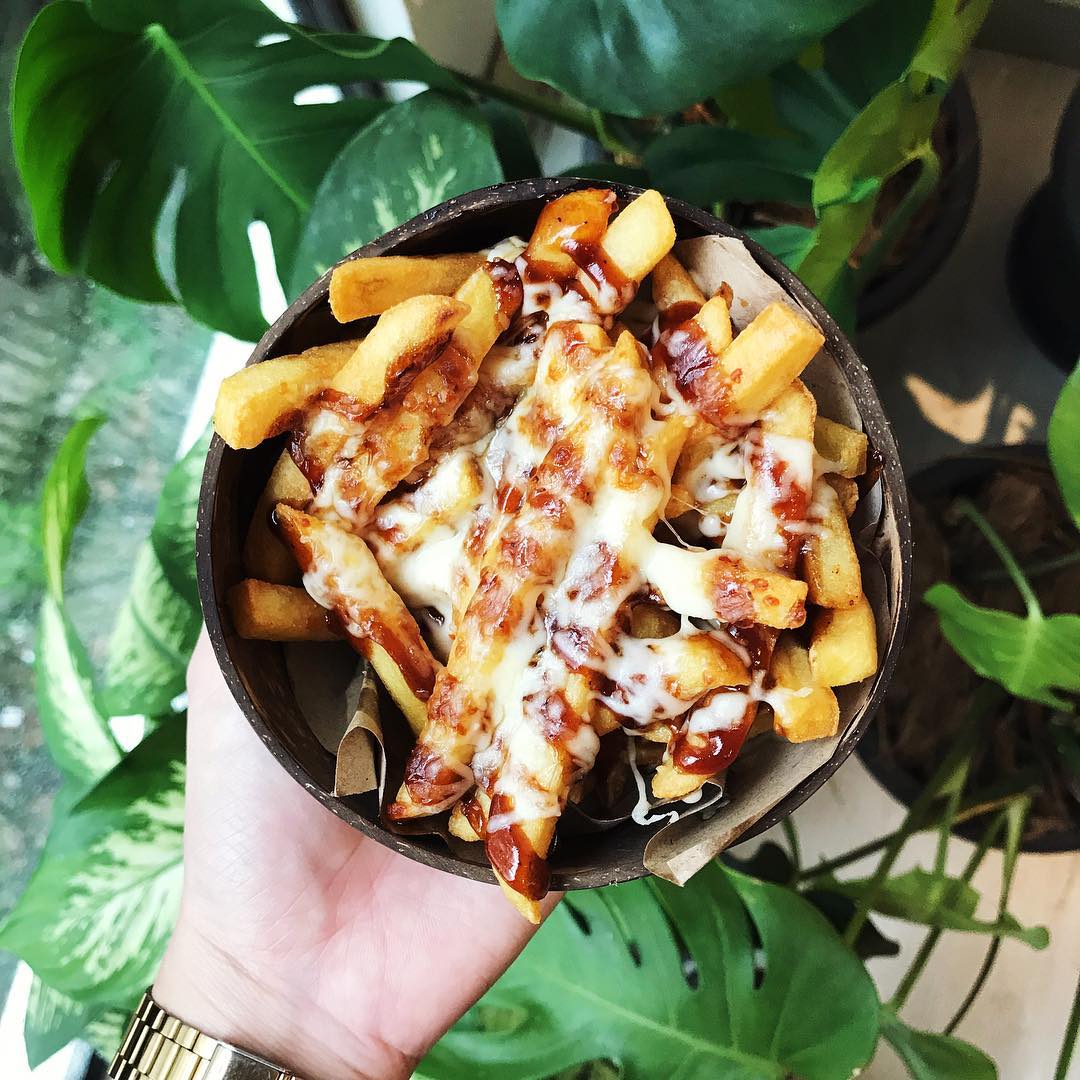 Matcho Cafe's food isn't just all style, no substance. The menu has expanded exponentially from its soft launch days – with a range of savoury bites like Penne Pasta Bowls and loaded Matcho Fries, as well as a wider selection of sweet treats.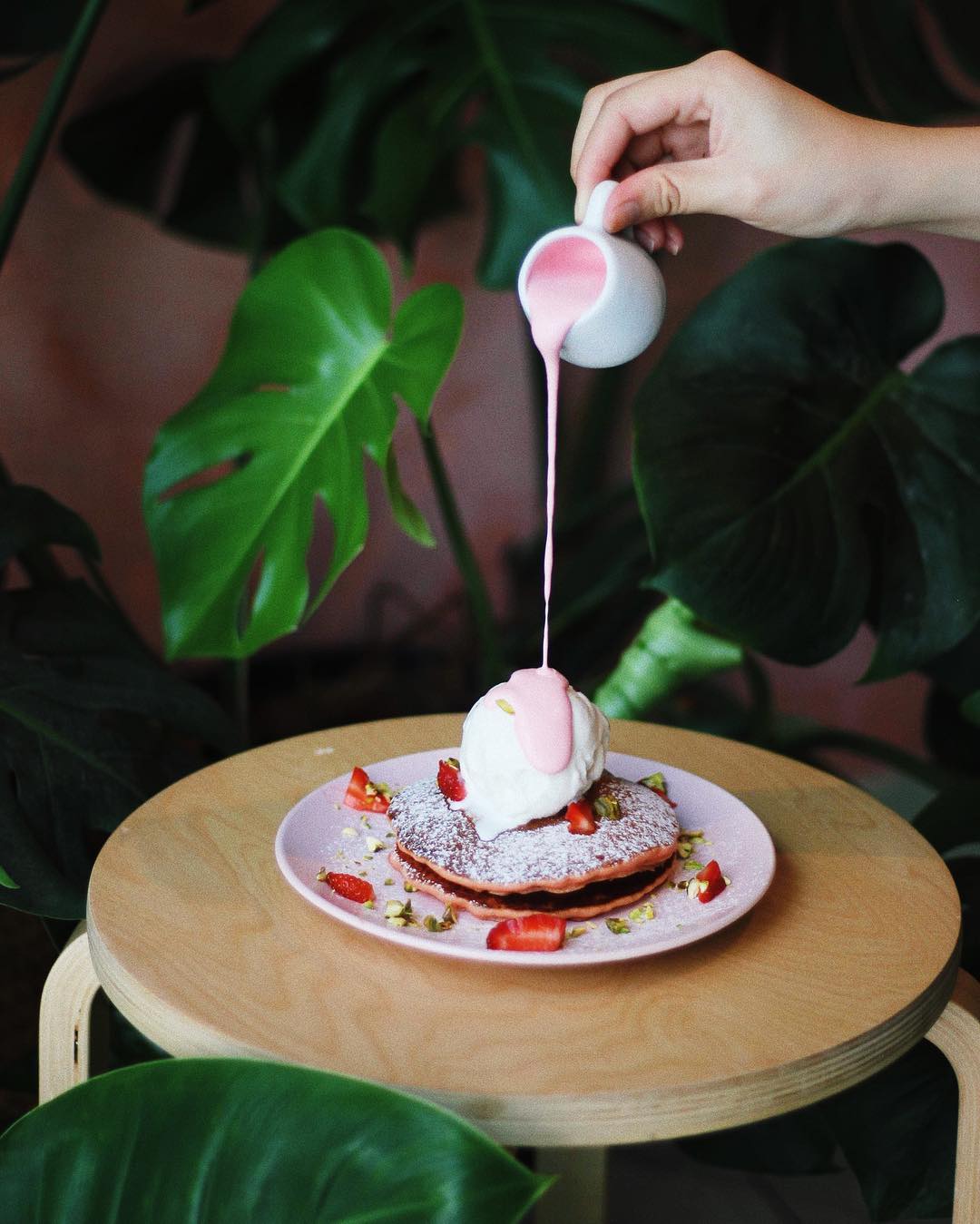 Go for their Rose or Matcha pancake stacks, which comes with toppings, a scoop of ice cream and a pour-over sauce. They also have a selection of cakes and chilled desserts like Matcha Tiramisu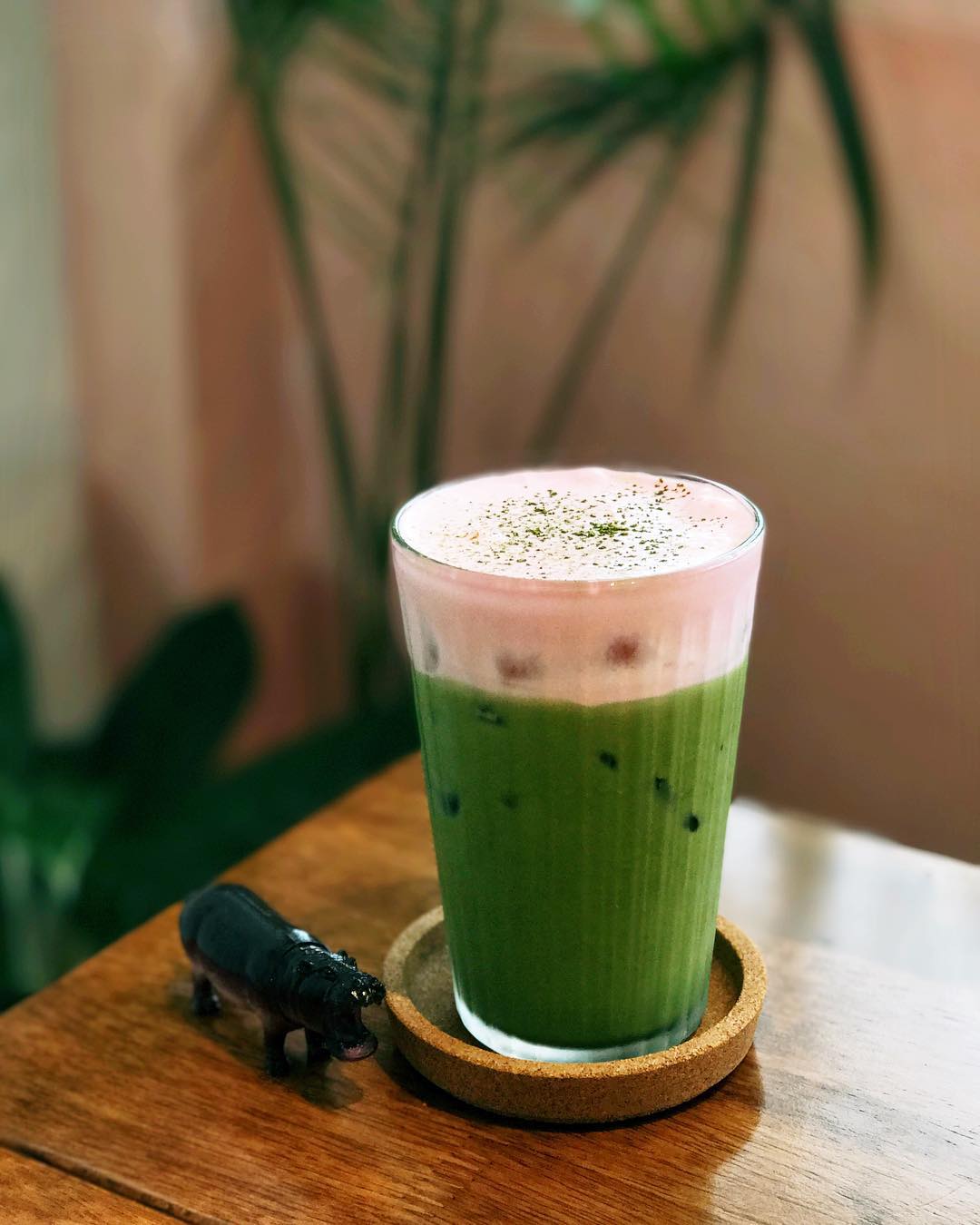 For drinks, you can't go wrong with their signature Matcha drinks and Macchiato series – the latter of which includes a choice of chocolate, coffee or matcha, and comes with a frothy pink cap of rose cream.
What To Order: Matcha Pink Macchiato (RM15), Pancakes (RM15-19), Cheesy Popcorn Chicken (RM13)
Address: No. 99B, Lebuh Noordin, George Town
 Opening Hours: Wednesdays – Mondays 10.30am – 10.30pm (Closed Tuesdays)
9. Norm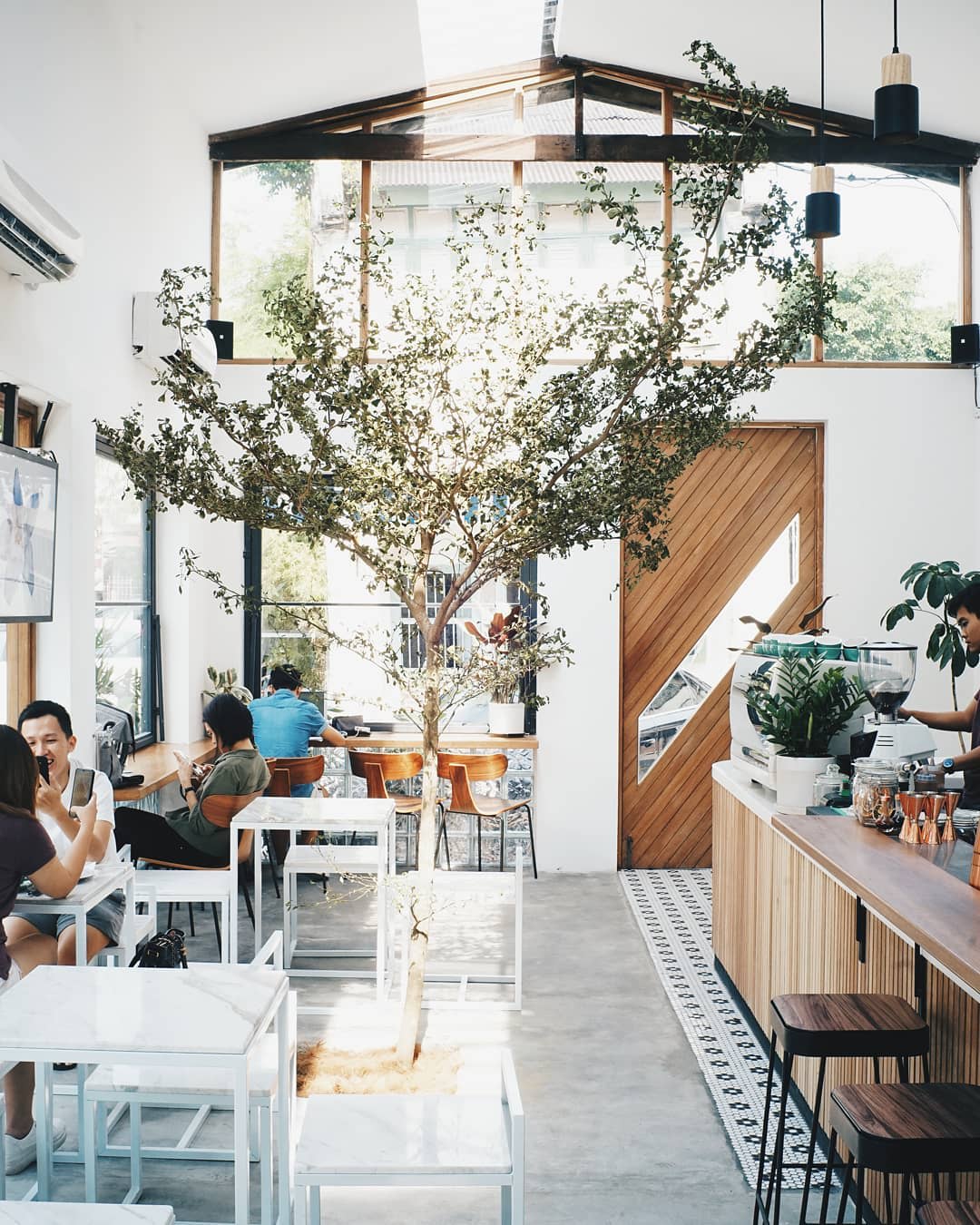 Norm nails that minimalist cafe aesthetic, from the wide beams of sunlight pouring in through the skylights and windows to their white walls with wooden facings.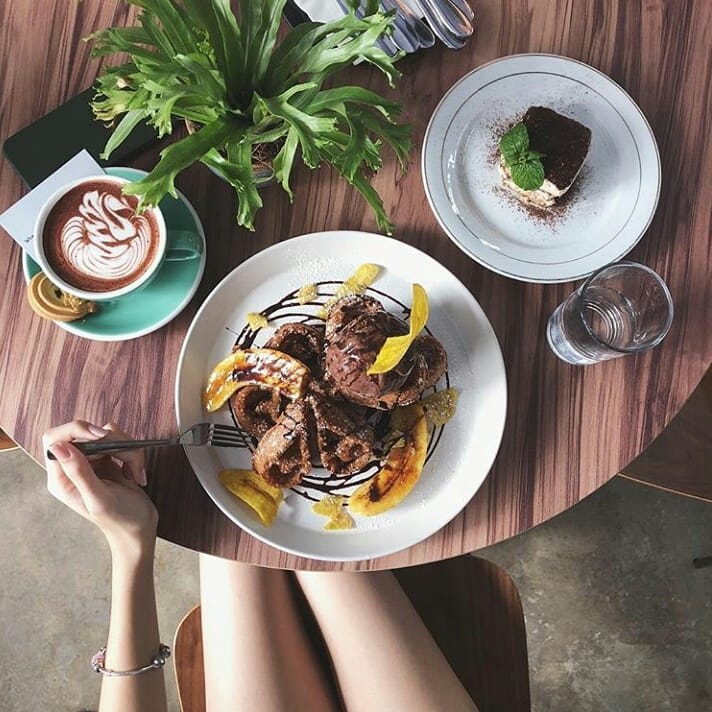 Waffles are a favorite on their daytime menu. Get the Monkey Business for a decadent dessert, which comes with crispy banana chips, chocolate ice cream and a rich chocolate sauce. For something brighter, the Citrus Passion is an interesting alternative – topped with grapefruit, orange, passionfruit and a scoop of ice cream.
They also have savoury waffle options such as Shakshuka Waffles, as well as pastas. The team of baristas recently finished in the top three at a brewing competition – so you can expect a satisfying coffee fix at Norm. If coffee isn't your thing, order one of their fusion teas.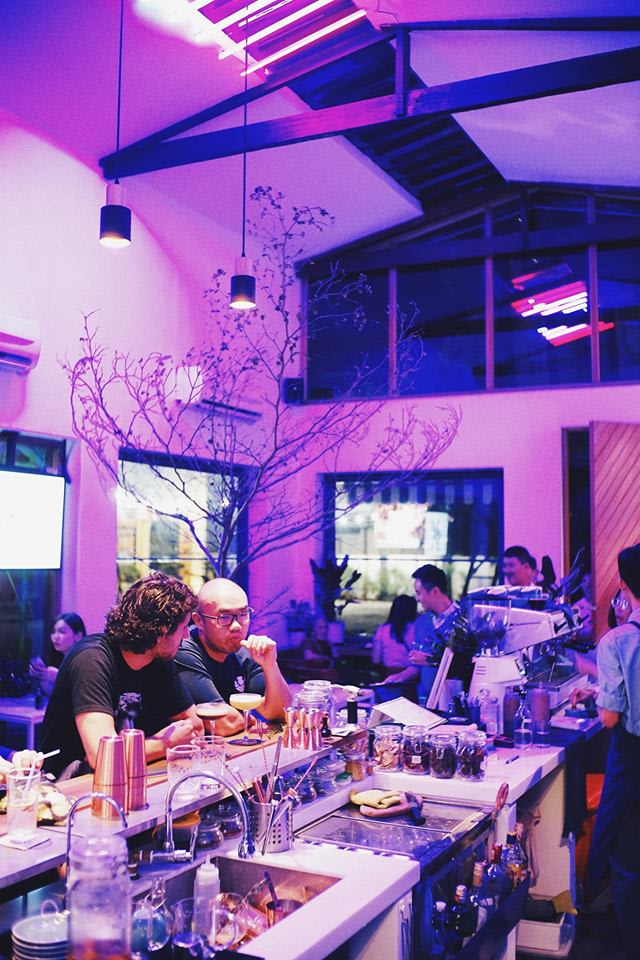 Once the dusk falls, the bright and airy Norm cafe transforms into Noct, an after-dark dining concept that features cocktails and an alternate dining menu. They're open all the way till 12am, so come back around if you plan on staying out till late.
What To Order: White Coffee (RM11/13), Sweet Waffles (RM15-20), Tiramisu (RM15)
Address:  260c, Lebuh Carnarvon, George Town, 10100 George Town, Pulau Pinang, Malaysia
 Opening Hours: Monday – Sunday 10am – 12.30am
10. Narrow Marrow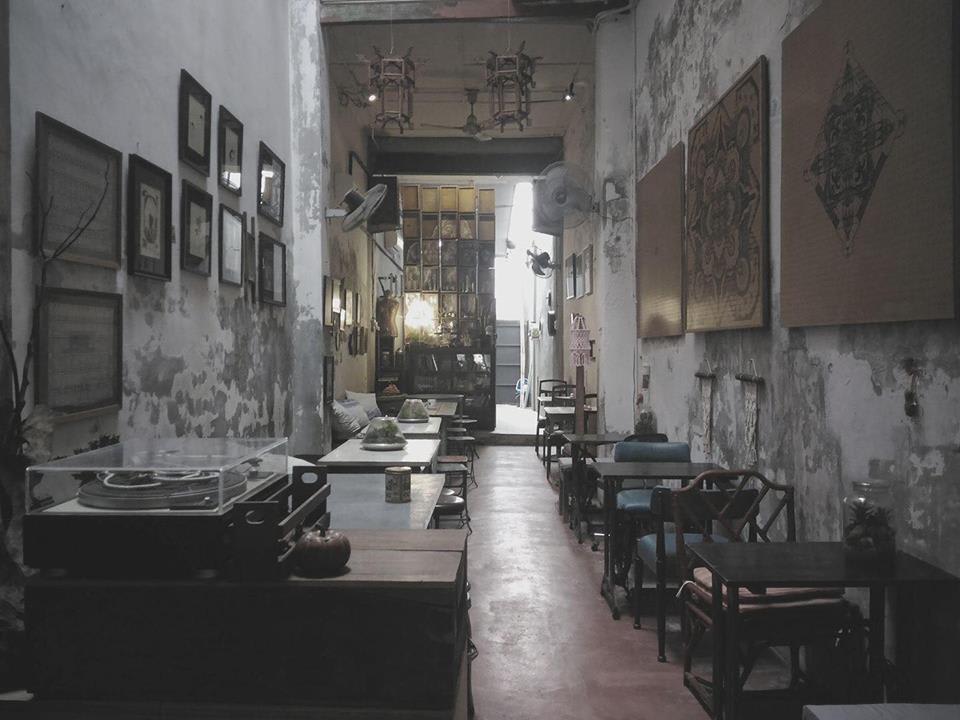 In contrast to the bright aesthetic of other cafes, Narrow Marrow owns its gritty industrial style, with bare concrete walls and and retro flourishes. This cafe specialises in a wide variety of colourful and creative Cheesecakes, as well as their signature Tiramisu creations – all made fresh in-house.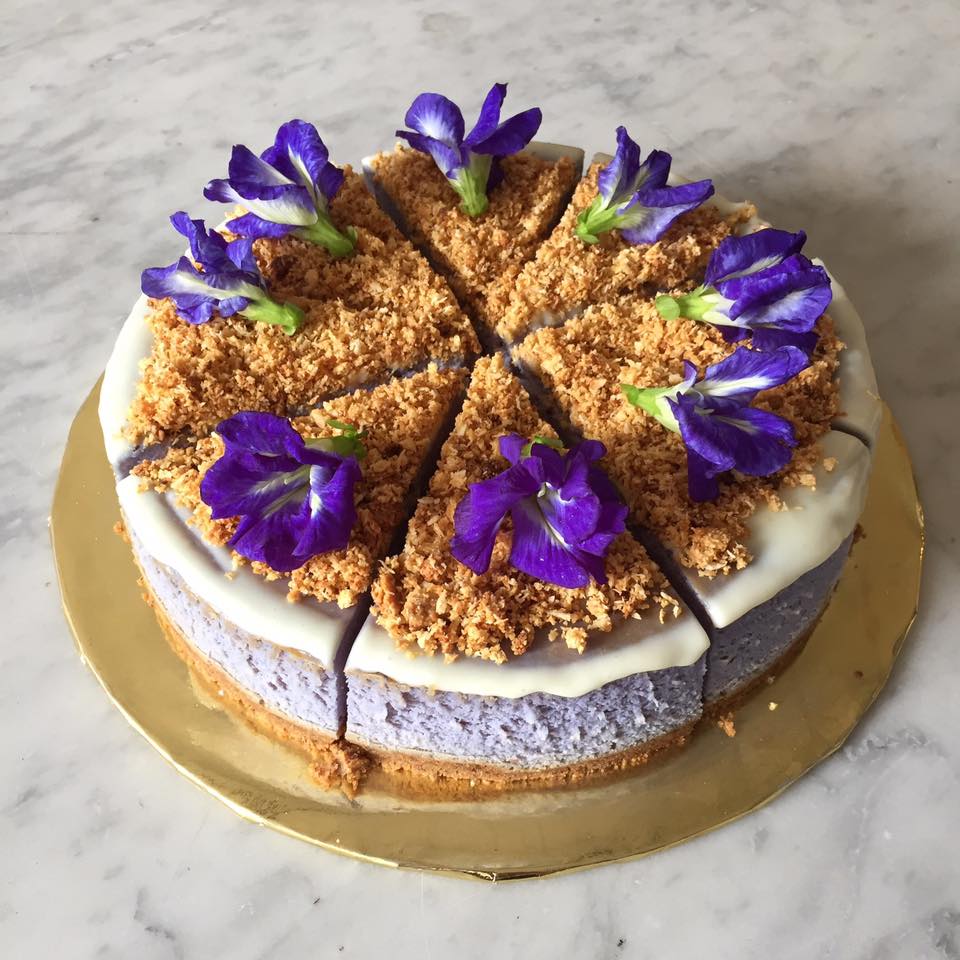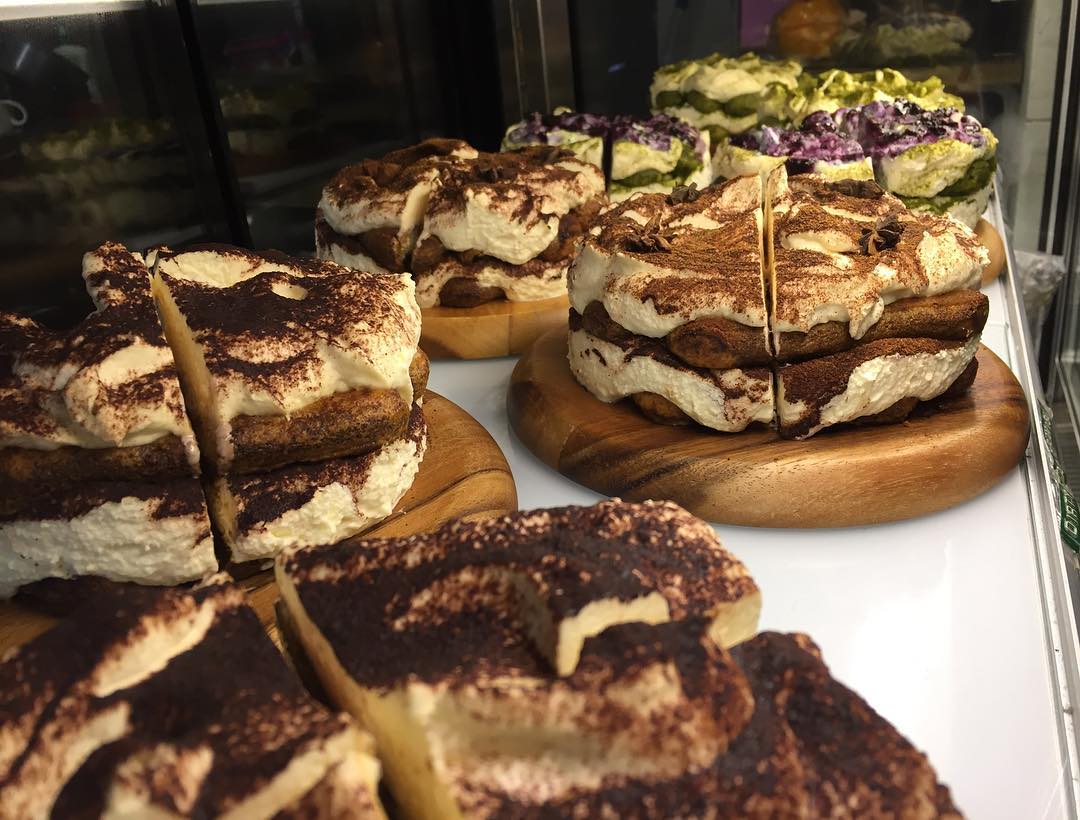 The unsuspectingly light purple-hued Coconut Peaflower Cheesecake has become a staple, alongside their kahlua or rum-spiked Tiramisu Cake (which is made extra-boozy on some days). Apart from these staples, they're constantly experimenting with new flavours and combinations, from Strawberry Matcha Tiramisu to Salted Gula Melaka Cheesecake.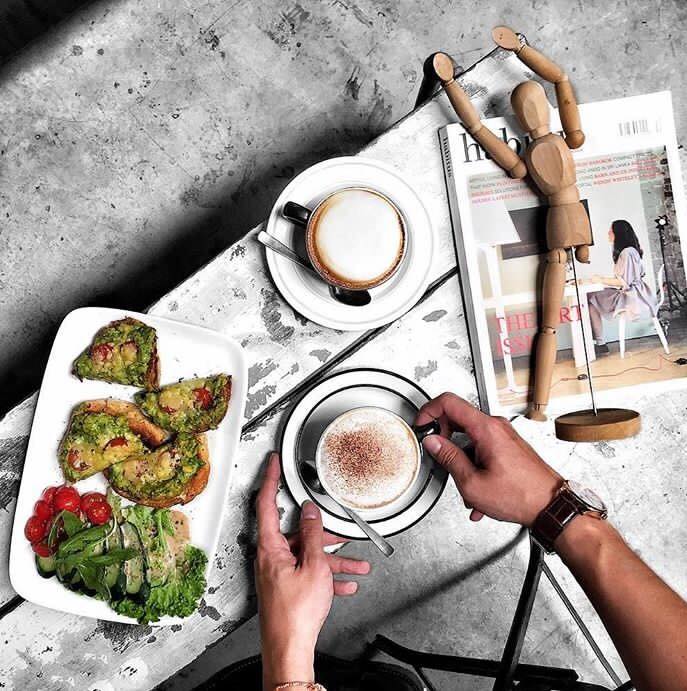 In addition to the usual lattes and Americanos, Narrow Marrow serves up fruit-infused drinks, like Banana Milk Espresso and their popular Avocado Smoothie. They also brew their own toddy (coconut palm wine), for their refreshing Toddy Mojito and Toddy Beer concoctions.
What To Order: Tiramisu Cake (RM15), Assorted Cheesecakes (RM15), Avocado Smoothie (RM10)
Address: 252A, Lebuh Carnarvon, George Town, 10100 George Town, Pulau Pinang, Malaysia
Opening Hours: Thursday – Tuesday 10am -1am (Closed Wednesdays)
Go after those Goals Around The World!
Whether you're discovering local gems or going on world exploration, use the promo code below for a sitewide discount on Klook!
Klook #GoalsAroundTheWorld Sale
Promo code:
MYGOALS7
The deal:
7% OFF sitewide* on Klook, discount capped at RM30
Validity
: Promo valid from 5 February to 30 April 2020. *
Not valid for Universal Studios Japan tickets and express passes, Whole Japan Rail Pass, Swiss Travel Pass and Swiss Half Fare Card.


Book on Klook now
The Penang adventure never ends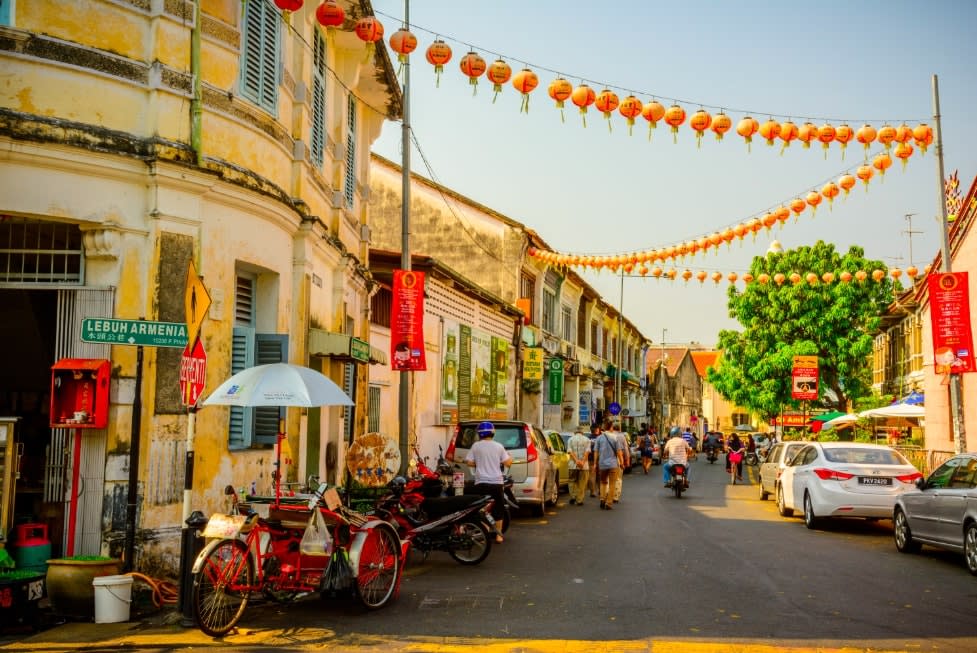 Explore more of Georgetown's historical sites and architecture on a half-day Georgetown tour, take a break from the hustle and bustle with a visit to the Tropical Spice Garden, and experience the various activities Penang has to offer. Make time for these TOP Penang activities:
More than just a cafe-hopping paradise, there's a ton of things to explore and enjoy in Penang!  Before leaving for your trip, don't forget to book your 4G Portable WiFi, which will give you non-stop WiFi access all around Malaysia.
For more ideas on what to do in the city, check out our First Timer's Guide to Penang!