The eyes of the world will be on Tokyo this year as the Olympic Games kick off with what's sure to be a dazzling opening ceremony on 24th July 2020.
Not that this should come as a surprise – Tokyo is dazzling in all sorts of ways! From historic temples to neon-lit skyscrapers, it's the most beautiful and bemusing fusion of East and West, modernity and tradition, and a busy, buzzy assault on the senses that's like nowhere else on earth.

Japan's most populated city somehow finds room for over 10-million foreign tourist visitors each year, and with an increasing number of affordable flights connecting you to its beguiling culture, stunning scenery – oh and 3,620 sushi bars! – maybe it's time you joined them to see for yourself?
Here's just a glimpse of what to expect, as Klook brings you some different views of the quirky, weird and wonderful capital of cool…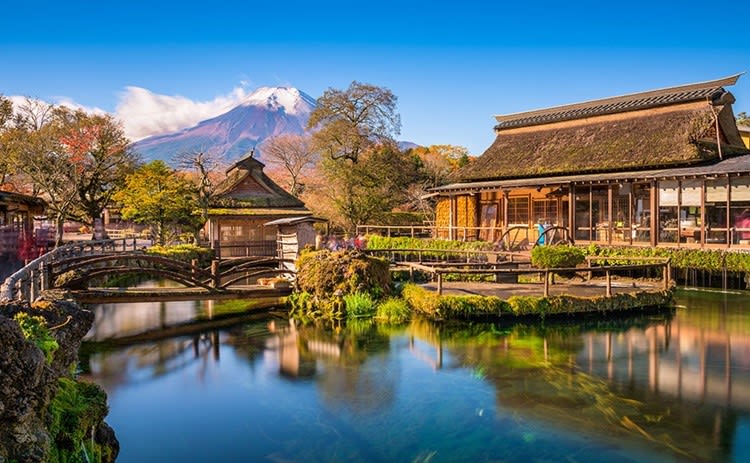 View from on high
When you're visiting a new destination, it's great to get an overview of what it's about…and, let's face it, there's no more breathtaking bird's-eye view than from a helicopter!
Take our free shuttle bus to the heliport, and enjoy a complimentary pre-flight drink before taking to the skies for this unforgettable experience. By day you'll be able to see for miles, gazing down at famous sights including Mount Fuji. By night you can watch the city come alive with a million glittering lights. Either way, it's the perfect way to celebrate a special occasion or simply to see the spectacle of one of the most amazing metropolises in the world!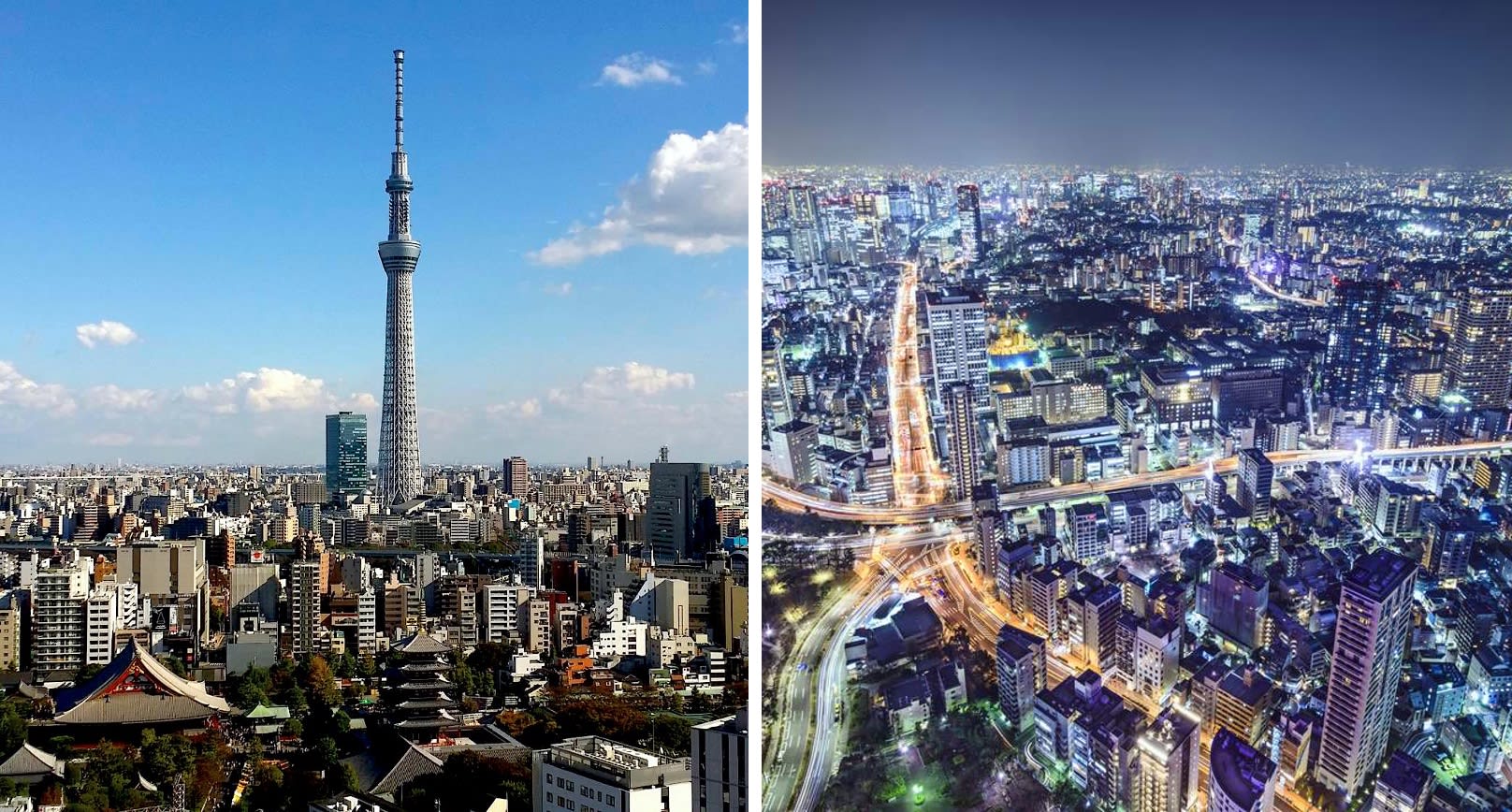 Another popular way to take in the scale of the city is to soar up the Tokyo Skytree. At a dizzying 2,080ft, it's the tallest tower in the world (and the second tallest structure after Dubai's Burj Khalifa). Opt for a ticket to the 350m or 450m observation decks for an unmatched 360º view; on a clear day you can see all the way to Mount Fuji.
Your Klook ticket also includes a chance to sample Washoku (authentic Japanese cuisine) with lunch or dinner at ORIGAMI in Asakusa.
View traditional Tokyo
Japan is steeped in tradition, with ceremonies, rituals and etiquette for celebrations, holidays, business, good fortune, and life in general. Buddhist Temples and Shinto shrines are literally everywhere and it all adds up to a way of life that is both fascinating and mysterious for the Western visitor.
You can disperse some of the mystery and see some of Tokyo's most important sights at the same time by signing up to a classic city tour that includes a river cruise and a Japanese tea ceremony. Visit and learn about the history of popular sites including the Tokyo Tower, the Imperial Palace Plaza and the Sensoji Temple. Brush up on your etiquette during a traditional tea ceremony, followed by an authentic lunch. You'll also have a chance to experience the colourful chaos of Nakamise-dori, one of Japan's oldest shopping streets, adorned with lanterns and stalls selling everything from samurai swords to more manageable souvenirs like lucky cat statuettes, pretty hair accessories and elegant fans..
Don't miss the chance to sample some of the city's best street food! Follow your nose to delicious fried meat croquettes, sweet melon pan bread or cooling matcha ice cream, or be like the locals who choose freshly toasted senbei crackers or Ningyo yaki – tiny sponge cakes filled with bean paste and shaped like local landmarks…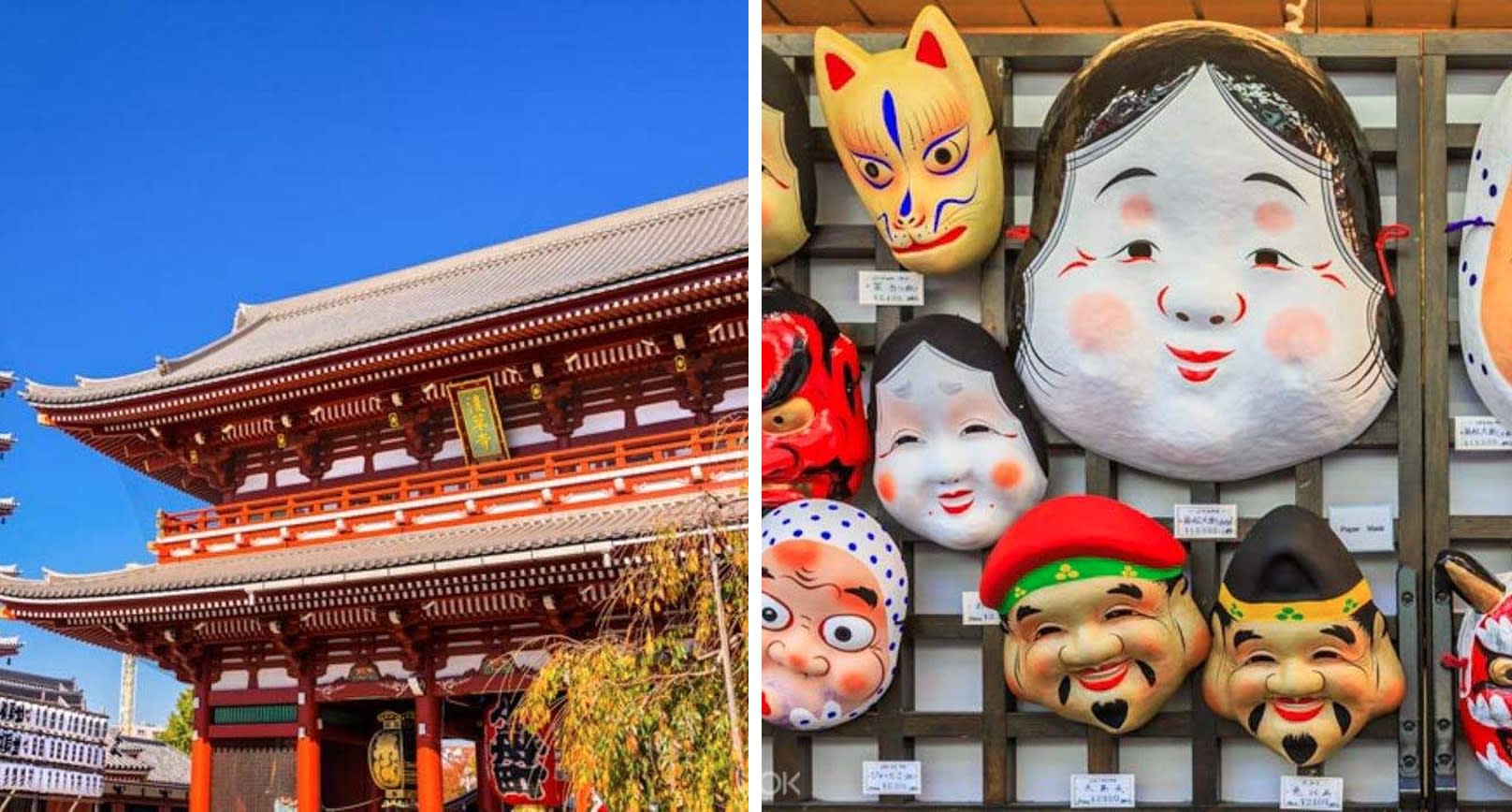 Another popular feature of Japanese life is onsen – natural hot spring baths that are found all over the country. Once they get over their shyness, tourists who brave the experience invariably fall in love with the opportunity to relax in steaming mineral water thought to be good for skin, circulation and general health. Onsen baths are often beautifully crafted from cypress wood, marble, and granite, and are invariably attached to traditional inns in areas of outstanding natural beauty.
Why not take the plunge at Tokyo's Oedo-Onsen-Monogatari, the largest hot spring park in Japan?
Soak your cares away in water that's bubbled up from 1,400m underground, in 13 varieties of indoor and outdoor baths. Don't miss the 'bath of silk', along with open air hot springs, steam baths, and rock baths, to ease tired muscles, soothe tired minds and refresh every part of you.
The experience includes the opportunity to dress in Yukata robes and stroll through shopping arcades specially created to echo the old-fashioned streetmosphere of 'Shitamachi', local neighbourhoods dating back to an age when Tokyo was still called Edo…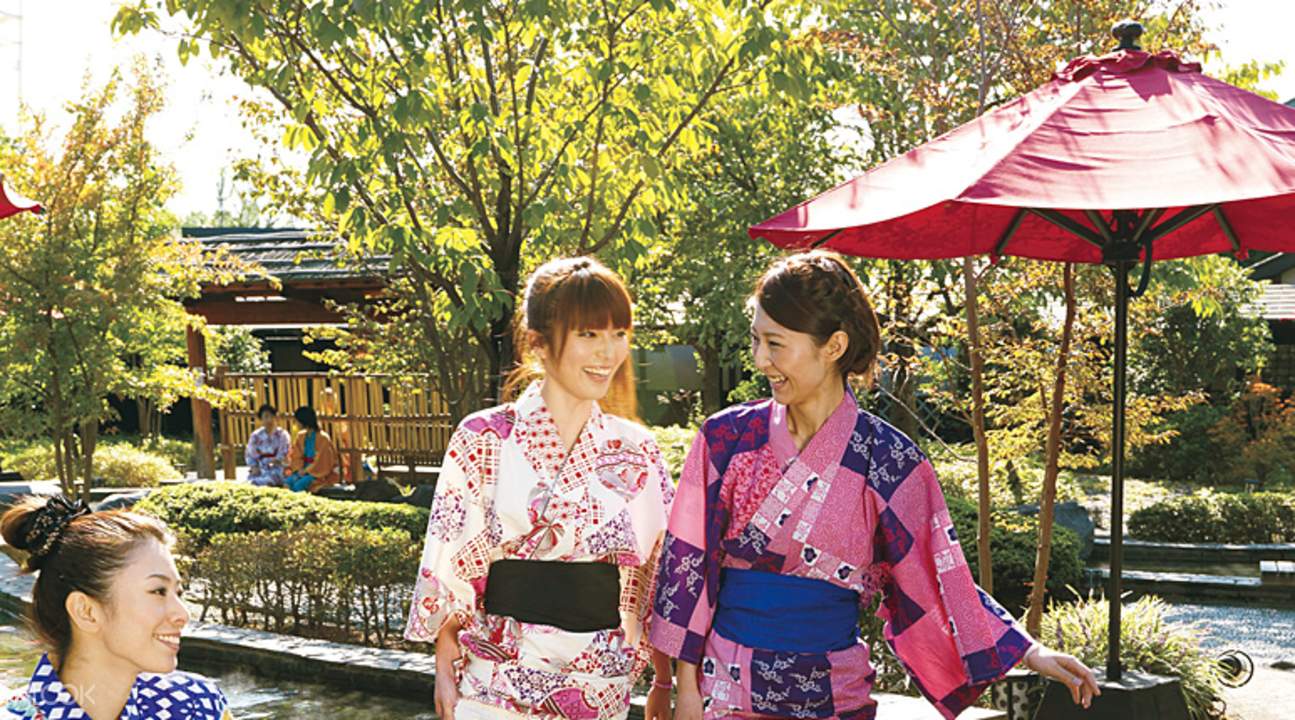 If you love the traditional look or want to score some sensational selfies, you might want to sign up for Klook's Kimono Experience with Japanese Hairstyling – available for individuals, couples or groups. 
Choose from a wide array of colourful kimonos in which you'll be expertly dressed in the traditional way, complete with robe, obi, bag, socks, shoes, and shawl. Your hair will be styled with decorative ornaments before you stroll the streets of Asakusa, the perfect backdrop for unforgettable Insta moments!
View modern Tokyo
You might be more inclined to think of Tokyo as a mecca of modernity…of technology and tight spaces, high-rise buildings, neon signs, gleaming glass, cars and cartoons.
And yet, we've heard it described as 'like New York but without the chaos'. Sure, the streets are thronged with thousands of people going about their business at all hours of the day and night, but the atmosphere is less stress and more 'zen'. People queue, people smile – and employ the Japanese phrase 'Shikata ga nai' which means "it can't be helped". Weird but wonderful for the Westerner…And the weird (and luckily the wonderful) doesn't stop there…
You can catch an unmissable glimpse of the city's bizarre culture at the Shinjuku Robot Restaurant, the themed dining spot that's become of one of Tokyo's most popular – if most bemusing – attractions. Despite its name it's actually more of a show than a place to eat. Marvel at the energy and laughter and be assured that you really don't have to understand what's going on to be wowed by the crazy, eclectic show of robots, dragons, ninjas, blue-haired dancers, drums, neon, and really loud music!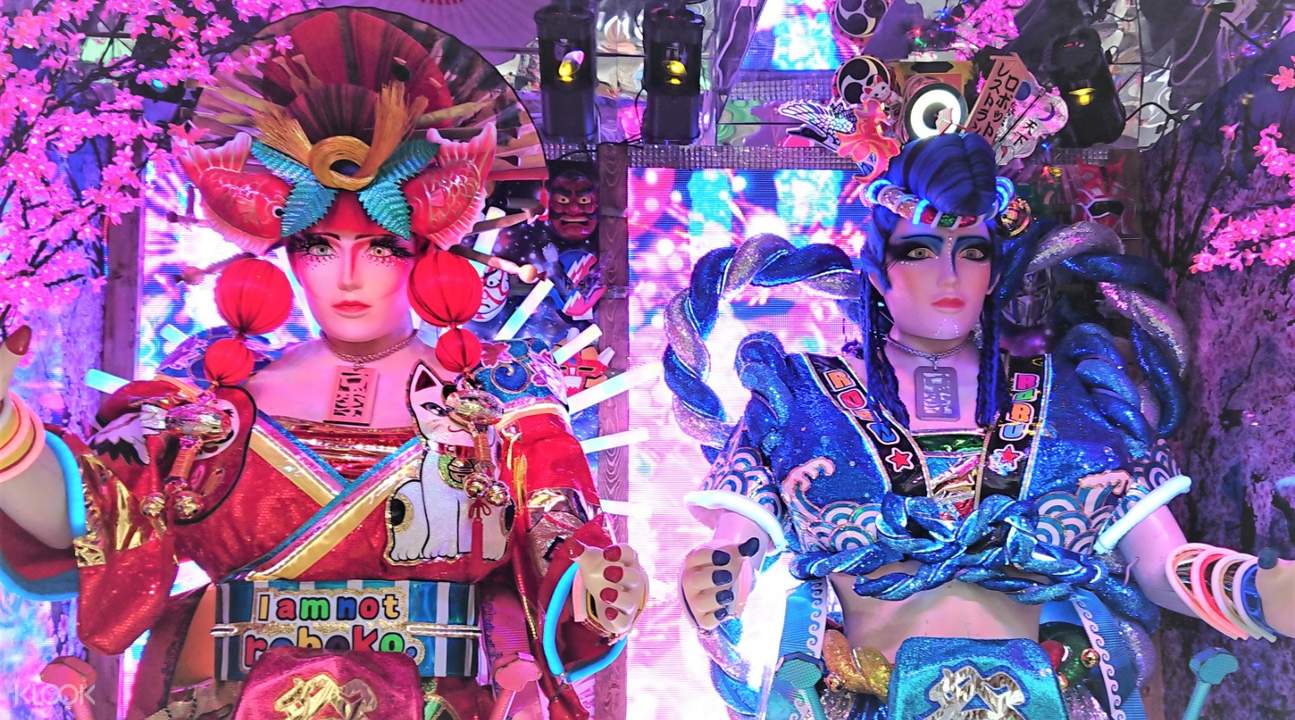 For a different kind of sensory explosion you might want to check out the amazing interactive gallery that is TeamLab Planets Toyosu Tokyo. Stop right now if you're thinking 'gallery' in the traditional sense. Visitors go barefoot around vast and extraordinary installation spaces in which they become part of the pieces…a truly unique visual experience that has to be seen to be believed!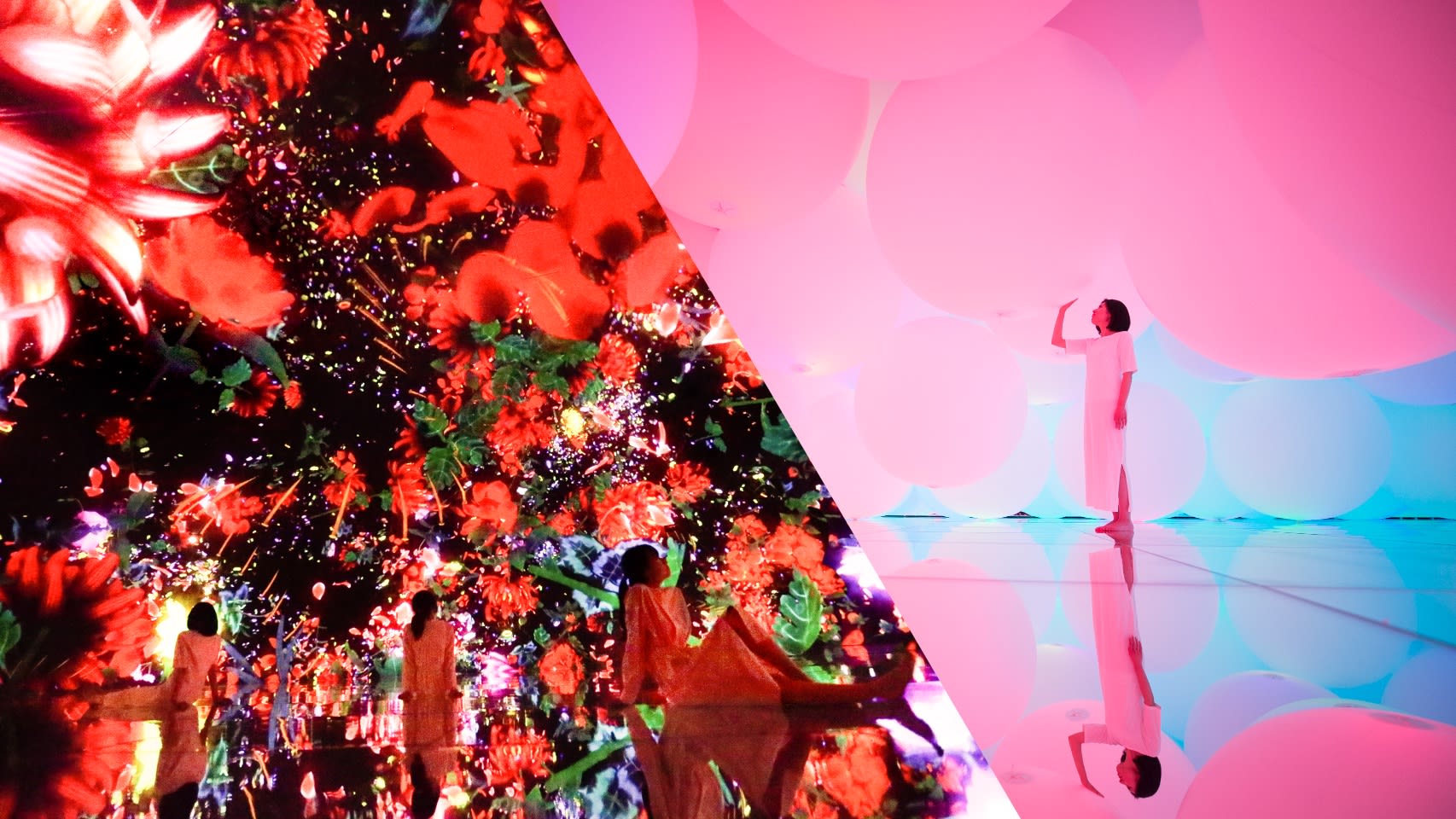 Or maybe you're a little bit Otaku? That's the Japanese term for a young person obsessed with computers or popular culture. Maybe you've always been curious about cosplay, perhaps you're a petrolhead, or simply searching for a fun and exciting way to get around the city?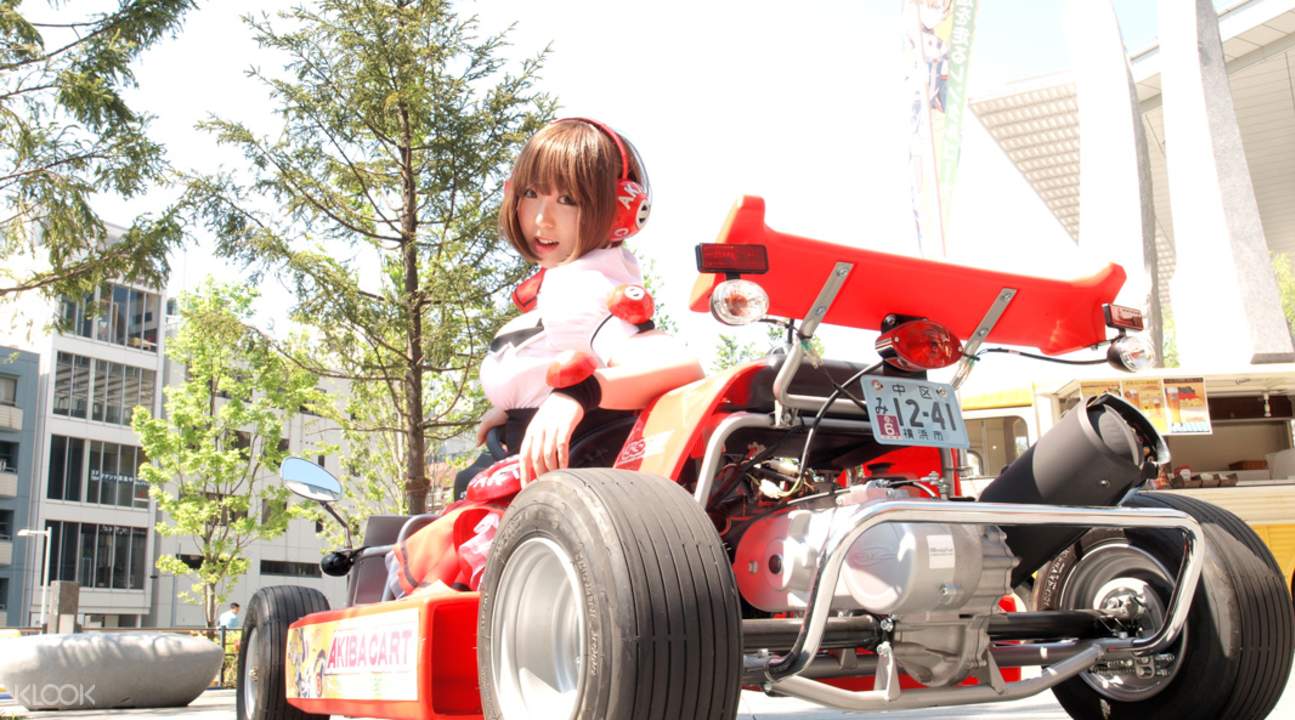 We can't complete this whistle stop tour of the wacky without including one of our very favourite experiences – the chance to go street-karting through the city dressed as a cartoon character! Show your driving license, choose your costume, pose for pictures with your go kart, then take to the streets and feel the thrills as you drive at up to 60kmph through the sights and bright lights of Tokyo's renowned Akihabara area. This happening shopping hub is famous for its electronics retailers, specialising in manga, anime and video games.
You'll not only be seeing the sights but becoming one of the sights; prepare to smile because you're going to be photographed by every passer-by!
View beautiful Tokyo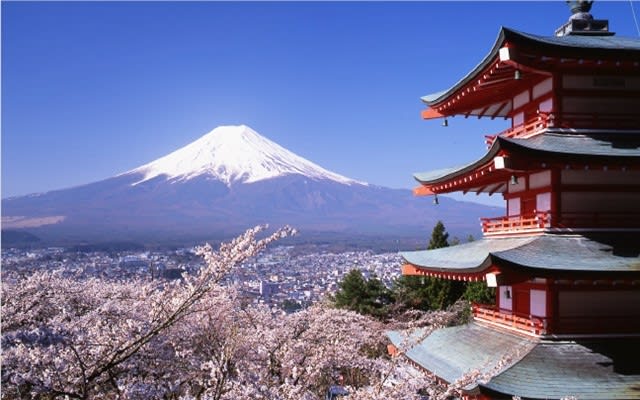 Talking of photo opportunities, no trip to Tokyo would be complete without taking a trip beyond the city limits to marvel at majestic Mount Fuji, Japan's most popular tourist site. Click Klook to choose which Mount Fuji day tour package suits you best.
More than 200,000 people climb to the summit each year, but a stop at the 7,546ft Fifth station provides stunning views of the Fuji Five Lakes and the Hakone National Park. Visit the eight lakes of Oshino Hakkai, believed to have been formed by earlier eruptions, and see the beautiful, five-storey pagoda. Maybe you'll choose to shop 'til you drop at the 210 designer stores at Gotemba Premium Outlets, or settle down to a relaxing onsen experience to round off your day.
An alternative is to explore the raw beauty of the red shrine at Hakone Jiniya followed by an ascent on the Mt Kachi Kachi Ropeway cable car for unparallelled views of peaceful Lake Yamanakako and Mount Fuji.

However you opt to spend the day – and your time in Tokyo – you can be sure that you'll enjoy unique experiences and make memories that you'll truly treasure forever.
Written by Jo Cooke