When you think of Cambodia, you might imagine ornate temples, awesome beaches, and incredible natural wonders. It's definitely a valuable addition to your itinerary if you're visiting Southeast Asia. When your travel-weary legs feel like they've run out of steam, Cambodia will energise you with its art deco Central Market, its glimmering Royal Palace, and stimulate your mind with historical and archaeological relics.
With a heady mix of immersive experiences, mouth-watering food and historic sites, it'll make you feel like you've entered an alternate universe.
Explore the labyrinth of temples in Angkor Wat, and go swimming with bio-luminescent plankton in Koh Rong – Cambodia is ripe for exploration.
1. Siem Reap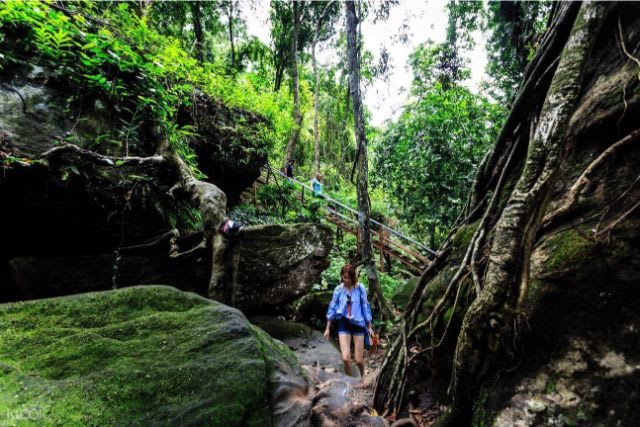 The gateway to the impressive temples of Angkor Wat, Siem Reap is a launch pad for many Cambodian adventures. There's plenty to do in and around the city, and with everything from backpacker hostels to chic hotels, the vibe is fun and eclectic. The food scene is as diverse as the accommodation, so whether you're after cheap, hearty street food or high-end dining, your inner foodie will do a little happy dance. The lakeside Sala Russey restaurant is a must.
Escape from the hustle and bustle with a Trek Phnom Kulen Waterfall Day Tour. Incorporating a scenic drive and the chance to take a dip in the cooling waters below the falls, this is one for your wish list. You'll also visit the River of a Thousand Lingas where elaborate carvings await your discovery. Venture further to see the famous reclining Buddha, the biggest of its kind in the country.
2. Banteay Srei District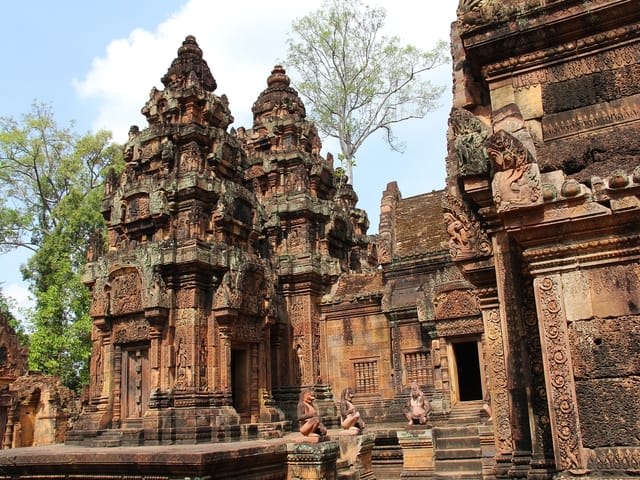 Close to Siem Reap is the intriguing and visually striking Banteay Srei District. It's here you'll find the impressive Banteay Srei Hindu temple, an intricate feat of Angkorian art. It features some of the best stone carving around and is one of the top cultural places to see in Cambodia. Keep those eyes peeled for the three central towers, which showcase impossibly detailed filigree relief work.
Banteay Srei Bufferfly Centre is another local must-see and is one of the largest fully enclosed butterfly centres in south-east Asia. During your time here, you could spot more than 30 types of Cambodian butterfly in all their kaleidoscopic glory. To find out more about local life, head to the Cambodian Cultural Village. Each village recreation has its own theme and provides insight into traditional ceremonies and local arts and crafts.
3. Tonlé Sap Lake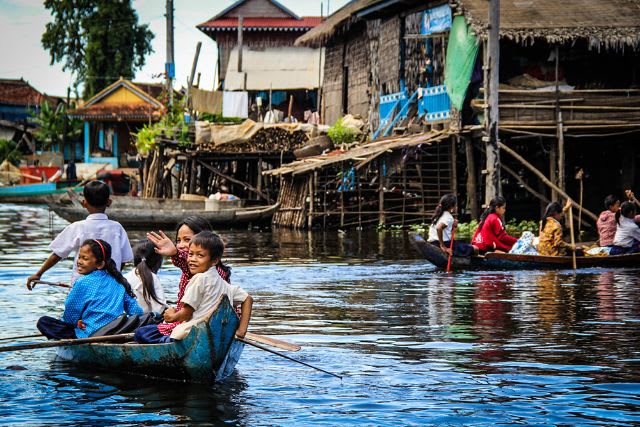 For an eye-opening day out, travel 15km from Siem Reap to Tonlé Sap Lake. Find out the way of life for Cambodians, and the incredible floating villages which populate this large expanse of fresh water. It's one of the top places to see in Cambodia and offers the chance to take a boat ride to see entire villages bobbing around on the water: houses, schools, markets, all anchored in their watery home.
Incredibly, Tonlé Sap is home to more than 1.2 million people who usually make their living fishing in and around the lake. There are a few floating restaurants in the area as tourism is slowly starting to rival fishing as an income source in Tonlé Sap. You could round off your trip with some local Cambodian dishes as the sun sets over the water.
4. Experience Cambodian cuisine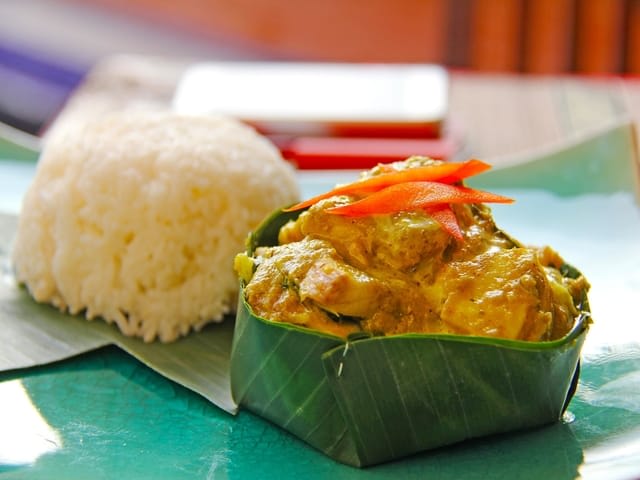 Cambodia offers culinary feasts galore, so make sure you don't miss out on the flavours of the cuisine when you're excitedly rushing from one must-see sight to the next. Cambodia's signature dish is fish amok. This tasty curry is made of diced fillets of freshwater fish mixed with coconut milk, eggs, fish sauce and palm sugar to create a wonderfully rich and creamy texture. The addition of kroeung, a paste of ground turmeric, lemongrass, kaffir lime and shallots, adds an extra something that all equals delicious!
Seafood dishes are plentiful, so you'll find more options if curry's not your bag. Crab and pepper, a simple dish popular in the coastal towns of Kep and Kampot, is very tasty. If you prefer meat dishes, give pork and rice and beef loc lac a go. Don't stress if you're a veggie, there are fresh salads and noodle dishes on the menu, too.
5. Angkor Wat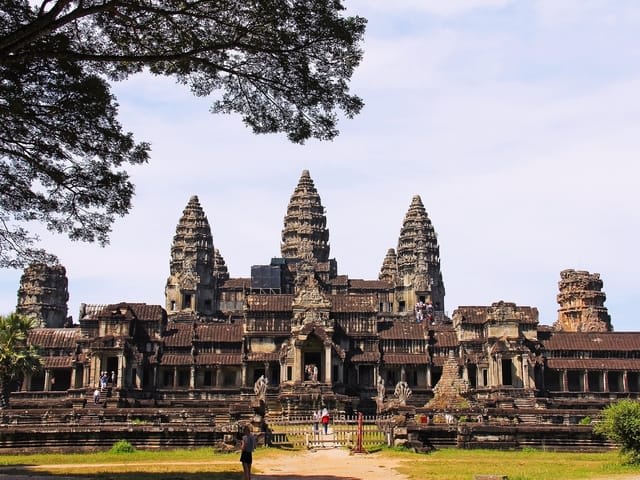 The temple city of Angkor Wat, easily reached from Siem Reap, is a real crowd-pleaser. Rated as one of the world's must-see ancient sites, it will transport you to times gone by. The expansive network of temples can take a day to explore, with highlights including Ta Prohm, which you may recognise as the location for the Tomb Raider movie, and the stone-carved faces of Bayon Temple.
Watching the sunrise over Angkor Wat is a highlight of any Cambodian holiday. Both locals and visitors congregate around the temple to watch the sun peeping out from behind ornate spires – truly a sight to behold. If you're staying in Siem Reap, consider the Sunrise Angkor Temples Small Circuit Private Tour by Tuk-Tuk offering the chance to explore both Siem Reap and Angkor Wat on one of these traditional vehicles, with lunch included.
6. Kompheim Village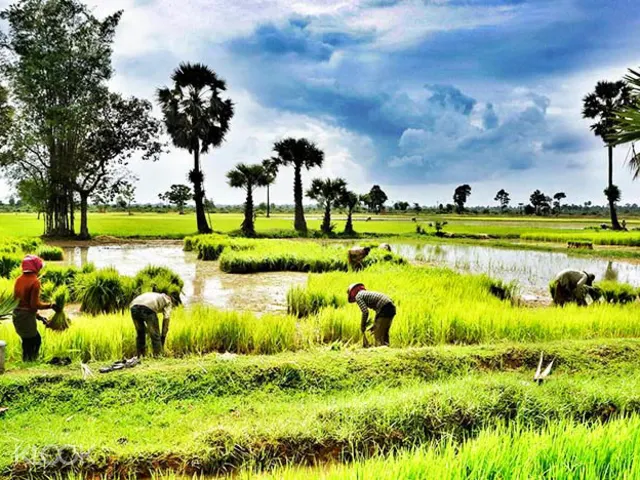 Part of any travel experience is the total immersion in a culture very different from your own. Getting to know the people, their day-to-day lives and what makes them tick adds an extra layer of interest to any overseas adventure. So when you're planning places to see in Cambodia, add a village tour to your itinerary.
The Kompheim Village Walk and Talk will take you on a 2.5-hour walking tour around a typical Cambodian village. You'll get to see daily farming and gain insight into villagers' lives. In groups of no more than four, you'll interact with the community in a meaningful and respectful way. Your guide will point you in the right direction etiquette-wise, and $5 of your tour fee is donated to a village fund. You'll be able to take photographs, but your guide will let you know when and where.
7. Phnom Penh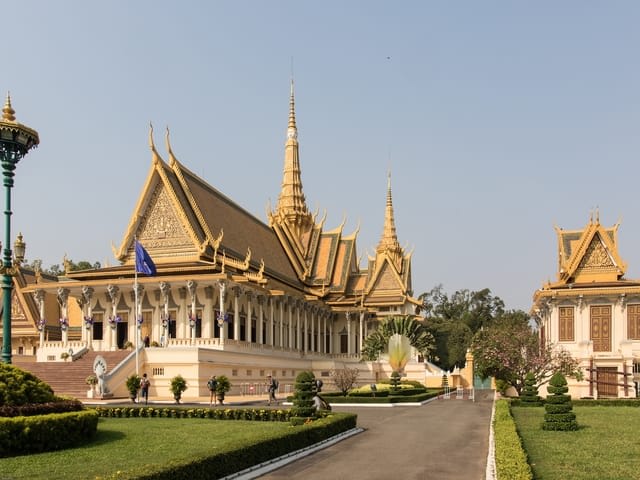 From ornate buildings to the exotic smells from the food stalls, Phnom Penh is a full-on sensory experience. This larger-than-life capital city will make you feel like you're on a film set, with high-energy markets, the honking horns of motorbikes and a cheerful café culture quickly absorbing you into the local scene. Head to the riverfront parks, restaurants and bars and to find the big three attractions: the Royal Palace, Silver Pagoda and the National Museum.
Once of the best ways to get your bearings and make the most of Phnom Penh is on foot. Go for the Phnom Penh City Walking Tour and discover all the city has to offer. Soak up the sights such as the Royal Palace and Wat Phnom Temple and take in the expert information provided by your professional guide. This trip includes your entrance to the Royal Palace, local snacks and return to your hotel by tuk-tuk.
8. Kirirom National Park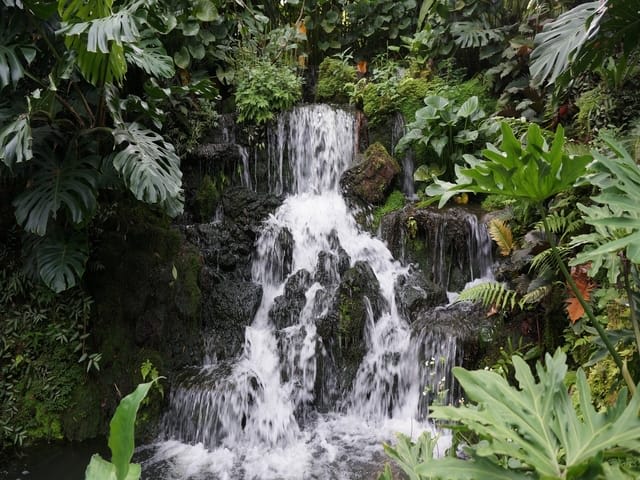 Just a 2-hour drive from Phnom Penh is the Kirirom National Park, sometimes known as Cambodia's Switzerland. Stroll through the cool pine forests and Cambodia's capital will feel a million miles away. Hire a bike to really explore and make your way to the cascading waterfalls for a refreshing dip – it beats any shower you've ever taken!
Hike or stroll through the park and take in some truly jaw-dropping views of the Cardamom Mountains – also a great spot for some full-on mountain biking in adventurous rocky terrain.
Pack a picnic or head to the waterfall and take a break from the sun over lunch from one of the bamboo huts. Hidden in one section of the park is an area with large dinosaur models, popular with selfie-taking locals and tourists alike.
9. Sihanoukville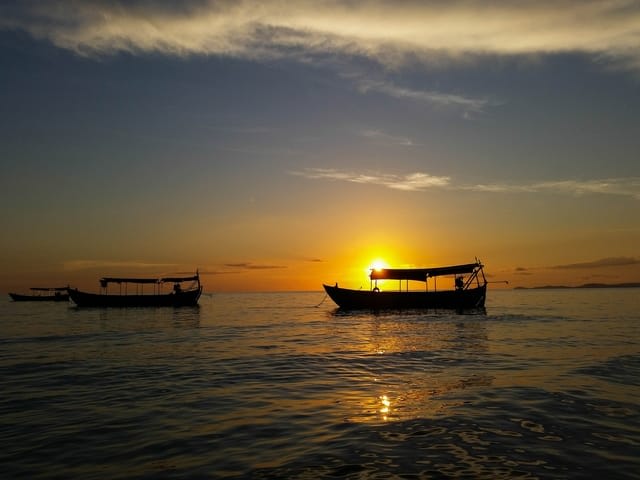 Sihanoukville is a good place to base yourself for a few days of beach action. From here, you can explore some of Cambodia's best white-sand beaches and offshore islands. Serendipity Beach is popular with backpackers in search of a battery recharge, and the shallow warm waters will soothe those aching limbs. Away from the buzz of the town is Otres Beach, an altogether more low-key affair, with some quirky guest houses and boutique hotels.
If you've ever thought about trying out some underwater exploration, Sihanoukville is the place to do it. For something different, the Koh Rong Samloean snorkelling tour  is a mesmerising experience, supervised by a professional guide. Take a night-time swim to activate the glow of the phytoplankton then don your snorkel for an experience you'll never forget. Back on dry land, try out Sihanoukville's chilled-out bars for late-night drinks.
10. Kampot River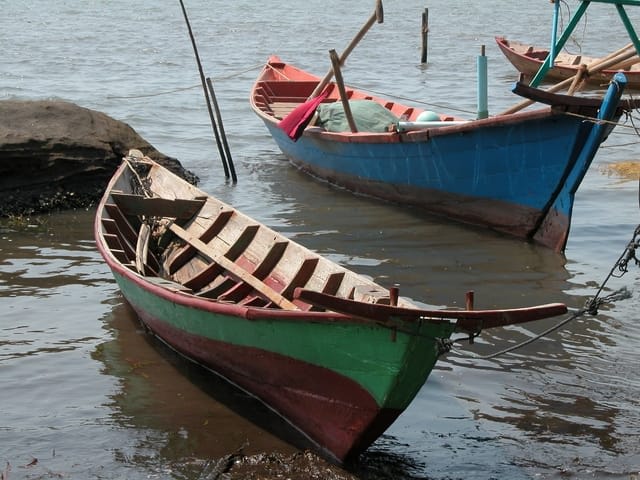 If you want a glimpse of authentic Cambodia, spend some time in the little town of Kampot, in the south. Dusty, sleepy and laid back, it's easily explored on foot. The town's riverside location, nestled at the food of the Elephant Mountains, is part of its charm, and locals and visitors join to promenade the riverbank on sunset strolls before happy-hour cocktails.
When you want to get active, the river is a popular swimming spot, but the most popular way to enjoy it is by kayak or stand-up paddleboard. There's also a surprisingly good selection of local eateries – you'll find everything from pizza and veggie burgers to sweet-potato cakes and other local treats. For a taste of local life, check out the salt fields, just outside town, or the pepper plantations in the nearby beach town of Kep.
11. Motorbike adventure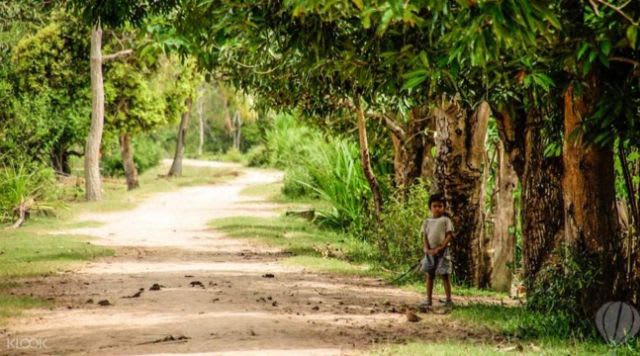 If you really want to feel like a young and wild thing, it's high time to hop onto a motorbike. It's a popular way to get around Cambodia, both for locals and visitors. Feel the wind in your hair as the scenery rushes by, and absorb the ever-changing natural surroundings.
There are lots of organised motorbike tours, including a Countryside Motorbike Adventure from Siem Reap. During this full-day tour, you'll visit secluded temples, ancient ruins and see the jaw-dropping treasures of the Khmer Empire. The tour is suitable for serious bikers and beginners, and you can share a bike with your experienced guide if you prefer. You'll get to practice before setting off and, of course, you'll be loaned a helmet as part of the package. The tour also provides a relaxing BBQ lunch, soft drinks and water.
Cambodia: experience nature, history and culture
Beautiful, serene and humbling, Cambodia is not a destination to be taken lightly. Fill your days with exploring every nook and cranny of its villages, ornate temples and local cuisine – there's plenty to learn about its history, way of life and people.
Planning a trip? You might want to check out  shared bus transfers to travel between Siem Reap and Phnom Penh, so you can relax and gather your energy for the next part of your journey.