Bustling late-night markets glitter with flashing lights, while mopeds whizz through busy streets.
Terraced paddy fields to white-sand beaches – Vietnam is home to landscapes you'll never forget. But in its high-octane cities, it does bright lights and busy, too. Bustling late-night markets glitter with flashing lights, while mopeds whizz through busy streets. Explore this country that snakes its way from north to south with mountains on one side, and the sea on the other – you'll be spoilt with things to do. Avoid the rainfall, and come during the dry season in either autumn or spring.
1. Ho Chi Minh City
Formerly Saigon, the city is known for its French Colonial landmarks and bustling streets.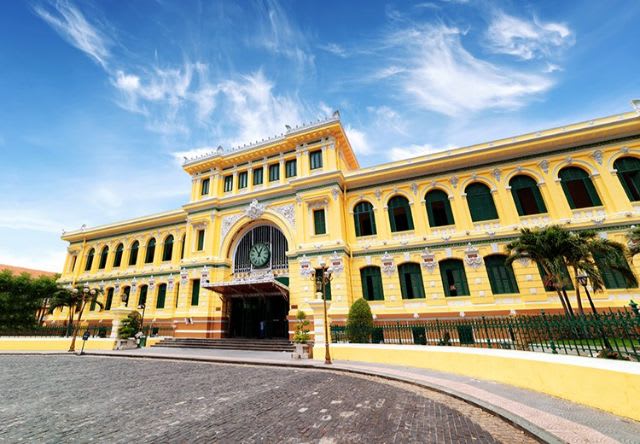 Ho Chi Minh City is a whirl of energy and colour. You'll find top bars and restaurants in the buzzy and vibrant bar scene in District 1, while the patchwork of stalls in Ben Thanh Market is great for picking up everything from souvenirs to electronics. When you travel to Ho Chi Minh City, there's no time for snoozing.
Delve into the city's not-too-distant past and take in both the War Remnants Museum and the Cu Chi Tunnels that web intricately beneath the city. The museum is stacked with artefacts, planes, and tanks from the Vietnam War – it's hard to believe they were all in use as recently as in the 1960s.
When it's time to chill out, head to Tao Dan Park with its lily-dotted ponds, sculpted hedgerows and temples – the perfect place to find calm in the city.
2. Hanoi
Hanoi, the capital city, boasts a mix of cultural influences and temples dotted around the city.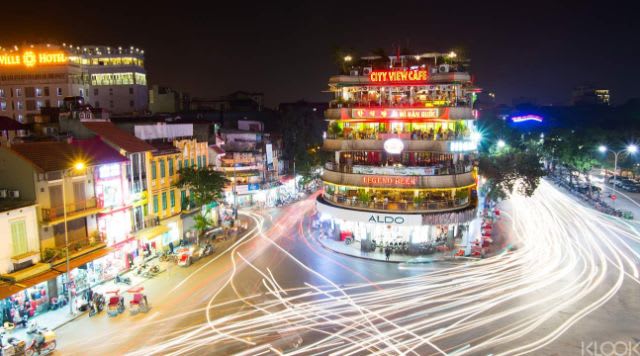 Wander the streets of the Old Quarter and you'll discover narrow winding streets with homes, cafes, stores and restaurants all nudged up together. Stop off for some banh mi (tasty Vietnamese baguettes) and plan your day.
For impressive views across Ba Dinh Square and the city centre, head to the Imperial Citadel of Thang Long. It's a Unesco World Heritage Site with grand architecture and a 40-metre-high stone fortress.
For something unique, the Thang Long Water Puppet Theatre close to Hoan Kiem Lake is a must-see. Where else in the world can you see puppets gliding across water accompanied by a Vietnamese orchestra? The shows last just under an hour so even if you're no theatre buff, it's still well worth checking out.
3. Ha Long Bay
The must-visit Ha Long Bay is a Unesco World Heritage Site.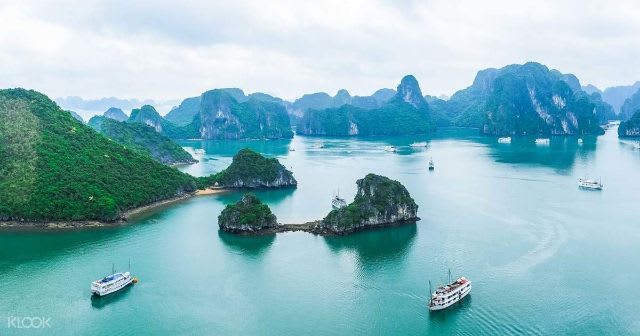 Ha Long Bay is the stuff of dreams and – unsurprisingly – a Unesco World Heritage Site. Tiny rocky tree-topped islands look as if they're floating in the cyan-blue waters below. The best way to experience this magical place is to book the Halong Bay Deluxe Cruise and get out into the bay. Choose a day trip if you're short on time or kick back and relax with a three-day deluxe cruise.
The islets here are studded with caves and grottos, but one of the best caves is Hang Dau Go. It's an epic space where an alien-looking landscape of pock-marked ceilings and stalactites with the wow factor. Ba Hang fishing village, meanwhile, is a floating village where you can buy super-fresh seafood from colourful floating huts.
4. Hue
Get your culture fix at Hue, also known as the Lost Imperial City.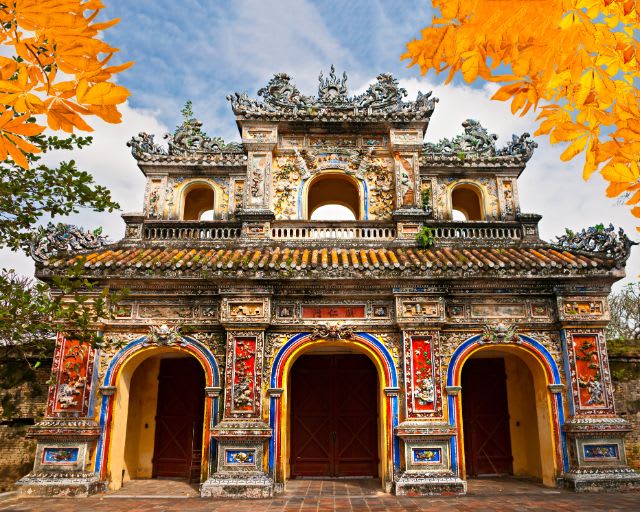 Hue is a cultural hub that sits on the banks of the Perfume River. It's known as the Lost Imperial City and when you gaze up at the city's palace, temples and exotic gates you'll soon see why. This walled city was once the capital of Vietnam and the home of the Nguyen Dynasty.
But it's not just awe-inspiring architecture that this place is known for – the food is seriously impressive, too. The top places to eat in Hue are found on both the south-east side of the river and on the Citadel side – the downtown area focuses on more touristy dishes like pizza. Go authentic and tuck into 'happy pancakes' – or banh khoai as they are locally known, or enjoy steamed dumplings stuffed with shrimp. When the sun sets, enjoy your own private dinner cruise onboard a traditional dragon boat on our Perfume River Dinner Cruise.
5. Da Nang
Head to the beachside metropolis of Da Nang for the best of both worlds.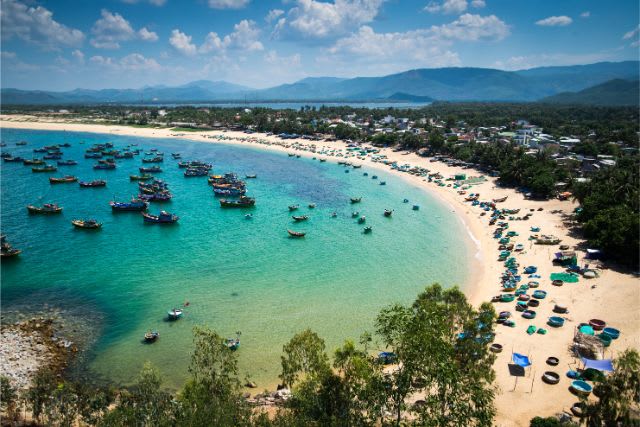 Want to mix the bright lights and sights of the city with the calm, cool vibes of the beach? Da Nang is just the place. It's one of Vietnam's biggest cities but the atmosphere is laid-back.
One of the best things to do in Da Nang is to take the steps up to the Marble Mountains. From up here you can gaze over beautiful beaches and spot a handful of 17th-century Buddhist pagodas. More awe-inspiring views can be soaked up at the Golden Bridge. It's a structure unlike one you've ever seen (the bridge looks like it's supported by two gigantic stone hands).
As Da Nang gets trendier by the minute, it's easy to be swept up in its bar, restaurant and hotel scene in the downtown area. But walk for a couple of minutes and you'll soon be at My Khe Beach. Stretching for 35km along the coast, it's great for sunbathing, watersports, and simply just relaxing.
6. Hoi An
Hoi An, with its hanging lanterns and cobbled streets, create a magical feel.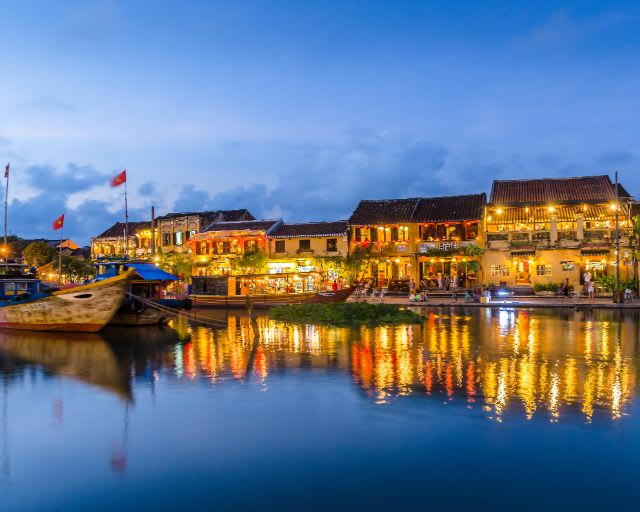 Hoi An is pretty. Very pretty. And the best time to capture it all is at night, when lanterns strung above cobbled streets light your path and give everything a fairytale feel.
Walk through the Old Town and stroll over the 16th-century Japanese Bridge and take your pick of the delicious street food on offer. With a mix of influences coming from Japan, China, France and Portugal, you'll marvel at the colourful blend of architecture.
One of the best places to visit in the Hoi An area is the Unesco World Heritage site of My Son. If you can cope with the early start, catch our Early Morning Tour to these ancient ruins. This temple sits in a lush green valley and the crumbling red stone ruins are most magical at sun-up.
7. Phu Quoc
In the south, Vietnam offers up island beach life with Phu Quoc.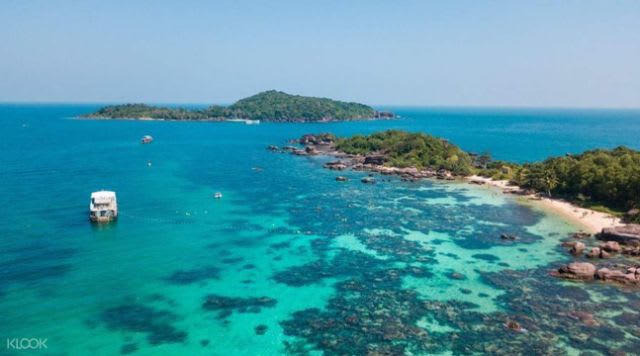 Phu Quoc is a heavenly island not far off the coast of Cambodia. Swathes of white sandy beaches slope down to turquoise waters, while palm trees fringe the rear. There are 28 islands in Phu Quoc district and most of them are uninhabited. The second biggest is Hon Thom and it's easy to get to – if you're not afraid of heights! Hop on the world's longest cable car ride and you'll swoop over treetops and the An Thoi Archipelago to reach Hon Thom (or Pineapple Island as it's known).
But Phu Quoc's past isn't as serene and peaceful as its present. It was once home to south Vietnam's biggest prisoner camp. Nowadays, the Phu Quoc Prison houses memorials, replica prisoner quarters, and murals depicting the brutal scenes the prisoners encountered.
8. Da Lat
Take a nature break in Da Lat, and stock up on fresh flowers, fruit and veg.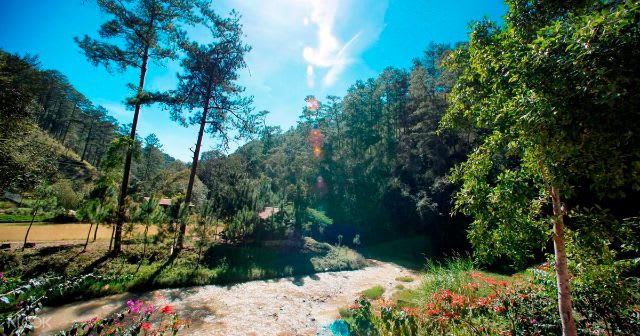 If you've had enough of Vietnam's busy cities, take things down a notch and spend some time in Da Lat. This place has a bit of a European vibe and is known by many as 'Le Petit Paris' – see if you can find the miniature Eiffel Tower! Pick up fresh flowers, fruit and veg that are all grown in the surrounding farmland, and take in the magnificent mosaics at Linh Phuoc Pagoda.
Outside of Da Lat itself, take a trip to the nearby waterfalls. The most well known is Elephant Falls – a powerful sheet of water that you can follow a path and walk behind. While you're here, make sure you spend some time at the Linh An Pagoda. Wander through the gardens and you can't fail to miss the smiley-faced Big Blue Buddha!
9. Nha Trang
Relax into a cooling mud bath at Nha Trang…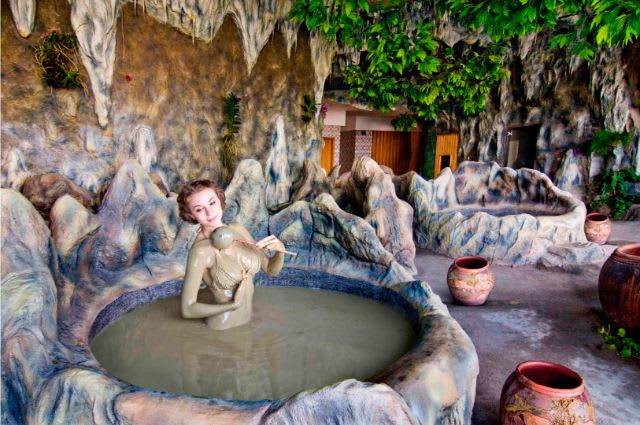 Serious relaxation is the order of the day in the coastal city of Nha Trang. Once a fishing village, this place is now home to hotels, restaurants, and beach bars which soak up the 300 sunny days that Nha Trang enjoys each year.
Out at sea, there are 19 small islands a boat trip away. Some boast crystal-clear waters and sandy beaches and make for an idyllic day trip. Or book yourself onto our Nha Trang Hot Spring and Mud Spa Half Day Tour where you can sink into one of three famed mud spas, relax and slather your skin in this mineral-enriched mud. You'll also get to take in the ancient Cham Ponagar Temple on this tour.
Nha Trang is a good choice for the best dinner and drinks in Vietnam. You'll find the freshest seafood and trendy restaurants along the seafront, while the night market is the perfect place for street food and an ice-cold beer.
10. Sapa
Visit the famous rice paddies in Sapa.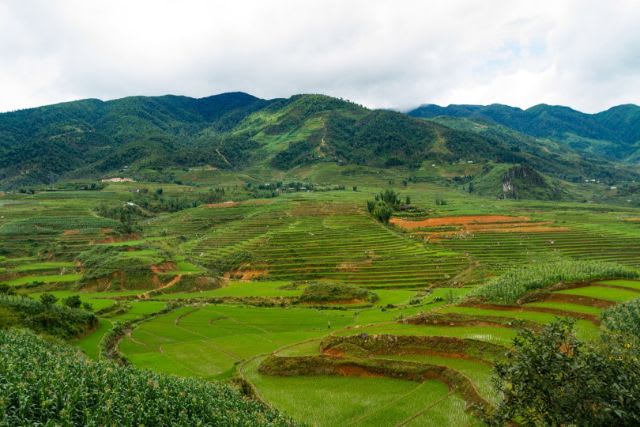 Sapa is blessed with a cooler climate, fresh mountain air and lush green slopes, so head here for a quieter, calmer travel experience. Sapa is basically a collection of small villages dotted among rolling hills. Pick up handcrafted souvenirs as you trek into the mountains and pull up a seat at a mountain bar to take it all in. If you can handle it, you can hike up Fansipan – the tallest mountain in Vietnam.
Aside from the paddy fields, the best things to see in Sapa are the waterfalls. Two of the best are the 200-metre high Silver Waterfall and Love Waterfall – both close together. Locals believe fairies used to wash in Love Waterfall and when you see it, you might start believing, too!
Vietnam is spectacularly diverse, from Hanoi to Ho Chi Minh
From Ho Chi Minh City in the south to Hanoi in the north, Vietnam packs in a huge variety of things to do. Tuck into street food at night markets or indulge in 5-star dining at seafront restaurants. Soak up the sun on paradise-style beaches or trek through lush green paddy fields in cool mountain air. And if you want to tick off a host of Unesco World Heritage Sites, you've come to the right place – Vietnam boasts eight.