The Balinese are amazing with kids, and so many of the top restaurants and resorts go all out to make them feel at home.
Getting away to a tropical paradise should be idyllic – and Bali has all the natural elements and luxurious touches to make it so. But as you know, travelling with the little ones can be more stressful, especially if there's nothing to keep them occupied. That's not a problem in Bali, though! The people are amazing with kids, and so many of the top restaurants and resorts go all out to make them feel at home. Throw in some fantastic family-friendly activities and you have quite a destination. Here are the best things to do in Bali with the kids.
1. Make a splash at Waterbom Bali with the kids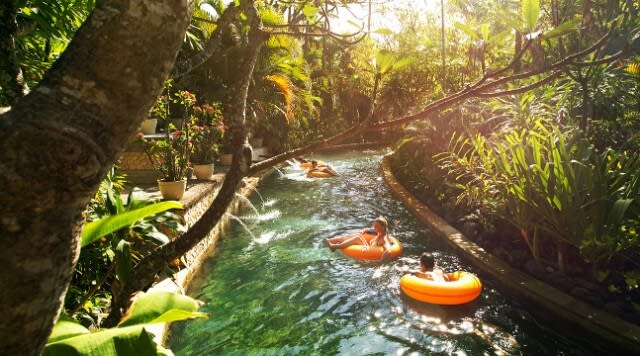 Who doesn't love a water park? Handily located in the centre of Kuta, Waterbom Bali has the world's longest waterslide, The Constrictor, if you're feeling brave, a crazy 70km/hr ride called Climax. But if that's not your game, there are heaps of other rides and attractions catering for the whole family. There's a lovely long Lazy River to drift around in, along with slides and wet play areas for children.
When it's time for a little break, there are private gazebos dotted around within a lush garden area that covers half of the park. You can find all kinds of food options, too, from pizzas right through to healthier options. Paying for all your treats is super-easy – just load up your cashless payment band when you get in, stash everything in your secure locker, and get involved.
2. Float their boats with super-fun inflatable rentals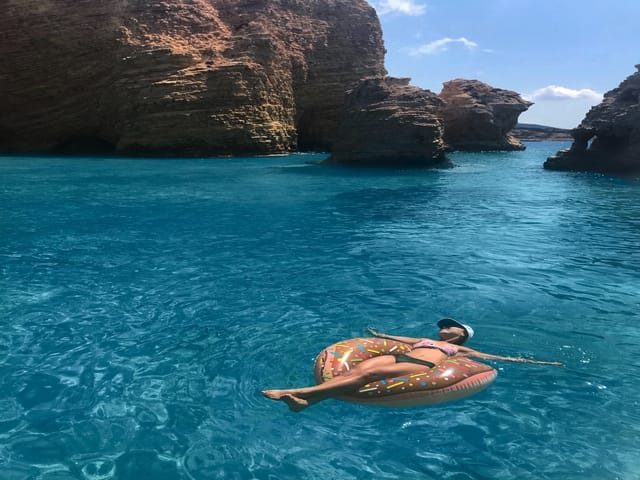 There are so many elegant pools and ocean waters to play about in, that inflatable action has to be included in any family guide to Bali. And luckily for you, GetFloat Bali has loads of creative floaties that kids of all ages will love – renting them means that not only is it better for the environment, but you can save some precious luggage space. Just choose the ones you want, and hey presto, these guys will deliver them to wherever you're staying with no delivery charge.
Floating pizzas, unicorns, ponies, watermelons, pineapples and donuts, they're all on tap, and they'll even inflate and deflate them for you. You can pick them up if you like, as they have locations all over Bali – what could be simpler?
3. Take a walk on the wild side at Bali Zoo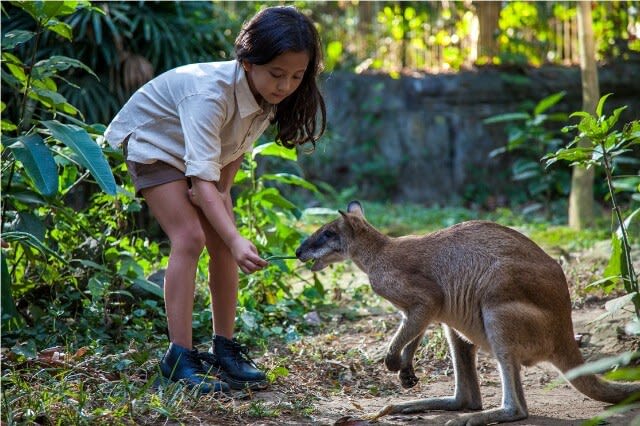 A host of eclectic wildlife call Bali home, and you can see loads of them at the epic Bali Zoo, right in the heart of town. More than 350 mammals, exotic birds, insects and reptiles live here, housed within a lush, secure, friendly environment, with plenty of shows and educational elements to feed your little one's curiosity. If you upgrade to the Explorer Tour, you get to feed the animals, and that also includes transfers and lunch. If you do the enchanting night version, you have dinner there and get to experience the wonder of the zoo after dark.
And if you want to really ramp things up, you can go for the Dinner with The Great Elephant package, an amazing experience for the whole family. It's a good idea to book in advance, so you don't need to bother with the queues.
4. Break your fast with the orangutans at Bali Zoo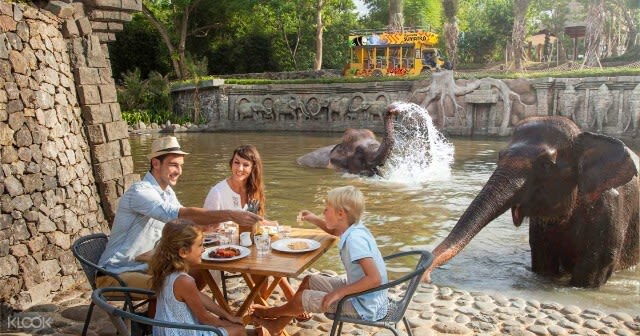 Breakfast here is a special experience, such is the scenery on offer in these parts. But breakfast in Bali with orangutans – that's something else! Over at Bali Zoo, you'll be able to tuck in to a full breakfast spread right next to these ginger beauties, who will be frolicking around close by as you watch on and enjoy your breakfast.
You can choose between an authentic Indonesian menu or something more continental, along with seasonal fruit drinks, a lovely cup of English Breakfast tea or the local Kopi Tubruk – rich, sweet coffee. And you can upgrade to include return transfers from your hotel, which makes the whole thing nice and easy.
5. Have a family rafting adventure with Bali Sobek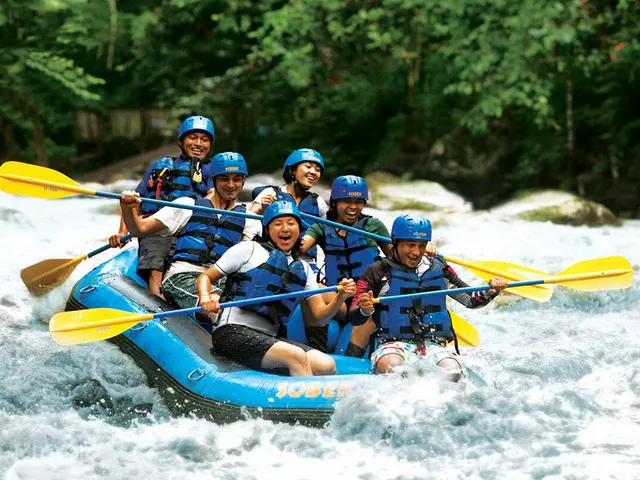 This has to be one of the top things to do in Bali with the kids. You can choose between braving the Telaga Waja River on the slopes of the Mount Agung volcano, or the Ayung River, which is near the centre of Ubud. Both are excellent, but Ayung is calmer and less demanding, so ideal for non-swimmers and little ones. This epic two-hour journey will see you pass an abundance of natural beauty, from rice fields and deep jungle to stunning plantations and stone carvings.
You'll stop halfway for a welcome drink beside a jaw-dropping waterfall, before taking a little stroll to your next Indonesian buffet lunch. The crew at Bali Sobek will make everyone feel at ease, and will guide the whole family every step of the way.
6. Get off the beaten track with an ATV ride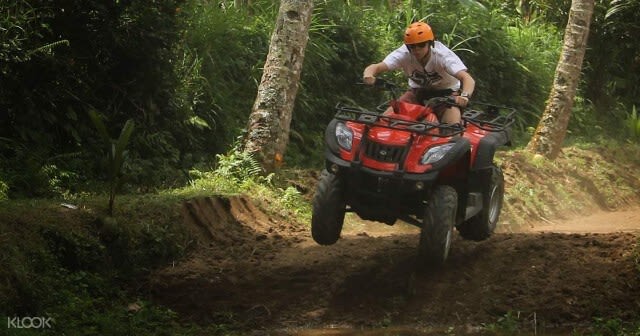 Bali has some fun terrain to explore, and an All-Terrain Vehicle is the ideal way to do it. As you power along the trails, you'll experience breathtaking natural vistas. You'll whizz by rice fields, rivers, jungle and traditional Balinese villages. An experienced Bali ATV Tour instructor will guide you through the day trip, so everyone will be looked after, and you can choose to ride alone or in tandem.
The package includes hotel transfers, a welcome drink, an Indonesian buffet lunch and use of the shower, towel and locker facilities. You can pay by cash, PayPal or credit card. It's not suitable for little ones under nine though, so bear that in mind.
7. Go on an incredible family safari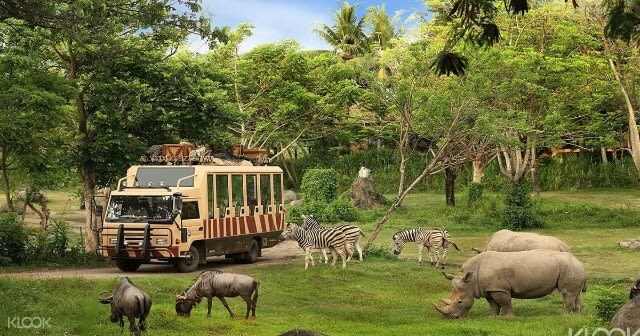 Get up close and personal with rhinos, ride elephants, take in a show, and enjoy a delicious lunch at the on-site gourmet restaurant. Yep, it's all here at the 40-hectare Bali Safari and Marine Park, home to 400 animals, including tigers, leopards, Komodo dragons, and orangutans. The all-action Rhino Package gives you entrance to the park, along with unlimited Fun Zone access, which means you can sample the mini-theme park, water park, and the aquarium as well.
Safari Journey rides are all included, as well as Express Line entry for quicker queuing, and great seats for the epic Bali Agung Show. The Tsavo restaurant here is a cracking one, offering an inclusive gourmet lunch among elegant and traditional Balinese surroundings. You get a photo with the animals and a souvenir thrown in, too, along with transfers to and from your hotel.
8. Get creative at the Dream Museum Zone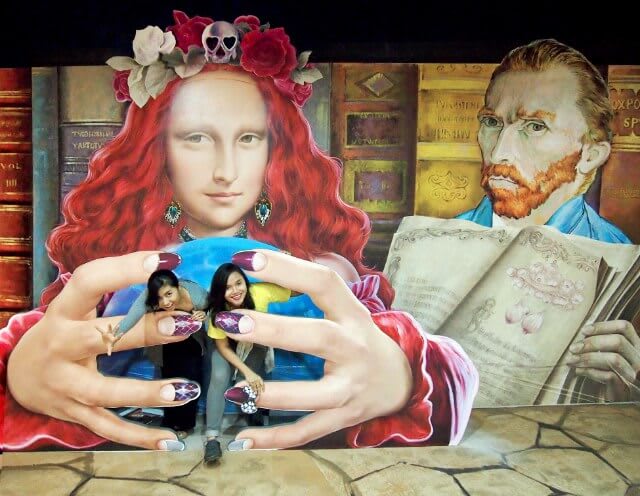 If you have the odd downpour and you're not sure what to do, give this place a try. It's an interactive art gallery with heaps of 3D life-sized murals you can play with and even be part of. All the images are used as interactive, dreamy backdrops to create this crazy 3D photography – and you and the kids can be the subjects.
The photos make ideal family presents or to put up at home. In total, this attraction has 20 artworks across 14 categories, inspired by Indonesia, Egypt, the Amazon and many others, so there's plenty to choose from. You can be part of some master works, too, as they have a Renaissance Pavilion, with classics like the Mona Lisa, where you can appear to hold the fruit, and Van Gogh with shaving foam, where you get to pose as if you're giving him a shave. A lot of fun.
9. Eat with the family in Bali
Bali is a family-friendly place, so finding nice places to eat to suit everyone is easy. It's well-priced, too, which is handy if you're paying for a big tribe. The people are great with the little ones, and there are lots of Western cuisine options, in case the children don't fancy spicy Asian dishes.
In particular, Sayan House in Ubud is a lovely spot. Overlooking the Ayung River Valley, the restaurant features a cosy alfresco dining area with Asian-fusion cuisine. There's also a fixed price menu, which is great for families. Kids will love the gardens and playground area, too.
Over in Ungasan, Sundays Beach Club provides a secluded beach retreat, complete with Mediterranean cuisine, fun shakes the kids will lap up, thatched eating areas to keep out of the sun, and loads of family-friendly activities.
10. Get around easily with private transfers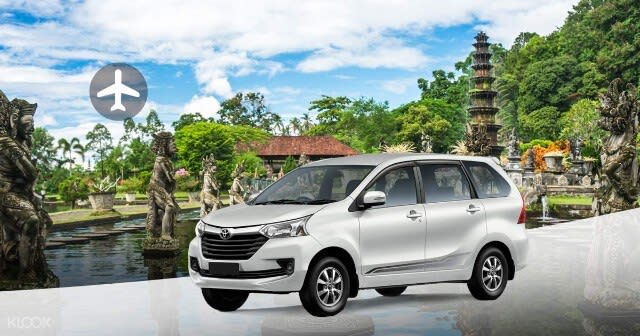 Getting about in Bali can be a touch stressful, especially with tired kids in tow. With private transfers, however, you can avoid the hustle of pushy cabbies and get nice and easy pick-ups from the airport and your hotel. You'll travel in a comfortable air-conditioned car driven by an experienced professional chauffeur. These are plush, modern vehicles that can take up to 12 people, which is great for big parties, with plenty of storage, too. You can book everything ahead of time, and the prices are excellent no matter where you're heading to. Once booked, you'll get email confirmation and your e-ticket instantly. You can also request child seats, and if you let them know you'll be carrying large items like surfboards, they'll make the appropriate arrangements. Now that's how to travel.
11. Call and surf for less with Bali SIM cards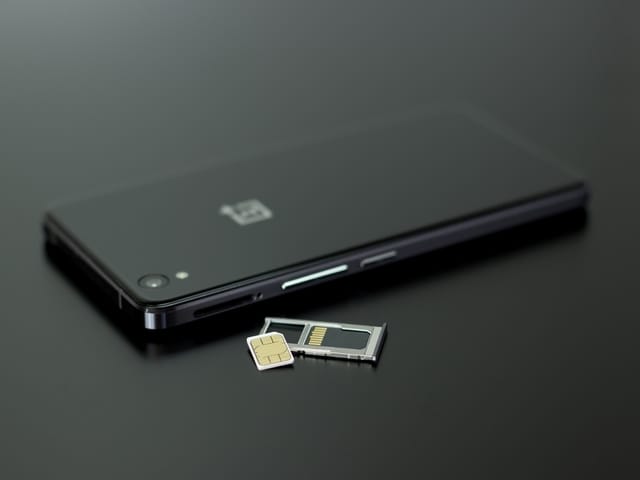 We can't do without our phones these days, but using them as we usually do abroad can be expensive. Luckily, you can get your hands on a 3G/4G plan SIM card to use while you're in Bali, which keeps the costs of staying in touch with friends and family back home down – not to mention with your teens!
With Bali SIM, you pre-book your SIM and pick it up at the airport, so you're good to go as soon as you arrive. The mobile service is reliable and fast, which means you can do everything you need to. It lasts for 30 days, and can be incredibly convenient for booking transfers while you're in Bali. Once you've booked it, you'll get a confirmation email and e-ticket instantly, so you'll have everything you need to claim your SIM when you get to the airport.
A fun-filled family trip in Bali
Bali has such a diverse array things to do and see, and so much of it is tailor-made for families. The natural wonders provide so many opportunities, from white-water rafting alongside the rice fields, to seeing wildlife in their native habitat. There are lovely, family-friendly places to eat and tons of water-based activities that everyone will love. With a little planning, you can make this a beautiful, relaxing, fun-for-all-the-family trip that will last long in the memory, and the weather is as warm as the welcome.