Although Cherry Blossom season is the most iconic, you'd be crazy to ignore Autumn in Japan – aka the Momijigari (Red Leaf Hunting). For three months a year, the Land of the Rising Sun is ablaze with a sea of red. Autumn in Japan is stunning, temperatures dip after the scorching summer and the colours of the leaves change to vibrant shades of orange, red, yellow, and brown.
Cities like Osaka, Kyoto, Tokyo and Hokkaido are a magical sight this time of year, and of course, they make for mesmerising and beautiful photos.
To help with planning, make sure you check out the 2019 Autumn Foliage Forecast –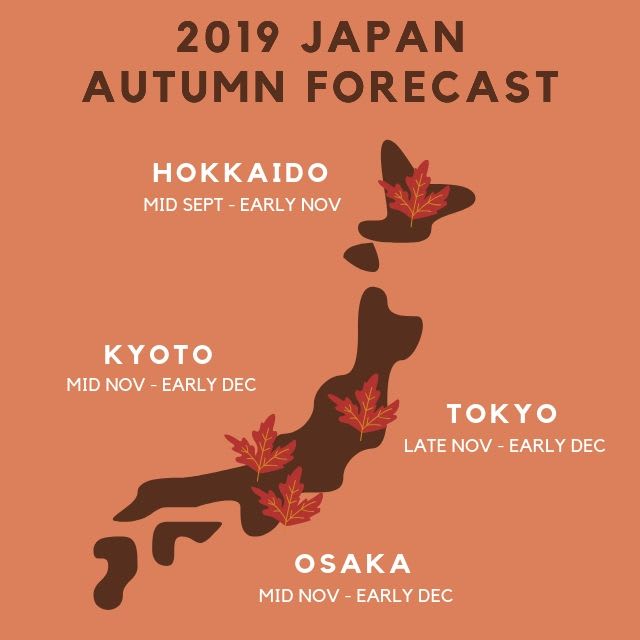 Get you camera at the ready – here are our top 10 spots for catching the autumn foliage at its best:
Osaka
1. Minoo Park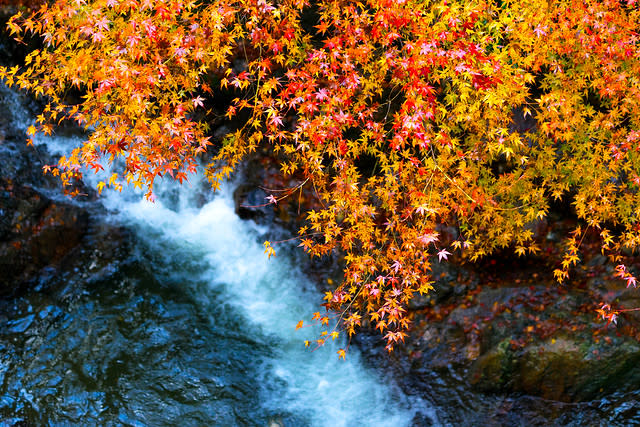 Minoo Park is one of the best spots to enjoy the autumn in Japan. It's a beautiful park, about 30mins outside of the commercial centre, and as such, is free from the usual crowds –  meaning no need to crop tourists out of your photos!
For the best shot, follow the inclined path and look back across the bridge – you won't be disappointed. And don't forget to try the freshly fried maple leaf tempura from any of the street shops in Minoo Park!
Minoo Park
Address: 1-18 Minookoen, Minoo, Osaka 562-0002, Japan
Operating Hours: 24 hours
Nearest Station: Senri-Chuo Subway Station (via the Amazing Osaka Pass)
2. Osaka Castle
Plunge deep into a golden oasis of gingko trees when you drop by the iconic Osaka Castle. This heritage site has long been a popular picnic spot and especially so during the fall season. Many passionate autumn fans lean against gingko trees to catch sight of the grand castle draped in yellow hues.
To capture THE shot, climb to the top of Osaka Castle for a majestic overview of Japan's finest city. Not a single photobomber in sight!
Osaka Castle
Address: 1-1 Osakajo, Chuo Ward, Osaka, 540-0002, Japan
Operating Hours: 9am to 5pm
Entrance fee: 600 Yen ($7.57)
Nearest Station: Osakajokoen Station (via the JR pass)
Kyoto
3. Sagano Romantic Train
Hop aboard the Sagano Romantic Train, a 25 minute ride that takes you around the Arashiyama district. As you glide past landscapes flamed in a blanket of fiery red, you'll understand why it's known as one of the most romantic trails…  *sigh*.
Sagano Romantic Train
Opening Hours: 9am to 4pm
Nearest Station: Arashiyama Station (via the JR Pass)
4. Tofukuji Temple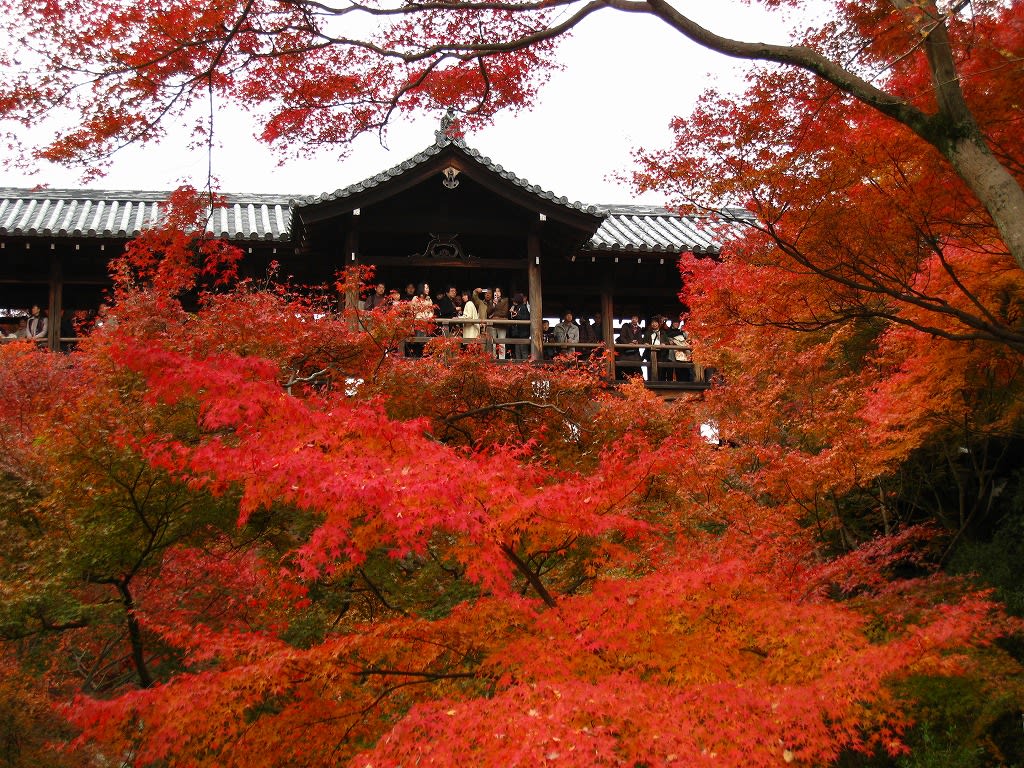 For the 'avid fans of autumn' (and yes, that's a thing), the autumn foliage at Tofukuji Temple is a household name. Every year, the Zen temple at Southeastern Kyoto blossoms into the most vibrant crimson, beckoning locals and travellers alike to fall in love with Japan all over again.
The best vantage point is not at the peak of Tofukuji Temple but along the Tsutenkyo Bridge. The 100 meter long walk is lavished with valleys of burgundy maple trees, another sight you wouldn't want to miss. Capture the temple at its peak in November.
Tofukuji Temple
Address: 778 Honmachi, Higashiyama Ward, Kyoto, 605-0981, Japan
Opening Hours: 9am to 5om (April to October); 8.30am to 4pm (November to early December); 9am to 3.30pm (December to March)
Nearest Station: Tofukuji Station (via the JR Pass)
5. Tenryuji Temple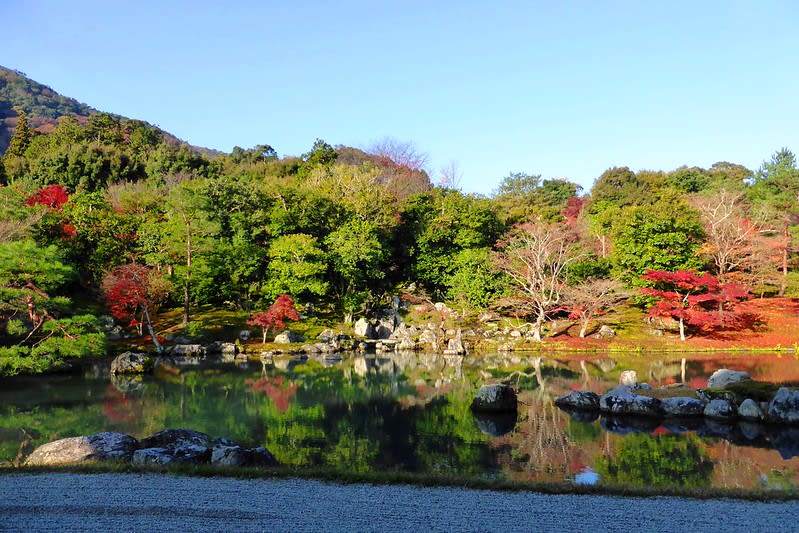 Second to none, the Tenryuji Temple is another unbeatable spot when it comes to catching the autumn hues. Waste no time and head straight inside to the Hyakkaen Garden for even more stunning foliage.
This UNESCO World Heritage Site is also home to famous paintings like "The Cloud Dragon" right on the ceiling of the Hatto Hall which are well worth a stop, especially if you're with your significant other!
If both the Tofukuji and Tenryuji Temples are on the agenda for autumn in Japan and you prefer being chauffeured around (who doesn't!?), then this Maple Leaf Tour is for you. 
Tenryuji Temple
Address: 68 Susukinobaba-cho, Saga Tenryu-ji, Ukyo-ku
Opening Hours: 8.30am to 5.30pm (21st March to 20th October); 8.30am to 5pm (21st October to 20th March)
Nearest Station: Arashiyama Station or Saga Station (via the JR Pass)
Tokyo
6. Watarase Keikoku Railway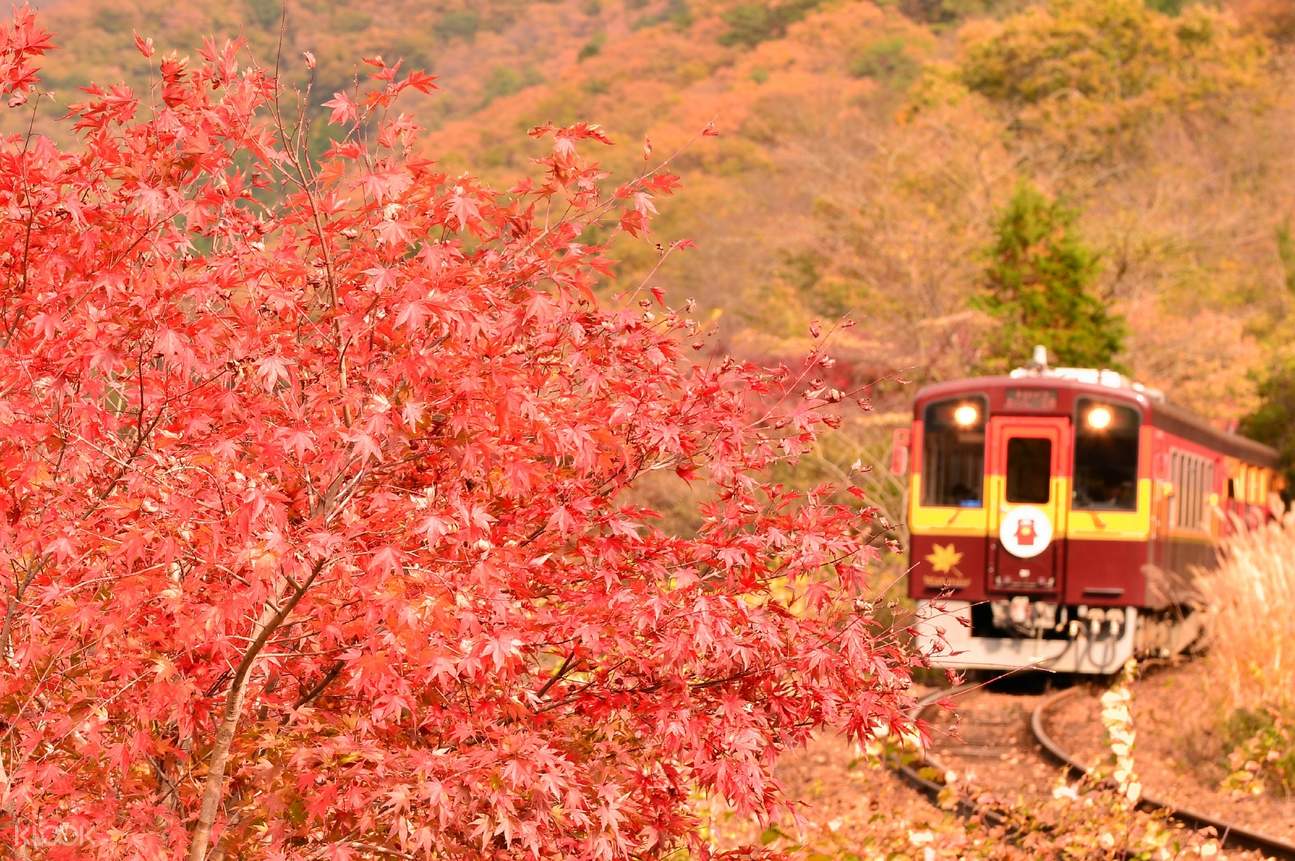 A ride on the Watarase Keikoku Railway is like a scene straight out of a romcom! 
Even the lazy are rewarded here! Simply sit back and soak in the gorgeous swath of red gliding by.
Once outside the city, the Takatsudokyo Gorge is a stop along the Watarase Keikoku Railway route that is worth sitting up for. The popping red bridge is hard to miss and makes for a great photo! If you're feeling energetic, you can disembark here and cross the iconic geometric bridge for another vantage point of the amber rainforest.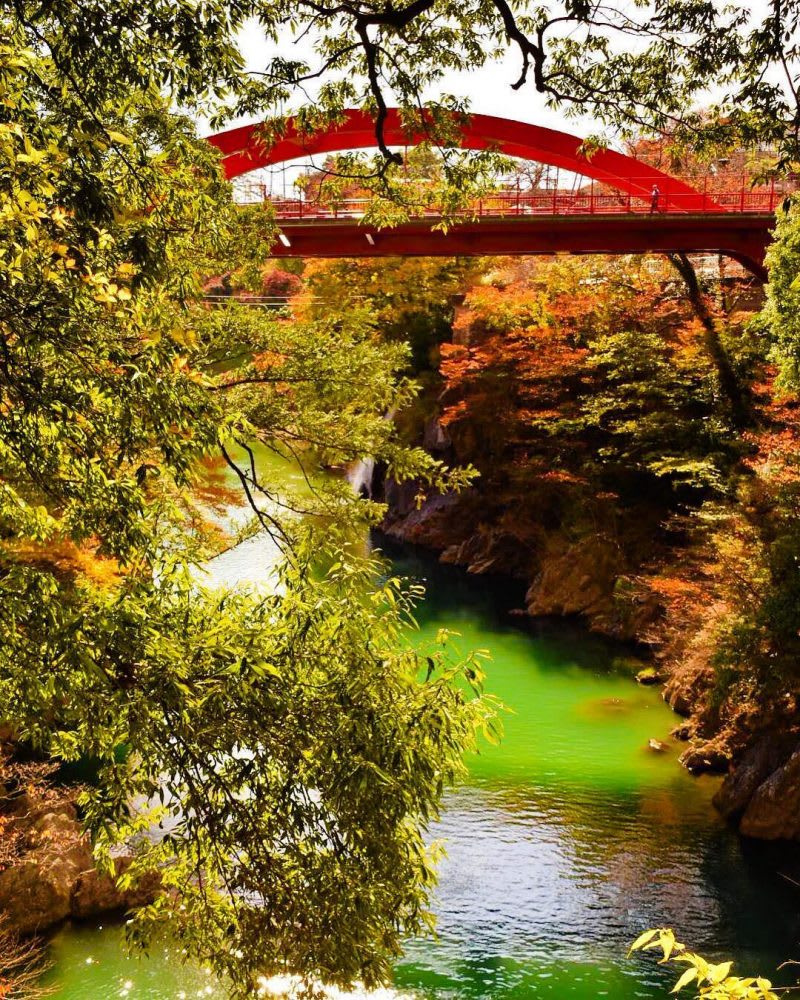 Takatsudokyo Gorge
Address: Omama, Midori City, Gunma
Opening Hours: 24 hours
Nearest Station: Omama Station (via the JR Pass)
7. Rikugien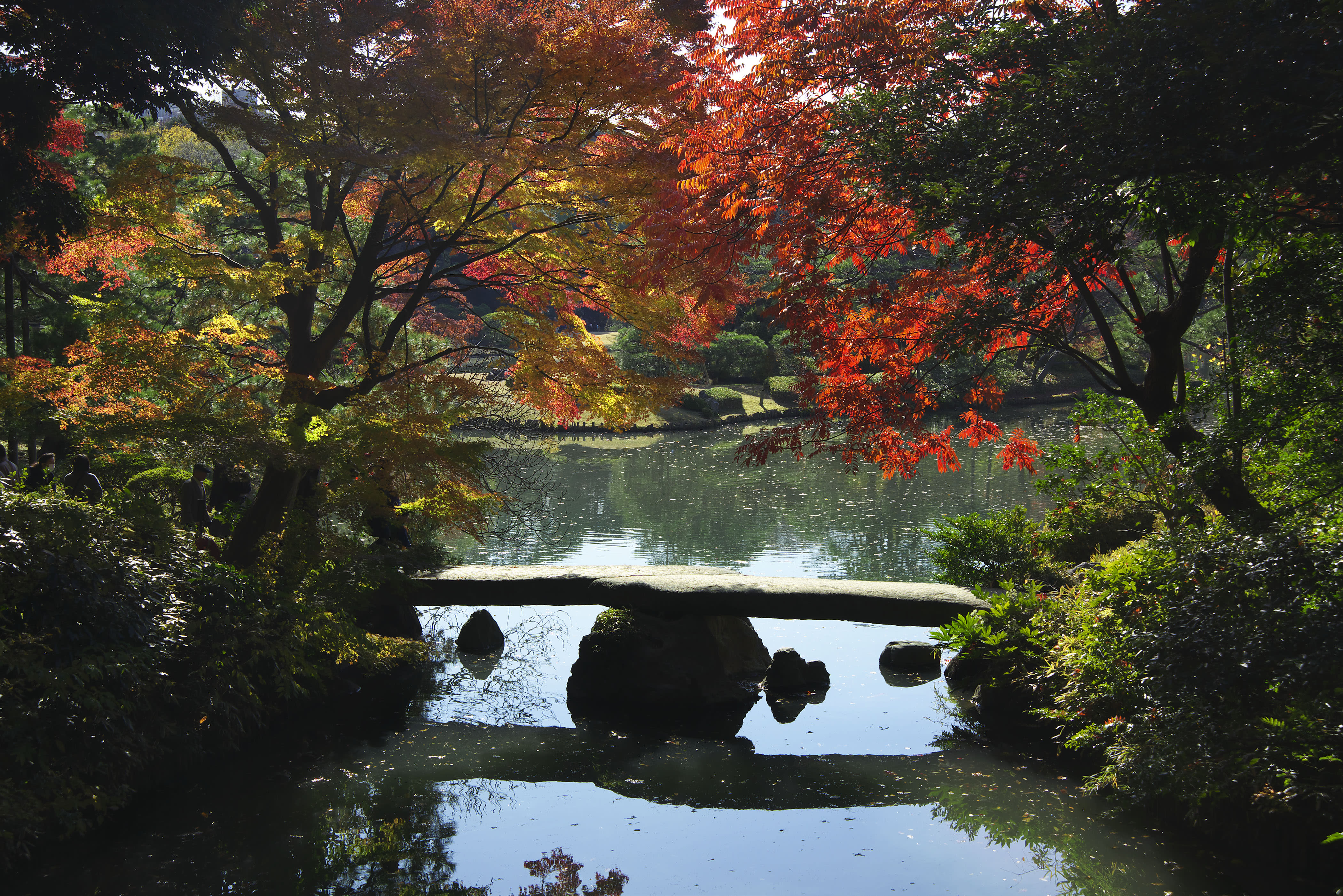 Rikugien is Tokyo's most famous landscaped garden, showcasing a garden you'll find back during the Edo period. The garden actually takes a whole hour to cover so be sure to set aside sufficient time. Accentuated by the peaceful stream running along the Togetsukyo Bridge, the entire setup is one #insta-worthy backdrop that will up your photo game.
Most places close when the day comes to an end but not for Rikugien. Travellers and locals alike can still catch the autumn season in full bloom even when the sun has long set – it's well worth a visit after dark.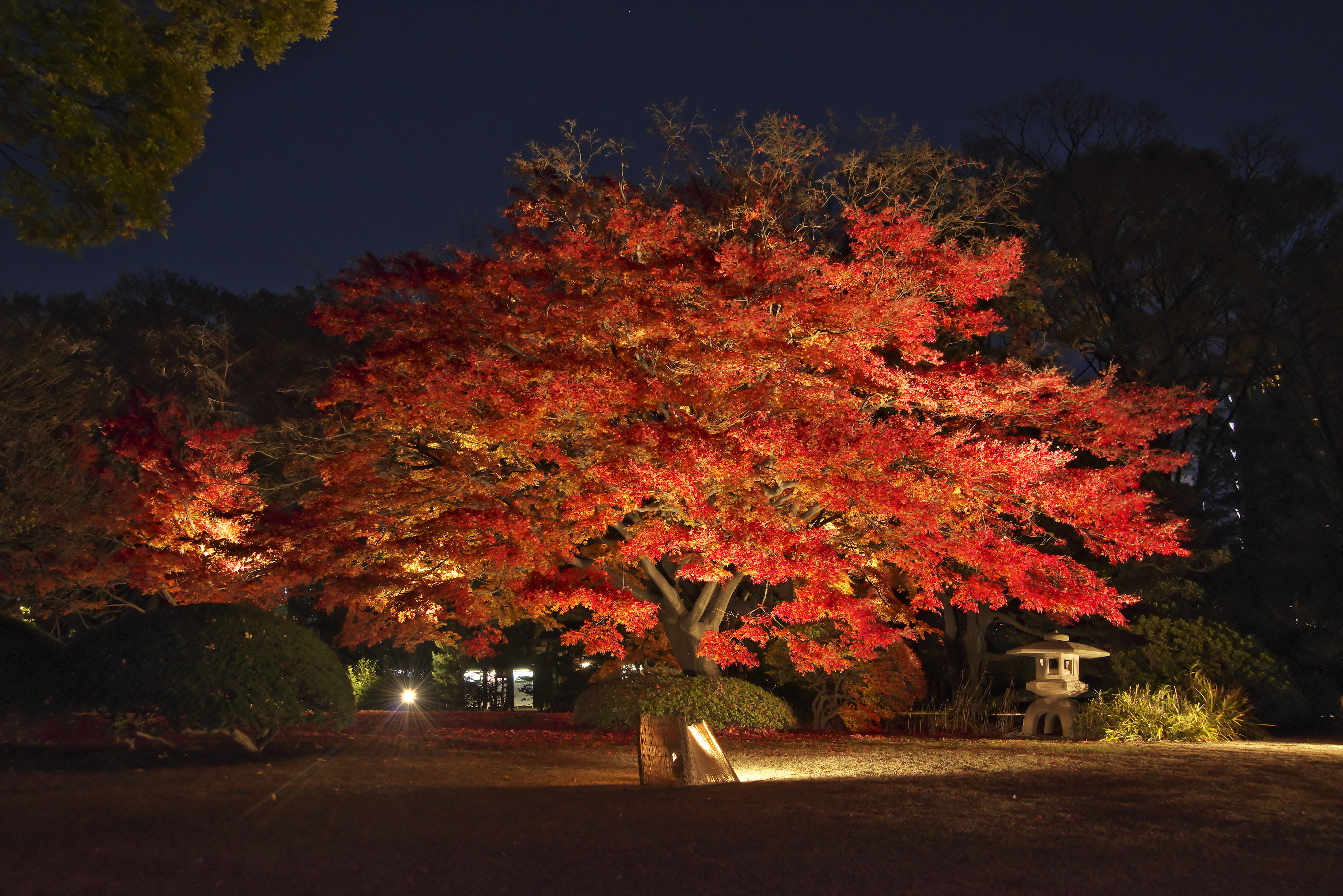 Rikugien
Address: 6 Chome-16-3 Honkomagome, Bunkyo City, Tokyo 113-0021, Japan
Opening Hours: 9am to 9pm (Closed 21st December to 1st January)
Entrance Fee: 300 yen
Nearest Station: Komagome Station (via the JR Pass & Tokyo Subway Ticket)
8. Icho Namiki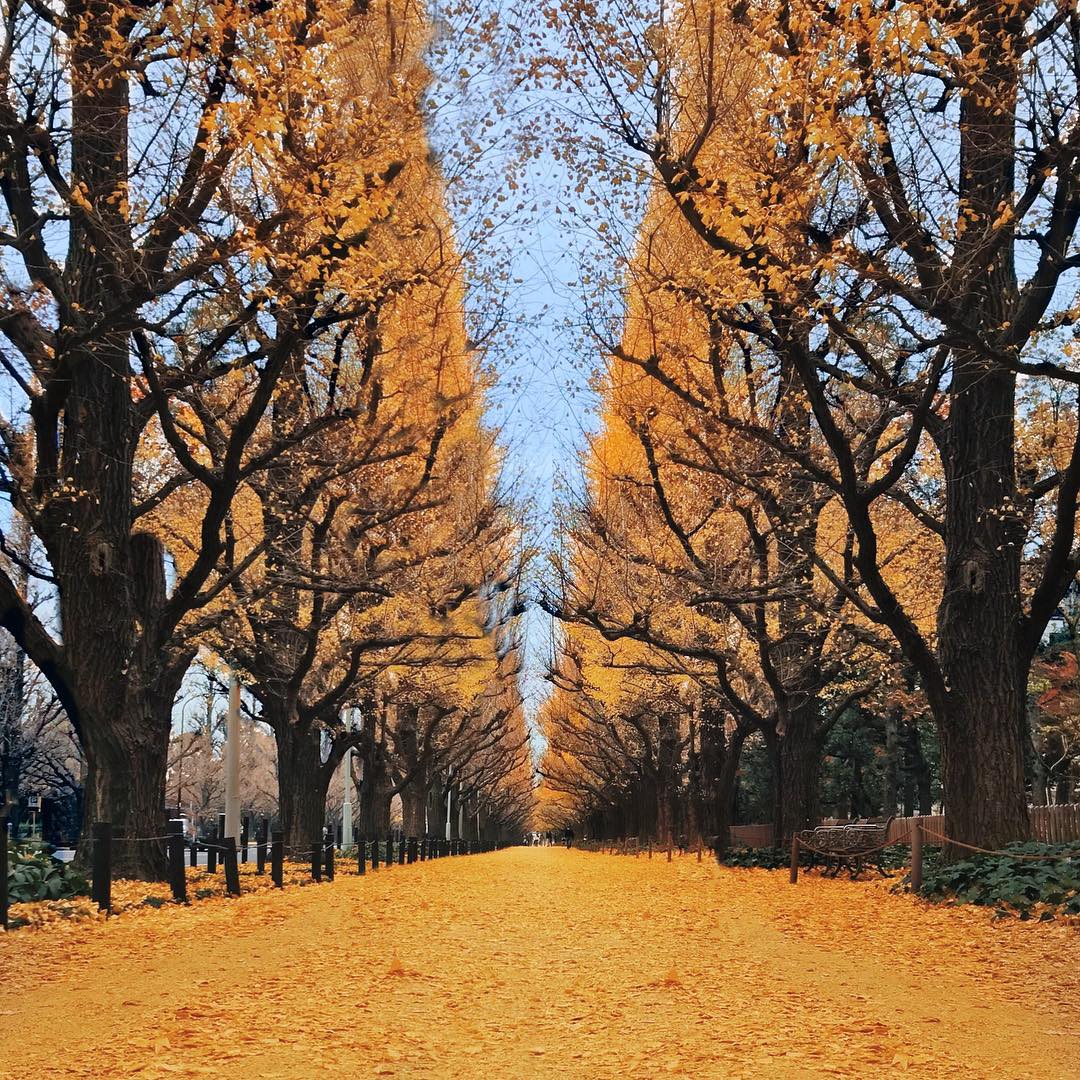 The best sightseeing trails are best paired with a full blown festival of tasty street food! Every year, as apart of the Jingugaien Itcho Festival (mid November to early December), food vendors line the sidewalks and offer Japanese dishes, from bite-sized food like takoyaki (Octopus balls) to hearty bowls of ramen and donburi. What better way to enjoy the most spectacular gingko blossoms than with a camera in one hand and tasty snacks in the other?
Icho Namiki
Address: 1 Kasumigaoka, Shinjuku-ku Tokyo
Opening Hours: 10am to 5.30pm
Nearest Station: Gaienmae Station or Aoyama-Itchome Station (via the Tokyo Subway Ticket)
Hokkaido
10. Blue Pond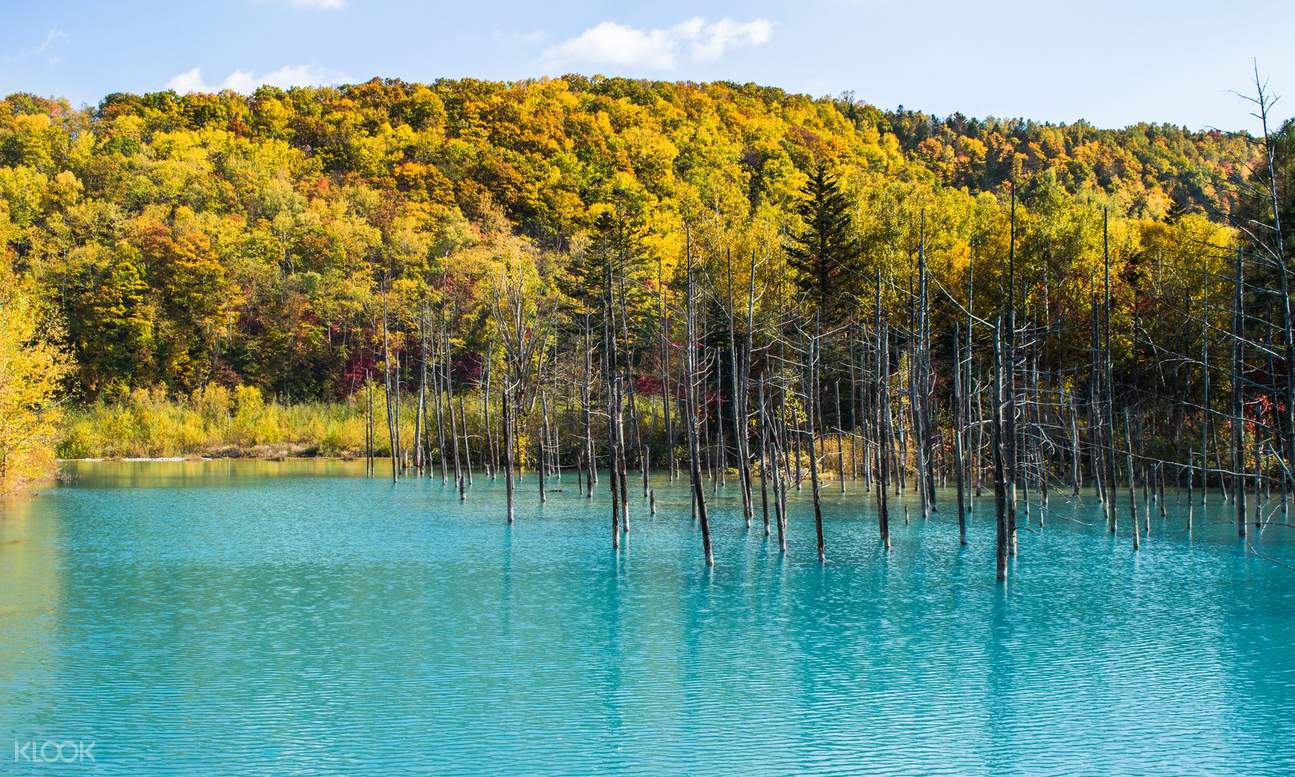 The Blue Pond is exactly what its named after, a pond so cobalt-blue that in the absence of wind, a moment of stillness would turn the crystal surface into a mirror reflection. Despite its underrated reputation, this hidden gem in Hokkaido absolutely deserves a visit in Fall. The surrounding mountain erupts into an eye-catching palette of yellow and green, creating a visually stunning contrast against the Blue Pond.
Book the Hagoromo Falls, Blue Pond, and Shikisai-no-Oka Autumn Day Trip from Sapporo to enjoy all of Hokkaido's best spots.
Blue Pond
Address: Shirogane, Biei-cho, Kamikawa-gun, Hokkaido
Opening Hours: 24 hours
Nearest Station: Biei Station (via the JR Pass)
10. Daisetsuzan National Park, Kogen Onsen Ponds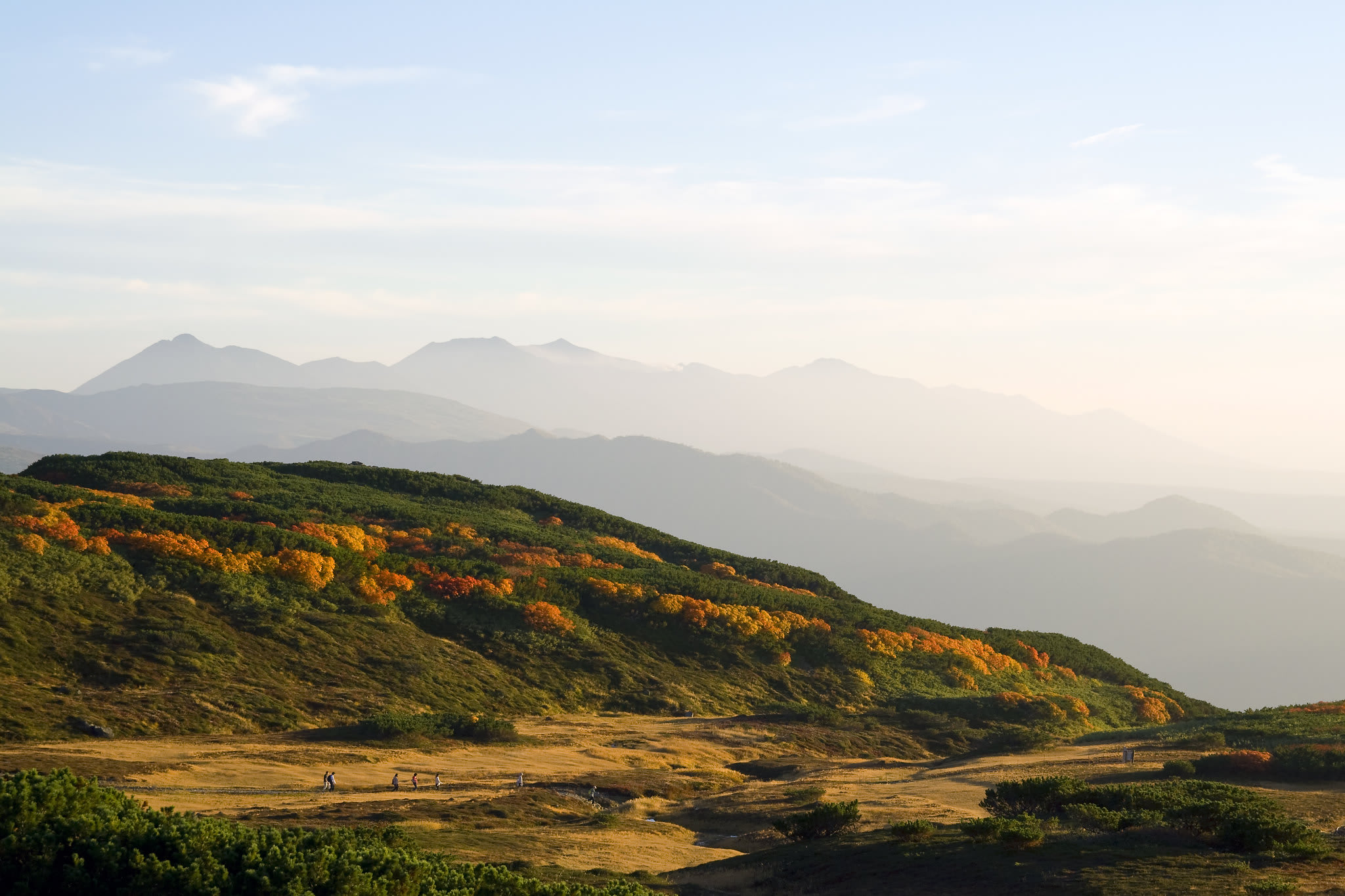 Any seasoned hikers in Japan would know that Daisetsuzan National Park has nothing shy of the most spectacular autumn scenes. However, only regulars would know that the real deal is near the river beds. Kogen Onsen Ponds is a hot spring located deep inside the park. Definitely an autumn pick for those on board the #fitspo journey, the trade off is guaranteed worth the sweat.
If you prefer taking things easy, we have just the plan for you. Access to most of Hokkaido's popular fall spots and Daisetsuzan National Park in a 2D1N Autumn Leaves Viewing trip.
Daisetsuzan National Park
Address: Yukomanbetsu, Higashikawa, Kamikawa District, Hokkaido Prefecture 071-1472
Opening Hours: 24 hours
Nearest Station: Kamikawa Station (via the JR Pass)
Getting around Japan in Autumn
To get to all of Japan's prime autumn spots in the 4 cities, we recommend getting the Whole Japan Rail Pass which is available for 7 days, 14 days or 21 days. This Pass grants you unlimited rides on the JR lines, local buses and even a Miyajima ferry across the WHOLE of Japan with utmost ease and comfort.
Still have doubts? We've compiled a detailed guide to figuring out your JR Pass
If you're just stopping in one city in Japan during your holiday, these tickets/passes will be much more cost-efficient.