Not just a budget destination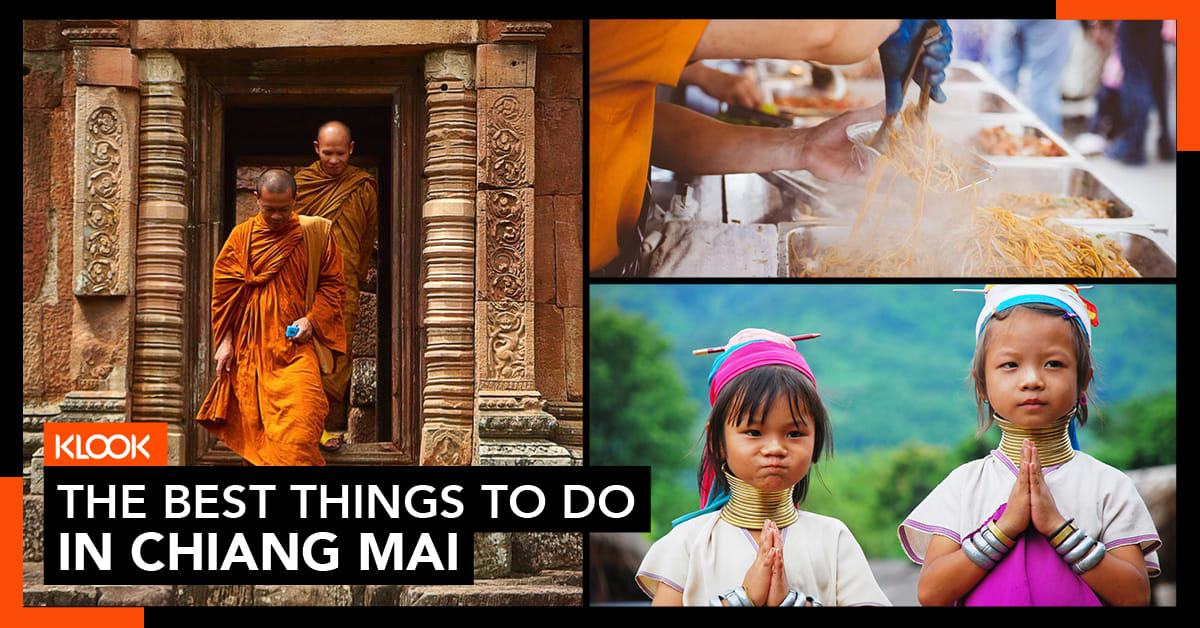 Considered the most culturally significant city in Thailand's northern region, Chiang Mai's glittering landmarks were once the beating heart of the Lanna Kingdom. A perfect combination of picturesque mountain views and laid-back vibes, Thailand's second biggest city is often a tranquil retreat from the hustle and bustle of Bangkok. Here visitors will find a vibrant mix of old and new with majestic 1,000-year-old temples situated next to modern shopping malls.
Although often referred to as a budget destination, Chiang Mai has plenty to offer for everyone. And here are the best ways to explore Chiang Mai, according to your needs.
This article was written in collaboration with HotelsCombined. You'll find more information on HotelsCombined and how you can reserve accommodation of your own at the end of this article.
1. Luxury Traveller
From first class flights and grand hotels to expensive restaurants and shopping trips, the luxury travellers aren't looking to settle for anything less than what they want. One look at Chiang Mai and you wouldn't think that this lovely place is a destination ideal for luxury travellers. Think again, because Chiang Mai has everything that will suit your palette!
What to do
1. Get to know Chiang Mai's hill tribes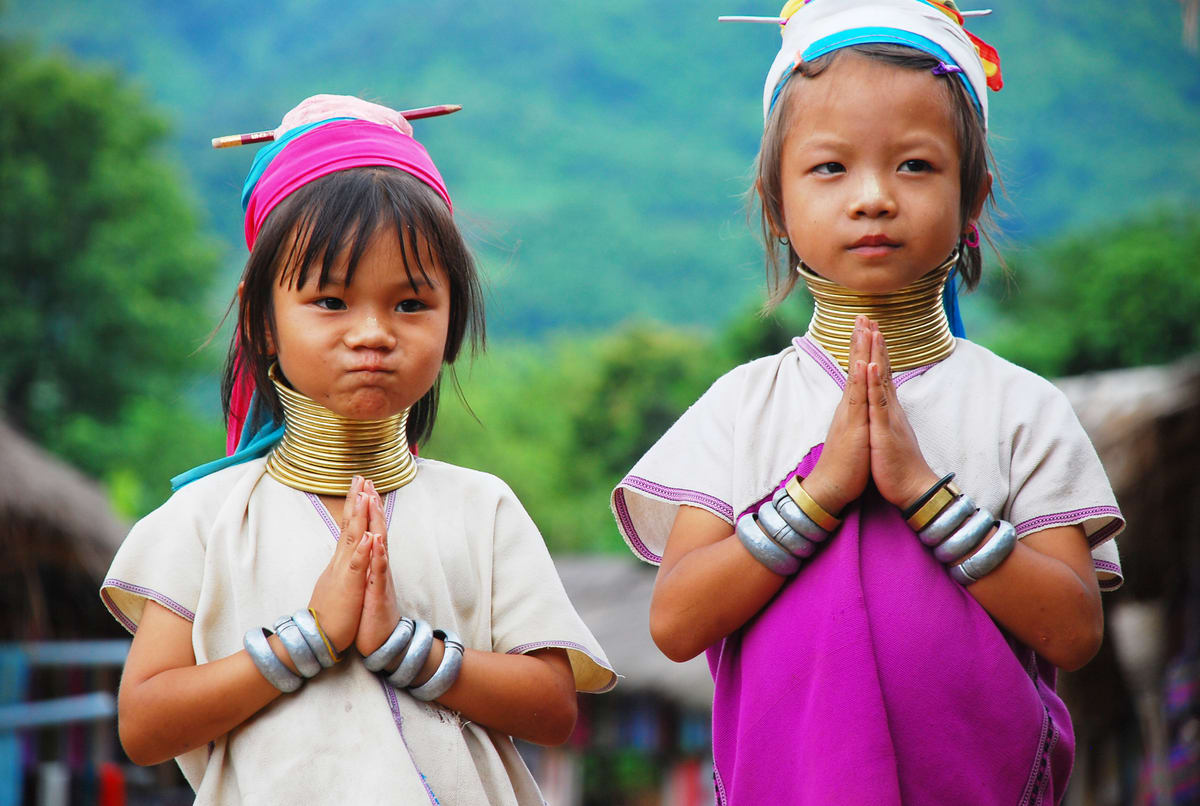 Chiang Mai, part of Northern Thailand, is home to many unique minorities that are commonly referred to as the Hill Tribes. Most of the tribes have migrated to Chiang Mai over the past century and have impressively maintained their traditional and cultural ways, which have intrigued both tourists and locals alike!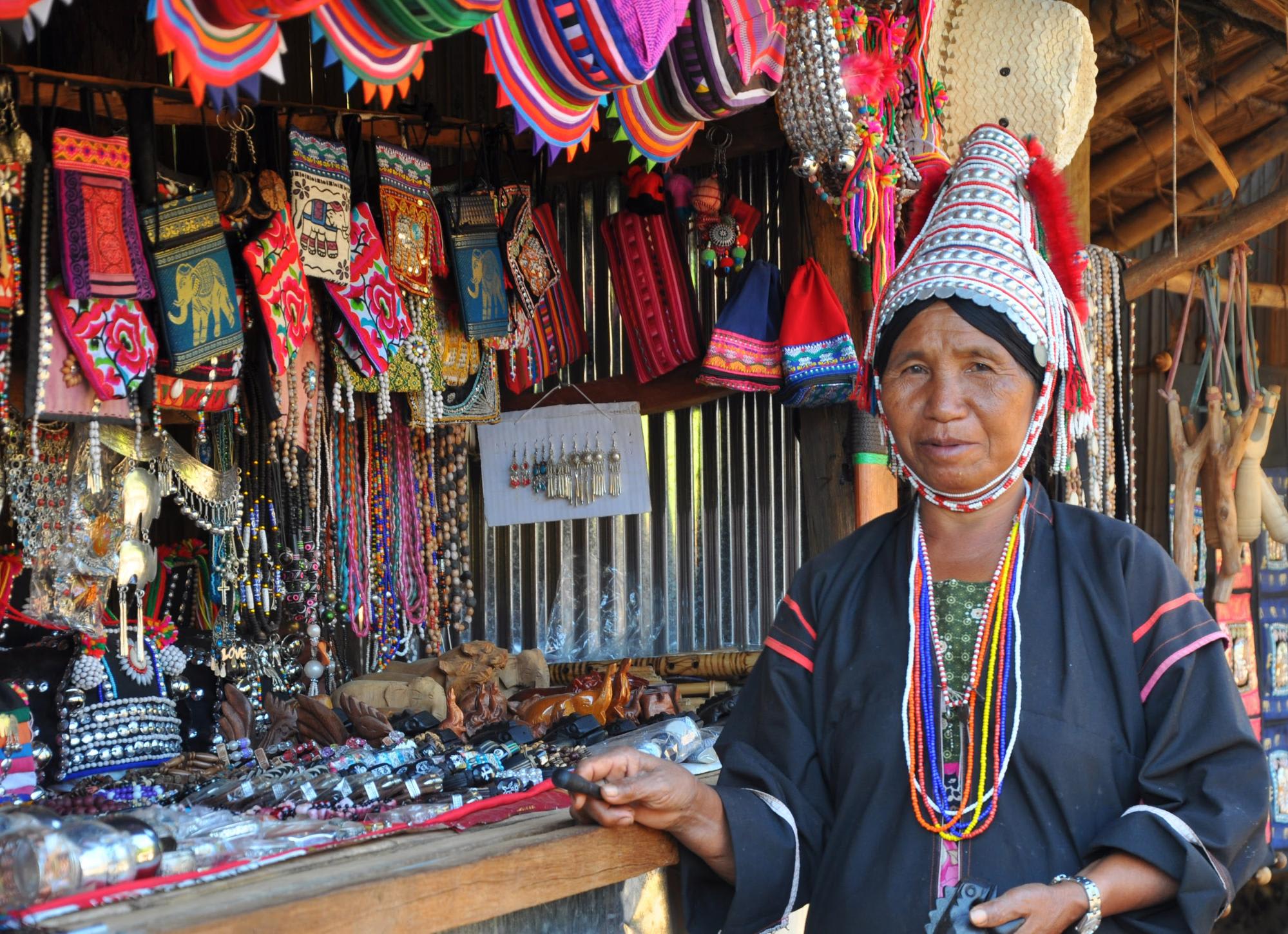 There are many different tribes that reside here and most are very welcoming. From the spiritual Akha and the outgoing Lisu, the tribes here are unique in their own way. You'll notice Meo for their grounded homes as opposed to being propped on stilts, Palong who are known for tea cultivation and Karens, commonly referred to as masterful weavers and also the most populous tribe in Thailand.
Learn a thing or two about the culture and traditions of these tribes and how they differ from the other parts of Thailand in this unique experience!
Klook me to the Hill Tribes!
2. Pamper yourself with a luxury spa treatment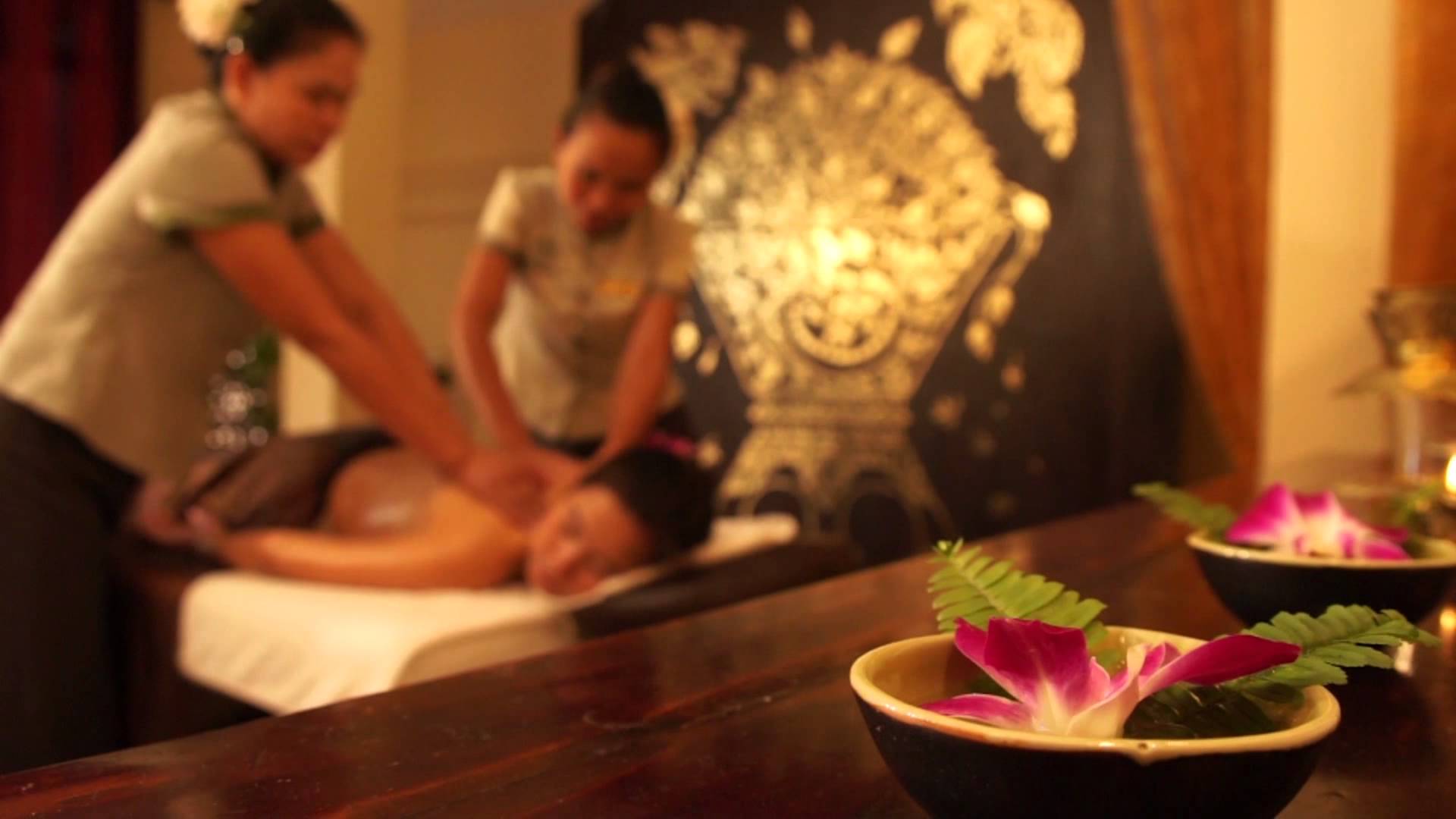 A visit to Thailand isn't complete without a massage or spa treatment! Besides the many massage and spa parlours that you can find in Bangkok, Chiang Mai has a fair share of popular parlours as well!
And of course, after all the hours of shopping, you would want to just relax and unwind at Oasis Spa, also known as one of the top 5 spas in Chiang Mai!
With six different luxury packages, you're sure to find one that fits your needs. From hair spa and body scrubs to neck and full-body massages, Oasis Spa is the perfect place for a relaxing me-time!

Also, Oasis Spa has 4 outlets located around Chiang Mai, each featuring gorgeous views of the city and of course, excellent service!
Klook me to Oasis Spa!
3. Go shopping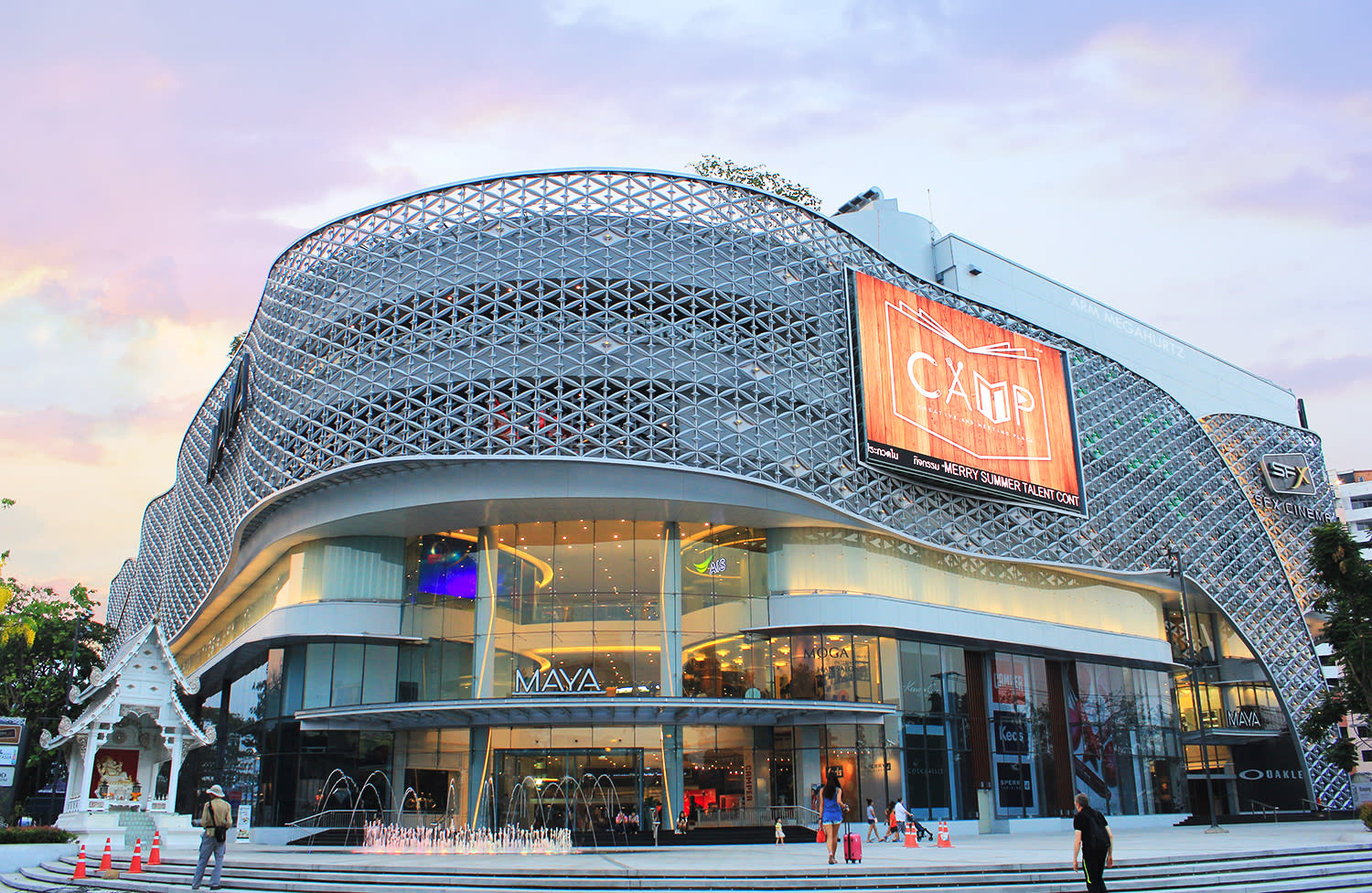 Sure, Chiang Mai doesn't have the countless night markets that Bangkok has but that doesn't mean little to no shopping can be done in this city! In fact, Chiang Mai features over 10 malls and several markets that houses boutique and handicraft goods.
Speaking of handicraft, Chiang Mai is known as Thailand's main handicraft centre, so expect many factories and workshops selling gorgeous handcrafted goods along the way!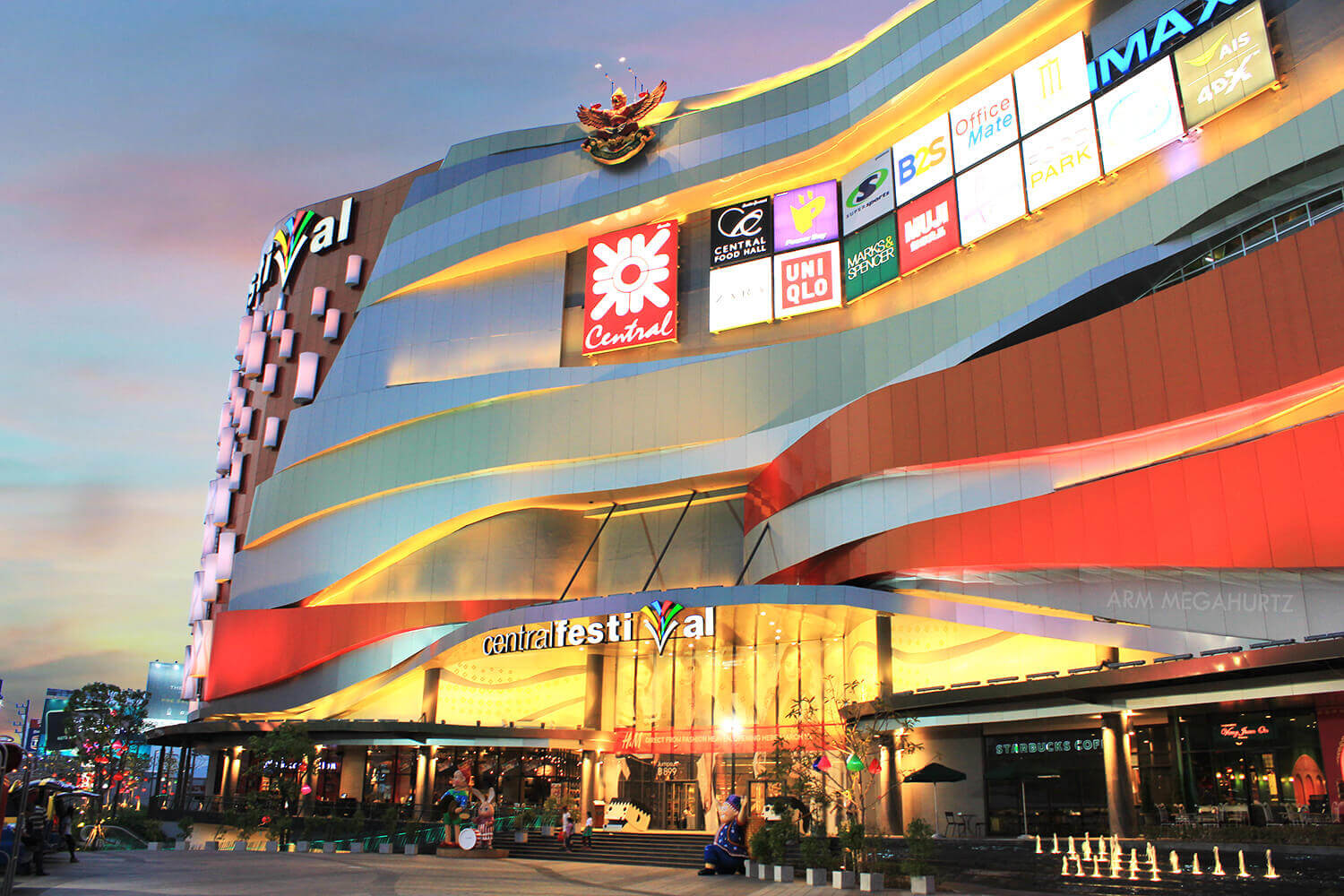 In terms of malls, the best in Chiang Mai would have to be Central Festival, Maya, and Promenada. Referred to as the biggest malls in Chiang Mai, these malls will have everything you need to satisfy your retail needs. All of the mentioned malls also feature huge cinemas for you to catch a movie or two!
Where to stay
1. Akyra Manor Chiang Mai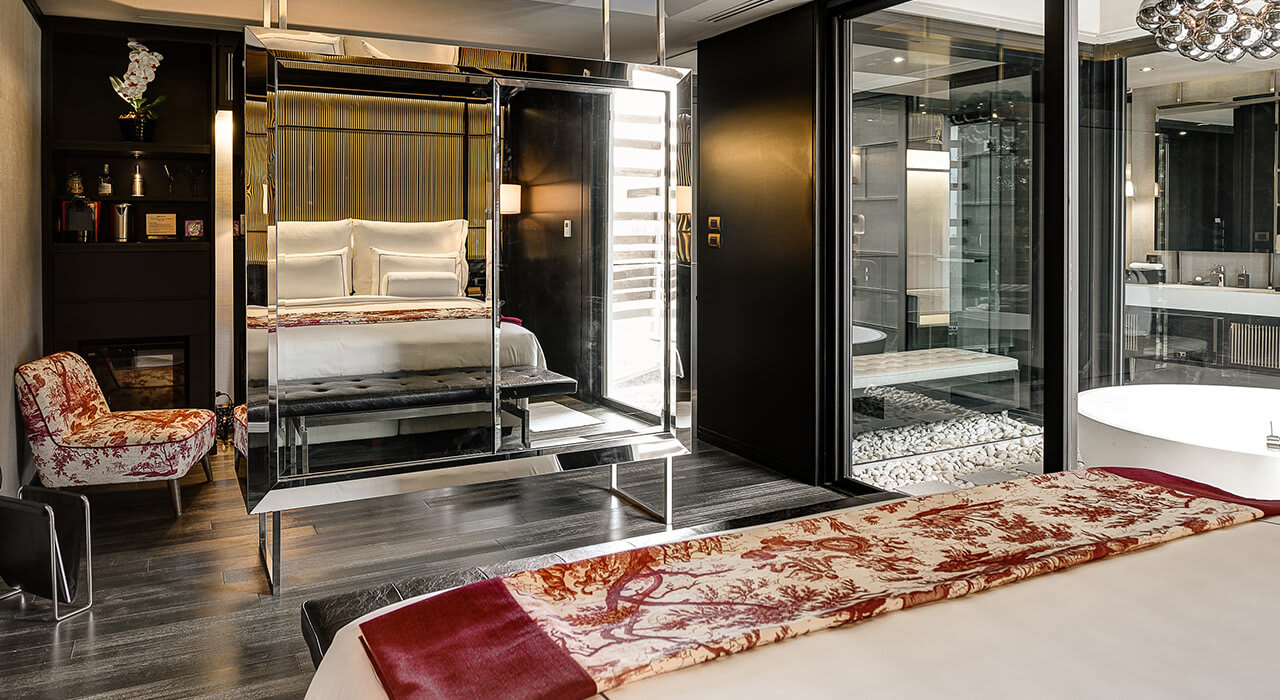 With only 30 suites, Akyra Manor Chiang Mai features personalised hospitality services, perfect for the luxury traveller that you are. From the expansive Deluxe Suites to the elegant Manor Suites, guests are spoiled with king sized beds, decadent tubs and 430-thread count Egyptian cotton sheets.

This 5-star boutique hotel also features an infinity swimming pool that overlooks a view of Chiang Mai's skyline!
Star Rating: 5*
Price: from S$227
Guest Rating: 9.2
Address: 22/2 Nimmanhaemin Road Soi 9, T. Suthep, A. Muang, Chiang Mai, Thailand

2. Art Mai Gallery Nimman Hotel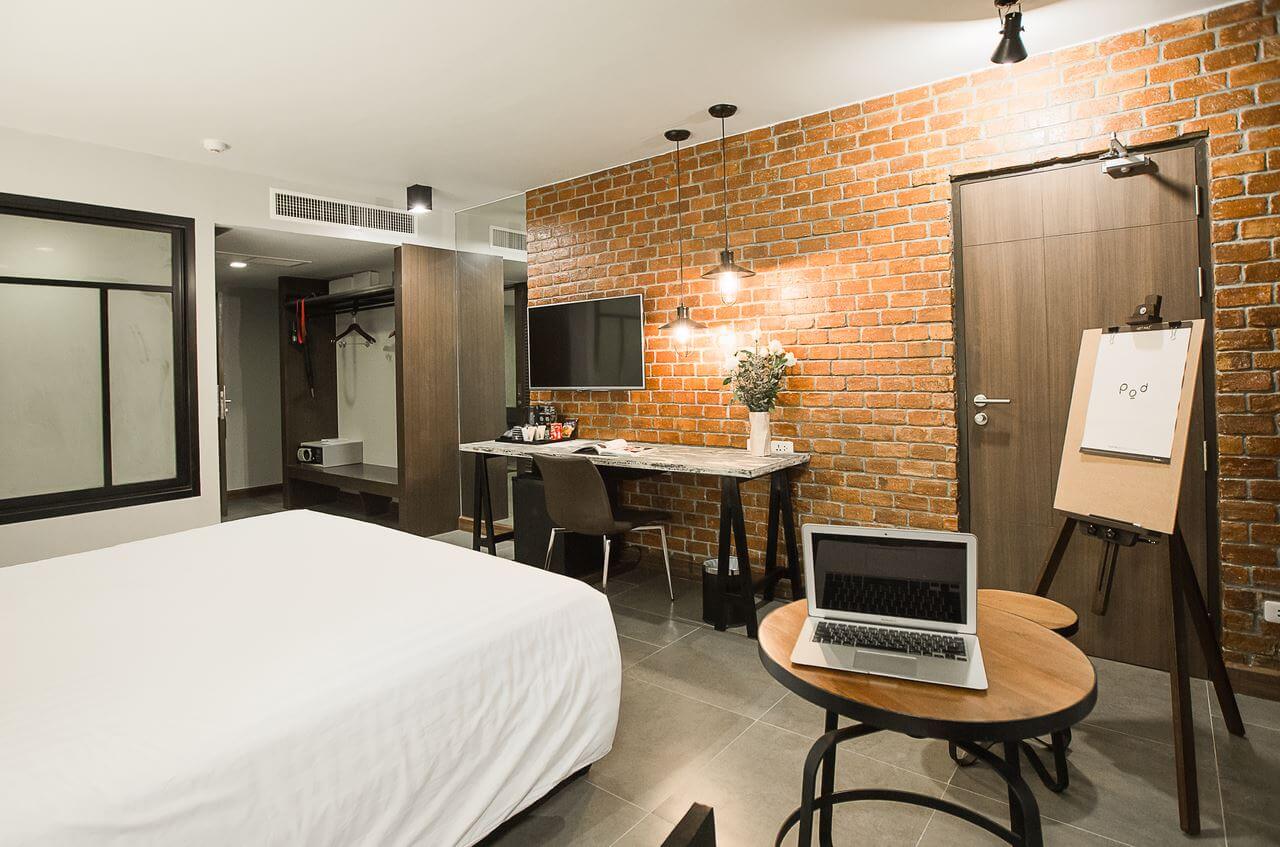 For the art lovers, Art Mai Gallery Nimman Hotel might just be the perfect hotel for you. Commonly referred to as an "Eight Story Masterpiece", this boutique hotel features displays of artworks from local artists on every floor!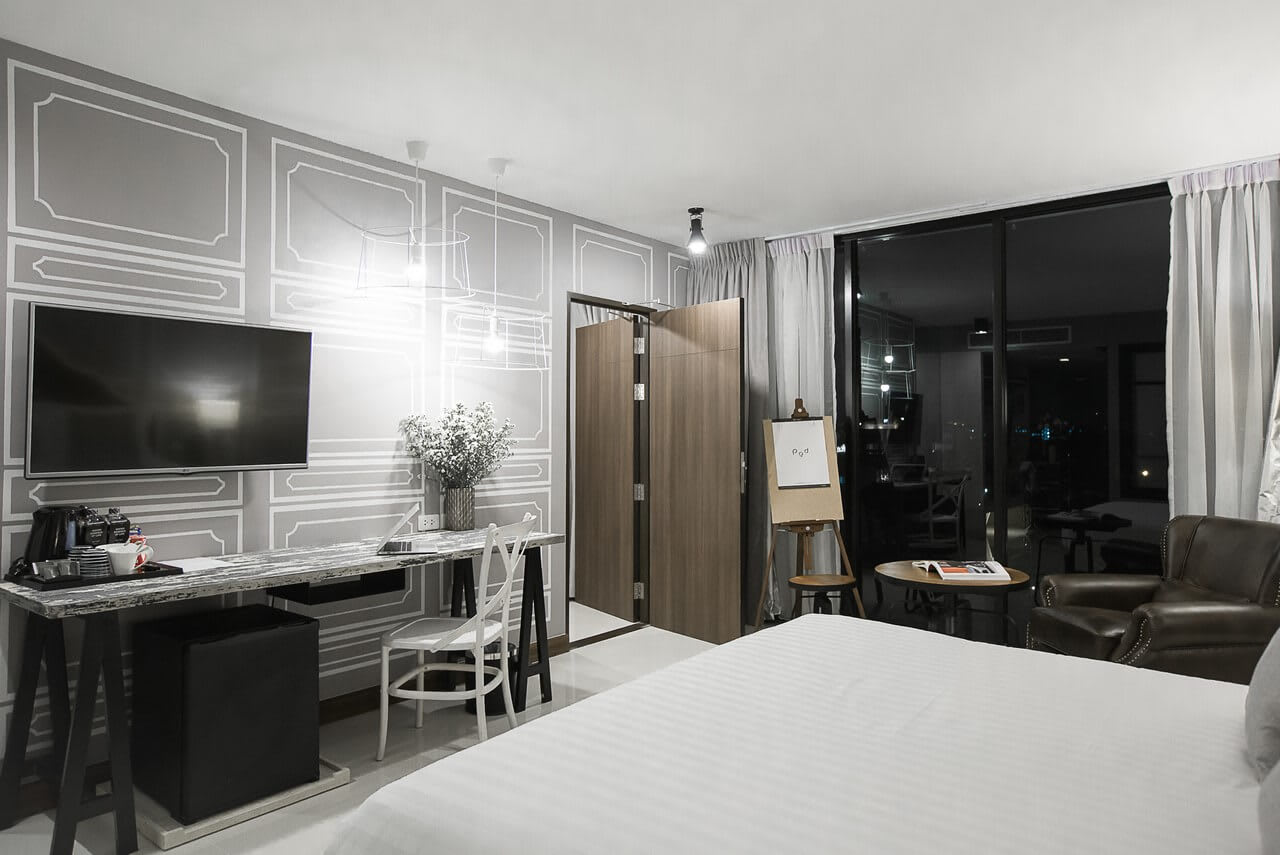 Aside from its gorgeous decor, rooms are also complete with a black painting canvas and a working area. There is also a gallery at the ground floor of the hotel where guests can explore and purchase local artwork!
Star Rating: 5*
Price: from S$95
Guest Rating: 8.7
Address: 21 Soi 3, Nimmanhaemin Road, Chiang Mai, Thailand
3. Kantary Hills Chiang Mai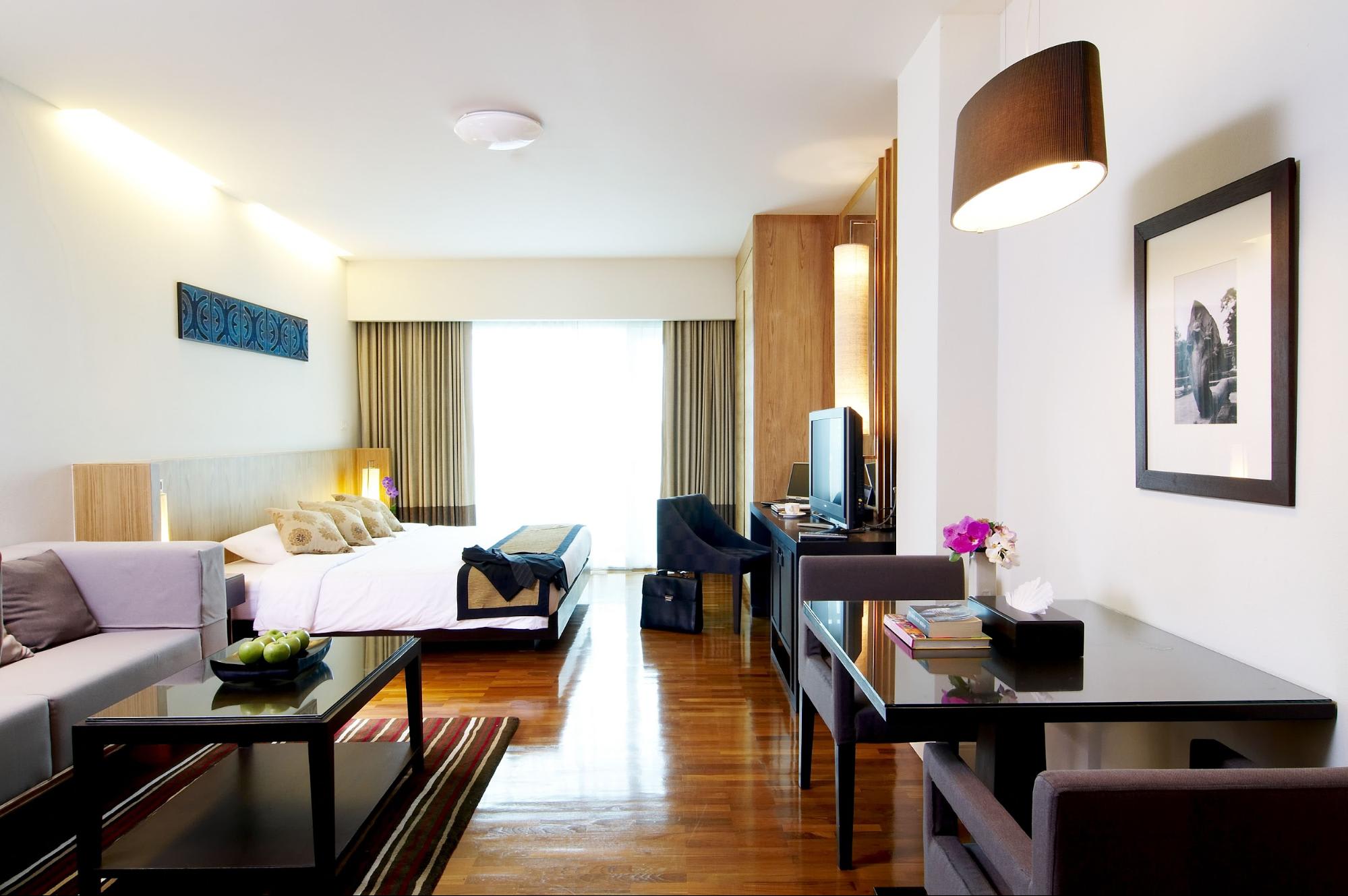 For the ones looking to live in the luxury of their rooms, with everything they need within an arm's reach, then Kantary Hills Chiang Mai has just what you need. With oversized suites that boast an extensive list of in-room amenities, there won't even be a need to call room service!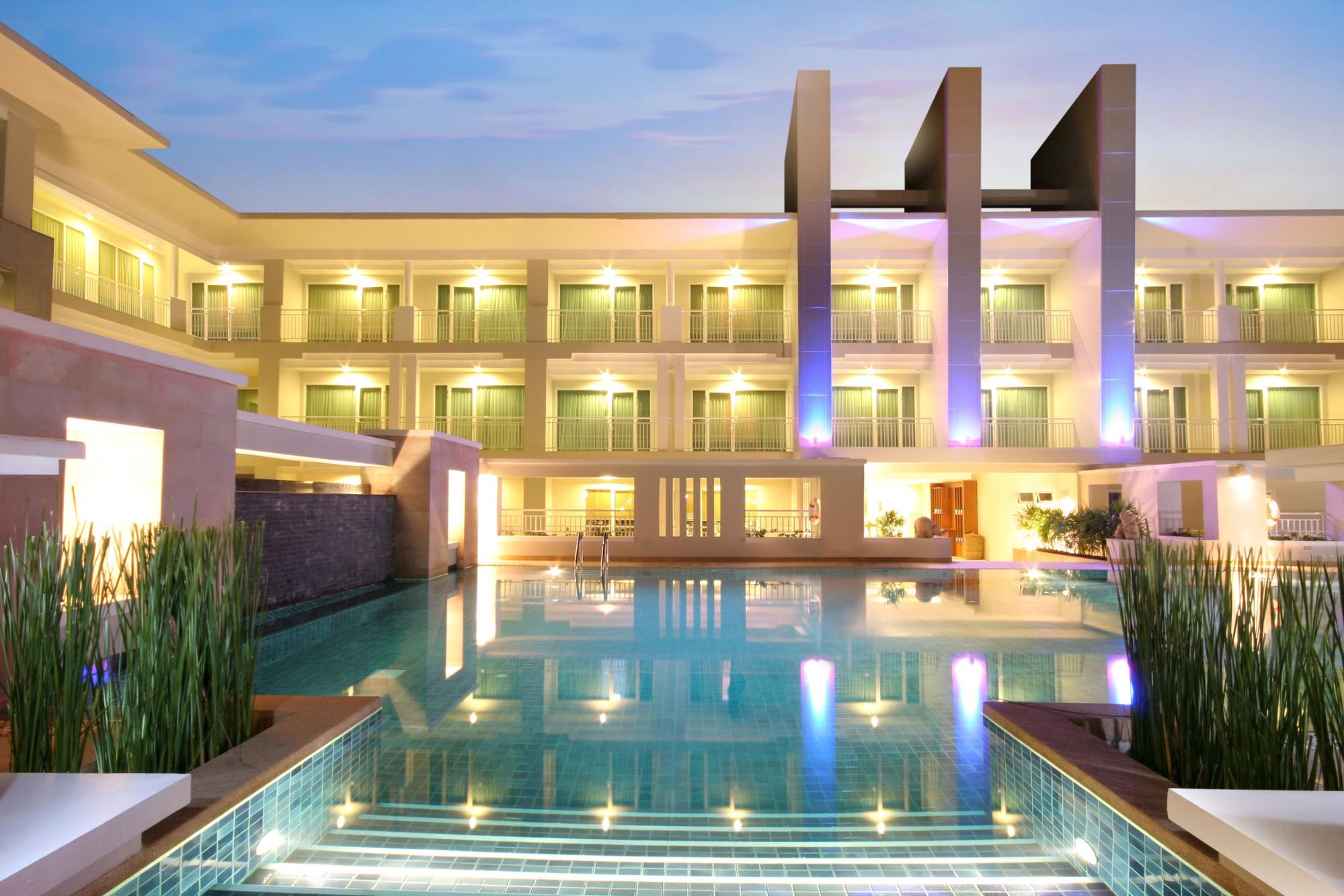 Choose from a studio to a 2-bedroom luxury suite that come equipped with a modern kitchenette, dining area and balcony! There is also a pool area that comes with heated whirlpools that you can head to for the well-deserved treat after all those shopping.
Star Rating: 4*
Price: from S$131
Guest Rating: 8.99
Address: 44 Nimmanhaemin Road Soi 12 Suthep Muang, Chiang Mai, Thailand
2. Budget Traveller
Chiang Mai is after all one of the best budget destinations to visit. Although it might not boast the many insanely cheap night markets as Bangkok, there are a bunch of pocket-friendly activities here in this beautiful city, and here are our top picks!
What to do
Visit a Night Safari park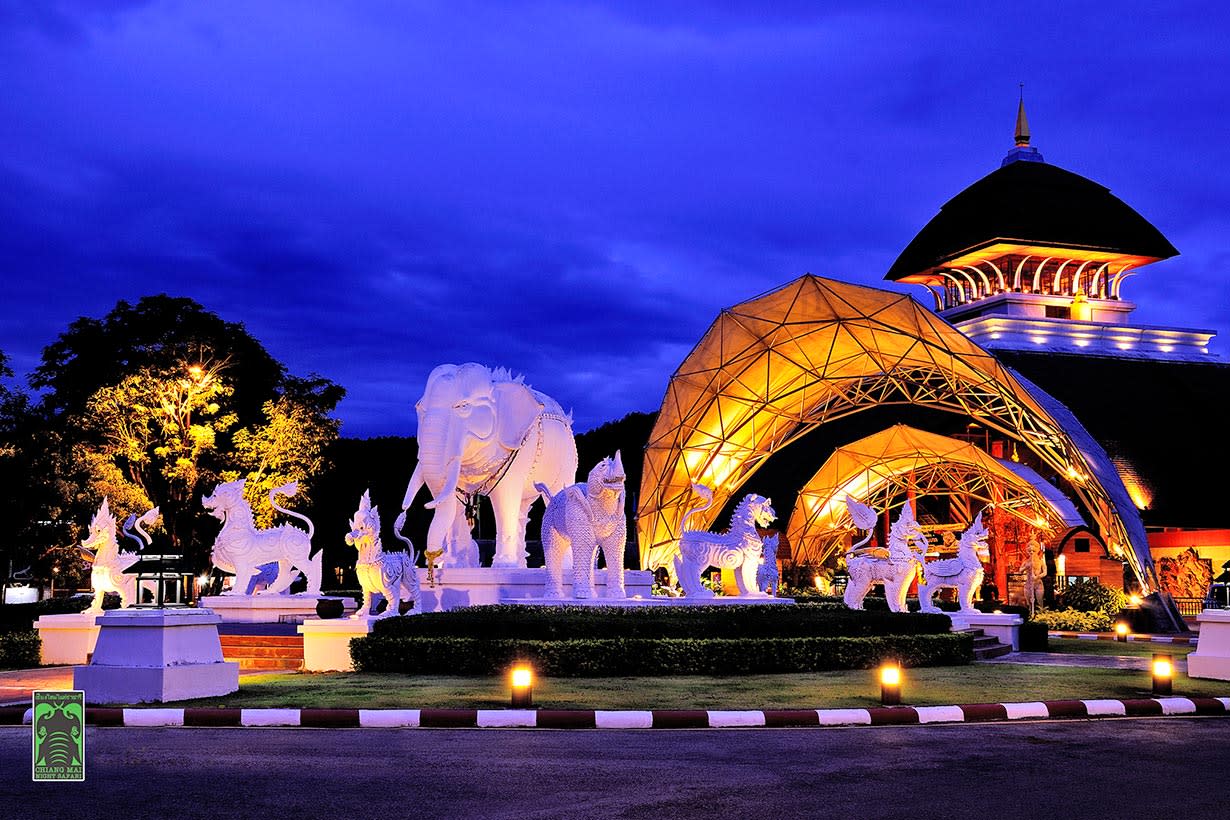 From elephants and zebras to red kangaroos, Chiang Mai Night Safari Park is a place for all ages. With three separate zones – Predator Prowl (Carnivorous animals), Savanna Safari (African Savanna animals), Jaguar Trail (Walking or Segway) – the best way to explore the park would have to be via a tram ride.
Hop on board the fully-enclosed tram ride for a unique experience of getting up close with over 1400 friendly mammals. Did we mention that this tram ride also gives you the thrilling experience of getting close to predators like cheetahs and hyenas as well? Who says you have to spend a bomb for a unique wildlife experience?
Book your Chiang Mai Night Safari tickets with Klook today and you'll get your tickets instantly, without needing to queue! What's more, you get to add on a car or van transfer option for the ultimate convenience!
Klook me to Chiang Mai Night Safari!
Explore the Golden Triangle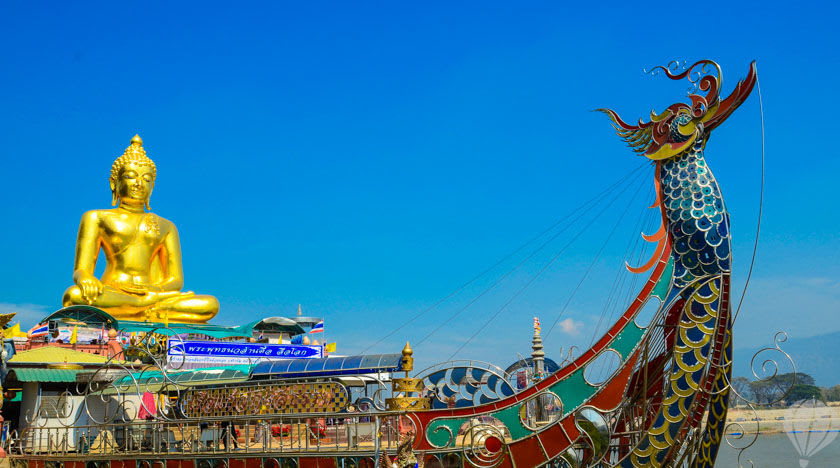 Also known as the meeting point of Thailand, Laos and Myanmar, the Golden Triangle is actually located in the Chiang Rai province of Thailand. The locals however, prefer to refer to it as the meeting point of Ruak and Mekong River. That's right, you get to see three different countries and one time, for less than S$50!
What was once a well-known place for the growing of opium is today the largest tourist attraction in Northern Thailand. Don't miss out on the Treasure Ship, where a big golden Buddha statue sits, making this a famous photo-taking spot of the attraction!
Klook your tickets to the Golden Triangle now and you're on your way to experiencing Thailand, Laos and Myanmar all in one place! For the ultimate experience, opt for the Mekong River option for a calm and relaxing trip to the beautiful Laotian island of Don Sao!
Klook me to the Golden Triangle!
Visit the Sunday night market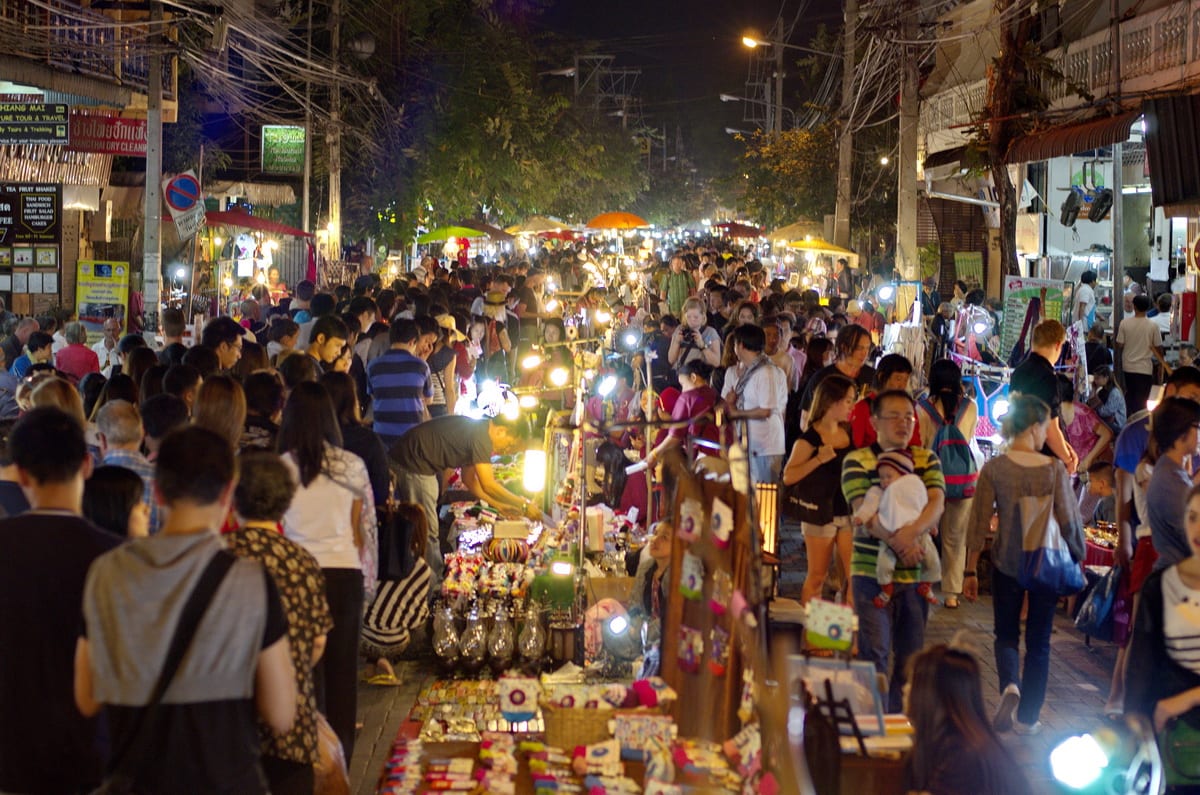 At the end of the day, nothing spells great deals better than weekend markets. There are two weekend night markets dedicated to both days of the weekends in Chiang Mai, and the Sunday night market is known to be the bigger one of the two. This could be because it starts to open as early as noon, as compared to the former that only opens at 5pm!
Also, apart from having its streets lined with multiple vendors selling everything from apparel to artisanal goods, the Sunday Night Market also has a big open-air food court where you can find every bit of your favourite local cuisine at really low prices!
Location: Rachadamnoen Rd, Tambon Si Phum, Amphoe Mueang Chiang Mai
Operating hours: 12:00 pm - 10:00 pm
Where to stay
1. Maninarakorn Hotel Chiang Mai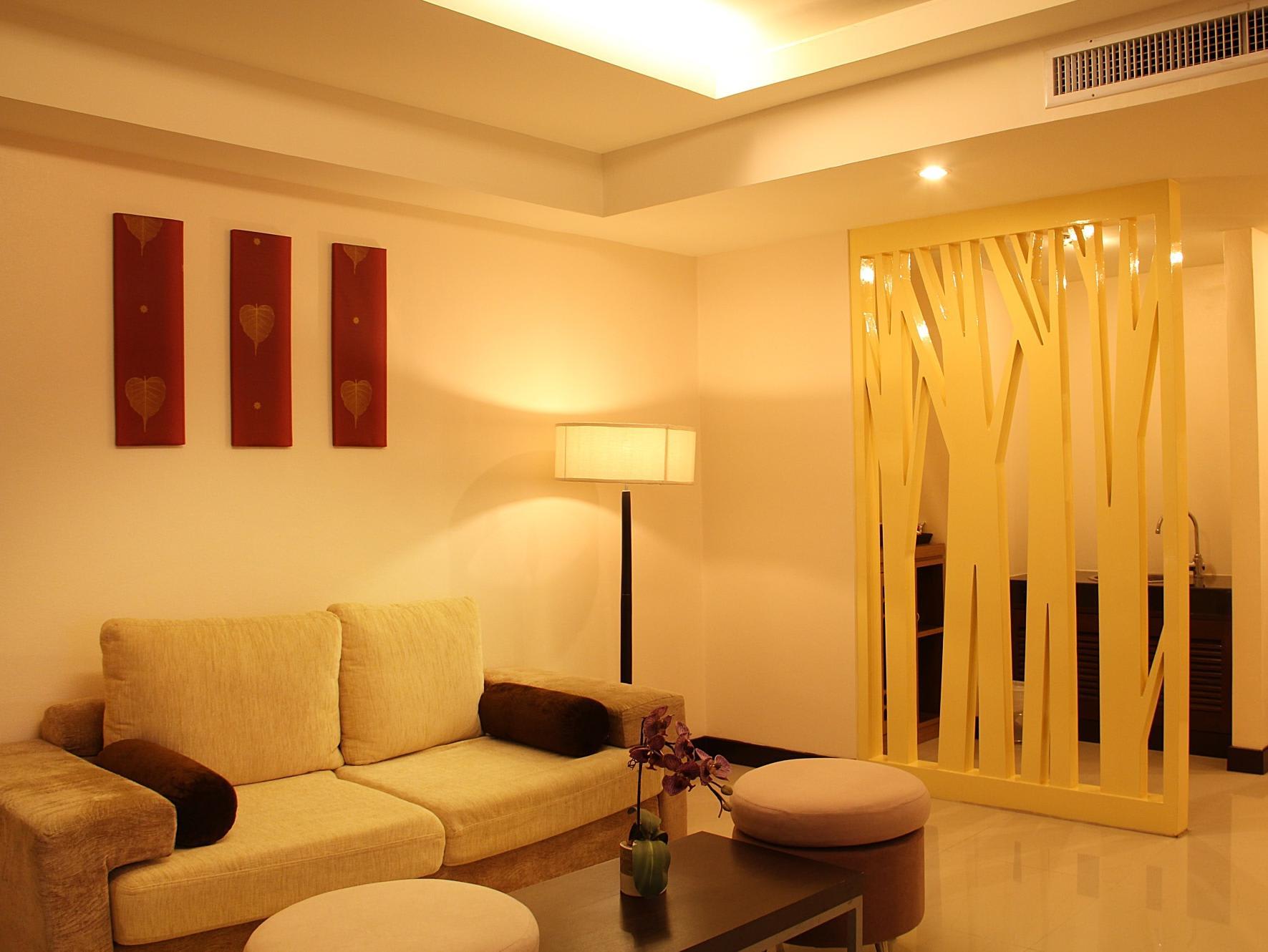 With walking distance to many of the Old City attractions, Maninarakorn Hotel Chiang Mai is an excellent retreat for those who want to live in comfort and convenience, while still keeping to the budget.
Here guests are only a 15-minute walk to the centre of the action at Tha Phae Gate where you'll find the Sunday Walking Street and only 10-minutes from the maze of shops at the Night Bazaar.

Source: Maninarakorn Hotel Chiang Mai
These boutique Superior, Deluxe, Suite and Family-style rooms come at affordable prices and boast stylish contemporary decor, almost as if you're staying in a luxury hotel!
Star Rating: 4*
Price: from S$31
Guest Rating: 7.1
Address: 99 Sridonchai Rd., T.Changklan, Chiang Mai, Thailand
2. Dusit D2 Chiang Mai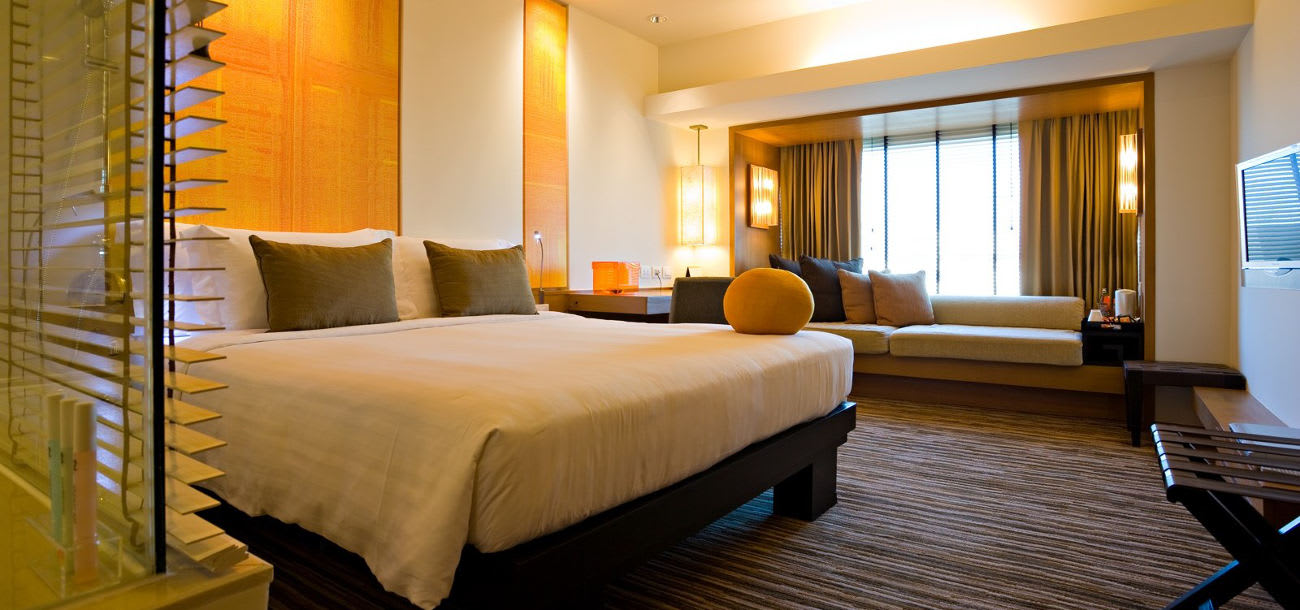 Located in the heart of Chiang Mai's shopping district, guests at Dusit D2 Chiang Mai get to enjoy ultimate convenience, with attractions, nightlife and of course shopping all within reach. Come on, with the famous Night Bazaar just across the street, what more can you ask for?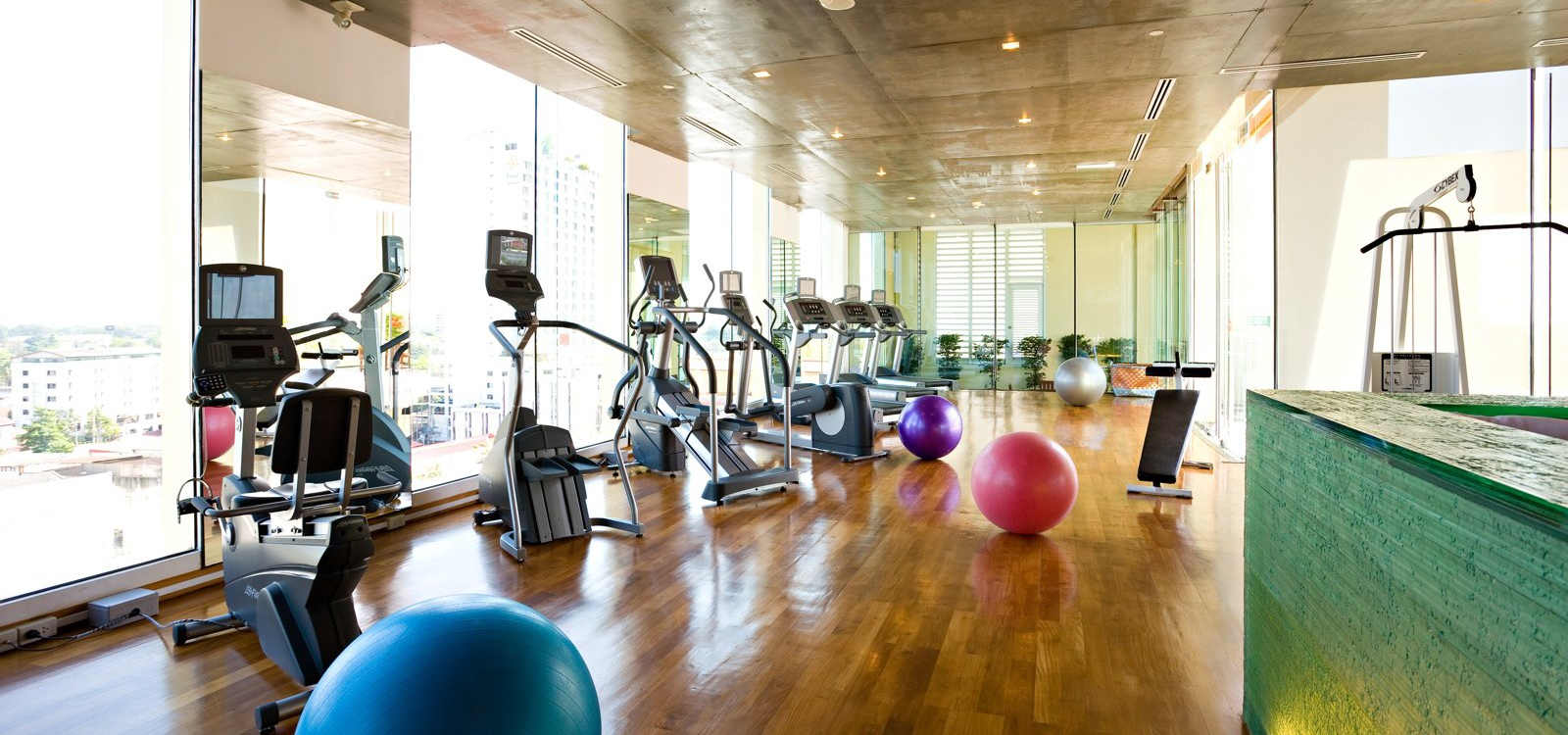 Urban-chic with a modern design, rooms here come equipped with rain showers, flat-screen LCD televisions and pillow menus.
Not only that, there are also state of the art spa and gym facilities as well as a hands-on cooking lesson with a Thai chef that you can take part in!
Star Rating: 4*
Price: from S$92
Guest Rating: 8.8
Address: 112 Chang Klan Road, Chiang Mai, Thailand
3. Raming Lodge Hotel & Spa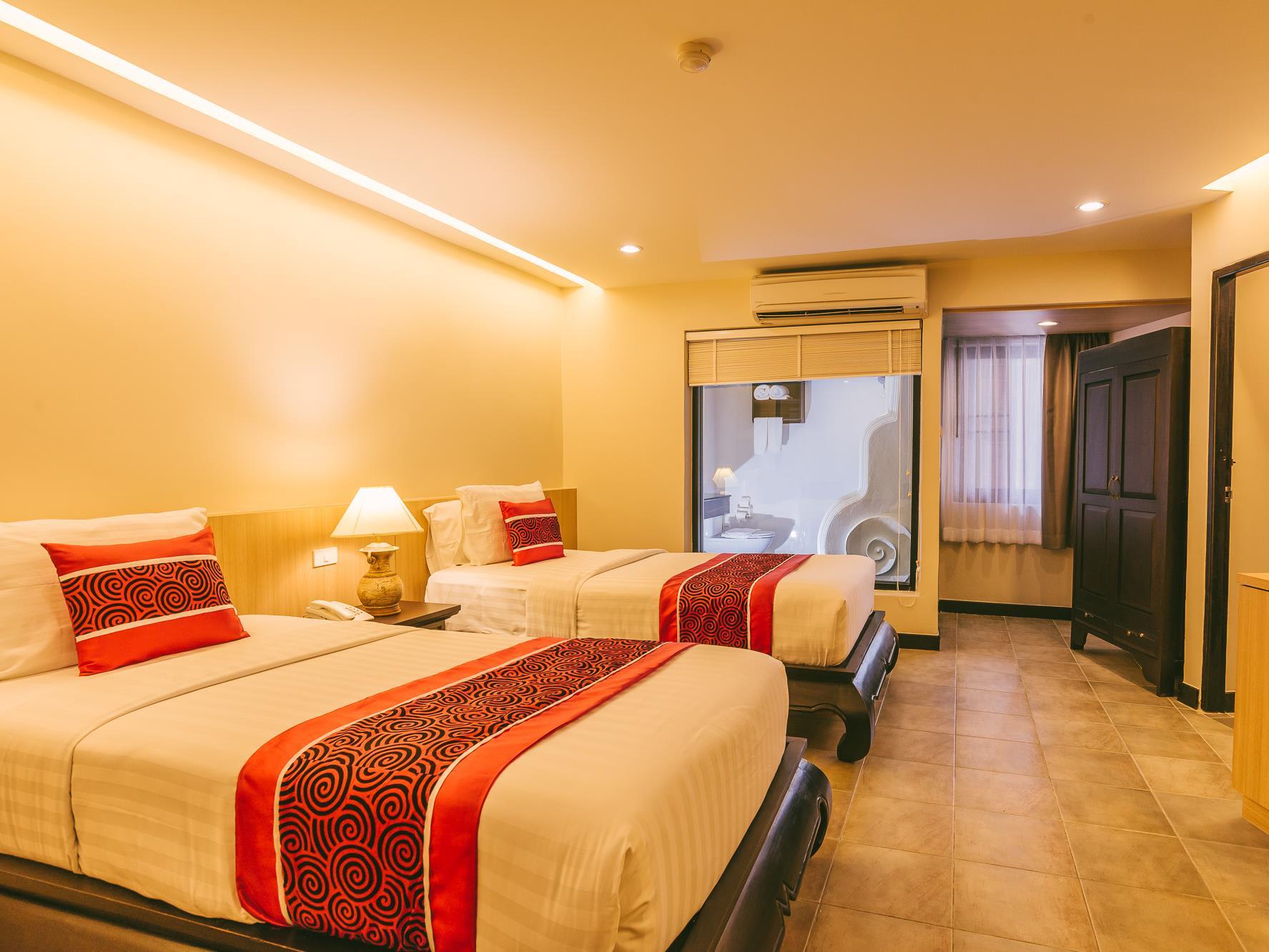 With brightly decorated rooms that are enough to grab your attention, Raming Lodge Hotel & Spa is located near some of the city's famous temples, including Wat Chedi Luang and Wat Phra Singh, while those looking for local crafts will find the Sunday Walking Street an appealing destination only a 9-minute walk away.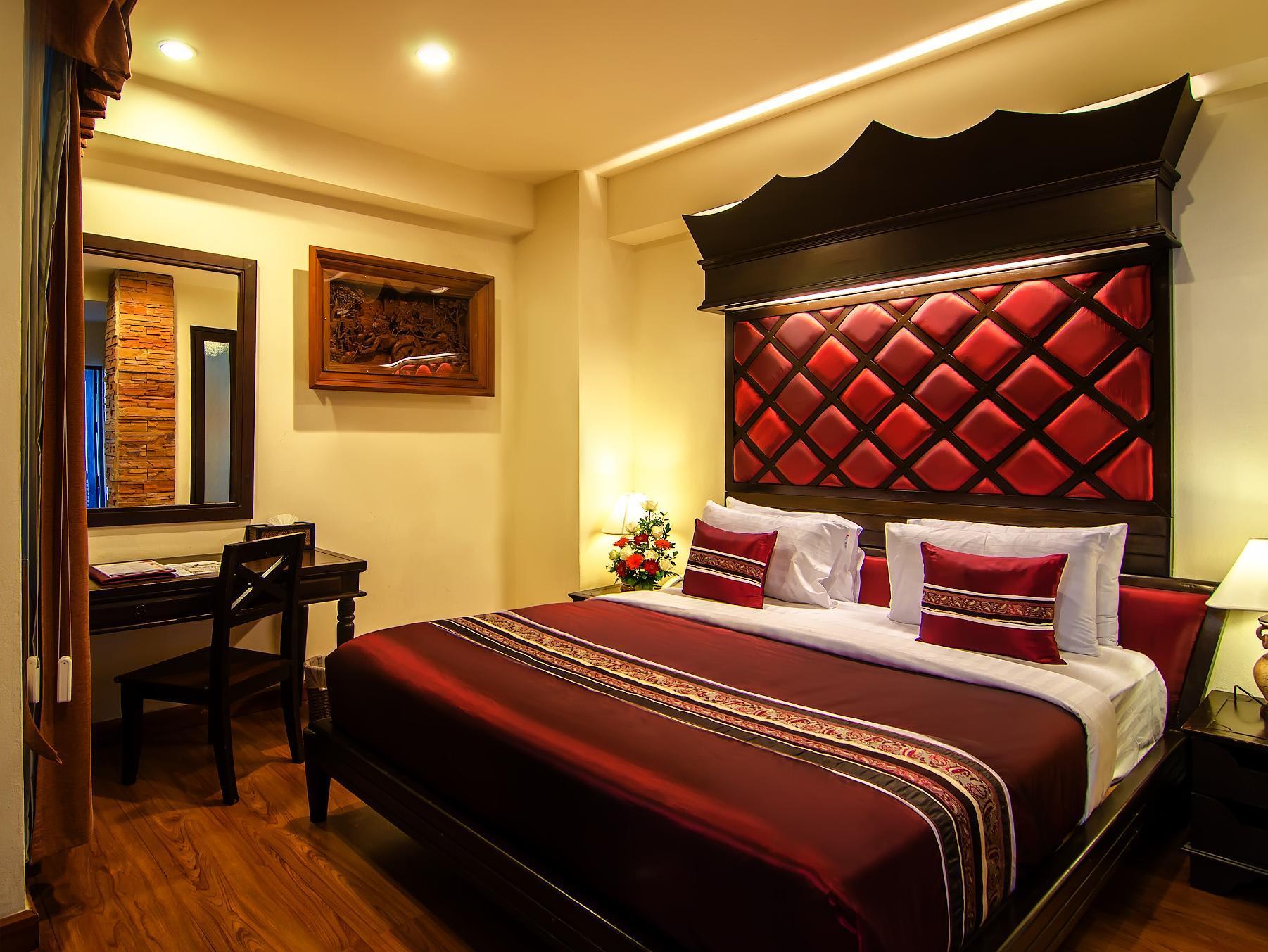 An award-winning hotel, Raming Lodge Hotel & Spa also offers travellers a luxury spa where they can indulge in a traditional Thai or Aromatherapy massage or spend time in the sauna. Truly a value-for-money, I must say!
Star Rating: 4*
Price: from S$53
Guest Rating: 7.9
Address: 17-19 Loikroh T.Changklan, Chiang Mai, Thailand
3. Couples
Chiang Mai does boast a few factors that can easily make it a romantic destination. Although it doesn't have the many breathtaking beaches and the romantic restaurants like the very famous Phuket and Krabi, you and your significant other are bound to fall in love here, if you aren't already!
What to do
Take Insta-worthy photos at a scenic national park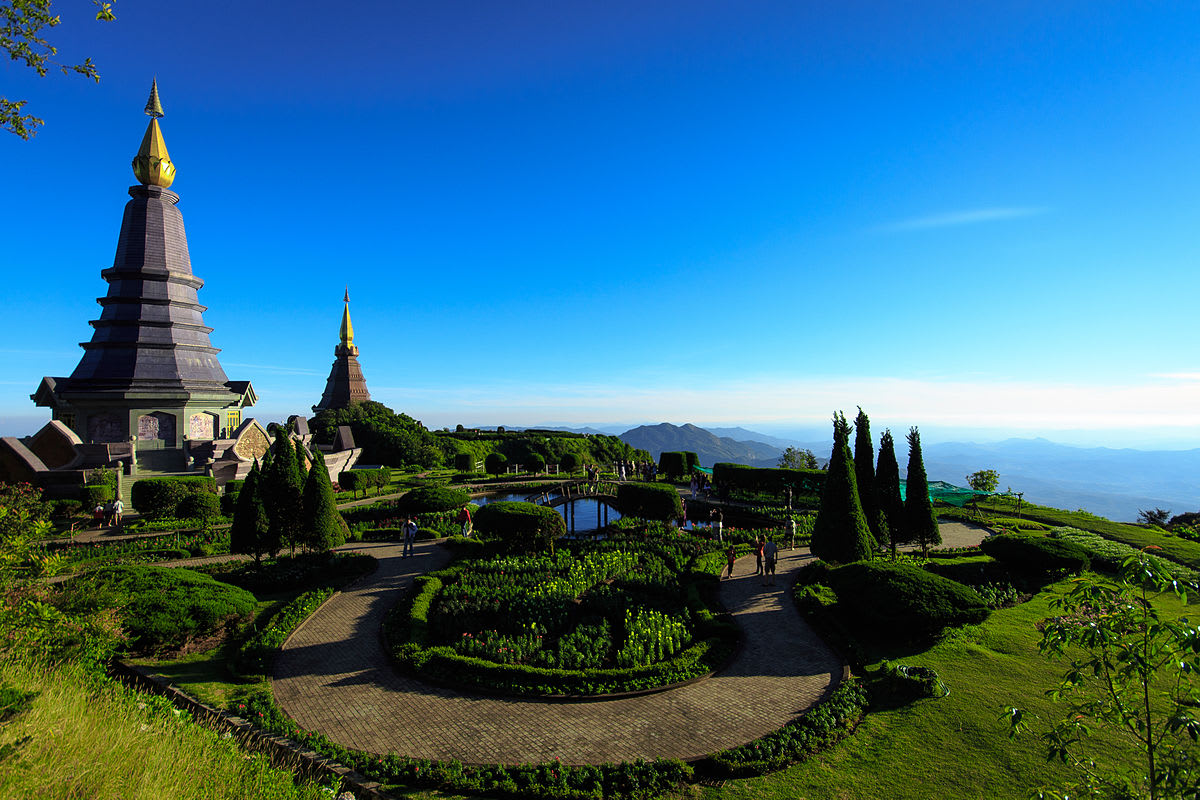 What's an overseas trip with bae without adorable Instagram photos? And what could possibly be one of the best places to take an Insta shot in Thailand would be at its highest mountain, also known as Doi Inthanon, in the Doi Inthanon National Park.
Amidst vast greenery, ethnic tribes, friendly villages and breathtaking views, Doi Inthanon National Park is also home to the Wachiritharn Waterfall, from where you can enjoy beautiful views of the National Park!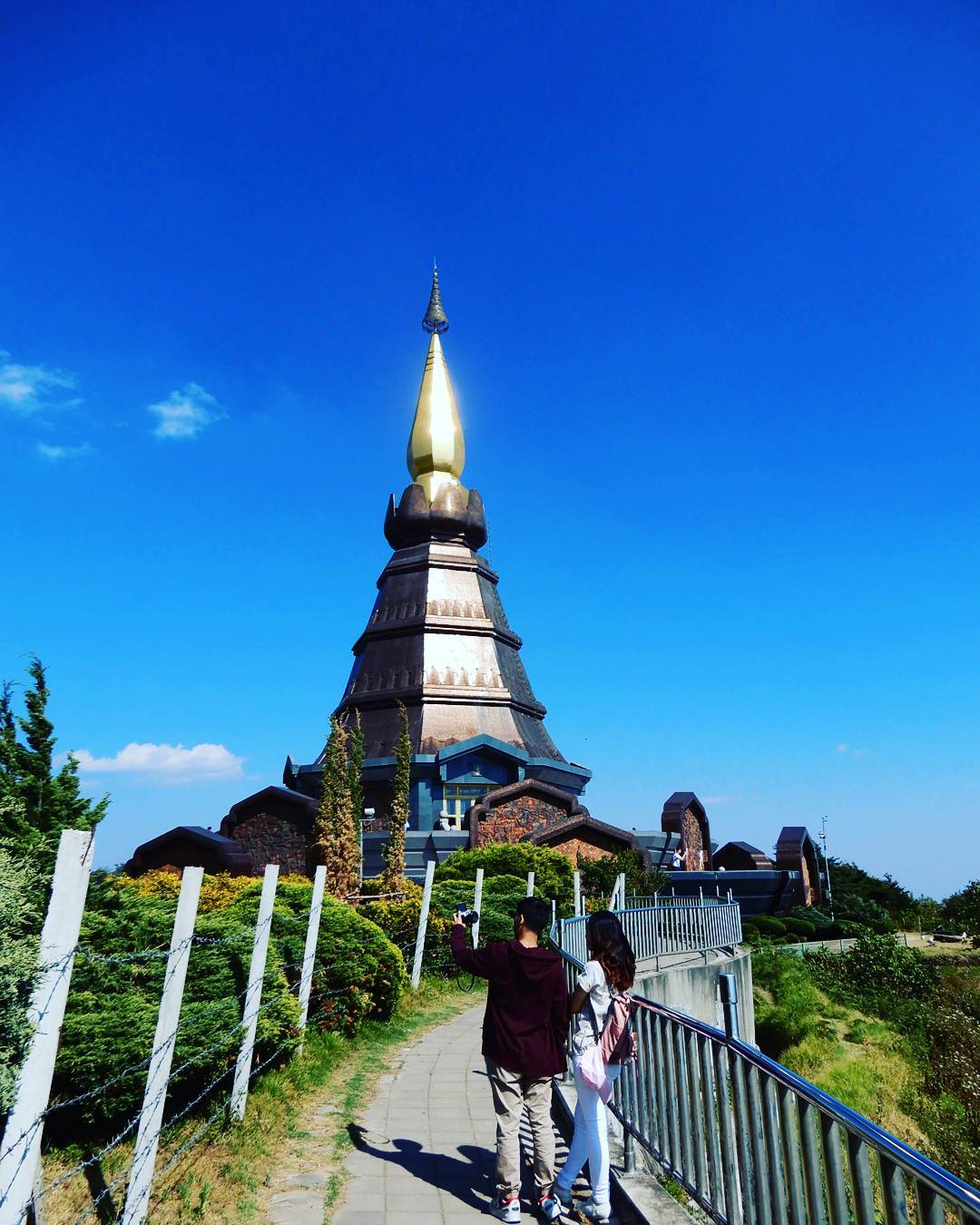 Take dozens of photos and reenact famous couple shots with bae at the various scenic spots at the park! For one, we highly recommend snapping a few shots at the Angkha Nature Walk, where backdrops of the mountain is guaranteed to complement your shot by about 100%!
Enjoy exclusive discounts when you book your Doi Inthanon National Park tickets with Klook today! From exploring the country's hill tribes to visiting Wachiritharn Waterfall, this full day tour is a must, all without the hassle of dealing with queues!
Klook me to Doi Inthanon National Park!
Become elephant owners for a day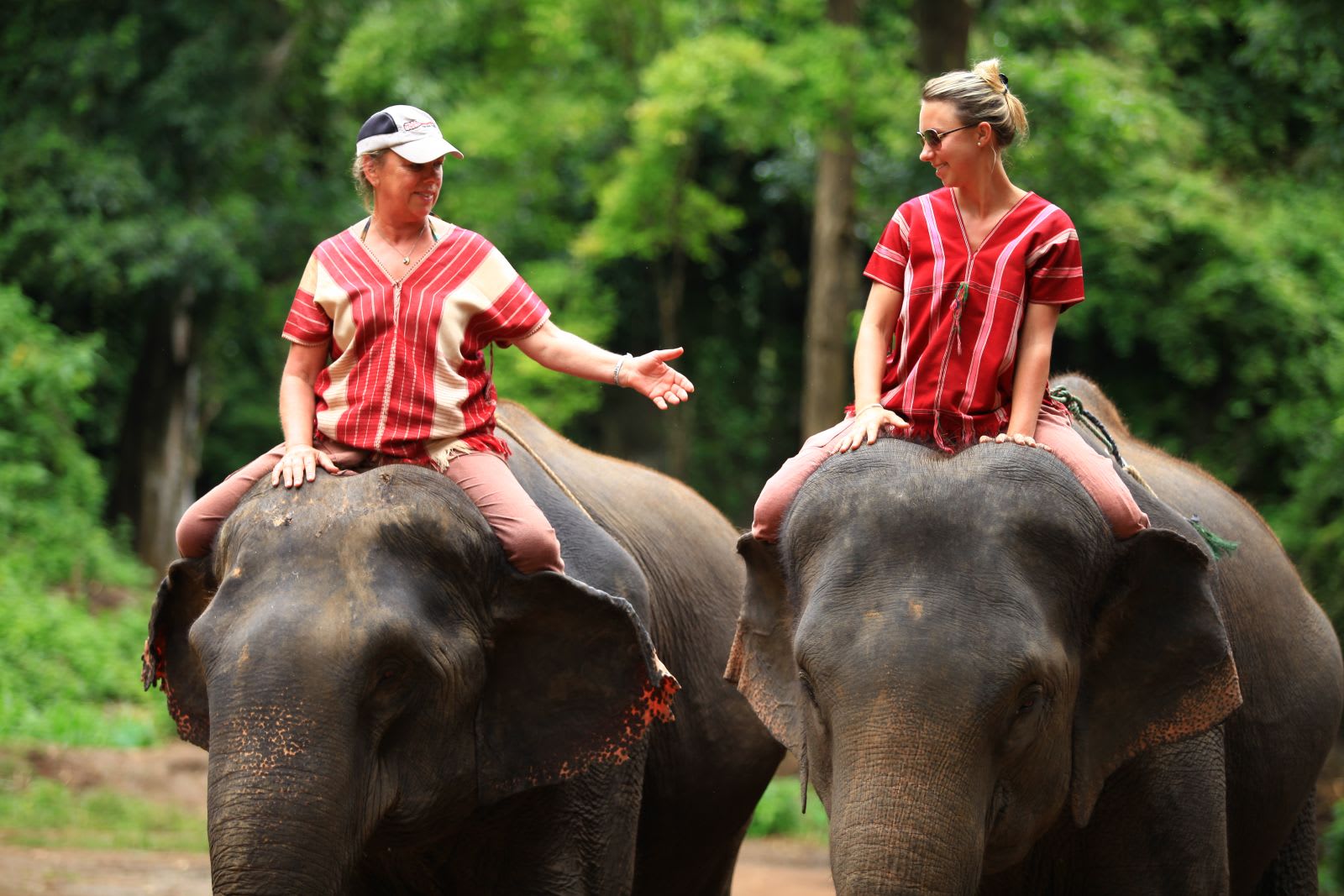 A visit to Thailand isn't complete without at least some sort of interaction with an elephant. This majestic creatures are so well-loved in Thailand, although most times aren't well taken care of. There are however a few elephant rescue camps around the country that enable you to have healthy interactions with these creatures, without endangering them in any way.
So what better way to check off a Thailand to-do list with bae than to do a good deed at the same time?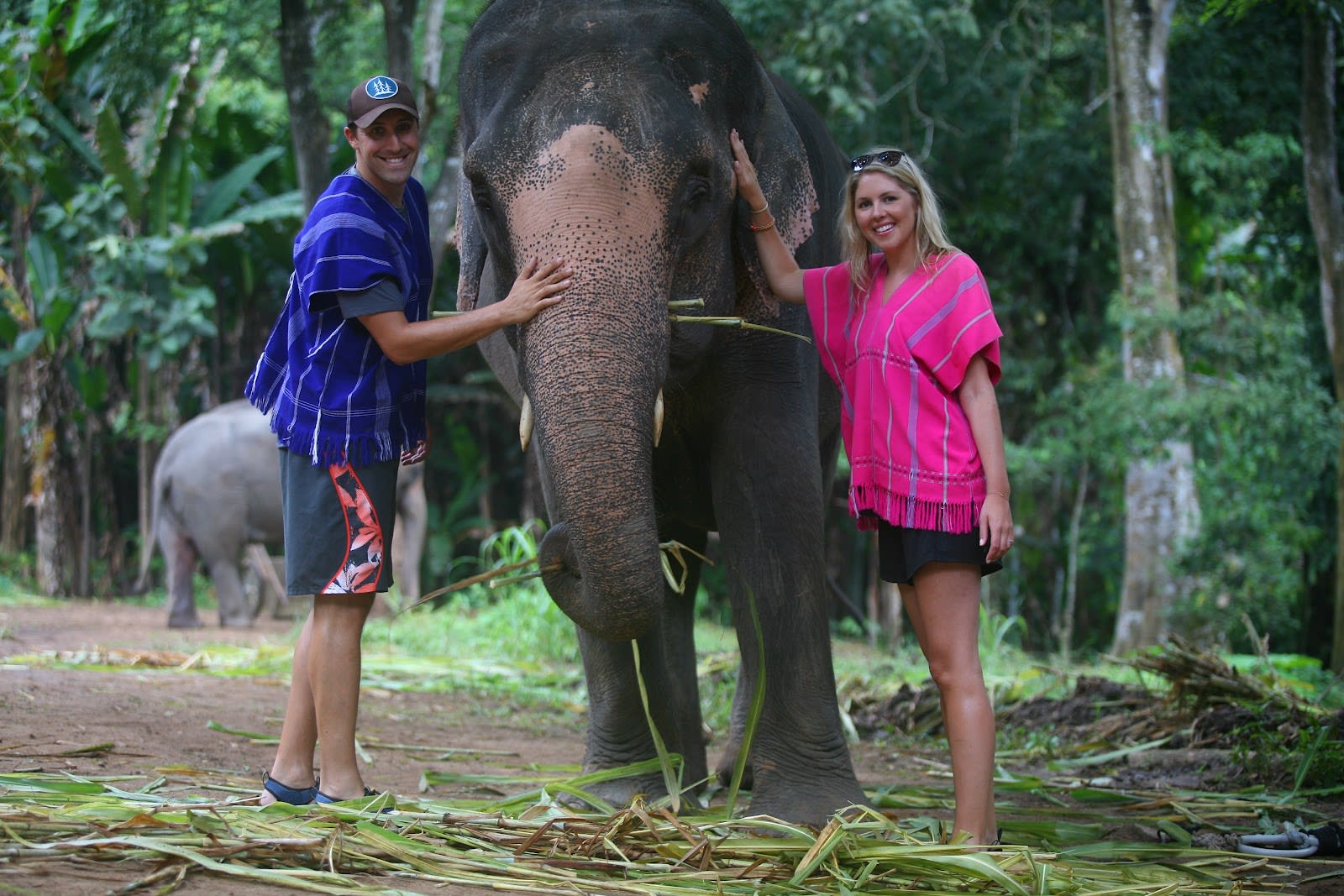 And Chiang Mai's Patara Elephant Farm enables you to do just that. Instead of seeing an elephant performing tricks like kicking a ball or painting a picture, here you can become "elephant owners for a day", where you can feed, bathe, hike, and even swim with these gentle giants. Also, you'll get to ride on an elephant's back as it apparently helps keep the elephants healthy!
This experience also comes with a traditional Thai picnic lunch as well! So grab bae for an elephant adventure now!
Location: T.Baan Pong A.Hang Dong , Chiangmai, Thailand
Contact: +66-819922551
Website
Challenge each other with old school vendor games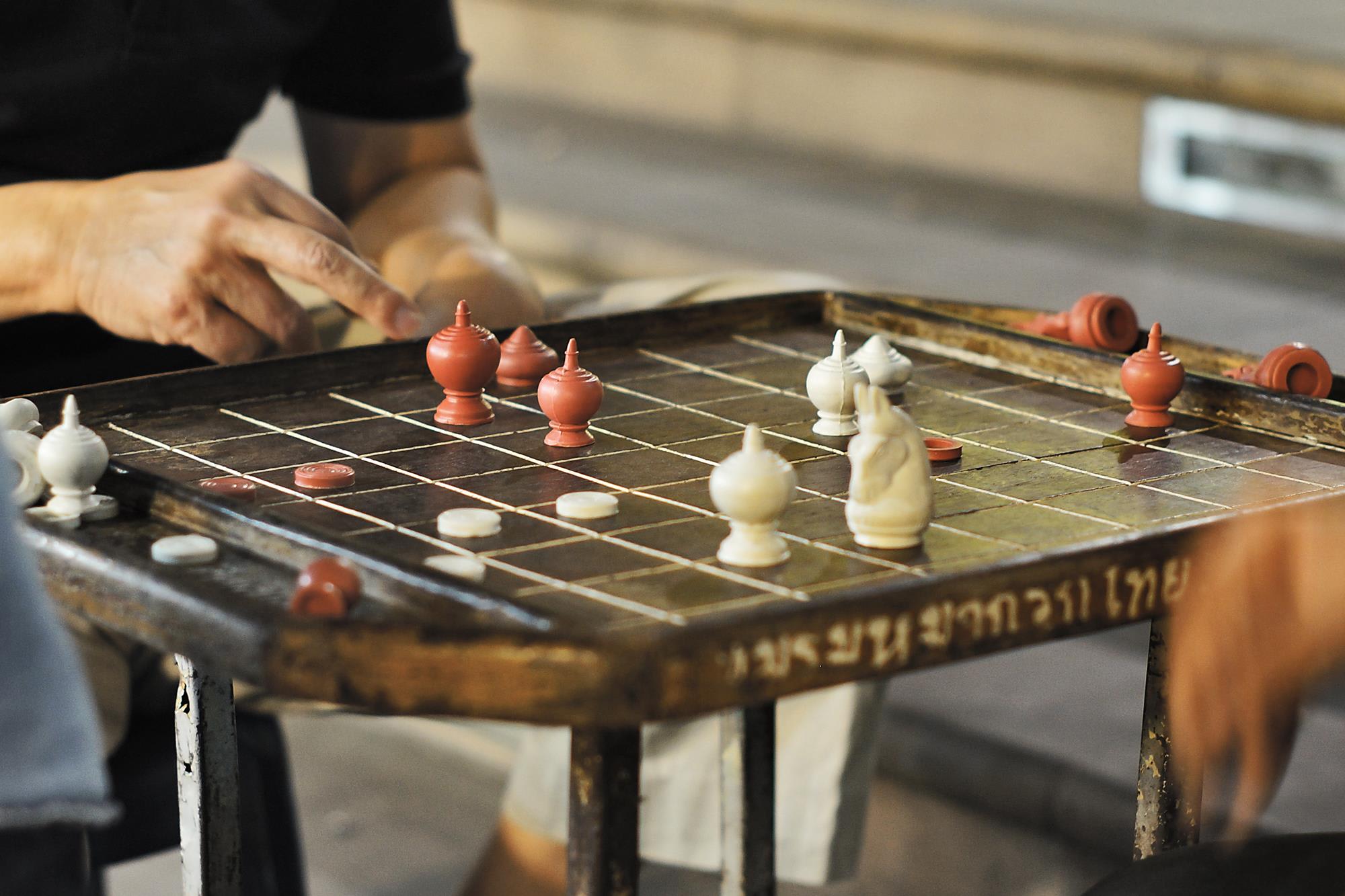 Whether it's a game of traditional chess or a game of darts, the Chiang Mai Night Walking street has the perfect kind of games for the competitive ones. Also the biggest night market in Chiang Mai, the Sunday night market is opened from as early as noon and houses a variety of vendors that include game stalls!
Decide who's the better one in games once and for all or if you'd prefer, settle on a tie and simply savour on the many local delights at the market's food court!
Location: Rachadamnoen Rd, Tambon Si Phum, Amphoe Mueang Chiang Mai
Operating hours: 12:00 pm - 10:00 pm
Where to stay
Nimman Mai Design Hotel Chiang Mai by Compass Hospitality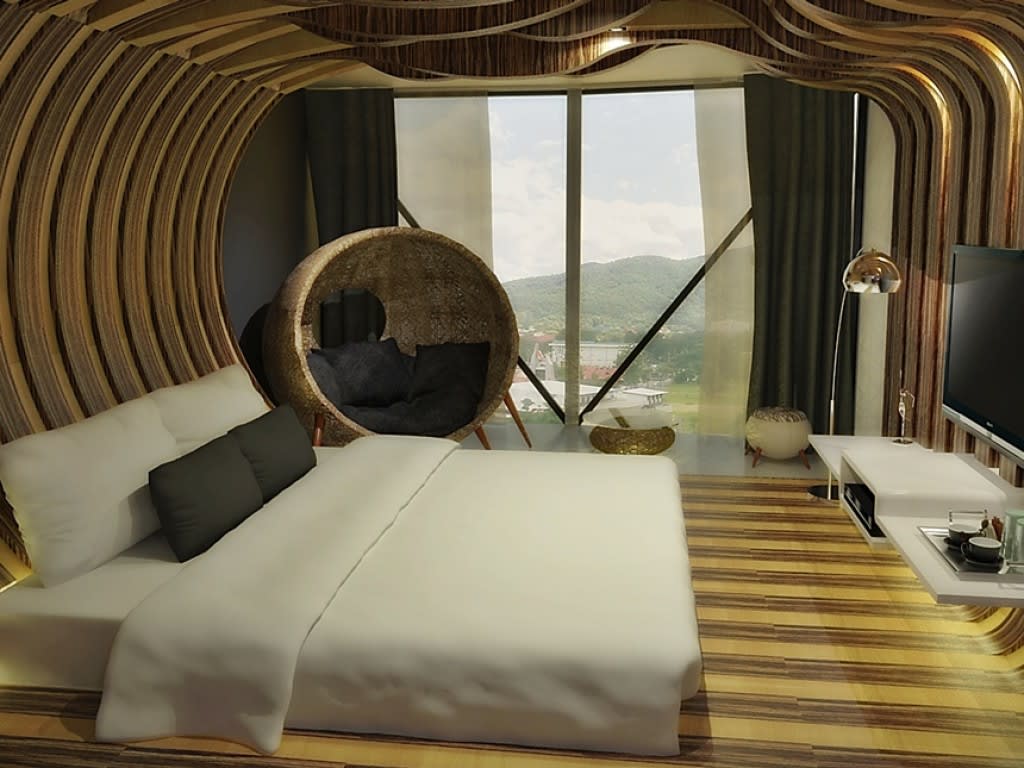 Each room in Nimman Mai Design Hotel Chiang Mai by Compass Hospitality offers vibrant themes in addition to stylish furnishings, perfect for couples who aren't looking for the conventional, romantic setting. Also, guests will be treated to stunning views of the city as well as mountains during your stay!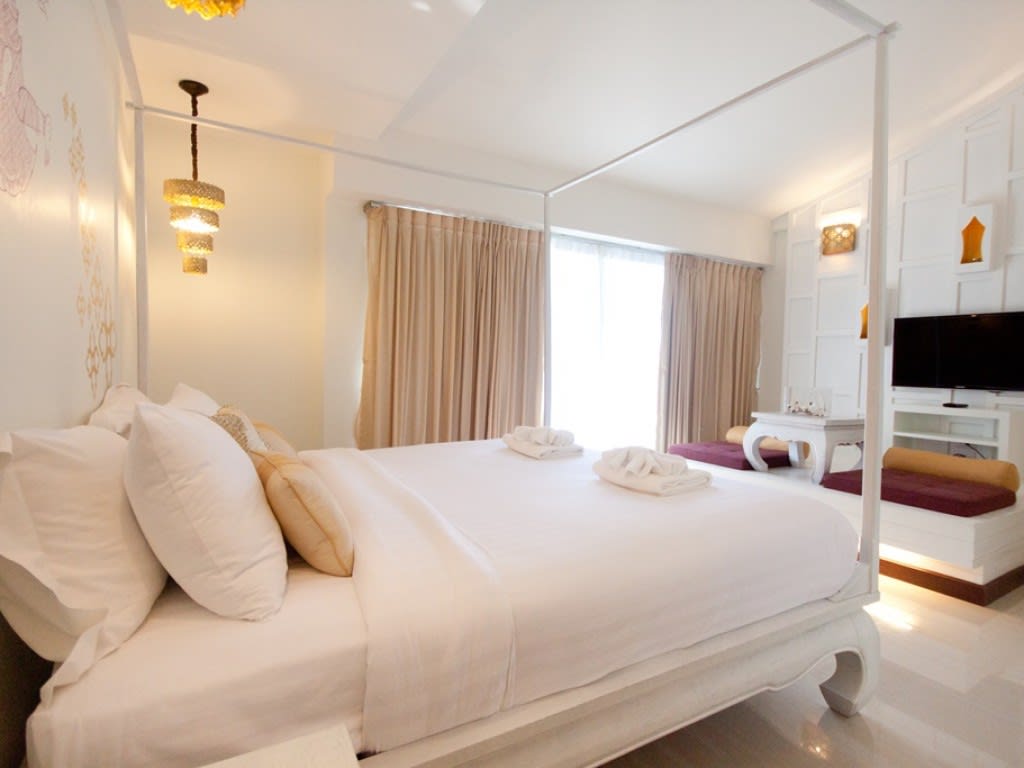 What's even more unique is that the hotel's in-house restaurant turns into a library after breakfast, perfect plan for a rainy day, right?
Star Rating: 4*
Price: from S$63
Guest Rating: 7.8
Address: 2/1 Nimmanheamin-Sukasem Road, Chiang Mai, Thailand
Chiangmai Chaiyo Hotel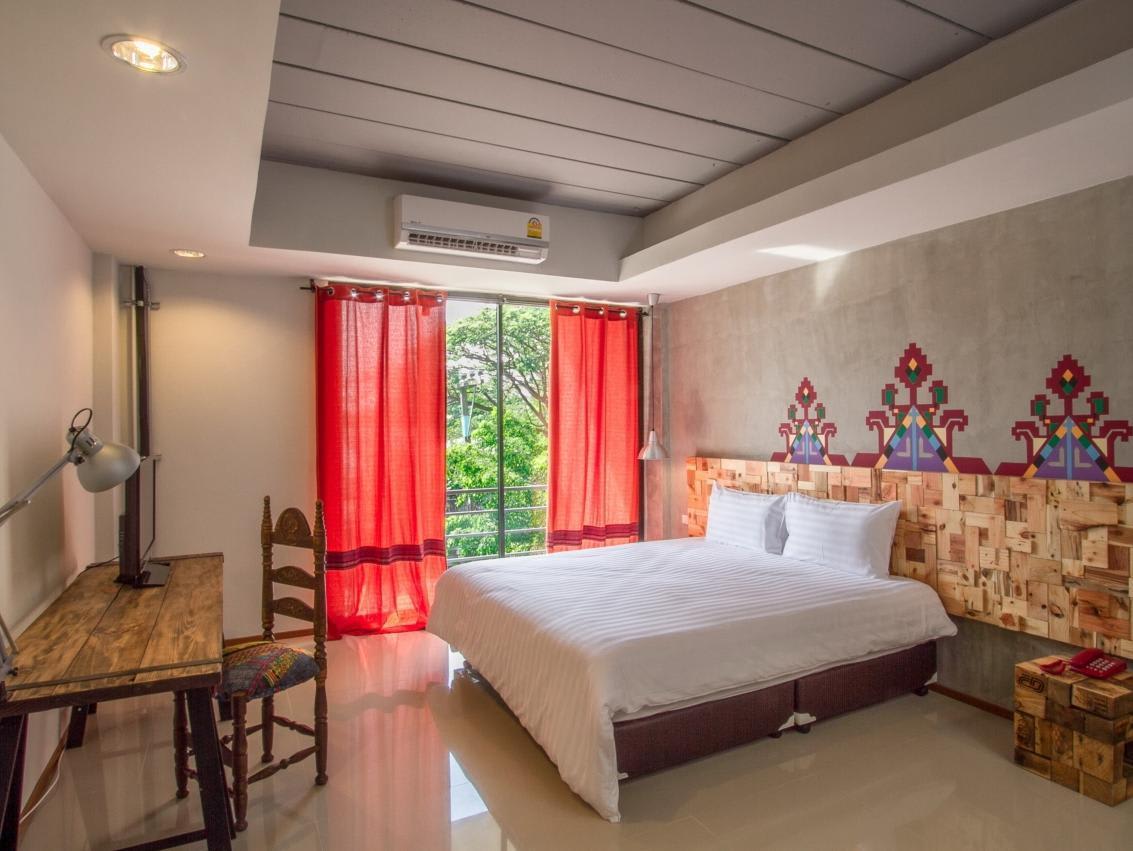 So the both of you are all up for museum dates but Chiang Mai hasn't got that many museums for you to visit. No worries, because Chiangmai Chaiyo Hotel is the perfect choice for you. With beautiful decor that at the same time manages to offer an intimate setting, this boutique hotel is everything an art-lover could ask for.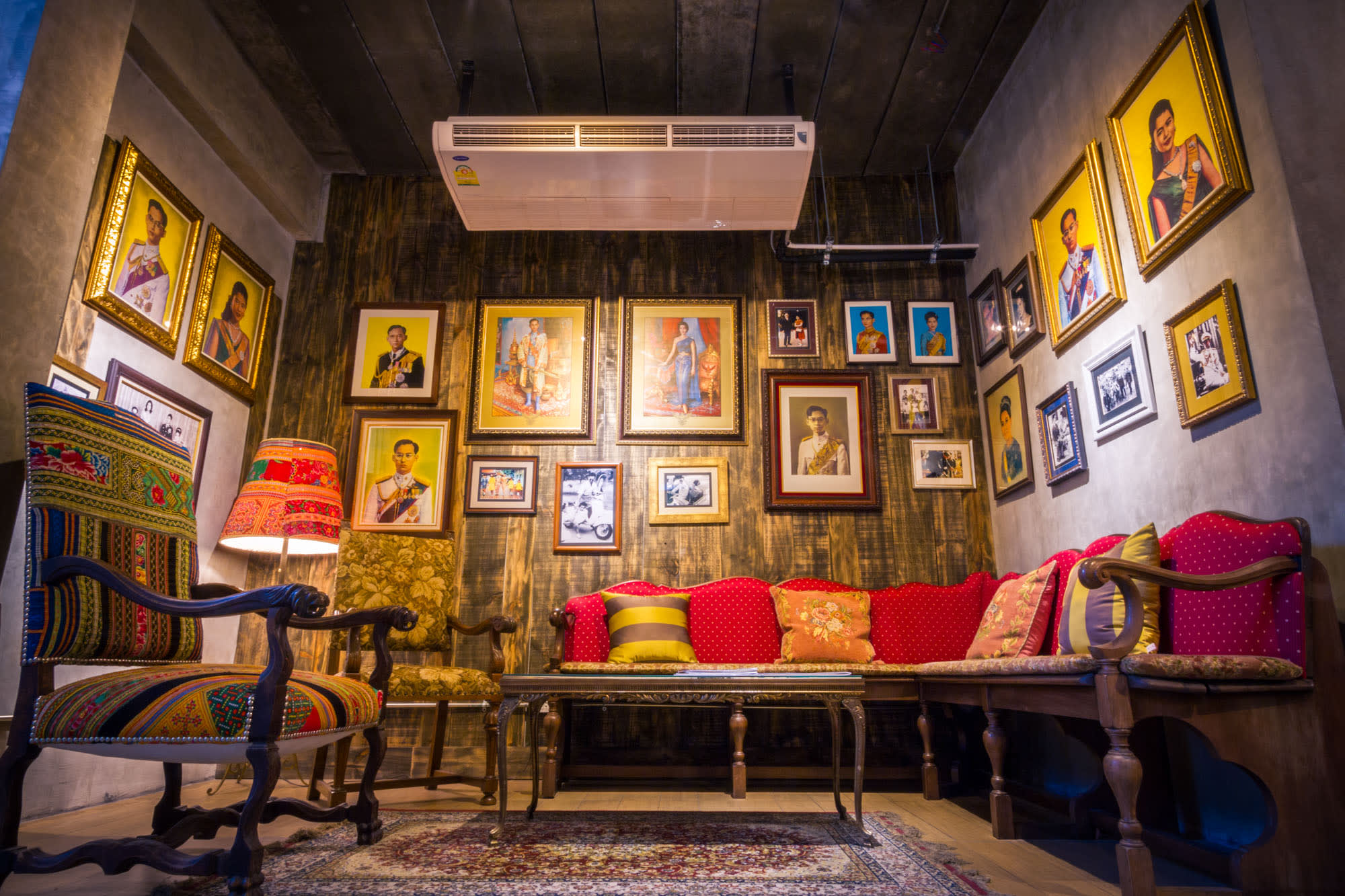 A stone's throw away from several attractions that include the Maya Lifestyle Shopping Centre, Chiang Mai Zoo and Chiang Mai Night Safari, the hotel also houses a whole bunch of artworks from local artists and designers that are all displayed on its walls!
Star Rating: 0*
Price: from S$57
Guest Rating: 8.4
Address: 17-17/1-4 Nimmanhemin Road, Soi 5, Chiang Mai, Thailand

Lotus Hotel Pang Suan Kaew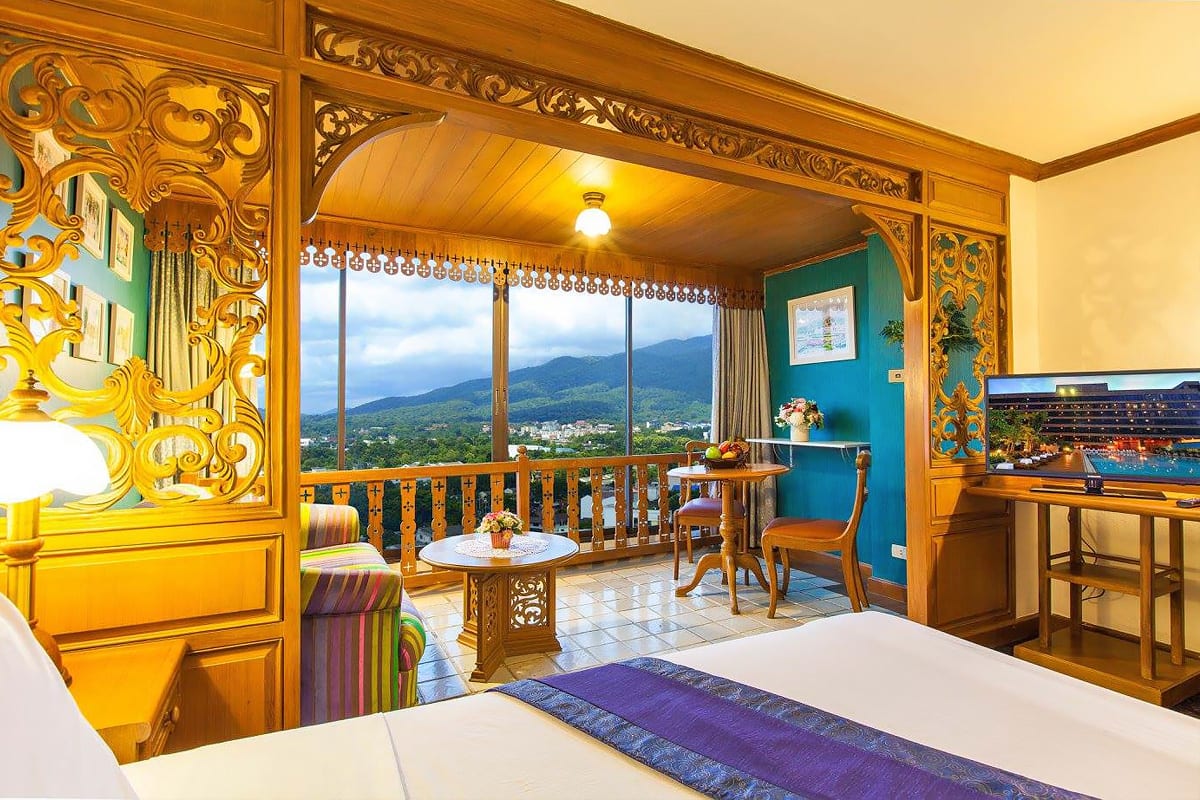 Offering a unique interior, Lotus Hotel Pang San Kaew is the perfect choice for the ones looking to stay in a traditional but still intimate concept. That's right, expect rooms with detailed designs and colours, making you feel at home in a foreign country.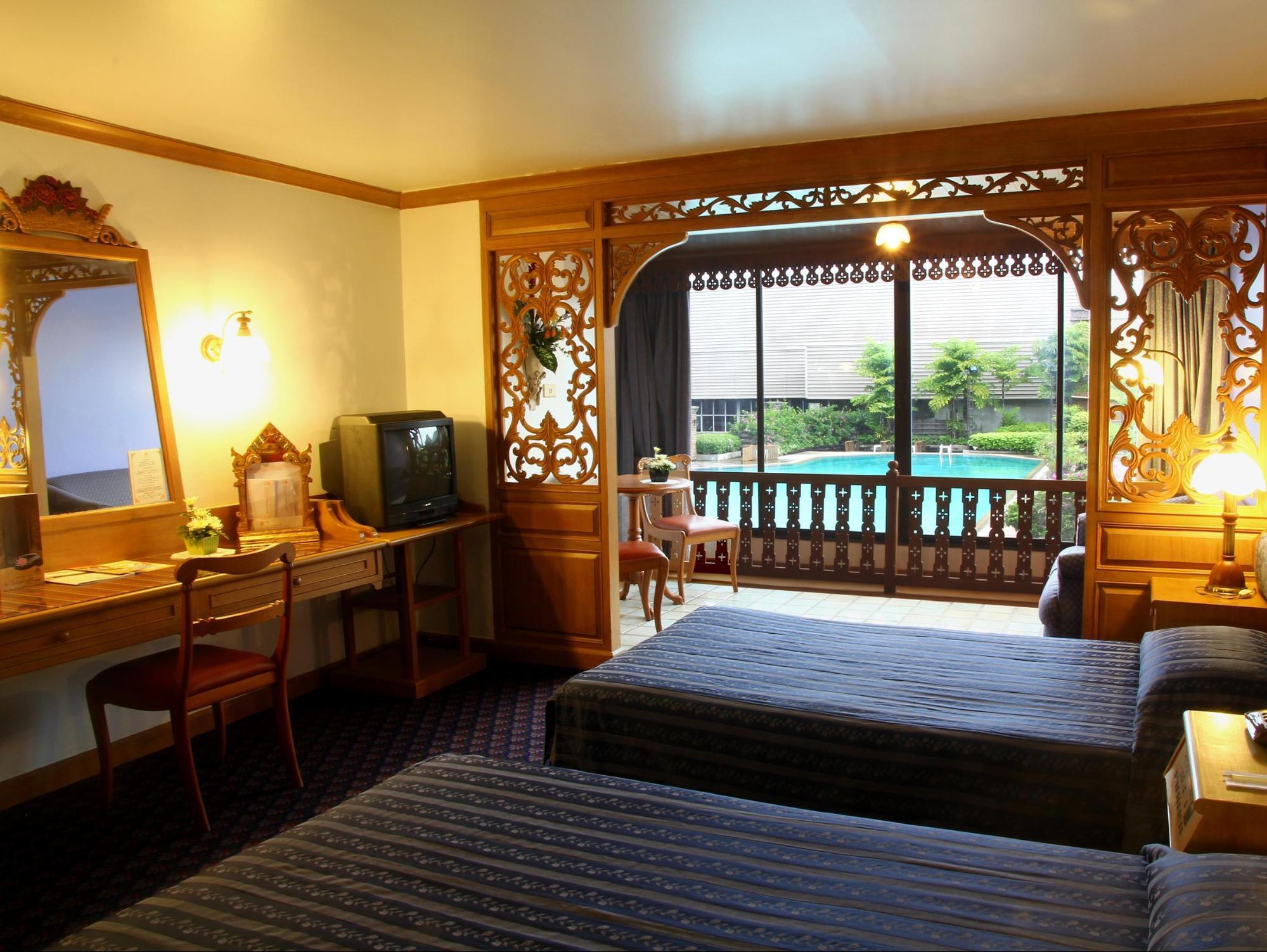 Lotus Hotel Pang San Kaew is connected to local shopping options that include traditional shops and guests can find plenty of entertainment nearby to keep their itinerary full!
Star Rating: 3*
Price: from S$60
Guest Rating: 6.8
Address: 21 HuayKaew Rd., Chiang Mai, Thailand
4. Adventure travellers
Chiang Mai is home to a beautiful national park and countless adventure activities. For the ones that are always down for spontaneous activities and aren't afraid of spending practically the whole day under the sun, these few activities are perfect for you!
What to do
Have a meal of insects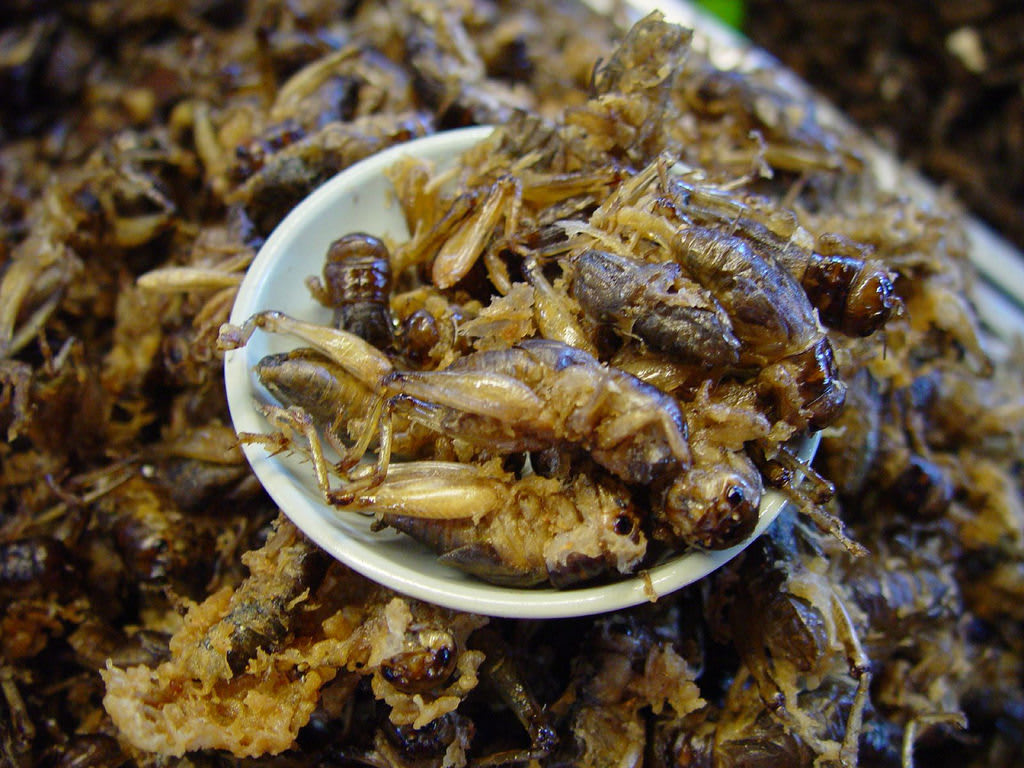 As with most other Southeast Asian destinations, Thailand and insects go hand in hand. In Chiang Mai, insects are food and bugs of all shapes and sizes are quite hard to avoid in your food intake when you're here!
In fact, according to the UN's Food and Agriculture Organisation (FAO), Thailand has topped the list for the world's largest producer of edible insects!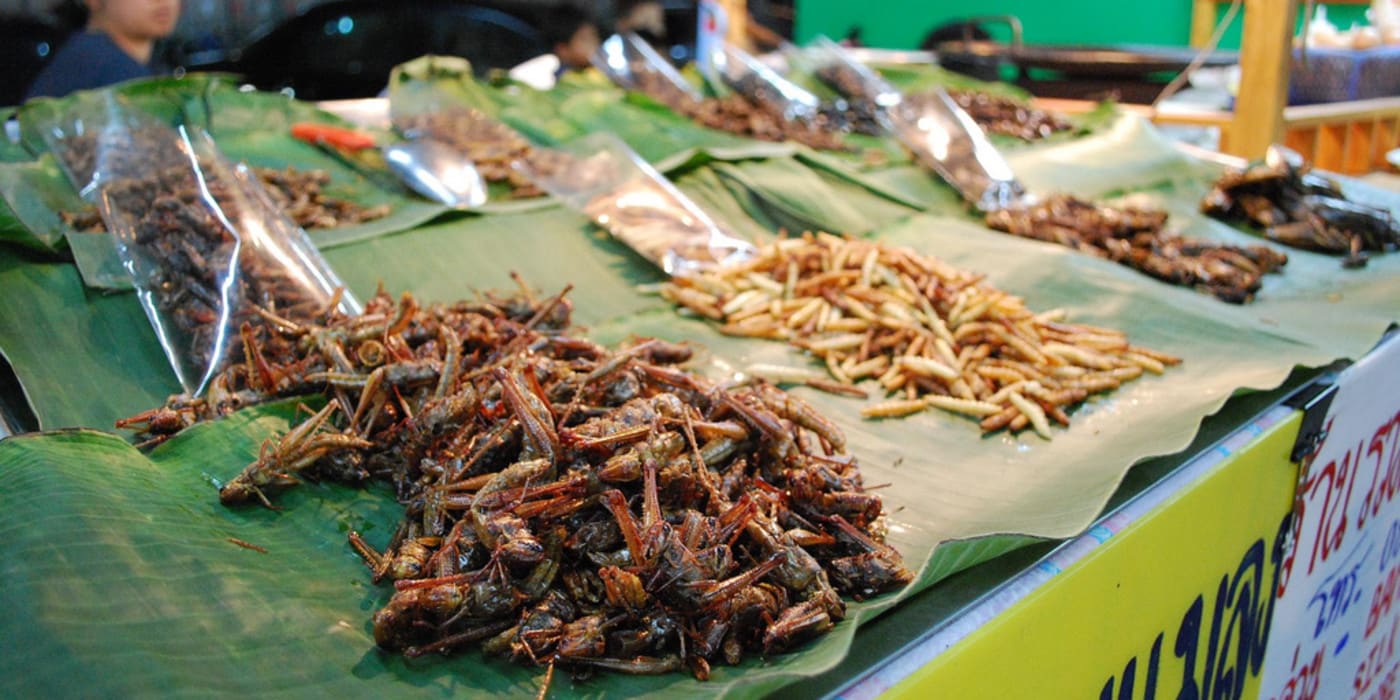 So be the adventurous traveller that you are and experience a meal of fried crickets complete with a craft beer when you're in Chiang Mai because, what's travelling without new experiences?
Zipline through Chiang Mai's famous jungles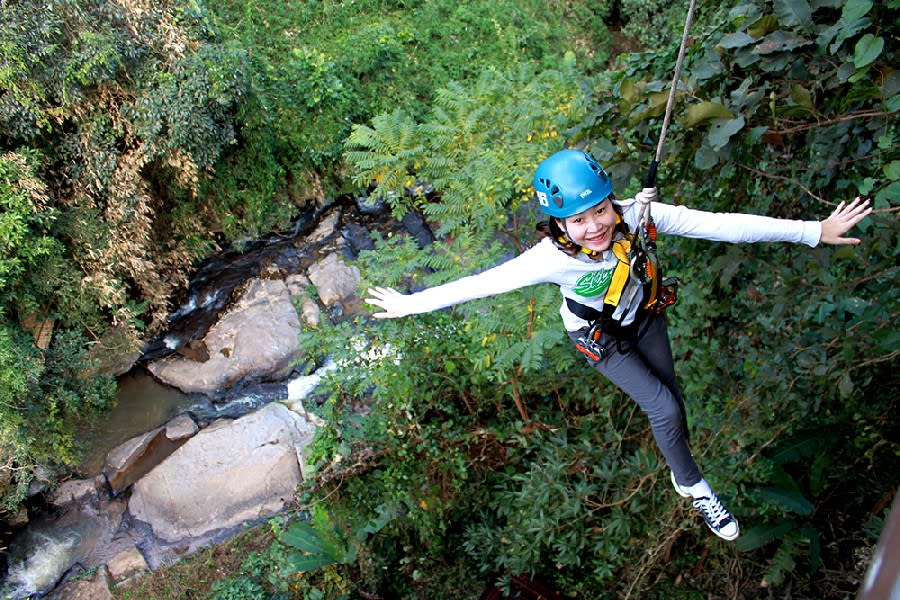 Raise your hands if you love exploring jungles but hate hiking! Because ziplining through a jungle of course, the more preferred option than hours of continuous hiking, right? And what's ziplining in Chiang Mai without doing so over the city's most famous jungles, waterfalls and mountains?

Enjoy spectacular views as you zipline through 7 or more different courses, that include encountering several different obstacles along the way. Truly an experience suited for the adrenaline junkies!
Klook your Chiang Mai ziplining adventure today and get your e-tickets instantly, without even needing to queue! With three different packages to choose from, this bucket-list worthy activity will be yours to experience, all with a hassle-free booking!
Klook me to a zipline adventure now!
Hop on board an ATV ride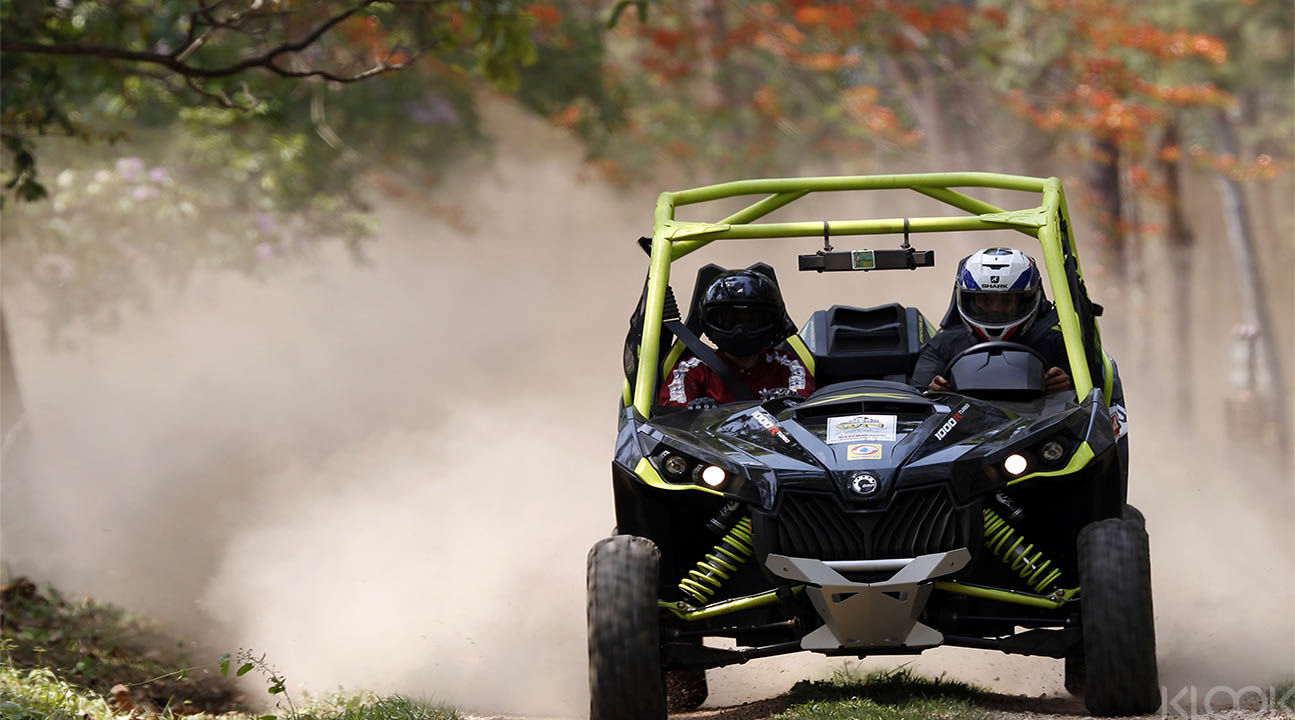 For an even faster jungle exploration, hop on board a 4×4 ATV ride, where you'll cruise through some of Chiang Mai's best mountainous tracks! Get the adrenaline rush you were looking for while at the same time admiring picturesque views of Chiang Mai's stunning rice fields and terraces along the way!
The only thing left here is to prepare a good camera to document your adventure!
Book your ATV adventure with Klook today and you're on your way to a unique sightseeing experience, without needing to deal with queues! What's more, you'll get your e-tickets instantly, so simply choose between three different packages and you're good to go!
Klook me an ATV adventure!
Where to stay
Maekok River Village Resort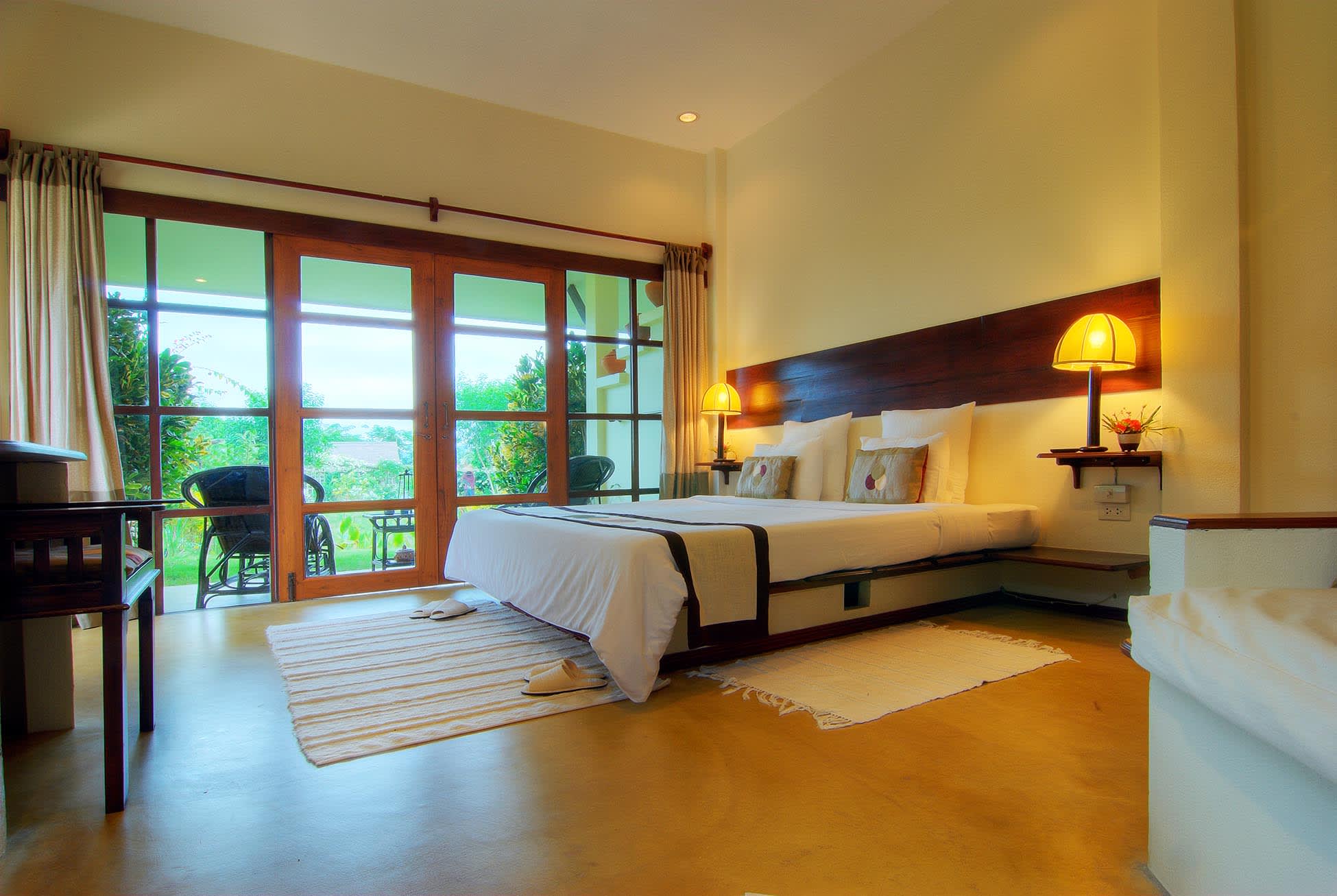 Picture glamping at its finest and Maekok River Village Resort will come to mind. With rooms that offer views of mountains, tropical forests and beautiful gardens, this hotel is perfect for the adventure traveller, with the added advantage of in-room facilities.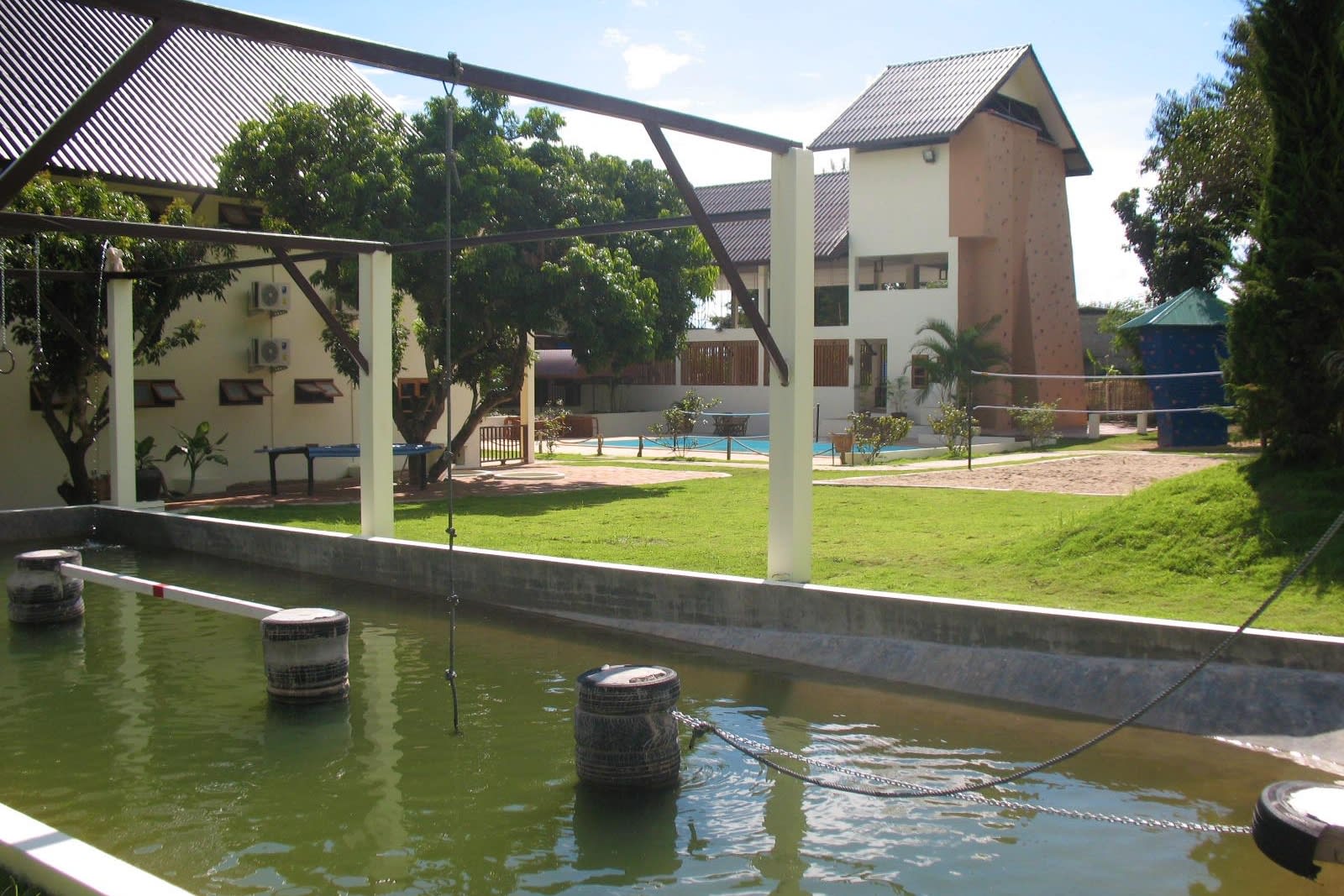 When we say that this hotel is perfect for adventure-lovers, we mean it because housed within the hotel itself lies an obstacle course suitable for all ages! Challenge yourselves at the comfort of your own hotel, without the hassle of travel!
Star Rating: 4*
Price: from S$95
Guest Rating: 9.4
Address: 21 HuayKaew Rd., Chiang Mai, Thailand
Rainforest Boutique

Source: Rainforest Boutique
Just a 10-minute stroll from Chiang Mai Railway Station lies Rainforest Boutique, which boasts everything that you need to getaway from the hustle and bustle of the city life. Although, this hotel is conveniently located just a 10-minute drive away from the city centre!
And for stay-in days, the hotel's serene surroundings is perfect to give you the comfort that you need!
Star Rating: 3*
Price: from S$31
Guest Rating: 7.9
Address: 21 HuayKaew Rd., Chiang Mai, Thailand
Baan Boo Loo Guesthouse Chiang Mai
Baan Boo Loo Guesthouse Chiang Mai is a humble accommodation located in the heart of Chiang Mai, just nearby the Night Bazaar. Each of its 7 rooms boast a cosy interior and vast views of the nearby greenery, on top of the essential amenities.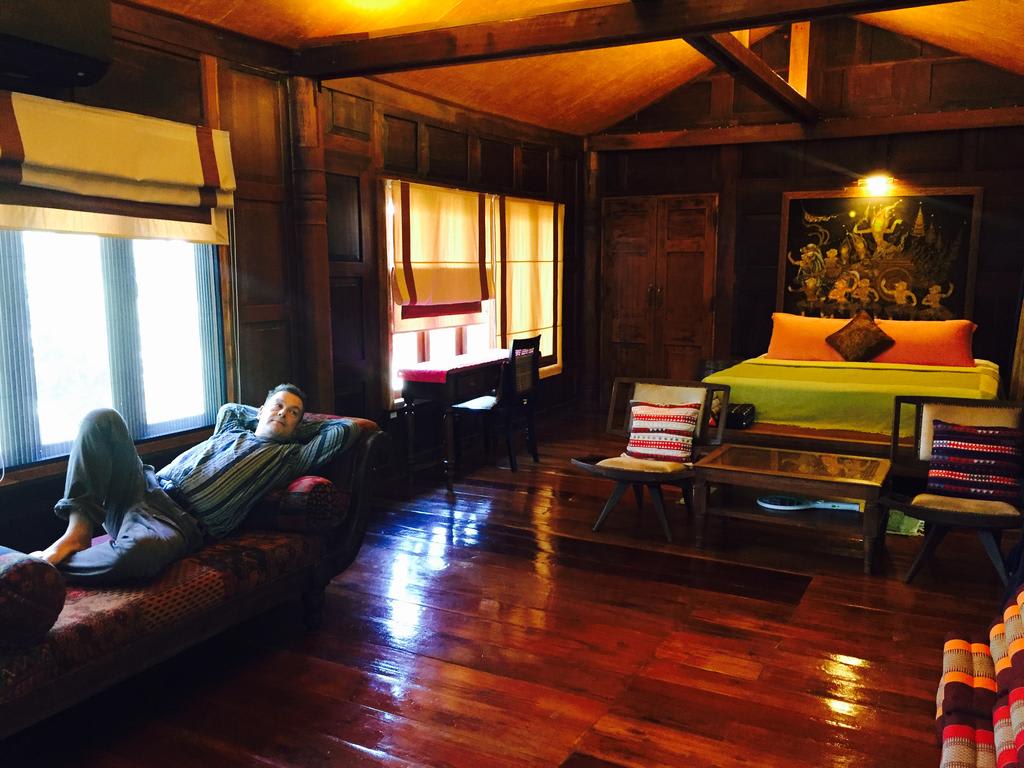 Rated a perfect 10 in user reviews, this accommodation also features a kampung (village) concept, so rooms here are not air-conditioned and have large windows, complete with warm-coloured curtains and furniture! Also, the hotel offers packed lunches as well, perfect for hiking days!
Star Rating: 3*
Price: from S$135
Guest Rating: 10
Address: 21 HuayKaew Rd., Chiang Mai, Thailand
5. Families
Sure, Chiang Mai may not house many theme parks that other family-friendly destinations do, but that doesn't mean a visit to this city with the little ones is going to be a waste of time! Apart from its safari and adventure parks, Chiang Mai has a handful of activities that will guarantee fun for the whole family!
What to do
Visit Phoenix Adventure Park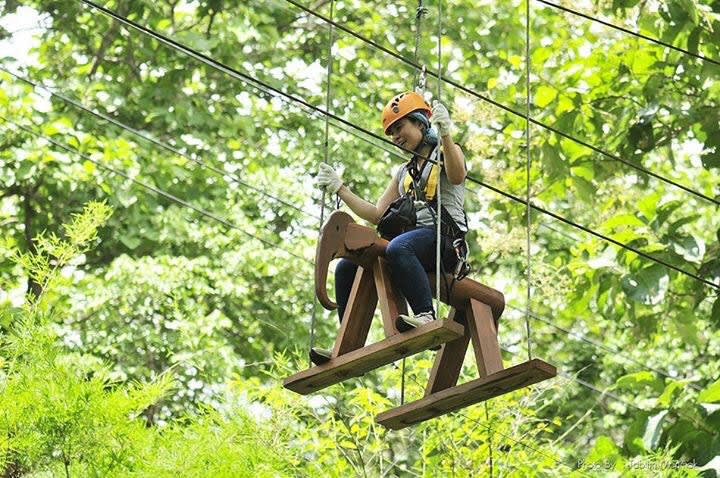 Featuring 48 different obstacles that range from ziplining to cable swinging, Chiang Mai's Phoenix Adventure Park has welcomed adventure seekers of all ages! There are three different courses that you can choose from, so don't worry if the obstacles aren't suitable for the little ones!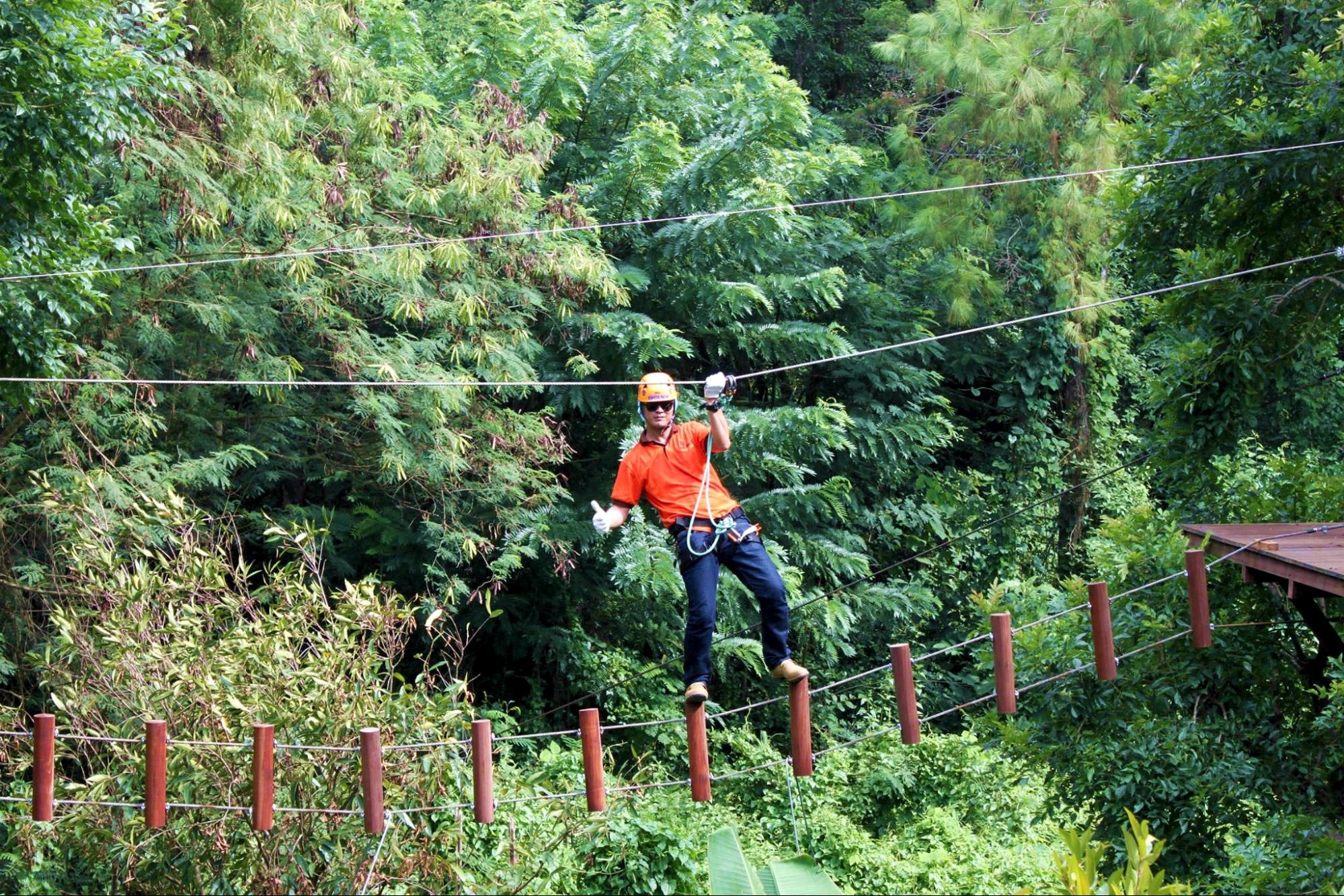 Phoenix Adventure Park is known to be the biggest adventure park in Chiang Mai so be ensured that safety is their top priority here. Every person will be equipped with all the necessary protective gear so you and your kids can have fun without any worry of danger!
Also, with the many ziplining and swinging, reenacting Tarzan isn't all that difficult anymore!
At an exclusive discount, Klook offers you a fun-filled day for the whole family at Phoenix Adventure Park! With no queuing necessary, choose between 3 different package options that are well suited for the entire family!
Klook me to Phoenix Adventure Park!
Visit an interactive museum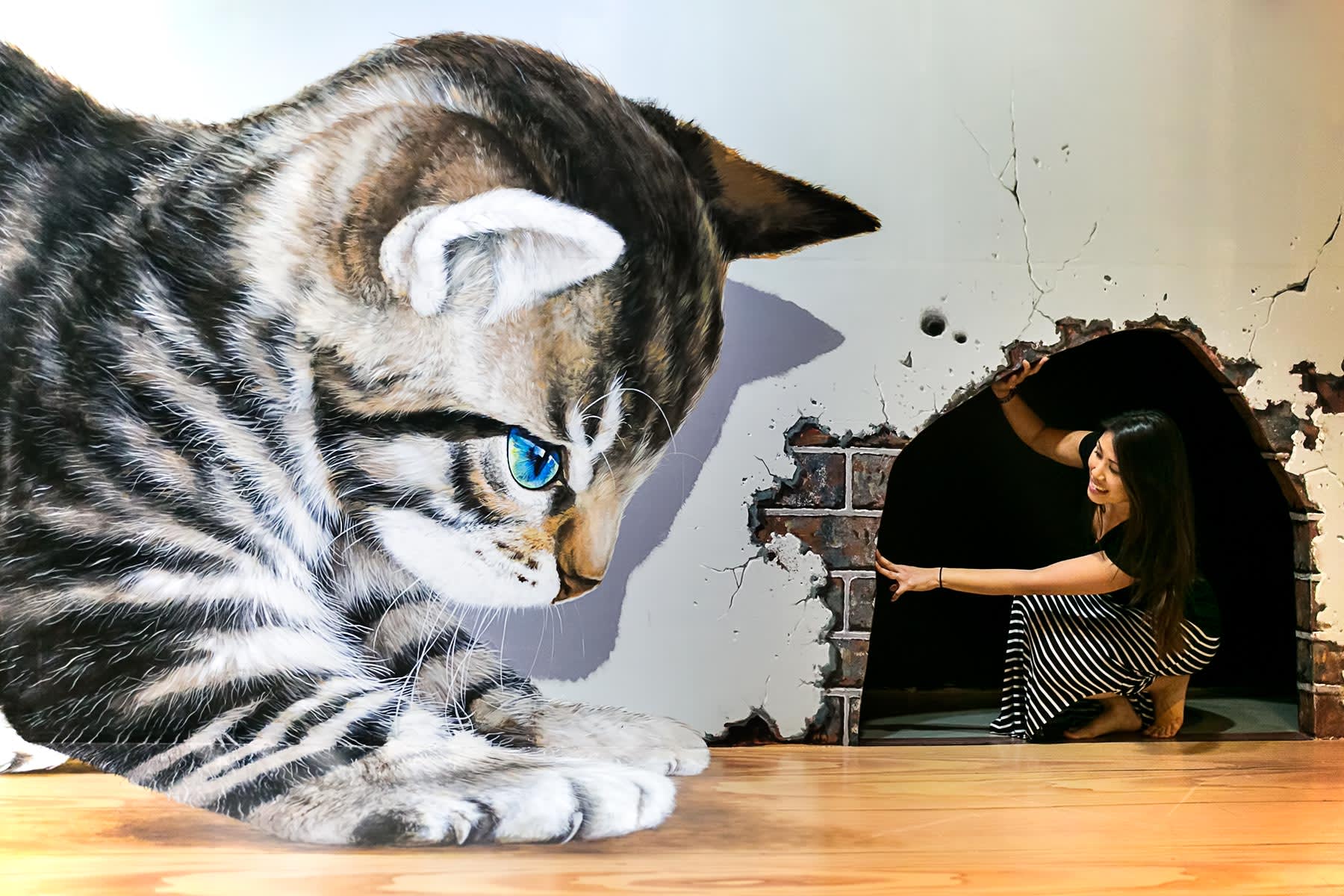 With Chiang Mai's Art In Paradise, museums aren't all that boring. Similar to the Trick Eye Museum in Singapore, Art In Paradise is an interactive museum that features 3D paintings where guests can spend hours taking photos with.
No kidding, there are over 130 different paintings in 6 different zones that include an underwater zone, wildlife zone and classic art zone! Also, the classic art zone has copies of famous paintings such as the Mona Lisa!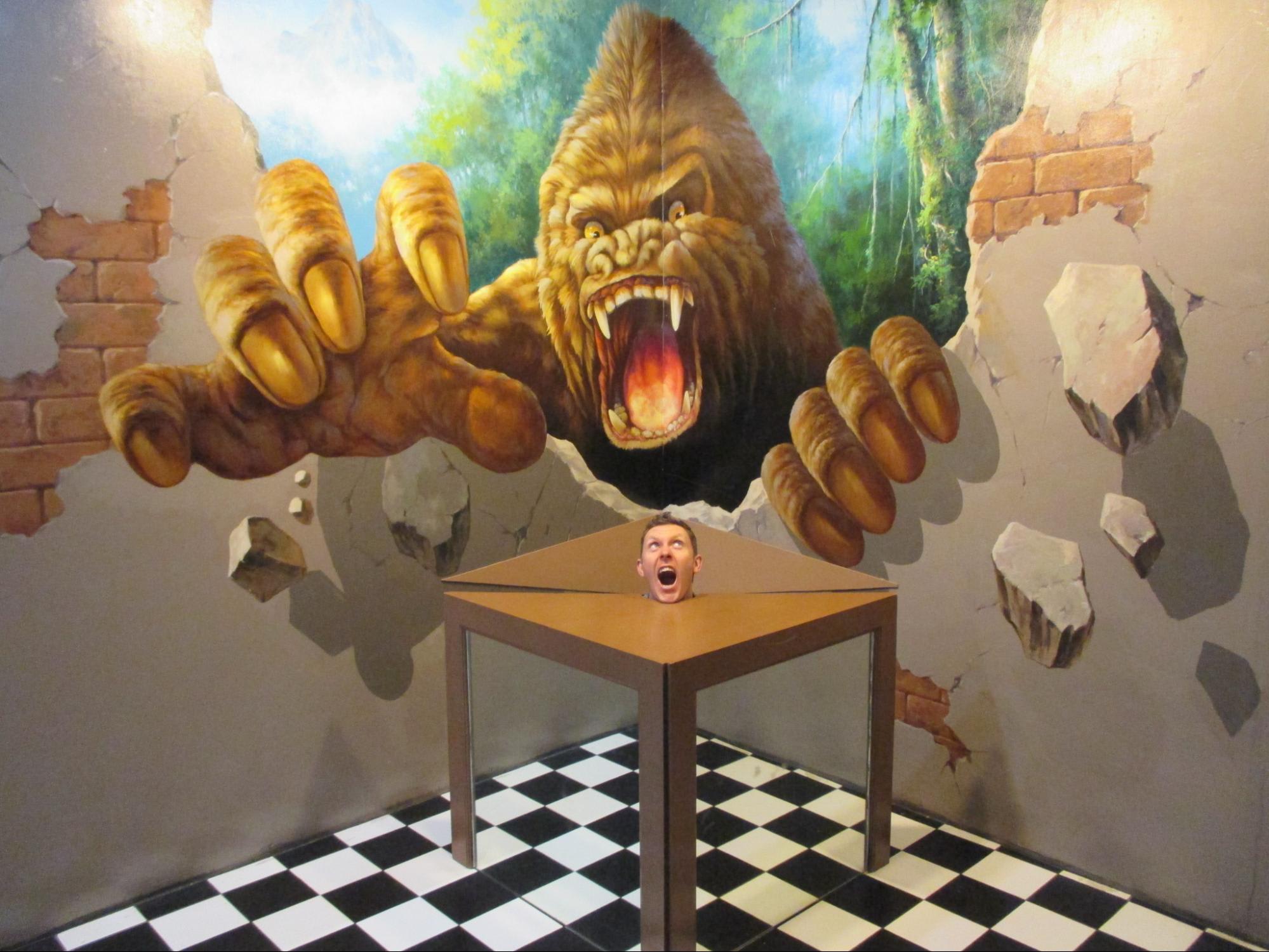 Not to mention that this museum serves as a huge role-play playground for the kids, so it's safe to say that the word "boring" doesn't exist here!
Location: 199/9 Chang Klan Road, Chiang Mai
Operating hours: 9:00 am-9:00 pm daily, last admission 8:00 pm
Price: Adults: 300 baht (~ SGD 12) Child: 200 baht (~ SGD 8)


Website
Cruise through Chiang Mai on a Segway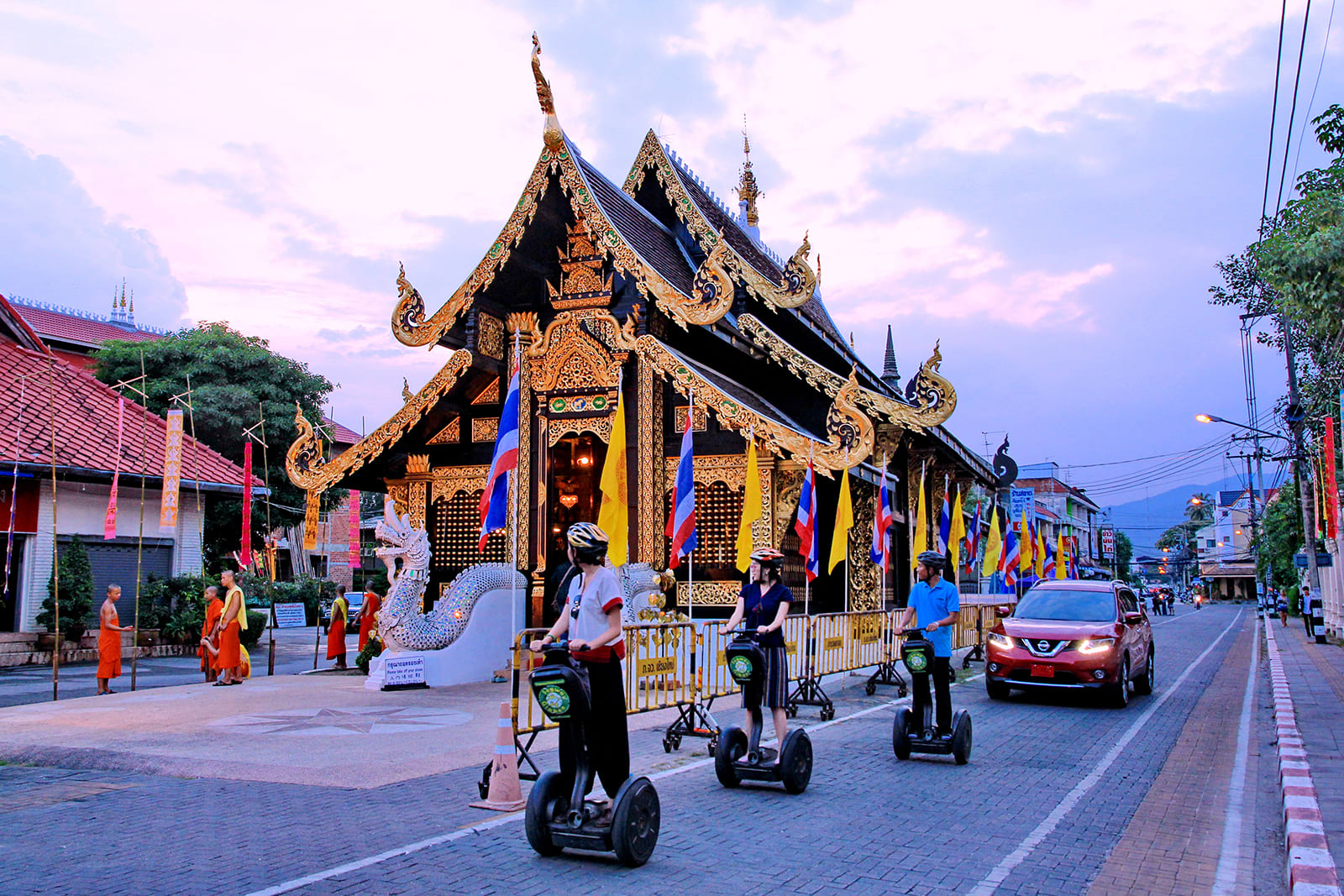 Sure, we've seen the standard sightseeing tours that consist of car hires and shuttle services. And these might not always work well with travelling families because the journey itself can prove to be a challenge when you include kids in the picture. But that doesn't mean you should forgo sightseeing tours from your itinerary, because have you heard of Segway tours?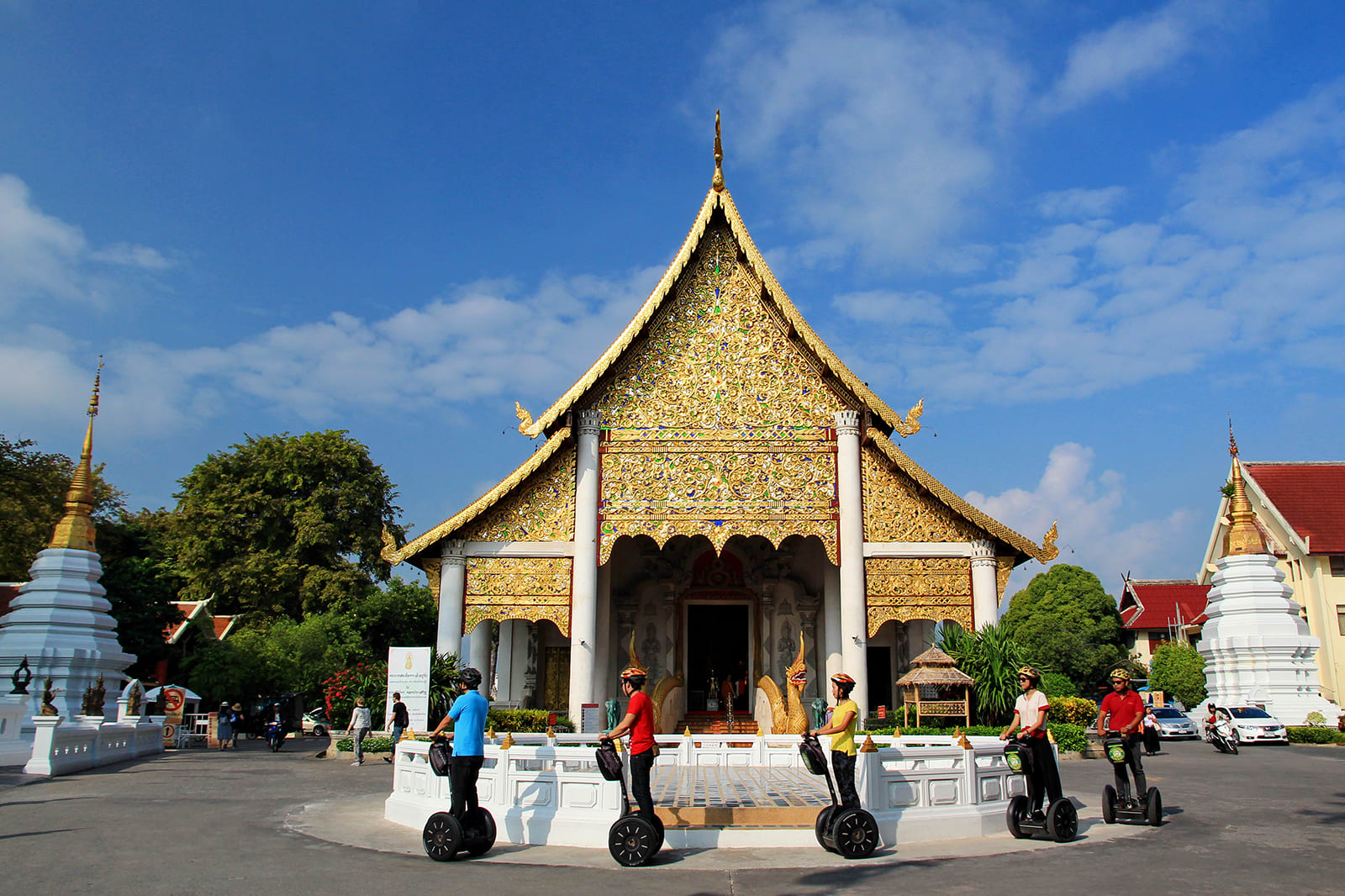 With a standard speed, you and the little ones can visit some of Chiang Mai's biggest attractions while cruising on the Segway. That's right, in just two hours, you'll explore Chiang Mai's temples, culture and landmarks and learn about its rich history while at the same time having complete fun, without the potential tantrums and crying that bus tours normally give you (oops)!
Klook your very own Segway adventure now and get your tickets instantly, without having to deal with the queues! Inclusive of a tour guide, this unique Chiang Mai sightseeing experience is a must!
Klook me a Segway adventure now!
Where to stay
Royal Panerai Hotel Chiangmai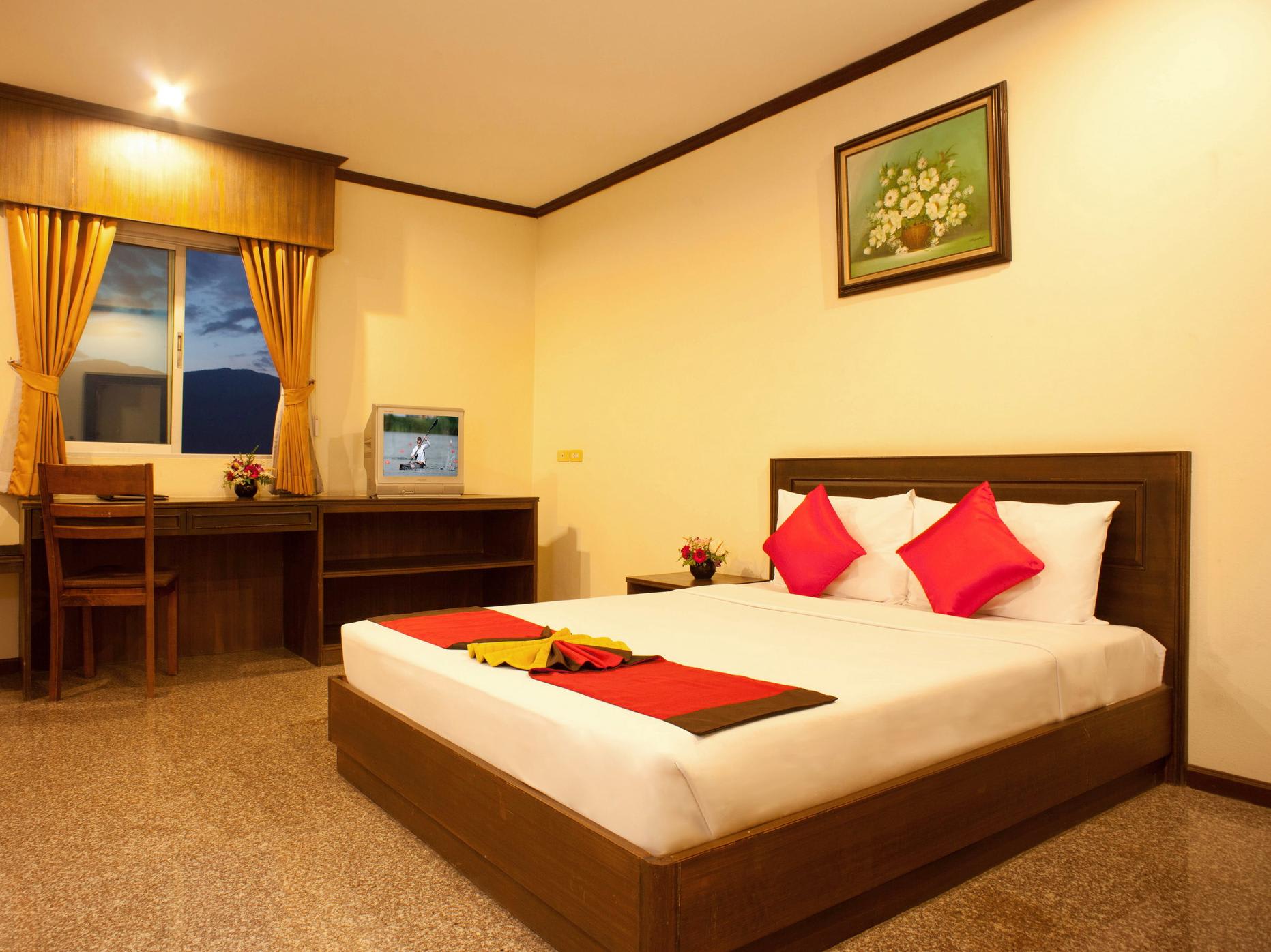 Royal Panerai Hotel Chiang Mai boasts a prime location – right in the heart of the city's nightlife, and less than a 20-minute walk from the Warorot Market and Muang Mai Market! Also, with just a short drive away from the Night Bazaar and Central Festival Chiang Mai mall, shopping is easily checked off the list!
Guests can choose from 136 luxury rooms, from a Superior Studio to a Two-Bedroom Junior Suite, that offer private balconies and dressing tables. The best part is that Royal Panerai Hotel Chiang Mai's fully equipped rooms are all accompanied by pocket-friendly prices!
Star Rating: 3*
Price: from S$23
Guest Rating: 7.3
Address: 3/9 Assadathorn Road, Tumpon Sriphoom, Chang Phueak, Chiang Mai

Suriwongse Hotel Chiang Mai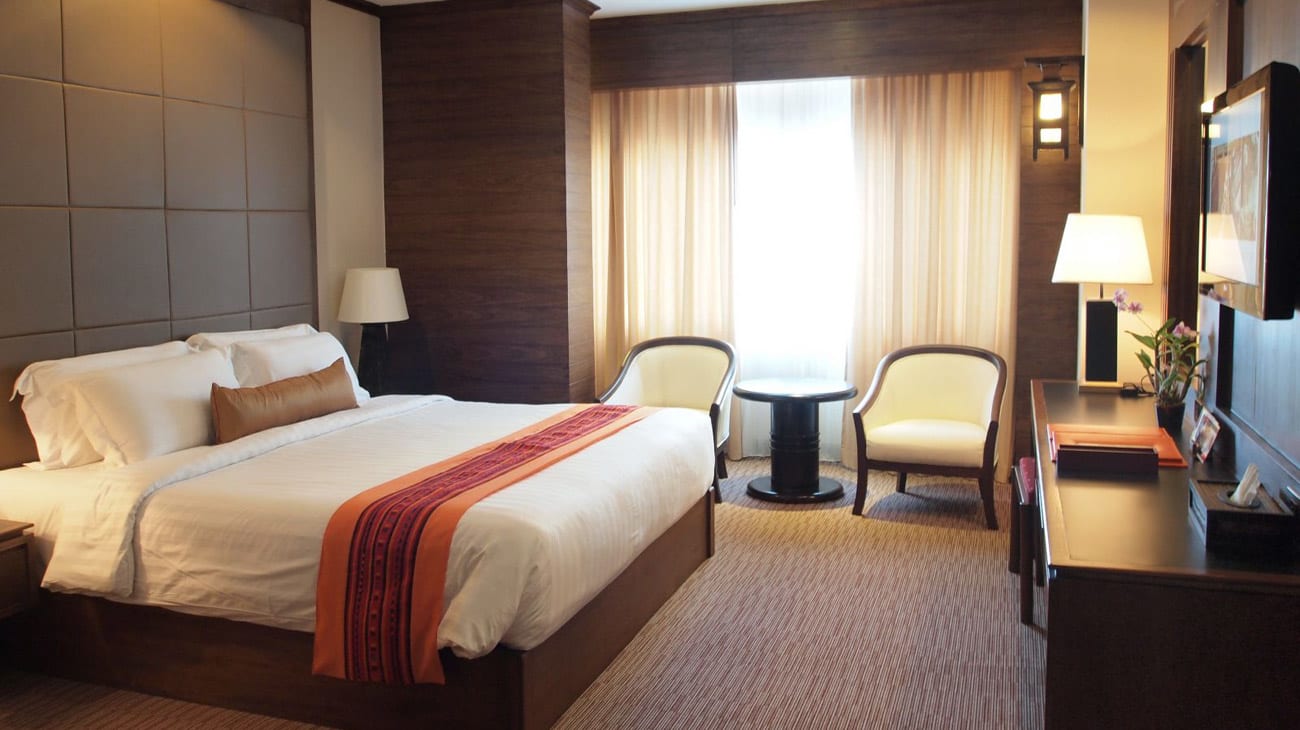 Boasting huge rooms that can accommodate large families, the Suriwongse Hotel Chiang Mai is affordable and convenient, with the very famous Night Bazaar located just in front of the hotel. Each room is decorated and equipped with all things modern, and the best part – they offer in-room massage services for as low as 400 baht (~ SGD 16)!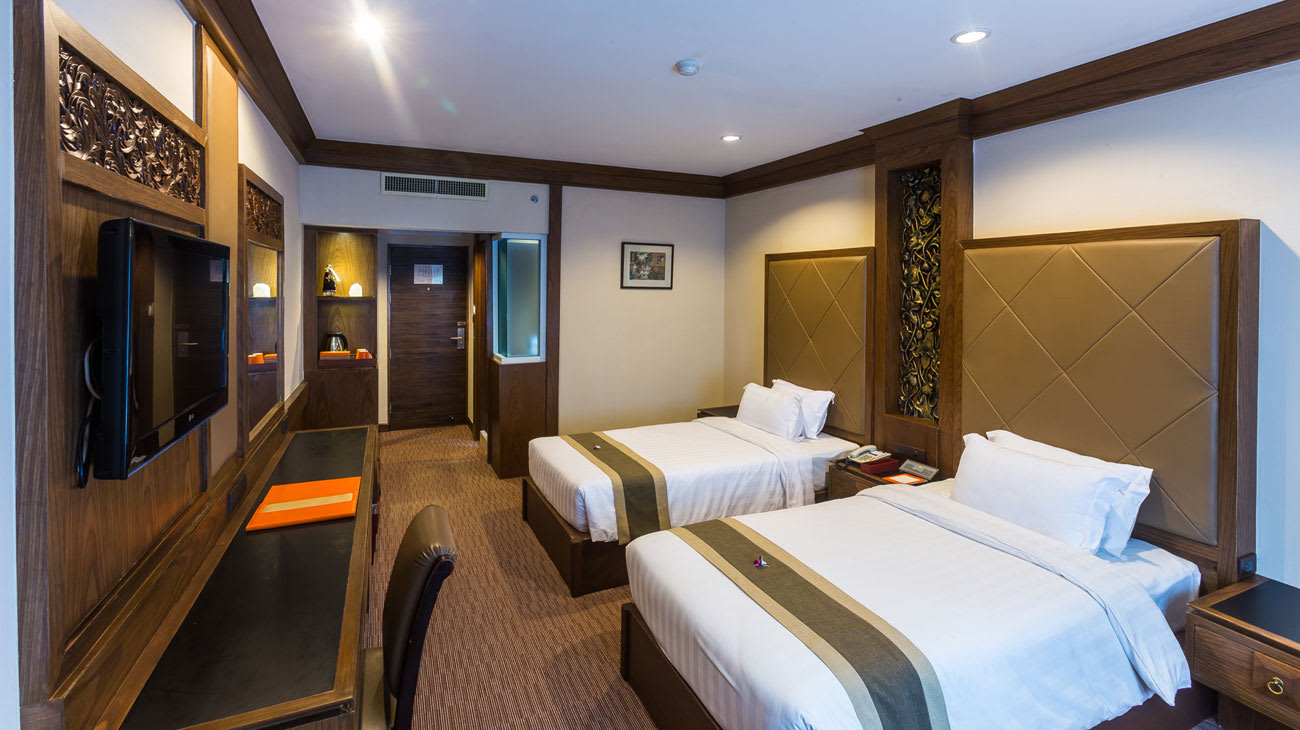 There are also plenty of shopping and dining options located just a stone's throw away from the hotel, or if you'd prefer, the hotel serves an extensive breakfast buffet each morning at its in-house restaurant: Le Bistrot!
Star Rating: 4*
Price: from S$60
Guest Rating: 7.6
Address: 110 Changklan Road Muang, Night Bazaar, Chiang Mai, Thailand
Holiday Inn Chiangmai Hotel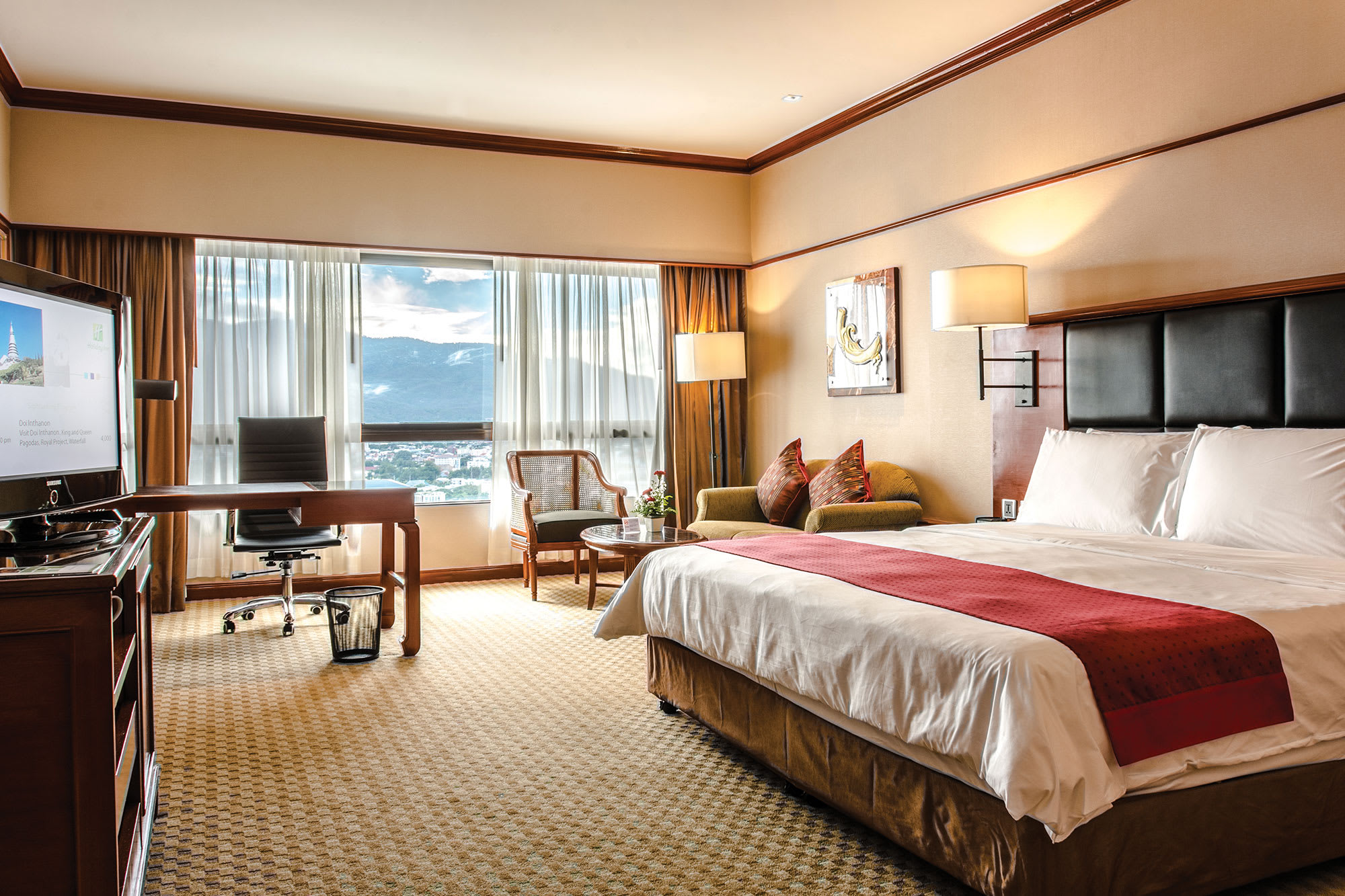 One of the top choices for accommodation in most travel destinations, it is no wonder Holiday Inn Chiang Mai is in this list! With spacious rooms that are able to accommodate large groups of people, the rooms here also boasts breathtaking views of Doi Suthep and Doi Suthep Mountain, on top of state-of-the-art amenities like child-care and massage services!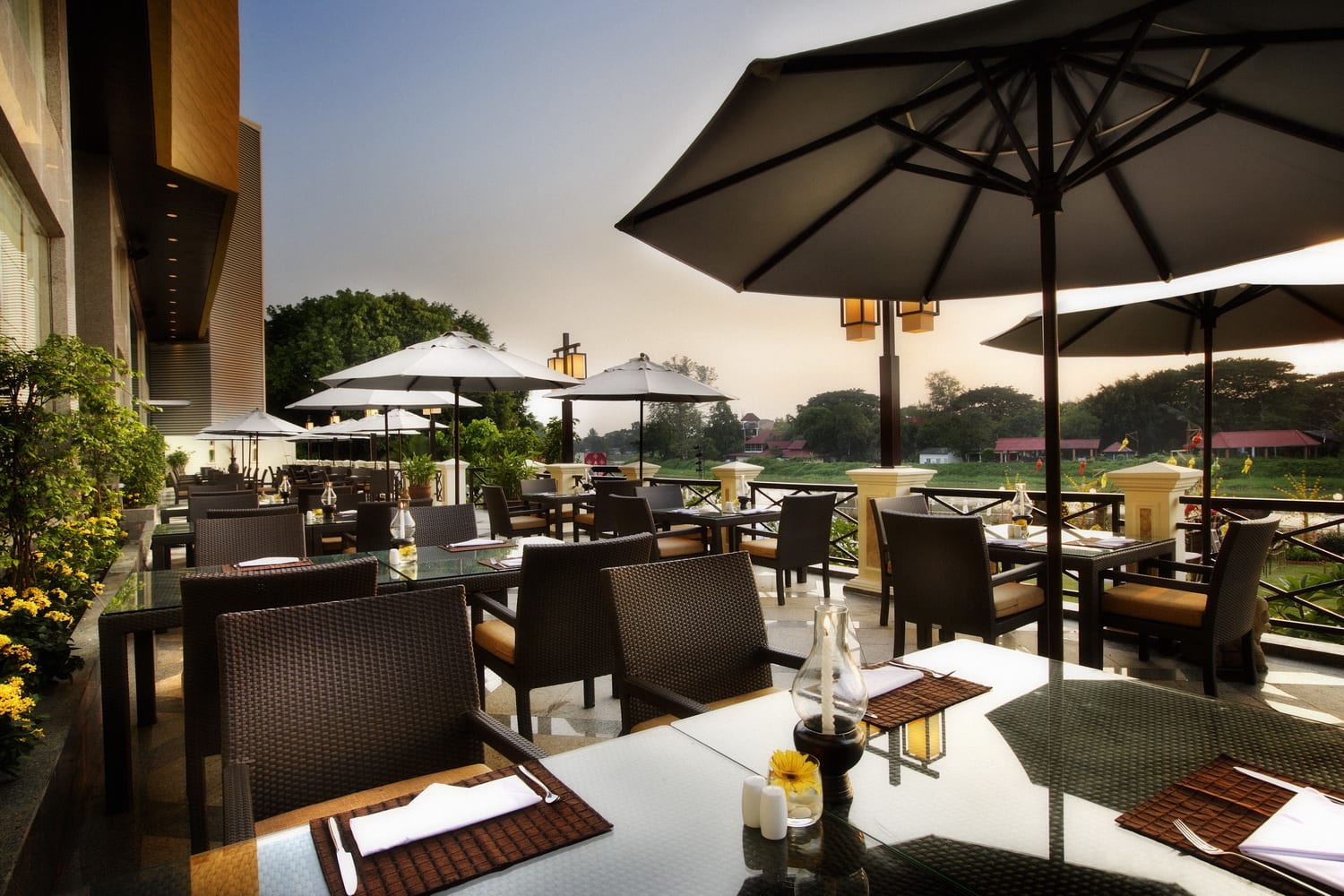 Head over to Holiday Inn's in-house restaurant that serves amazing fusion cuisine that are accompanied by spectacular views of the sunrise and sunset!
Star Rating: 4*
Price: from S$60
Guest Rating: 8.1
Address: 318/1 Chiang Mai-Lamphun Road Tumbol Wat Kate, Charoenmueng, Chiang Mai, Thailand
Chiang Mai for everyone
Chiang Mai truly is a place for every traveller, whether it's the honeymooners or the adventure seekers. There are plenty of activities that will suit your needs, so pack your bags and head to this beautiful city now!
Klook me to Chiang Mai!
About HotelsCombined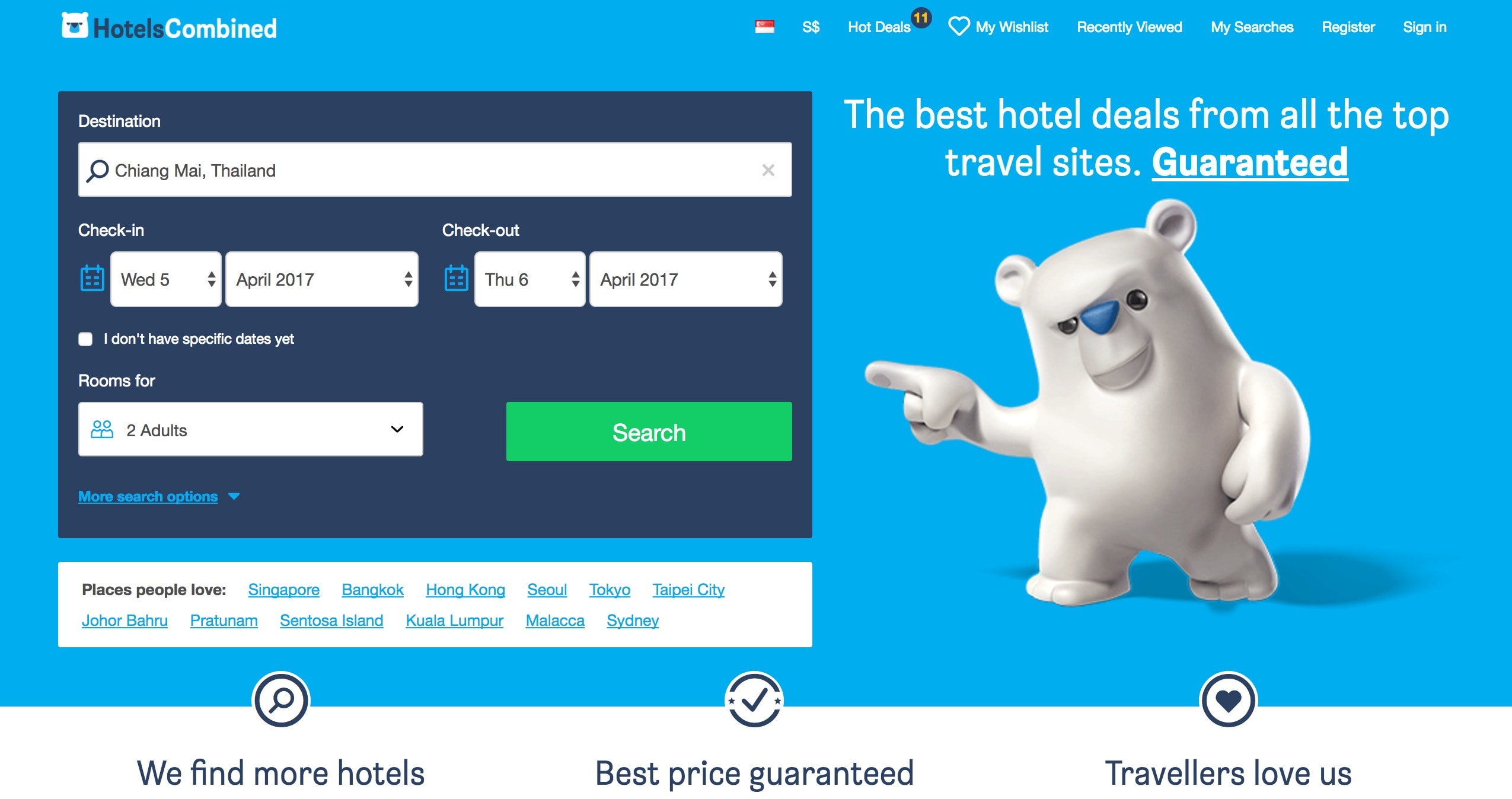 With over 300 million annual visitors, HotelsCombined aims to be your one-stop online platform for finding the best deals on hotels. Here, it's possible to compare all of the top hotels from several travel sites all in one website and save time and money while at it. With no booking fee added, booking for hotels have never been so easy and straightforward!